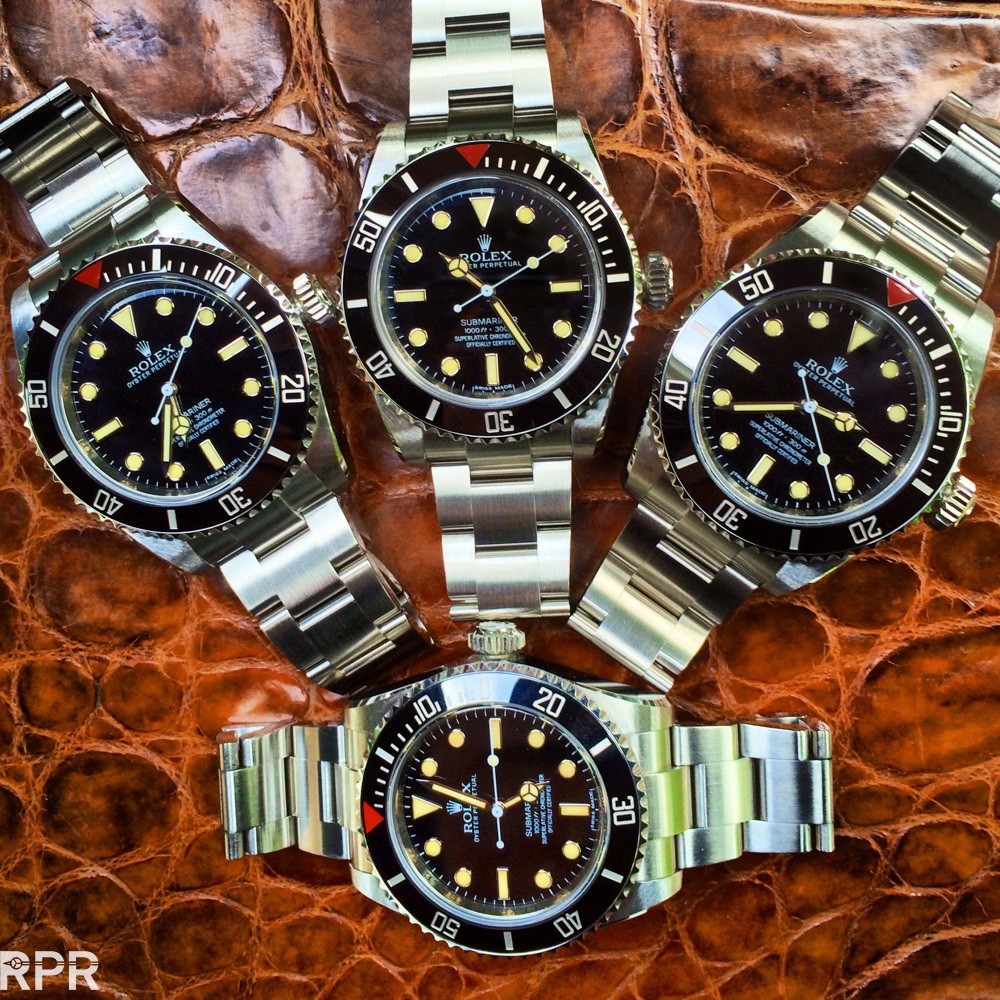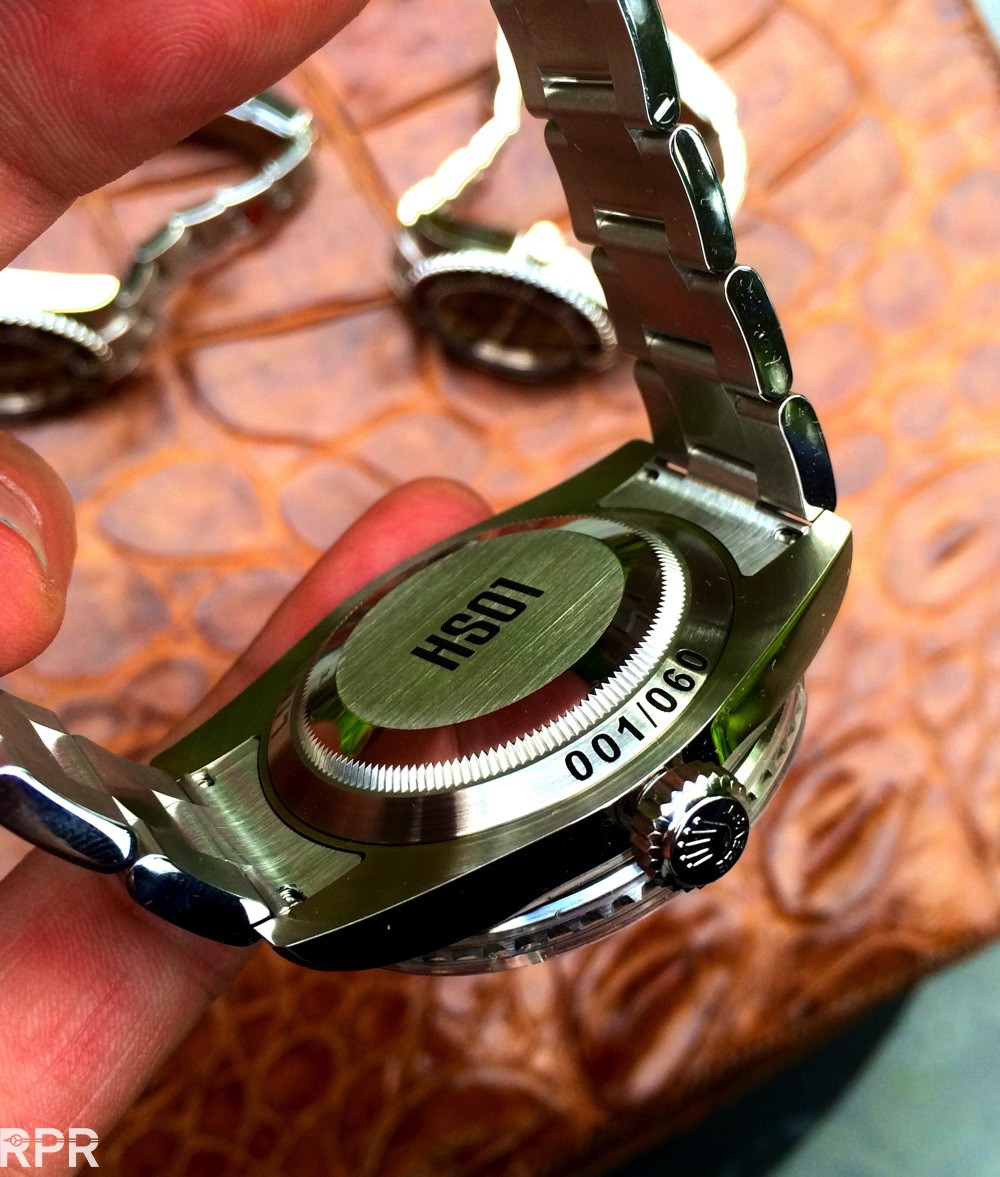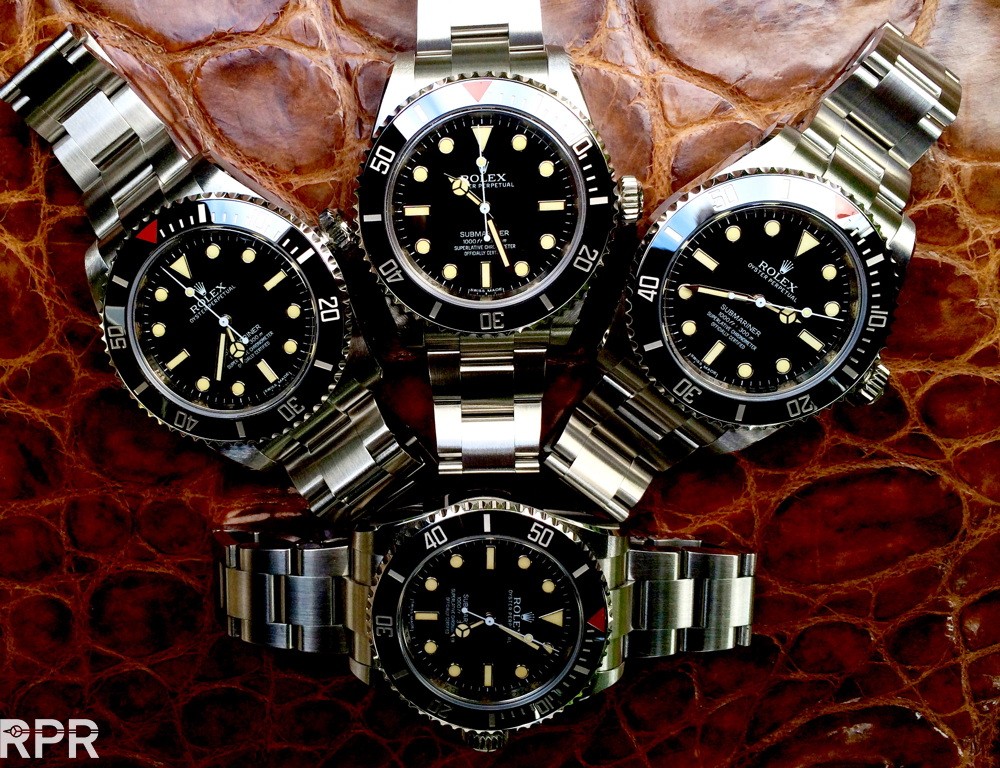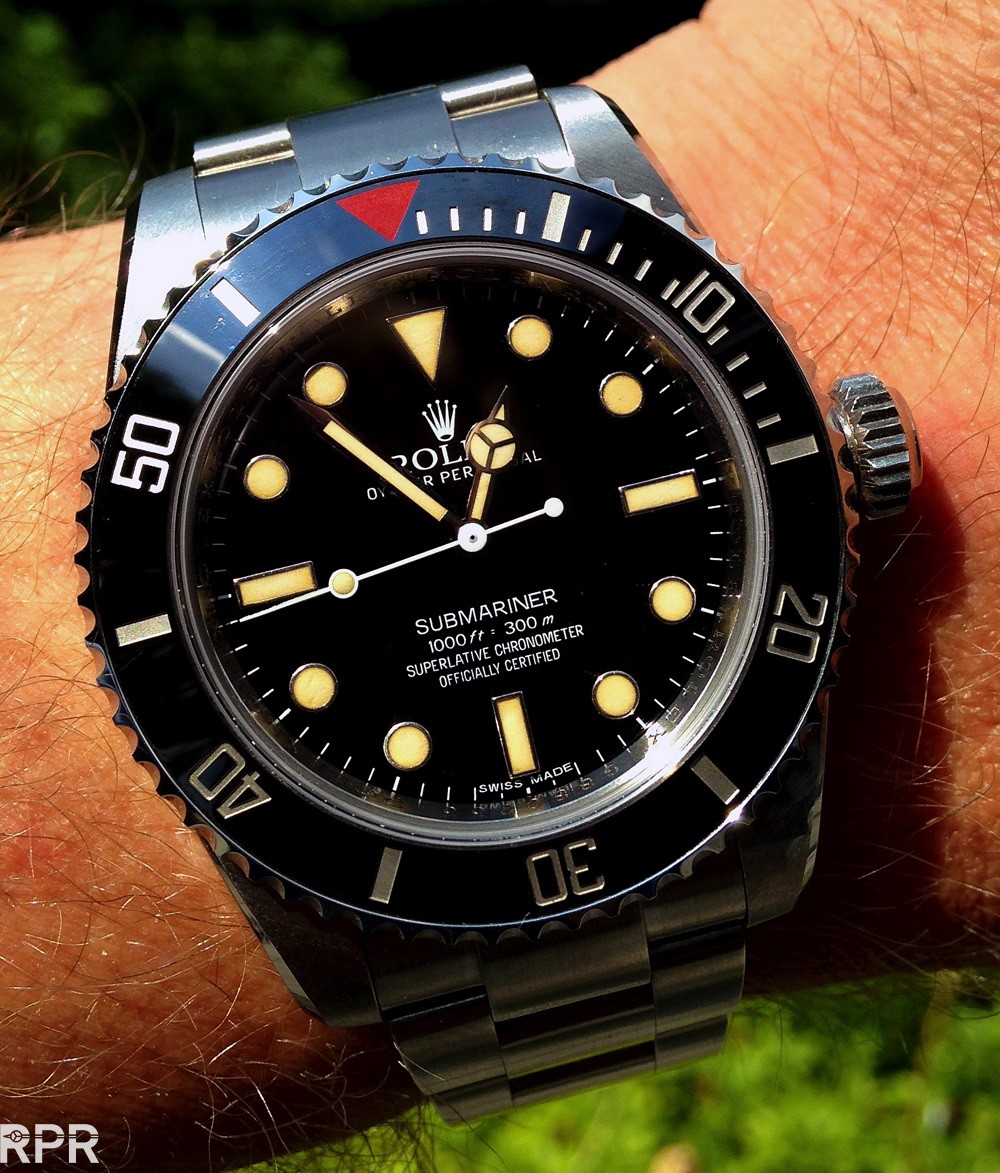 I'm very happy and proud to present to you a unique fusion of modern & vintage Rolex, honoring the vintage Submariner details, we collectors like so much! As the Submariner is having it's 60th anniversary this year, my idea of paying a respectful tribute was spinning in my head for some while. Together with Daniel Bourn, who actually transformed a regular Submariner into a limited edition of 60 modern Big Crowns, it's now time to show you the stunning result! As so many of you agree as well and as I reported here on RPR a while ago, the chunky modern Rolex maxi cases have in my humble opinion, lost their eye for detail and harmony,becoming out of proportion, especially once you compare design with the elegance in detail of a early legendary Big Crown from the Rolex past.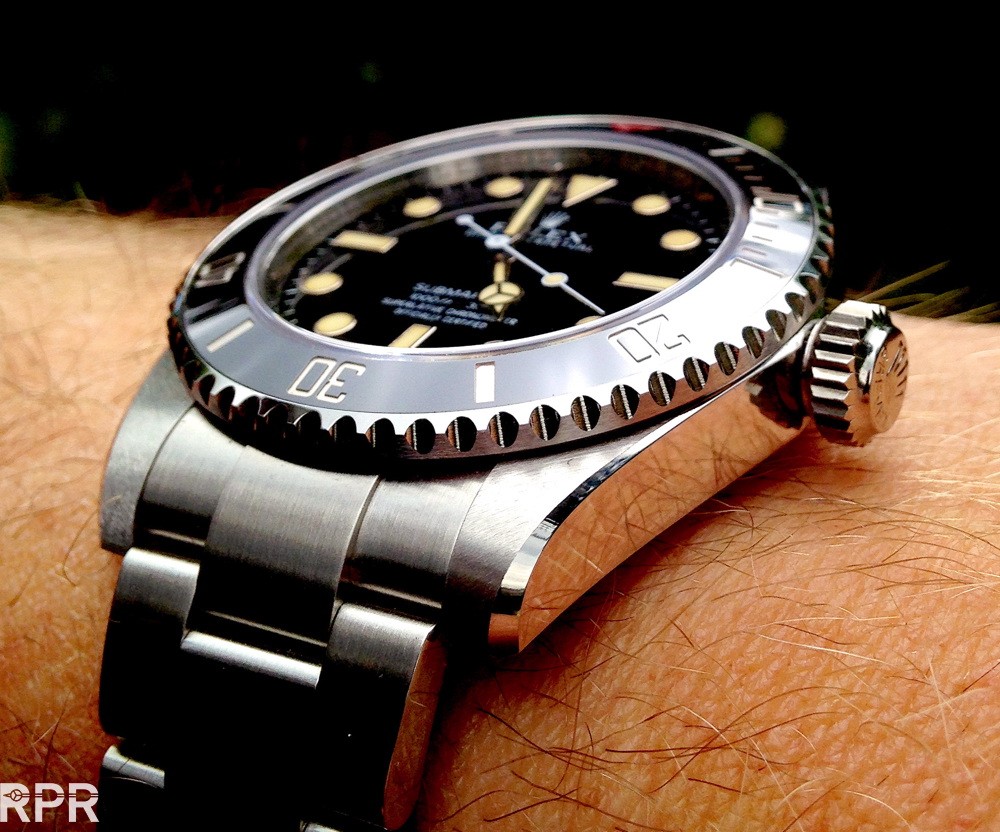 The Heritage Sub – HS01 is the perfect fusion with the legendary Rolex Submariner. Below we see 2 iconic 'Big Crown & 4 liners' next to each other, vintage & modern …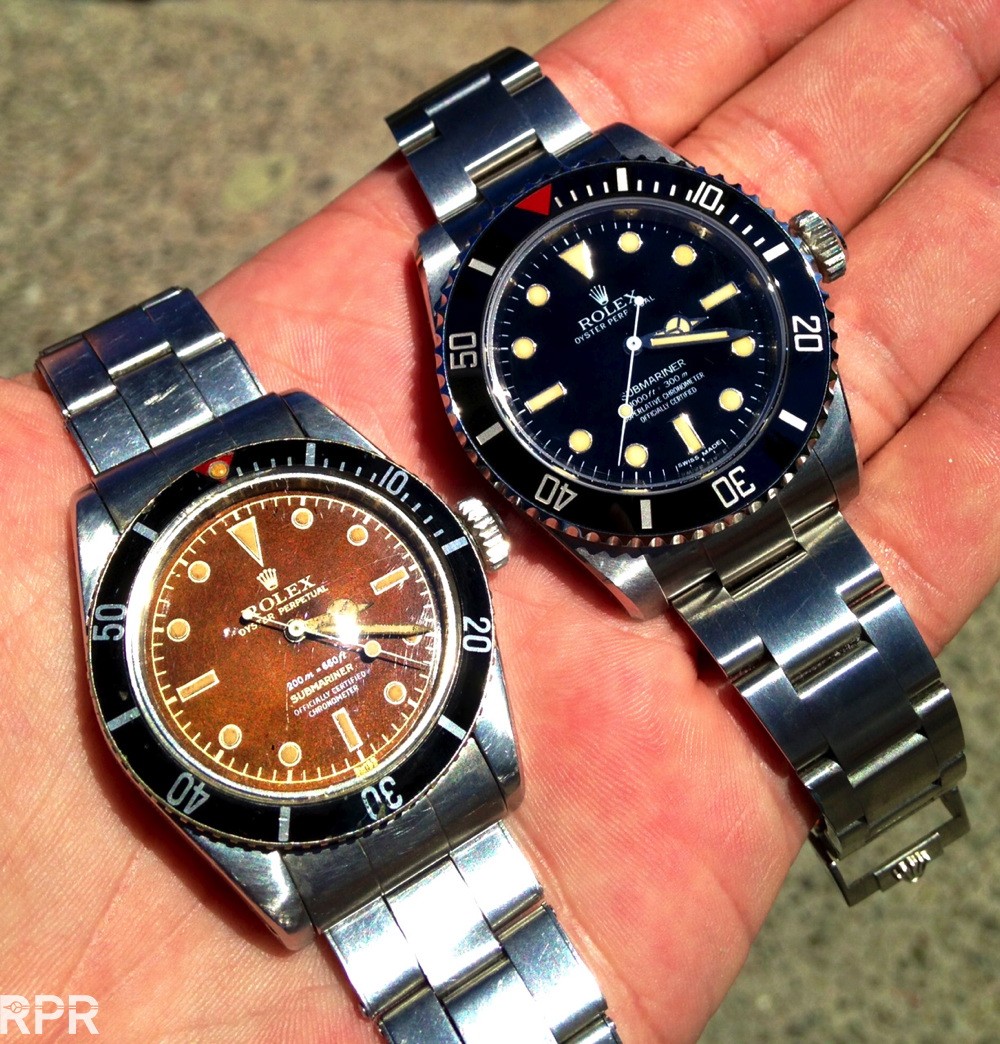 So what we did at first with our "Heritage Sub" was that we brought back the clean look of the iconic NON crown guard and we added an original 8 mm Rolex Big Crown and tube, which James Bond was wearing so proudly in the movie Dr.No. Instead of the standard crown guards and normal smaller crown, we used original old Rolex parts and we added vintage details, which are now correct in a heritage point of view and at the same time we respect the history of Rolex design from a collectors point of view!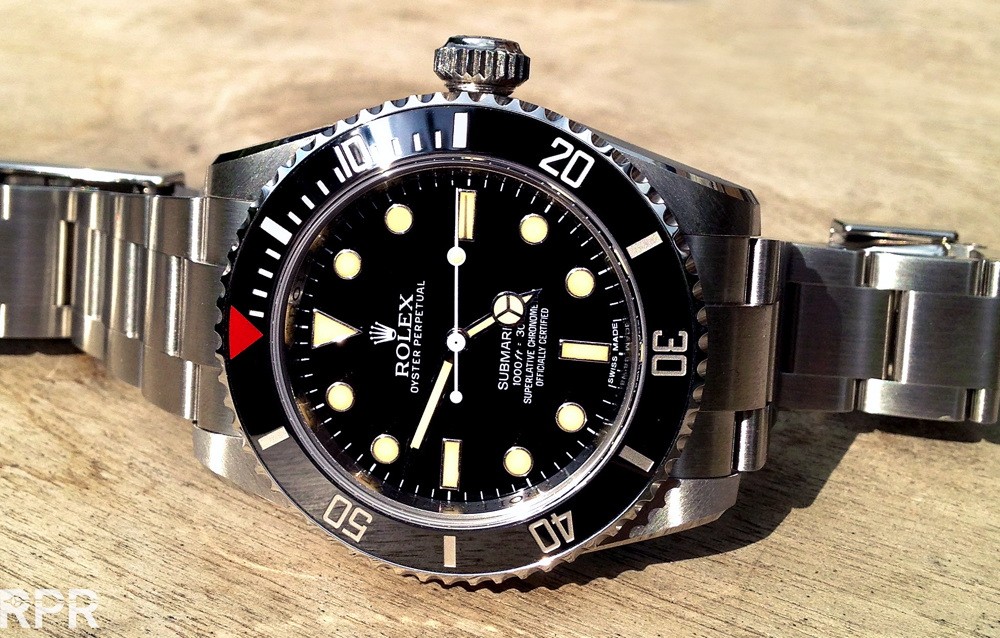 Bringing back the magical bevel to the Submariner case, immediately changes the look of the "Heritage Sub", making it look much more in harmony! The historical correct fat bevel, the polished edges of the case, is besides enhancing smartly the total design, adding a collecting purpose! Those that carefully cherish it, will still have a fresh bevel on their case, we collectors like so much on NOS ( New Old Stock ). Tipping it off with matching vintage luminous on dial and hands, the red triangle and white second hand, it's become the perfect modern reincarnation of the Rolex Big Crown, alias James Bond Submariner. Find at below Press Release more information about the Heritage Sub, thats already become classic before it reaches you!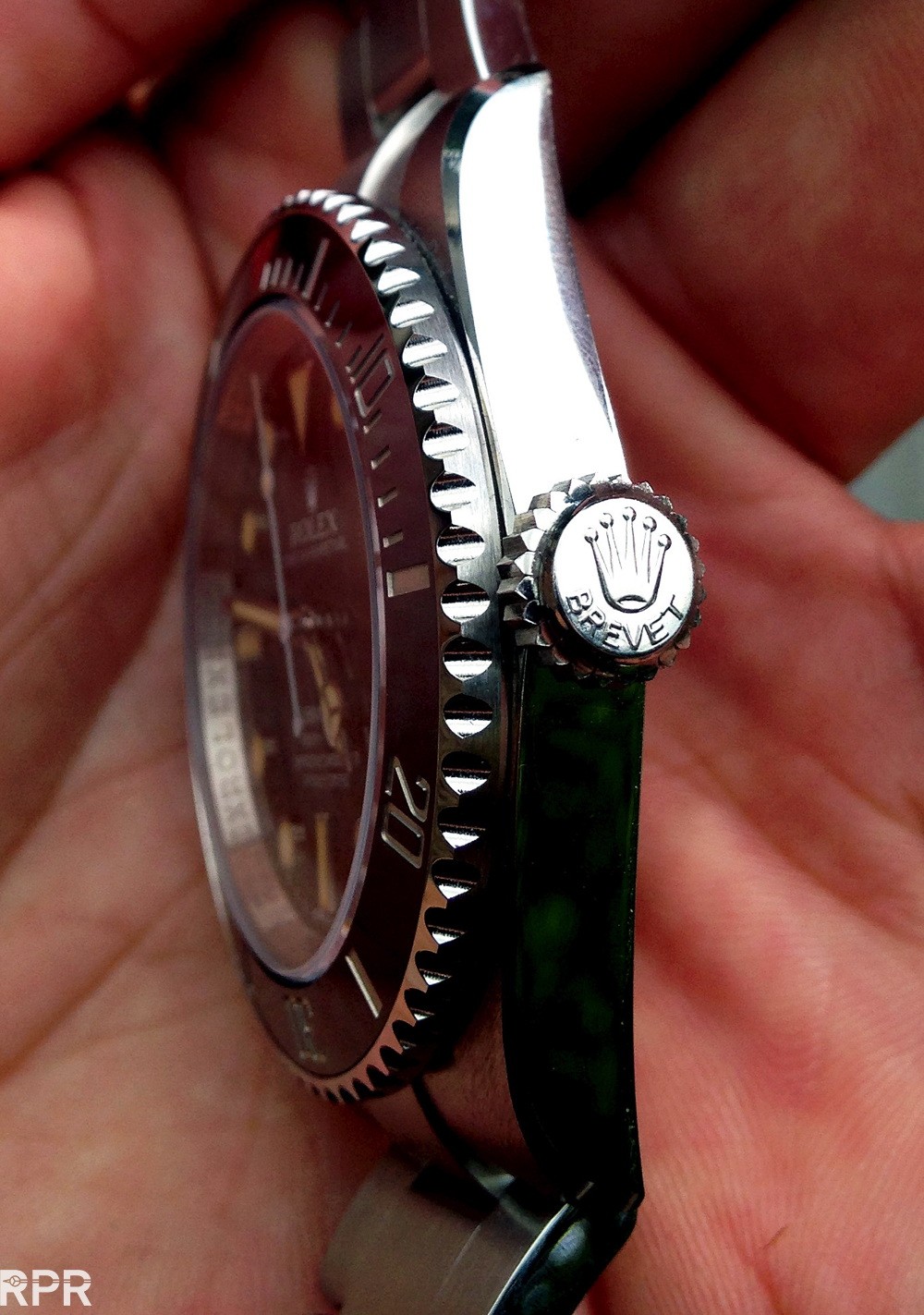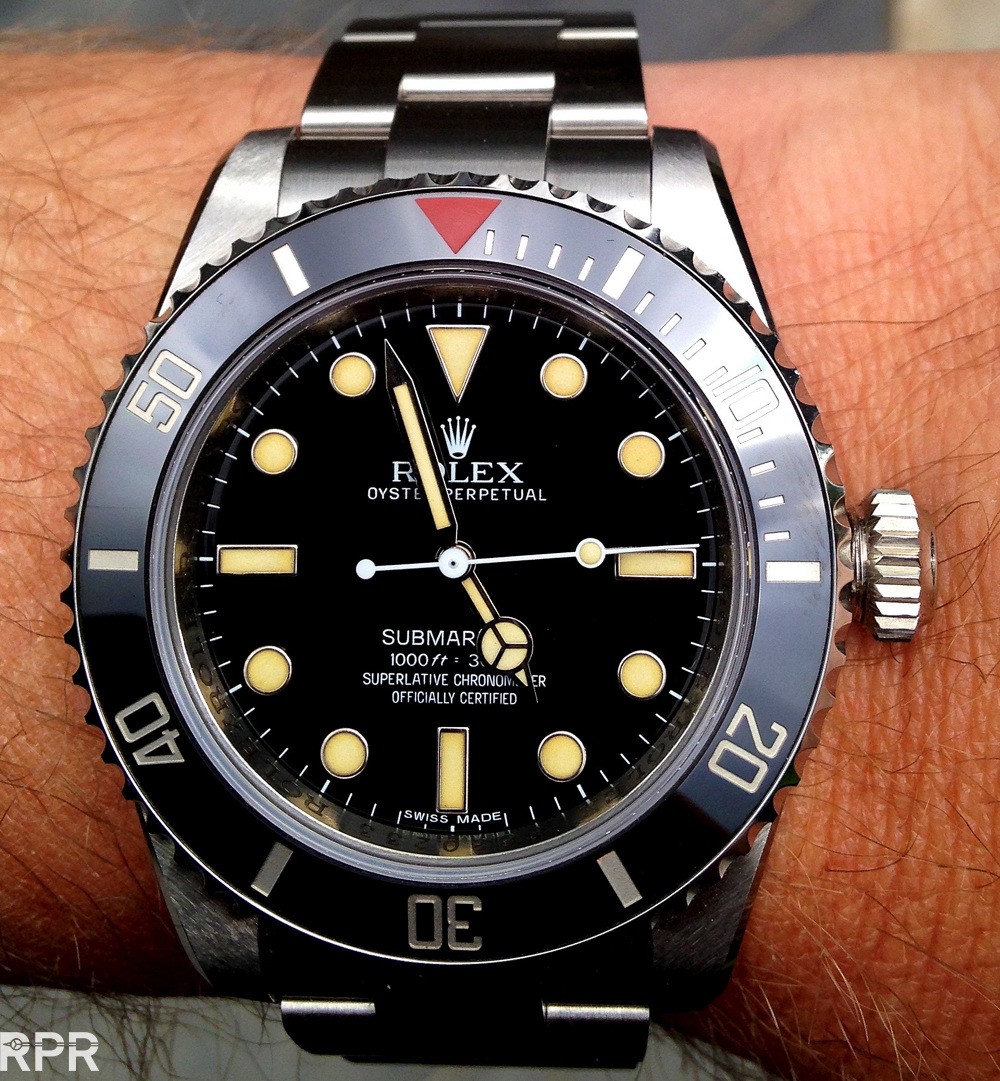 2 worlds, vintage & modern are melting into each other out of passion for detail…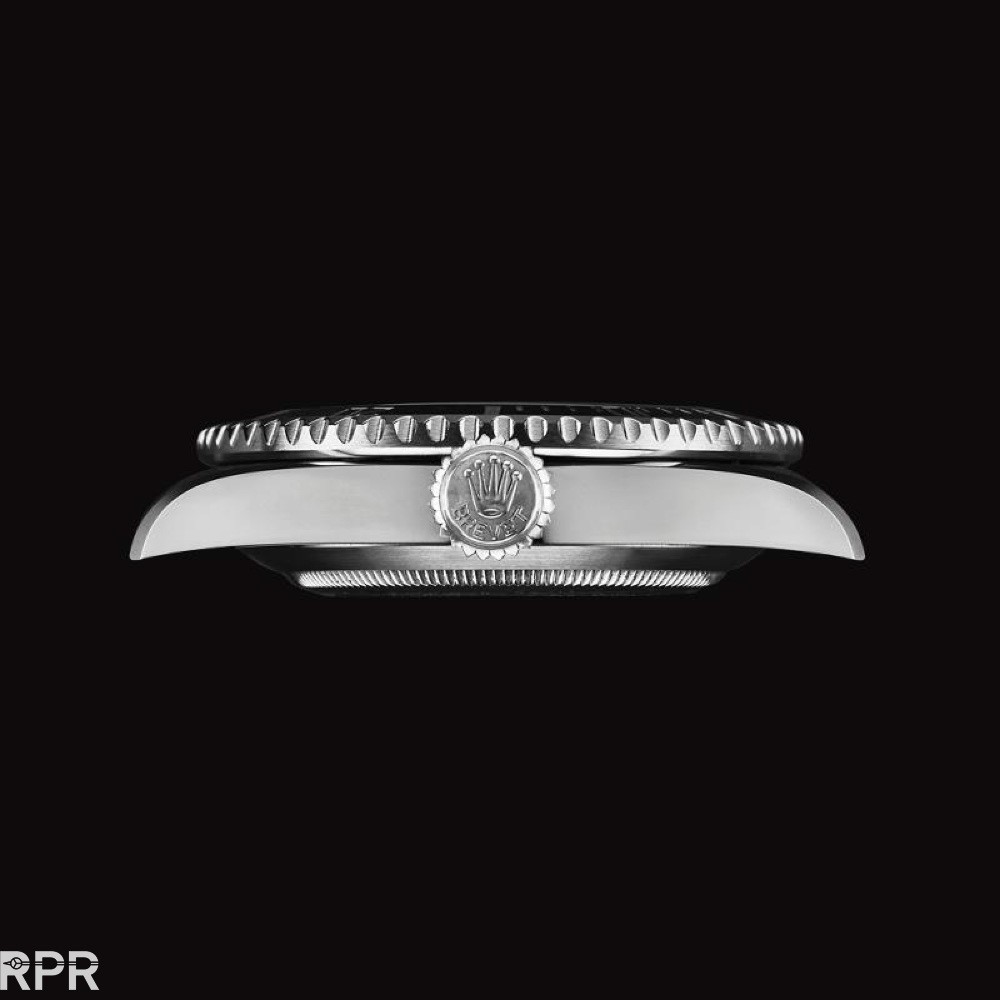 A customised Limited Edition design for the 60th anniversary of the iconic Steel Rolex Submariner.
Sixty years after its original introduction, the Rolex Submariner has been given a well-deserved heritage inspired reboot courtesy of some aesthetic improvements & a 'you saw it here first' fusion with 'new old stock' vintage parts. Respected Rolex watch experts Daniel Bourn and Philipp Stahl have collaborated to create the ultimate 'modern meets vintage' homage to the legendary 'Big Crown' Submariner. The customised steel Heritage Submariner will be issued in a Limited Edition of 60 numbered examples, the Heritage Submariner (or HS01) has everything required to become the 'must have' watch for any true collector.
A Tribute to history
Although originally developed as a diver's instrument, the Submariner has become the quintessential Rolex tool watch since its launch in 1953, equally at home on Land or at Sea.  To mark the 60th anniversary, Rolex introduced a new ceramic Submariner (model Ref 114060). Yet according to Bourn and Stahl the revised design failed to capture the magic and specific nuances of the original and iconic 'Big Crown' Submariner, made infamous by Sean Connery in the first James Bond movies.  The very details that are essential to historians & collectors such as the wide bevelled lugs, shouderless case & oversized crown were regretfully overlooked.
The Heritage Submariner ('HS01')
Taking their passion for vintage Rolex & extensive knowledge of the original designs, Bourn and Stahl's re-design includes restoring the clean lines of the original case by removing the crown guards and adding the magical flared bevel Rolex originally used to polish the sides of the case to the lugs.  By adding a red bezel triangle in a vintage red pantone at 12.00, vintage patina dial / hand Lume and changing the seconds hand to a white enamel, the collaborators have managed to capture the true essence of the original watch in the larger modern casing. These eye-catching details really turn the HS01 into modern classic. But what that really sets the design apart from anything else on the market and will ensure the watches prove irresistible to collectors, is the replacement of the modern winding crown with a fully function original new old stock vintage 8 mm Rolex Brevet 'Big Crown'. Having located a batch of 'new old stock' original vintage 8mm Rolex Brevet Big Crowns from the 1950s watches, Bourn and Stahl's design have fuses the modern casing & vintage parts to create  completely new concept. Simple yet irresistible, it will shake and stir the vintage watch community. The HS01 finally takes the Rolex Submariner back to the roots of its heritage, in a way that it deserves.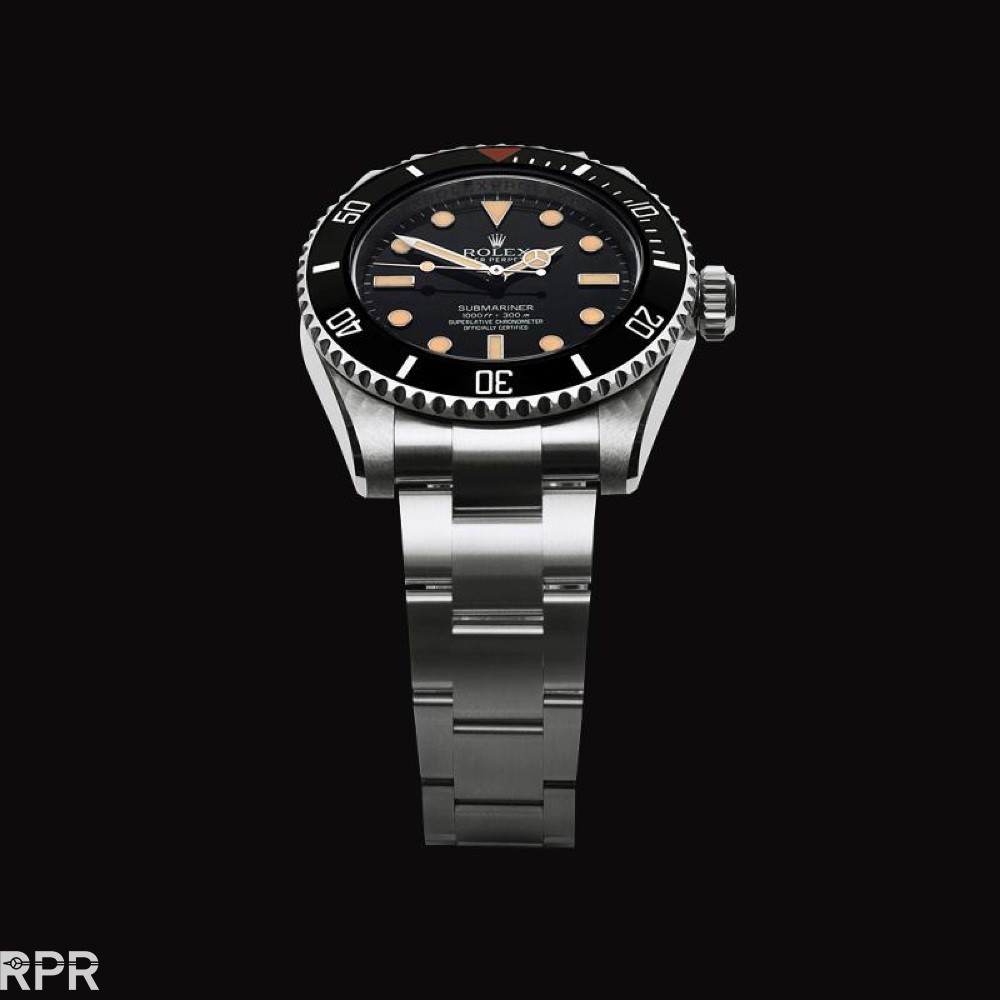 Further information
The Heritage Submariner (HS01) will be issued in a Limited Edition of 60 numbered examples and manufactured by the leading luxury watch customisation house PROJECT X DESIGNS as part of their new Vintage Fusion range.  Priced at £15,000 GBP it will be available for general release in October 2013. For further information or to place your order,  call Karis Samuelson on +44 207 493 9939 or via email at sales@projectxdesigns.com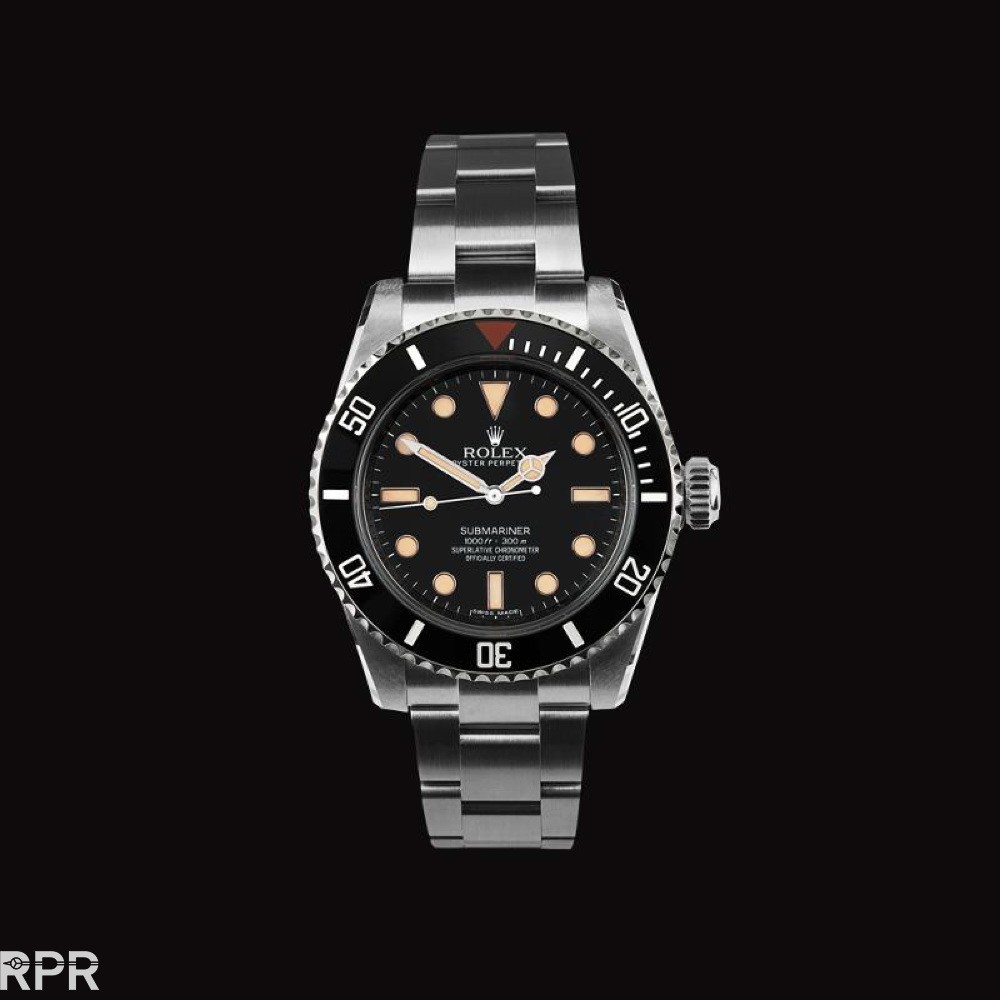 There's already a interesting report online, this time by R-L-X.de german Rolex Forum owner Percy who posted it on his blog Luxify.de who was at our recent Rolex Passion Meeting we enjoyed together last weekend!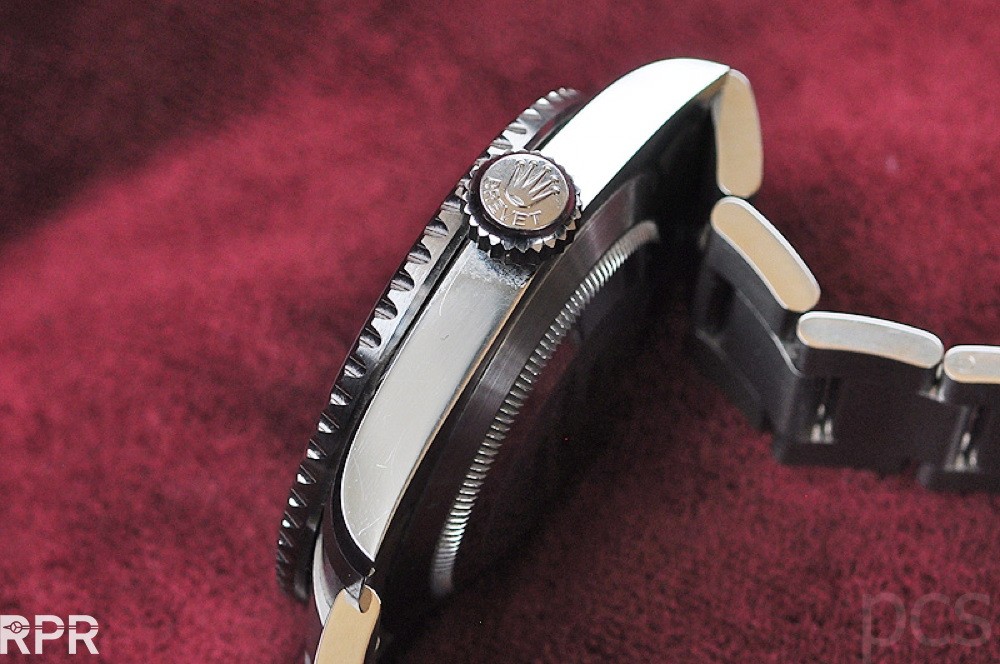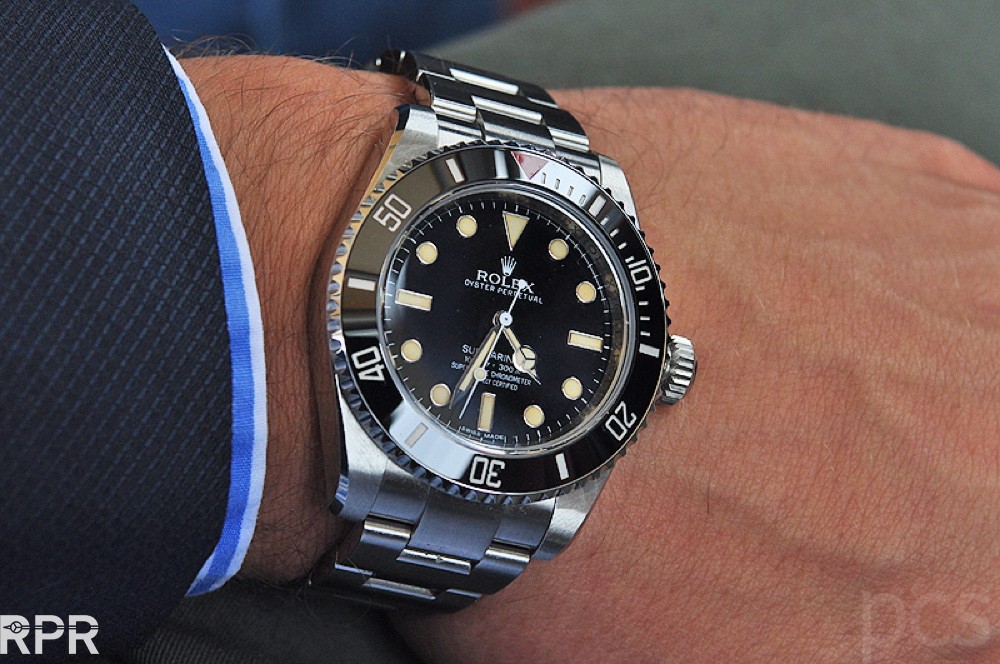 FUSION WATCH HS01 – DIE RÜCKKEHR DER BIG CROWN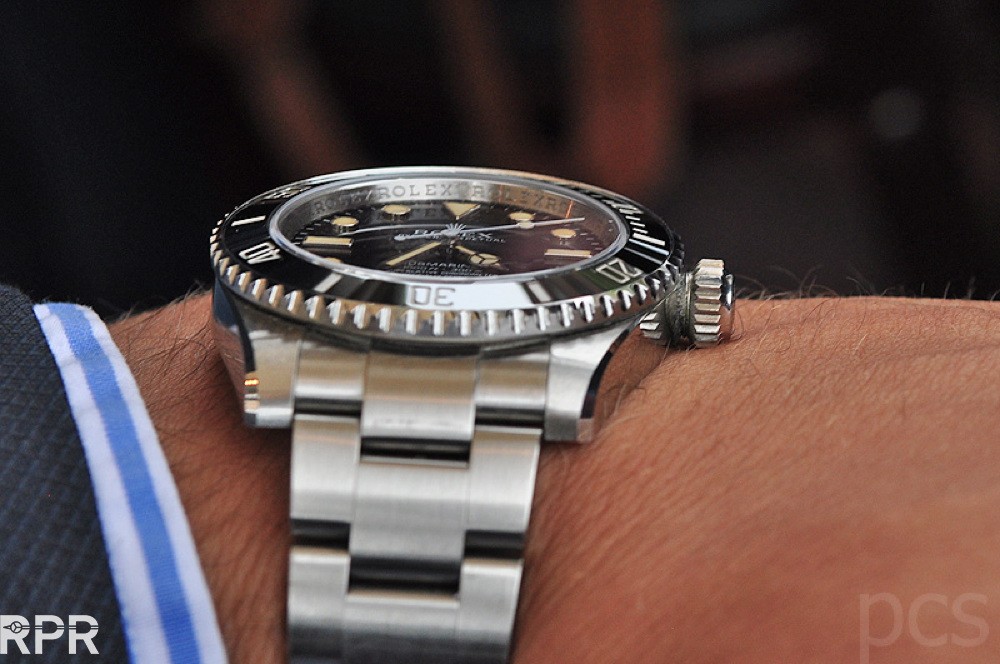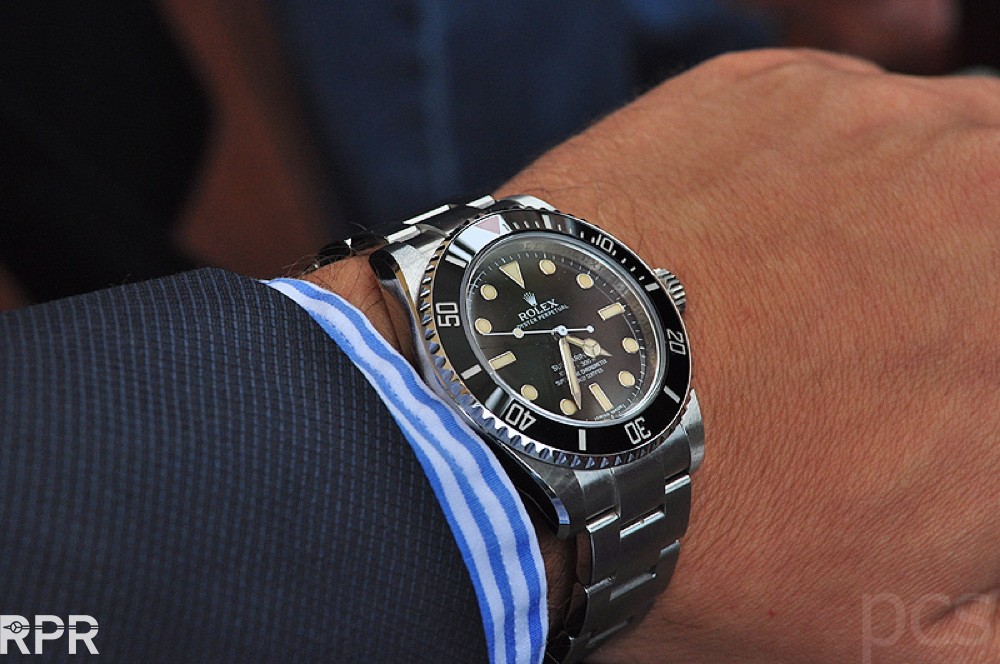 Here's the direct link: http://www.luxify.de/fusion-watch-hs01-die-rueckkehr-der-big-crown/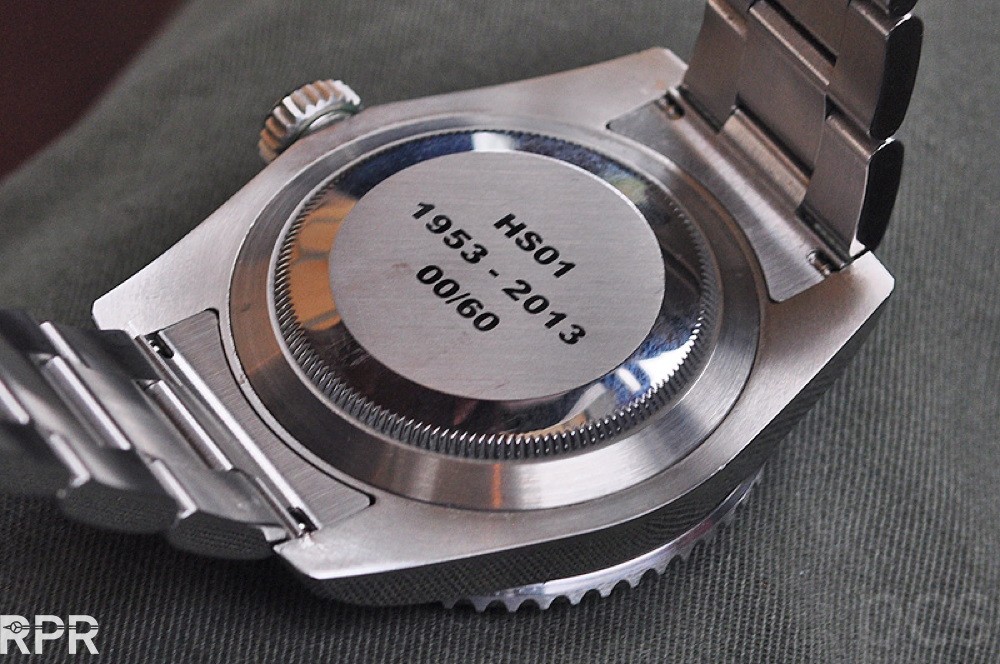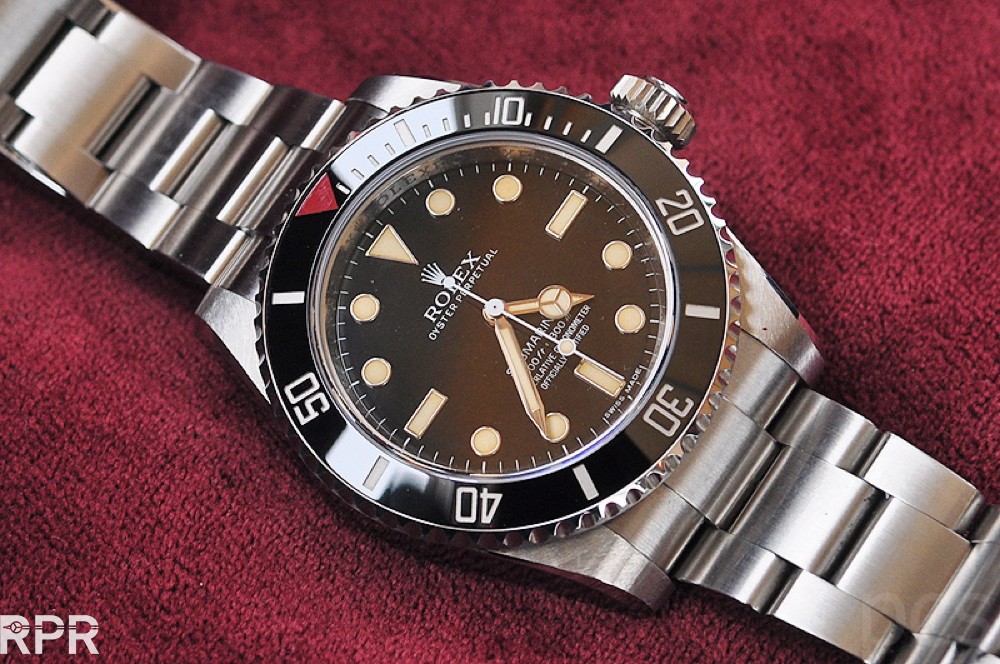 Only 60 pieces will be made to celebrate the 60th anniversary of the legendary Submariner, from 1953 – 2013.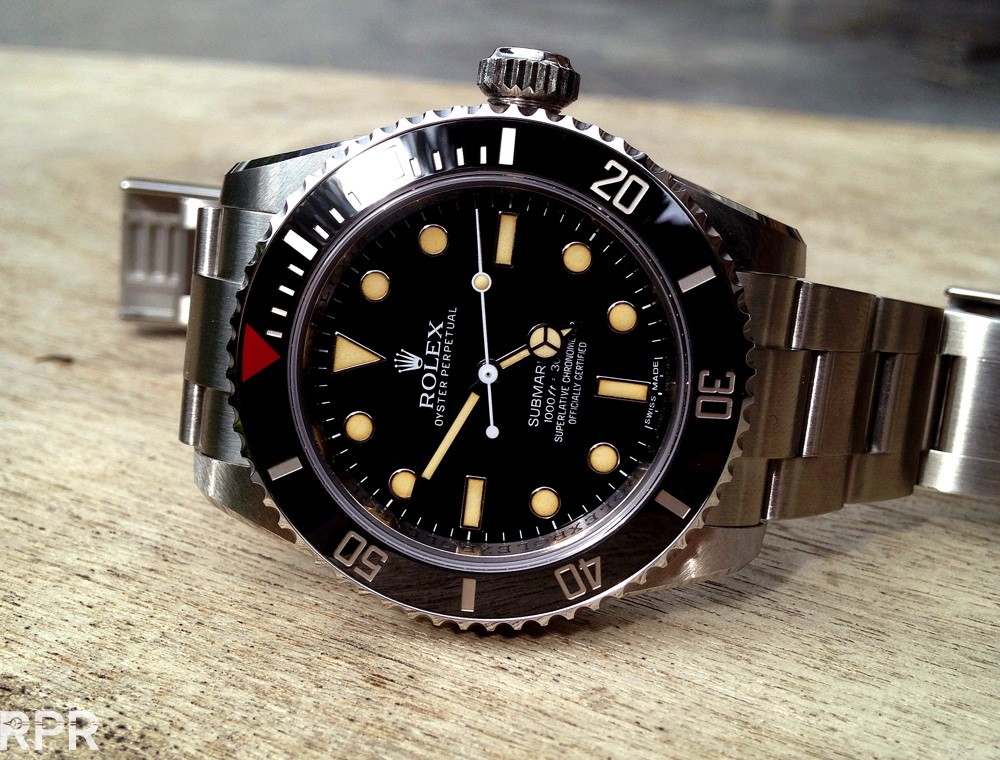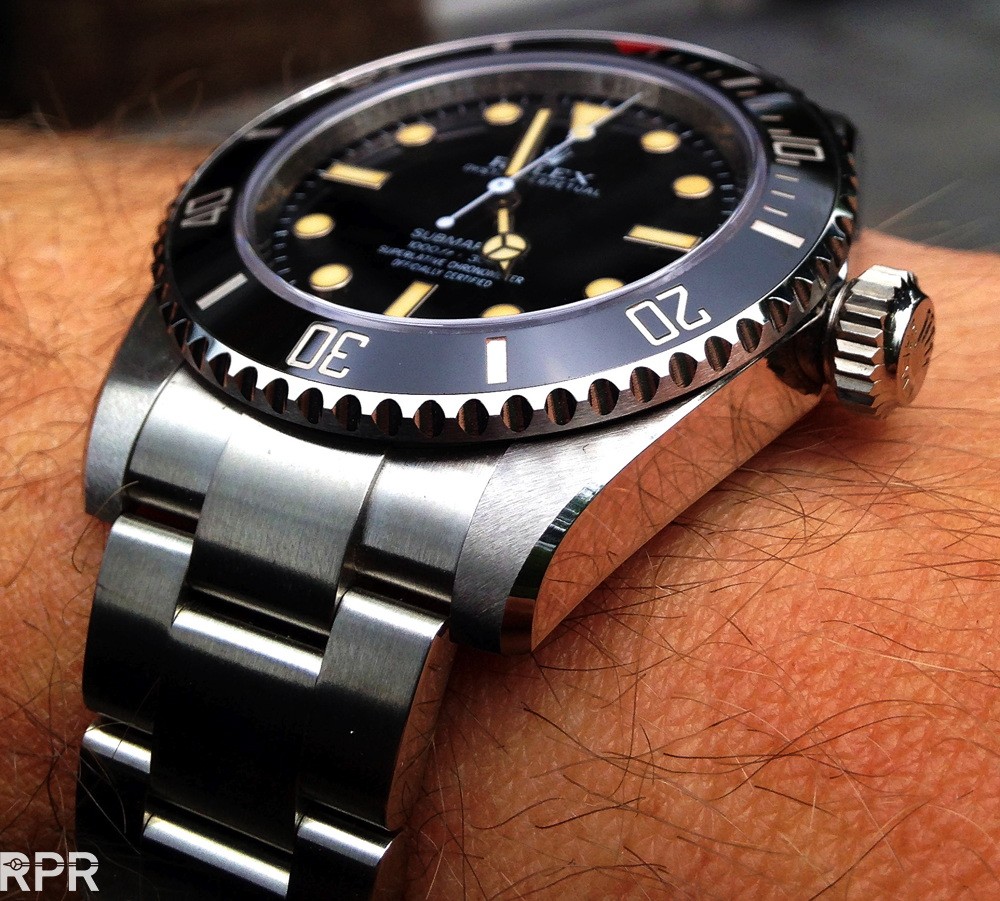 Recently @Quail Pebble Beach 2013 I spotted some great vintage cars wearing the Heritage Sub big crown. Here together with James Bond DB5 Aston Martin..
Modern & Vintage Rolex Big Crown Submariner get together…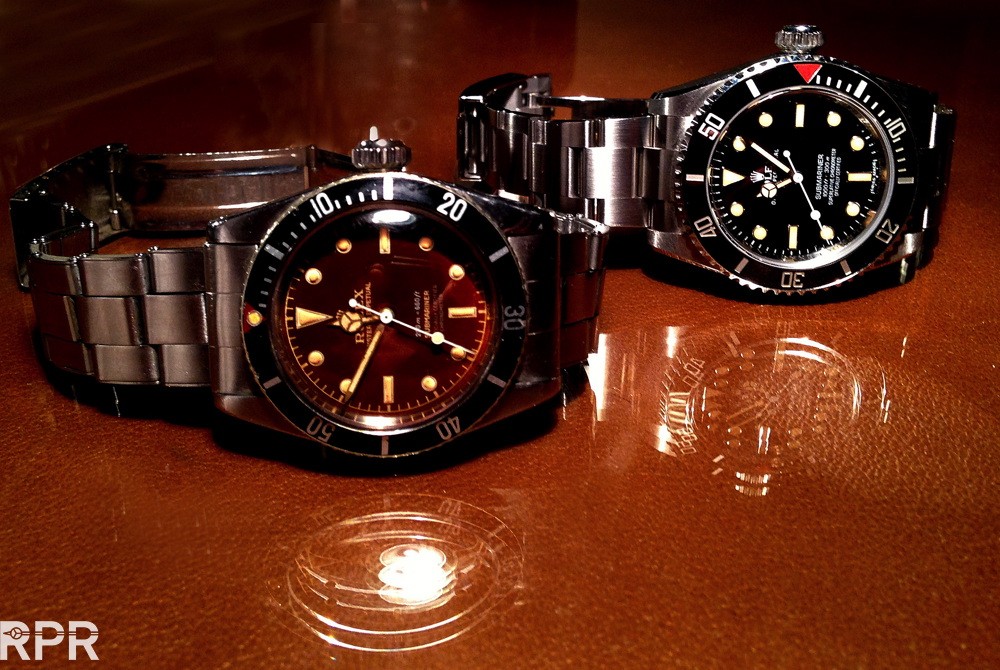 Vintage red Ferrari matching the red triangle of the Heritage Sub…
Back to Carmel, getting ready for the collectors meeting @ Fourtane I reported earlier about, read it here..
I hope you all like it as much as I do!!