Rolex is cornering the Vintage Market – My Geneve Watch Auction Report – May 2023.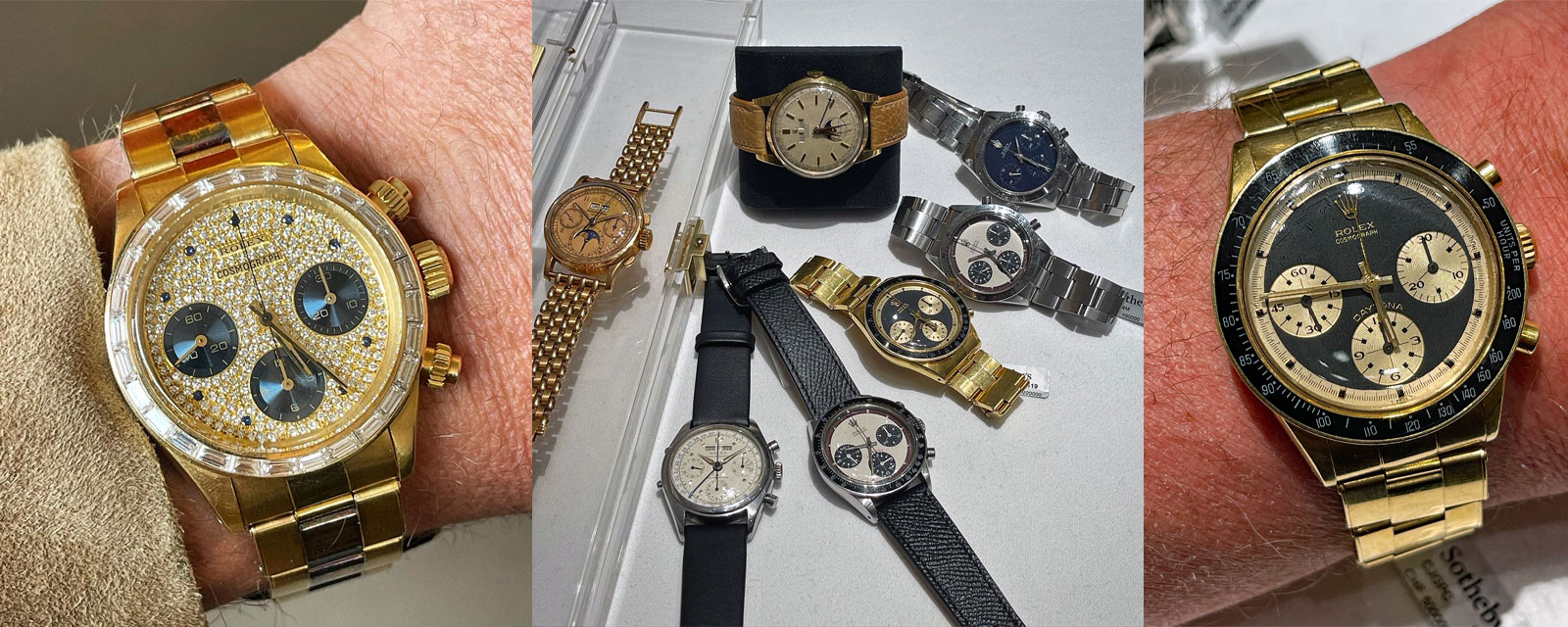 One paddle took care of several world record prices achieved last weekend during the watch auctions in Geneve. The mysterious lady is known to insiders as representative of Rolex. She was busy cornering the market for any ultra rare Rolex that came to the market. The elusive Daytonas Ref 6270 that sold for massive Chf 3,7 million, the steel minty Milgauss Ref 6541 for record breaking Chf 2,3 million both at Phillips, then she secured the yellow gold Paul Newman JPS Daytona at Sotheby's for Chf 2,3 million. These are results that are almost 50% higher than we see in the regular auction and off market results, a massive increase indeed!
During my car drive back home I've been thinking about these extreme results and after a while I found peace with it. Since Rolex does NOT have an official museum yet, it seems like they are determinedly getting the best pieces available at auction to complete their archive. No matter the price! Now think of this, Rolex is made for eternity so in like 50 years the 2,3 million paid for the crispy Milgauss will look cheap. Geneve HQ is thinking long term with these investments and is basically helping me / us pushing the vintage market for rarest quality to a new level we've yet not seen before, just crazy! Also the pink Killy at 550K and the special provenance GMT master at 250K, the albino explorer and some others all ended up with Rolex. Minimum of 10 million she spend. 🥂🙏🏼
I've know the lady, which I hugely respect, for many years now. We both go a long way and are in business for more than 25 years. During these years she has secured many great Rolex at auction. Maybe one day we all can enjoy what Rolex hides in their vault for us. I'll make sure to be their first visitor, putting my stretcher in front of the entrance waiting weeks prior official opening 😉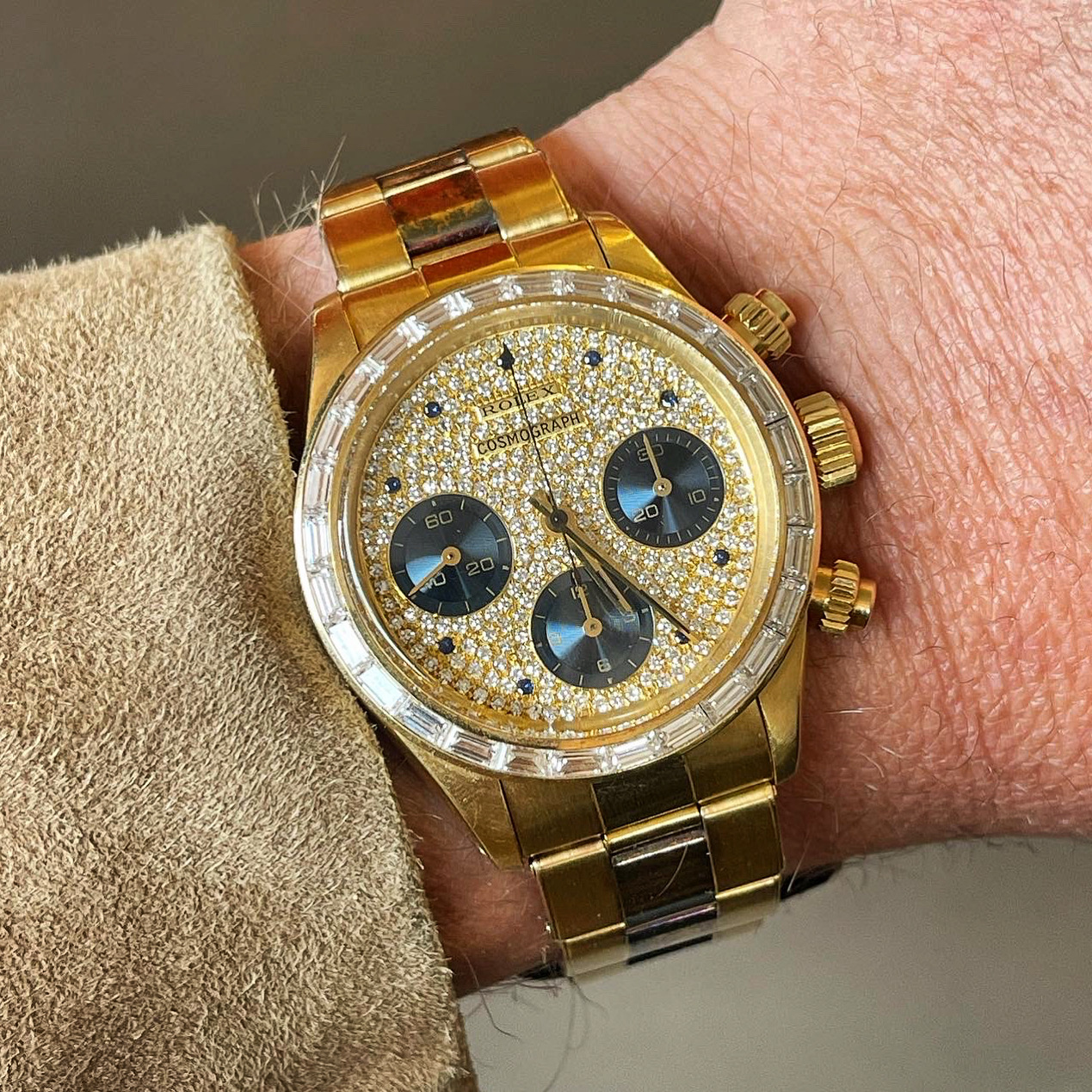 Fact is, Rolex is officially entering the vintage Rolex market. Fact is also that this all is just the beginning. Hans Wilsdorf's mission statement was that Rolex needs to do things different than the rest. Cornering their heritage is not new, every watch brand has done it, from Patek back in the days with Mr Stern personally in the auction room to theme sales about Omega, Cartier, Vacheron, Mille, Journe, AP etc. Building up a strong collection for their museum is an ongoing proces that never stops.
Making modern watch buyers aware about the history of the original has become the No.1 trick for re-editions, collaborations and also as inspiration for future models. So basically all cost are deductible and the money spend doesn't really hurt them as it does to me pockets. That said i've huge respect for what Rolex has done last weekend. They showed the collectors world they take vintage very very serious and if you want to buy their iconic design at auction  then you have to bring deep pockets. It takes 2 at auction to achieve a record price so more collectors were interested in these top lots now at Rolex. Some of them contacted me after the sales that they really tried doing their best bidding above their expectations but it was still not enough to beat the lady.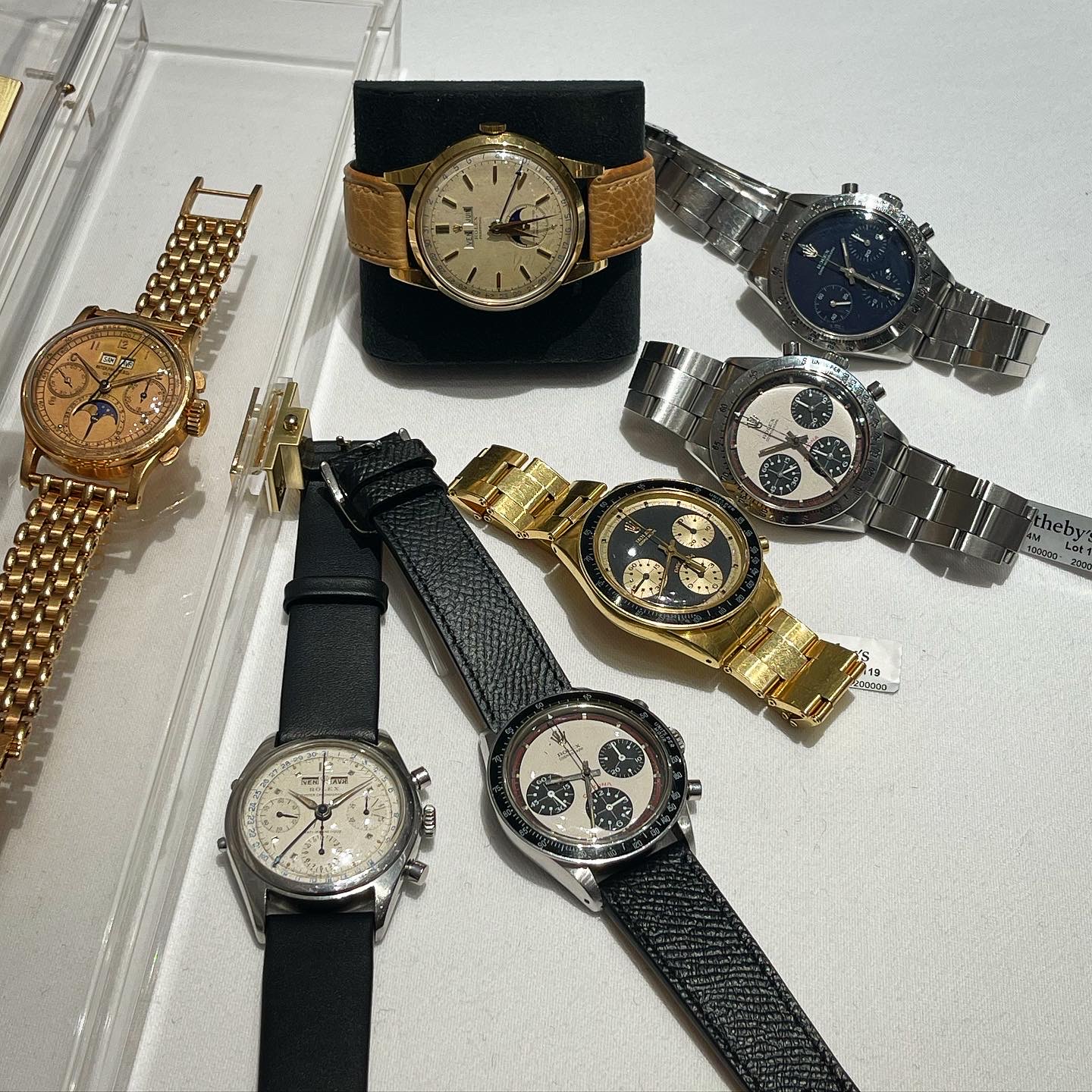 Then the vibe of meeting & greeting we all missed during covid so much is now officially back. Collector friends from around the world were finally able to join us in Geneve. Resulting in massive parties, great talks, making new friends and enjoying old ones. I was also flabbergasted to see so many youth faces, the new bread of collectors, joining us during the previews and later auctions. Aurel Bacs is still the master of auctioneers since he's the only one that manages to control his audience of serieus buyers to make them bid one more time after they decided to quiet. It's always a treat to see him work.
At all other auction houses I hear they cut cost further, let loyal employees go and focus more on online sales since that's way cheaper than a live auction. This although all Geneva auctions charge you 27% on top of your winning bid. Again, 27% is a huge premium now that the market has become transparent and (better) deals can be made outside the auction world. I for instance got a crispy fresh to the market Rolex from the original swiss family who contacted me. An early Ref 6036 Monobloc JC Killy Dato-Compax that has the rarest dial version fitted namely sunken white indexes, 2 tone dial and luminous dots ands hands coming from 1952. They are still out there!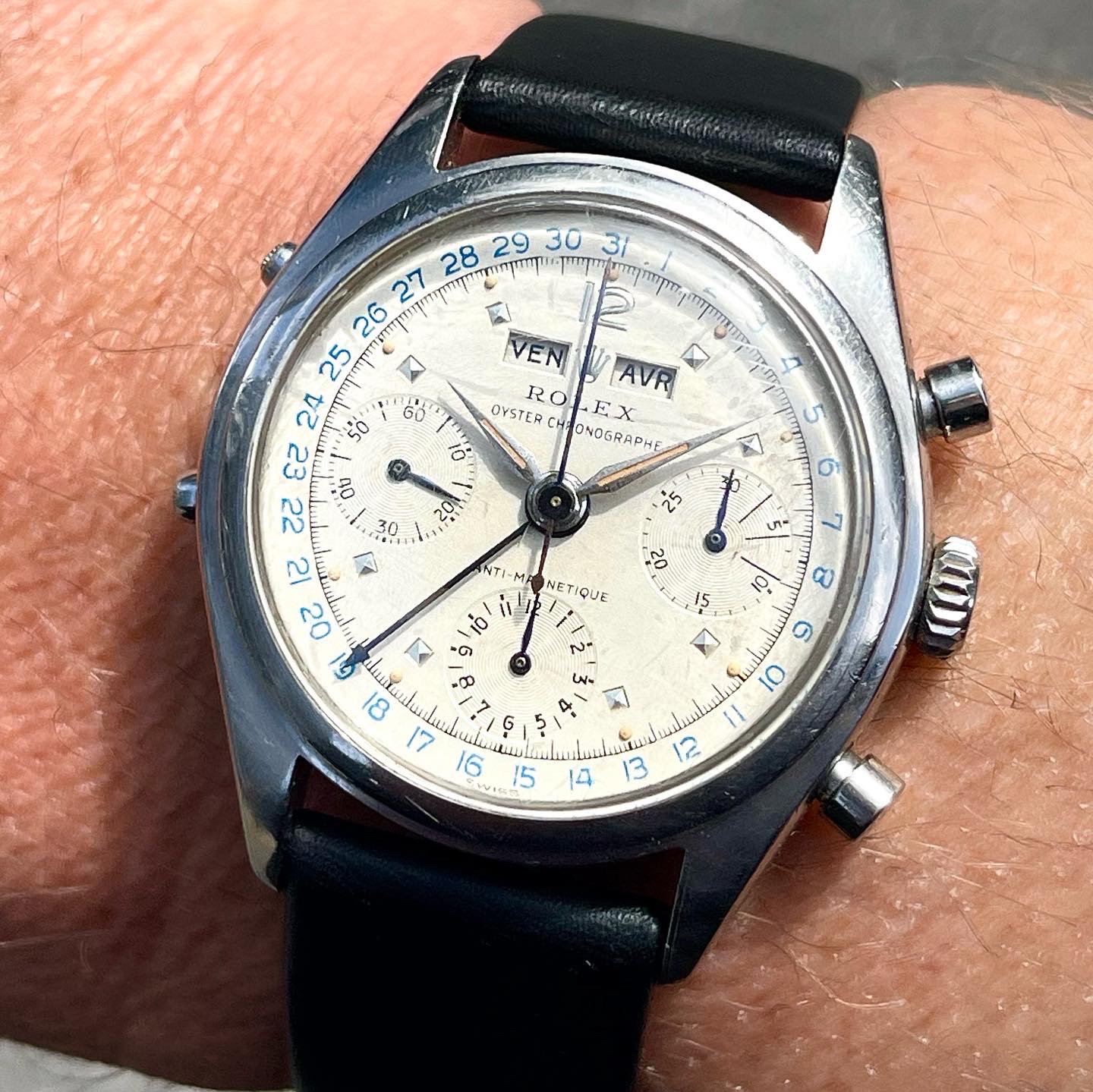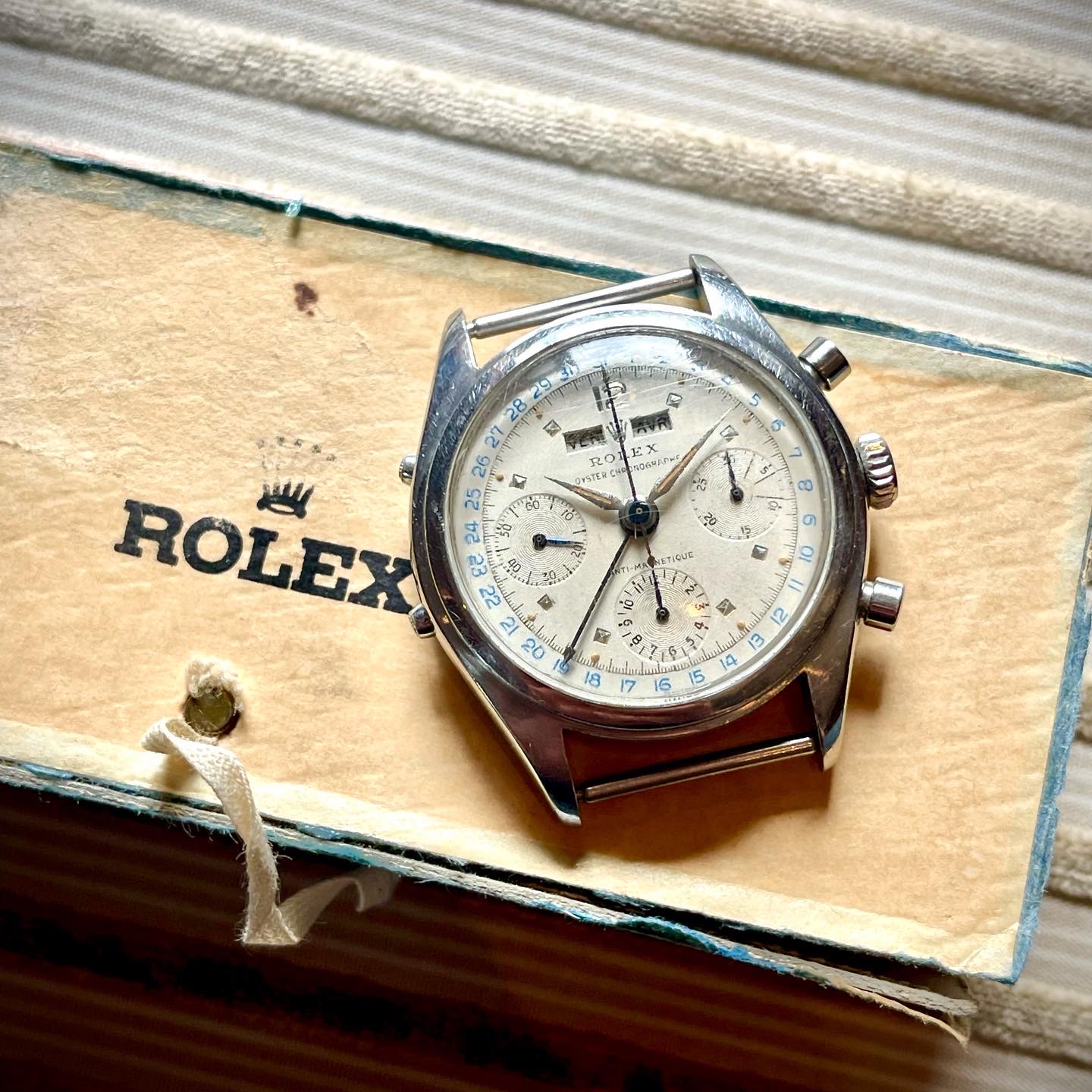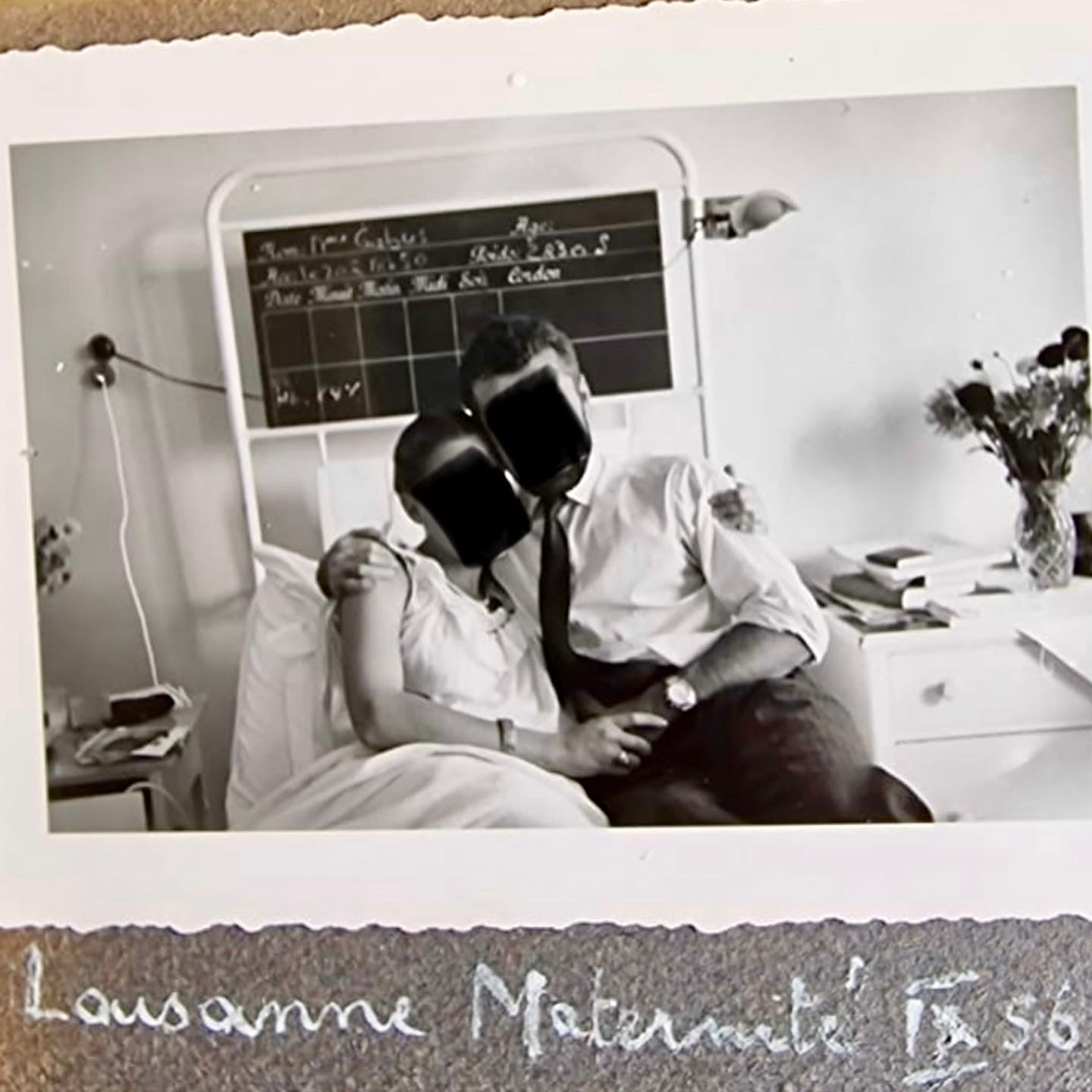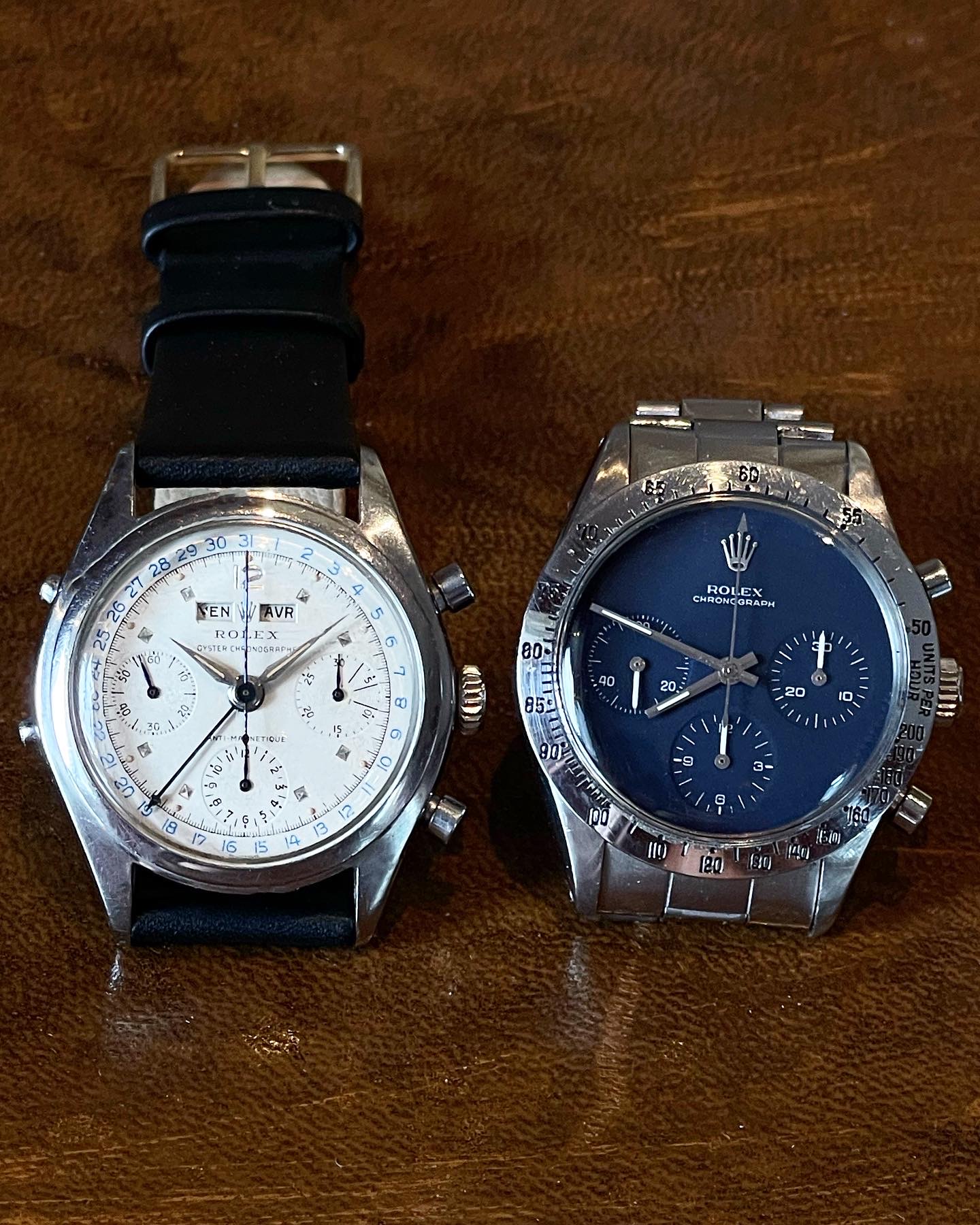 The big Pateks sold well, higher then previously, even when the quality wasn't always top, collectors recognize the fact that any 1518 or 2499 in honest unrestored condition is super rare, pushing those that are hidden in amazing collection to new heights. It almost like there's no price for Blue Chip vintage watches anymore. Every record will get beaten once those marvel sold in the past re-enter the market. I've said it many times and i'll say it again, this is just the beginning! One day vintage Rolex & PPC will trade like the mythical Ferrari 250 GTO or any other iconic design that made history.
There's still a huge amount of catching up to do by watches when you compare them with jewellery, classic cars, old masters, modern art and even rare real estate. The future is bright now that Rolex has stepped up their game. I've officially become rich now that 'simple' tool watches from Rolex bring millions. Always i've believed that this would happen, never was it my intention to 'make' money. I'm just lucky that the passion around vintage Rolex became what it is today. I've worked hard, traveled around the world many times to meet important collectors and go deep into their collections.
Some say it's my fault they can't buy their grail Rolex any more. I've tried to help our market to take away buyers doubts, expose shady dealers and auction house, teaching the community with the many blogposts I put online the importance of true patina and originality resulting in an ever bigger growing community of watch geeks. Collecting Rolex used to be kind of nerdy, nobody had a clue what I was doing. Today the record prices achieved are breaking news in the media around the world. You're living under a rock if you're not aware about the rush for rare watches.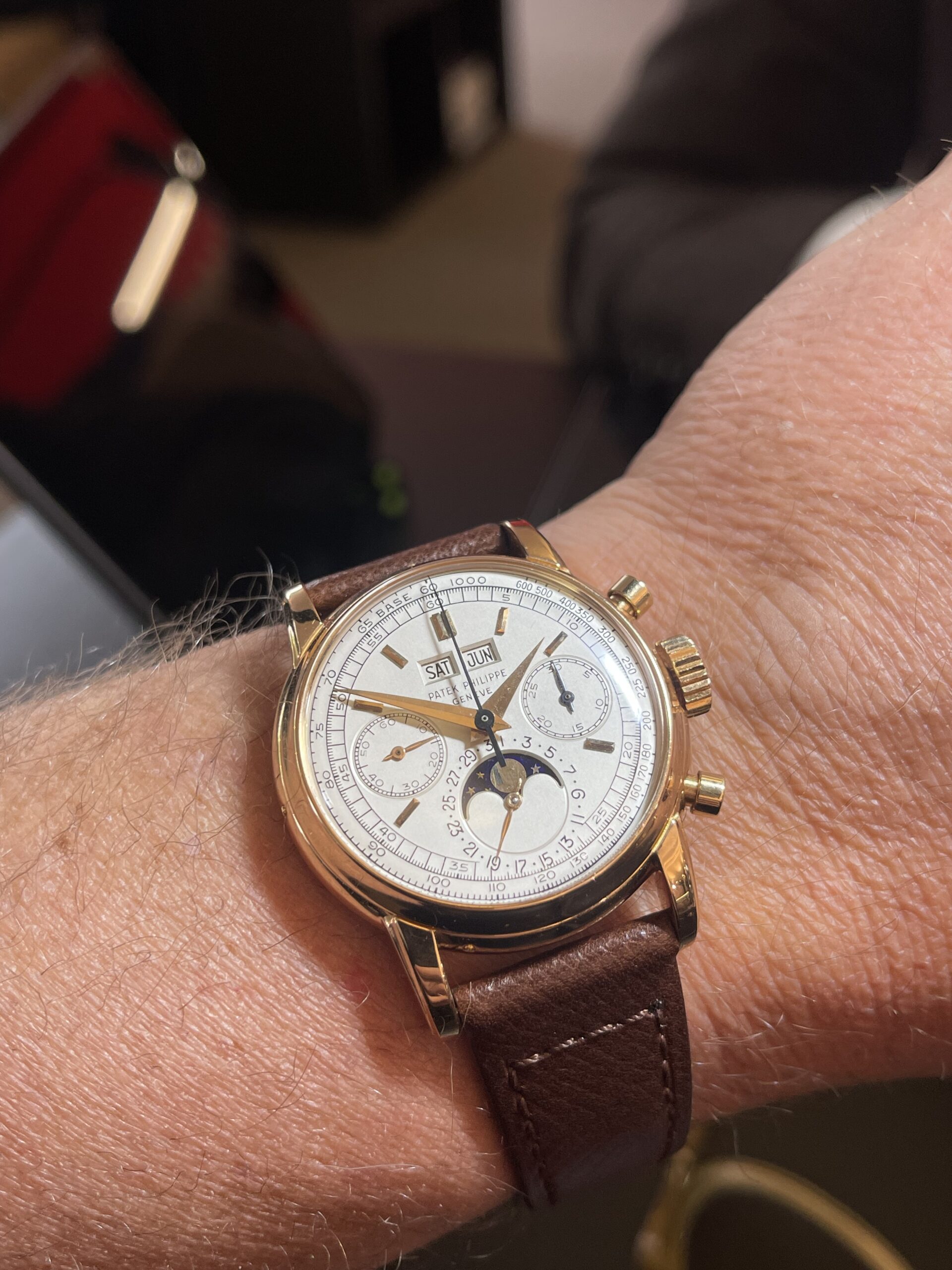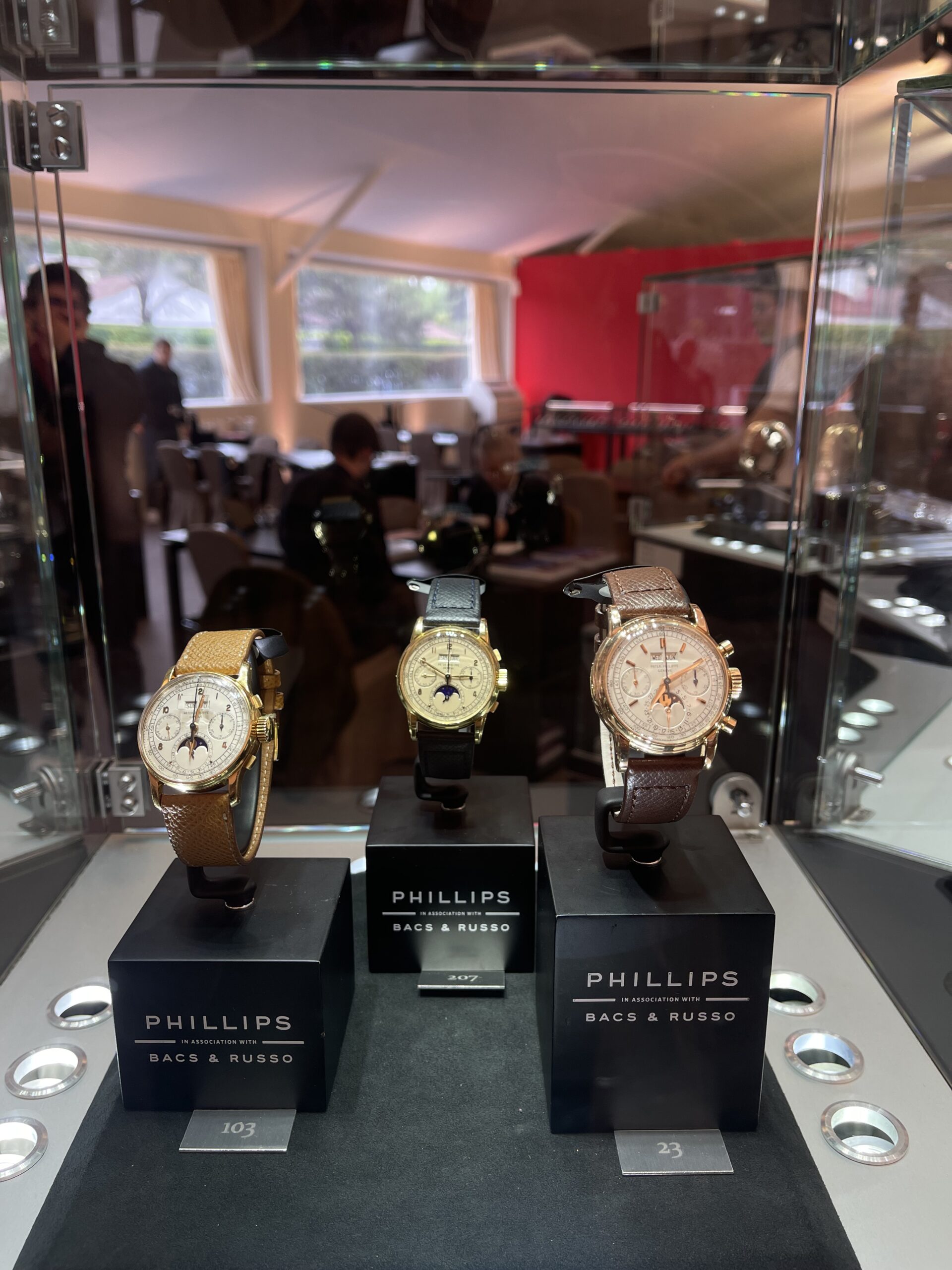 Here are some of my impressions during my stay in Geneva. It was beyond great meeting so many of you! Take care and see you soon again somewhere around the world.
Best Regards, Philipp Stahl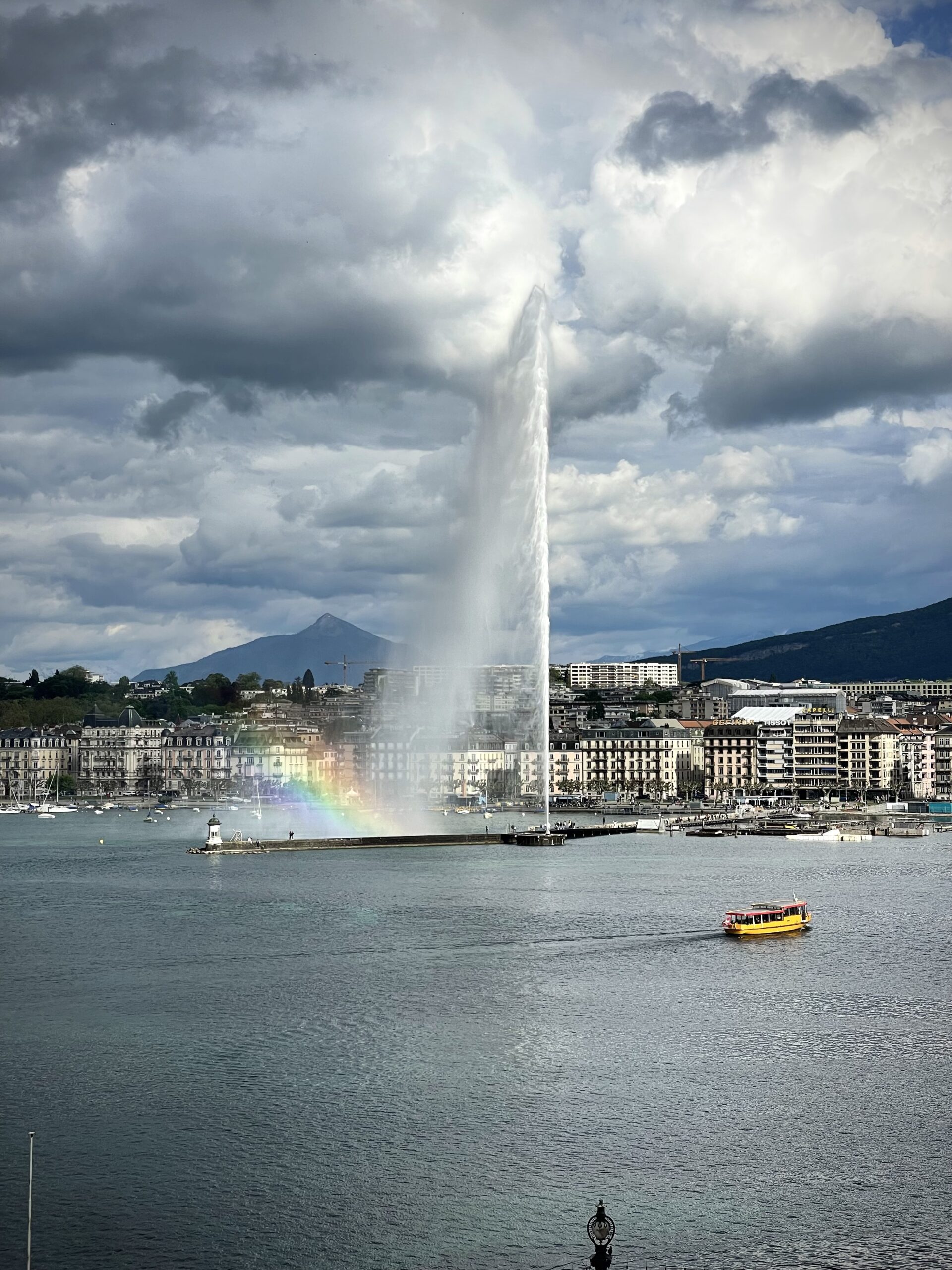 The 2,3 million JPS from Sothebys..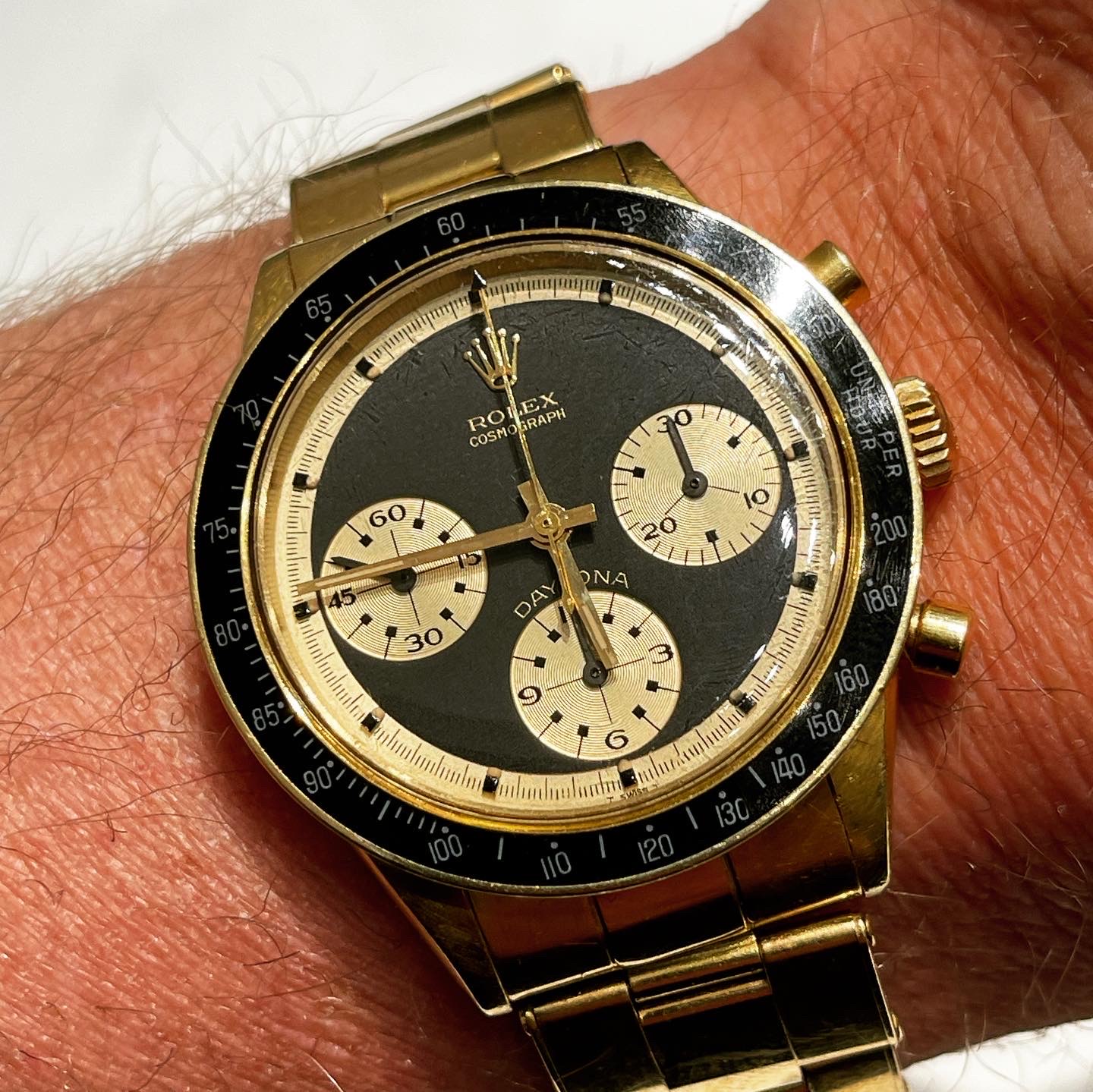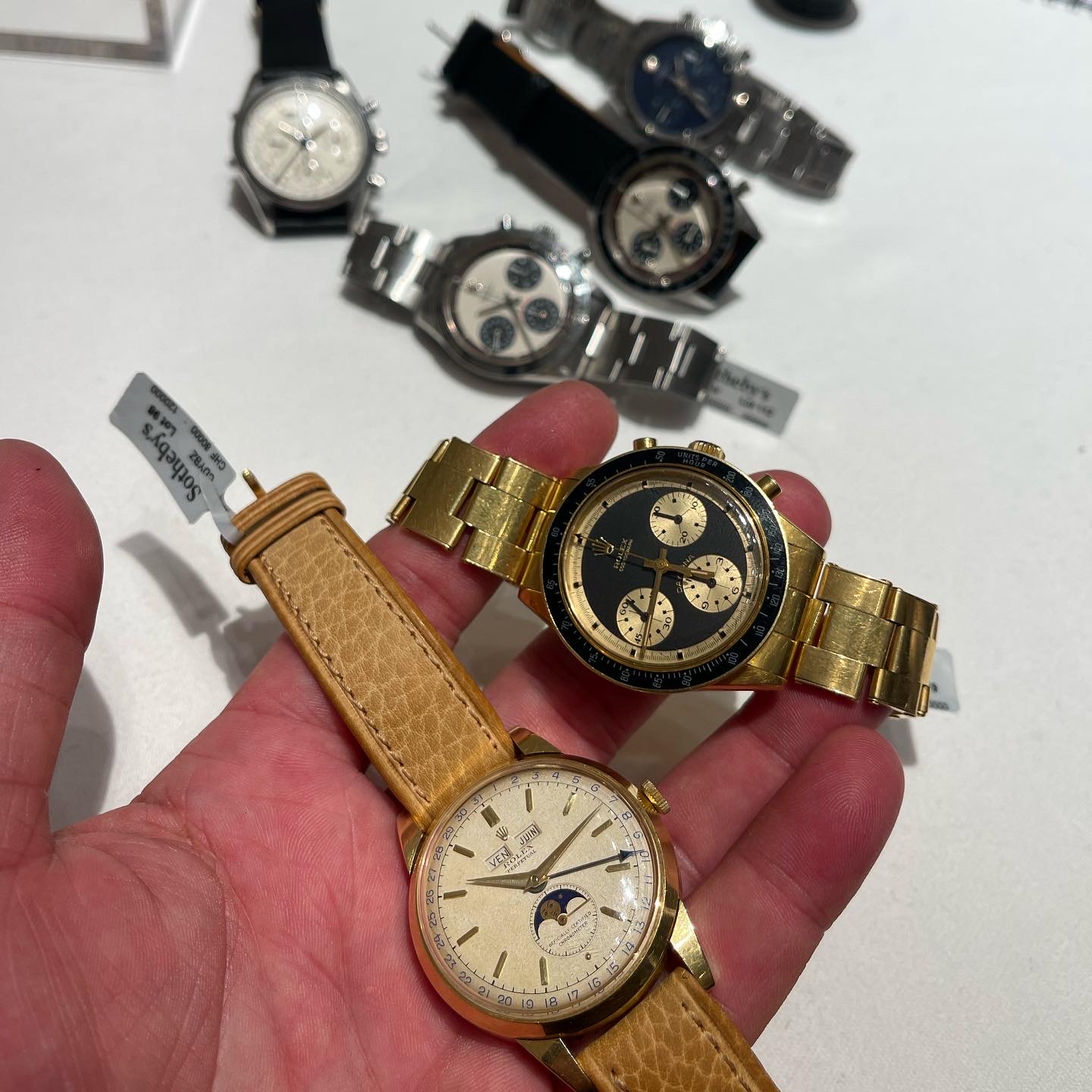 Brasserie Lipp..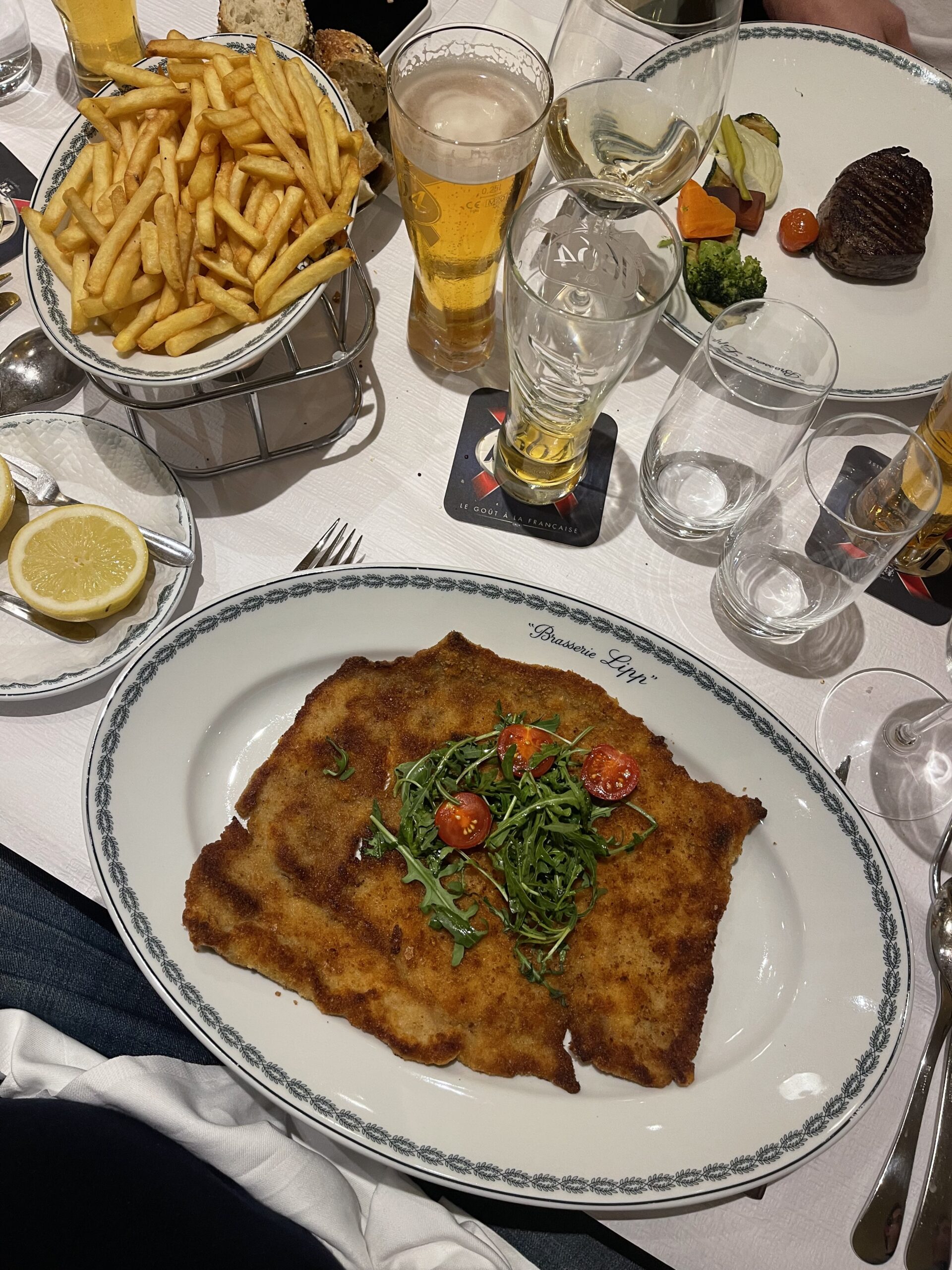 The 2,3 million Milgauss Ref 6541…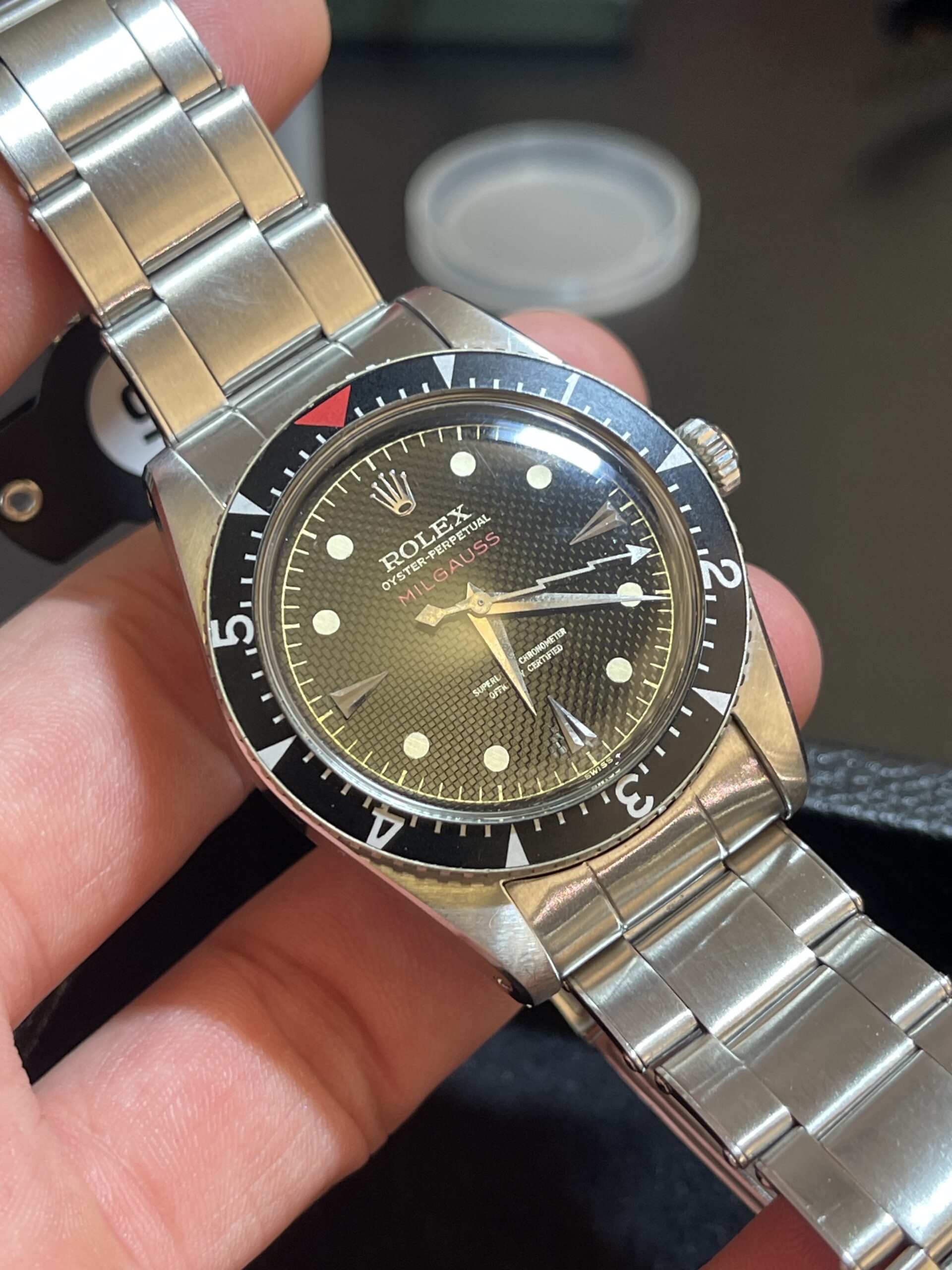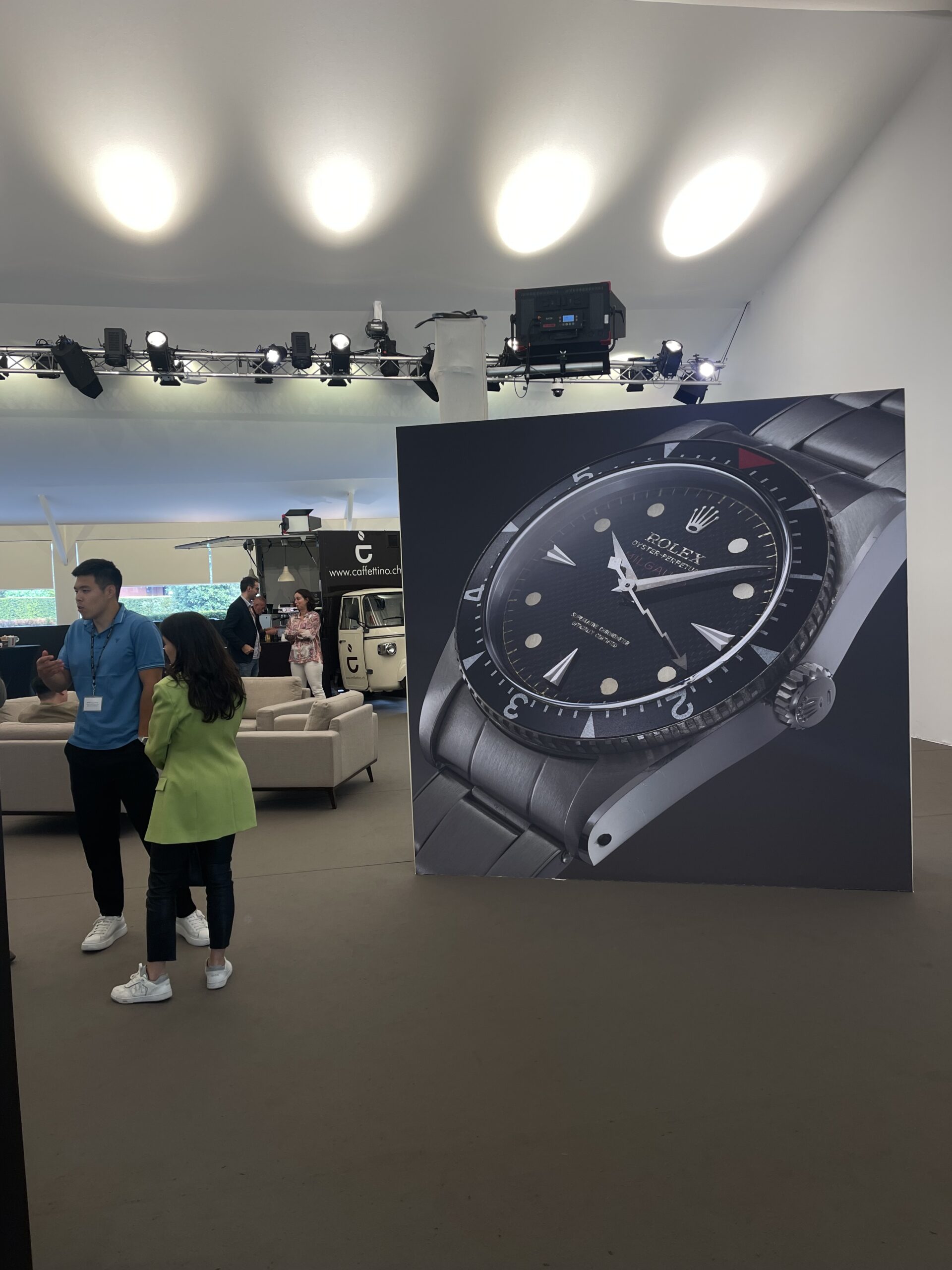 A selection of Oman Rolex that sold well at Christies..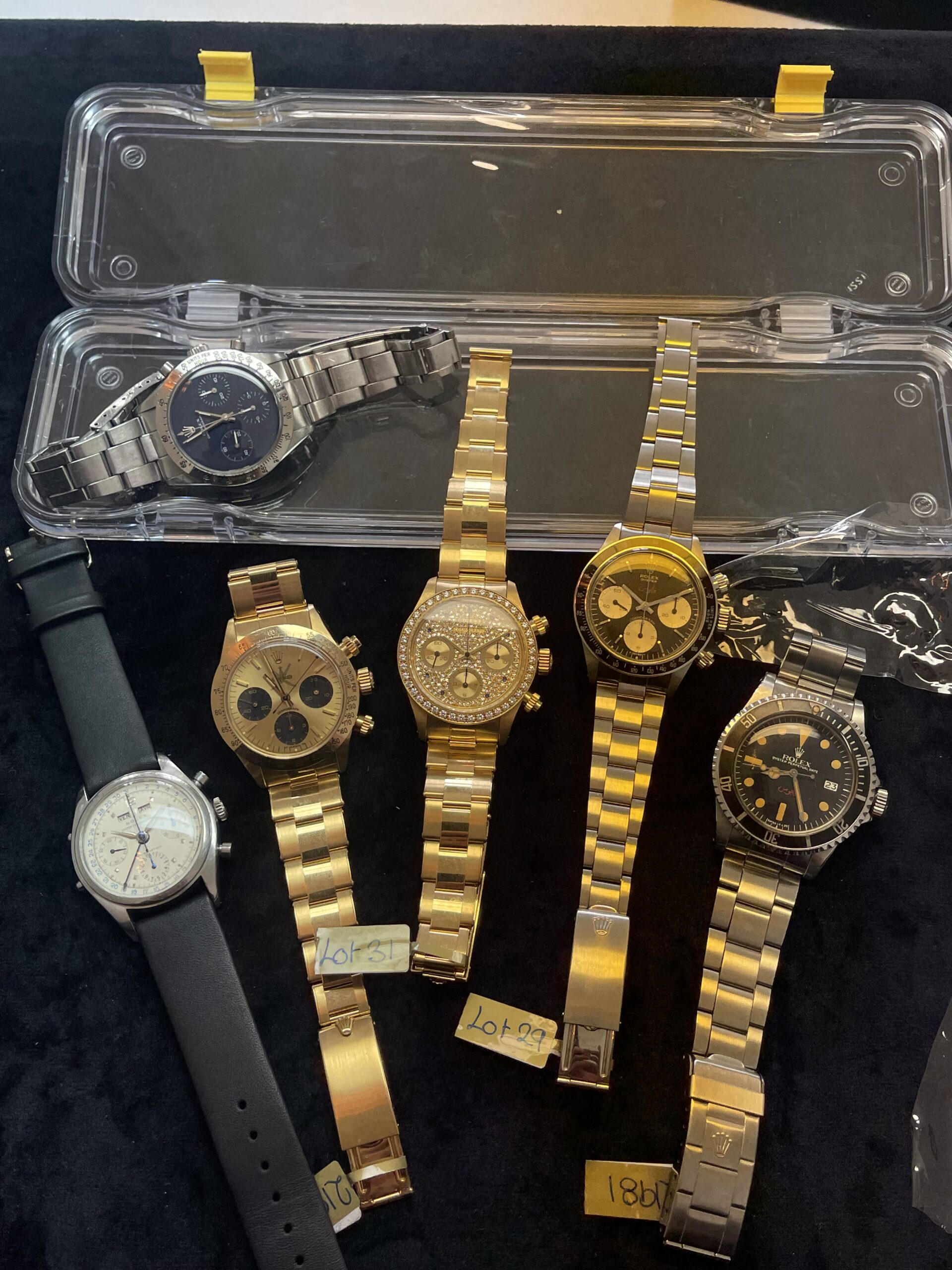 Bottega…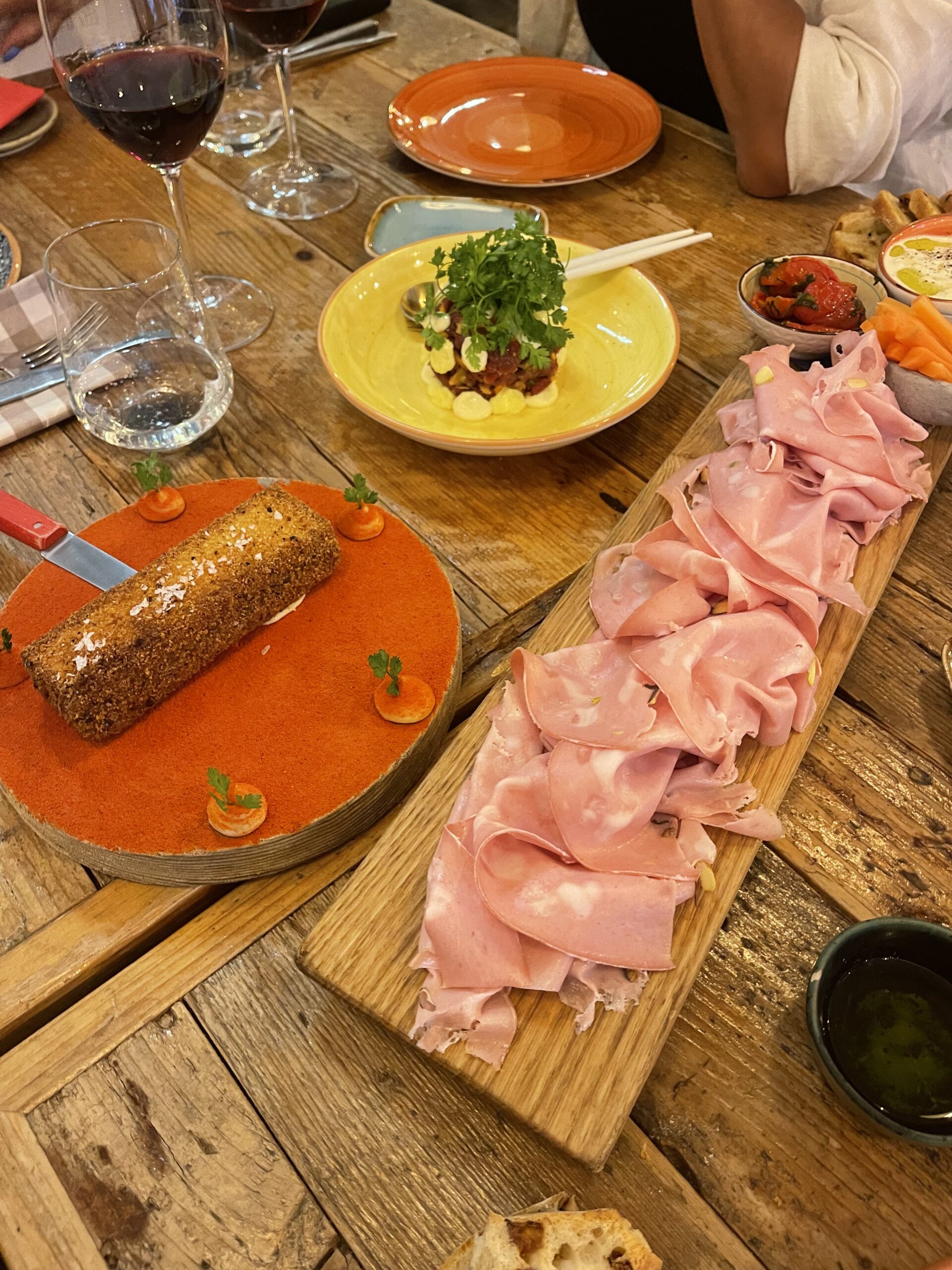 A possible unique Ref 16528 Rolex sold for Chf 355,000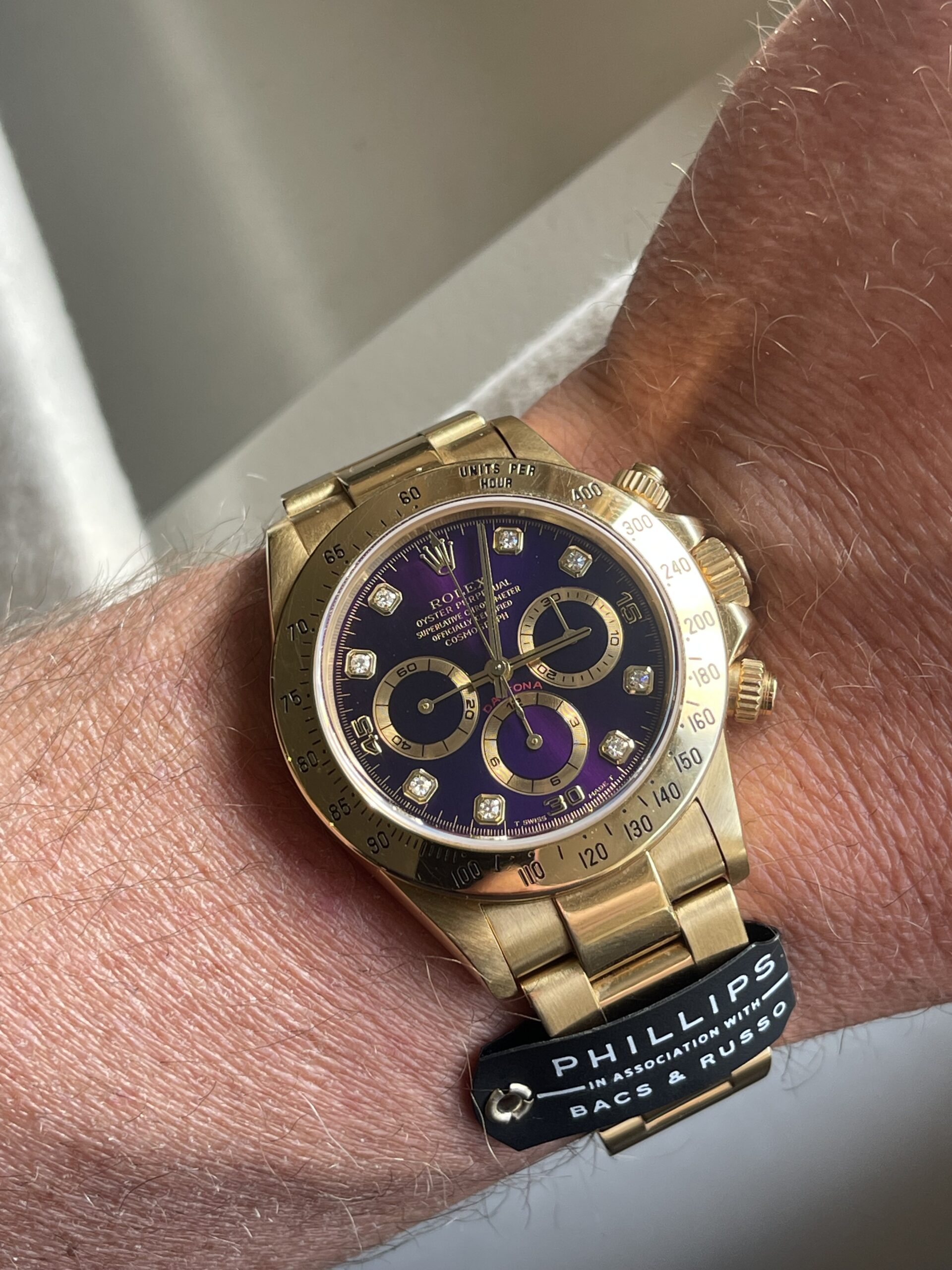 What happens in Geneva, stays in Geneva 😉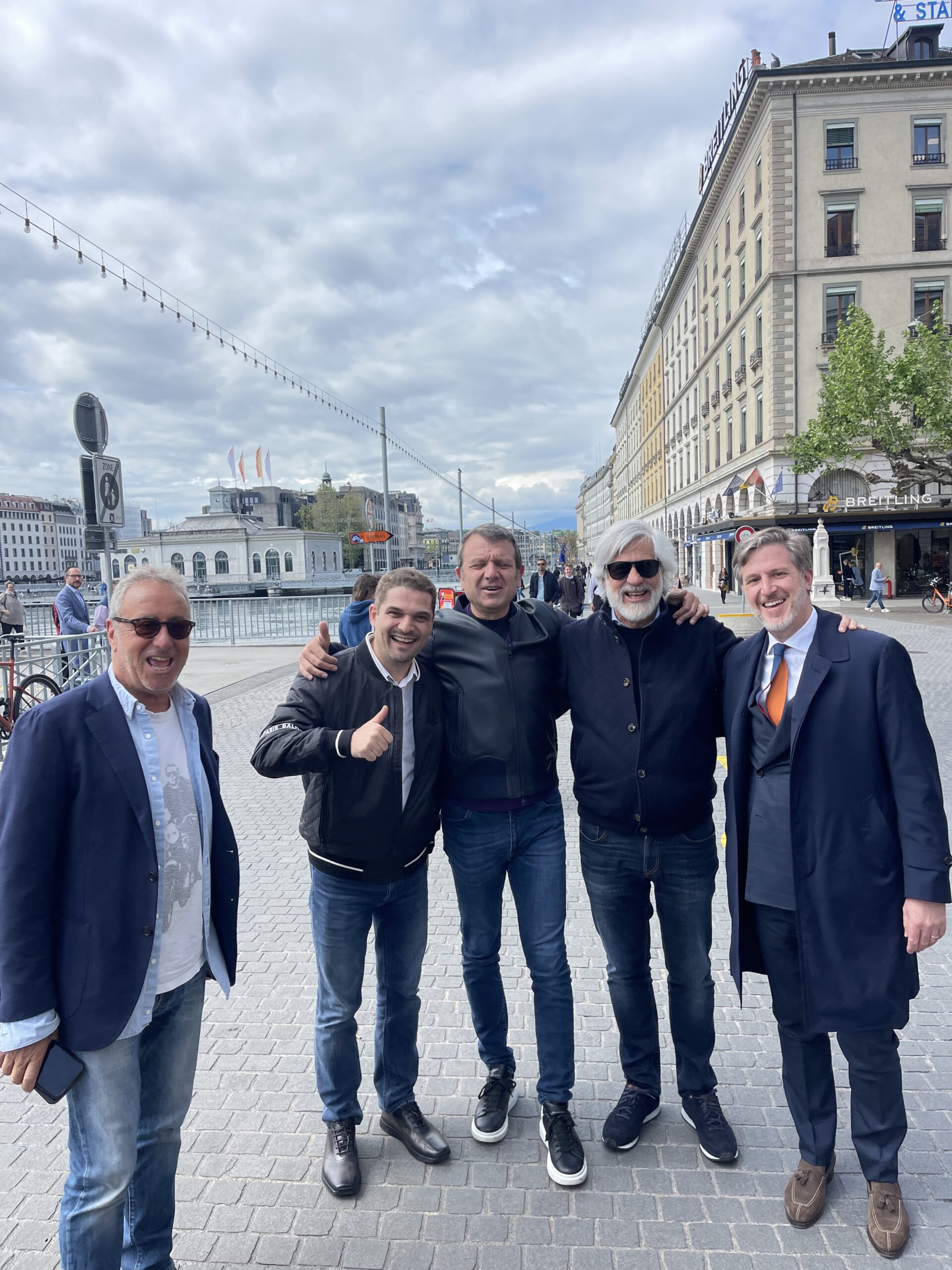 With the Uber collector Sandro Frantini, his collection is out of this world !! Dunno who that is on the right 😉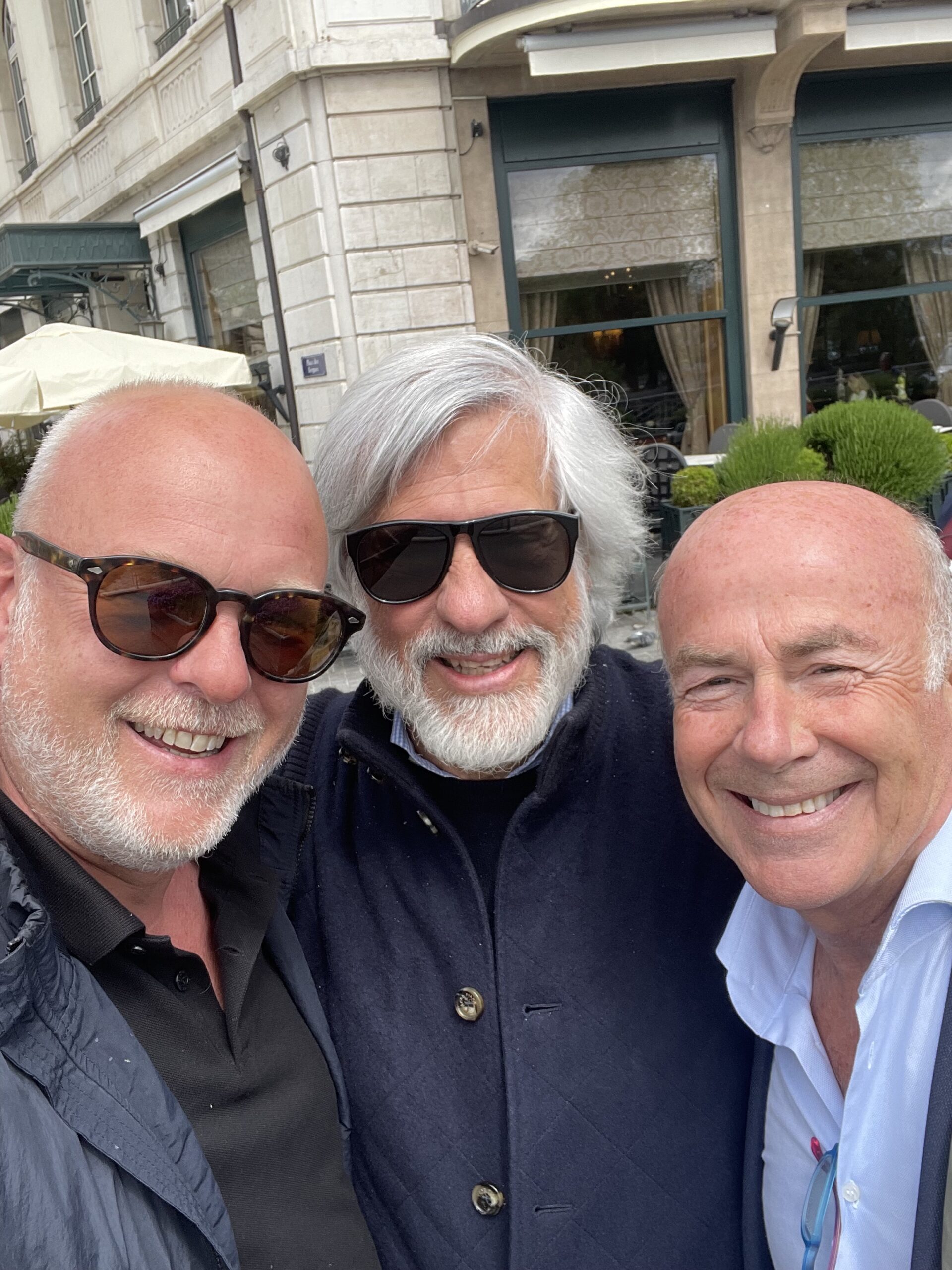 Spotted in the wild..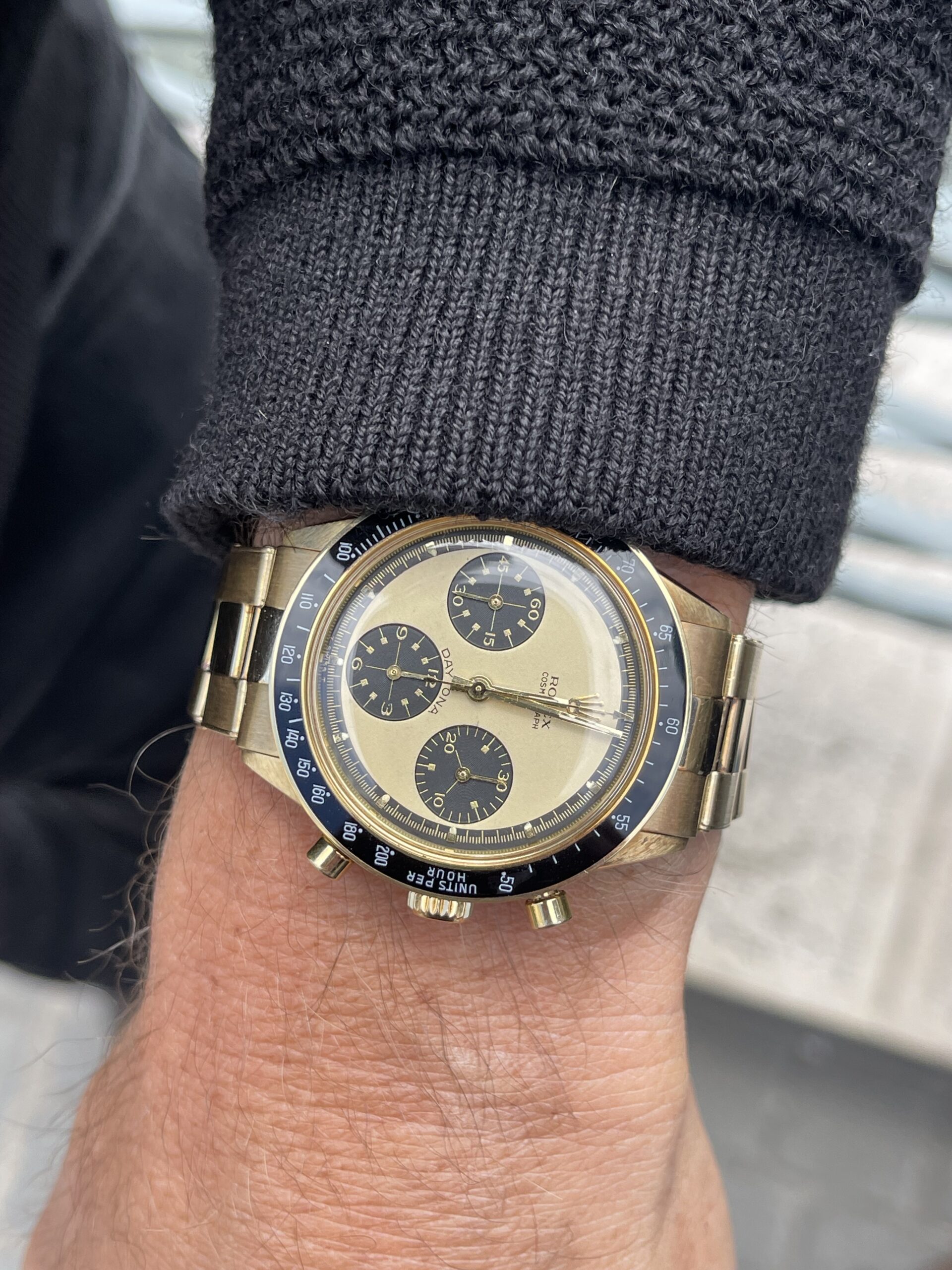 Way more rare then any gold Paul Newman Daytona, early 18K – 3 line – Daytona Ref 6263..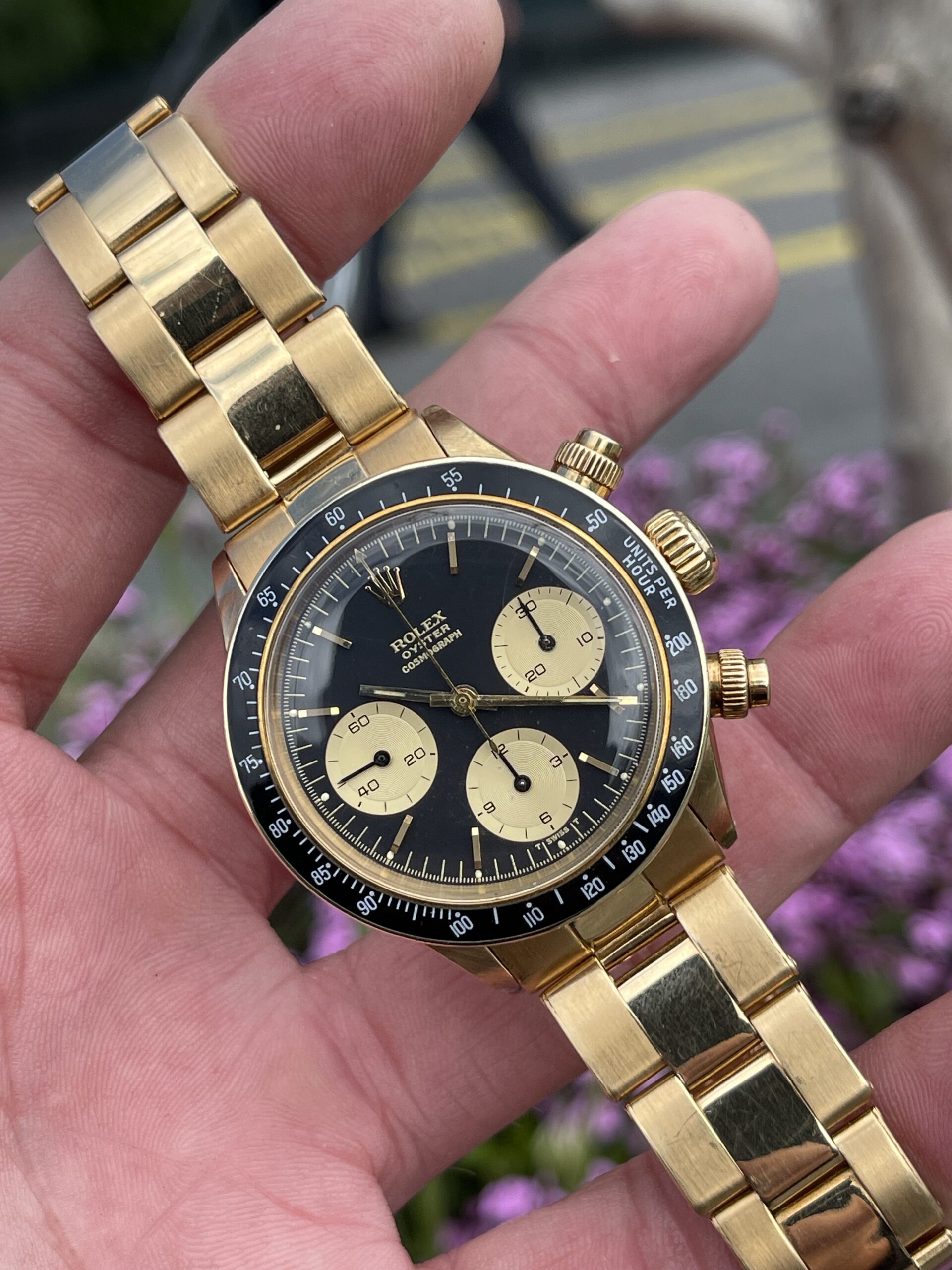 Also spotted in the wild..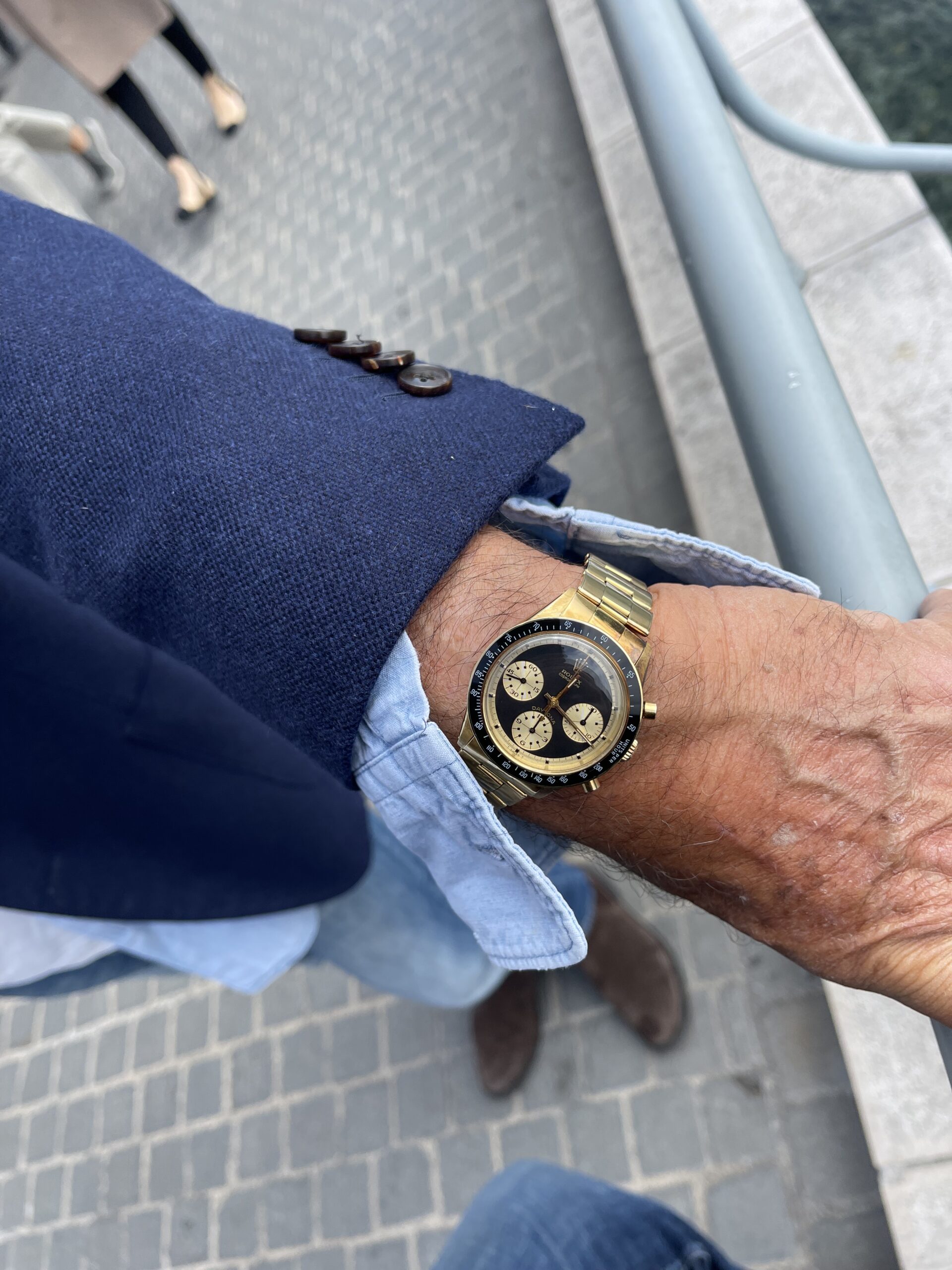 Yes, spotted outside the auction room..
Hunting hidden treasures, I always find something rare..
Goldberger being Goldberger, famous!
At Sothebys…
I respect everybody who has contributed positively to the world of vintage Rolex. Giants like John GoldBerger or Pucci Papaleo but also the many collectors who have dedicated their life to research every aspect of vintage Rolex. If this is in the field of Daytona or Military or Comex, for every category where're different specialist that achieve and record the market. Then off course all bloggers that support the wonders of our pre owned and vintage watches.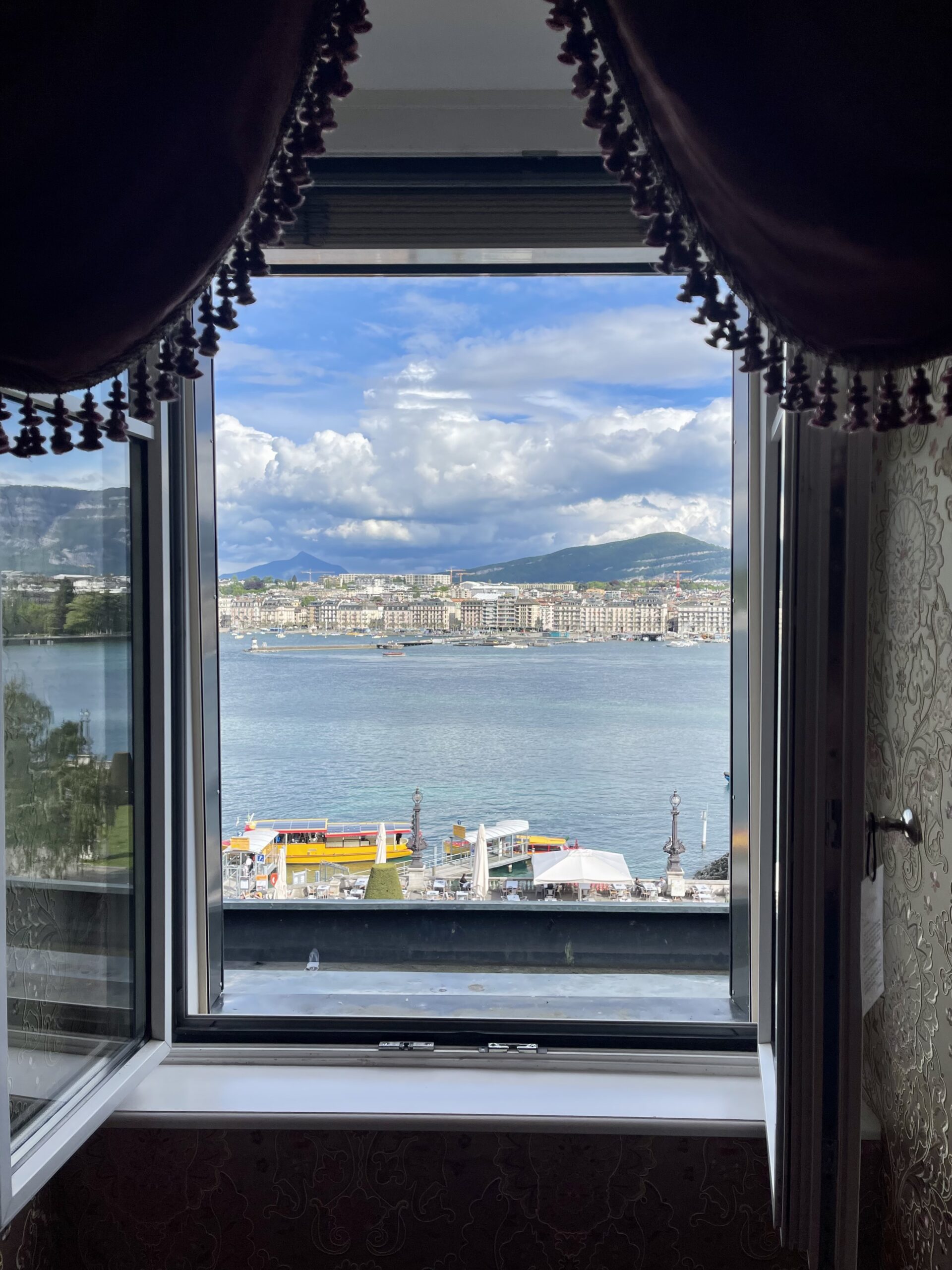 See you all next time! If you have any question please use the con tact button to contact me directly.