60th Anniversary of First Ascent of Mount Everest 
Enjoy our renewed website with 60th Everest Celebration & Vintage Rolex Passion Meeting May 28 & 29th 2013, here's our invitation on: www.hillarytenzingedition.com Have a look at our new Rolex Everest Movie
PRESS RELEASE
60th Anniversary of First Ascent of Mount Everest On 29 May 2013 it has been exactly 60 years ago that Sir Edmund Hillary and Tenzing Norgay were the first humans on the summit of the world's highest mountain, Mount Everest. Two major events will take place in May in London to celebrate this ground braking achievement: the 60th Anniversary Lecture "Crowning Achievement, Lasting Legacy" at the Royal Geographical Society on 29 May and the Rolex Passion Meeting on 28 May. Both events each pay tribute in their own way to the impressive legacy of British mountaineering and to the Rolex heritage as prime brand of exploration.
28 May Rolex Passion Meeting
Philipp Stahl is the initiator of the yearly Rolex Passion Meetings. These are informal get togethers that have become the famous vintage Rolex collector's stage, where only the love and passion for vintage Rolex and Tudor counts. Stahl will organise a special Everest Passion Meeting together with Mike Wood from Southport's Old Watch Shop on 28 May. Several original Rolex watches that have been officially part of the legendary 1953 ascent will be on display. By invitation only, please see www.rolexpassionreport.com for more info.
29 May Crowning Achievement, Lasting Legacy
On the 29th of May the Himalayan Trust UK, together with The Mount Everest Foundation, organises two very special events at the Royal Geographical Society to which all are welcome. The afternoon event will be filled with inspiring climbing stories by world class adventurers. The evening event is a tribute to those who made the first attempt. All of the speakers are related to this very special day 60 years ago, among others Peter Hillary and Jamling Tenzing Norgay and Jan Morris, the Times correspondent in 1953. See himalayantrust.co.uk/ascent-of-everest-60th-anniversary for ticket info.
Hillary Tenzing Edition
In light of this milestone in climbing history and its 60th anniversary, the Hillary Tenzing Edition has been created. It is a special issue of legendary Rolex watches and the result of a fruitful cooperation between creator Philipp Stahl and Peter Hillary and Tenzing Norgay. It is primarily a tribute to Hillary and Tenzing, two of the greatest mountaineering families of all times. The Hillary Tenzing Edition also acknowledges Rolex as prime brand at the forefront of exploration. Rolex watches have been the timepiece-of-choice on Everest since the 1950s thus creating a priceless heritage as the ultimate sports watch. The Hillary Tenzing Edition series is limited to 88 packages. Centrepiece of each package is a set of 3 Rolex Explorer models with the vintage HTE heritage look to represent the unrivalled history of Rolex in exploring the world's final frontiers and various custom-made items commemorating the 1953 Everest expedition. Take a look at
www.hillarytenzingedition.com
for detailed information.
Listen & see above the video I made while legendary George Band explains the importance of oxygen on Mt Everest while I was playing with his both vintage Everest Rolex at his home near London…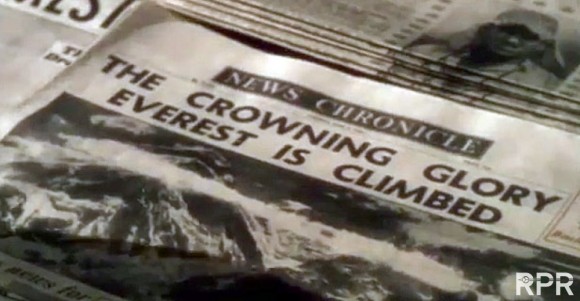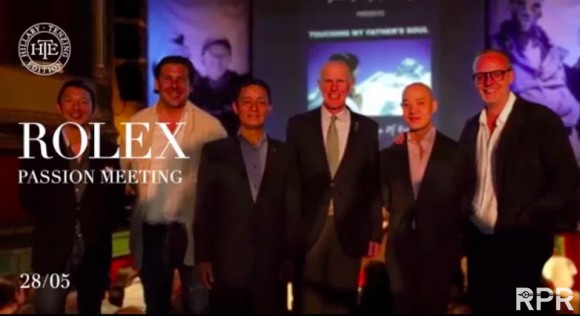 So join us for some serious Vintage Rolex Passion including a special exhibition of original Rolex Everest watches and other iconic Rolex on May 28th. Maybe you even wanna stay another day off win London nd join us @RGS Everest celebration May 29th 2013 for a full day of special lectures, exhibition and spectacular evening session at the ballroom of the Royal Geographic Society in London, UK. 
Send me a message from here.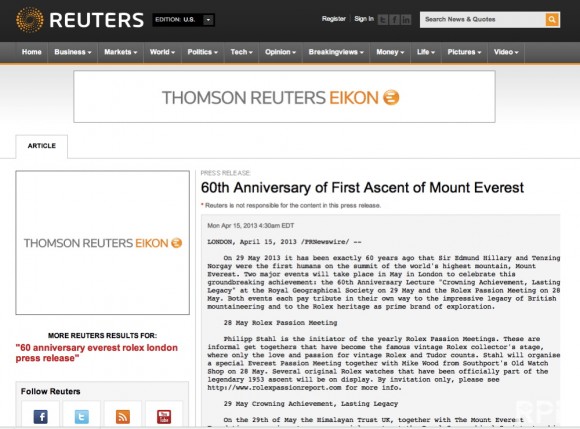 Further information: