Military Rolex Submariner Ref 6200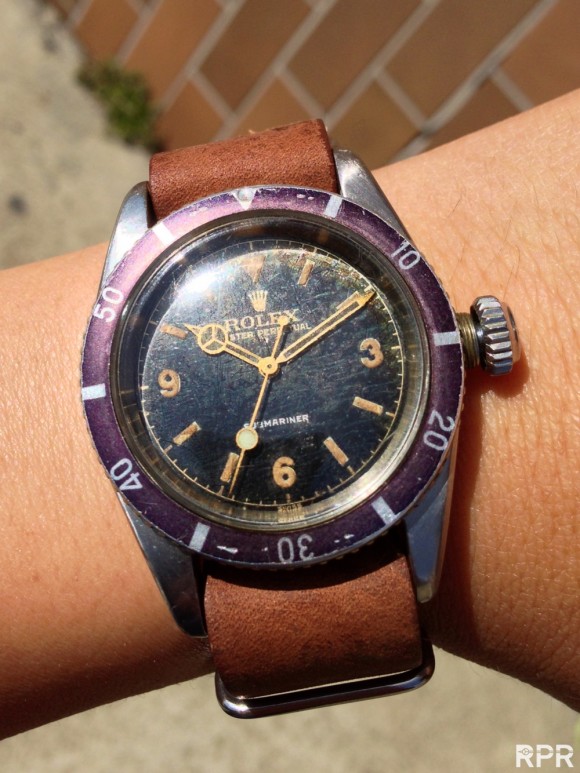 Can't wait to get my Ultimate Rolex Submariner Ref 6200 with stunning US Military history of Major Giggs my dear friend Eric Ku just got me! Many thanks again, you're definitely one of the best hunters of most extra ordinaries rare vintage Rolex with great important provenance over the years, my biggest respect!
Purple Heart Medaille matching the faded all original mk1 Purple Bezel with first typo of this important Submariner, start of Sport Evolution 1953/54 & added extra white Submariner text at 6 o'clock!  It's still in it's condition we want it, undamaged, all original radium, dial and hands, clean well running movement and still great case for a Submariner that had quite a rough live!..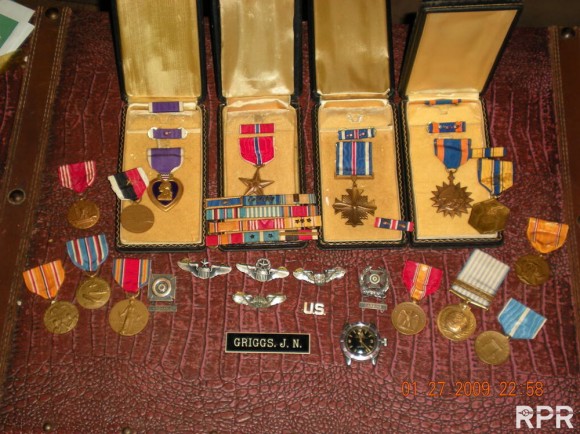 After a long hunt, is a very fresh to market Rolex Submariner ref. 6200.  It is one of the earliest model Submariners, having the desirable 8mm "Big Crown", and the even more desirable "Explorer 3-6-9" dial.  Intrinsically a very desirable watch, what further enhances its desirability to me, is its storied history.  The men of the 3918th Field Maintenance Squadron presented this Submariner to Major James Griggs in 1956.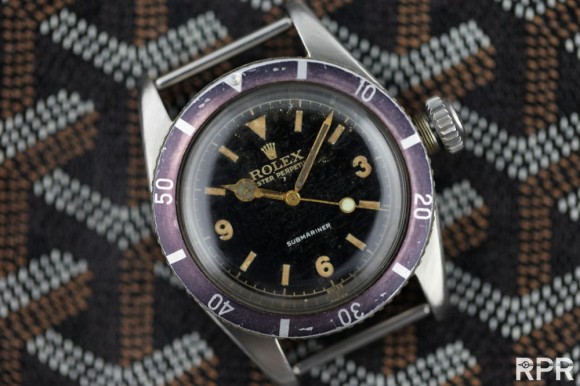 Major Griggs was a well decorated war hero, and a member of the US Air Force who had a distinguished career flying B-47s and B-52s during World War II, and played pivotal roles in both the Cuban missile crisis and the Korean War.  The first pictures I had seen of the watch made my heart skip a beat and my pulse quicken.  It had to be mine.  I had been "hunting" this watch since 2008 when I first knew of its existence.  After a nearly 5 year wait, I was so thrilled to be finally able to acquire this beautiful relic and testament to the rich history and heritage of Rolex as a tool watch.  Not perfect by any means, but with a glowingly original and rich patina, this is the type of watch that haunts my dreams.
Mythical Rolex 200 meter Submariner of Major Griggs given to him "From his Men 3918 TH F-M  Squadron in Guam! Many thanks Agin Eric, can't wait to strap it on soon!
Titel Story "The Thrill of the Chase" by Eric KU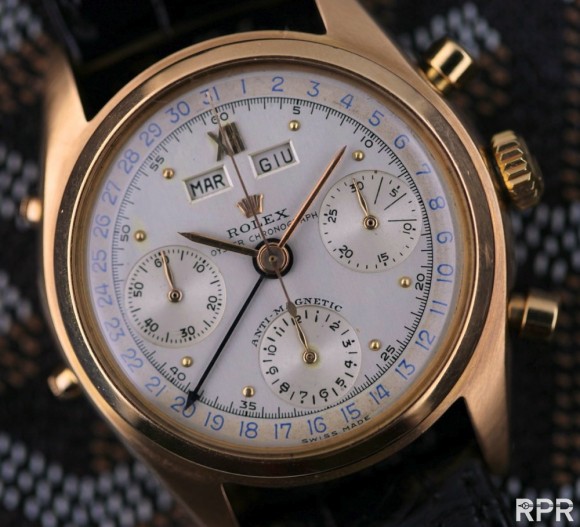 Tuesday
8:00PM- Make a deal.
8:15PM- Look for a flight.
11:50PM- Hop on a 14 hour flight to a far off land.
Wednesday
6:00AM- Arrive in a far off land.
7:00AM- Shower at airport lounge.
9:00AM- Meet customer and conclude a deal.
12:00PM- Back at airport.
2:30PM- Taking off for home.
Yes, I've done things like this.  So what would motivate a sane person to do this?  Is it THAT special watch?  Sure it is, but more than that, it's the thrill of the chase.  For many of us, its not only possessing that extra rare or special watch, it's also the pursuit, the hunt, or the thrill of the chase.  This high can be had (legally of course) either buying from auction, or chasing a watch in the wild.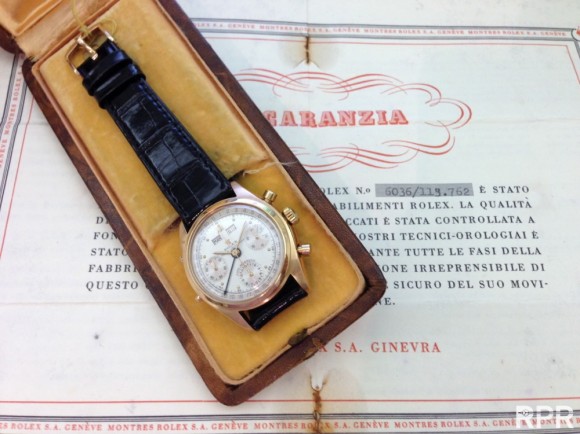 The Thrill of an Auction
Recently I was fortunate enough to be the winning bidder for (in my eyes) the star lot of the Gordon Bethune sale in December, 2012- The pink gold Rolex ref. 6036 Dato-compax "Jean-Claude Killy", lot nr. 164.  Estimated at $180,000 to $280,000, all in all it achieved $614,500 a world record price for the reference, and also a world record price for an online bid for a watch.
Crazy?
Hardly…  I had previewed the watch in NYC but was in Tokyo at the time of the sale.  I had been looking for a nice pink gold Killy for some time, and wondered to myself, is this "The One"?  Up all night and with sweaty palms, I followed the auction closely and by the time lot 164 was up for sale, it was around 4AM local time.  In my mind, this particular watch- due to its beauty, rarity and condition was a candidate to break the $1m (million dollar!) mark.  Fortunately for me, when the dust settled, it was mine, and for a little less than I expected.  With a mix of nervousness and excitement, I tried to calm myself down but whom was I kidding.  There was to be no sleep that night.
Did I pay too much? ( edit RPR , it was  $614,500,- for pinkgold Killy Ref 6036)
Did I look closely enough at the watch?
Who pays that kind of money for a watch?!?
Would I be able to sell it?
A couple weeks go by and after payment and shipping arrangements are made, I eagerly await its arrival at my office.  Brinks finally knocks on my door and once the package is in my hands, I rip the box open and carefully peel away layers of bubble wrap until I get to an unassuming little brown leather box.  As  I carefully open it up, a big smile appears on my face.  Just as beautiful as I had remembered.  Scanning for defects or faults, none were to be found.  Just, Wow!
After not seeing something for a while, I am always very critical upon second inspection and my eyes seek out flaws and defects that I had not seen.  This time, there was no disappointment, just pure happiness.  All my worries subsided with a peak into that tiny unassuming brown box.
Eric Ku bought it at Christie's De Bethune Auction of record prices last December 2012 I reported in RPR about..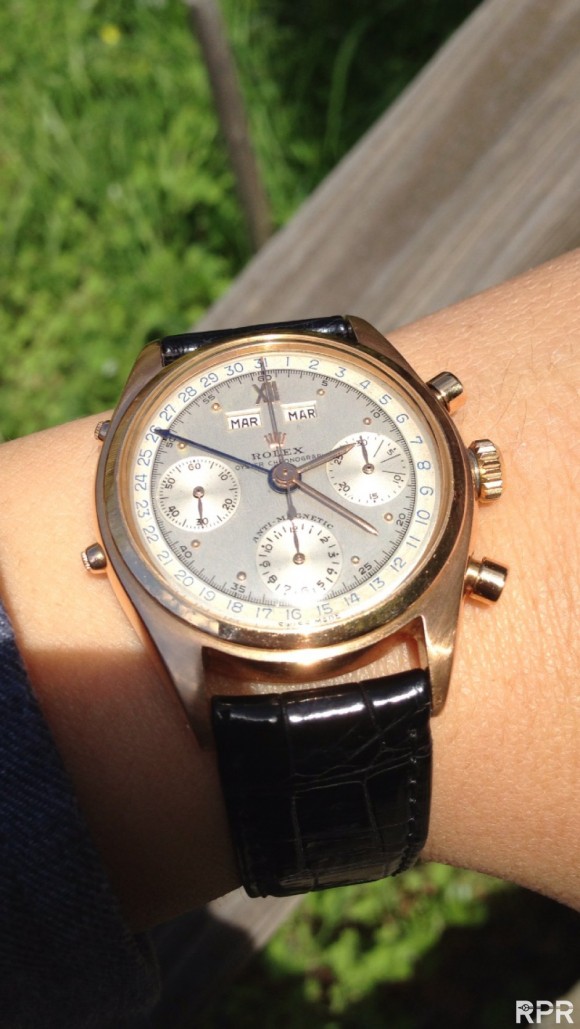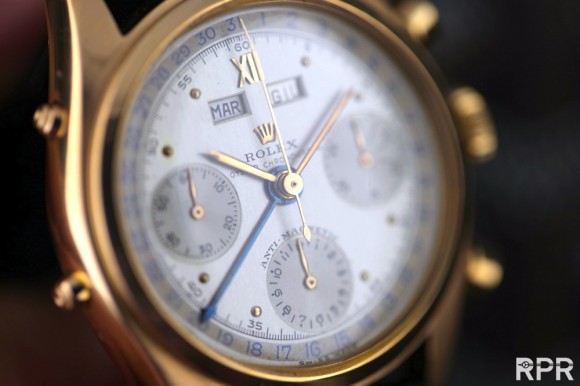 Very cool catch!! Super nice Pink bright and crisp complicated Rolex icon!..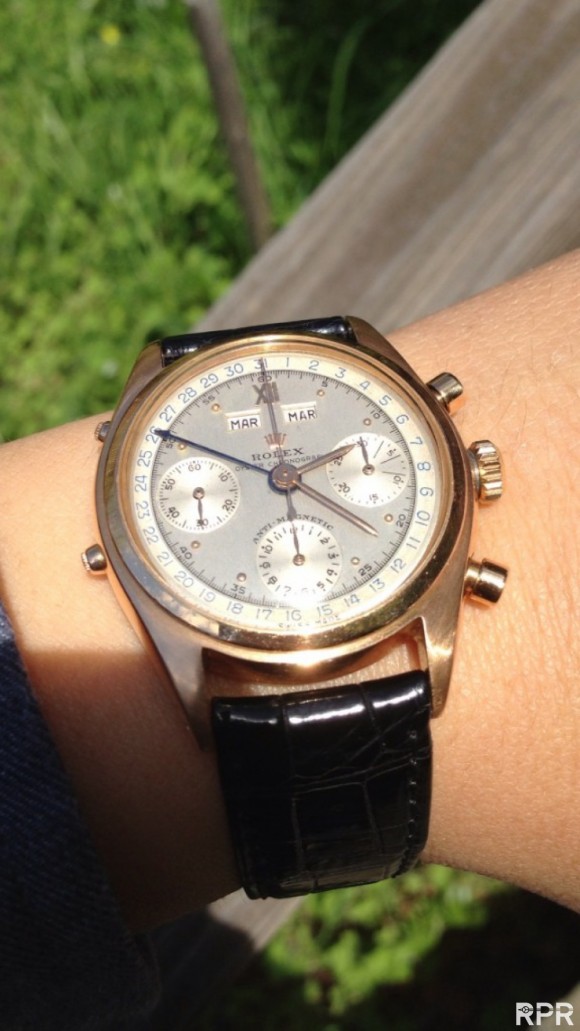 Epilogue
So as a dealer, do I regret letting go of such beautiful and historic watches?  Not one bit.  I absolutely love these watches and love what I do, but more importantly, I am addicted to the chase and always look forward to the "Next big find."  It brings me much joy to be able to place these historic relics in the hands of the right collectors who will cherish the watches as much as I enjoyed acquiring them.
Edit RPR for: Fits nicely with my Pink Padellone Ref 8171…
And Gold First Owner and First ever Rolex Daytona 18 ct Paul Newman Ref 6239 from German Architect..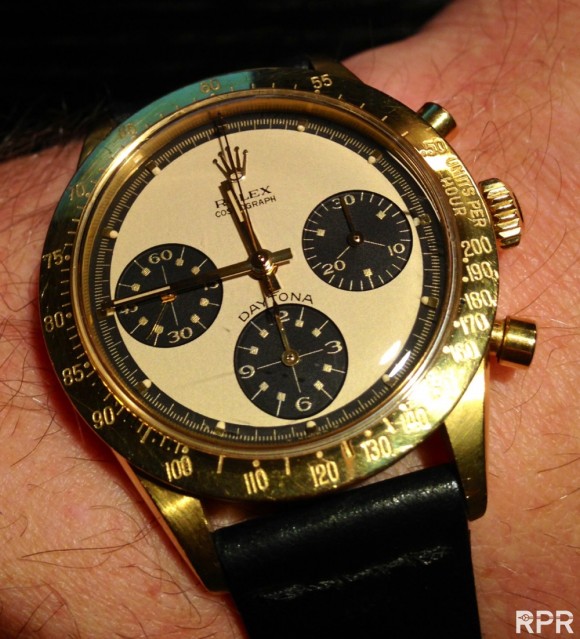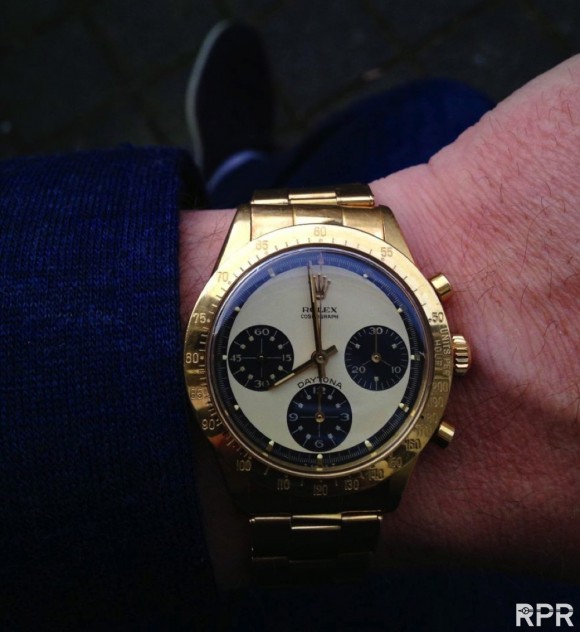 Here together with Oman Daytona Ref 6263, still in original condition before I polished the glass. plastic tropic with my hands! ;-)..