Unique Prototype Daytona and Pucci Papaleo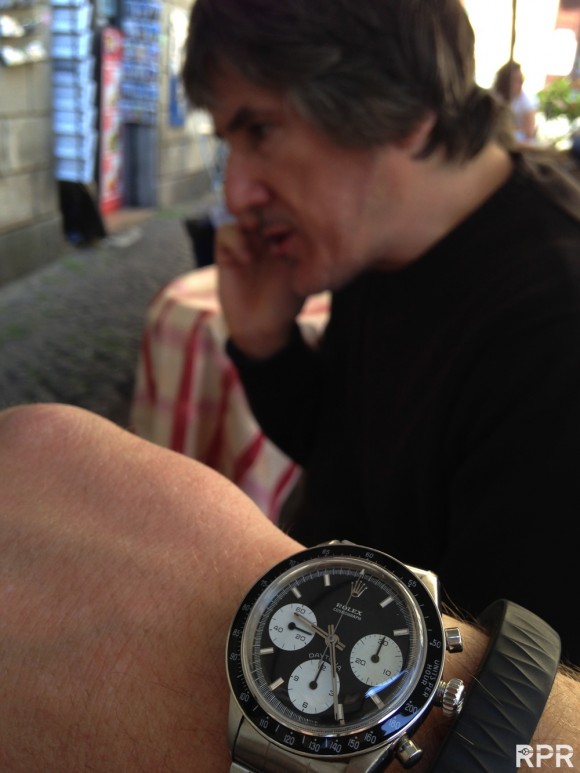 Best news off my trip was, as usual, besides the amazing Rolex, our newly set up collaboration between the Rolex Legend Pucci Papaleo & Myself, RPR and RPM 😉 So Pucci and I finally decided to bring out even more important Rolex Histroy Books available in the near future for all the Rolex Loveres Worldwide !! Soon we'll announce the Ultimate Rolex Day Date Pucci Book, then work on new titles like Prototype Dials & all Chronographs Rolex made, logically the Submariner, Explorer and GMT books to complete our work final goal by having the Ultimate Rolex Bible with all models.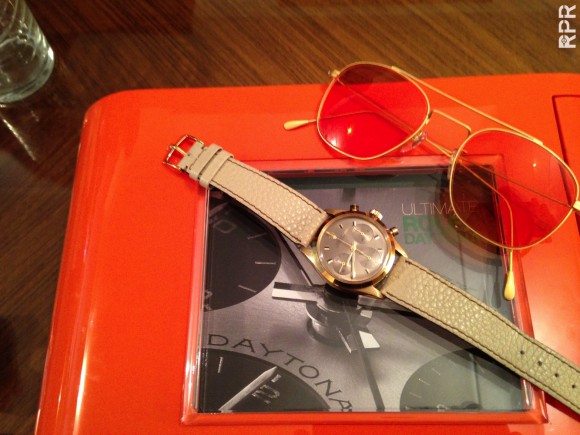 You can imagine this Rolex Encyclopedia will become even much bigger and lot's of more impressive then the already mind blowing piece of Art Pucci created with his Ultimate Rolex Daytona Book! Both our life's of pure vintage Rolex Passion and many great friends of us will be highlighted!! We already started working on the Iphone & Ipad App, the Ultimate Daytona App. Personally I find it VERY important that all thje great information and detailed knowledge will become available to every one out there.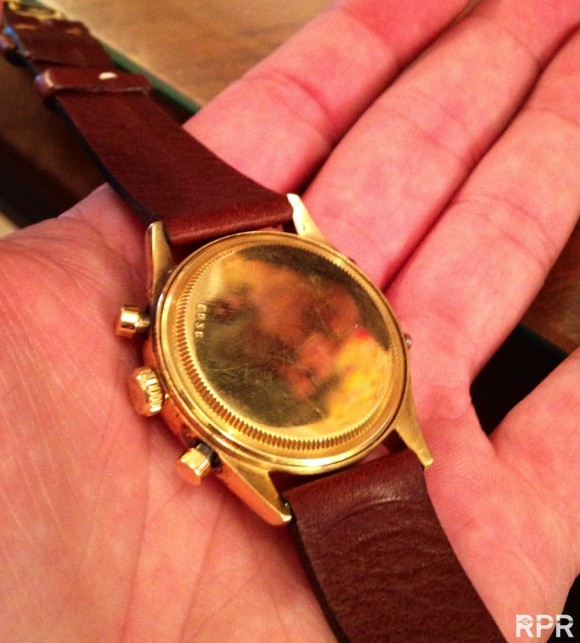 Therefor we will bring out the Mini Pucci Rolex Daytona Book together with your App, so the Daytona Stories continues with those grails we find in the future. Many thanks for all the support of you great collectors to back us up with your personal stories, your collections, your wisdom and sharp eye for detail. You except from Pucci & me to make this perfect, so it will be perfect! It will keep us busy for at least the next 5 years 😉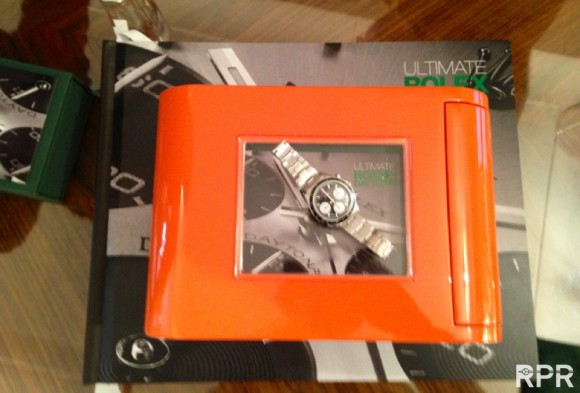 After some great friends contacted me, I wanted to add some more information about the Importance of Proto Types, although I'm traveling again -))
MANY GREAT friends, italian Rolex lovers, have played a key role in the research and final Pucci book publication! Bravo to ALL of YOU! Without all your Passion, it would not be possible! MILLE Grazie you great Rolex Italia Community!
In particulair I like to add that my dear friend <b>Roberto Jatucka</b> has taken me into confidence from the beginning when insiders like him started researching and archiving the 3 x marvelous important Singer design sketch Dial Catalogue of 1967-1968-1969. Just the time that Rolex started getting used in adding matte white printed dials instead of (too expensive now as production went up fast due to American Market) gilt gold earlier glossy ones. These brillant design proposals, sketched by hand, made by Singer Art Craftsman Designers and NO computers involved!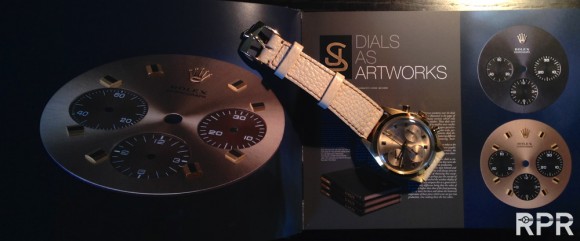 So out of a Swiss Watch Evolution of Dial Designs going back 1000 years, Singer proposed their fixed clients and mayor players back then already in the market: Rolex, Tudor, Omega, Universal etc brands. All best watch brands where using their designs to be 'fashionable, hot and up to date'. Thus their Proto Type's that never made it to the public ( because back then Rolex pushed Singer to redesign the Daytona dial as the high consumption US muscle cars got out of fashion, a new bright decennium was starting to make history)
From Hand Drawn Singer Concept to Final Legendary Rolex Daytona Series..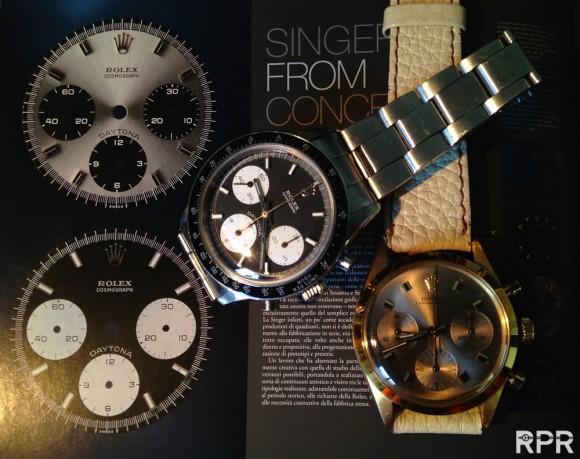 Nowadays all Rolex Lovers in the World would be VERY interested to own one of these stunning design results. The beauty of the best experienced Artist made these Proro Type dials legendary, knowledge, style and machinal new opperunities in making for instance markers even more interesting, new double or triple prints, new dial finishing options etc. I know realize after owning some more, It's like touching Gods Hand, hihi! 😉 Rolex is aware and will move fast forward, reboot to blue and give us green for Vintage Rolex! 😛
MANY Thanks to ALL my DEAR ITALIAN Friends!!
Grazie Mille,
Philipp
Enjoy below Rolex Marvels, Mindblowing BOMBA'S!! 🙂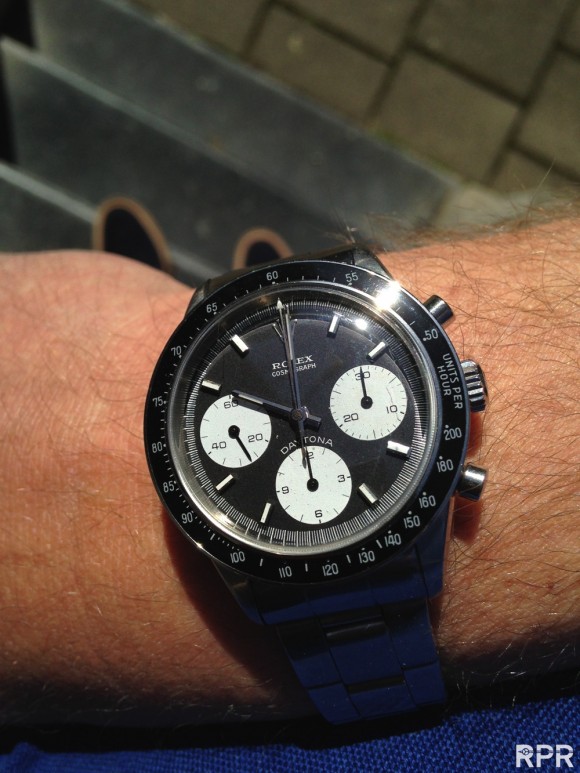 Rolex Daytona Paul Newman ref 6239 with 1.75 million serial & Unique Proto Type 'Chronograph'…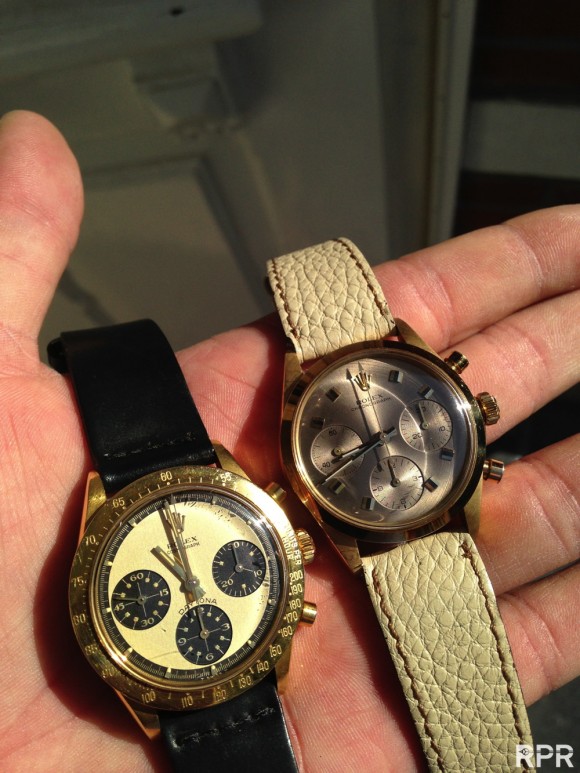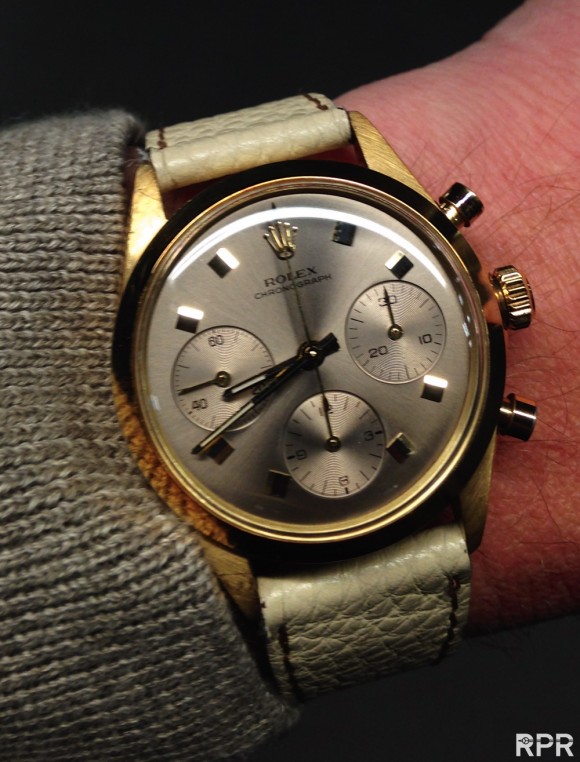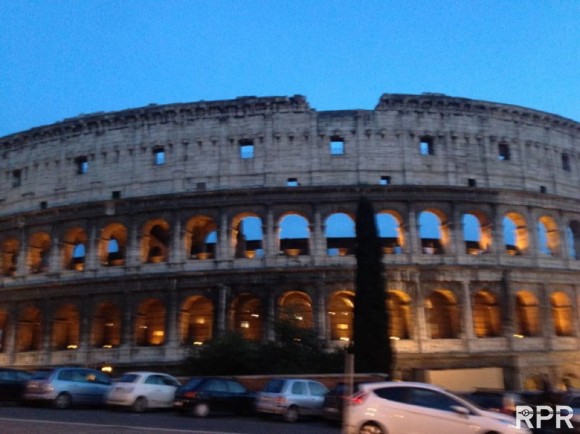 Pucci & Notorius Daytona Collector, "Il Presidente" ;-)…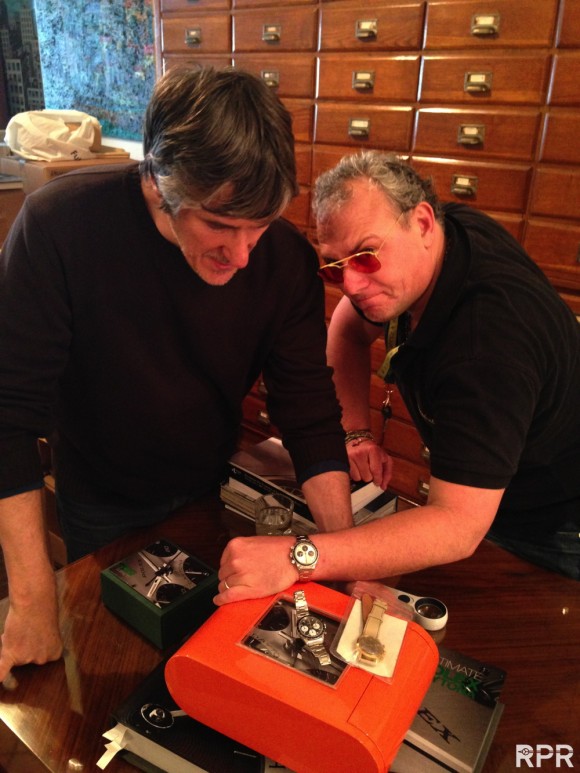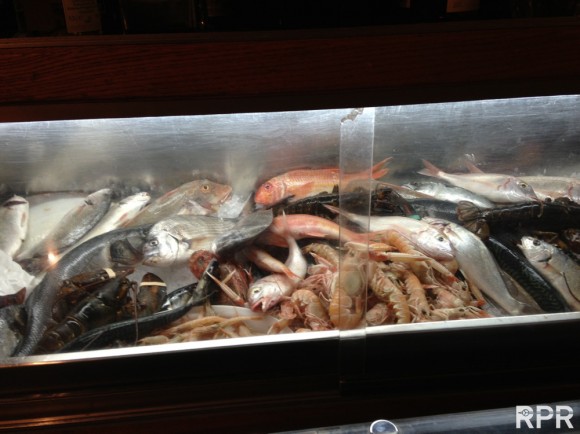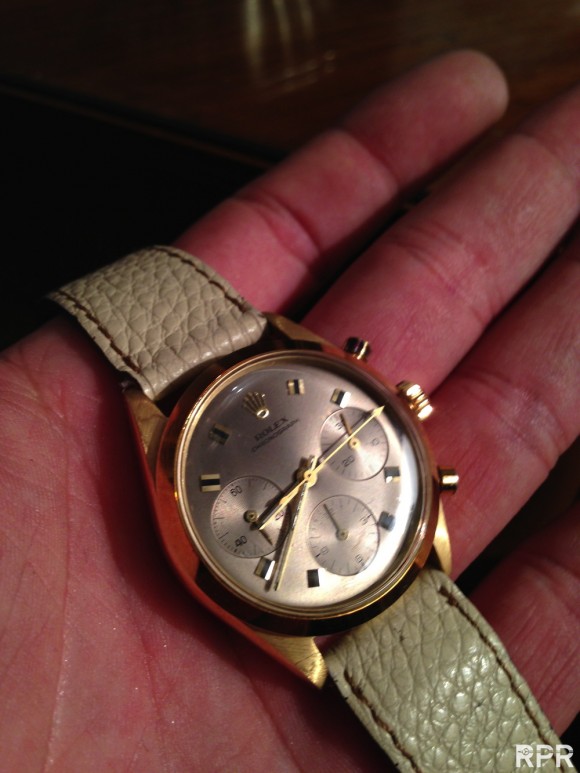 Extremely rare bird, unique, Qaboos silver soigné with tropical brown Big eyes, whaooooooo!!!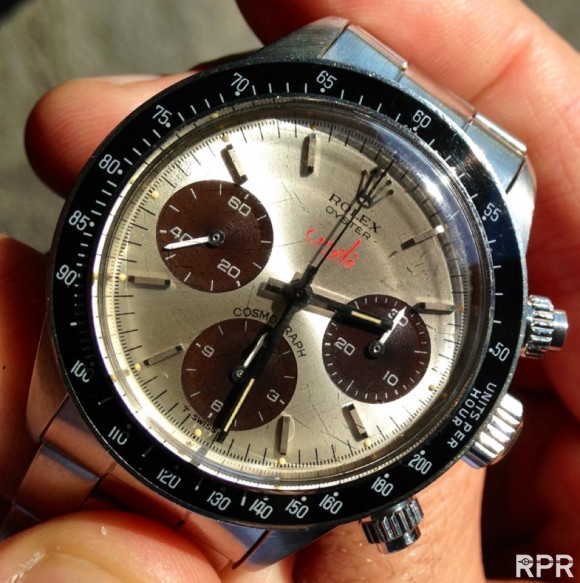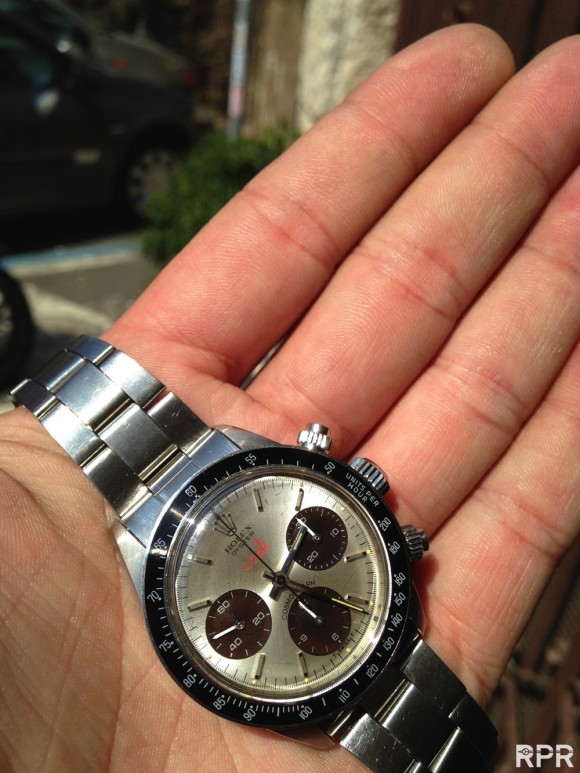 A miraquel, Big Eye Daytona Qaboos soigne..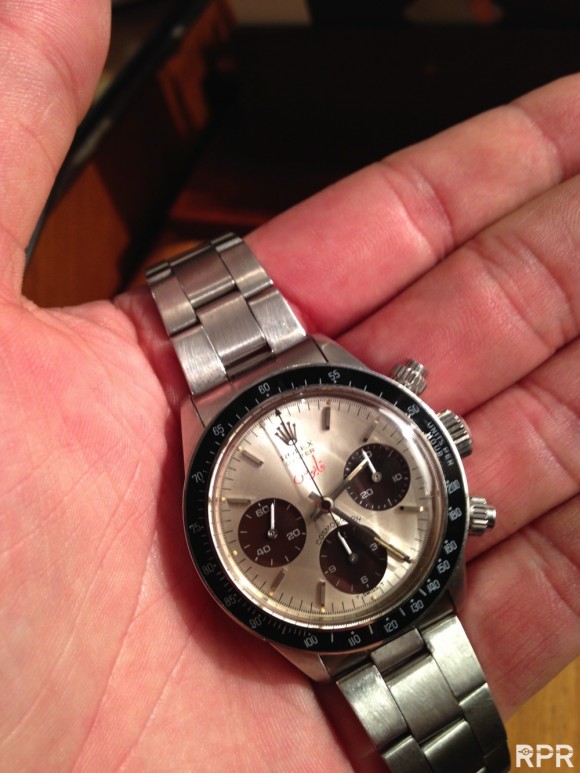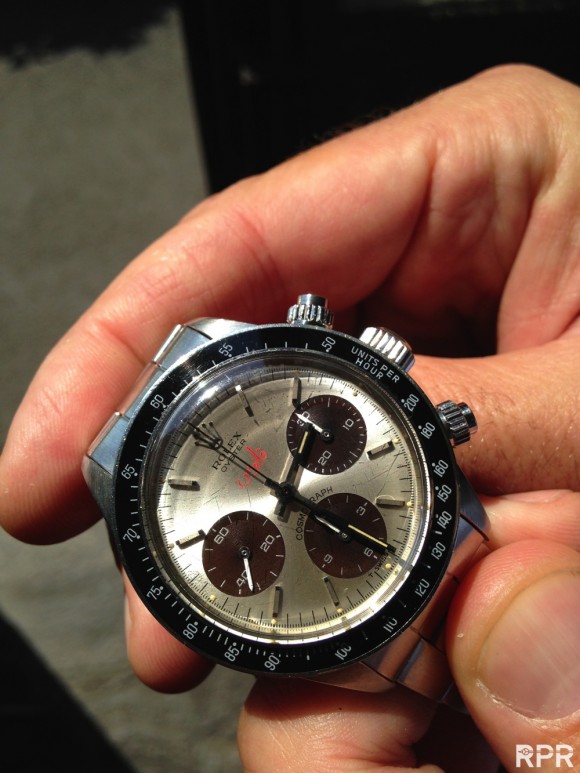 Best ever Tiffany Daytona Paul Newman in gold….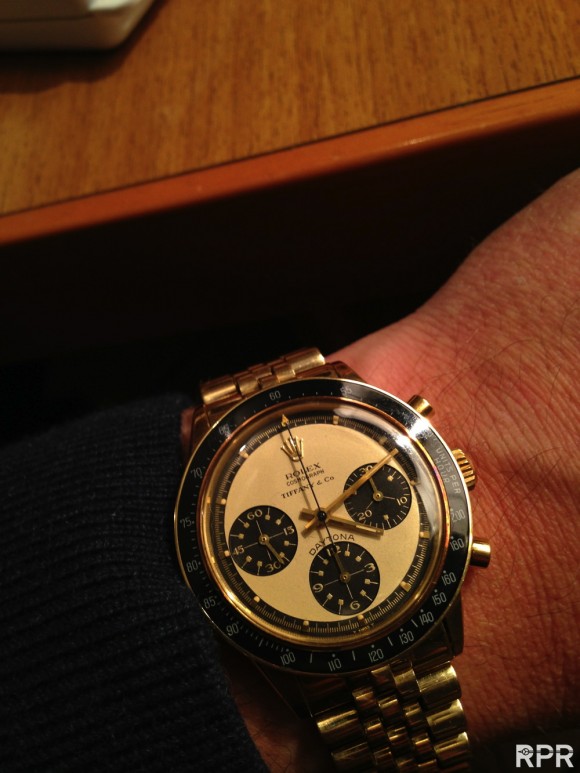 Ref 3525 Monobloc by Prouds in Sydney, Australia.. BELLO!!.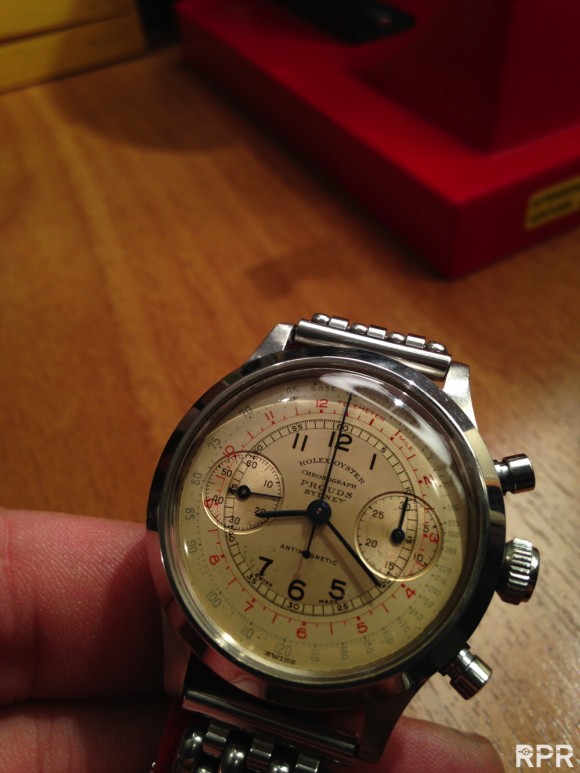 NOS Yellow Gold Killy magic…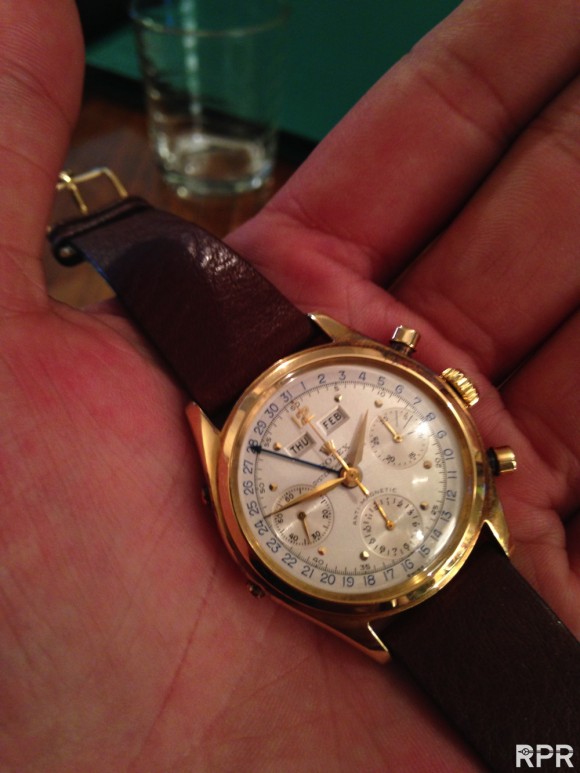 Best provenance ever…. Pucci's head on yellow gold NOS Killy's back 😉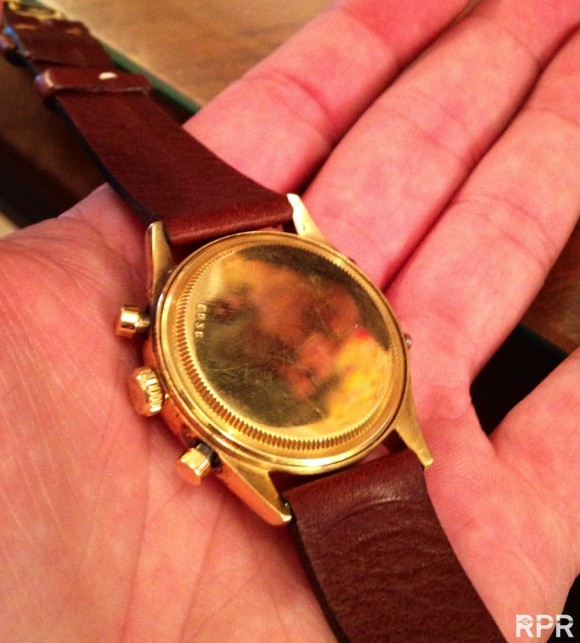 Never seen before, steel and Pink gold, black dialed 3525 Monobloc, straight Rolex logo…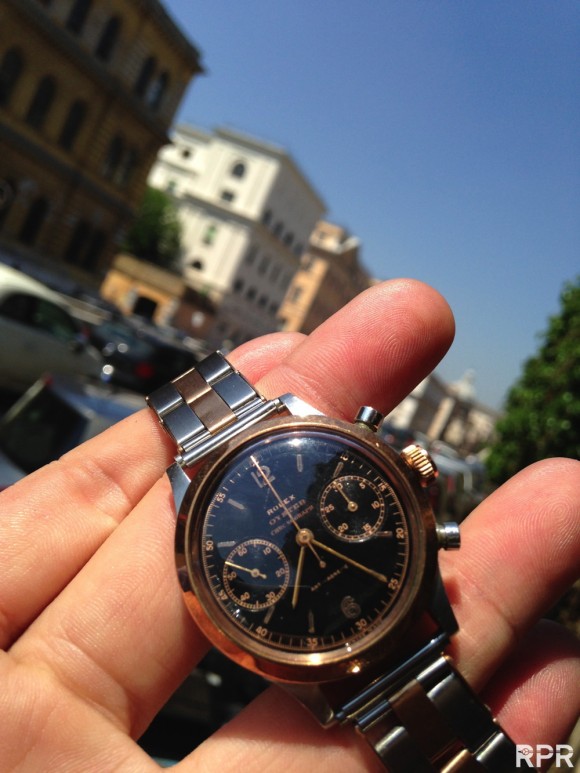 All in untouched, unspoiled, un enhanced condition. 100 % Pure Rolex Passion!..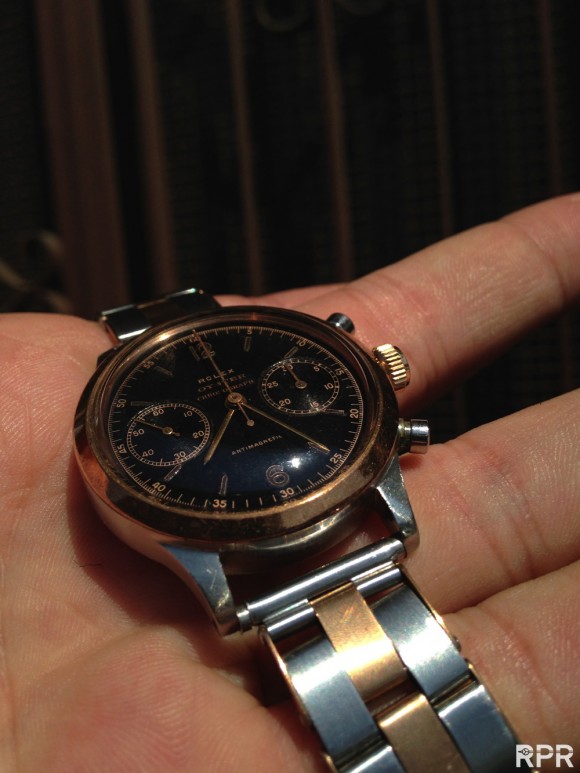 STUNNING!! Just STUNNING!!!…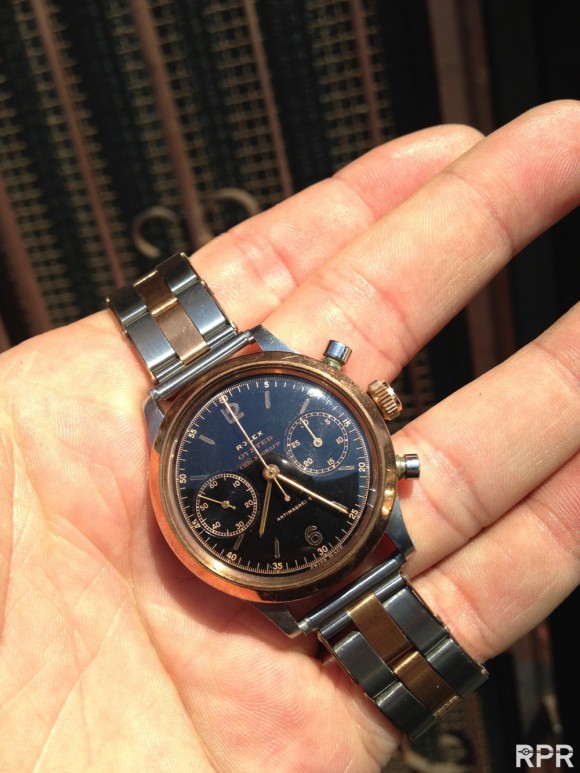 His masters hand holding a Tropical ref 6034 with Swiss Radium dial & a Butterfly Chronograph, mint!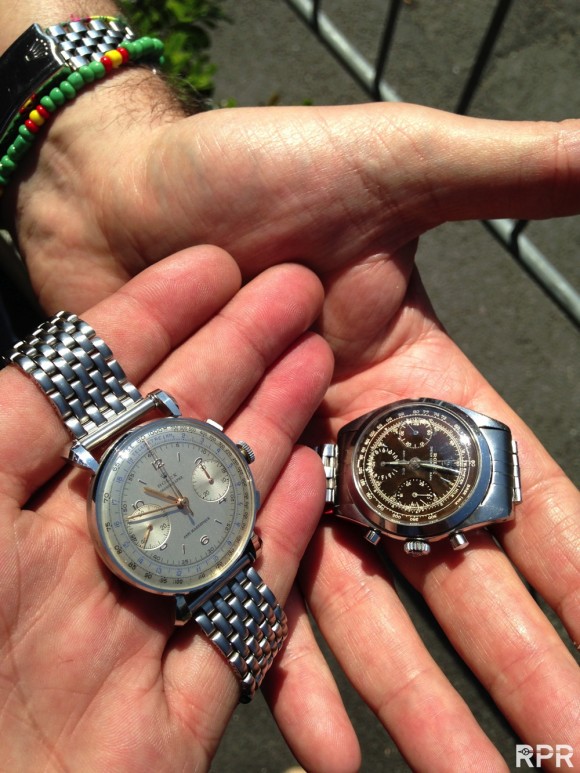 Looks always the nicest under the Roman sun…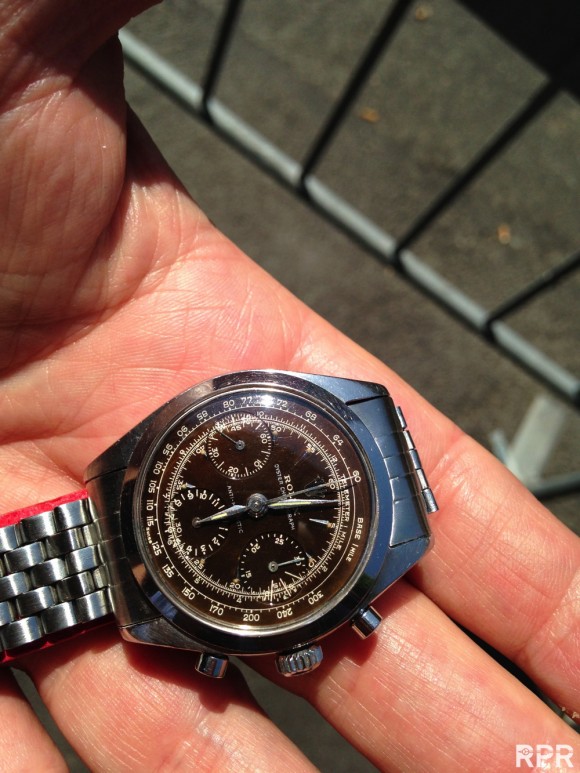 When I say mint, it's mint..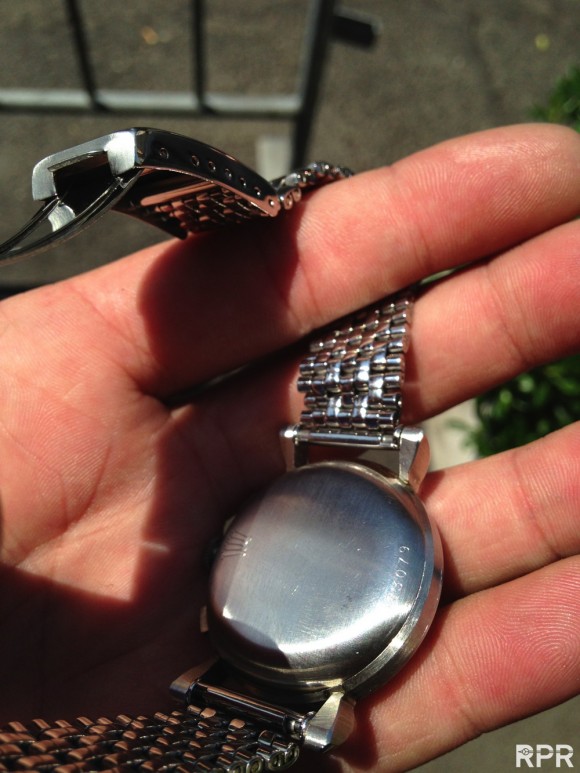 Incredible pieces of Rolex History…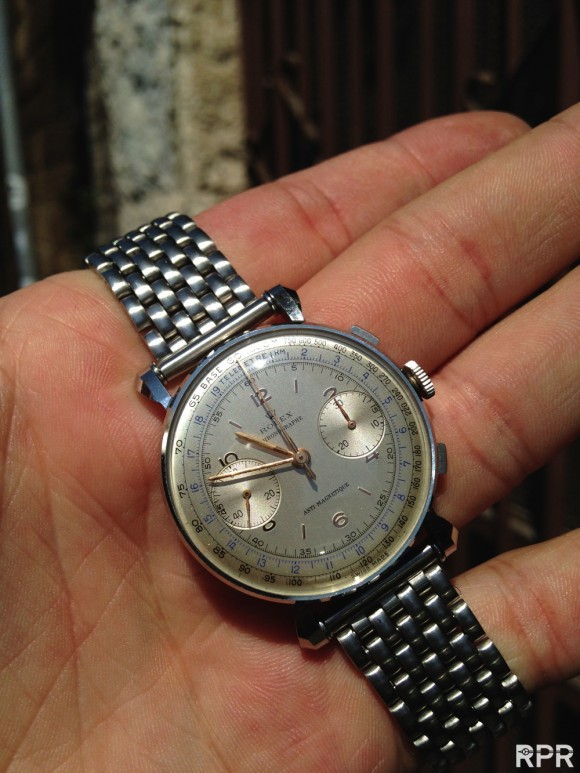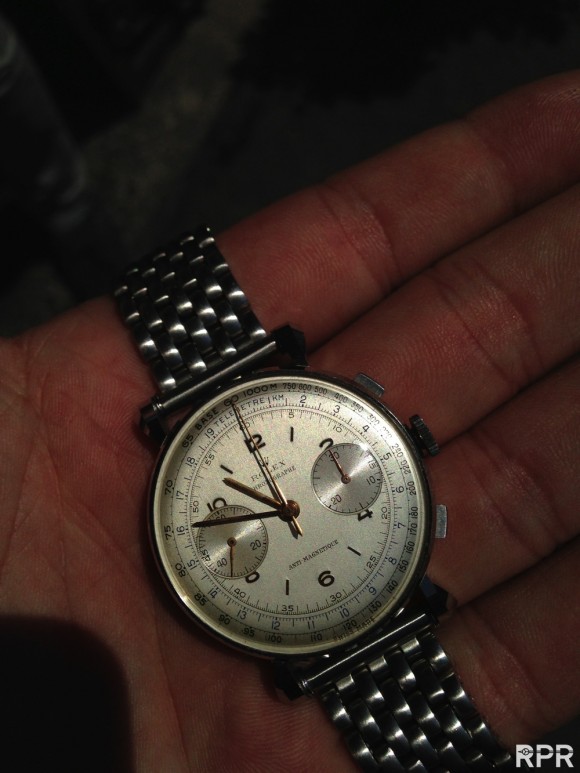 Salmon Rolex Chrono ref. 3330 and it's smaller brother… AMAZING!!!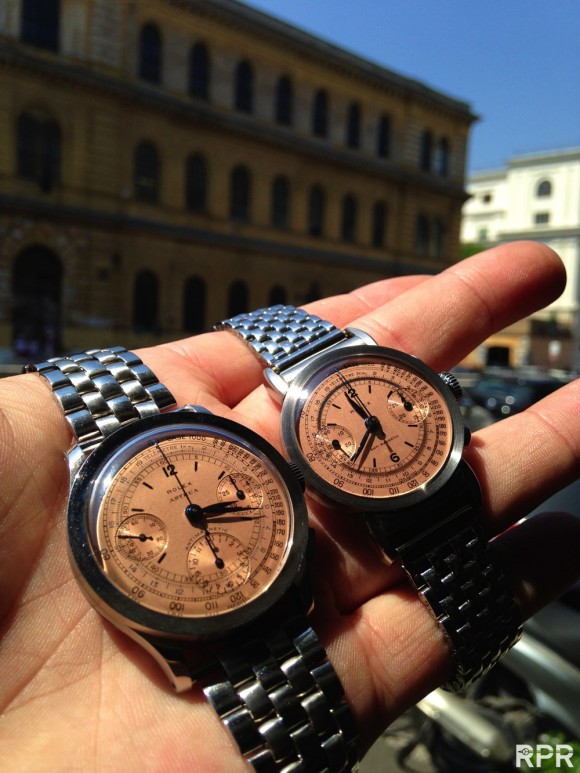 Best ever Monobloc i've hold so far. Instantly I fell in love!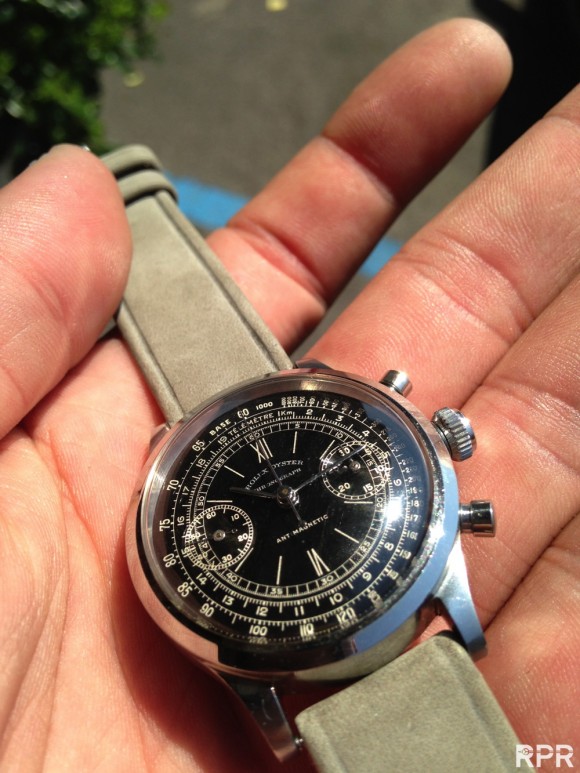 Pure Condition, imagine this Rolex is way of 70 years old!!!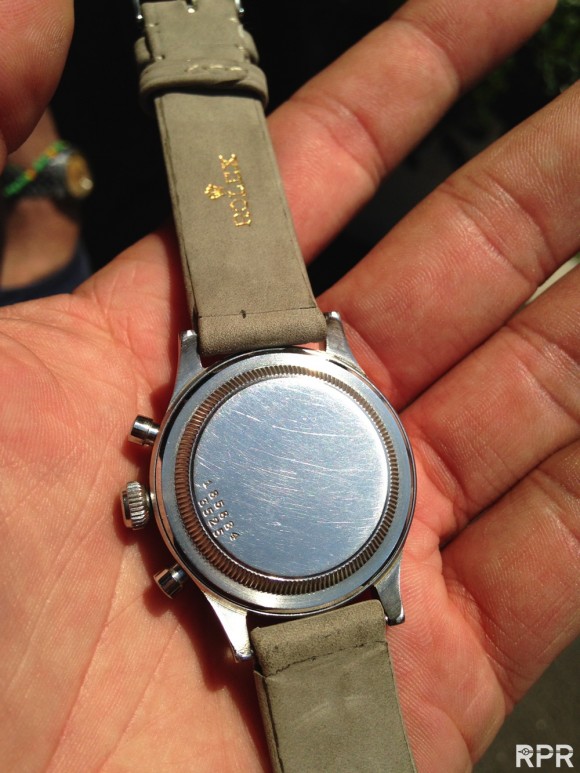 And still new 😉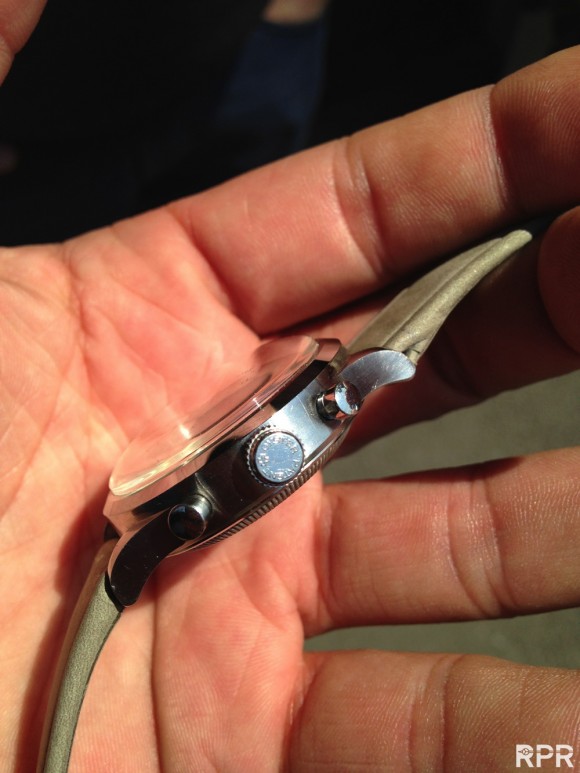 Gilt glossy dial with silver Rolex logo print, 2 color & band new!!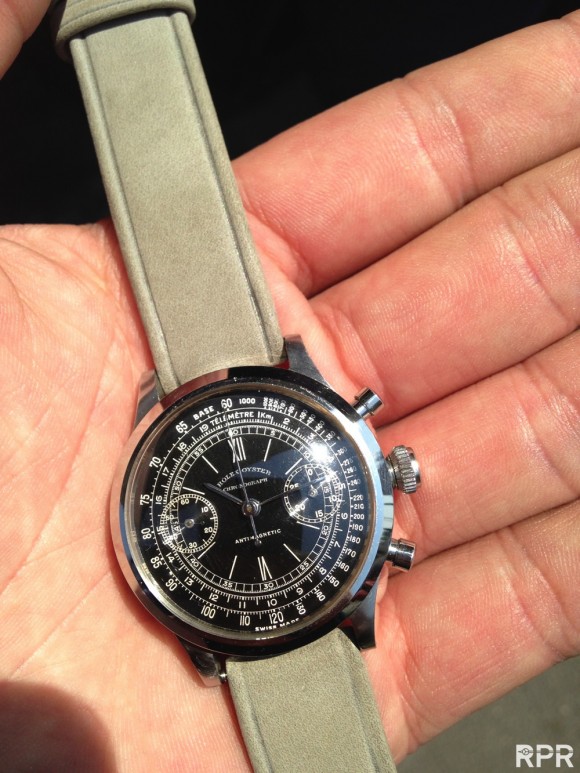 These time capsules will show the world of Rolex collectors in detail how stunning those left the Genevan Rolex factory back then..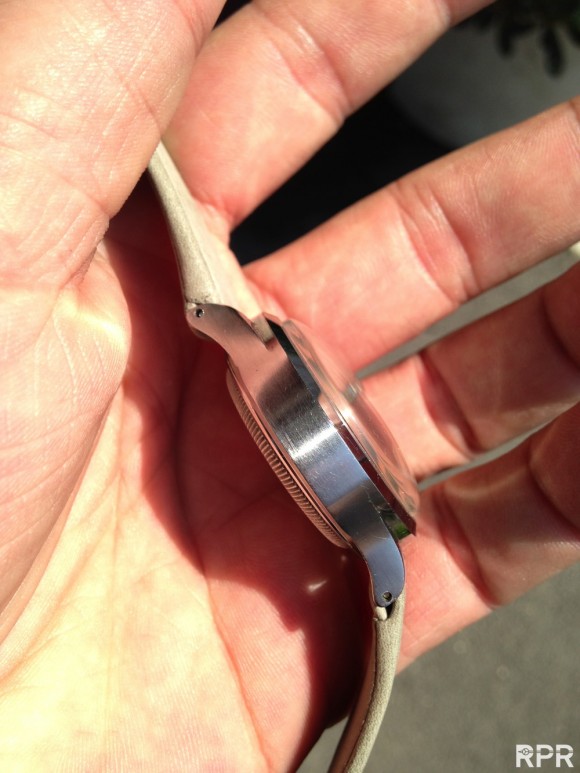 To find a Ref 3330, biggest 3 register, square pusher is in general very rare. To find it like new, it's impossible!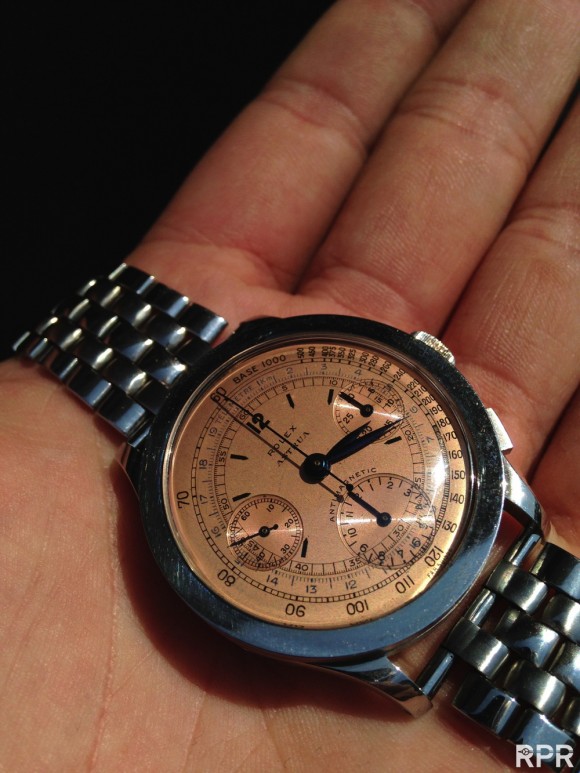 But nothing is impossible for the GREAT Pucci…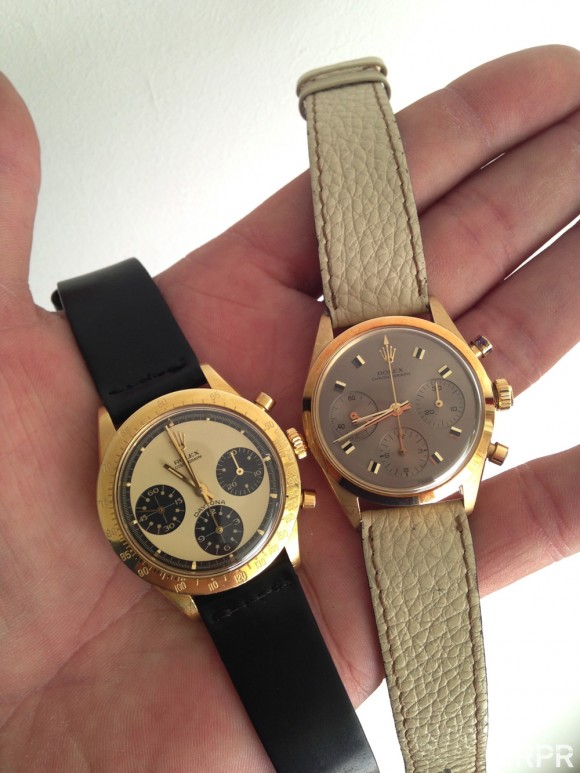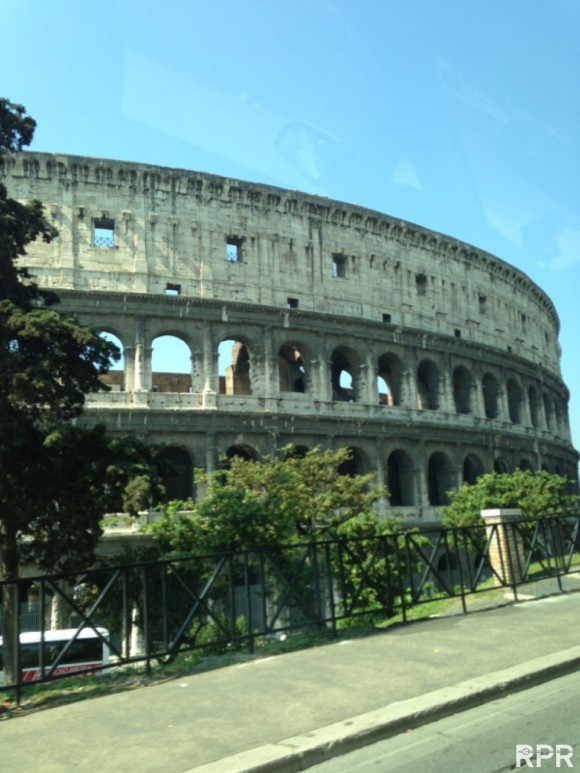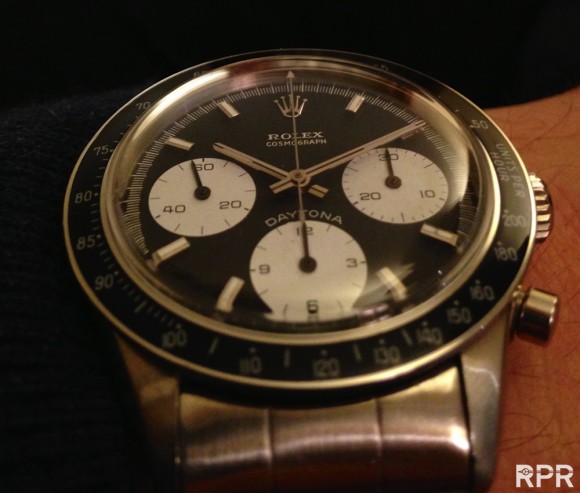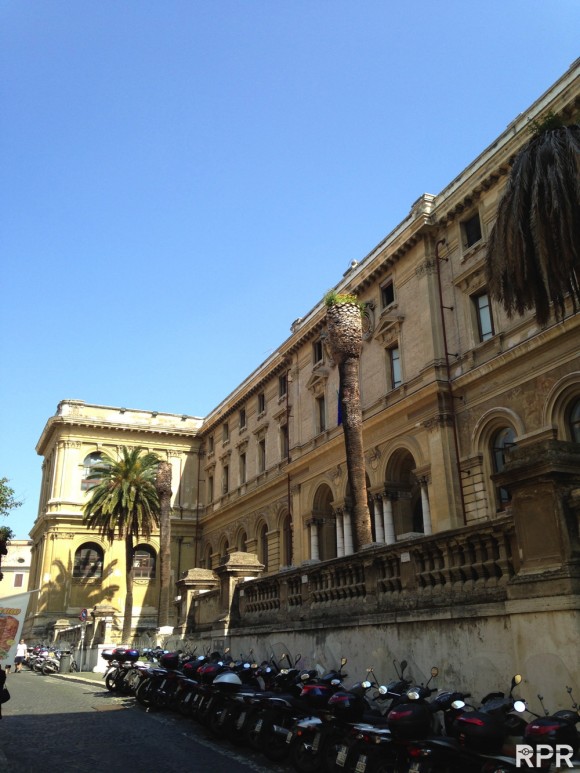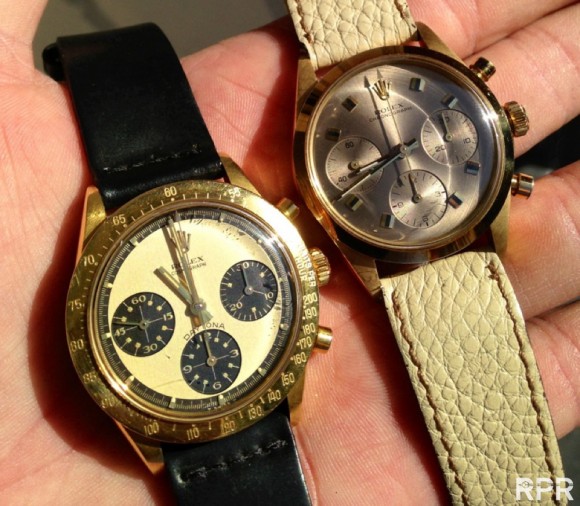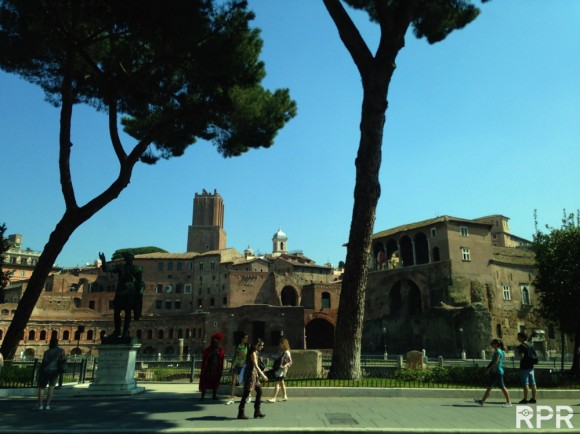 Proto Type Rolex Piano Daytona..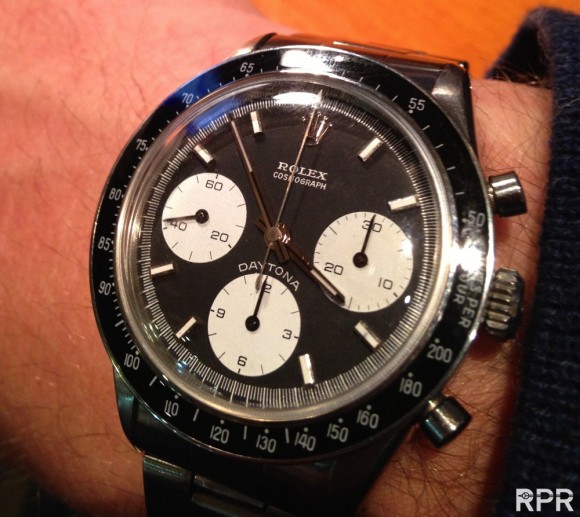 LOL! 😉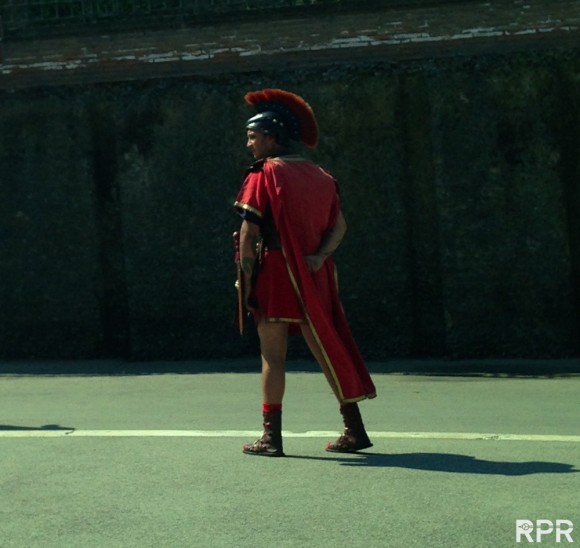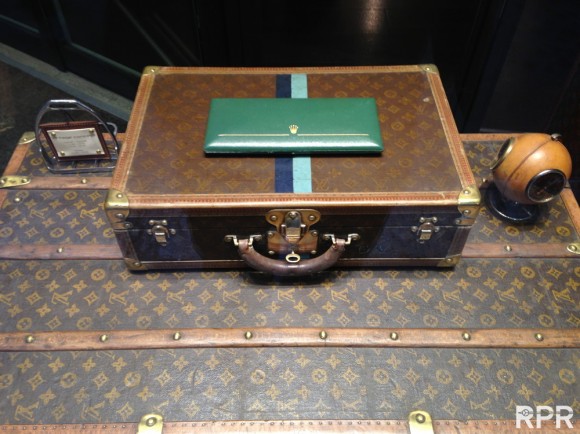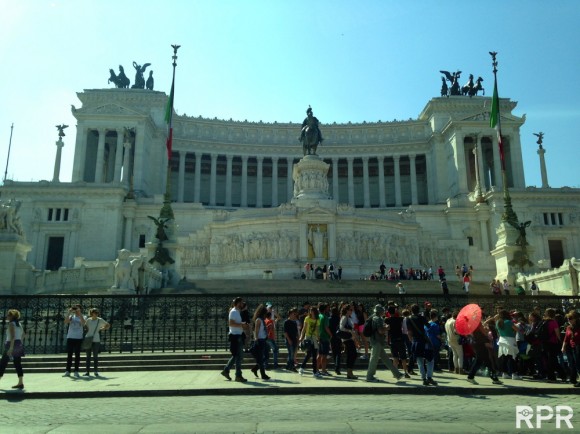 Black & White, harmony in it's finest details…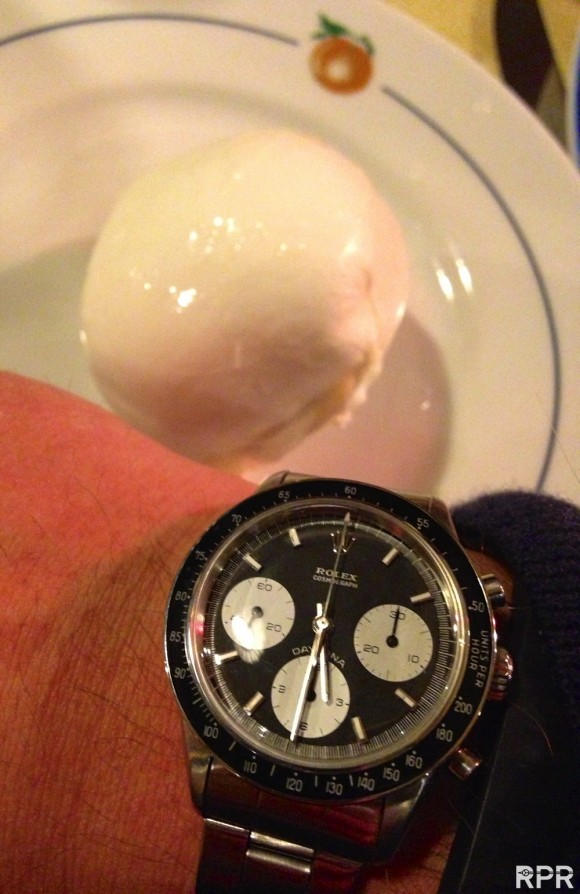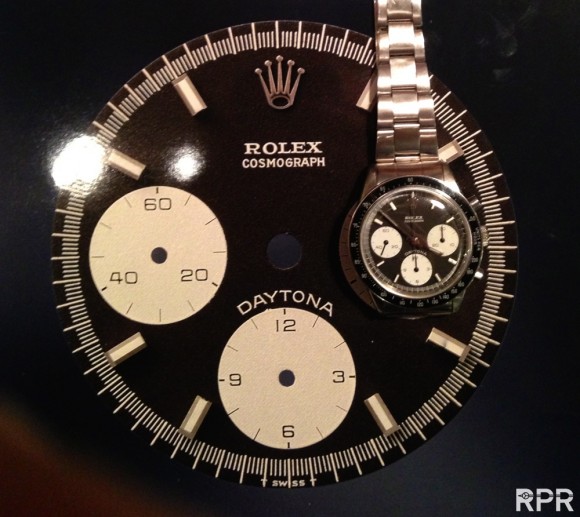 Espresso kept me alive 😉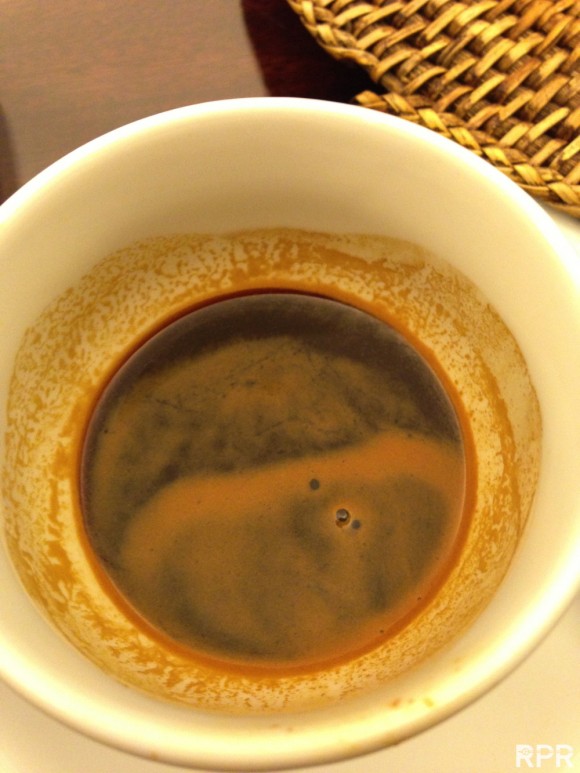 Bistecca Fiorentina!!…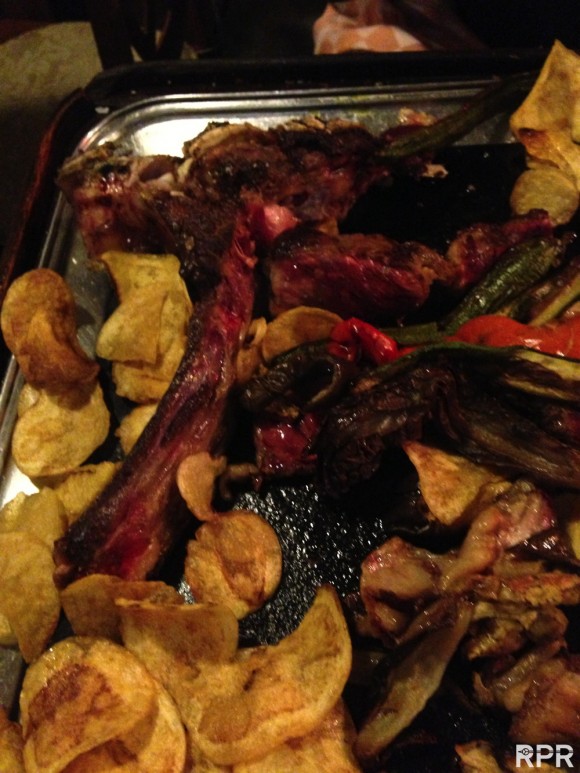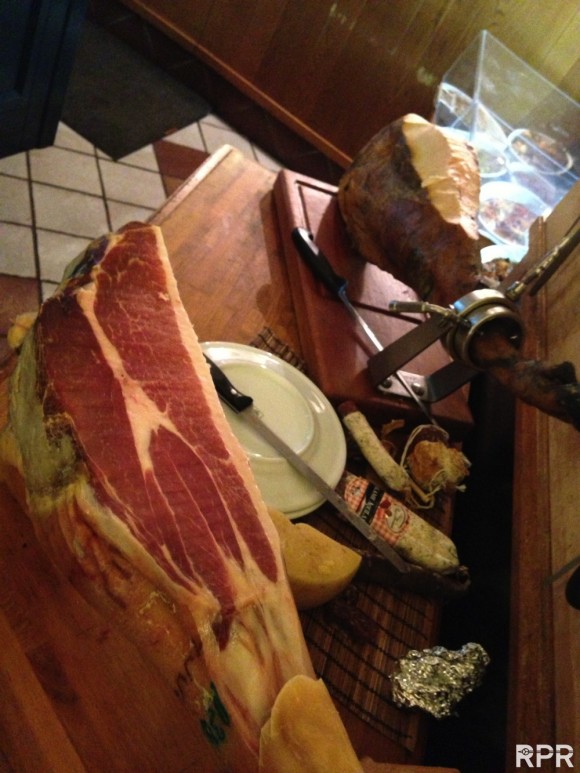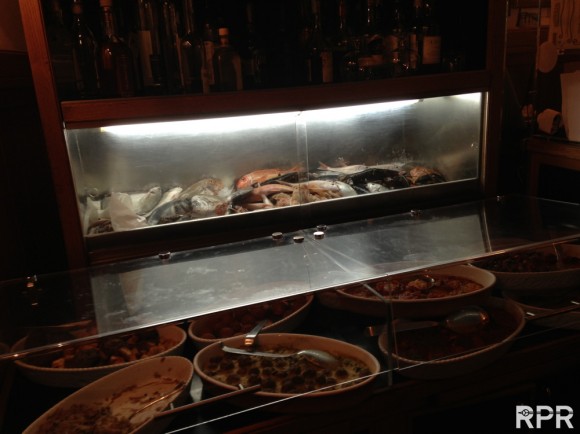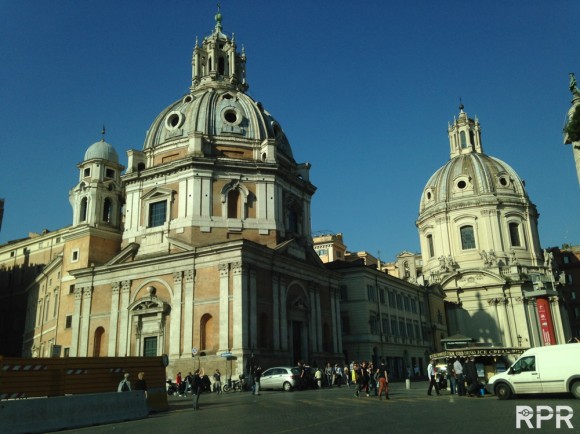 Strange part of the trip was at Italia customs back home….They taught I was carrying explosives?!?! Off course I was in terms of vintage Rolex bombs but not in form of explosives… So after 45 minutes, doing 10 tests, checked by 4 machines, we found out it was my bag. The bag I got from my Dutch friend Bernhard, made from old second WW canvas…having explosive powder still in it. I won't use it again, thats for sure! 😉
Transitional Milgauss, Ref 6541 mint & Prototype Milgauss 1019…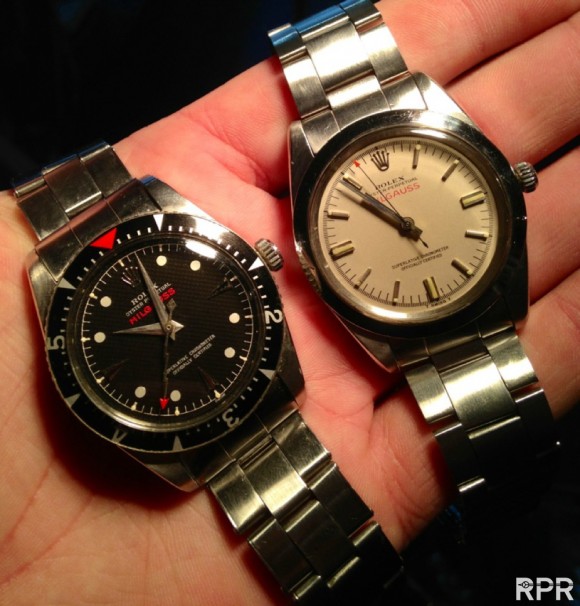 Unique TOG – Thunderbird of Captain Maudsley & Proto Type Datejust with yellow & pink minute track.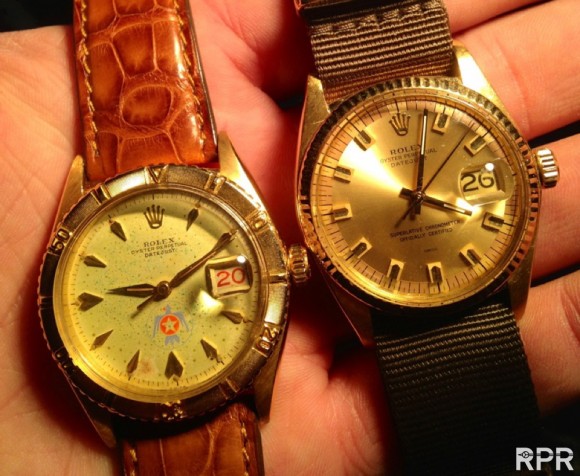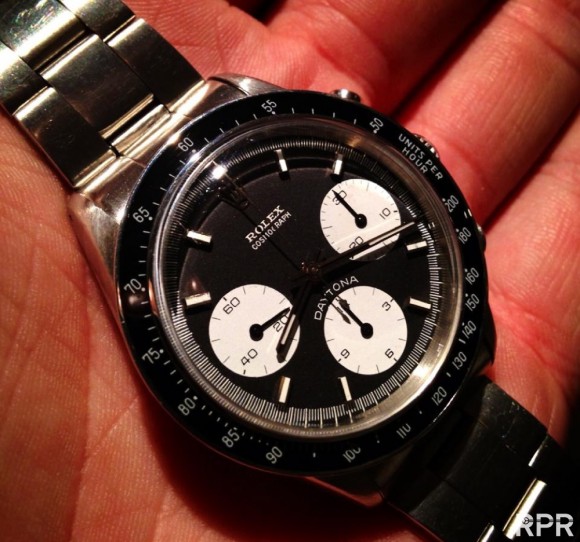 MANY thanks my great friend Pucci!!! We had VERY special moments together, some I never experienced before, VERY deep into our Passion, emotional, pure and honest! BRAVO my friend, I have the greatest Respect for YOU. I know 100% now that together we will be even stronger and provide every Vintage Rolex Lover in the World, the correct information and pictures to help them understand the BEAUTY of collecting Rolex Art! You're incredible, Mille Grazie!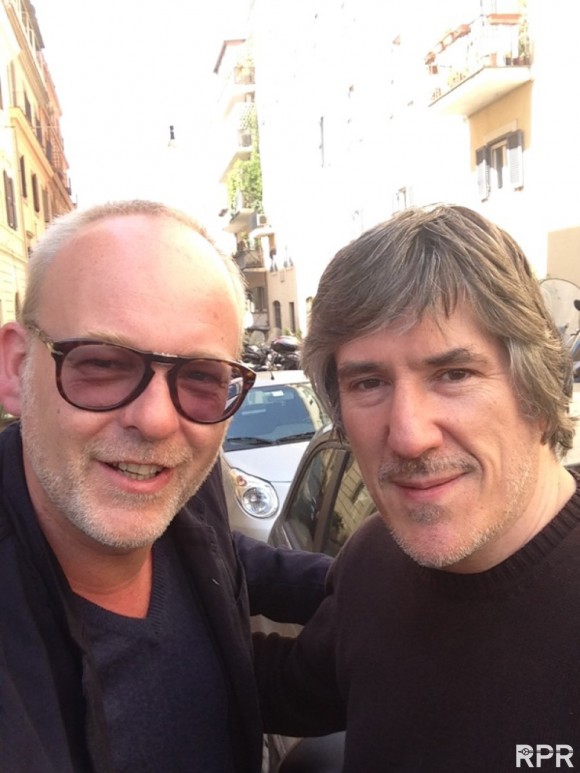 Ciao a Tutti & Mille Grazie for the great food, ambiance & all the new ideas we'll gonna explore together Guys, many THANKS!!