New record prices for Rolex May 2014 Geneva Watch Auctions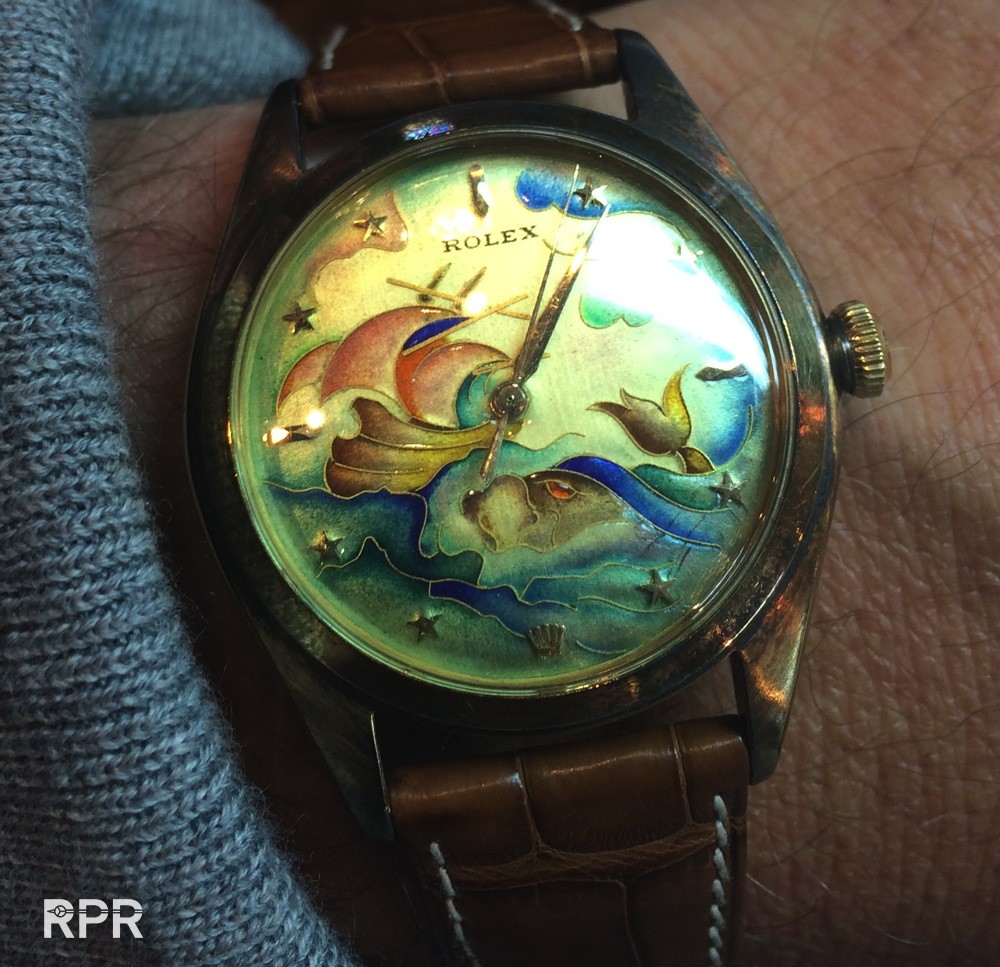 As usual when I come back from the Geneva Watch Auctions, I'm speechless, so it was this time also! The star lots at Christie's, the brilliant patinated Rolex cloisonné and the diamond 6270 Daytona, the Patek the Graves minute repeater where all sold around 1 million each. The offered Rolex Qaboos collection also hit way over the high estimates. With 157 x Rolex and 85 x Patek Philippe, the tone was set before the auction, this is gonna be yet another vintage Rolex blast at Christie's. Some results got me really flabbergasted, for instance the following vintage Rolex:
€ 300.000,= for a Oyster Paul Newman 6263
€ 350.000 for prototype Panerai – Rolex 6152/1,
€ 250.000 for a platinum Oman Day Date,
€ 200.000,= for a white pump pusher Paul Newman 6264,
€ 185.000 for a relumed gold Newman,
€ 160.000 for a regular Comex 5514,
€ 150.000 for a black pump pusher Paul Newman 6241,
€ 150.000,= for a Oman gold Submariner,
€ 145.000 for a not very attractive Military,
€ 125.000 for a small crown 5508 Submariner Marine National,
€ 120.000 for a coral Day Date,
€ 115.000 for a 16660 Comex Seadweller,
€ 100.000 for a white gold Quartz 5100
€ 190.000 for a neo classic PPC 5970P, I was really surprised to see all these high results happen yet!!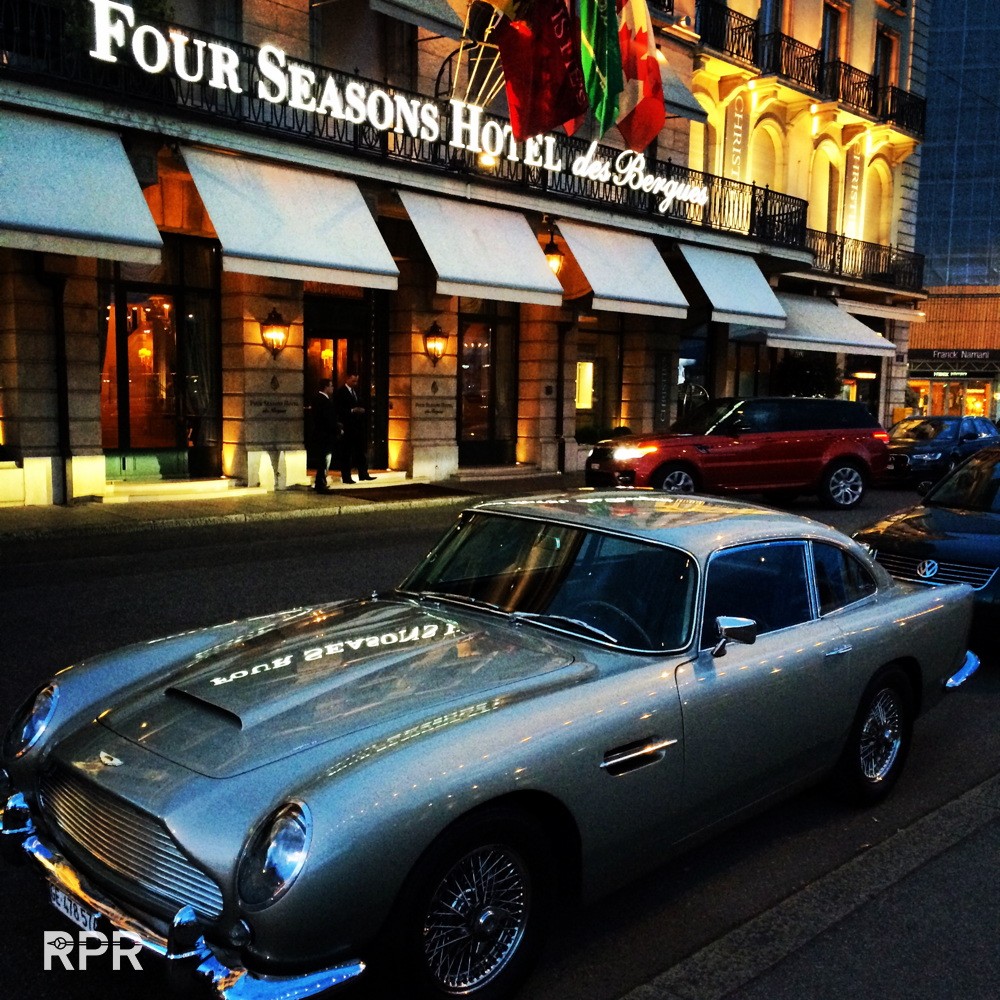 It seems that the hard core collectors are buying everything for any price to secure for their collection. The enormous price explosion for rare vintage Rolex puts Patek Philippe in a deep shadow. For instance the iconic Oyster Paul Newman brings easily more than the legendary Patek Philippe ref 2499. Some will notice that the average pieces didn't go crazy, I want to emphasis that most where in below average quality, making it not attractive for collectors to go high on them. Further I noticed that many watches where 'put together', cosmetically enhanced dials, non matching luminous, polished cases, with other words 'dealer pieces' that got prepared for the auction.
The sad thing is that at first, collectors hardly see these defects because most auction houses still photoshop their pictures and nowhere in the condition report one reads about these damages. Secondly, due to the shortage of 'fresh pieces' the experts allow minor quality to their sales. Lets put it this way, if you ever plan to buy a vintage watch at auction, it's become a must to see it up close before, study every detail, compare and ask questions before you leave any bids. The great thing of this weekend for me is always meeting up with so many friends from around the world!! Analyse the offered lots, catch up and enjoy dining together, thanks to you all, without you it wouldn't be that much fun to come to Geneva for me!!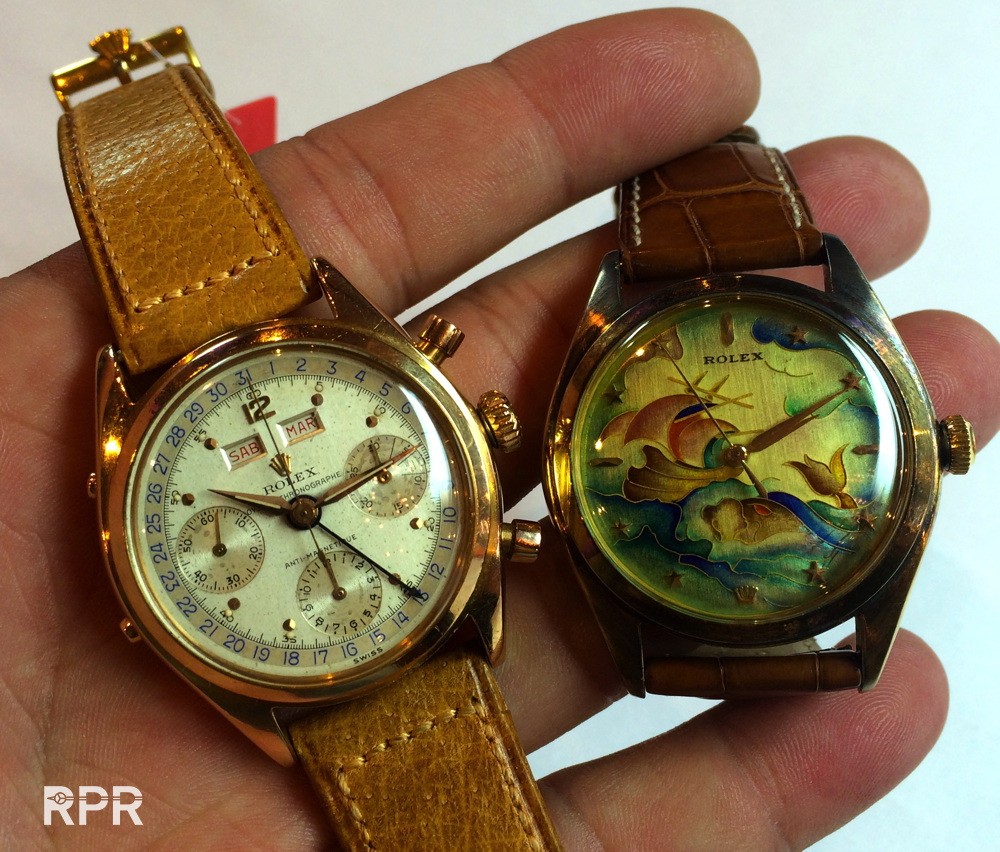 So what will the future bring us? As I write my reports for many years now, I keep repeating myself, the best and most honest quality will only go up. The watch market is next to the diamond jewelry, cars, paintings etc still very 'new' and what we have seen specially in last 2 years, also due to extreme results of the Daytona Lesson 1 sale, is that still very rich buyers without limitation come to our market. Sometimes I have a feeling they just buy now to own before it's to late and they aren't as much passion driven. But then looking at at enormous results, it's become really big money owning a rare vintage Rolex or Patek Philippe. I predict that honest, untouched, all matching examples, no matter the reference or brand, will be the ultimate vintage to have in the future. We have come to a point where proper education and inside information are worth more than having money on the bank. I'm looking forward to next auctions and wish you all the best till then!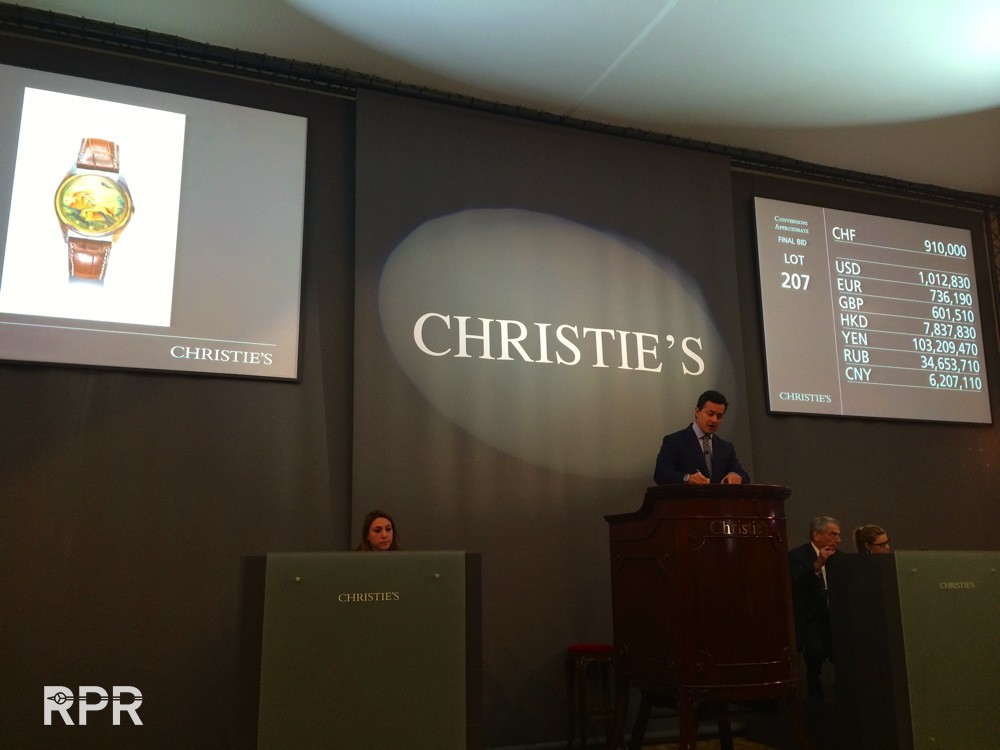 Having fun with friends…
Not 1 but 2 Rolex Daytona Ref 6270's and the Qaboos Daytona that was missing the "Asprey' stamp in the case back..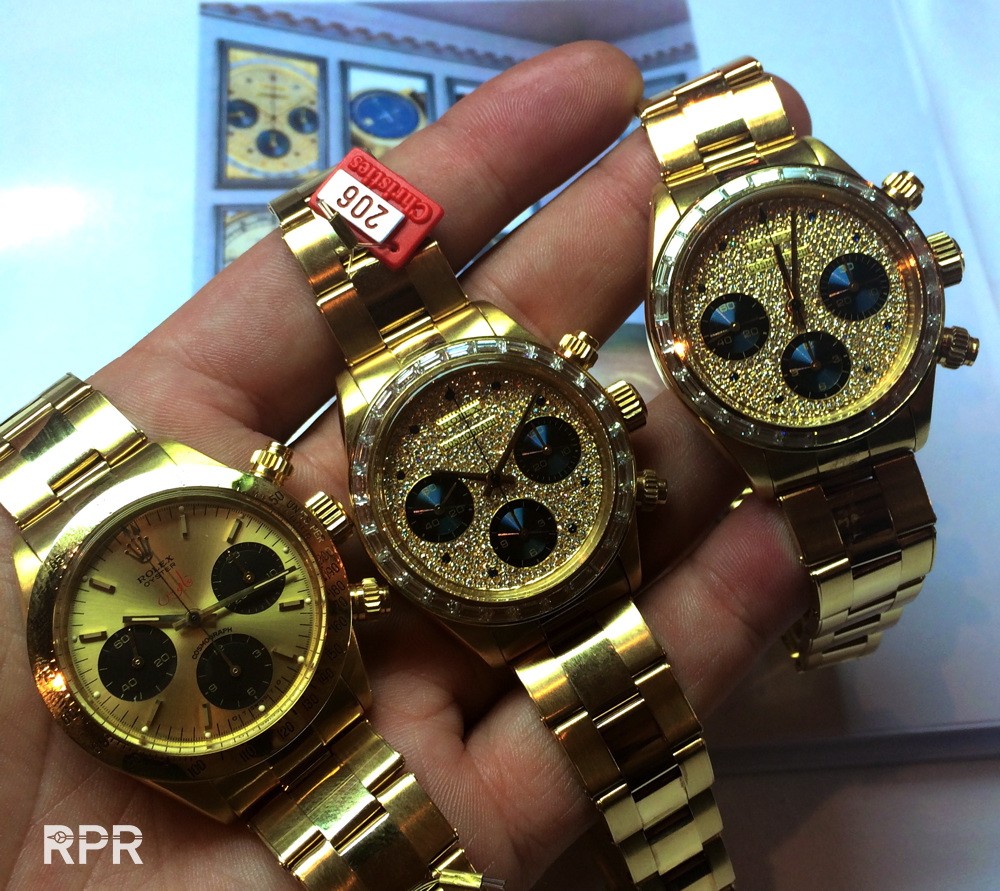 The Graves Minute repeater that was bought by Ex Christie's watch chef, Aurel Bacs. I wouldn't be surprised to see it soon in the Patek museum..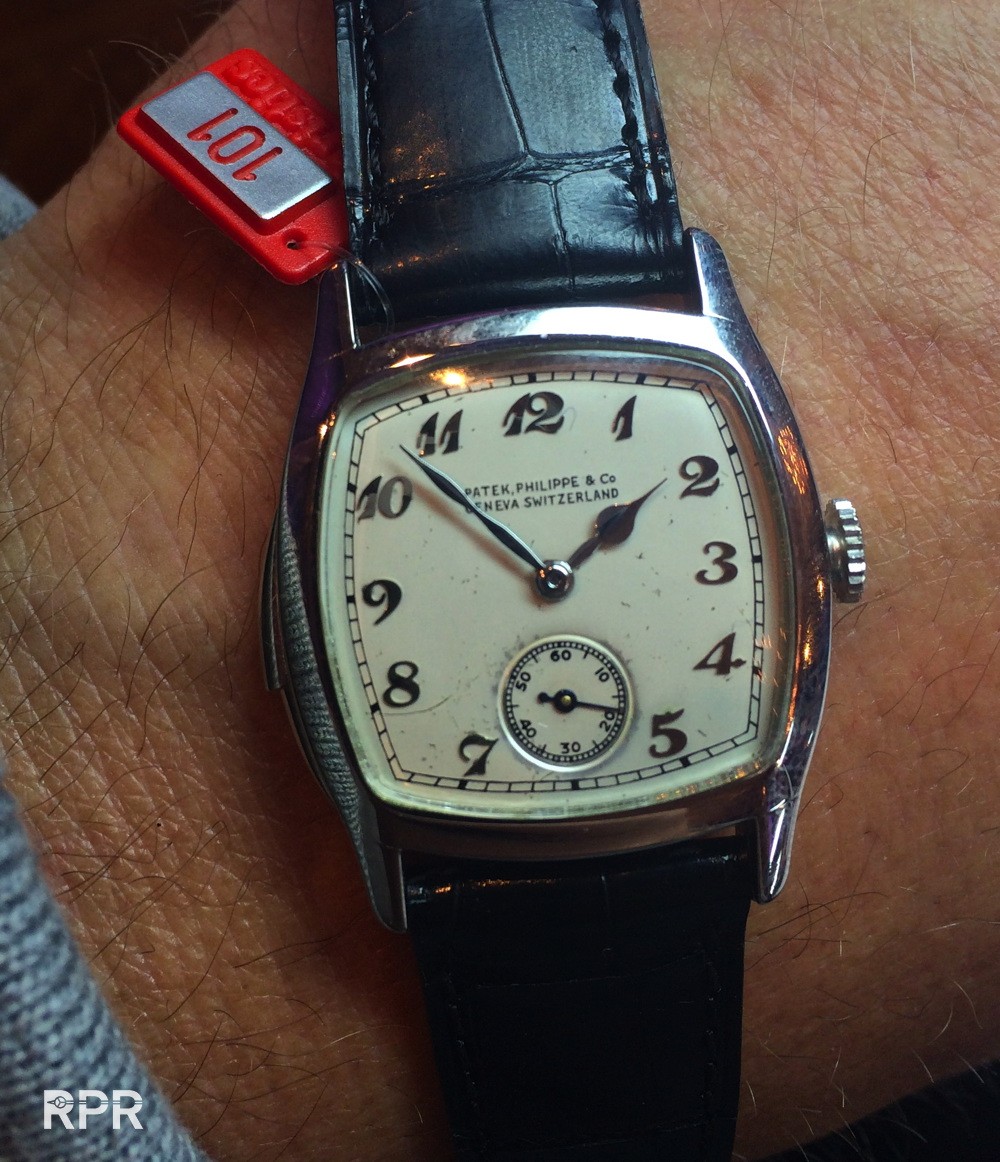 During the auction with the buddy's in front and next to me, a handful of vintage Rolex Paul Newmans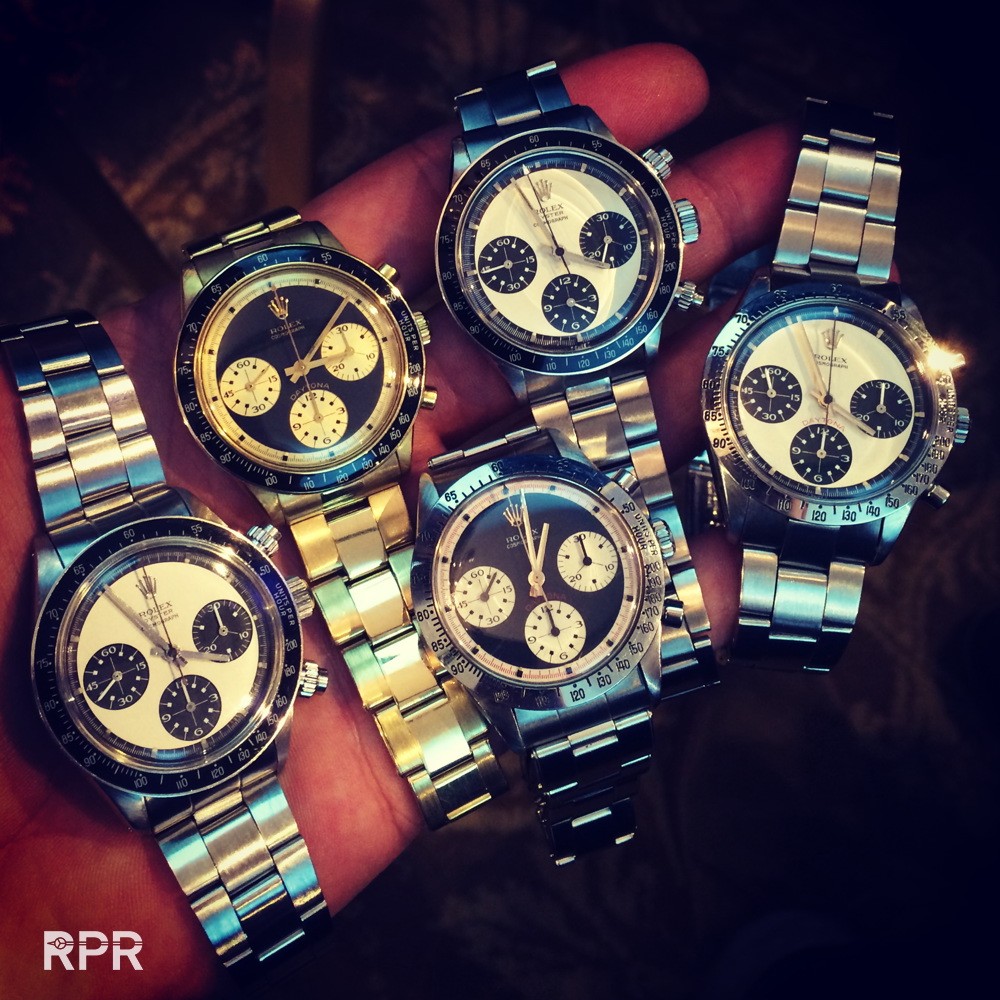 Dramatic skyline in Geneva, funny enough, the sun always shines on Monday..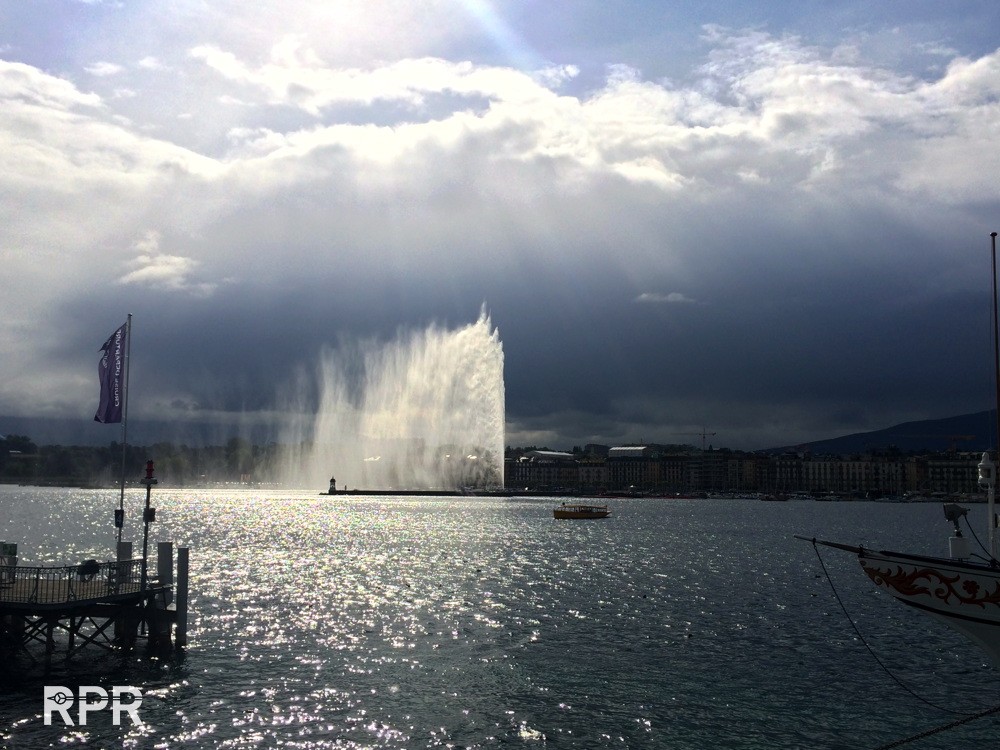 Early Pink gold Rolex Killy..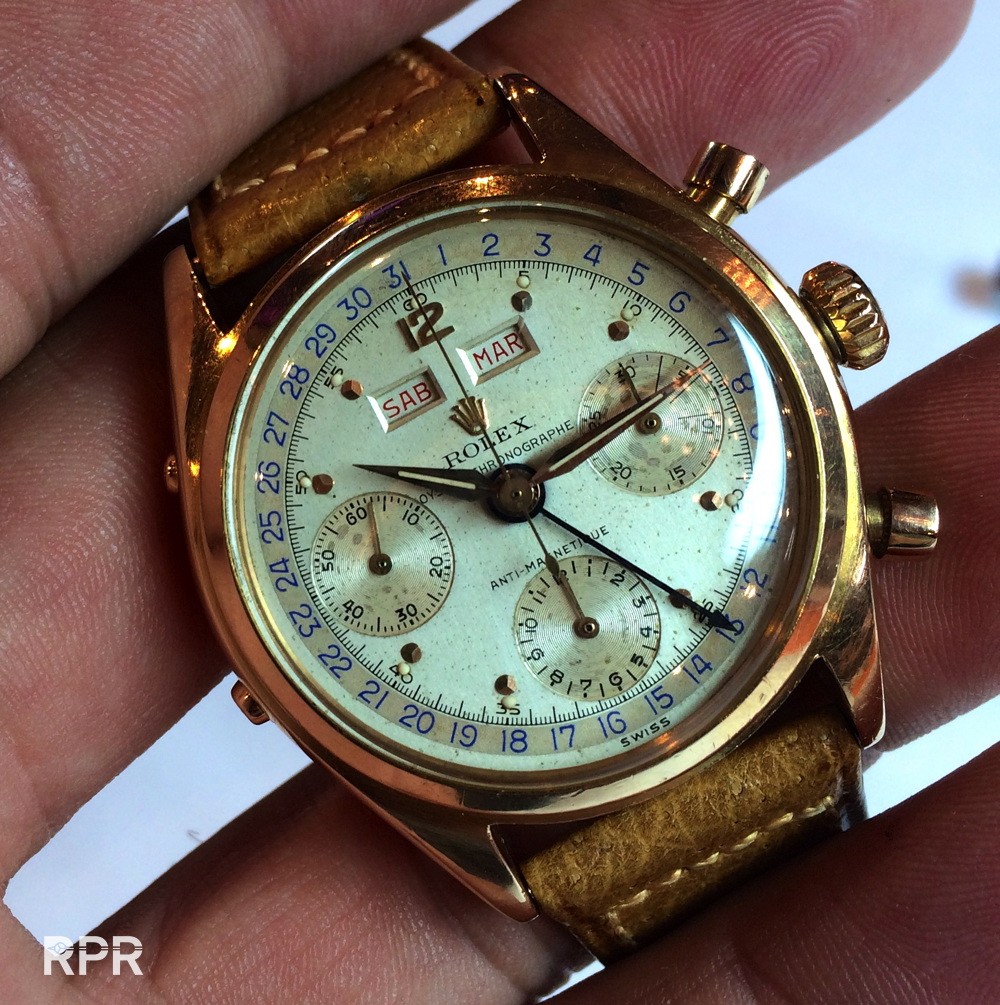 Brasserie Lipp..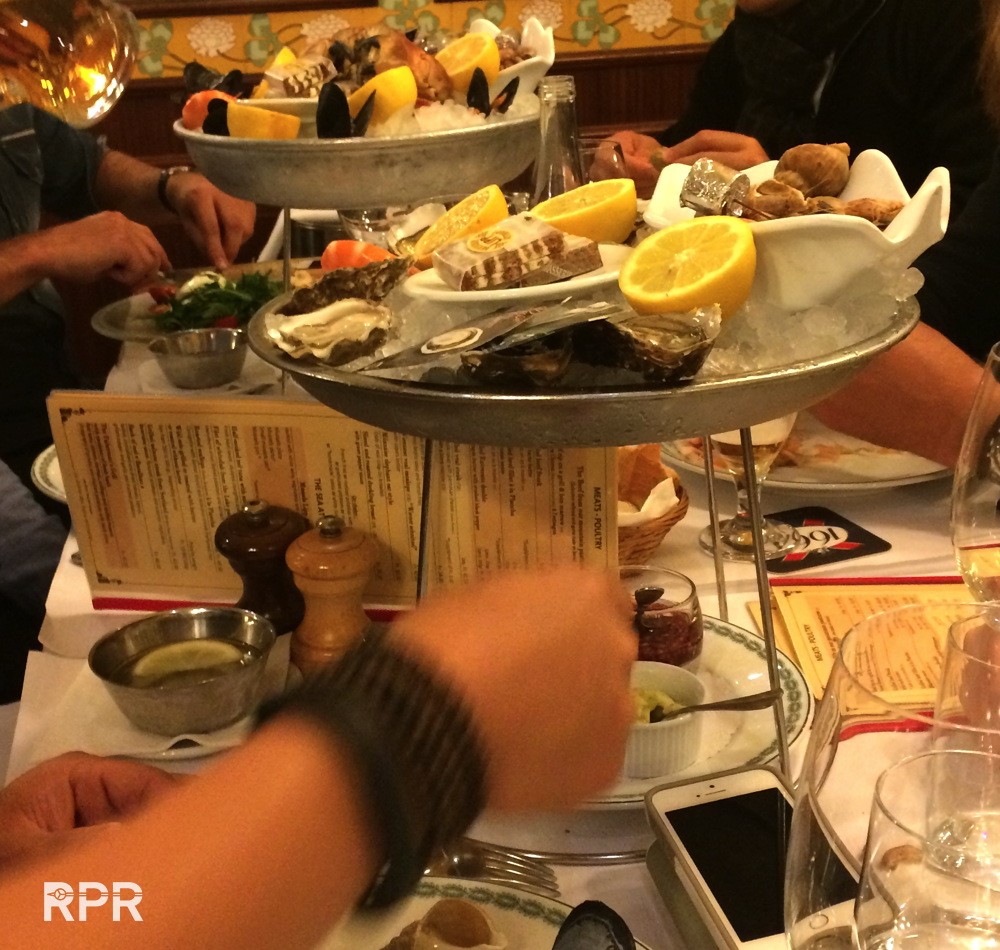 Very nice yellow gold Padelone 8171 with german calendar, having dent on right top lug..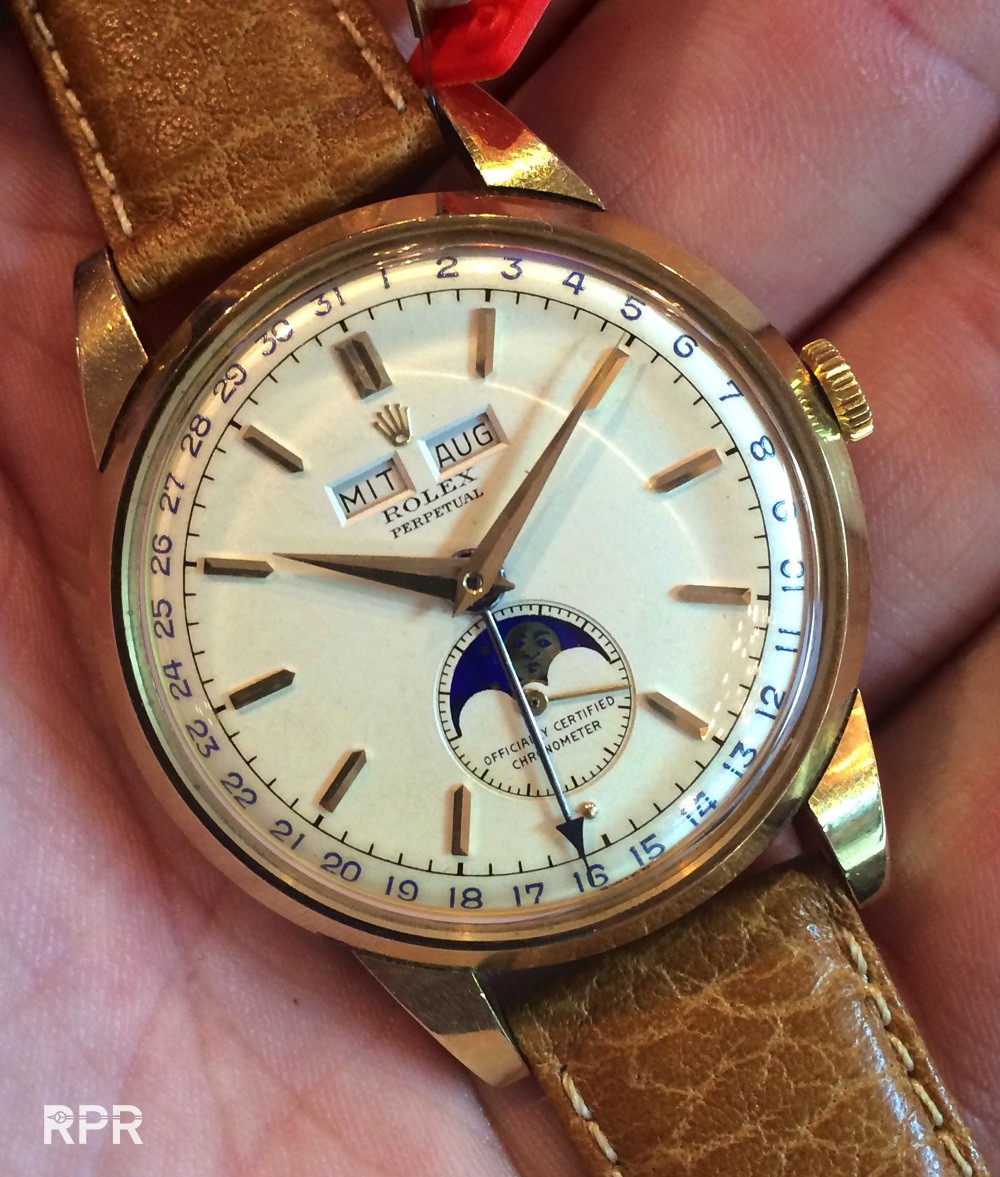 Joining 2 x Rolex godfathers, Auro and Pucci during preview..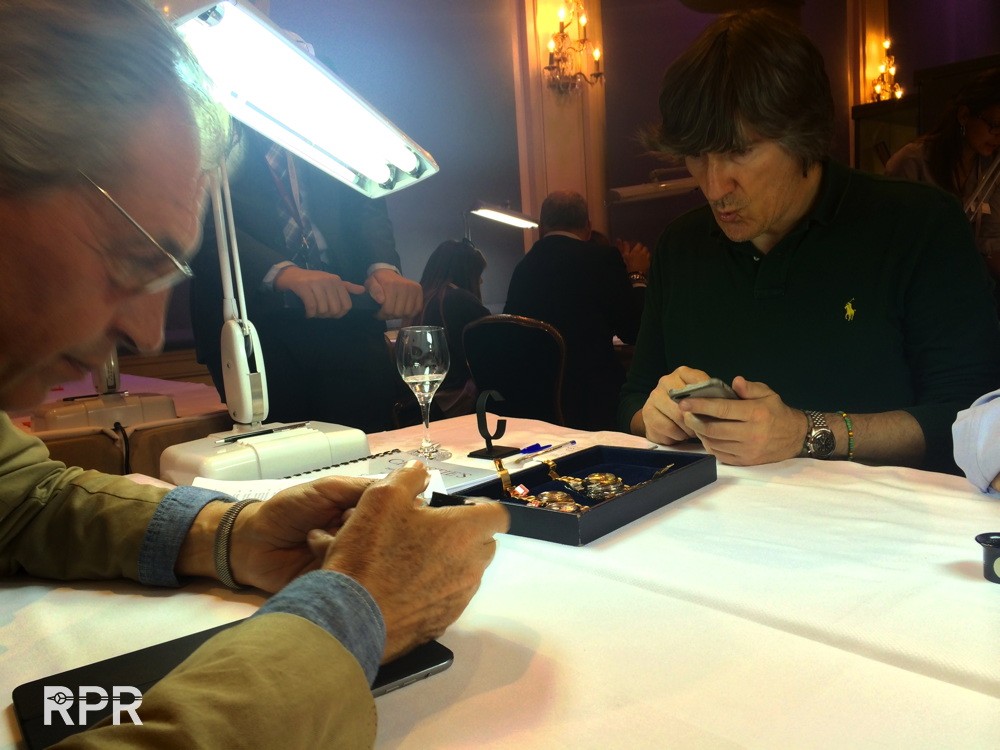 Pink on pink 1463 on pink bracelet Patek Philippe Freccero..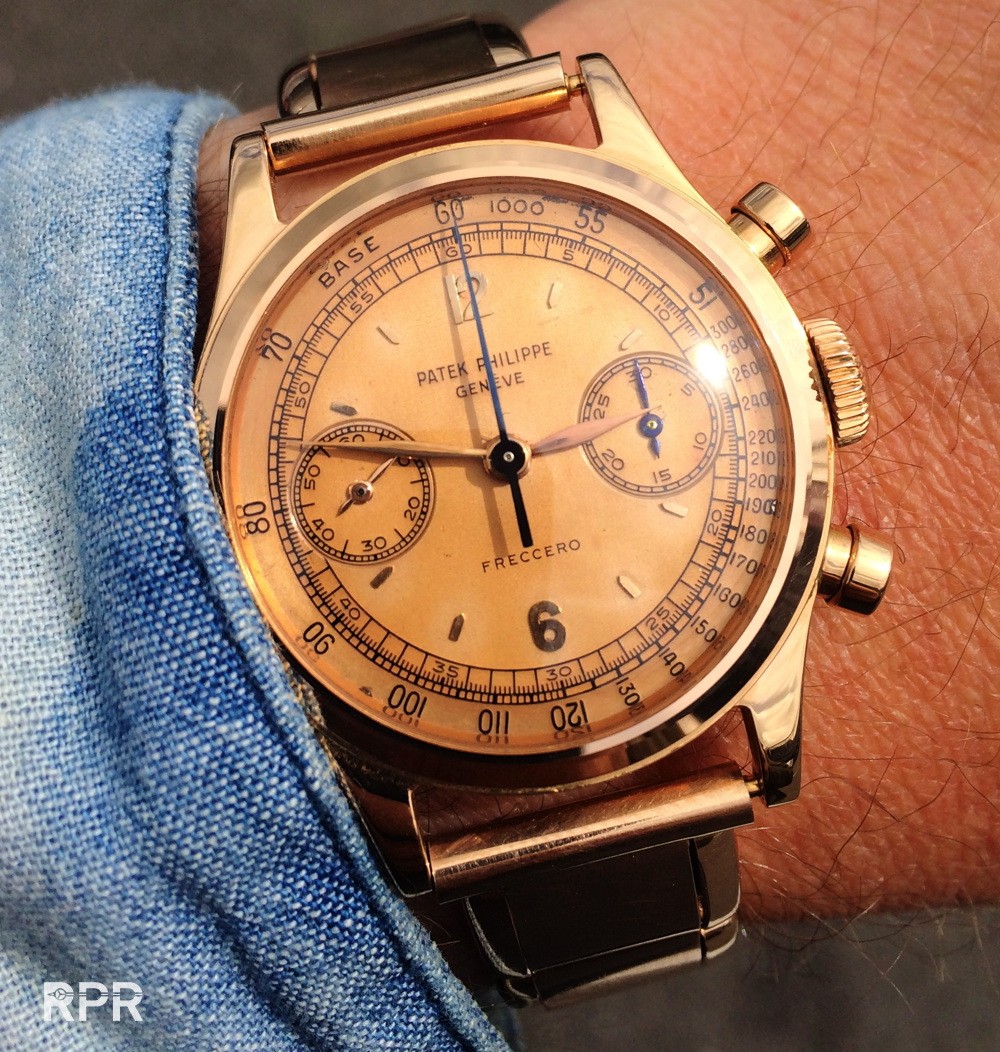 Steel Patek Philippe 1463, previously owned by Mr Caran d'Ache. Dial and case cleaned by PPC..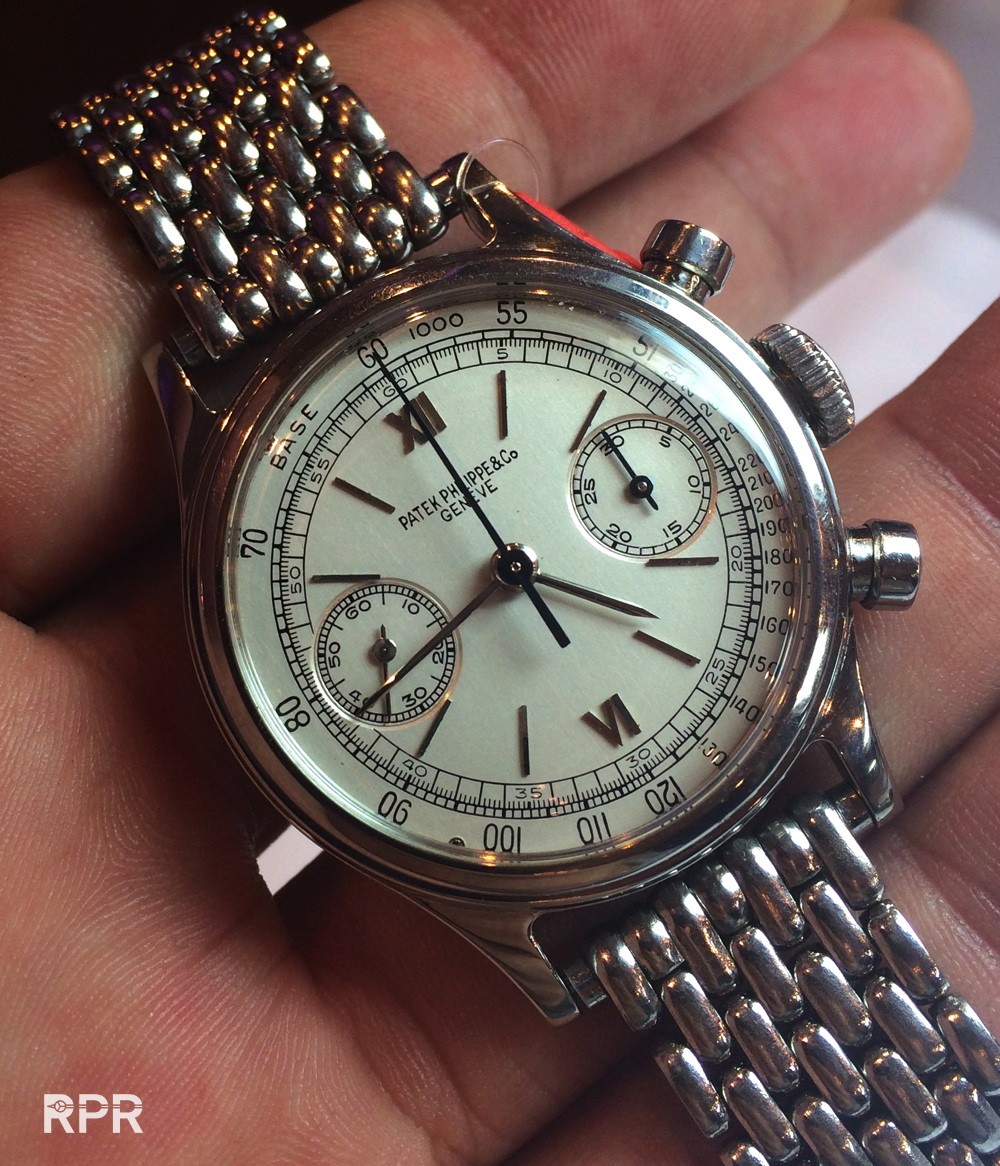 Up close, the Rolex Daytona ref 6270 bought by big boss Davide Parmegiani, he told me he always wanted one so now he can enjoy it for a while..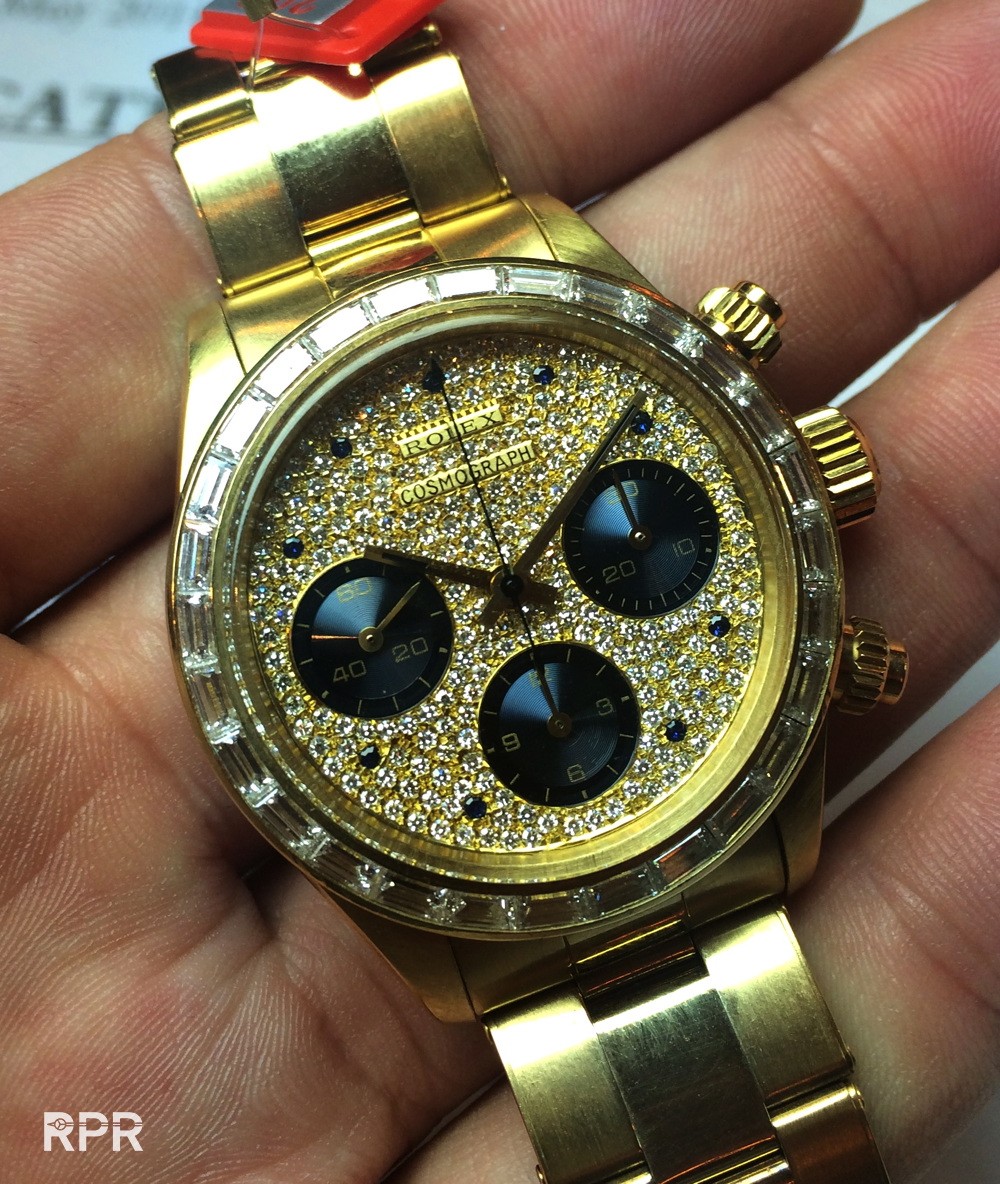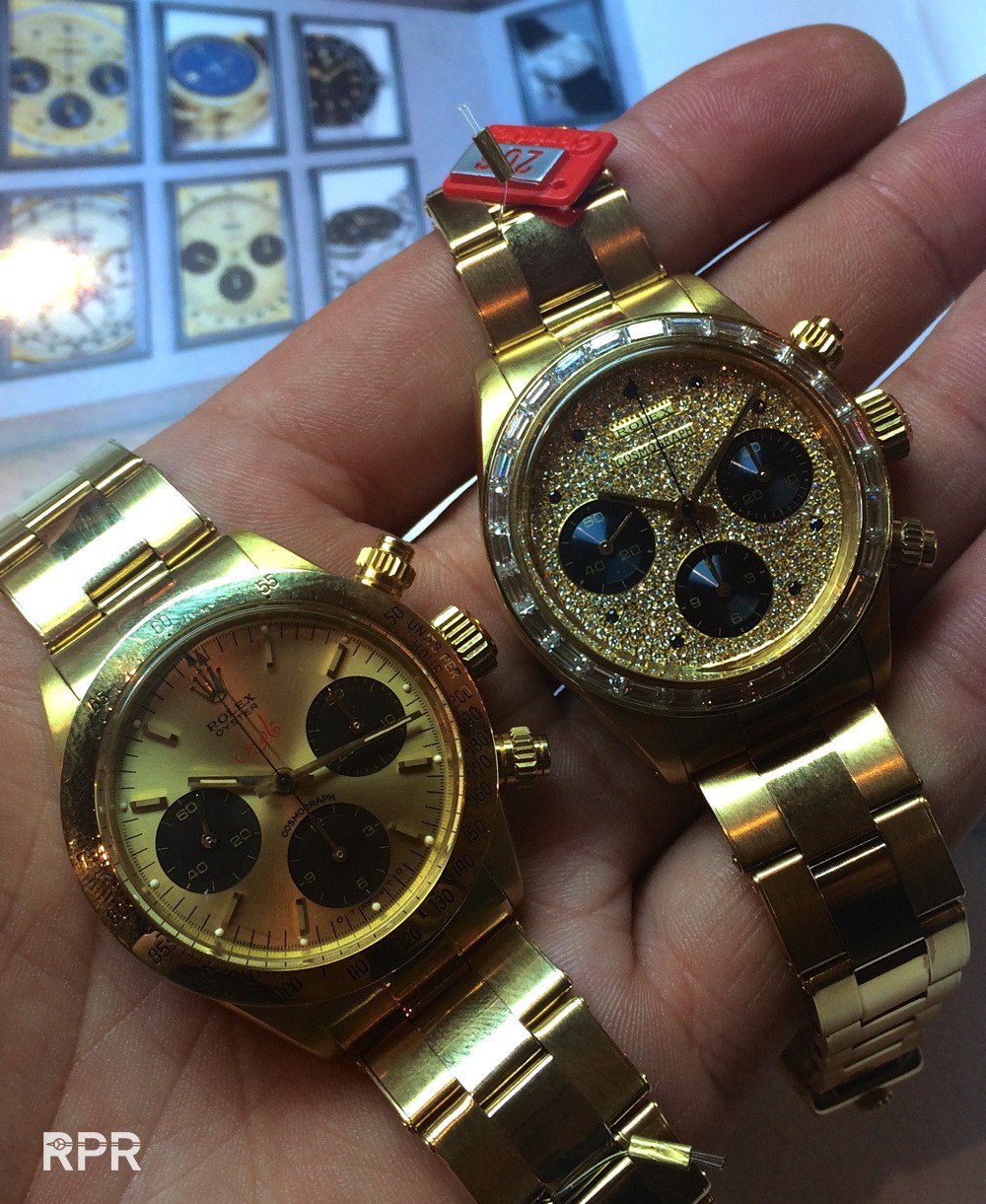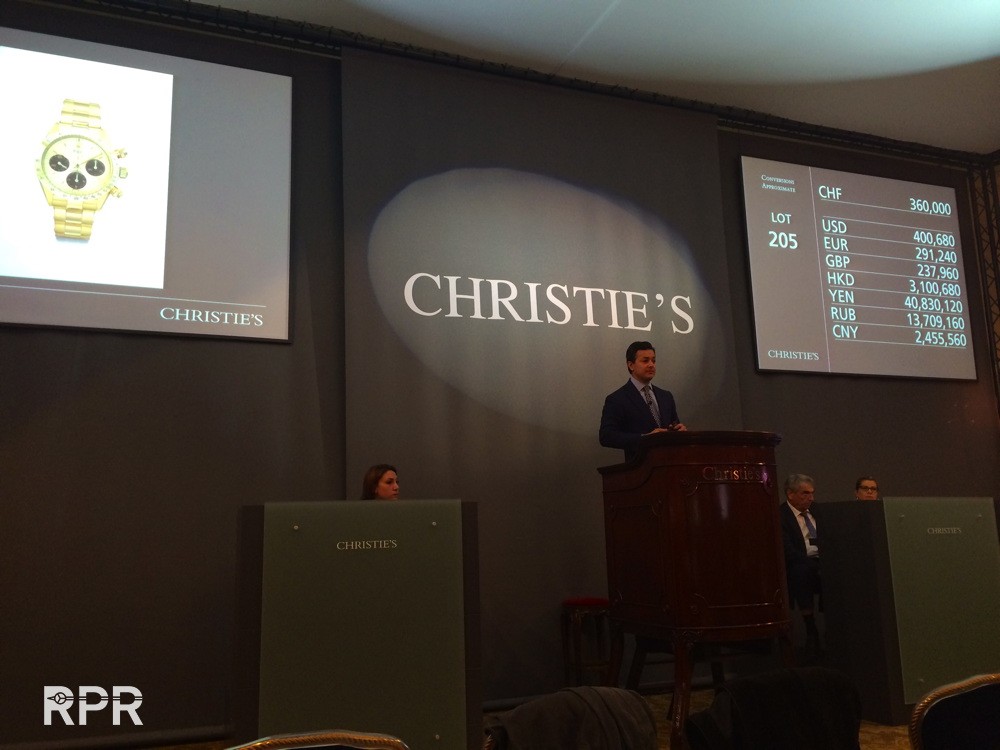 Rolex Stelline, ref 6062 with 'open track' and "precision'..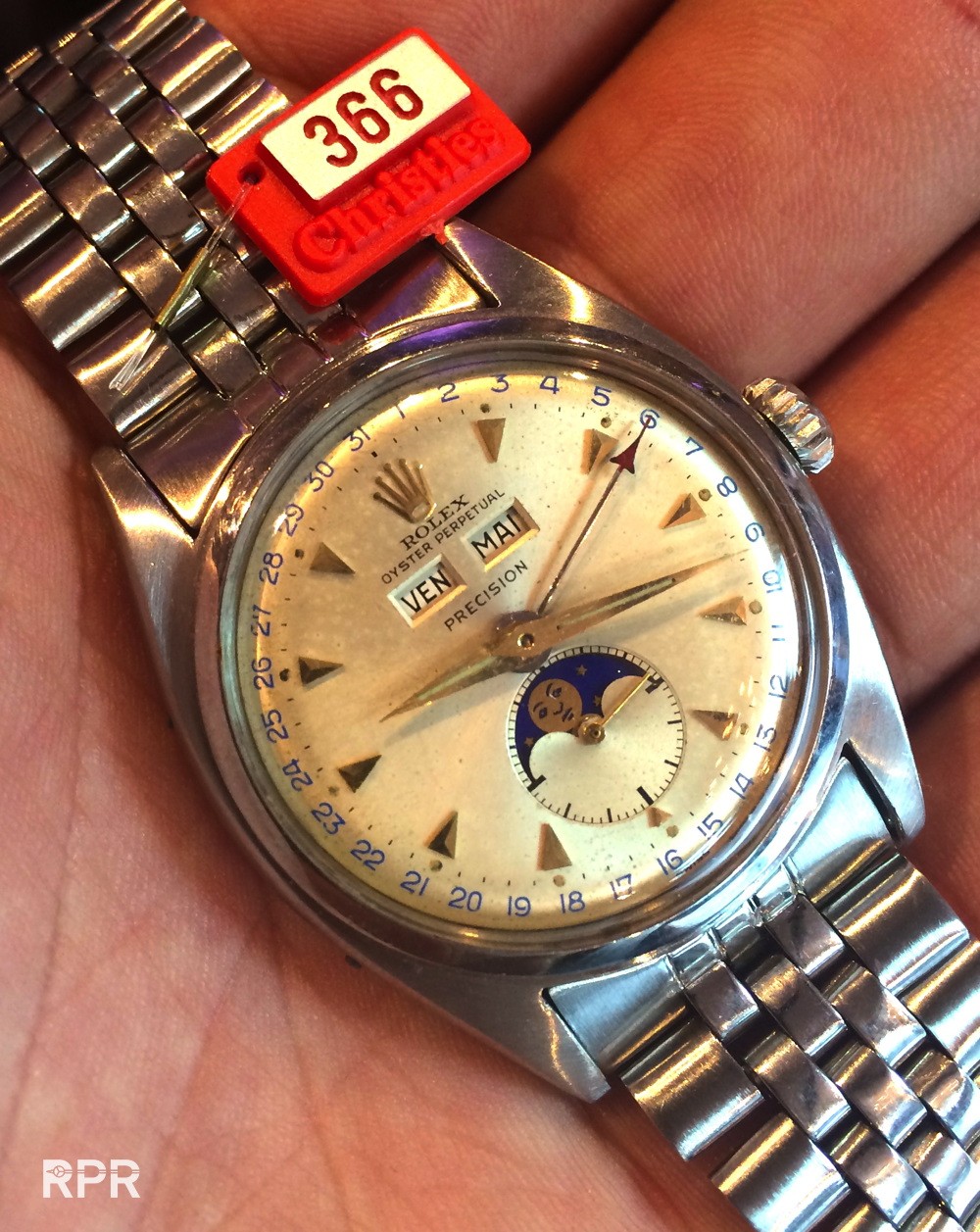 Rolex GMT master ref 1675 with underline..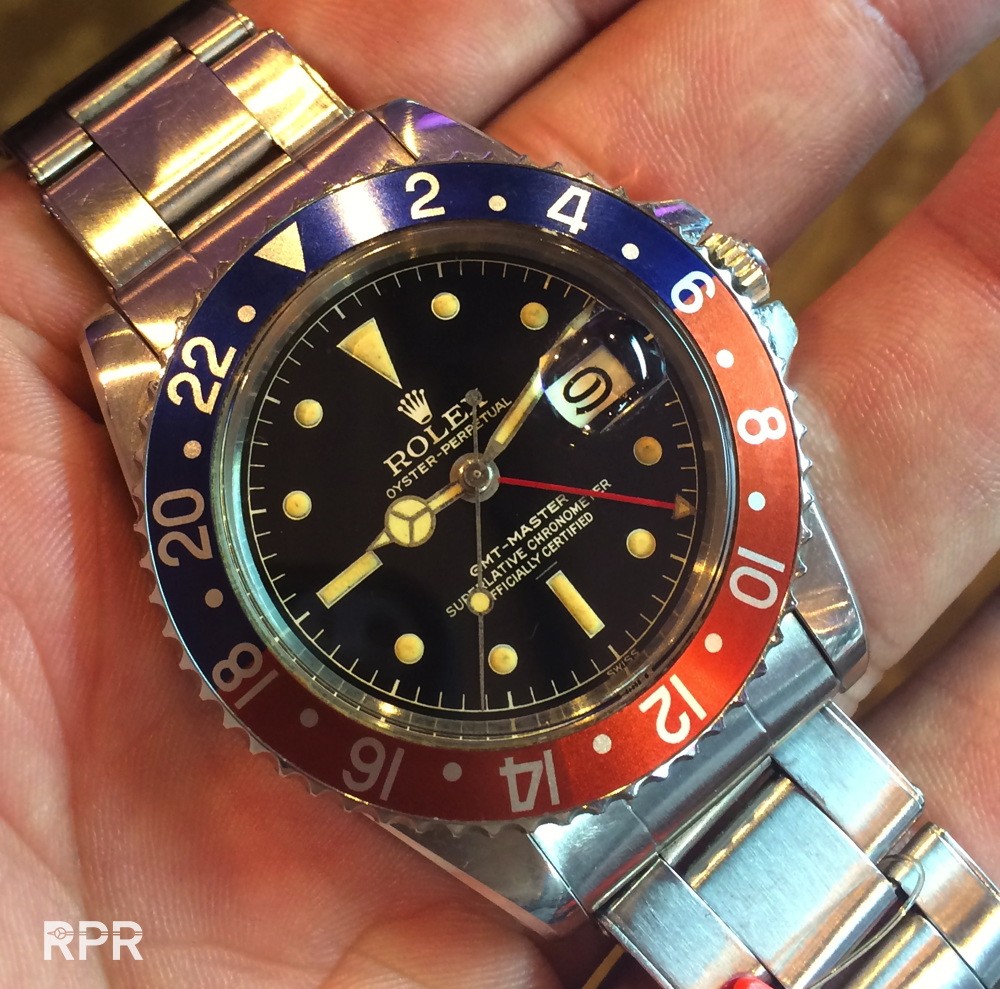 Mike Wood in da house..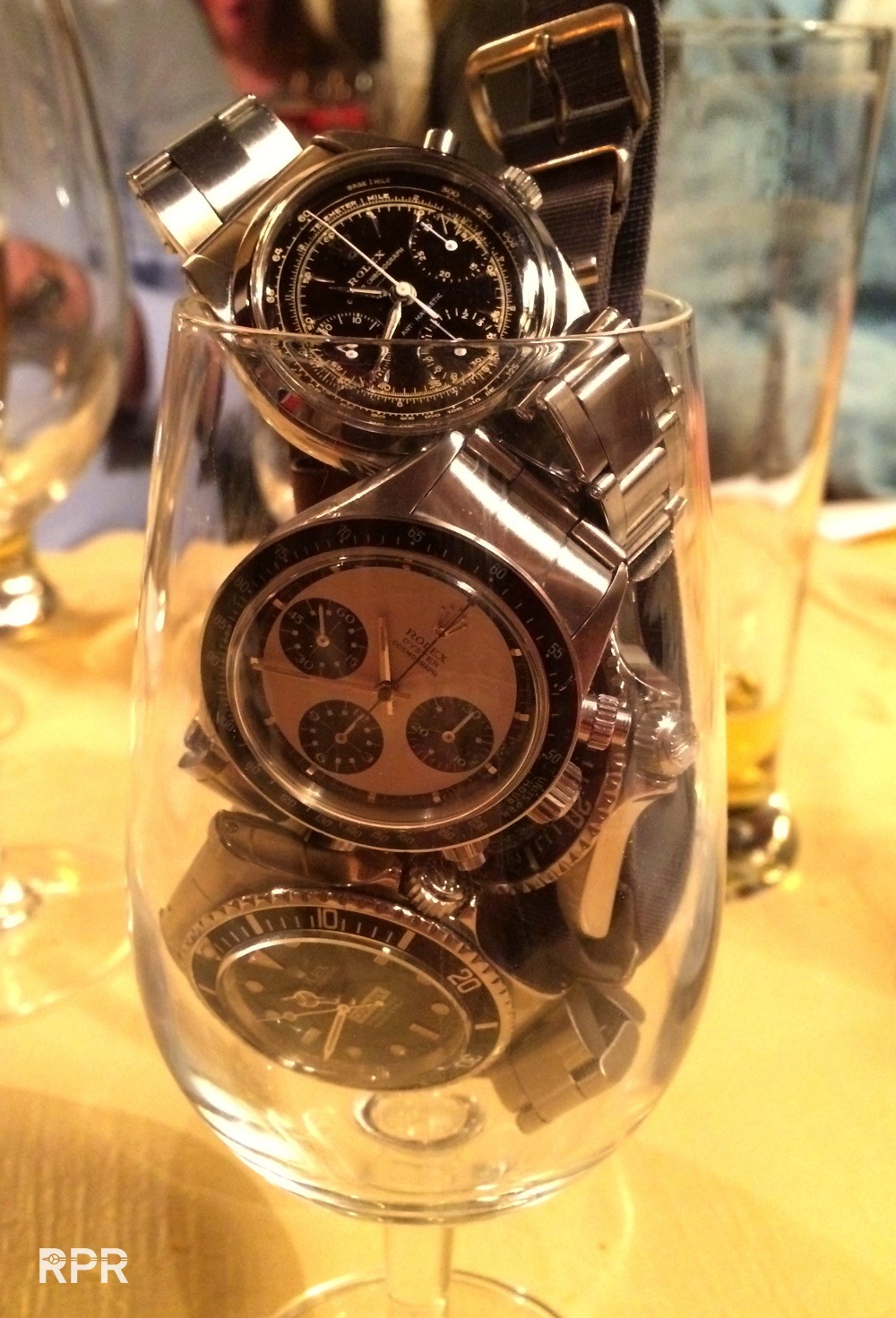 Transitional Rolex submariner red depth 100/330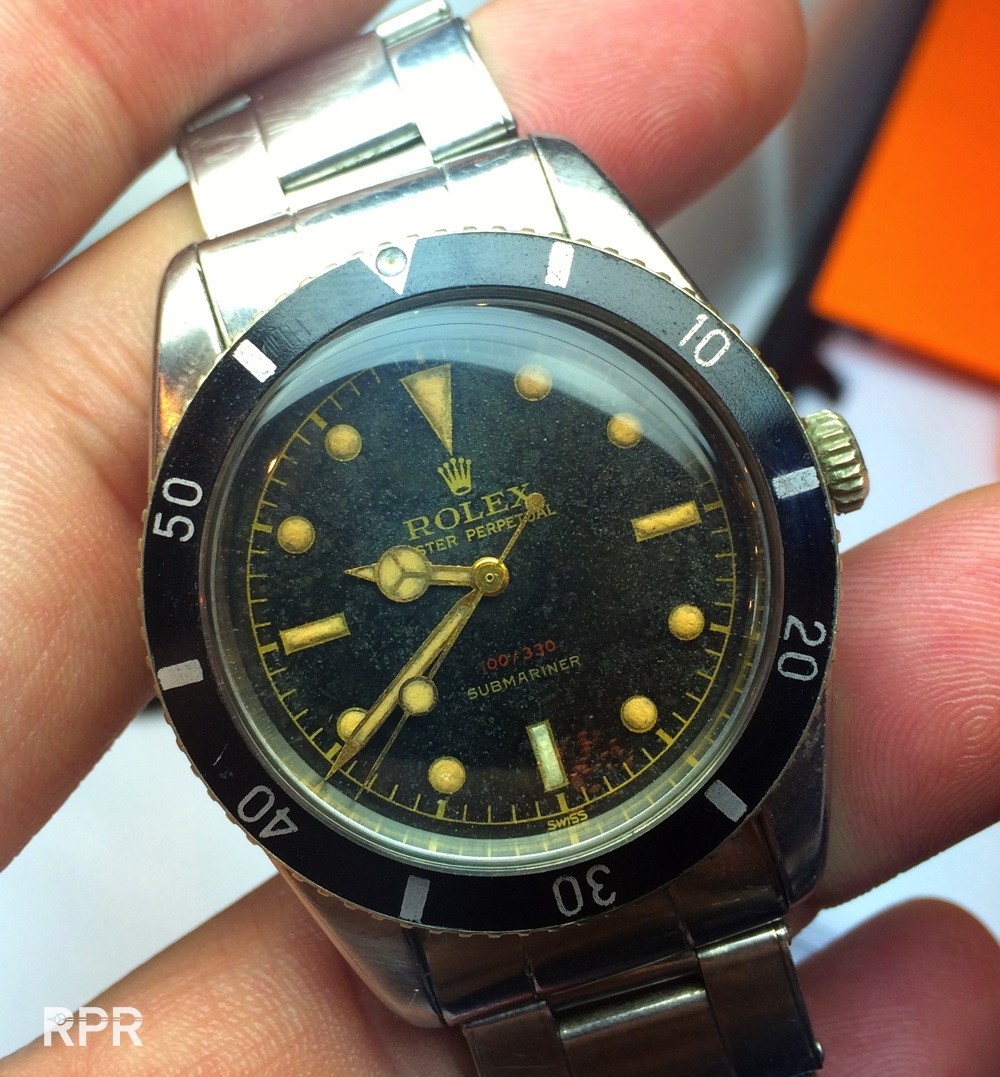 2499 Patek Philippe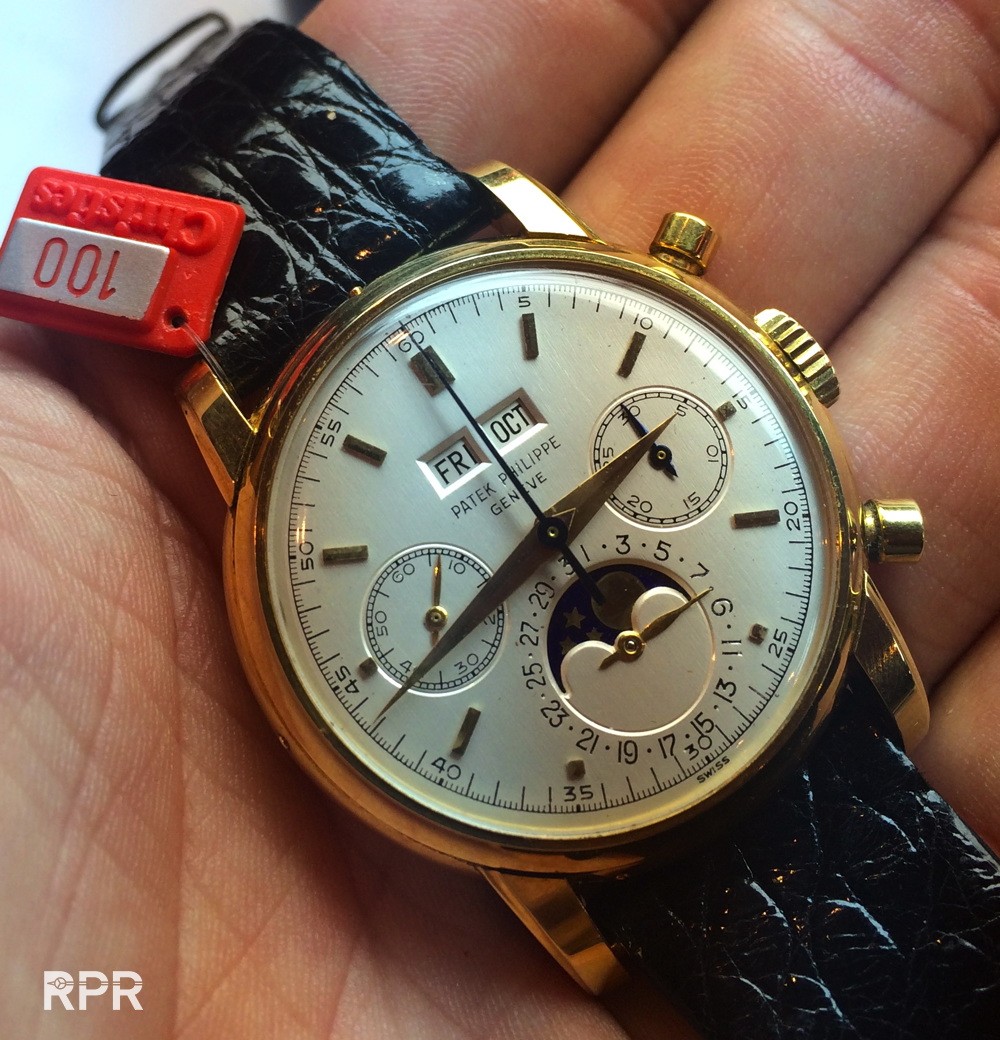 Little spots in the lacquer of the glossy dial immediately 'kill' a great result..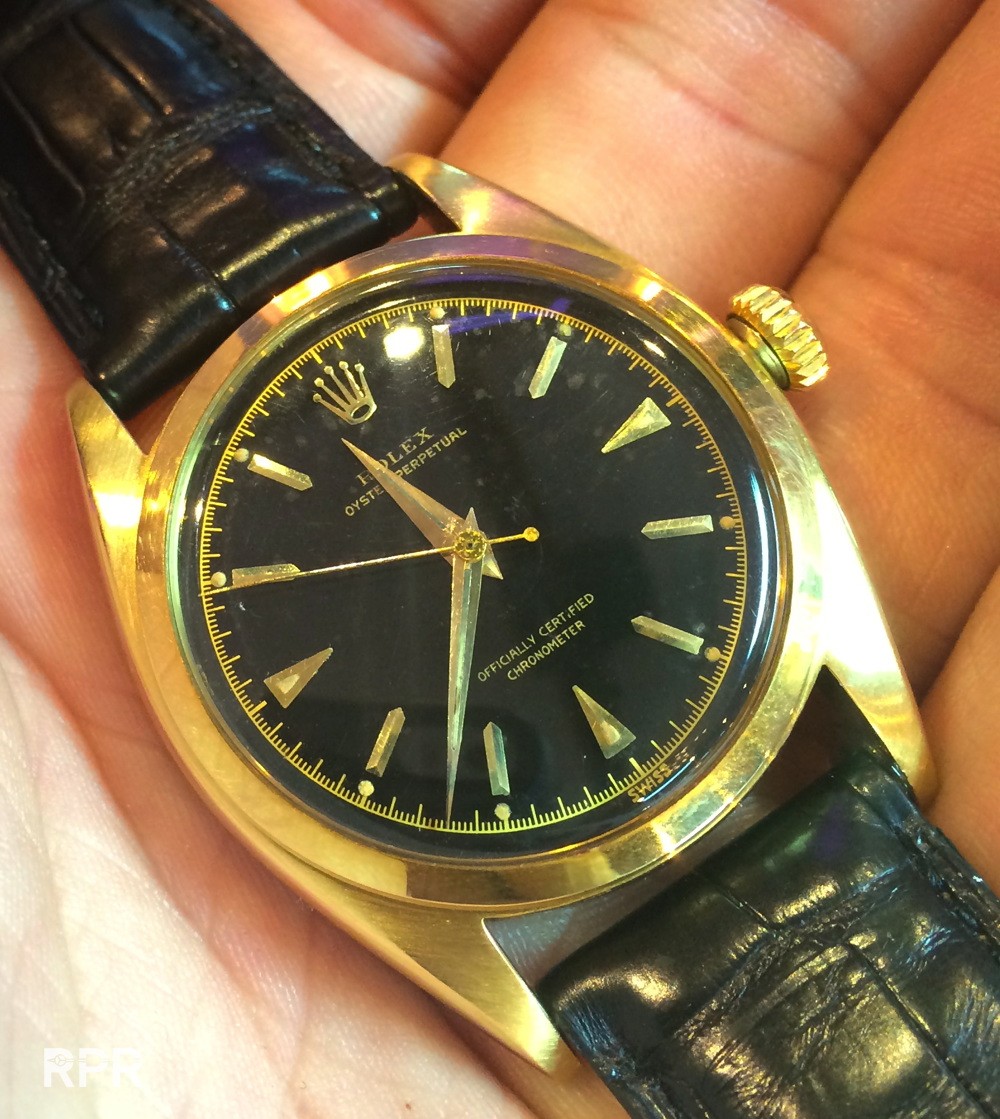 Rolex Solo, only Rolex didn't really hit off. Previously to Christie's, Antiquorum auctioned the day before also 2 examples of the Solo..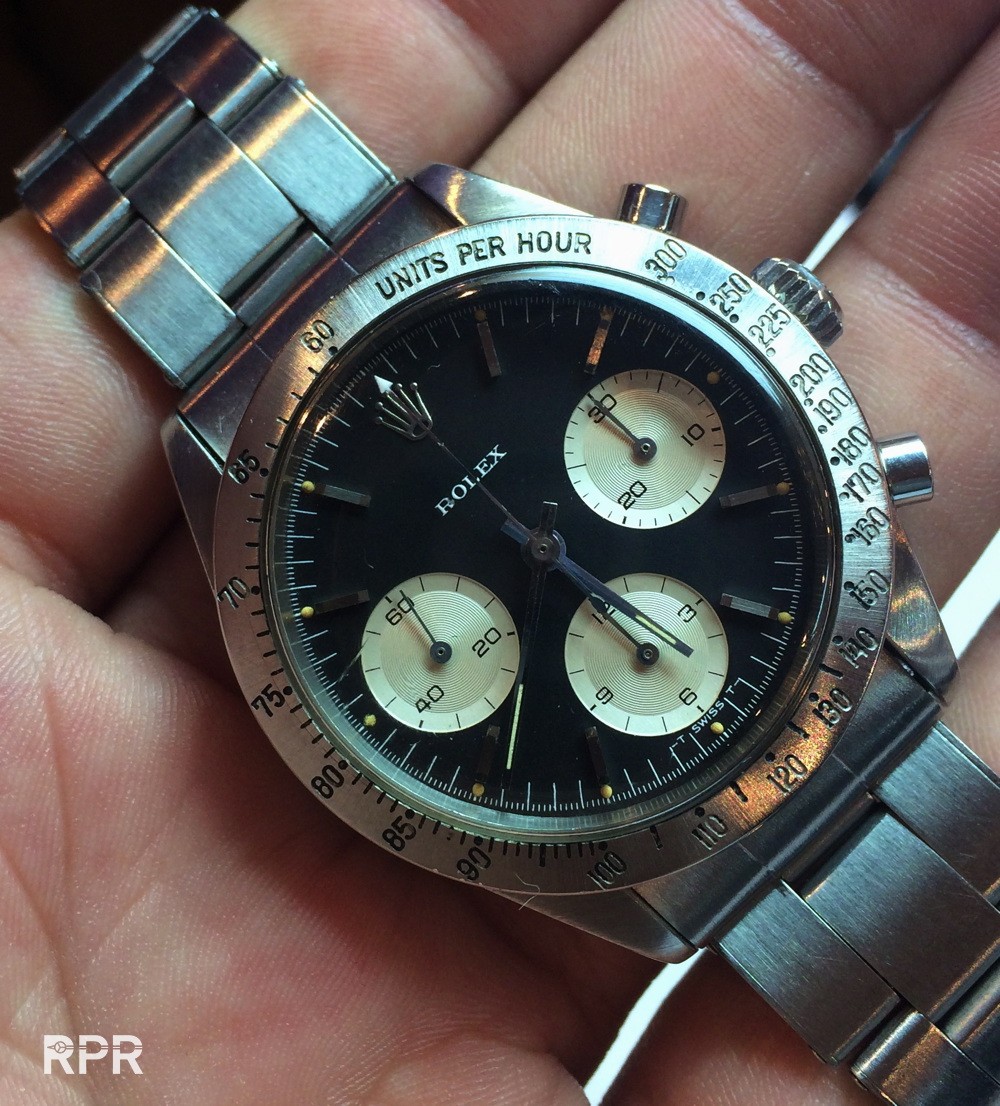 Is Comex back from their recent depression? With a stunning twice the current market value for a 5514, I still have to see this happen again. But yes, it's a important rolex reference so I guess it deserves it..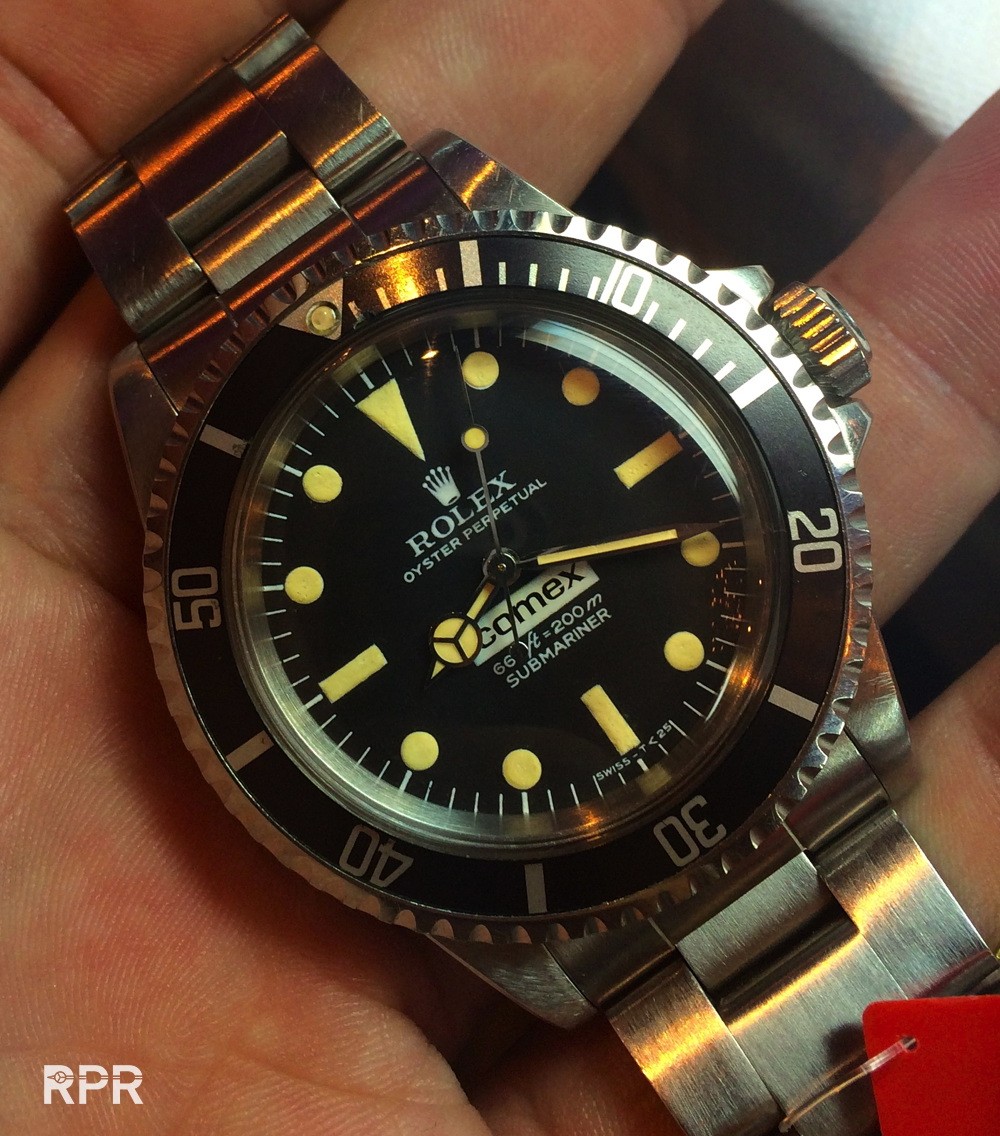 Mr Watchanish himself during the auction sitting behind me, following and blogging live the stunning results to his big audience. Nice seeing you again!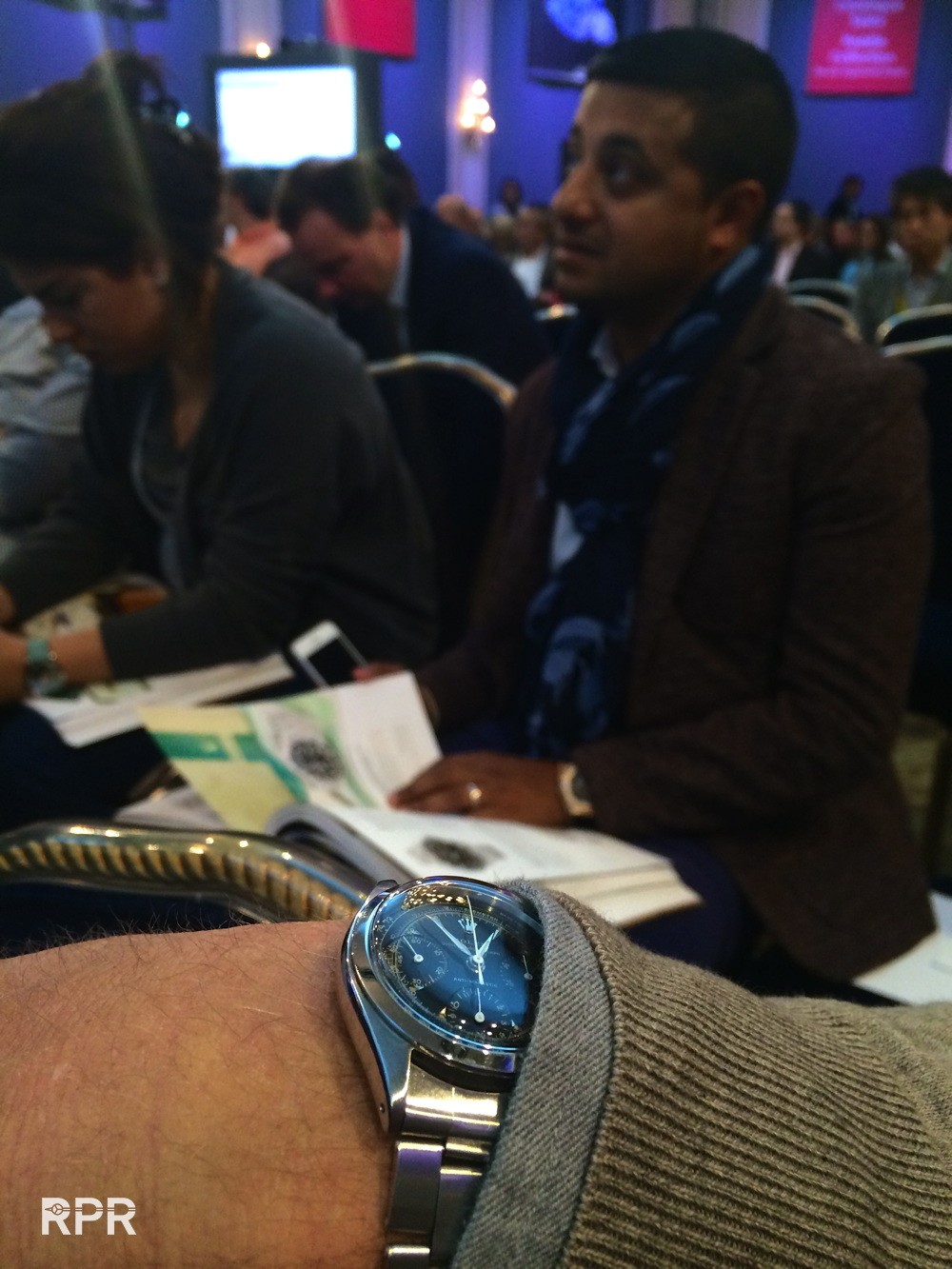 2 x Rolex PAul Newman ref 6263, the ultimate Panda's..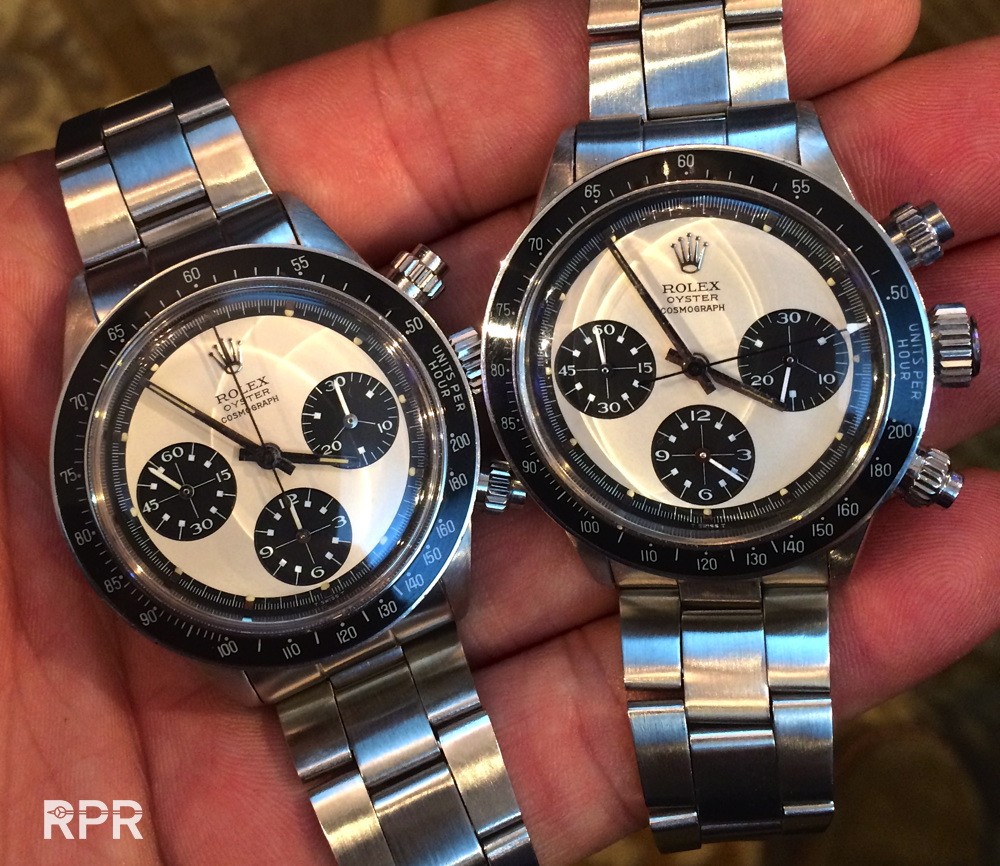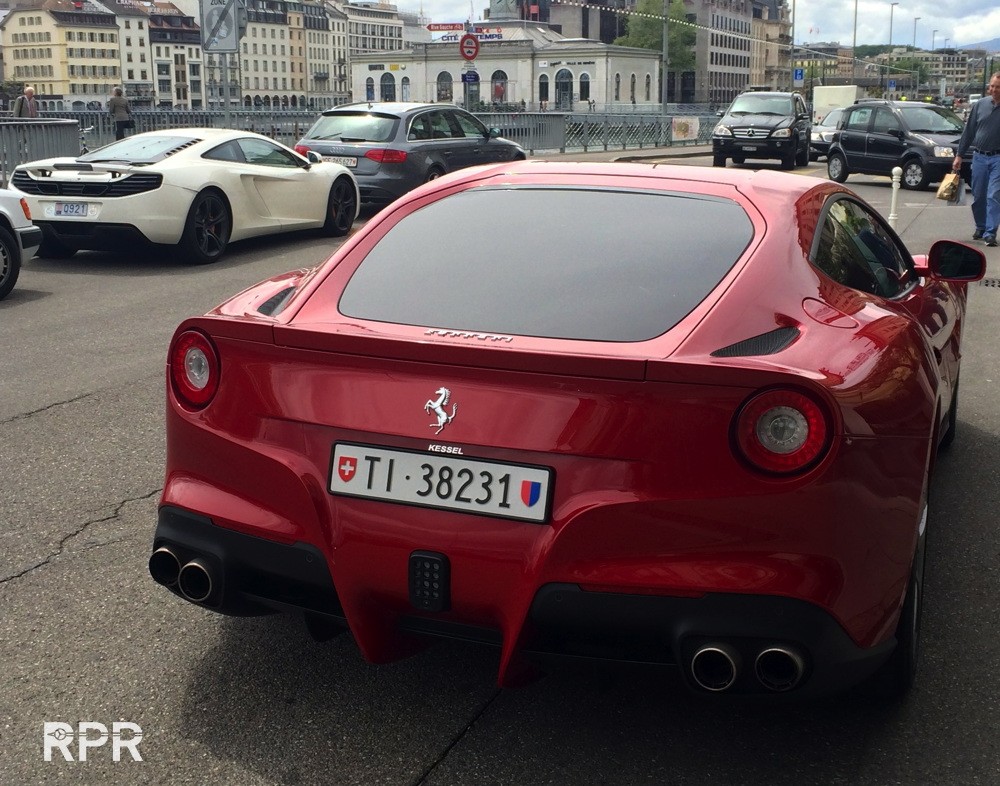 Underline glossy Subamriner ref 5513 from 1964..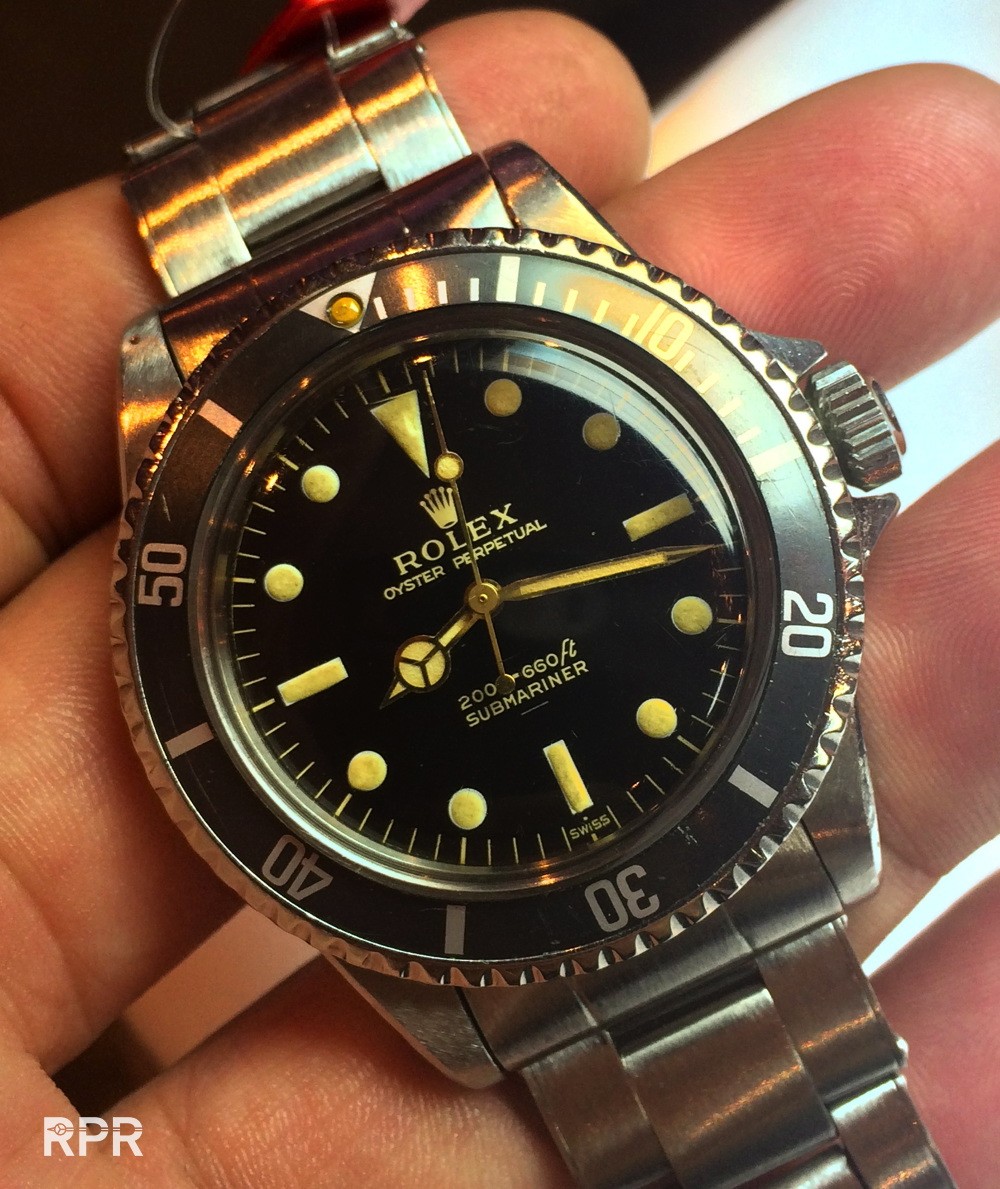 Rare black Rolex Datejust 6305-1 with honeycomb dial missing dome lime dots..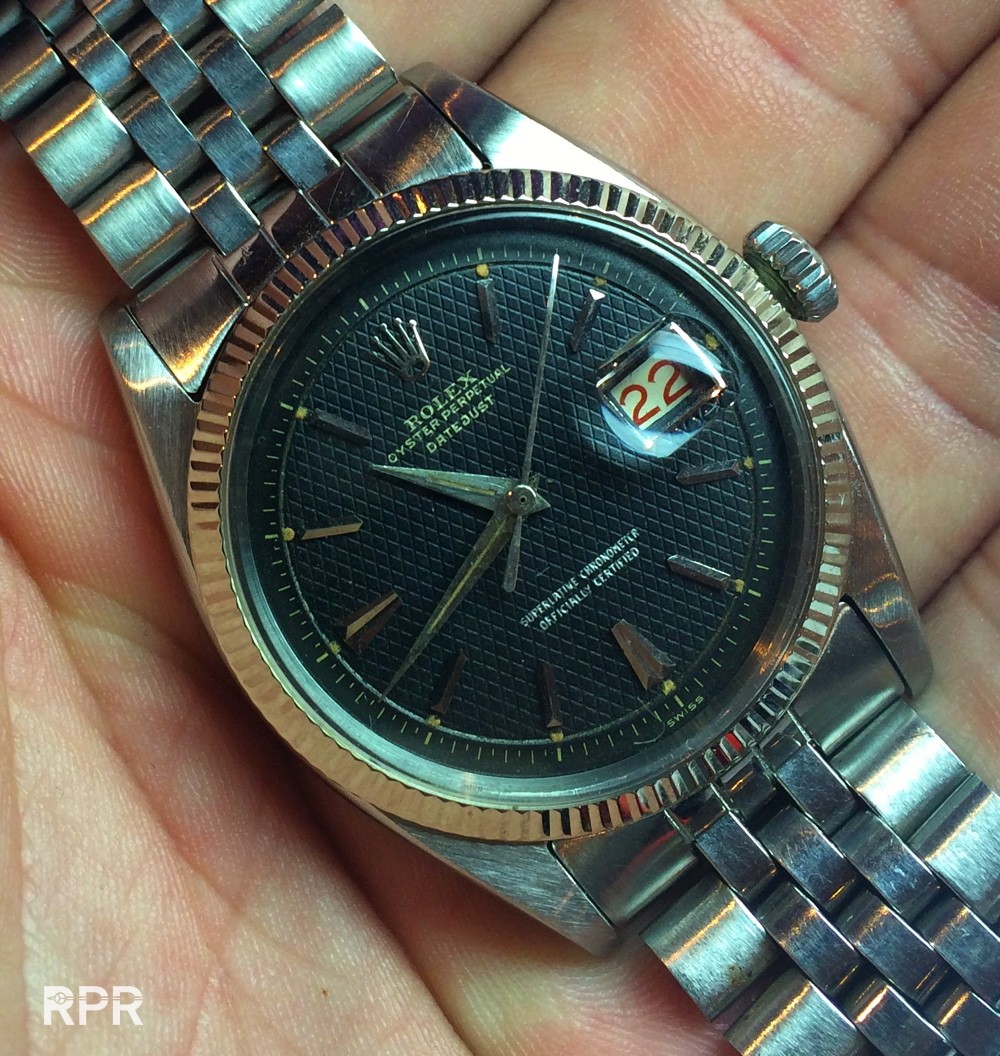 Interesting Rolex Ref 4242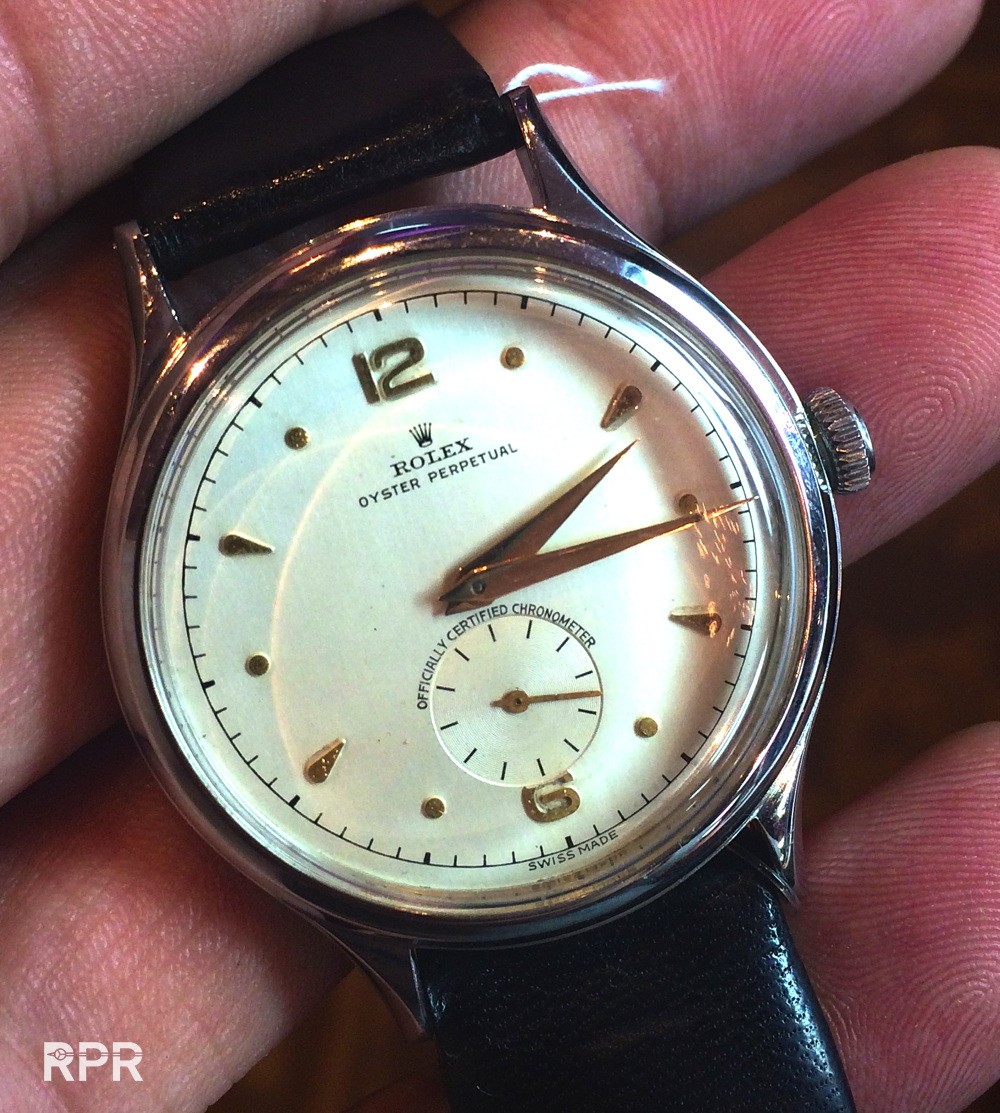 Rolex Submariner Big Crown ref 5510. If the dial would had been glossy and shinny all over, the price would defiantly went double or triple..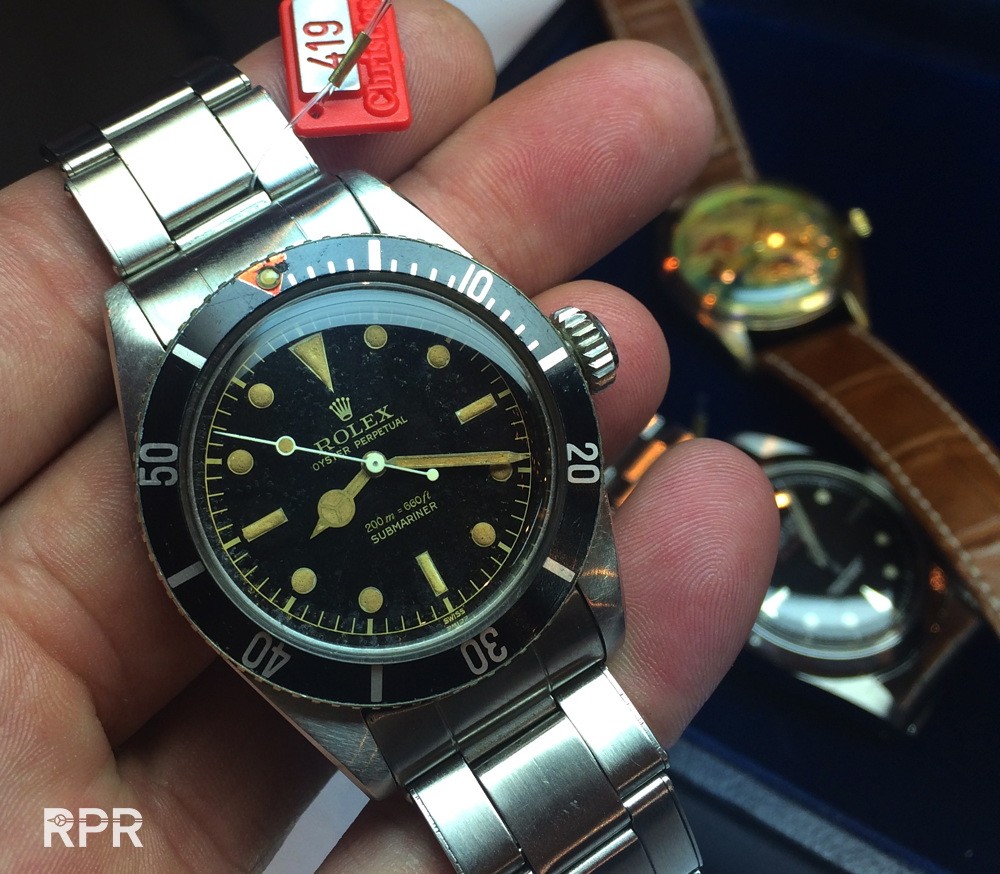 Nice Pre Daytona in yellow gold with very attractive dial, perfect lime and matching hands..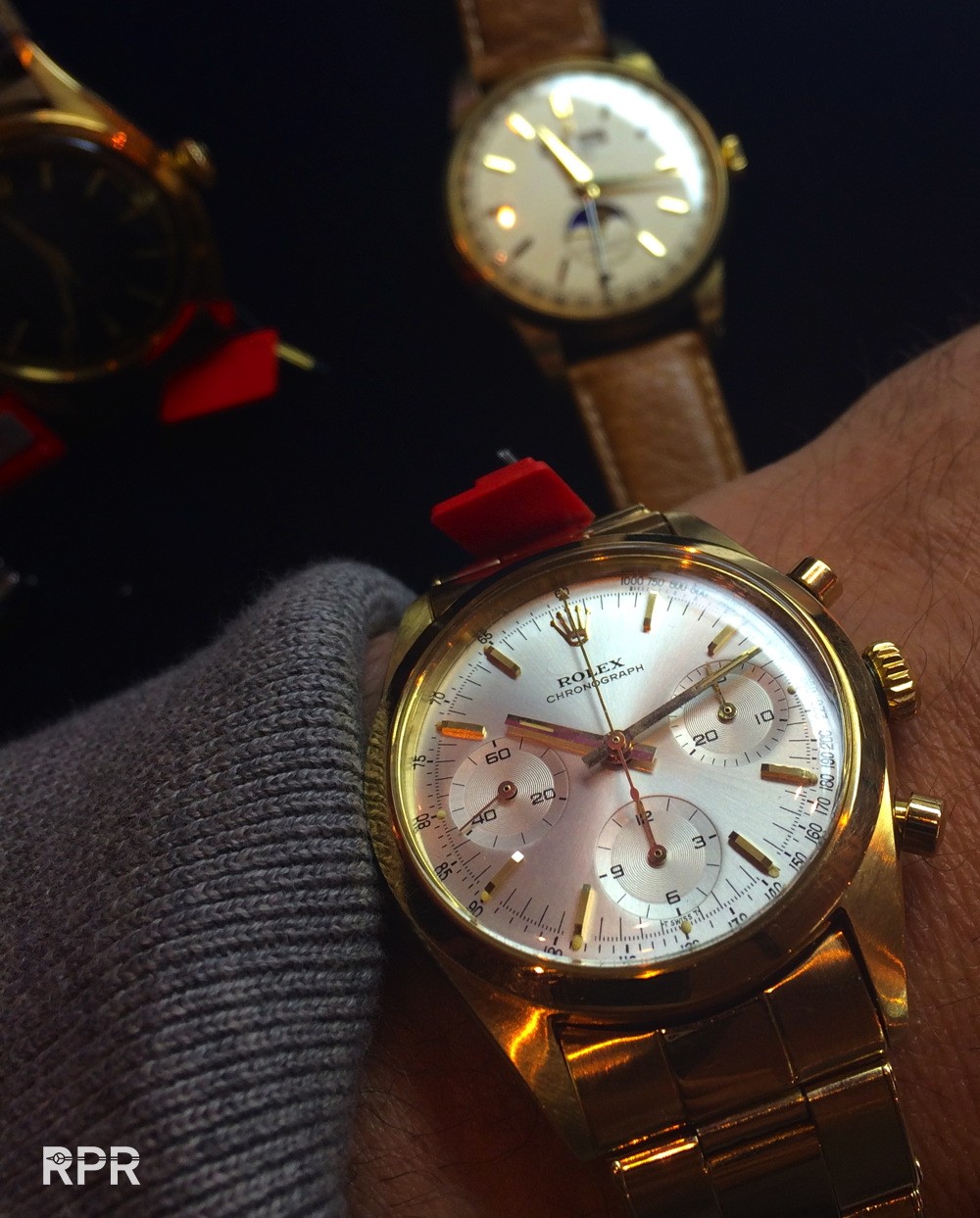 Patek Philippe monoblock Ref 565, dial and case cleaned, looked almost new.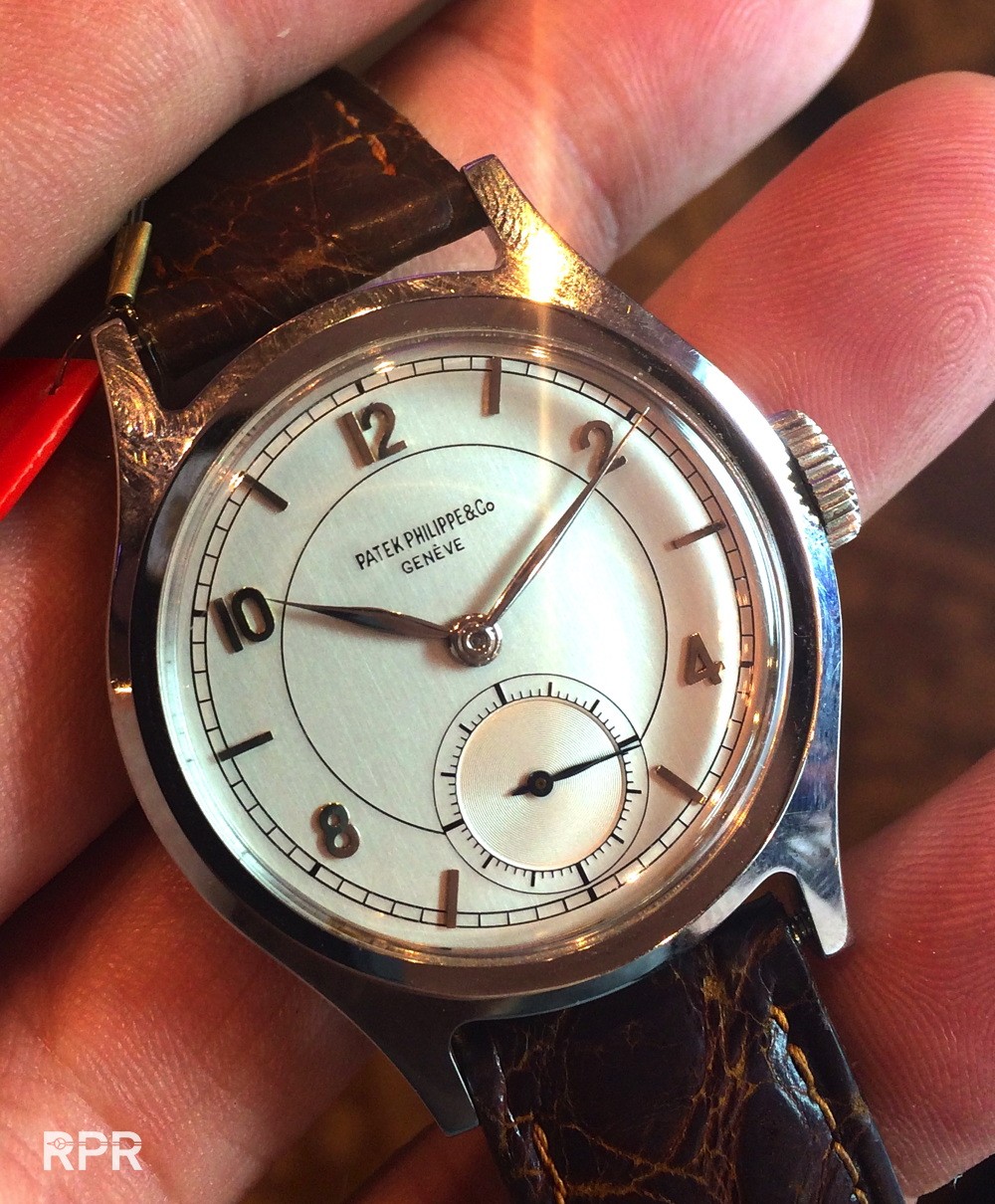 Early Rolex Submariner ref 6204 with 'split text' radium pencil hands..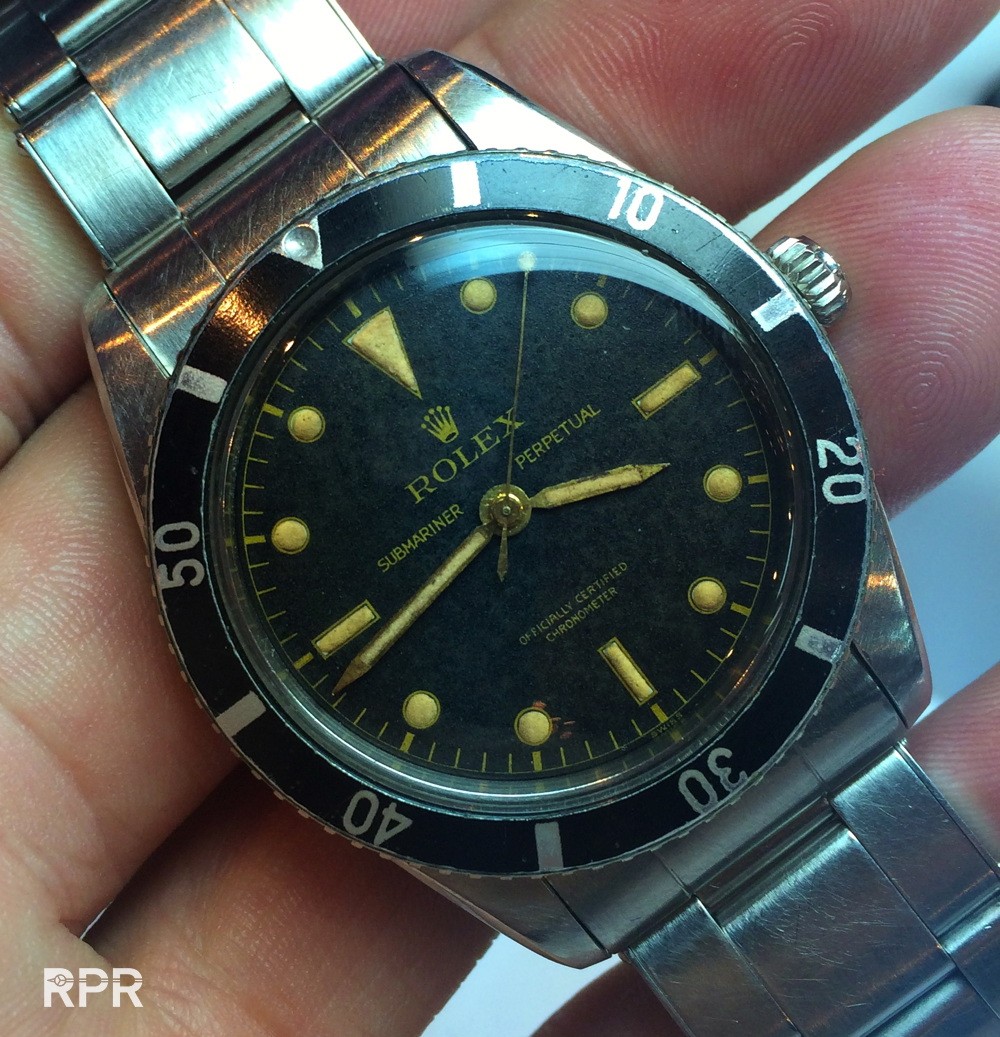 Interesting big size Omega Chronograph with clean look..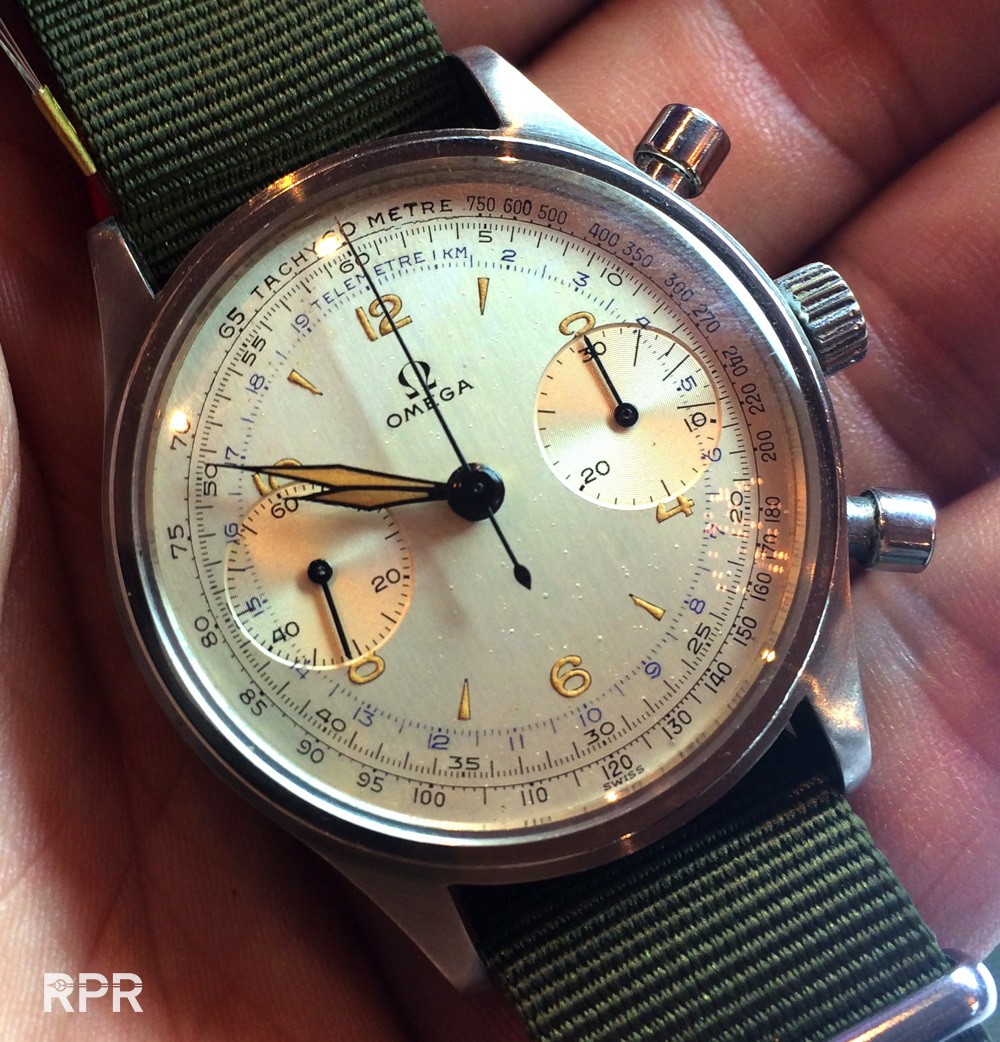 Tropical Rolex GMT master ref 6542 with bakelite bezel..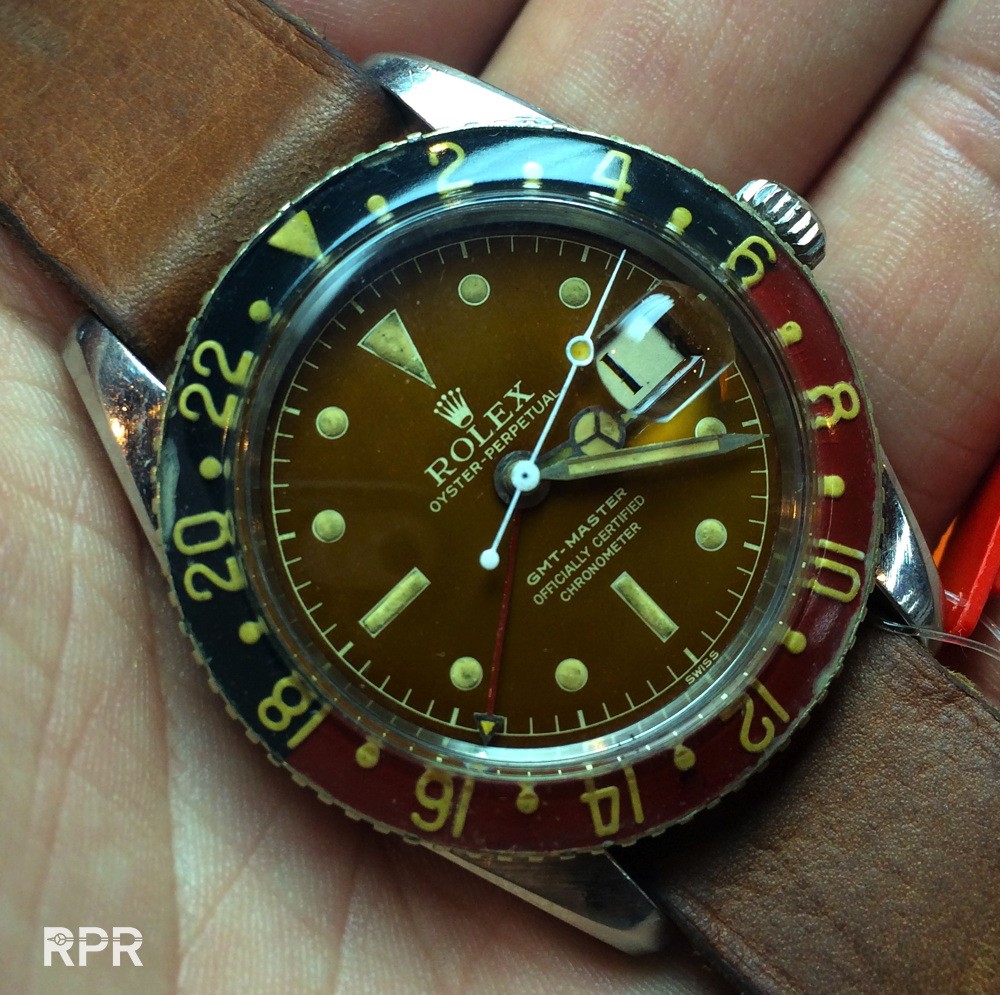 Early Submariner small crown with some top layers of the luminous index slightly damaged ..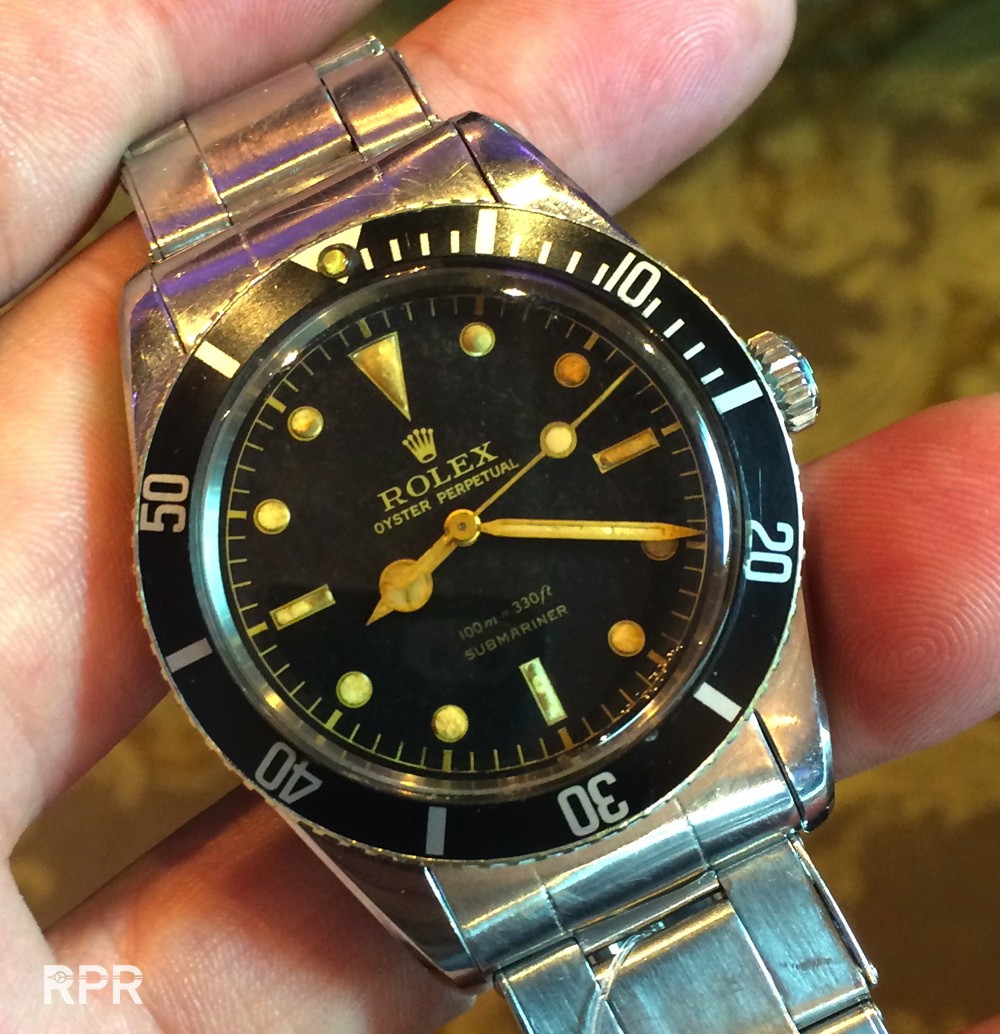 Rolex pump pusher ref 6241 Paul Newman in 18krt gold having a relumed dial and hands..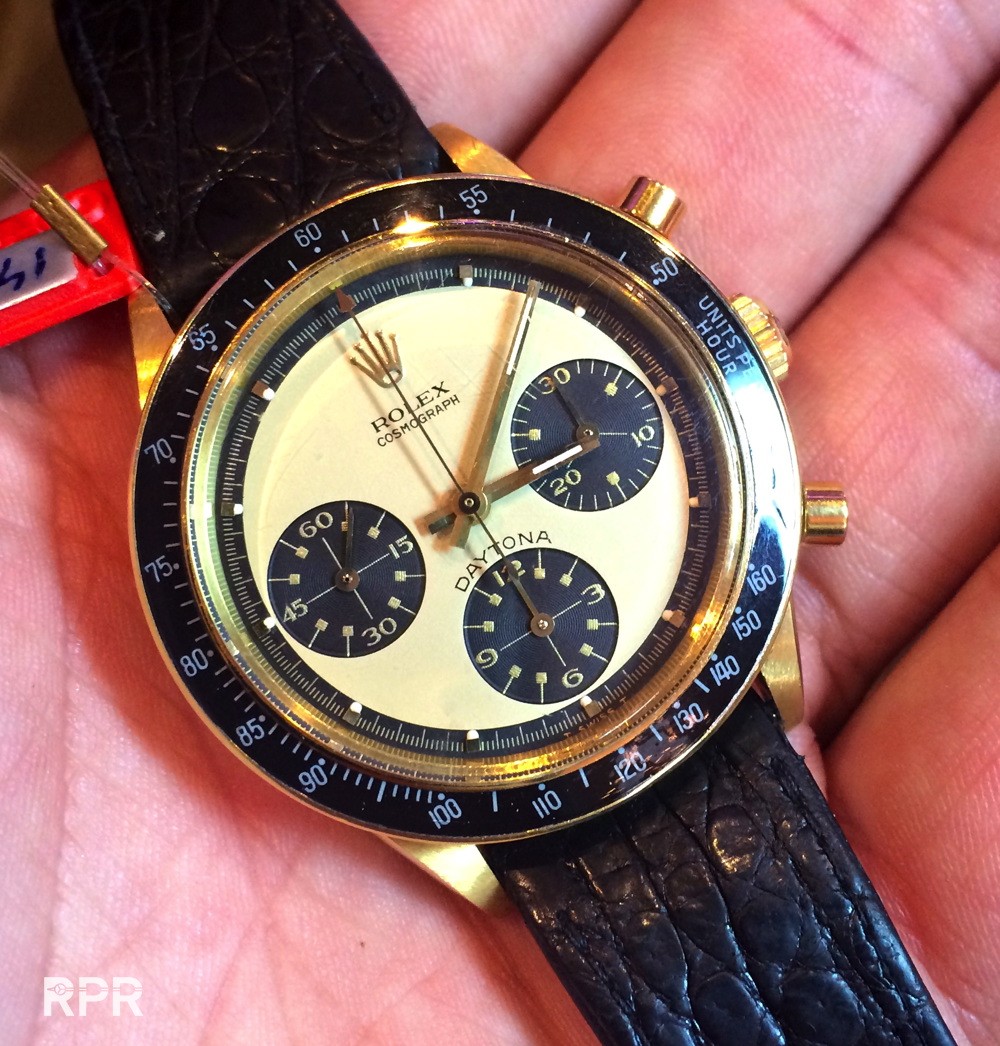 Inside of the case back we see the service marks..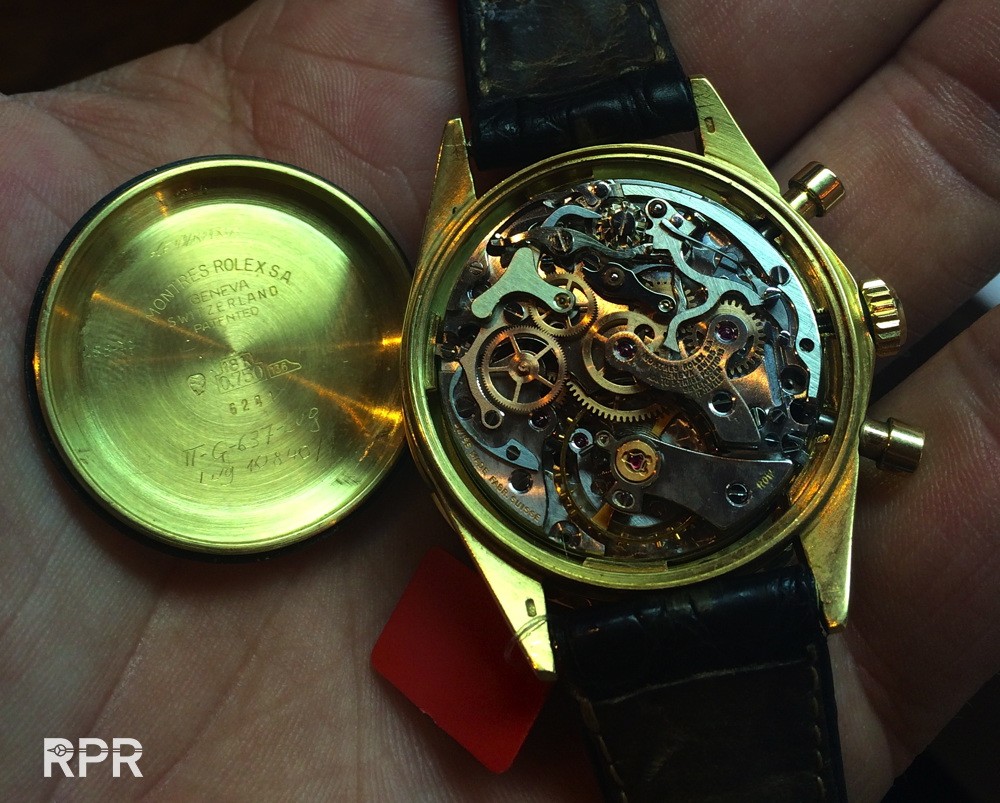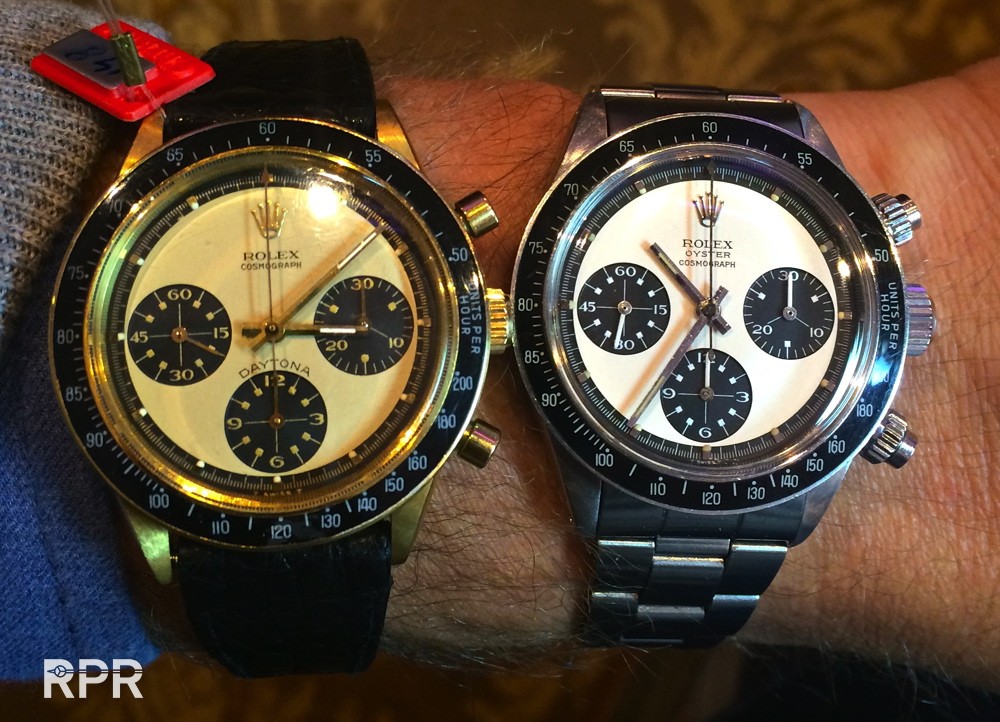 Caseback gravure from Graves PPC minute repeater…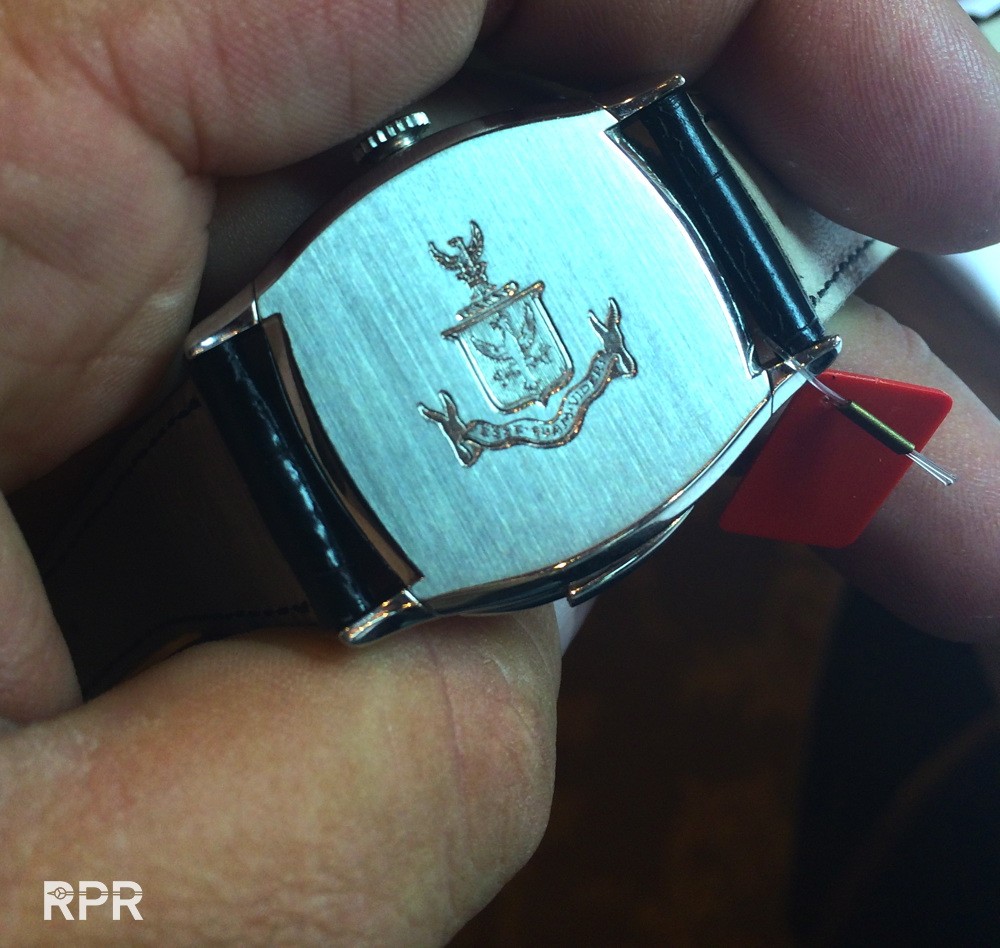 Just before the auction Christie's pulled very wisely their offered Qaboos Seadweller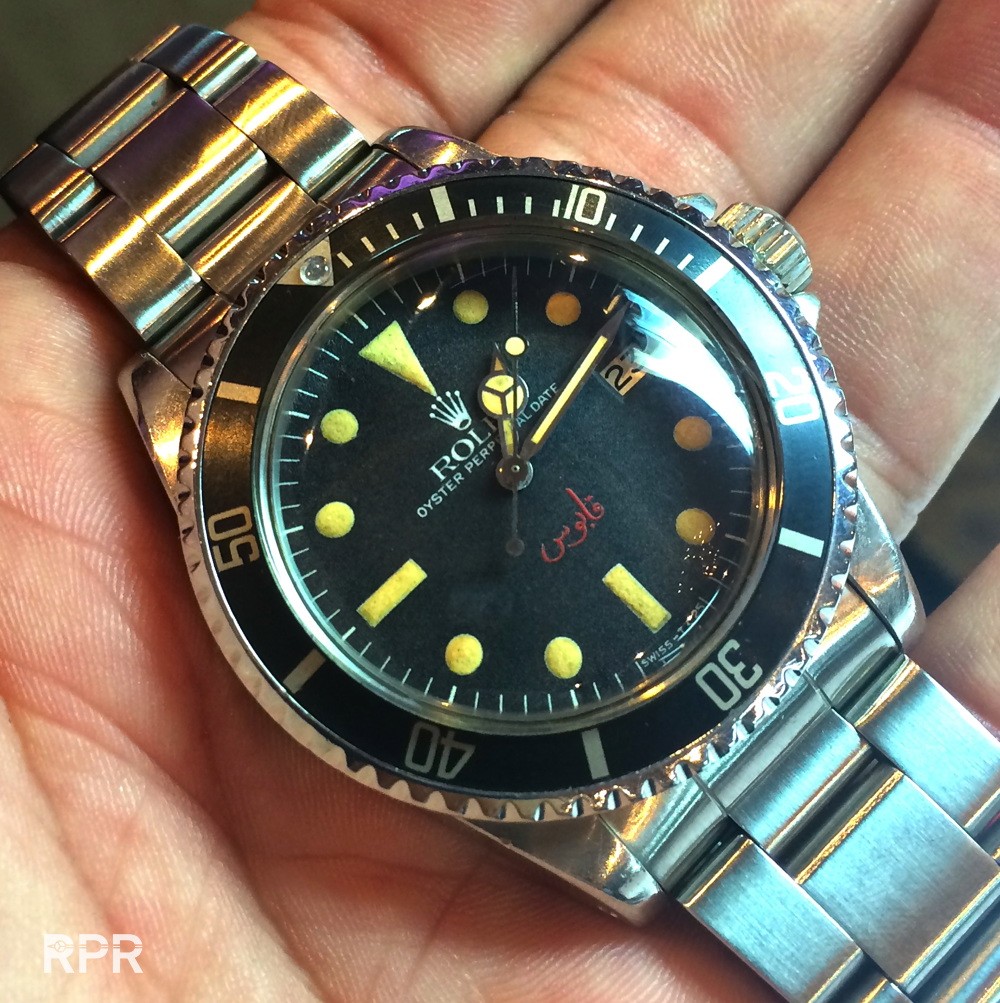 Close up of newly made 'Aprey" gravure.. One doesn't have to ne a genius to see that the osprey is all fresh there where the rest of the engravings are worn out..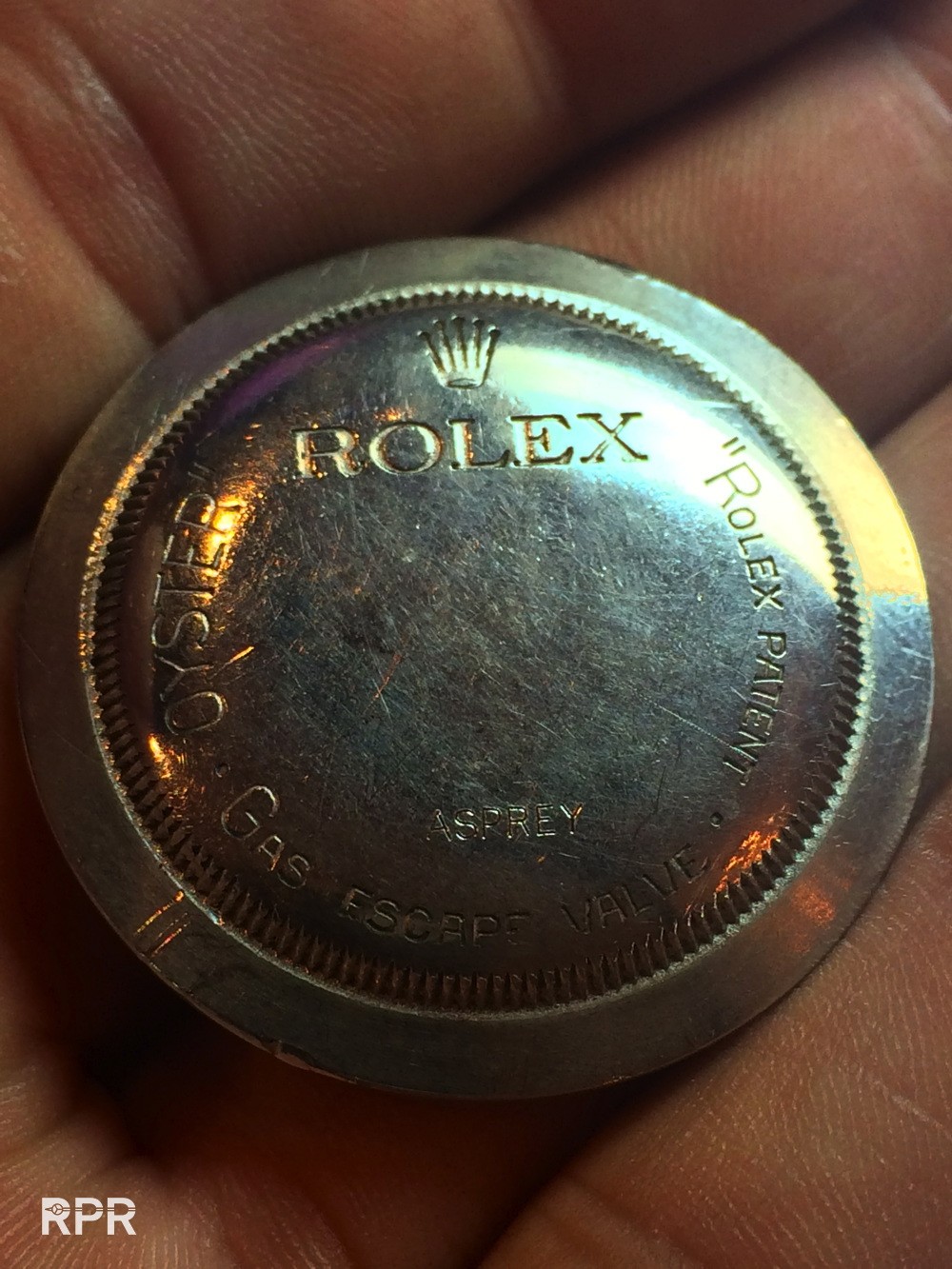 The overhyped black 6062 couldn't convince anybody in the room so got logically unsold..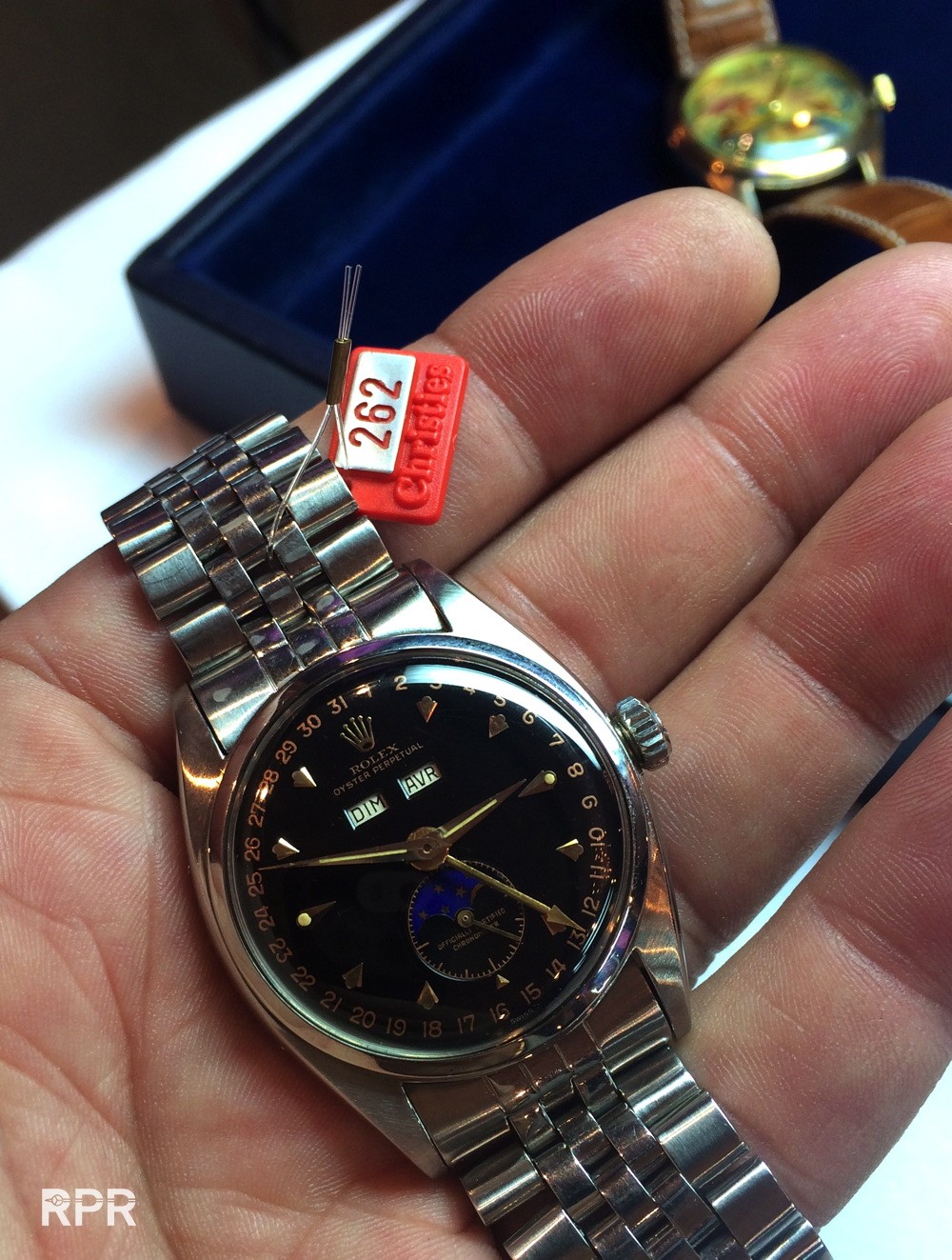 Rolex Killy transitional dial with gold index and hands..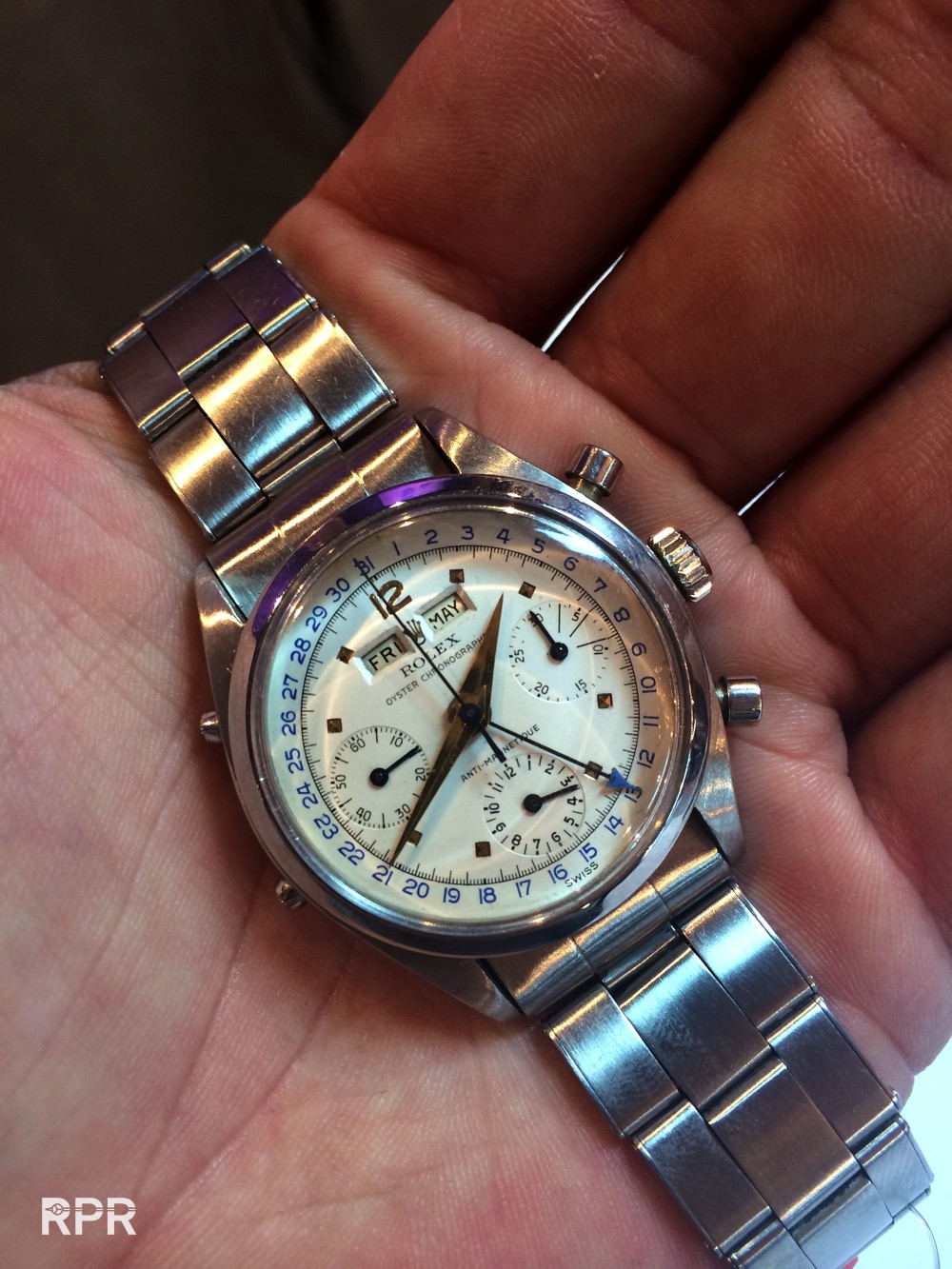 Yellow gold PPC Chrono, again looking all new, no patina left..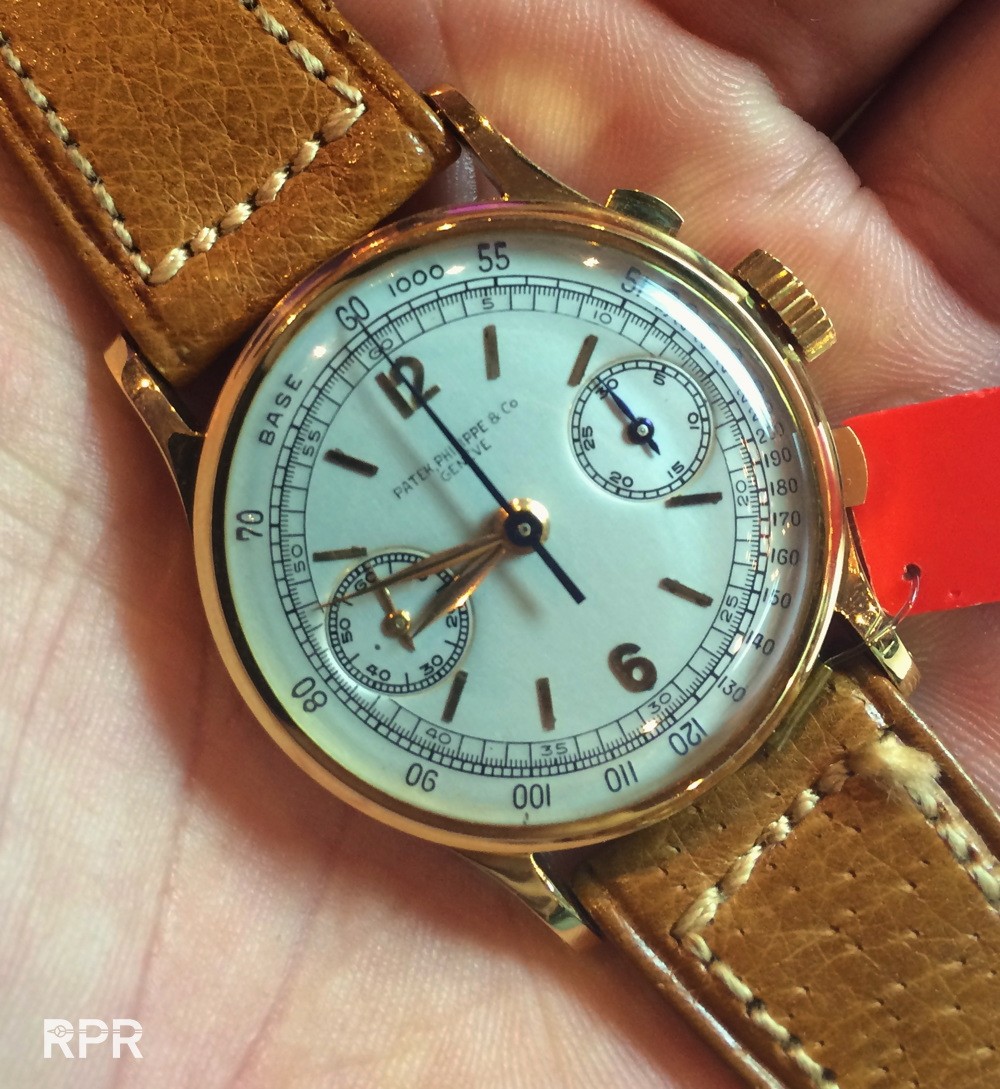 I honestly like these 'time only' big size Rolex Precisions. One at Christie and one at Sothebys was for sale, the later went for double the price, reaching 80K..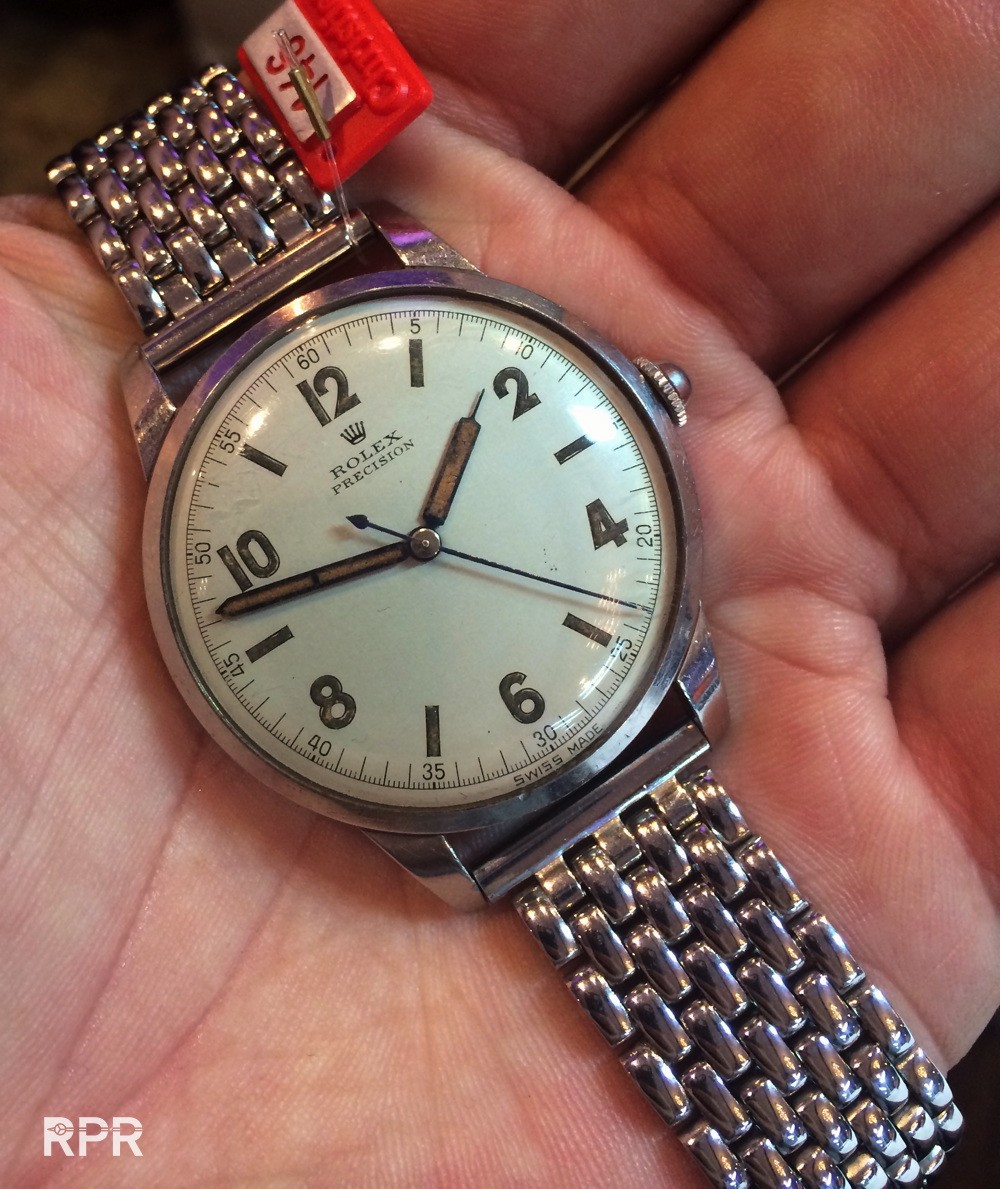 Black glossy dials in steel cases are magic to me..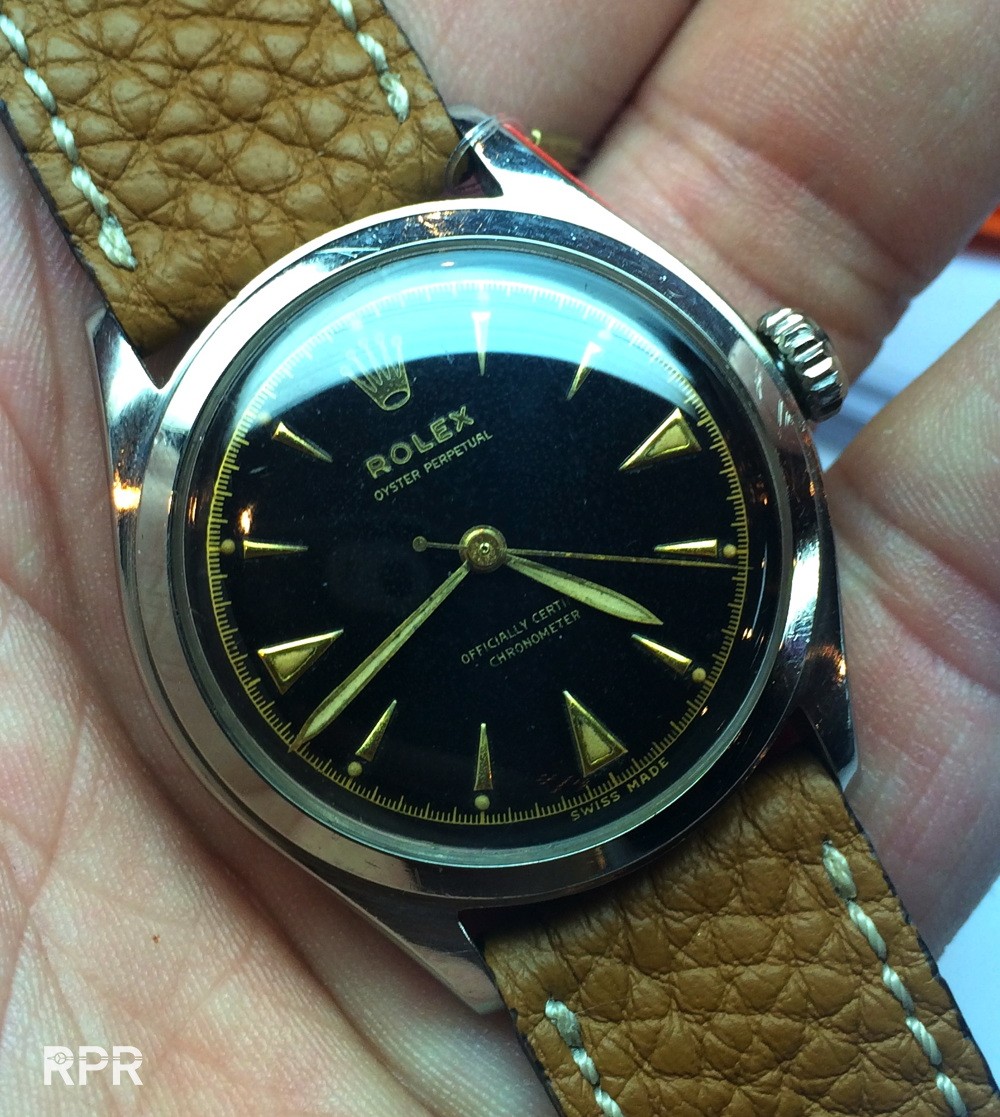 Later PPC sold by Hausman in Roma..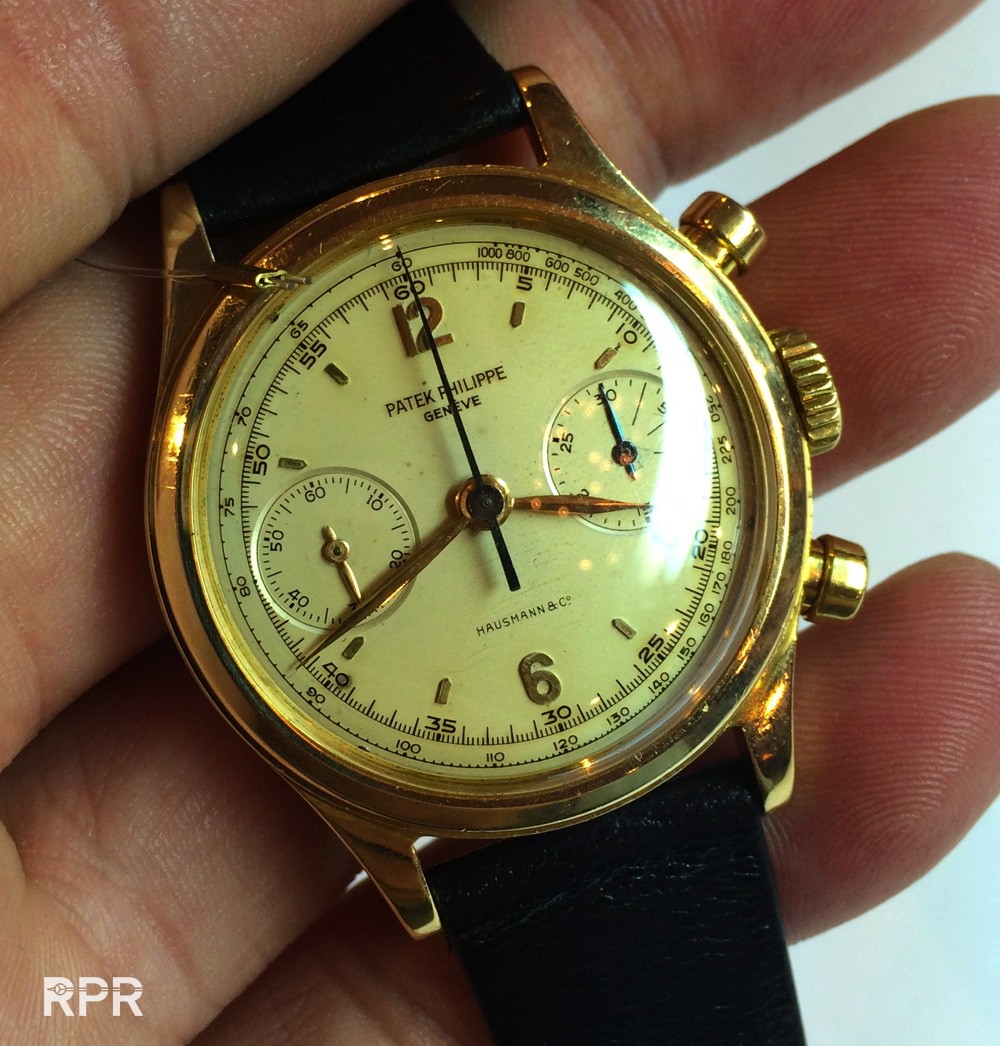 Non matching lime of dial and hands tells us it wash't born like this..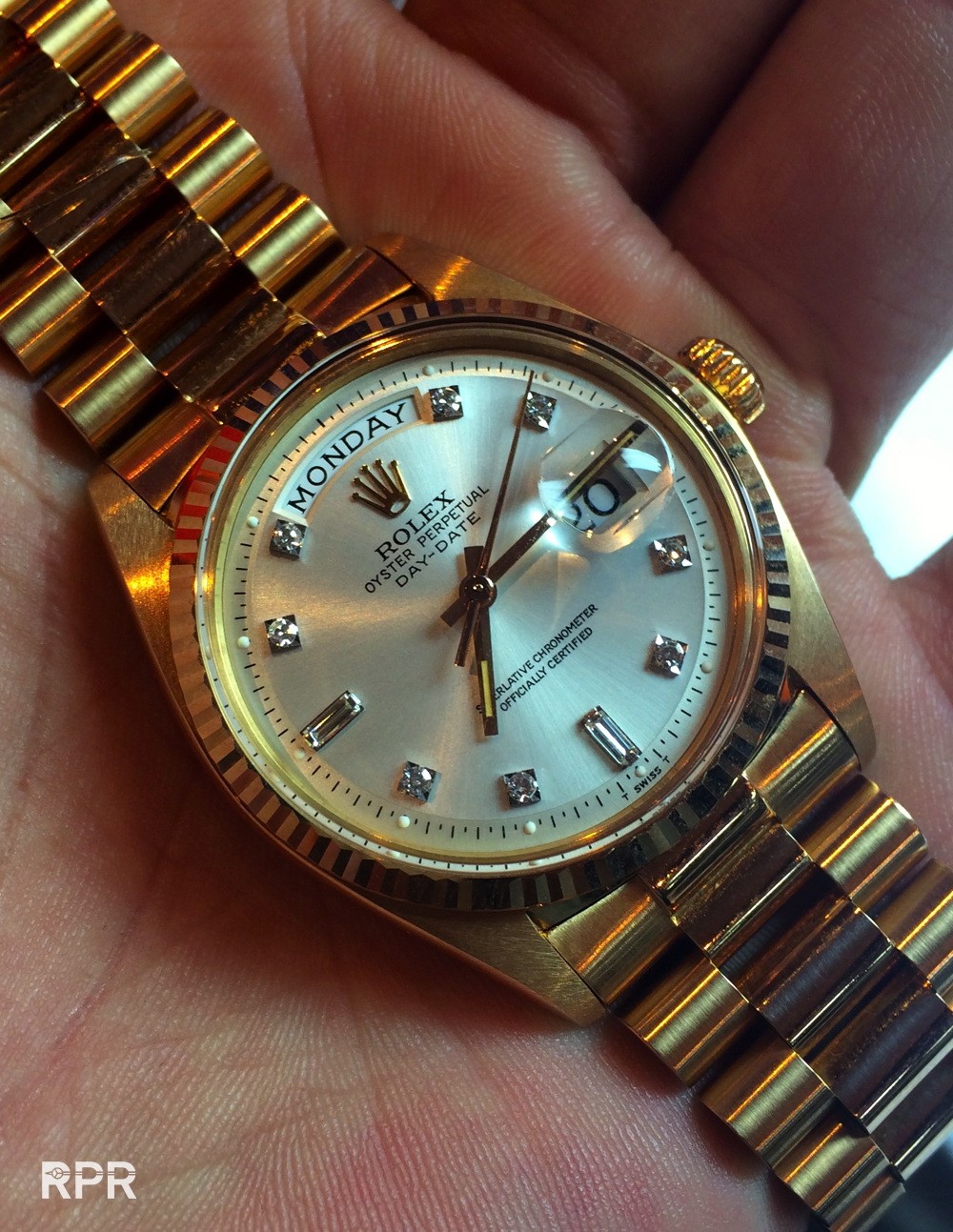 Diamonds are the girls best friend..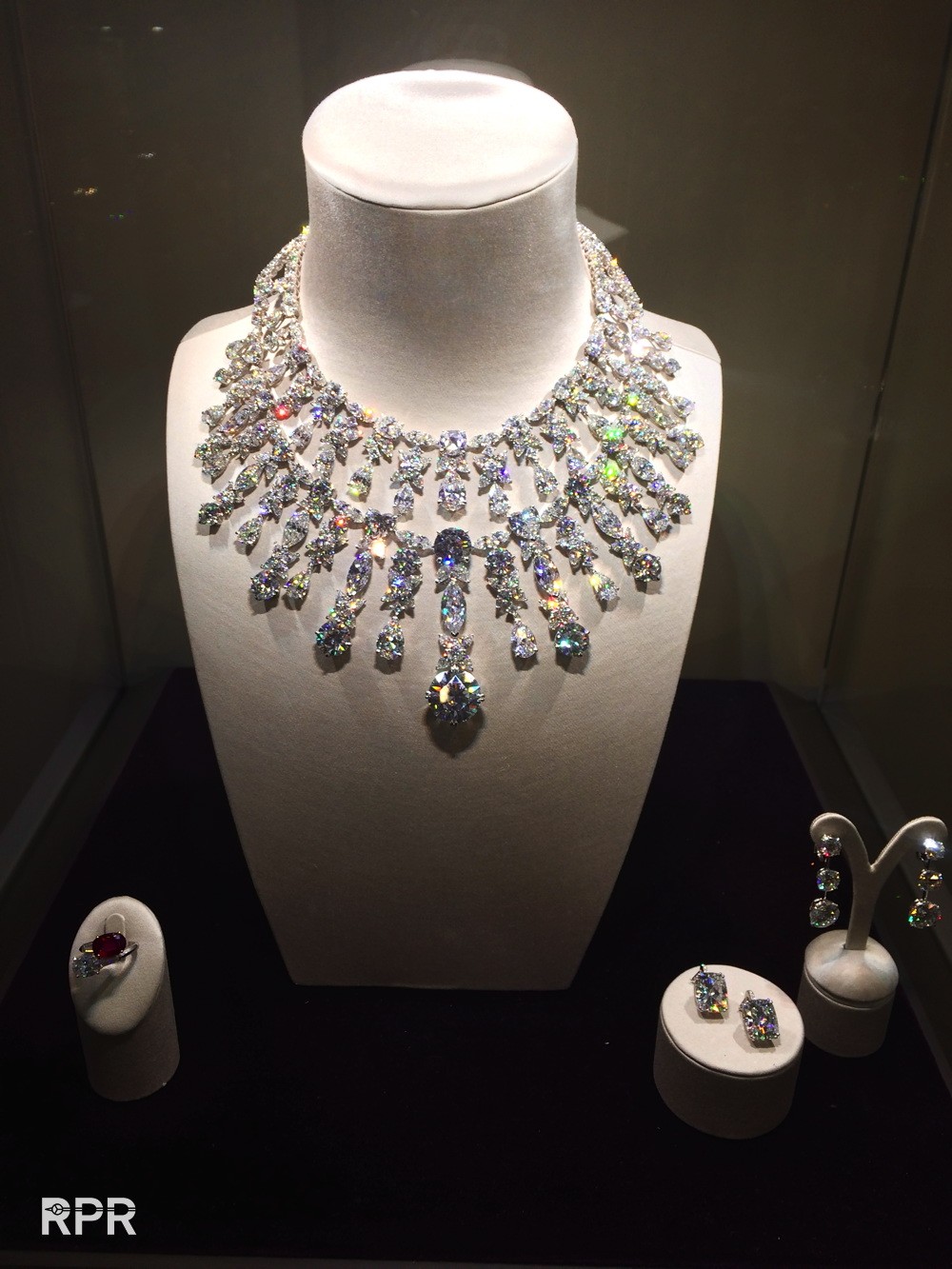 Early Sector dialed PPC ref 96 owned by Max Bernadini from Milan..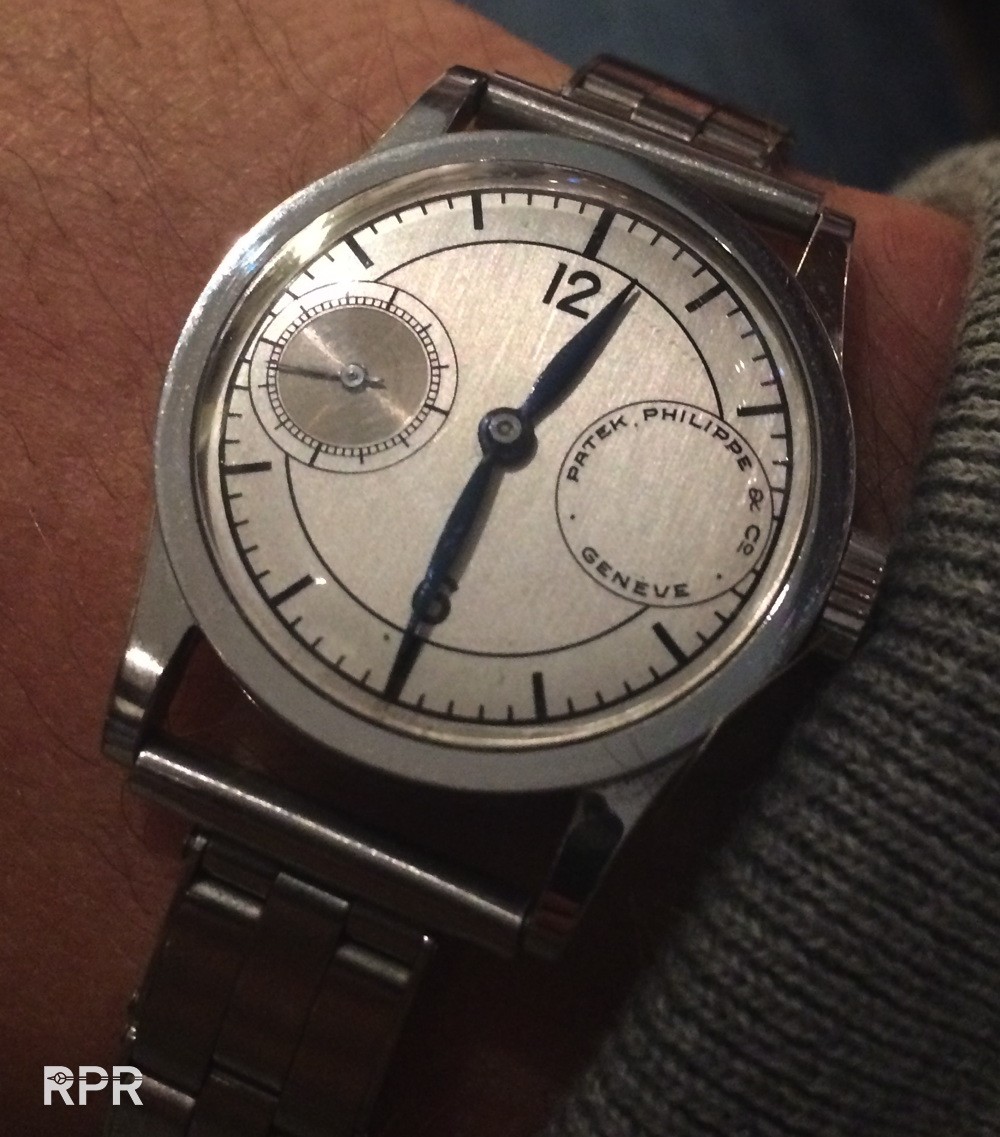 White graphic in black subdials in front of white Mc Laren with black wheels..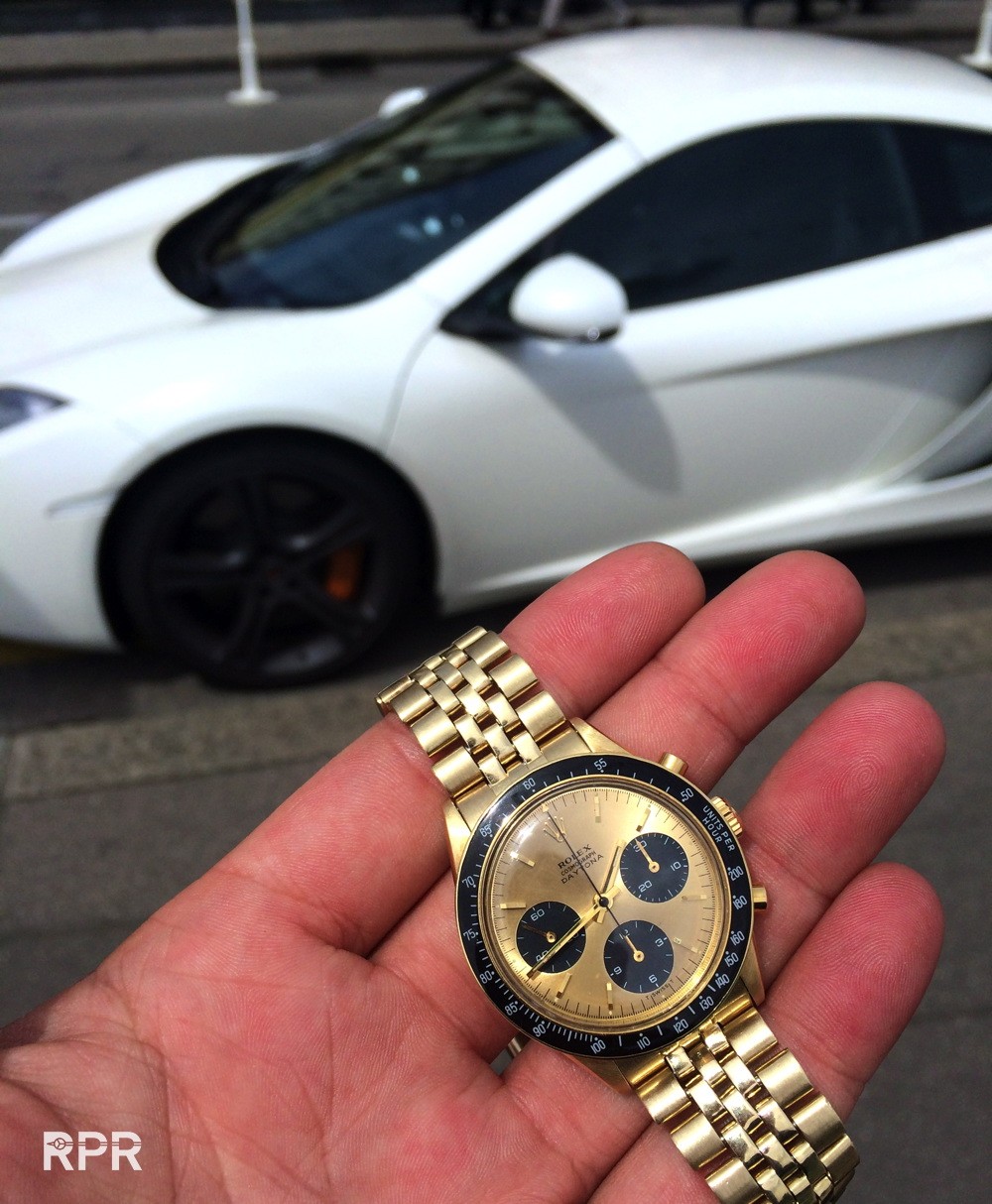 This is what you don't see online or in the catalogue, the circular damage the hor hand made on this glossy Big Crown dial ;-(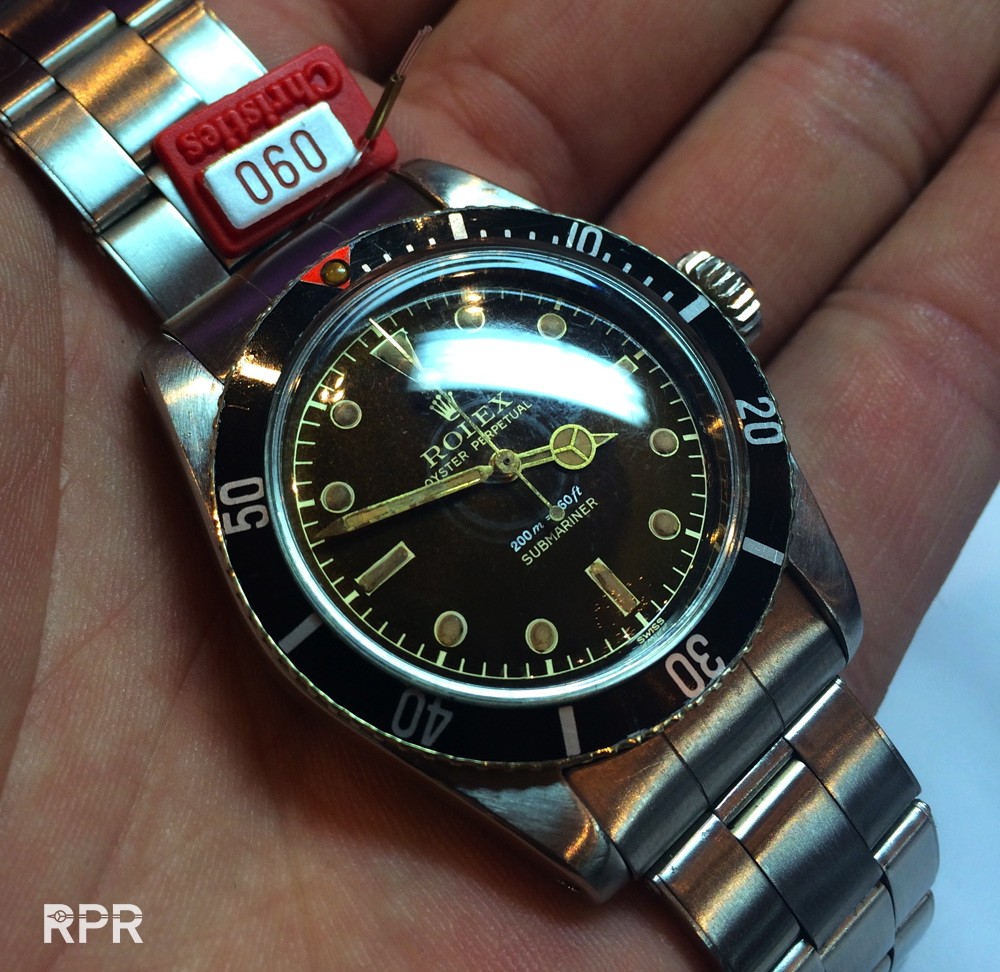 Rolex chrono with luminous hands and non luminous dial..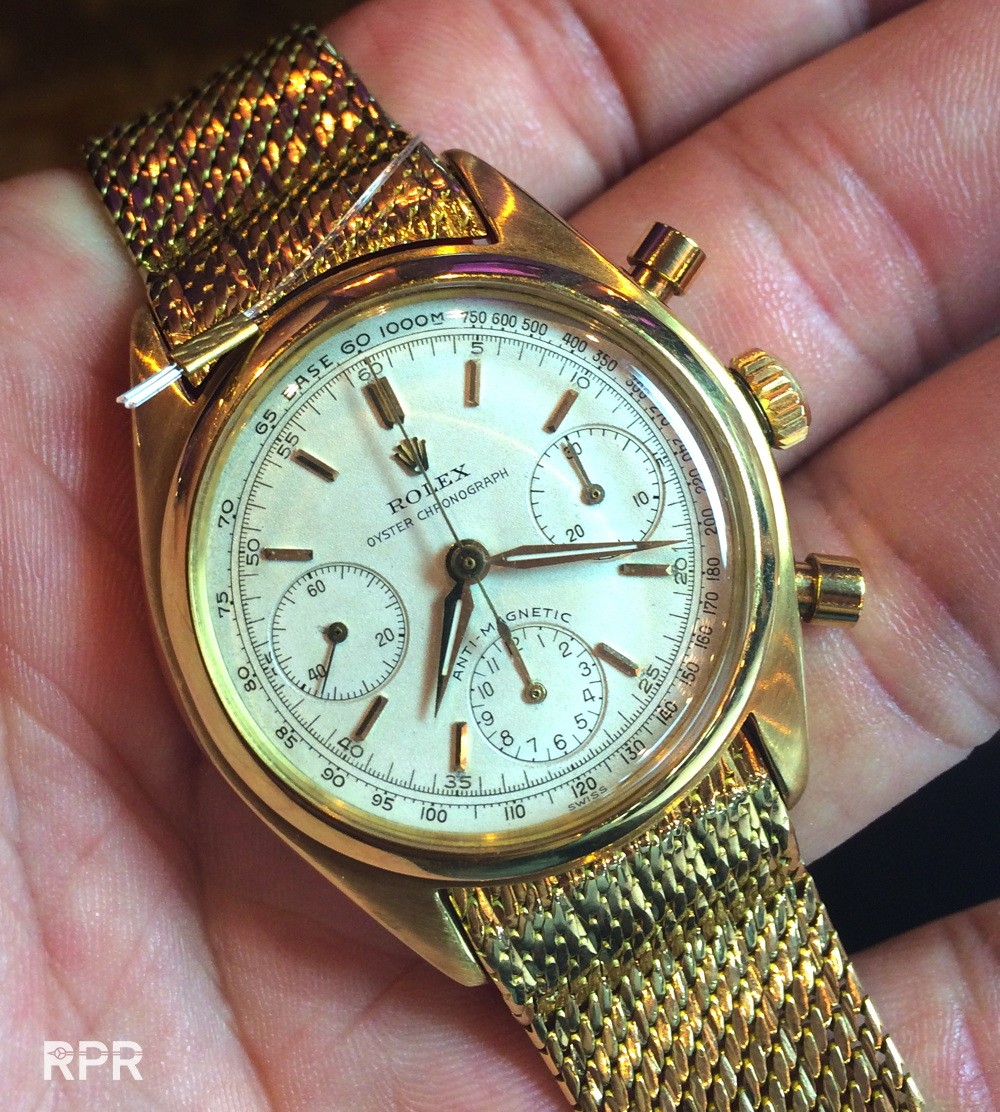 Big size Patek Philippe Ref 570 with a cleaned dial and polished case, for him who wants a new vintage its perfect!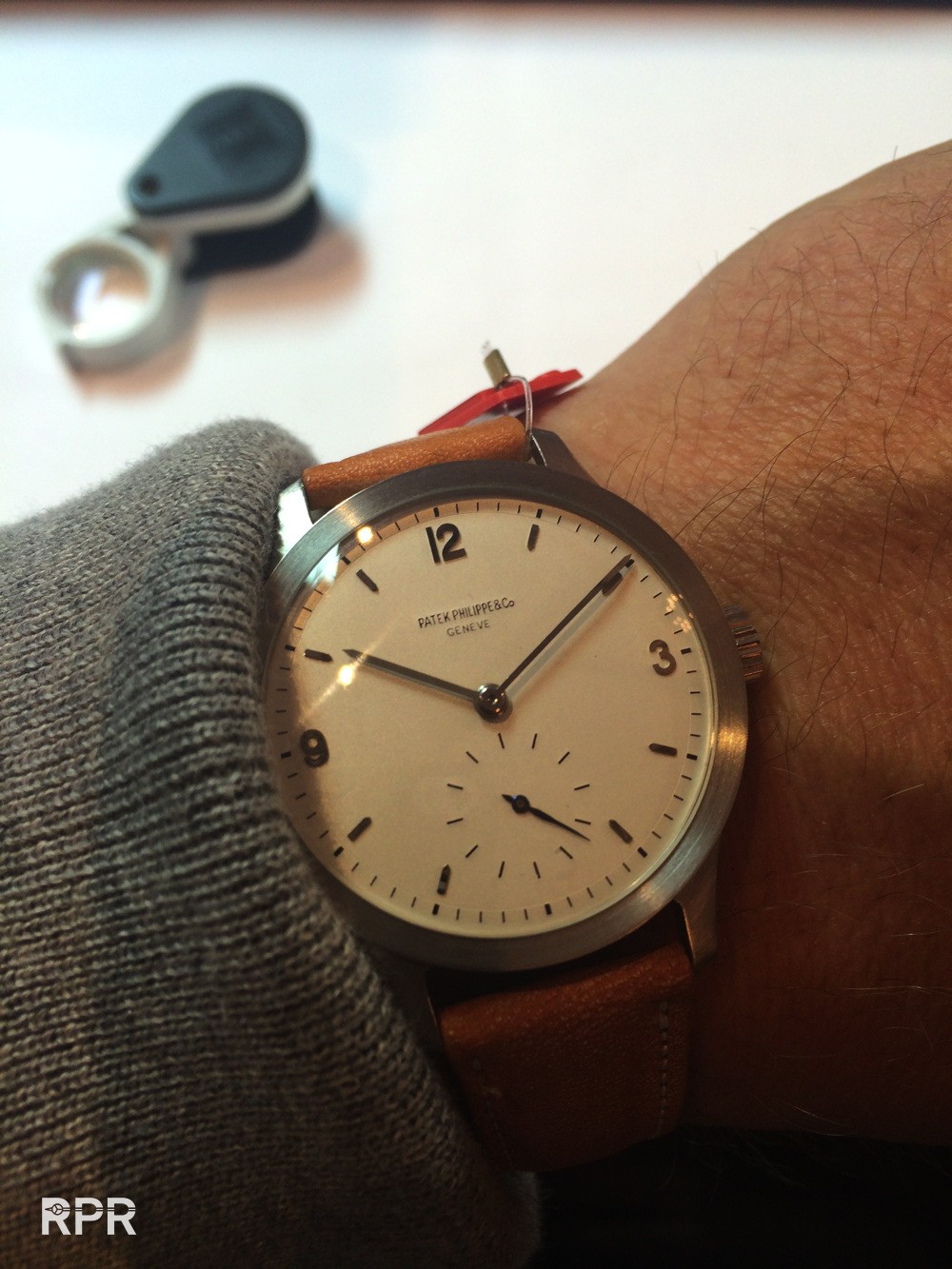 Vintage Panerai ref 3646 with yet again a cleaned dial where the radium dust has been removed..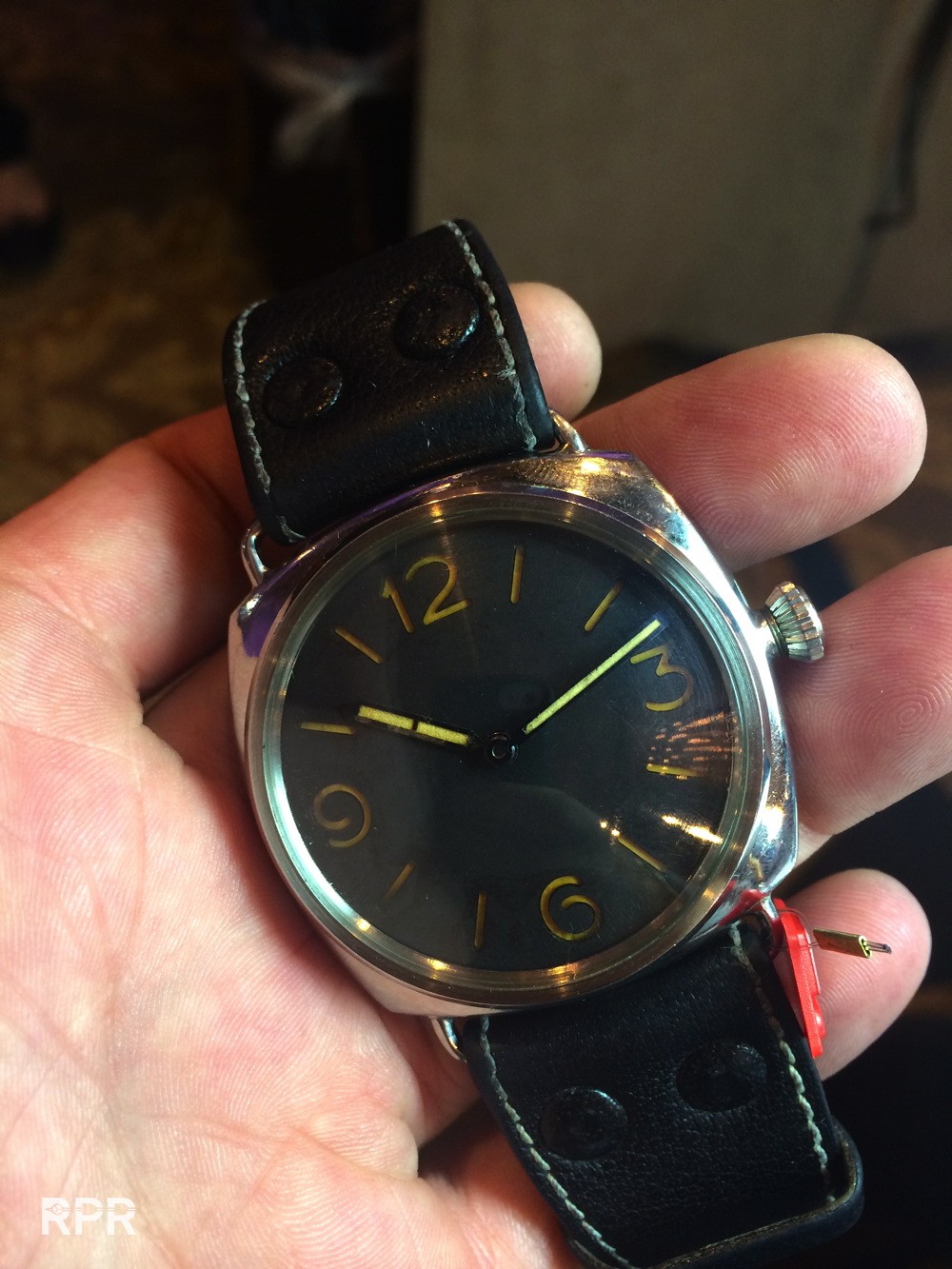 Rolex "king of wings' honestly, ive my reservations..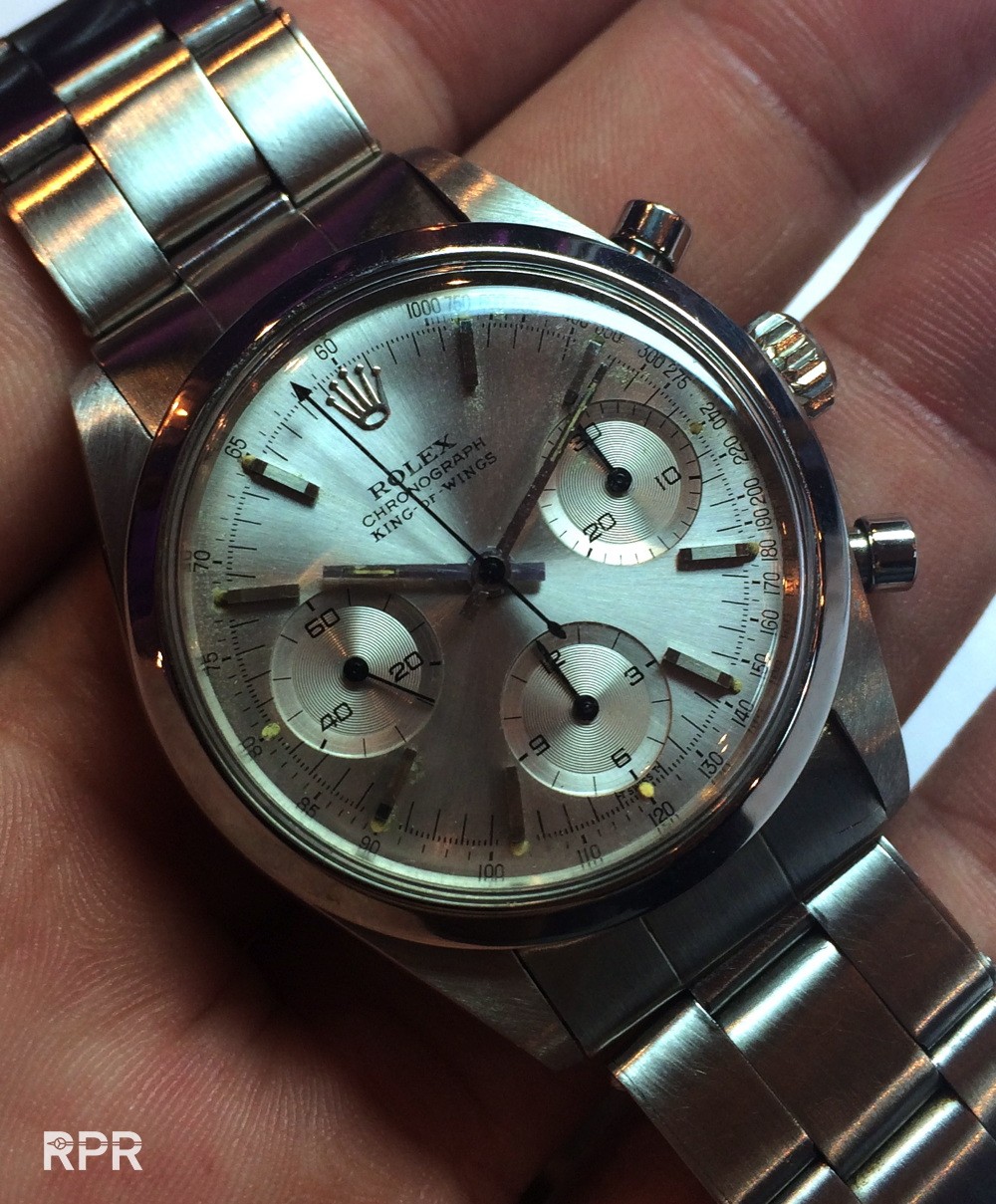 A friends newly acquired ref 565 during dinner..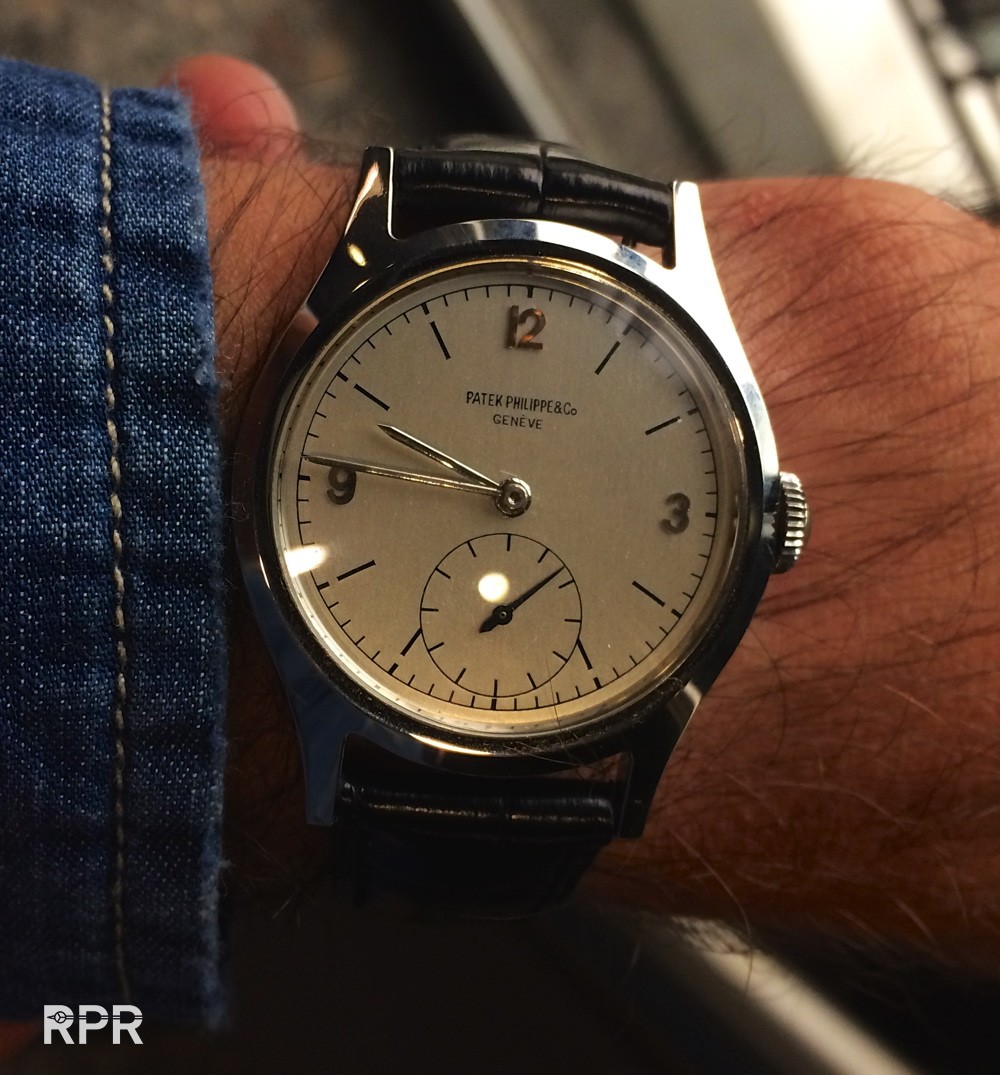 Honestly, it doesn't make much sense paying 100K more just because it has a black bakelite bezel. I fully understand that collecting is a obsession but a 3-5 K euro loose bezel doesn't justify double the price this 200K hammered down ref 6241. But thats me, like with all remarks I make, it IMHO 😉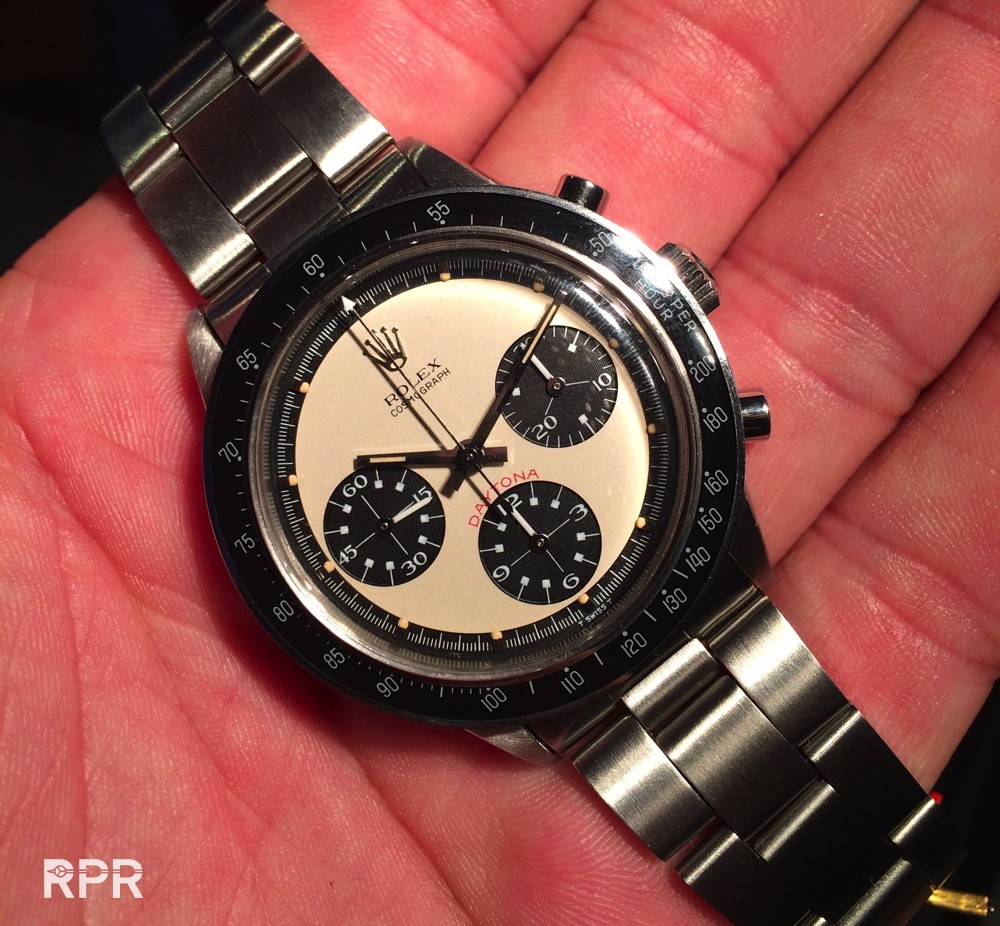 In the catalogue photographed with 10 past 10, covering the mark next to the X on the dial, then the minute hand almost reaches over the minute track almost touching to the rehaut that long it is, the market decided not to go crazy on this iconic Rolex Big Crown Ref 6538 with 4 line..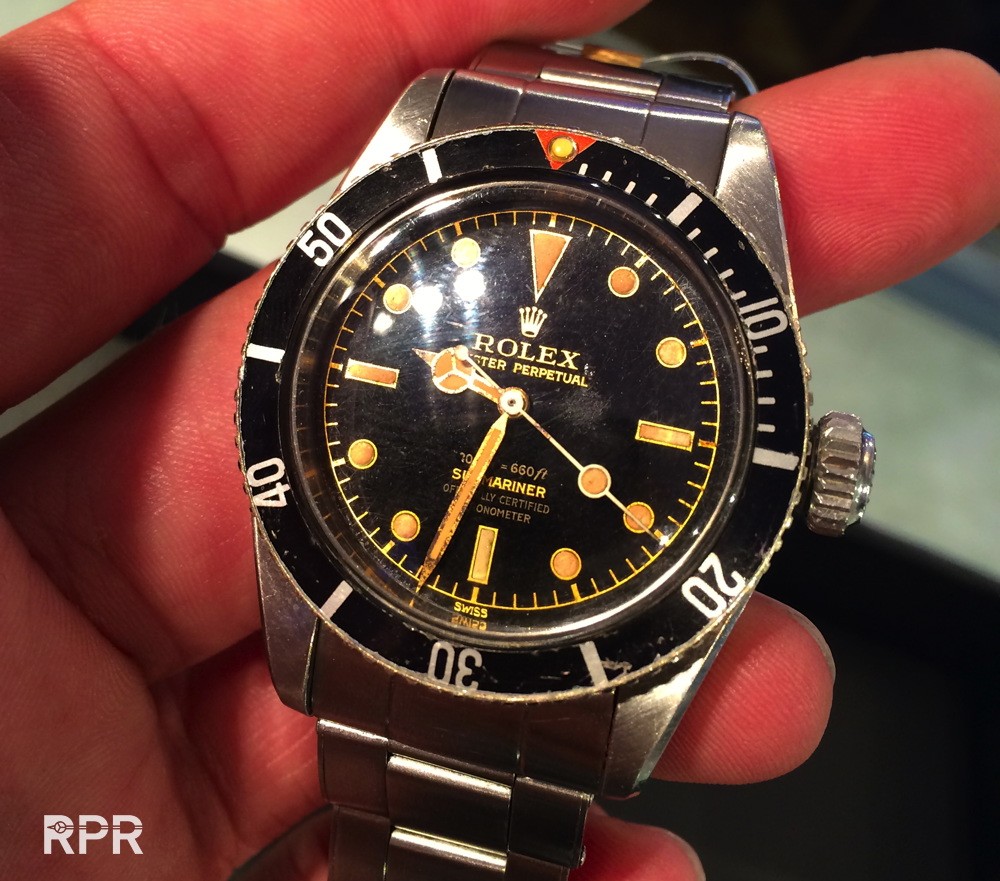 Folllowing the market prices carefully, comparing with recent results Christie's and others achieved for this mythical Milgauss ref 6541, one could come to the conclusion why it didn't went much higher. The hands aren't matching the bright luminous of the dial, thus most probably it wasn't born like this..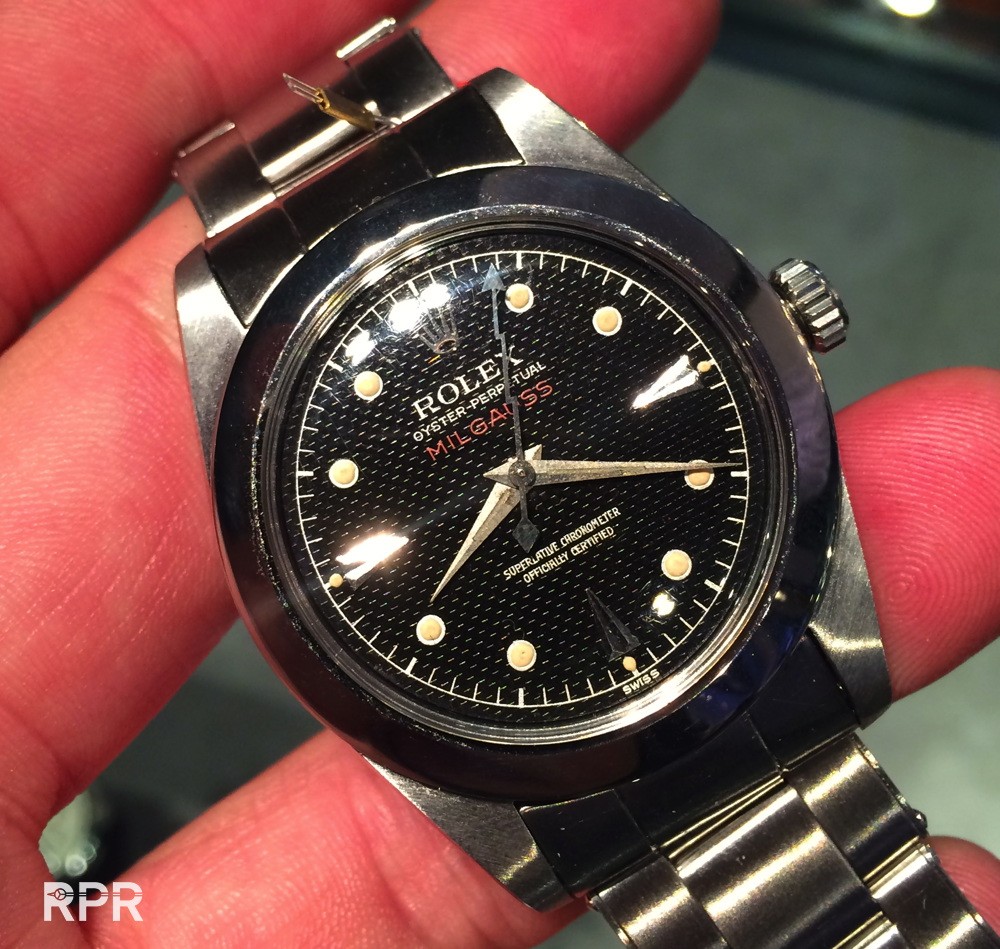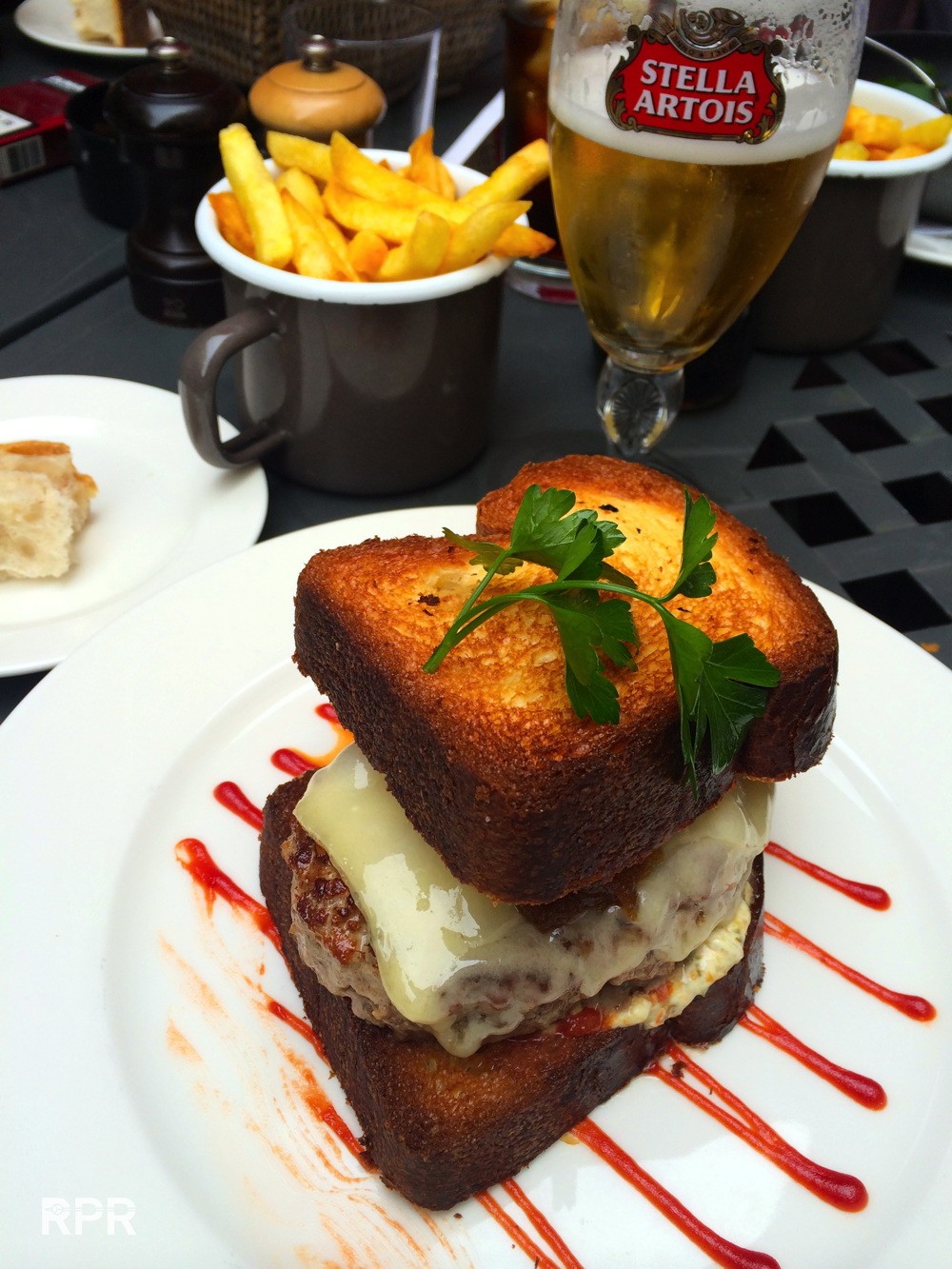 My buddy Eric Ku explained me that this is the rarest Stella Rolex made, in yellow / orange..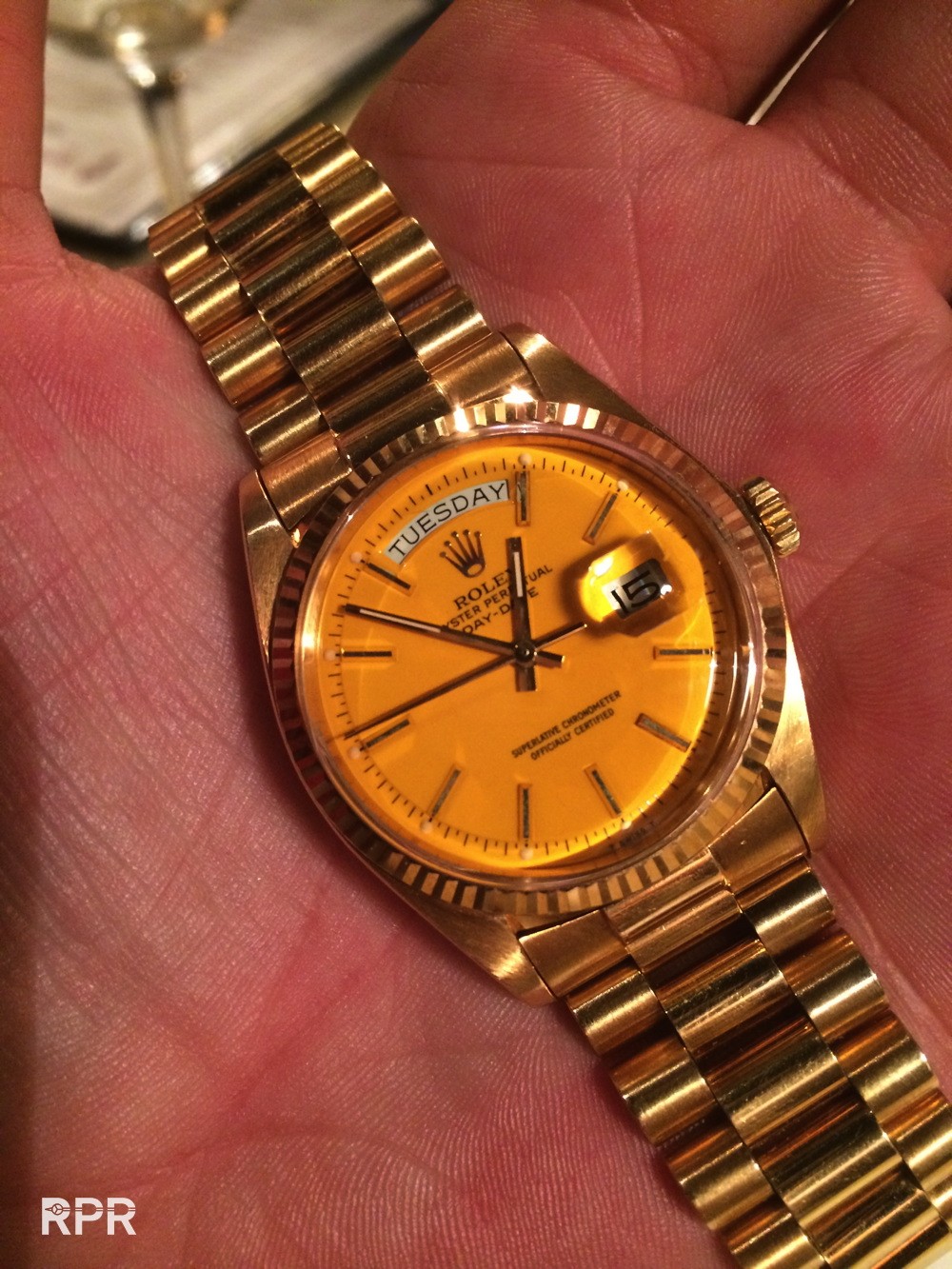 What a brown bezel can do during auction!..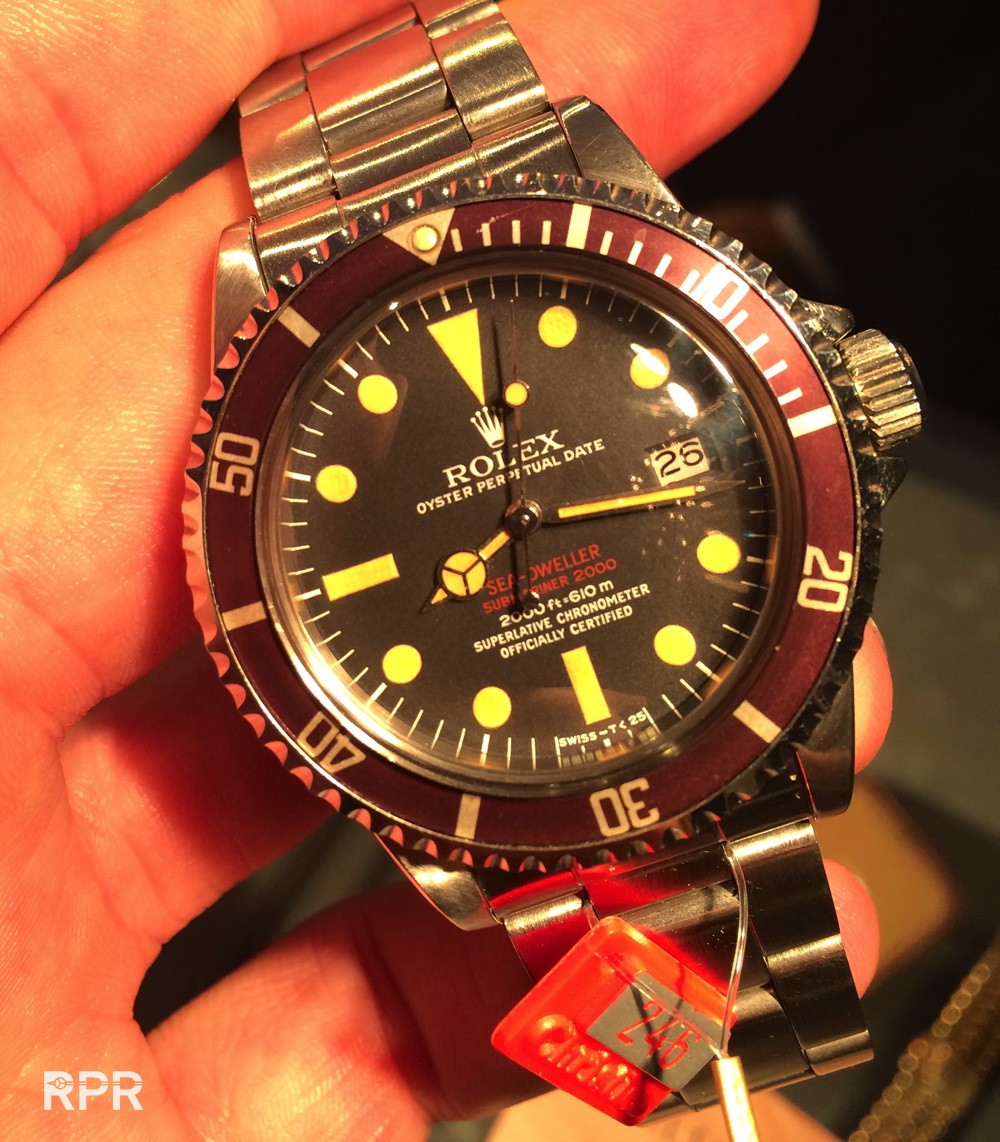 Gold regular Daytona's are climbing slowly to a higher level..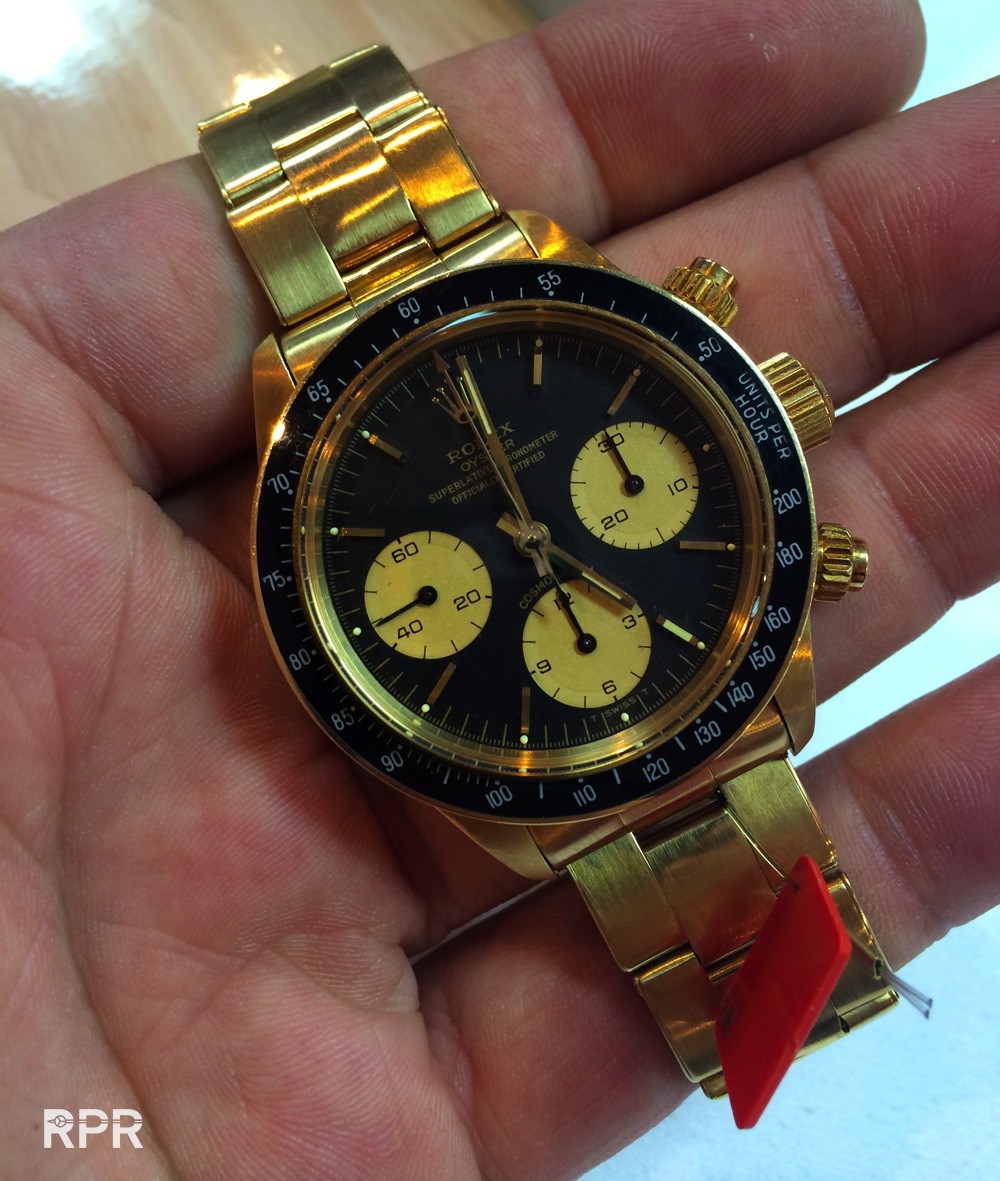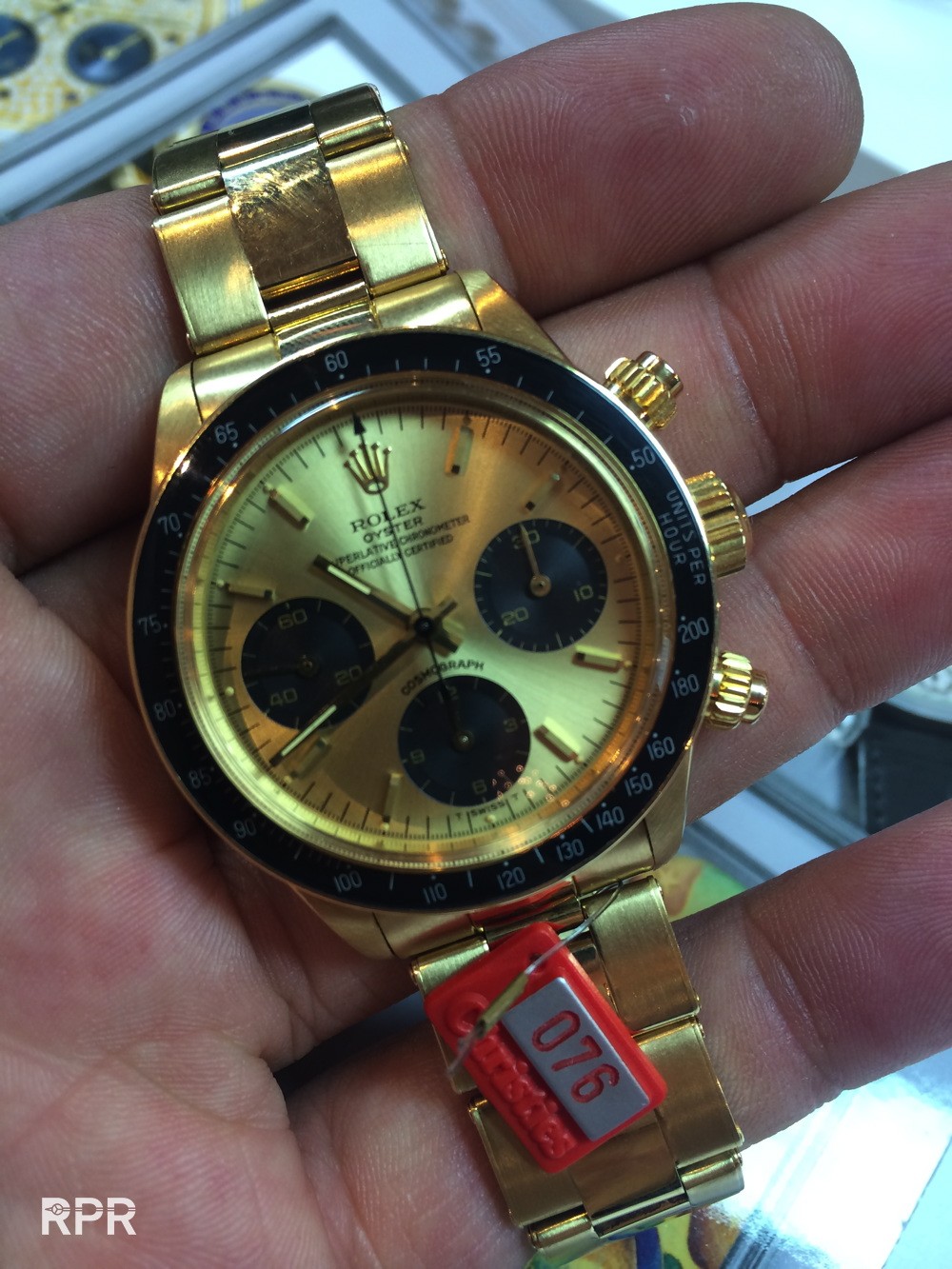 Yellow gold Rolex Killy – Datocompax..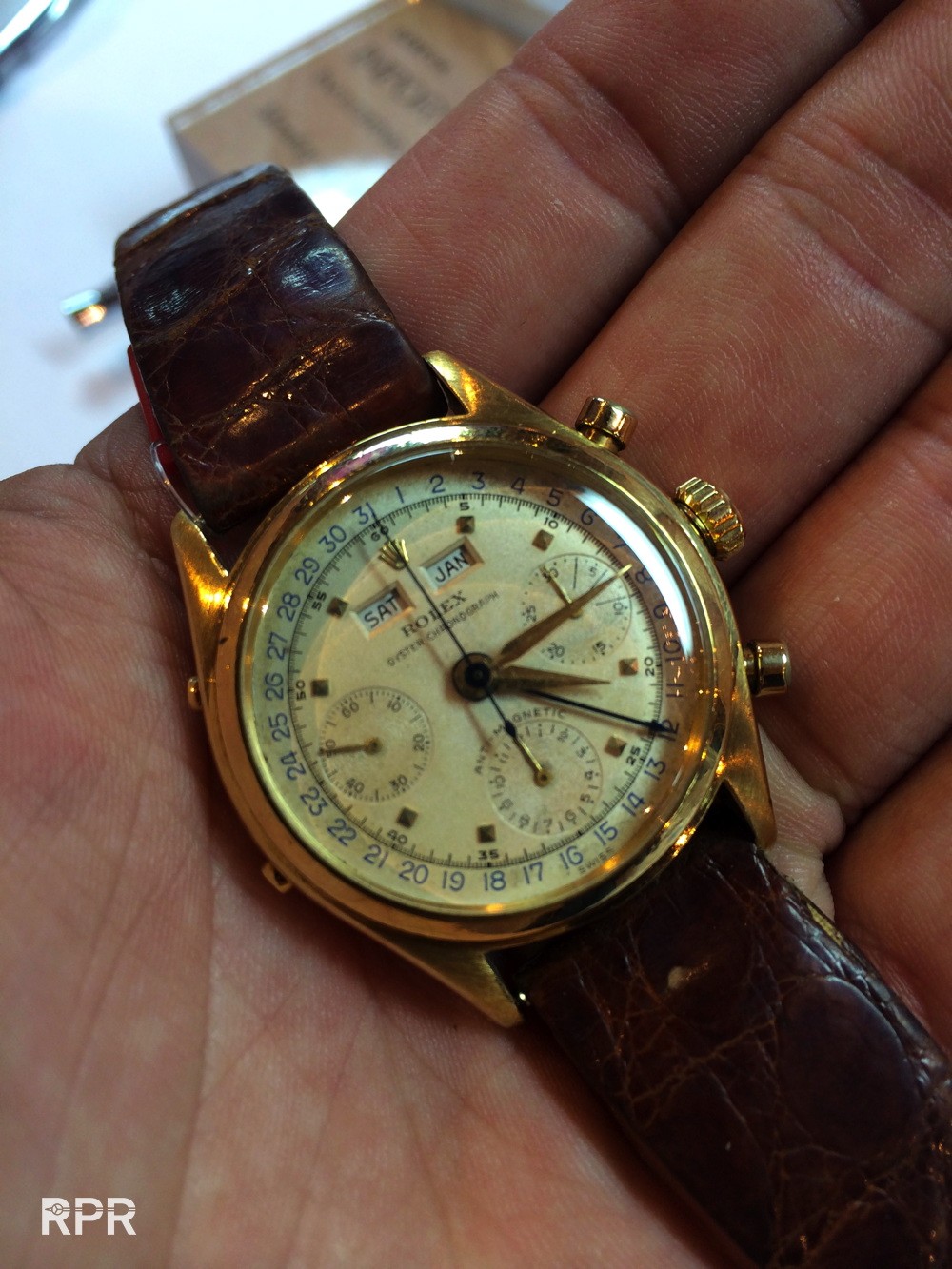 4 line Small Crown Rolex Submariner ref 5508..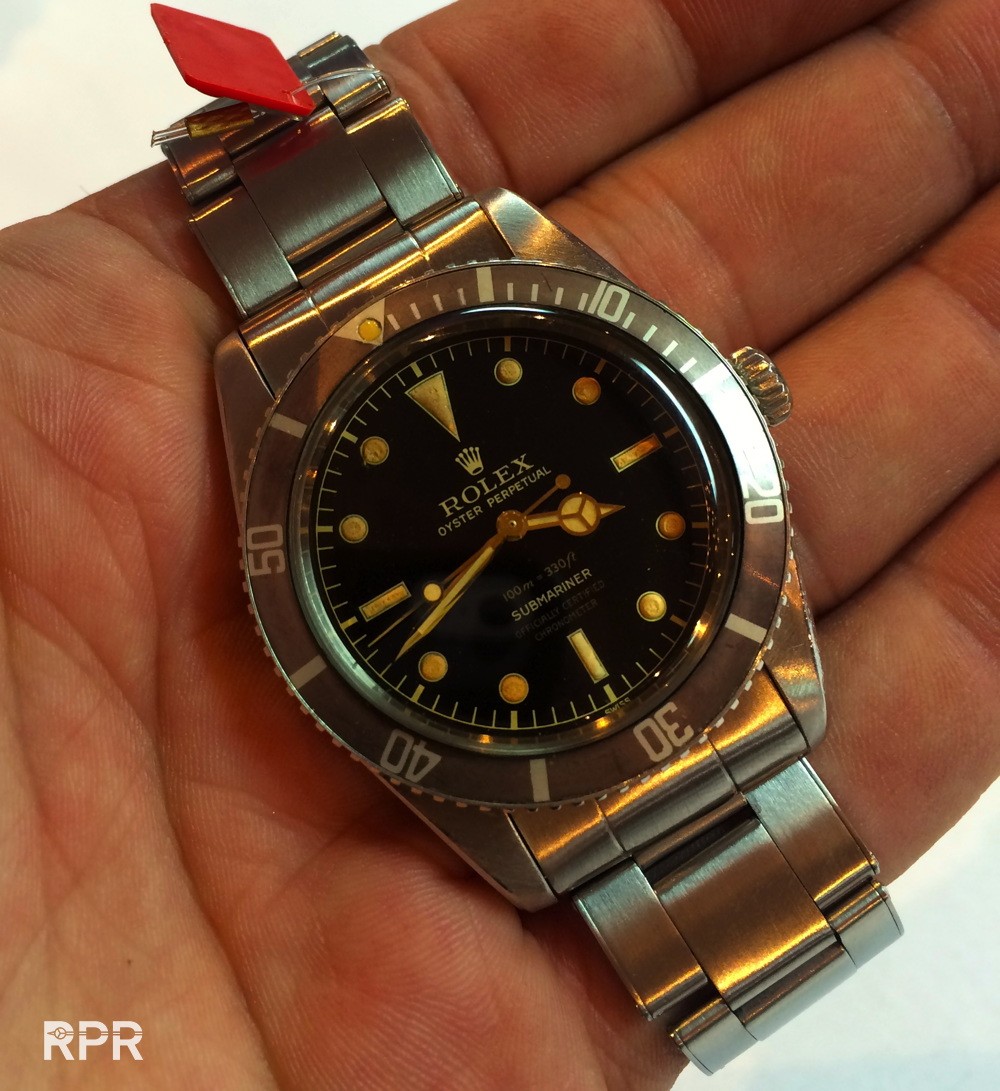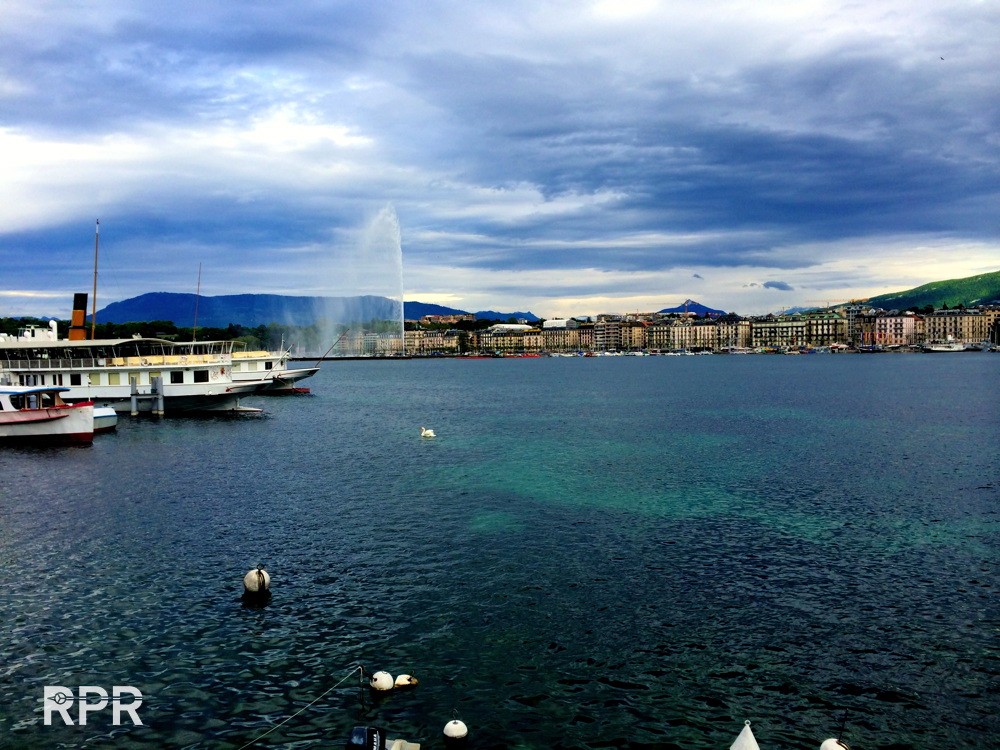 The new Rolex Seadweller, IMHO best Rolex since 1988 the automatic Daytona came to the market, all details are well designed, in proportion with a vintage thought, very well done Rolex!!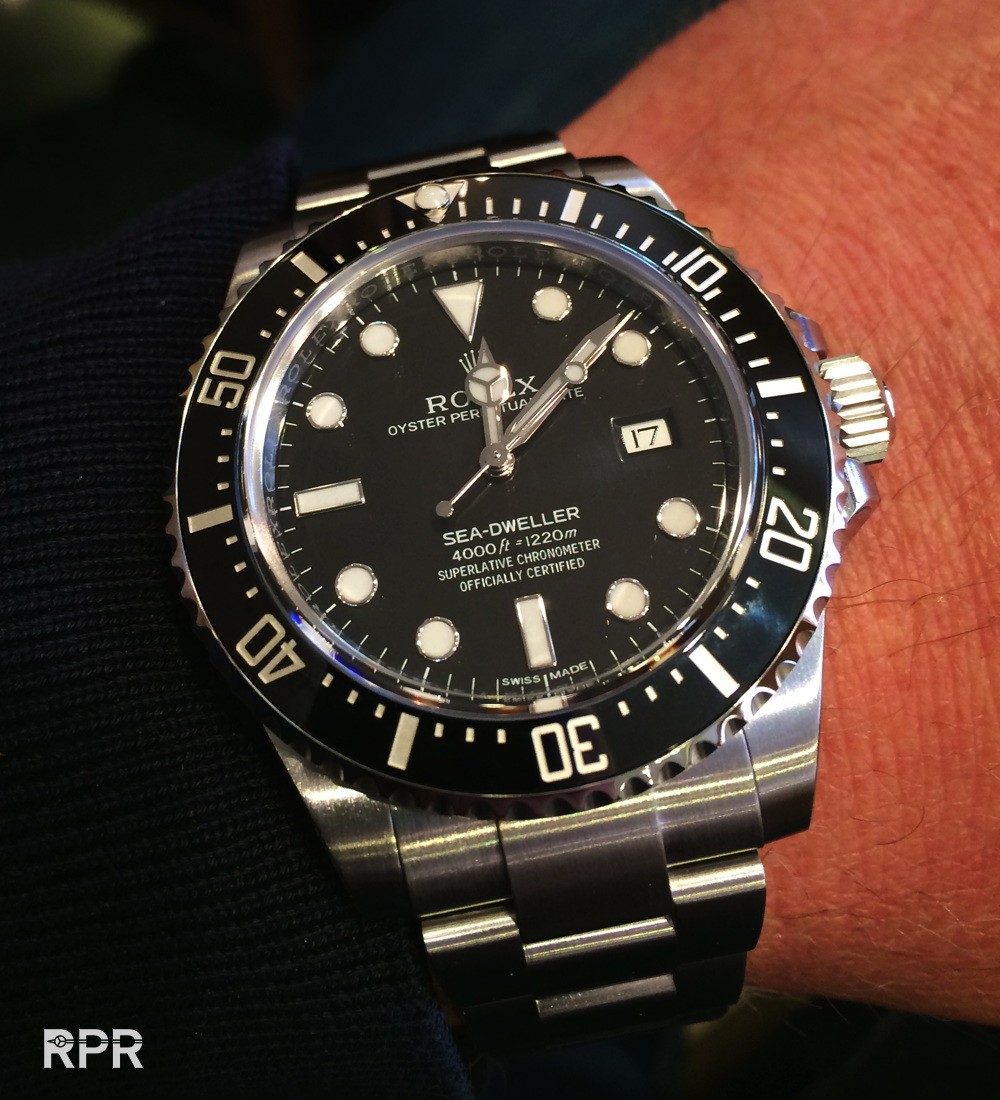 The crystal has a vintage domed effect by making it a bit higher than the ceramique bezel, which might have been made matte instead of shinny..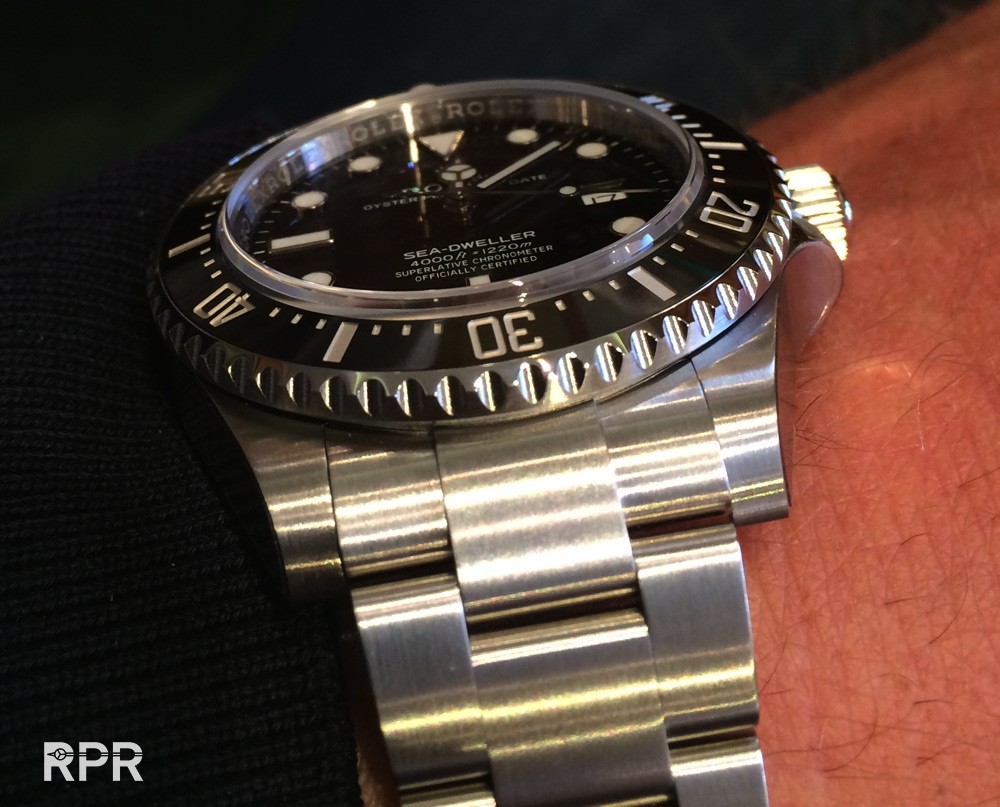 At Sotbeby's we see 2 pump paul newman selling for around 90K, both nice and original.. See both below: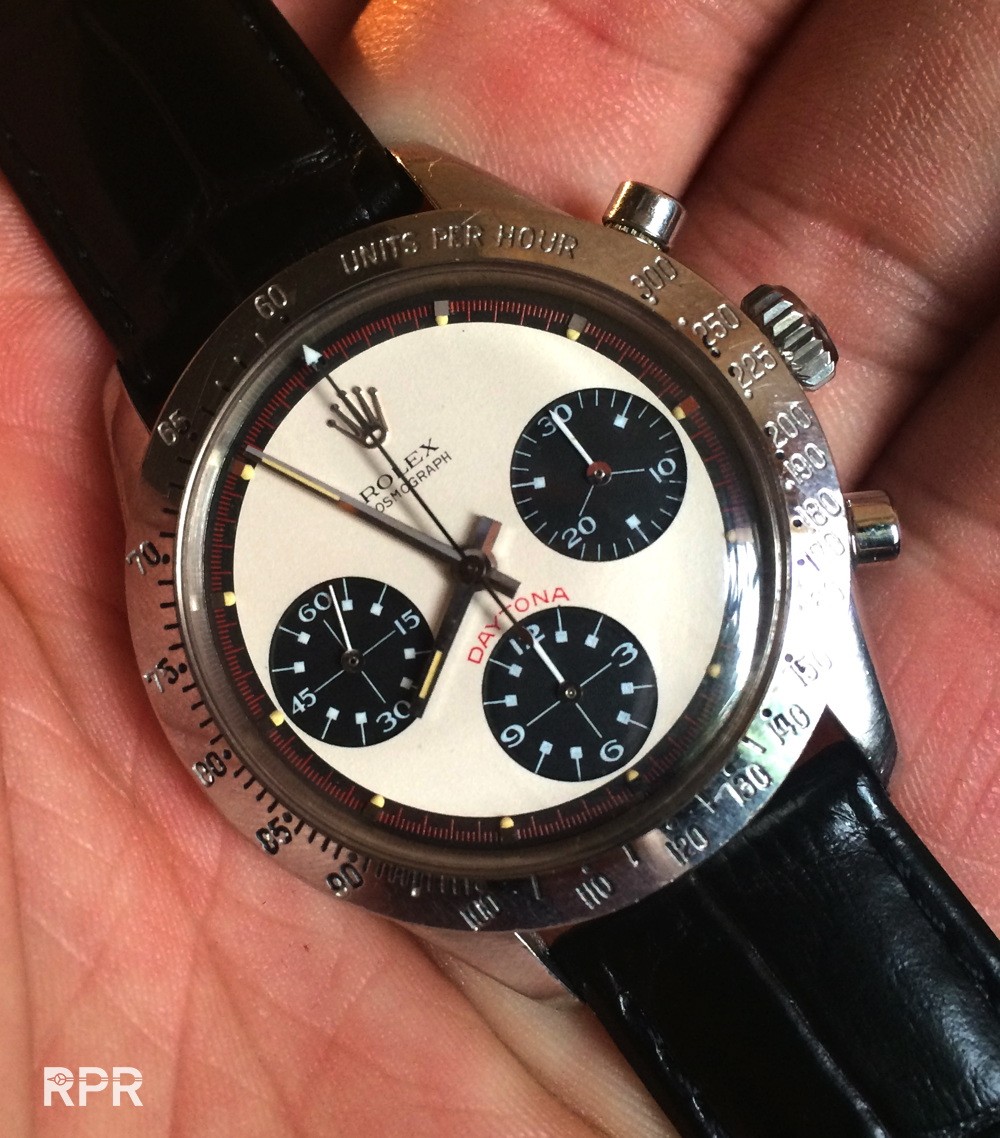 And..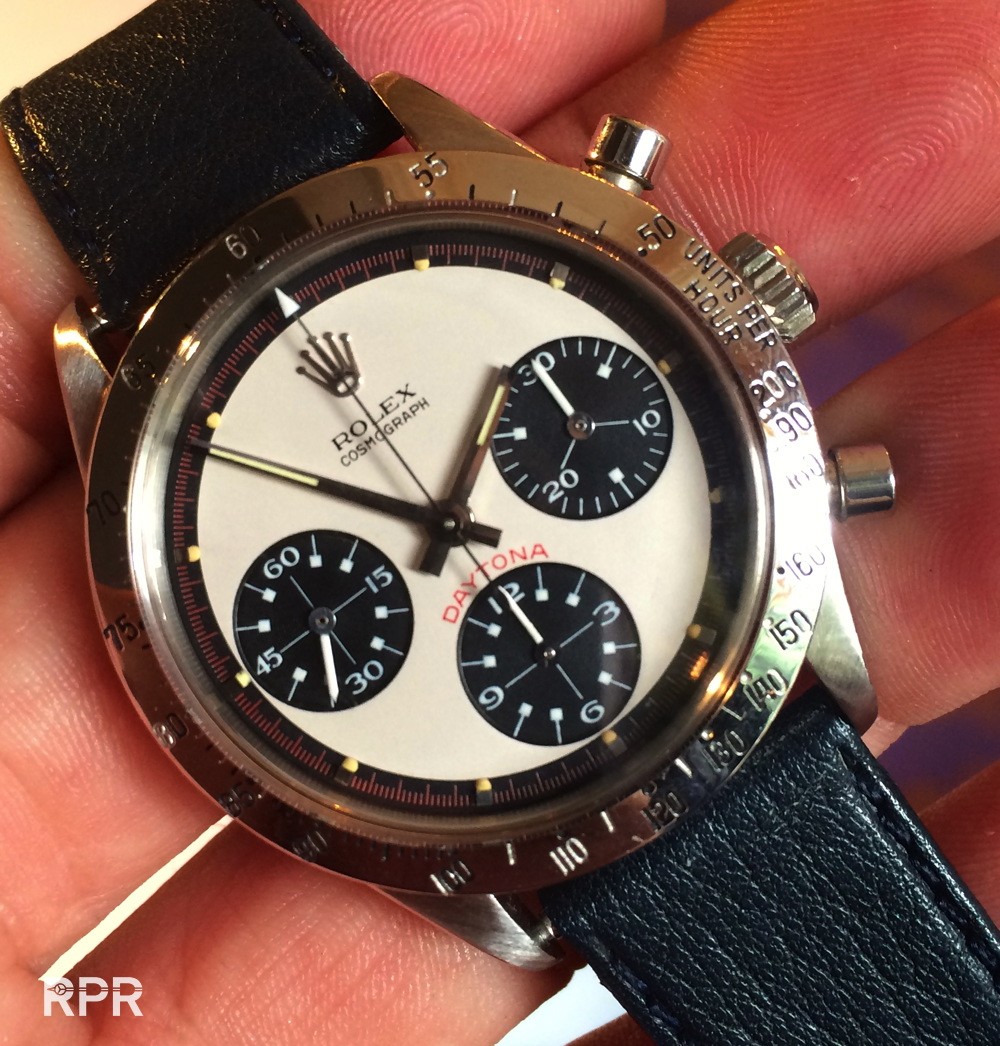 But then this, at the end of the sale, Sotheby's continue to offer, although some experts had warned them that below Paul Newwan was a so called "flat dial", not having the usual 'exotic dial' details, but sold it anyway for a staggering 200K. I don't know how this collector will feel when he finds out that the international Rolex community would never acquire one like this…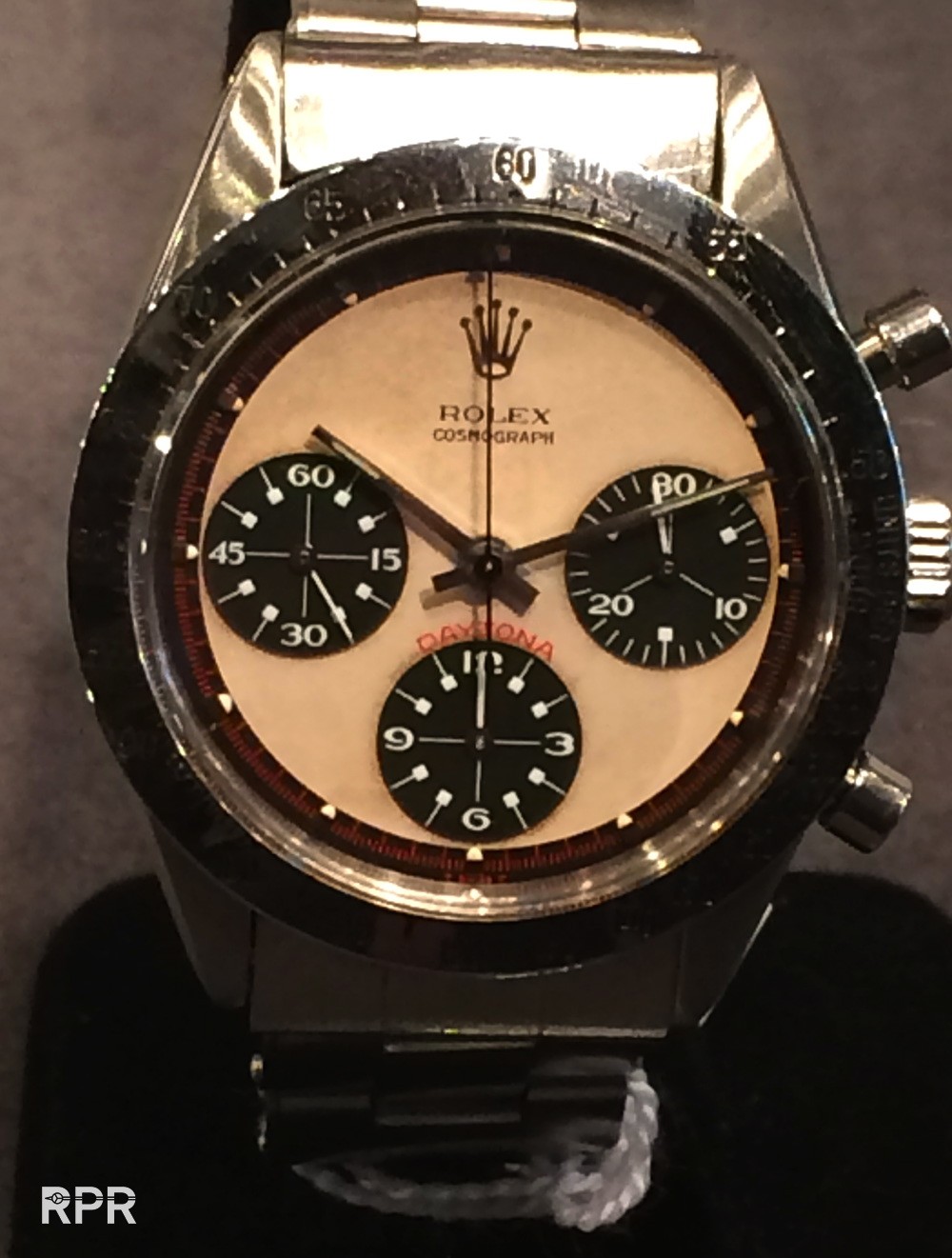 Nice Rolex Stelline Ref 6062..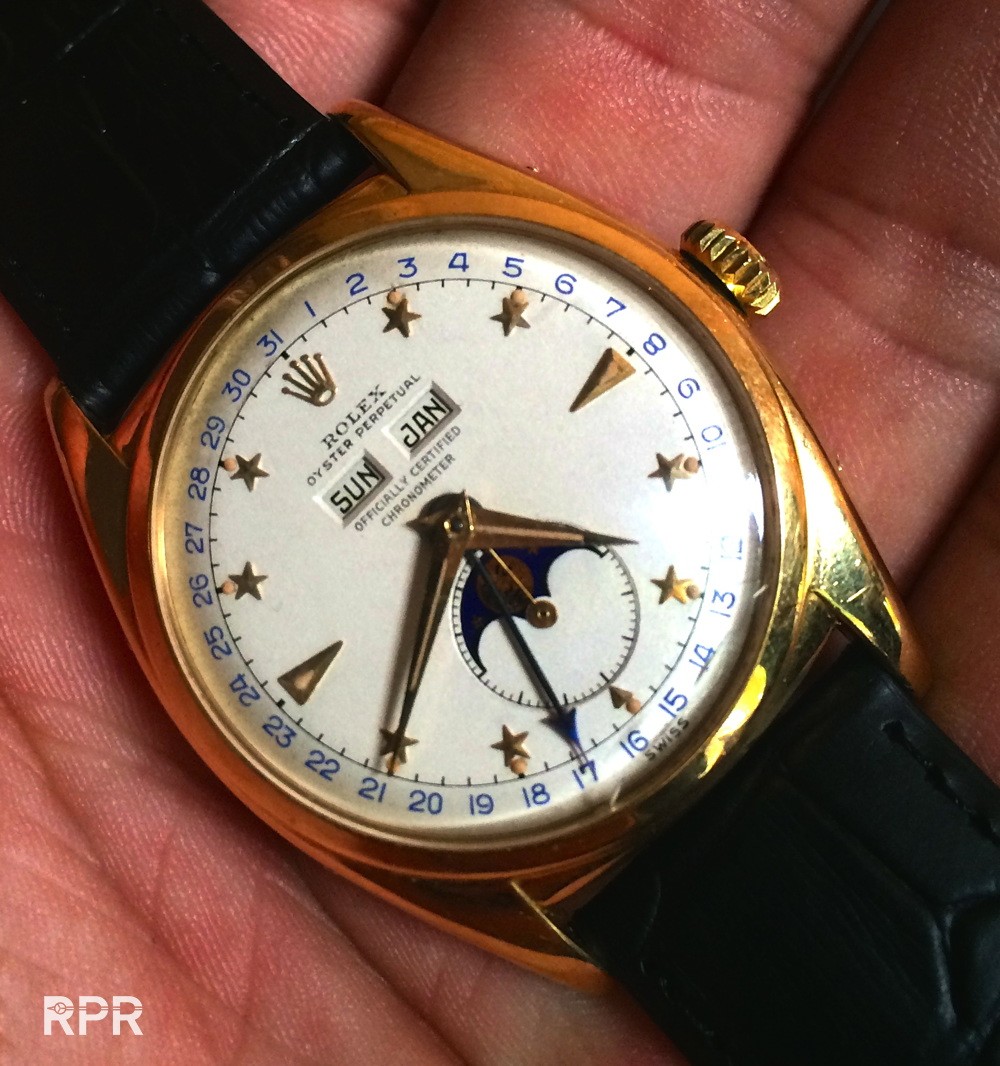 The unique titanium Patek Philippe Sky Moon next to a special order regular example.. The titanium will come up for sale in NY soon having a estimate of 1-1.5 million dollar..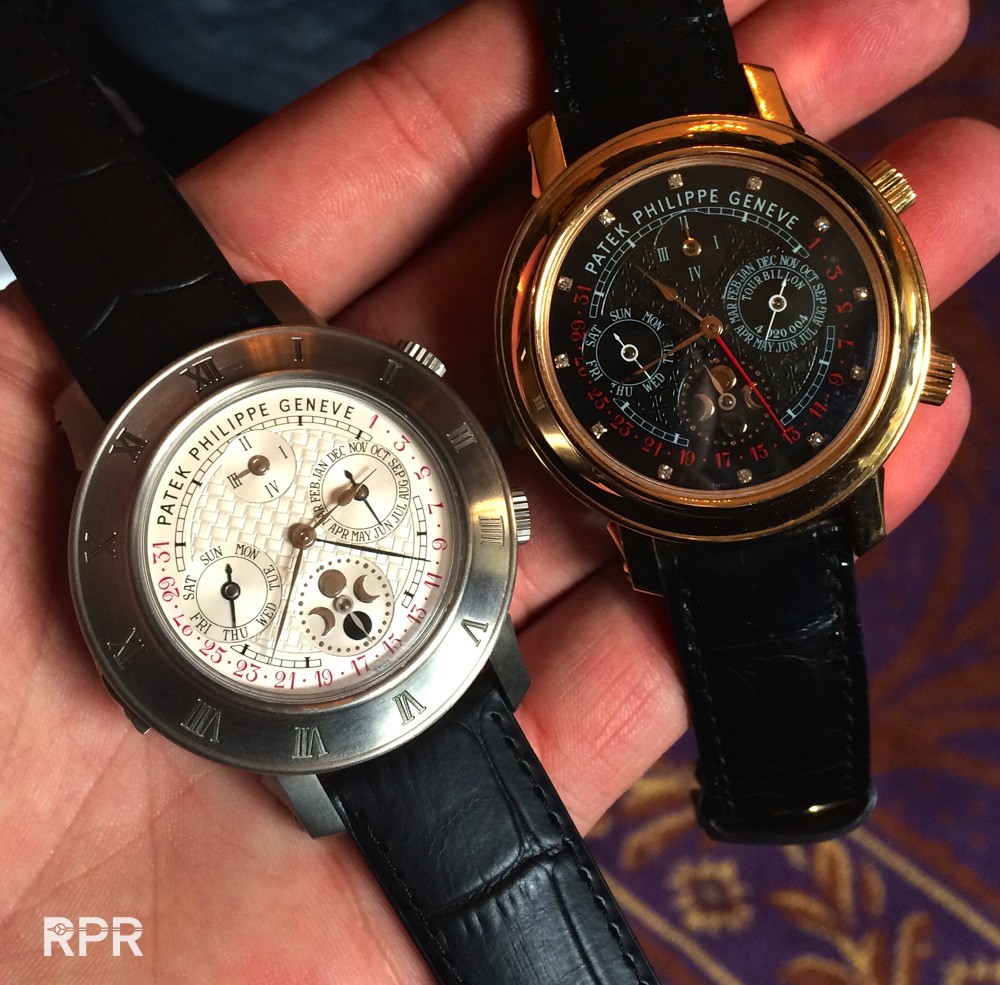 The custom made backside, starting with East, most probably the owner is located in the far east..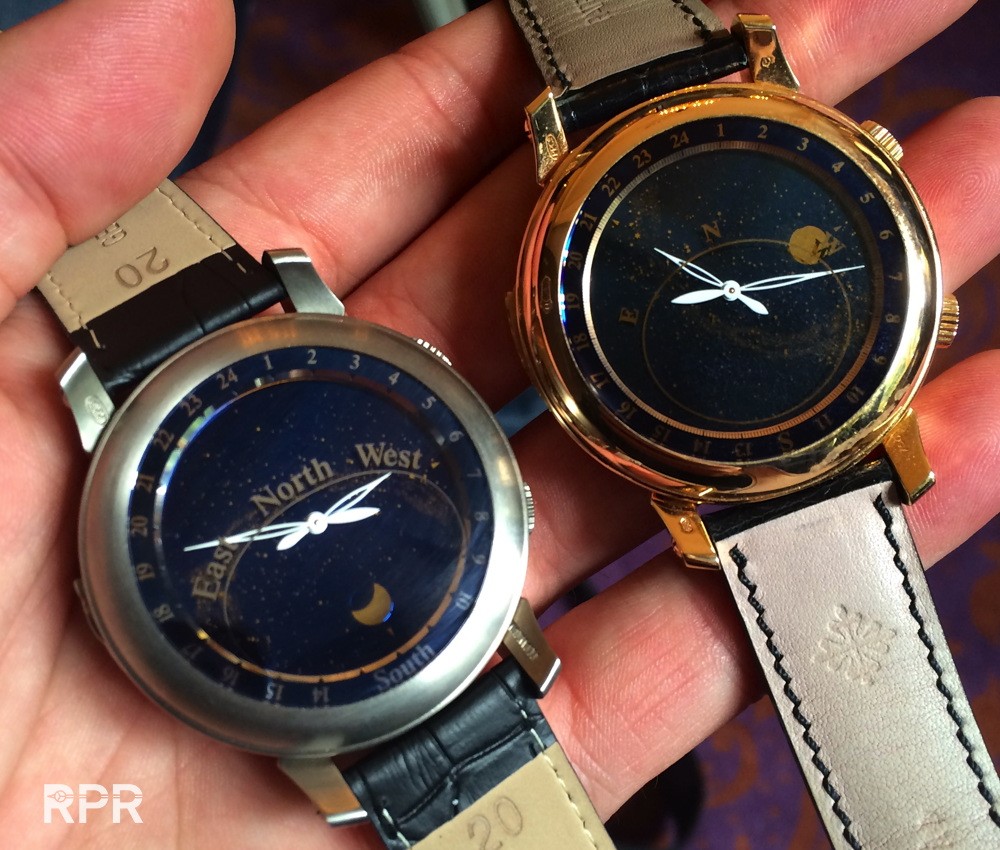 A almost 10 cry diamond in the back of yet another special made titanium PPC that Sothebys will auction soon in NY..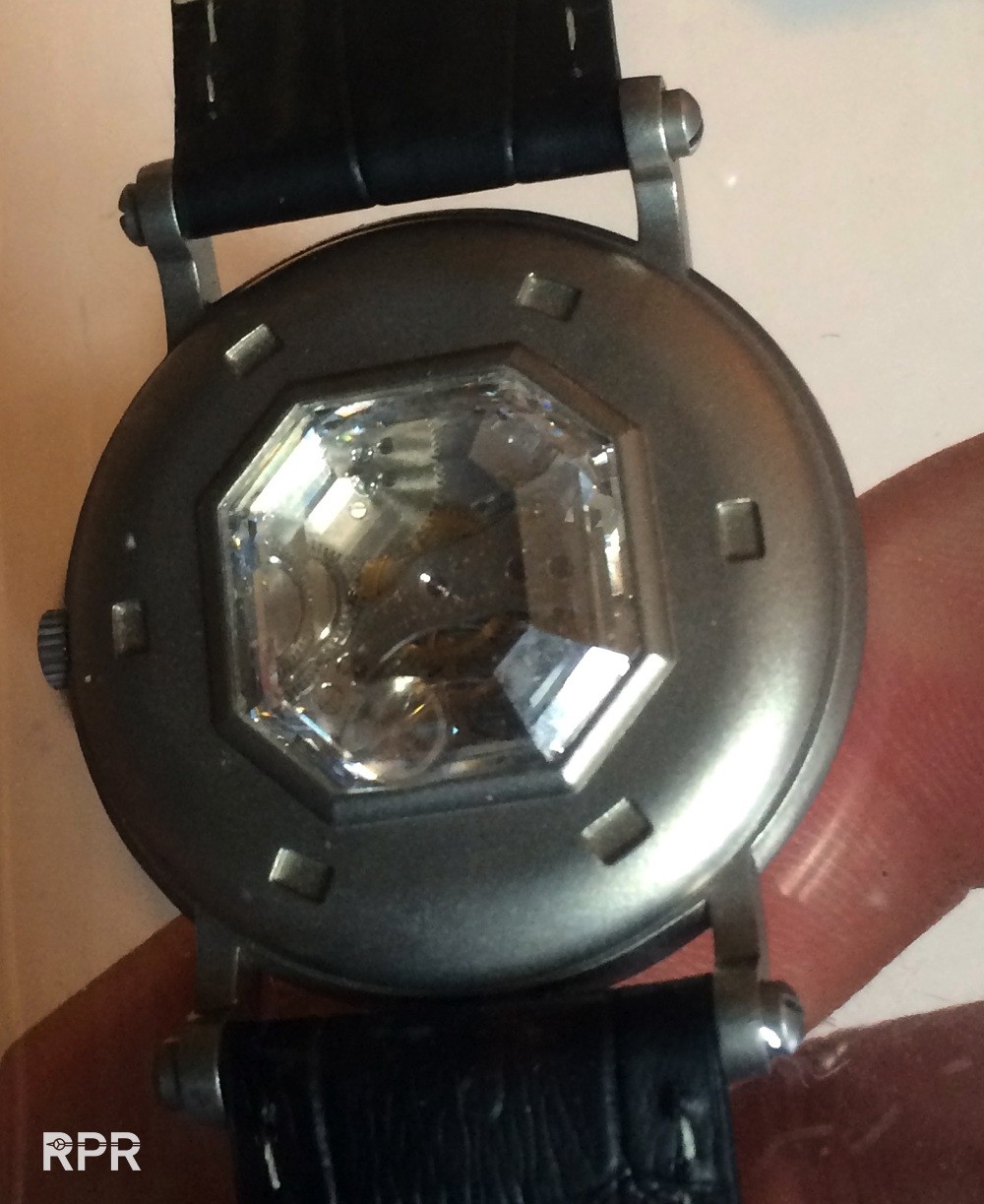 Together with a the very light Celeste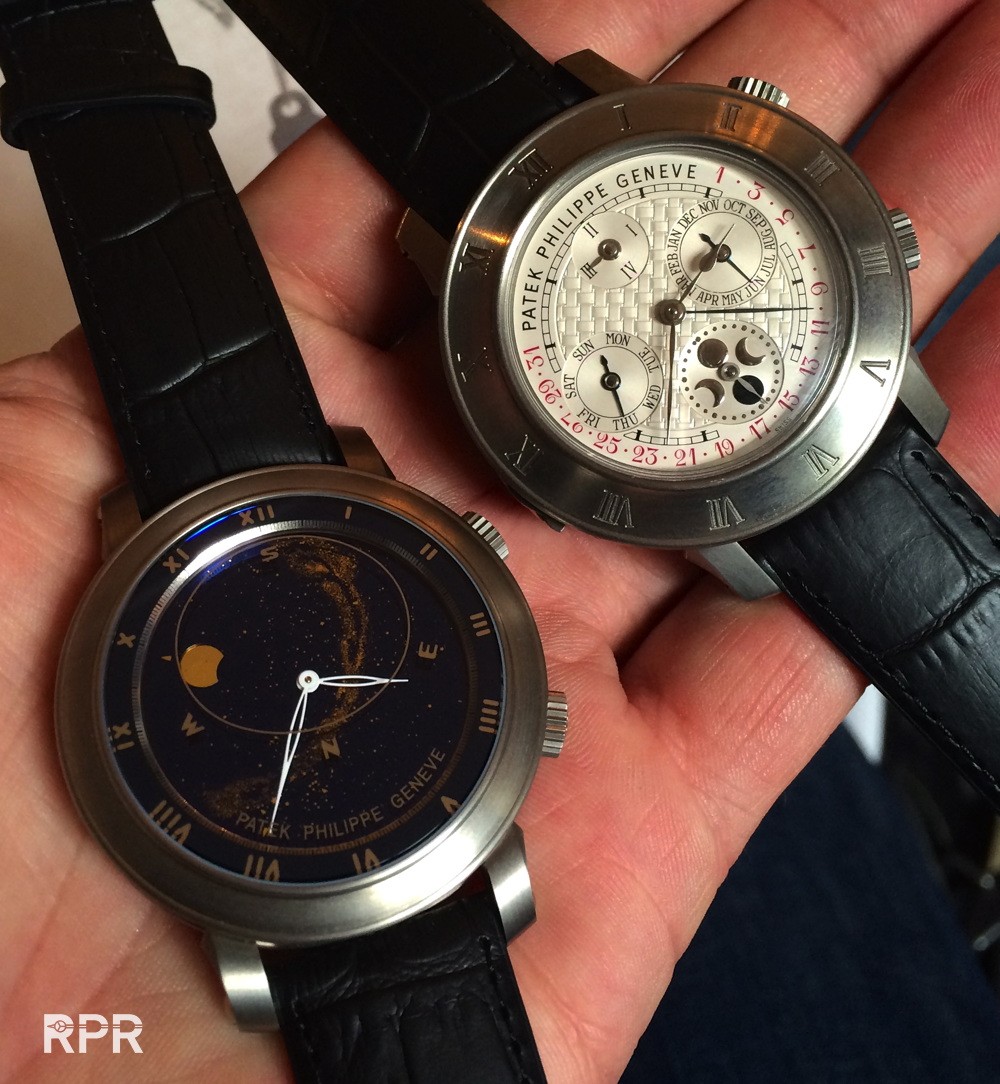 The 'Verga' monobloc Rolex ref 3525 went up to Sfr 185.000,- showing the market is willing to spend on earlier chrono's next..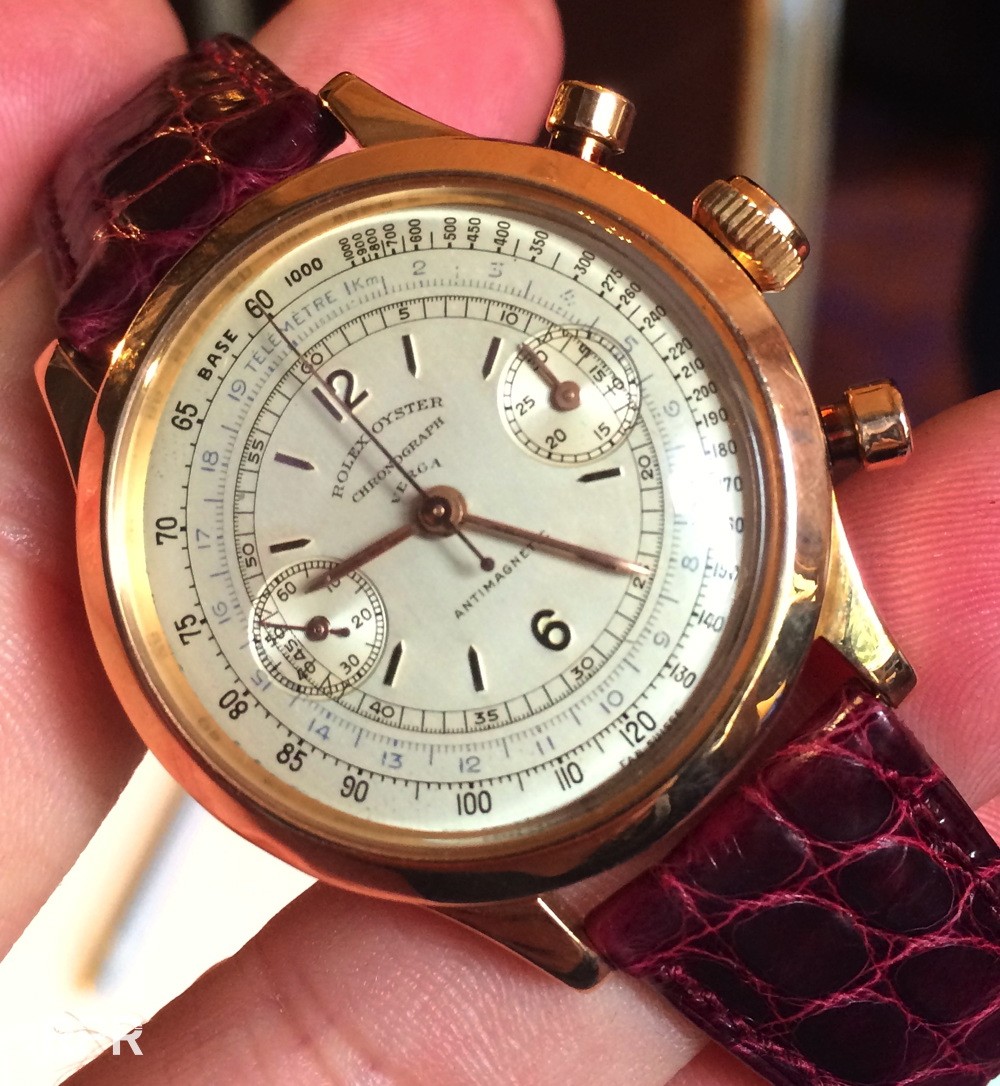 The ultimate Panda, sold for € 300.000 euro, amazing!!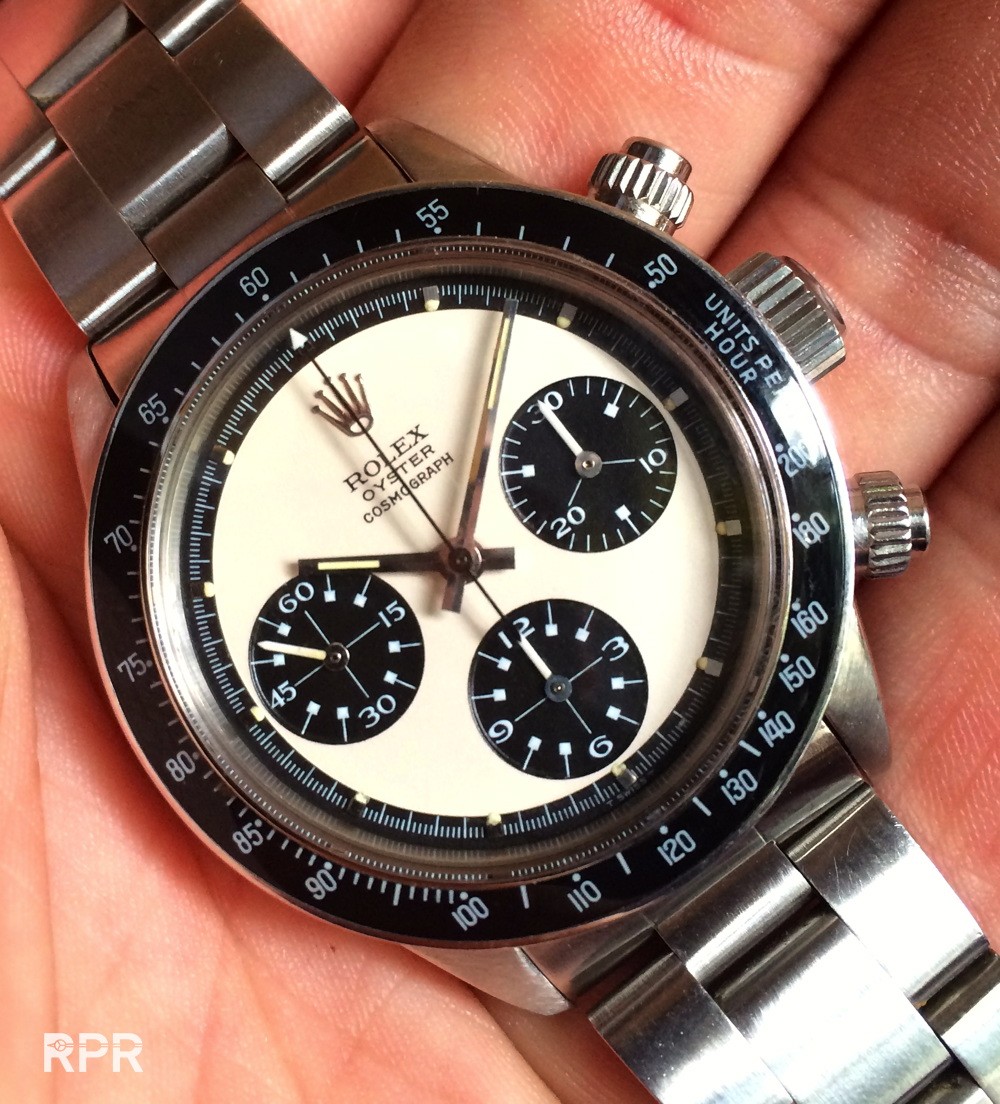 A rare Rolex chronograph ref 4500 in gold went over 100K..
The proto type modern Panerai on the left  for 100K and the early Panerai / Rolex ref 6152/1 with proto bezel went sky high for € 350.000,=!!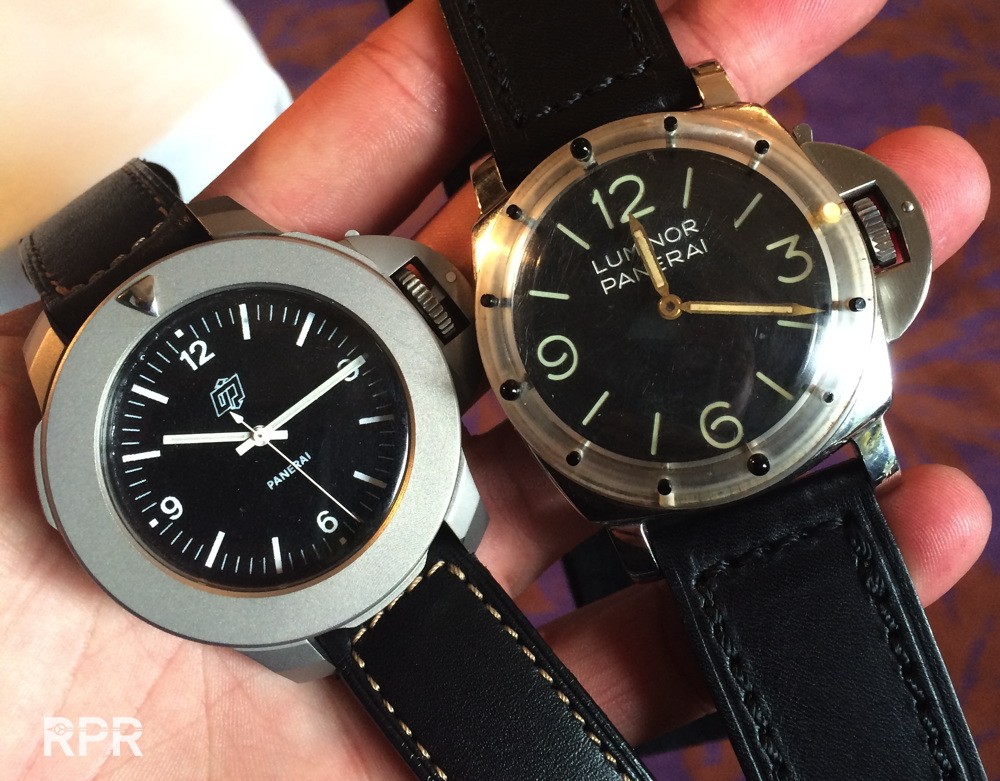 Inside the Panerai 6152/1…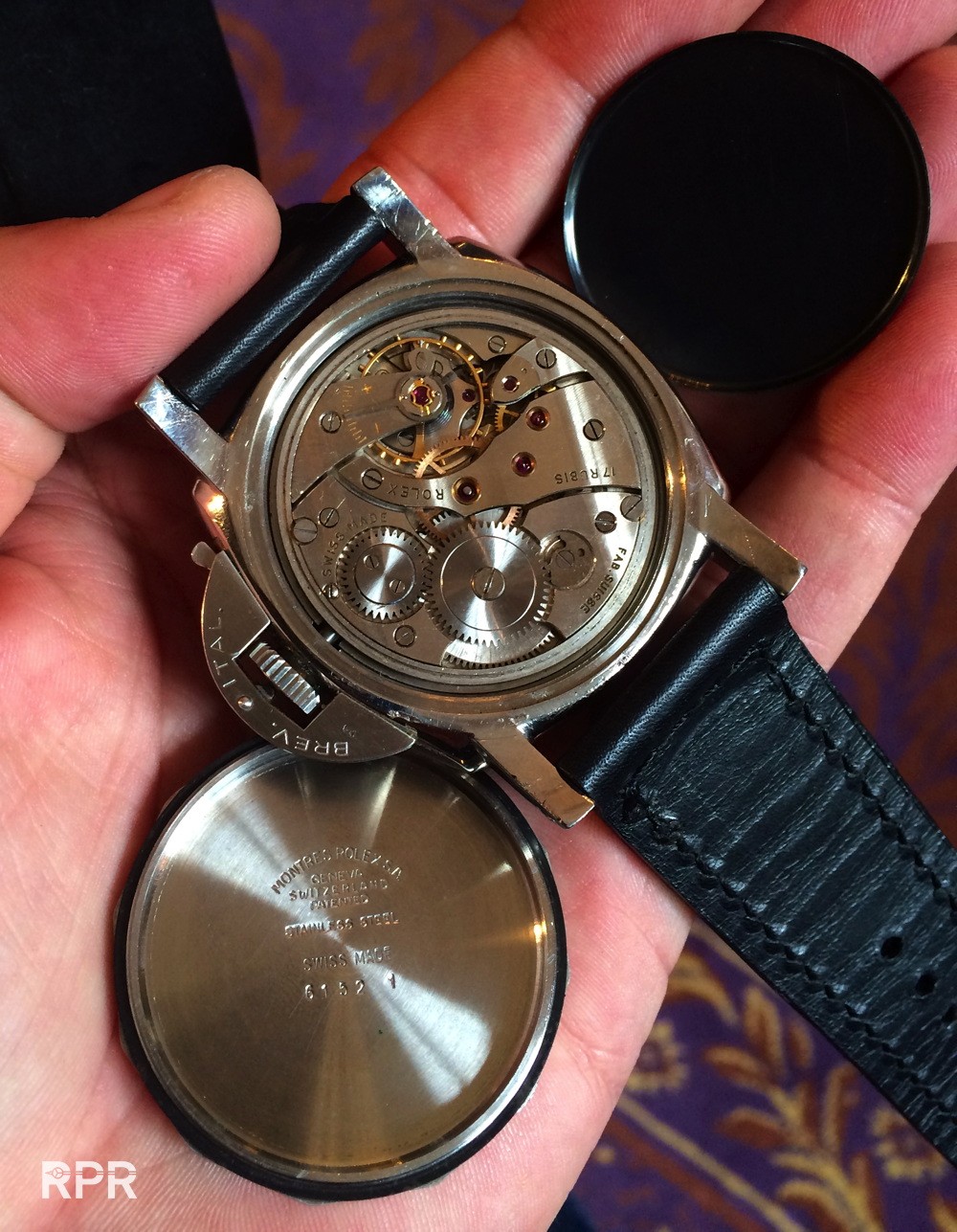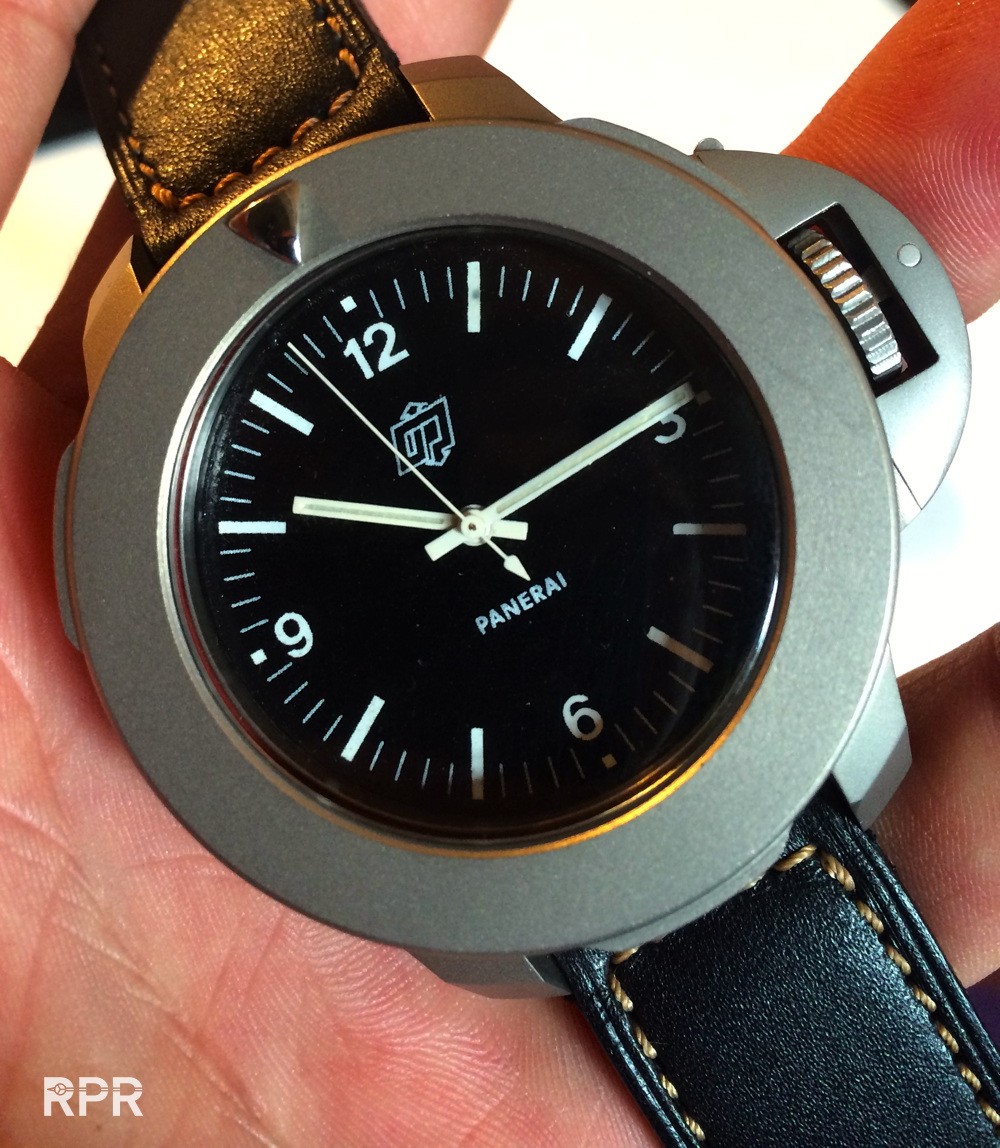 80.000 for a time only Rolex Precision! If you would tell your friends this, they will never believe..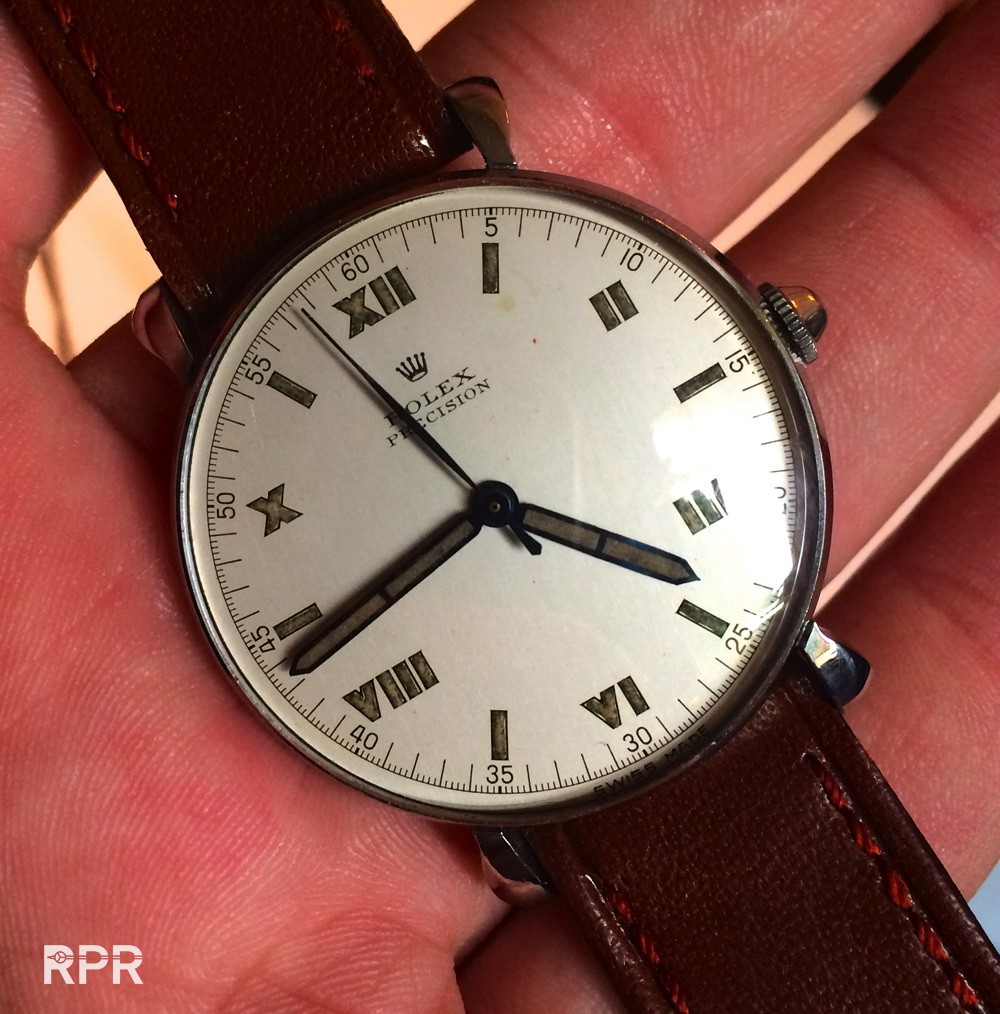 Dial was a bit tired of this Rolex Submariner, something we don't see in Sothebys catalogue..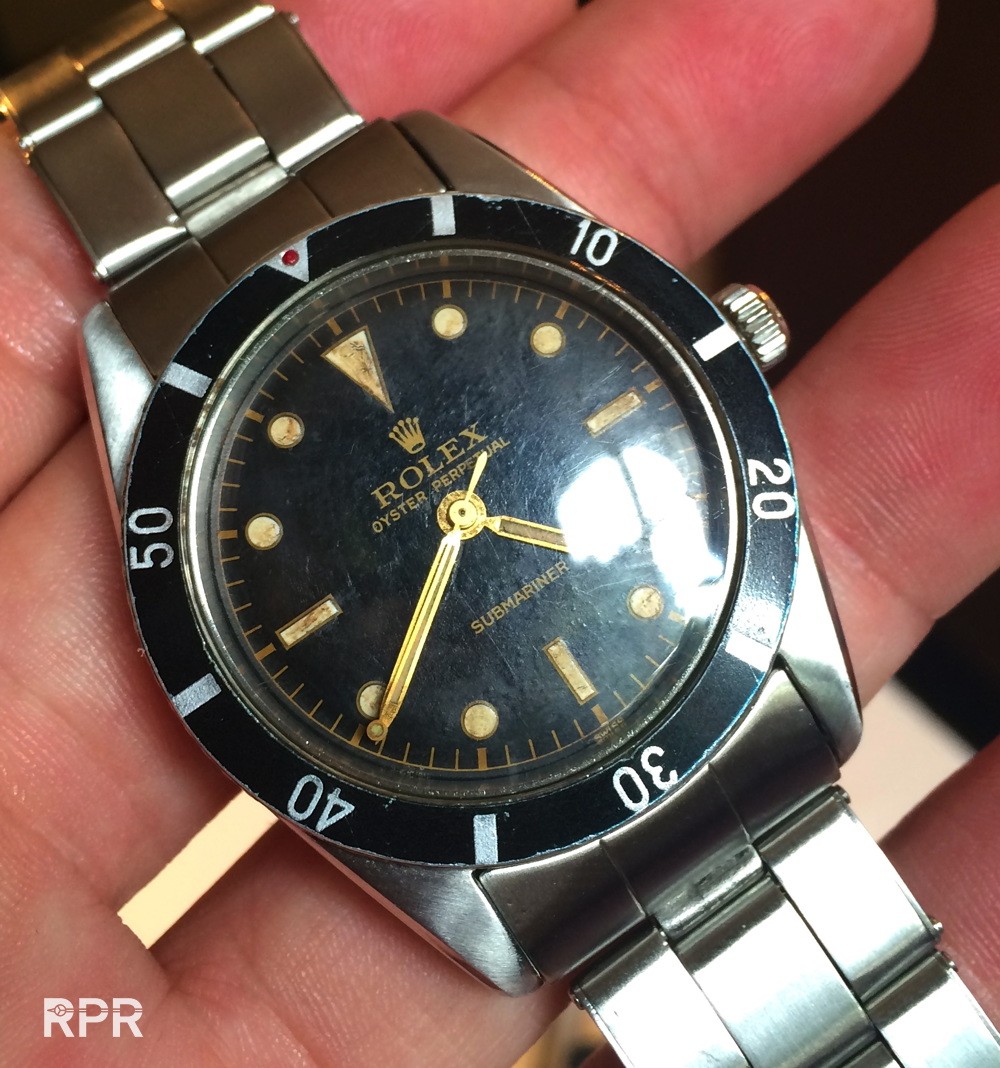 The Marine National ( MAR 001  engraved in case back with receipt ) sold high as I stated in the beginning of my report..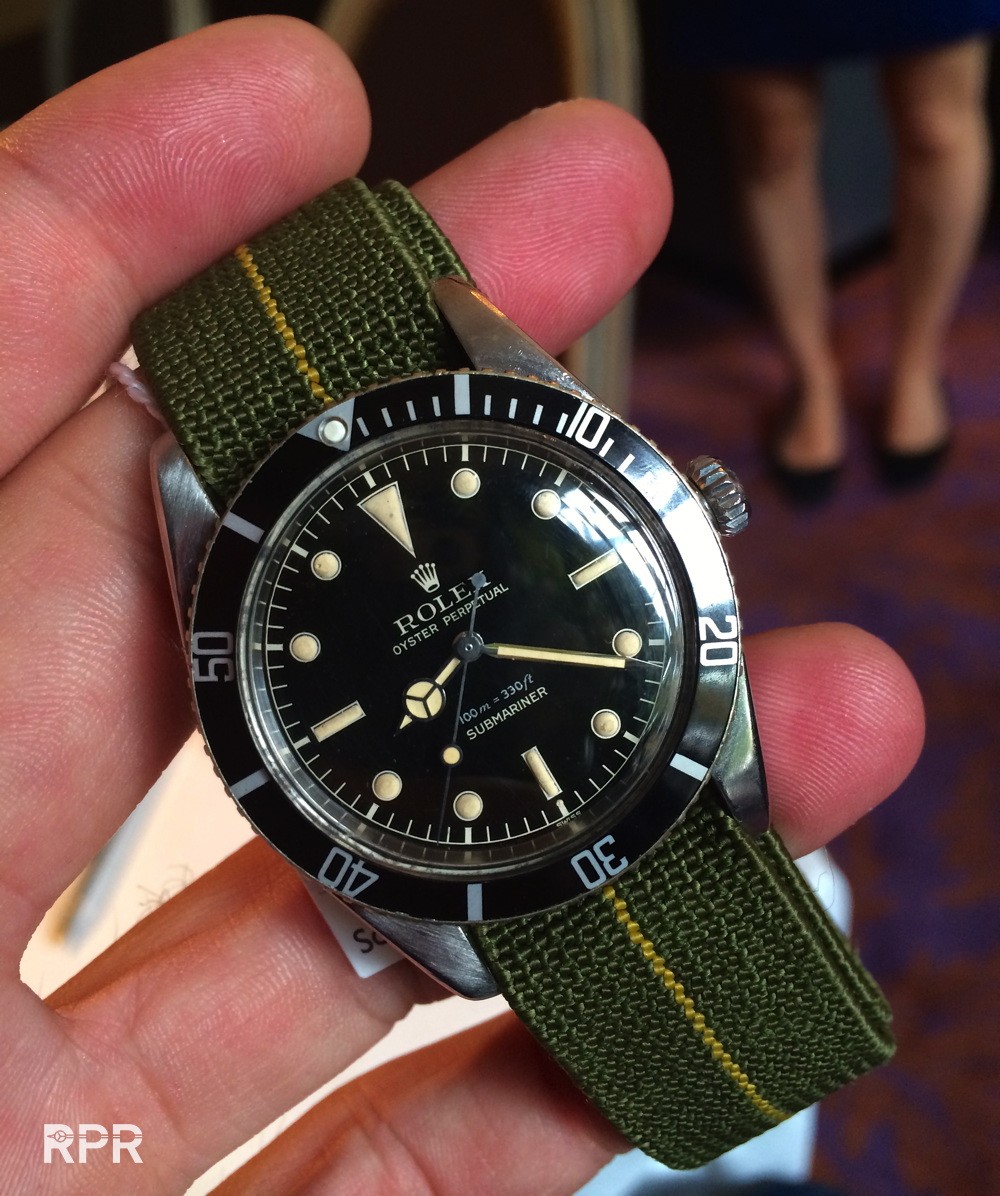 Nice Tiffany Red Sub ref 1680..
Elegant black dialed early Rolex Prince went for 22K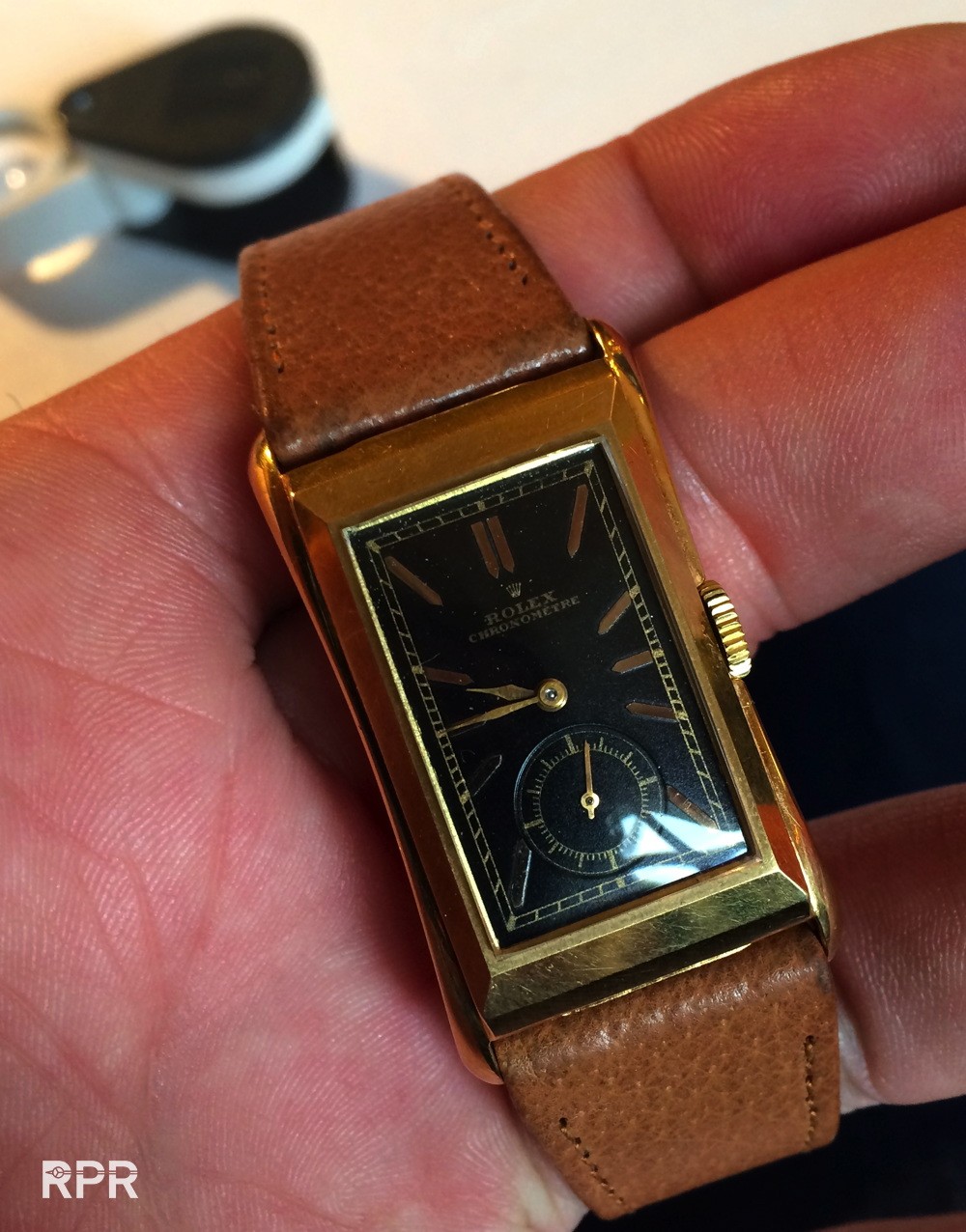 Back home after a long weekend of mixed emotions. Many thanks again to you all!!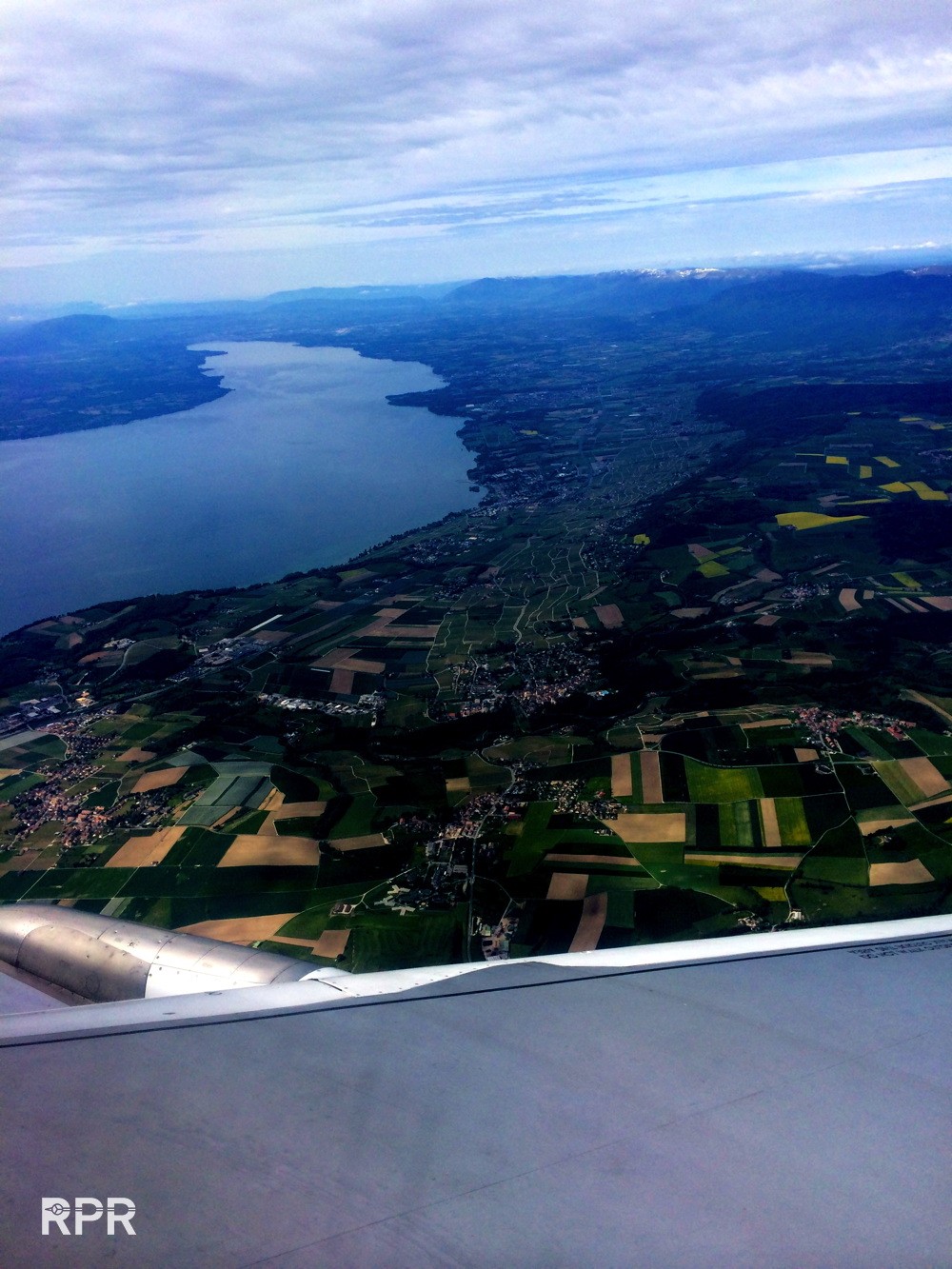 Handful of Iconic Blue chips, alias Panda Oyster Paul Newmans…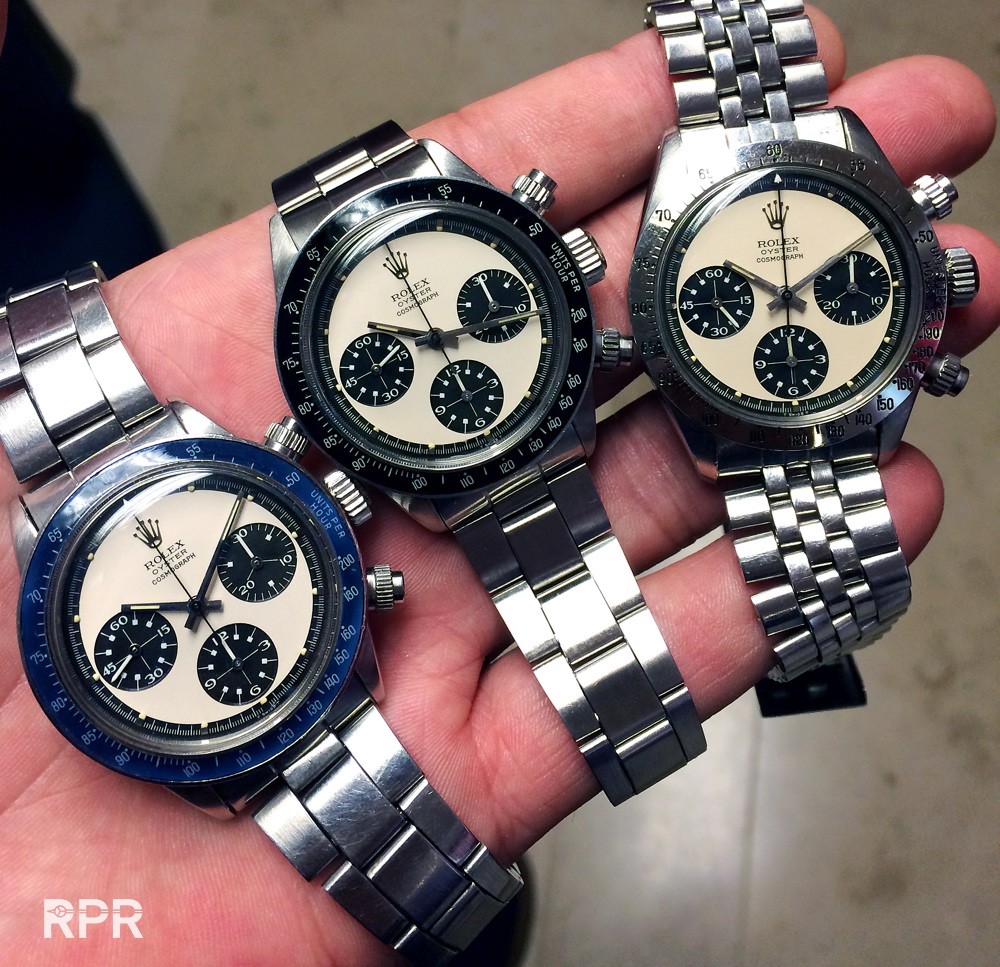 And a nice first series Comex Seadweller Ref 1665..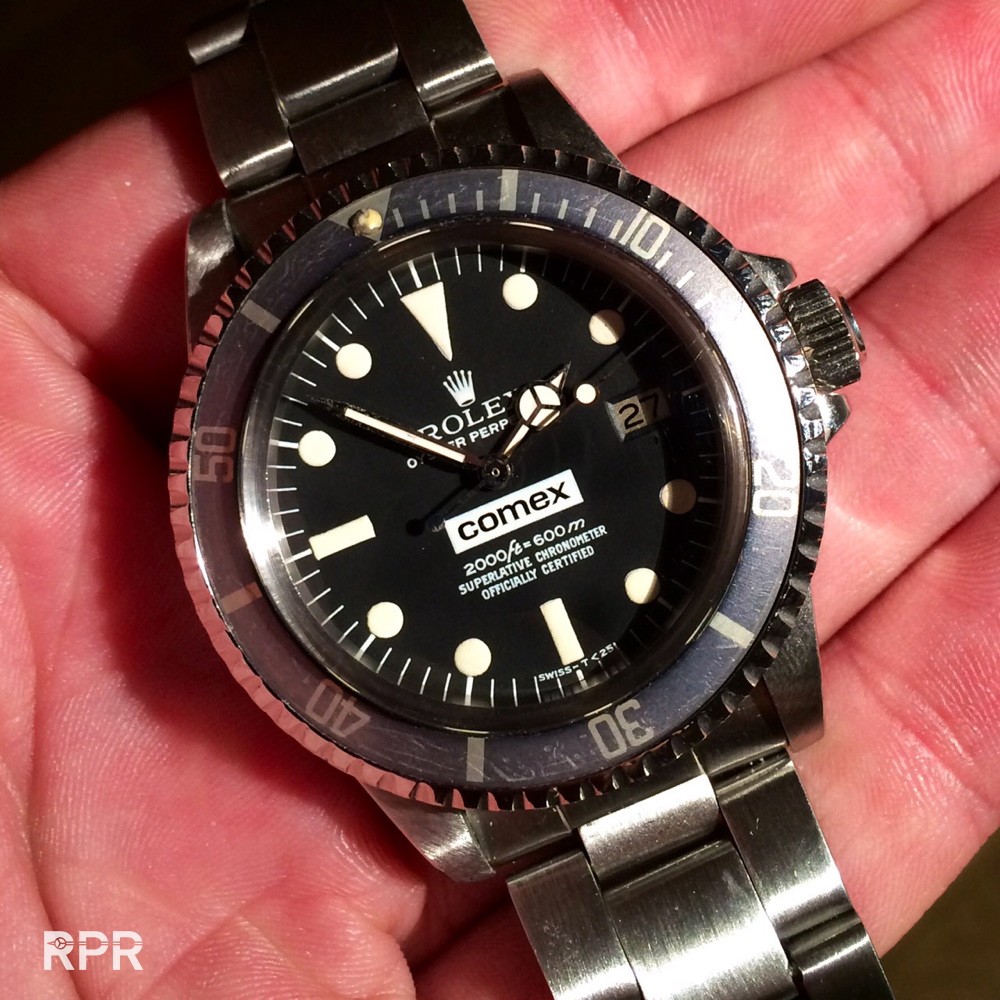 And last but not certainly not the least, The Black Linz Daytona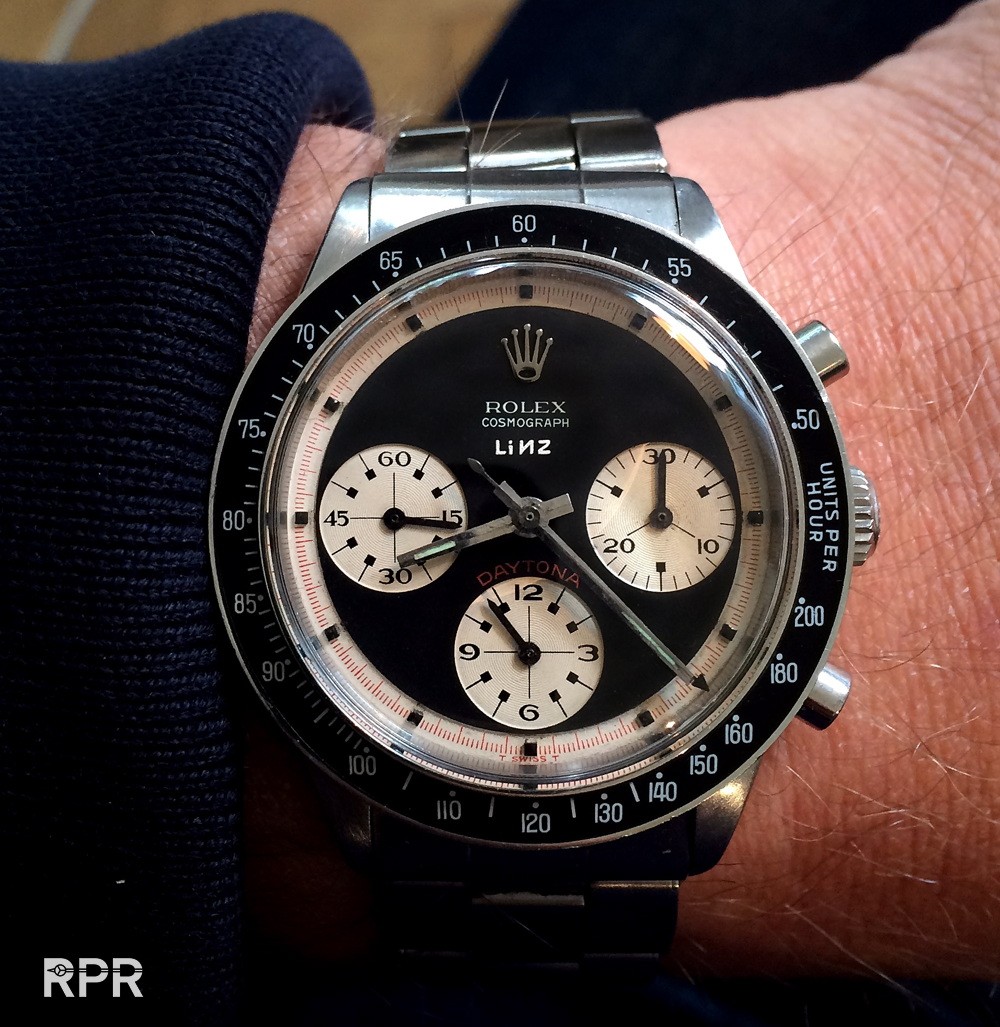 As always, the remarks are my personal observations, with my own pictures to back them up made during the previews. I wish you all the best!