Sir Edmund Hillary's Rolex Explorer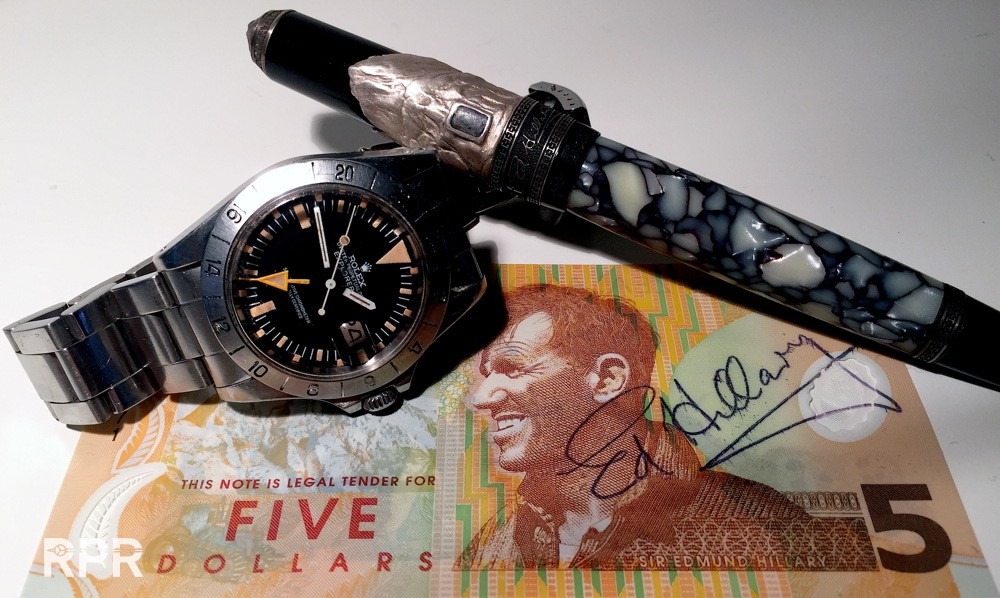 What you see above is the only Rolex of Sir Edmund Hillary which now is not being part of the family trust. Some close friends and I helped to get the Sir Edmund Hillary Rolex watches back to the "The Hillary Foundation" before being sold by Antiquorum to the highest bidder. This particular Rolex Explorer Ref 1655 being confirmed by Rolex Geneva as delivered to their most important ambassador in New Sealand was one of those watches the simple beekeeper adored to wear. Totally unpolished and not serviced by any party it has developed a beautifull patina on the untouched dial and hands, matching the iconic "Orange Hand" so perfectly…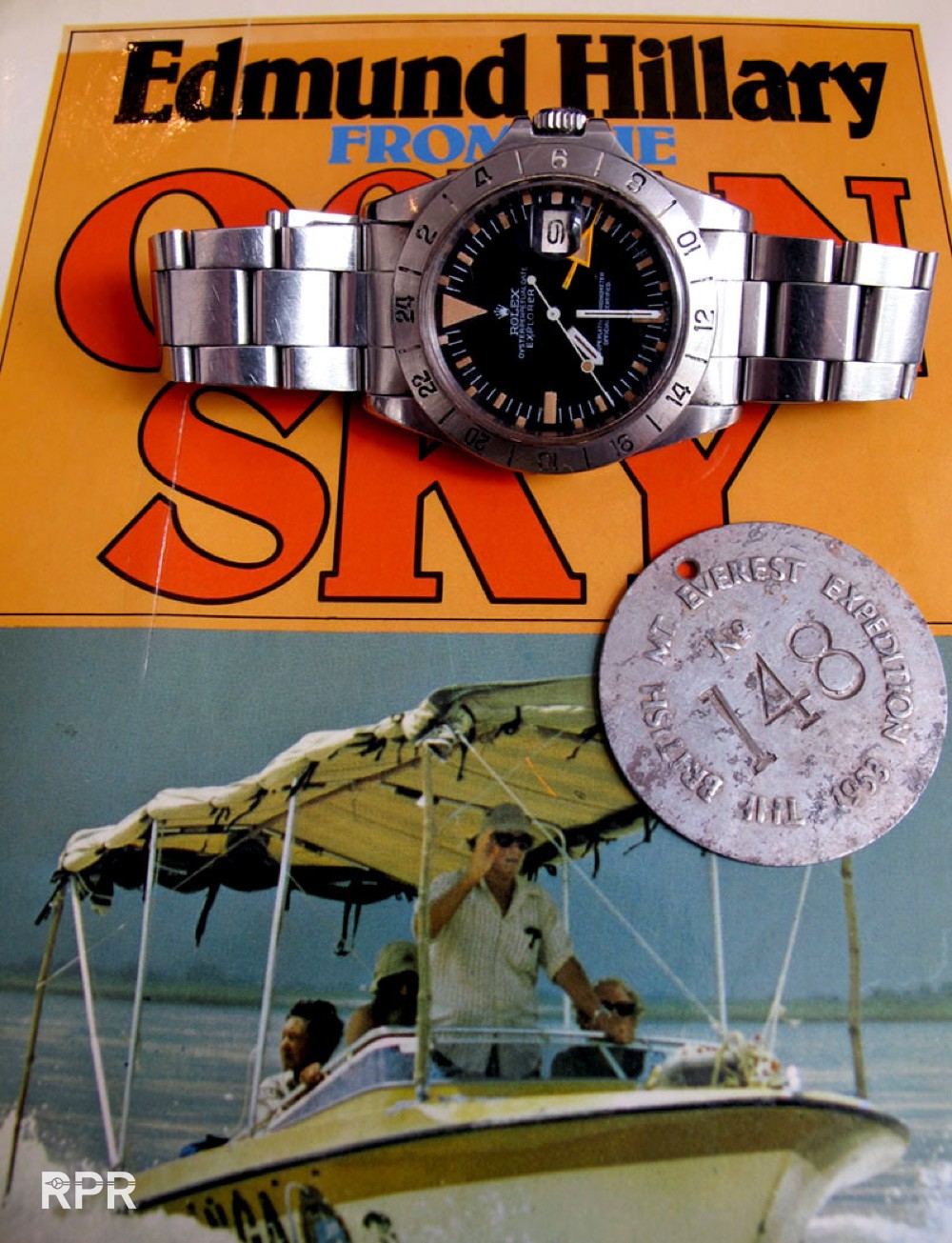 During Sir Edmund Hillary's later expedition: From The Ocean to the Sky, The 1977 Ganges Expedition he was wearing this Explorer proudly. Together with his best friend and climbing buddy Mike Gill he filmed this adventure.  This Feltex Award-winning documentary follows the 1977 Indo-New Zealand Ganges expedition, where Sir Ed and crew (including son Peter) attempt to jet-boat upriver from the mouth of the Ganges to its Himalayan heart. There, they aim to make a first ascent of Akash Parbat. The adventure pilgrimage was a proof of concept for the Kiwi-invented boat and a return to action for Ed after mourning the death of his wife and daughter in a 1975 plane crash. The mission faces epic white water, altitude sickness and tigers, as they're cheered on by throngs on the river's banks.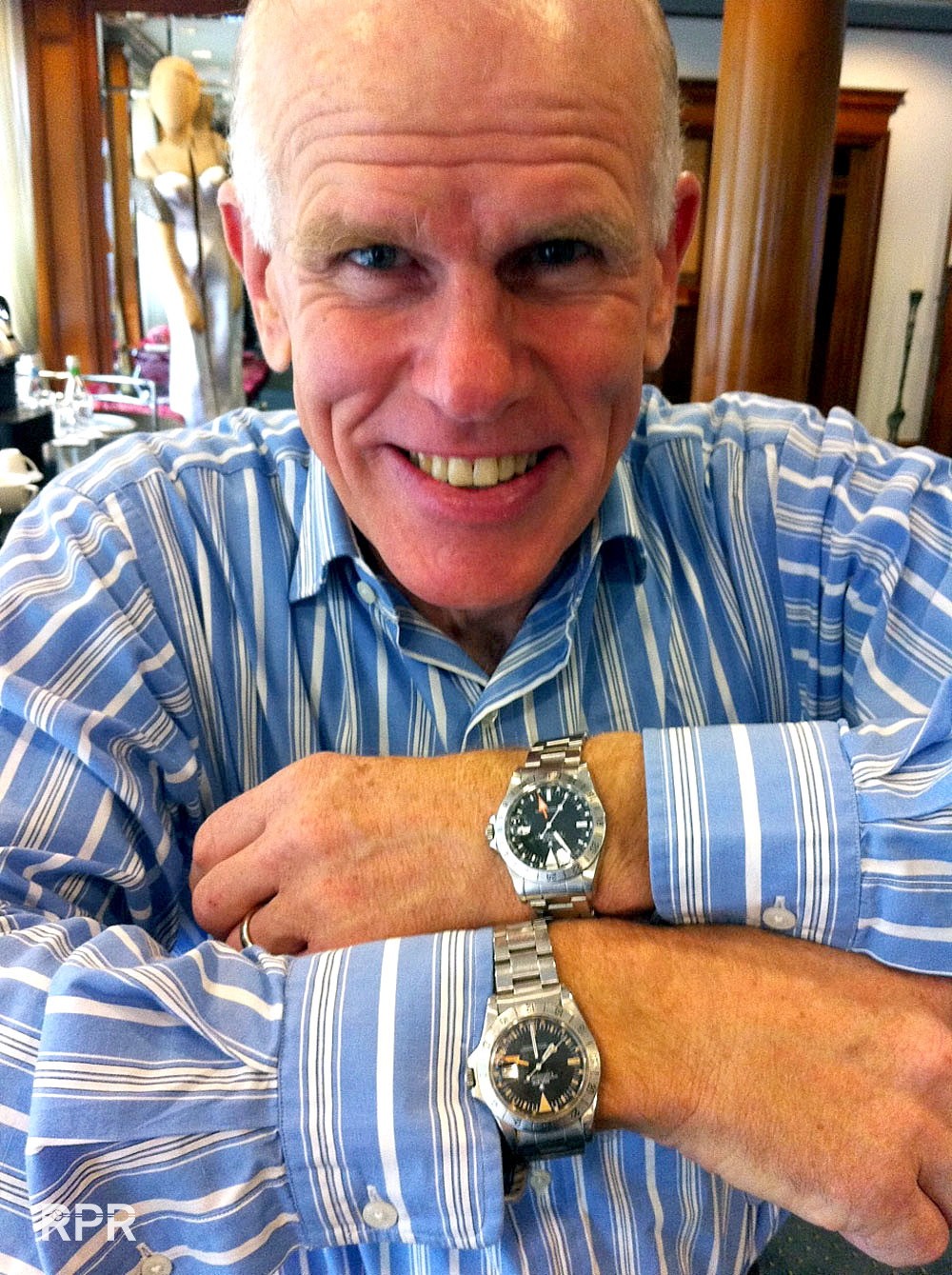 Above son Peter Hillary while we where in Geneva for our successful sale of the Hillary Tenzing Edition at Christie's important watch sale of which you can read the whole story here. Below you see the Hillary Explorer on the newest Rolex advertising " Tome to Explorer".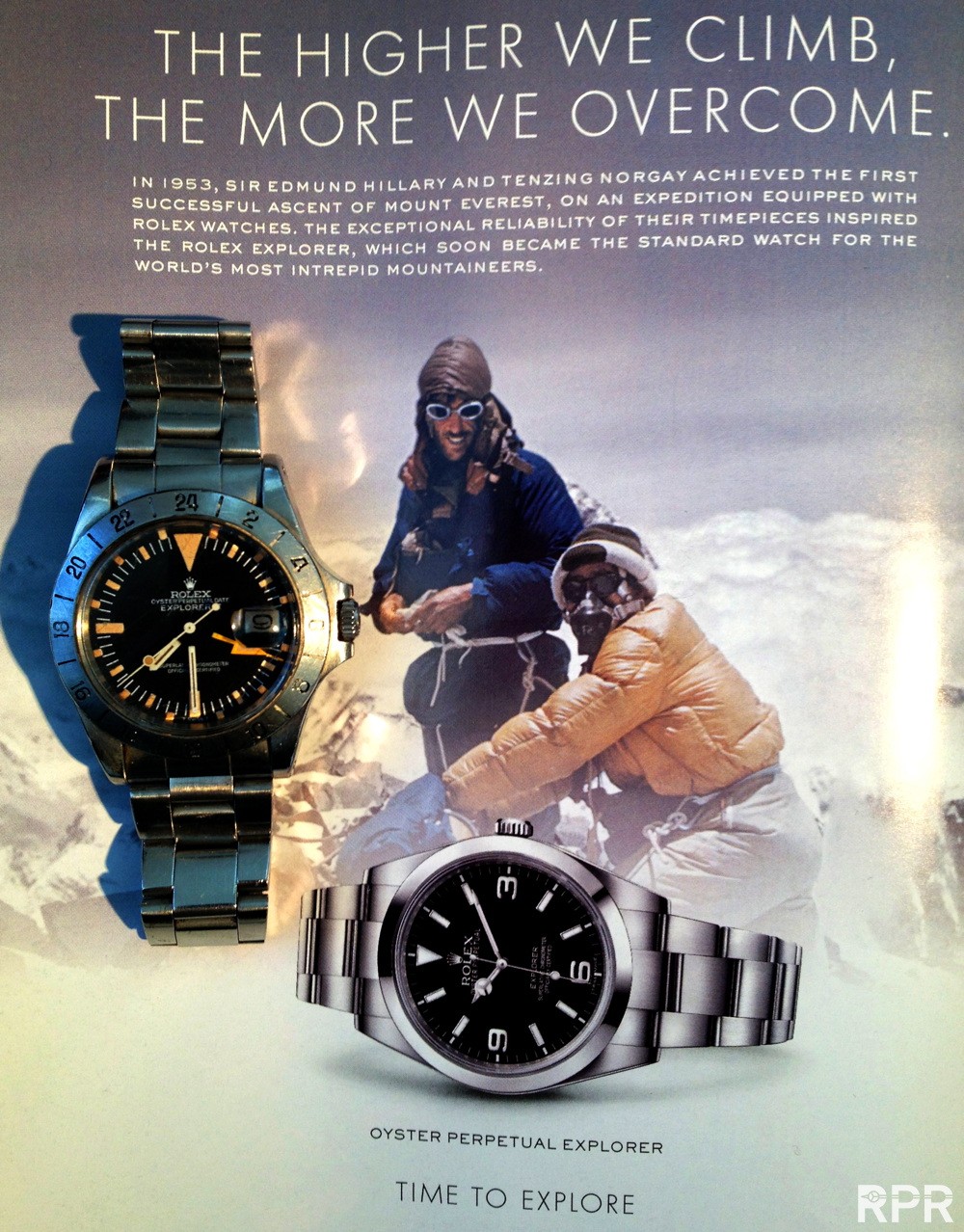 Together with Tenzing Norgay's Explorer II which he got from Heinrich Harrer ( Brad Pitt in 7 years of Tibet) and Peter Hillary's Explorer II given by Rolex and serviced after he a accident on an expedition in 1979 to Ama Dablam in Nepal, Reinhold Messner and his friend Oswald Oelz conducted a spectacular rescue of Peter Hillary, son of the great explorer, and two companions. "Reinhold covered that ground that the New Zealand climbers had taken two and a half days to climb in six hours," recalled Nena Holguín, a witness of the rescue. "I mean he moved like lightning speed across the snow. You know how deer are light-footed—he would seem to spring; it seemed like he hardly touched the ground."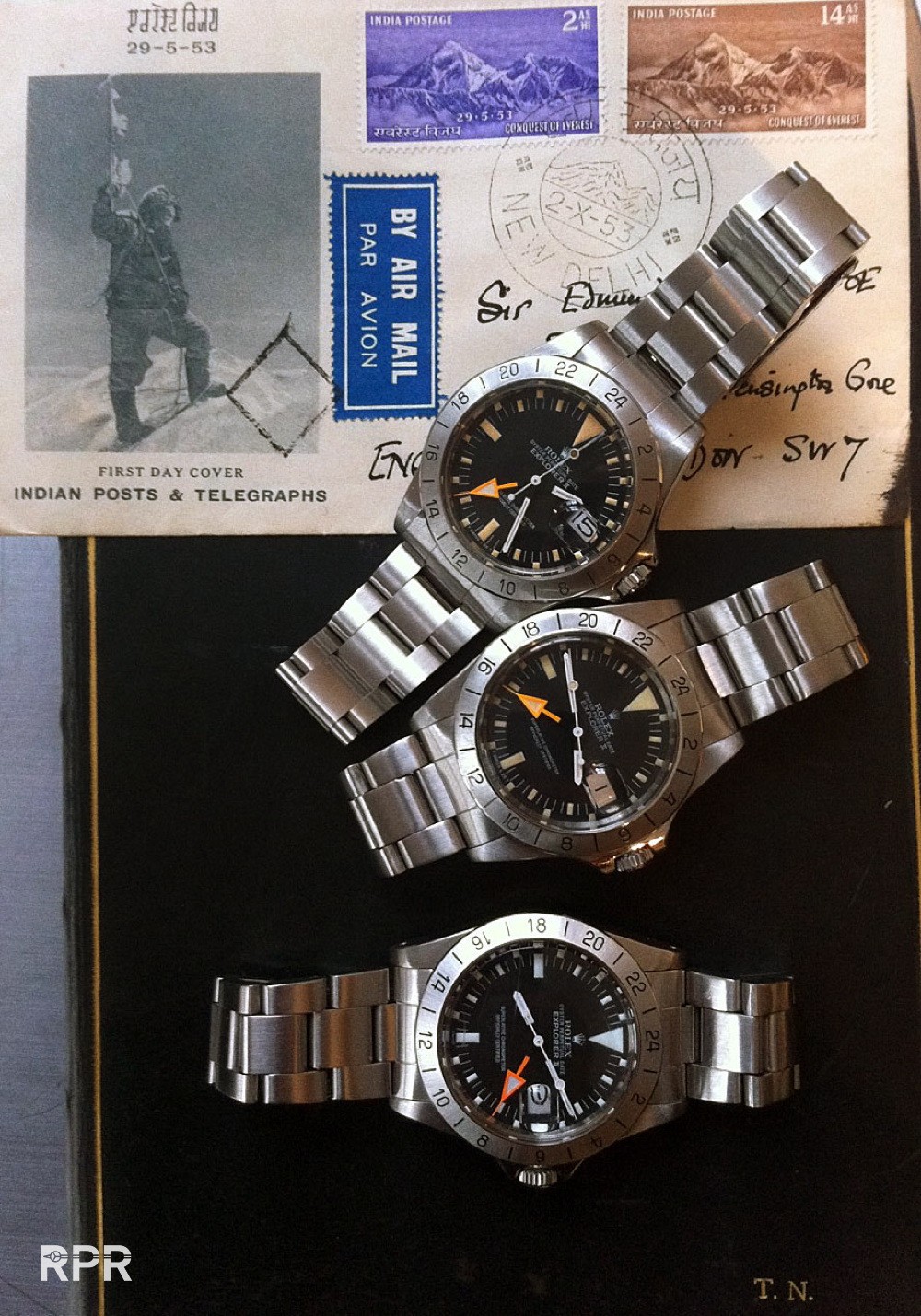 Hillary & Messner during a photoshoot for Rolex advertising where the 2 legends meet for this occasion. Hillary firstly conquered Mt.Everest in 1953 with oxygen and Messner did it in 1978 without oxygen!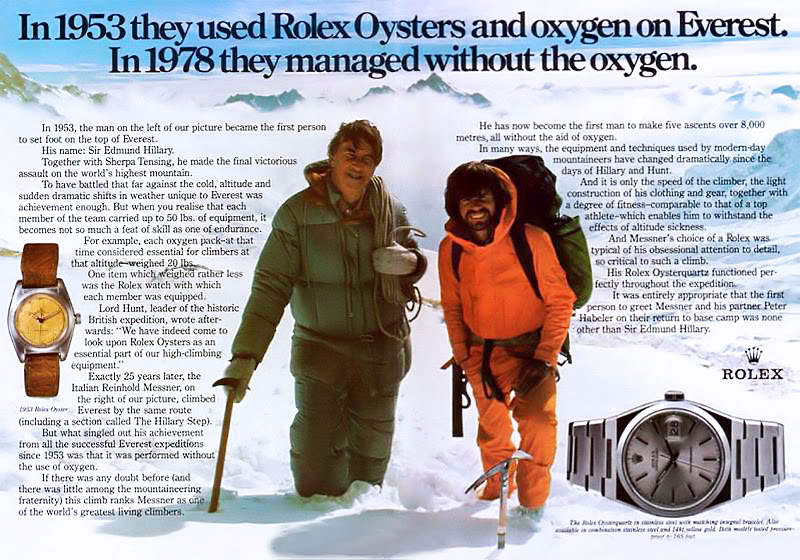 Mr Orange Hand in action..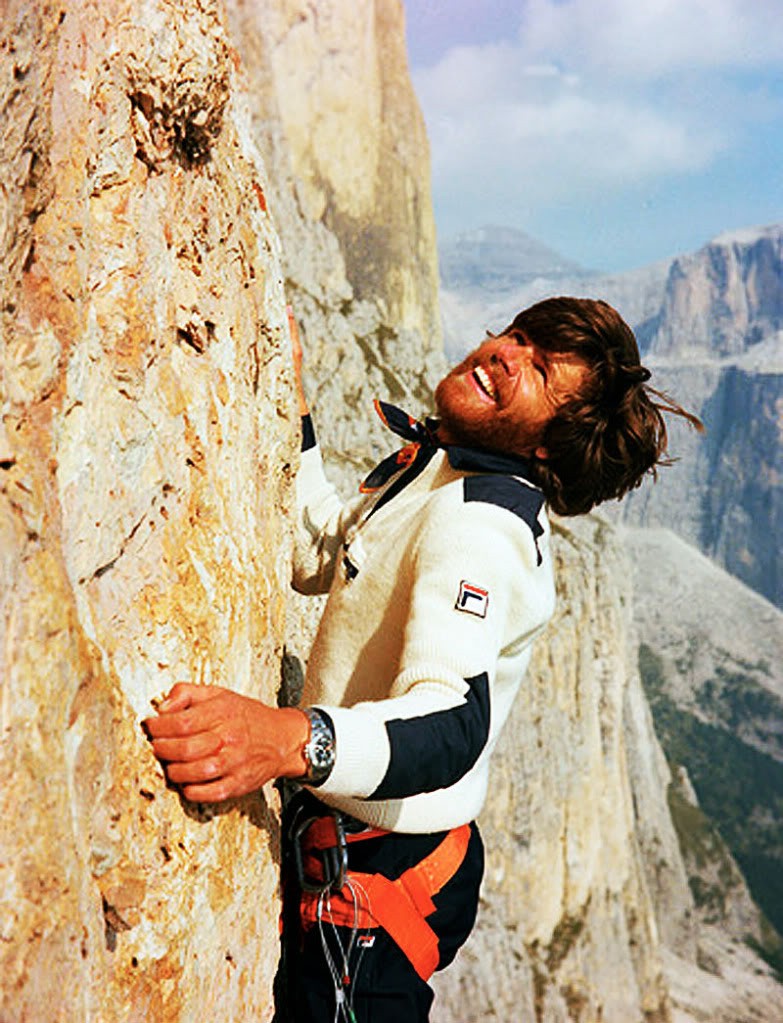 While visiting the legendary Reinhold Messner… Read the story over here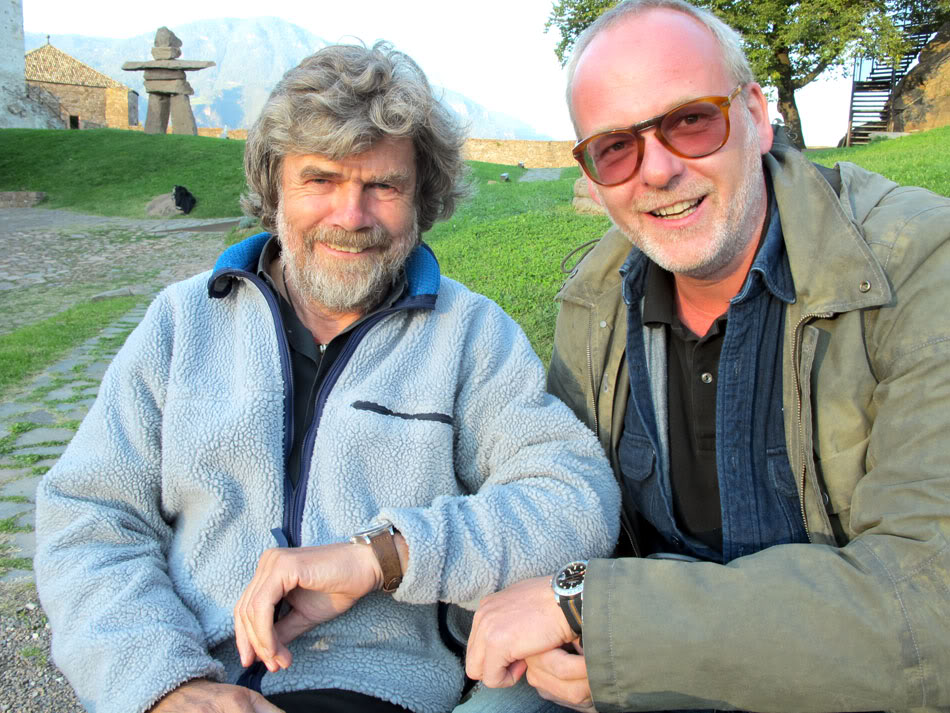 A close up of the Hillary Explorer II – Ref 1655 where you can clearly see the original scratches and untouched patina. In the back a limited pen with a little rock of Mt. Everest top mounted in it and a signed $5 New Sealand bill by Sir Ed…
Best is to keep a legendary Rolex as this as untouched as possible, I didn't clean it, neither did I polish the crystal which I normally do by hand but in this case I like to save as much as DNA when I got it directly from Sir Ed's son Peter Hillary.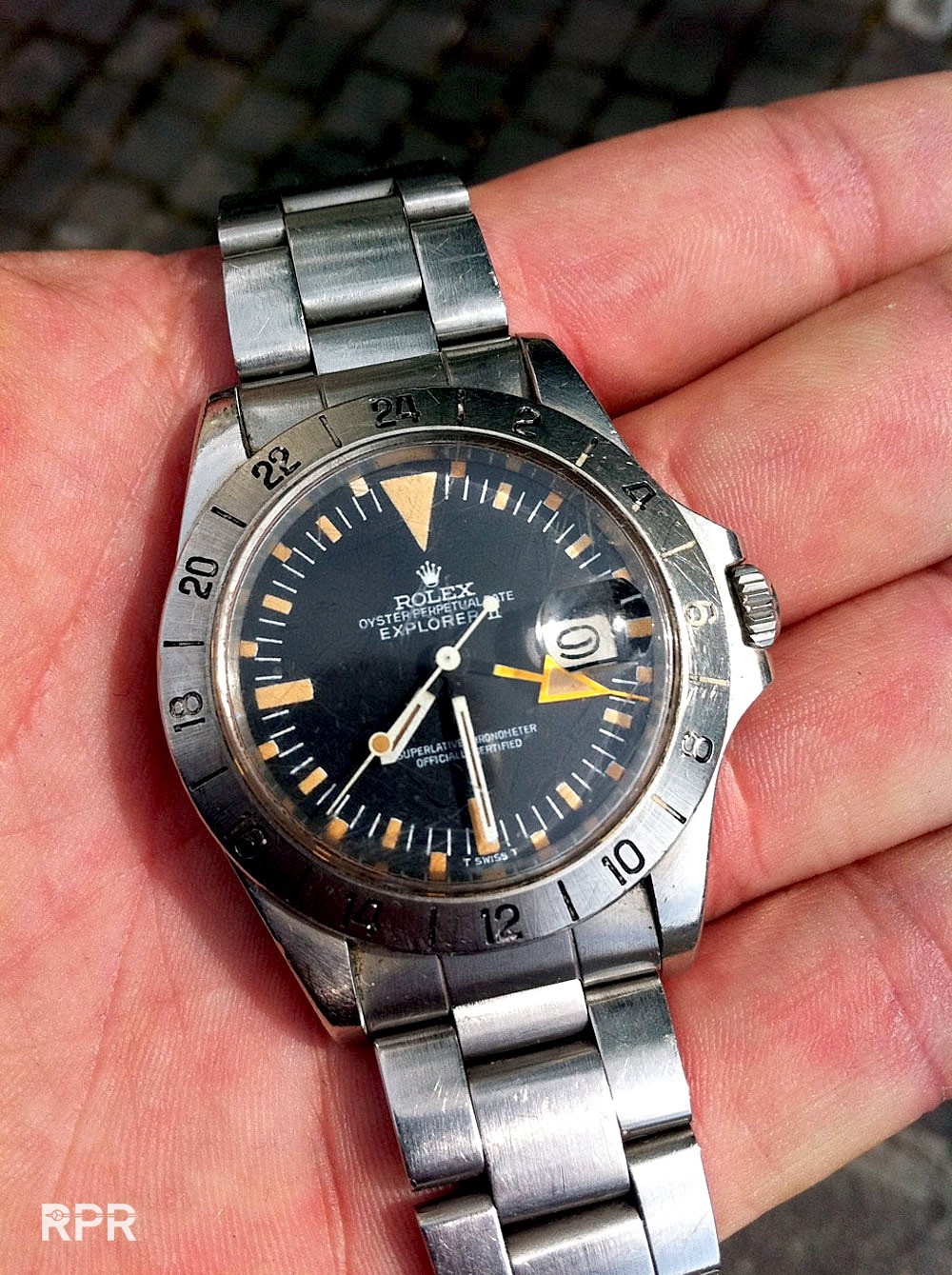 Mike Gill wearing the Hillary Explorer II when we met during the Sir Edmund Hillary memorial at the Royal Geographical Society in London. You can read more about this over here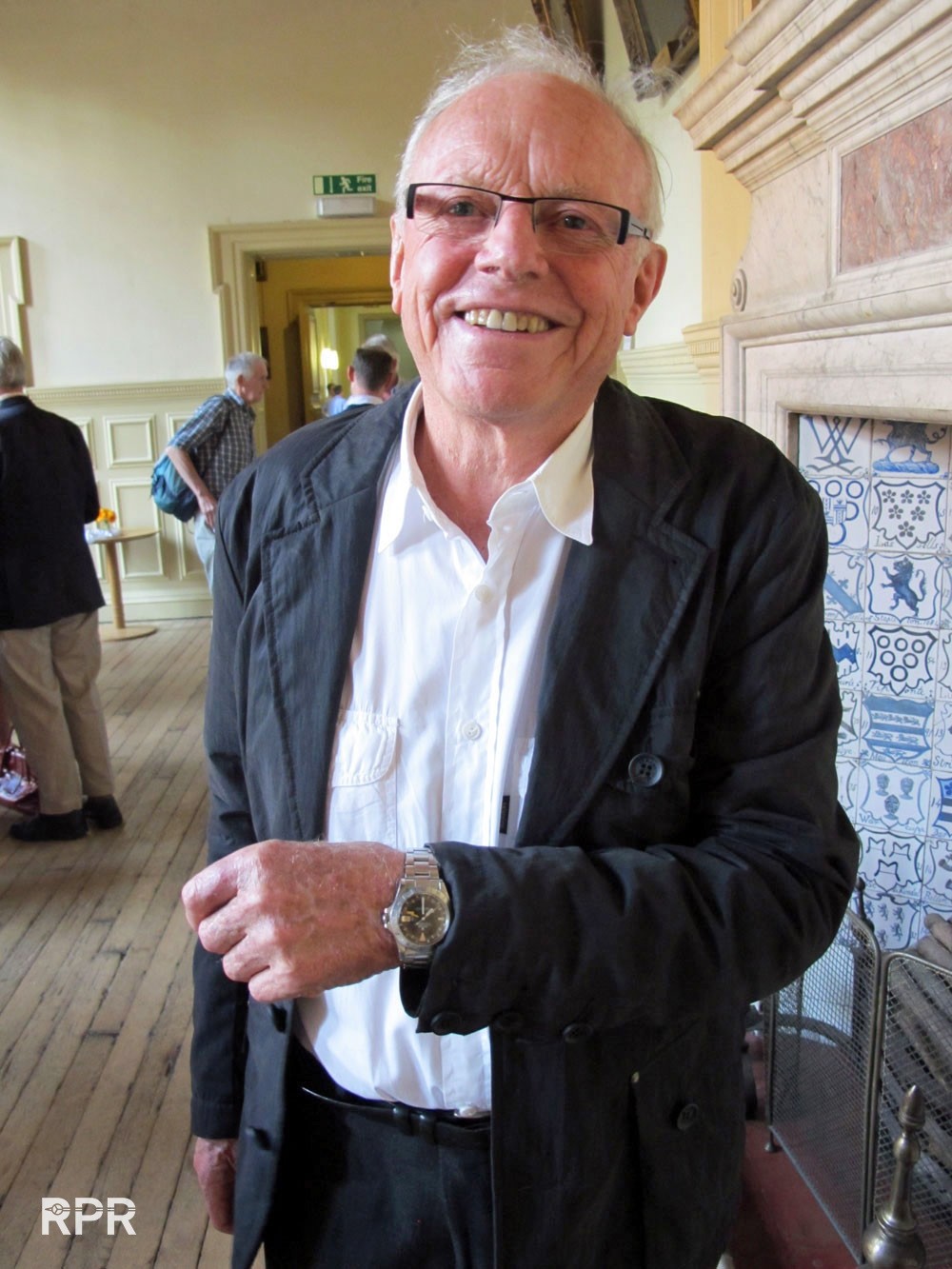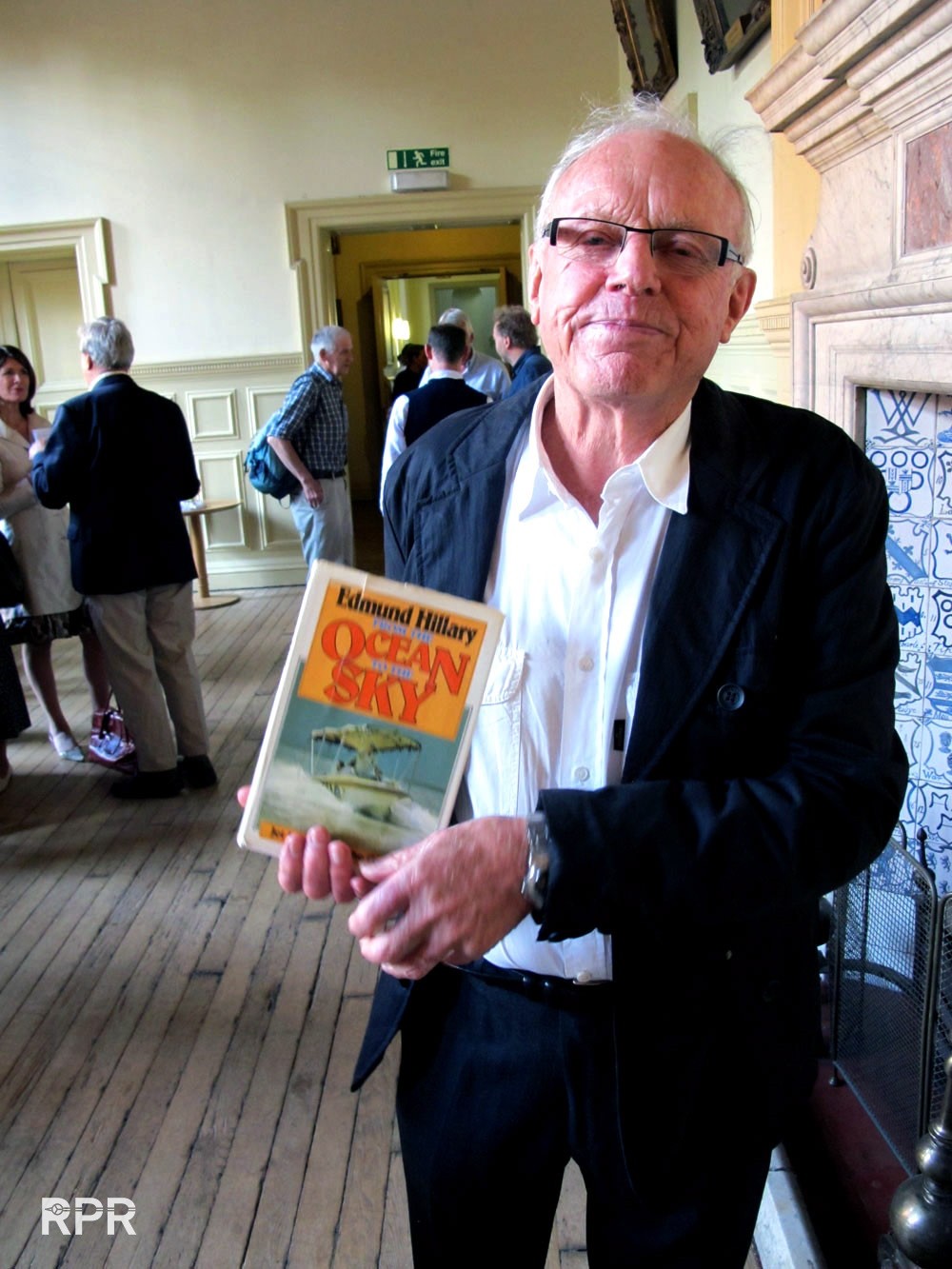 Sir Edmund Hillary's Rolex just after we rescued them for being auctioned, read the whole story over here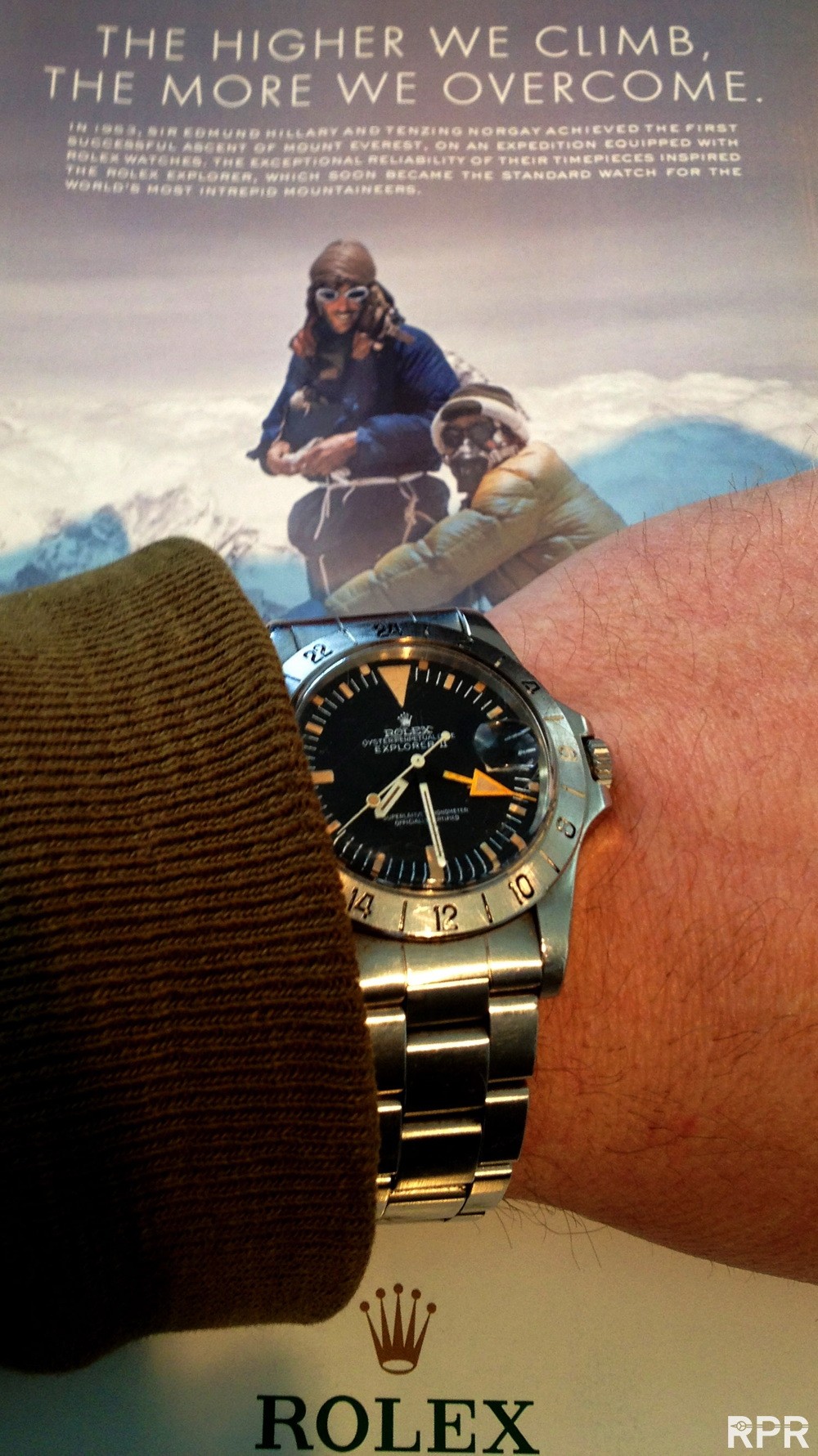 To Sir E Hillary from Rolex Bosecks, Calcutta reads the engraving in the case back…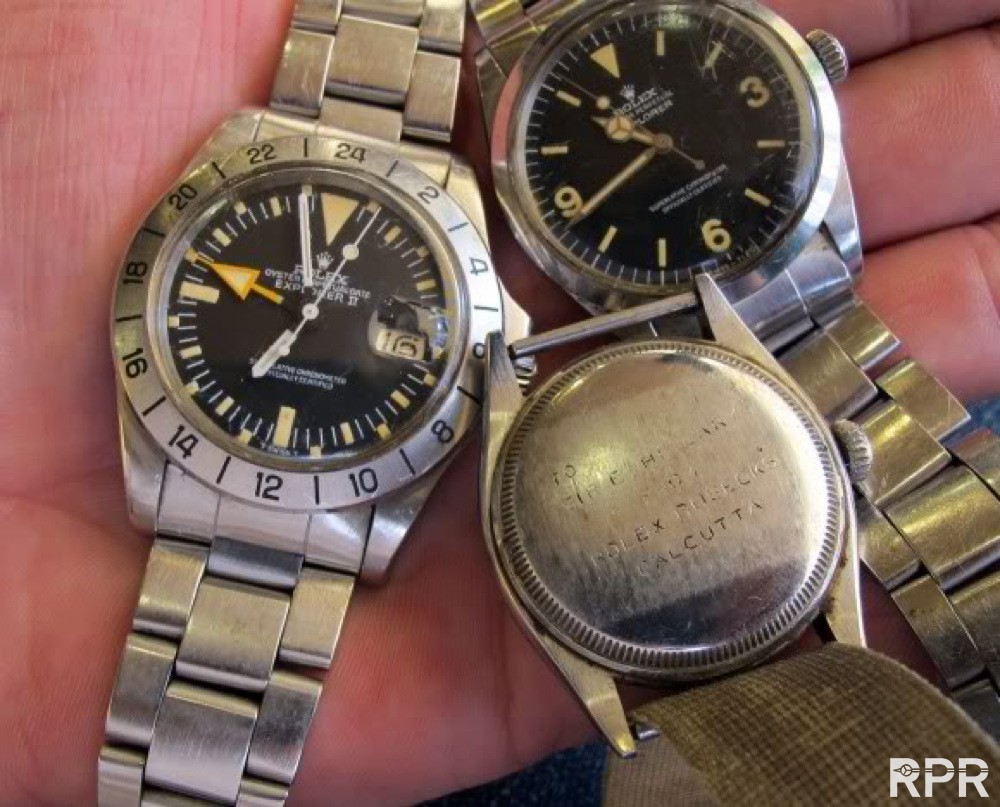 Groups shot of the Hillary Rolex just after I got them back from Antiquorum.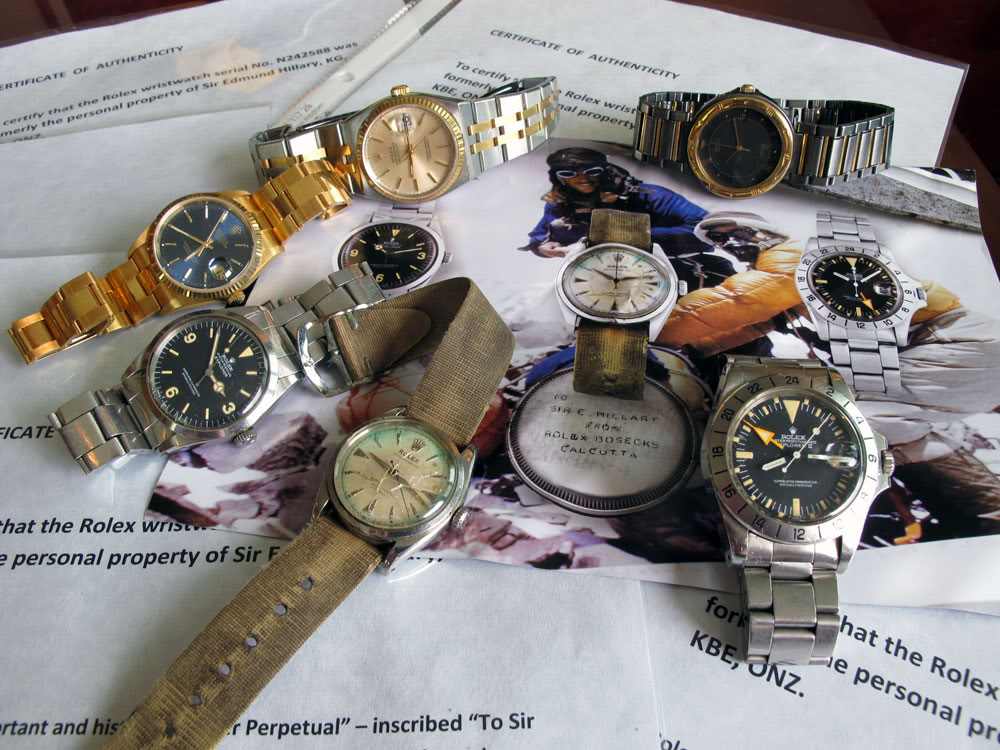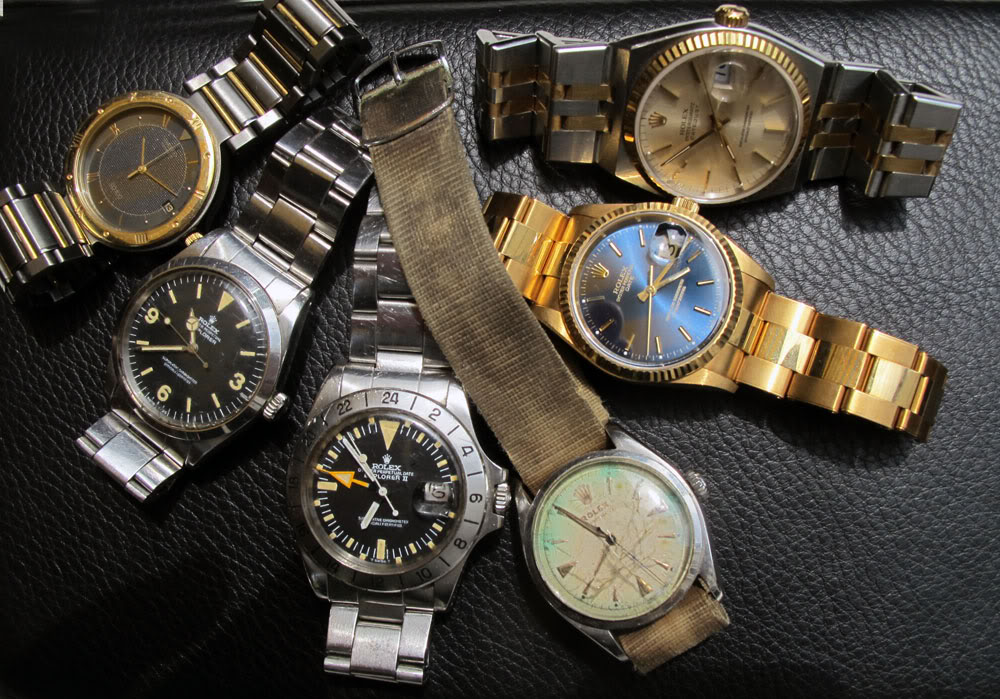 Together with my heritaged one..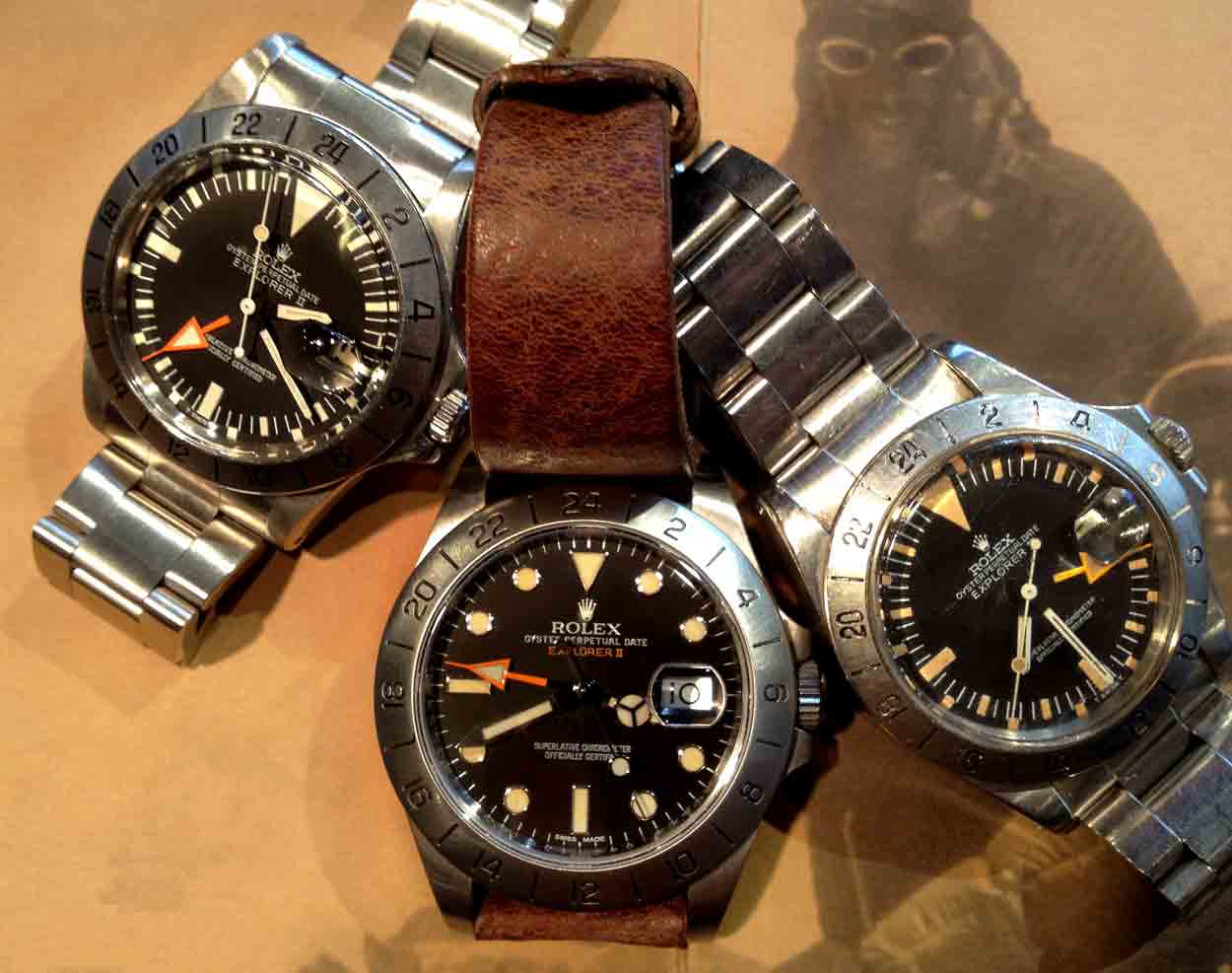 Together with the sons of the iconic Rolex heroes; Jamling Tenzing Norgay & Peter Hillary…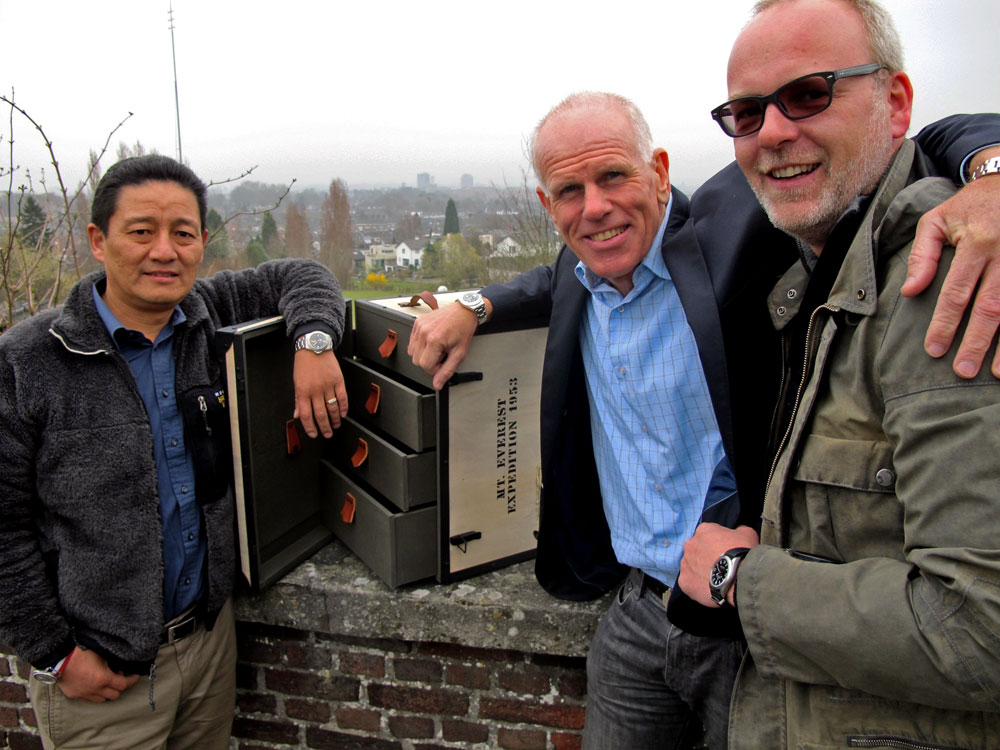 Important Rolex history…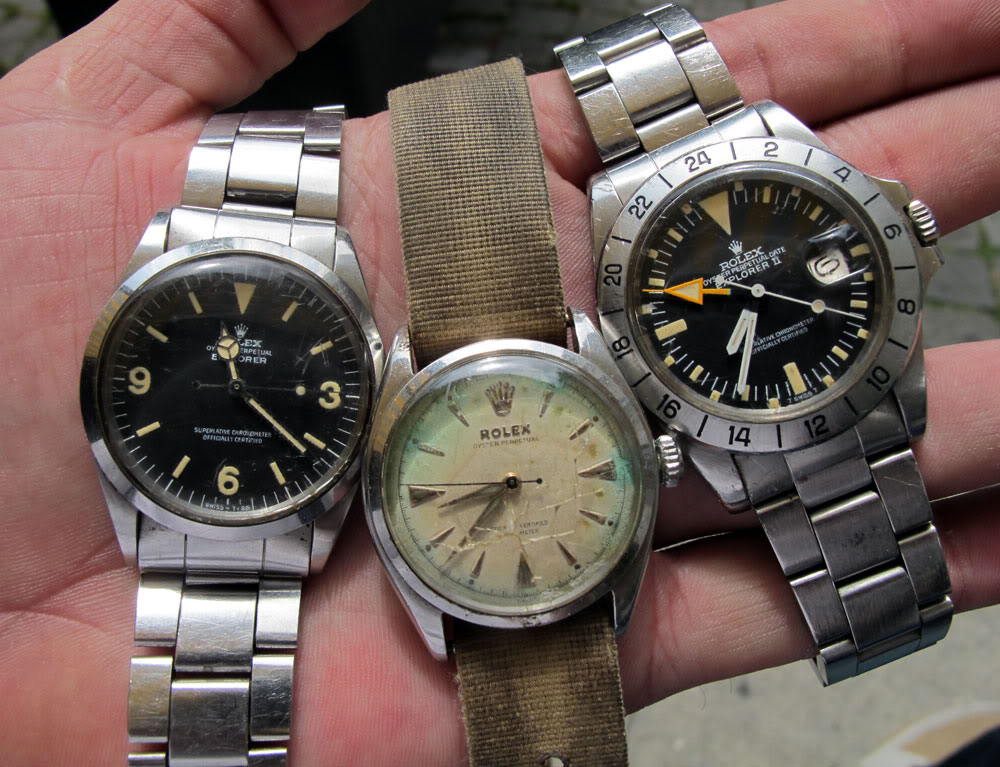 Official Rolex ambassador's, Hillary & Tenzing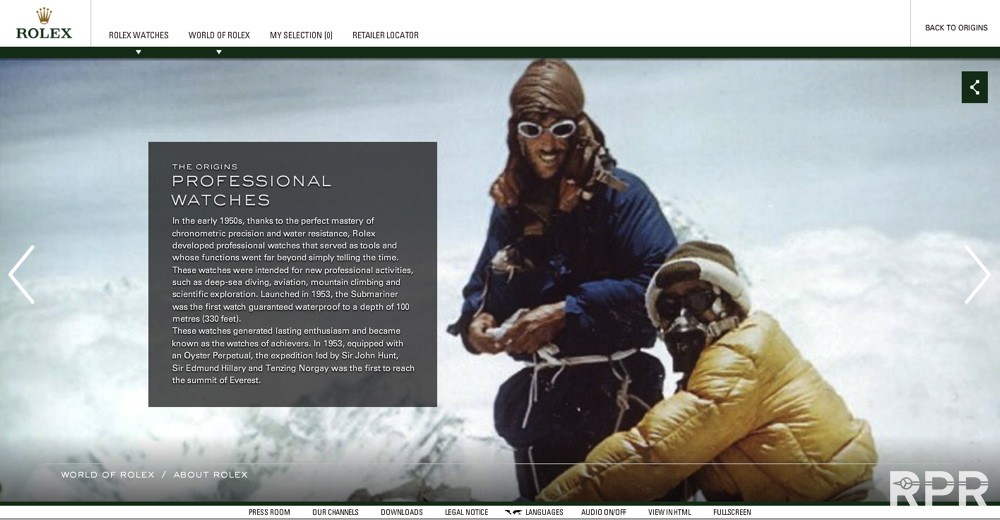 –> Rolex & Hillary & Tenzing ( http://www.rolex.com/world-of-rolex/exploration-mountains-and-poles.html)