My Geneva May 2015 Watch Auction Report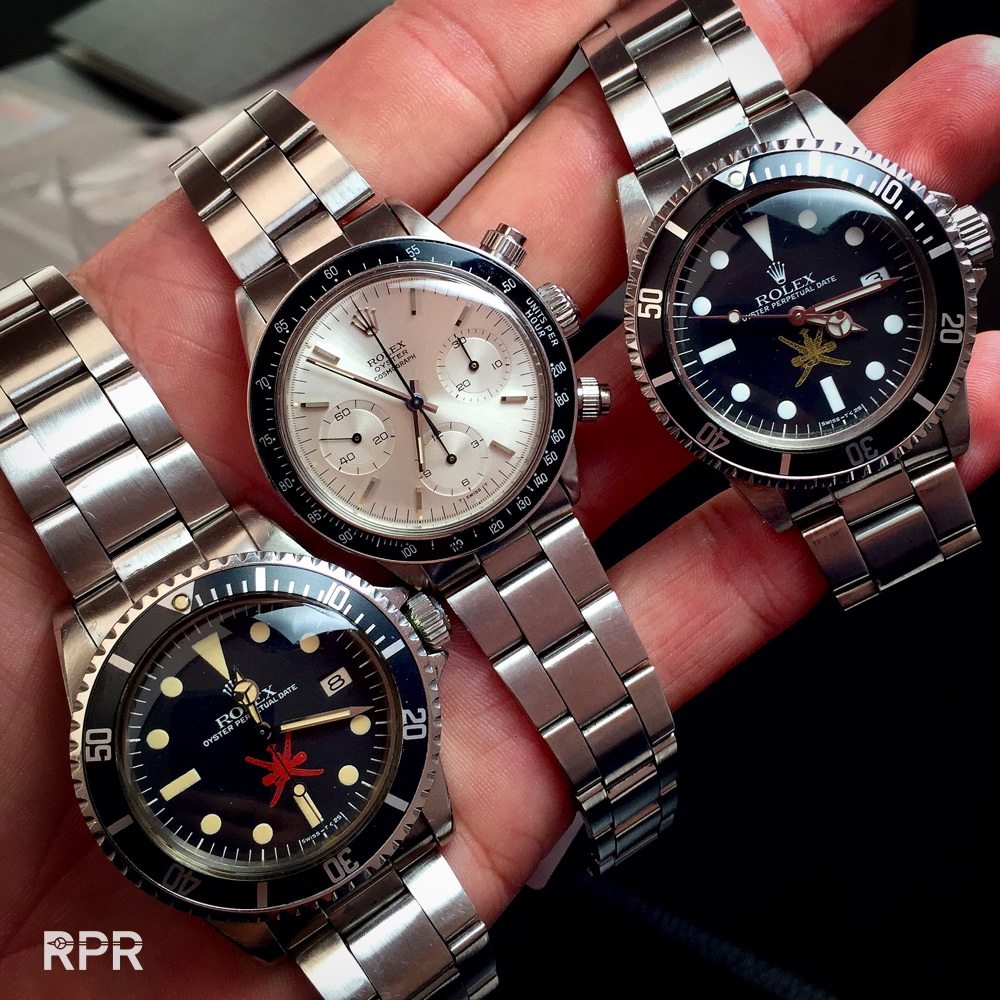 Again the sky is still the limit. See above the most expensive Rolex ever sold at auction, the ex Eric Clapton Albino Daytona from my dear italian friend who believed in it already many years ago, which finally reached 1.32 million all in…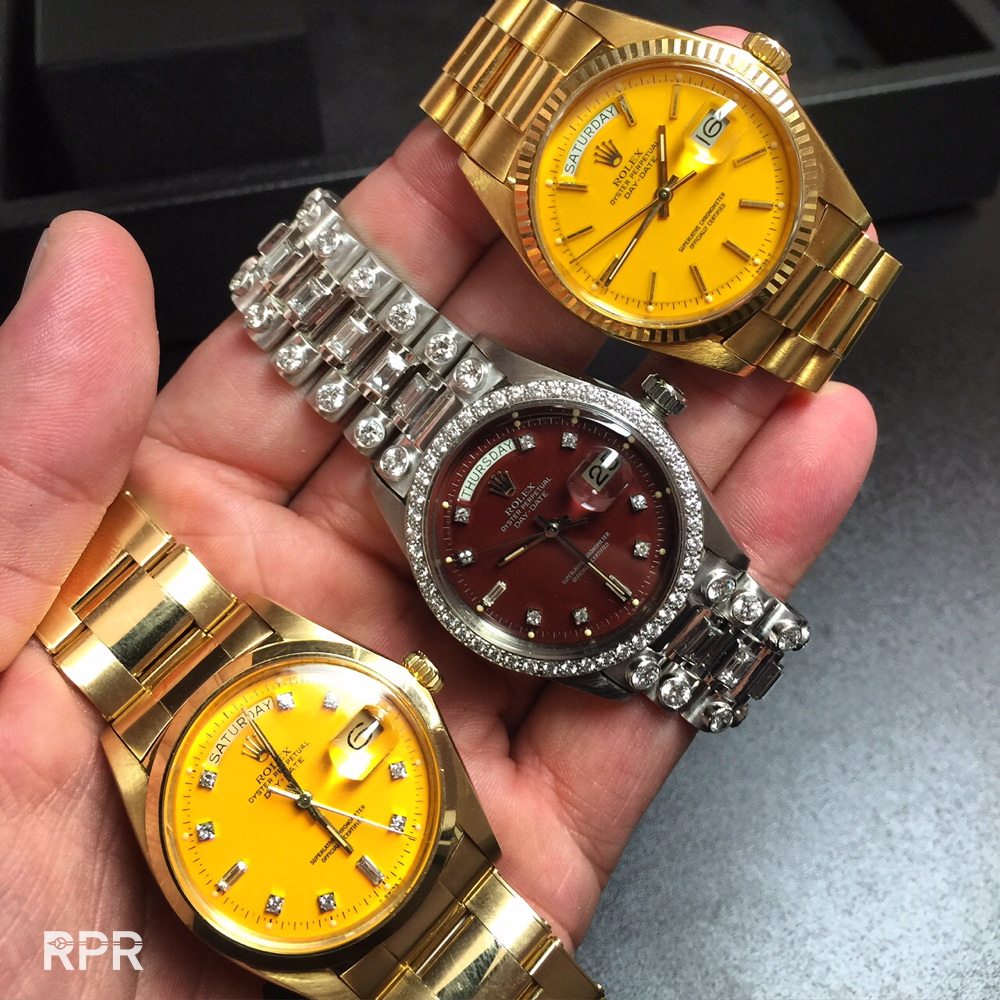 Sitting in my garden rethinking about what happened in Geneva last auction weekend I come to the conclusion that the market is still healthy developing although some big players where very aggressively buying this time. Nicknamed "number one" was solo buying more then 50 % of the Phillips Day Date sale and day later also very strong buyer at their sale "ONE". Almost nobody had a chance to overbid him on the top lots as it seems that he and his wealthy clients are pushing unlimited funds into vintage watches.
Now lets be realistic, when Christies sells a single Picasso for $179 million, it's no comparison with the total watch sale results of some 50-60 million by all auction houses last weekend. Meaning the über rich can influence the watch auctions quite easily and thus this is actually happening, hence we see very strong results."cornering the market" seems better for them then "money on the bank".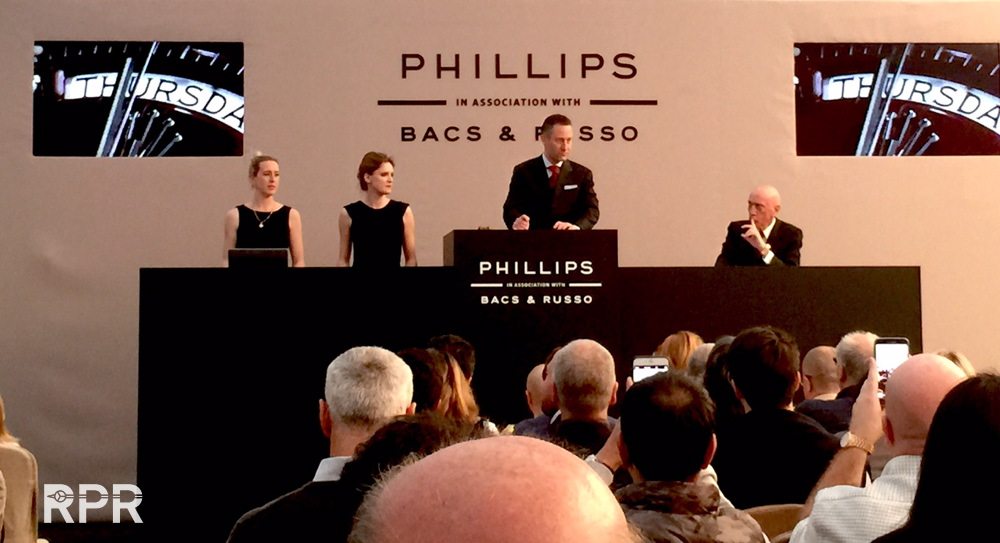 Therefor it's not a surprise that those rare watches in great quality went even higher in price then estimated, something I'm telling you since many years, honest patina, no matter the reference or brand, is the future in collecting. Was I surprised this weekend? Yes of the crazy result for the mono pusher Patek Philippe where bidding took like 40 minutes before it reach 4 million hammer, all in that's CHF 4,645,000,=!!  As you see below its a attractive design but not really great in condition, therefor I was surprised to see it triple the already high estimate.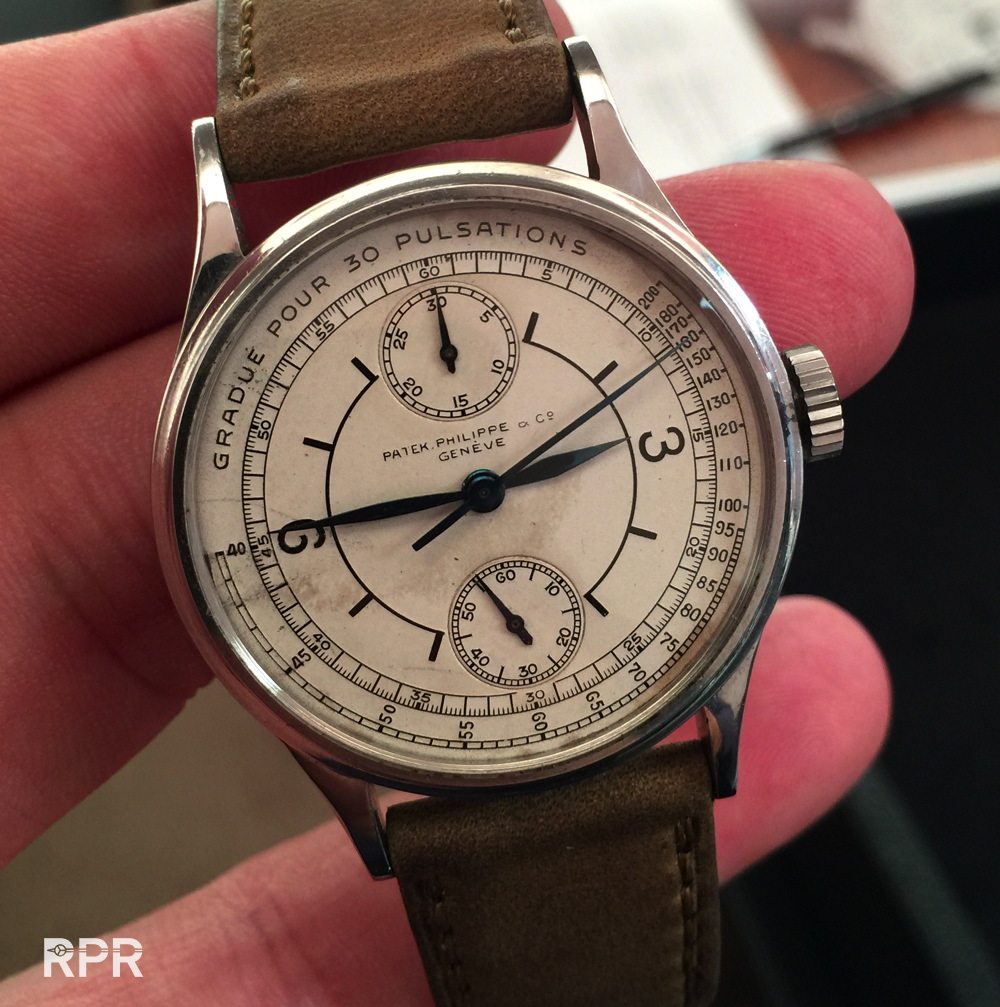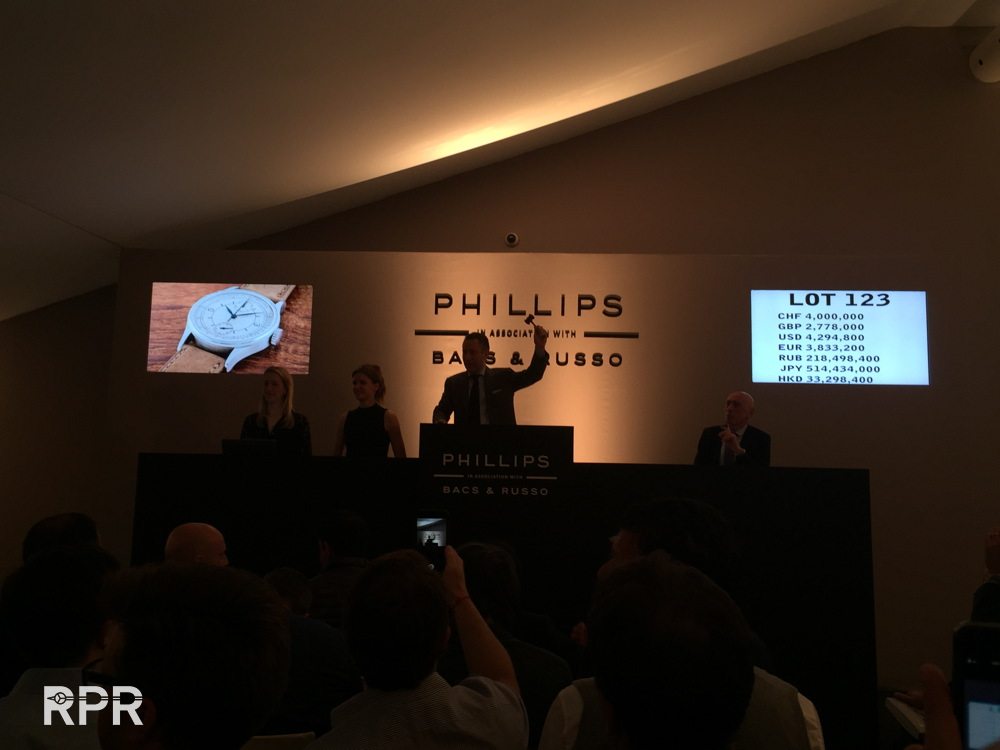 Only 4 examples of the Albino are known in the market so far. Up close we see a interesting handset, MK1 bezel and pushers, lume dots missing at 3, 6 and 9 o'clock..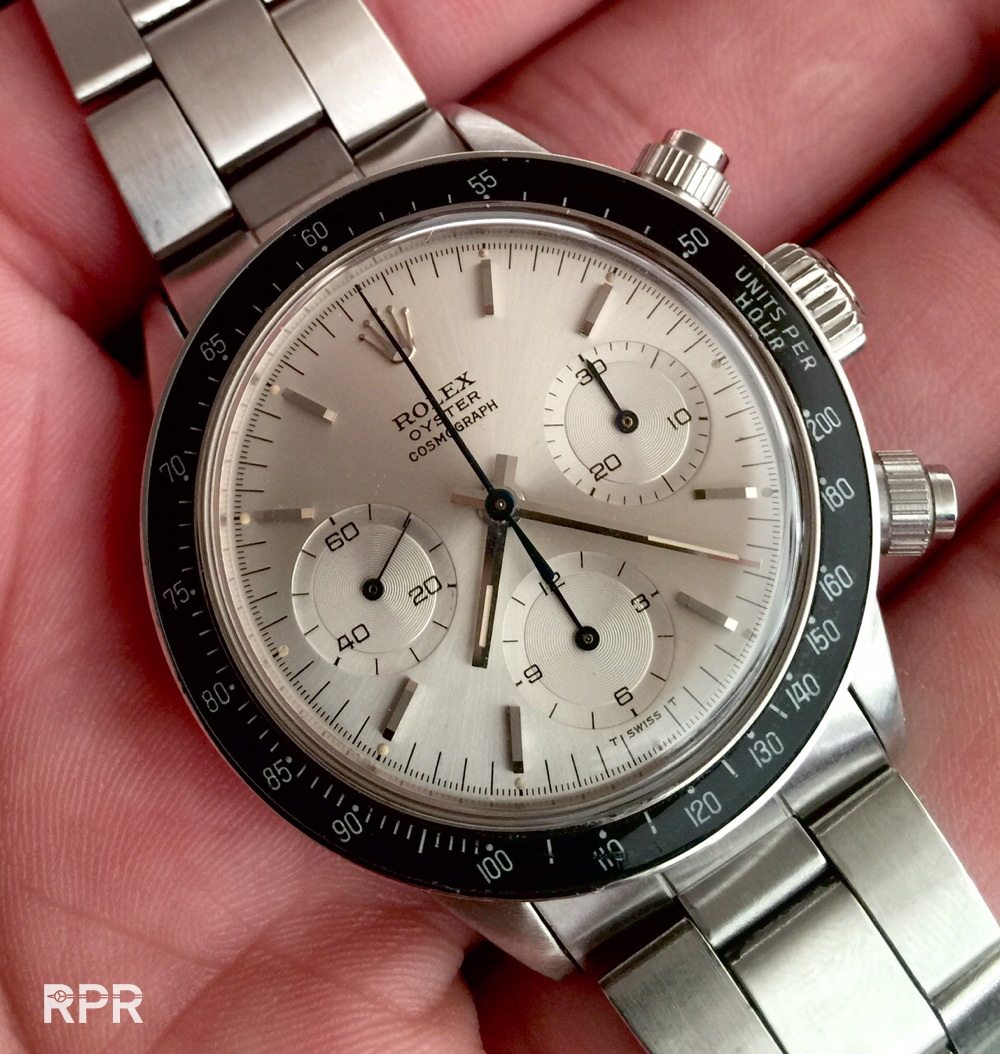 Here's the moment at 1.1 million swiss franc Aurel Bacs hammered it down…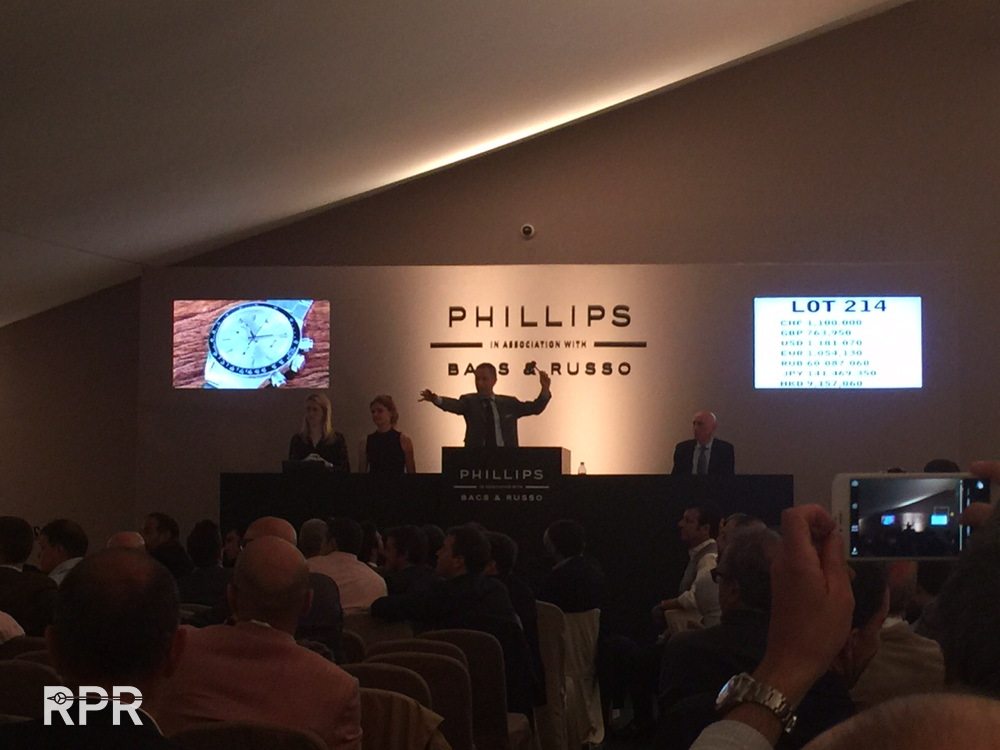 Ultra rare platina Day Dates, from the special Phillips – Pucci Day Date auction of 60 exceptional examples going for 4 times low estimate making it a huge succes. Although i'm a vintage Rolex addict, most collectors know that I'm not very in love with this reference, somehow I like the look but would never actually wear one and as that's my essence, I think that these results will not easily be beaten in the future. The maximum has been achieved and it will take many years from now to come even close  the results we saw now.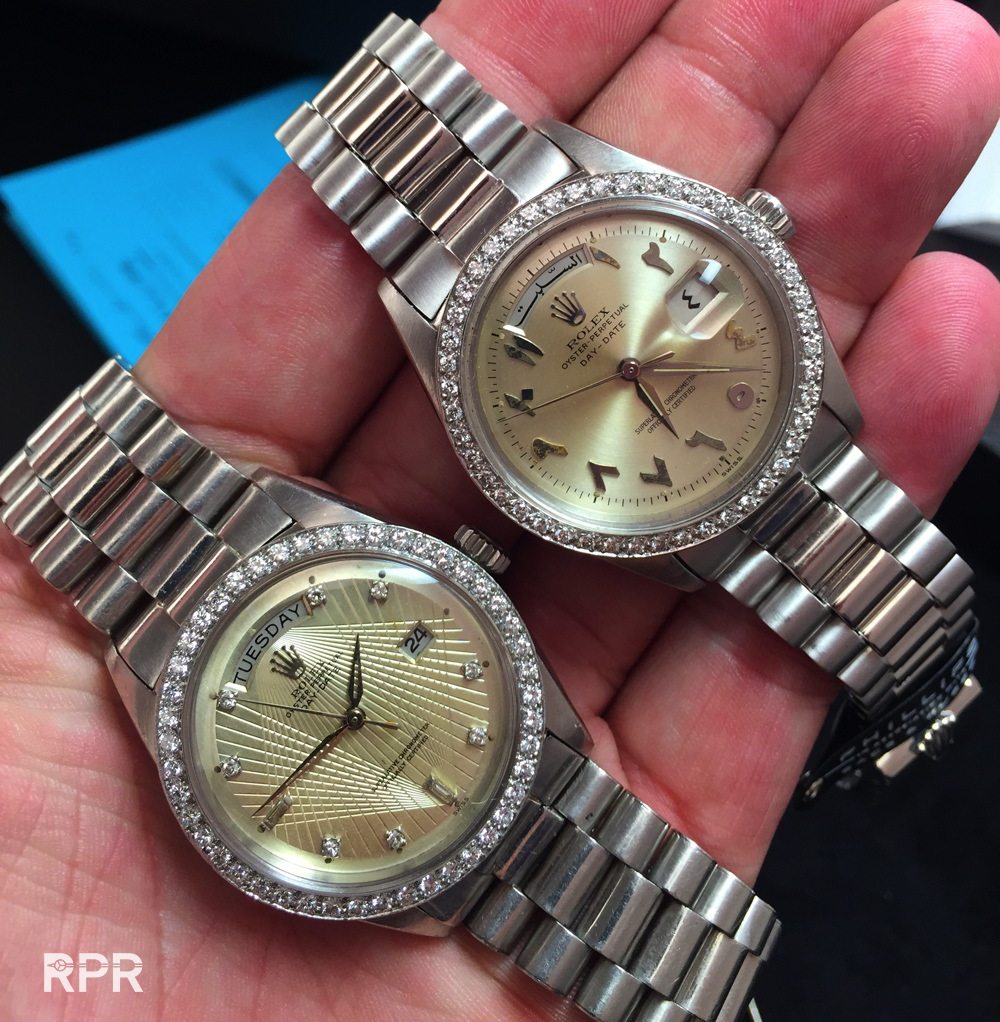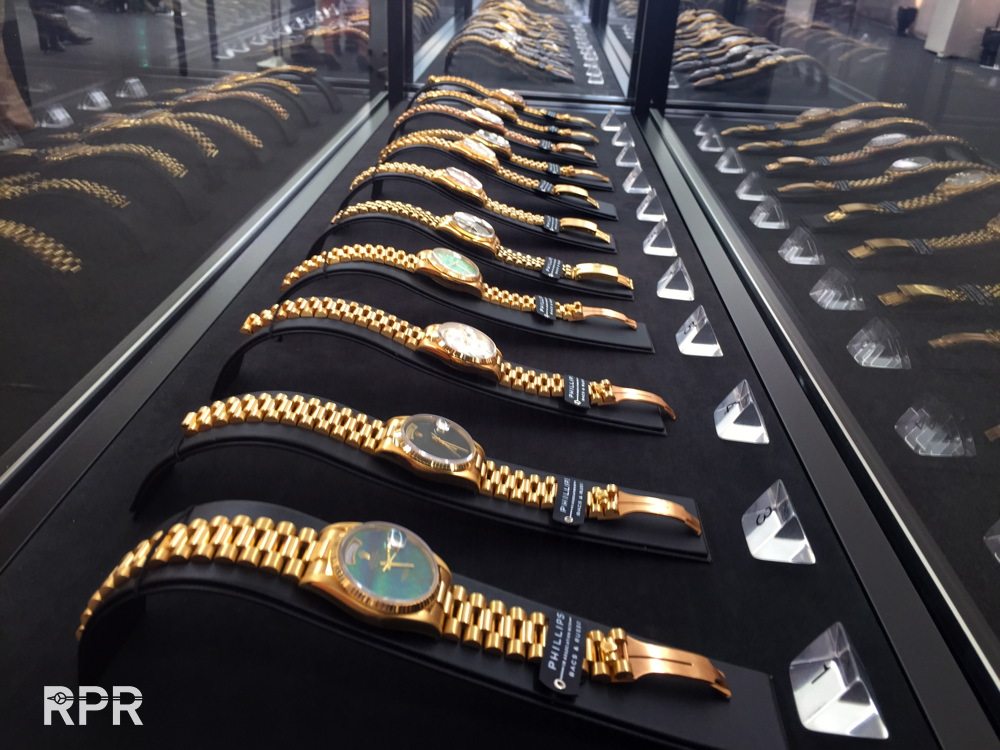 500.000 for a Day Date, the Big Kahuna with engine turned dial with diamonds…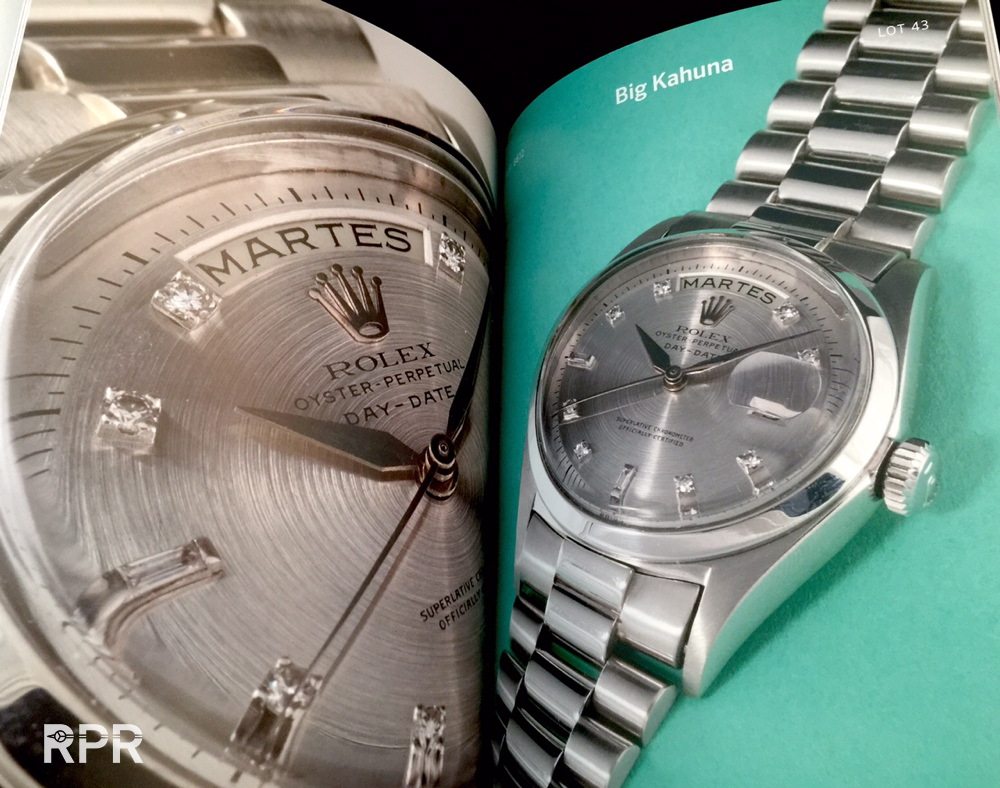 Complicated "old school" Patek versus bright Day Dates in the back, the fashion in collecting makes some results difficult to explain, emotion vs ratio..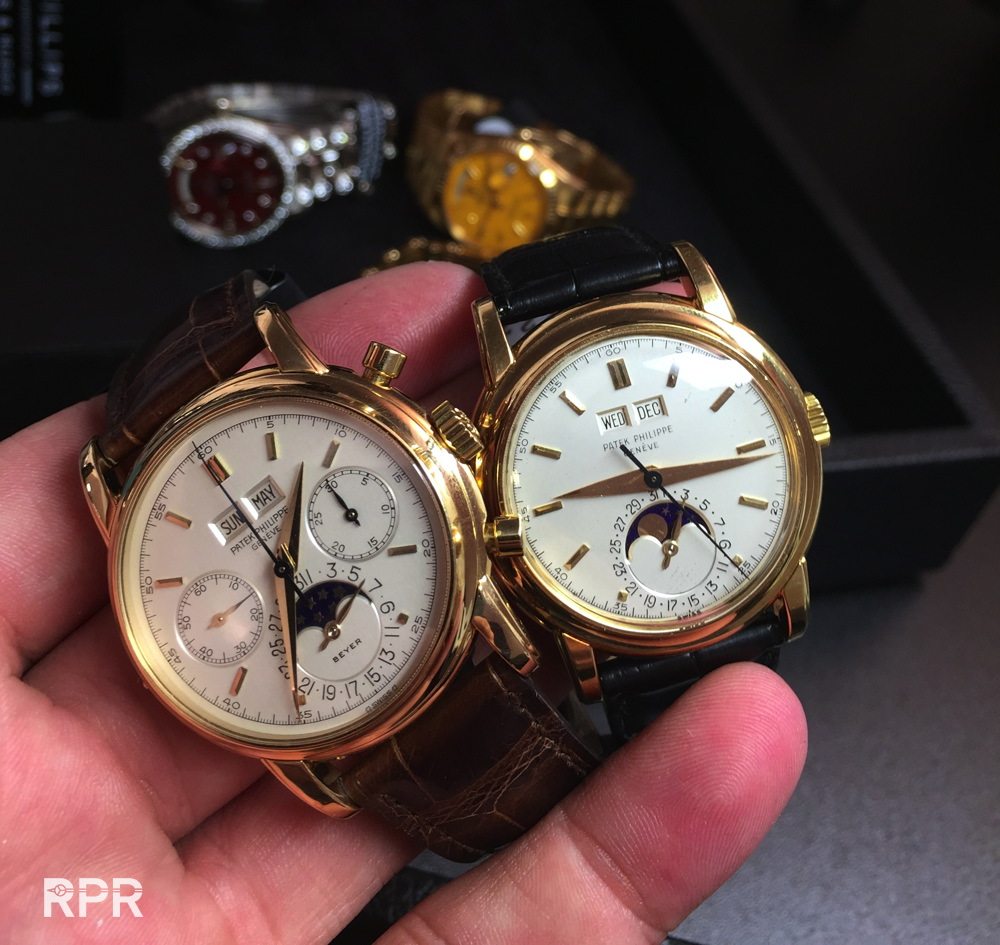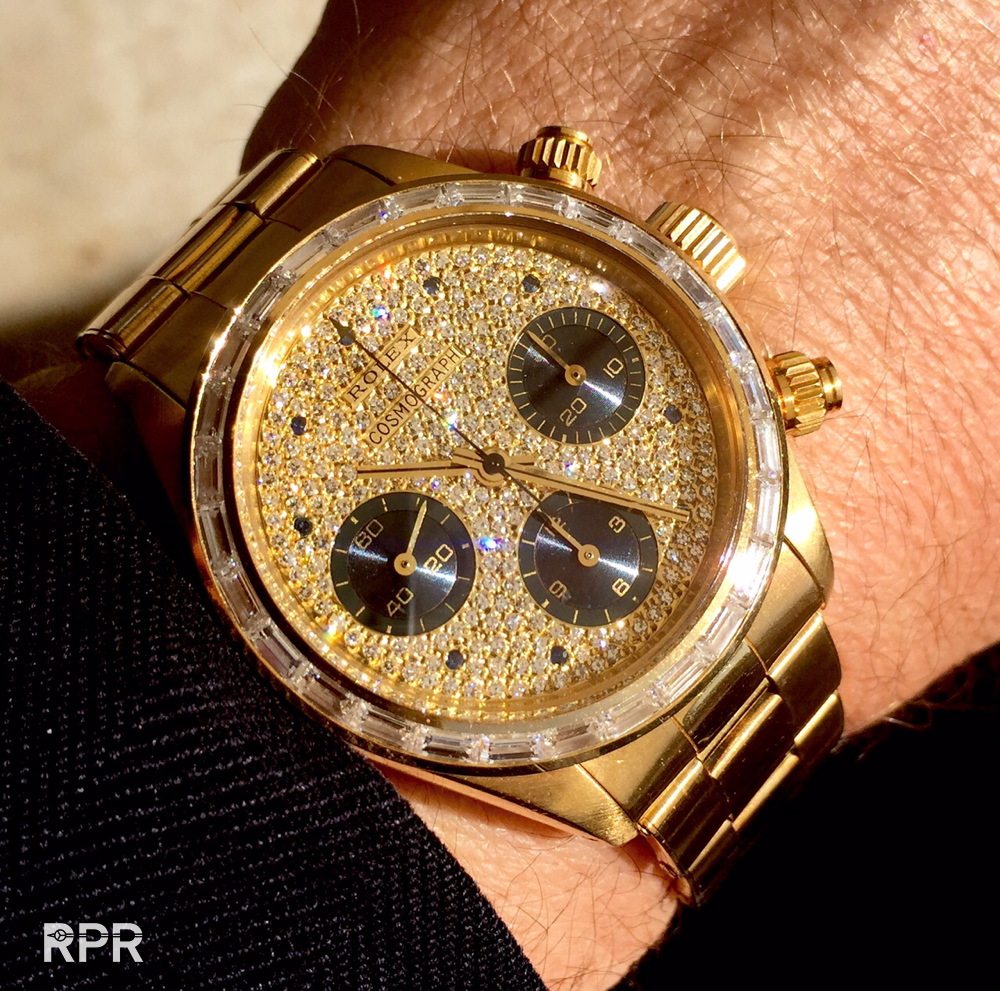 Bling Daytona on the wrist of a great collector and leaving Geneva city by boot below to La Reserve where Phillips auction was…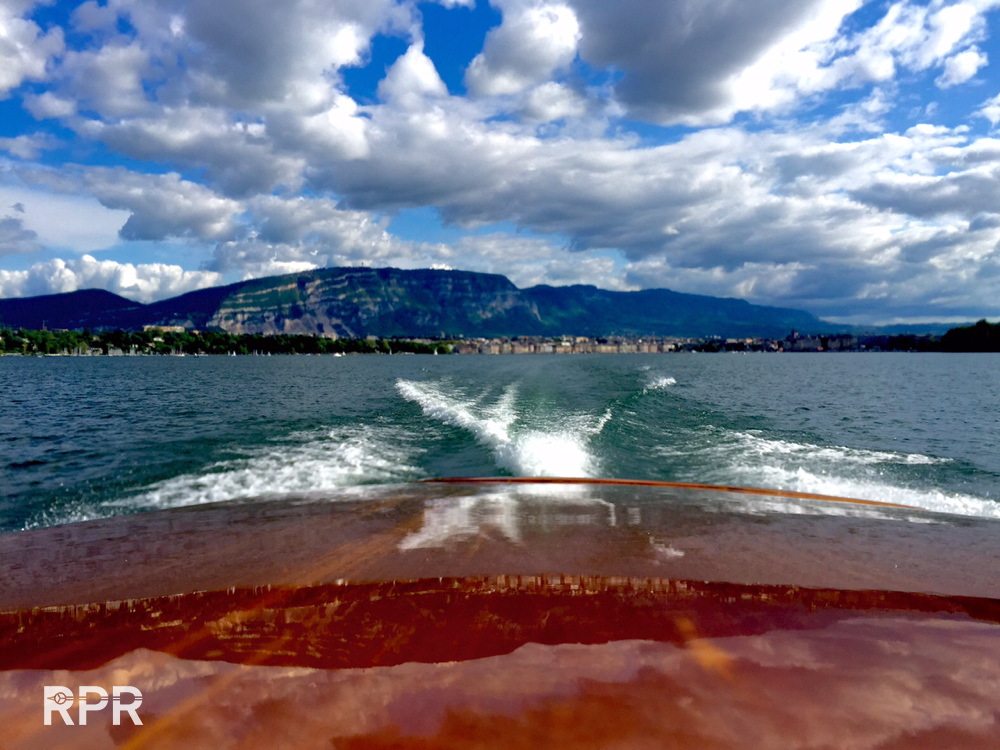 Red Depth Explorer I – Ref 6610 still with it's original hangtag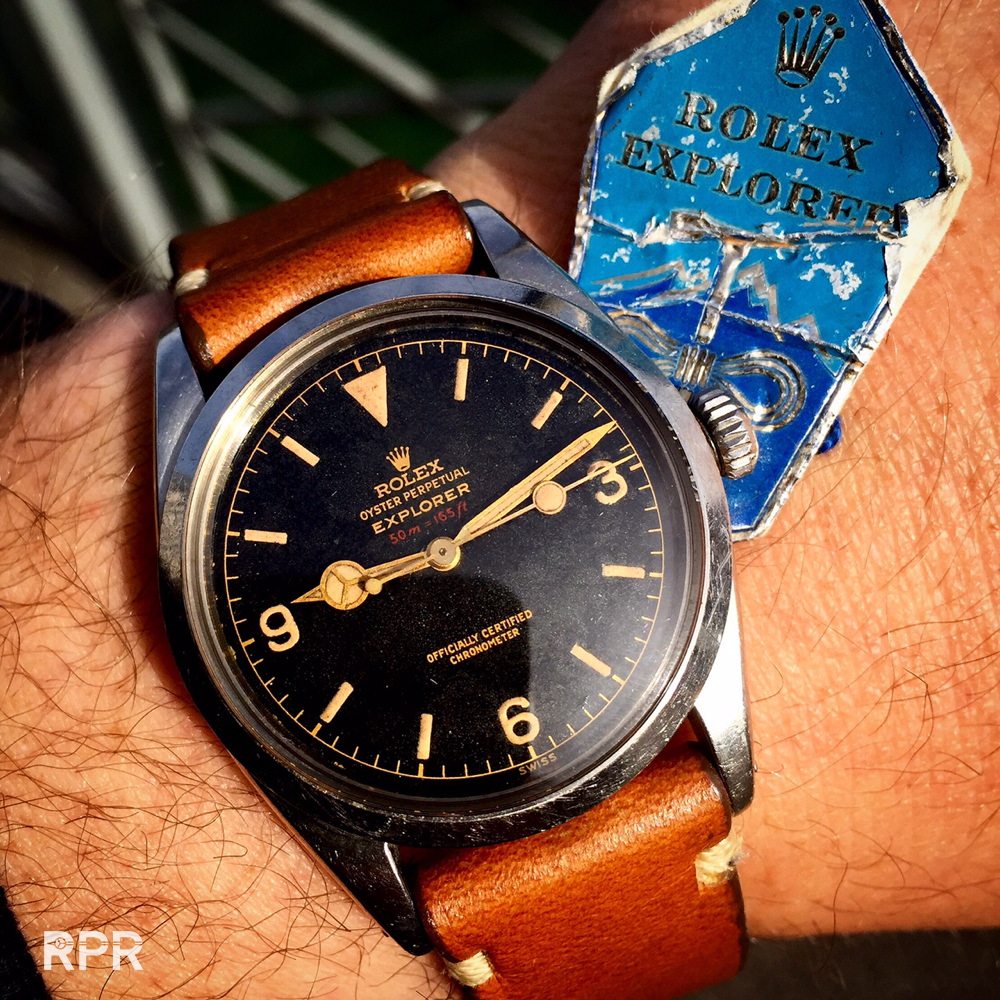 After strong bidding battle of the titans, this pink Stelline ref 6062 hit 1 million!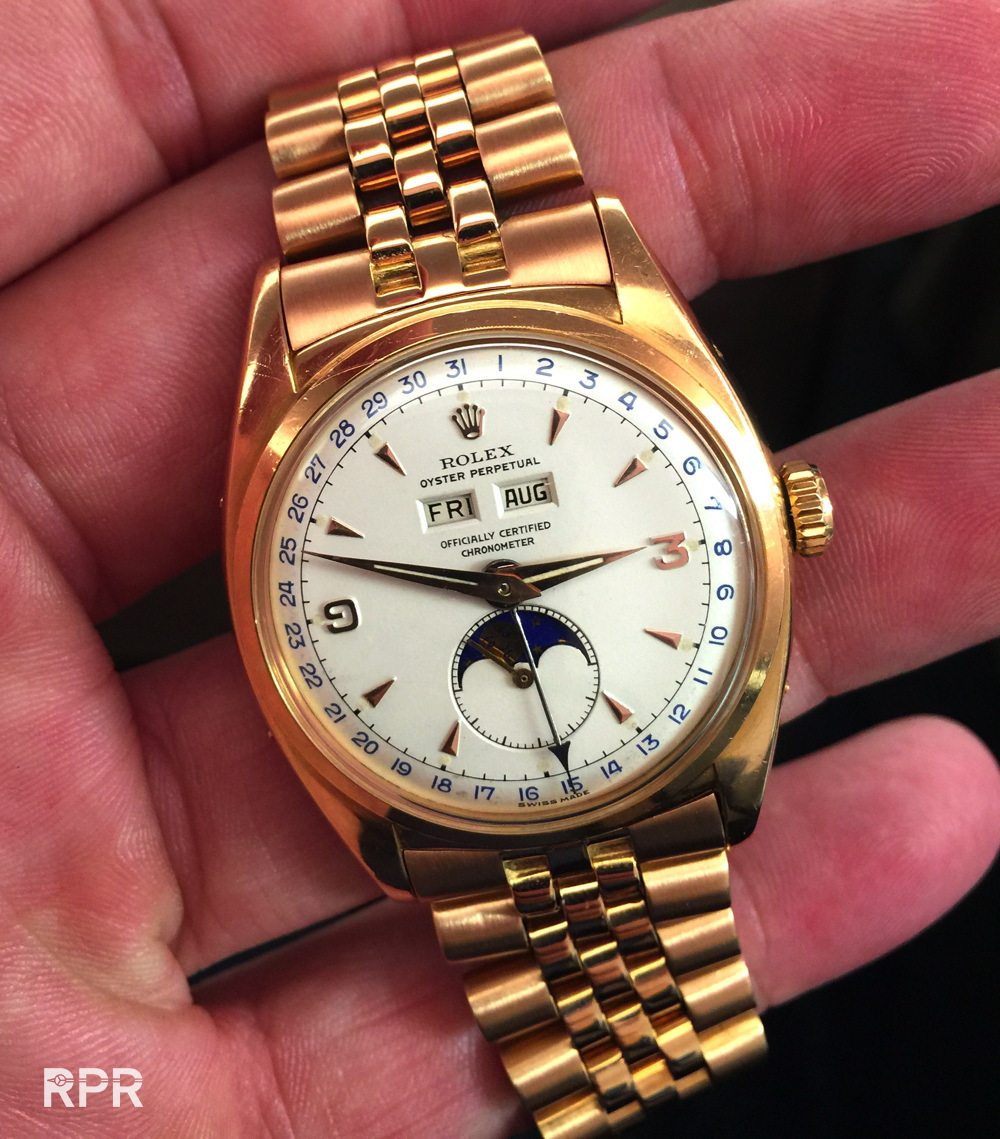 I stopped posting my personal remarks online before the watch sales but that doesn't mean I'm not sharing my thought with you after the sales 😉 Now for instance have a good look at this nice 8171 you see below, then focus on the luminous radium dots. You clearly see they are not intact anymore, neither do their have their original shape. Around the dots you see dark spots on the grenee surface of the dial. Now ask yourself how is it possible that the luminous is so dirty and the rest of the dial id not…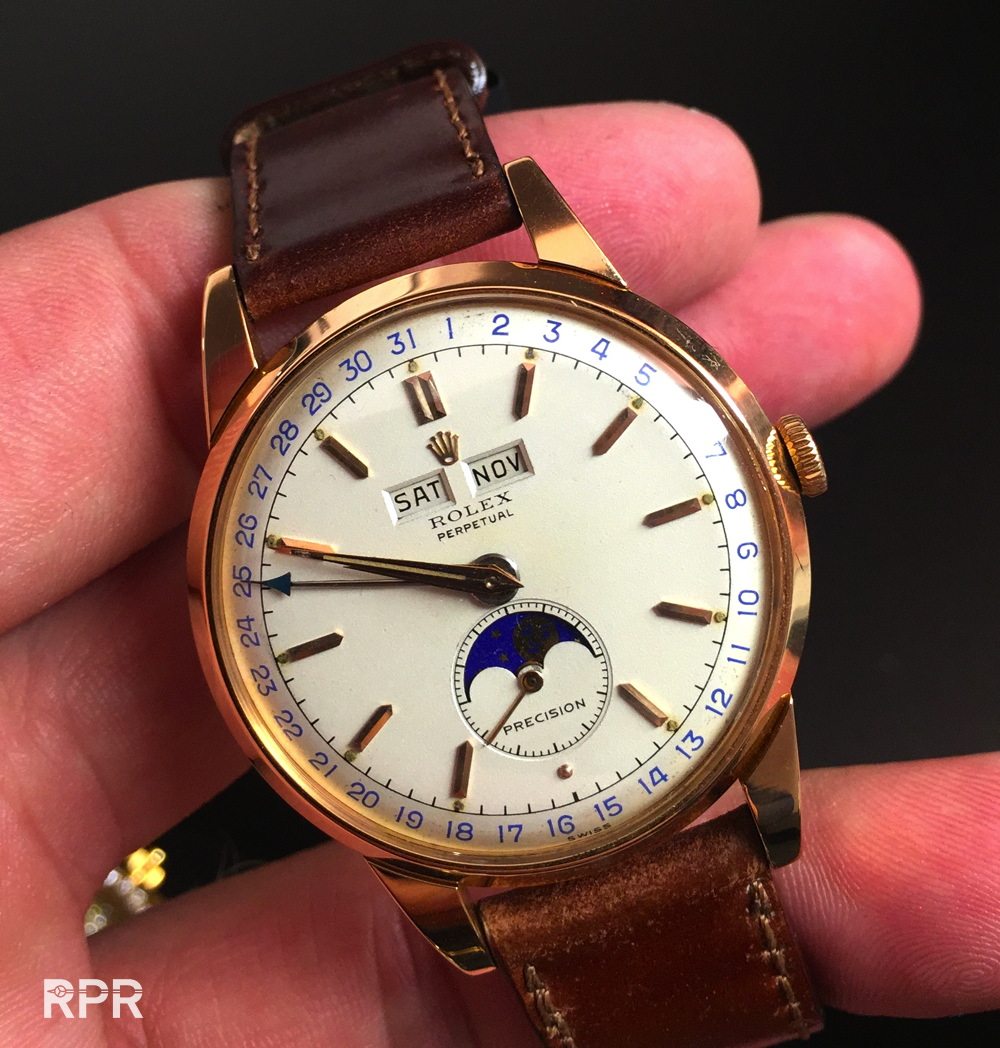 On the case back the numbers and hall marks where visible, it finally sold for CHF 341,000,=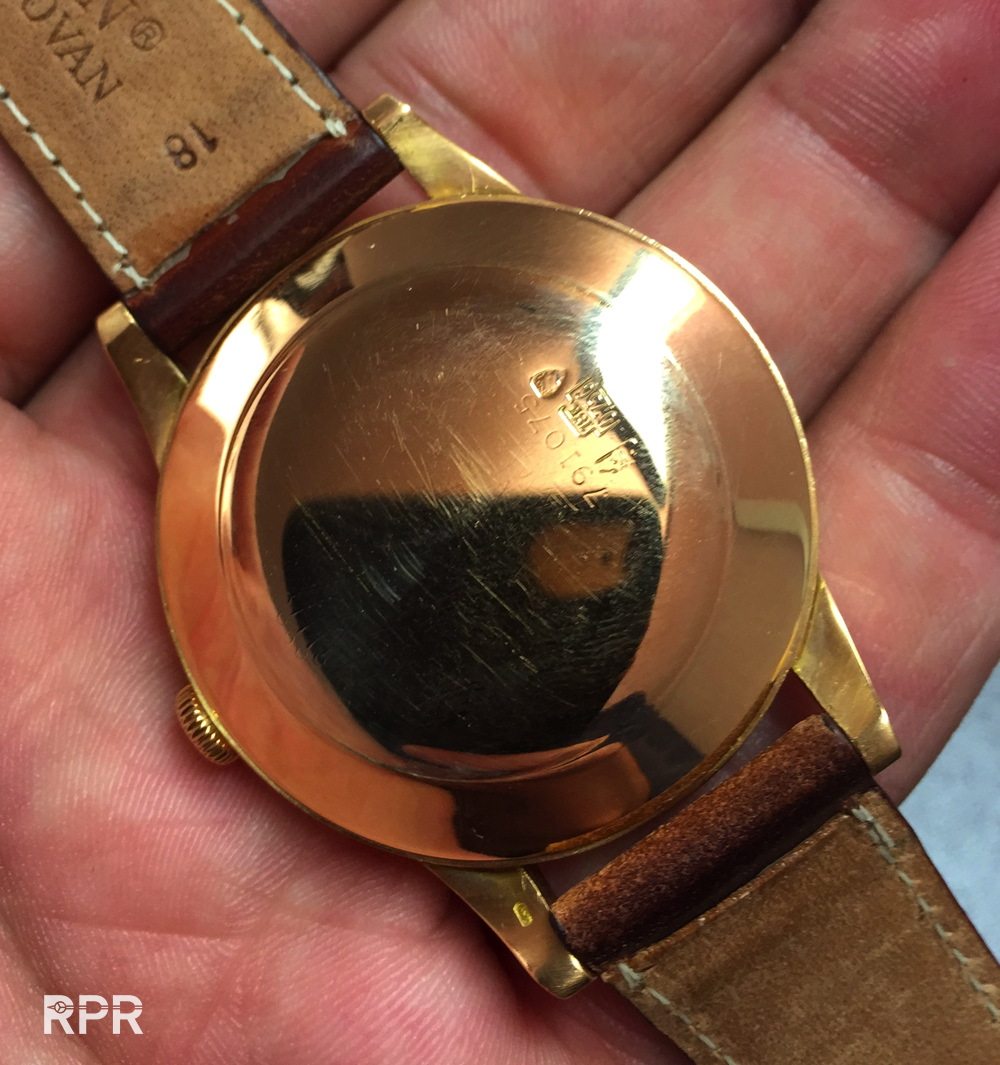 Plate Brasserie Lipp..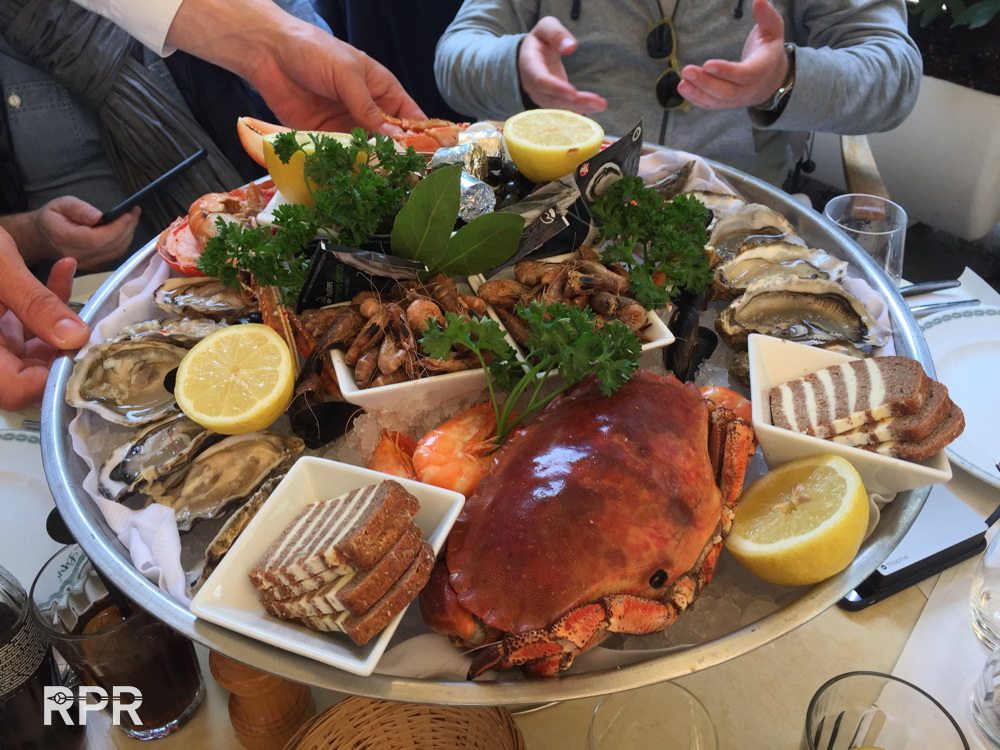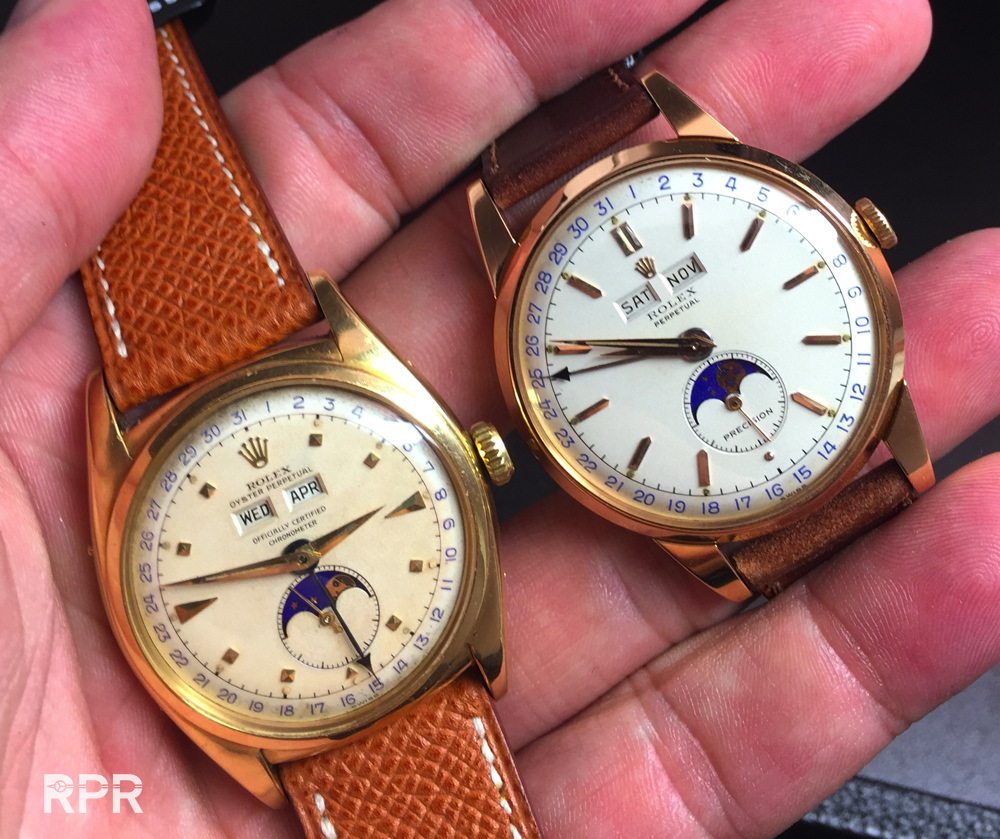 Pink on pink on pink Patek Philippe ref 1518 for 1.4 million euro…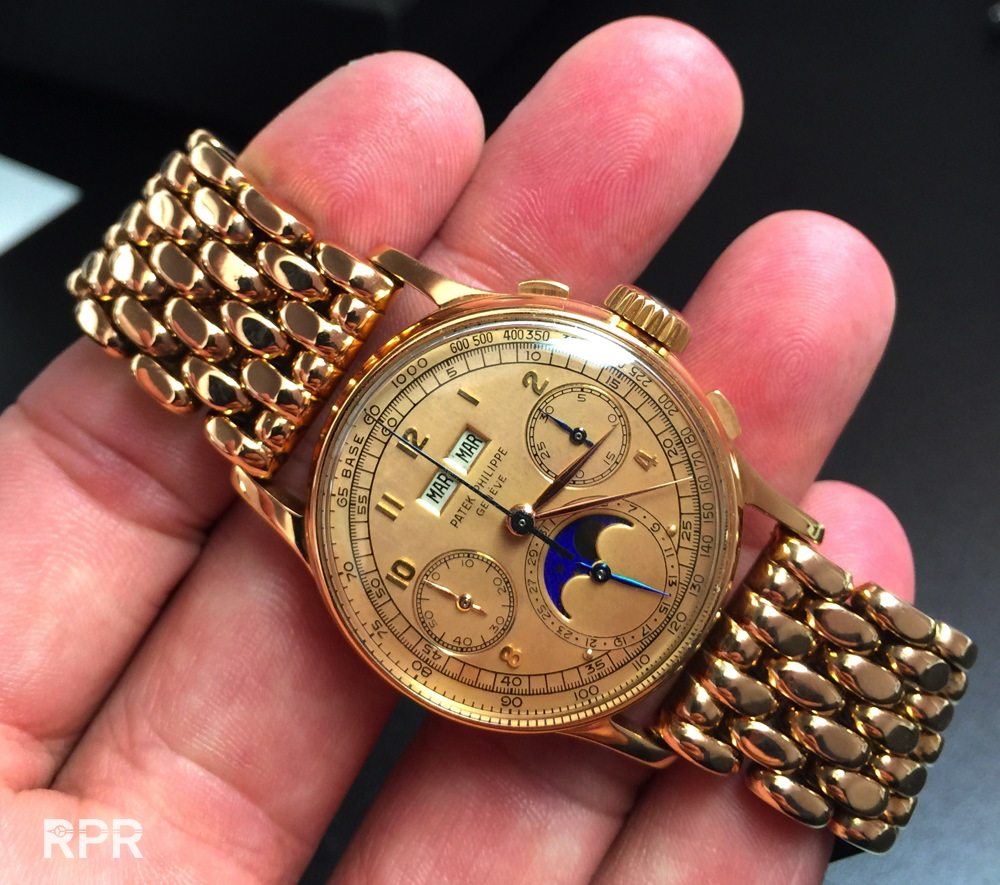 Black dialed Ref 6238 Pre Daytona going over 300K euro!..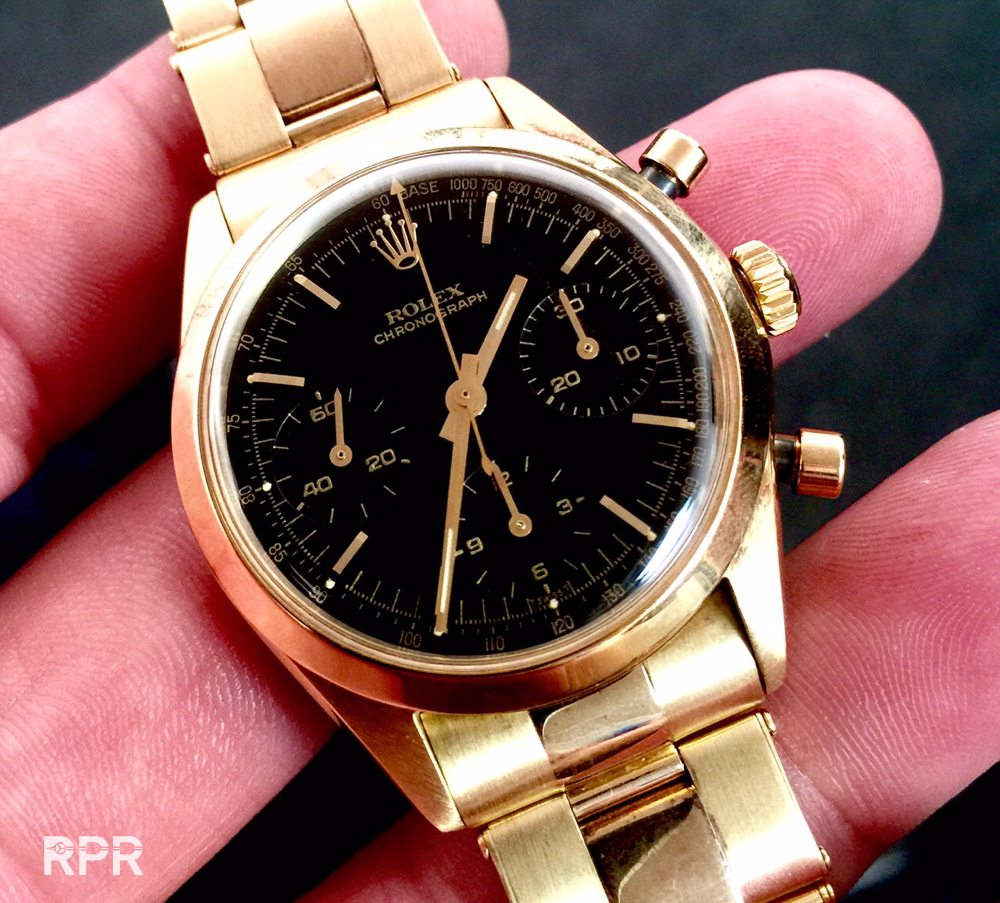 From the wrist of a great collector friend, never seen before white sundial on black Tiffany & Co Daytona in 14 carat…
Patek Philippe Ref 1463 with breguet numerals. What I personally don't still understand and i'm happy if somebody way more knowledgable then me on Patek Philippe can explain me is the following. The PPC dials are made in much better quality then we saw for instance at Rolex. For instance instead of printing the text with a cliche, the text on this waterproof iconic chrono has been engraved and then filled with black enamel. Now if we examine PPC dials up close we see many times that the dials have been damaged, randomly on the surface, in the sub-dials and below you see it's damaged on the È. So how come these dials got damaged I wonder. Was it during a service? Is the material aging by itself or where some dials kept outside the watch as some damages compared to the condition of the case, doesn't make any sense to me. When I spot them in picture I post in the future, I will show you. We know Patek services their vintage in detail, cleaning dial and re-polishing the cases back to factory standard.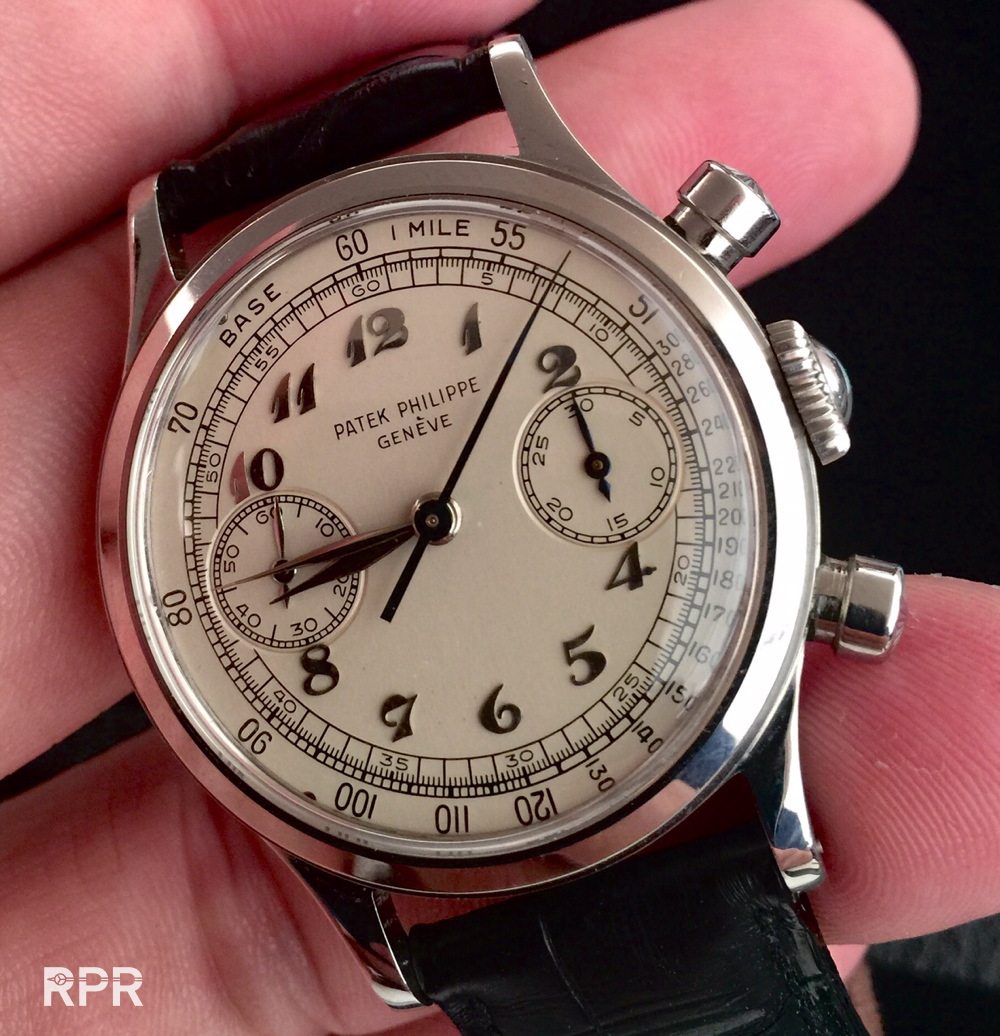 All results from Phillips you find over here and the special auction from the Day Date over here.
Then this happened… A so far unique Patek Philippe Ref 2585 in stainless steel, estimated 80-120K and former owned by John Goldberger who also published it in his "Stainless steel Patek Book". The final result, it sold for CHF 785,000,= !!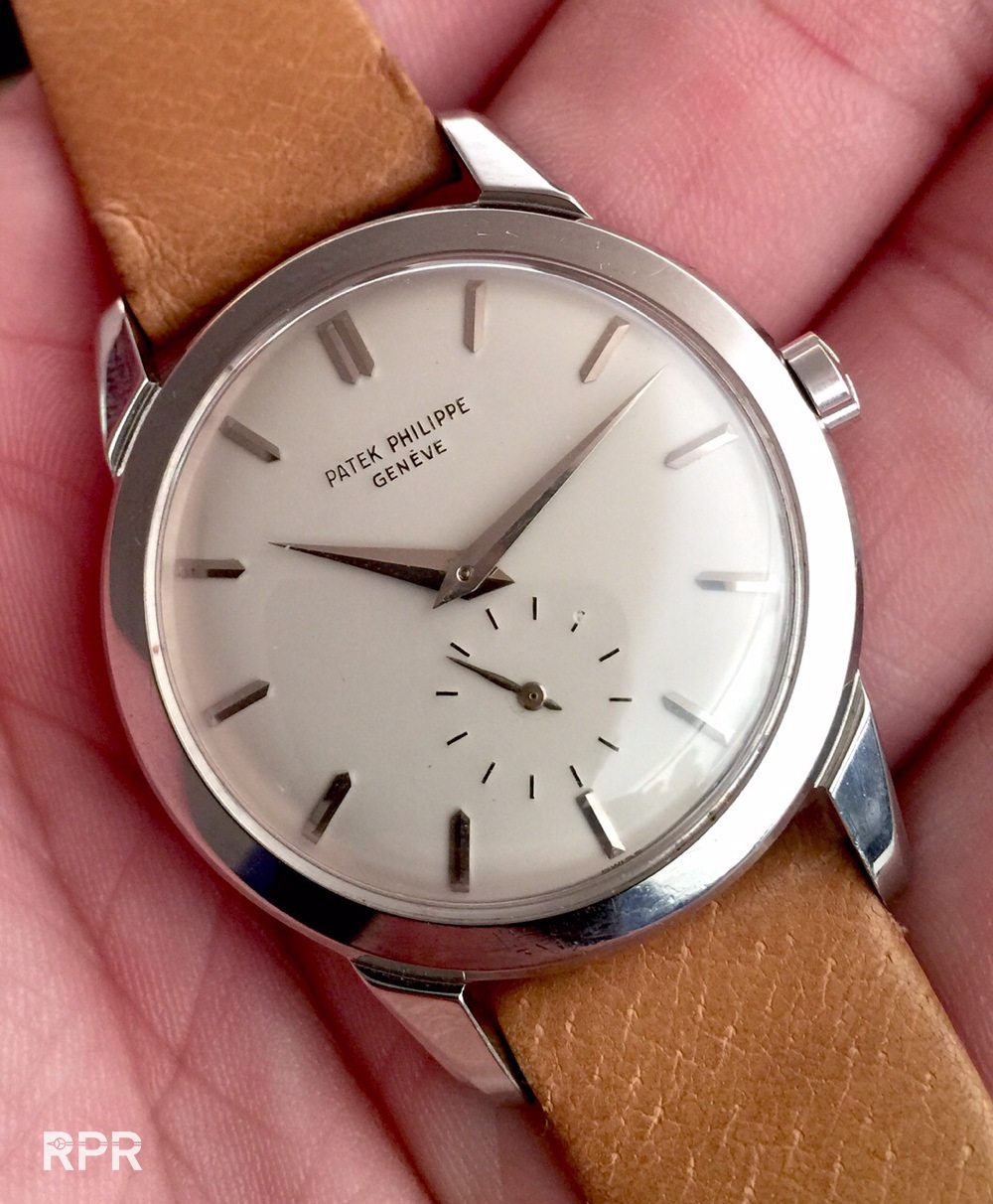 Much nicer in designer then above, the iconic ref 565 in waterproof case…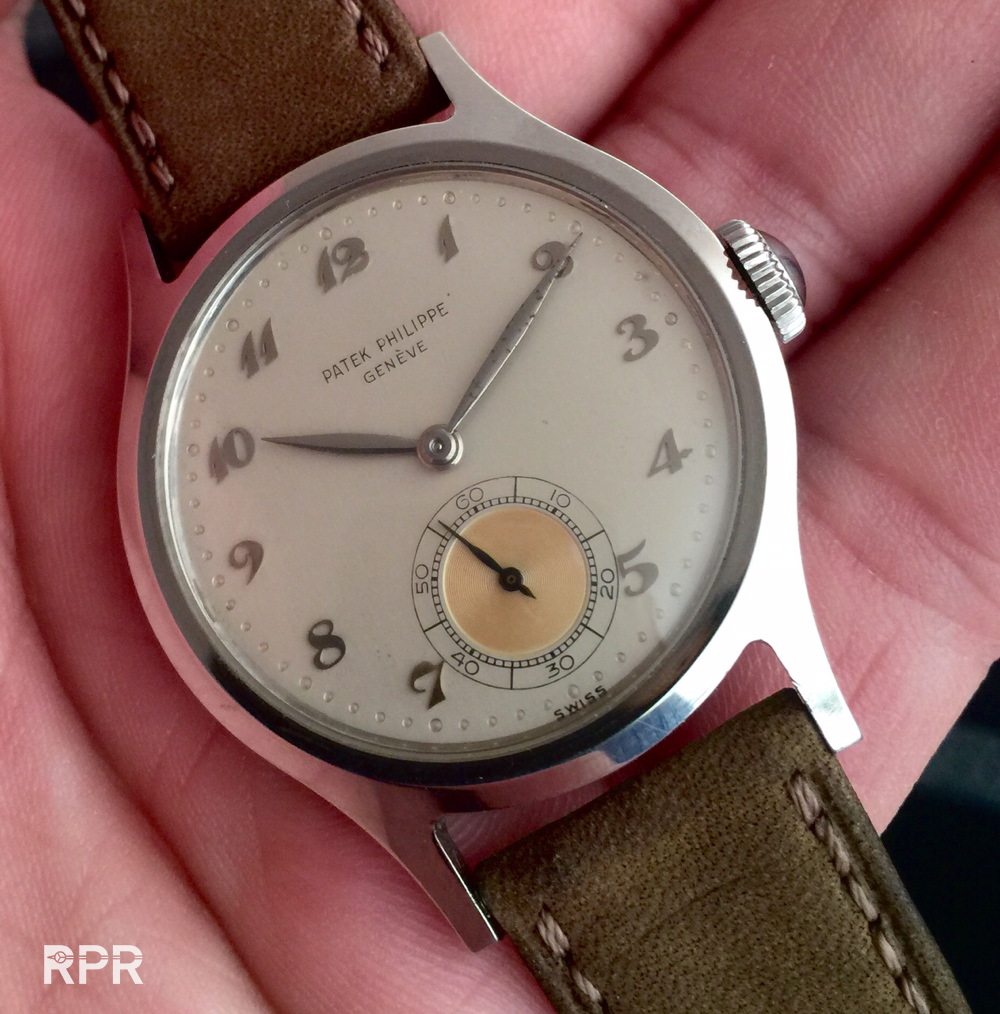 Lovely "Briggs Cunningham" ref 565 with patinated sub-dial fetching 90K..
Not so long ago, one of these ref 6269 sold for twice the value it fetched now; 450K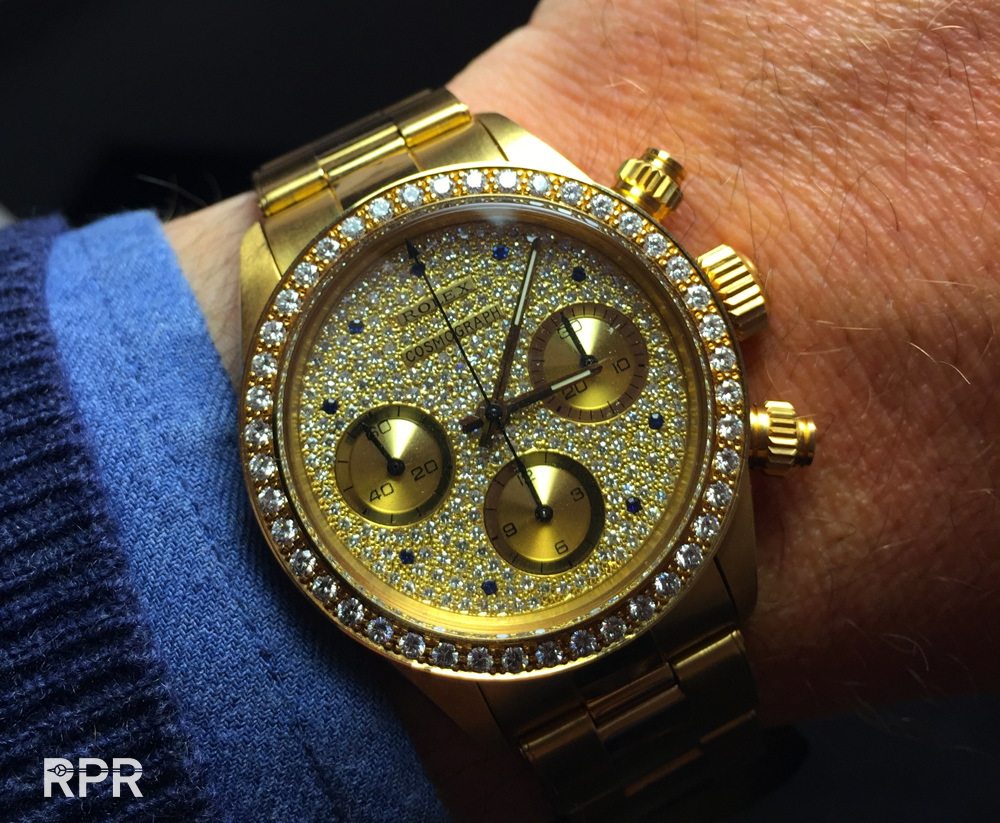 Tiffany & CO Pre Daytona..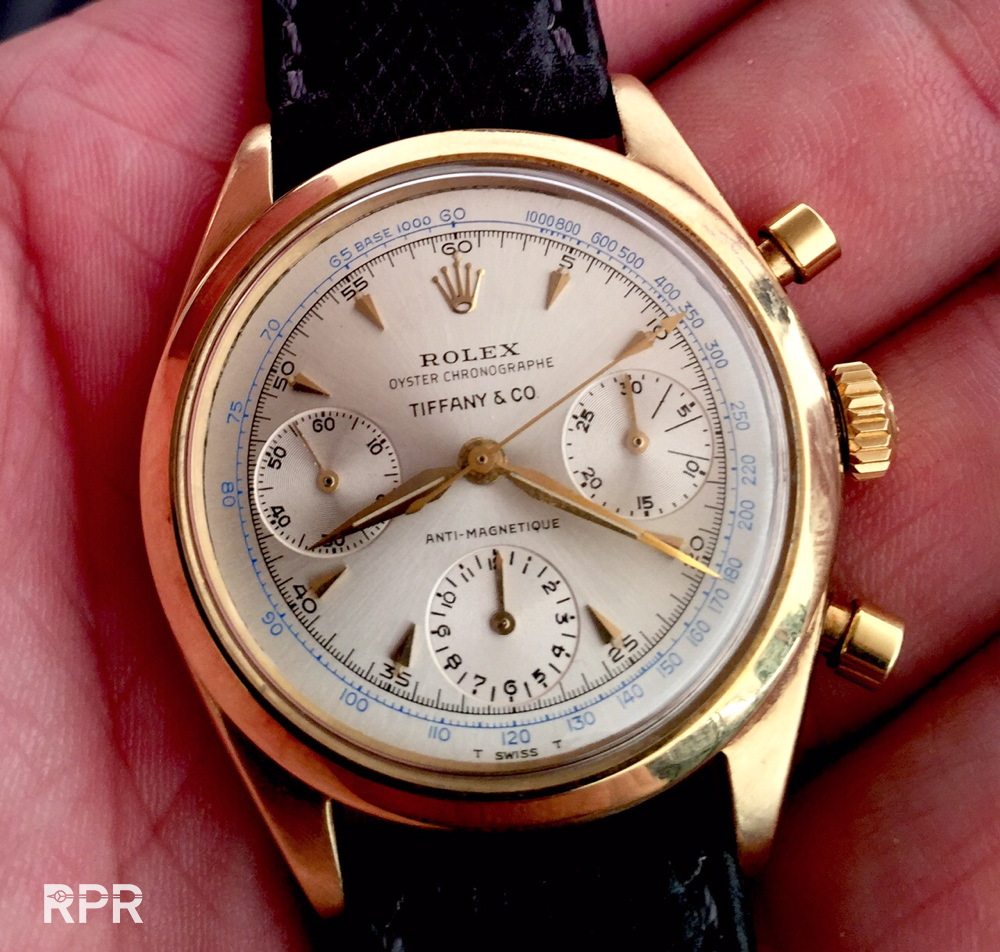 Two lovely Audemars Piquet Chronograph's front and backside picture..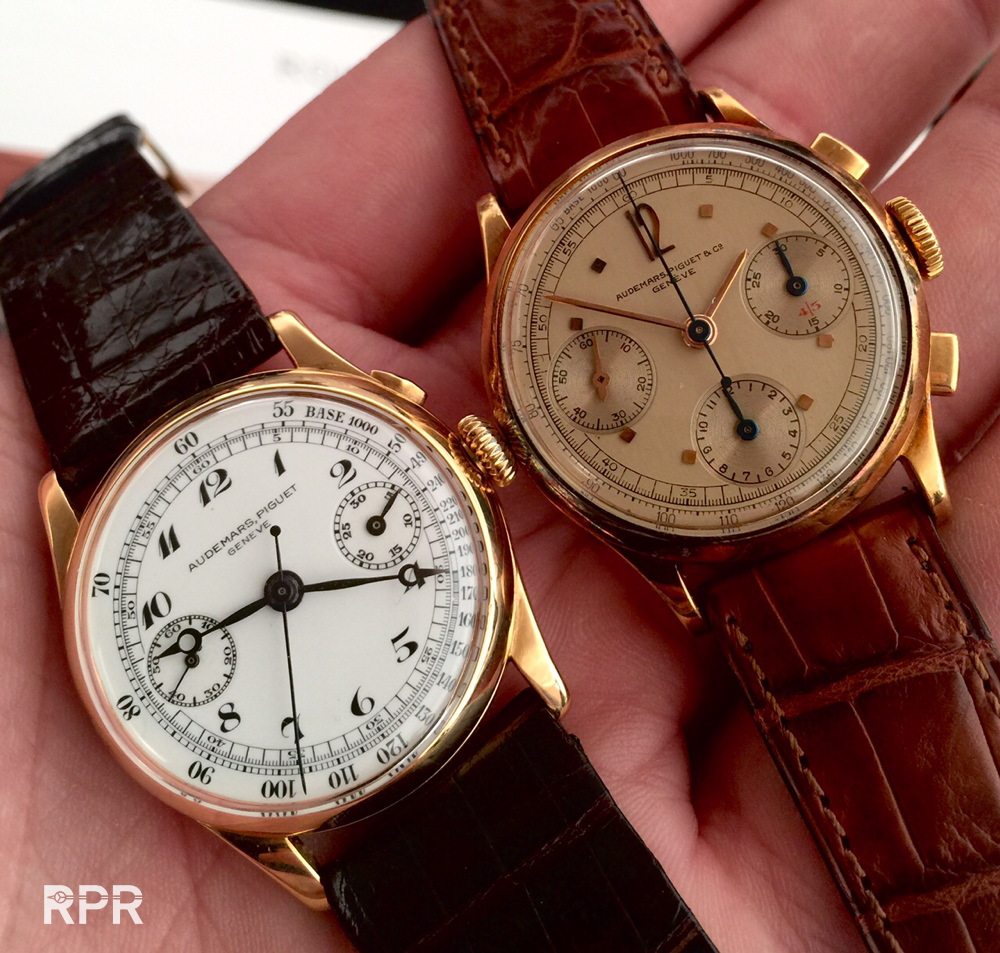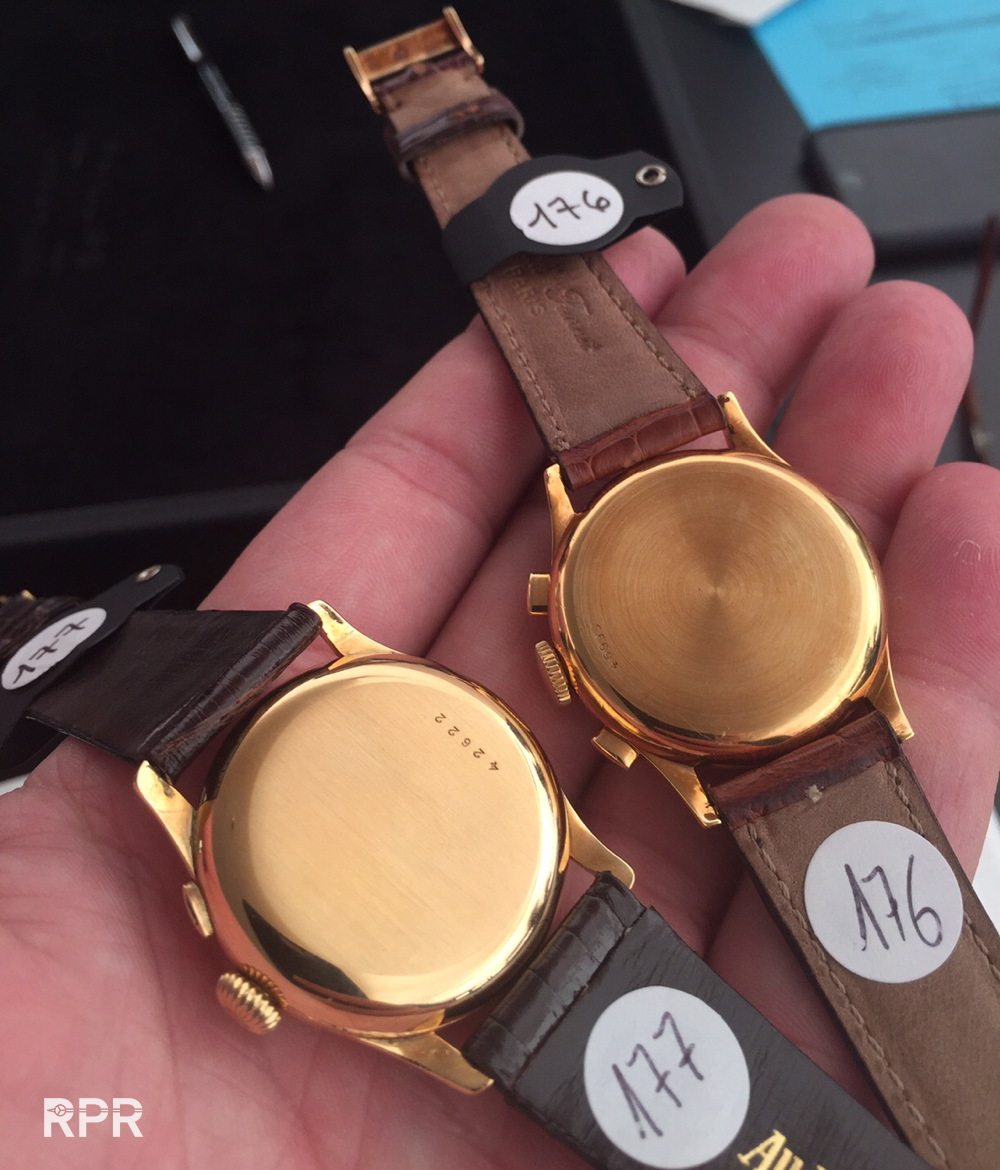 A crisp "Beyer" Ref 2499 Patek Philippe..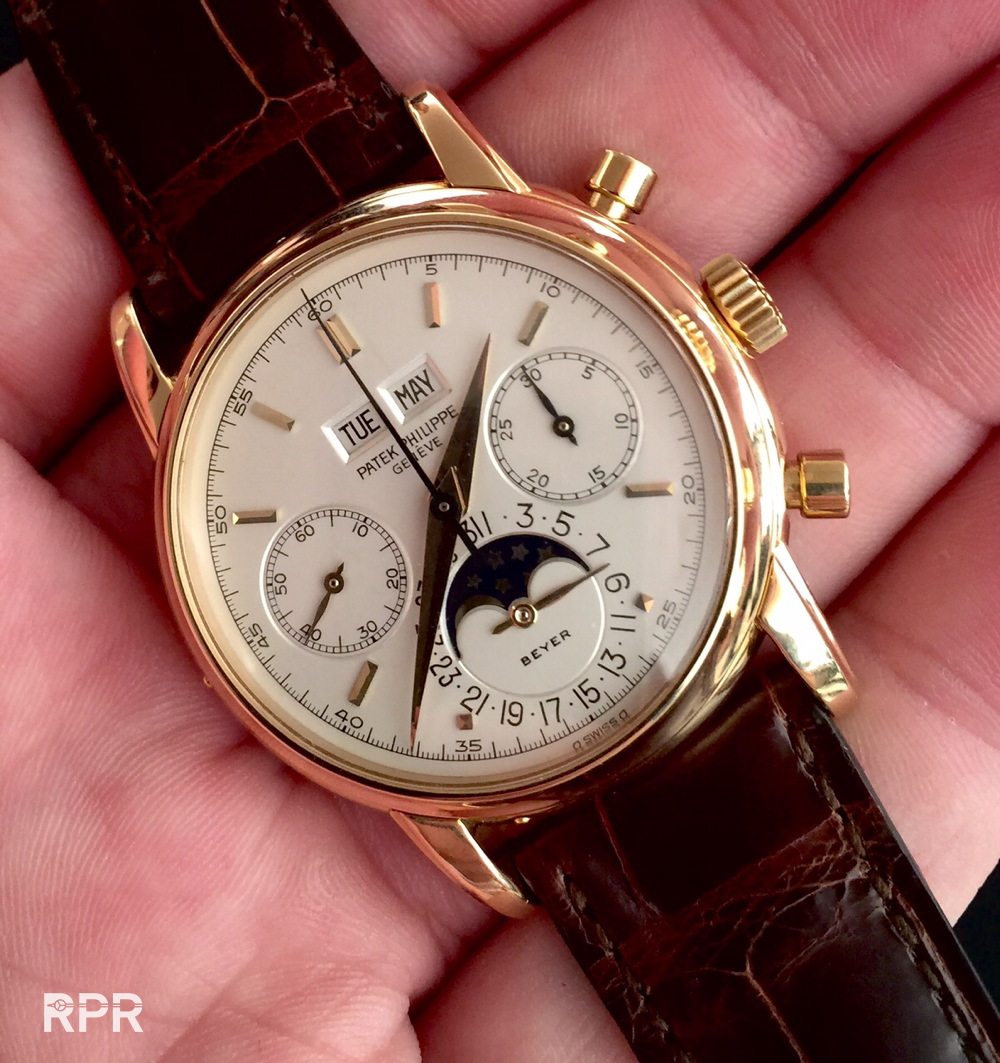 A very late white gold PPC 3448 and it's backside showing you the hall marks…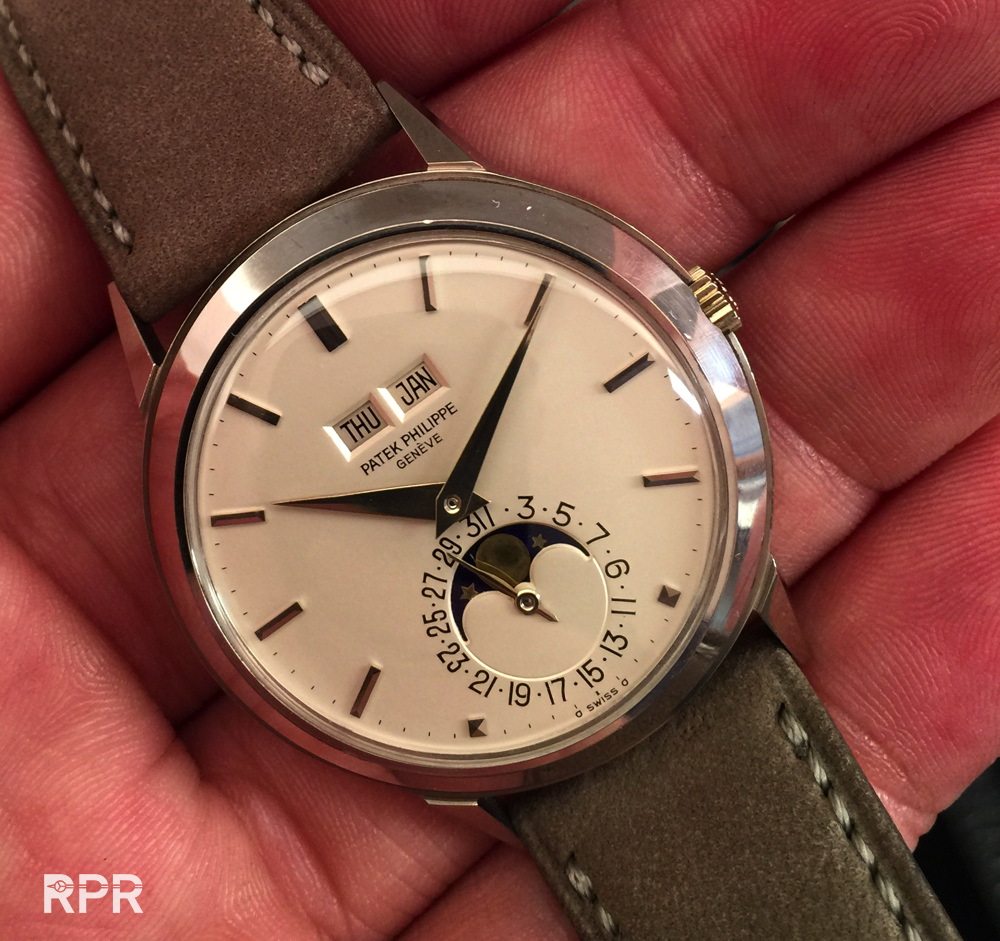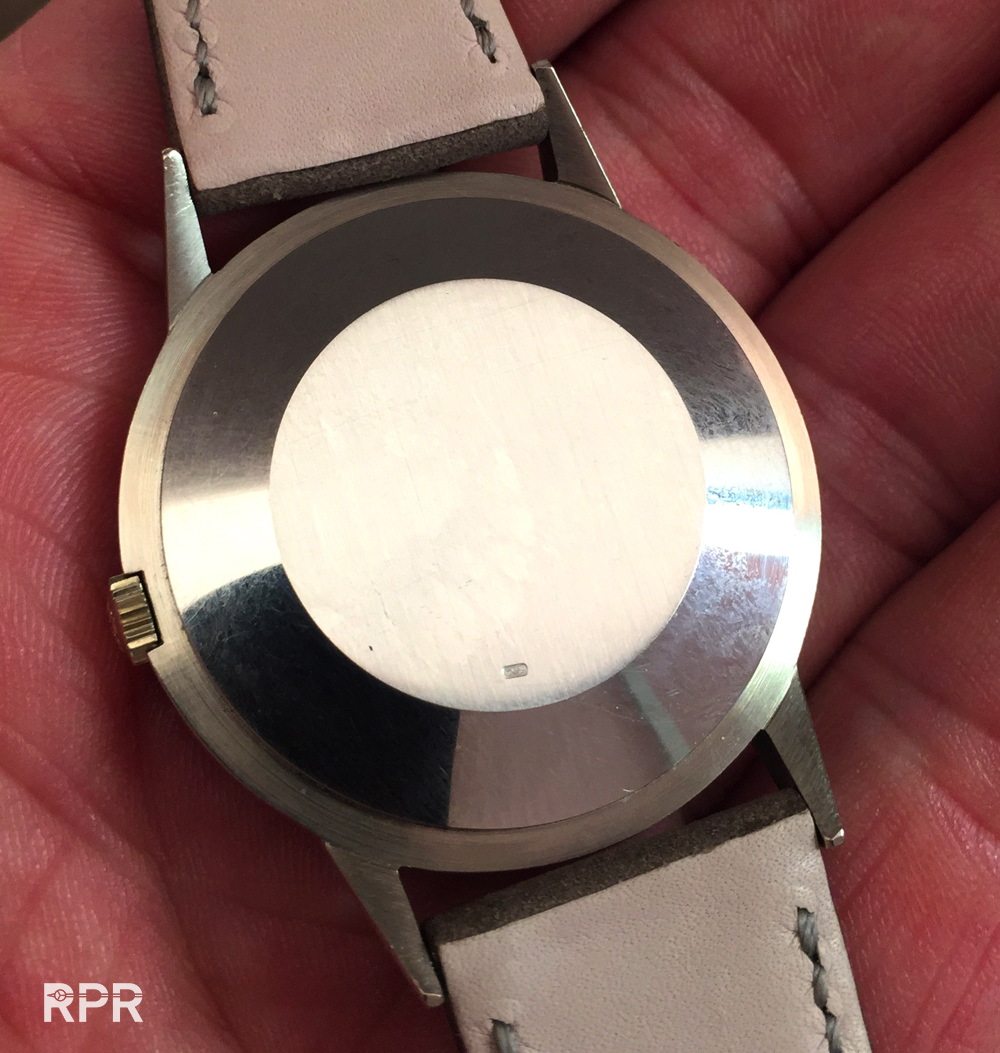 The gold 6062 Rolex Stelline of which the dial had been swapped, which was quite easy to detect as the moon disc is blue instead of rarely seen black, finally hammered at 420K going back to the trade, which is still a great result, all in SFR 509,000,=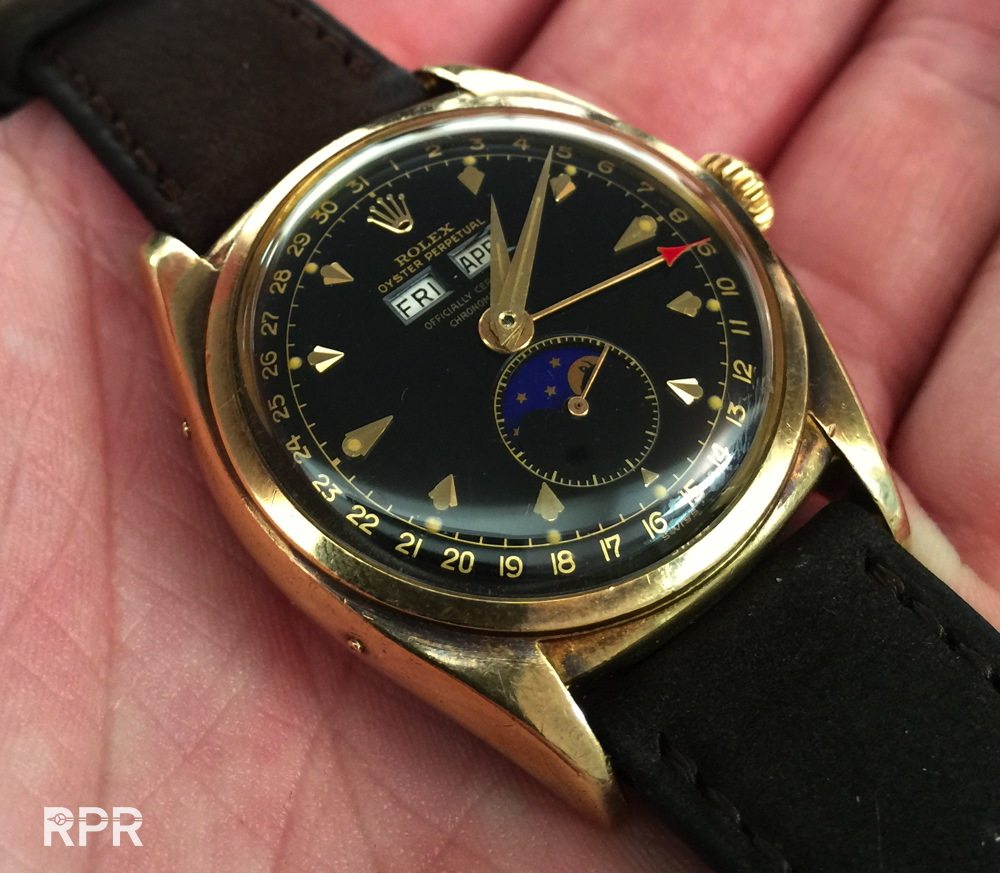 The fresh to the market Killy not going very strong because the luminous wasn't great on the dial, not matching hands and polished case, unless that its selling for SFR 203.000,=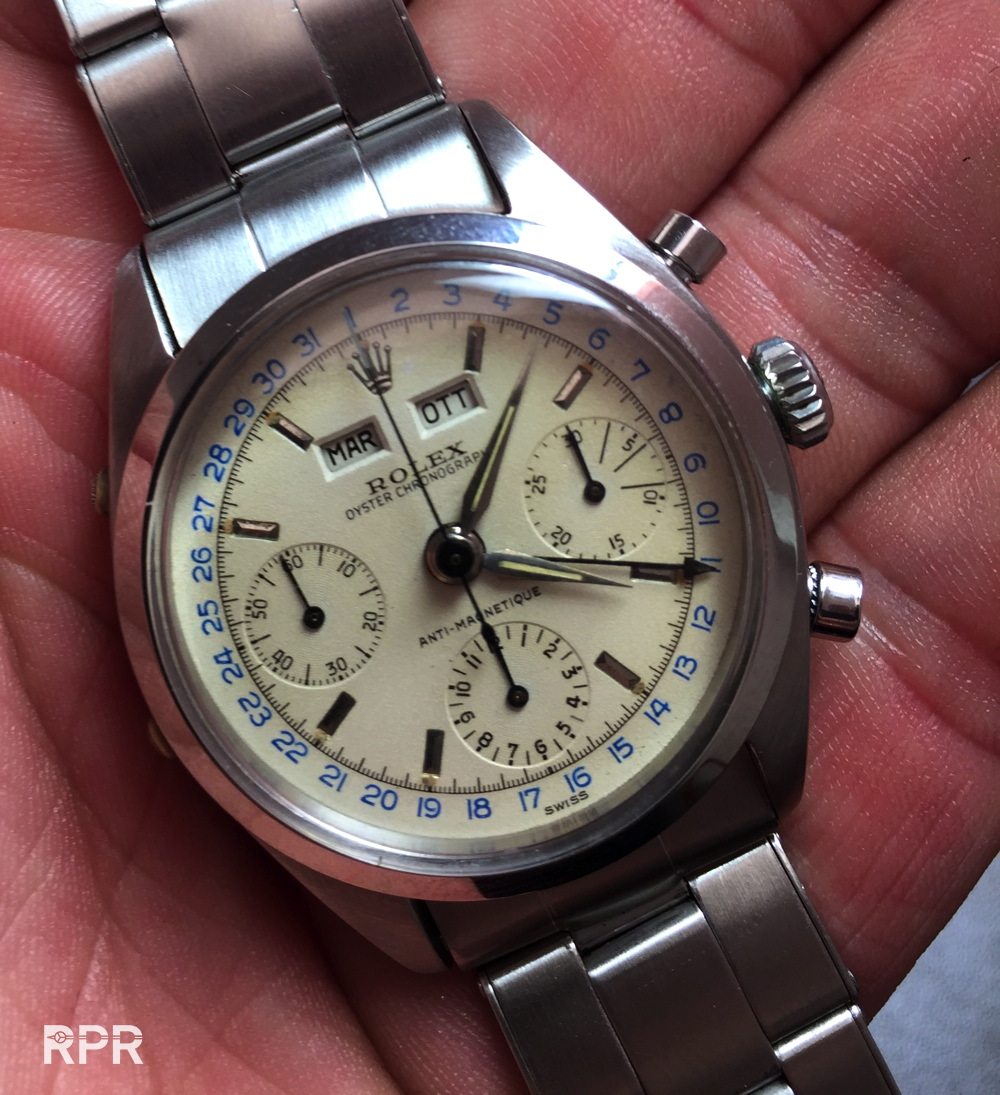 All auctioned Comex went kind of low, seems that great provenance examples don't come for sale at auction anymore. Missing numbers in the case back, no Hudson letter or any diver provenance makes them sell for average prices…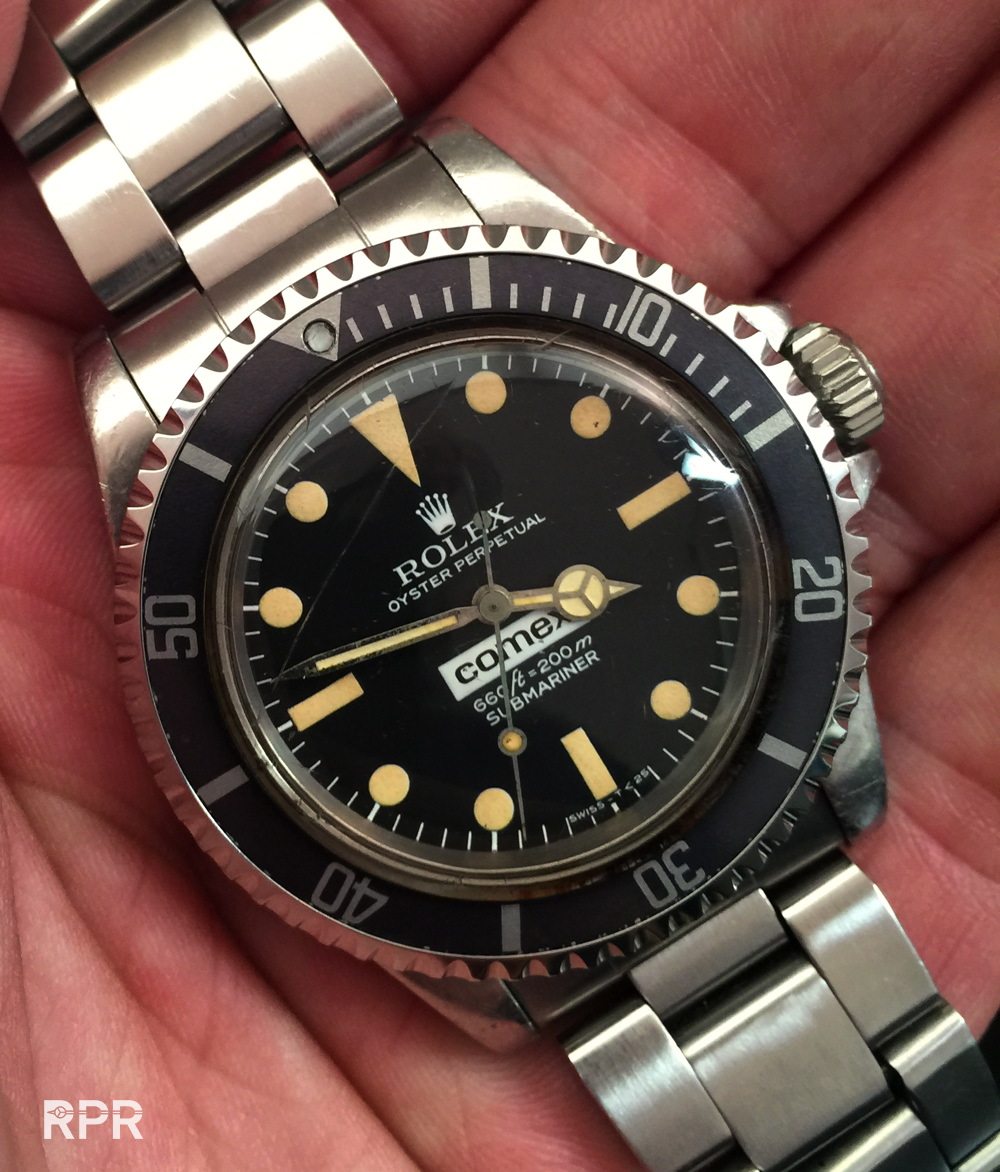 Now this one I really liked, wonderful case and almost perfect salmon dial went crazy in price, over 200K hammer there where the estimate was 50K. Congrates to the nice US collector who finally won it, happy for you!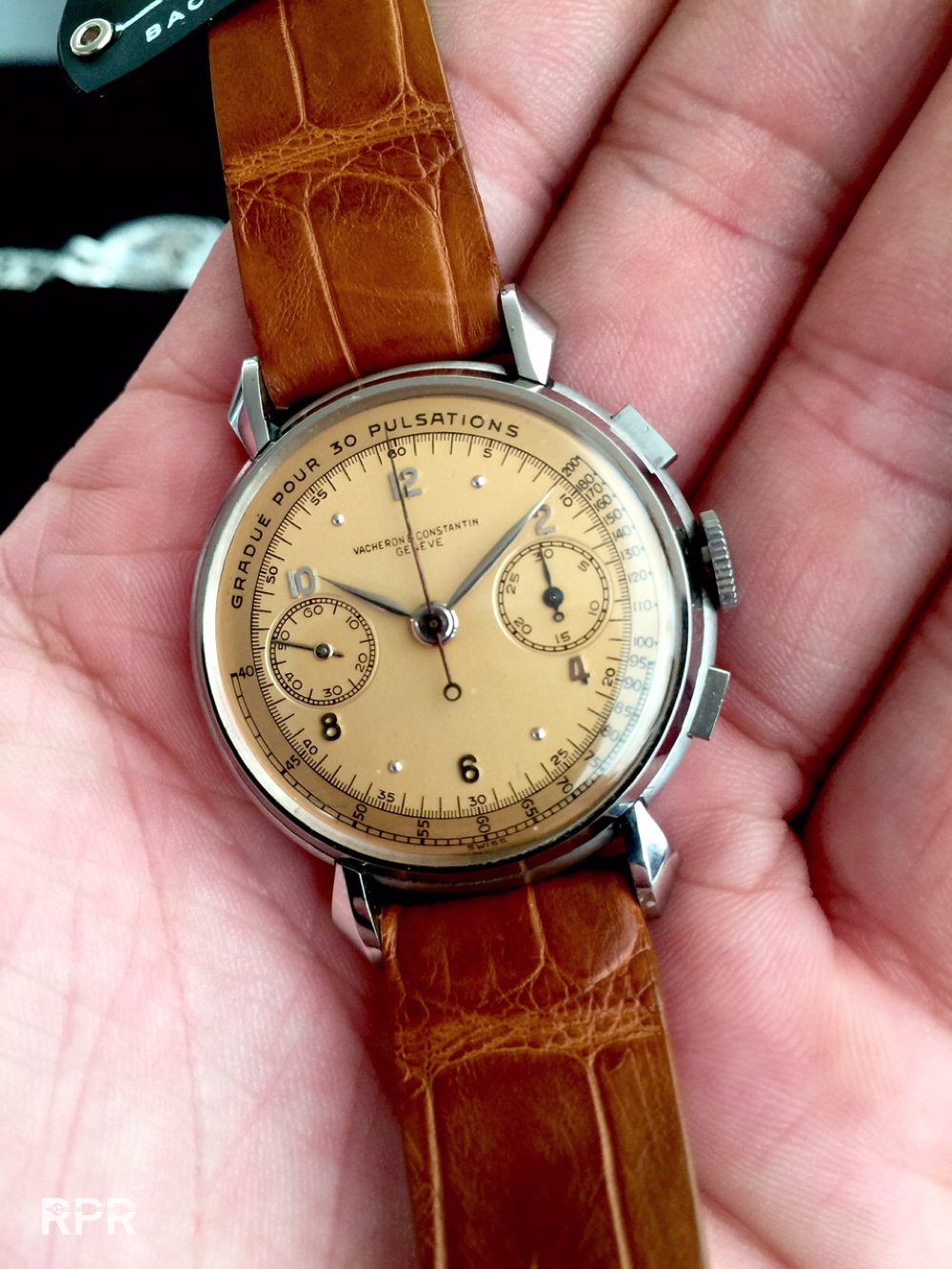 The Military 5513 are selling high since some 1 year. The results at auction are not in line with the prices in the market, it seems that collectors are having difficulty finding a correct matching one in the wild and therefor bid strong at auction. The "secrets" around these special Rolex references make starting collectors wanna bid safe at auction, assuming the specialist are aware, this one was CHF 118,750,=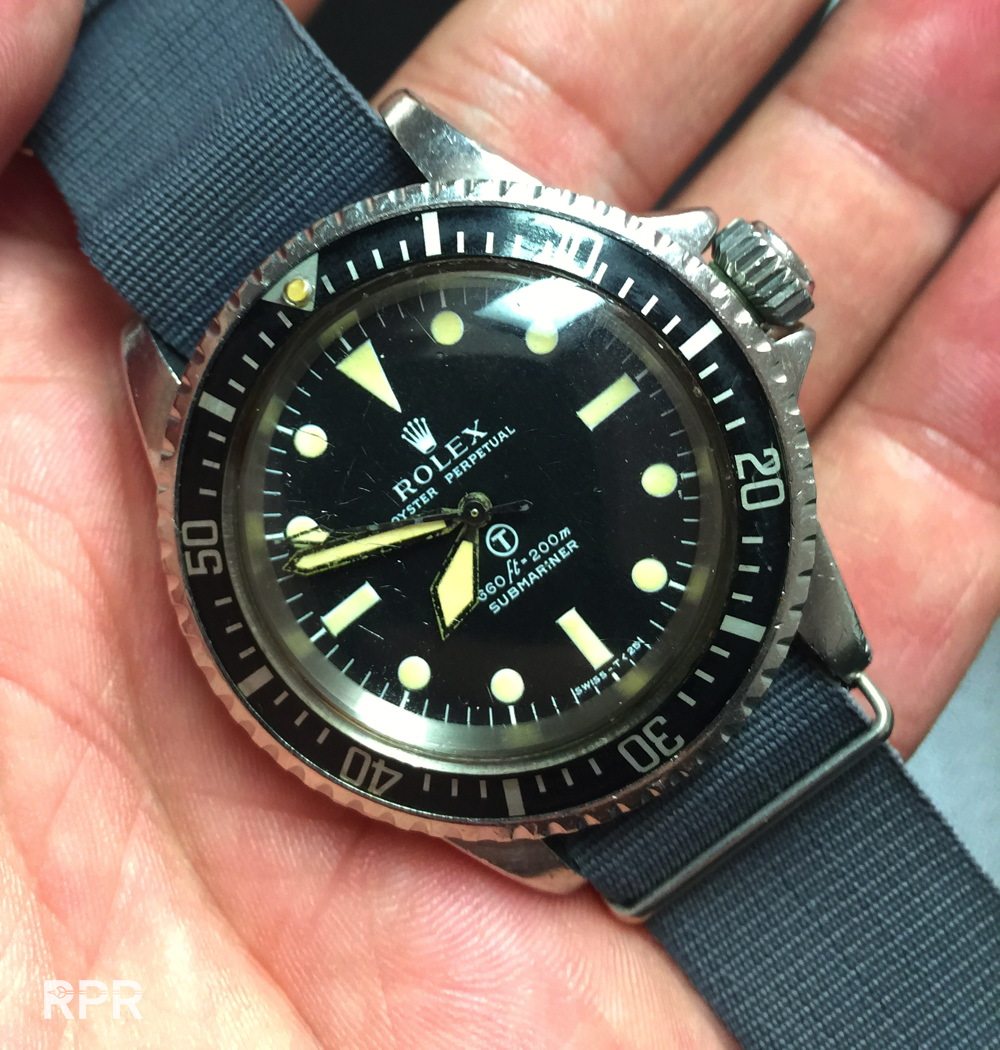 Below we see the Phillips Oyster Newman on the right, of which seemed that the luminous was intact, having matching hands, case, early pushers and bakelite bezel fetching a strong 350K all in. The next day a obvious relumed Oyster Newman sold at Christie's for 190K, still a very strong result! So correct luminous is making 160.000 euro difference. It's all about detail!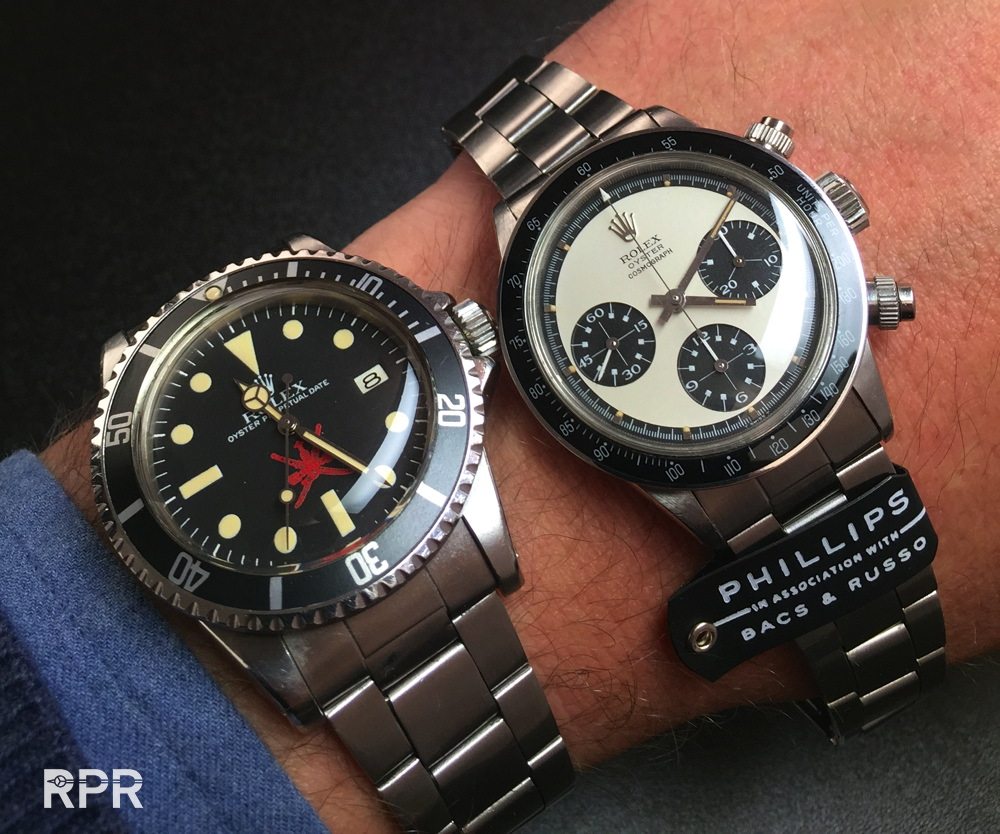 Some sports models that kind of disappointed… The bright blue service bezel not having any radium anymore, UNSOLD!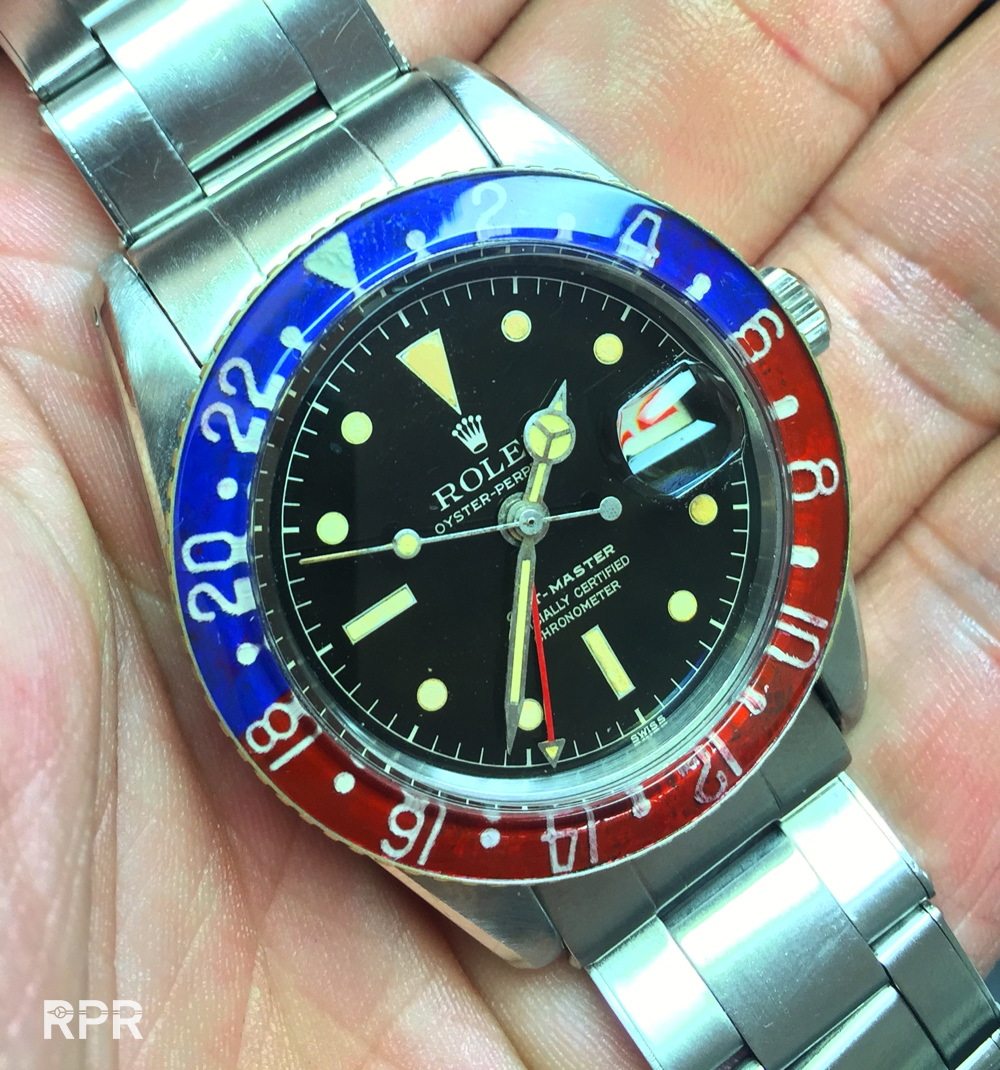 the stained surface of the 5510 spoiled a great result, making just 70 hammer..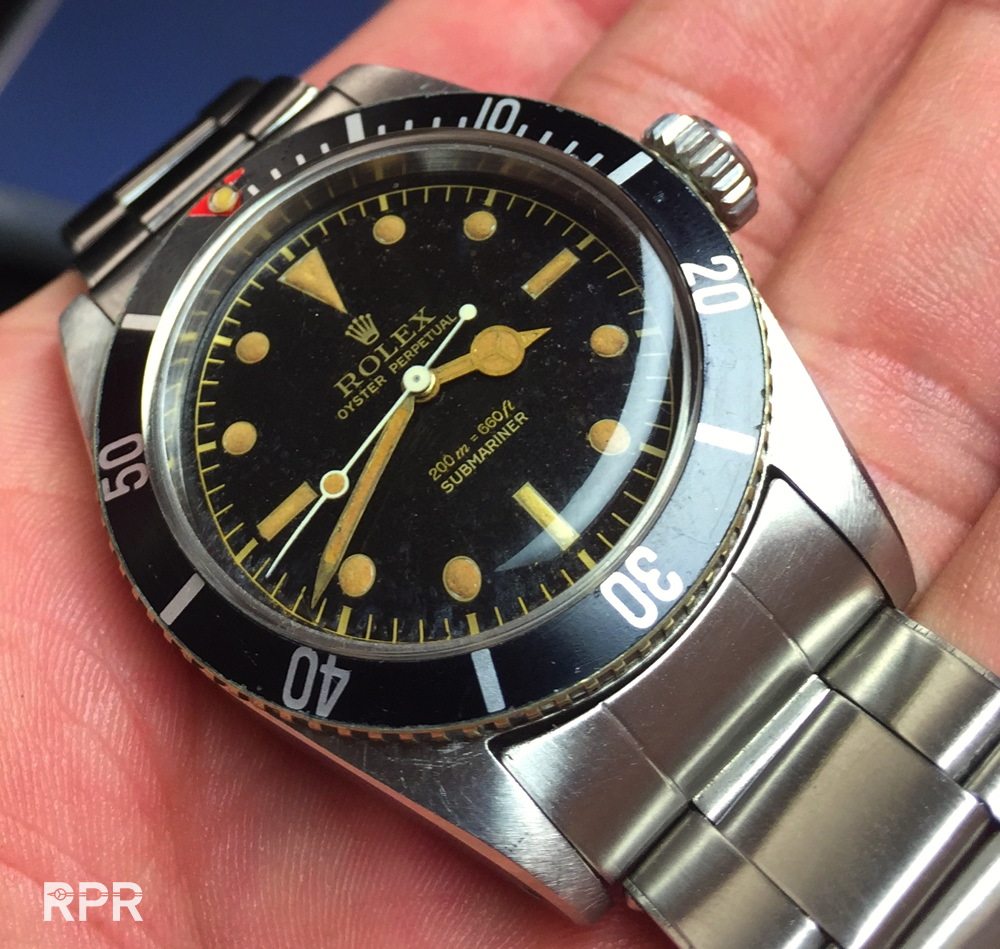 The speckled Kissing L Explorer Submariner, just over 100K..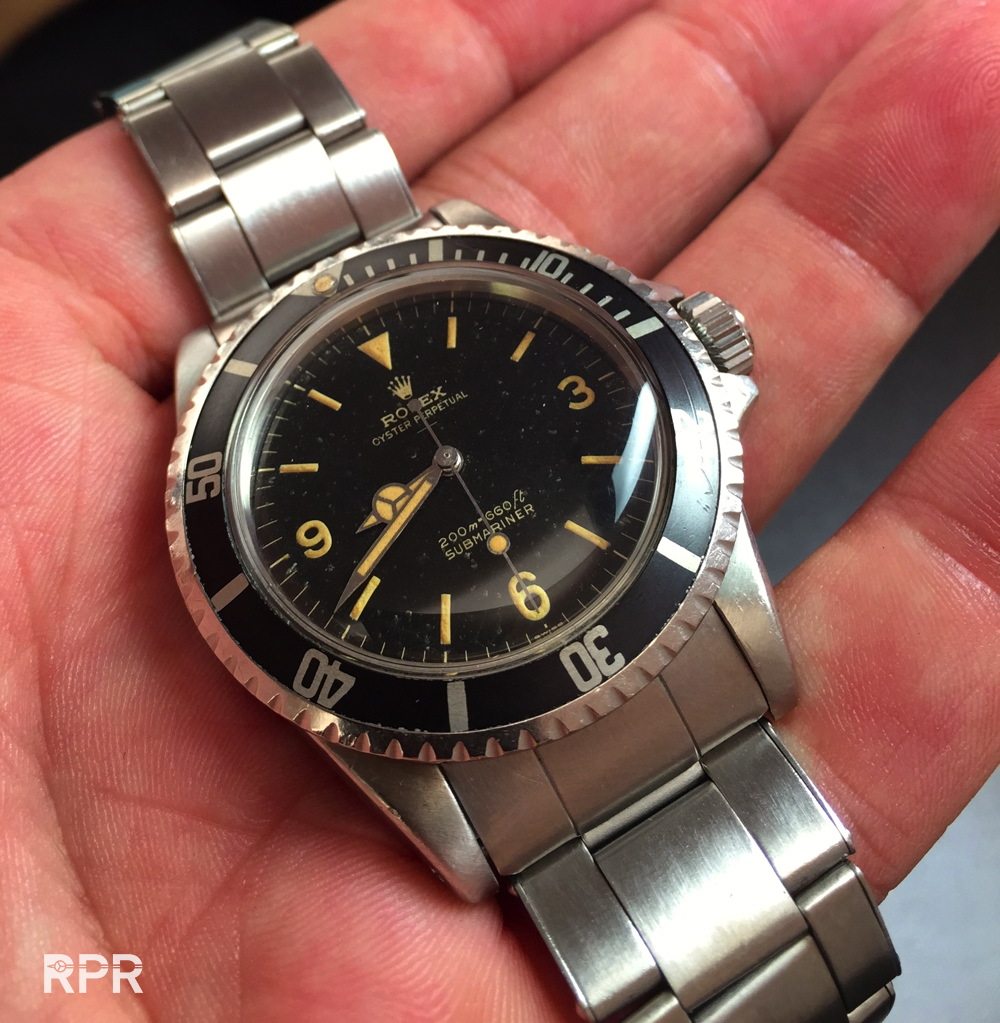 The brown Milgauss hammered at 200K because the dial was having some white spots as you see below coming through the honeycomb…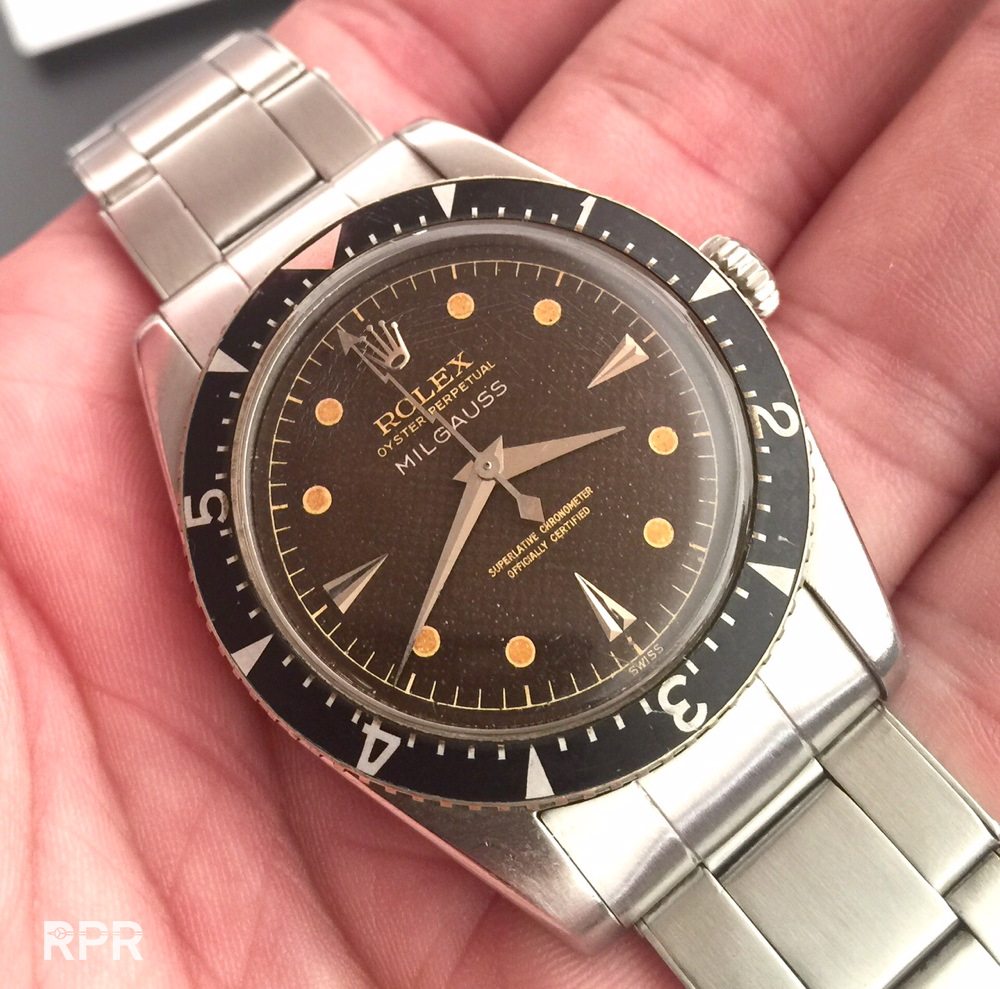 Then the 6200 small logo, which lost it's glossy look and had damaged dirty luminous still making 200K hammer!..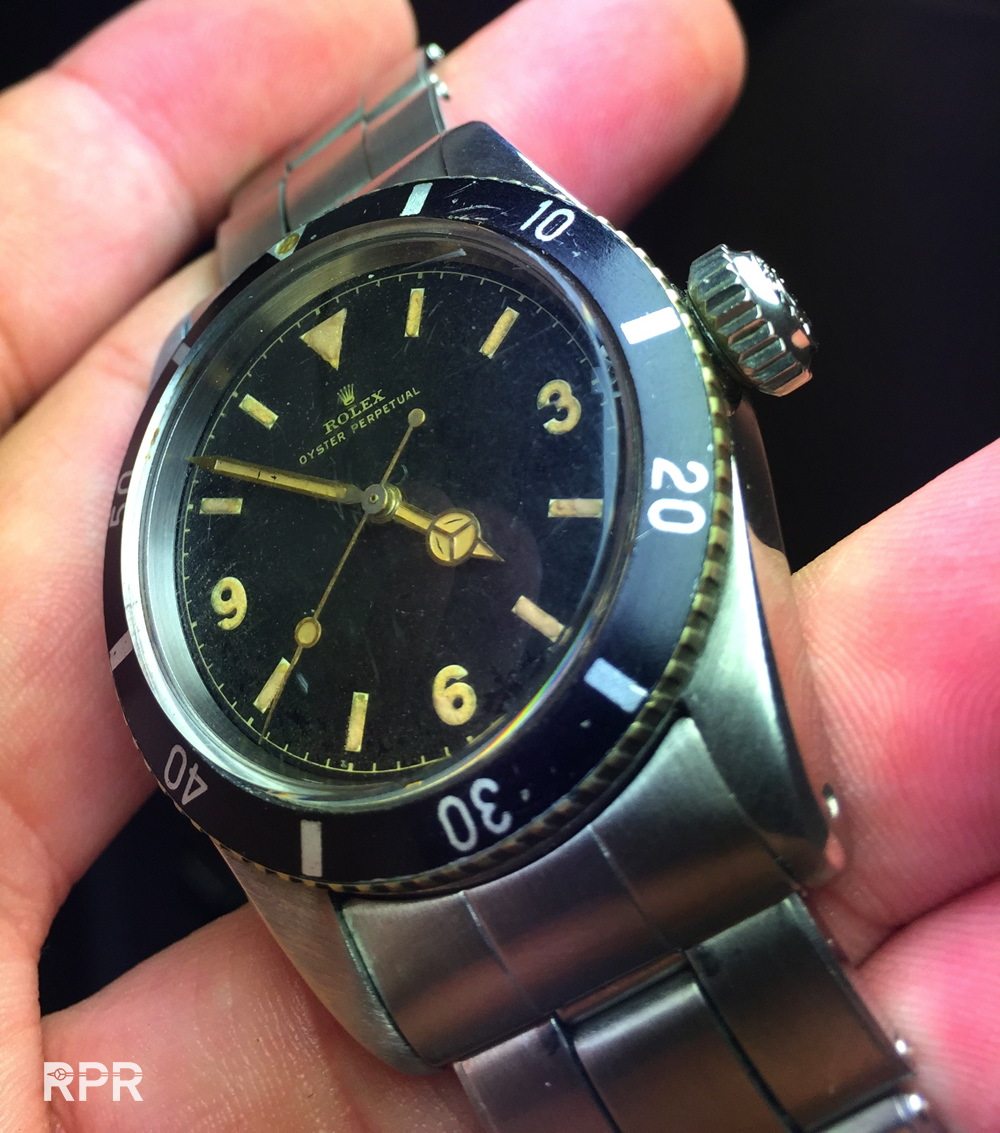 Also 200 hammer for this yellow gold Monobloc ref 3525
Here's € 4.6 million all in…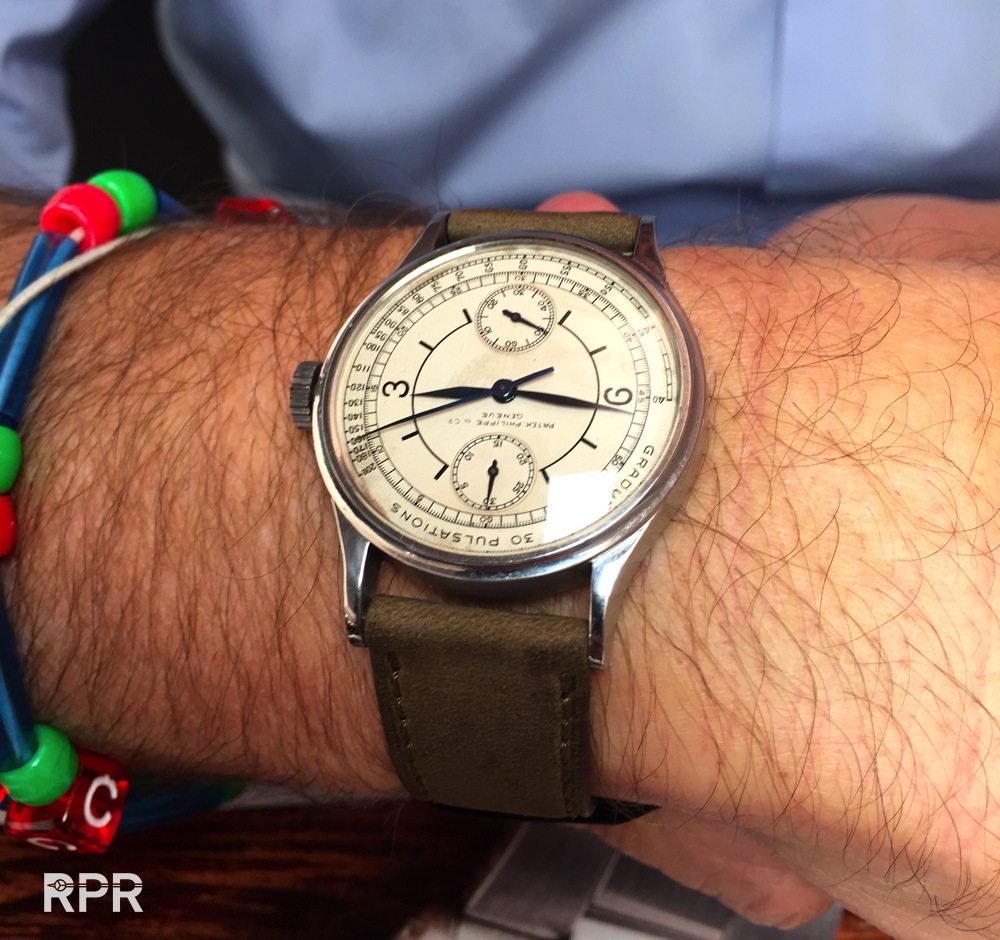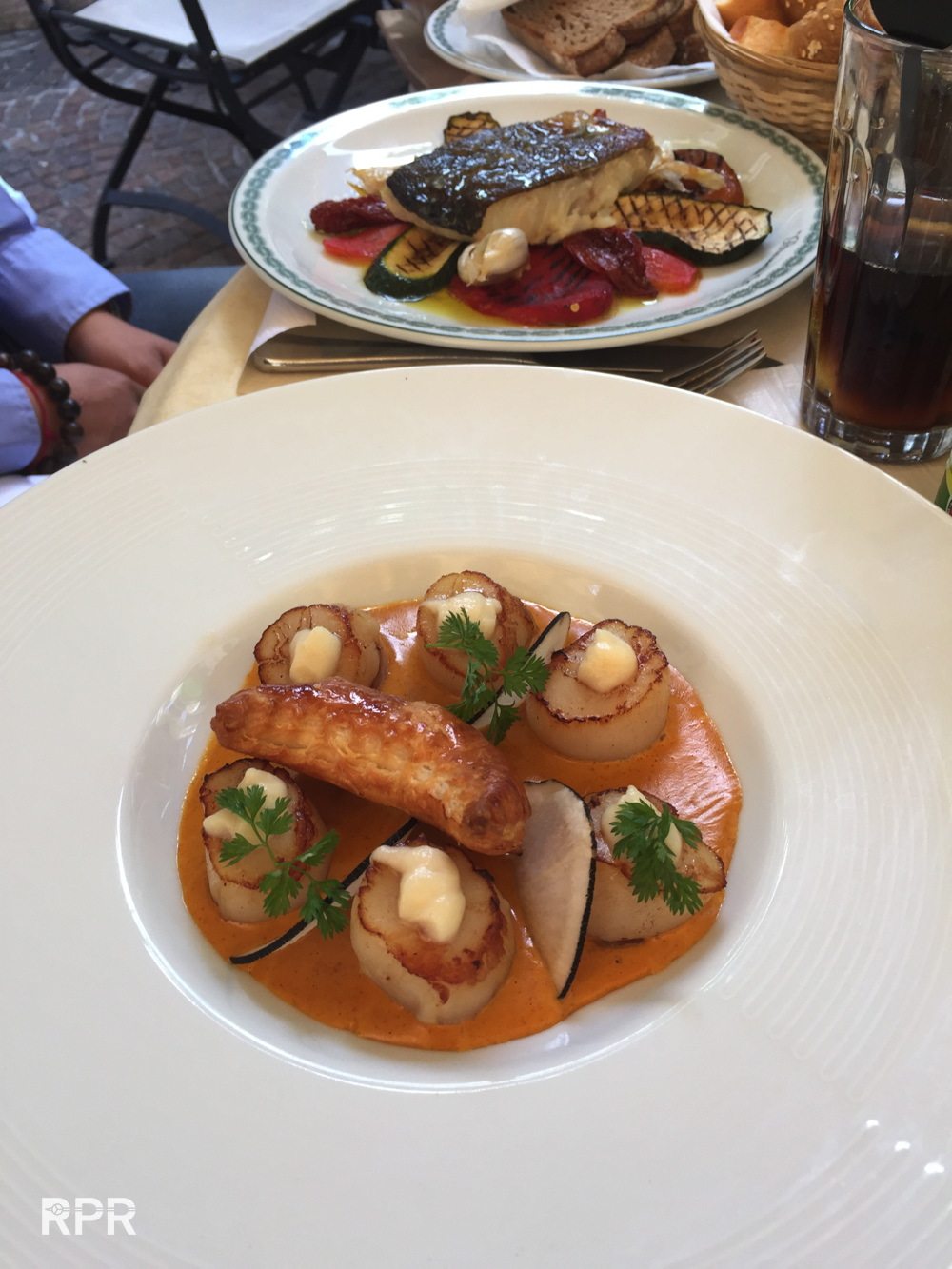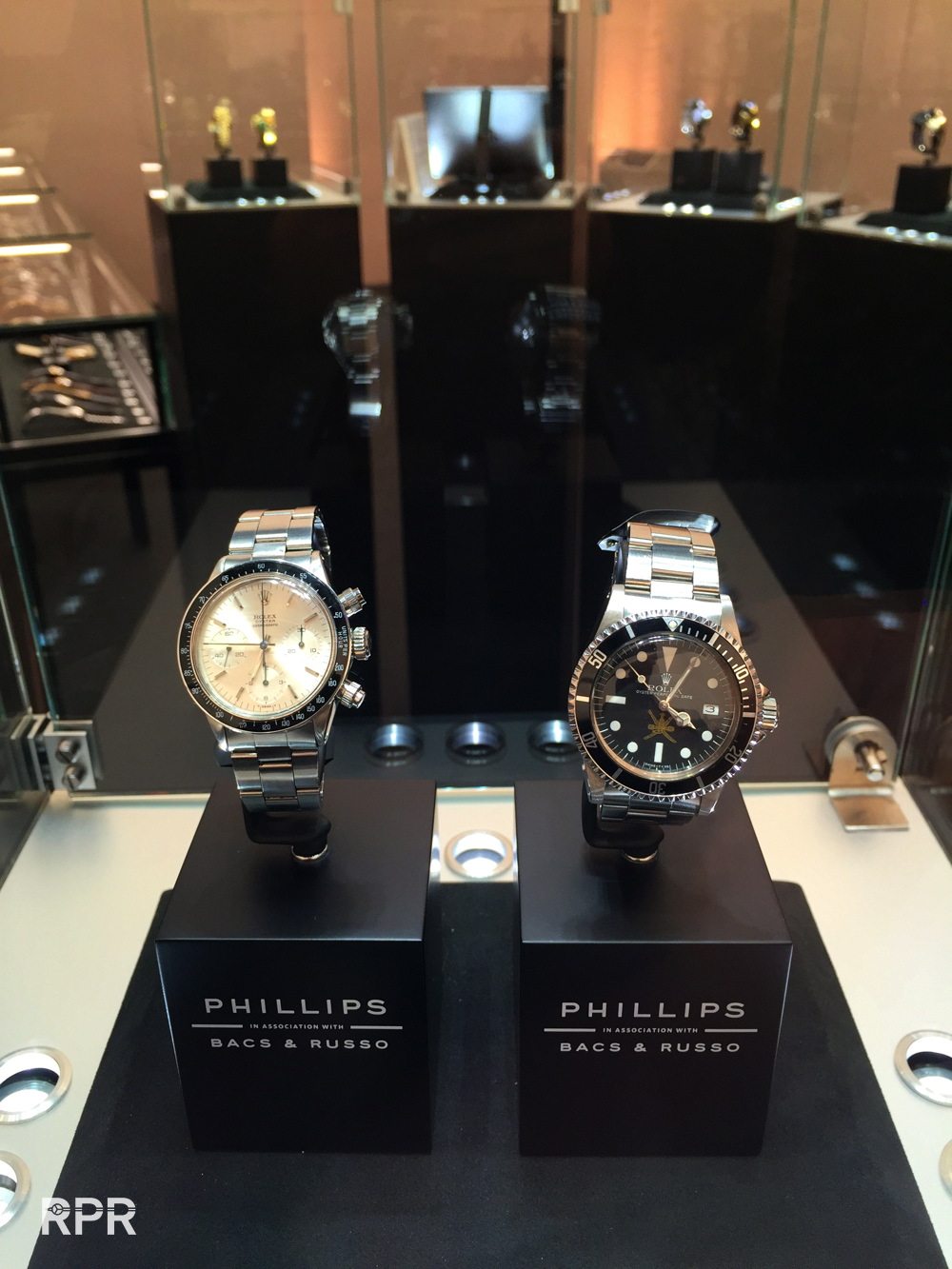 "Flat dial" ROC on a dealers wrist, something I would NOT buy..
Tropicals are still much search after and fetching high prices when the patina matches all over…
Great lining at Phillips Day Date show cases…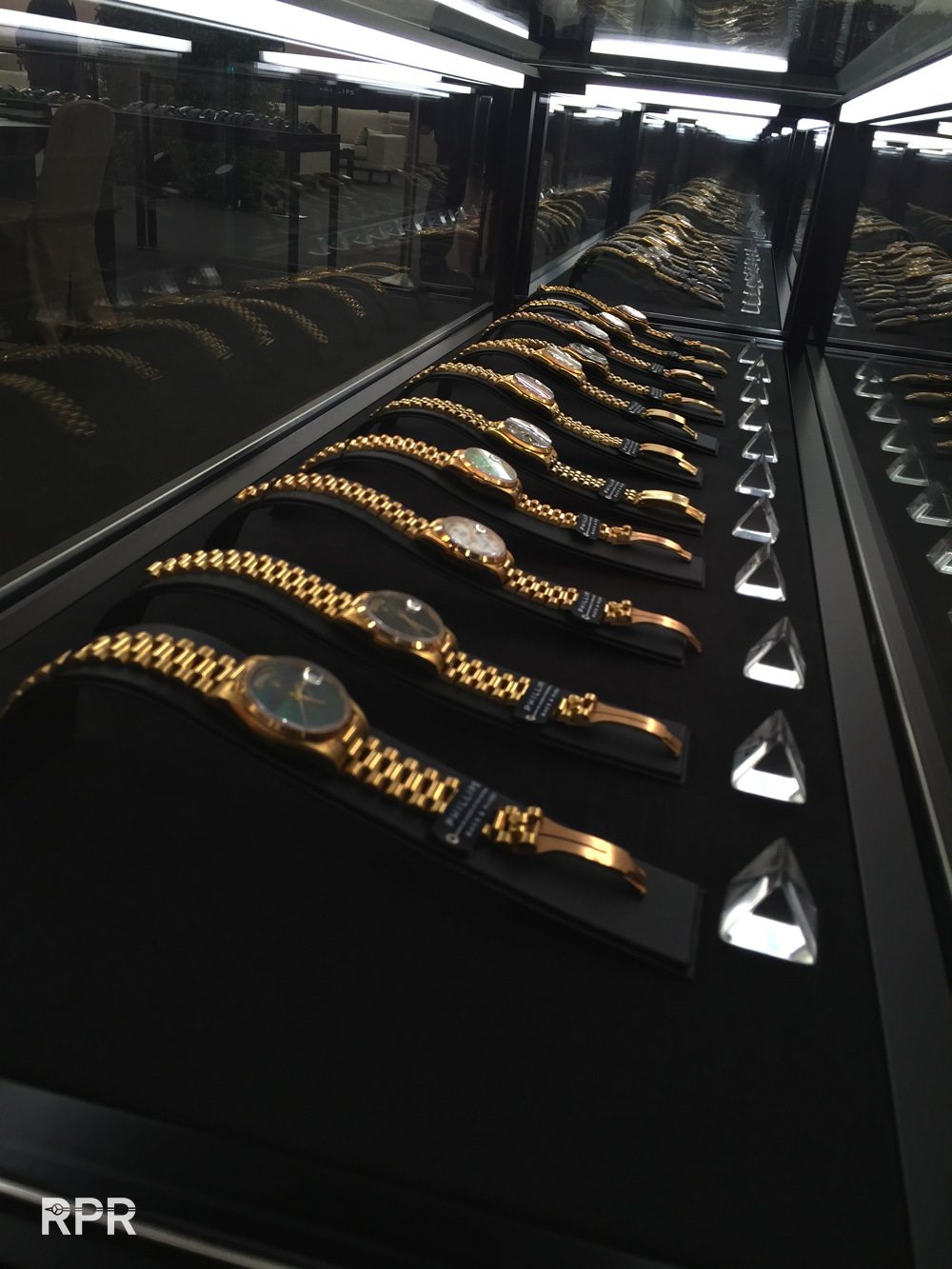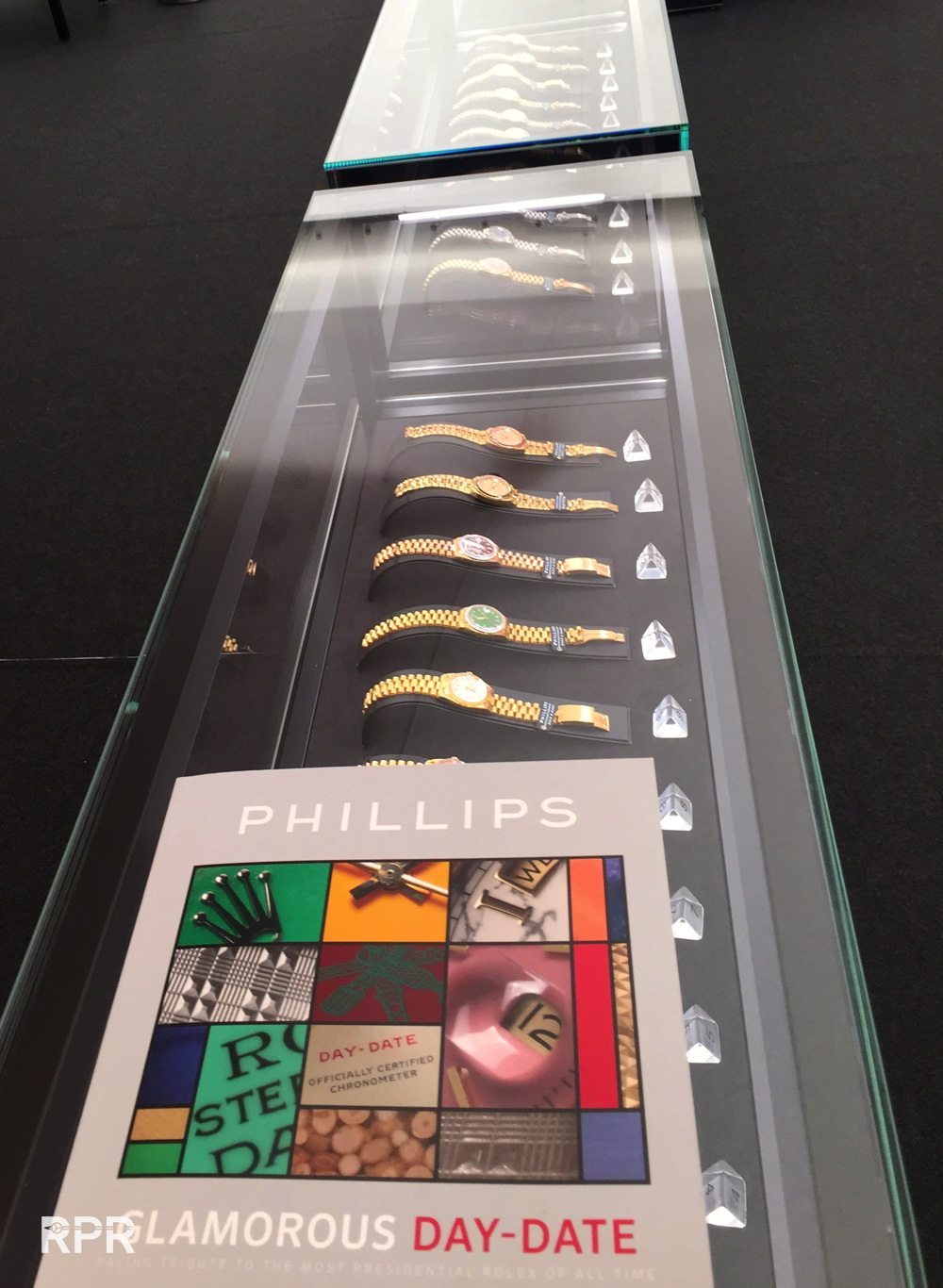 And special boxes made by Buddy Jean Paul Menicucci…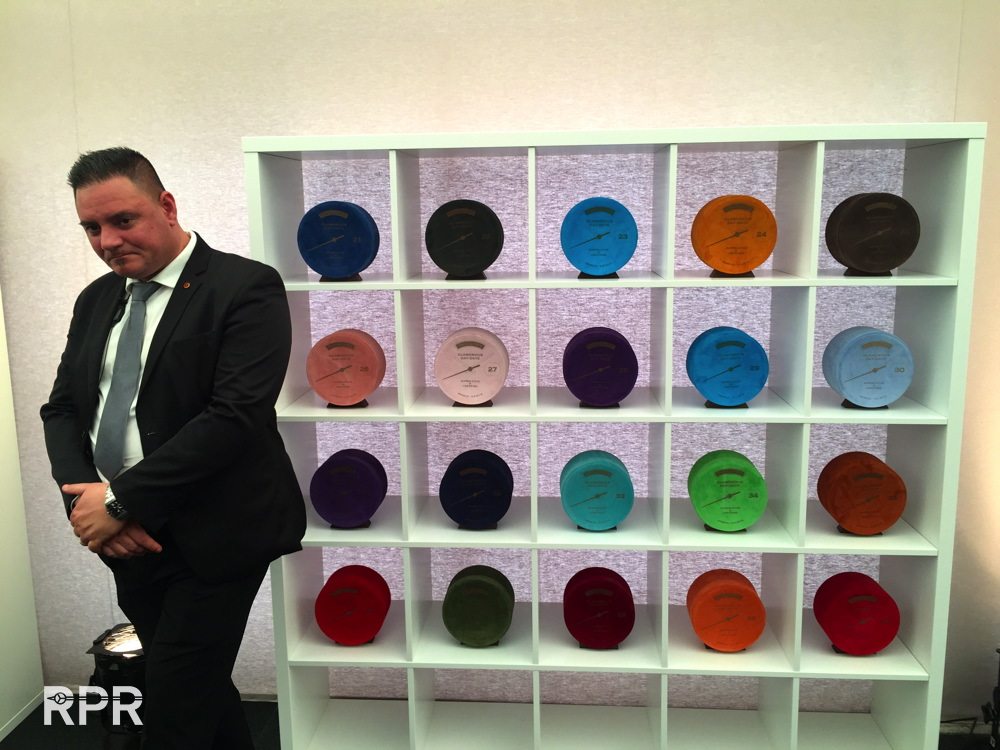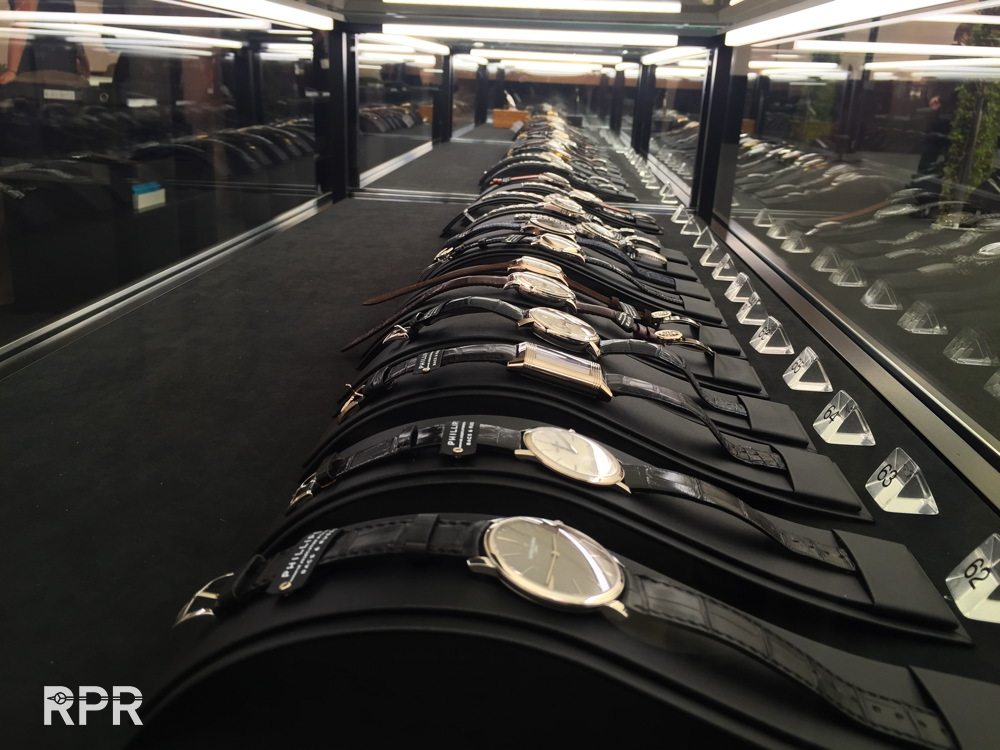 A proud friend of Pucci Papaleo carrying the new Day Date Book which was on display and will be for sale soon..
You find more information about this new Day Date Rolex bible and other books Pucci made so far on: http://www.puccipapaleo.it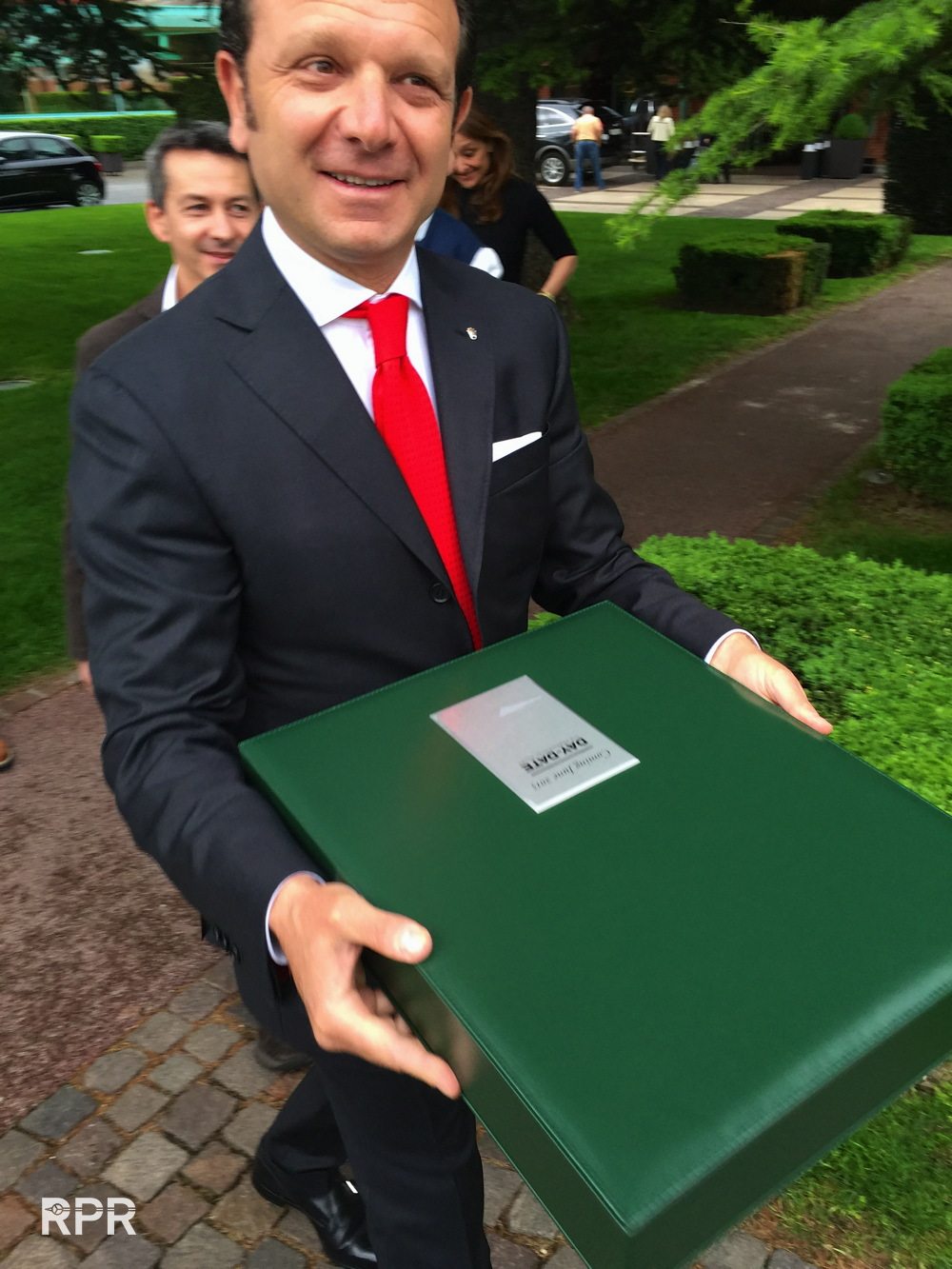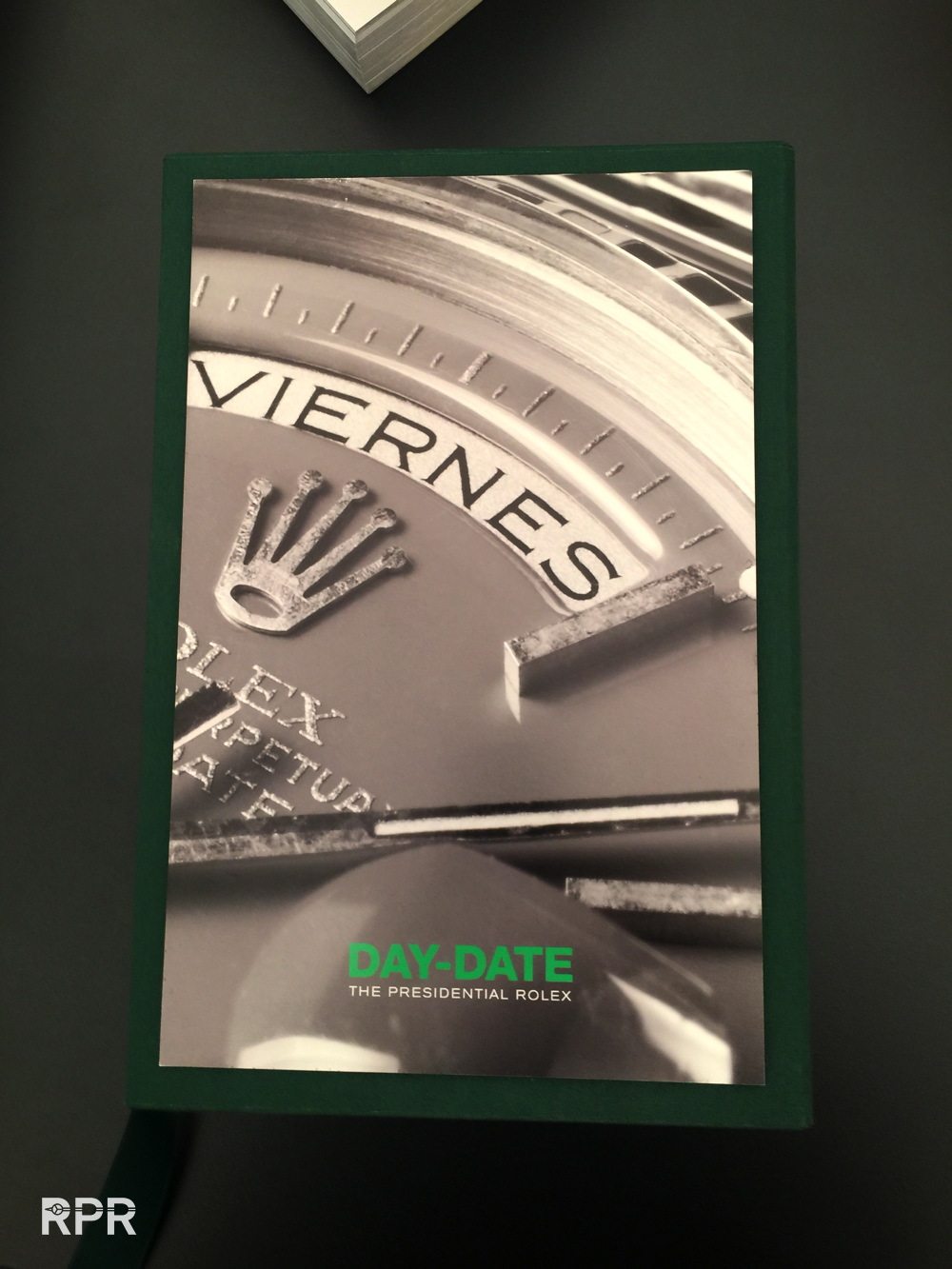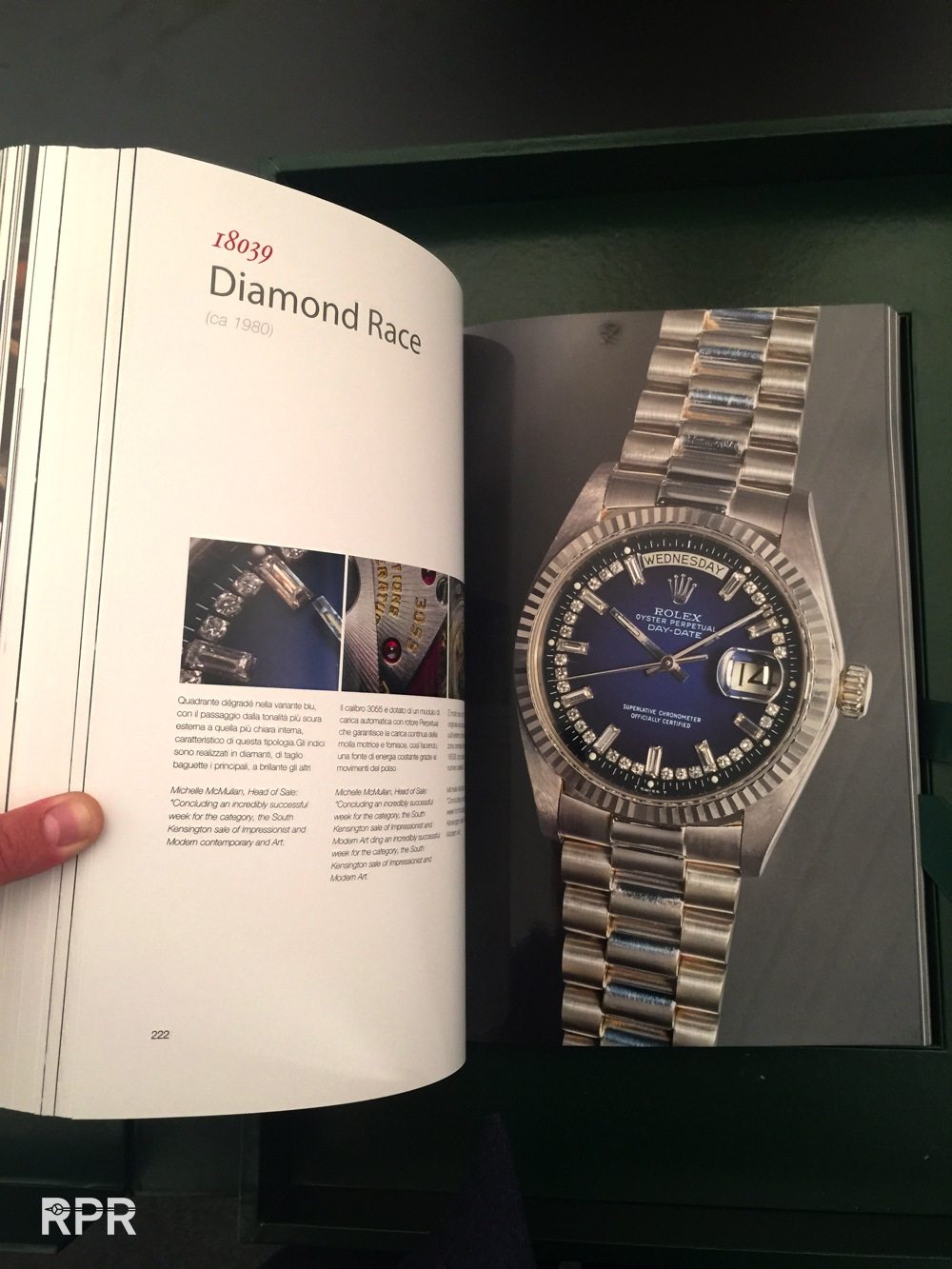 If you are interested in this Rolex Day Date book with excellent picture and description, covering 167 exclusive different examples, please contact Pucci Papaleo directly info@puccipapaleo.it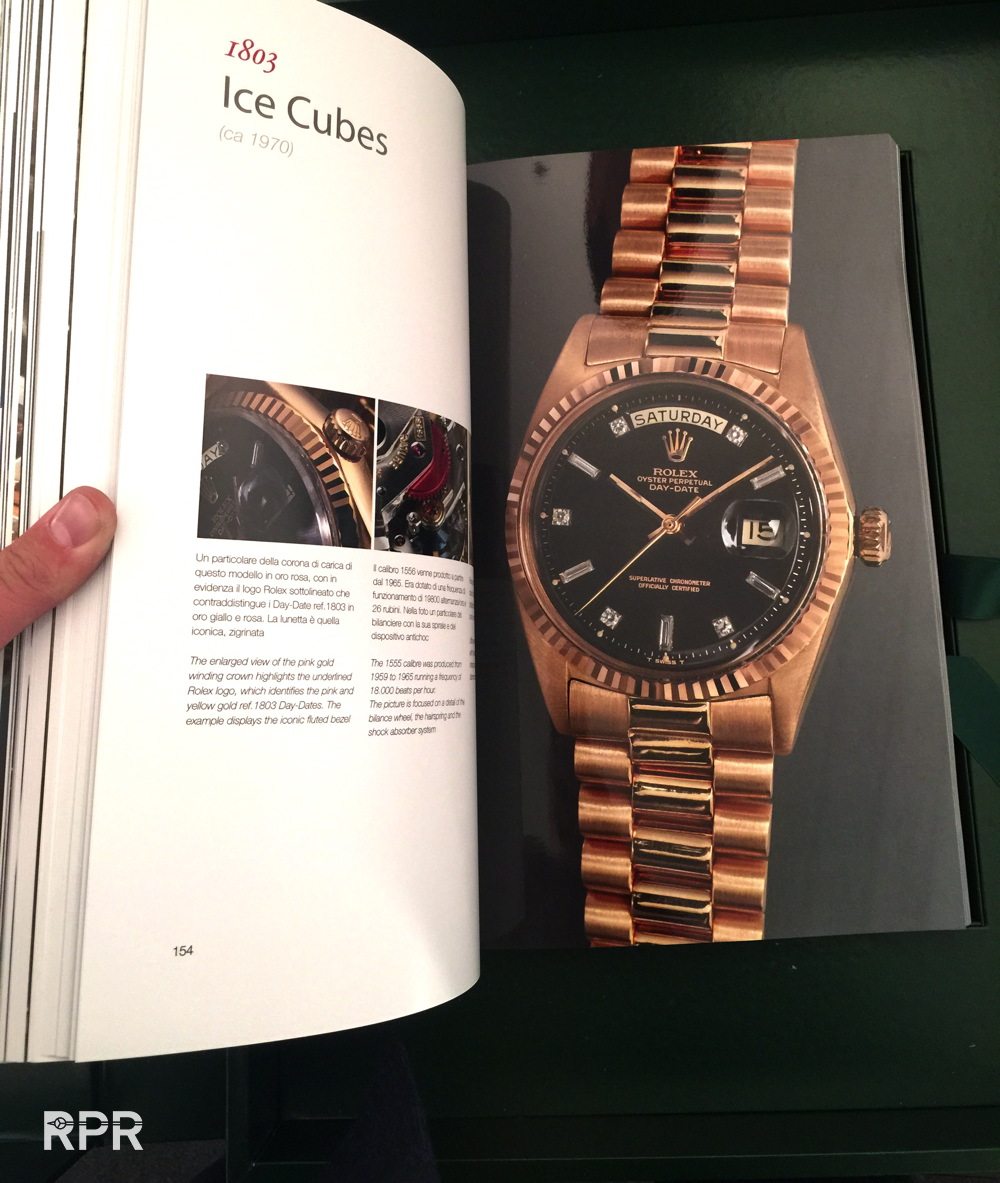 Pucci, his son Cosmo and Giorgio heading up to Geneva just before we broke the boot 😉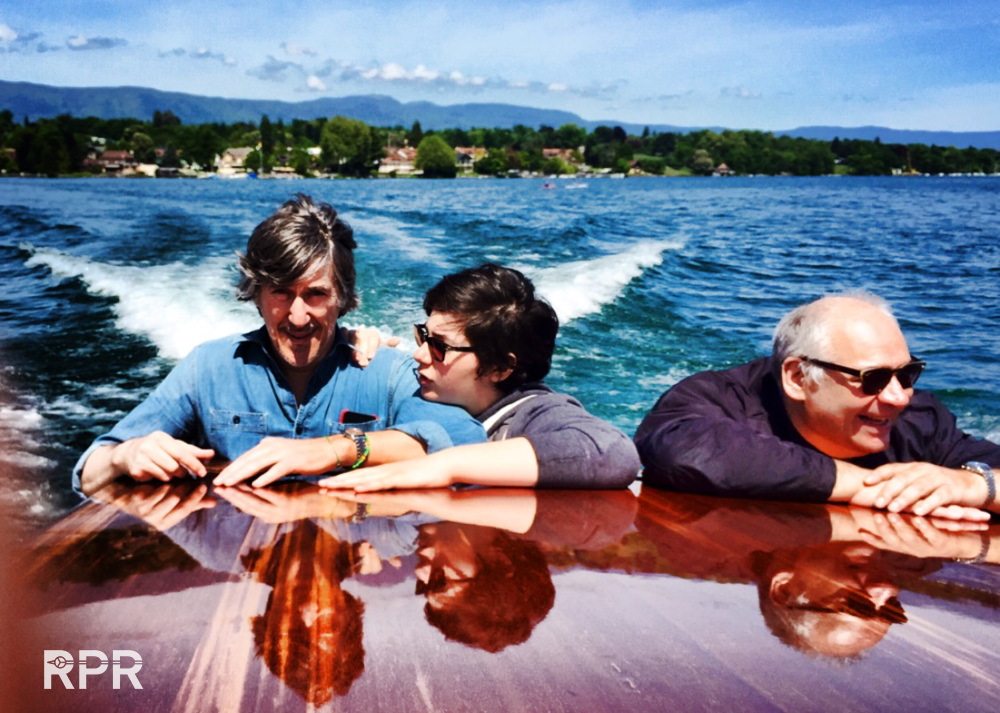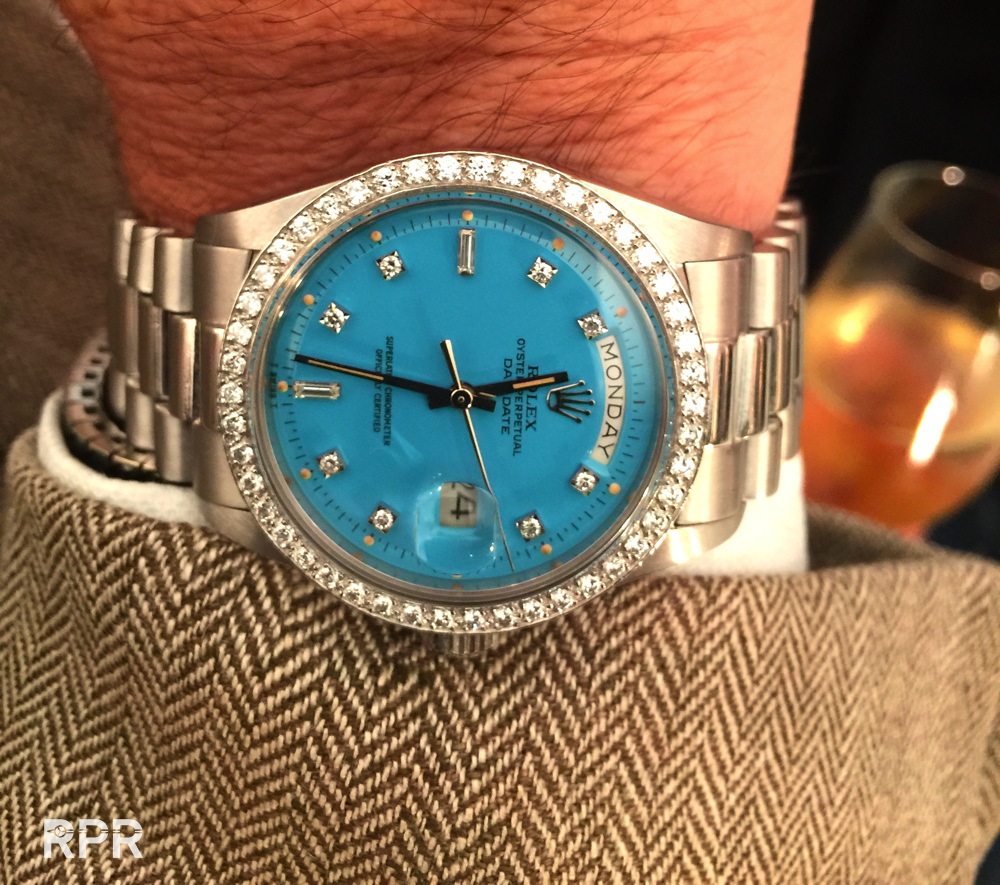 I spotted a possible new fashion, from 1 watch on each wrist to 2 watches on 1 wrist…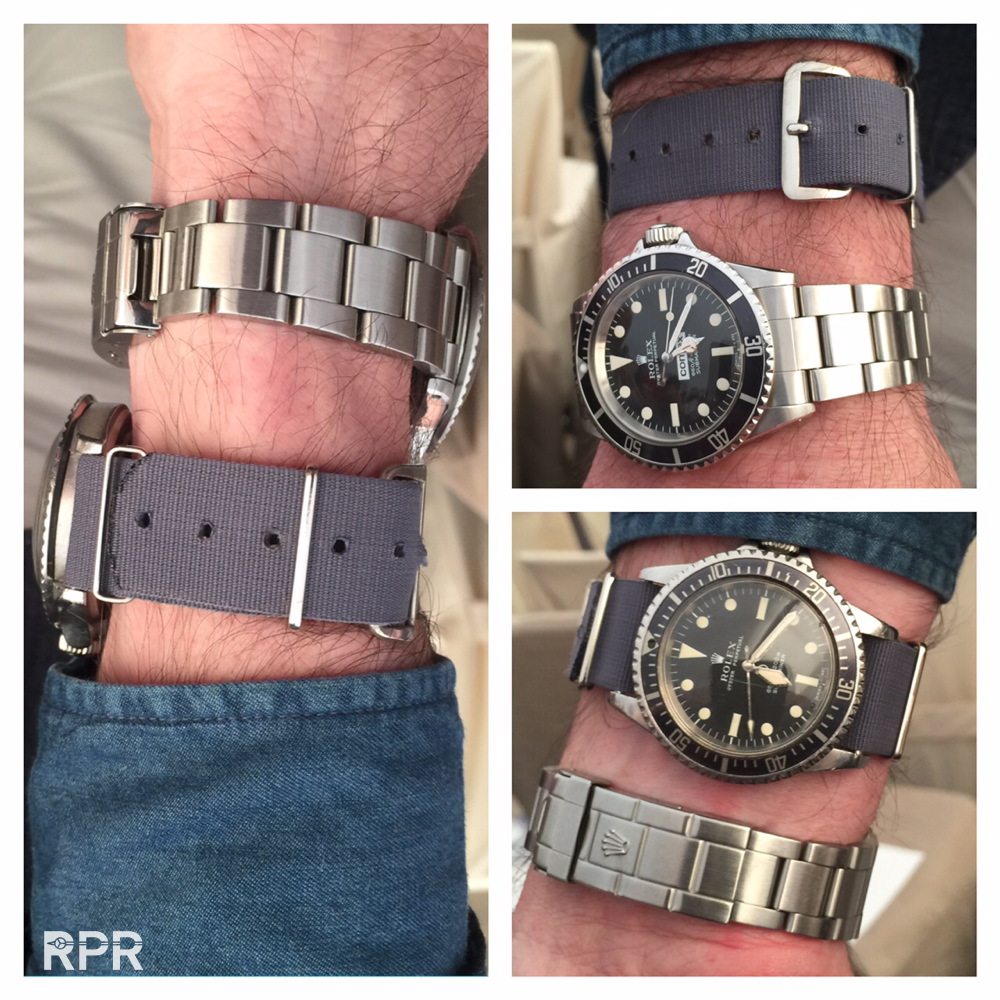 Shelby at Christies..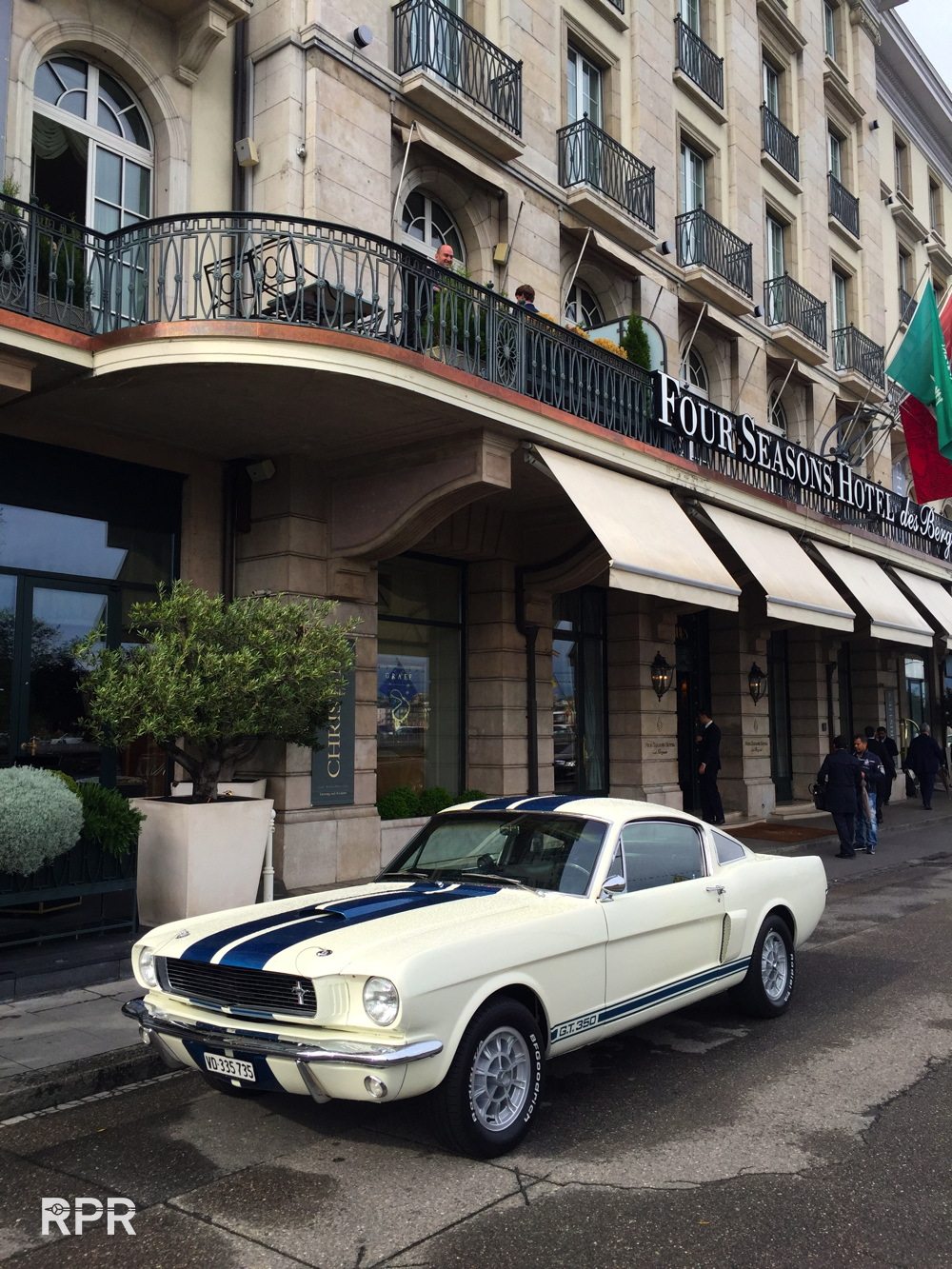 Solo Daytona, now let me tell you that those examples that have been found fresh in the market where never in a oyster case, 6240 like you see here but in a 6238 Pre Daytona case. I agree this dial looks much more sexy in this early screw pusher case but it was not born in there in my opinion… Nevertheless this one from Phillips sold over 200K there where the one from Antiquorum sold under 100K, 96 actually.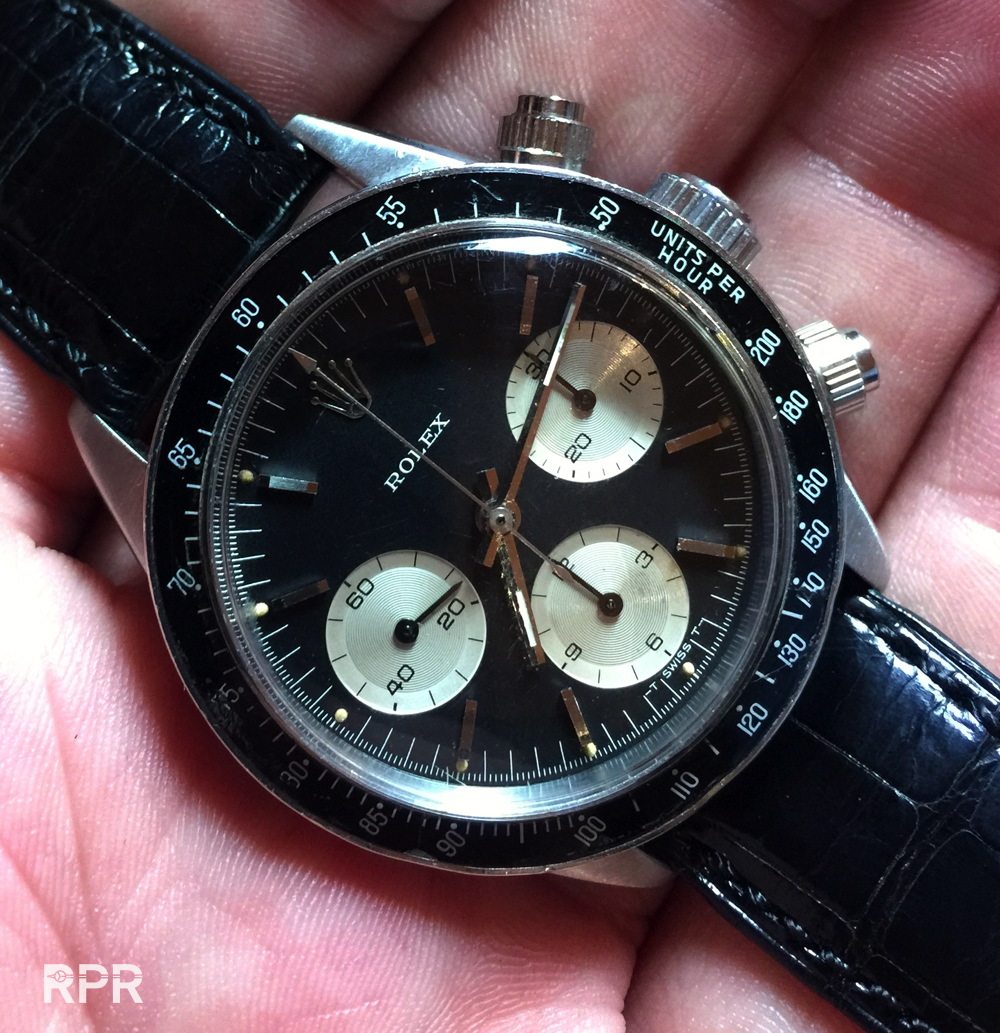 SFR 116.500 all in for this fresh find Explorer Submariner Kissing L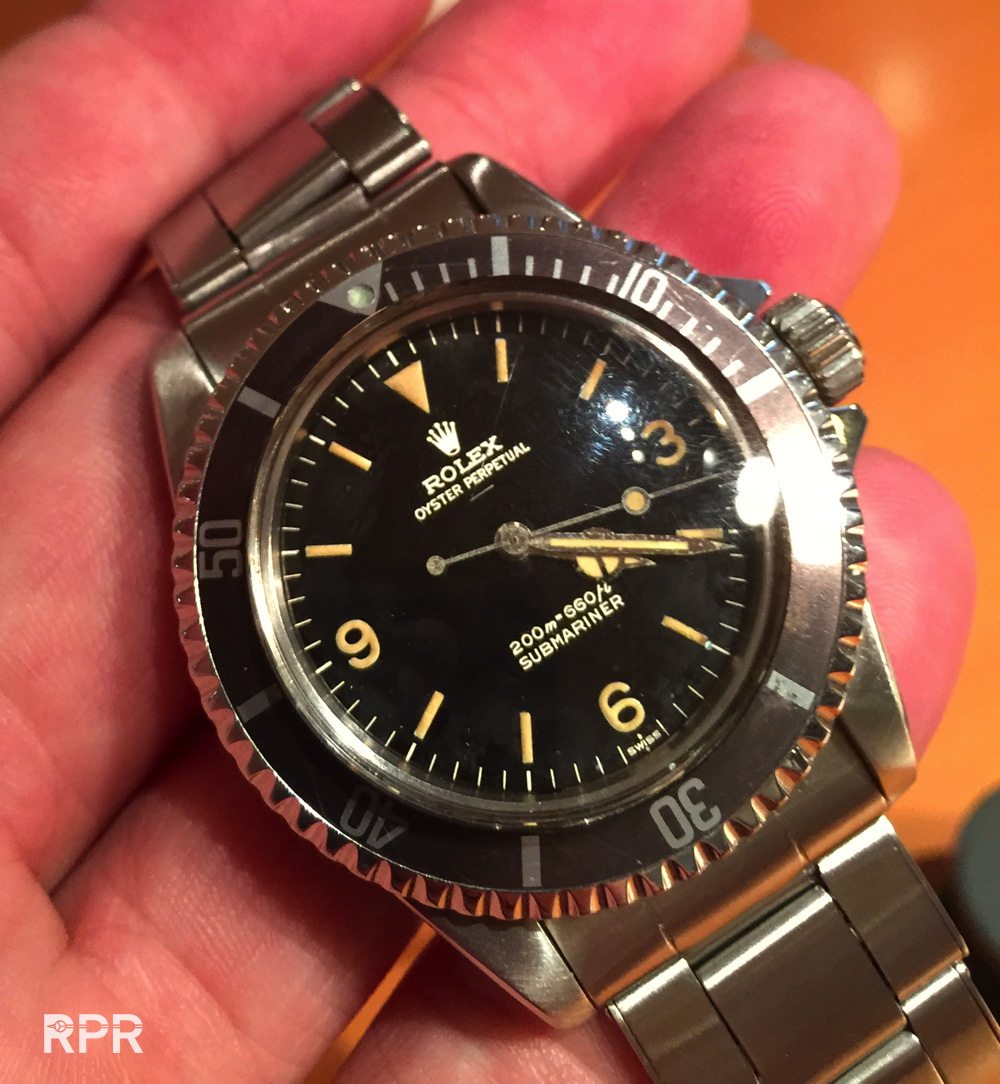 Sfr 183.750 all in for this honest Stelline in yellow gold…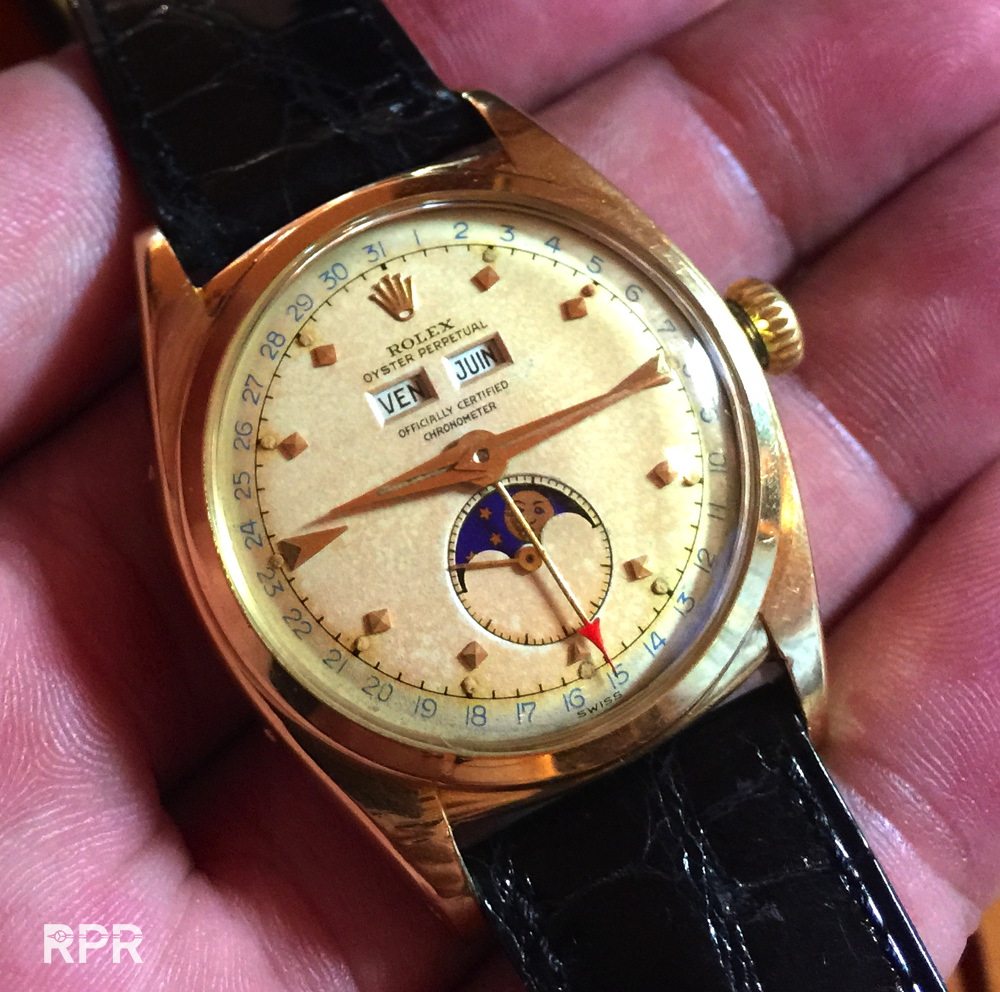 100K for this "common" yellow Ref 1463..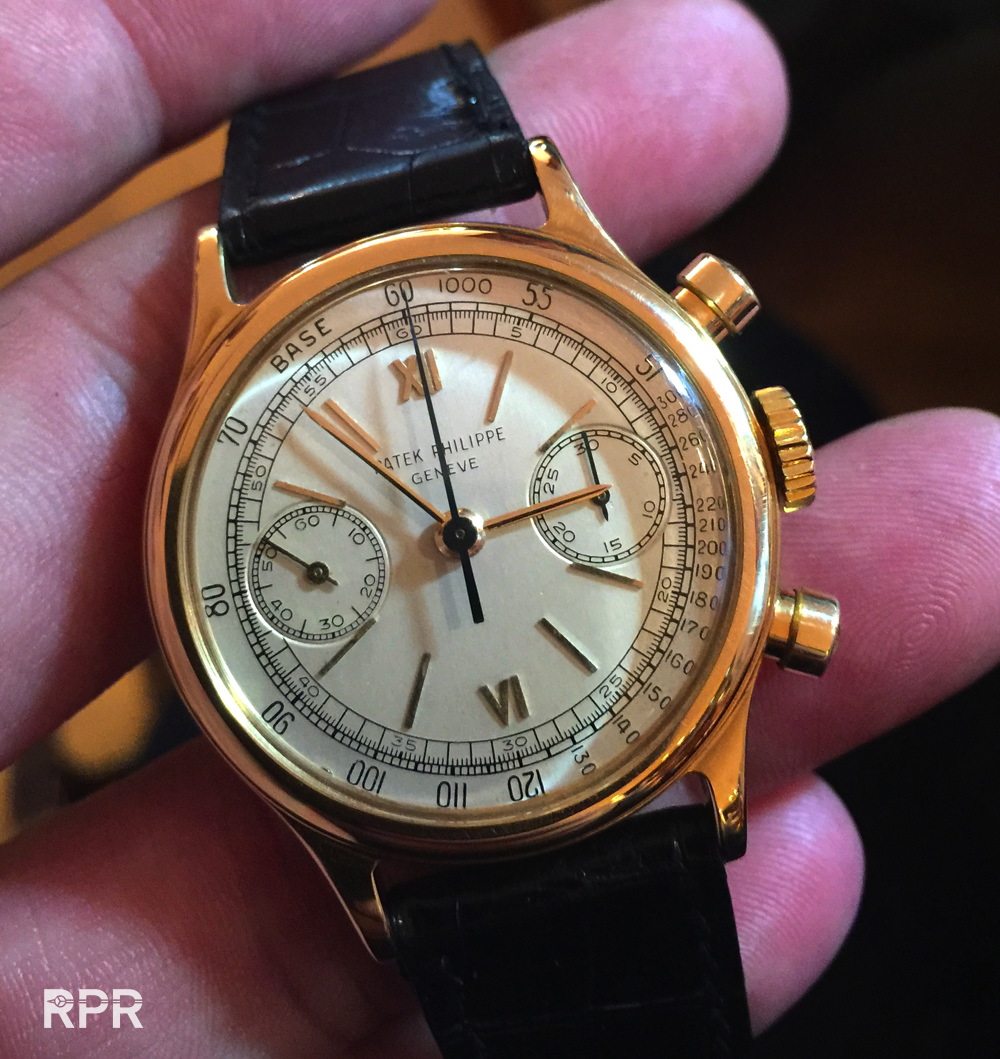 Mc Laren P1 making many people stop…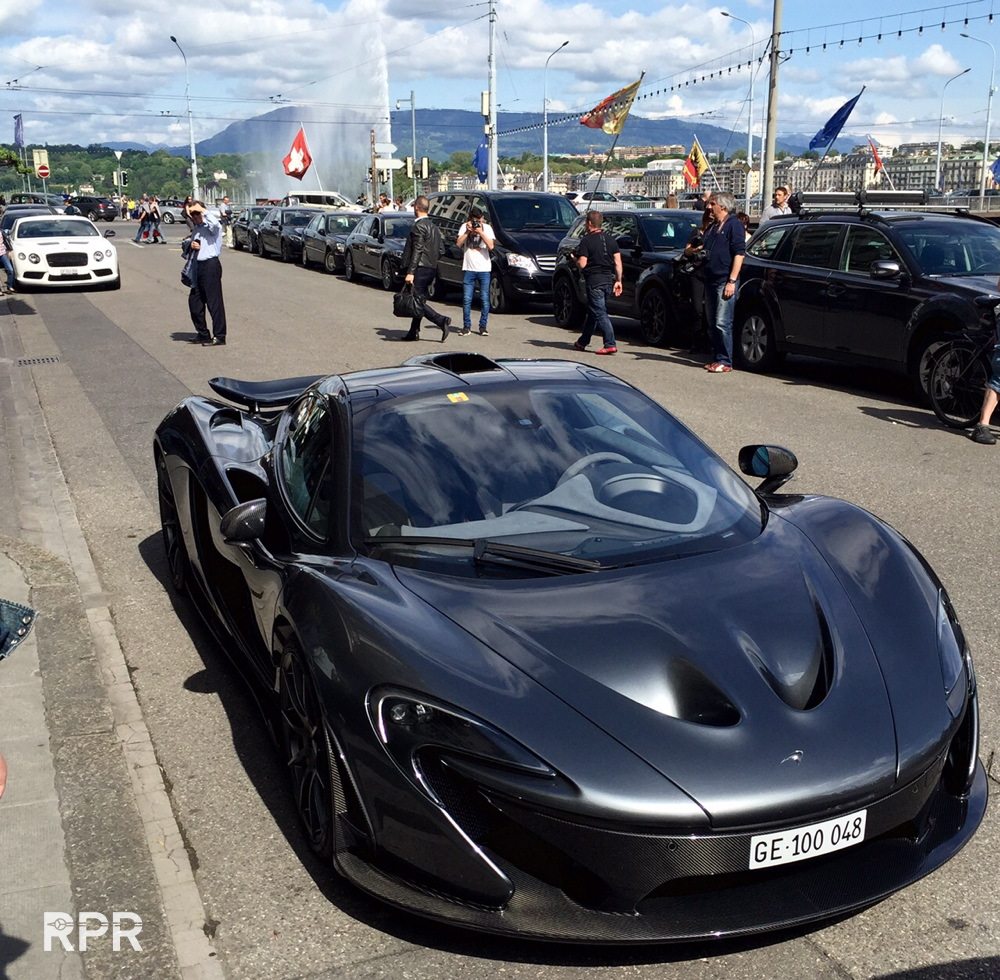 sfr 207.750,- all in for this gold Paul Newman 6239 of which the luminous was not perfect…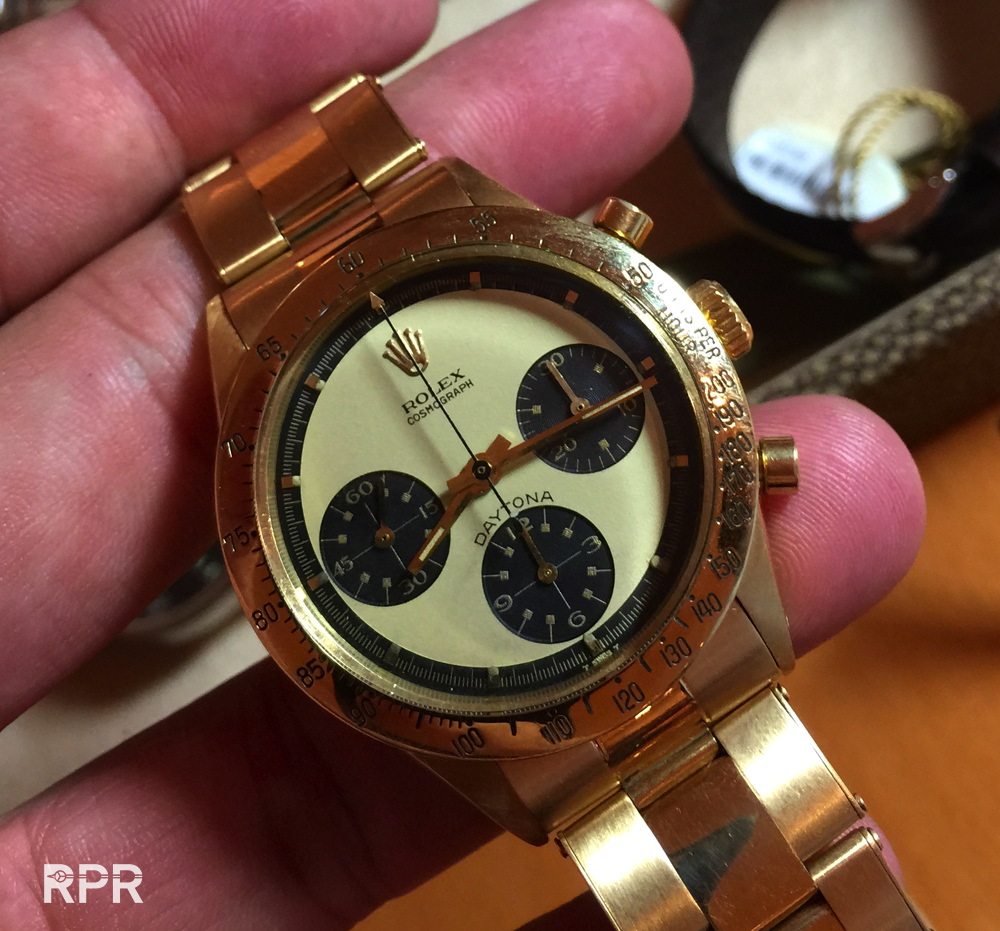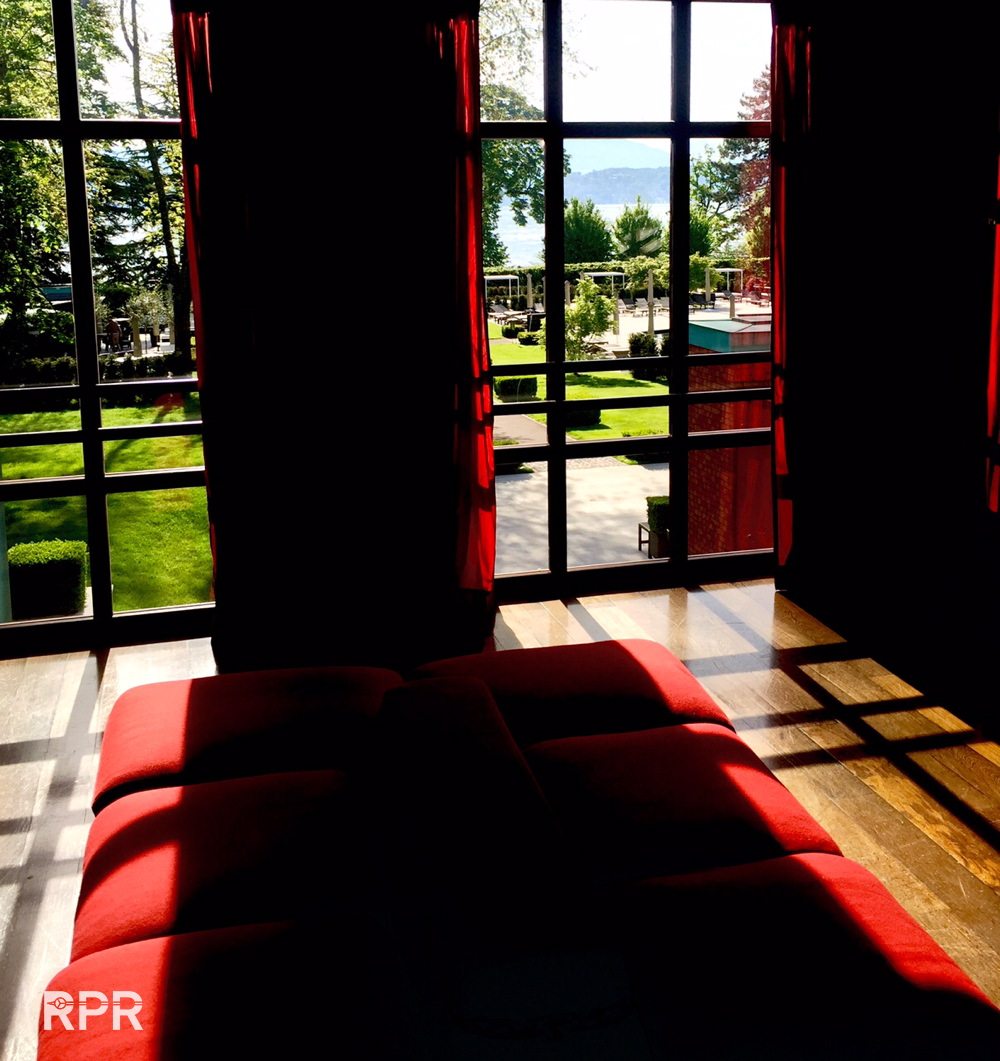 Patek Philippe Ref 2599 Tifany, sold for 471,750 CHF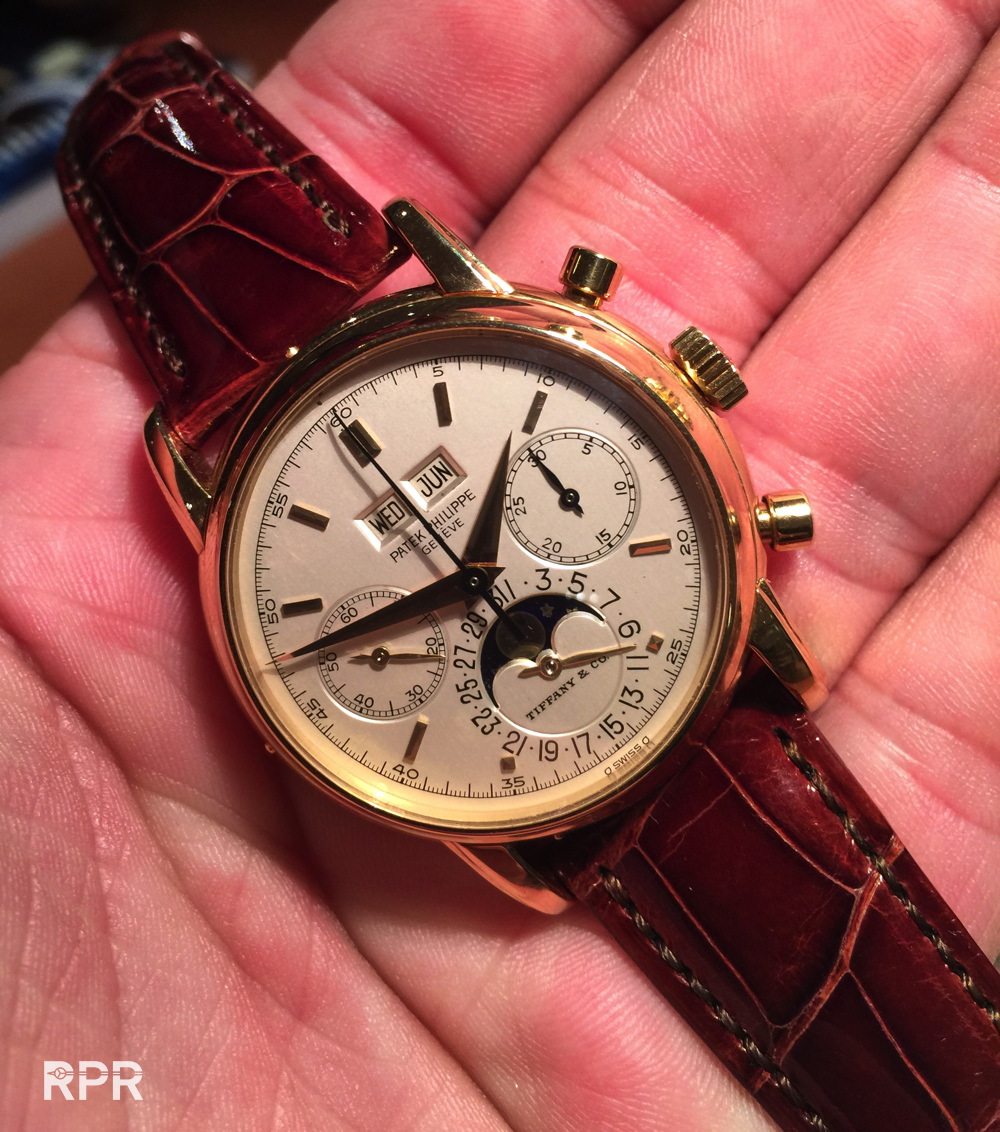 The Panerai ref. 3646 did not sell…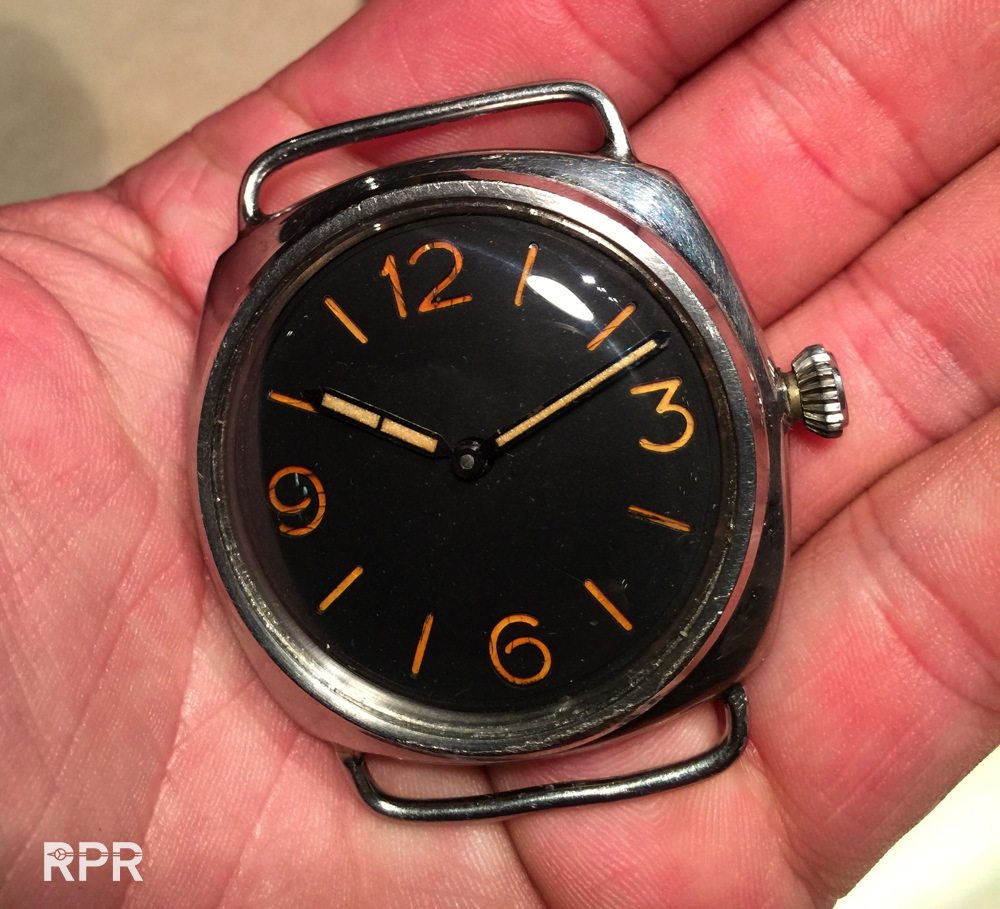 The Paul Newman for Tiffany fetched 231,750 CHF..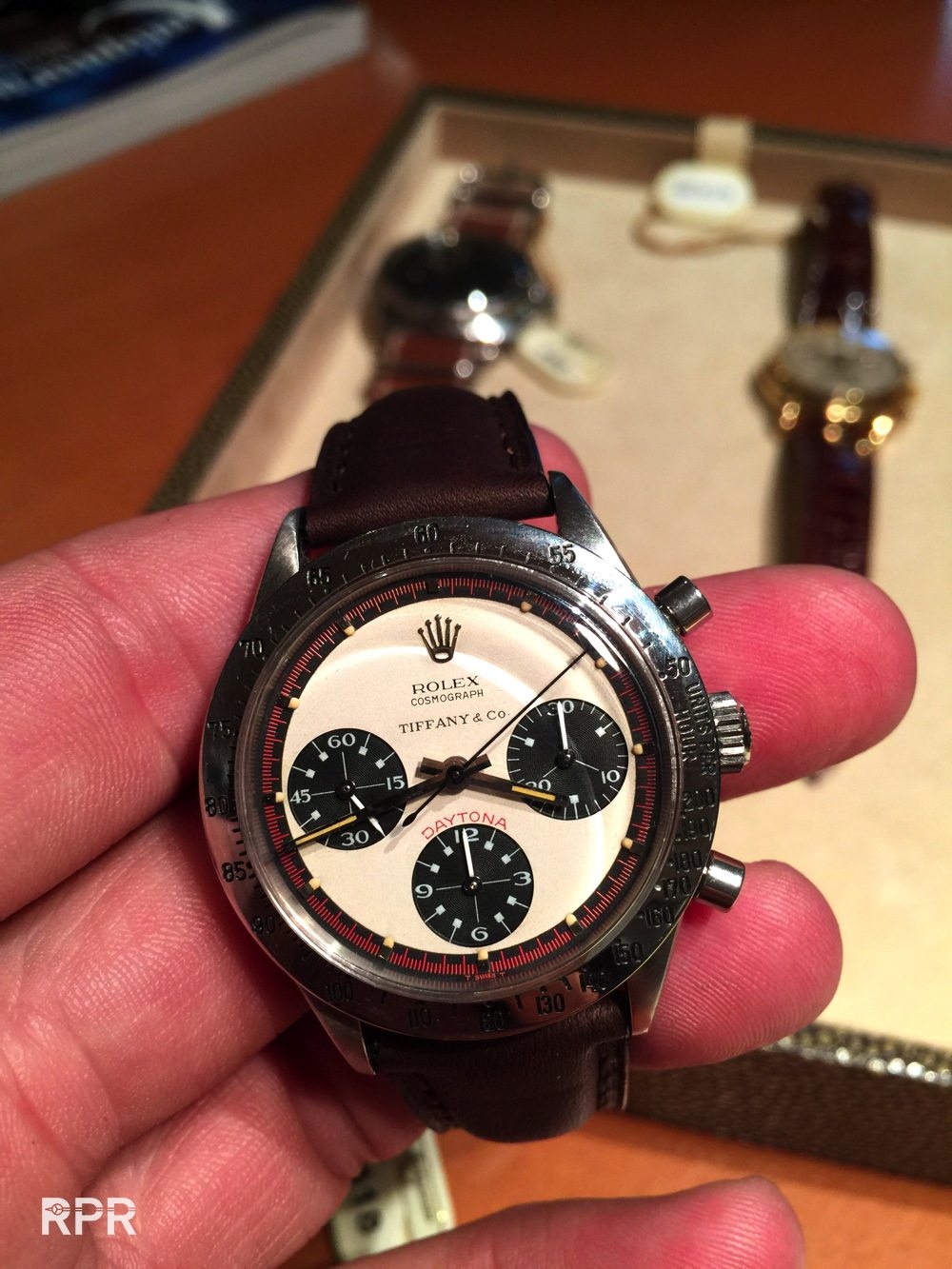 Universal Nina Rind. Who the f*ck is Nina Rind I hear you think, it's a chrono that you could easily buy last year for 2-3000,- and now is trading for 15-20.000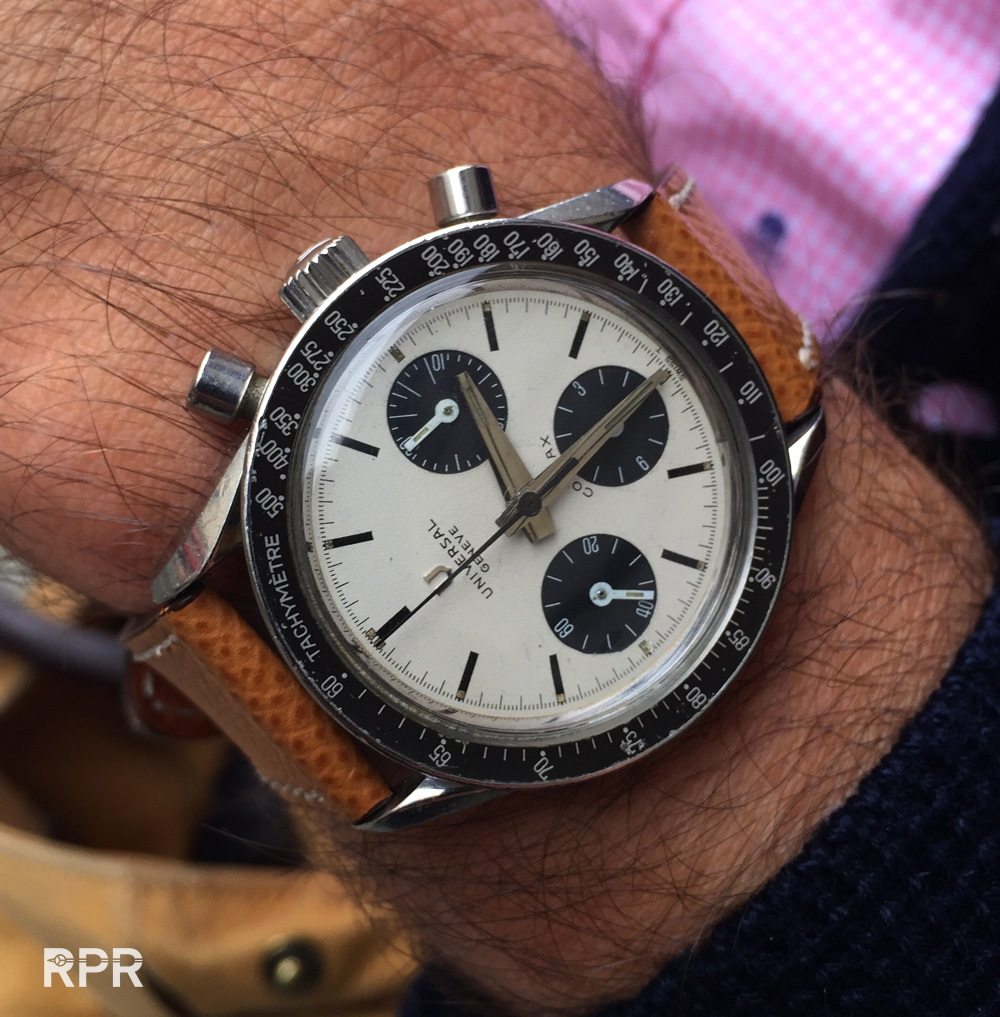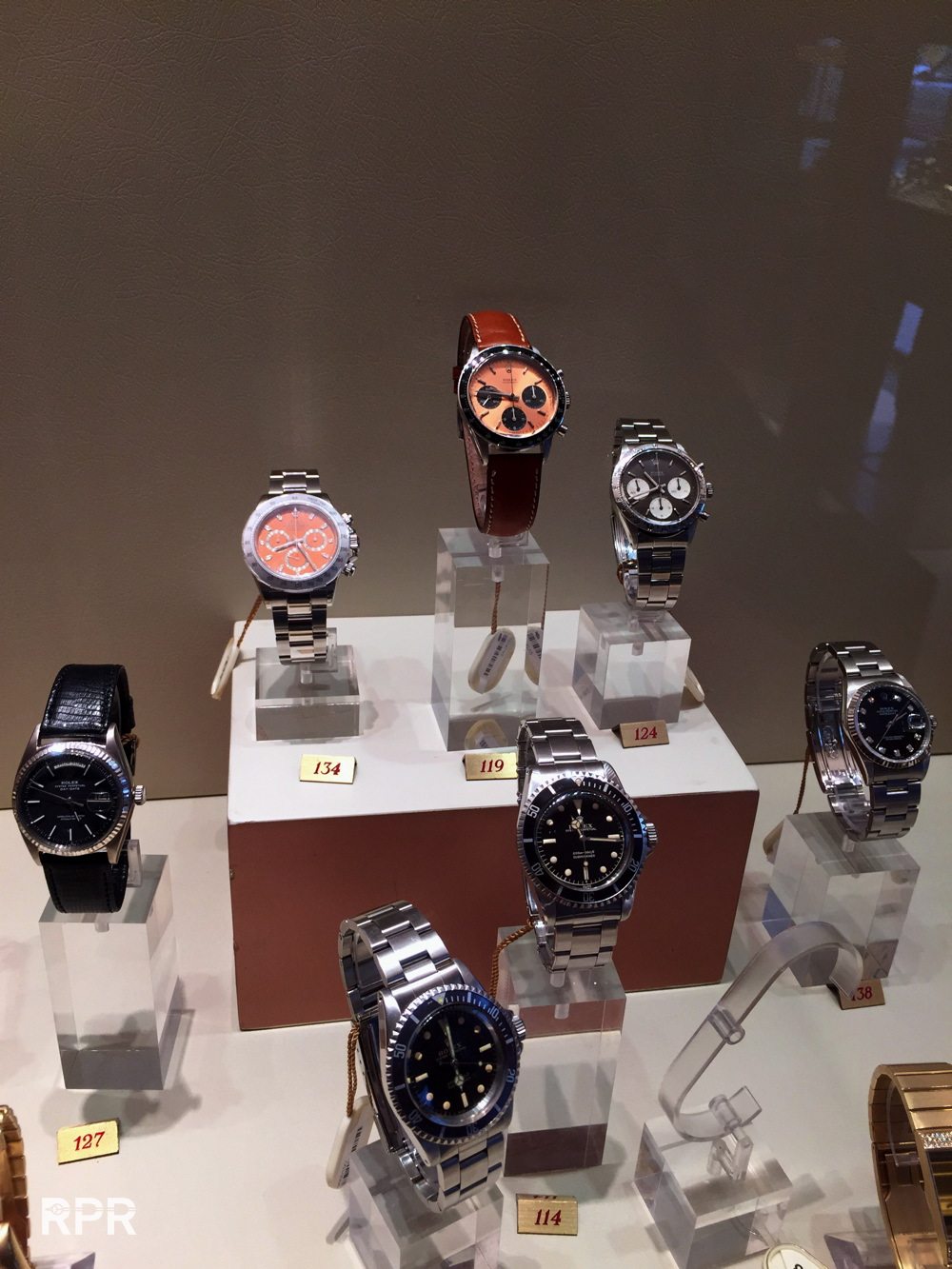 Sfr 75.000 all in for this discolored Daytona, which personally didn't convince me..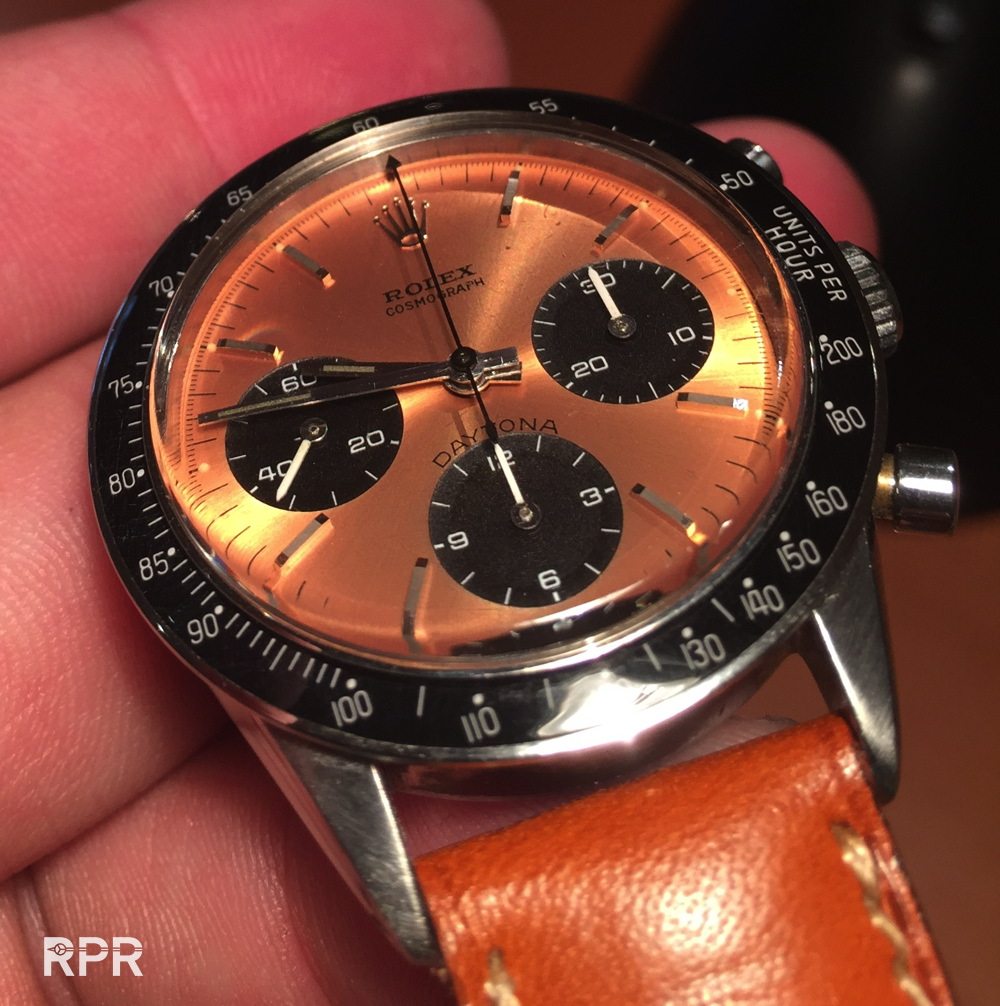 Pink Stella with diamond are rare birds…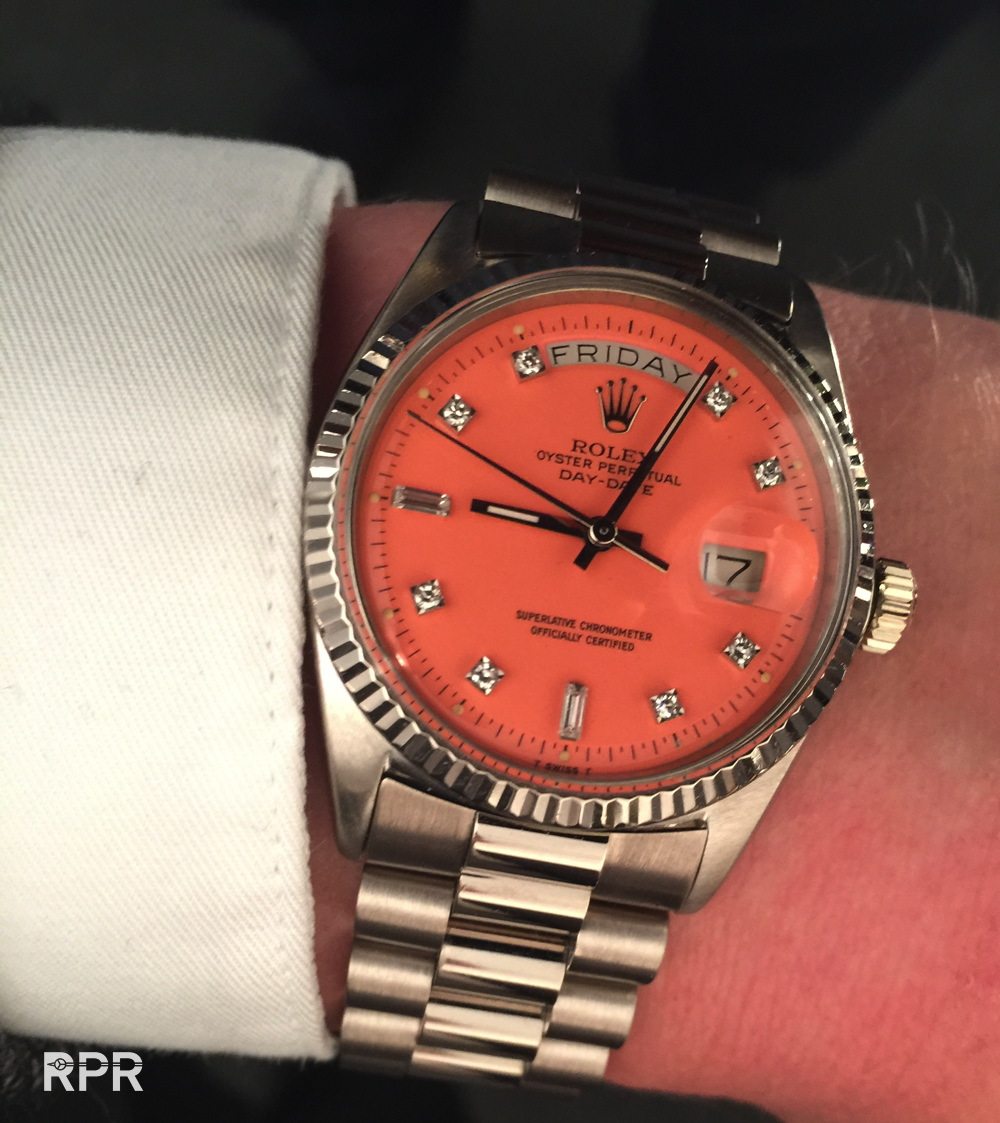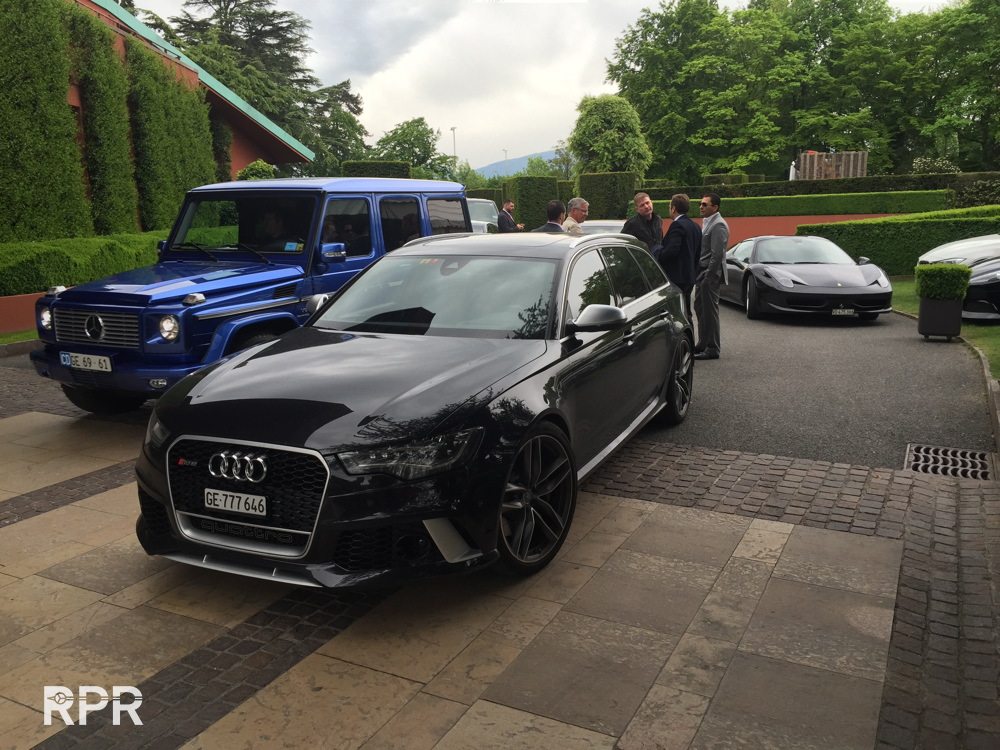 The Sky Moon from Patek Philippe didn't fetch 1 million but got stuck little under the magic number..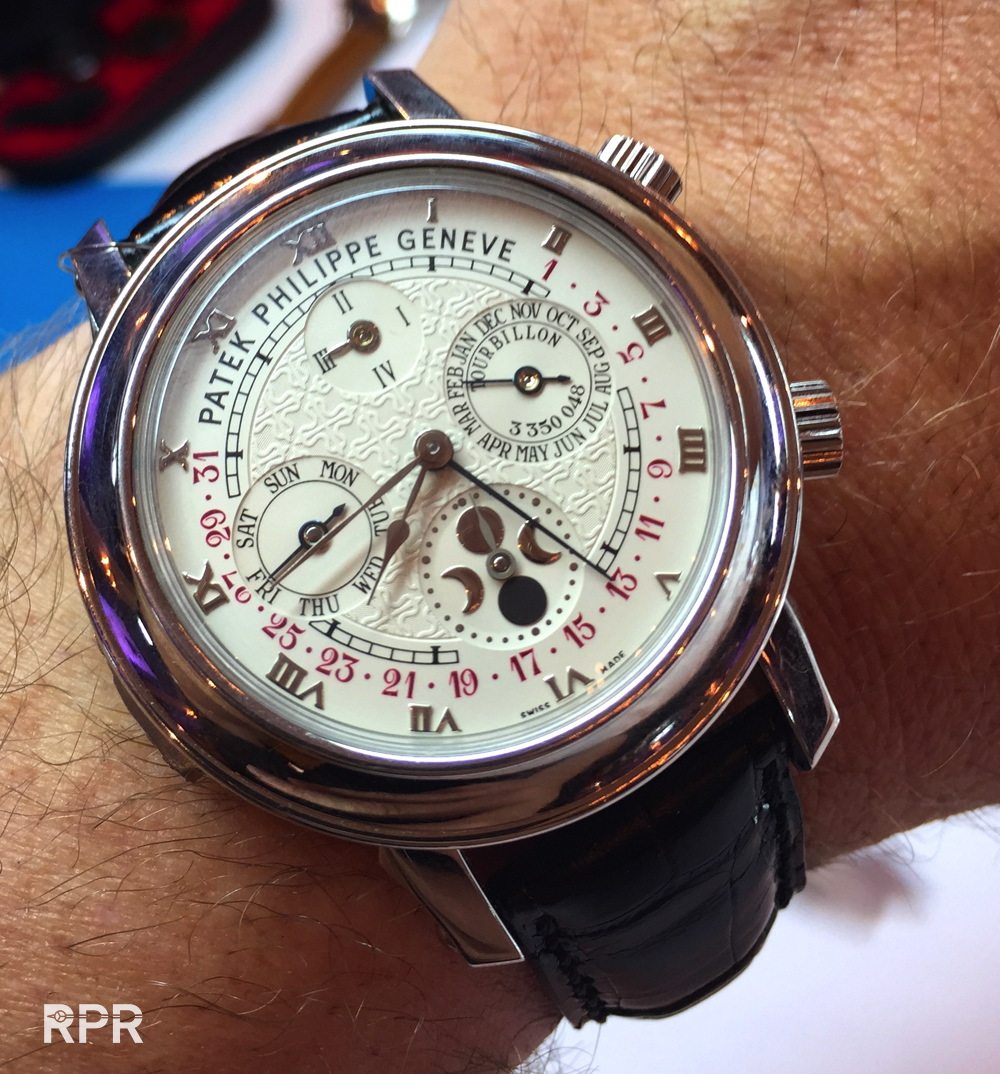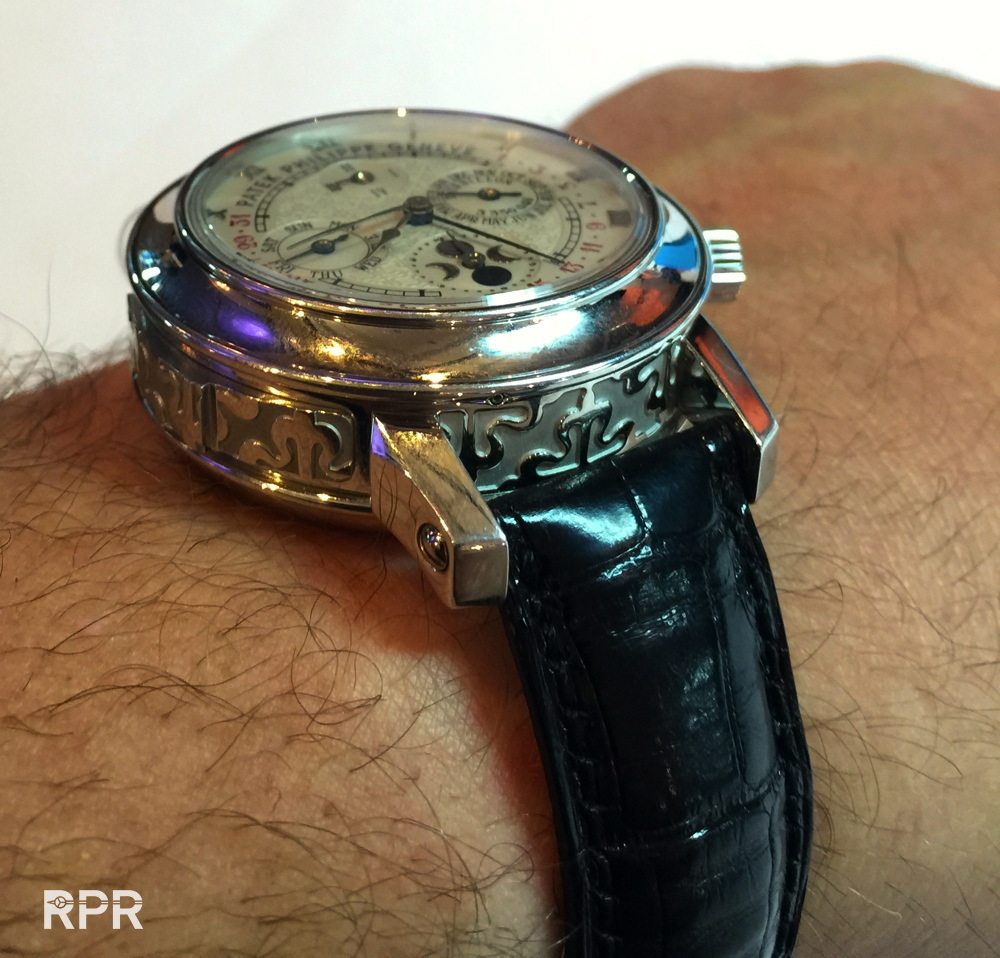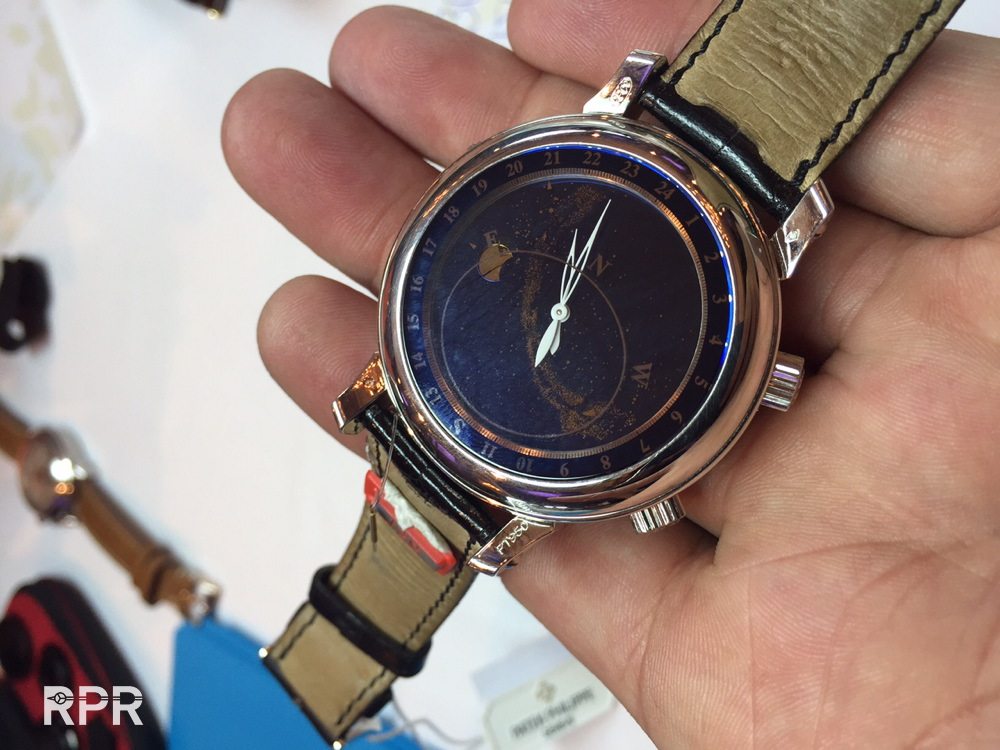 Lots of Italian politic emotion in my hand with this gold ref 3525…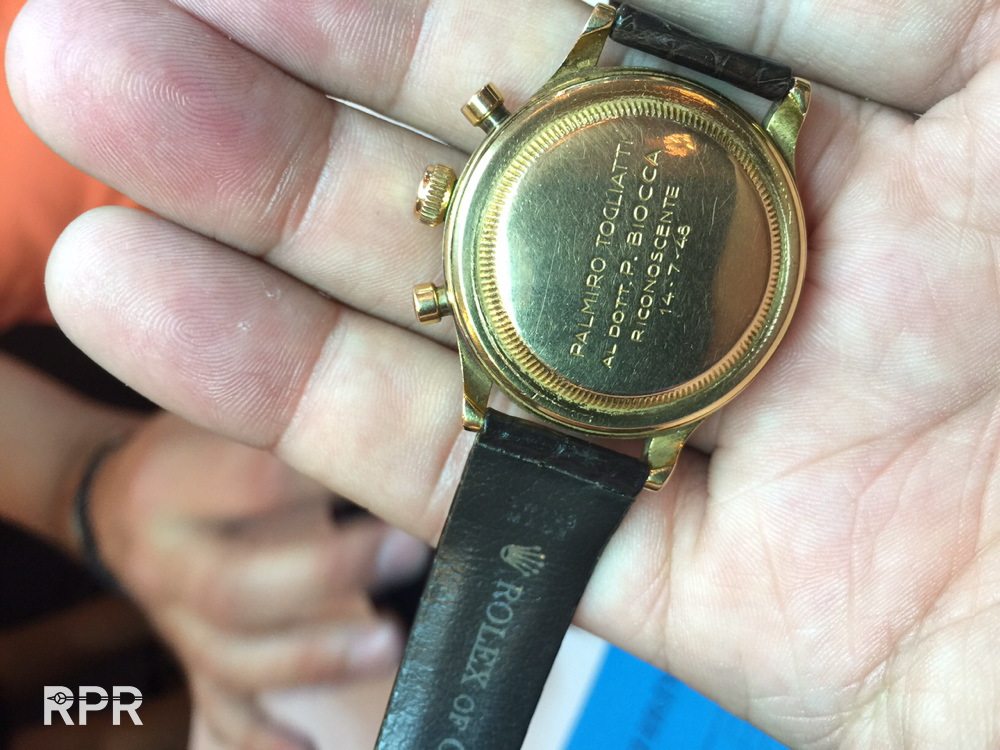 Big Egyptian Panerai coming up for sale soon..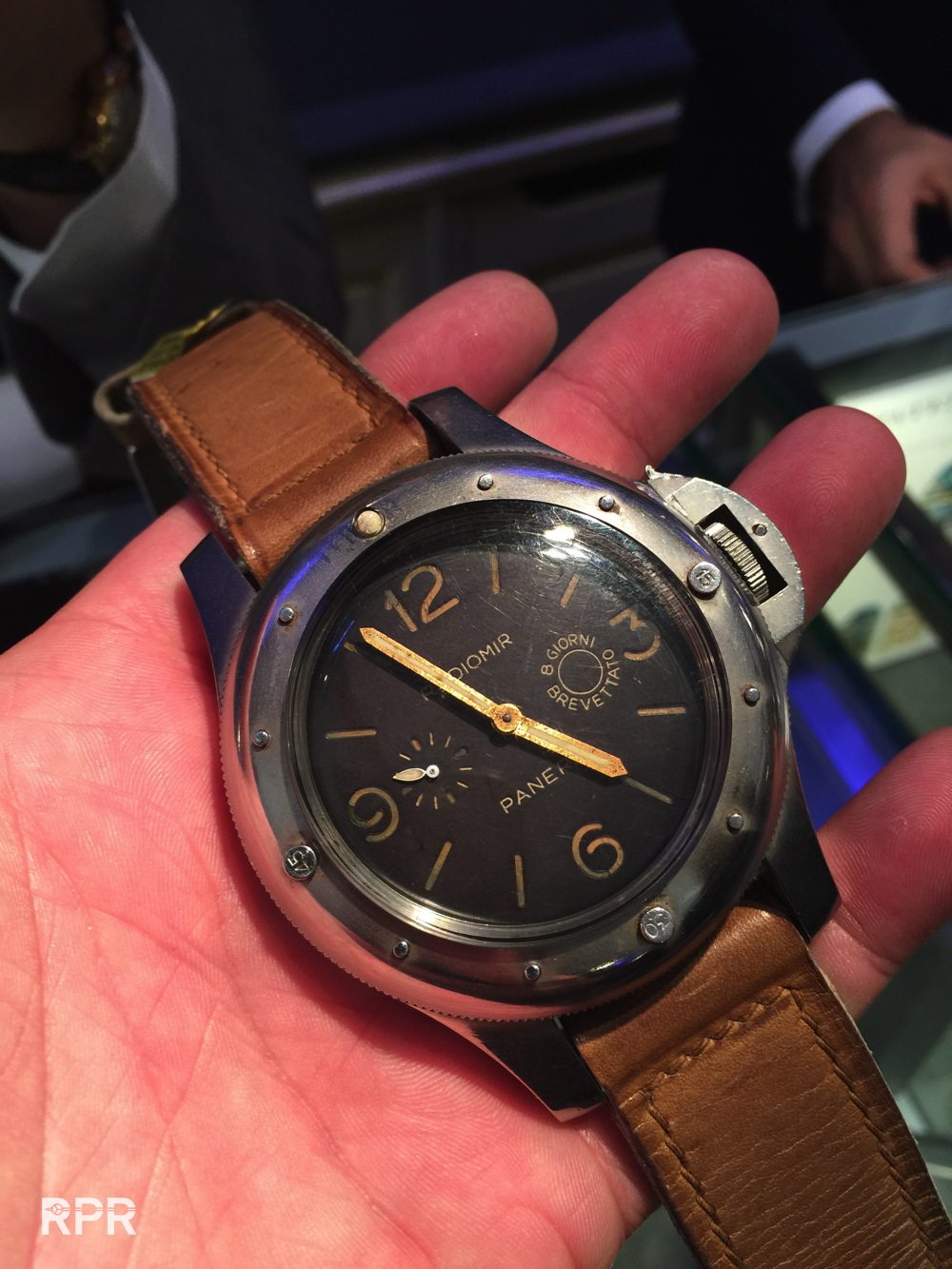 Rare Oman A serie AP..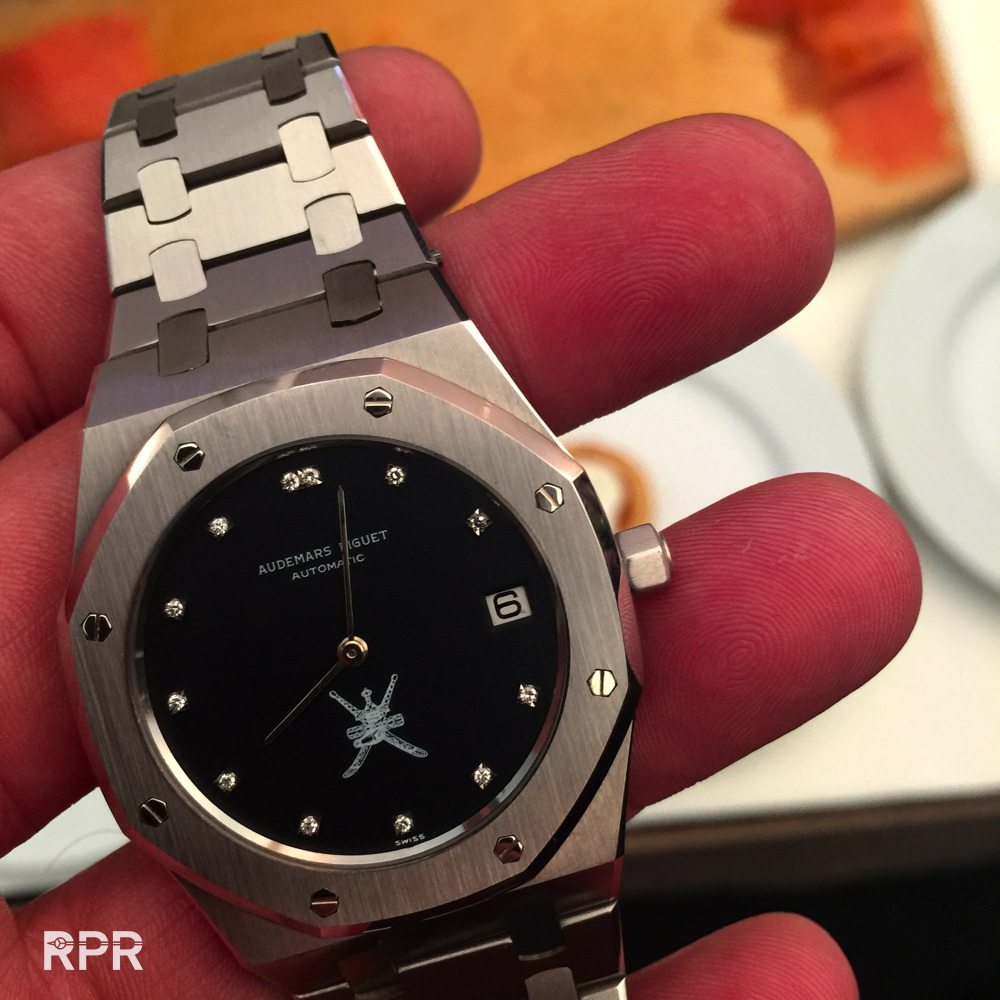 POW with straight logo…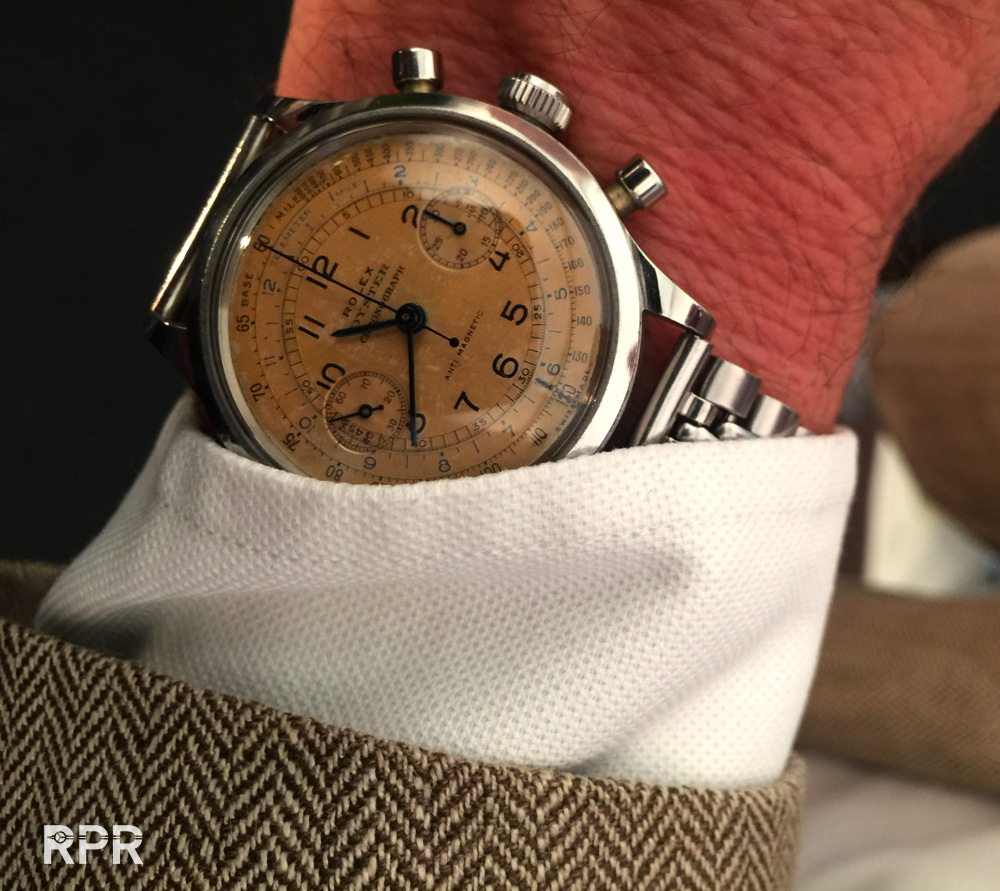 175 anniversary PPC Geneva on the wrist of a charming lady collector..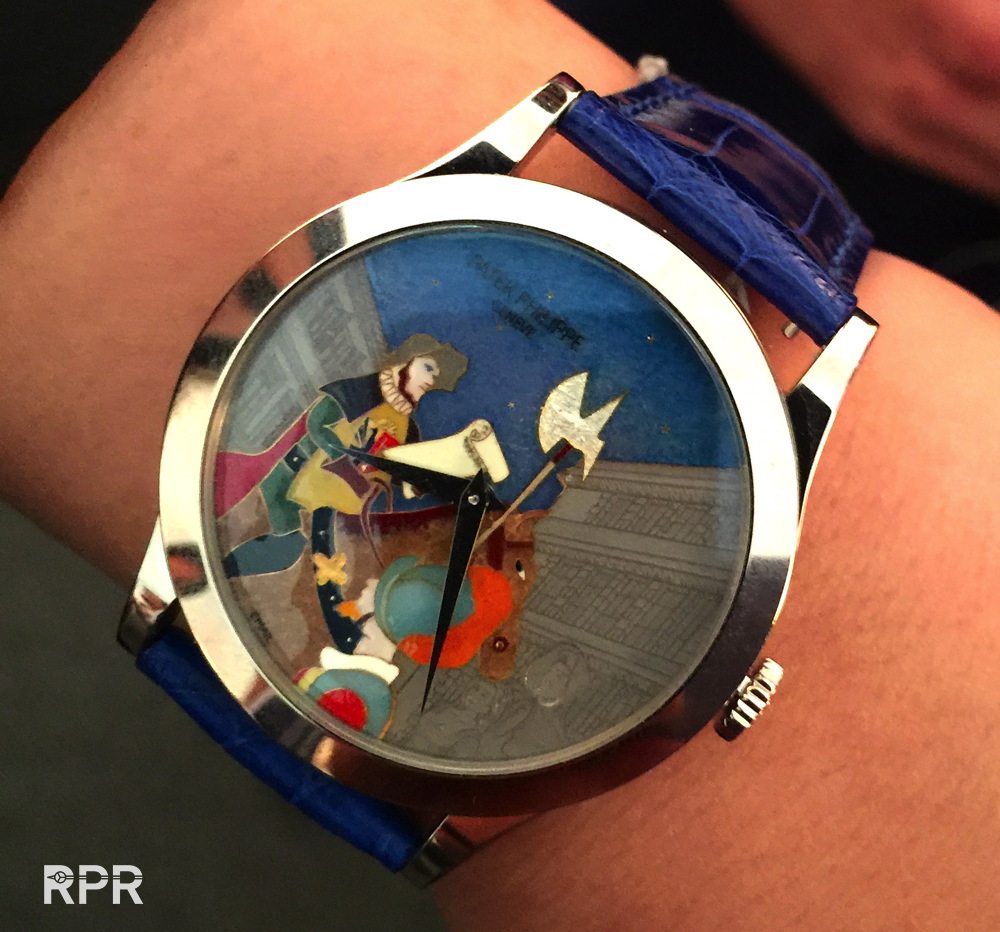 Only 2 known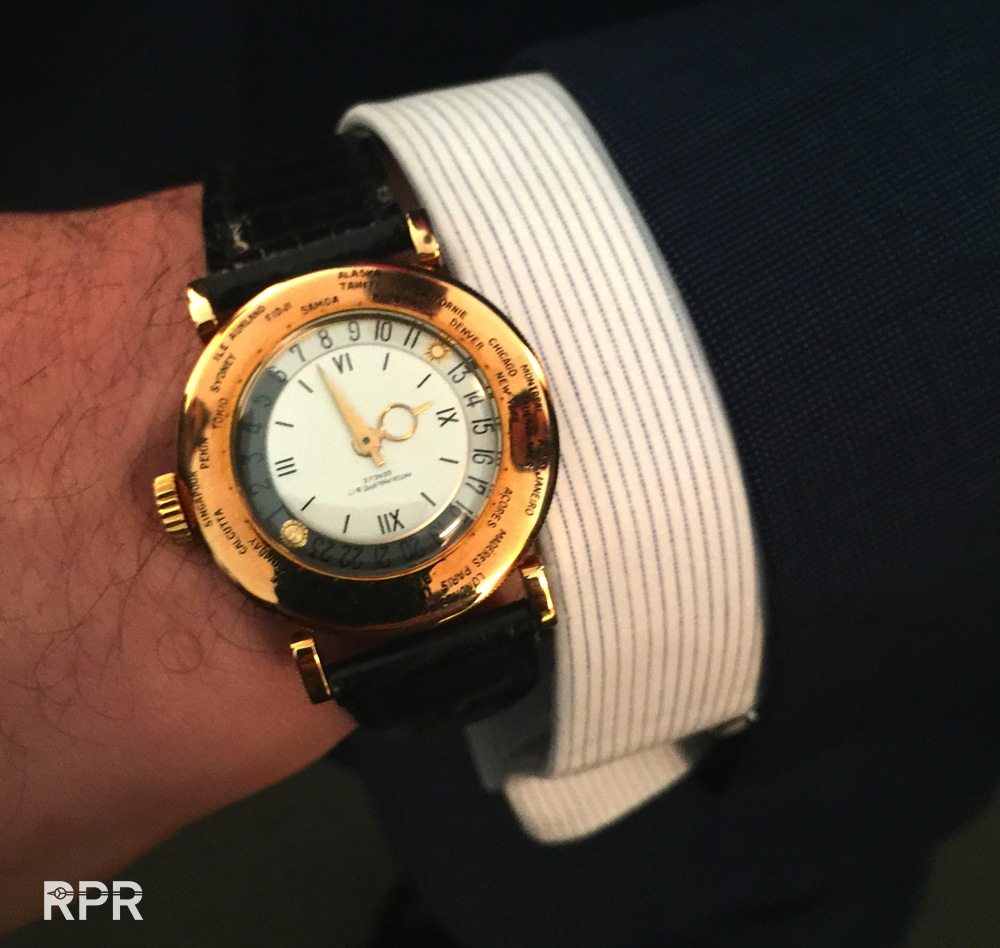 Watch the difference in size..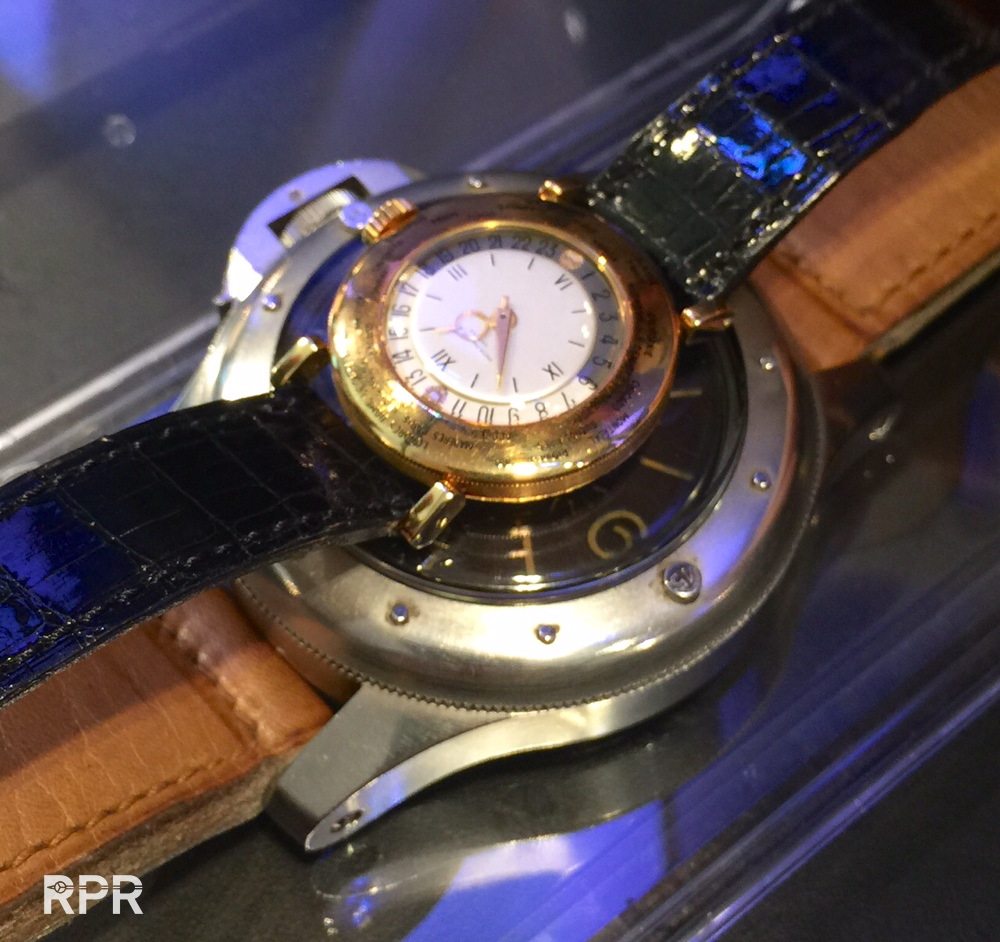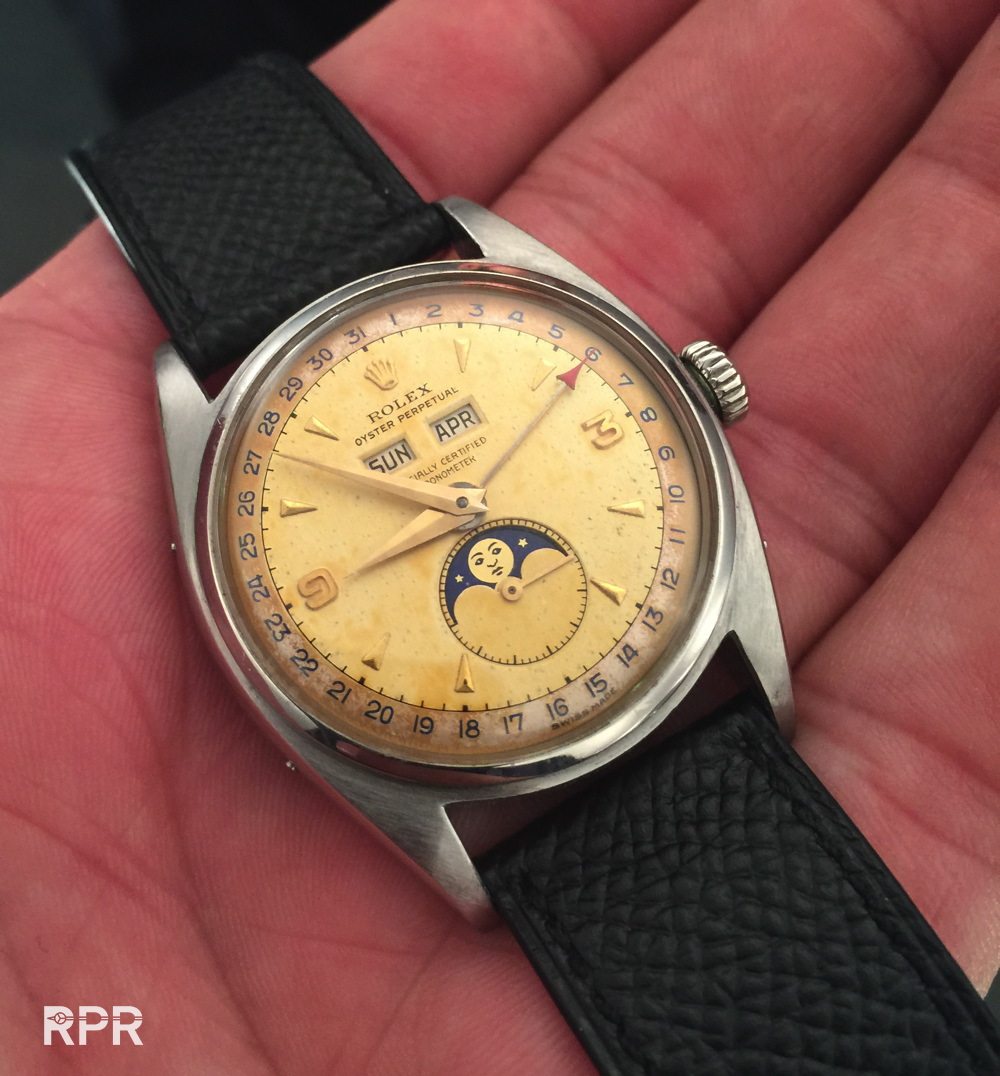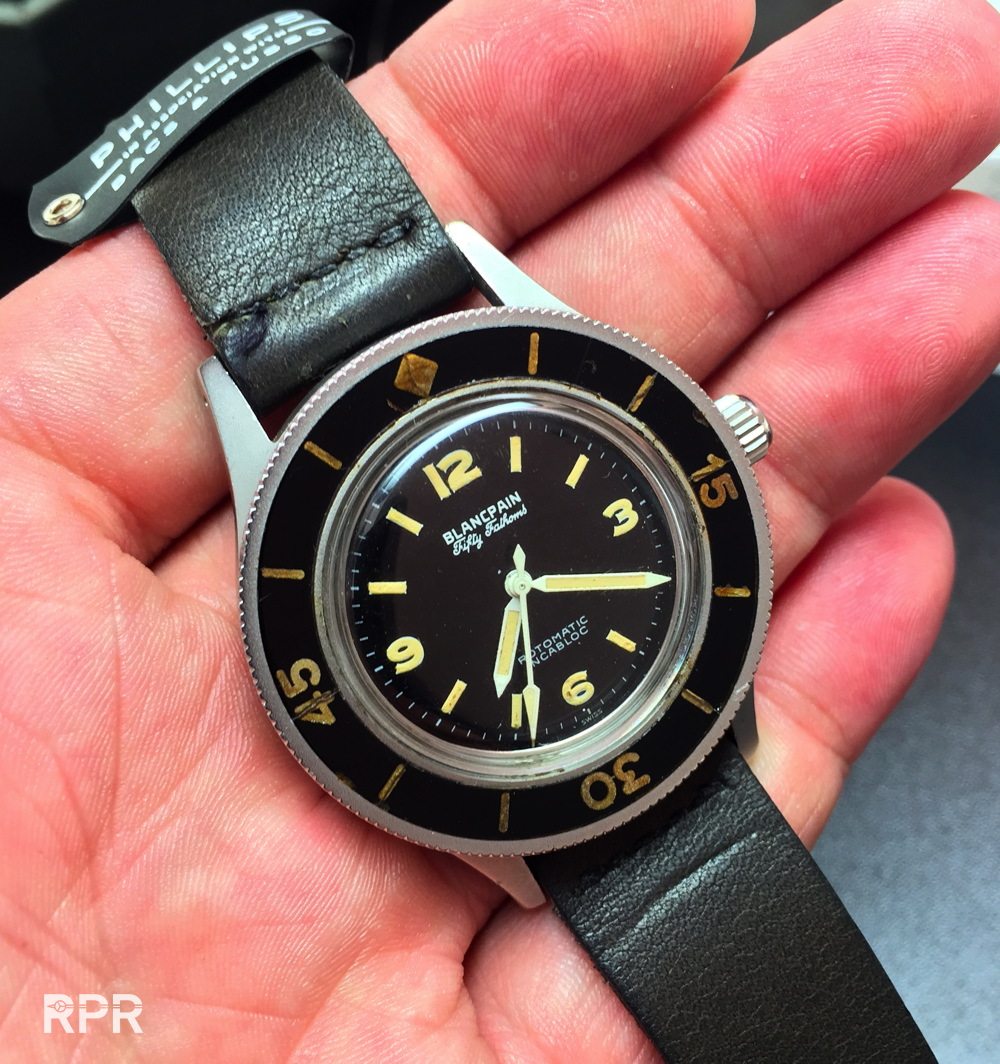 A little dent in the dial didn't stop collector bid it up..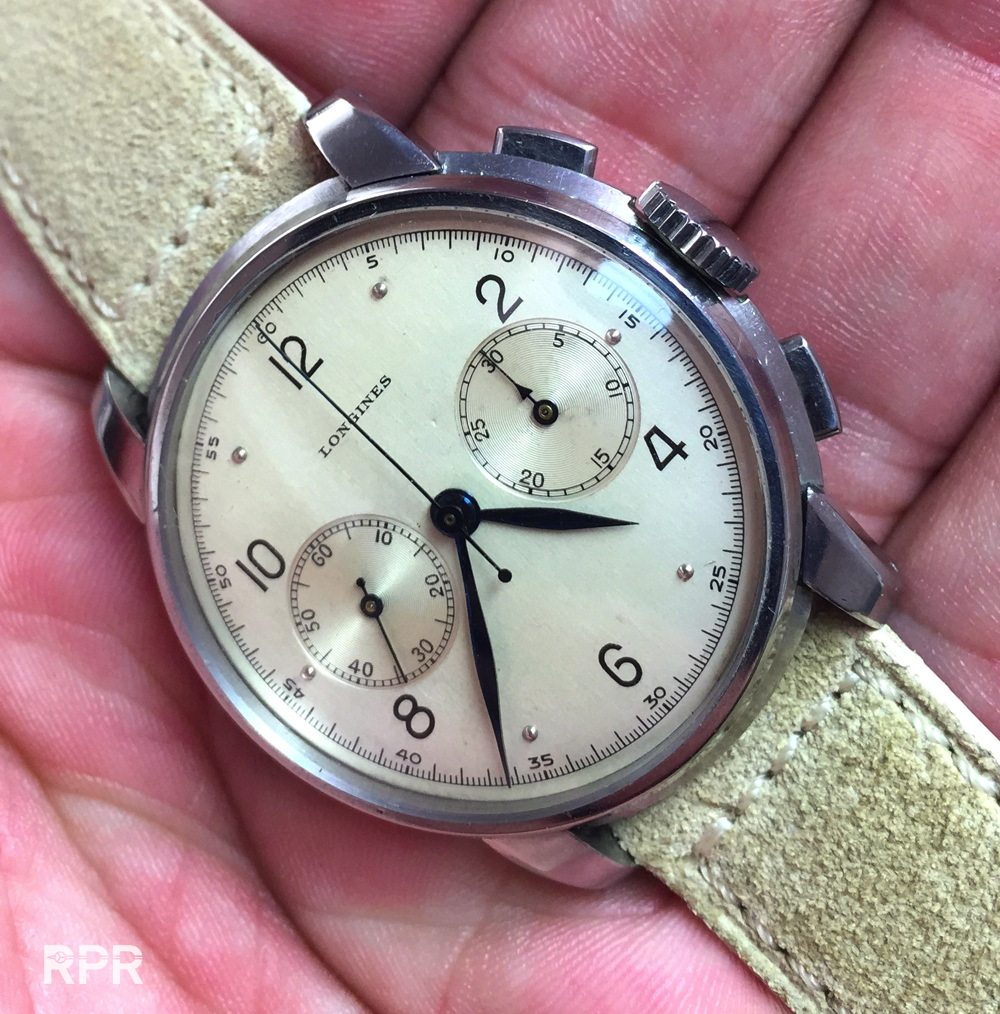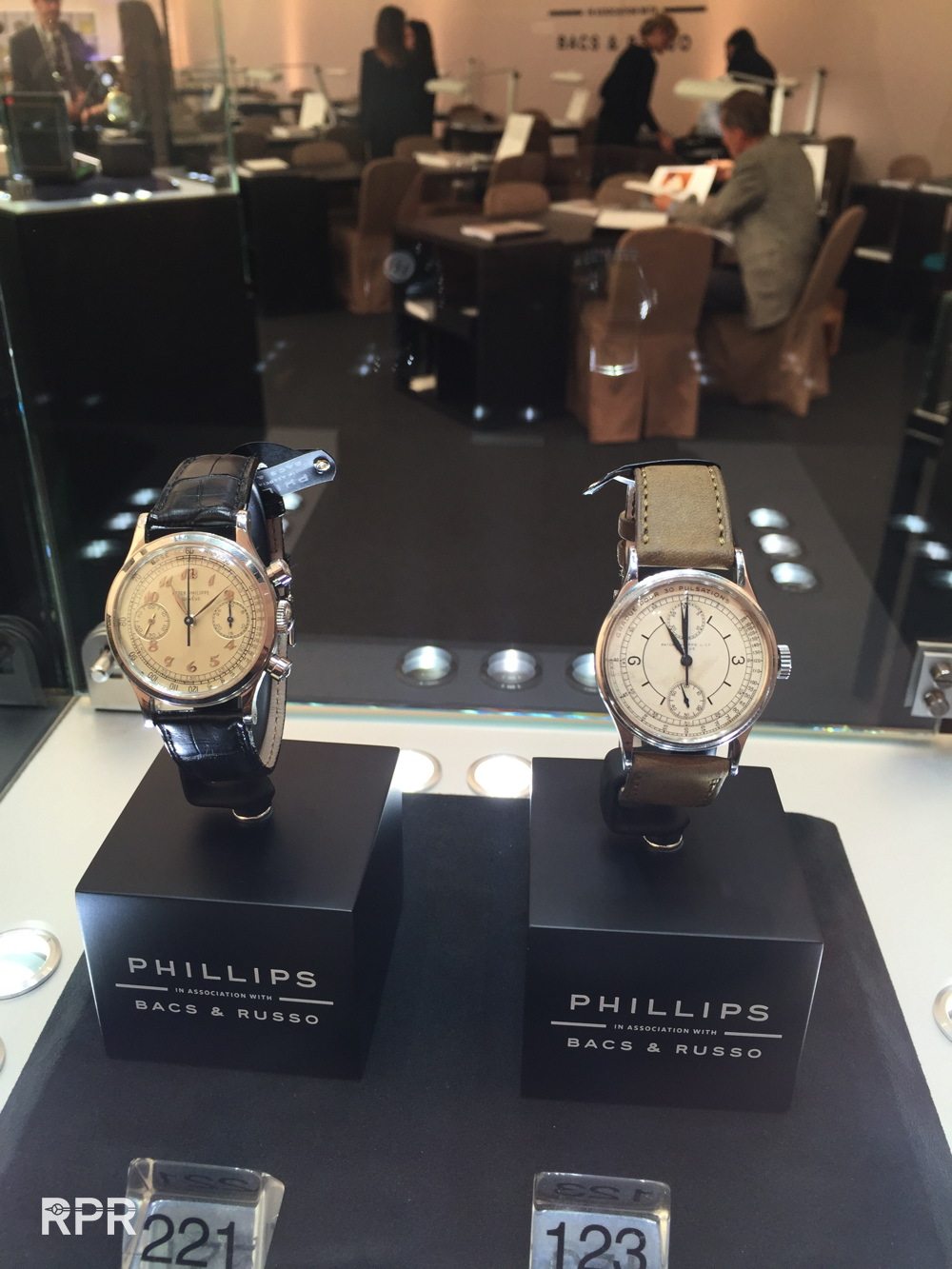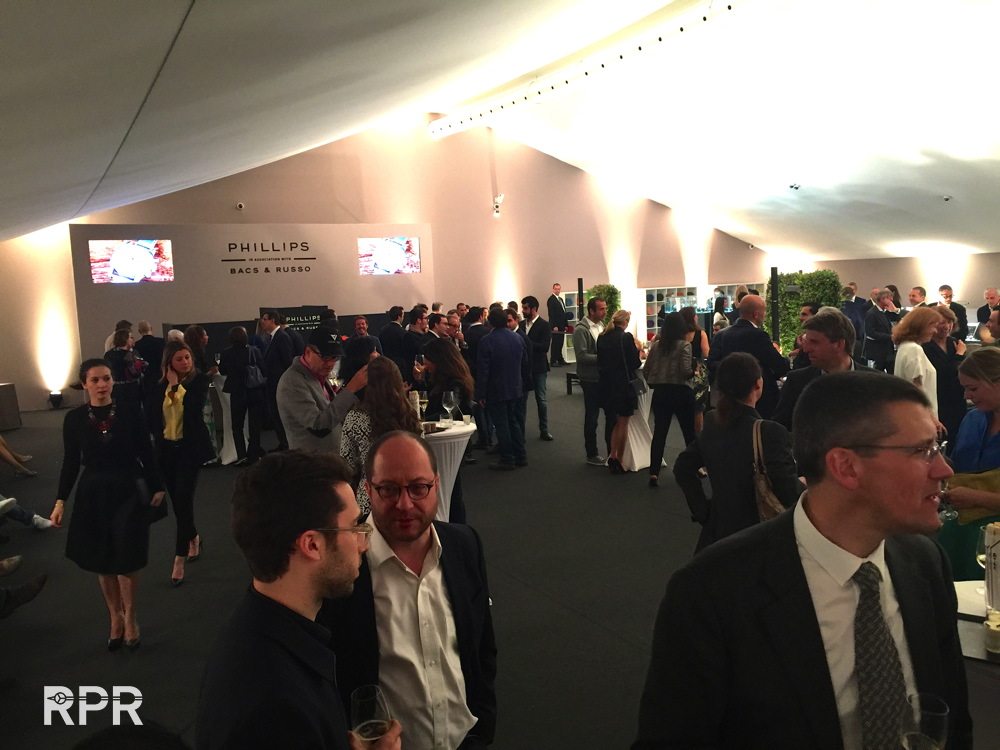 Whitegold Ref 570 sold for CHF 96,250,=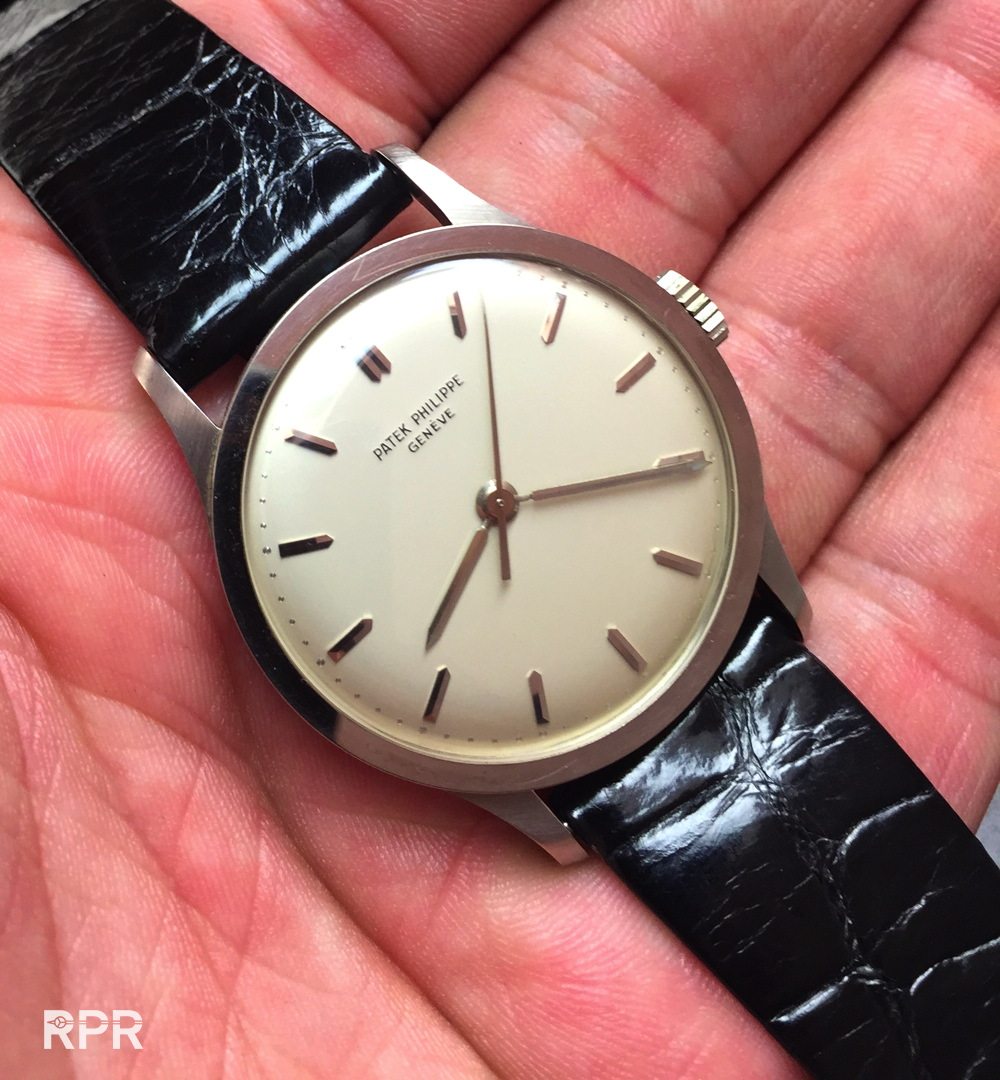 Beautiful Longines in all original condition given by Lindberg himself…Sold for CHF 143,000,=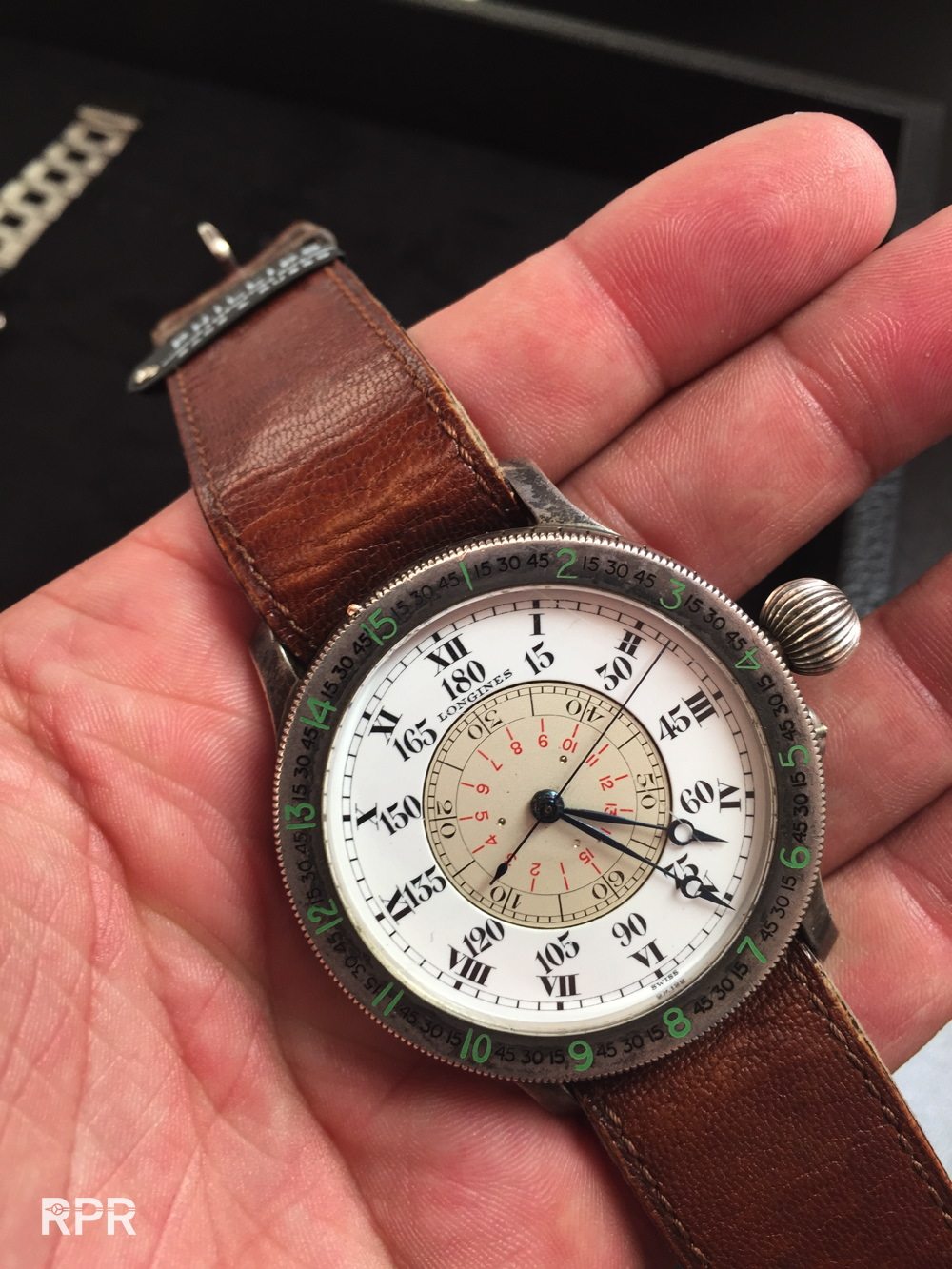 Due tones waterproof Longines… sold for CHF 50.000,=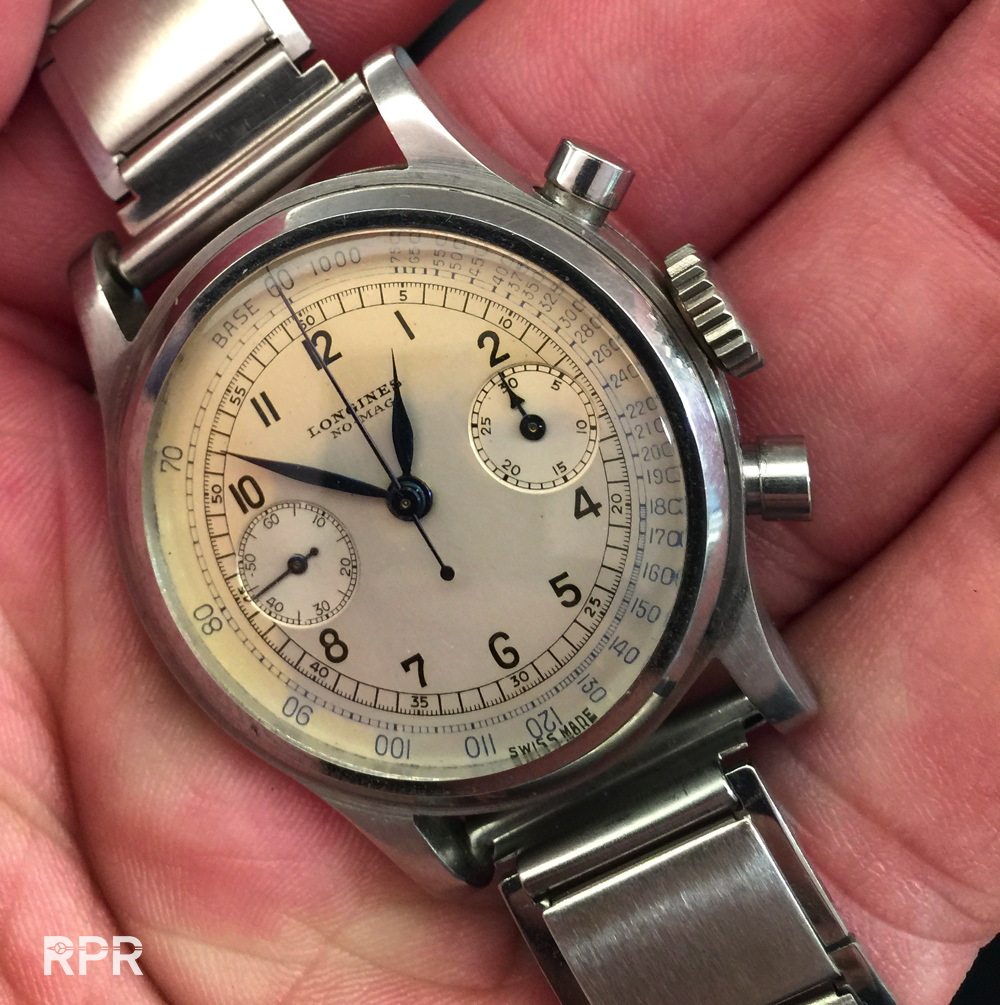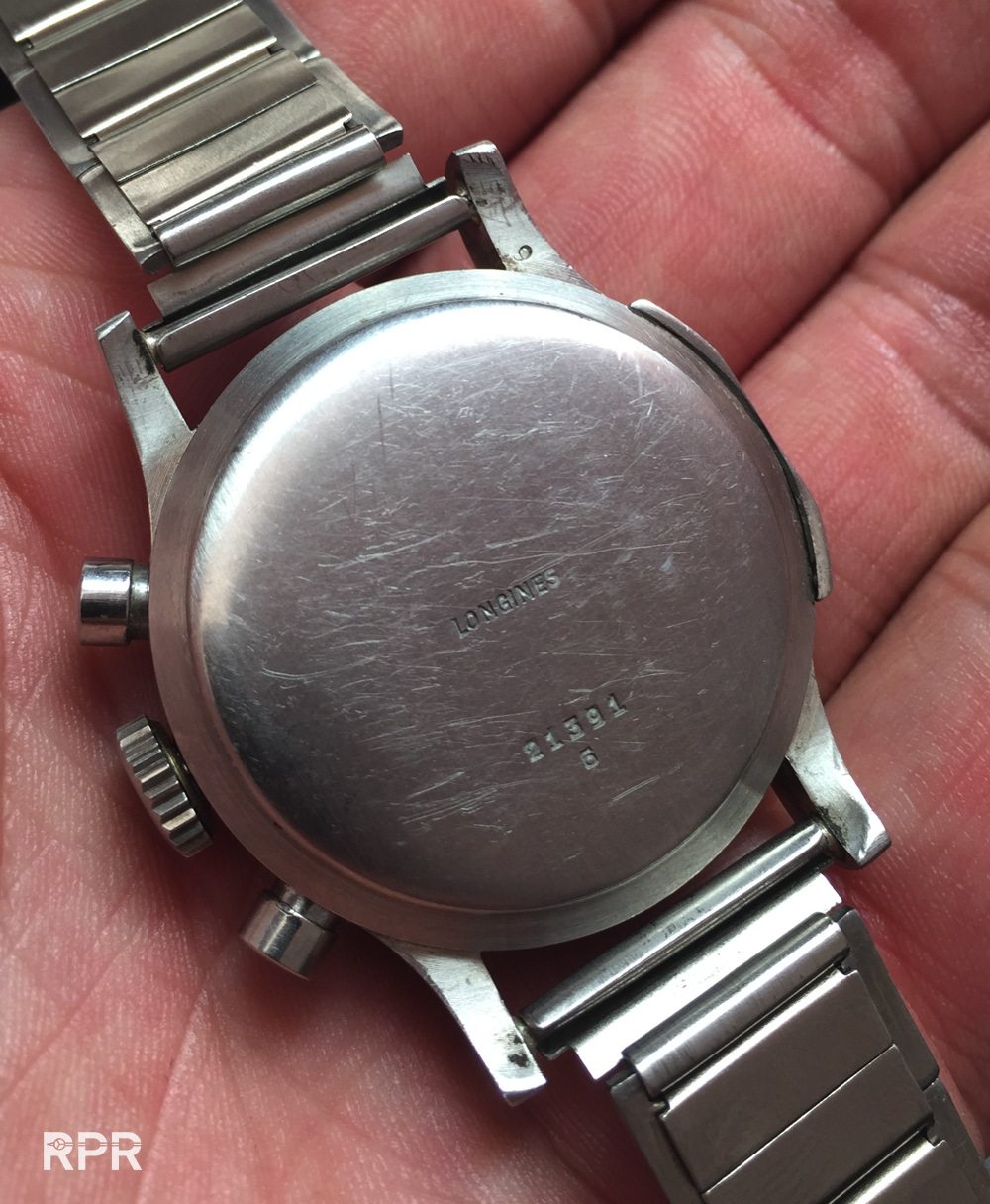 Sunny Geneva..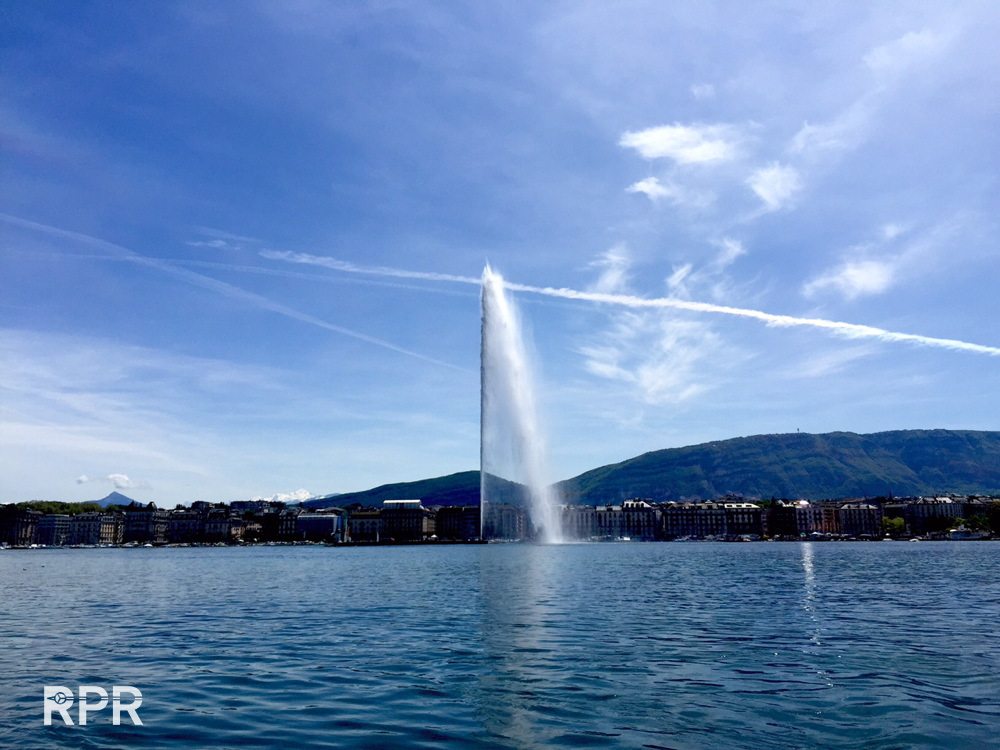 6 million euro costing belt from private sale at Christie's. The brown 60 carat diamond is set into a Ronald Iten .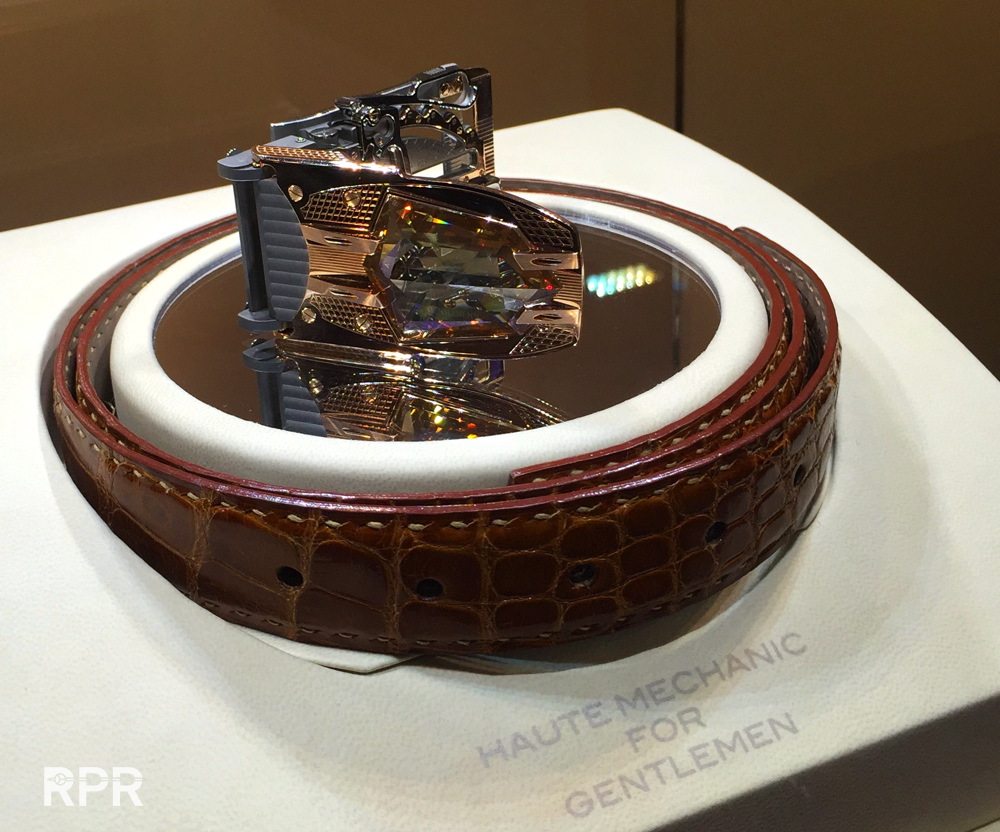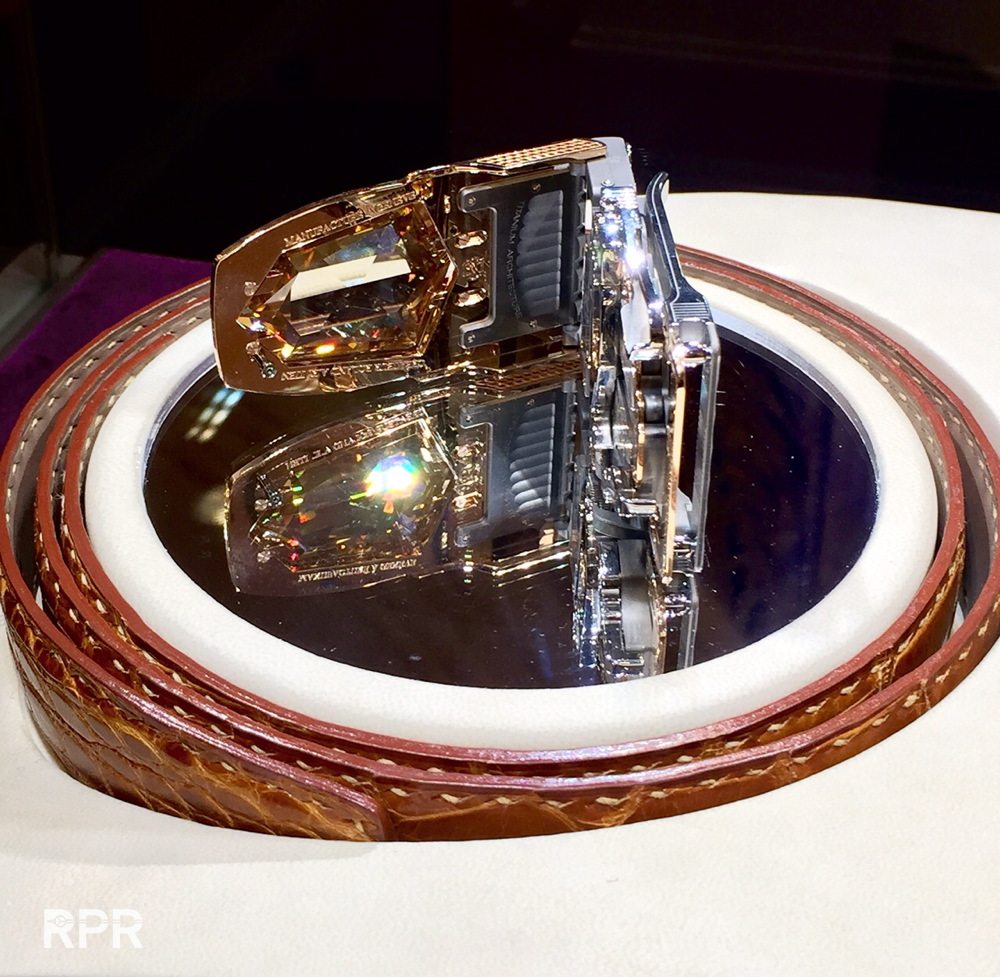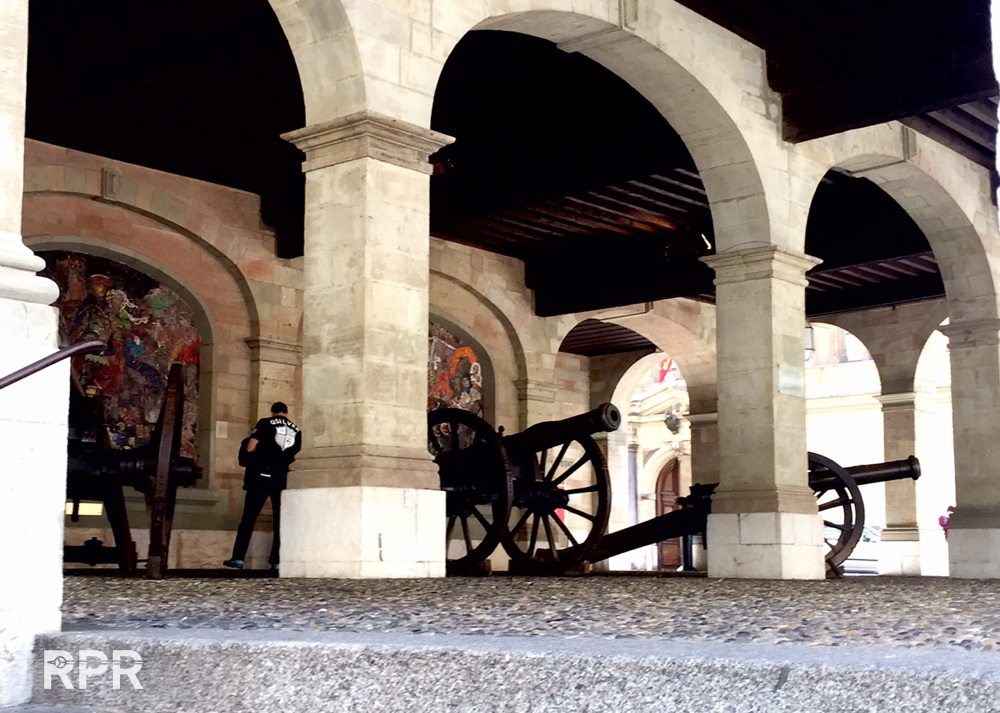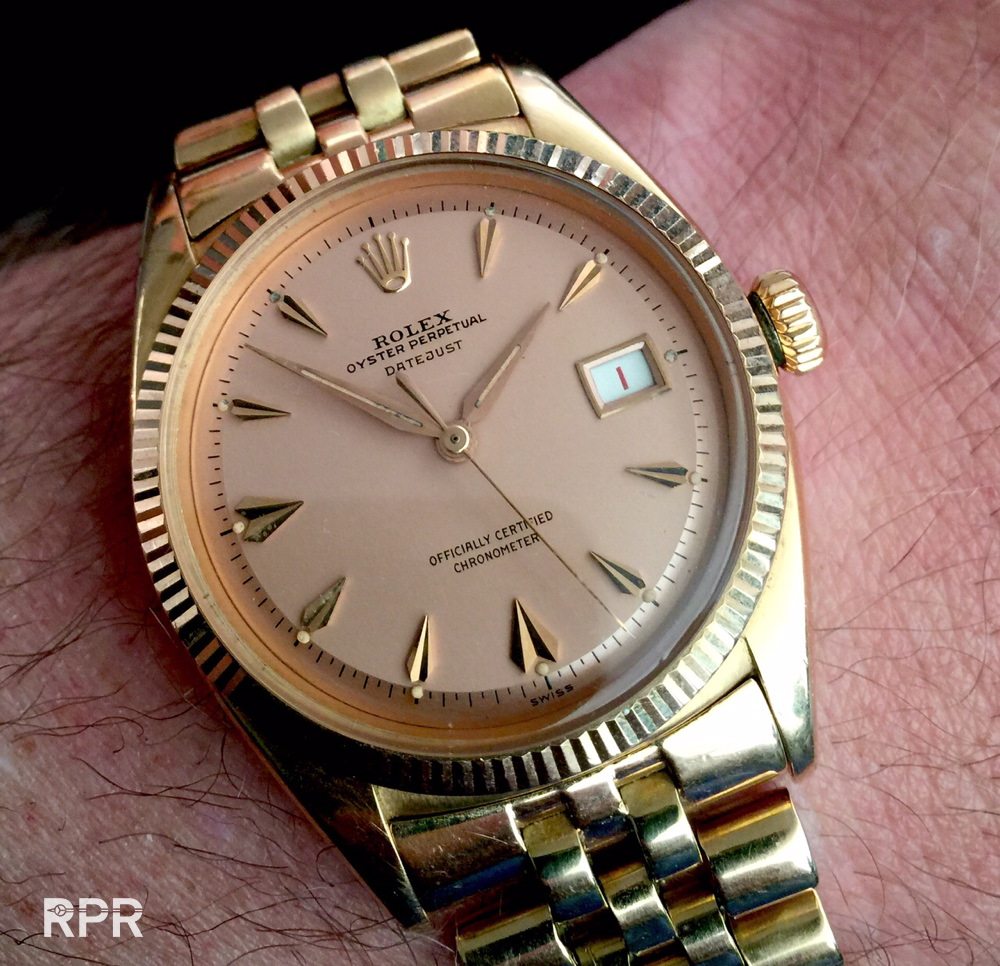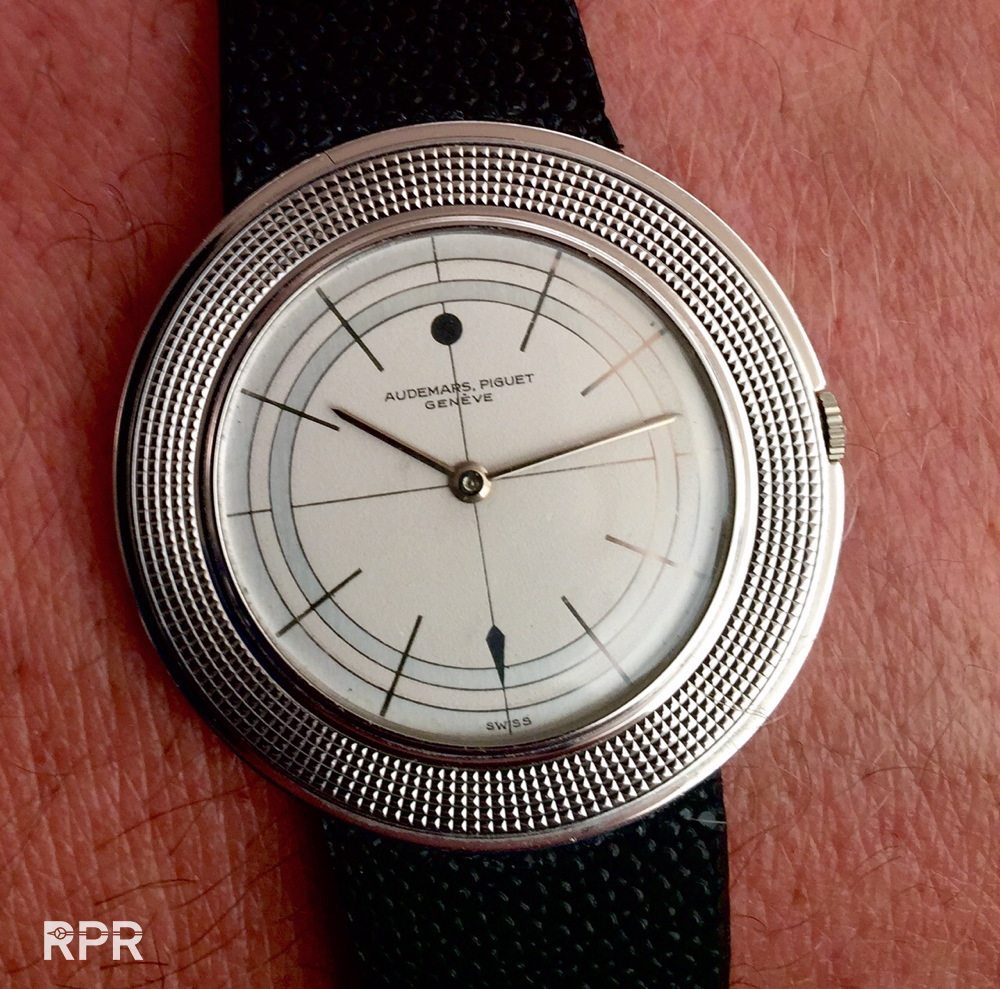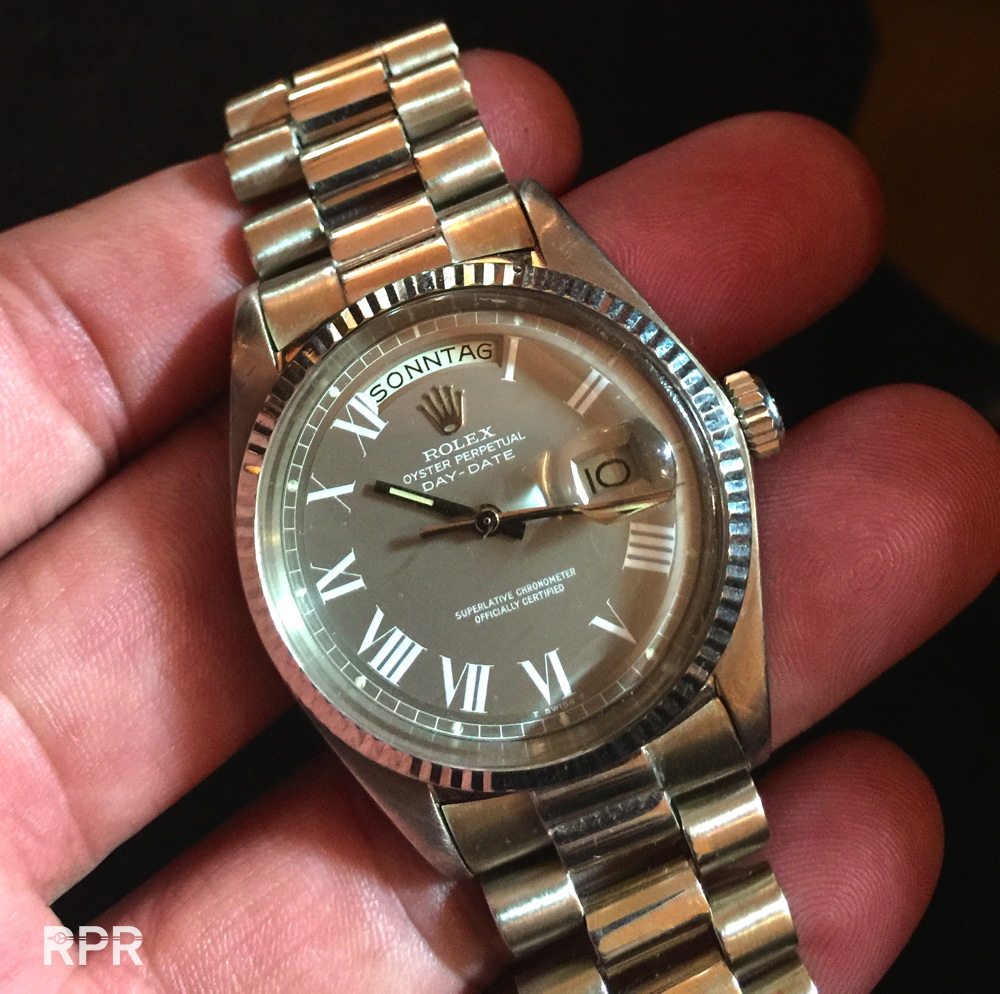 Fetching 370K all in for a second serie Gold Oman Rolex Seadweller ref 1665 is a strong result!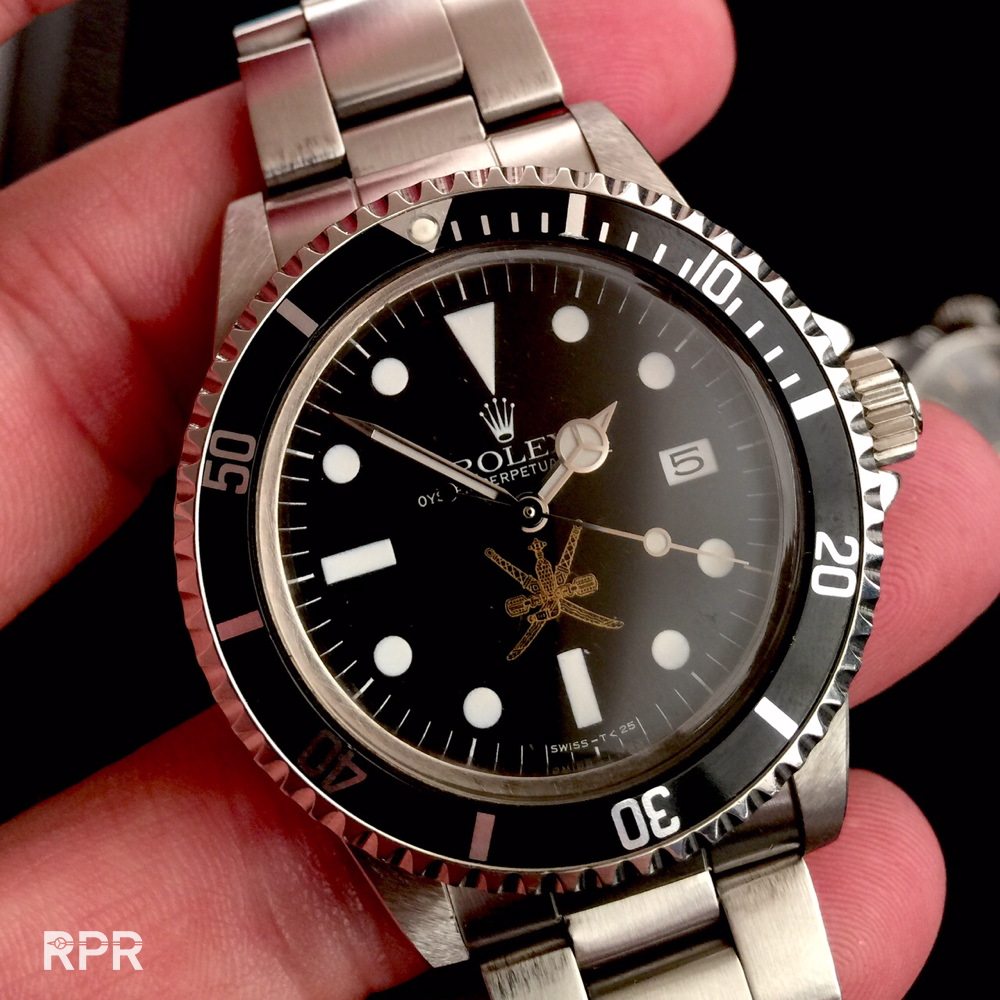 Prototype Zenith El Primero hammering for 55K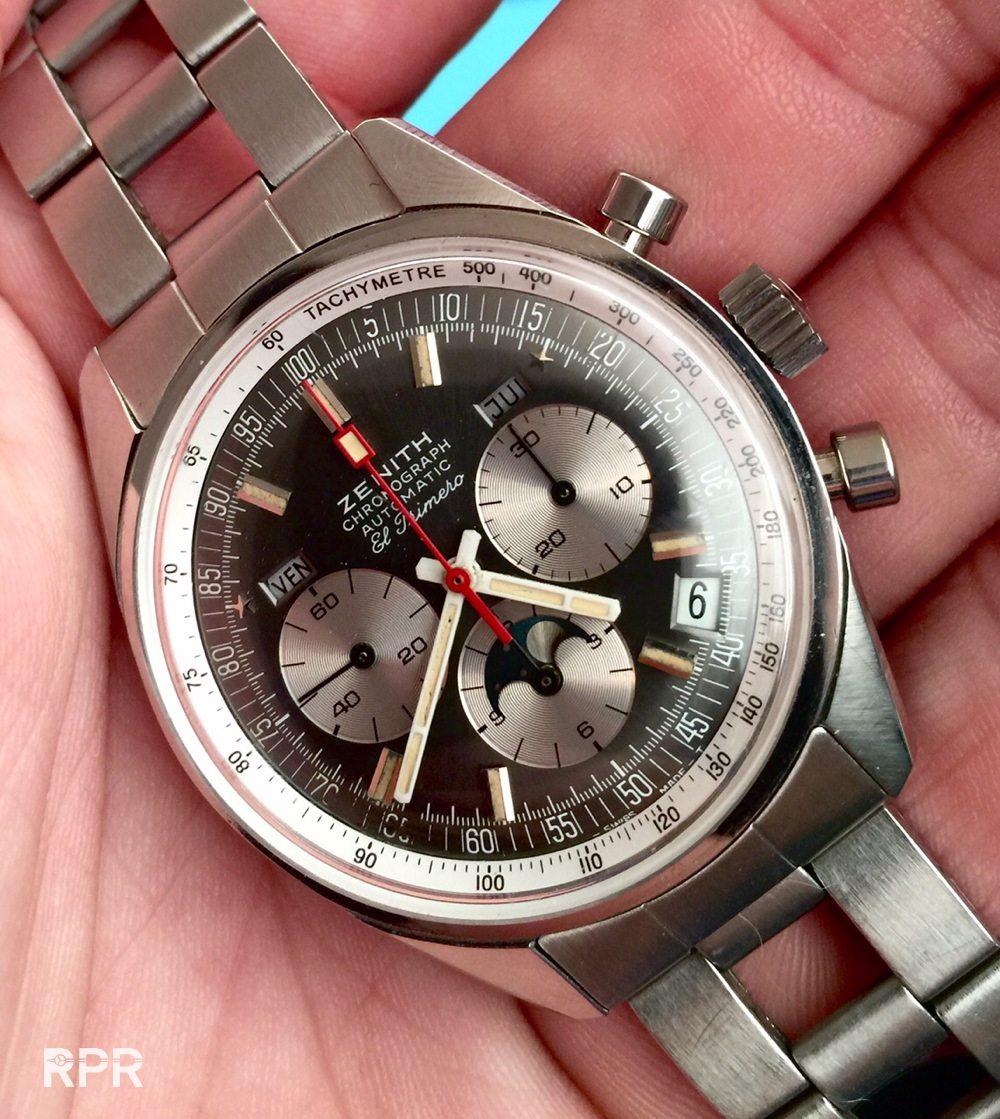 Hottest brand from last year, after Longines all attention goes to Universal this year!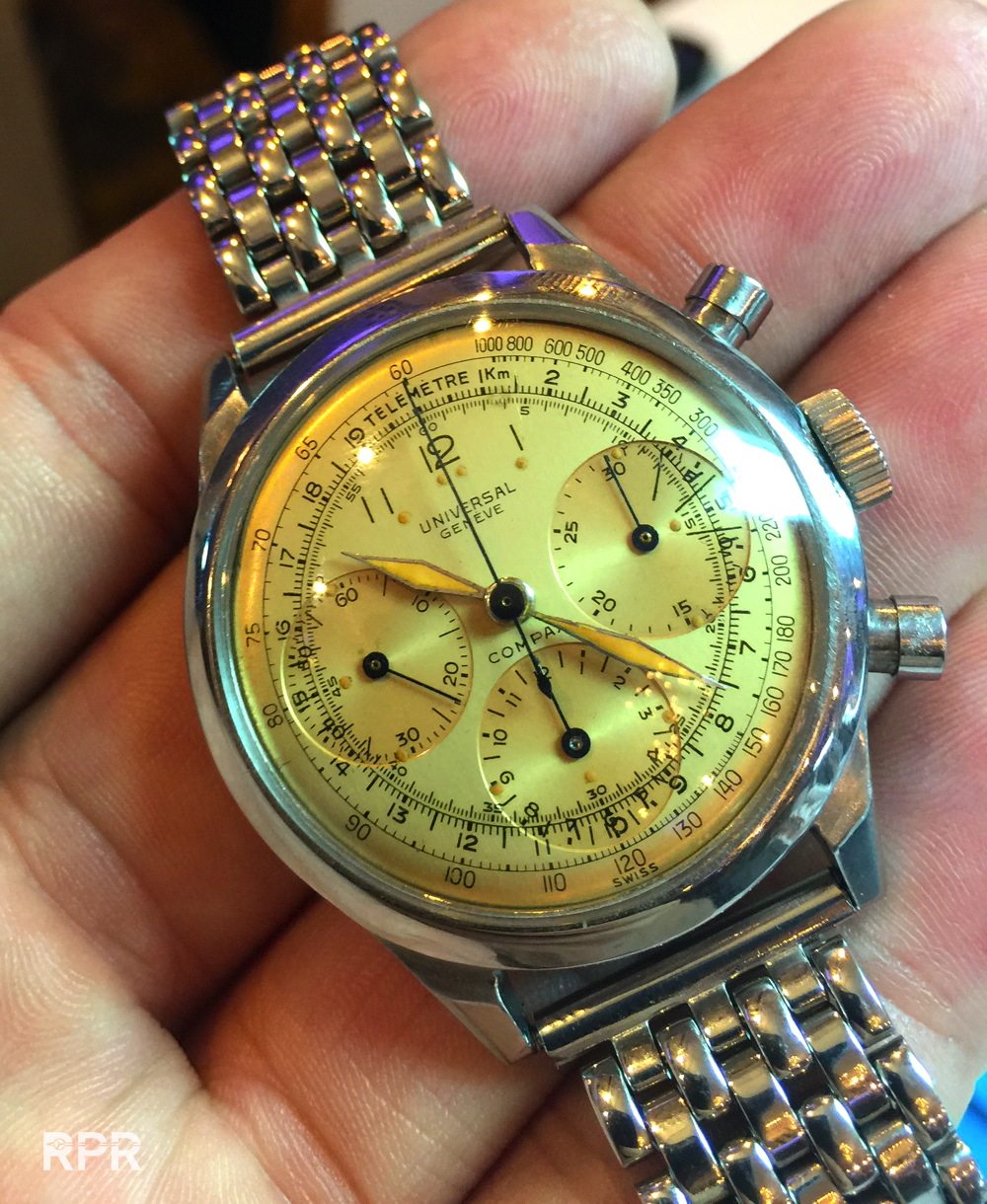 This so called prototype just sold at Sothebys for 200K hammer, 250K all in…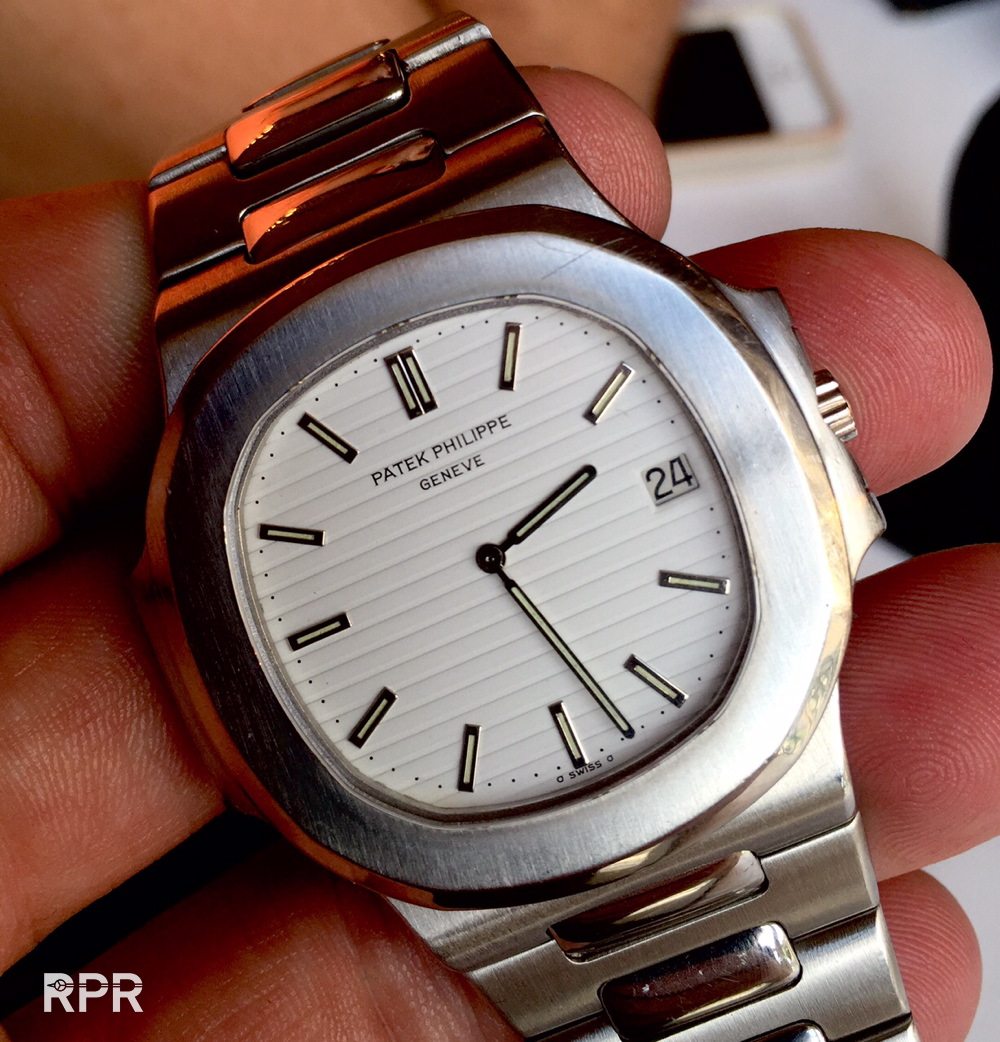 Ex Eric Clapton pink 5970 with possible unique breguet numerals… CHF 406.000,=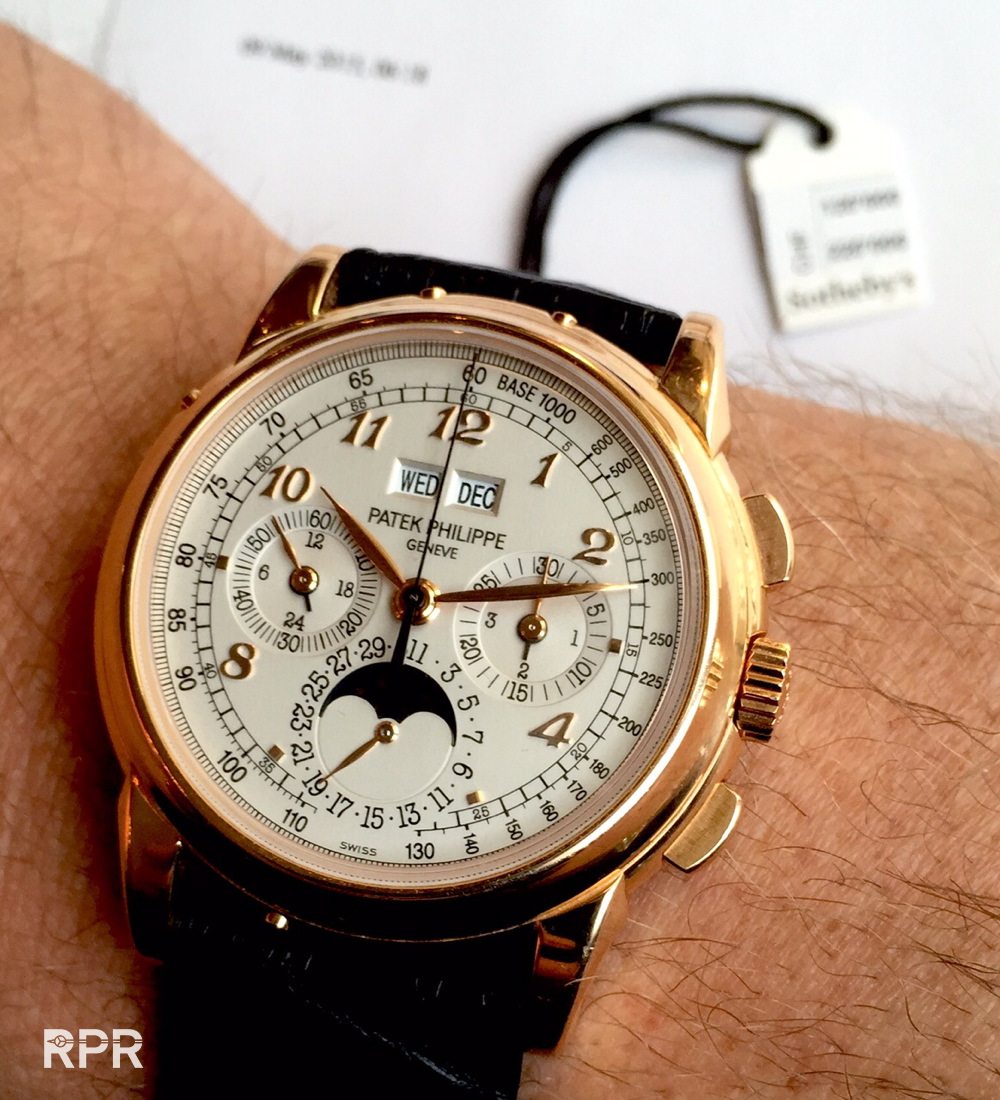 The split didn't sold, estimated 180-220K…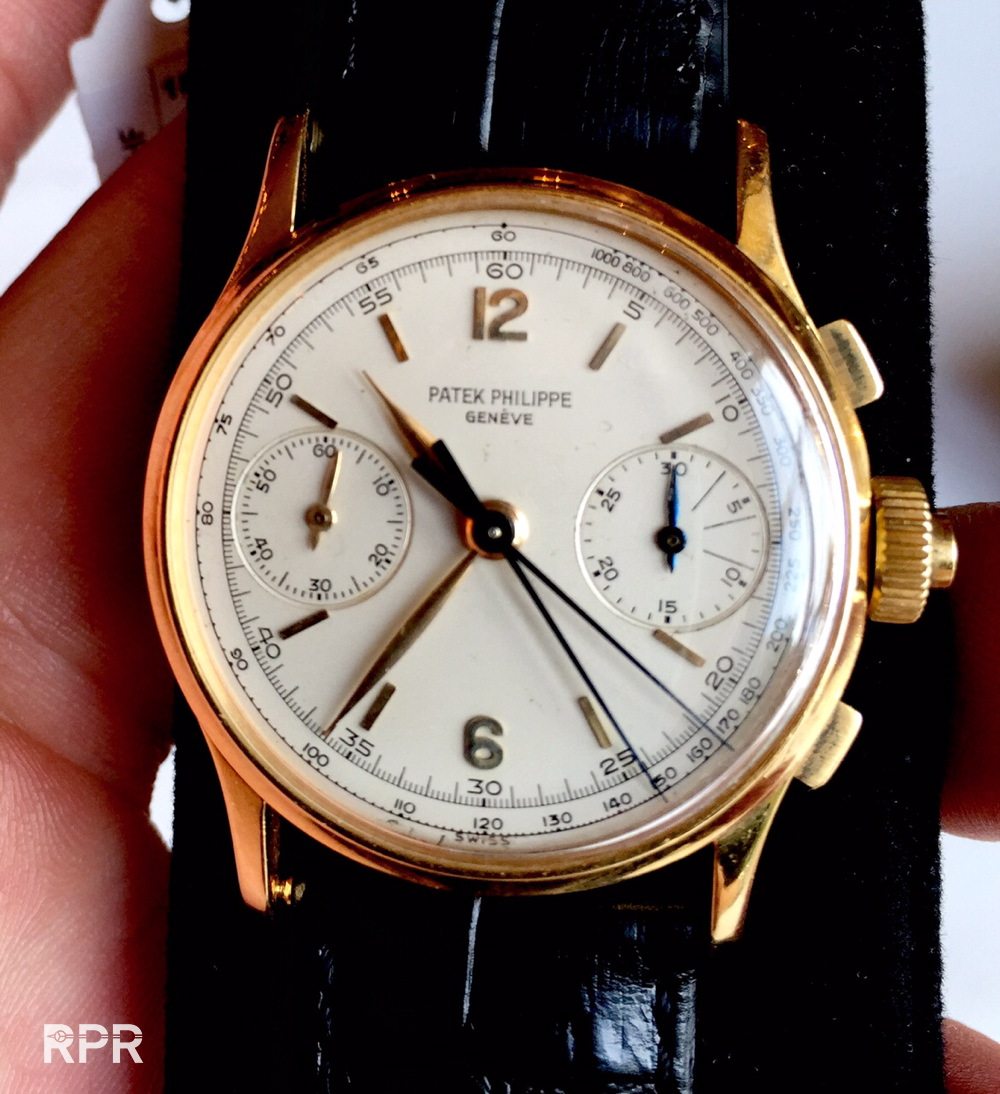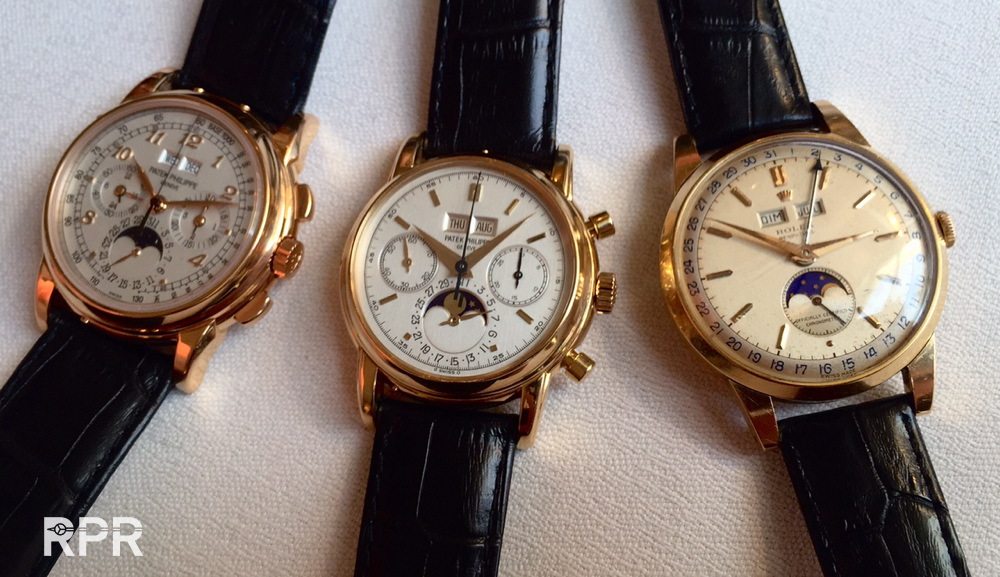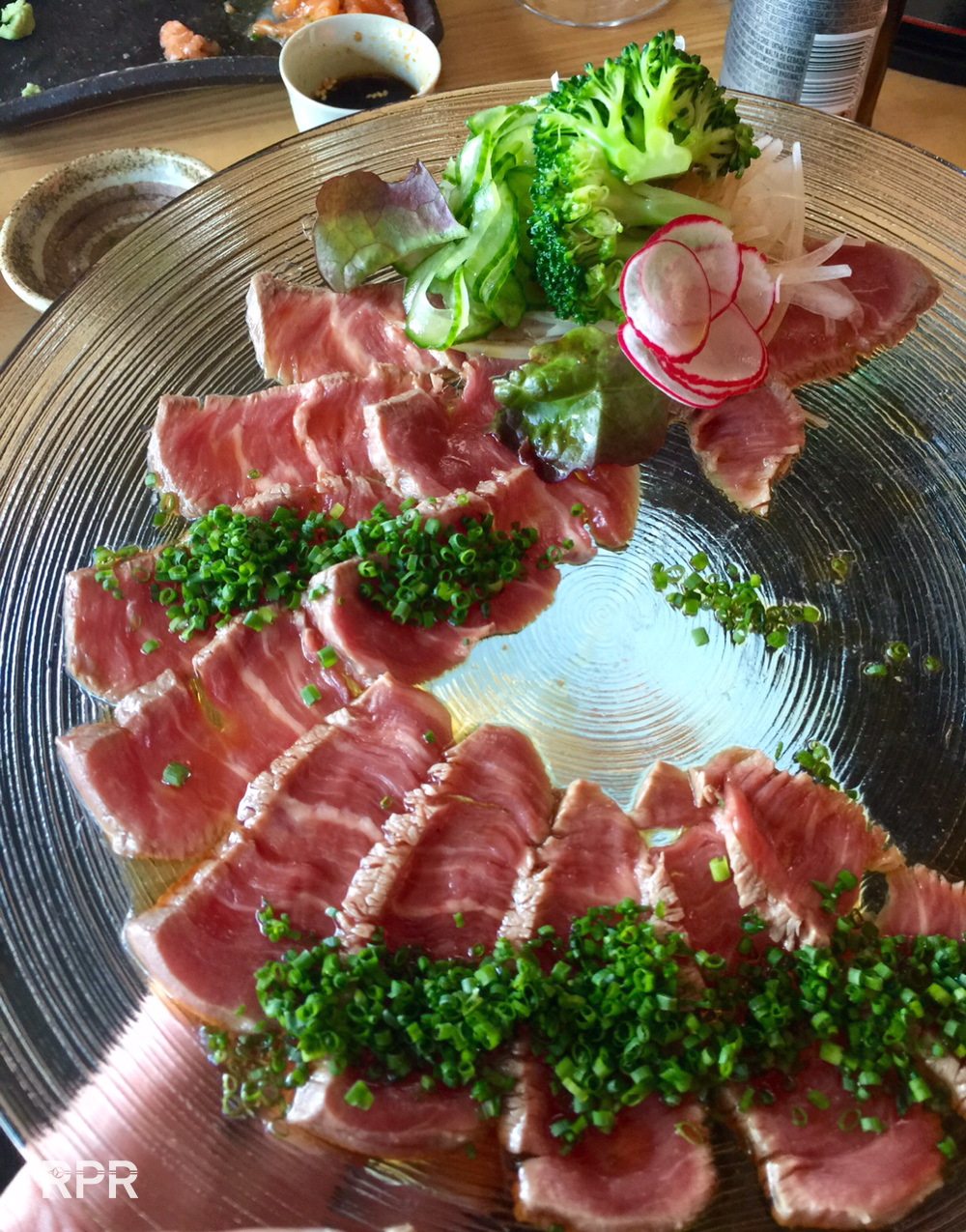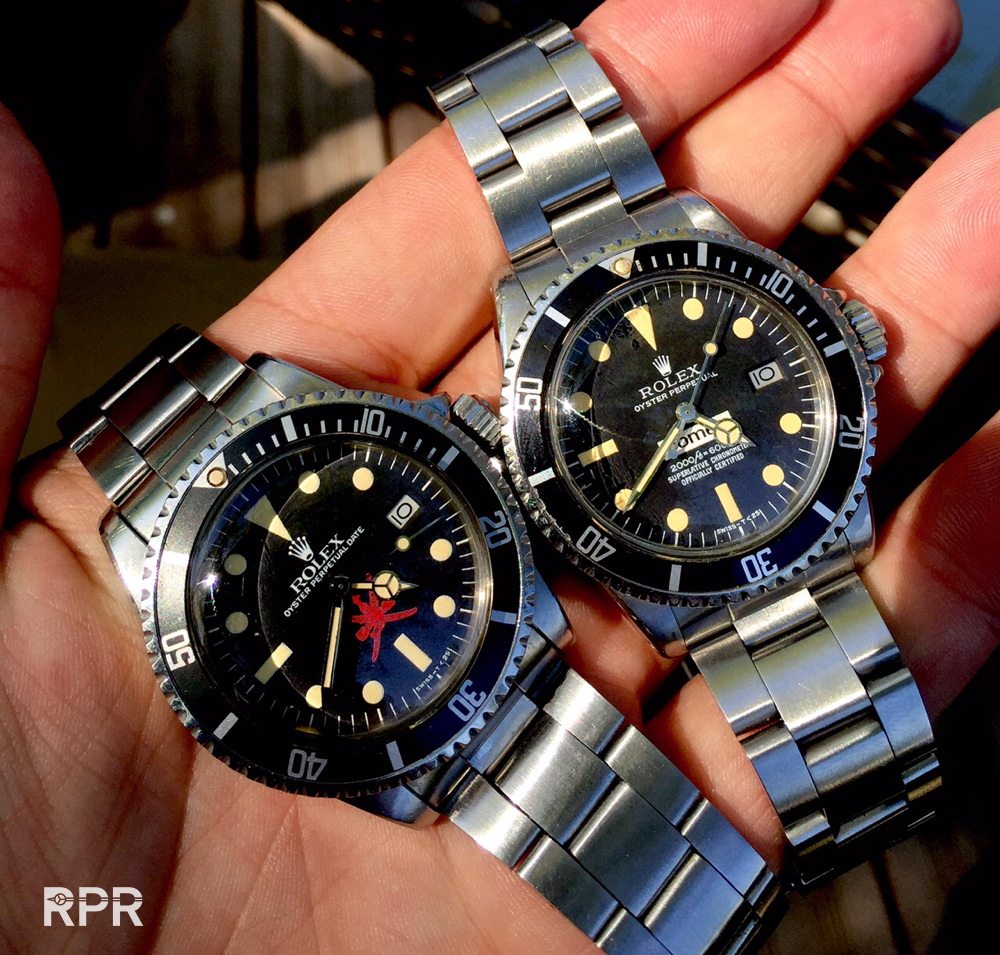 Red Depth Rolex Big Crown ref 6538 with super interesting provenance didn't went crazy due to stains on the dial, hammer 15oK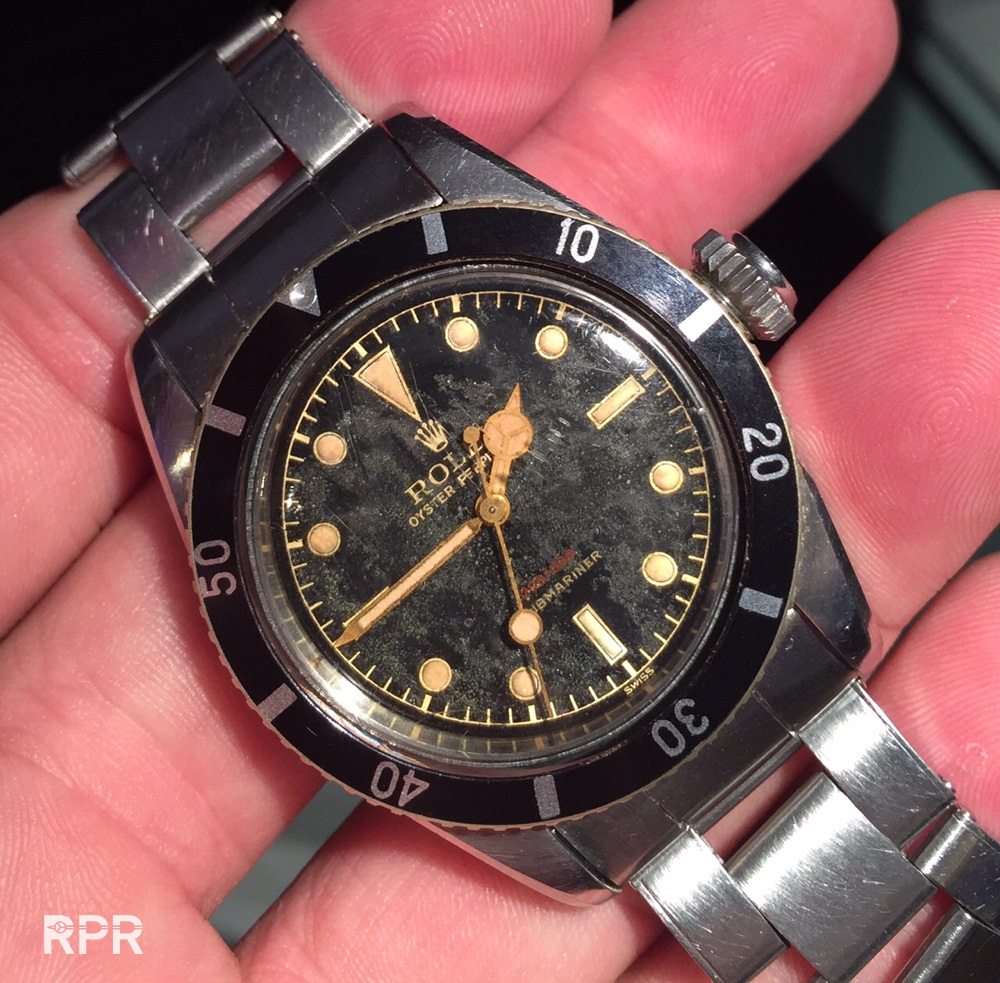 Ben Clymer from Hodinkee is "pushing" the result with his articles on rare watches due to Aurel Bacs, Ben is doing a great job for our community and he happend to be a cool guy as well!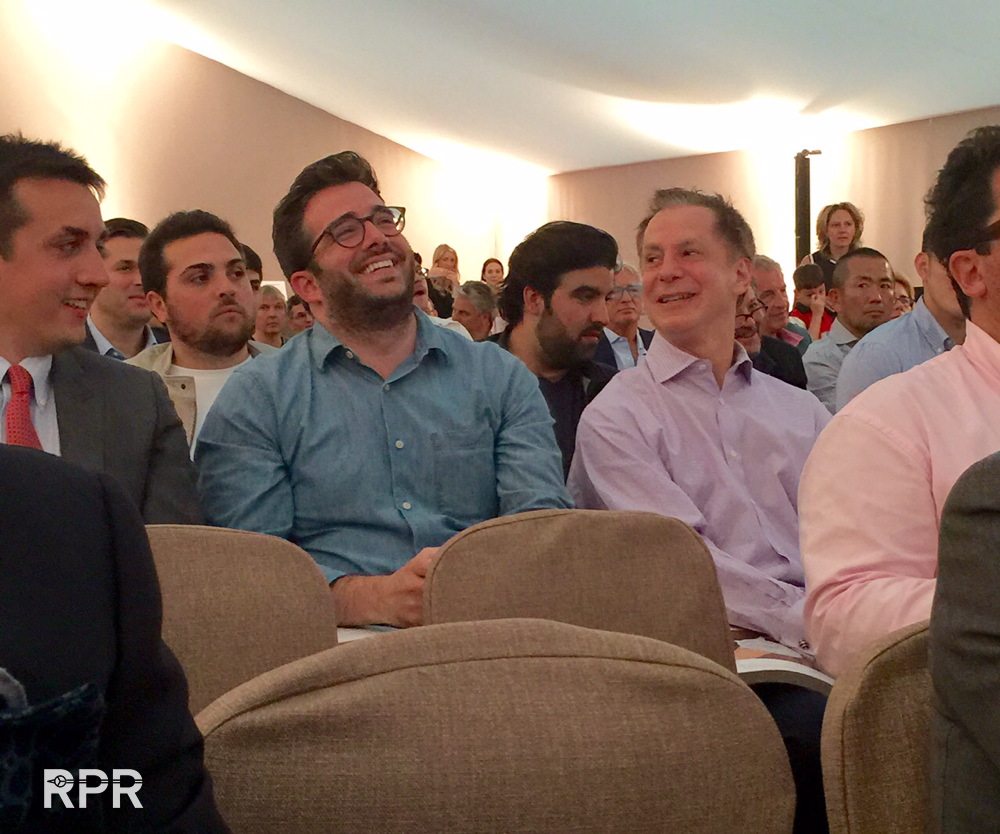 Like new Ref 2499 PPC for CHF 380K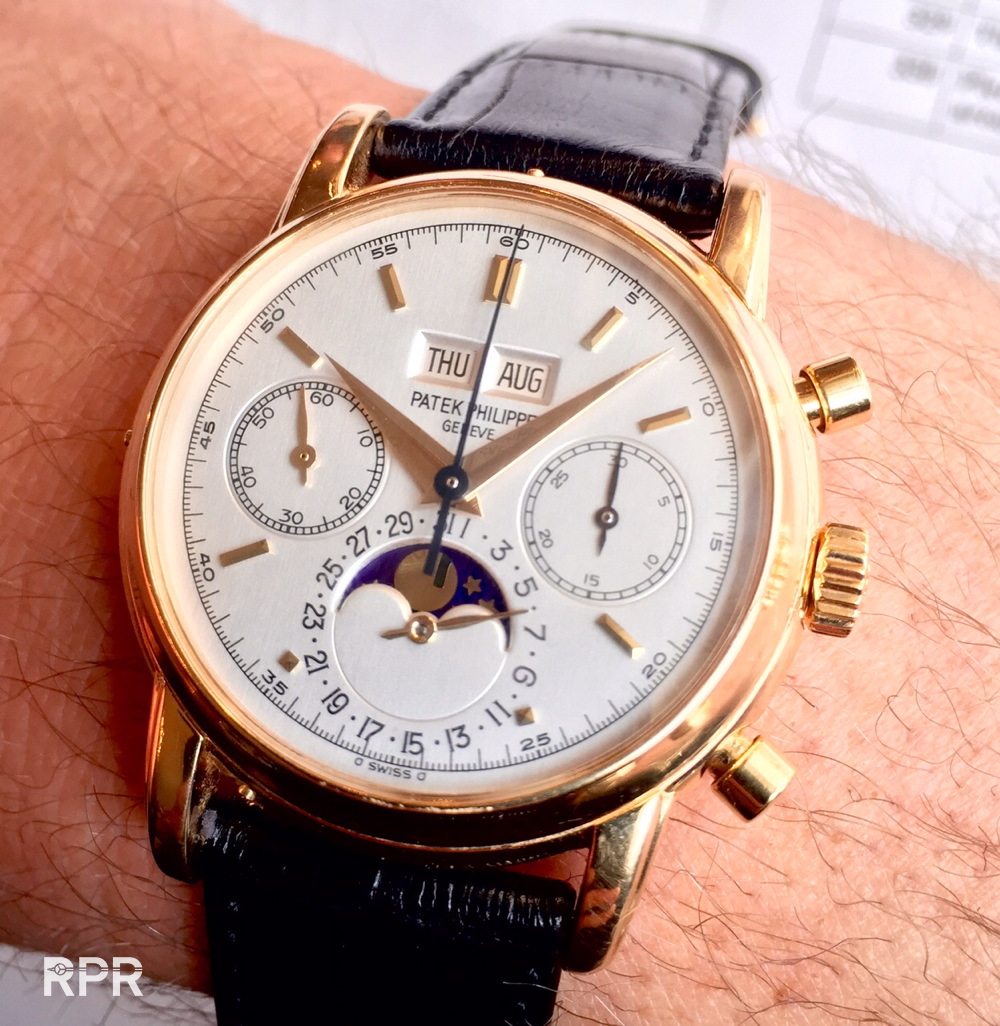 Super interesting triple split Longines for CHF 17.500,=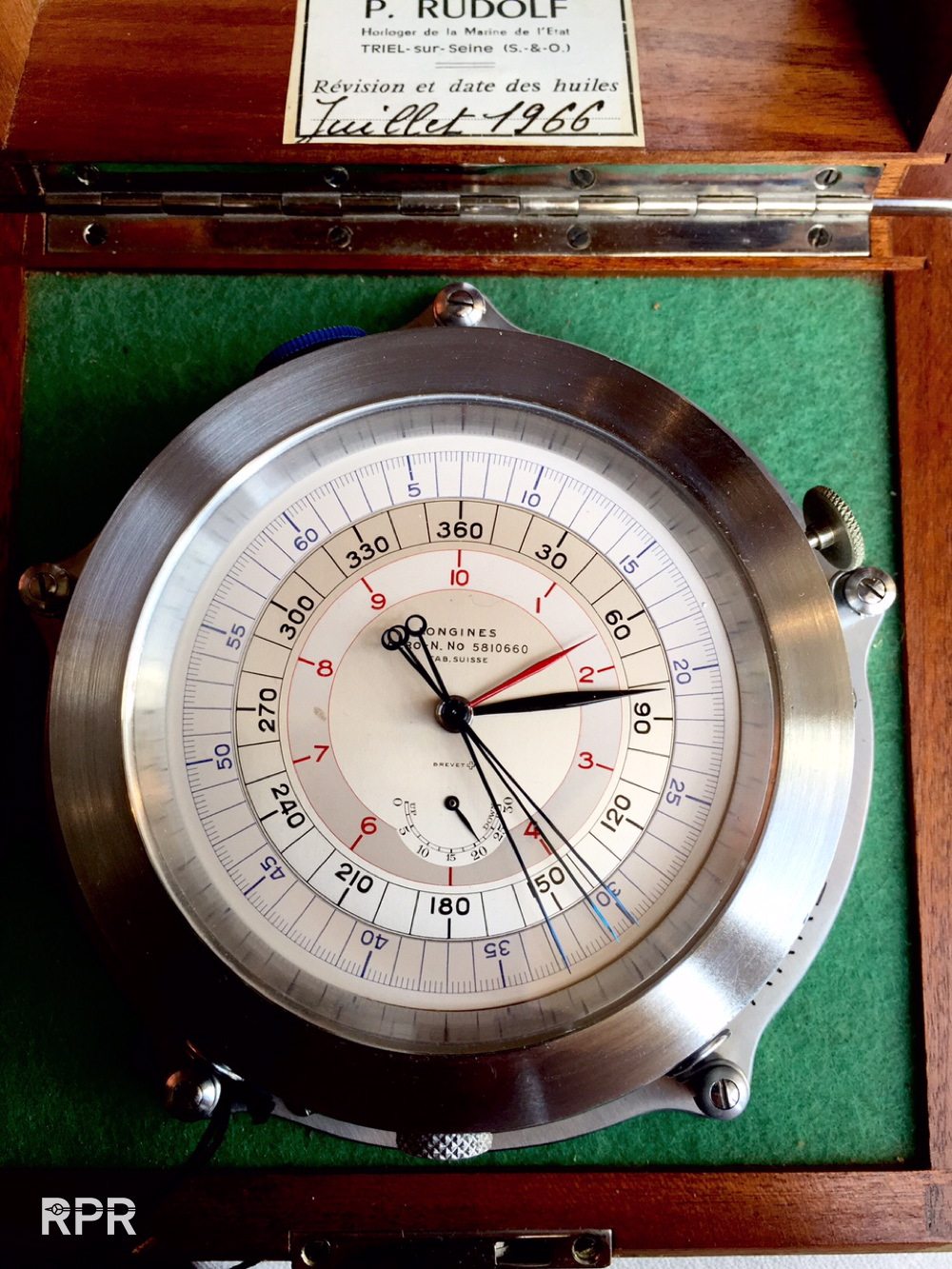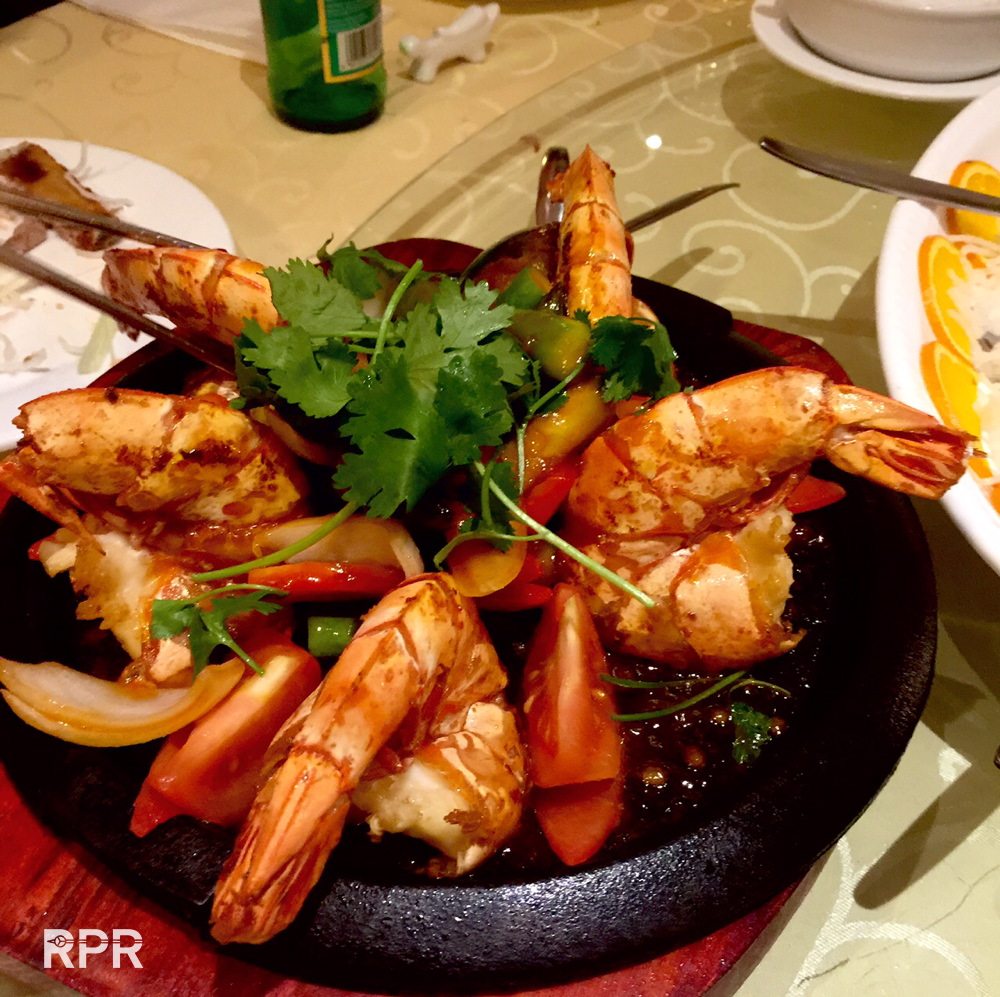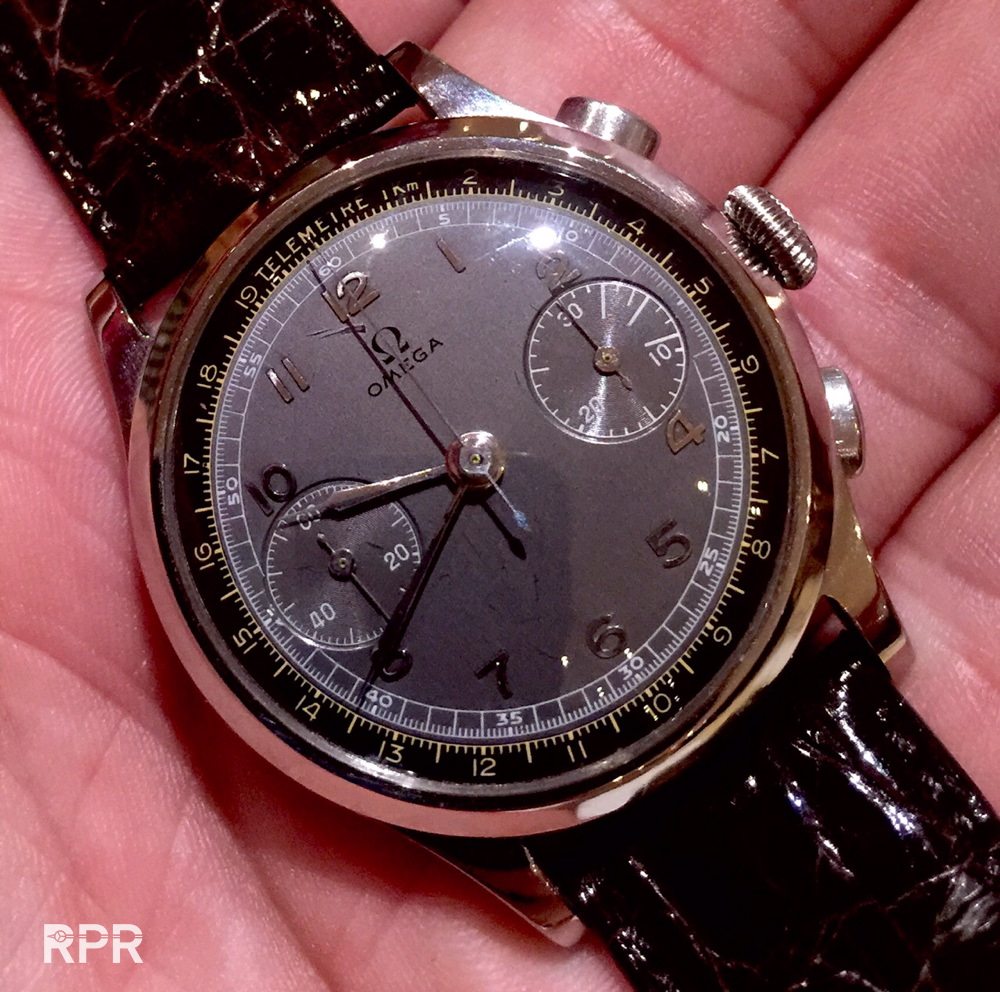 UAE GMT Master ref 1675 going for 60K…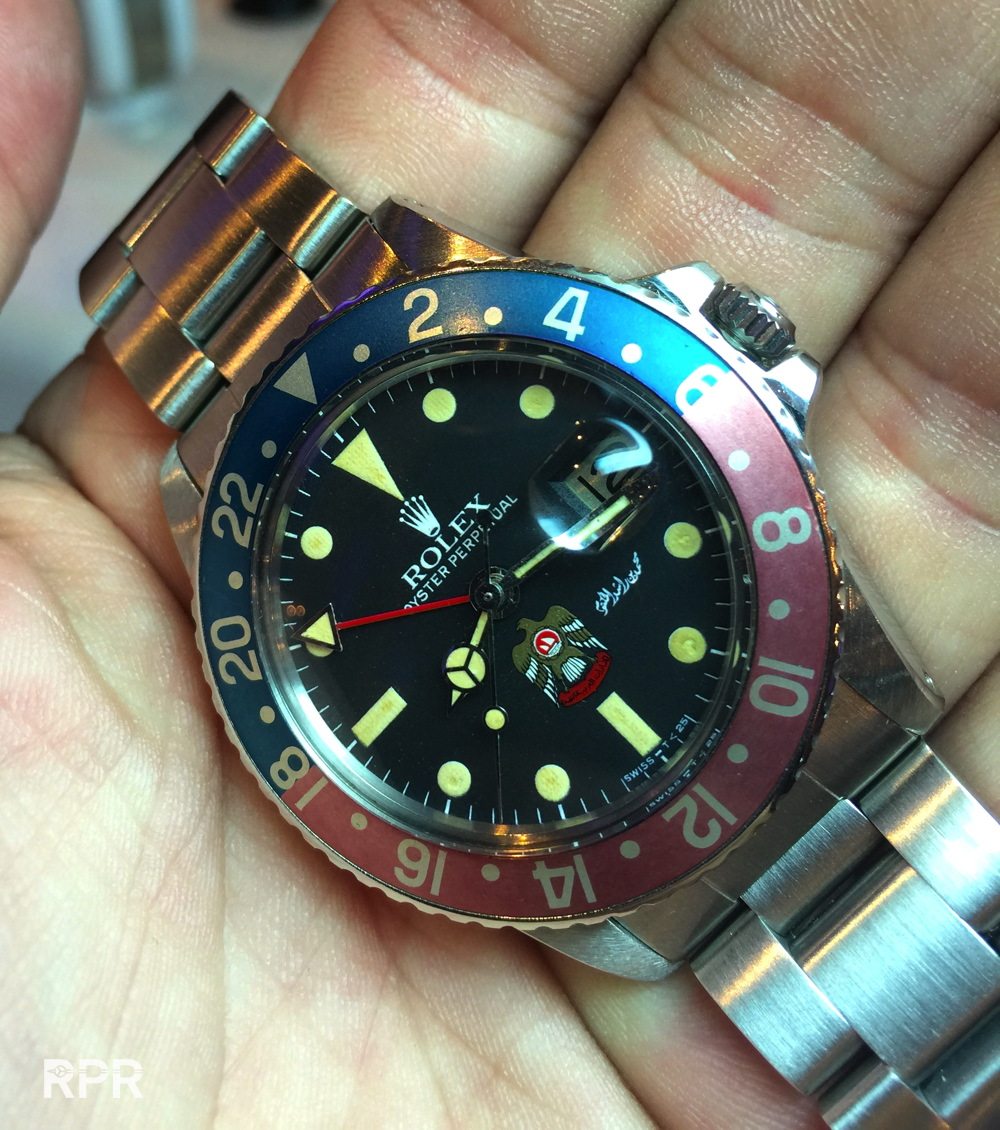 Nice early gold Rolex black dialed Oyster with logically a later "Swiss Made Service" dial..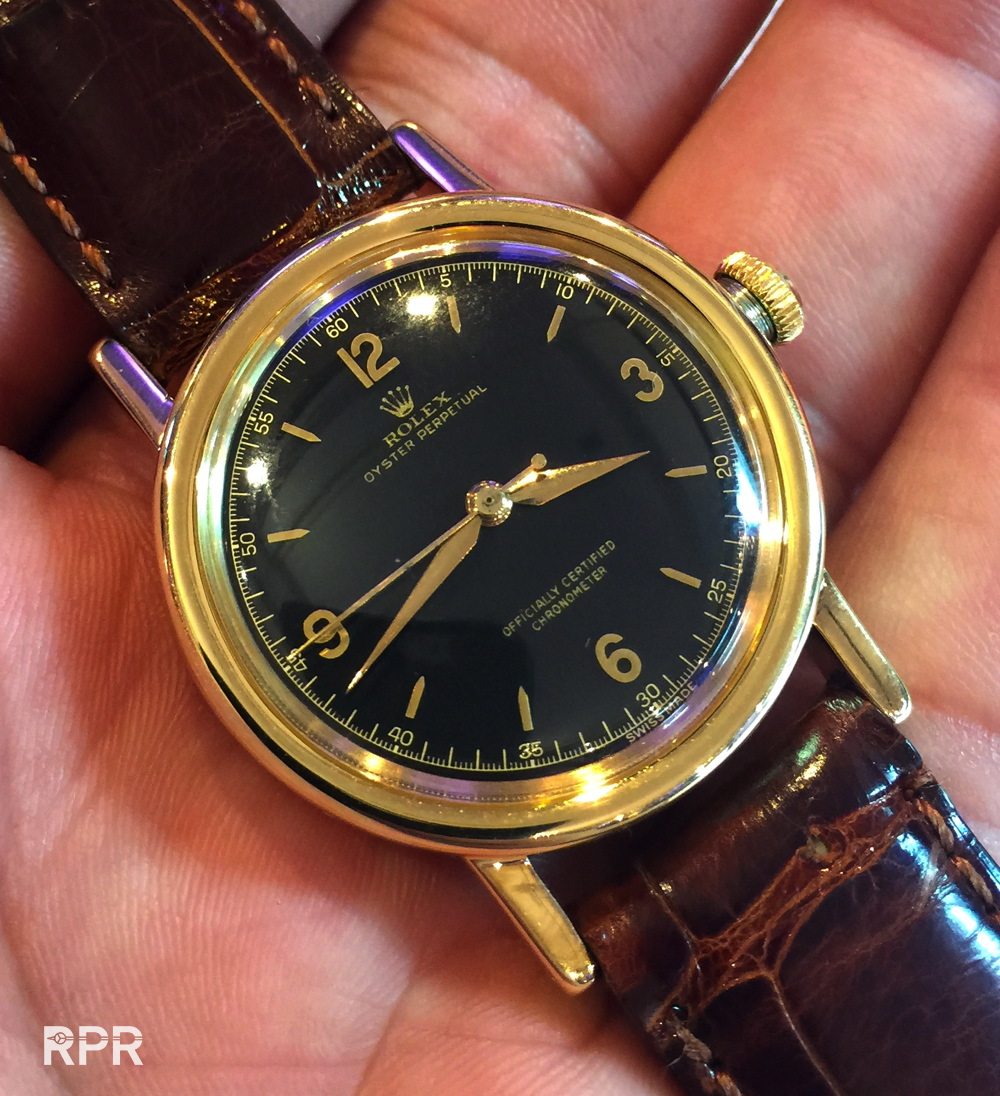 Still the reference 4 digits and serial number 5 digits visible after all these years it was made..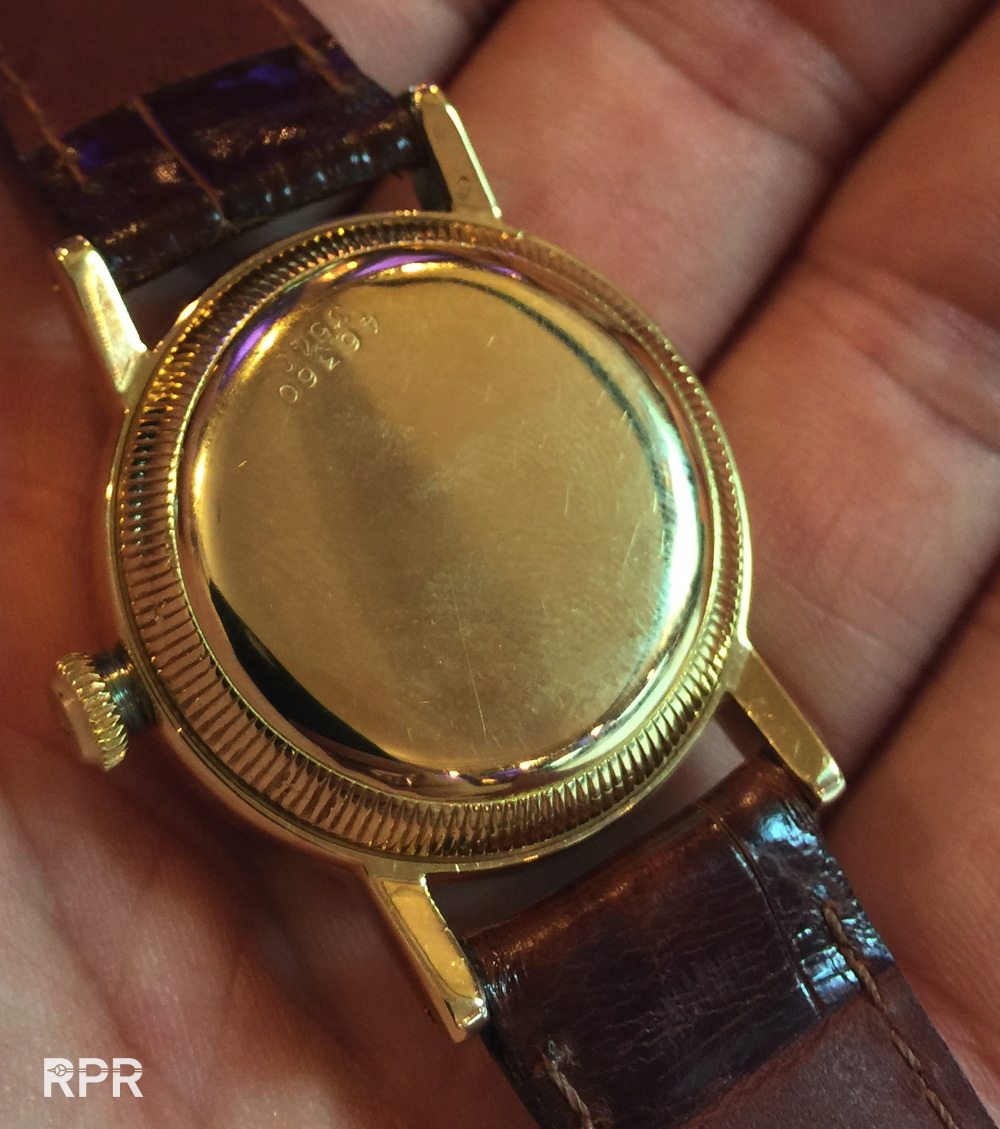 Bakelite Ref 6542 GMT Master with a crack in the bezel..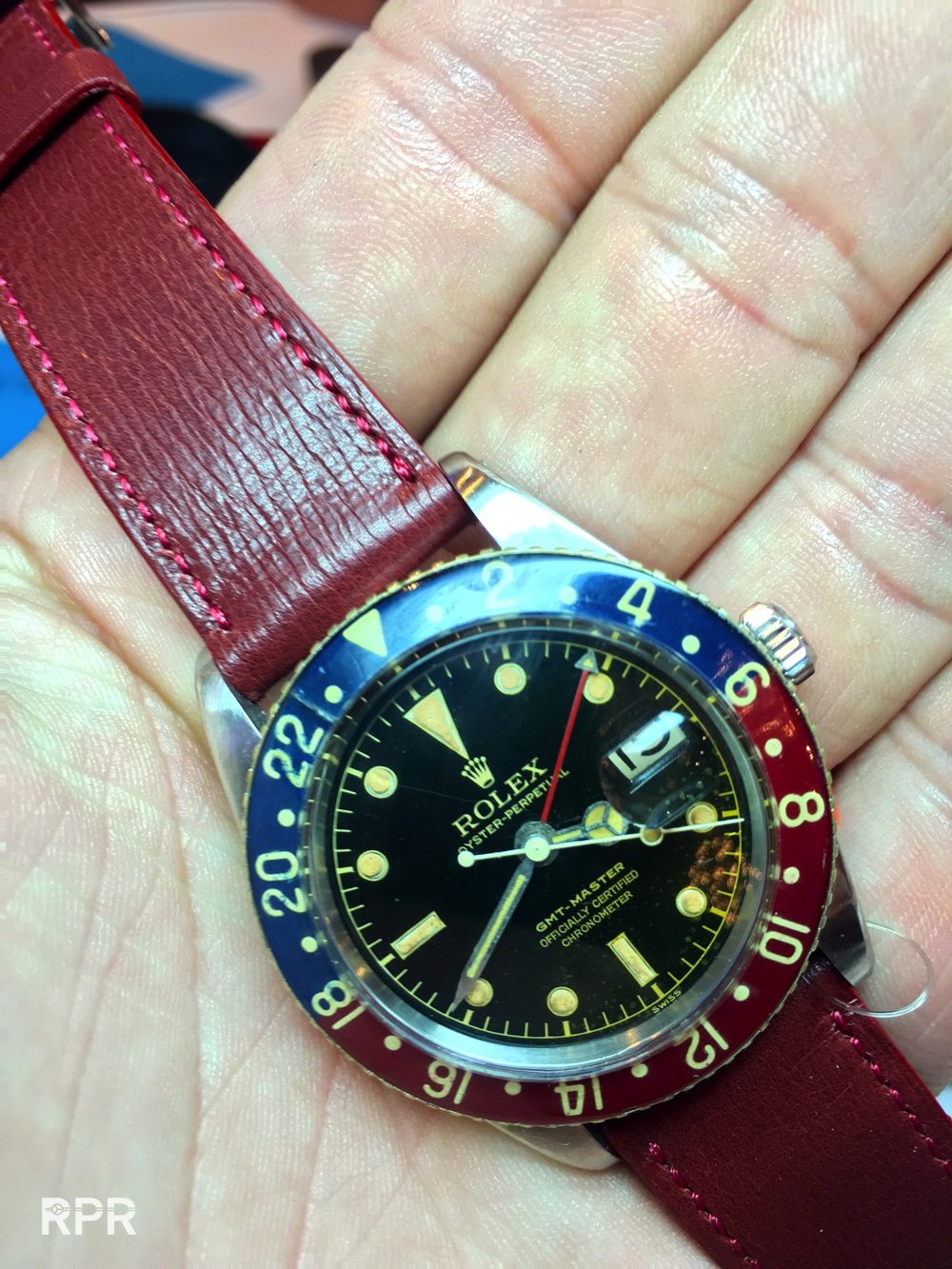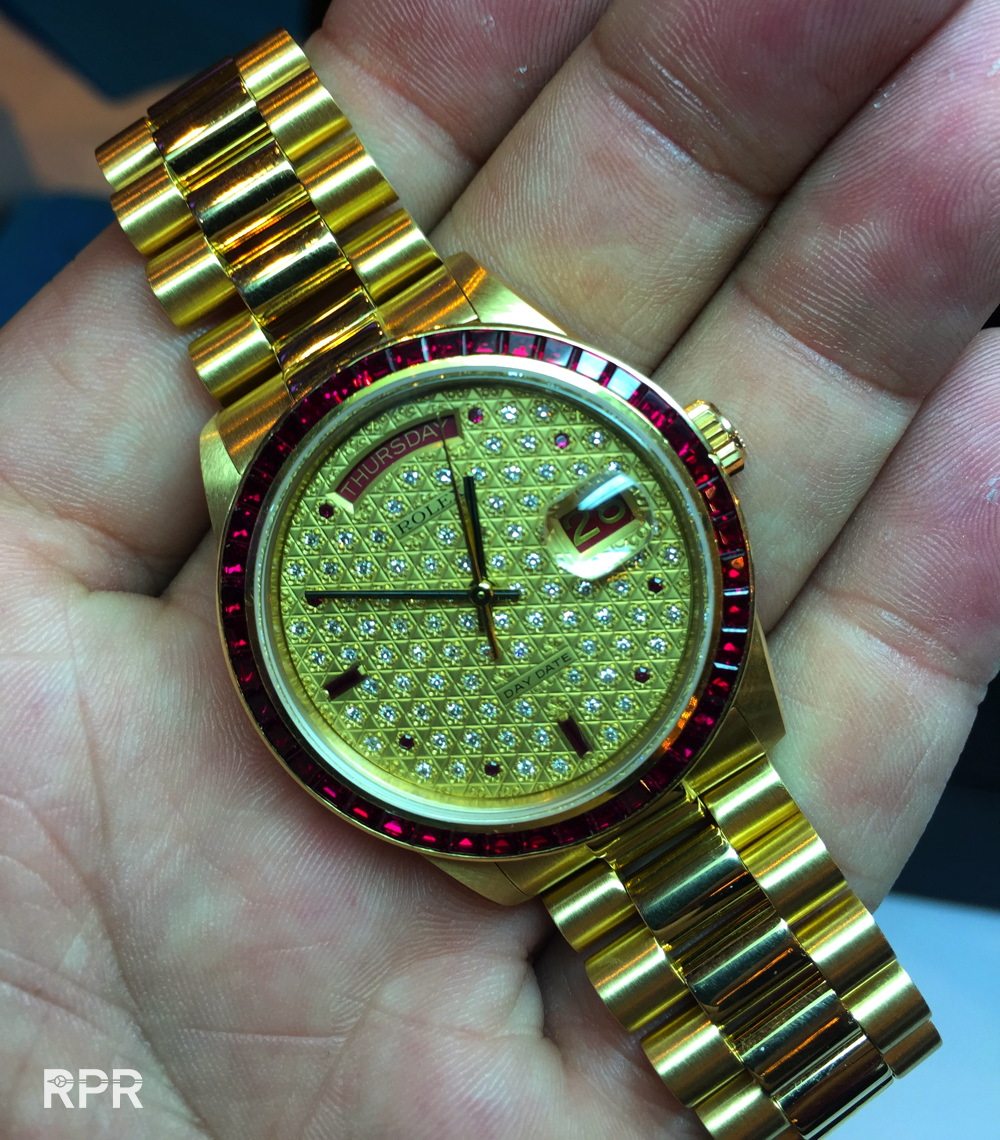 The Breguet diver, off which I don't really like the luminous, went high anyway, 100K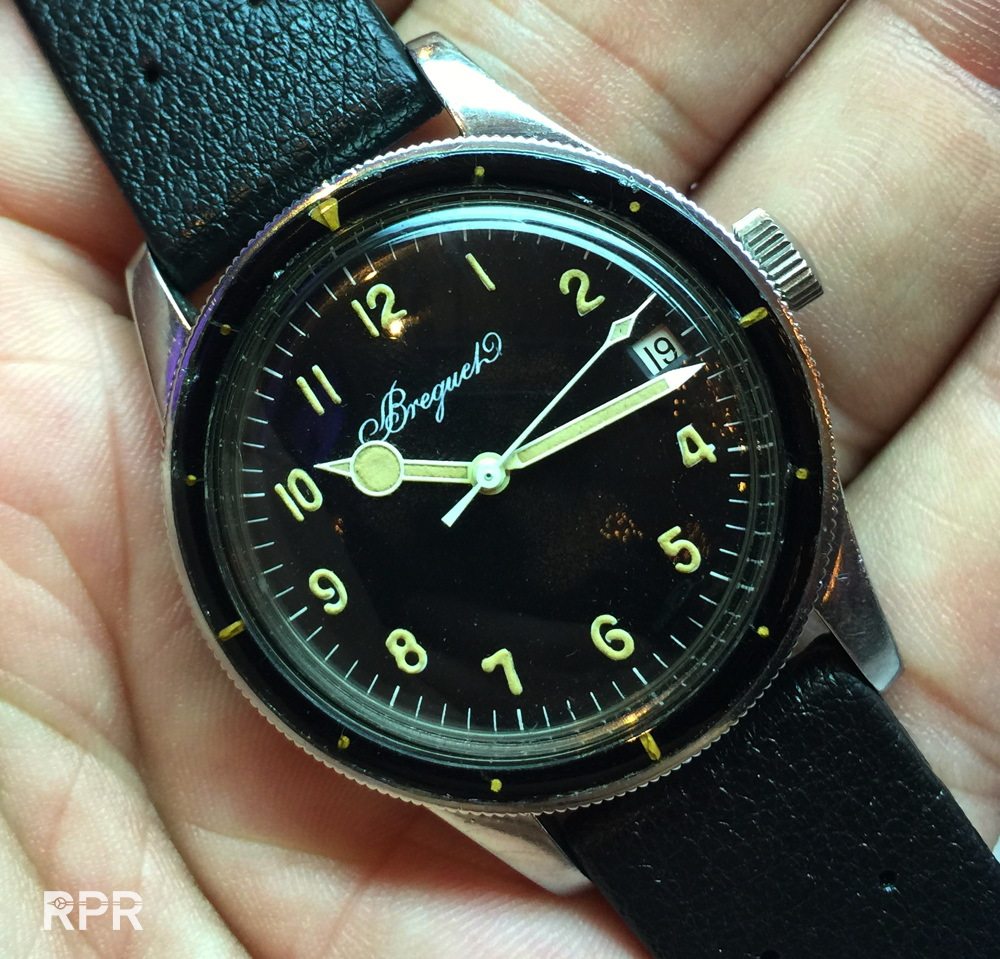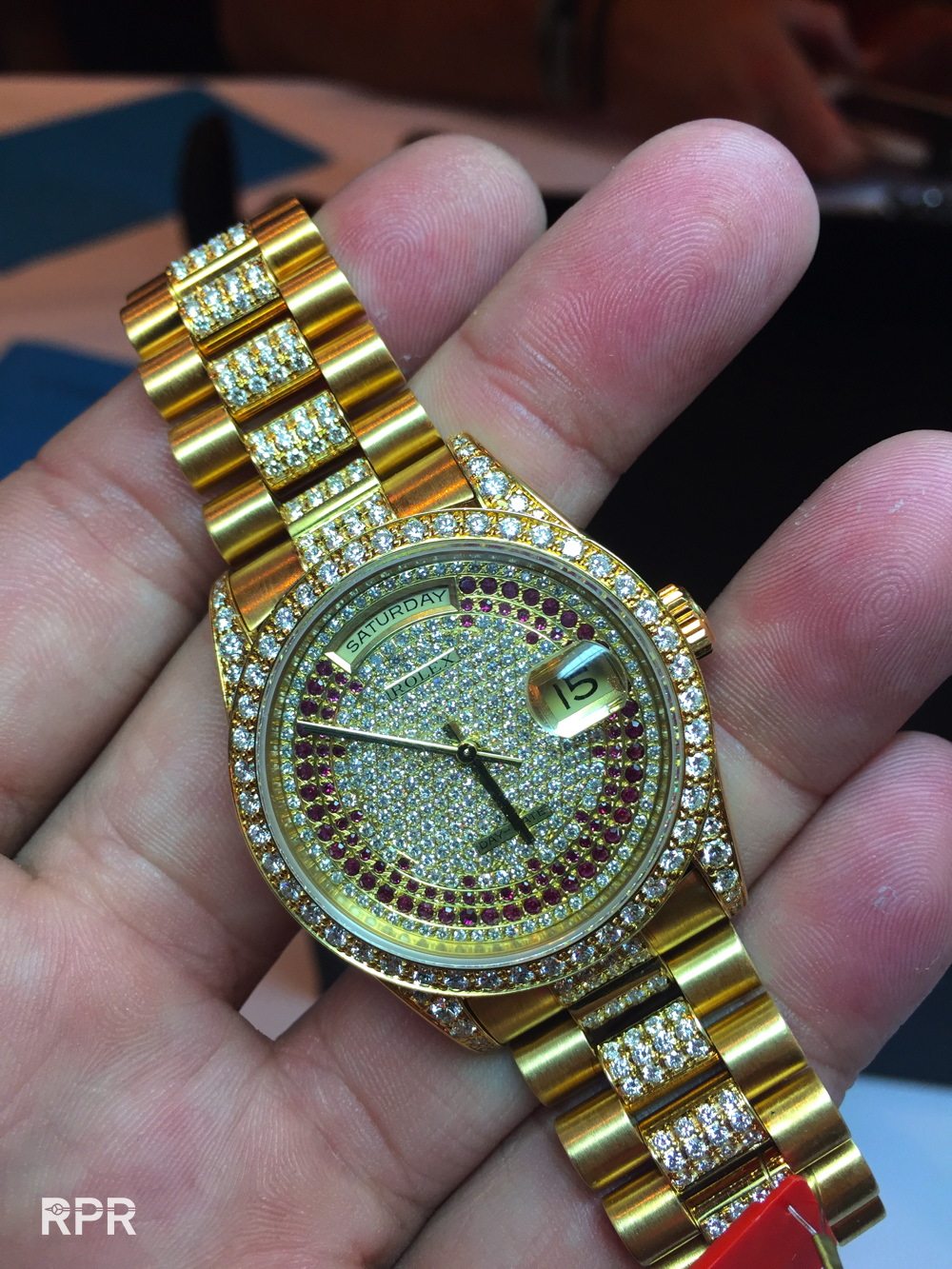 It was hammered around 200K, although it had a chip at 6 o'clock and a stain of oil on the dial..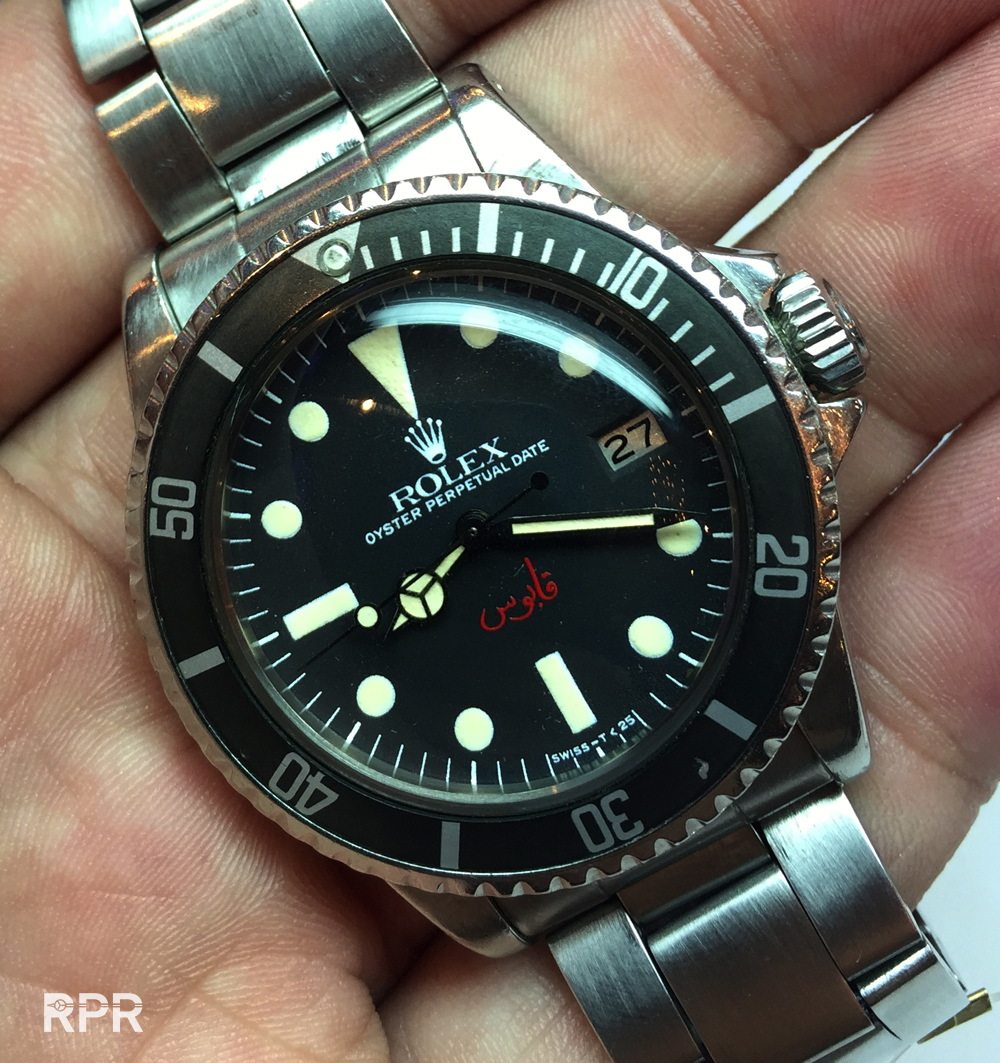 And the "Asprey" stamp in the case back was not visible any more…Longines is still hot..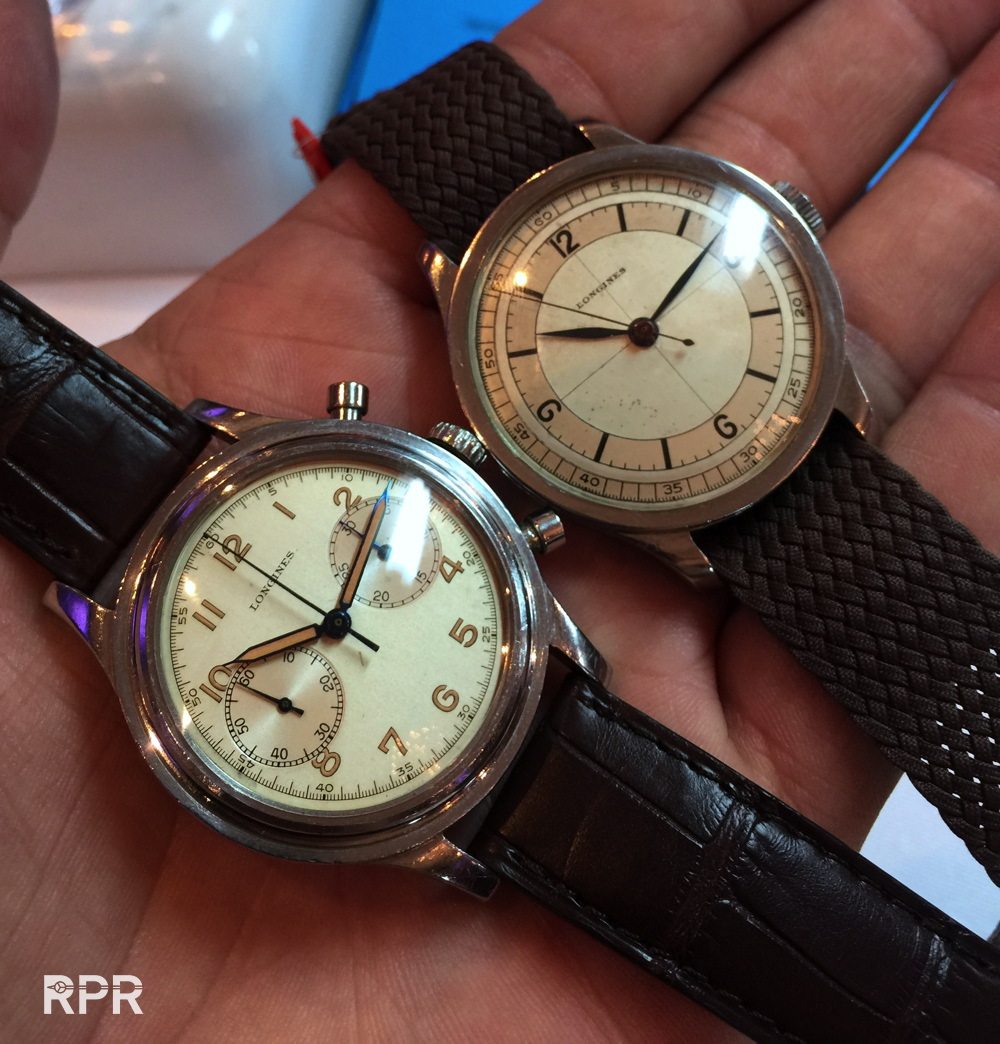 Then I was flabbergasted to see how high this Rolex ref 2508 went, almost 280K! The dial did not convince me at all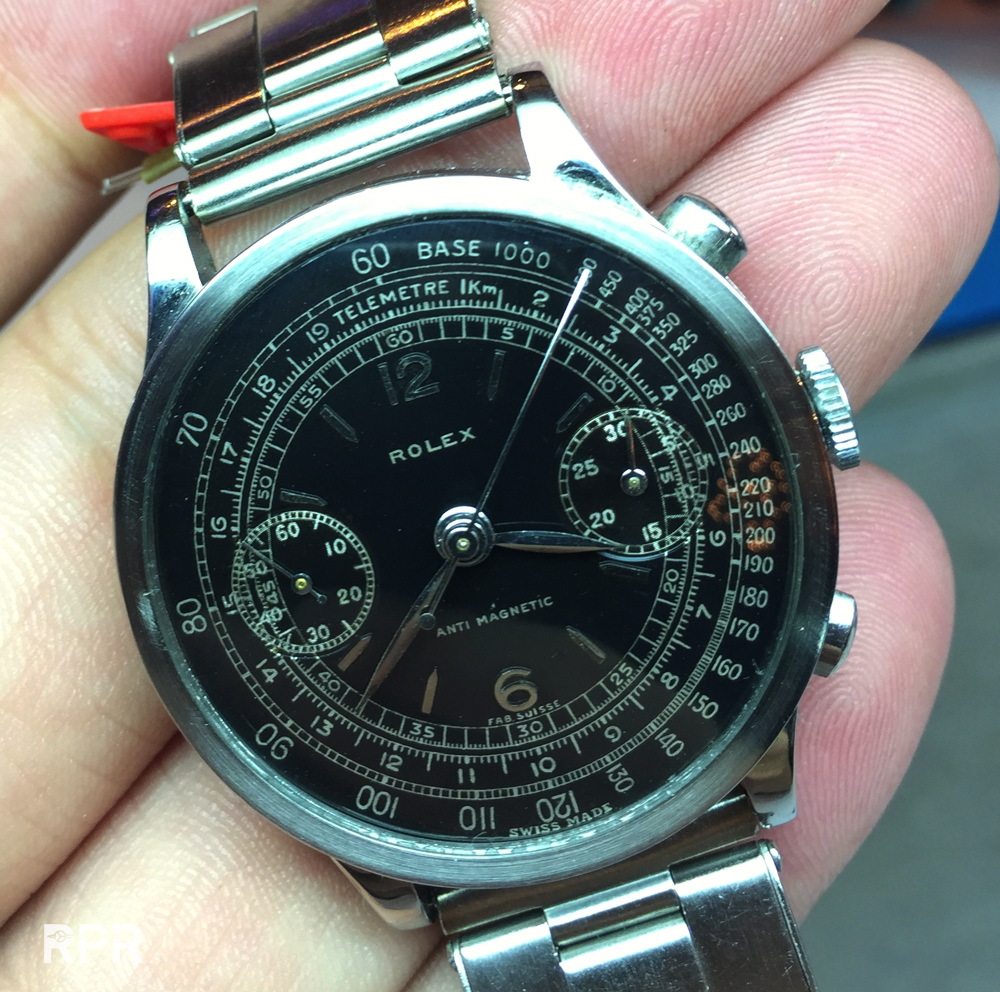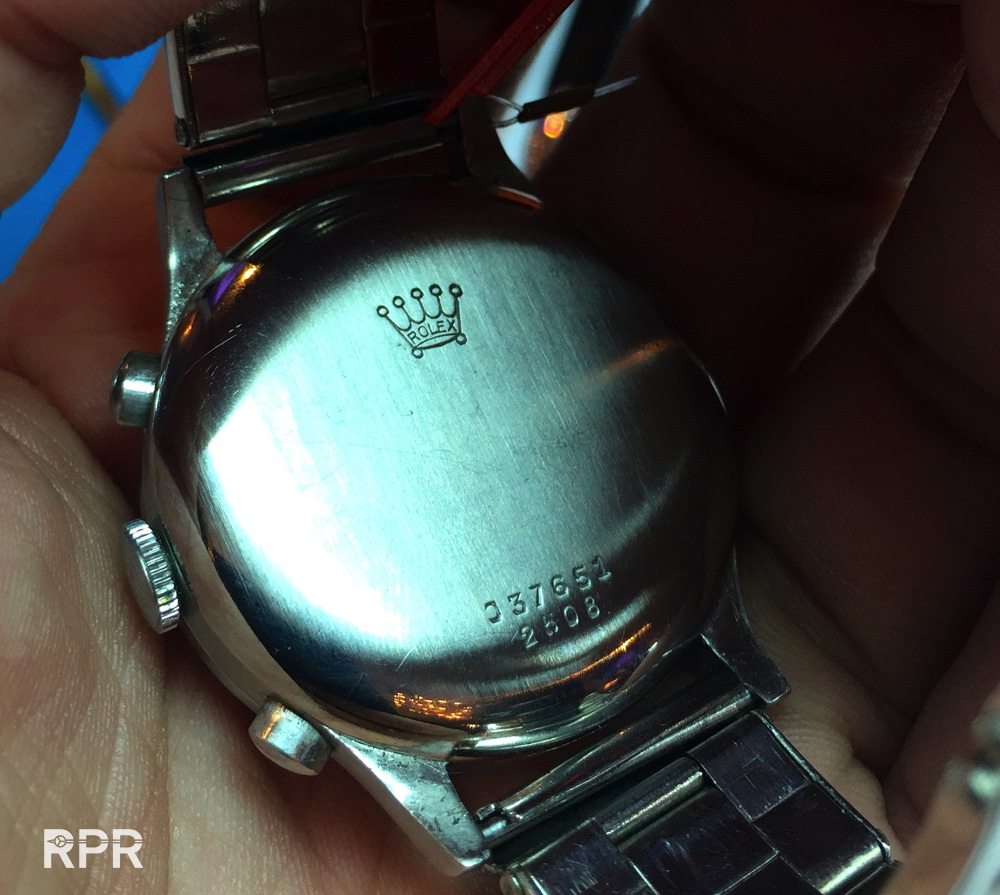 Coming up for sale in Hong Kong at Christies, this PPC 1518..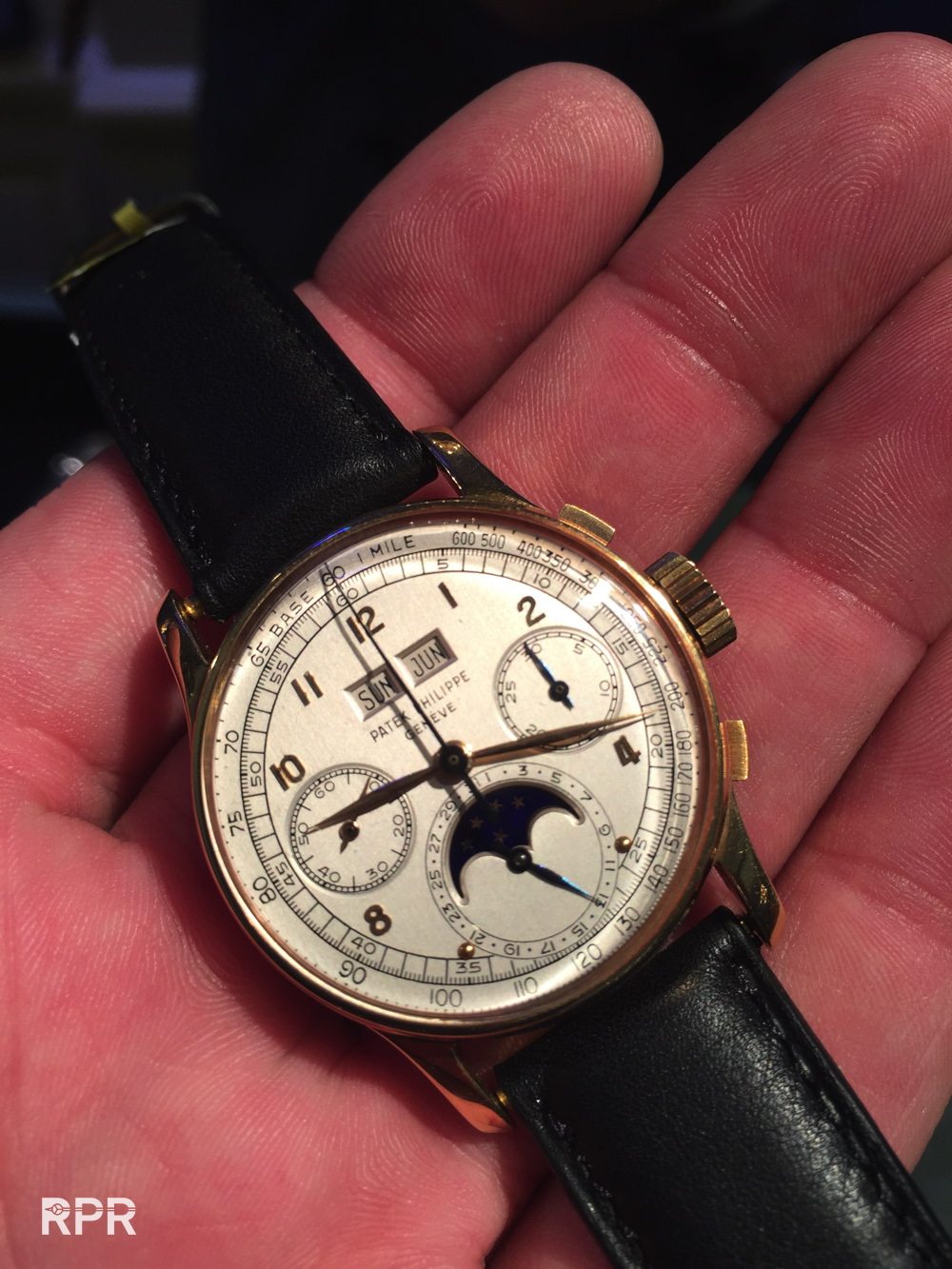 Paul Newman 6241..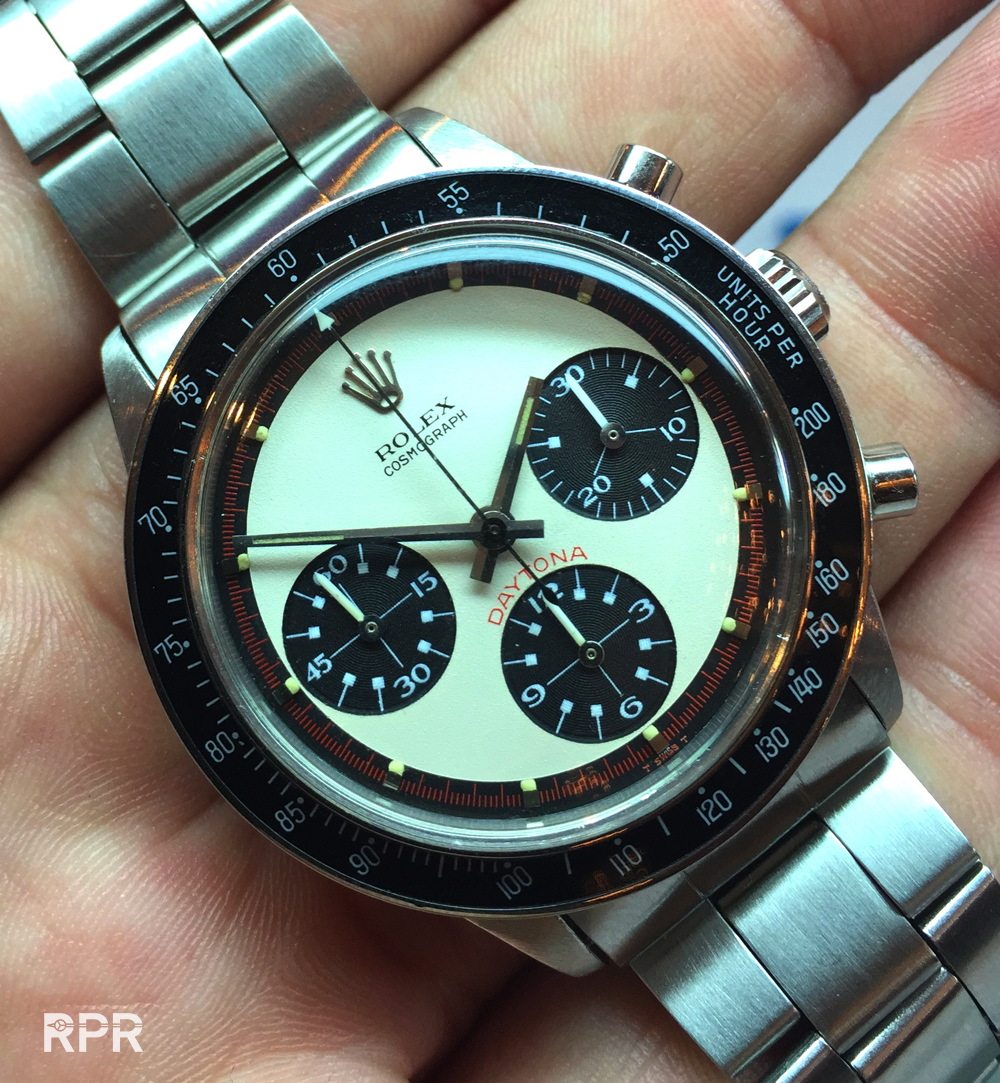 And this prototype Panerai again..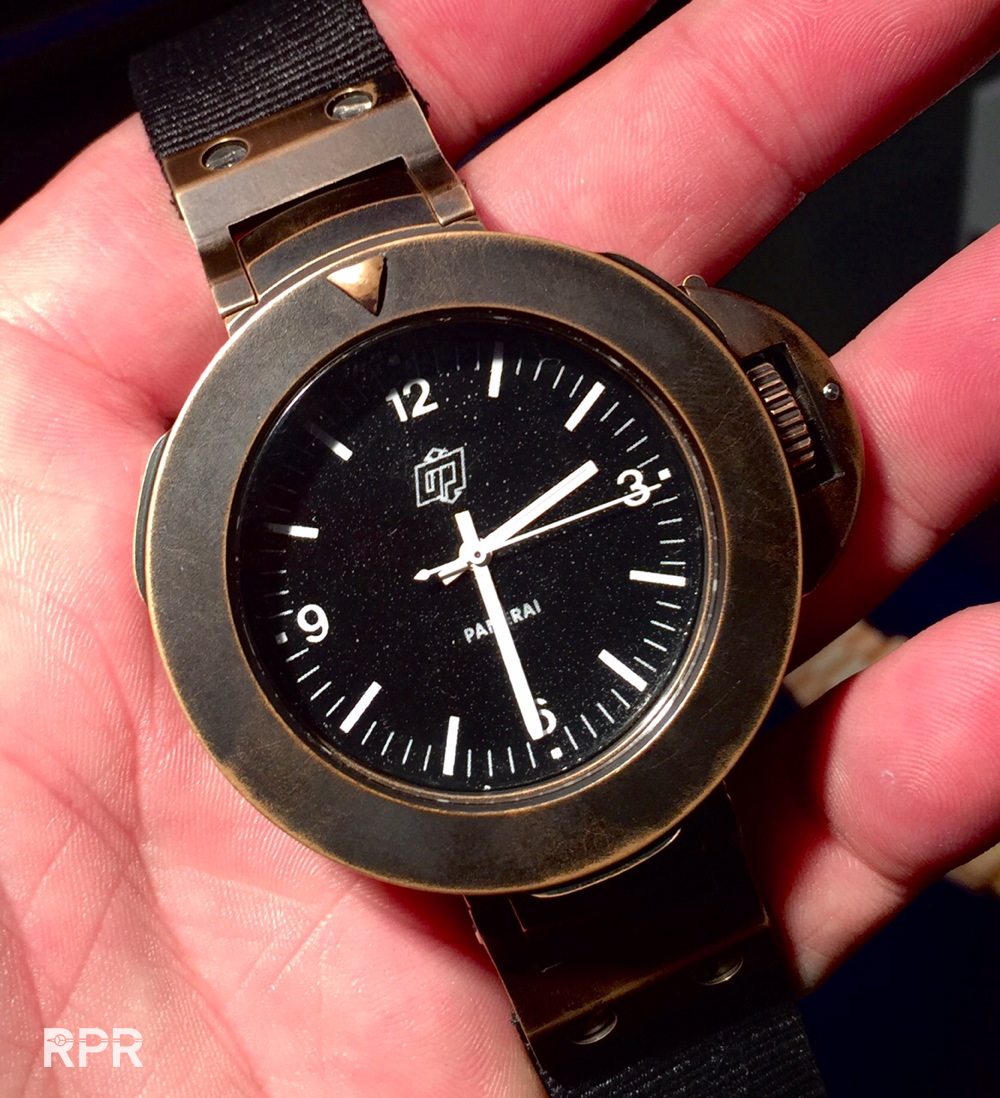 Breakfast in paradise @LaReserve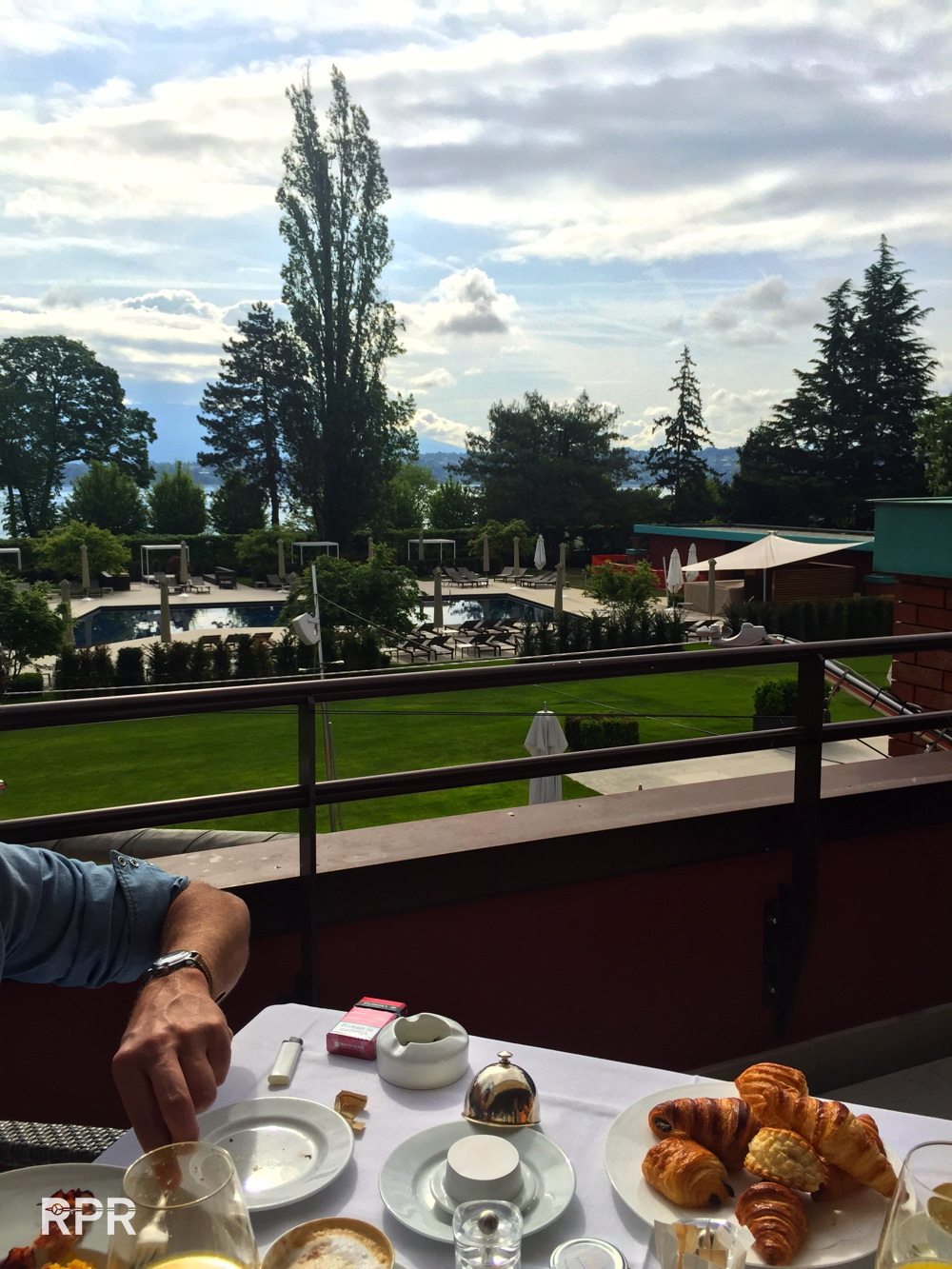 Enjoying the old city of Geneva with our regular cheese fondue GTG 😉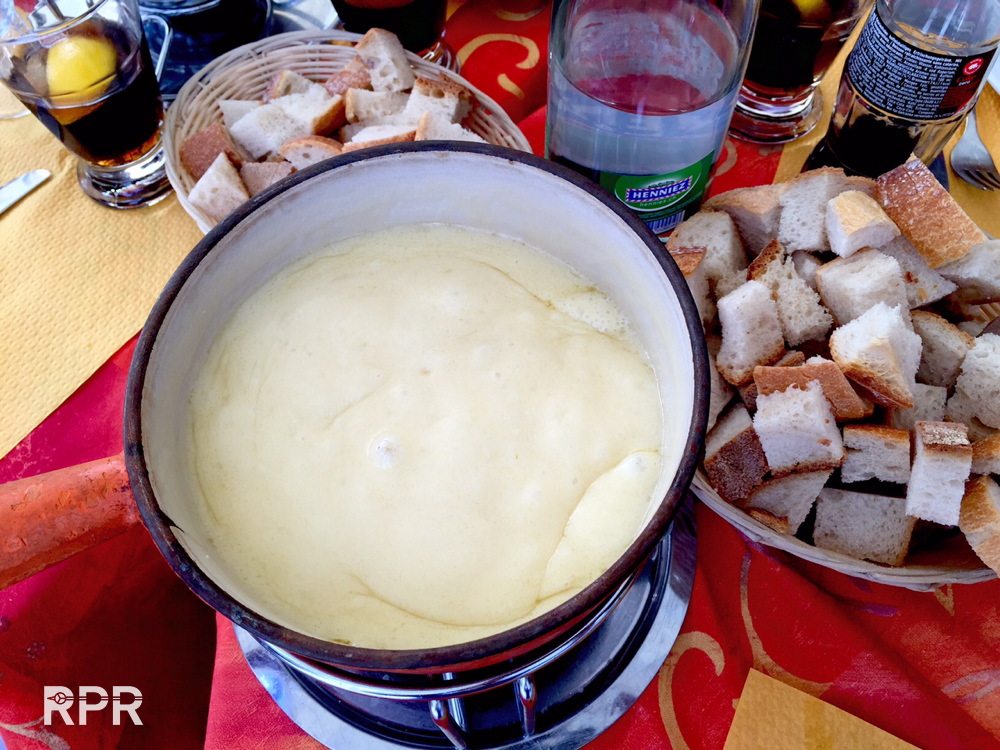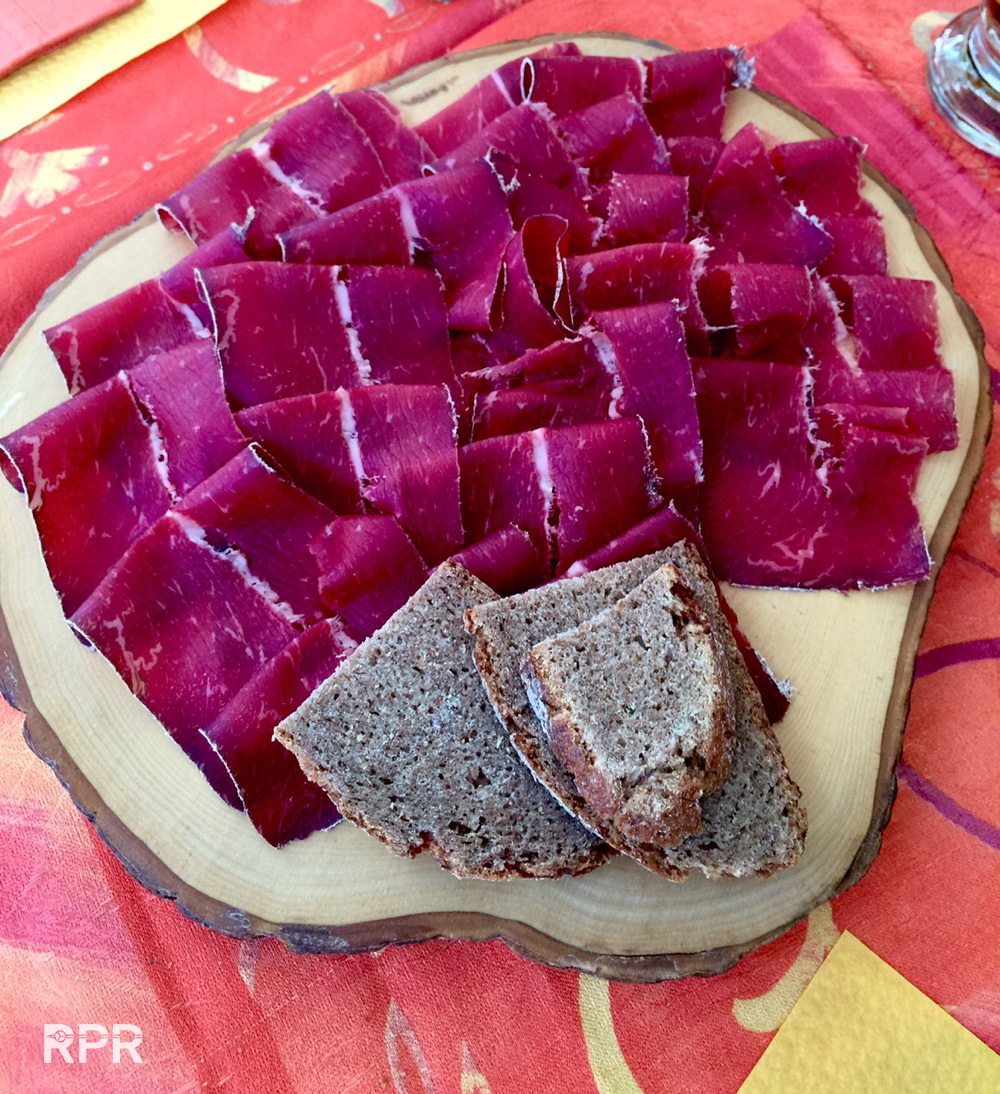 As always, it's all about the correct details..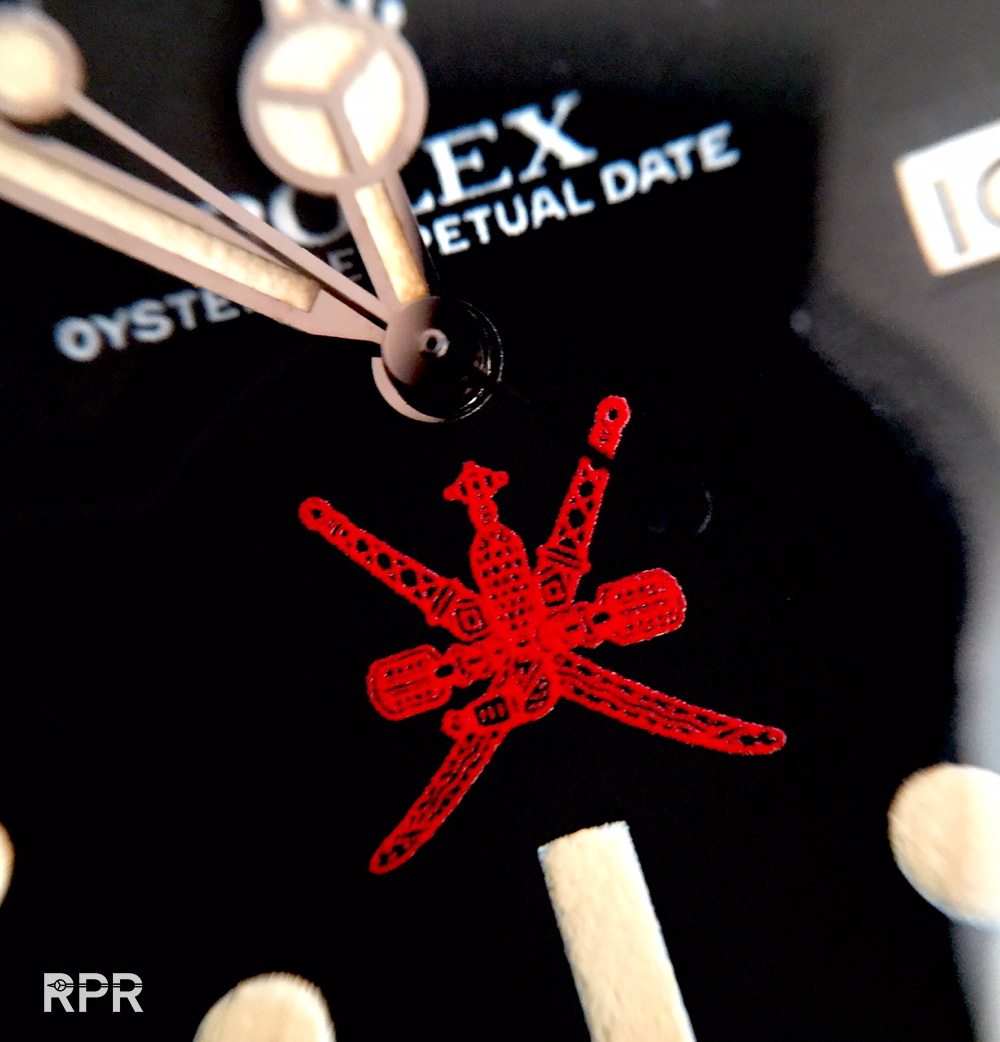 Black Tudor Monte Carlo..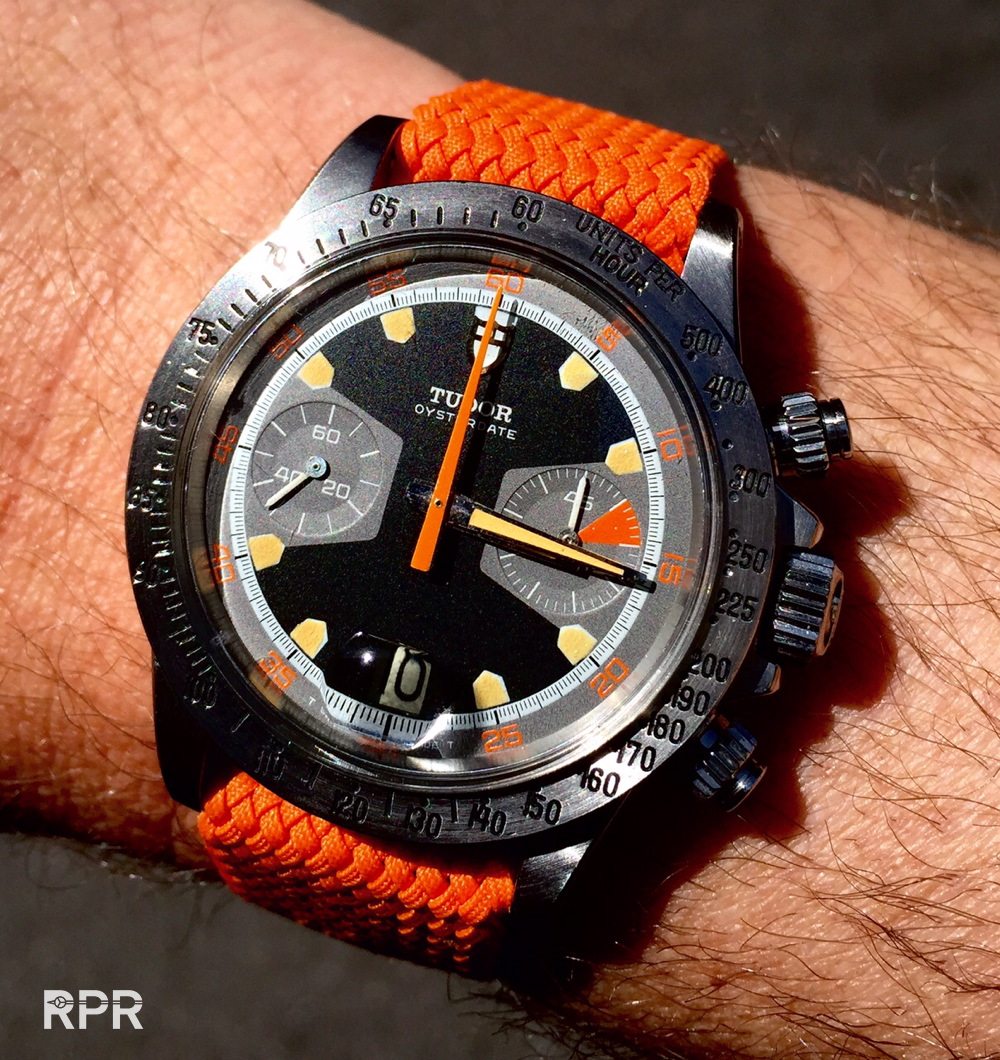 And Blue Stella Day Date..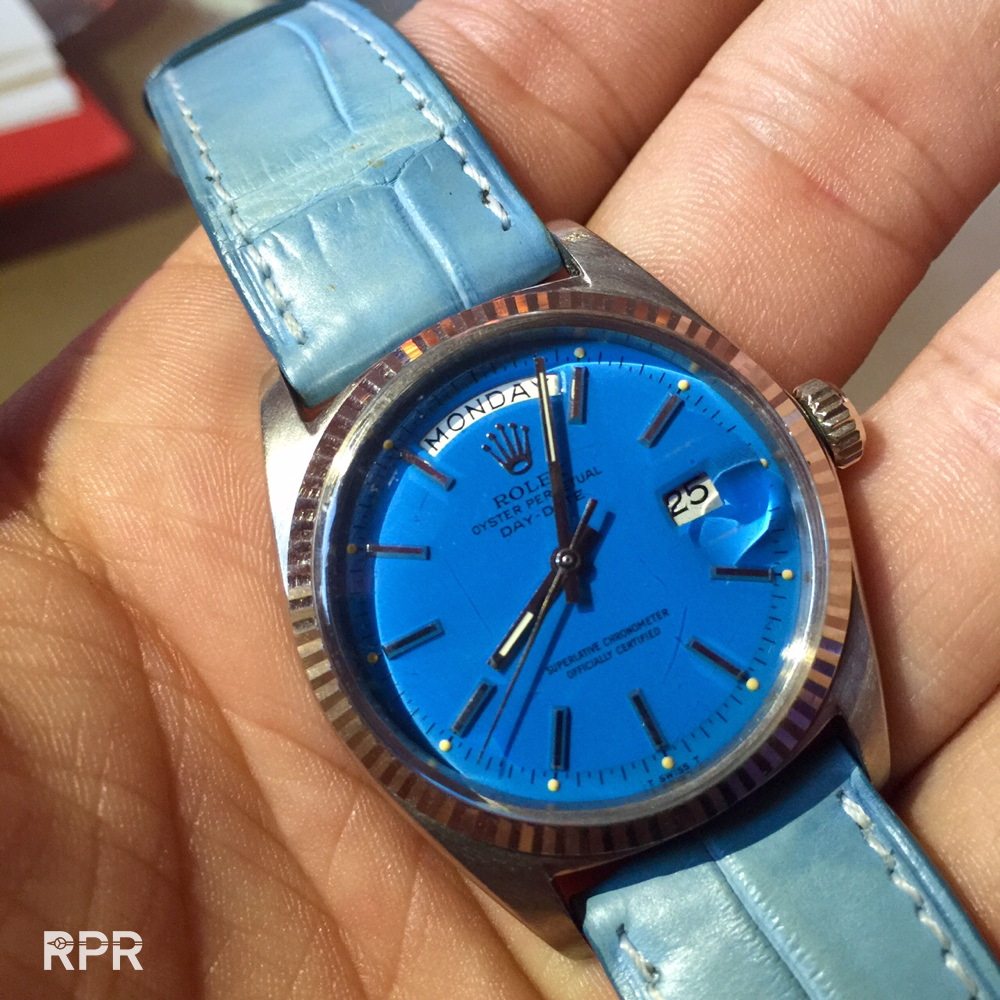 Many thanks to all the great friends from a round the world who made it to Geneva! It was really nice meeting you all again!! With a dramatic sky i'm off to the airport heading home again, safe travels to you all and see you next occasion! Best regards, Philipp