UPDATE II See the results and my Geneva Report over here
–> http://rolexpassionreport.com/21447/the-geneva-watch-auction-report-may-2016/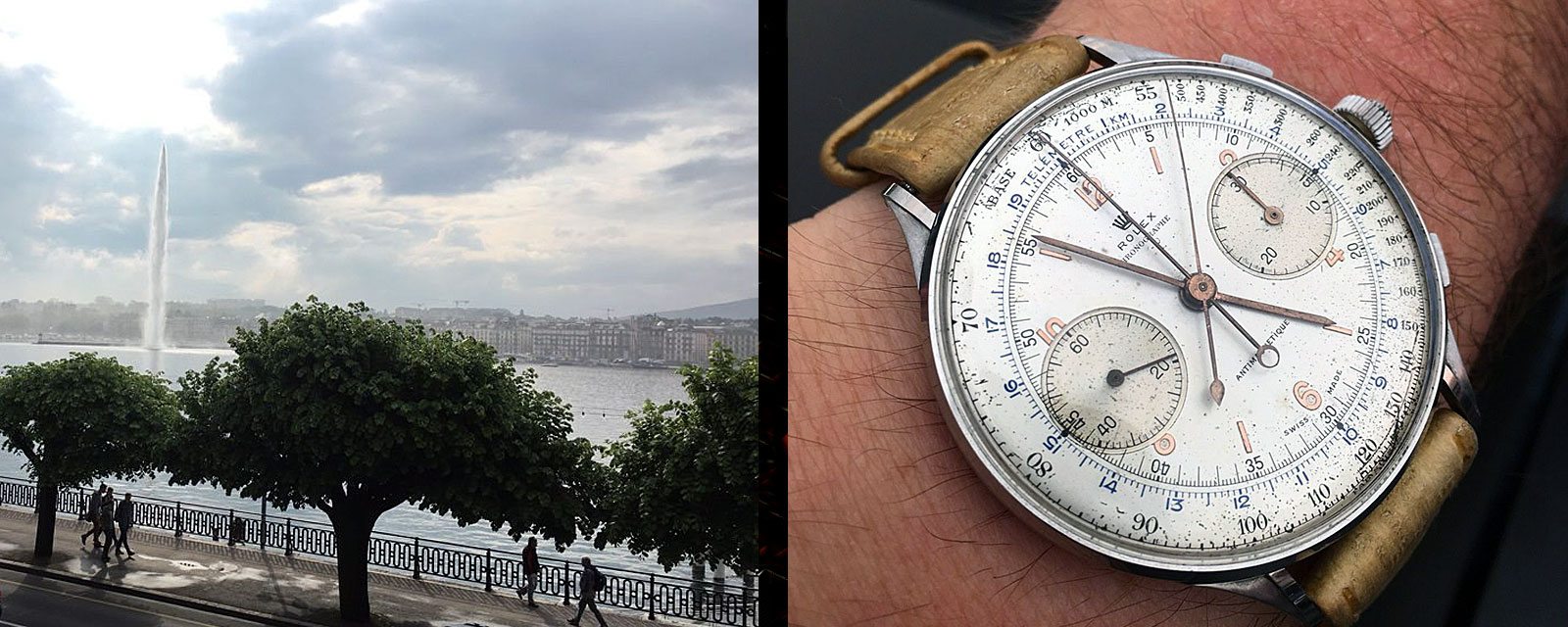 UPDATE with live pictures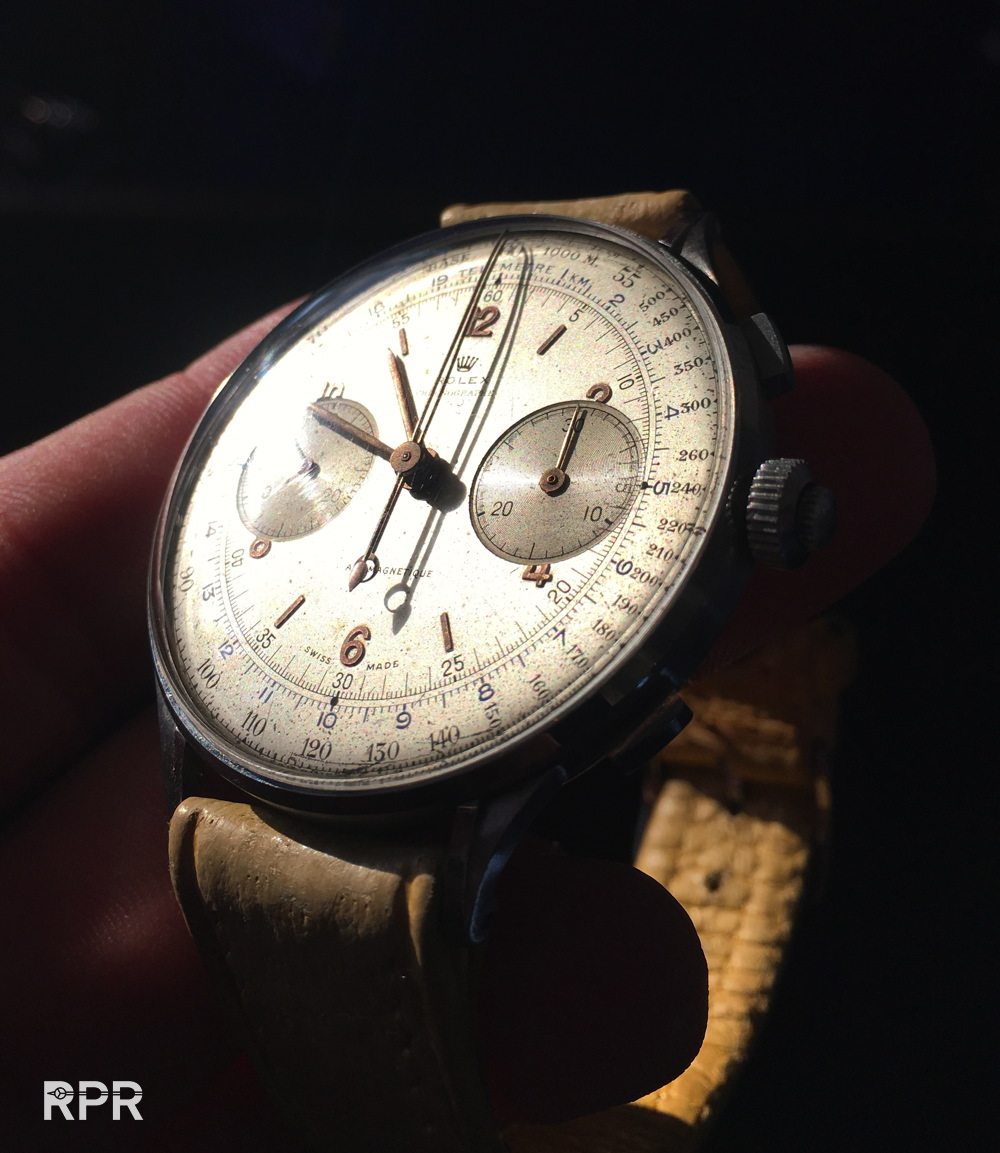 Ref 4113 Split Seconde… a million plus vintage Rolex for sure..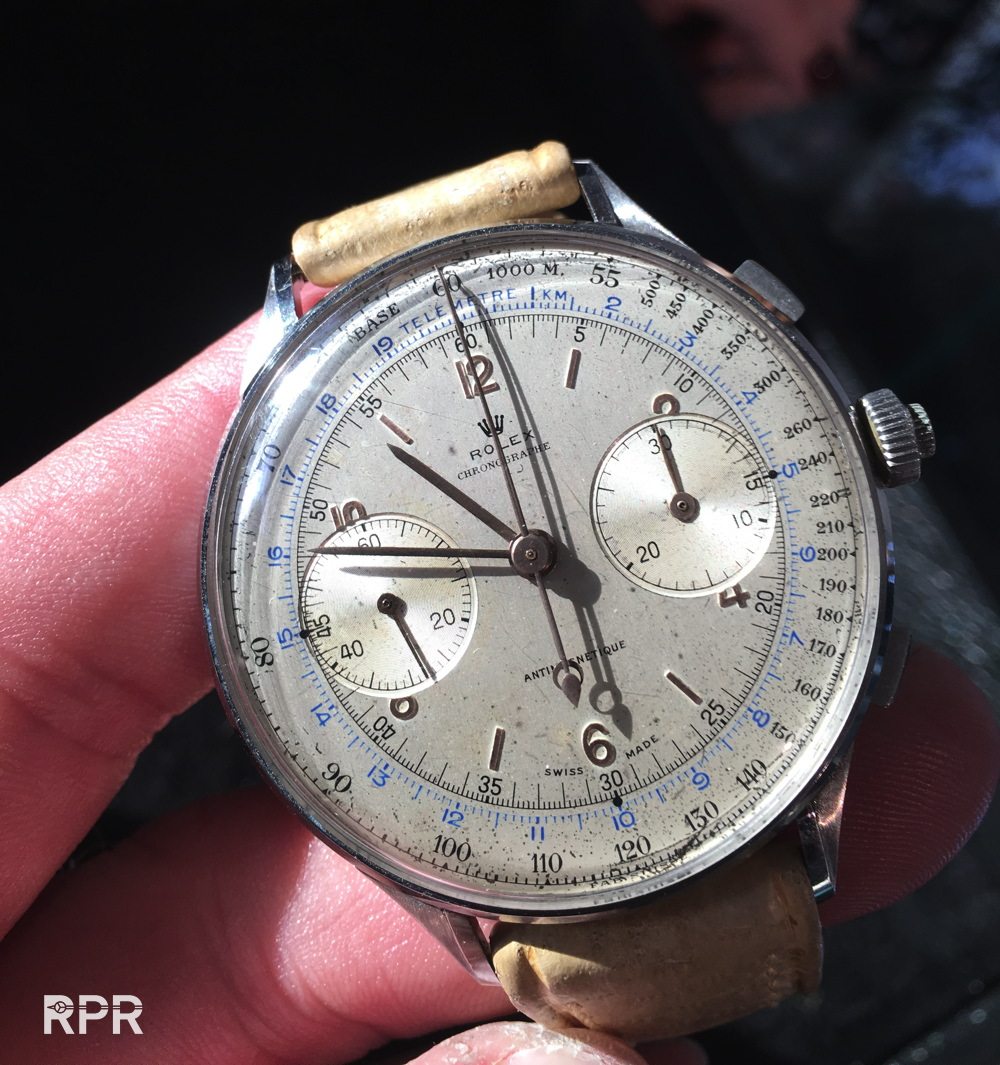 Tropical track Oyster Paul Newman..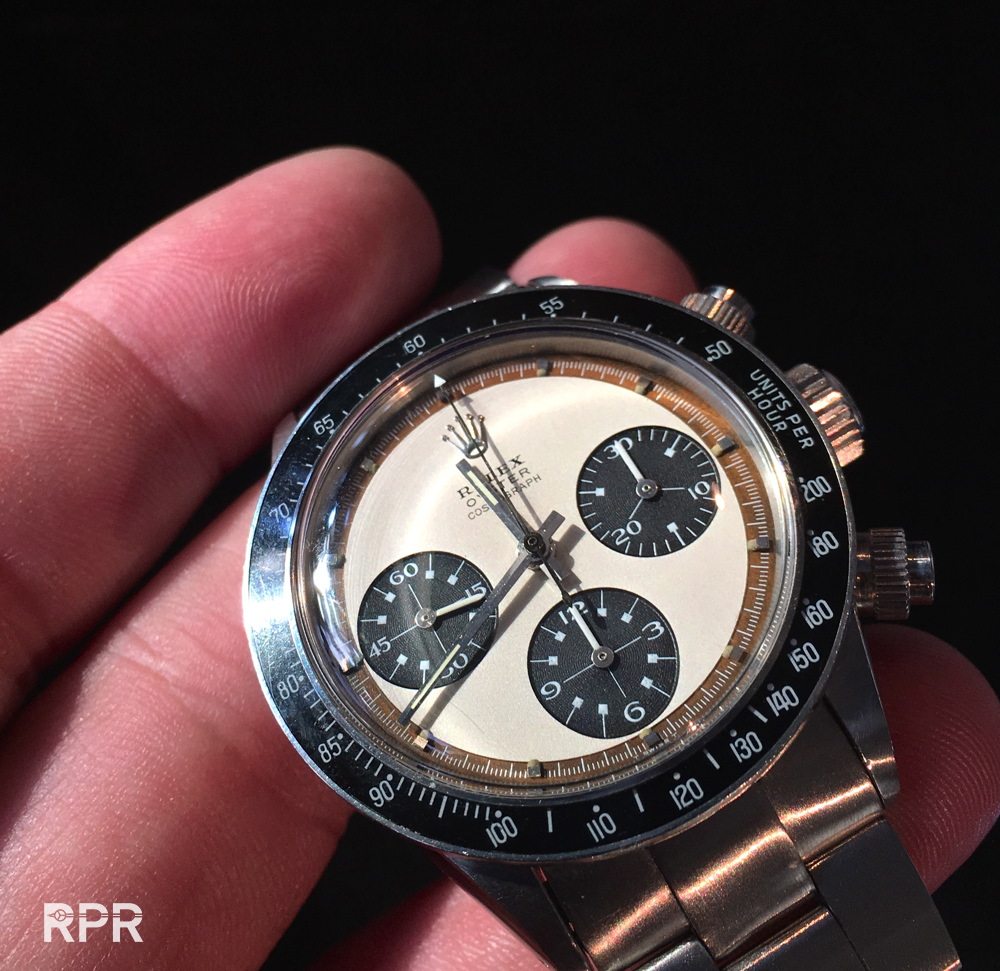 Salmon – pink Ref 3330 big size chronograph..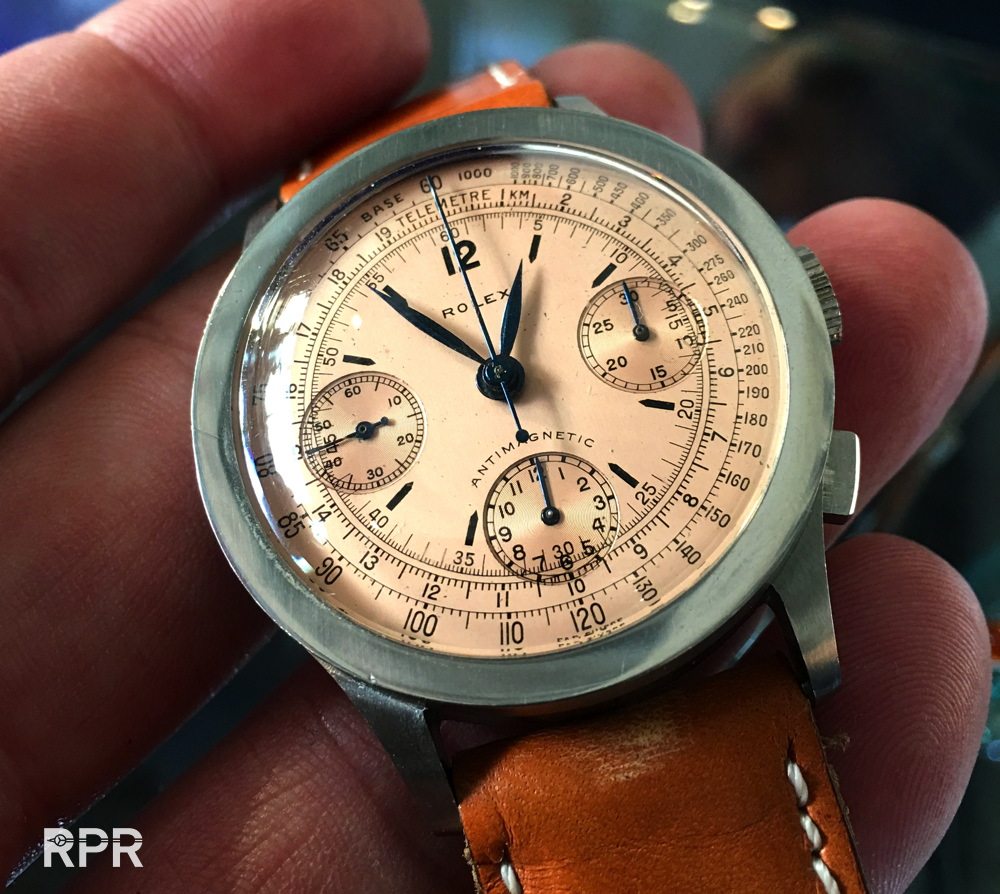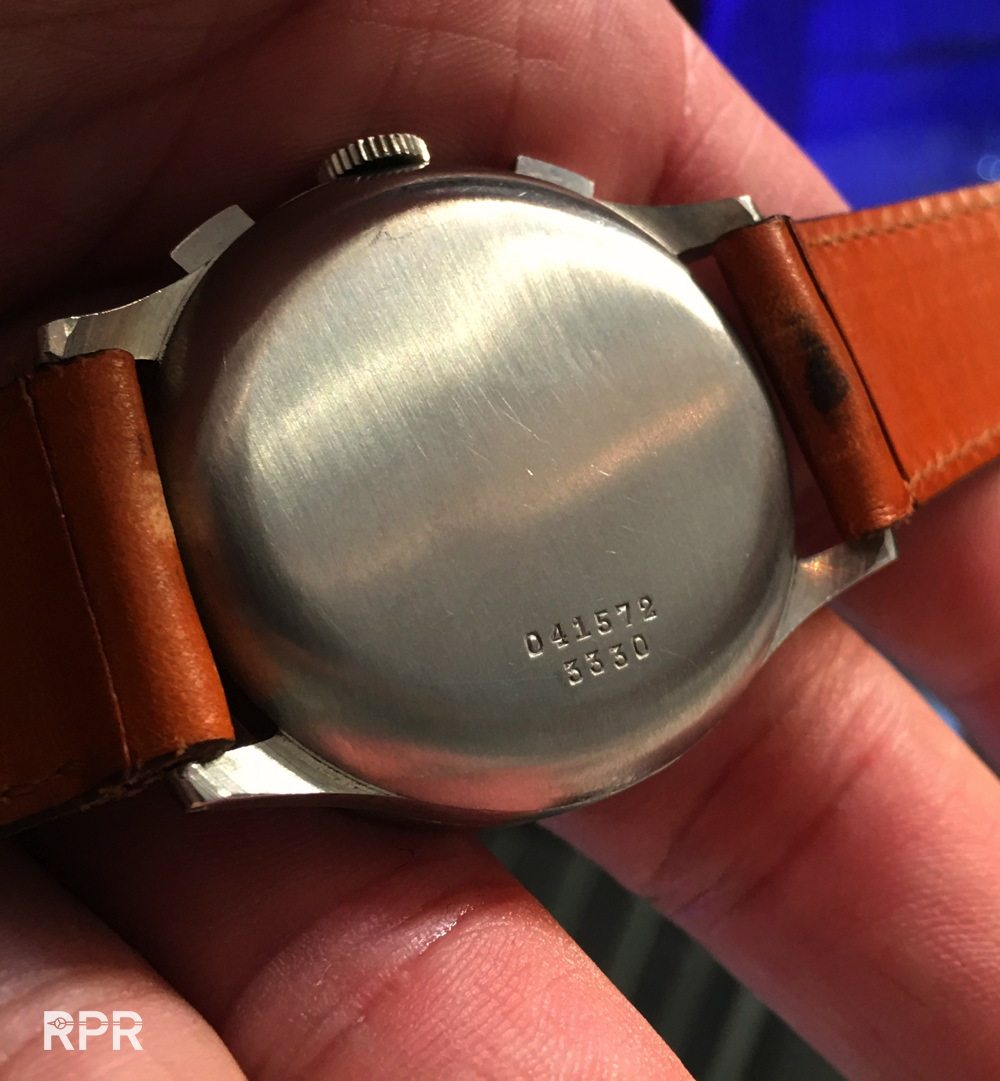 Tropical RCO, will it fetch 1.5million??..
Black star dial ref 6062, another million + vintage Rolex..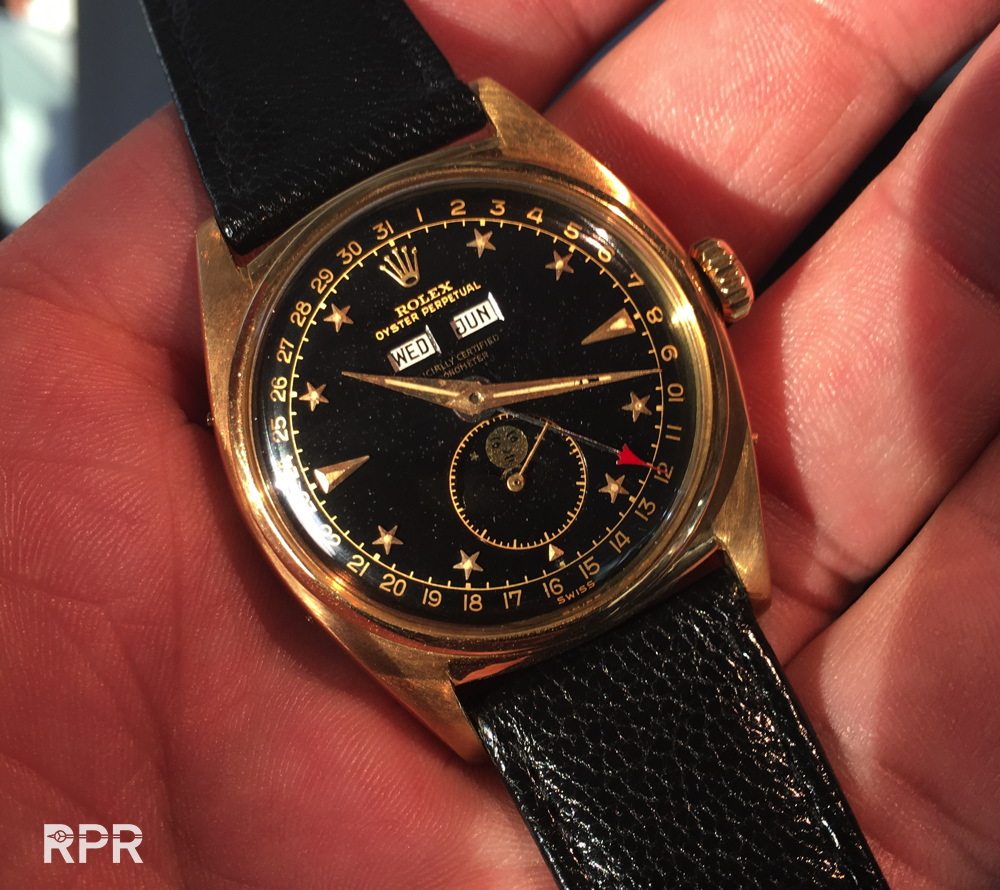 Blue pulsation dial 6239..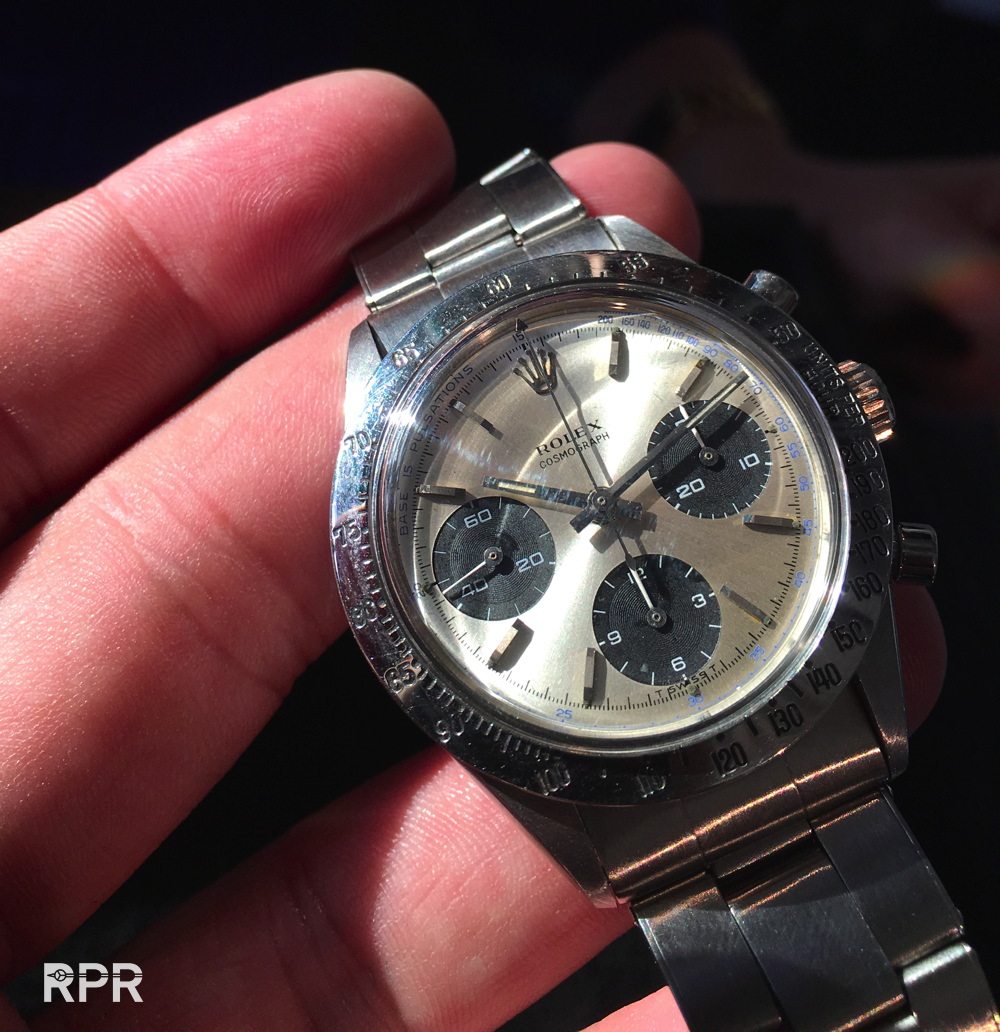 Black tritium rolex 6234..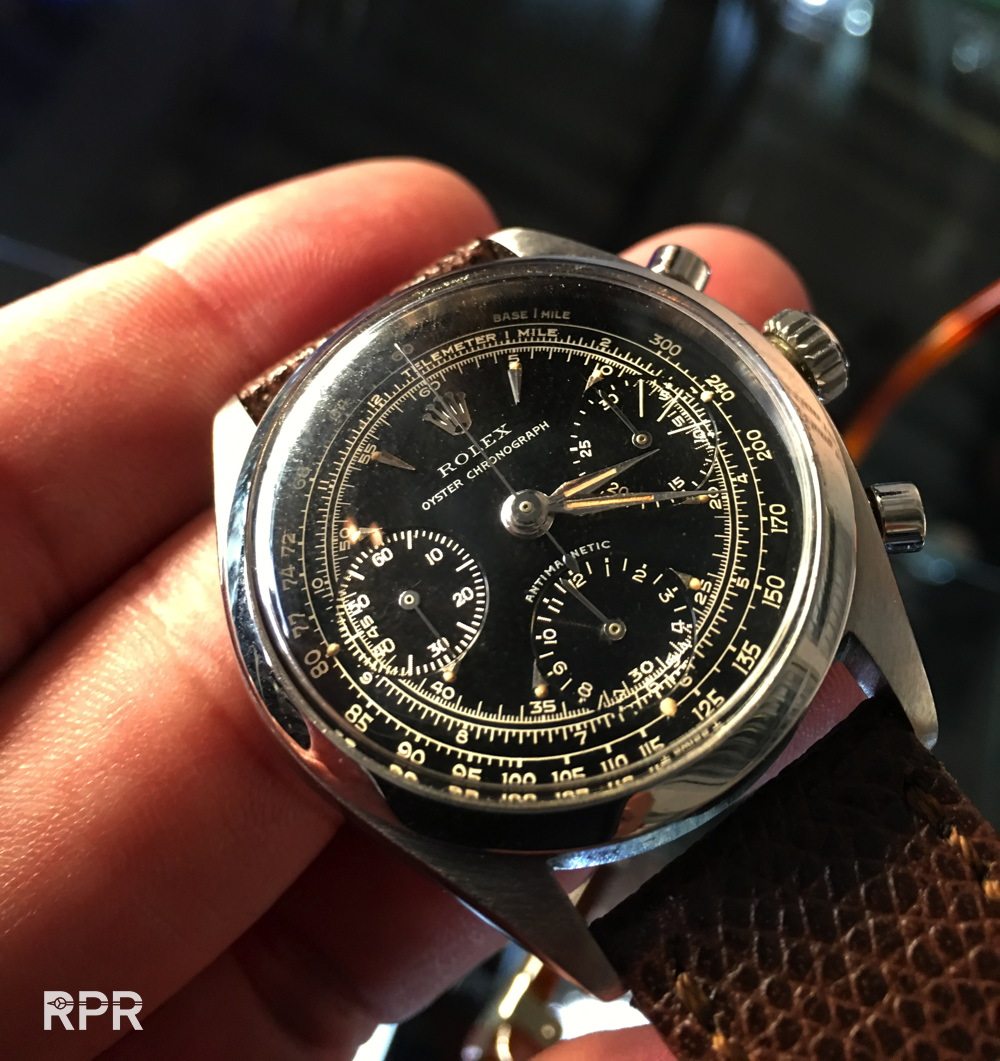 Underline double swiss ref 5513..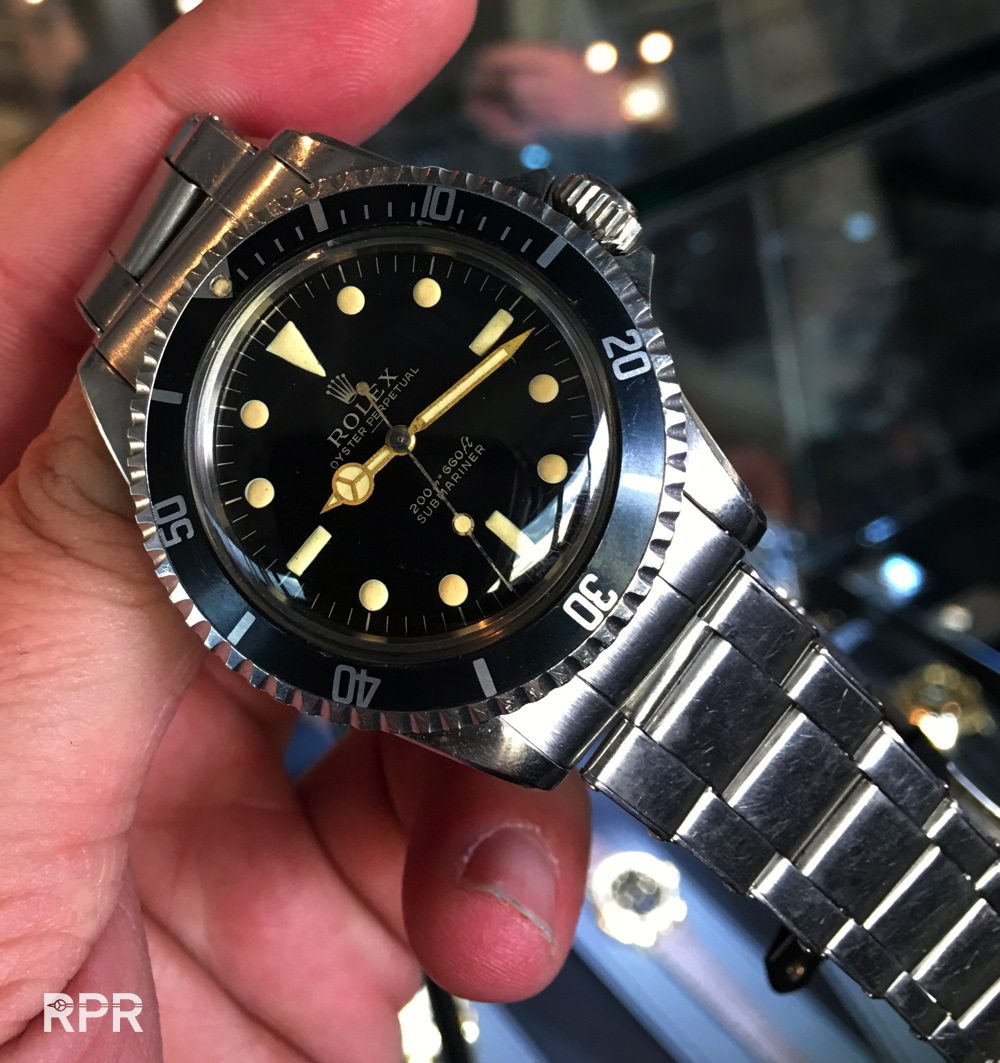 Pink ref 2499 first eerie Patek Philippe. Is it worth 2 million euro??…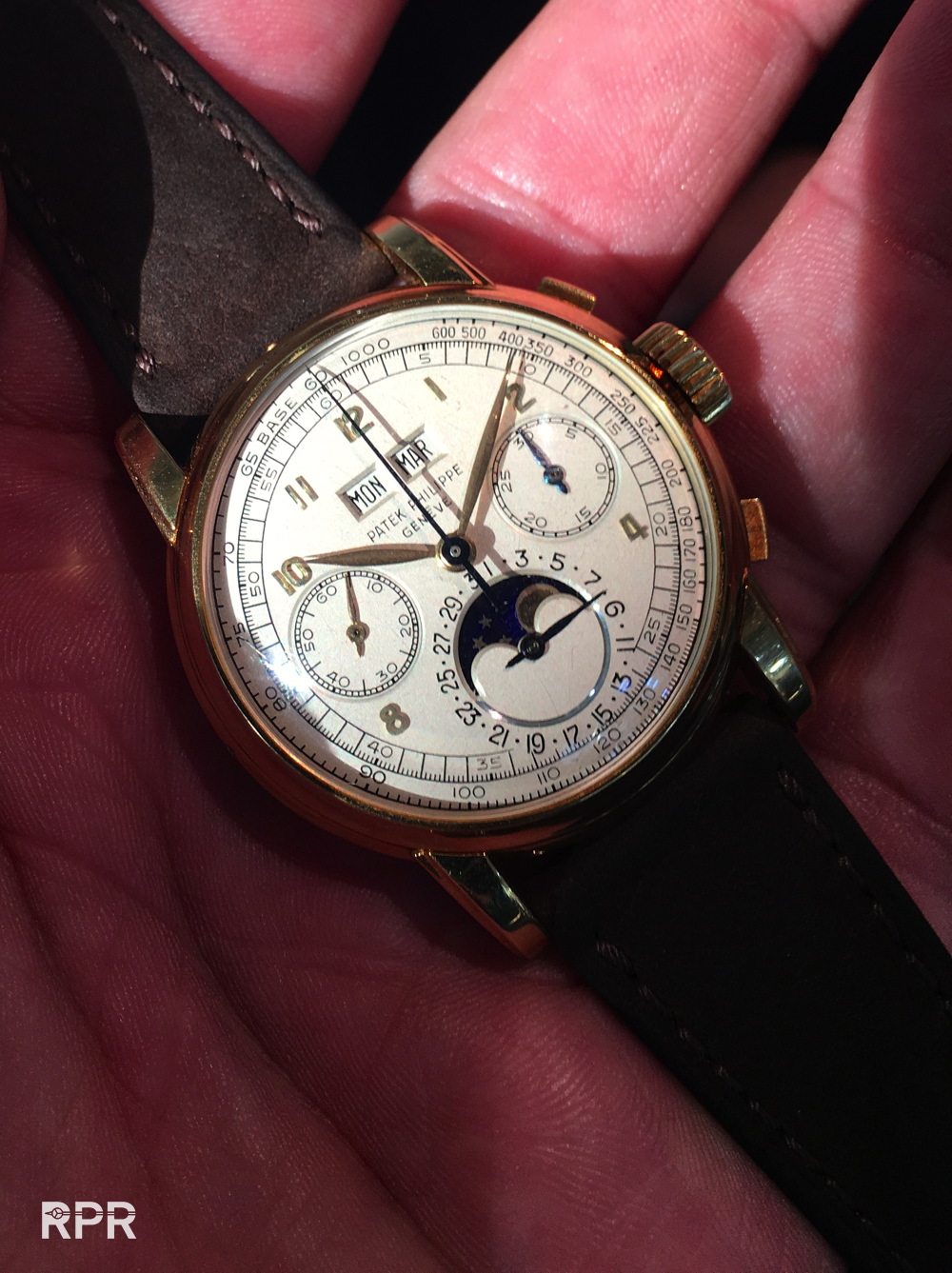 Unique Patek Philippe glossy black breguet dialed Calatrava. logically it's gonna hit the 1 million euro mark..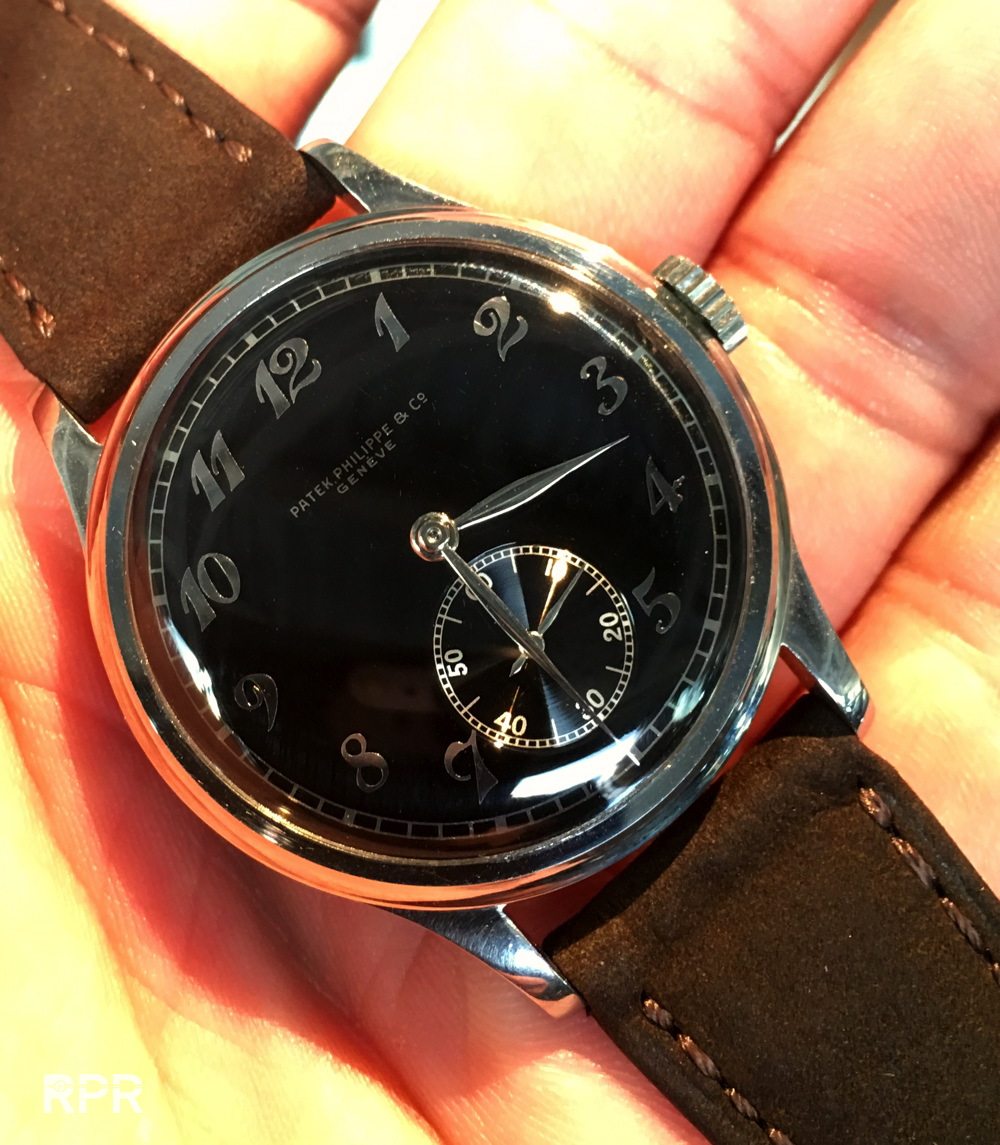 Steel Patek Philippe Ref 1463 Freccero..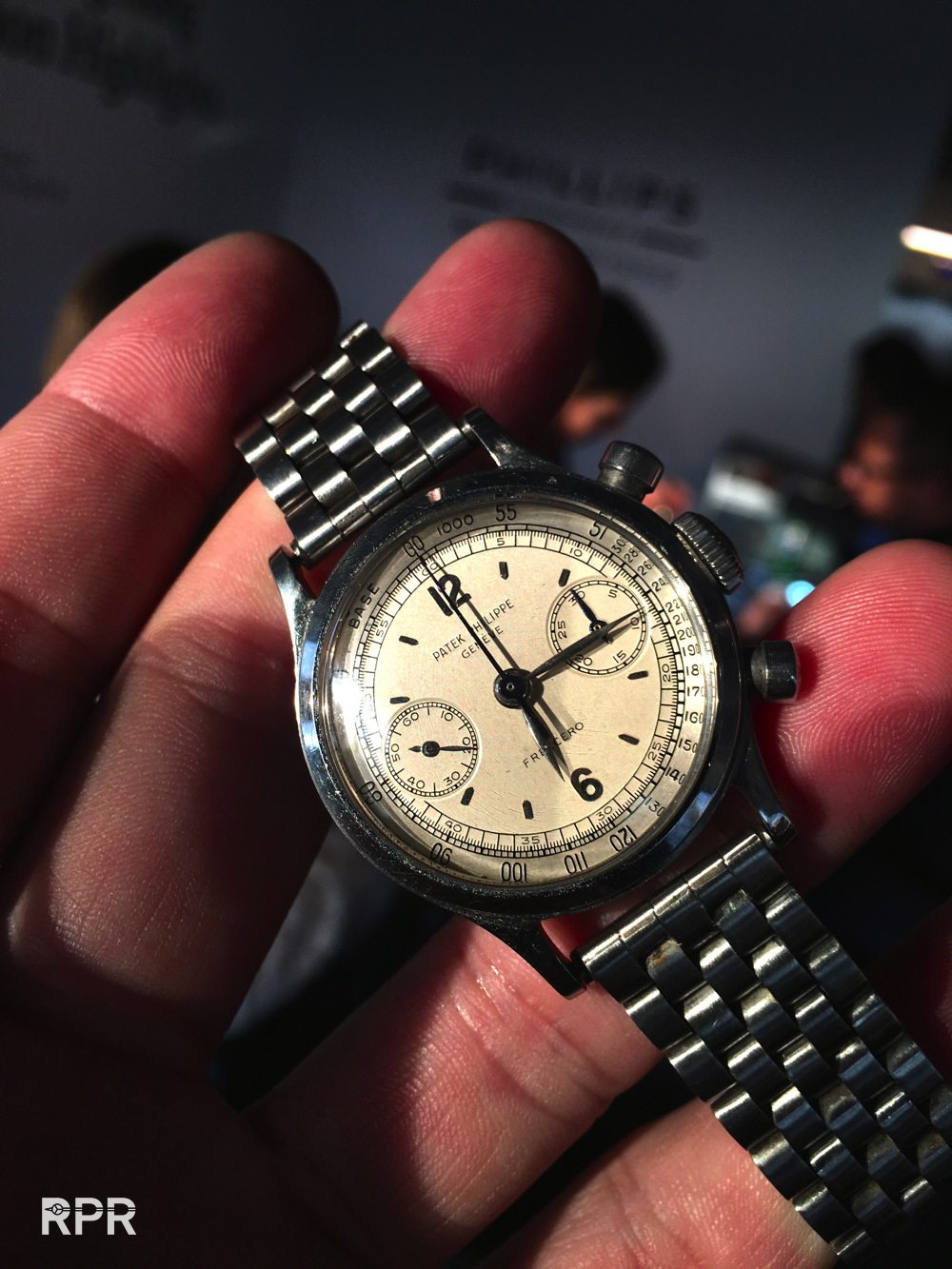 Tropical gold Rolex Daytona..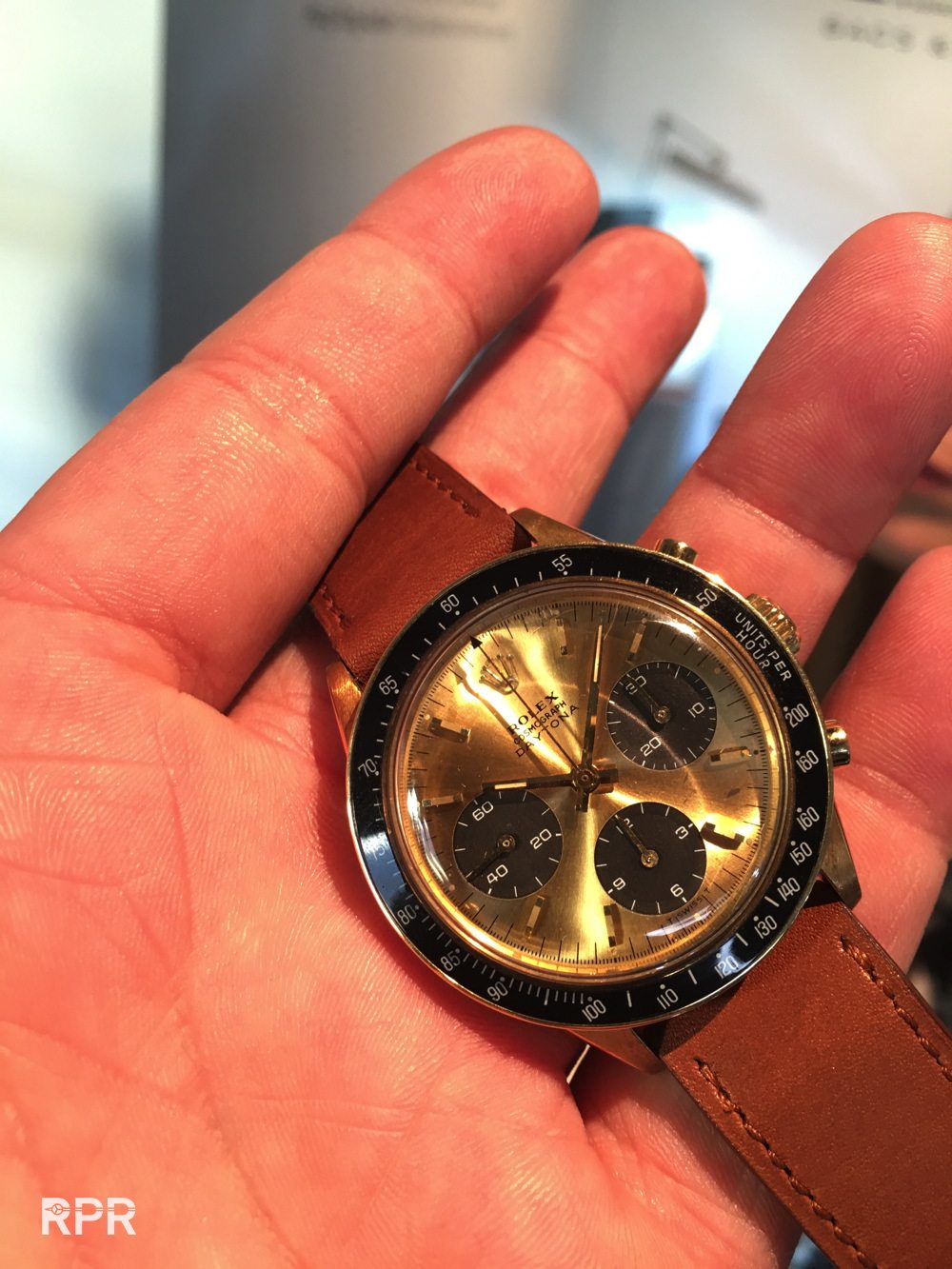 White gold Rolex Datejust Ovettone ref 6305/1..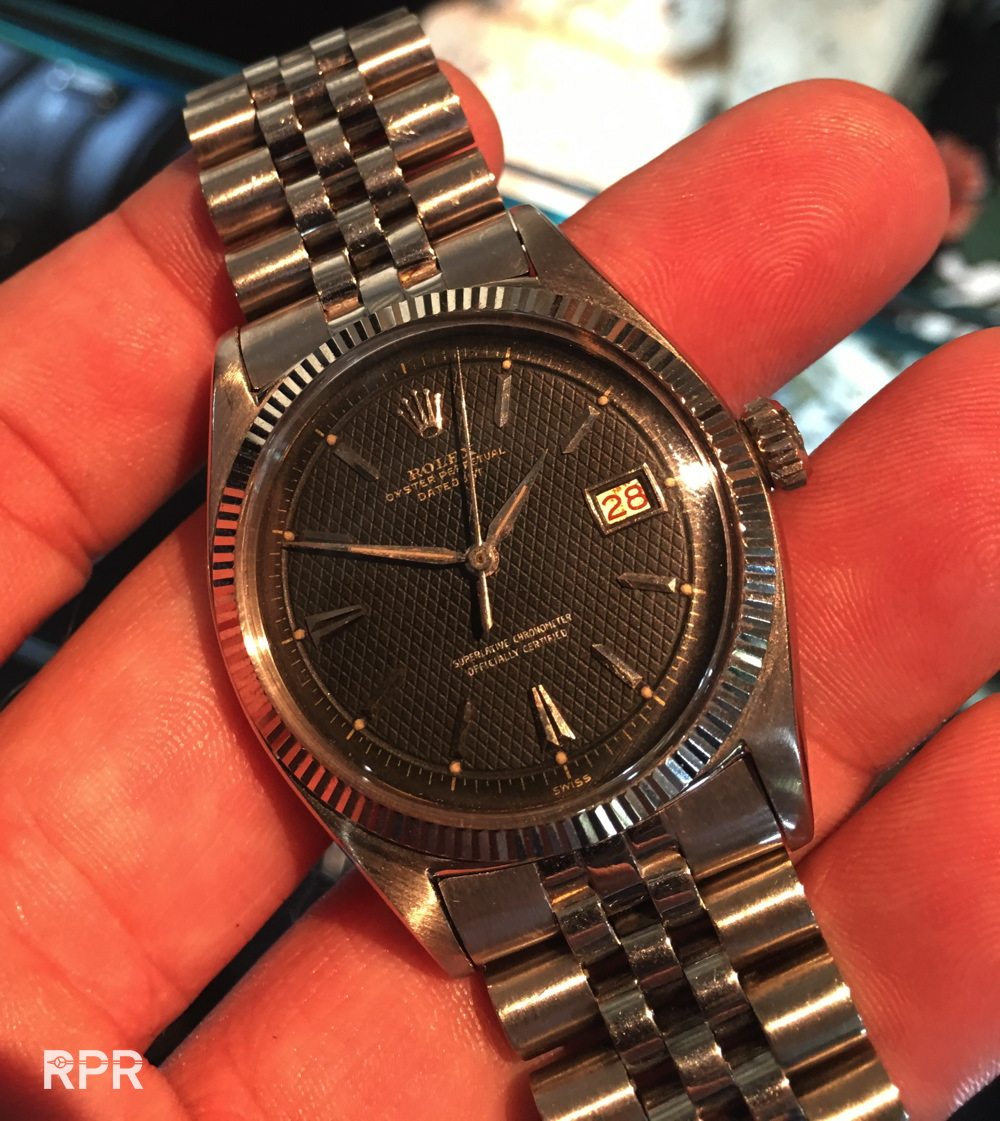 Black Zerograph..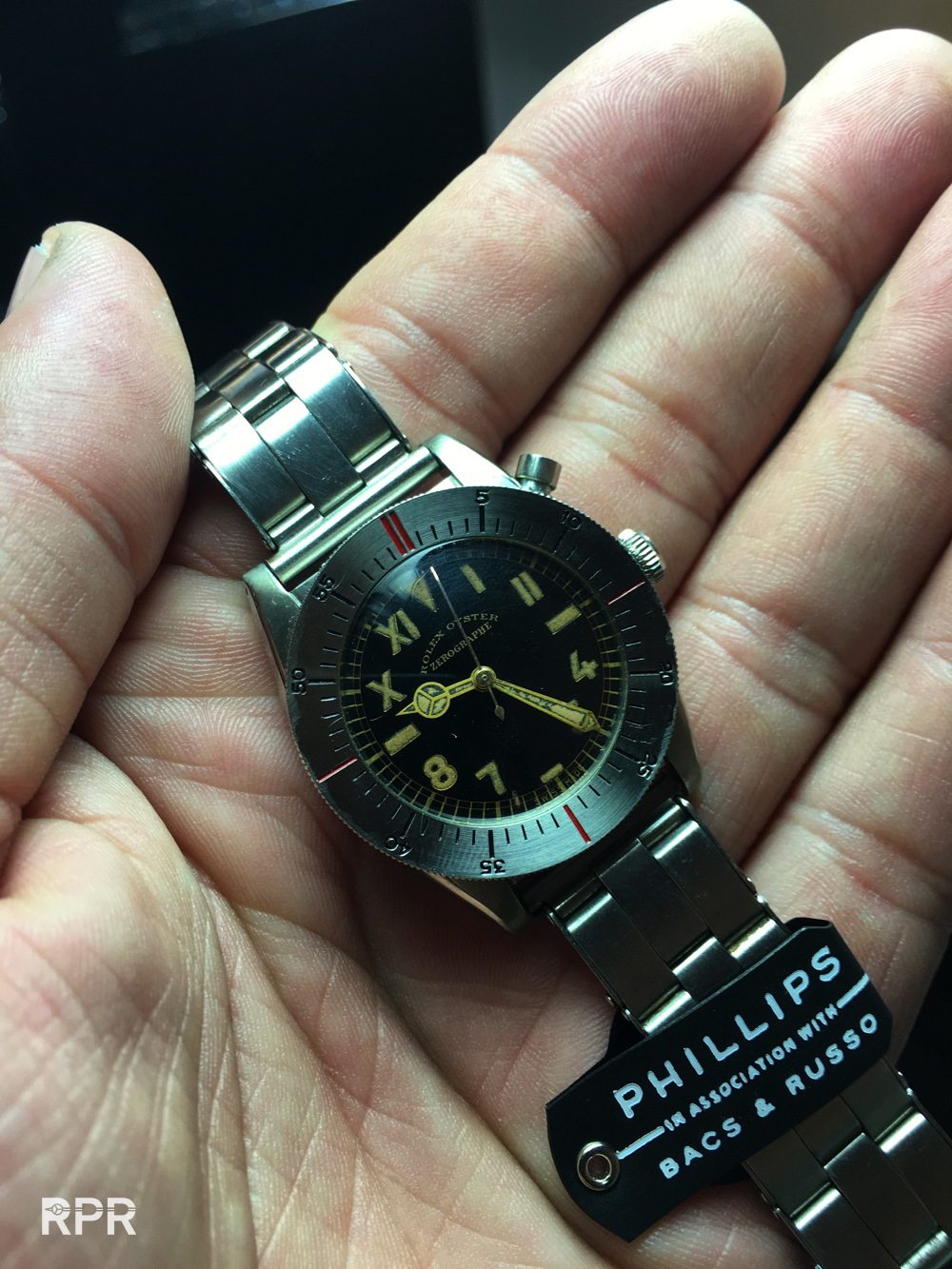 At Phillips headquarter top floor downtown London…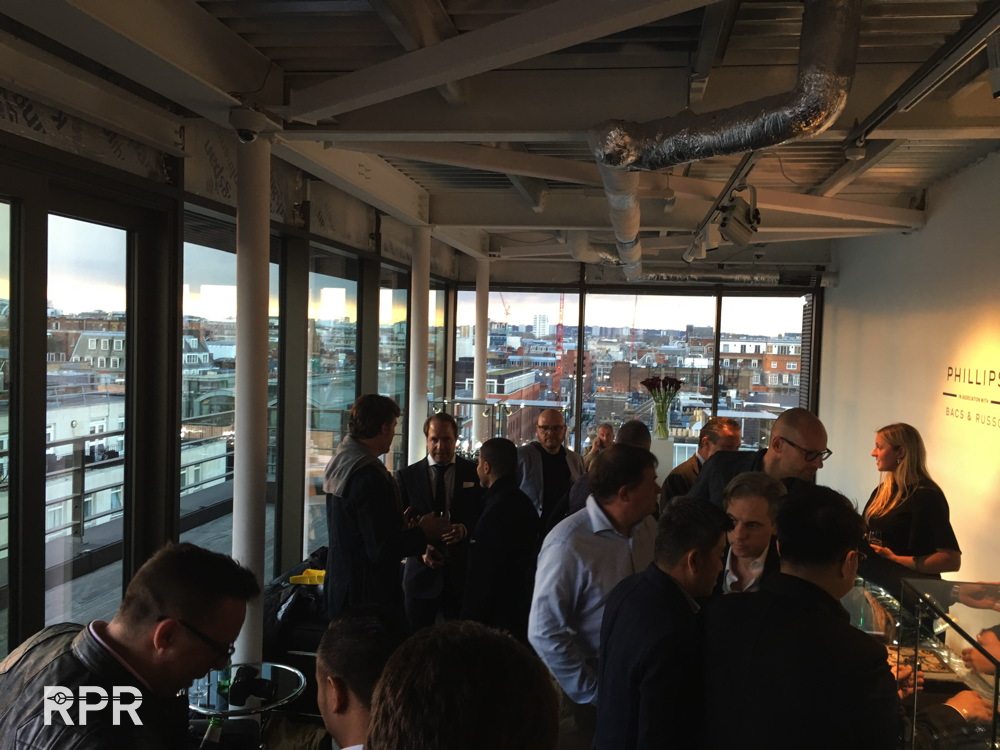 Phillips in Association with Bacs & Russo is proud to launch its first auction of the year with START-STOP-RESET Epic Stainless Steel Chronographs. Taking place on Saturday 14 May 2016 in Geneva, this exciting thematic sale is dedicated to stainless steel chronograph wristwatches of the highest quality and rarity – all produced by the most prestigious watch manufacturers of the last century. START-STOP-RESET Epic Stainless Steel Chronographs – 14 May, 6 PM.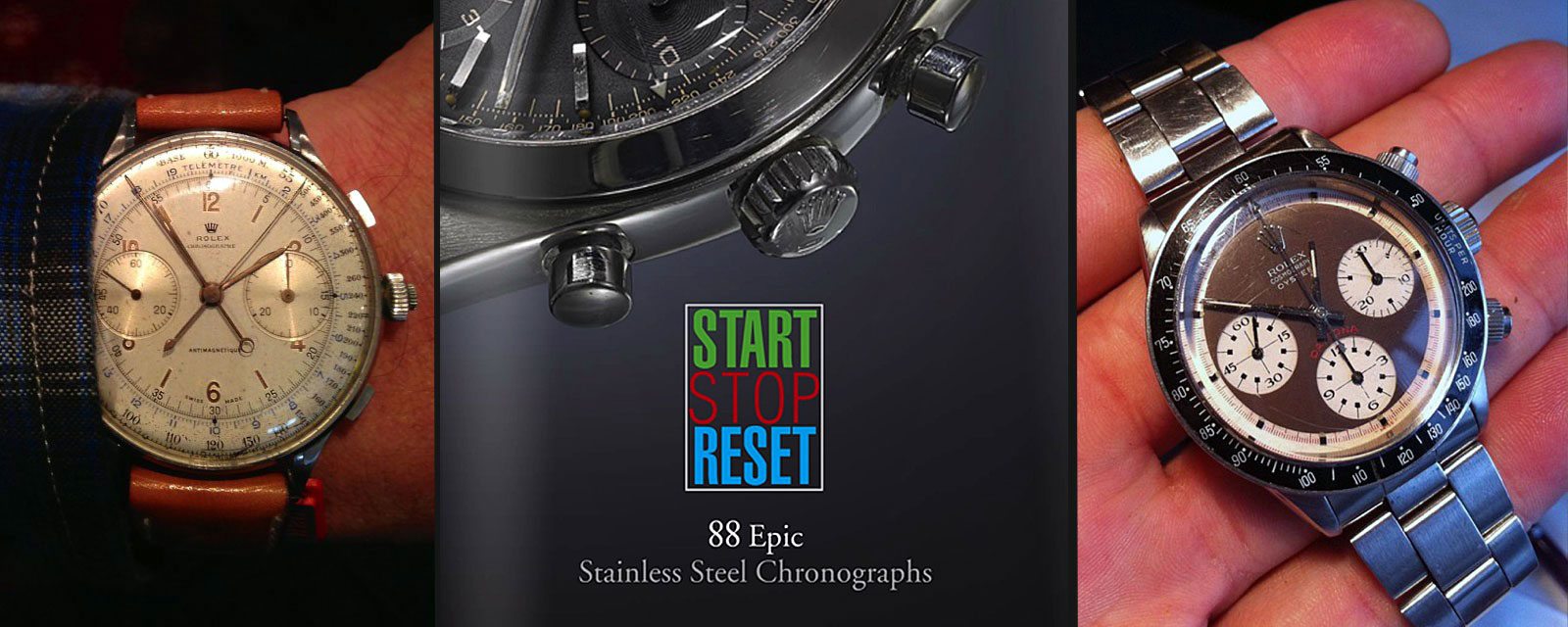 Following the highly successful May 2015 thematic auction Glamorous Day-Date, Phillips is honored to partner once again with the renowned watch scholar and author, Pucci Papaleo. With the START-STOP-RESET thematic sale, a new important concept is introduced, where for the first time Phillips will produce the catalogue in collaboration with Papaleo and his world-class team. This talented team already created some of the most important watch collectors' books in recent years. In preparing for the auction, the Phillips team of specialists and Pucci Papaleo inspected hundreds of models across four continents selecting only the finest and most interesting examples.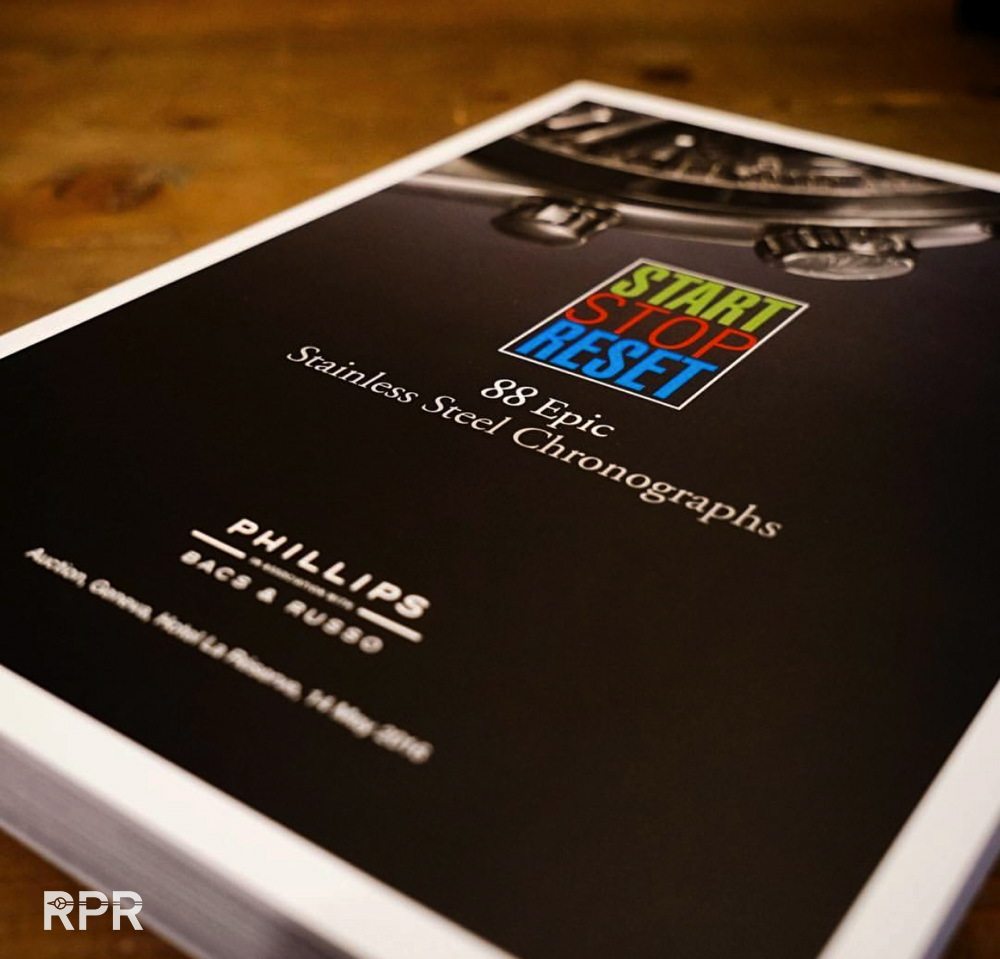 Here's one of my favorite vintage Rolex that has ever come to auction so far. The tropical brown Rolex Daytona RCO sold at Sotheby's in 2010.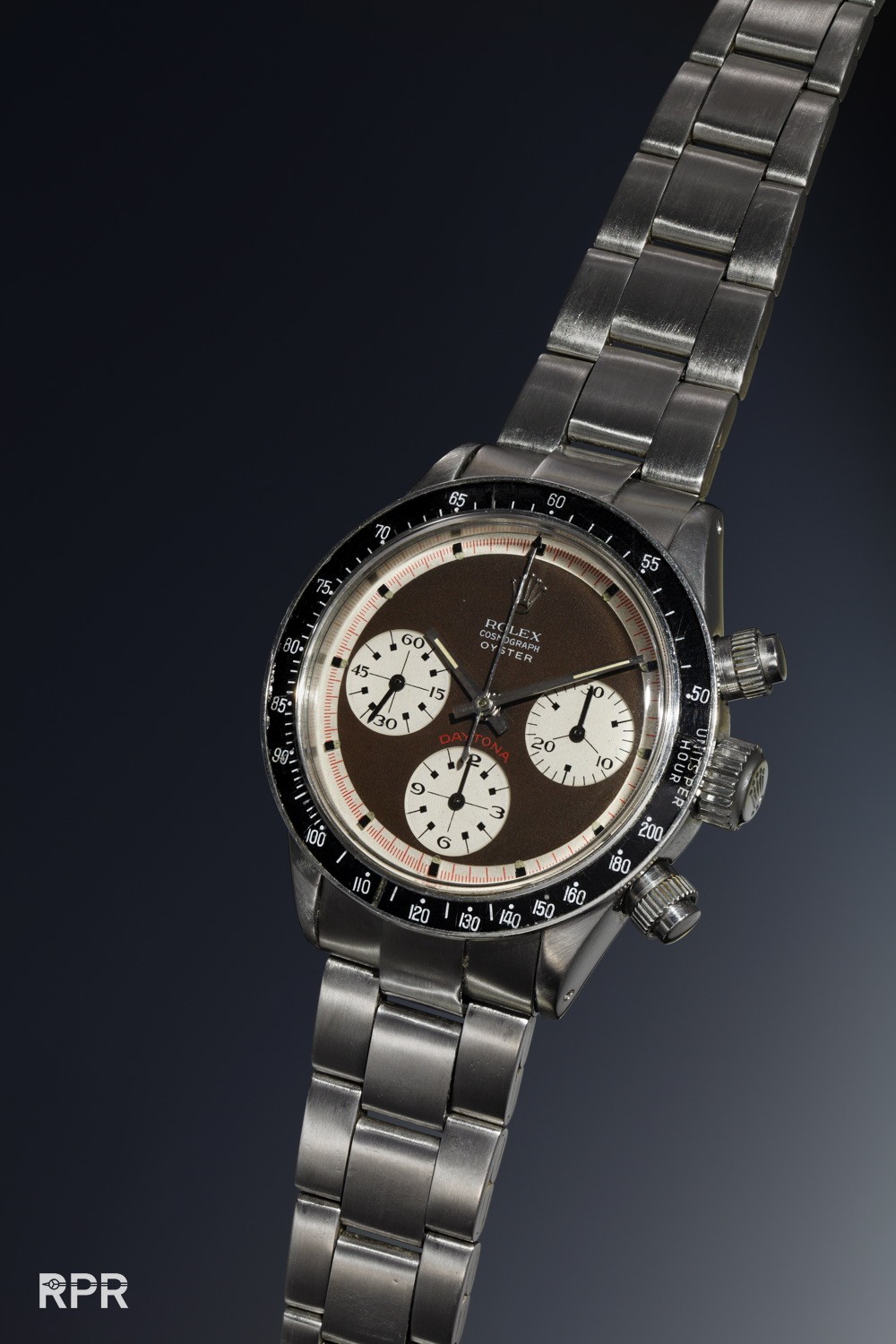 These are the original pictures when I handled it back in 2010. I remember so well that Sotheby's boss back then really though it would maximum sell for 100K, hence their estimate of CHF 60-80.000,= I told him he would be surprised with the final price, which I predicted like 4 x higher then they thought. To find a RCO in untouched original condition is extremely rare but to find one that has turned perfectly brown is a sensation. I remember Davide Parmegiani finally got it for CHF 464,500 (US$ 476,805).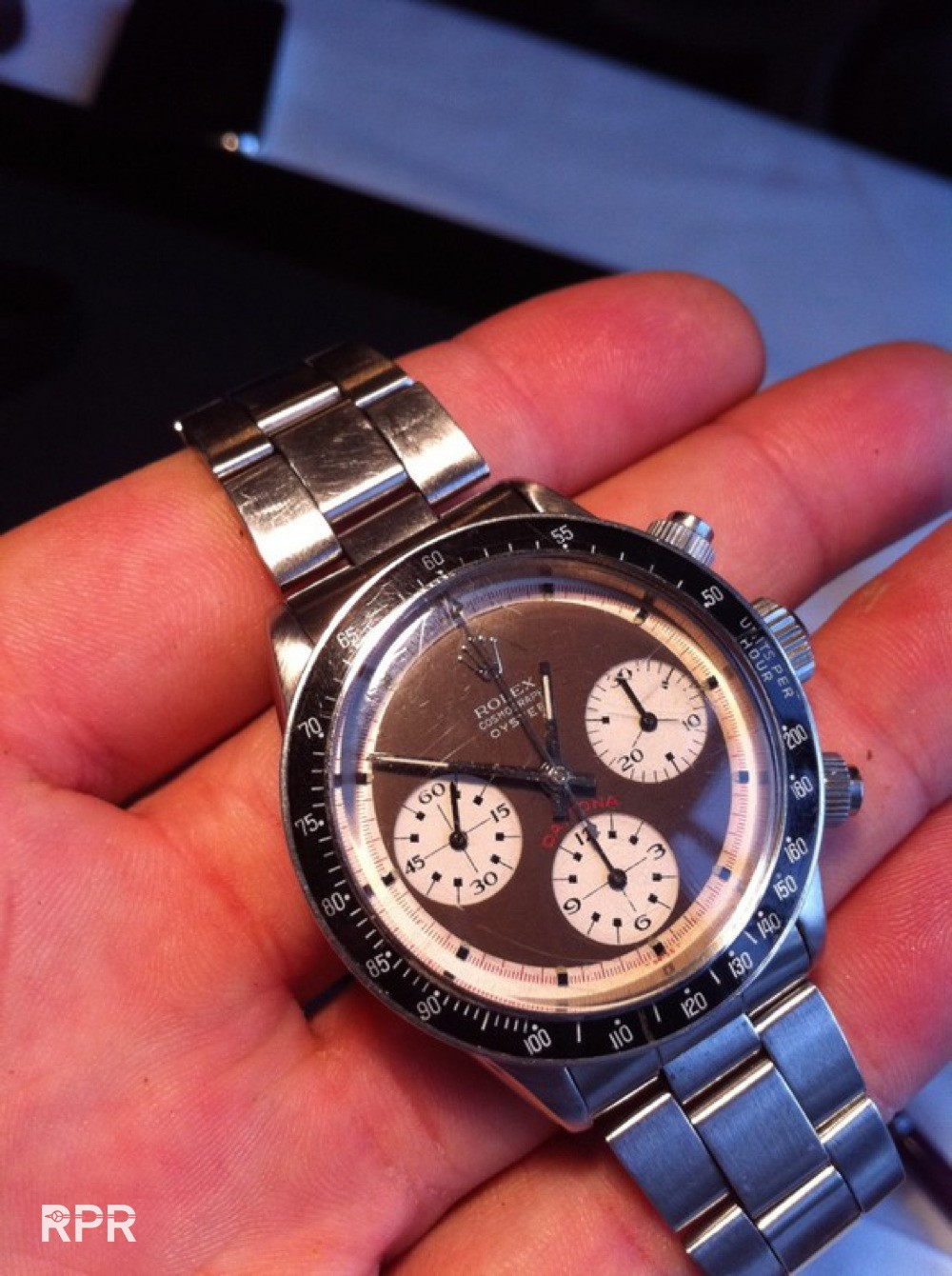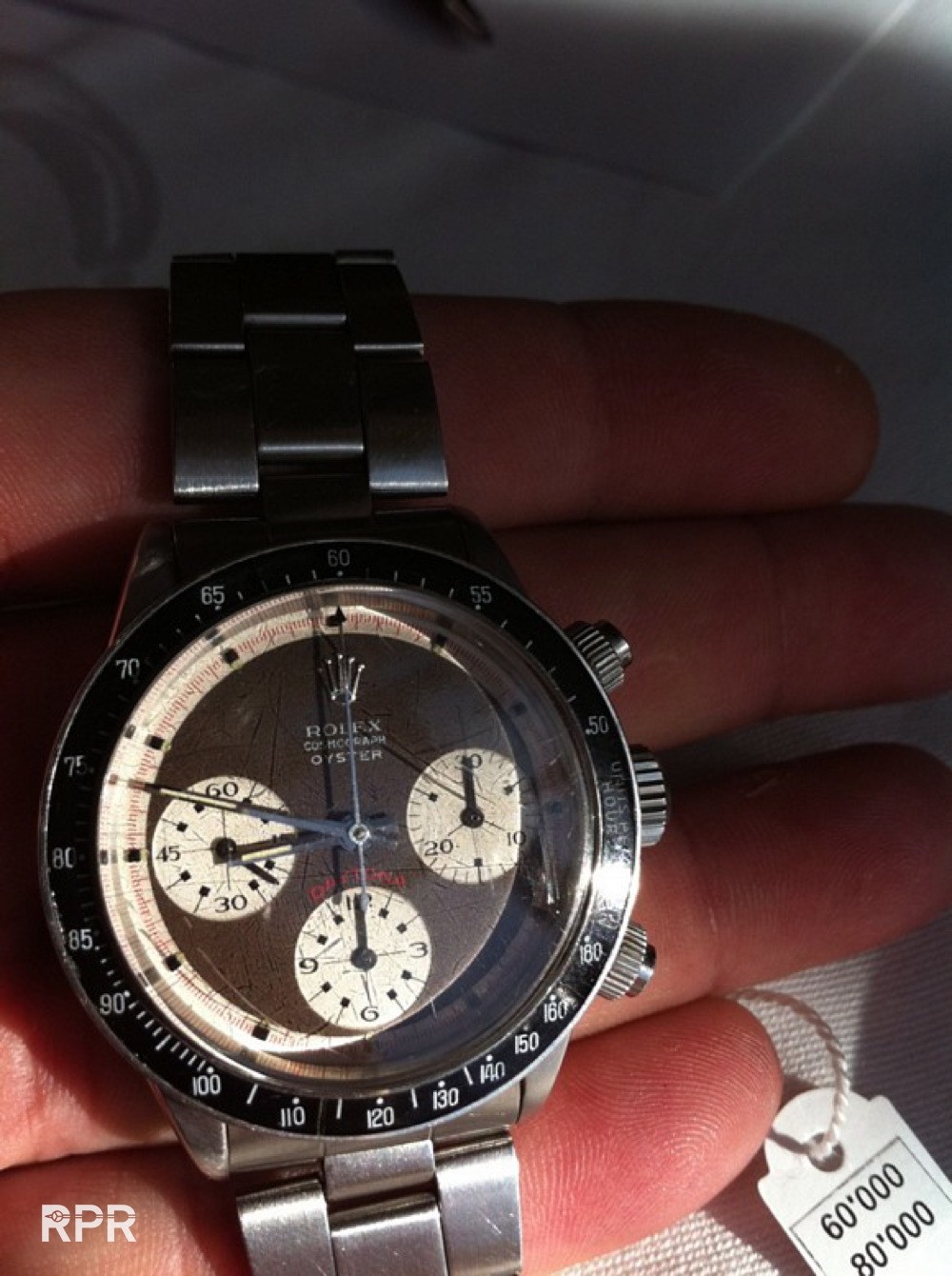 Rumors reach me that this spectacular and important vintage Rolex might reach 2 million. I think 1.5 could be possible, yes maybe even more…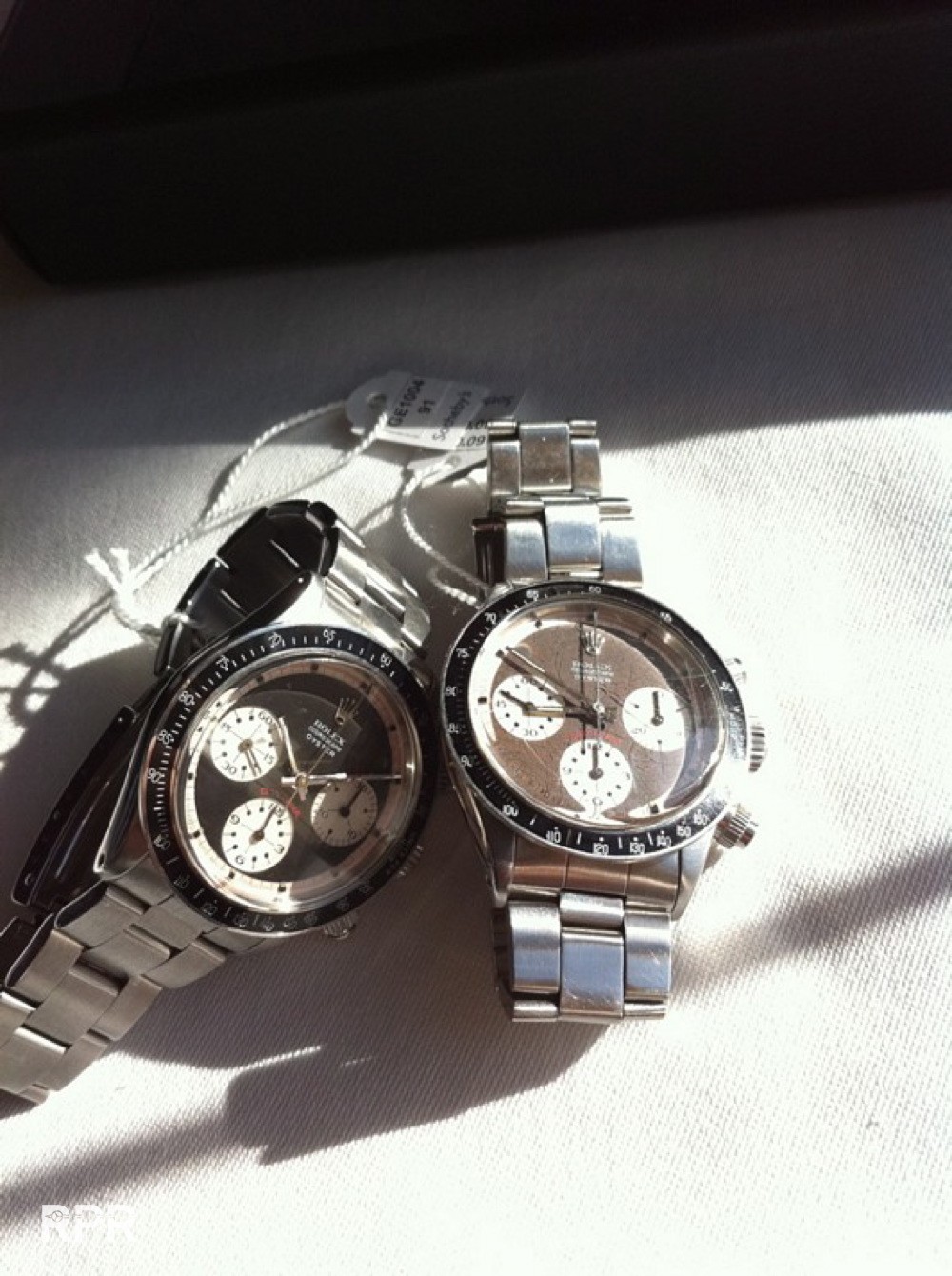 ROLEX REF. 4113 SPLIT-SECONDS
An extremely rare, oversized and important stainless steel split-seconds chronograph wristwatch with silvered matte dial, pink gold raised Arabic and baton hour markers, outer blue telemeter and black tachometer scales, manufactured 1942
Estimate Sfr. 800'000-1'400'000. An event in its own right is the offering of a spectacular Rolex Ref. 4113 Split-Seconds chronograph, for many collectors considered the most important Rolex wristwatch ever made by the firm. Scholarship tells us only twelve examples of reference 4113 were manufactured and all were encased in stainless steel. Never offered by Rolex for public sale, this rare model was presented to a select group of racing teams and their drivers by Rolex who were active in sponsoring racing events at the time. Amongst the world's finest surviving examples in terms of originality and quality, this watch is presented in impressive overall condition and has remained virtually untouched.
The in 2013 auctioned Ref 4113 Split is coming back to the market. This time the estimate is logically bit steeper of the 44mm giant Rolex with case no. 051314, manufactured in 1942. It finally sold for CHF 1,107,750 – $1,161,436 all in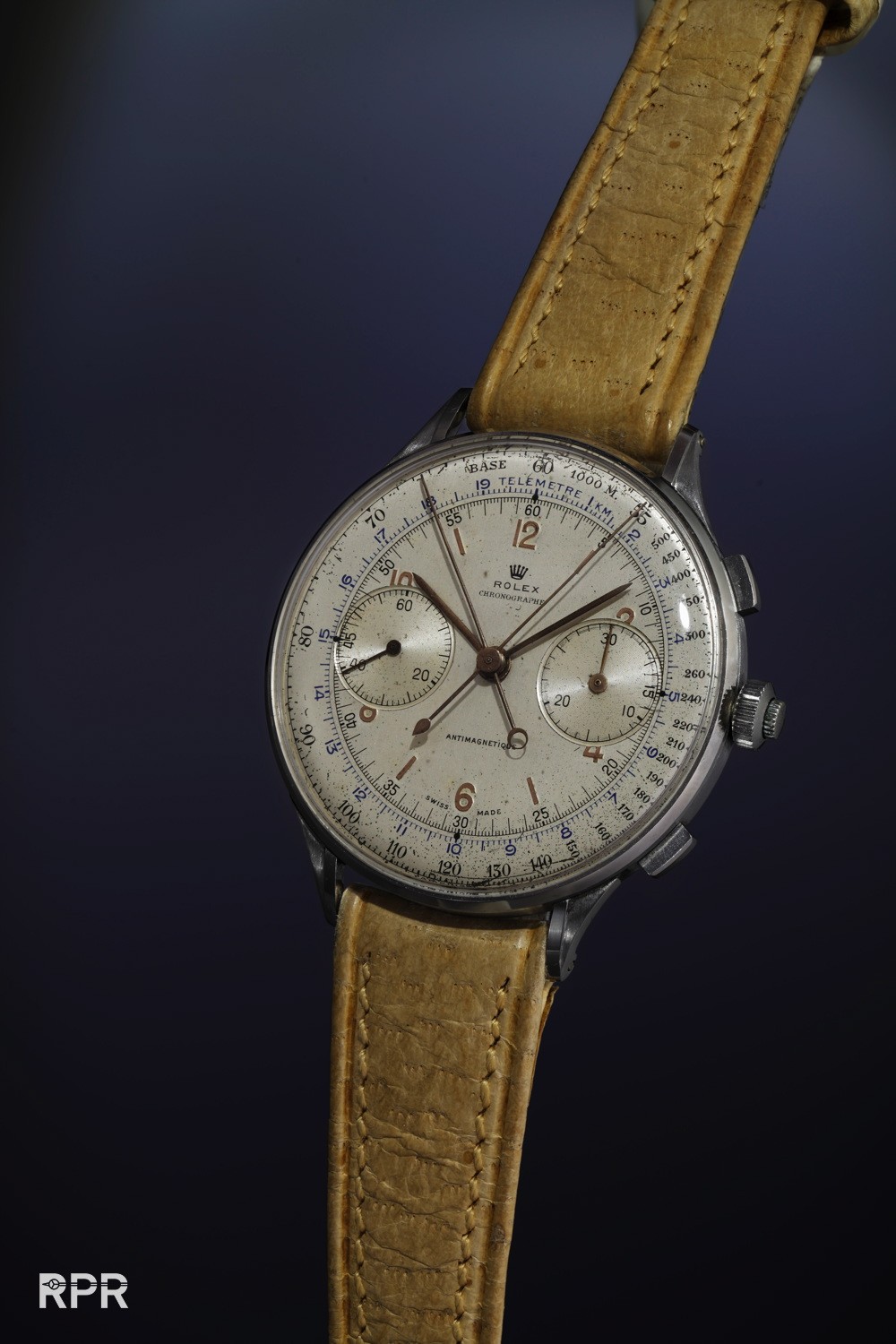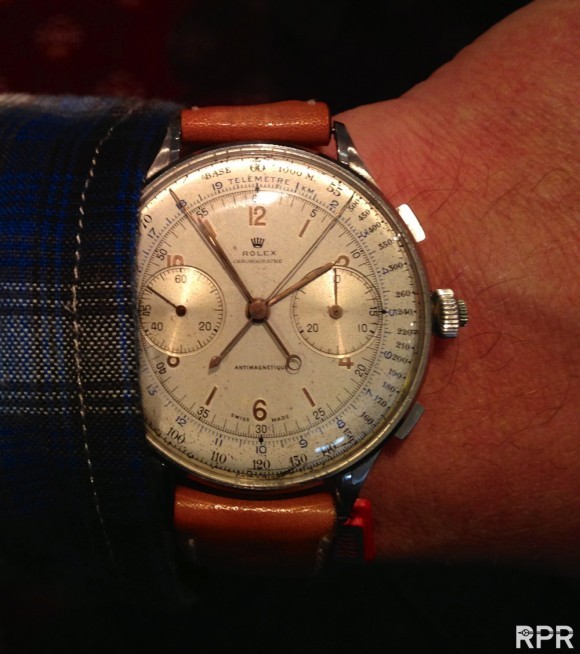 Here together with a unique Singer for Rolex Prototype "chronograph" dial in NOS case.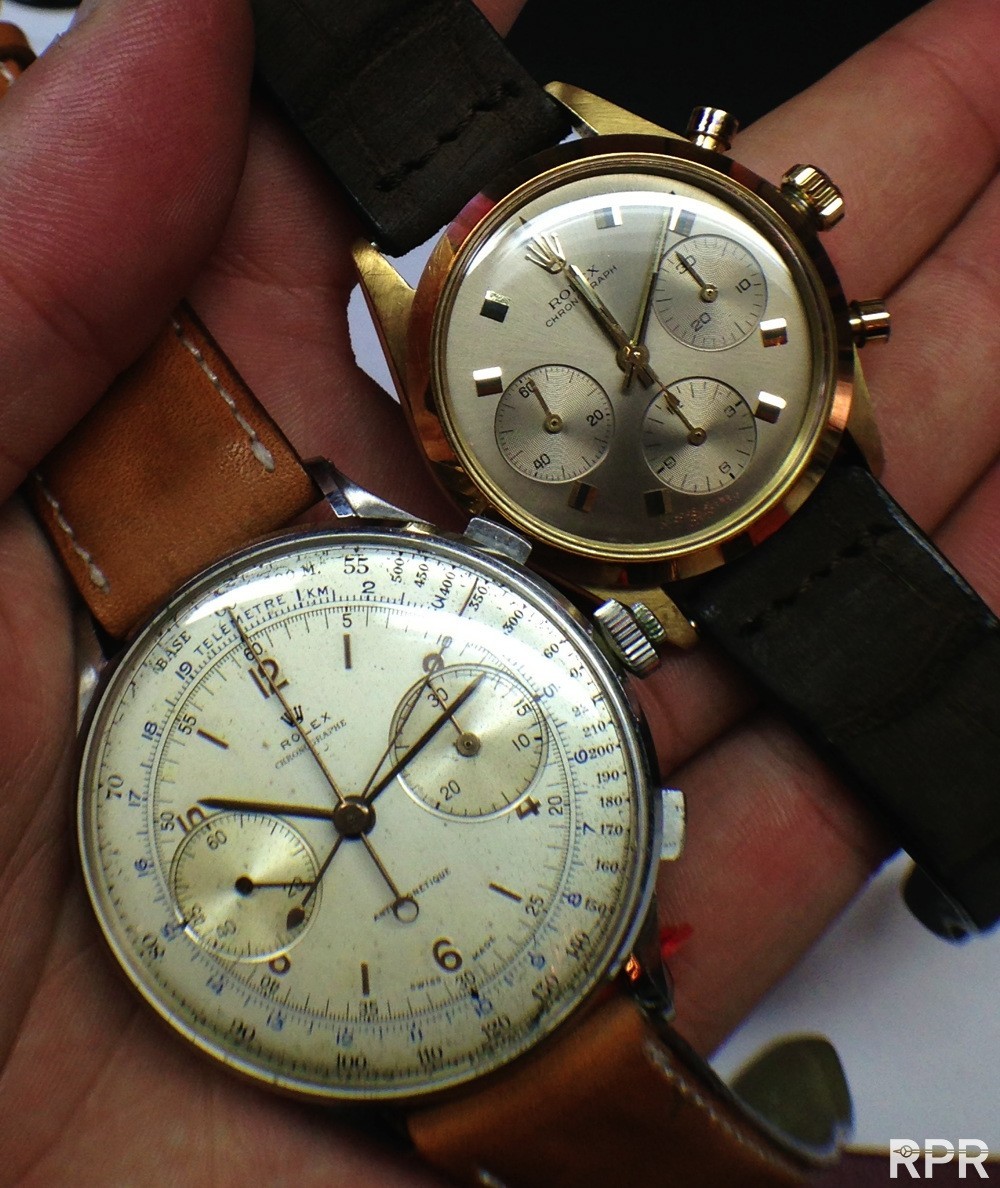 And with a so far unique Singer for Rolex Prototype Submariner Piano dial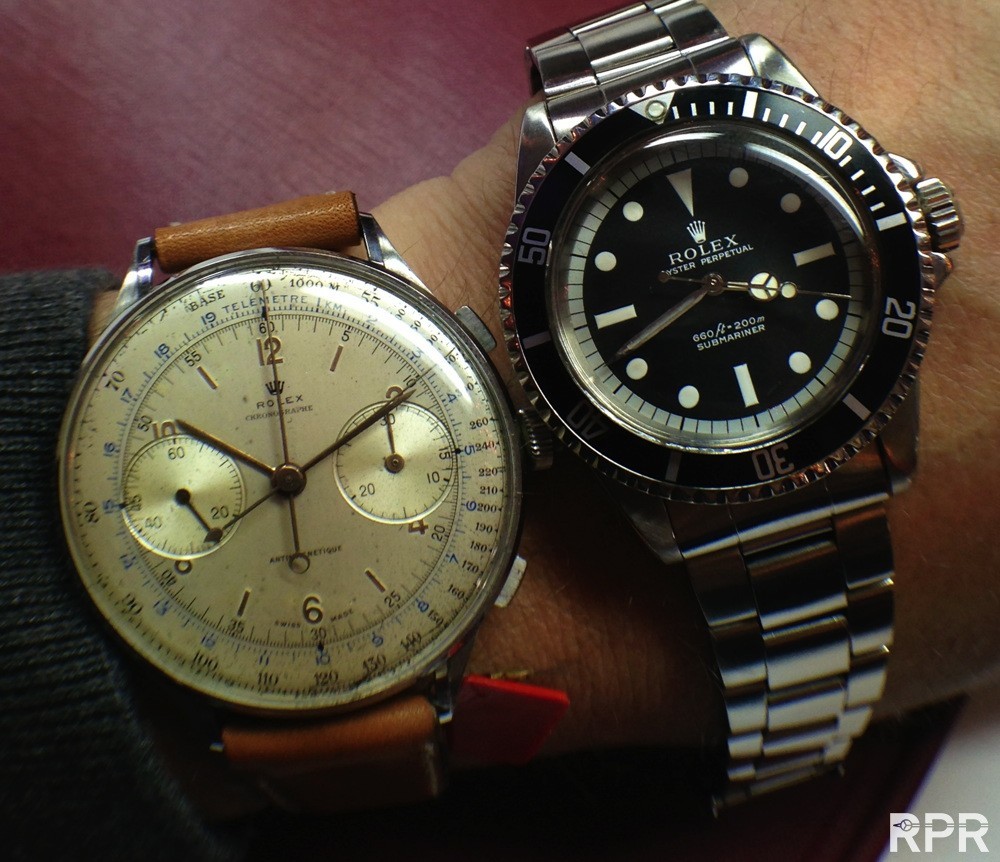 Back then specially for asian buyers the split got lucky lot number 88 and finally sold for $1,161,436,= in 2013 so logically it should sell for 1.5 or more now. Let's see what Phillips can make of it…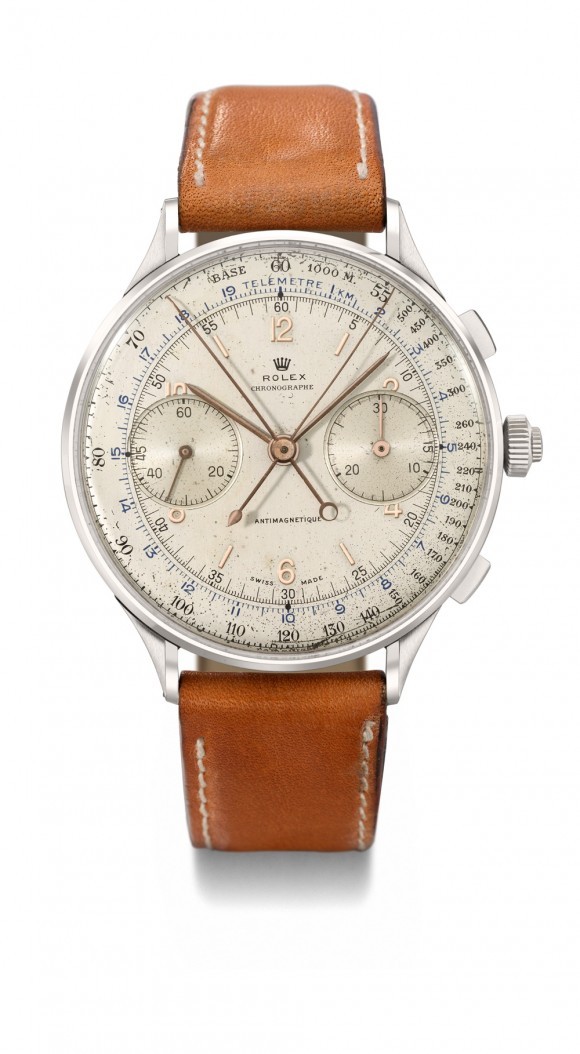 PATEK PHILIPPE REF. 1463 "FRECCERO"
An extremely rare and highly attractive stainless steel chronograph wristwatch with two-tone silvered dial, applied Arabic and baton hour markers, outer tachometer scale and bracelet, retailed by Freccero, manufactured 1955
Estimate SFr. 350'000-550'000
An exciting selection of vintage stainless steel chronographs by the prestigious manufacture Patek Philippe is also included in the sale. Highlights are, amongst others, the Ref. 1463 "Freccero", which could well be the best-preserved example of this reference known in stainless steel. Since its launch in 1940, the desirability of the reference 1463 has never waned. Alongside its ultra rare sister model, reference 1563, it is the only vintage chronograph model by Patek Philippe fitted with a water-resistant case and round chronograph pushers.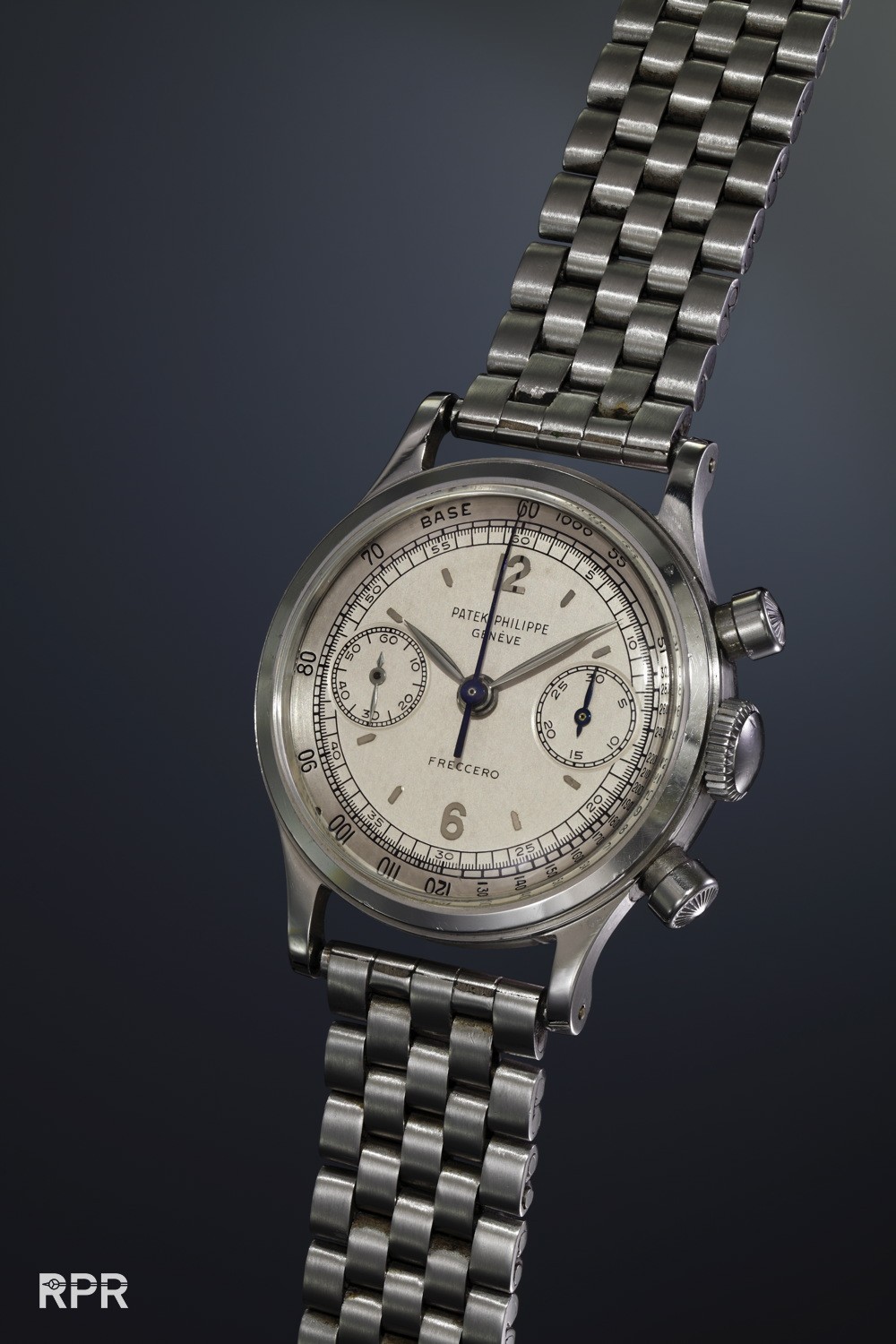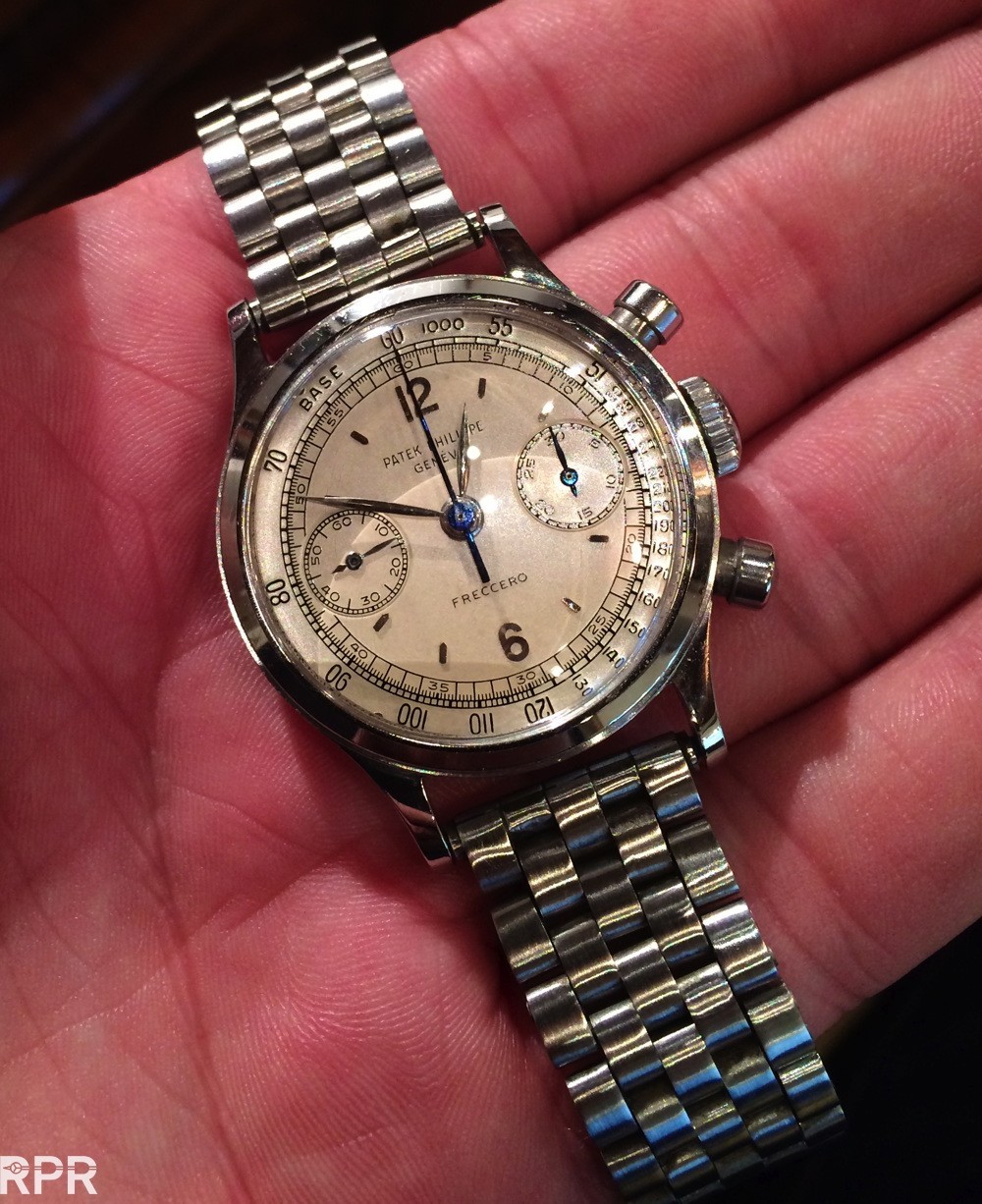 Then the following pictures and info I got from Buddy Su Jia Xian as somehow Phillips Watches don't send me any press releases.
Rolex Cosmograph Daytona ref. 6239 with an extremely rare pulsometer dial. The estimate is SFr350,000 to SFr700,000. A similar watch sold at Christie's three years ago for over US$800,000.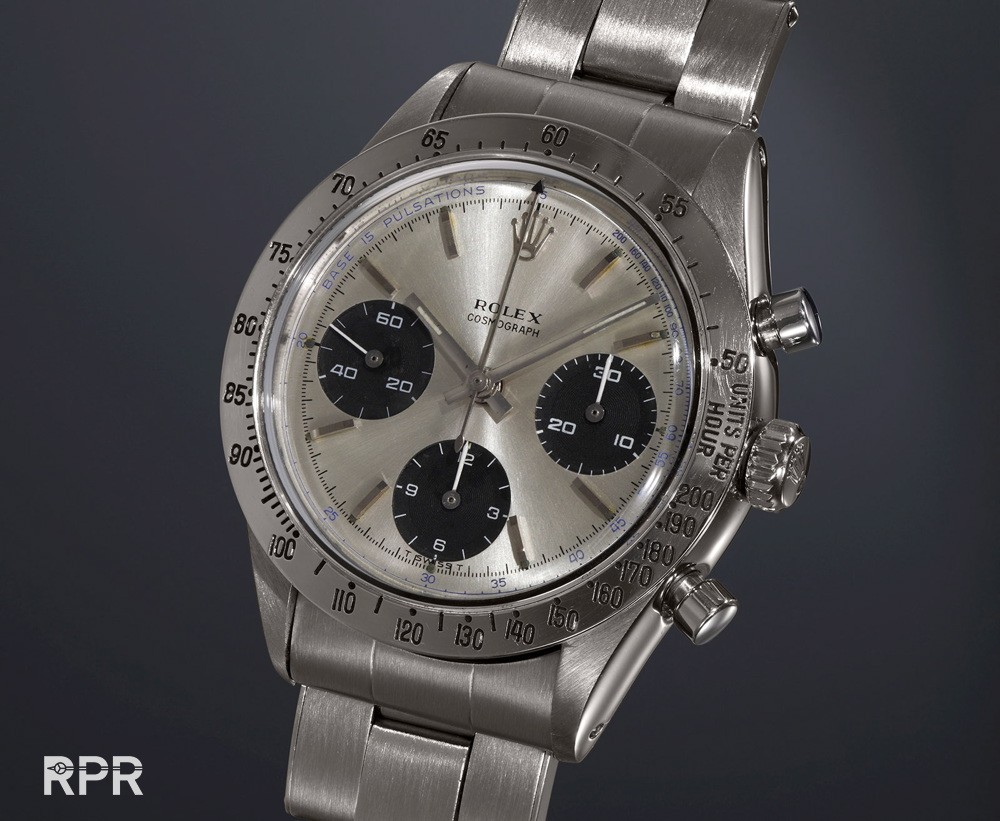 Rolex ref. 3330 antimagnetic chronograph in steel with a salmon-tone dial featuring tachymetric and telemetric scales. It's estimated at SFr200,000 to SFr400,000.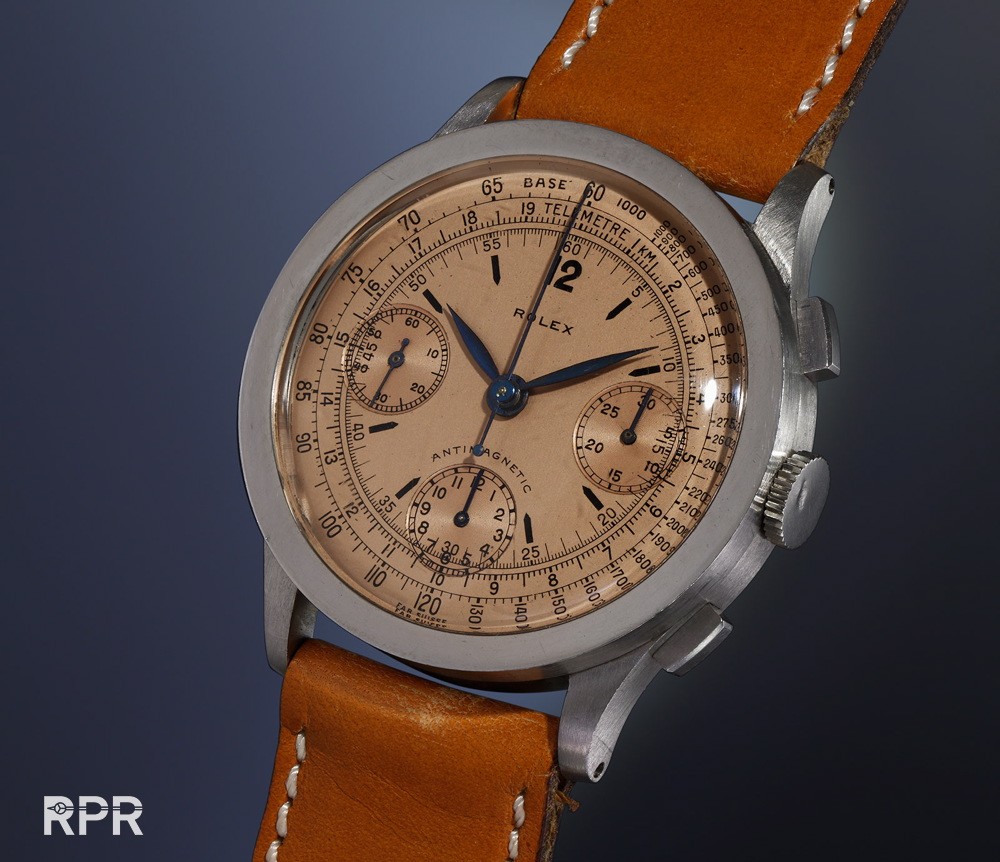 Rolex ref. 6542 GMT-Master in yellow gold with box and papers stamped Hübner in Vienna, a watch store that still remains on the Graben, the city's famous shopping street. Estimated at SFr150,000 to SFr250,000.
Omega ref. 2393/3 in stainless steel with an Art-Deco style three-tone dial featuring a triple scales, telemetric, tachymetric and pulsometric, carrying an estimate of SFr20,000 to SFr40,000.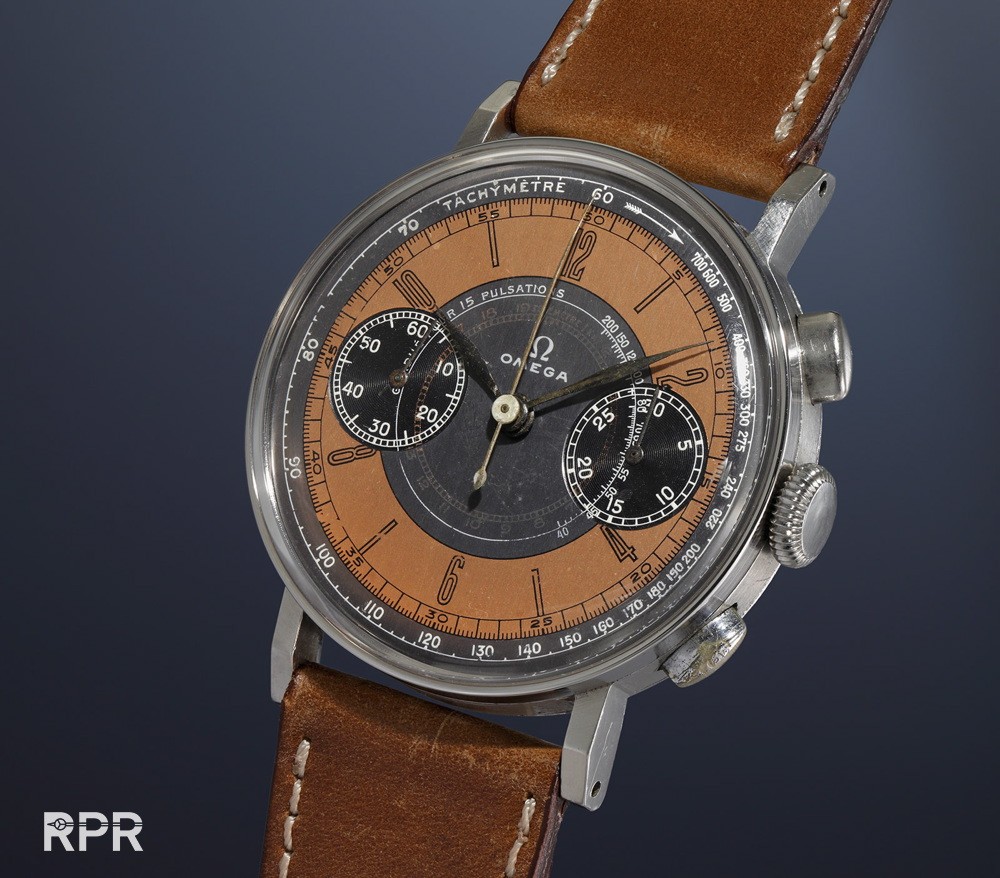 Tudor ref. 7031/0 "Monte Carlo", the very same watch that inspired the modern day Heritage Chrono and this specimen is accompanied by the original box and guarantee no less. It's estimated at SFr15,000 to SFr25,000. The hands are not really matching.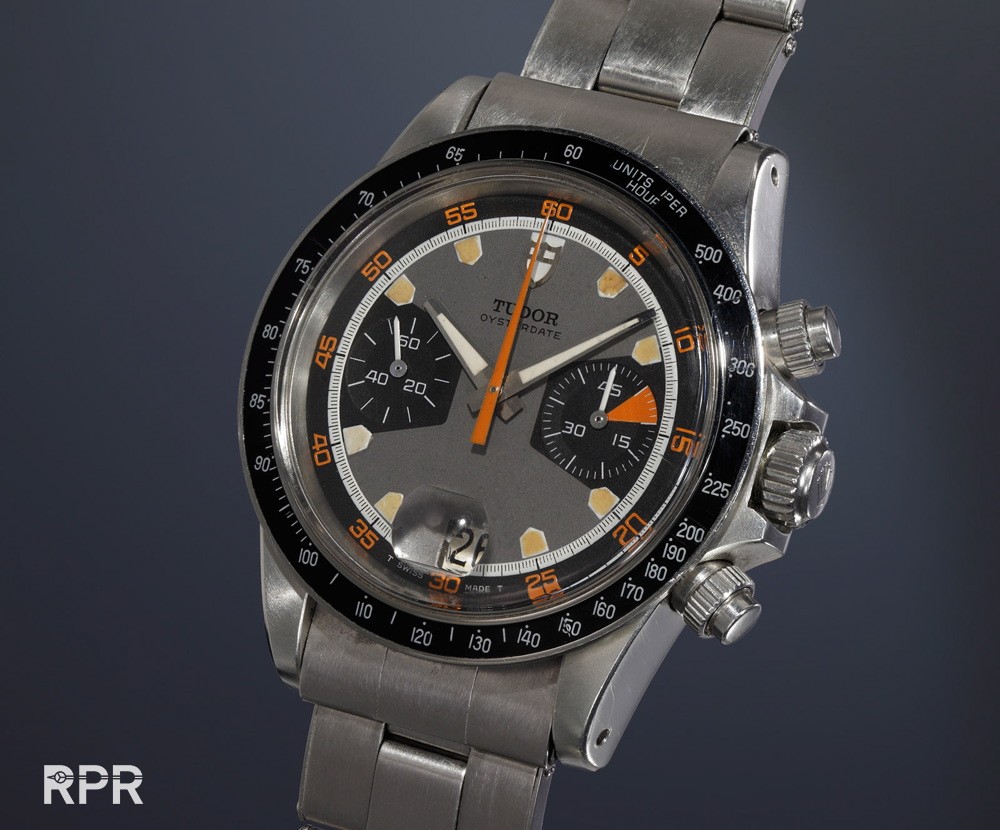 Patek Philippe Nautilus "Jumbo" ref. 3700 in extremely rare white gold (the least commonly found metal aside from platinum) with a highly desirable Omani national emblem on the dial, comprised of a khanjar over two crossed swords, indicating this was made for the Sultan of Oman and gifted to someone significant. The accompanying Patek Philippe box also bears the Omani emblem. The combination of elements explains its estimate of SFr300,000 to SFr500,000.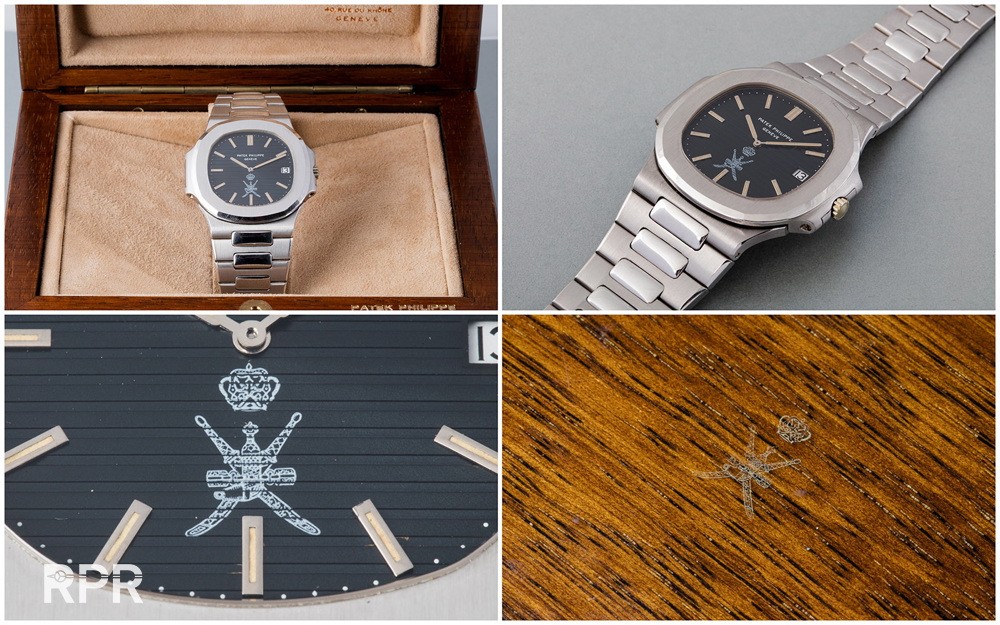 For car aficionados, we are proud to offer a very rare and attractive Breitling Duograph, Ref. 791, formerly the property of the late Sir Jack Brabham, the three-time world champion of Formula 1 car racing (2 April 1926 – 19 May 2014). Brabham won the Formula One World Championships in 1959, 1960 and 1966. He was the only man to win a championship on a car that he himself made, in 1966. The watch is accompanied by a signed poster by Sir Jack Brabham, along with a letter from his son David Brabham confirming the watch was presented to his father in 1960 after winning the 1960 World Driver's Championship (estimate: SFr. 30'000-60'000).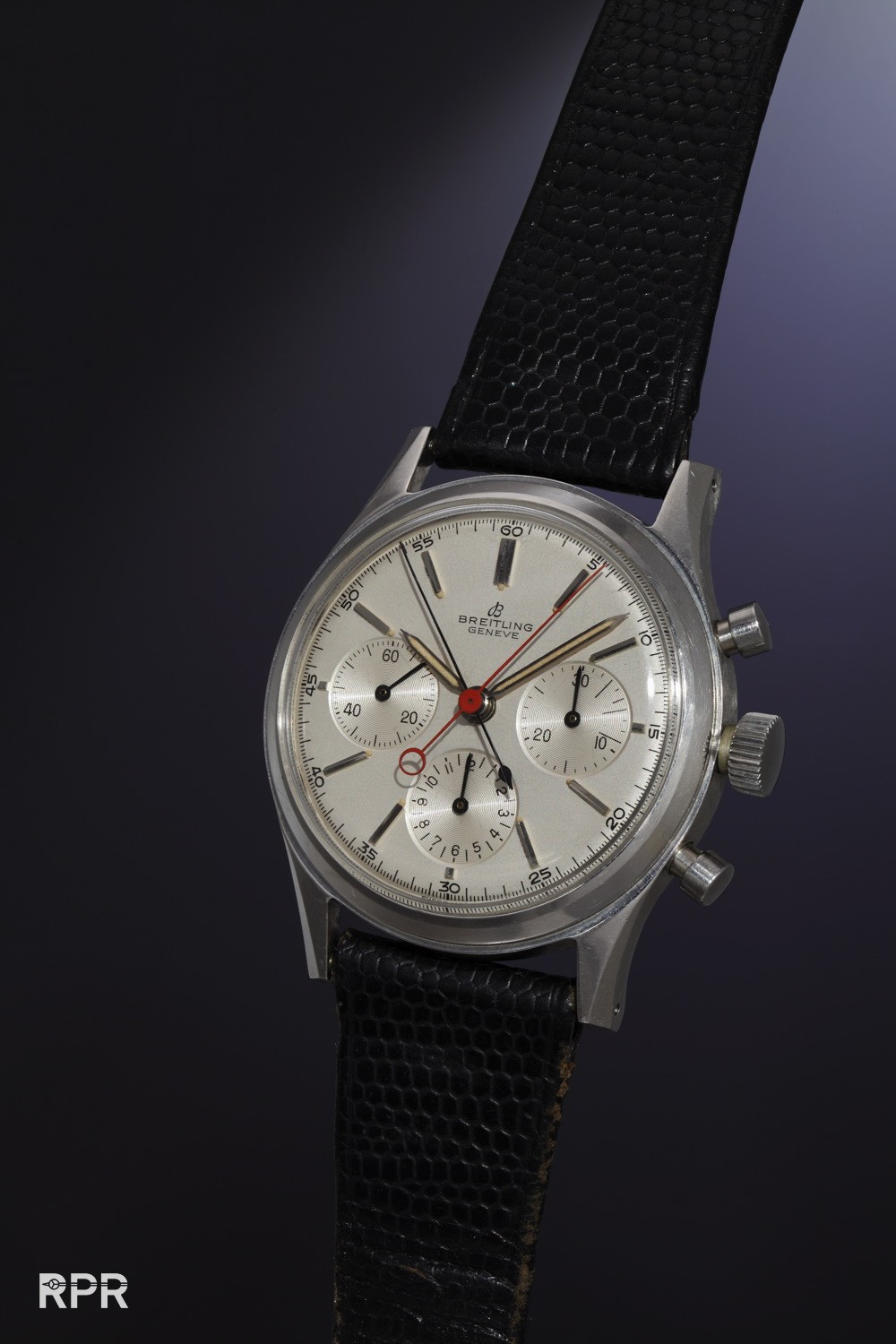 LONGINES A7. An oversized, rare and historically important asymmetrical chrome plated pilot's chronograph wristwatch with black dial and military markings, made for the US Army, manufactured in 1935. Estimate SFr. 50'000-100'000. Another exceptional highlight of this sale is a historically important Longines A7 (estimate: SFr. 50'000-100'000). This oversized, rotated chrome-plated pilot's chronograph wristwatch with black dial and military markings was made for the U.S. Army in 1935. The Type A-7 'Avigation' watches were produced by Longines and Meylan in compliance to the US military's specifications. For a short period of time, the Type A-7 was also sold to the civilian aviation market due to its specialized technical functions. Featuring a single button pusher incorporated into the crown, this military tool watch allowed pilots to easily start, stop and reset the chronograph to zero. With a massive case measuring 51 mm in diameter, they are true trophy watches for collectors of military watches.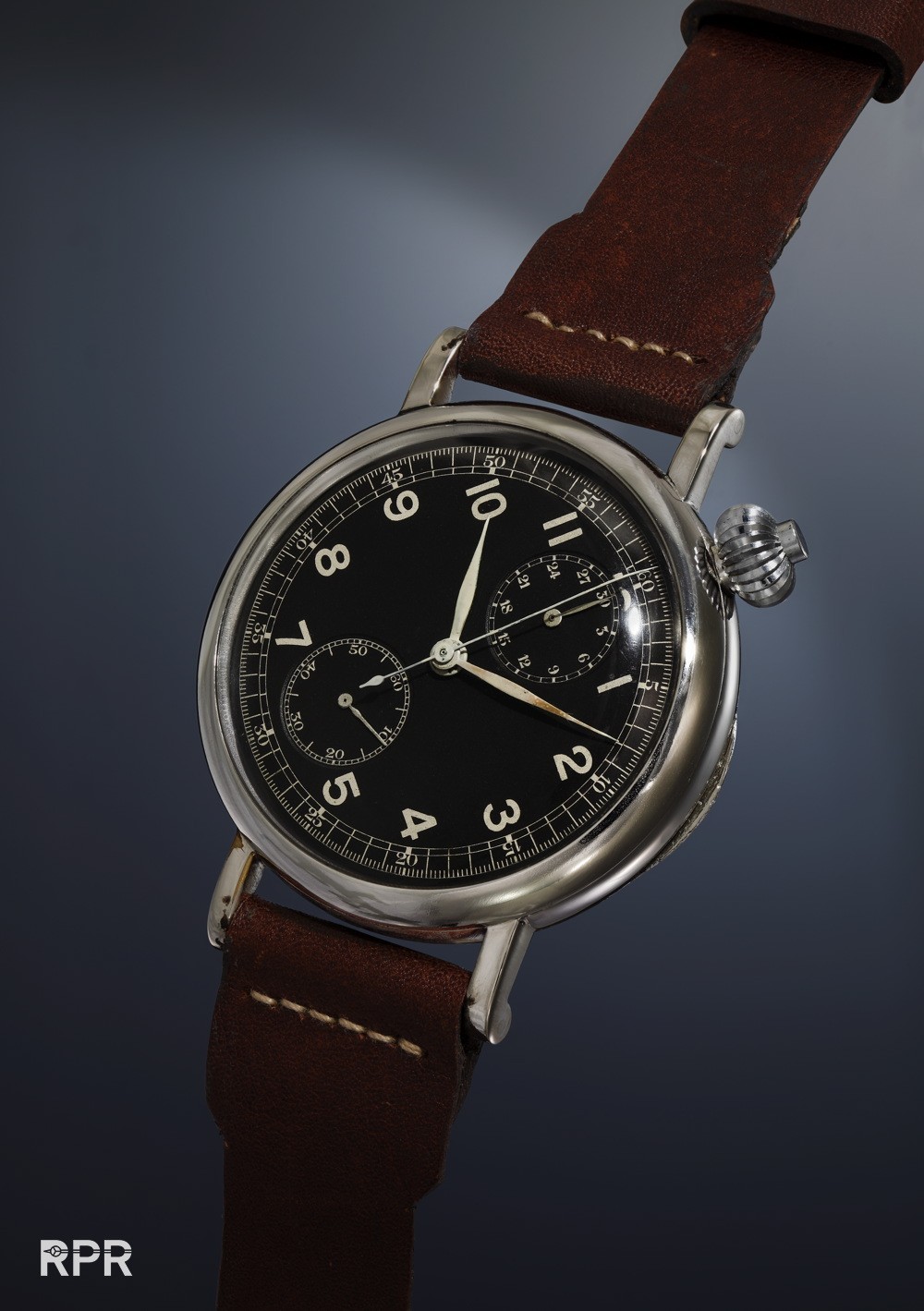 The Geneva Watch Auction: THREE sale on Sunday 15 May will present approximately 140 collectors' watches of the highest quality including the top highlight, an extremely rare and highly important First Series Patek Philippe yellow gold perpetual calendar chronograph wristwatch with moon phases, ref. 2499, manufactured in 1956 that is fresh to the auction market (estimate: SFr. 800'000-1'500'000). A leading highlight of this auction is one of the rarest and most desirable models of all perpetual calendar chronographs: a First Series Patek Philippe ref. 2499 that has never before appeared at auction. To get a precise idea of this model, one must go back to the reference 1518 from 1941 when Patek Philippe launched what was the world's first perpetual calendar chronograph wristwatch produced in series. Reference 2499 replaced reference 1518 in 1951 and was made for a period of 34 years. What makes this lot especially exciting is its freshness to the market and its immaculate, hardly ever worn state of preservation.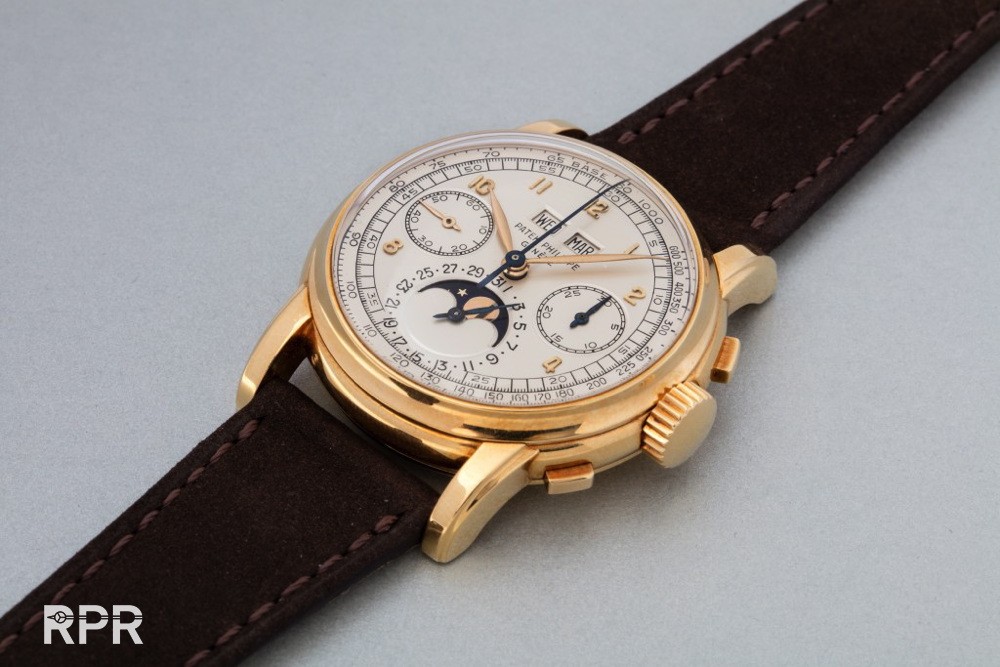 This auction will also feature a fascinating historical highlight: The only known example of a Vacheron Constantin "Chronomètre Royal" ref. 4907 in white gold. Vintage "Chronomètre Royal" watches are considered by collectors and scholars to be amongst the finest ever made by any brand. In pristine condition, the case on the present example retains its original brushed and polished surfaces, strong hallmarks, and its crisp "Chronomètre Royal" engraving on its caseback. This model may be considered a masterpiece from the brand, and research shows that never before has a white metal reference 4907 appeared anywhere on the market.
Vacheron Constantin. An extremely rare and fine white gold chronometer wristwatch, ref. 4907, Chronomètre Royal, manufactured in 1954. CHF 80'000-140'000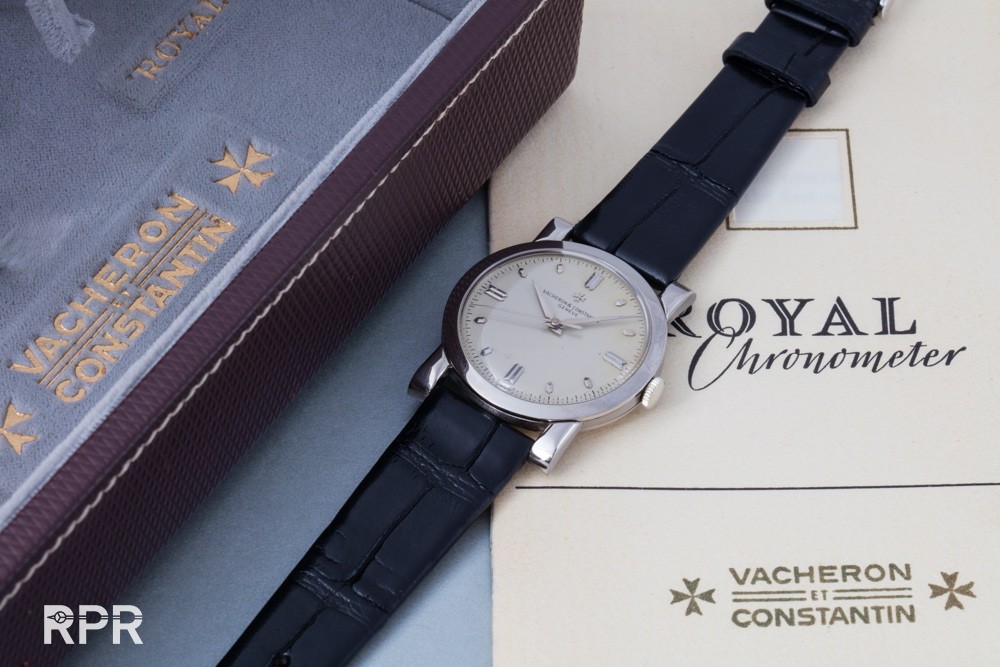 GENEVA – 15 MARCH 2016 – Phillips in Association with Bacs & Russo is pleased to announce details of their auctions dedicated to the finest collectors' watches that will take place on the evenings of 14 and 15 May 2016 at Hôtel La Réserve, Geneva. Highlights from the auctions will be available to view in Hong Kong (2 to 4 April), New York (15 to 18 April), and London (23 to 26 April) prior to the pre-sale exhibitions commencing in Geneva on Thursday 12 May.
Below the Champs Elysée model Ref 8651 from 1952 with serial number 916420 illustrated in John Goldberger's 100 superlative Rolex and sold during the 2010 Christie's sale in Geneva for CHF171,000 / $174,366,=  after having an estimate of  CHF60,000 – CHF80,000. The new estimate has not yet been released but will probably more like 200-250.000,= 6 years and many world record prices later for cloisonné margarita Koch Stern dials like this. "According to the sales books of Stern Frères, the present "chimère" enamel dial was supplied to Rolex, made by Marguerite Koch, one of Geneva's best enamellers at the time. Interestingly, the dial is described as "sans heures" (without hour markers) and "minuterie perlée" (pearly minute markers)." Just found out what the official text is: Rolex ref. 8651 with cloisonné dial depicting a chimaera by Marguerite Koch, a Geneva-based enamellist who was one of the stars of her era and also responsible for dials supplied to Patek Philippe and Vacheron Constantin. The estimate is SFr150,000 to SFR300,000.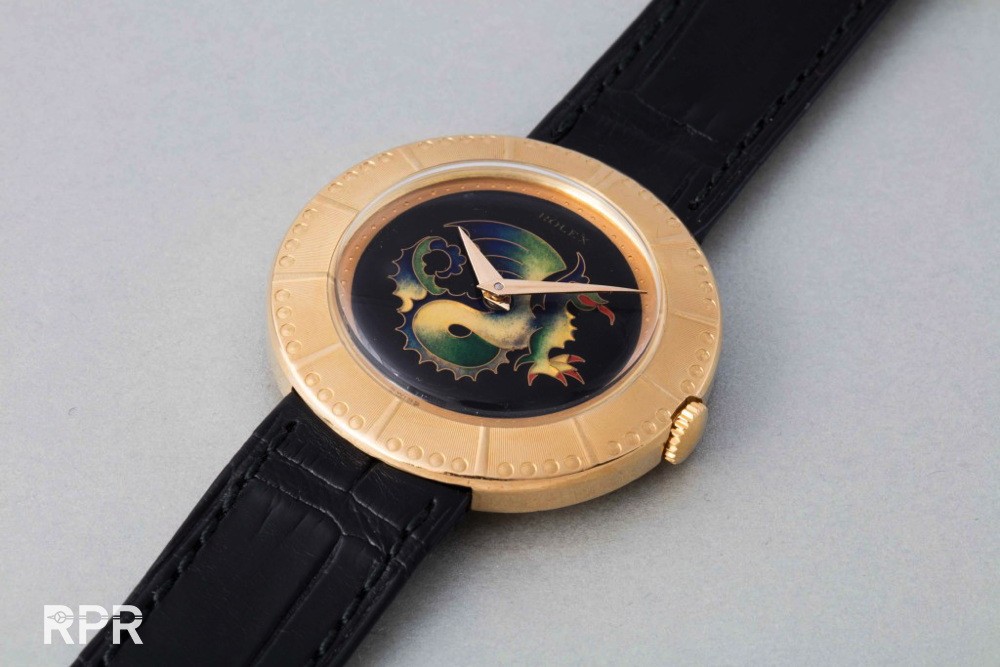 Amongst the top lots of an exceptional selection of Rolex watches is an extremely rare Rolex ref. 6062 featuring a black lacquer, "Star" dial. Reference 6062 is one of only two models ever made by Rolex featuring a full calendar and the phases of the moon, together with reference 8171. The rarest and most exclusive are examples featuring a black dial with eight, five-pointed faceted stars for hour markers. Reference 6062s with such coveted star-shaped hour markers were bestowed the delightful nickname, "Stelline" – Italian for starlet. Another desirable feature of this watch is the absolutely correct, matching moonphase disk with black sky rather than blue. To date, only four examples are known with this configuration.
Rolex. A very attractive and extremely rare yellow gold triple calendar wristwatch with moon phases and black lacquer "star-dial", Reference 6062, manufactured in 1950. Estimate: CHF 500'000-1'000'000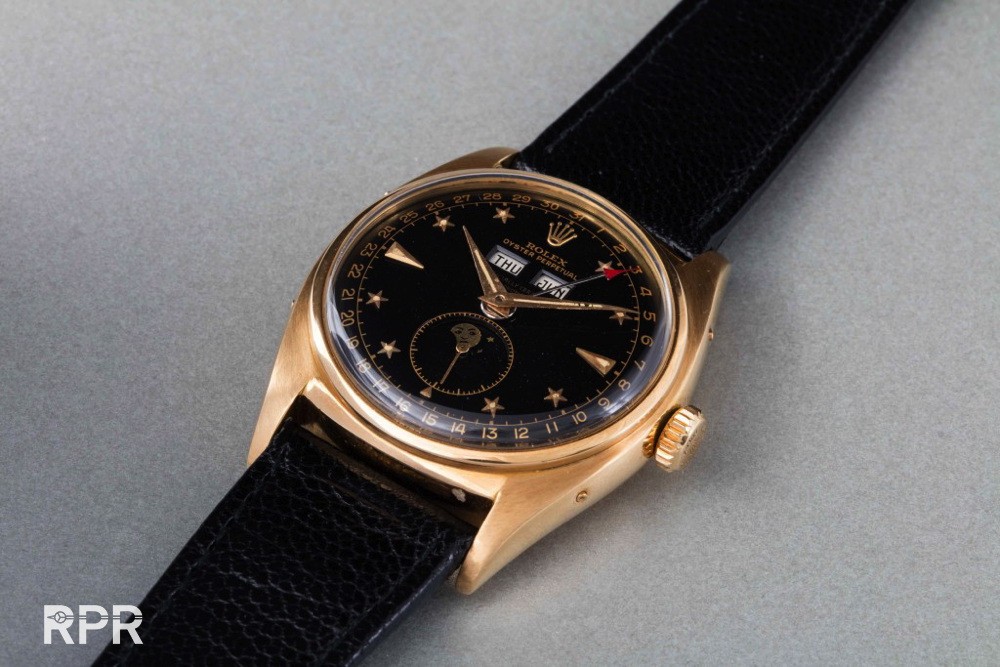 Also offered at auction is a superb selection of watches with Royal provenance, each featuring the coveted Khanjar on their dials – the national emblem of Oman. These include, an extremely rare Patek Philippe Nautilus ref. 3700 in white gold – one of only two examples known, an Audemars Piguet Royal Oak A series "Jumbo" ref. 5402 in steel, a Rolex Daytona ref. 6265 in yellow gold with red Khanjar, and a Rolex Submariner ref. 1680 in yellow gold with green Khanjar.
Highlights of the Geneva auctions will be available for viewing at the following locations:
2-4 April 2016 in Hong Kong – Renaissance Harbour View Hotel
15-18 April 2016 in New York – Phillips Park Avenue Gallery
23-26 April 2016 in London – Phillips Berkeley Square
12-14 May 2016 in Geneva – Hôtel la Réserve
Start Stop Reset: 14 May 2016, 6 pm
The Geneva Watch Auction: Three: 15 May 2016, 6 Pm
Viewing: 12-14 May 2016,
Location: Hôtel La Réserve, Geneva
http://www.phillipswatches.com
The Start Stop Reset and Phillips Geneva Auction
Each winning bidder gets a unique book from the Start Stop Reset auction, specially made by Pucci & Gobbi!