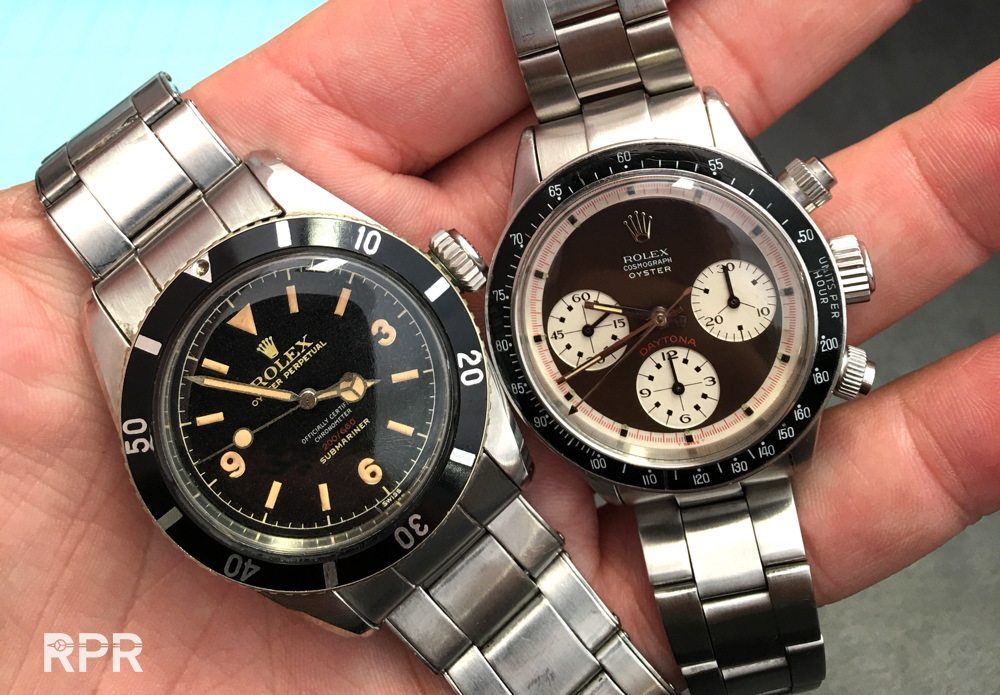 My May 2016 Geneva Watch Report
Last weekend the important watch auctions in Geneva happened again. The 4 auction houses sold together for CHF 60 million which can be divided by market leader Phillips in 2 Sales of each 16 million, Christies 18.4 million, Antiquorum 5.7 million and what happened to Sotheby's?!? only 4 million! Analyzing the results and the buyers, everything became very clear again to me. The vintage watch market is divided into 2 sections. One is where the new super collectors are tuning in and picking up the Picasso's and the Ferrari GTO's under the vintage watches, boosting the attention and buying as investment and the others are the 'normal' collectors, who actually made this market in the last 25 years and buy out of passion.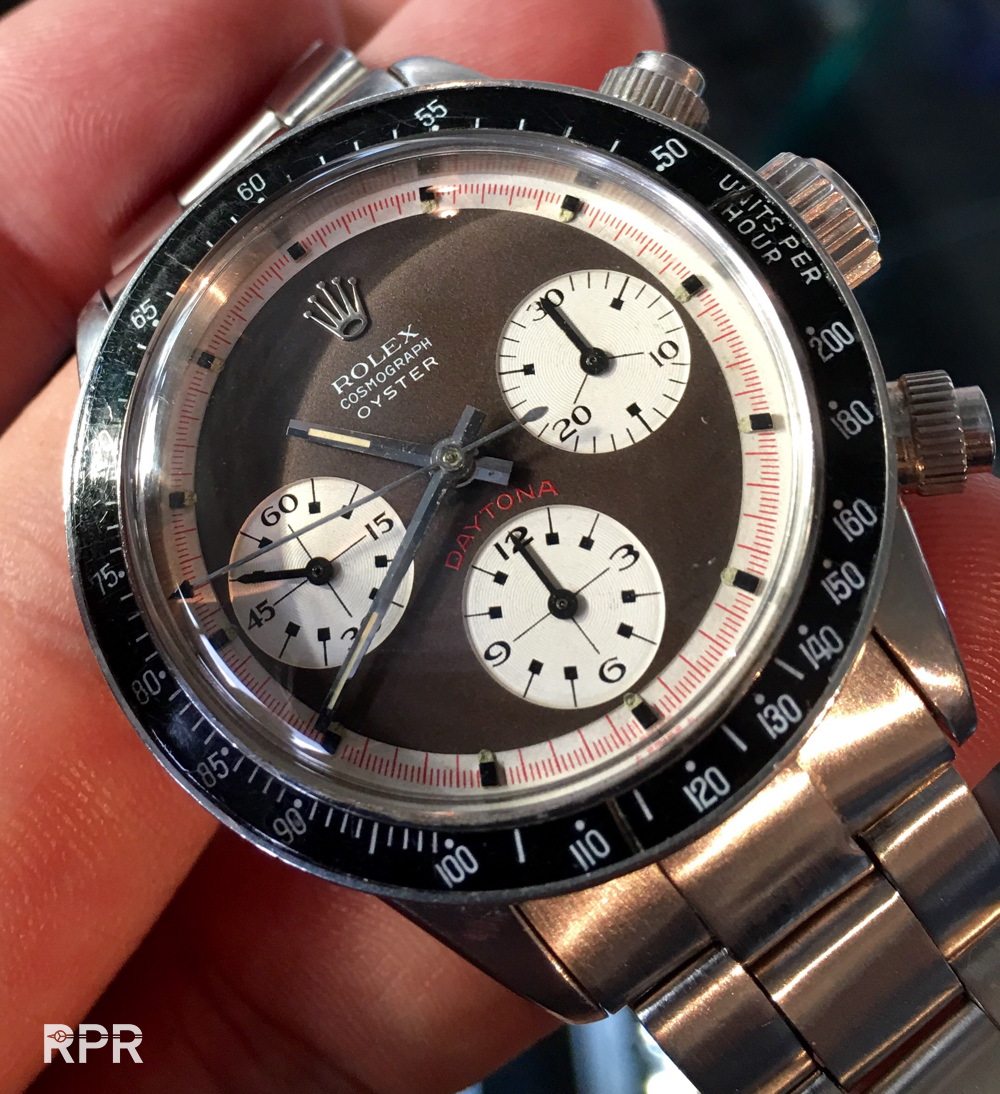 One out of 4 known black star dial 6062 with black moon sold for  CHF905,000,= I thought it would go over the million…
Above the UAE Daytona on the left, that sold for 600K and on the right, one thats only 100 numbers away. Several UAE Daytona's are, logically, in the market now with a crazy result as this. It's almost 3 times the normal value market paid so far…
Both collector watches, on the wrist where they should be! Up is the 6241 is all fantastic brown, down the big eye Oyster PN has a brown track. Both raised like 50% increase in value after the recent results of last weekend!…
Enjoy some of my impressions I can share with you. It was again great seeing so many cool guys, wish you all save trip back home!
Lovely pink Ref 3330 getting hammered for what is deserves, a high price.
Sold for  CHF389,000,=
Way more rare than a regular RCO is the Albino RCO… -> SOLD FOR CHF281,000,=
Silver RCO vs brown RCO… Now lets just hope nobody has a cliche to add that "Oyster" print to the dial 😉
Tropical RCO -> SOLD FOR CHF1,985,000,=
Tropcial minute track Oyster PN -> SOLD FOR CHF929,000,= Personally I would add some matching hands 😉
The Phillips tent at La Reserve was packed with international dealers and collectors…
Crisp as it gets it sold for CHF 56,250,=
Just over 200K was this black dialed Ref 6234… -> SOLD FOR CHF221,000,=
The very fresh and crisp UAE Daytona up close… -> SOLD FOR CHF605,000,=
Tiffany 6238 with non matching hands.. -> SOLD FOR CHF161,000,=
Close to 2 million for the split this time. Every time it comes up for sale, it's 1 million more 😉
Most expensive Rolex so far sold at auction: -> SOLD FOR CHF2,405,000,=
The steel ref 2508, which went crazy in price.  If you don't know these are rare, you would say like maybe 50-60K is already mad but instead it fetched CHF 413.000,= !!
Next a rare reference, ref 3997 -> SOLD FOR CHF449,000,=
Tiffany Big Red Daytona -> SOLD FOR CHF137,000,=
Paul Maudsley's Rolex pump Daytona…what a gentleman he is!
Fingerfood 😉
Very crisp gold Ref 6238 that went way over 100K and honestly in this condition, considering the rarity of the reference in gold, it's still kind of cheap! finally the hammer went down and, with a estimate of 65-110, it sold for CHF143,000,=
A good examples of what modern watch collecting is al about. At first sight you see a "simple" but glossy gilt Submariner but when you have a closer look, you see a double swiss & underline ref 5512 in pristine condition. This is NOT a 20K sub but instead it fetched after a strong battle of dealers  CHF137,000,= and went home to a great US collector, enjoy buddy!
The red GMT was not really fresh to say the least so the end result was what's worth. When there's no matching patina, the prices decline, CHF75,000,=
The Milgauss Ref 6541 looked very clean, specially the bezel insert, so what happened to it?..
Judge yourself why it didn't make market price…CHF118,750,=
One of the "steals" during this weekend was this rare Ref 6543…CHF100,000,=
Just to show you that it's always better to go to the preview, the black breguet PPC up front, as in the catalogue…
Now in below pictures it's something else.. the damage done on the dial next to the 11 o'clock marker has been restored obviously. I wonder if the final bidder knew this. As it still sold at CHF56,250,=
And that the hands are not matching to the dial a blind can see 😉 CHF37,500 is like the total of the spare parts…
With the next one it's a bit harder to see at once as it looks really perfect…
See what happens when you put so UV light on the dial. You clearly see that hands and bezel are not radioactive anymore…
As collectors that where not in Geneva or have seen the previews will ask themselves, why this Oyster Newman sold lower then the market price for a obvious good one, you need to look in detail. Next to the X of Rolex you'll notice a serious scratch in the dial. Lots of collectors ask me also why you always see the 3 and 9 o'clock luminous been broken, there where the rest is nice. The explanation is that when a watchmaker places the movement with the dial back into the case the 3 & 9 o'clock can touch the inside of the case if you are not careful. The result of not being experienced is that the lume dots touch the rehaut and break off, sadly! So this is why it went 100K below market value at CHF233,000,=
With other words, you can give a rare and perfect watch into the sale of an auction house and before it gets sold during the auction there's a scratch on the dial and the luminous is broken. I'm off course not saying thats this is the case here but my message is more that owners should let their watches only been serviced by a professional. It's better to wait longer then get it back like this!!
I offered a higher price on this crisp Player Special PN before the auction then it finally fetched, CHF305,000,= all inn, making it exclusive the premium to CHF 244K for the seller which is 'just' € 220K. Yet another example that it doesn't always pay of to go public and sell at auction…
Although the case back was a service one, just as the crown, pushers and bezel insert, it was a damn nice dial!
The GMT went high…CHF197,000,=
The next hype 😉
Similar one with diamond bezel sold at auction for  CHF329,000,=
Valet parking perhaps I asked…. The guy couldn't laugh about it. Swiss are way to serious 😉
Honeycomb Explorers are very rare, specially
I remember not so long ago I had a discussion about these on VRF and I was surprised to read that many quote them much lower. now look carefully at this dial. Even though the almost 70K swiss frank result, the radium lume got scratched away loosing it's volume and originality. I was not the only one who noticed this, imagine the possible result if it was perfect!
Gold Newman sold for  CHF317,000,=…
Both not really perfect.. But then, not perfect is also having a price and you shouldn't be holding back just because 1 or 2 lume dots are broken, it's still a wonderful iconic watch!
The Pulsometer alias Doctors Chrono… -> SOLD FOR CHF1,085,000,=
Interesting detail… The T SWISS T got printed after the dial was finished. Clearly visible the i is inside the sub dial…
The master at work…
King of Submariner..
Lovely monobloc sold and signed by Bucherer on the wrist of a great italian collector!
For sale on the wrist of a cool dealer…
Paul Maudsley's lovely Daytona..
Great Capri guy 😉
2 line versus 4 line…
The 2499 first serie, always a million plus candidate…
Longines 3 tacce…
Very low estimate for a pink gold Rolex oyster chrono with some 15-20K, which of course went higher…
Lovely radium PPC sold for  CHF68,750,=
Gold PPC moonphase, super elegant!…
Waterproof CHF32,500,=
Nice Longines time only in gold from UK collector, great seeing you again!…
Steel PPC ref 130… CHF209,000,=
CHF112,500,=- for the "Grail" Omega Speedmaster, thats not crazy!…
From the upcoming HK sale….
From the upcoming Christies NY sale…
Sunday was Max Verstappen day!! what a hero he's…..
Heading back home with lots of great memories, many thanks to Phillips, Christie's, Sotheby's and Antiquorum!…
UPDATE: Wednesday May 18th.
To get "things" into perspective, Christie's sold today the 14.62 carats the largest Vivid Blue "Opperheimer" diamond" for CHF 56.8 million, which is about the same as the CHF 60million all auction house sold during the 4 important watch auctions…..