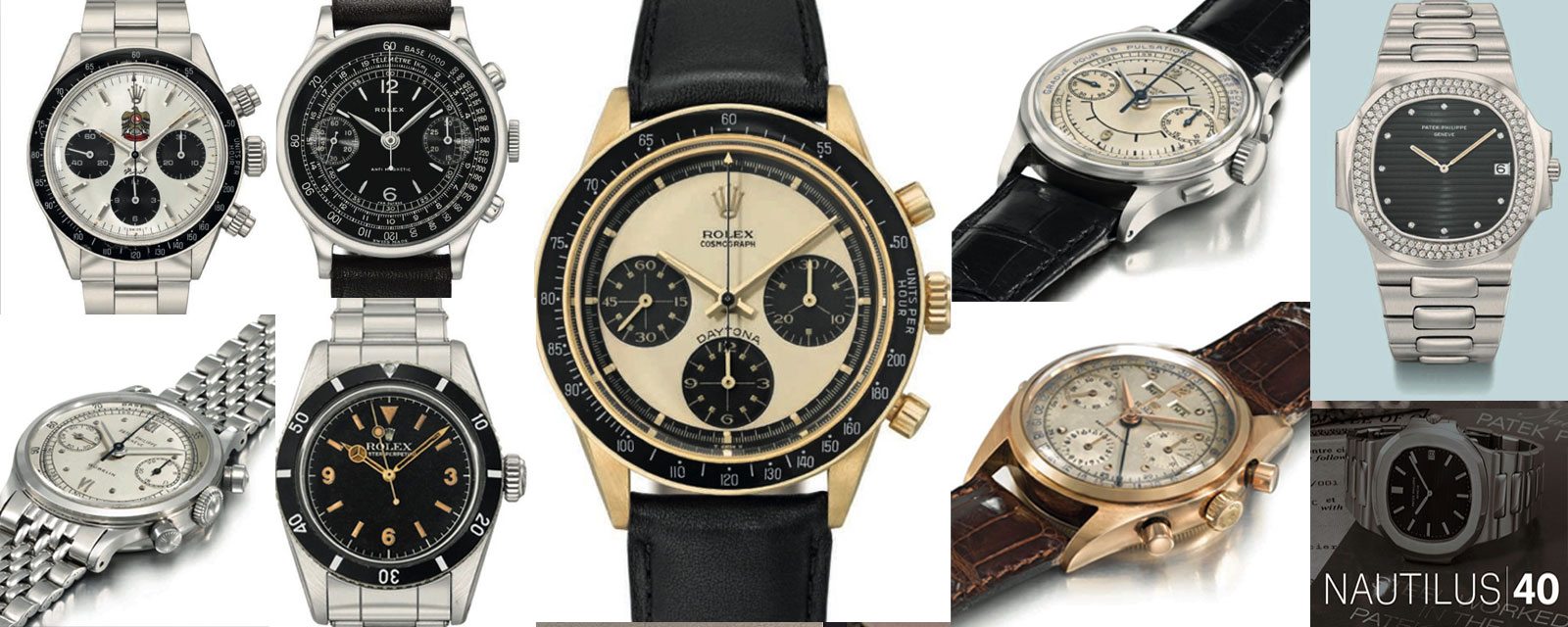 On Monday November 14th the Geneva important watch sale of Christies will be held at the Hotel Des Bergues. The team of Christie's did a great job finding some serious rare and nice examples for their sale. Besides the normal offers, Christie's is honoring the Patek Philippe Nautilus for it's 40th anniversary with a special sale dedicated to this iconic model designed my master brain Gerald Genta. But before I show you some highlight from that sale, I like to start with the vintage Rolex offers on sale.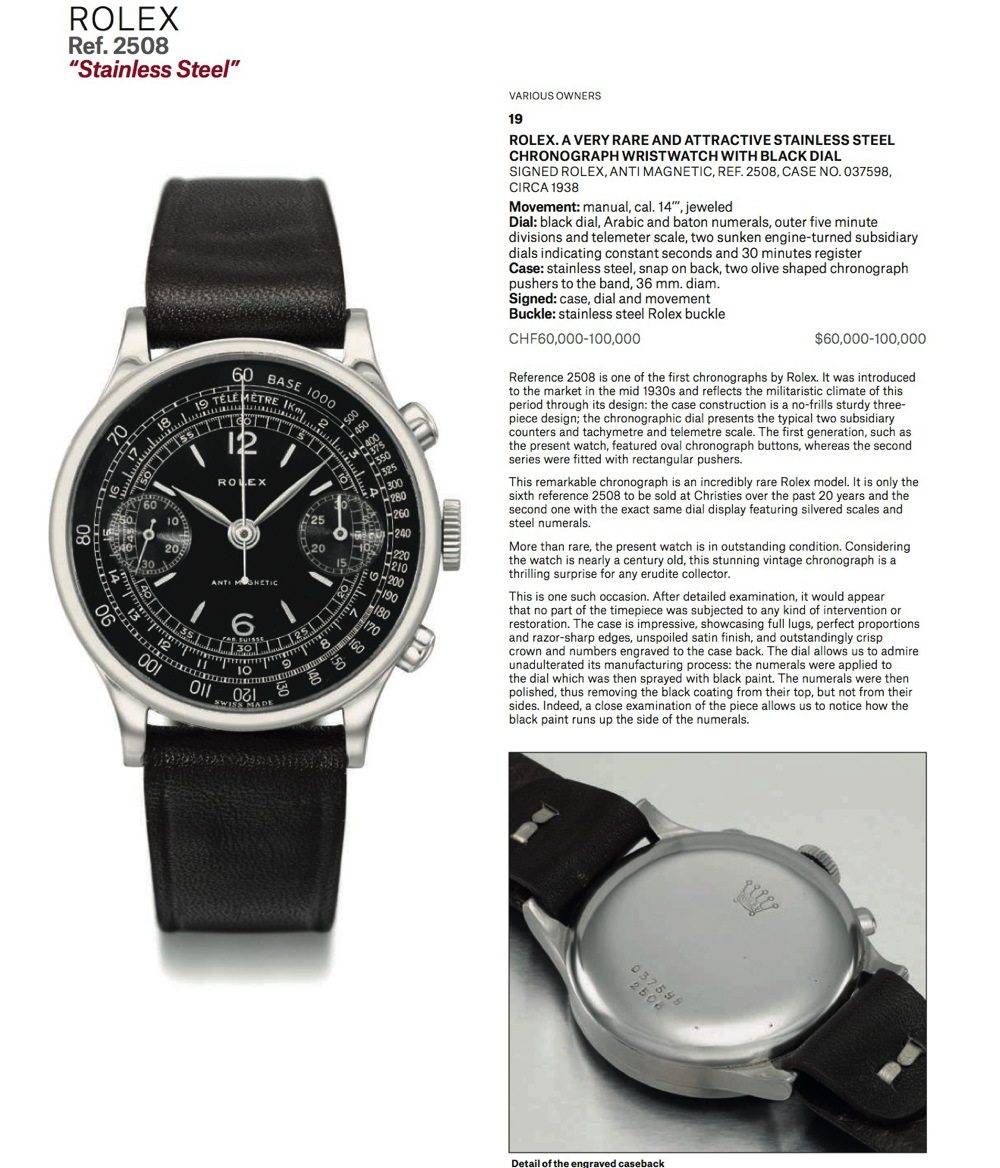 Next is this legendary Rolex Big Crown Ref 6200 thats estimated conservatively for $100-150.000,= and for sure will go higher.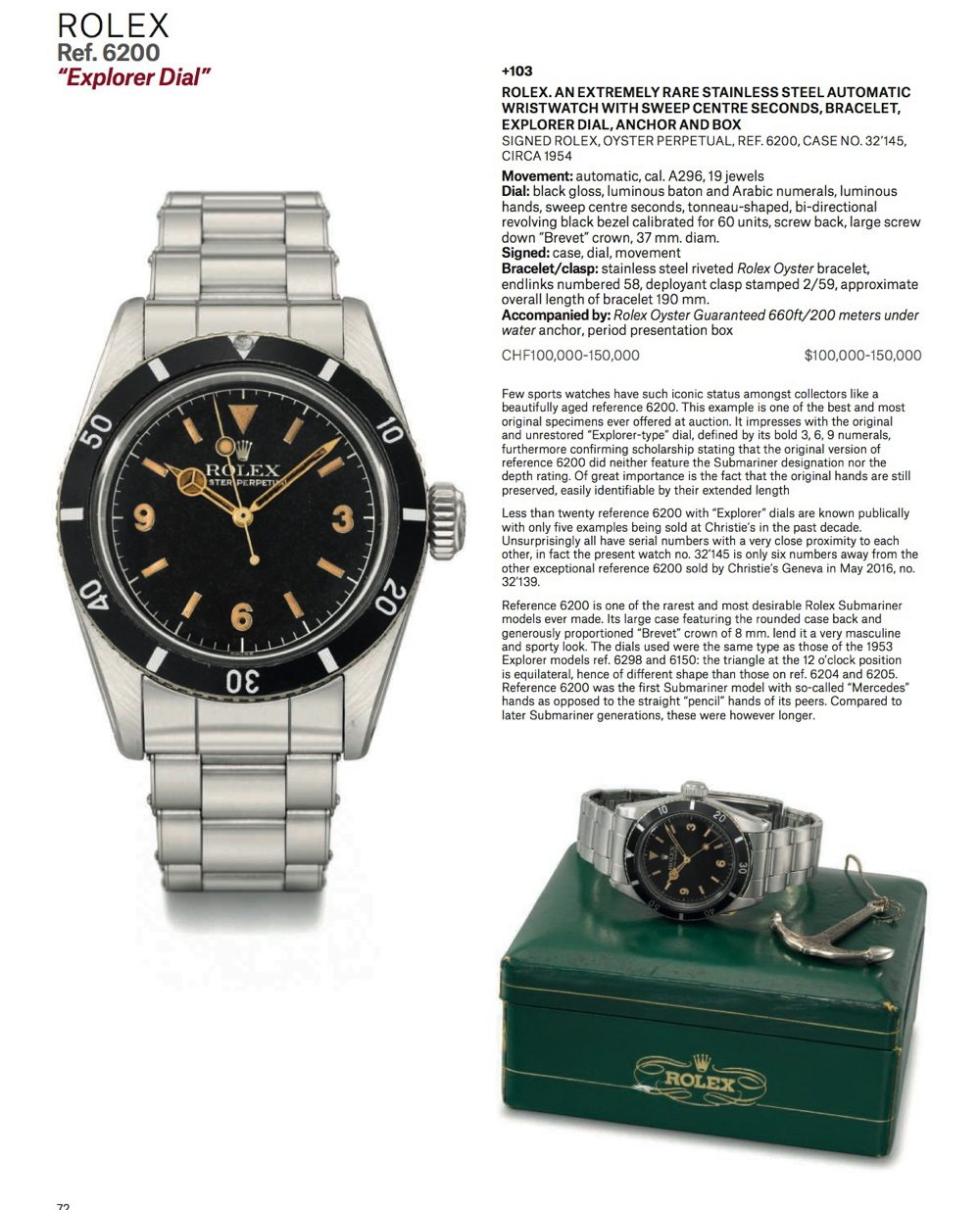 Following is the 18K Ref 6241 Rolex Paul Newman estimated at $200-300.000=
Logically the same will happen with the following rare Rolex, UAE Daytona ref 6263, estimated at $ 180-250.000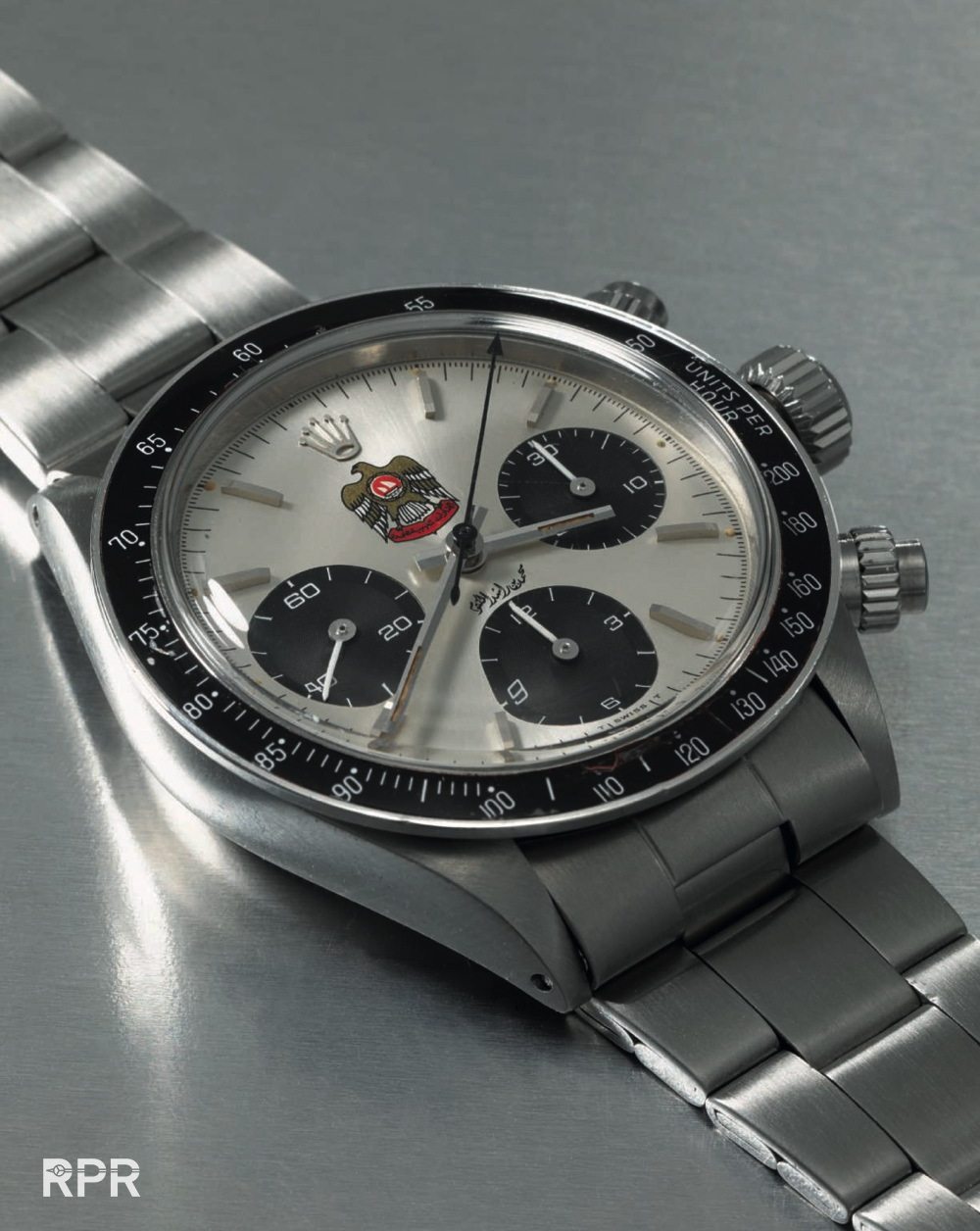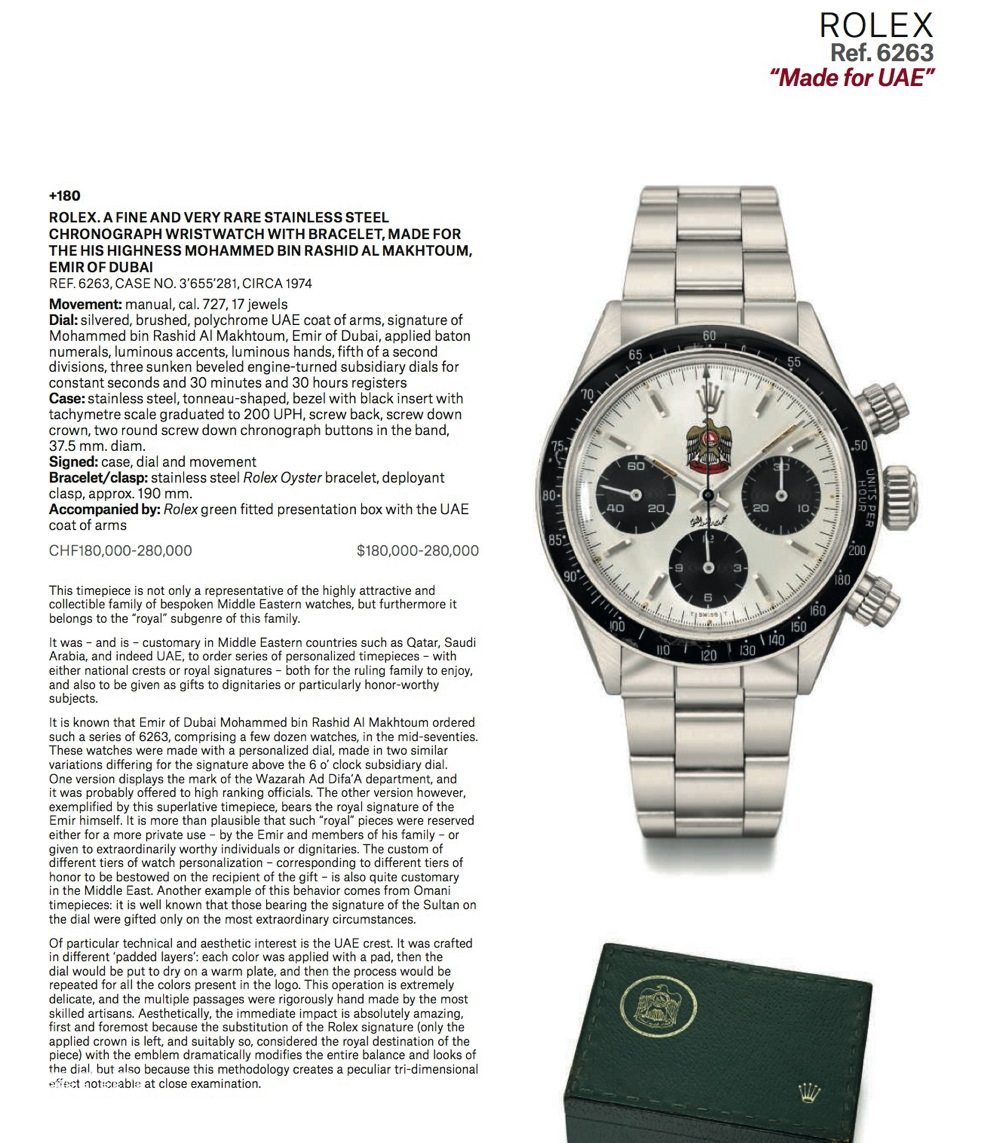 Next is this pink gold Rolex Ref 6036 Killy with an estimate of $ 180-280K and certainly will hit that number..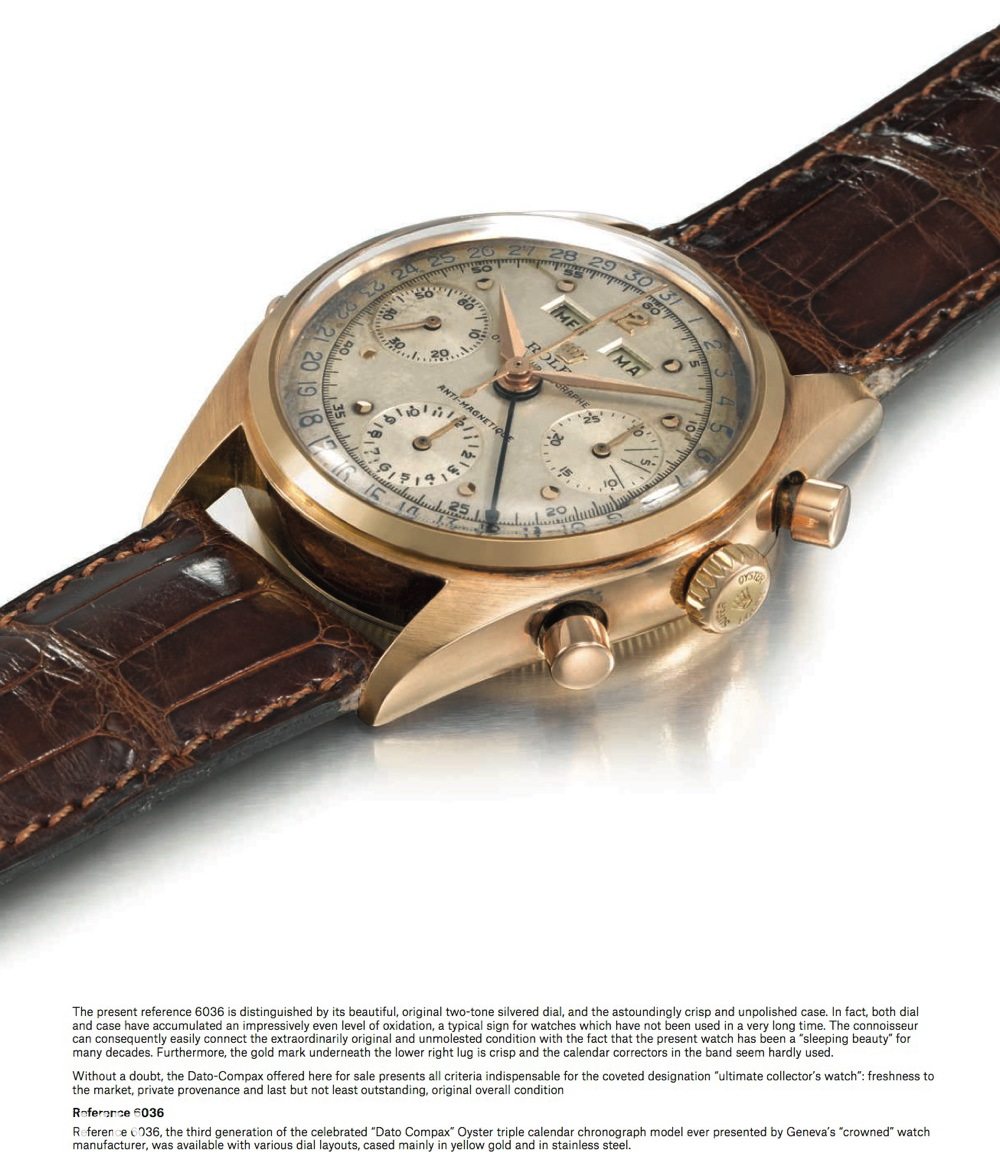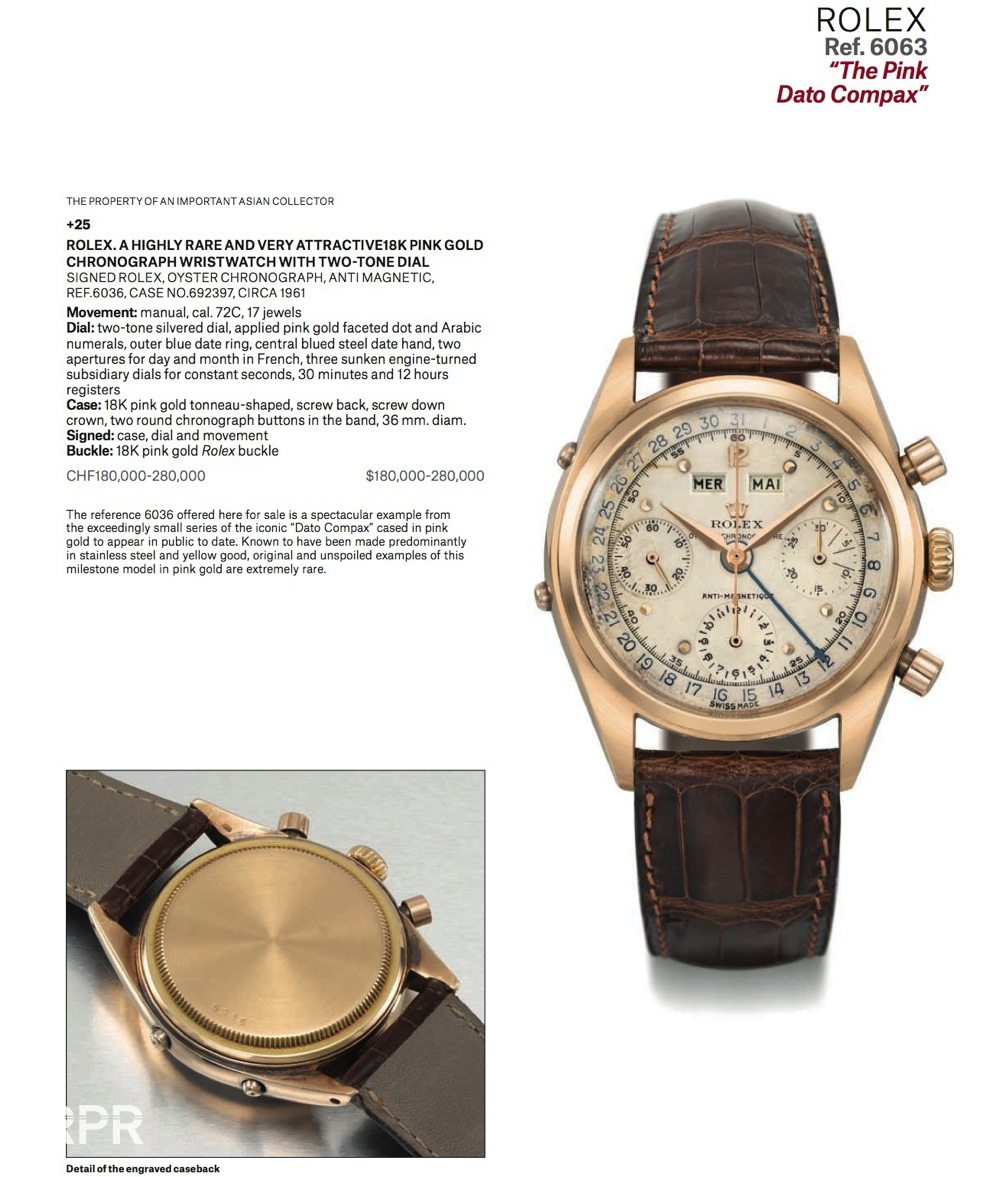 Amazing to see how populair the normal Paul Newmans have become. Prices have tripled in like 5-6 years to an impressive estimate of 120-180K for following Ref 6239….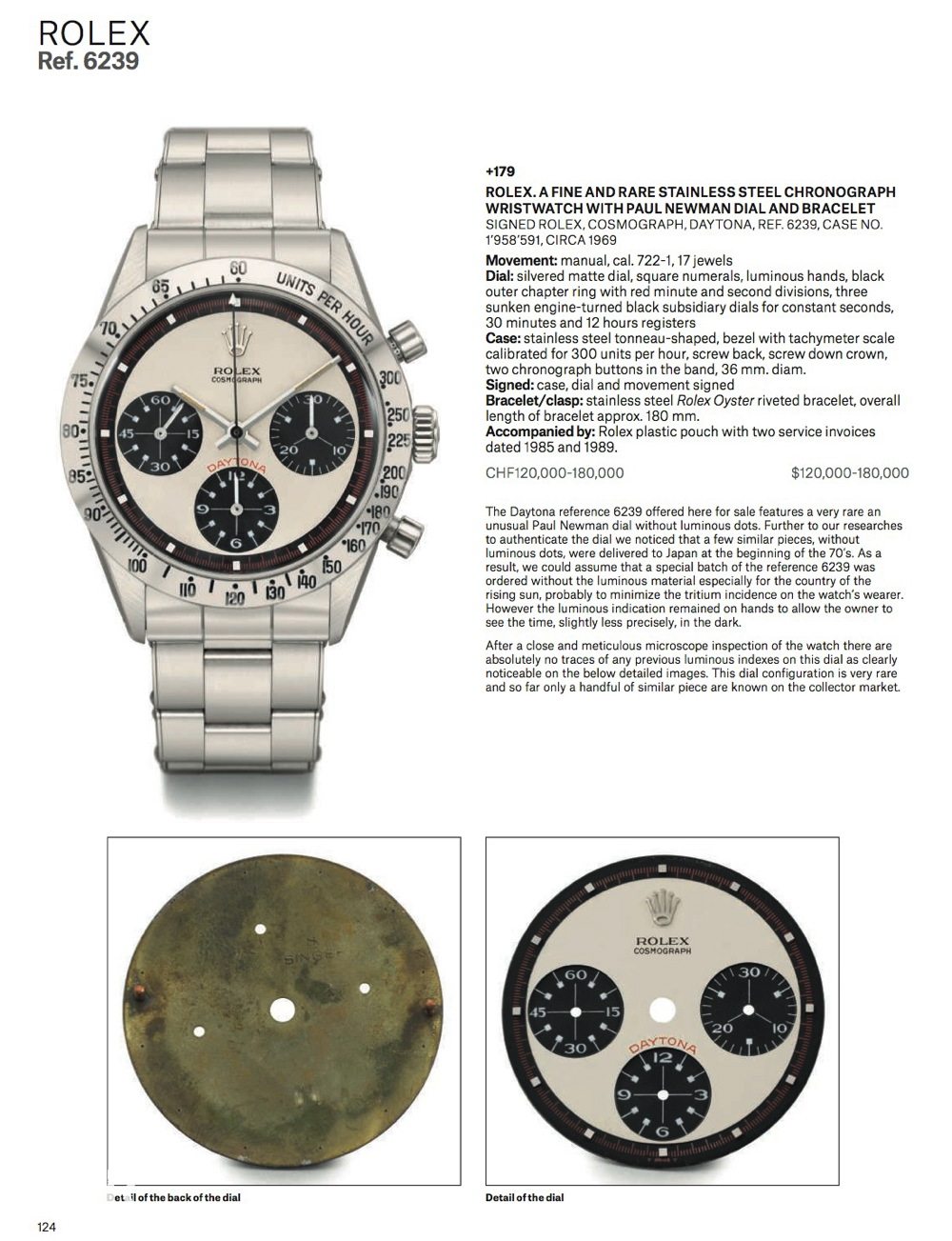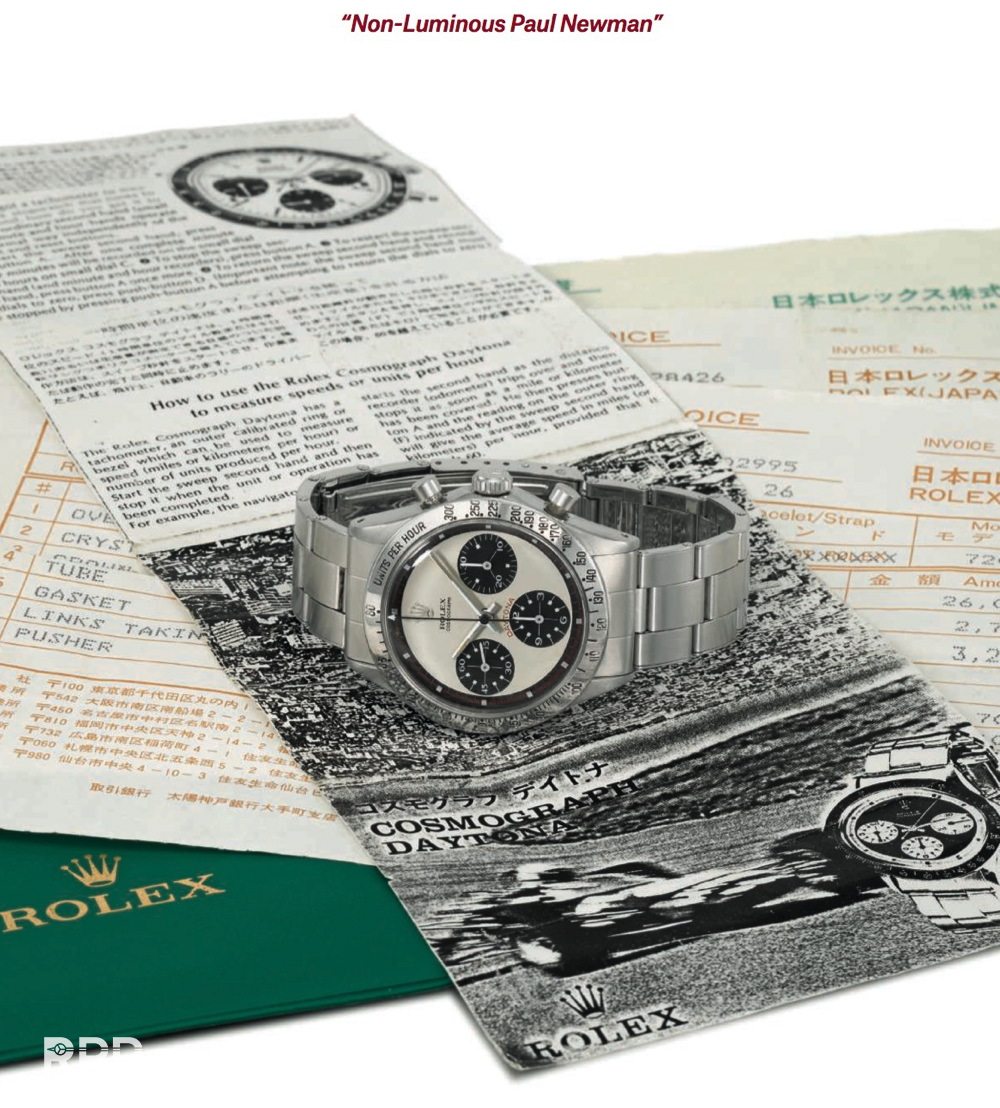 Seems like they never go up although these are very rare to find in honest condition. For a cheap 25-30K it's estimated now..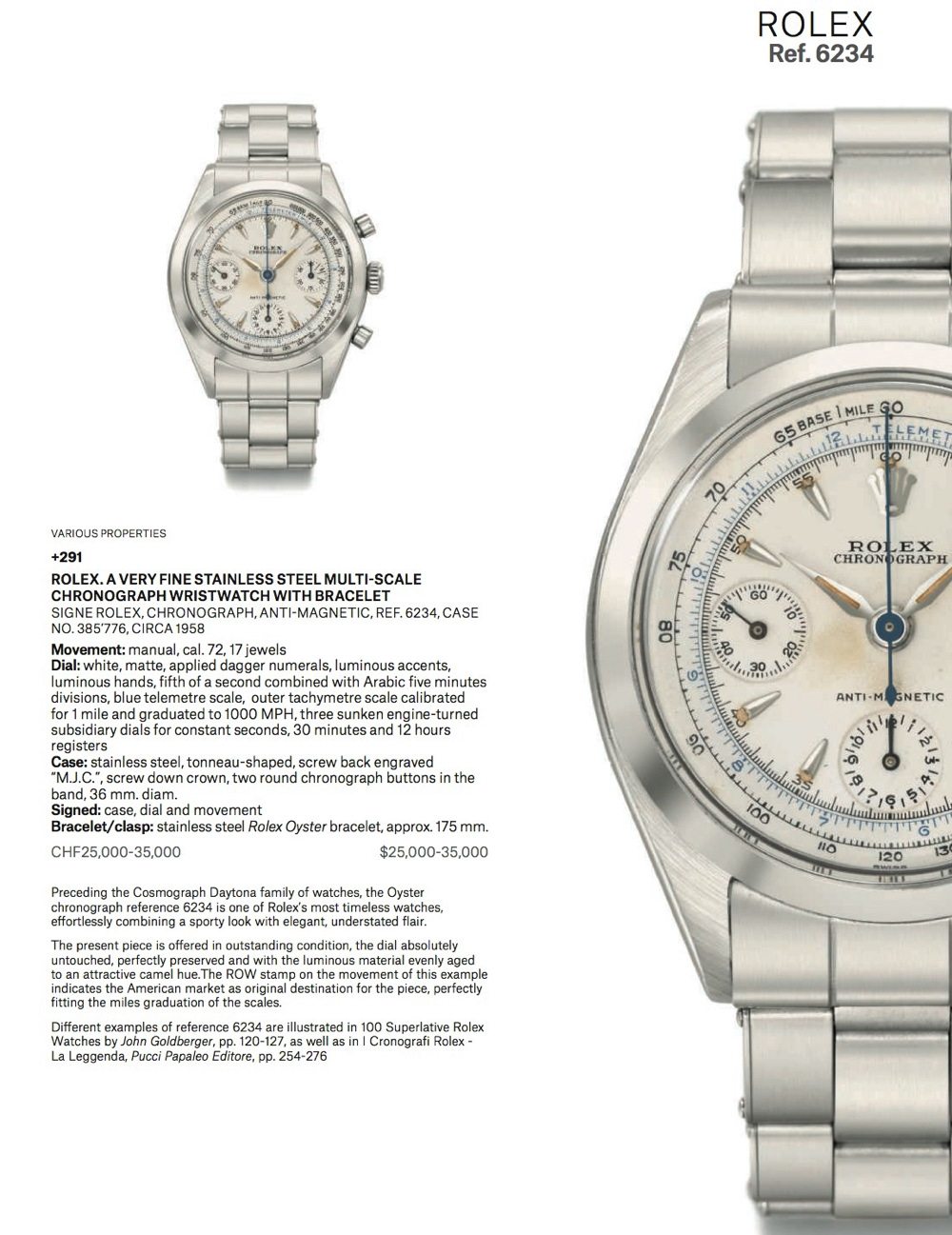 Next is another heavily patinated vintage Rolex. A Ref 6062 "Stelline" in yellow gold estimated at 150-250.000,=
A yellow gold Rolex Killy Ref 6036 is estimated at 60-100K….
A Militart Rolex Ref 5513 estimated at $100-150.000,= are much sought after when full spec and correct matching case…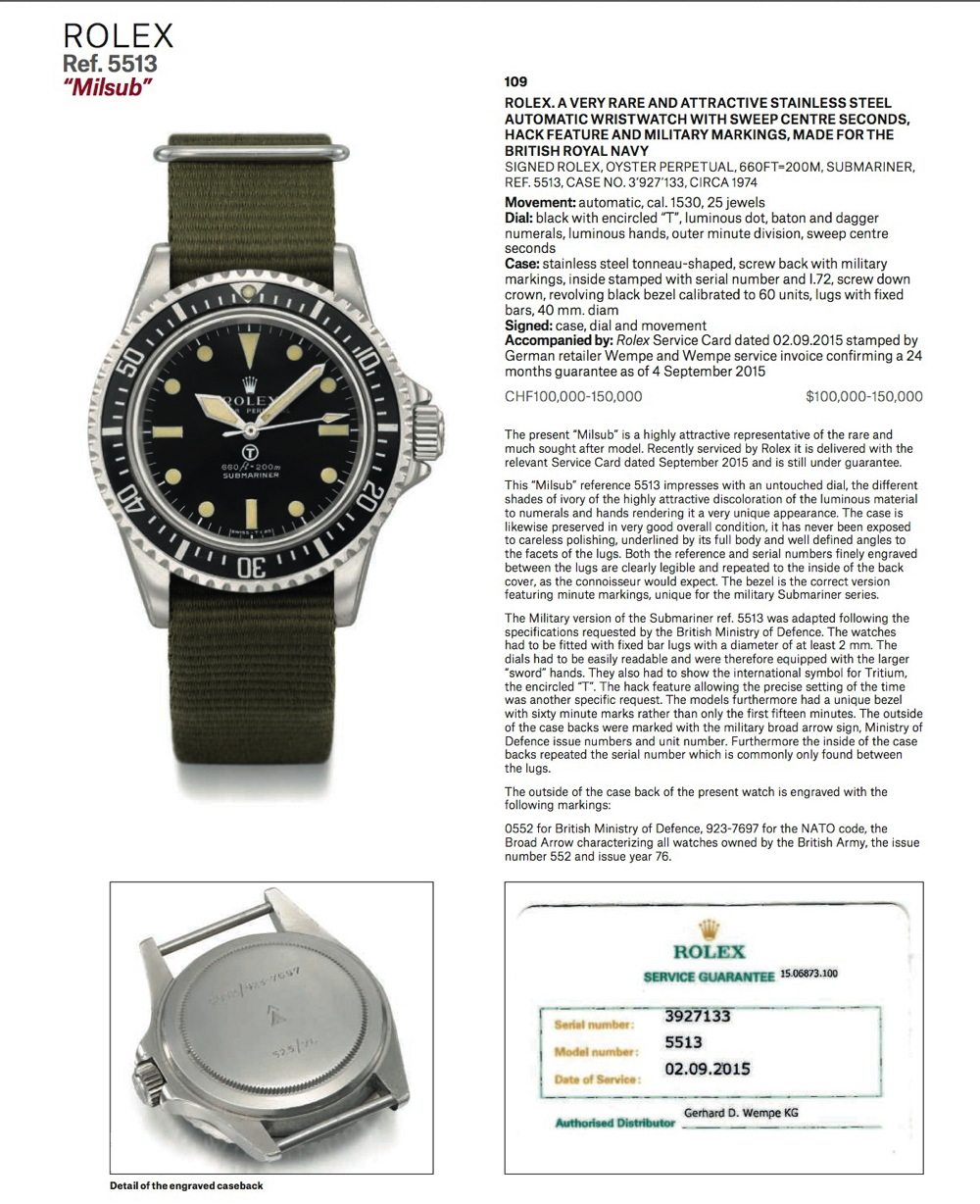 A nice full gold Rolex Daytona Ref 6265 estimated at 60-90K…
A Ref 6239 with 2 dials and papers for $30-40.000,=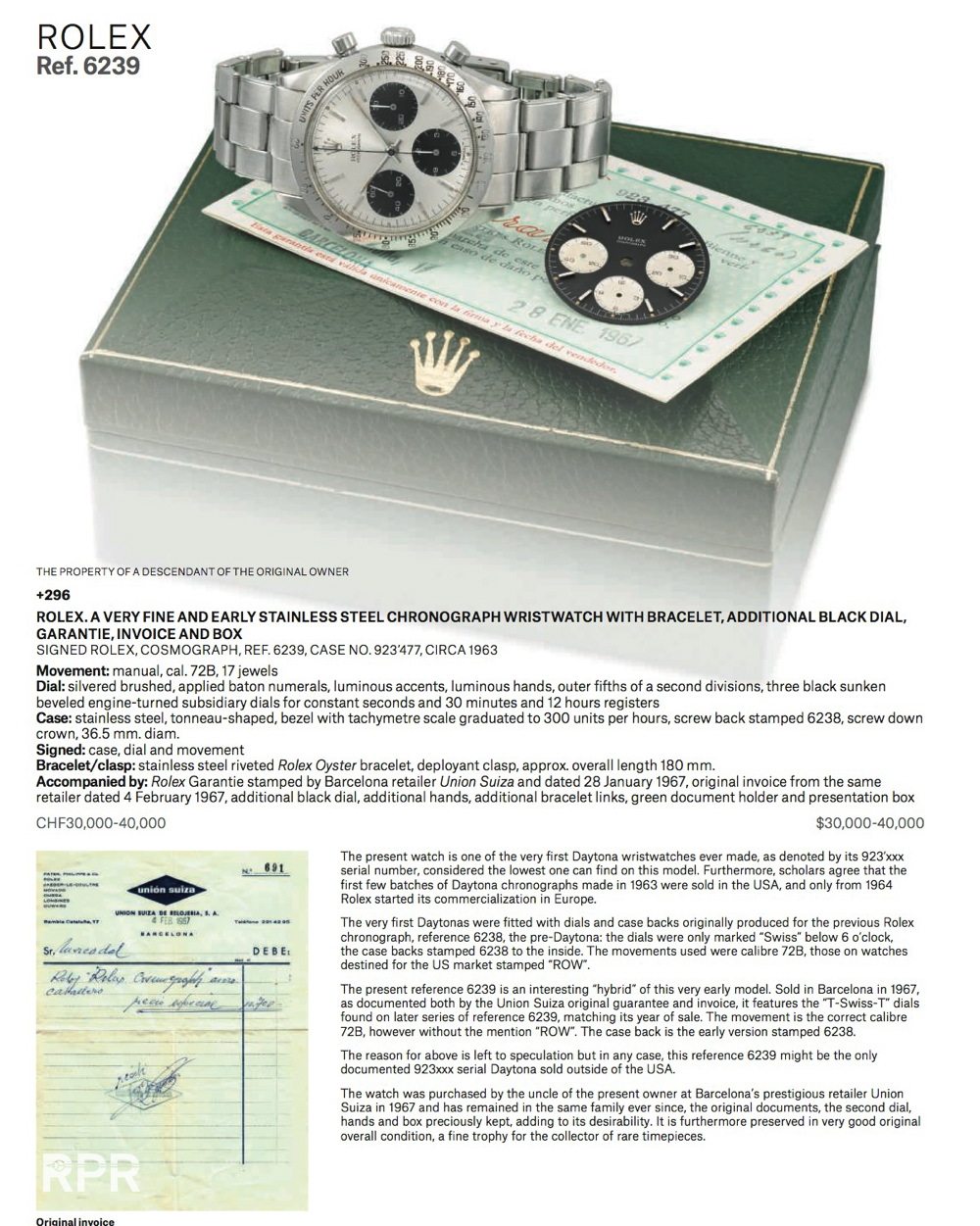 An excotic Rolex Day Date with green stella and red Oman on the dial and case back for starting $ 60-90.000,=
Very difficult to find these first Daytona's in great condition, here's one thats  so so judging from the lume color and estimated at $60-90.000,=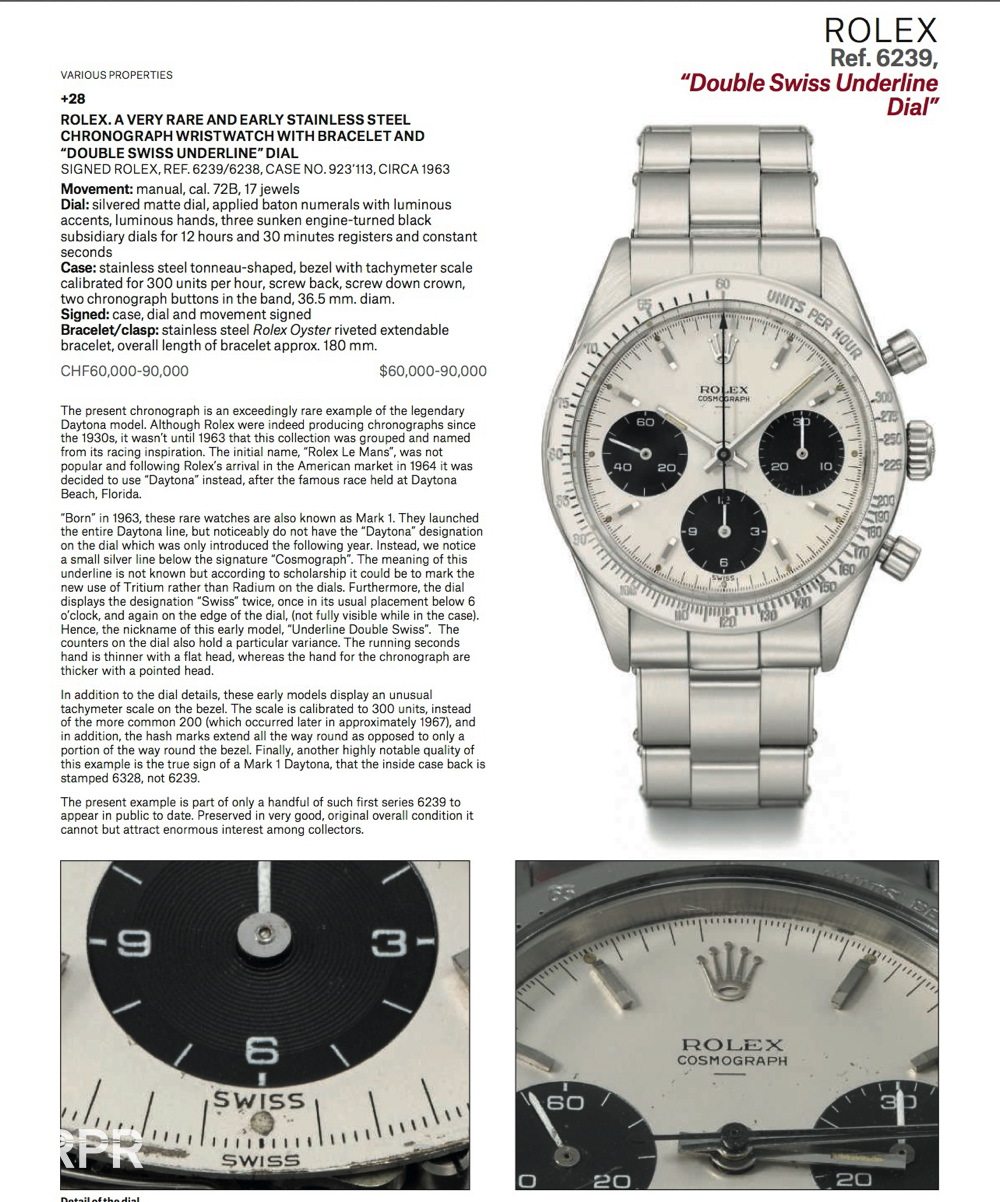 A full gold Rolex Daytona Ref 6239 with black dial estimated at $50-80.000,=…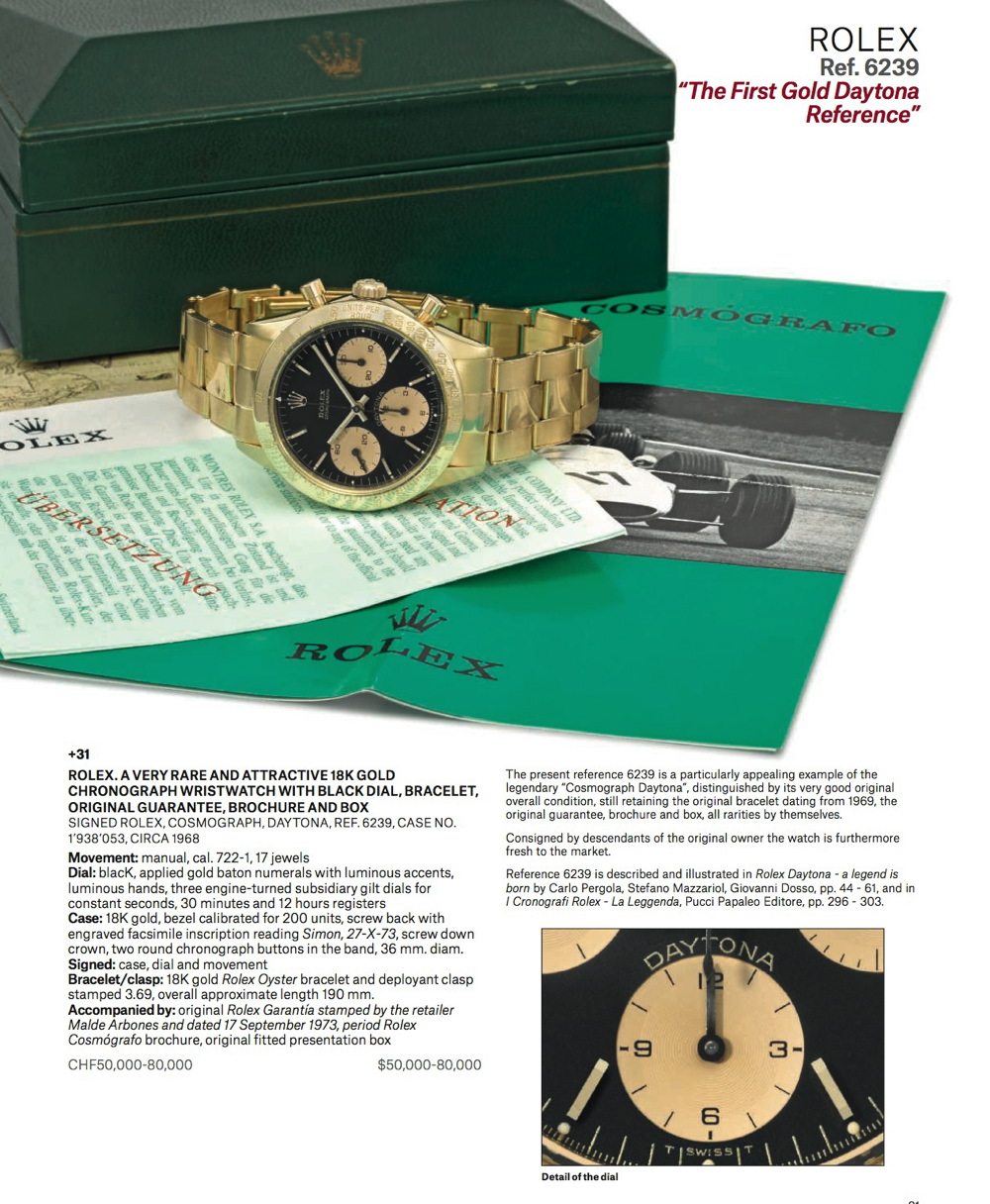 A gold Ref 6105 Datejust with rare diamond index dial estimated at $50-80.000,=
A more modern Rolex ref 16520 signed Tiffany is estimated at $40-80.000,=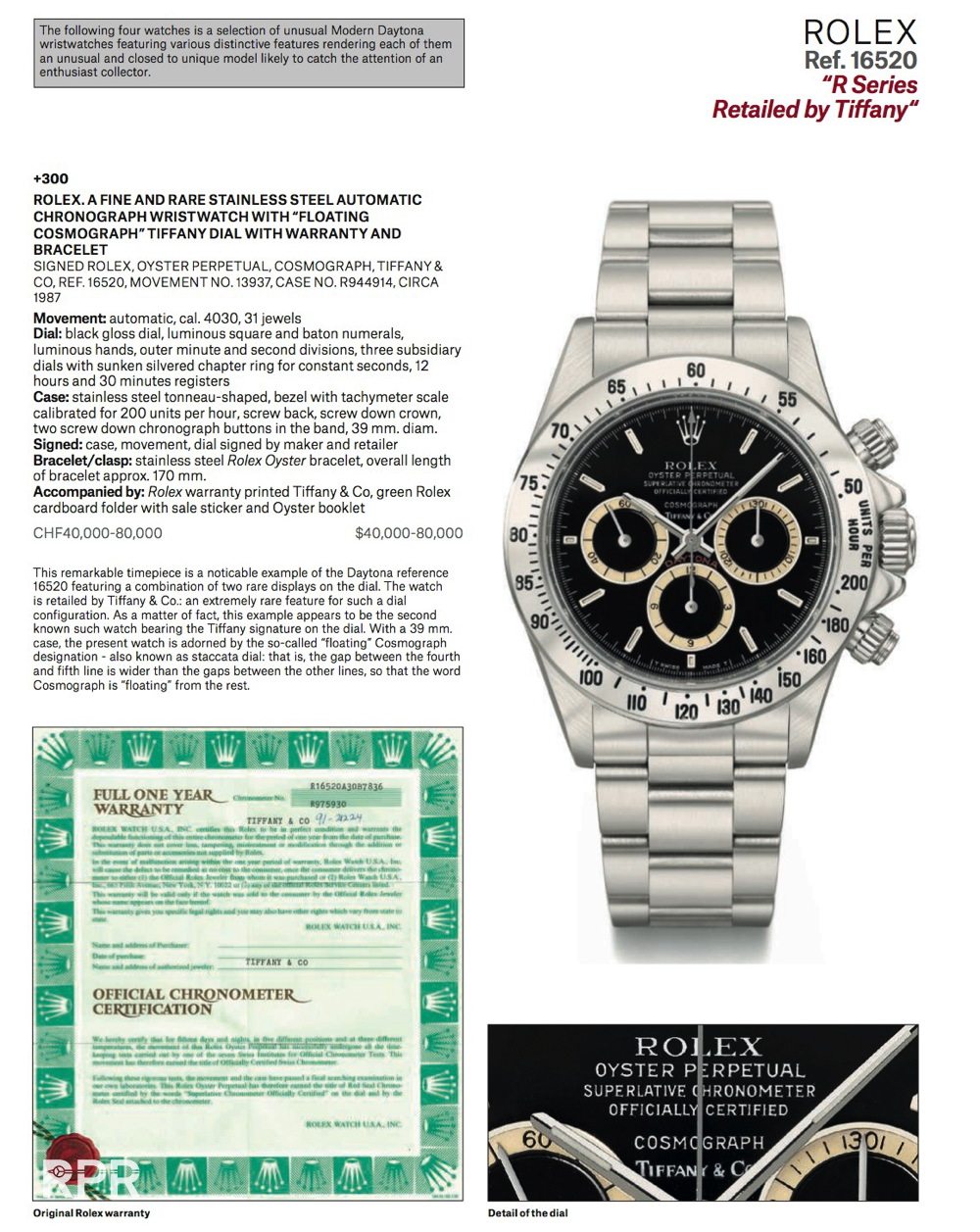 A Panerai Ref 3646 Type C estimated at $50-80.000,=
Yet another mostly Rolex built Panerai Ref 3646 Type B estimated at $60-90.000,=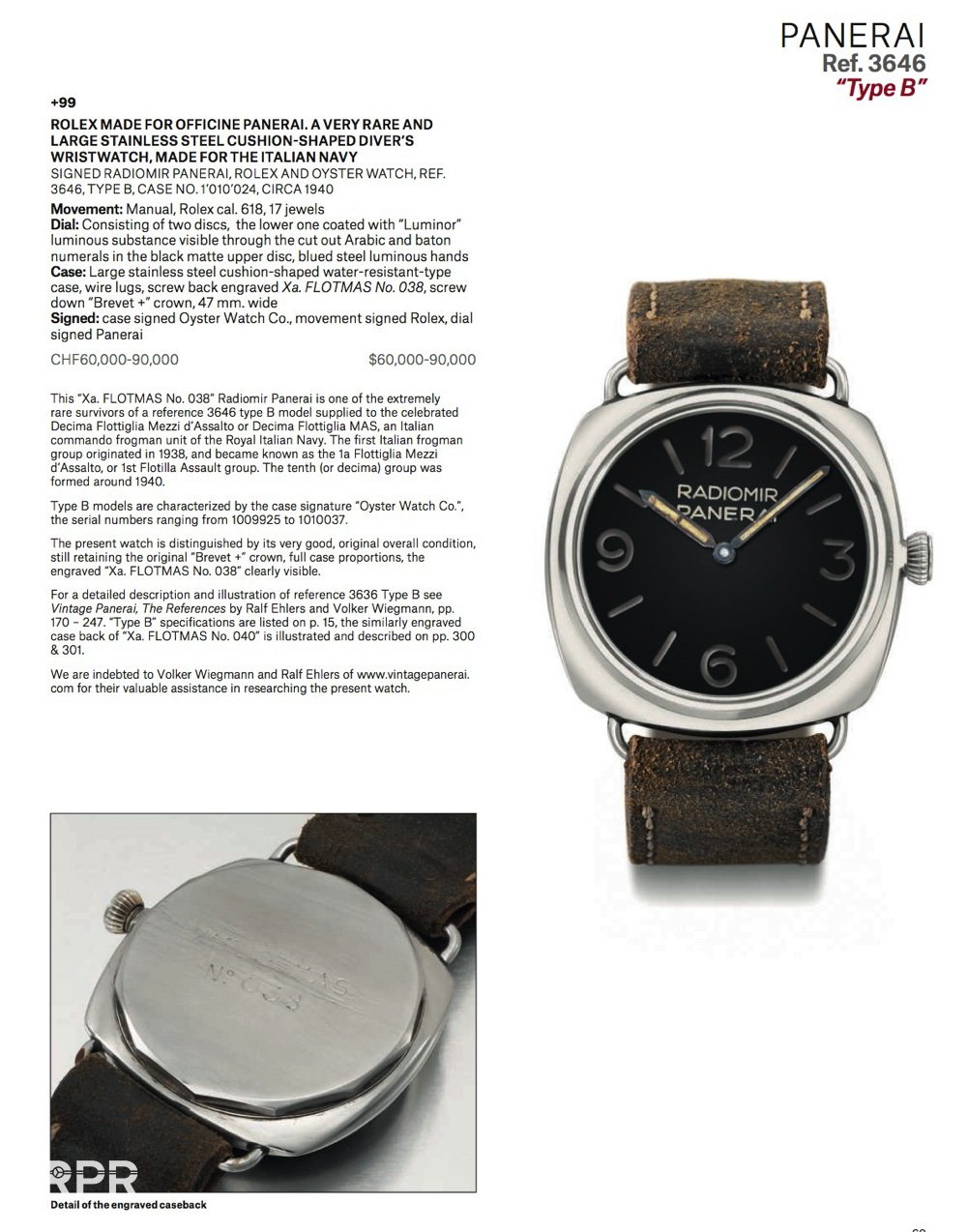 A rare TOG ref 6202 and a populair blueberry GTM master are coming hop for sale…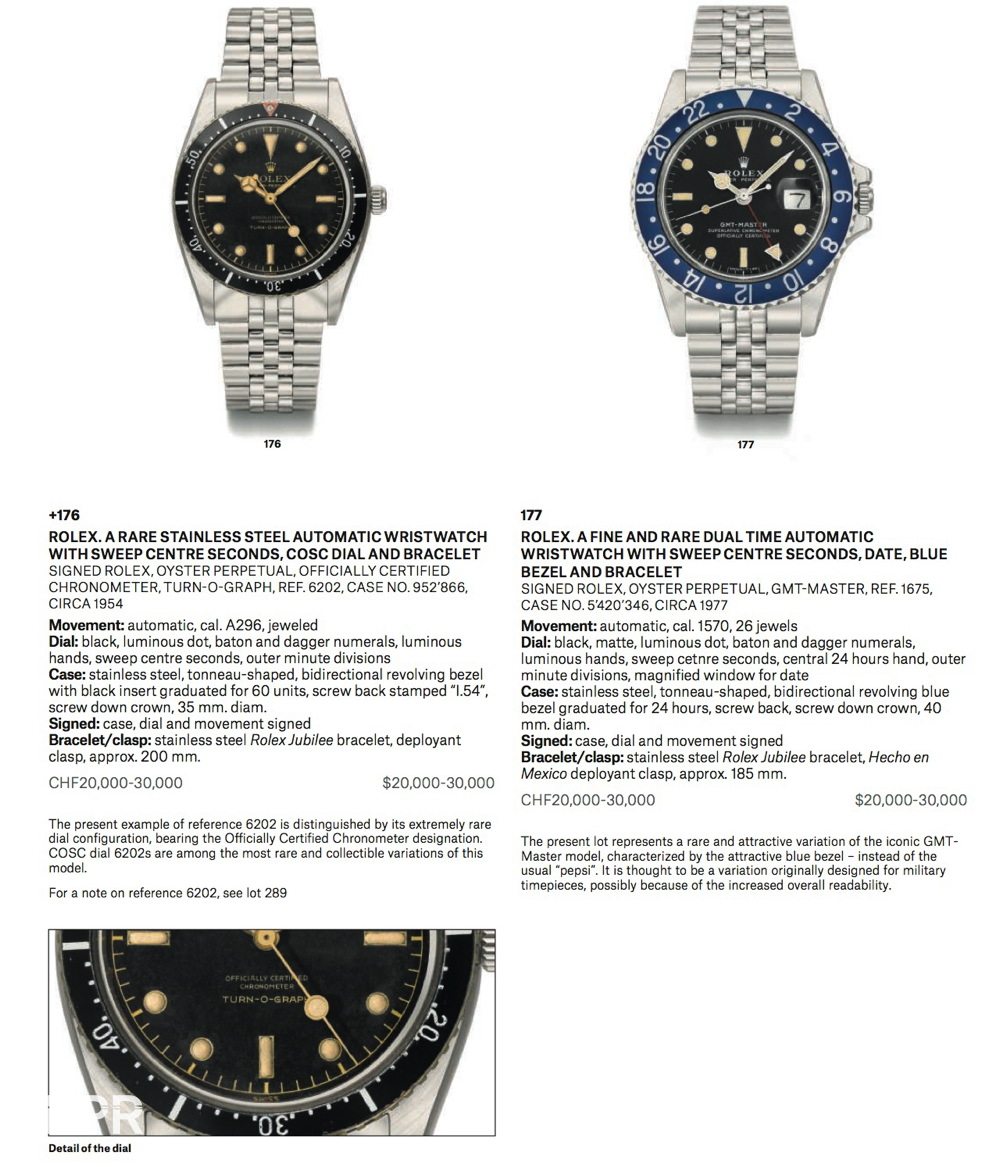 A tropical Ref 6239 estimated at $50-80.000,=
Then up to the Patek Philippe lots, some real stunners are coming up for sale, more rare examples then we see with Rolex…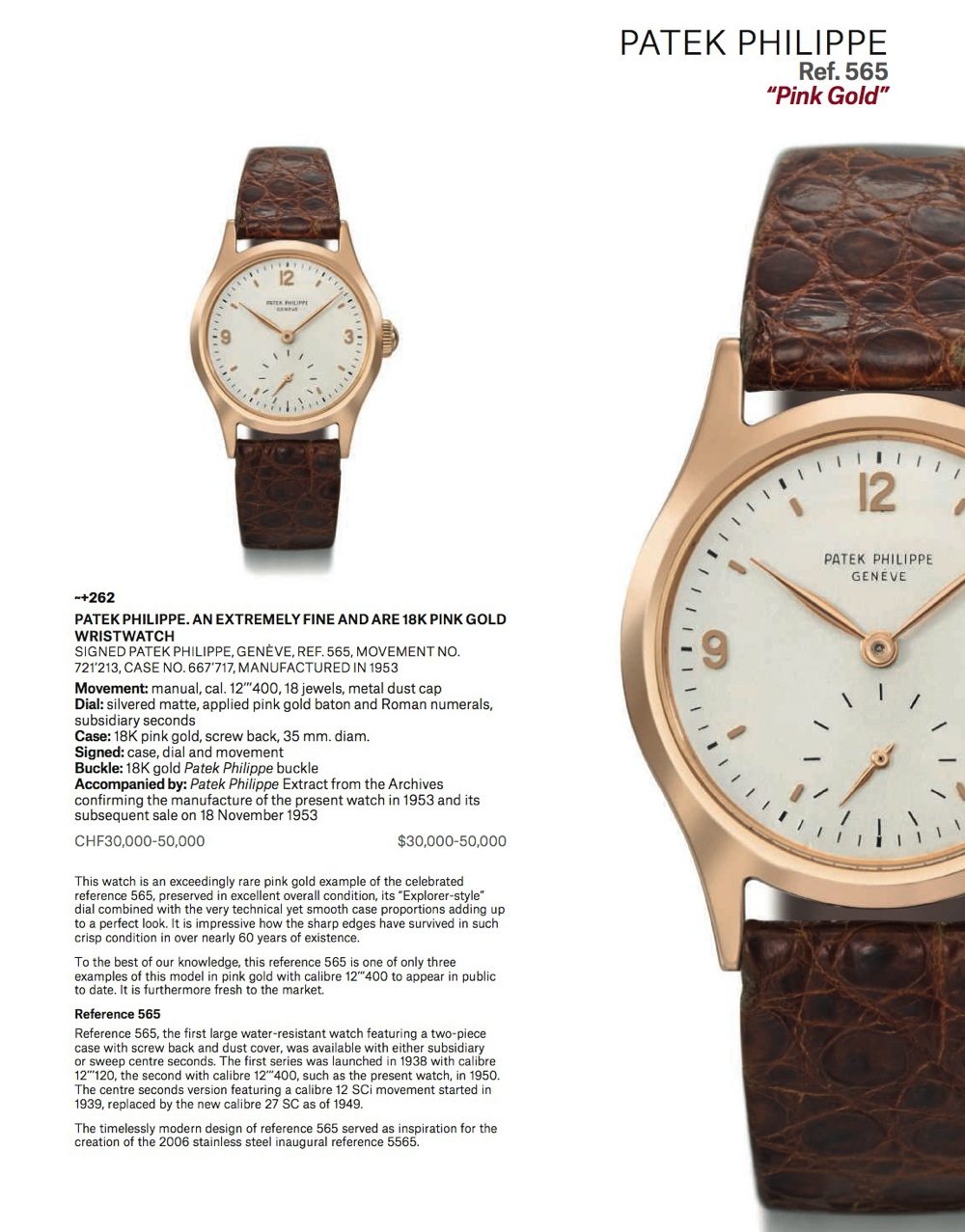 The gold Ref 565 above and the luminous steel 565 below always sell high. Simple waterproof time only are so cool!…
Then this marvelous Two Tone Sector dialed with pulsometer Ref 130 estimated 150-300K with will go high…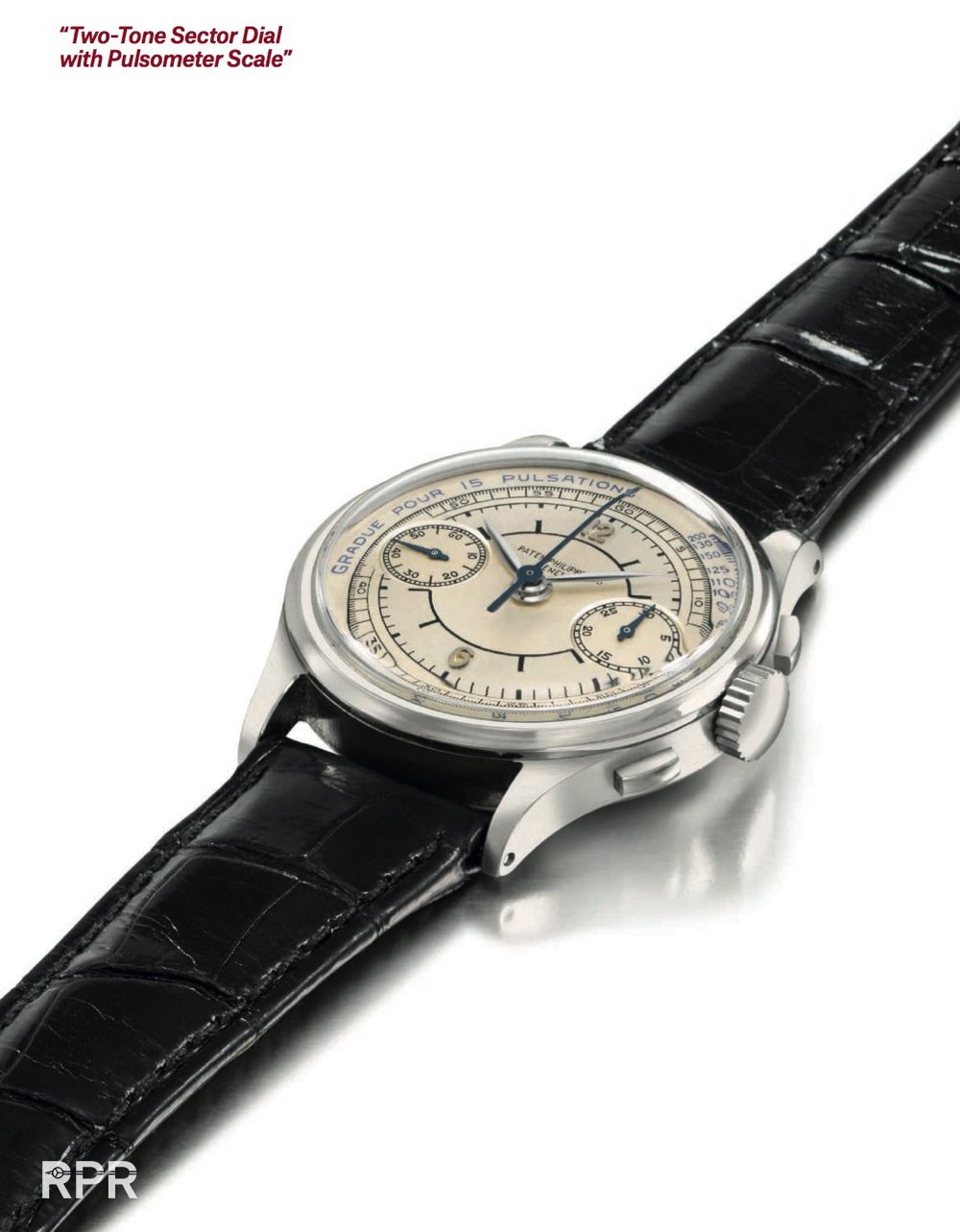 Nice Ref 2438/1 second serie Patek Philippe " property of an important asian privat collector" is estimated at 280-500K……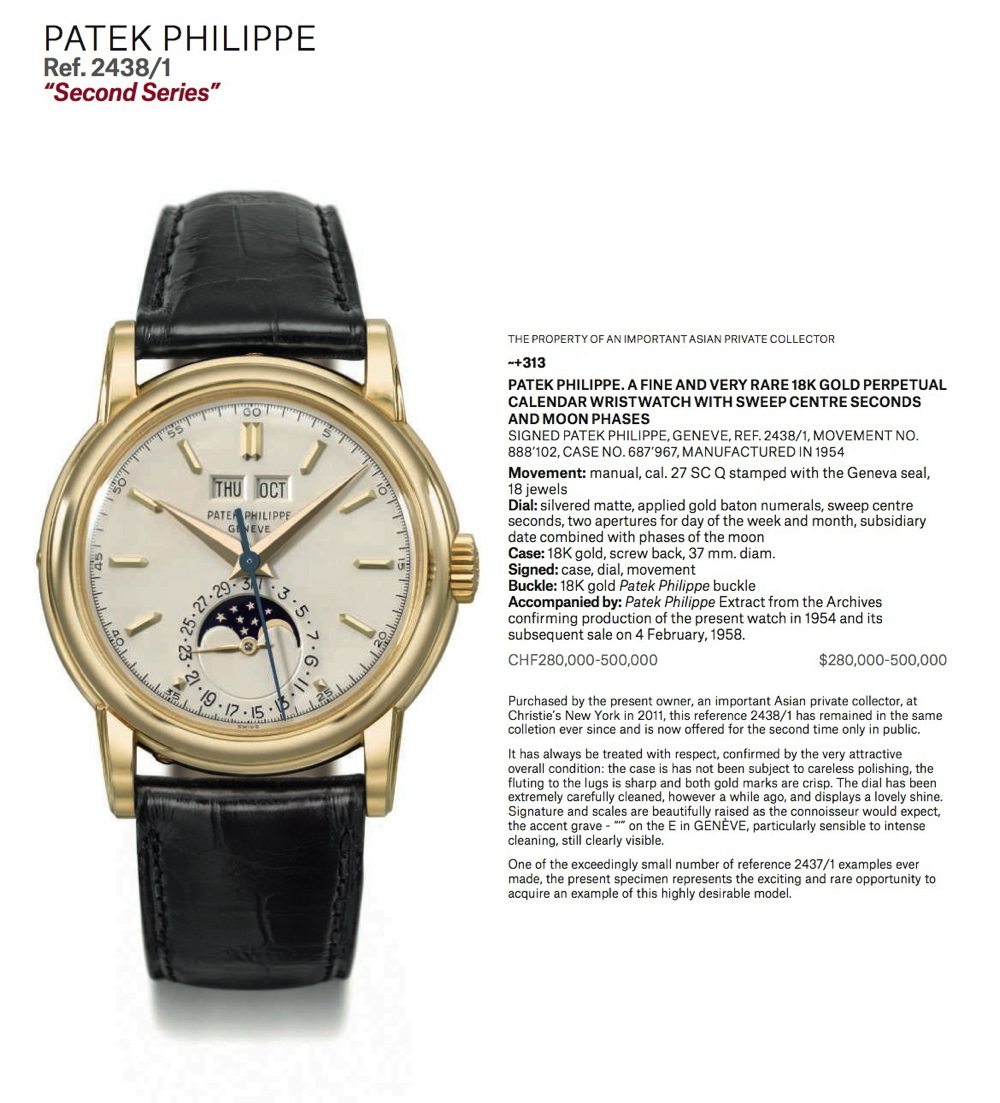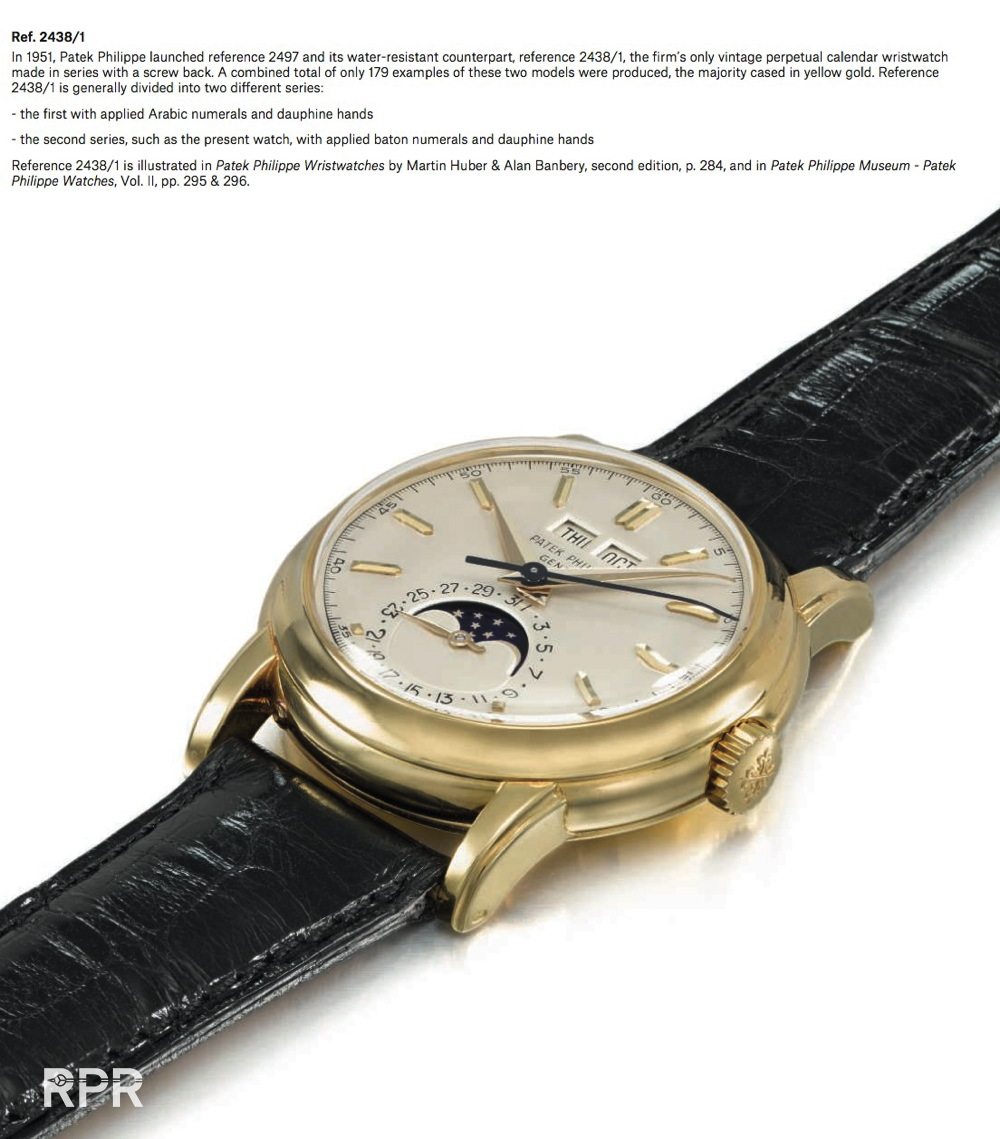 The looks of following ref 2508 on the straight end oyster bracelet is just marvelous. Estimate is as well, 80-140K!
Next is this Ref 1463 waterproof steel chronograph sold by Gübelin is coming for sale,e stimated at 300 to a steady 500K…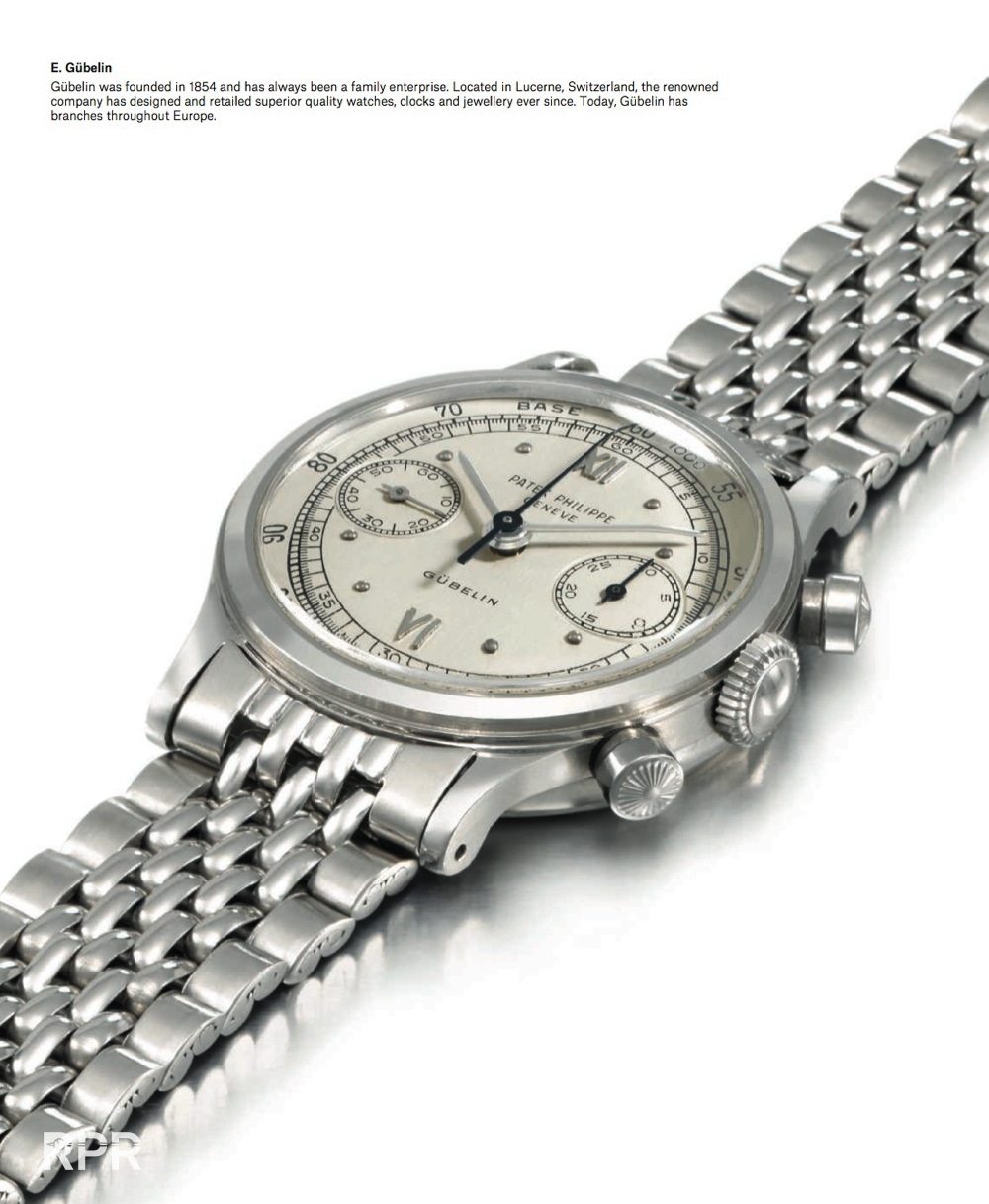 Compared to the steel, this gold is a real steal, estimated at 'only' 100-150K…
Pink Pulsometer ref 1579 is estimated at only $60-70.000,=….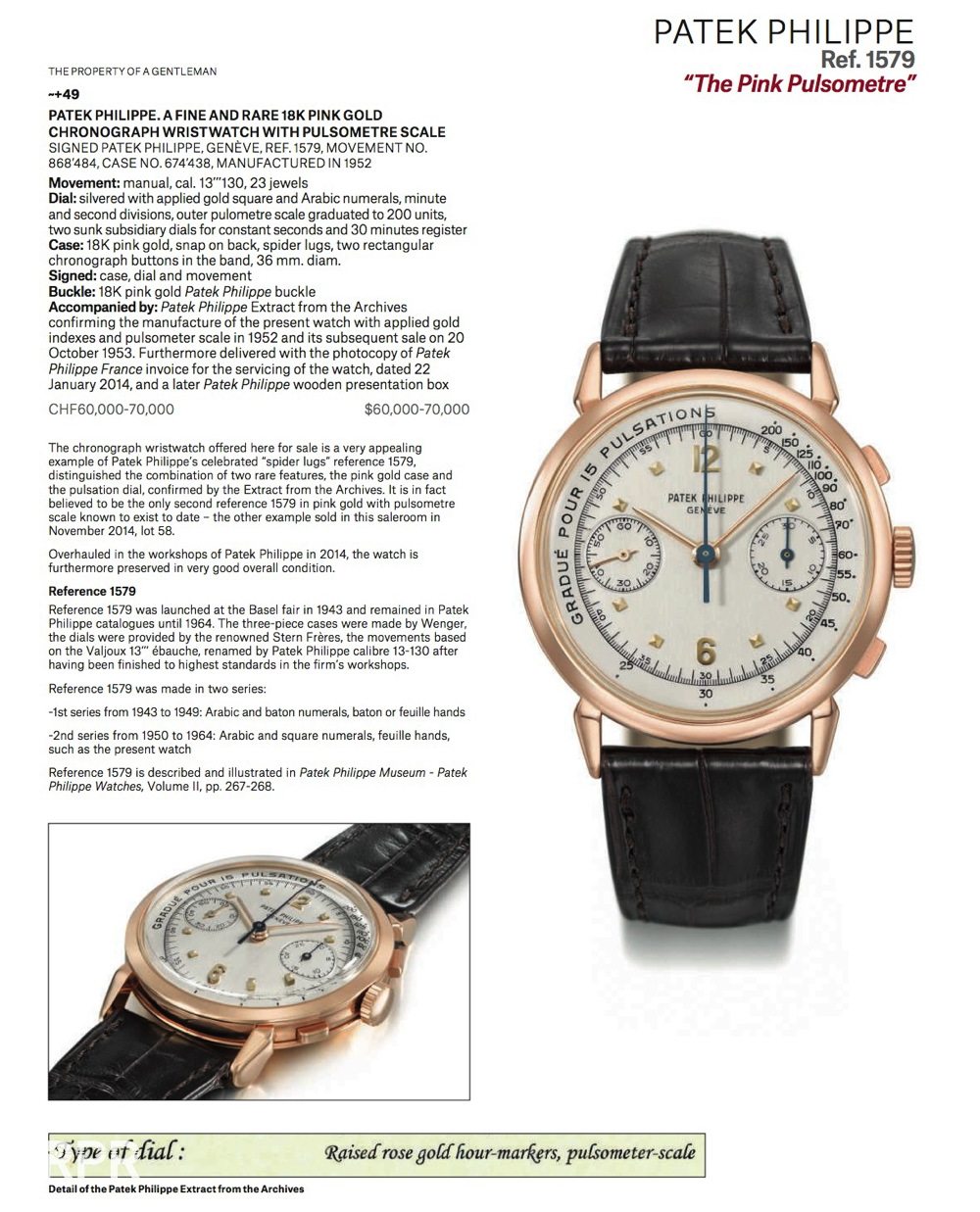 Heavily patinated cased PPC ref 2499 3rd serie is estimated as much as the steel 1463 above, also 300-500K…
Then a Sky Moon ref 5002P with an estimate of 900K to 1.5 million…..
A piece unique AP minute repeater Ref 3207 estimated at $250-500K…..
Then some examples for the Christies 40th anniversary Patek Philippe Nautilus sale….
Oman gold ref 3700 estimated at $200-400.000,=….
And the start lot, the platinum gold Nautilus, possible unique ref 3700/031 estimated at $500-800.000,=…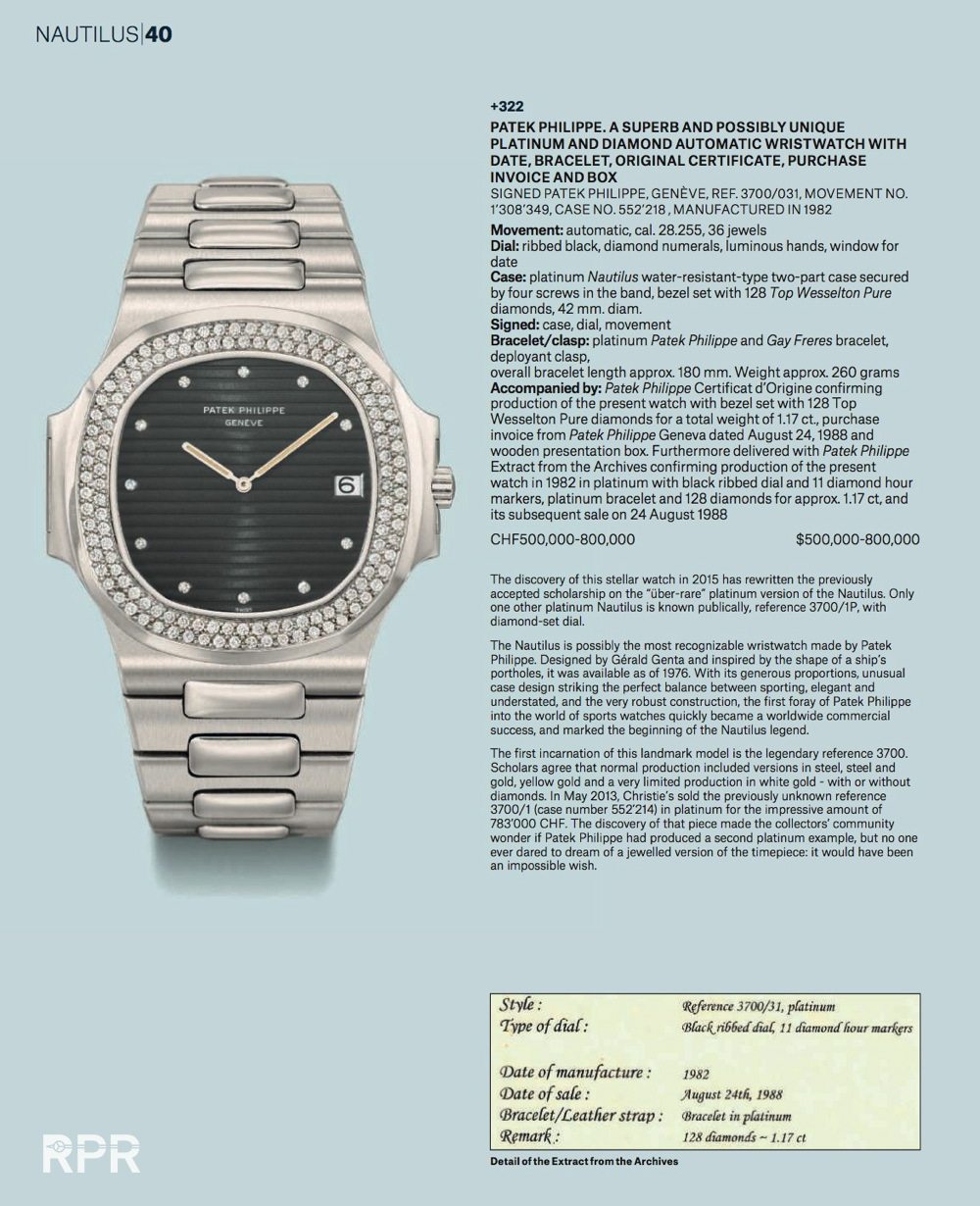 And last but not least, from a great project of watch lovers that put together with Pucci a new matchbook called "Fero"…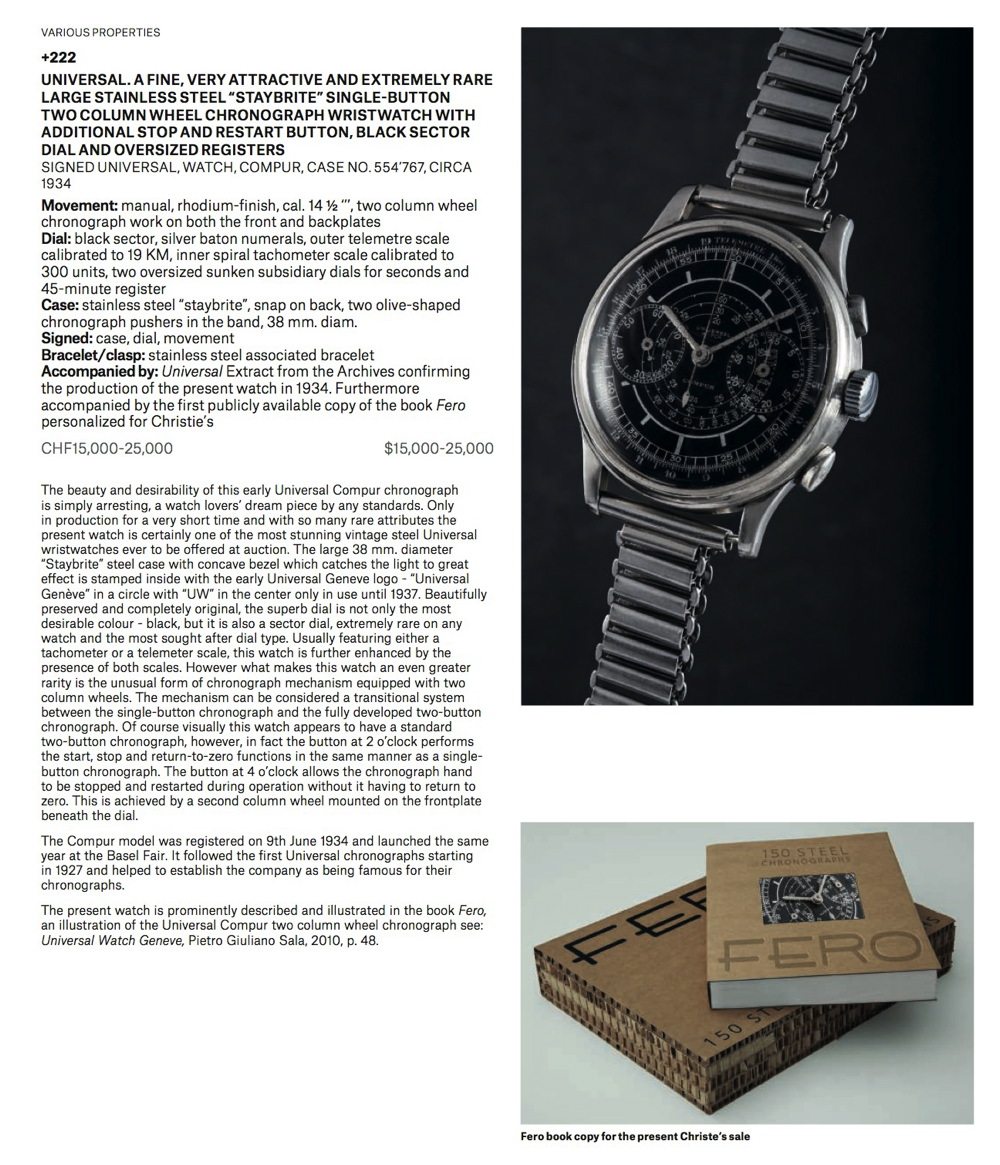 If you want to have some more detailed information, contact the specialist in Geneva Watch Department.