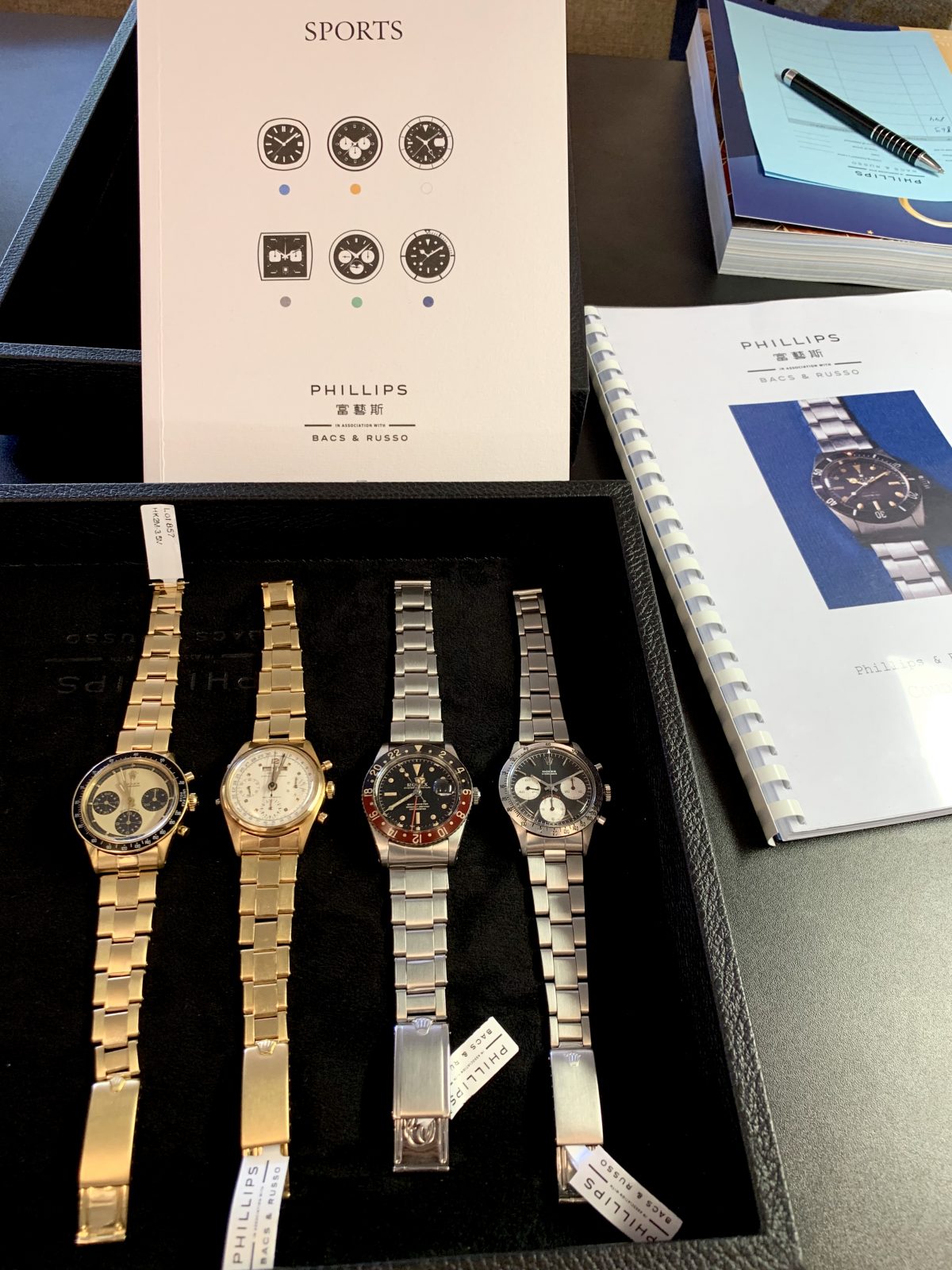 For the first time ever a prominent Hong Kong watch collector, Mr TK, curated a watch theme sale for Phillips Auctioneers. Over the past years the Asian market has picked up rapidly and many great vintage watches are now in serious collections over there. The growing awareness and huge potential in Asia of collecting in general is now also reflected on watches. Mr TK is a long time watch collector with a excellent eye for detail. He's best known from his magazine Milk and his BlackBird Ferrari enterprise. A truly humble and great guy. I respect his knowledge and entrepreneurship and i'm looking forward seeing what the impact has of his curated watch auction on the market. In Geneva last week I've inspected some of the offered lots of which below you find my pictures and remarks. In total 82 lots will come up and if you want to see the online catalogue, follow this link…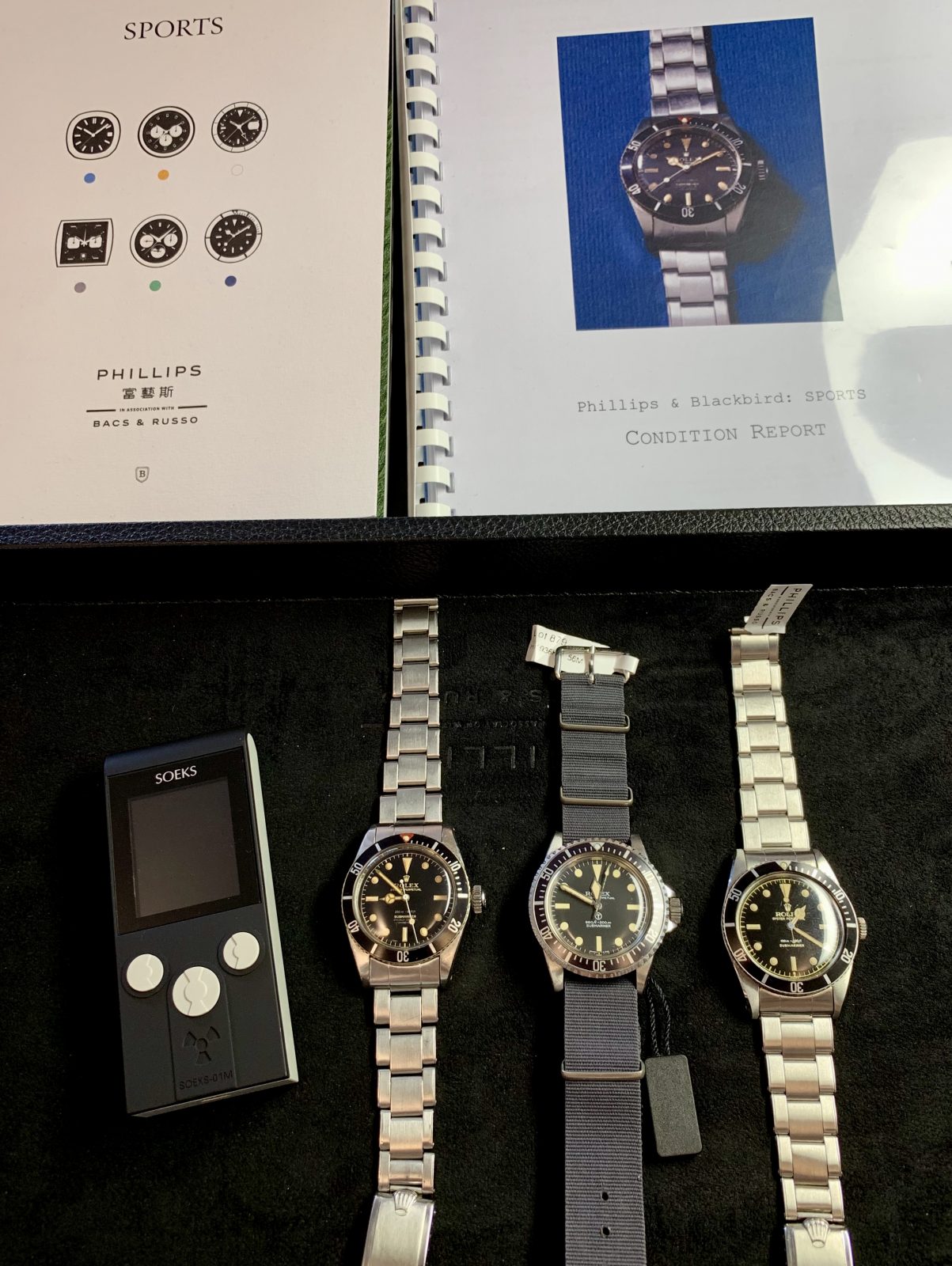 It's happening, the world is ready for ultra rare tool Rolex (Submariners) after they adopted the race Rolex ( Daytona).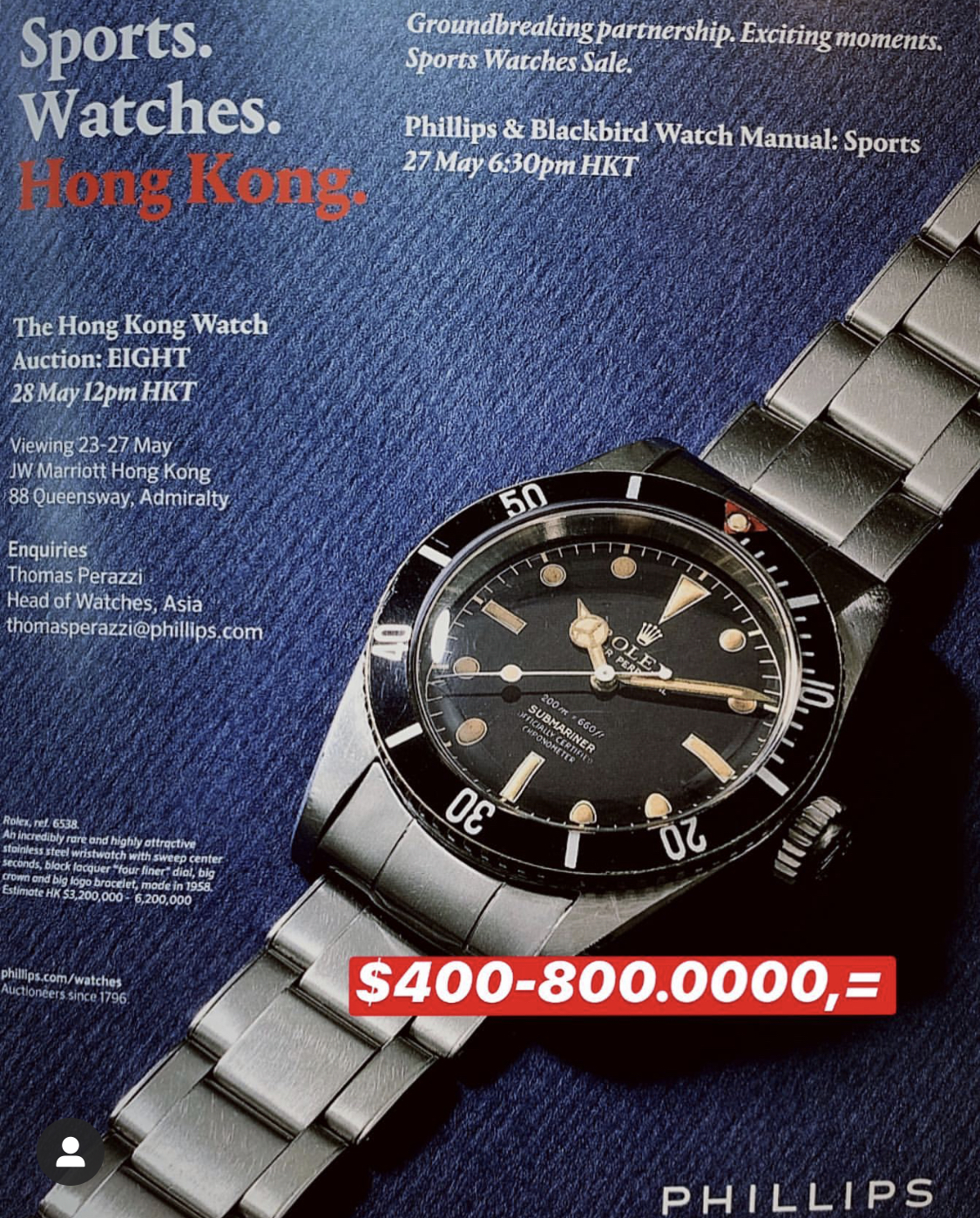 Every Sports Watch addict should have a good look at the offered lots. The pinnacle of the sale is surely the glossy gilt Rolex Big Crown Ref 6538 – 4 liner with the highest estimate so far for one ever come to auction:  $400 – 800.000,=. After the recent 500K been paid for the new old stock Ref 5508 in Geneva by a prominent Swiss watchmaker, all eyes will be on this last lot of the sale.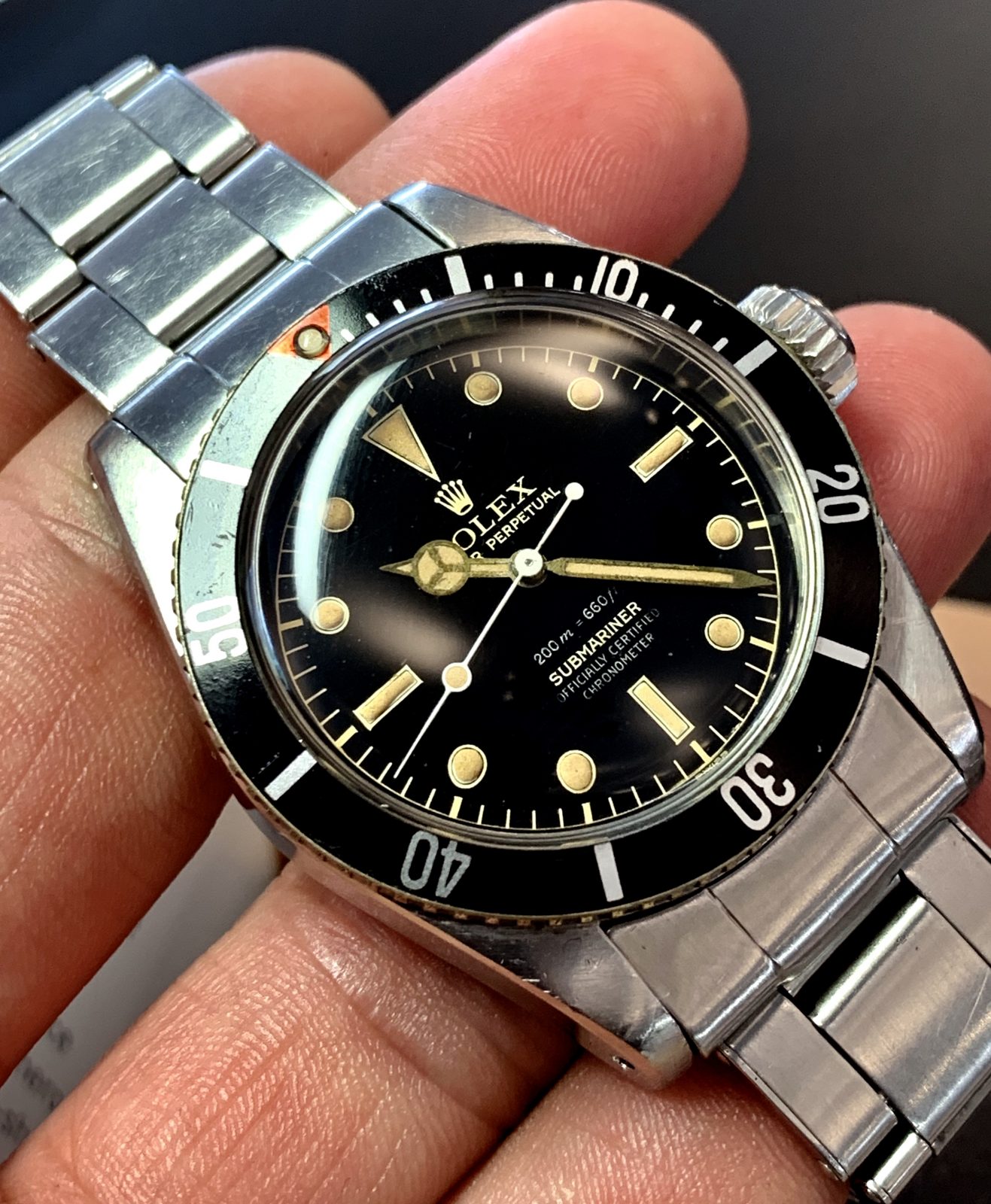 Sideview into the dial always show you how perfect the gloss still is…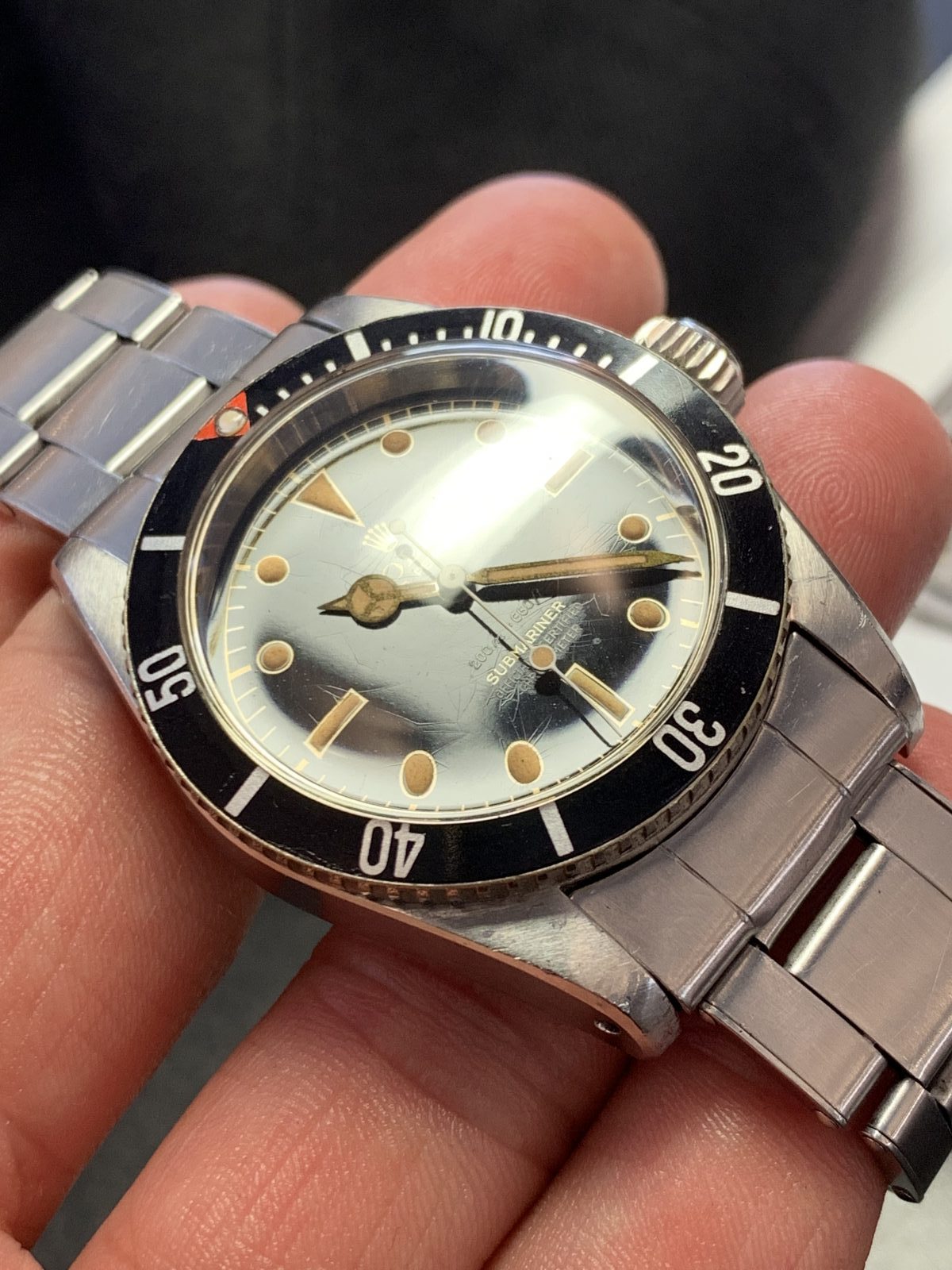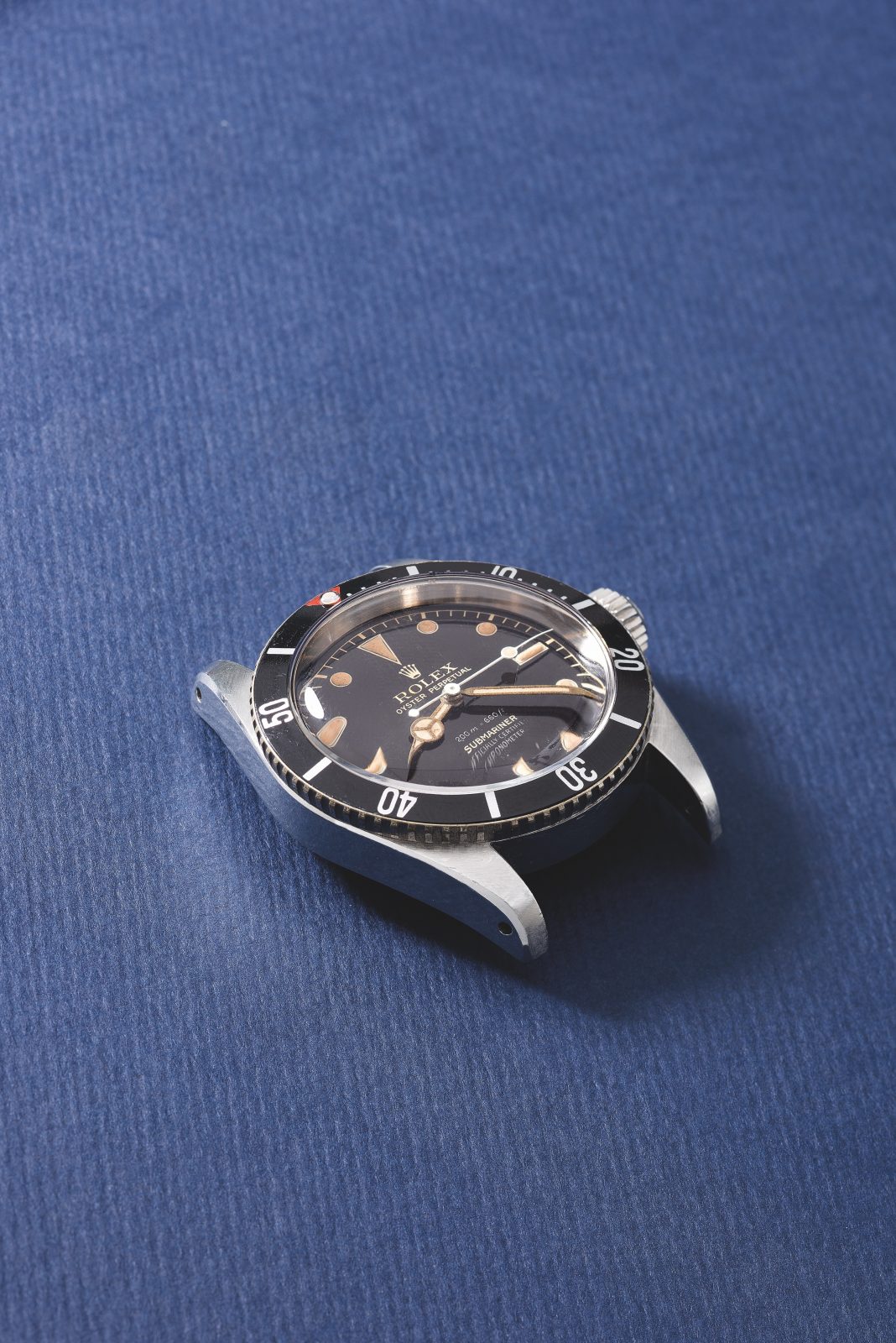 So far HK watch auctions are merely focused on modern watches rather then vintage ones. Phillips Watches & John Goldberger organized in 2016 a dedicated Rolex auction in Hong Kong called Milestone. 38 lots came for sale some 3 years ago and going through my article I wrote back then I notice that my pre sale prediction where often a bit to high but looking back some of the lots are way more expensive in the current market so the main question is, will this sale be a succes or not? If we compare both sales back in the Milestone auction the total focus was on Rolex rather then Sport Watches in general as it's now…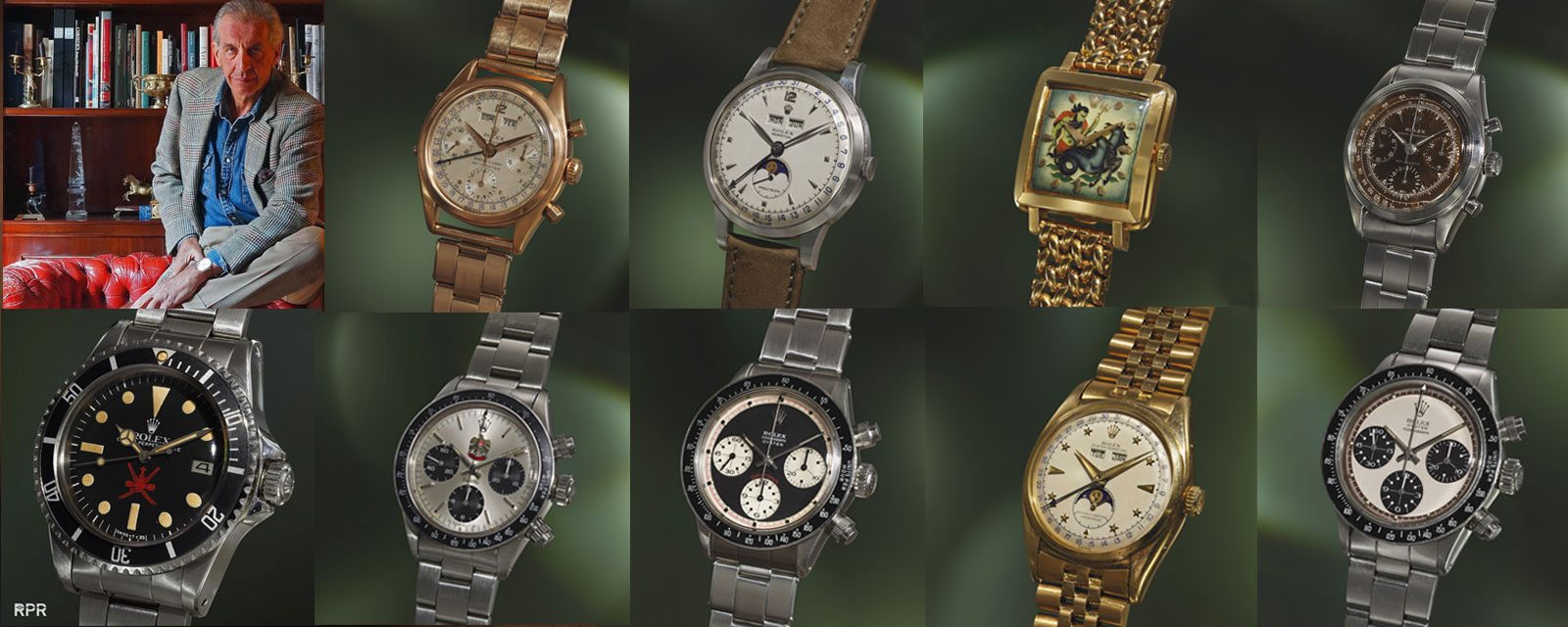 The Milestone Auction had many seriously rare examples we hadn't seen been offered in 1 auction before like the Oman SeaDweller, steel Padellone, gold Stelline and Killy, Brown minute track Oyster Paul Newman, a RCO oyster sotto, Military Submariner and also a 4 line Big Crown. Some where disappointed with the results as great lots went for low estimate and didn't explode like this Big Crown that sold for $170.000,= but then it was in the middle of the Daytona hype and already more then 3 years ago…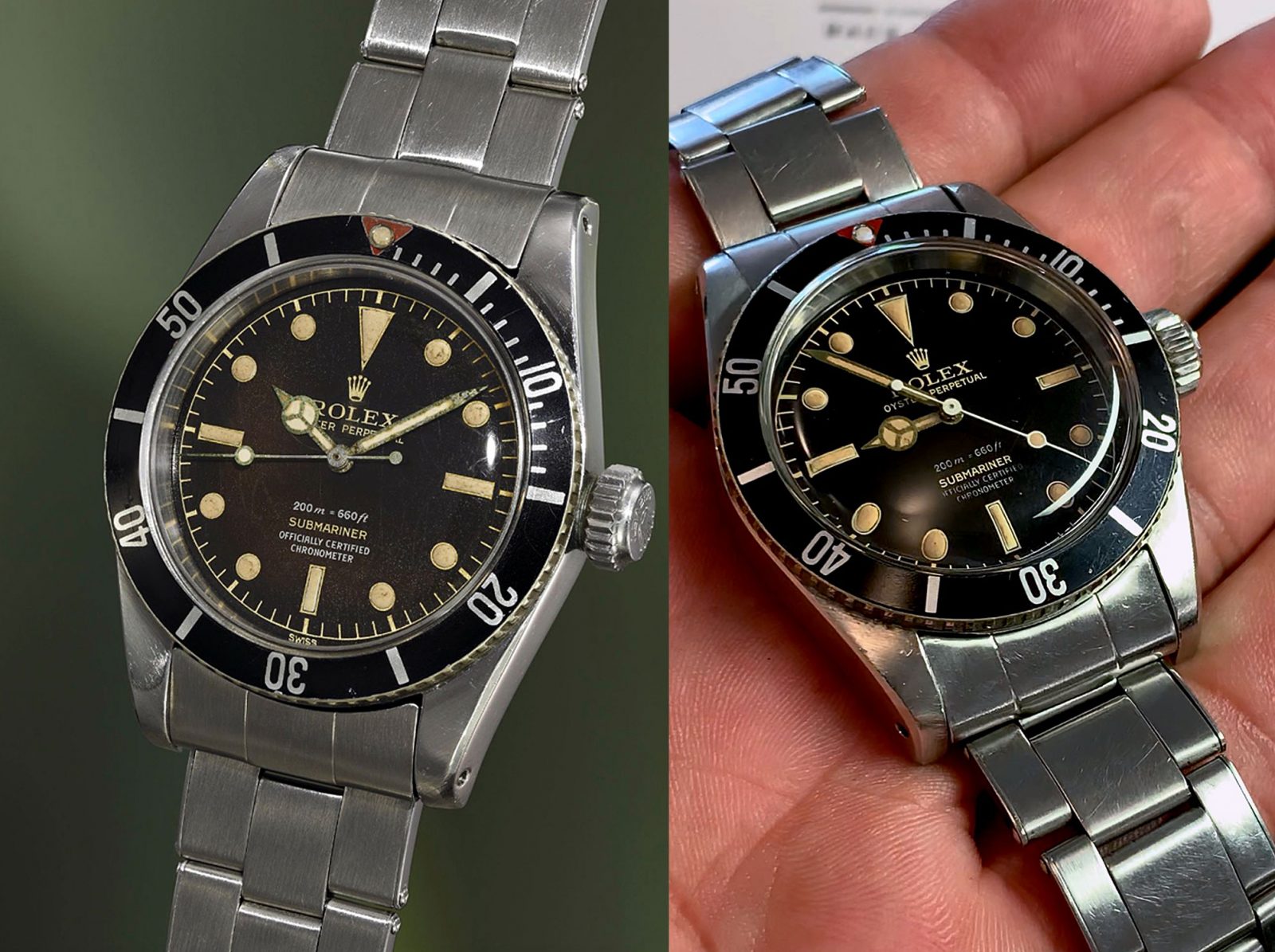 Let me put them those 2 x Ref 6538_4liners next to each other and you will see the case of the black one that is now being offered is crisper ( note the sharper bevels) and the luminous on dial and hands are less oxidized. The difference might be subtle for many reading this but actually finding a all black 4 liner tBC hats this perfect is extremely rare, remember these where tool watches being heavily used so the rarity is much higher then finding a gold sport rolex that often occasionally had been worn. Collectors alway chase the impossible and lots of fact have to be taken into consideration. Condition is king, no doubt about that!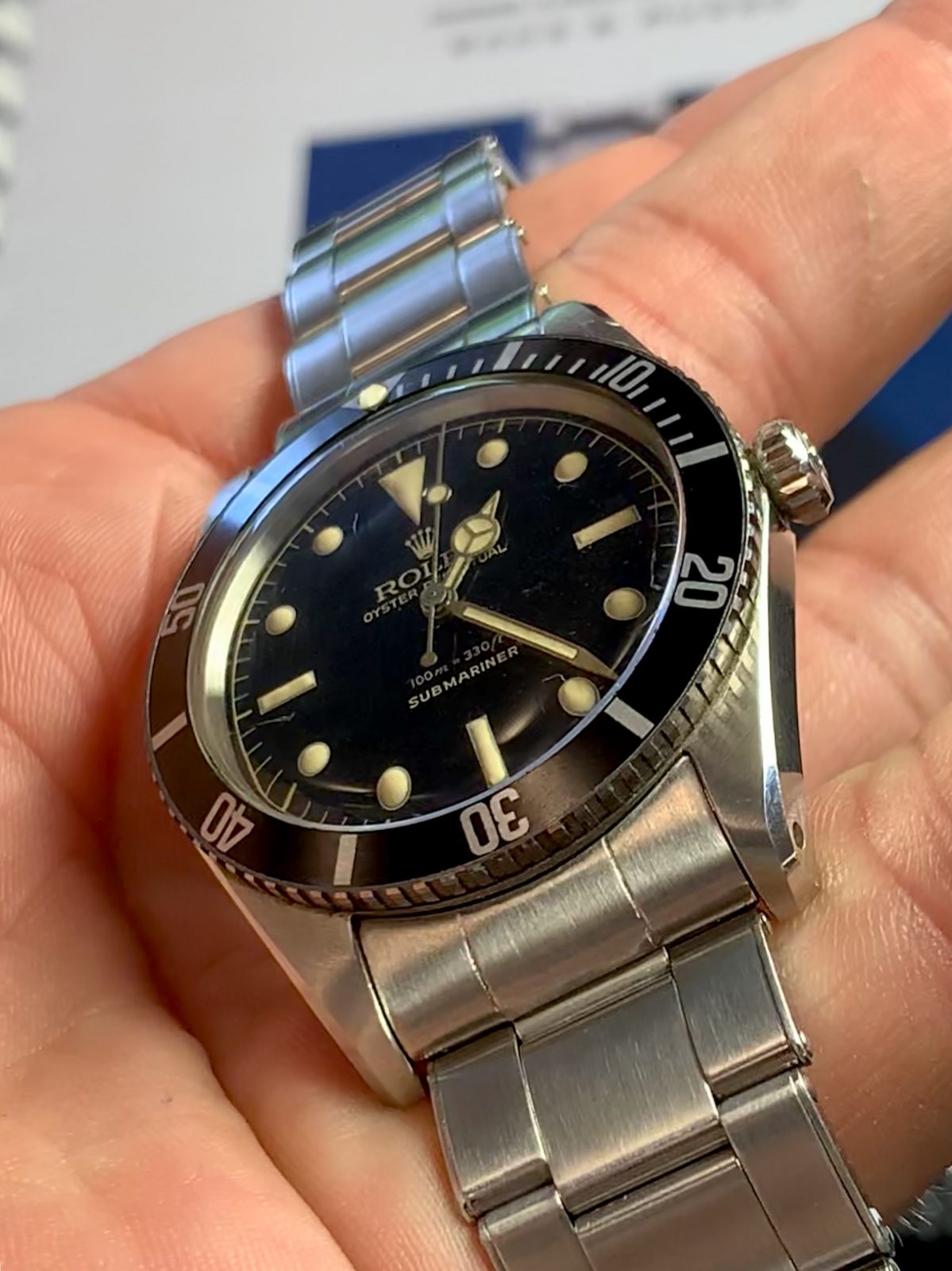 Since any Big Crown Sub is accelerating upwards in price, the small crowns are doing the same. Rolex has produced way more small crowns then their experimental big crown so before a small crown explodes in price it really needs to be perfect. The following example is that, with still the sticker on the back. One of the last Ref 5508 that have been made in 1962, carrying am exclamation mark dial it's all over very fresh and crispy from every angle..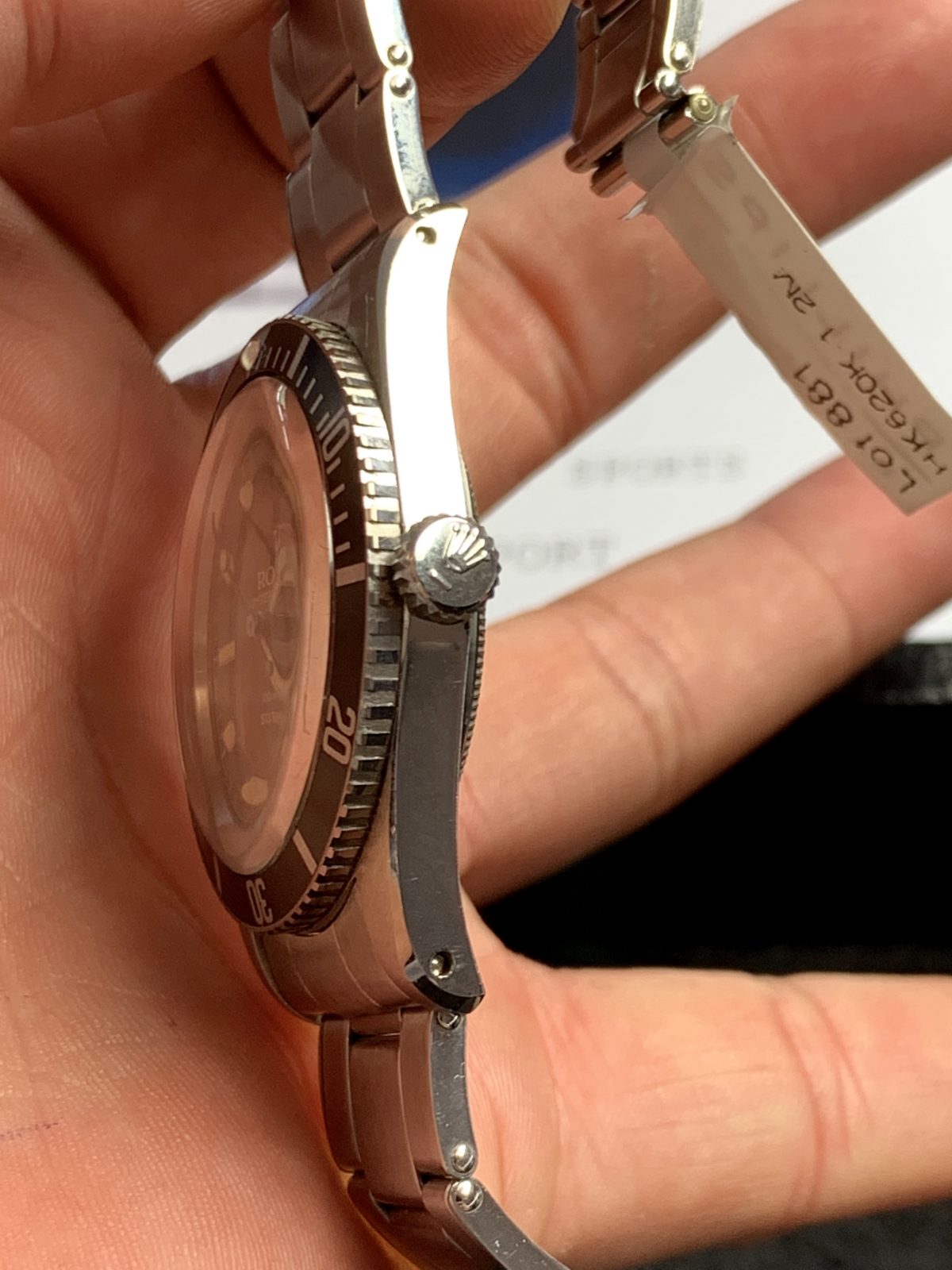 Whenever you want to measure the condition of your small crown, use this one as an example. Look at those bevels and the satin finish. Somebody totally forgot about it when he bought it back in the days for whatever reason, a miracle for sure! It wouldn't surprise me this lot goes sky-high as well as we have seen in Geneva because it ain't easy to find one as sharp as it is.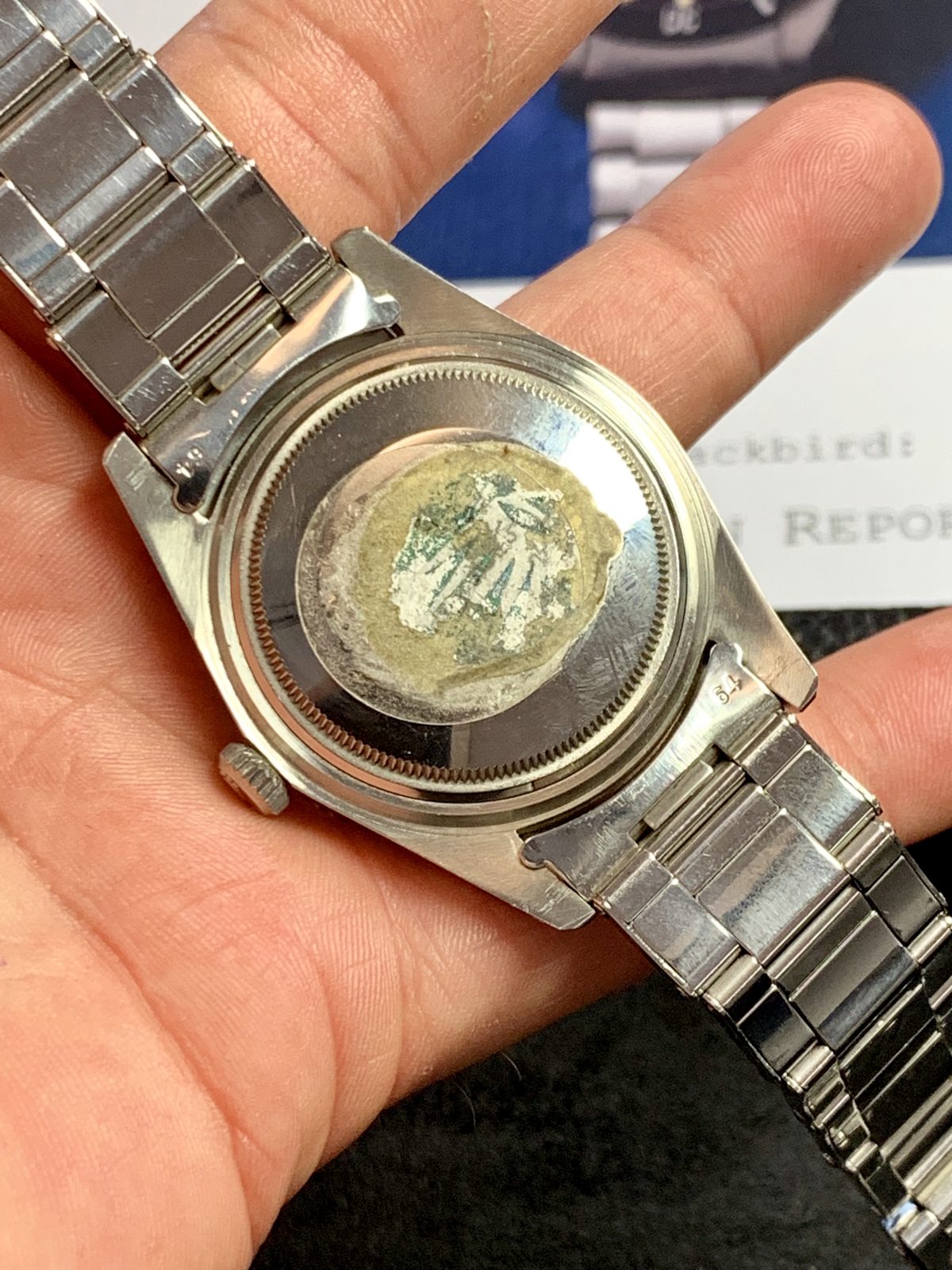 Many Rolex collectors ask my why Military & Comex Subs are rarely coming for sale. This is because there are a lot of 'secret' details like different batches that need to match up to find a great one. Both versions where made for heavy use and always needed to be running perfectly. Imagine you're in combat or diving, every second is important so many of these issued watches where regular serviced and once they got serviced original parts have been swapped with service ones. Not necessarily different parts as the specialized service centers had many loose parts on stock but those also dried up in time. What we see is that often original finds are missing the iconic 60 dash bezel insert or the typical sword hands which then if available get changed to original specs and often don't match the all over patina. This Ref 5513 Military comes with "a Rolex Internaional service guarantee dated Nov 11, 2005 and letters from Rolex confirming production of the watch and its supply to the Ministry of Defence in November 1977 for onward transmission to Central Ordanance depot in Donnington" and estimated at $120-200.000,= which is not crazy at all when I hear what some are sold for privately. If you want to know more about them, read my RPR article by following this link…
The casebook show us the W10 Ministry of Defence marking, the issue number: 801 and the date: 1977…
Up next a well preserved Rolex GMT master Ref 6542 with bakelite bezel. Yet another iconic sport watch that we often see in a damaged condition. The bezel is from acryl and much less strong then the later metal inlays. The dial is still very glossy with all radium luminous still intact, the edges of the case are sharp and the mat finish present. I believe these crispy Ref 6542 are still very undervalued because finding a great one is as difficult as with glossy crown less Subs and prices will go up soon…
The radiation level is still there on bezel, dial and hands as the geiger counter shows us. A necessary tool to double check what your eyes are seeing and particular important now we have seen that restoration are done with radium luminous..
The edges where 2 parts meet each other are always one of the first place I check condition. In below picture you see the side of the bezel is still crisp and perfectly matching on the case, you also see half of the serial number still fresh looking between the lugs…
Interesting to see that c collectors are slowly picking up other rare Daytona versions then the Paul Newman dial designs. This Cherry Red Ref 6262 for instance. To most it looks like a Big Red but then misses the screw down pushers. It"s estimated at $ 80 – 150.000,=
Tritium radiation level is present…
I always loved the look of it, judge yourself from below lovely picture they made!
Following lots I had the pleasure of examining are the both 18K yellow gold Rolex Killy & Paul Newman Daytona
It even comes with it's original box, Rolex guarantee papers etc…
Same we can say about the gold Newman, enjoyed and preserved nicely…
Estimated at $270-550.000,=
The other top lot is a rare Patek Philippe Ref 2499 /100 from 1980 having the same estimate as the Big Crown Ref 6538, $ 400-800.000,=. It's interesting to see which of both will be the winner at the end of the auction, is it the time only 200 meter waterproof Rolex tool watch or the highly complicated grail watch of Patek Philippe…
Find below all necessary information about this special curated Sport Watch sale as many other interesting watches will come up.
Presented with Blackbird Watch Manual
Ref 6538_4Line Big Crown Submariner..
Little brother, small crown Ref 5508 with exclamation mark in NOS condition…
Military Submariner Ref 5513
Henry Hudson Rolex Letter..
Rolex Comex Ref 5514
Paul Newman Daytona Ref 6241 Black dial…
Paul Newman Daytona Ref 6241 White dial…
Monobloc Rolex Oyster Chronograph Ref 3525 with rarely seen black dial..
Last but not least, the Ref 2499/100 from Patek Philippe.