"The amazing vintage Rolex and other iconic watches I came across" is the title of my new serie of RPR blogposts I like to share with you. Since a lot of years now i'm in love with vintage watches and Rolex in particular. Over this period of time many exceptional watches I've recorded by studying them up close during meetings or at auctions previews or by simply making a wrist shot from the owner. The pictures I want to share will give you a good impression of their beauty and rarity. Regularly I'll add some more interesting examples from my archive with you and explain them a little bit here.
Lets start with some ultimate bling. The most impressive diamond Rolex is certainly the Ref 6270 with baguette bezel and diamond and sapphire index. Commissioned by the Omani royal family and were retailed originally by Asprey in London..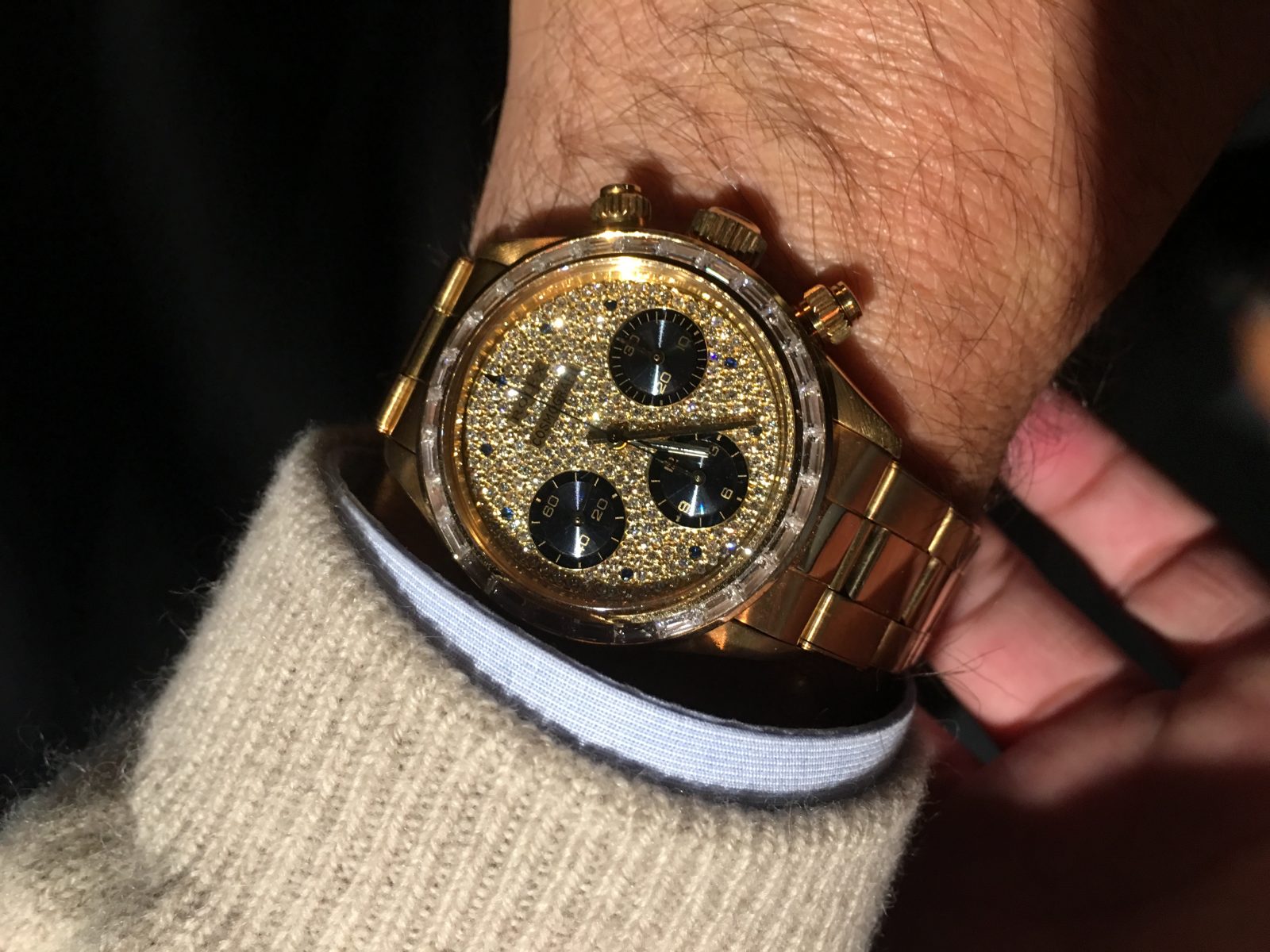 Rolex Ref 6239 Cosmograph with red Daytona and blue doctors Pulsometer . Besides being extremely rare those that we see are often different by lay out. The interesting and highly collectable part is that this type of dial needs to have different cliche's to add blue scale on the outside.  With this particular example we see the common big eye print ( when the sub-dials tough the T SWISS T). This Doctor's Pulsometer came directly from the family of the original owner. They had no idea how valuable it is to have an extra blue scale around the dial one at first might not even notice.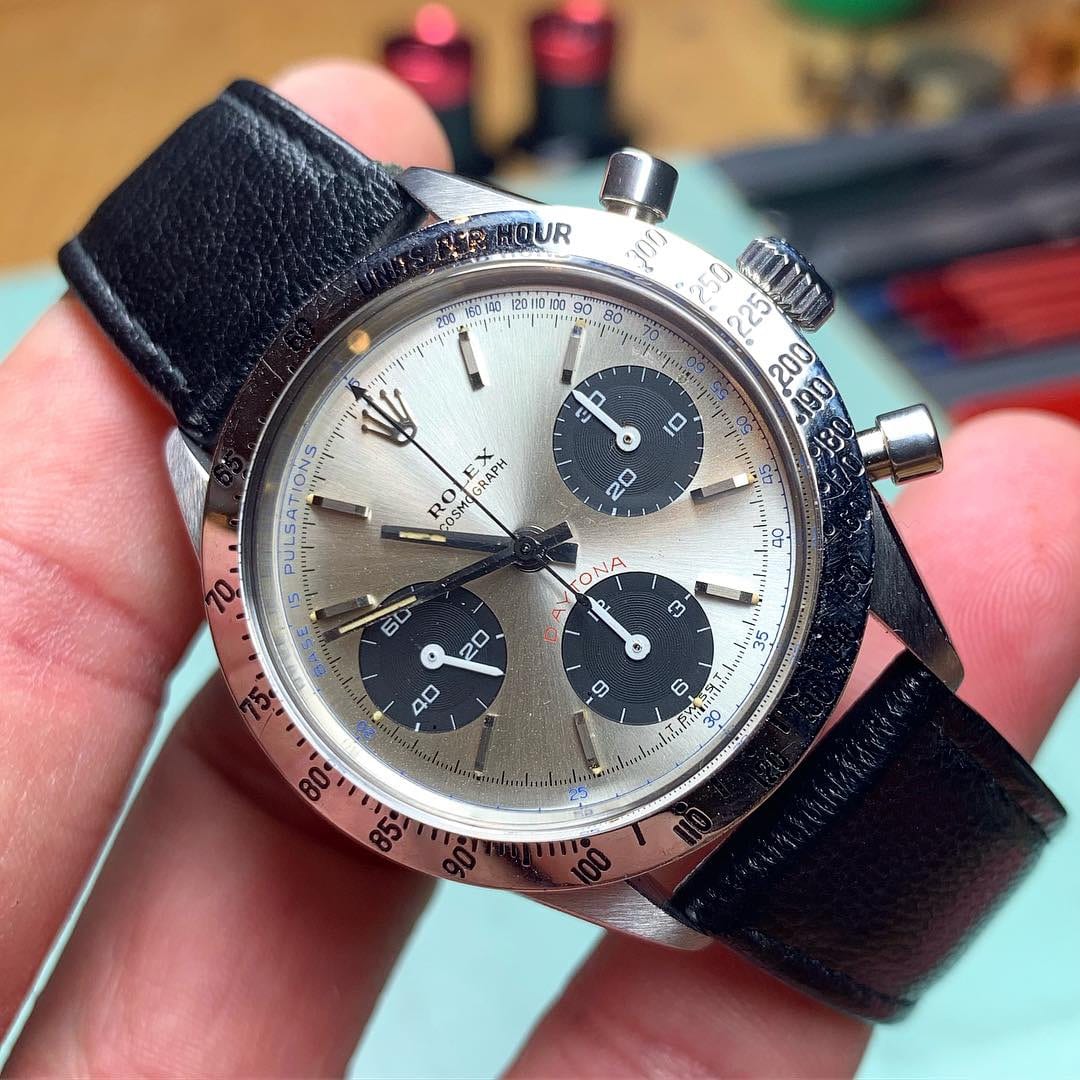 A simple Submariner of which thousands are sold become rare when the reference reads 5514 and the dial got added Comex. This special reference has only been used for the the french Comex company having special issue numbers on the back. Here during a meeting while a fellow collector who's wearing a Hydra mission jacket..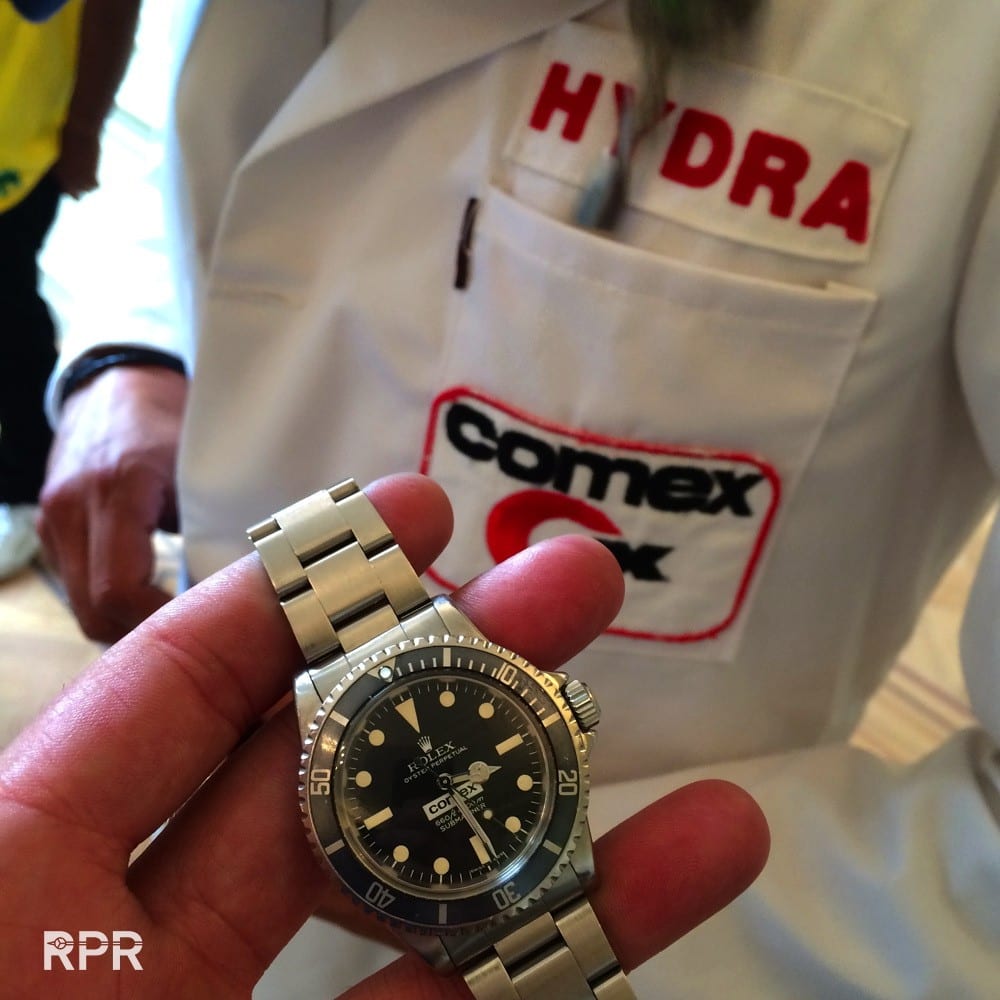 One of themes impressive vintage Rolex is certainly the The Bad Dai Rolex Ref 6062 with glossy black diamond dial. Finally sold for $5 million in 2016. The dial is so impressive and crisp in every detail at first you can't believe your eyes…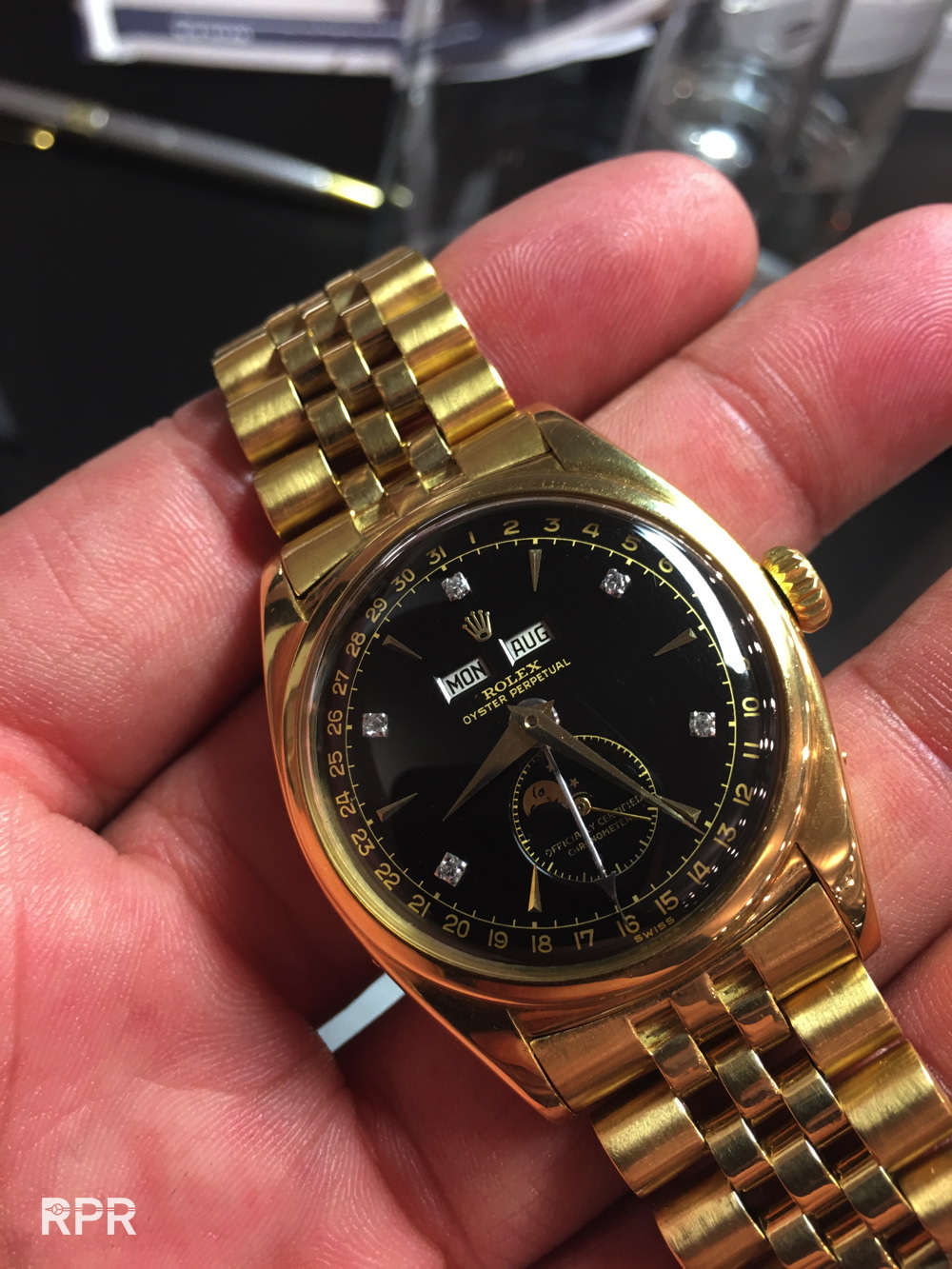 On the wrist this marvel is even more attractive, judge yourself.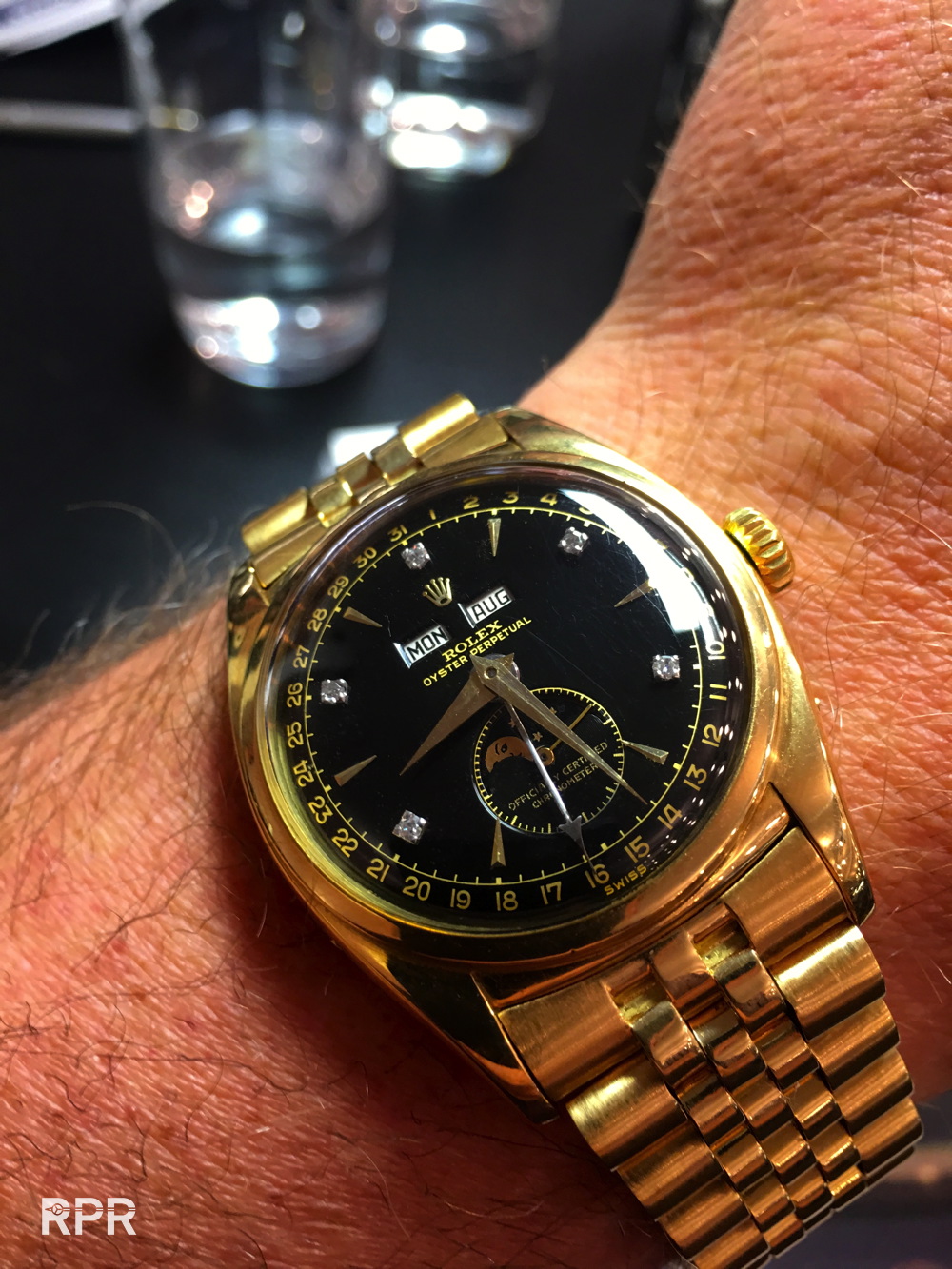 Imo the best Patek Philippe is this record selling Ref 1518 in stainless steel. Purest design perfection in all details!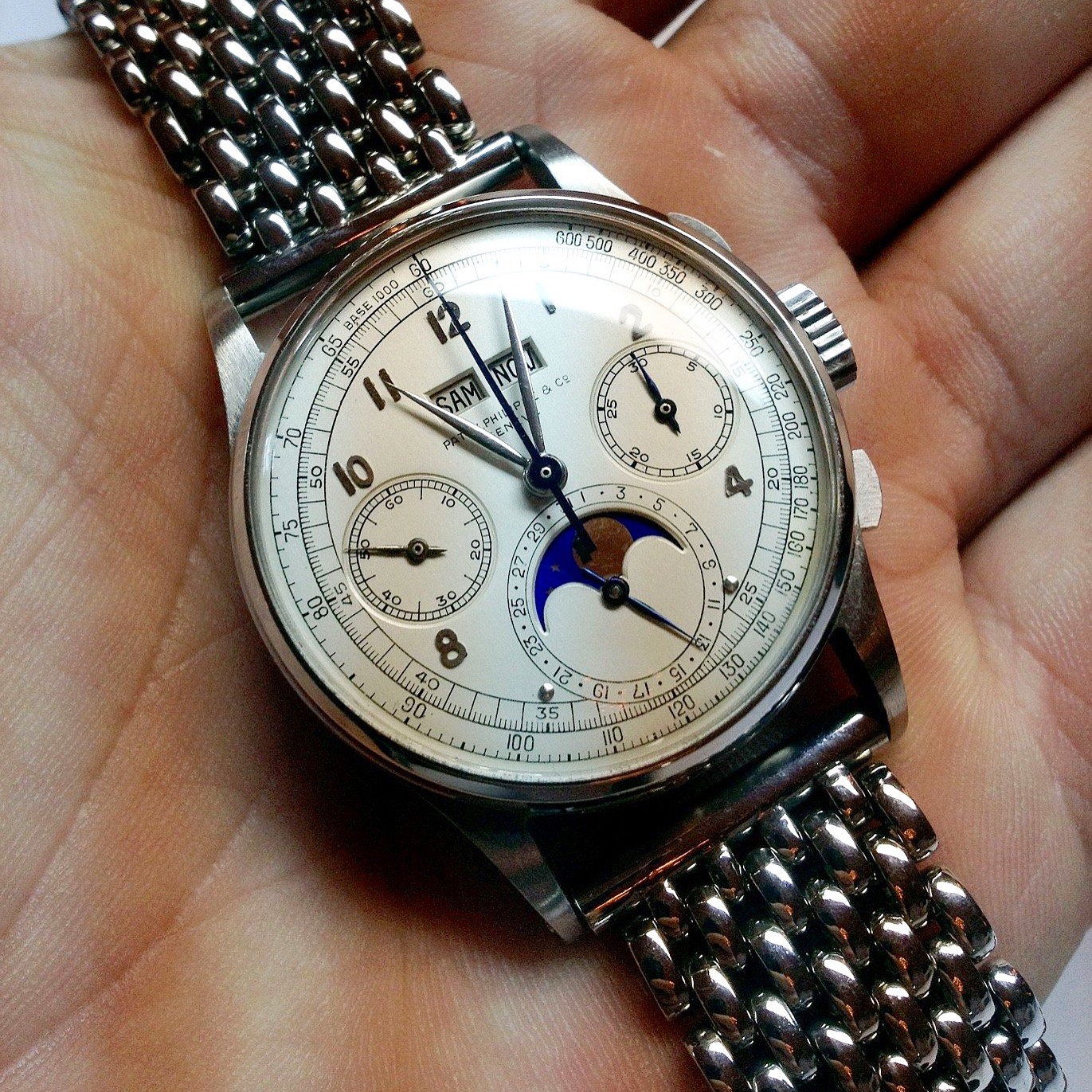 Now look at this amazing and probably unique Patek Philippe Ref 530 with black Breguet dial. Back in 2016 during the Geneva watch auctions I was very impressed to see it up close. A collectors dream, less is more and after a long battle in the room it tripled the estimate making Chf 1.445 million all in.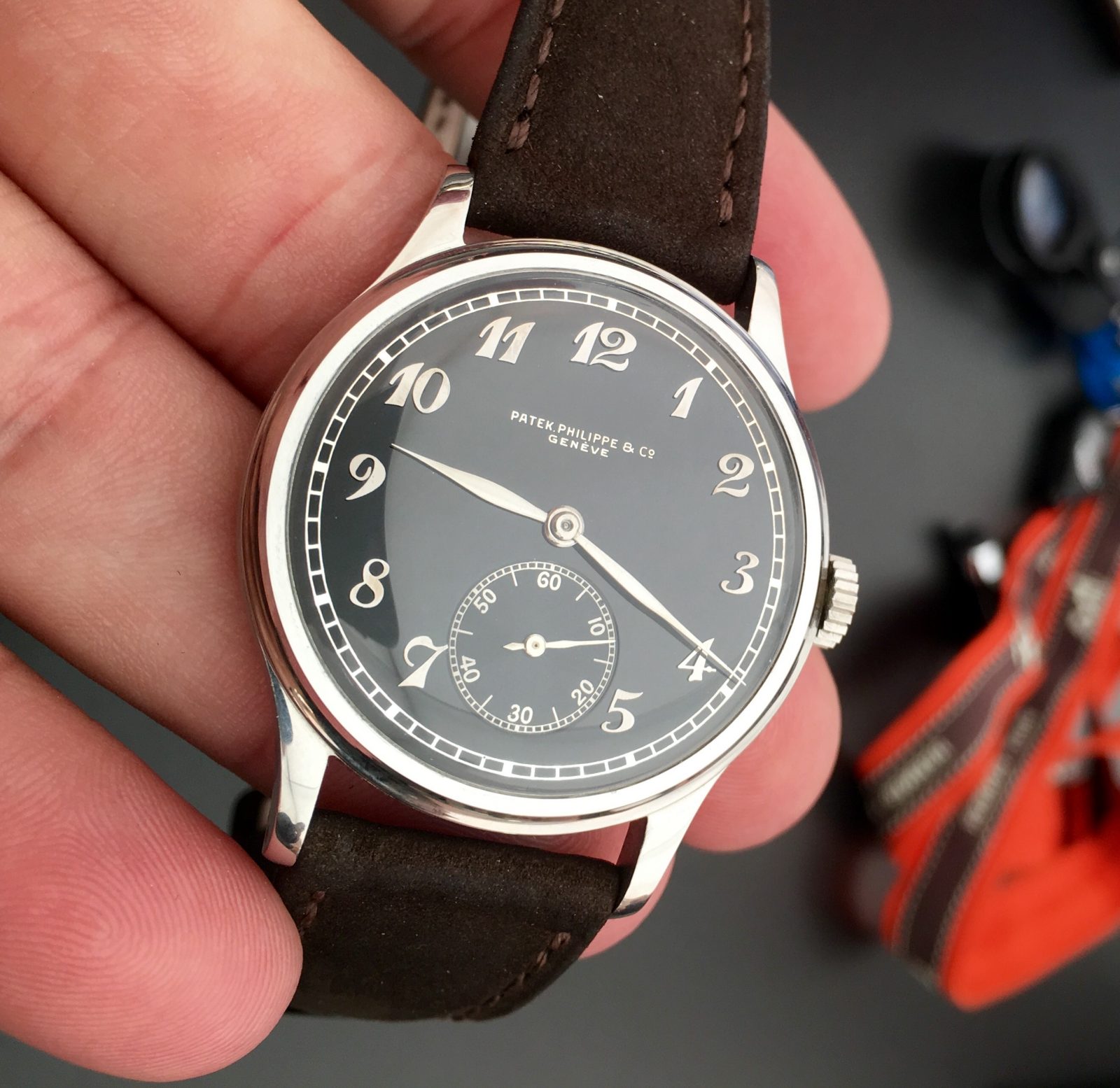 2 extremely important tool watch designs, one is the famous Oyster Perpetual that was used during the 1953 Everest conquest and the other one could't be of a bigger contrast the Luminor Panerai with their patented crown system that conquer the world as well.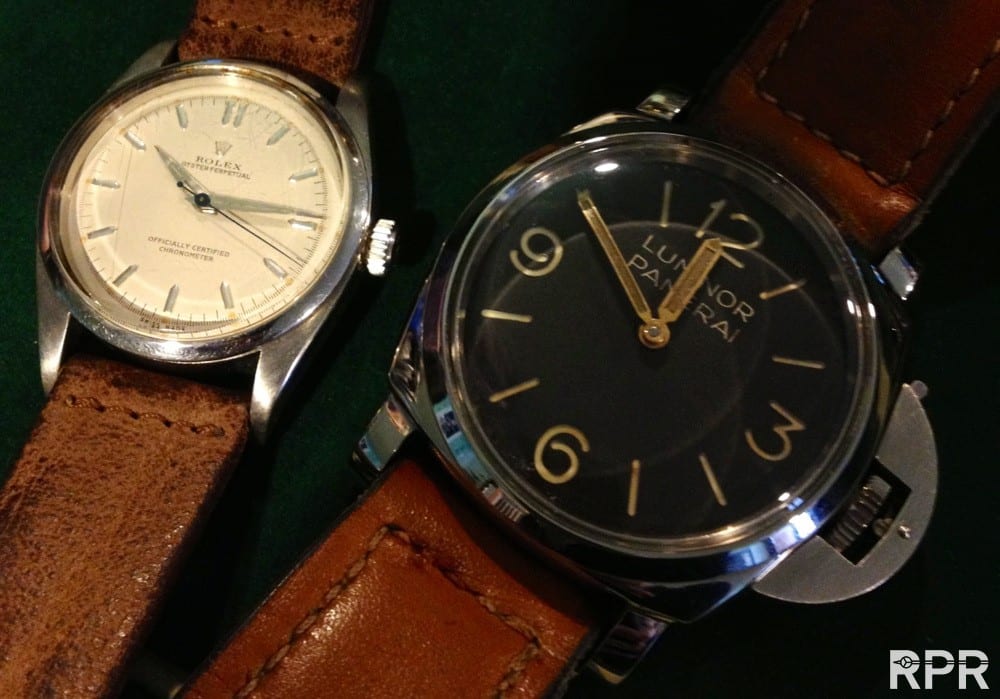 This Charles Lindberg Longines has about the same size as the previous Panerai but made much earlier, in 1931. Gifted by Mr Lingberg himself with a great provenance and the fact that the all over extraordinary original condition makes it a truly important wrist watch.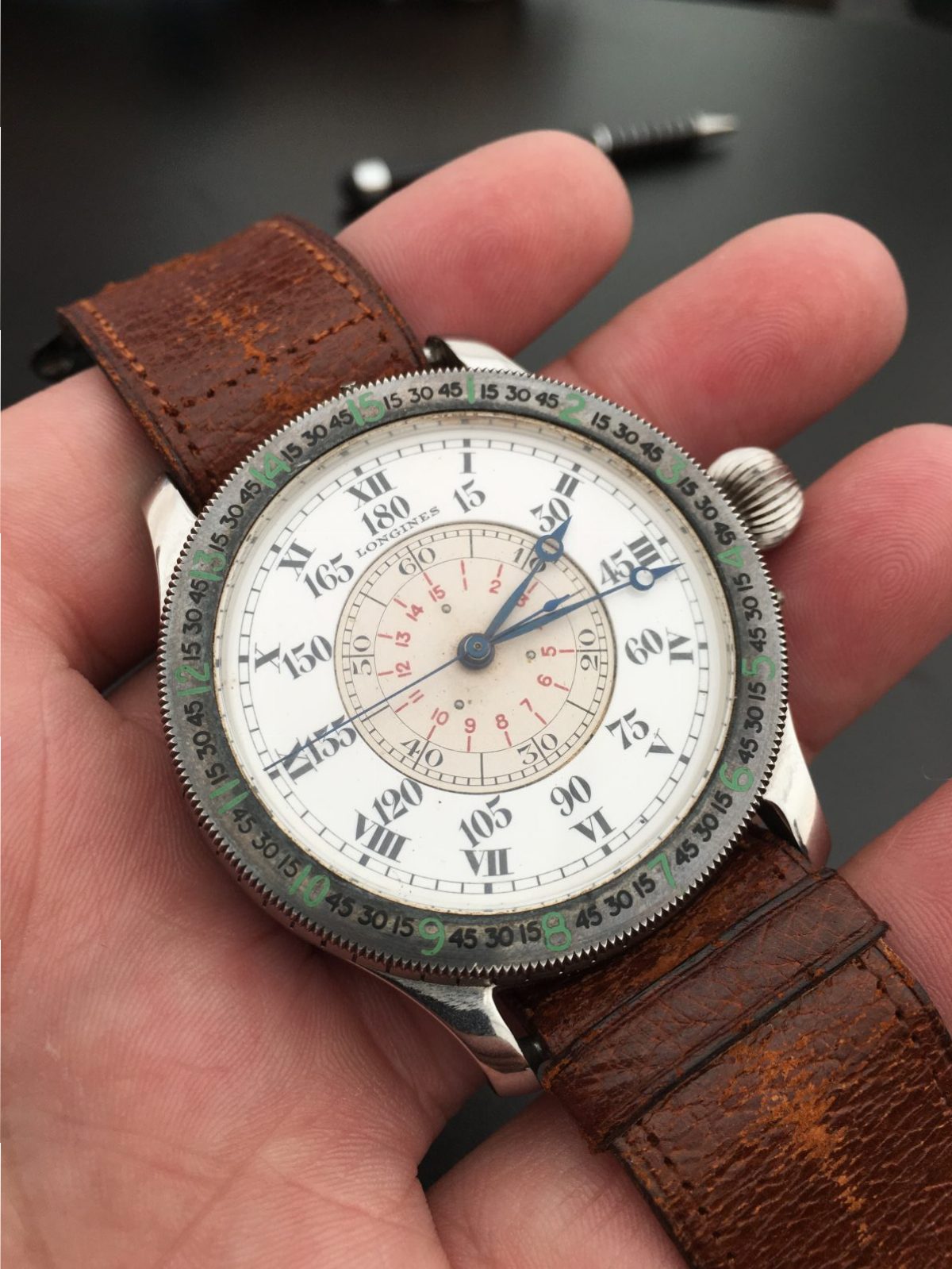 This Oyster Chronograph Ref 6234 has a stunning tropical brown aged dial. The most interesting detail you find in the bottom of the dial where you see the "swiss" sign, just above you will notice on both sides that a small T was added. This means that the swiss radium dial actually was tritium and sold later by Rolex when radium became forbidden in 1963…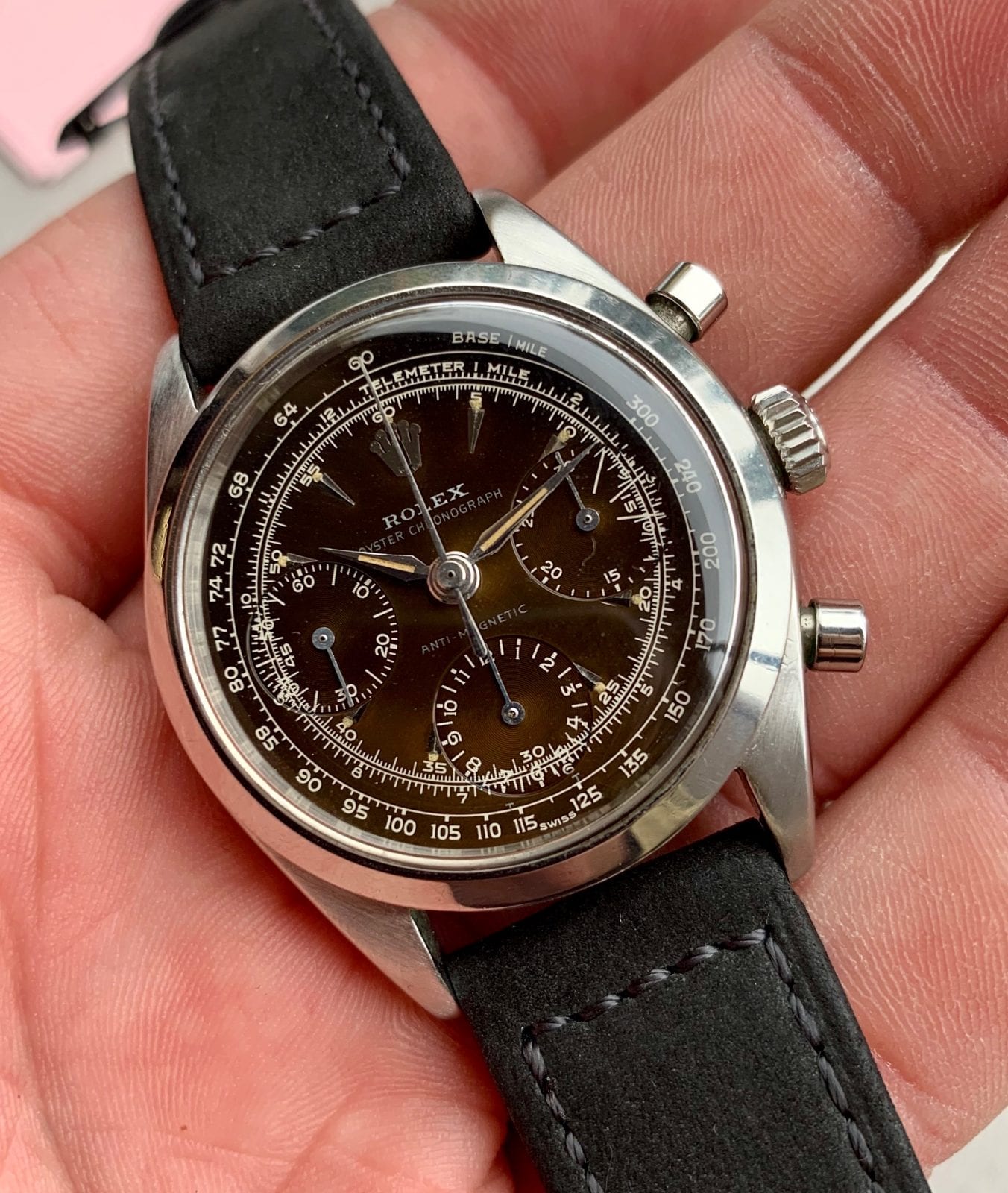 And here an even lighter brown version of tropical with an earlier swiss only signature at 6 o'clock got sold by Antiquorum..
Hard to imagine this dial started all black and turned into a nice caramel color, which we see more often with easily Explorers. This one bears the exclamation dot at 6 o'clock telling us it was sold around 1962.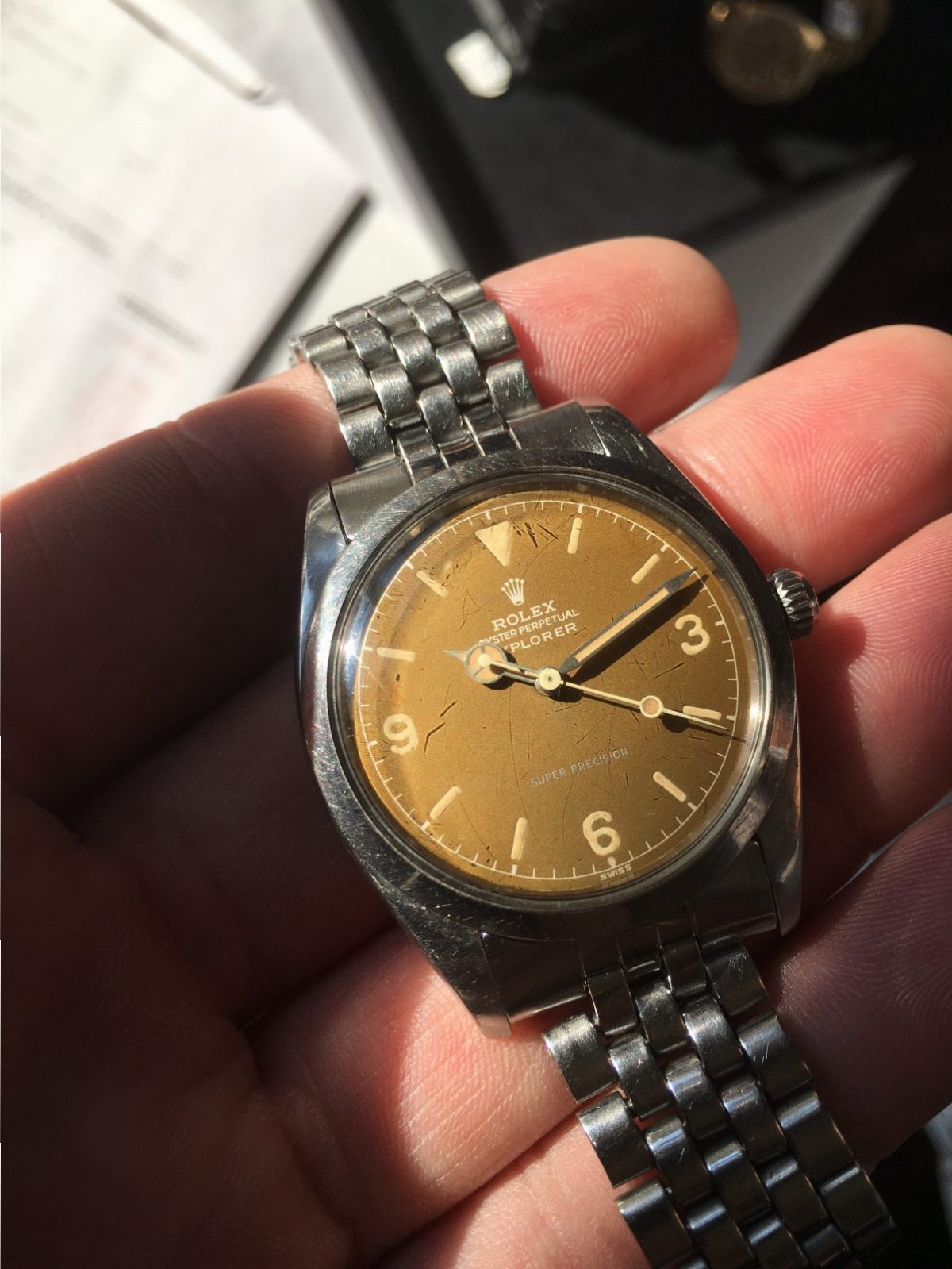 The same Oyster case as previous model but now fitted with one of the most complicated movements, Chronograph with full calendar alias the Dato Compax or Killy. Wonderfull bright and slightly creme patinated last version dial…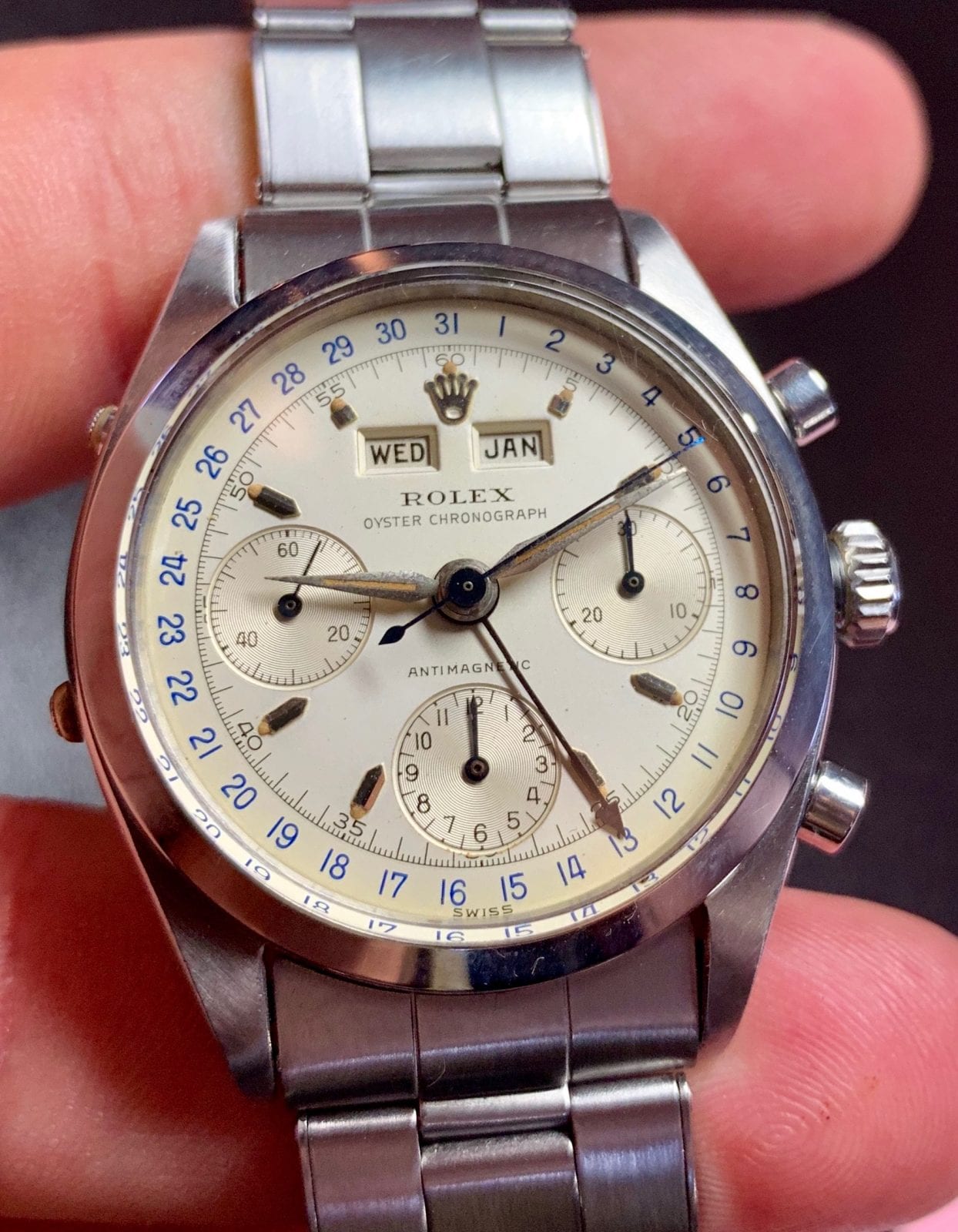 Many exceptions are found that Rolex made during the years like this small sub dialed tachymeter Killy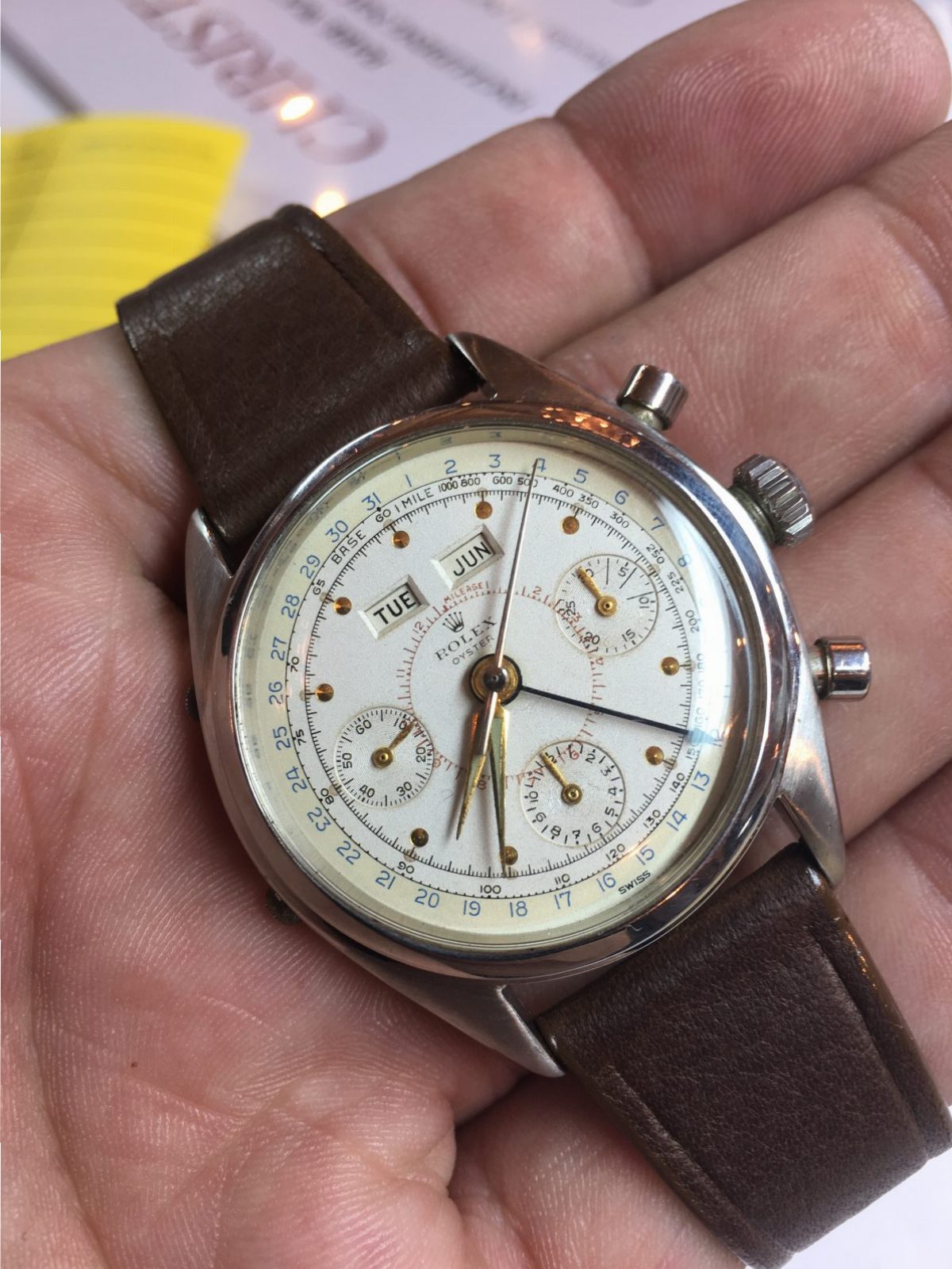 On the wrist of a prominent collector is this stunning pink gold Ref 6062 automatic calendar with 3 & 9 o'clock index we more often see with steel 6062's which is giving it a much cleaner look then when the index where added with stars.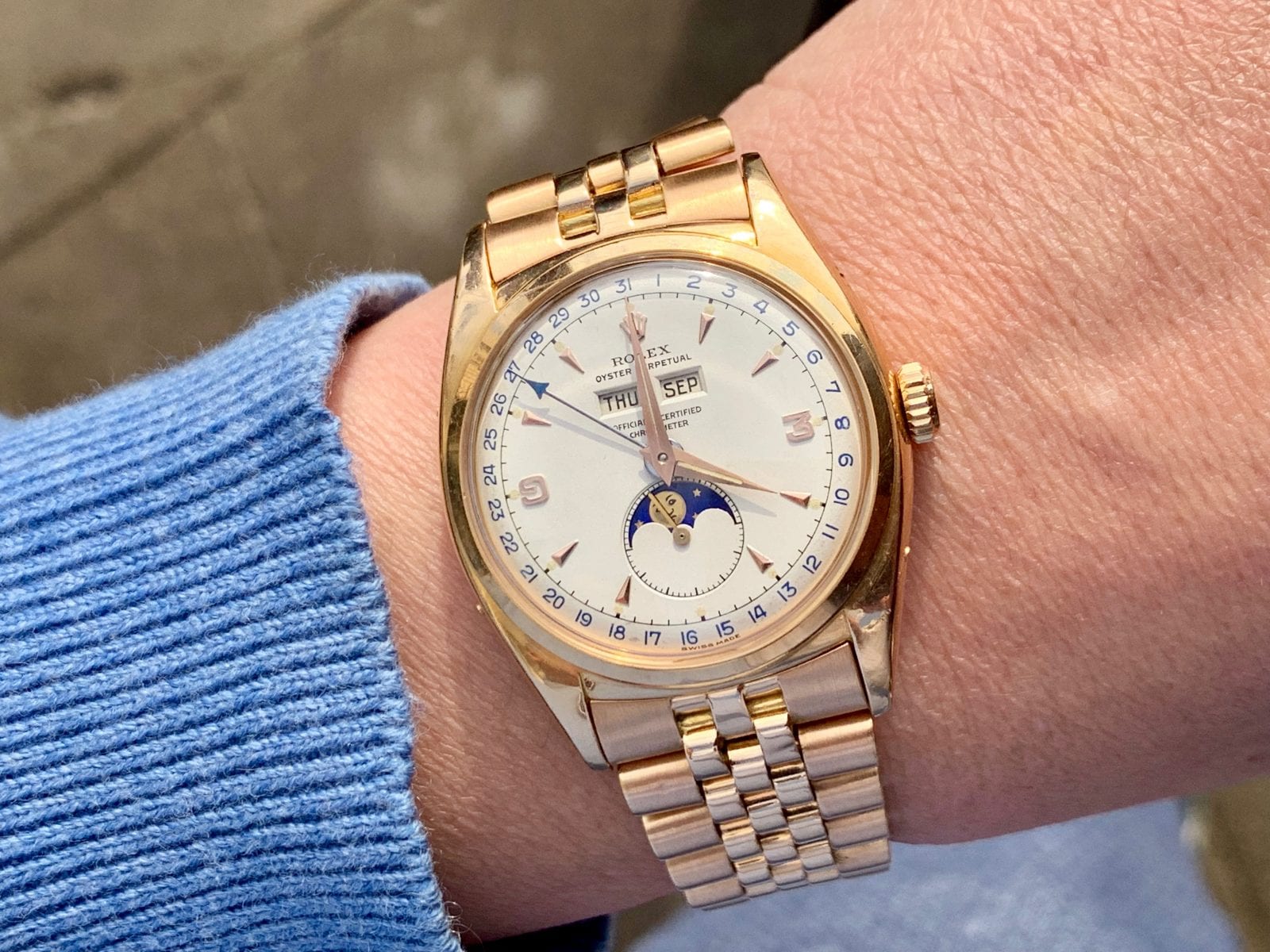 A couple of UAE Daytona's, both Sigma dials and except from the Rolex coronet these special order dials have no usual Rolex text.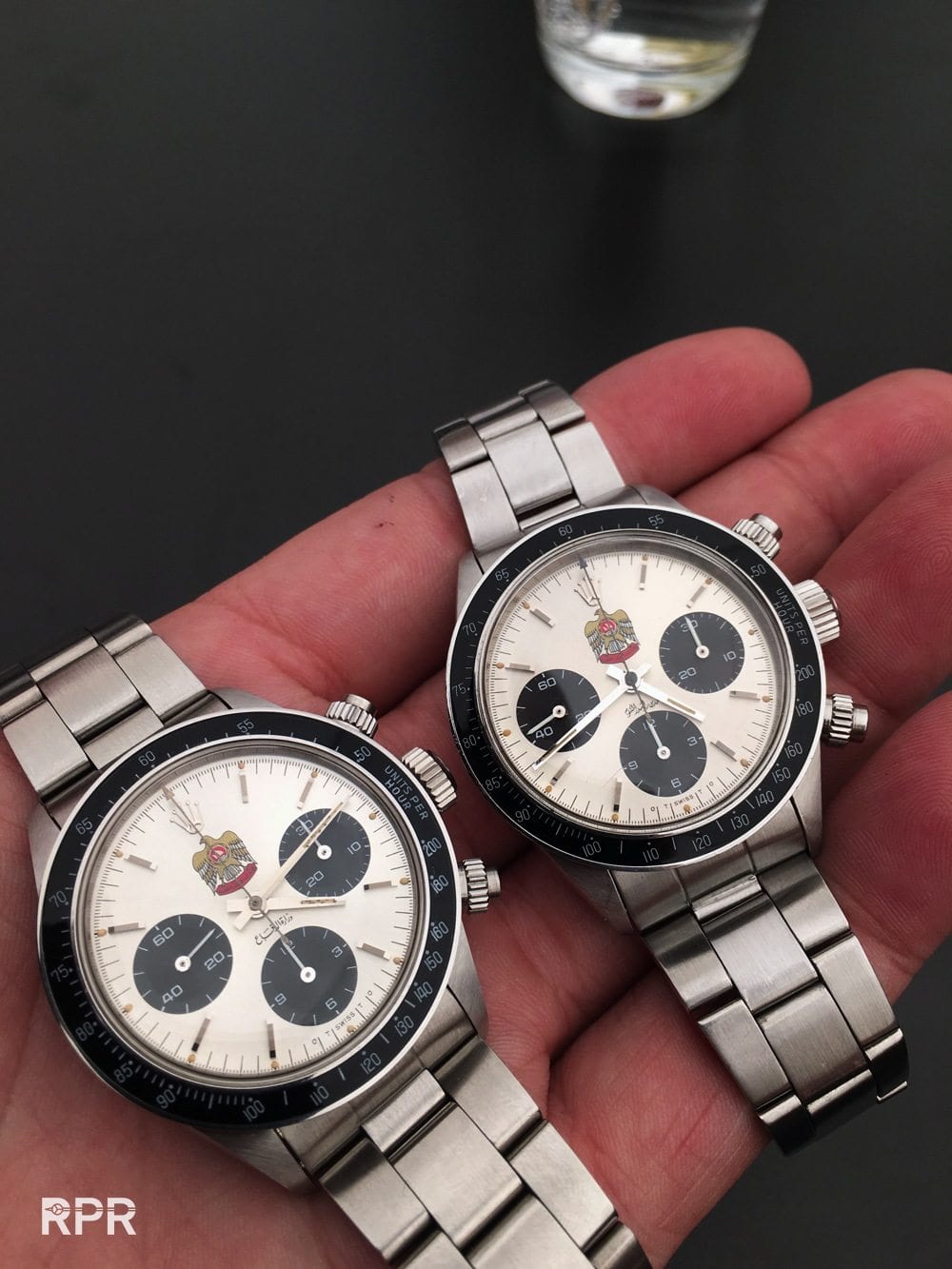 Crisp Pink gold Rolex Ref 8171 with luminous dial and hands, what a beauty! The big size of this Padellone is really impressive on the wrist. Since it's not made in a Oyster case it very rare to find an example that is this fresh looking. We see that often the dials are aged because moisture could get into the case much easier over the years by the non screw down crown.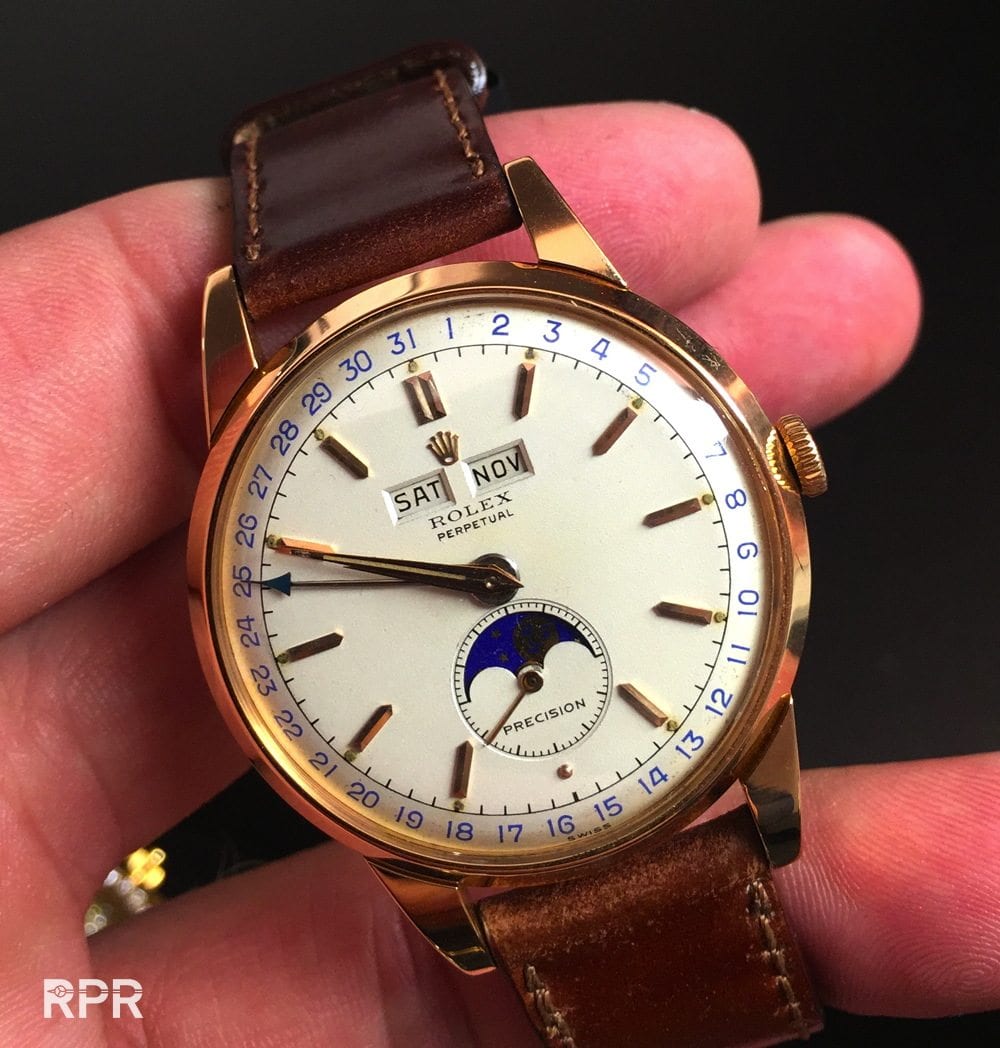 An rarely seen Albino Daytona in the middle with on both sides 2 different specially issued Sea Dweller Ref 1665 of which one has the Oman crest in red and the other one in rarely seen gold. A handful of super rare vintage Rolex.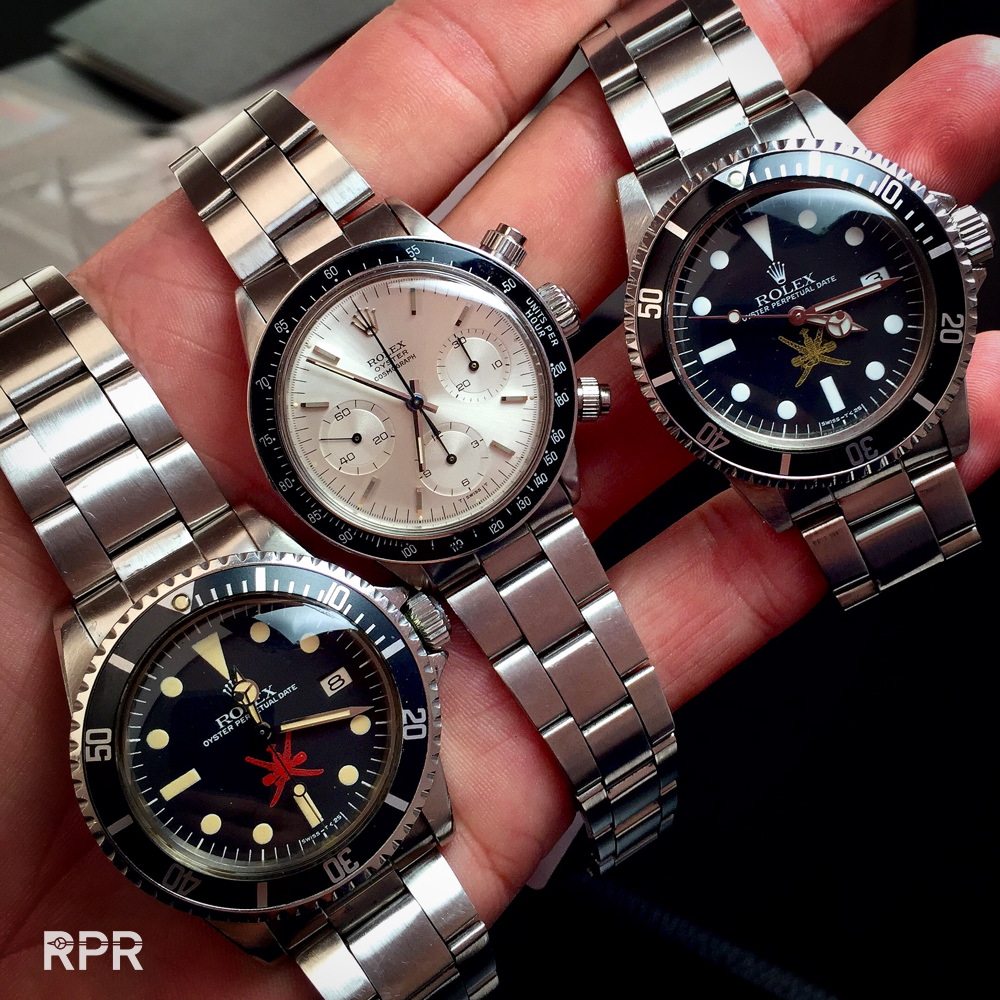 A different angle reveals the real original condition of this mint small crown Submariner. The fragile bevels and inlay are so fresh we can assume this marvel has hardly been worn. Due to the tension of the domed crystal it aged to an ice effect, marvelous!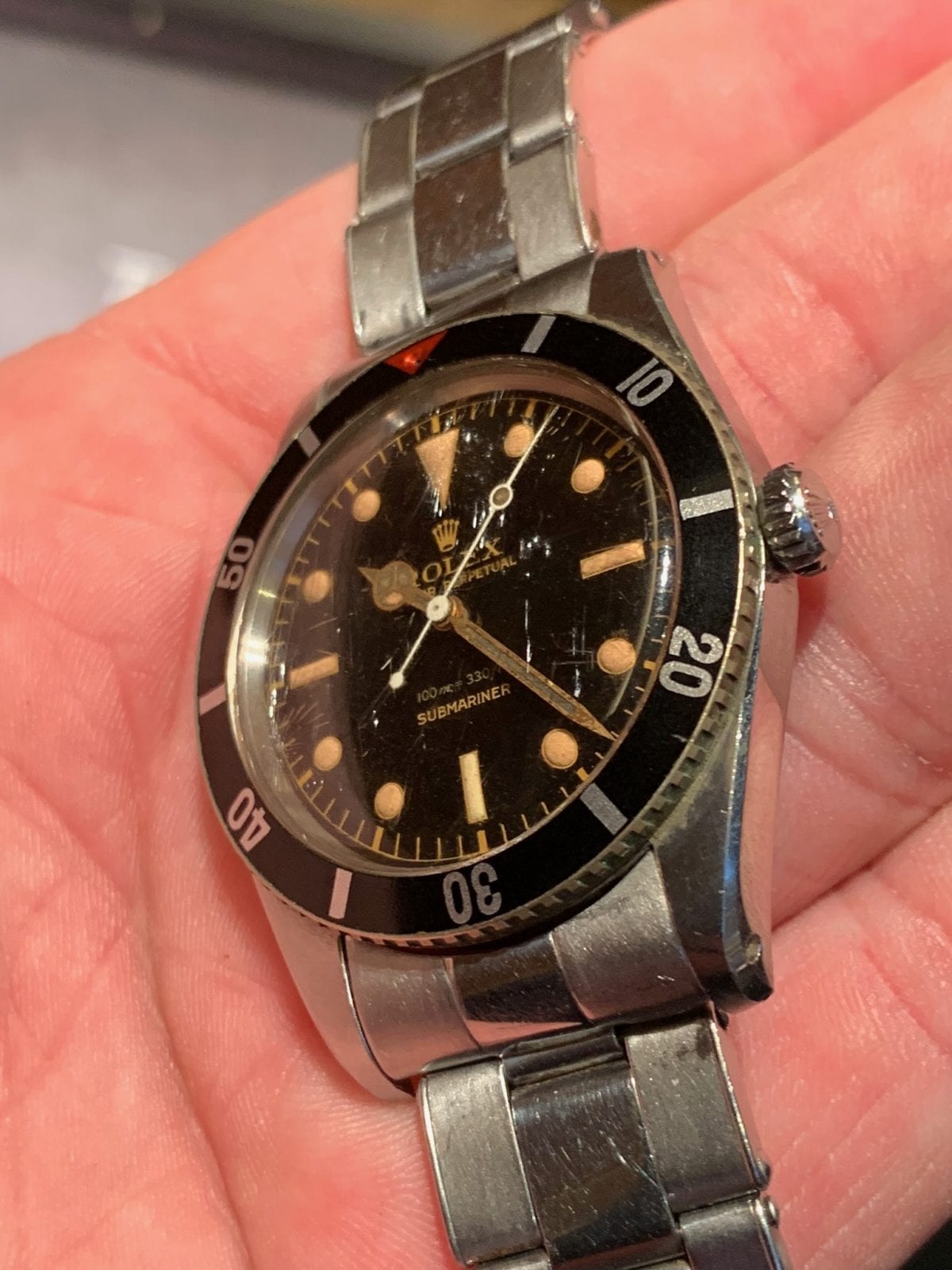 The same angle on this gold Ref 6238 Pre Daytona reveals a dark patina, which perfectly matches with the rare black dial..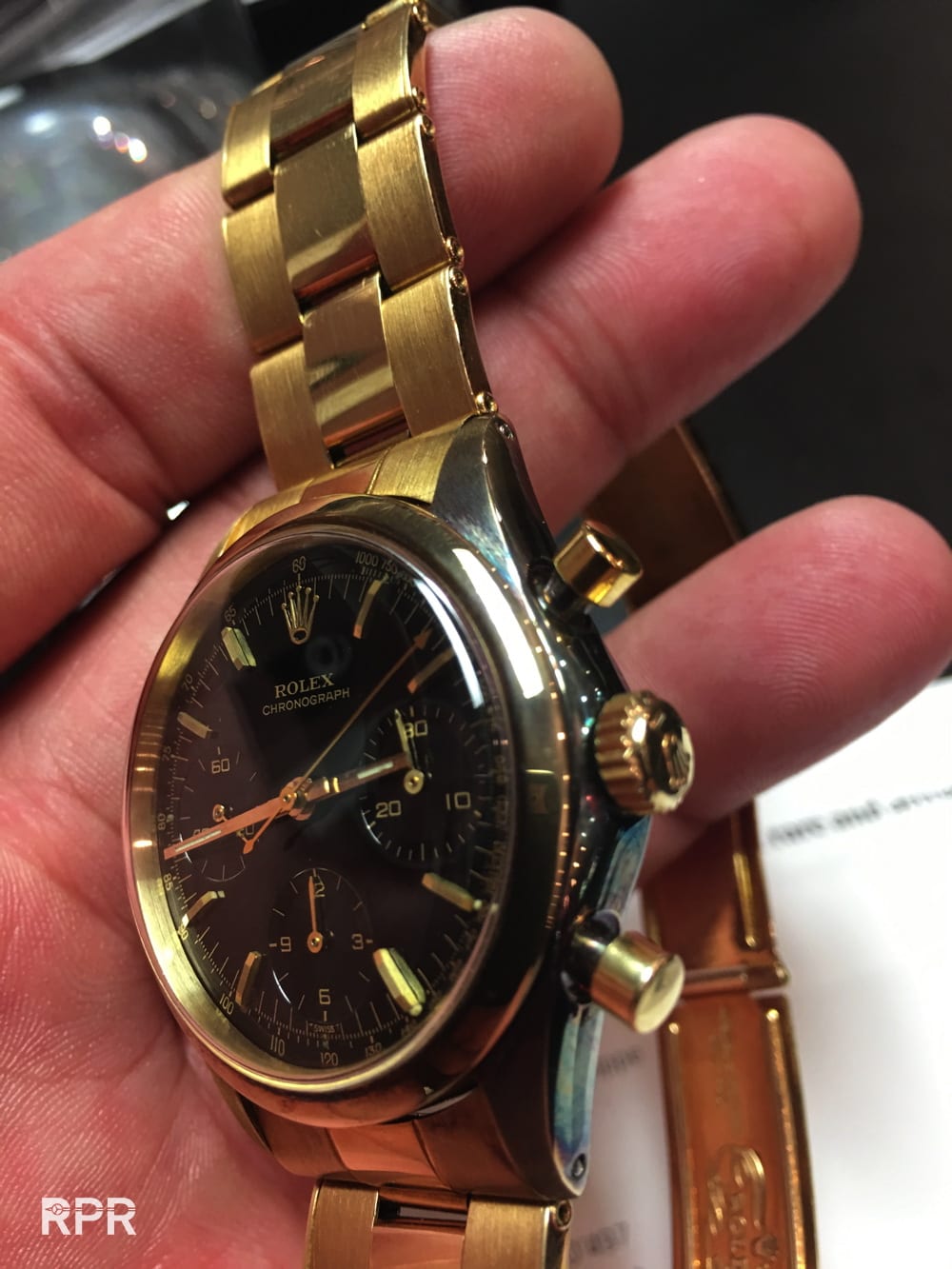 Yet another elegant combination is the black dial on this tear drop Rolex chronograph Ref 4099 with coin edge and cool bracelet.
Glossy black dials in gold cases are besides extremely beautiful also very rare like we see on this early pink gold Datejust.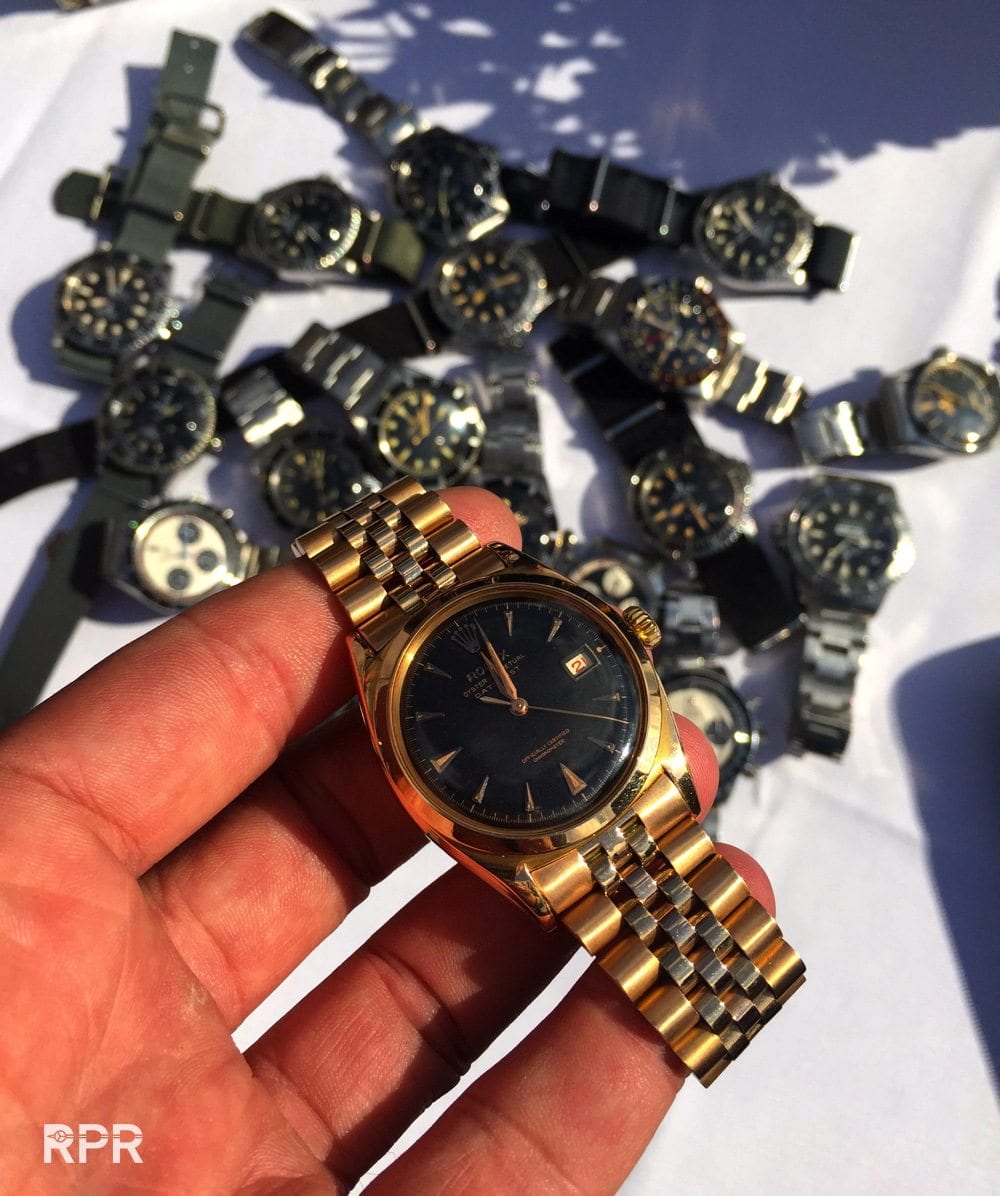 Then this cloisonné Dragon Ref 6085 in yellow gold. Only the very best artisans could make a dial like this. Hugely labor intensive and very delicate to make as first the figures of the motifs had to be added using a fine gold wire to separate the various enamel parts. Then the enamel layers are applied and the dial goes into the oven for every color once, which could break the dial. So far only 5 of these are known, all in different references making them kind of unique. In 2016 this one sold for CHF 670.000,=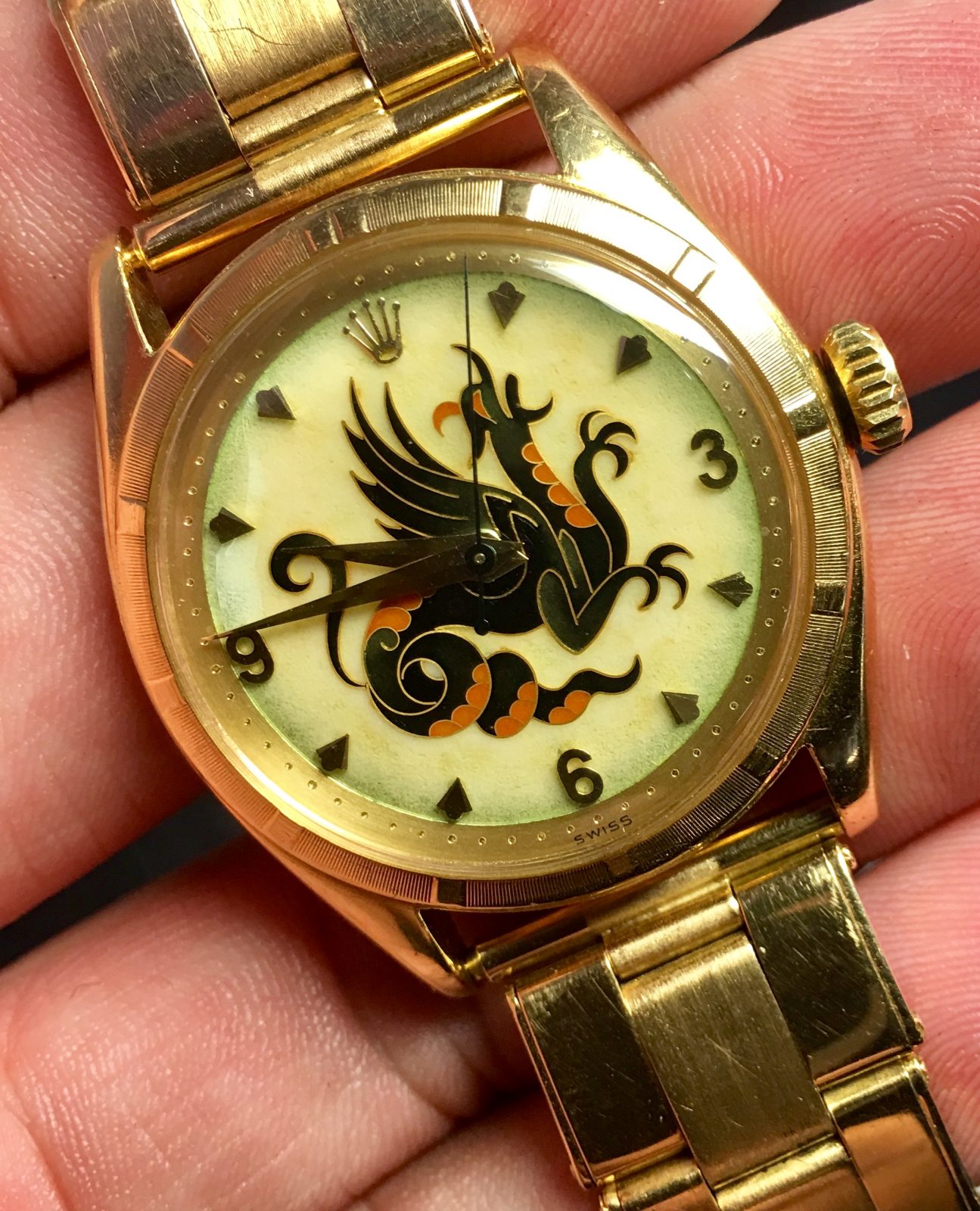 Many different Submariners are made in a very short time from the start in 1953. This very unusual Rolex Big Crown with red depth prototype writing has only been made in a very short period in 1956. The dial has slightly aged by the radium dust from the index and hands but the overall condition is still sharp and fresh..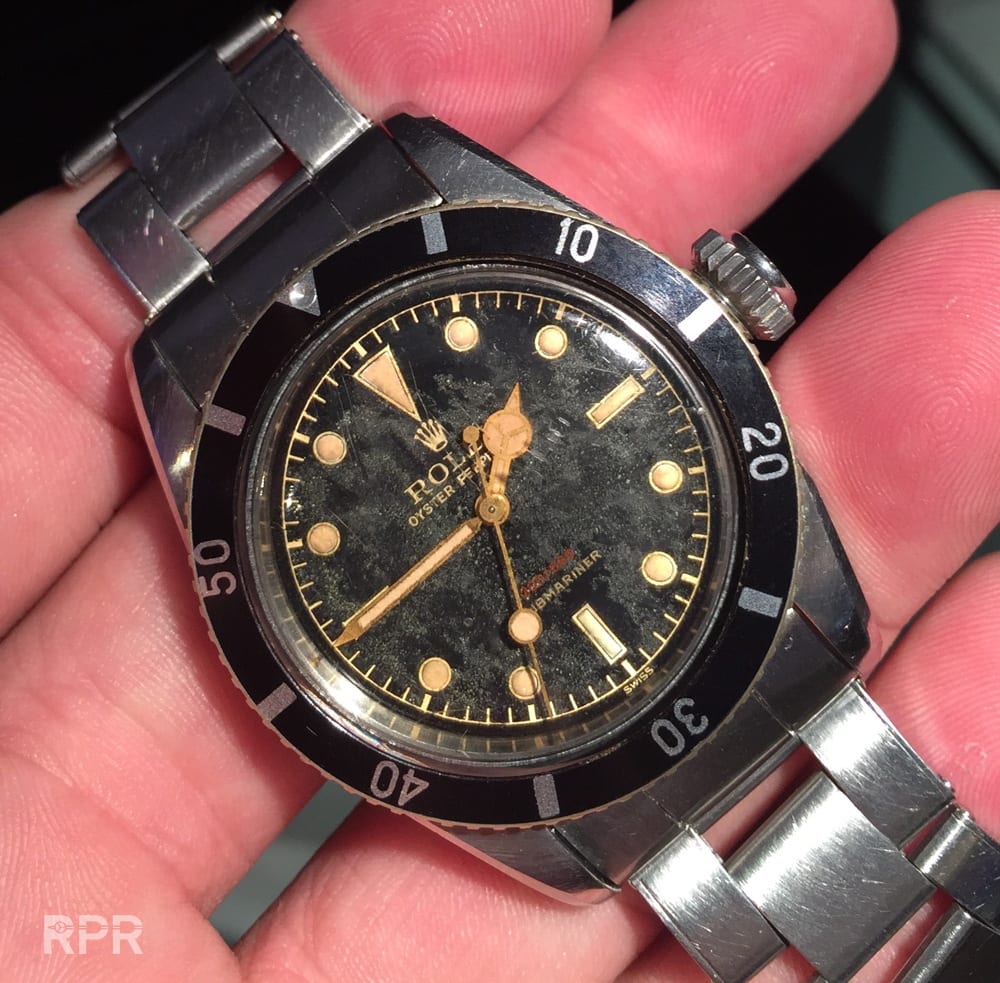 An diver and a chronograph, 2 of the most sought after vintage Rolex models, here at the wrist of an proud collector.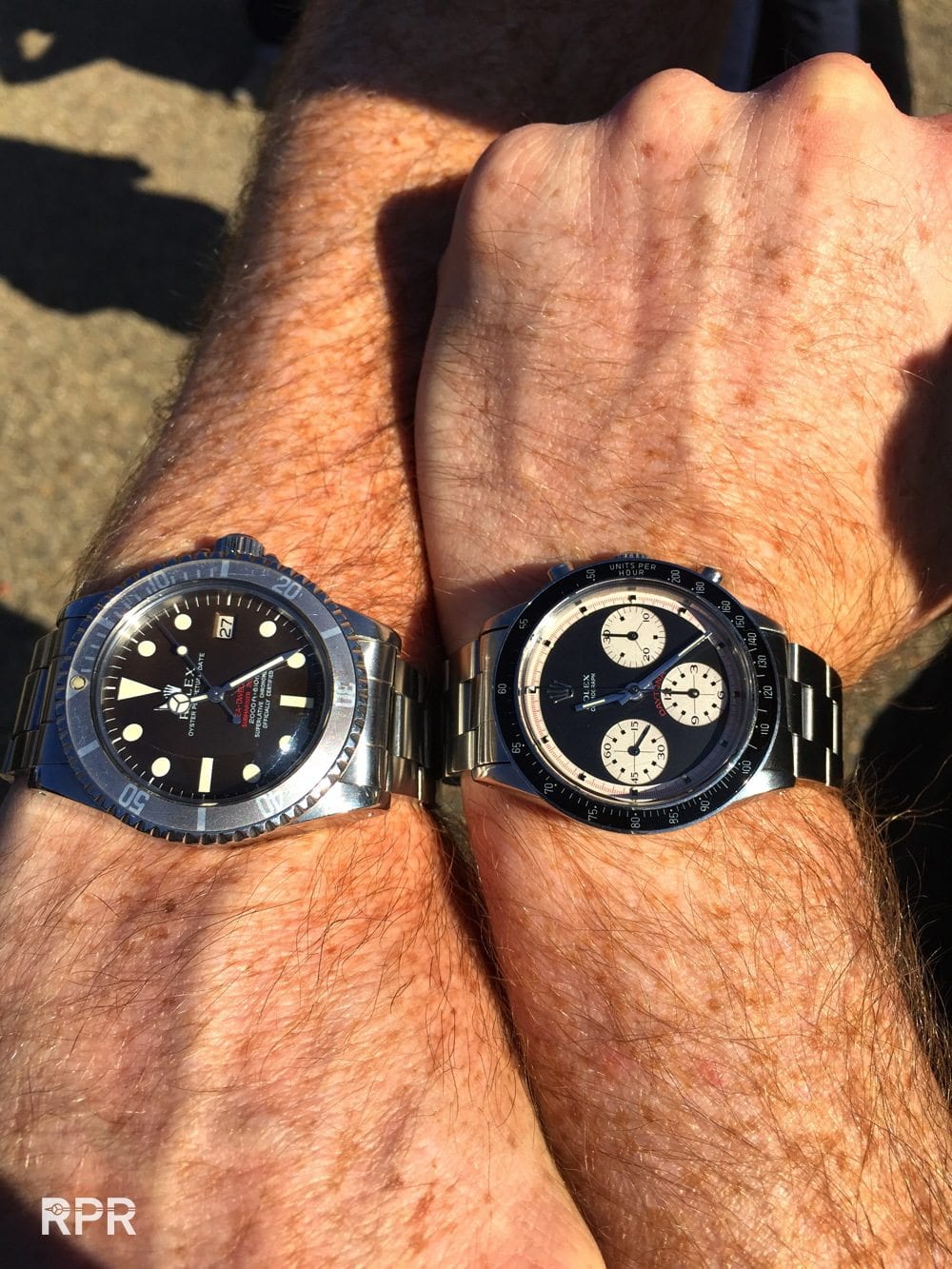 Besides complicated movements and gold cases a simple 3/6/9 Oyster case is highly sought after, specially if the explorer type dial is fitted in a rarely seen Submariner. Here a handful of different versions of rare stunners during a great meeting.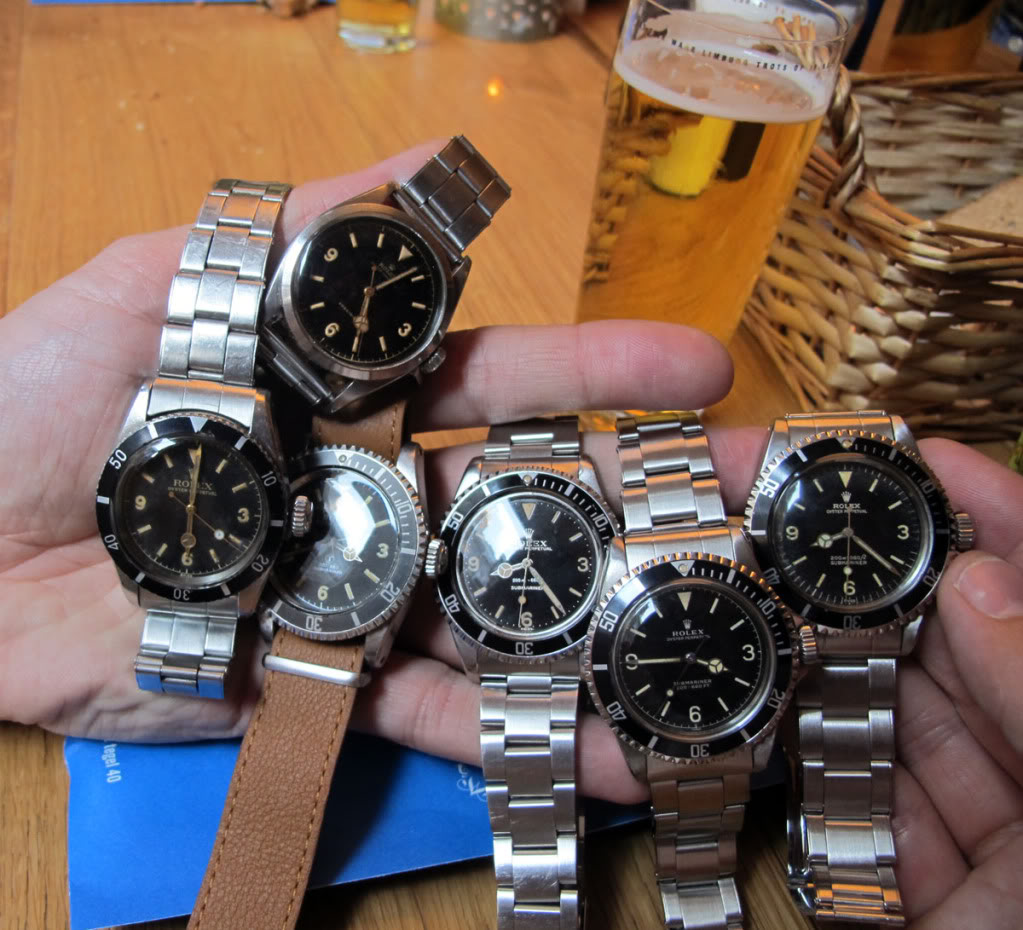 Cheers Philipp