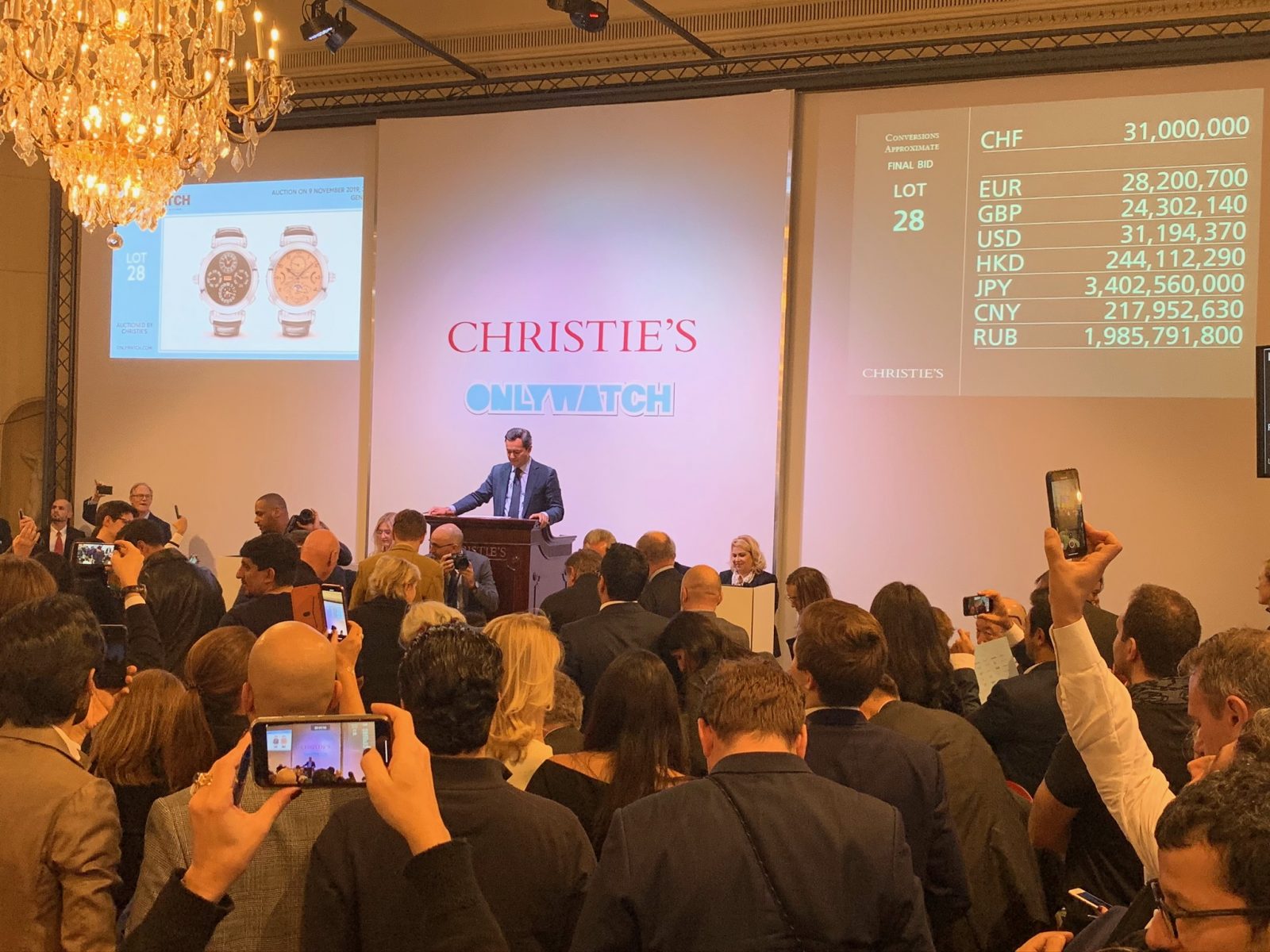 The expectations for this Geneva Auction weekend where high, much higher then we have seen before. This season the auctioneers had do their utmost best to come with an interesting Geneva catalogue. I'm not saying they had to beg for great watches but I got told it was very difficult. Hardly any super rare and fresh to market watches came up for sale, many where already known and collectors rather liked to wait to offer theirs. Why? Because the big question that is hanging in the air since the last season is: Are there signs of a bubble and will the top watches market collaps and the results disappoint? The answer is NO!
Personally I think some guys where overreacting and don't see the whole picture. Vintage watches are no stocks you trade. That being said in general we saw that vintage watches are slowing and the market is correcting the steep price explosion from last years a bit. To me thats a very positive sign! Perfect watches still smash the estimates, the collectors market is now passion driven. Rare quality sky rocket last years and now we come to the point where speculators step out and only collectors continue to buy with dedication, so logically prices stabilize for average condition.
All watch brands had a push by the increasing value and attention of vintage Rolex & Patek. Over sudden it became cool to collect sport and tool watches besides complicated and many other brands have made great examples. As always when demand is much higher then supply we see a price explosion. Heuer, Omega, Longines, Universal etc. went up very fast.  Since we didn't see a massive slaughter this weekend I can only assume we're in a healthy market heading to the next stage, which is one with more maturity.
A world record price at Chf 1.9 million for a pink 6062 Stelline, picture above and also 1.9 million for the rolex Split 4113.
Cherry Ref 6264 sold for Chf 435.000,= at Christie's.
Since the Hong Kong auctions look very promising with a great sale by Christie's and little later Phillips has a important auction in New York, the auction stage has become much more global and not Geneva focused only. All over it's an exciting season, i'm enthusiastic and confident we will continue to see great results for great watches. I mean the asian collector who bought the Only Watch Patek for 31 million spend more then half of  the 50 million from the top 3 auction houses sold on watches together. Brilliant marketing and worldwide exposure for collecting watches, imagine the potential….
This is what 31 million looks like…
Rolex Oyster Paul Newman Ref 6263 MK1 sold for CHF 412.500,= at Sotheby's
Paul Newman Ref 6241 sold for Chf 200.000,= at Sotheby's.
Quartet of Rolex Big Crowns…
The exhibition of Mr Bivers watch collection…
The super crisp Rolex Padellone sold for CHF 1.000.028,= or Euro 910.000,= all in..
Spotted in the wild…
 Charles Le Clerc at Only Watch…
Sothebys' preview at Mandarin Oriental in Geneva..
Pucci Papaleo's new Perpetual Dayton a book was on display at Phillips…
Spotted in the wild, transitional prototype for automatic Daytona, a blend of old graphics and new case…
Spotted on the wrist, Tiffany Lemon Paul Newman..
At Christies Des Bergues Hotel…
Glossy Milgauss Ref 1019 SOLD FOR CHF131,250,= at Phillips.
 Ref 6241 Paul Newman SOLD FOR CHF200,000,= at Phillips.
The steel Day Date SOLD FOR CHF100,000,= at Phillips.
Rare Rolex Monometer with split logo sitting next to me..
The Philippe Dufour Simplicity SOLD FOR CHF325,000,=
The Patek Philippe 1463 "Tasti Tondi" did not sell with estimate of 300-600.000,=
Last June 2019 these sold at Christie's NY..
This small gem Ref. 3652 Patek Philippe minute repeater double name Golay Fils & Stahl SOLD FOR CHF572,000,=
Always a must see when you're in Geneva, the Patek Philippe Museum!
Sold for CHF1.010.000,= at Sotheby's Watches..
Nice little gem at Sothebys, sold for 15K
Cool little guy!
Julie Kraulius incredible handwork..
6200 above didn't reach low estimate and 5510 below sold for Chf 125.000,=
Here's the reason why, dial is far from being perfect, luminous as well, 280 would have been 350K all in, which is a good price imho.
Spotted in the wild..
Many excepted that this pink gold Patek Philippe 2499 Trucchi would fetch more then the Chf 1.580.000,=
Disclosure of restauration in the Phillips catalogue. The Pink 1579 Freccero finnnaly sold for Chf 162.500,=
Buddy Jean Paul Menicucci looking great!
On the wrist of Geoff Hess..
Big Crown at Sothebys failed to sell with estimate of 150-300K
Nice black Tudor Monte Carlo at Antiquorum.
Spotted in the wild..
AP REF. 14790.OO.0789ST.01 sold for CHf 45.000,=
Preparing the next auctions in Hong Kong and New York.
Upcoming Hong Kong auction by Phillips…
Upcoming New York auction by Phillips, the Marlon Brando GMT..
Nice small crown coming up at Sothebys New York.
It was great seeing you all, till next time, save travels!