After a beautiful day with lots of sun and great watches here in Geneva, I can show you out there, for the first time way before the actual auction catalogues are send by the auctionhouses to their client, a preview of those vintage Rolex that will be hot at May 2012 watch auctions. My first stop this morning was at Christie's, the market leader in auctioning vintage watches. Lovely Nathalie was so kind to open their vault to present me there better pieces, many thanks!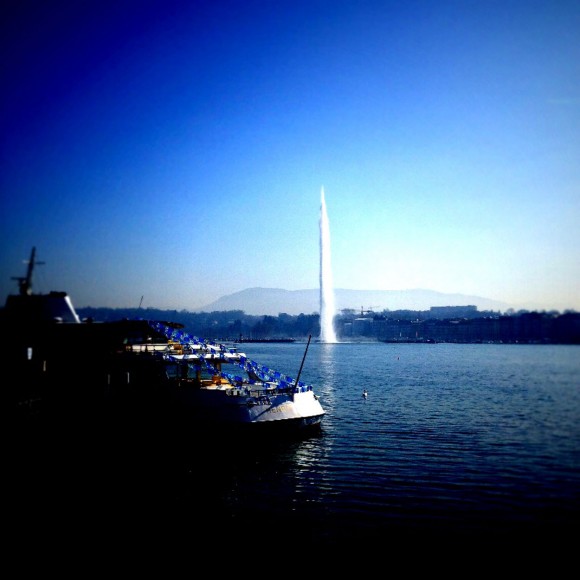 Below Rolex will be auctioned on 14 May 2012 in Geneva by Christie's. Let's start with a very cool 18 krt yellow gold GMT ref 6542 made for Serpico Y Laino with it's original bakelite bezel..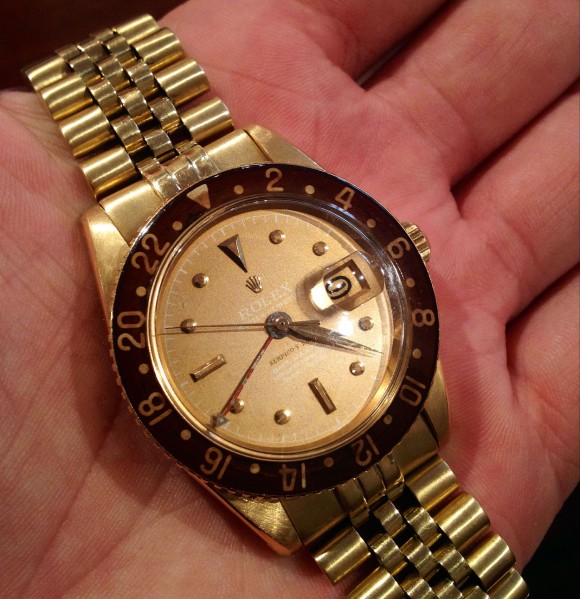 Stunning example, the red 'Octopussy'… Note the Rolex logo and name, it's on the glass, not on the dial!
Clean yellow gold Rolex Killy with interesting markers and luminus dial and hands..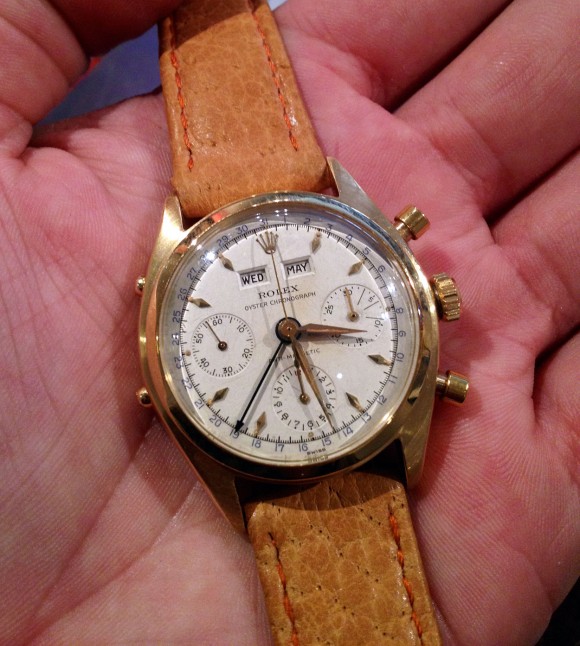 Gold stamps are still clearly visible..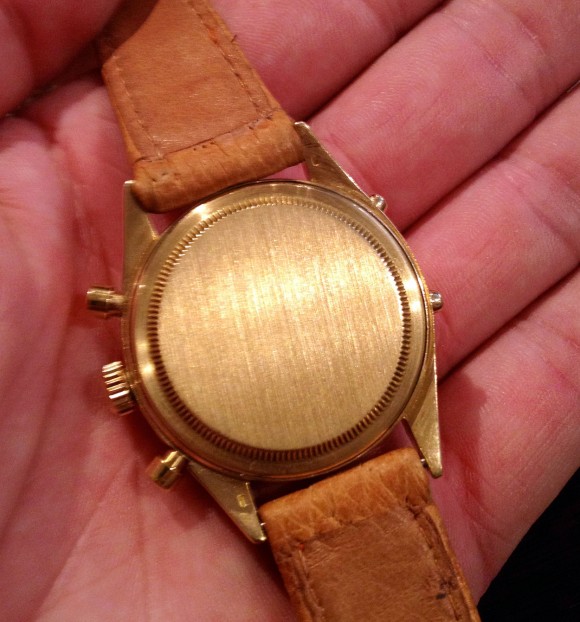 Rare early Rolex Oyster Chronograph…with lots of patina between the pushers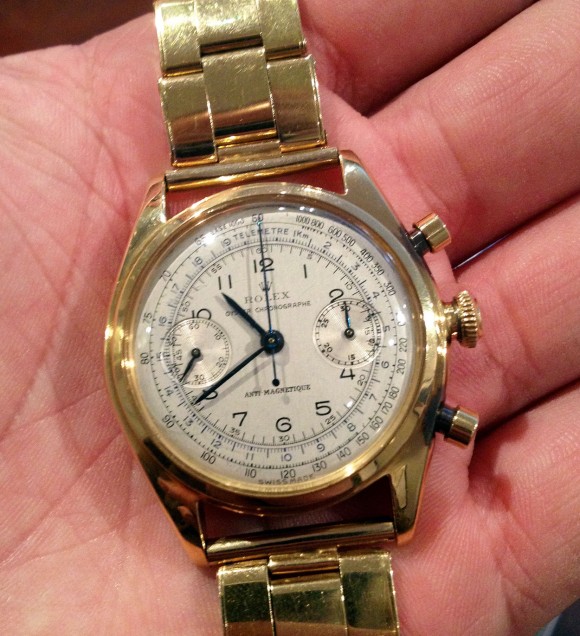 and clearly visible serial numbers still in the case back..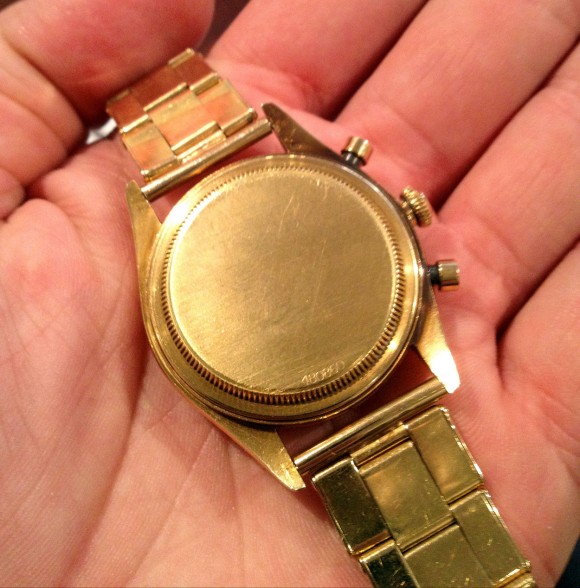 Rare honeycomb star dial..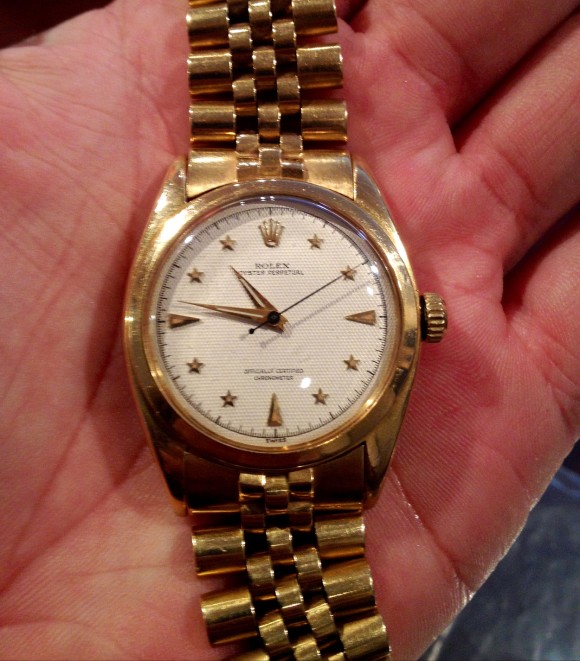 Platinum Rolex 'Octopussy'…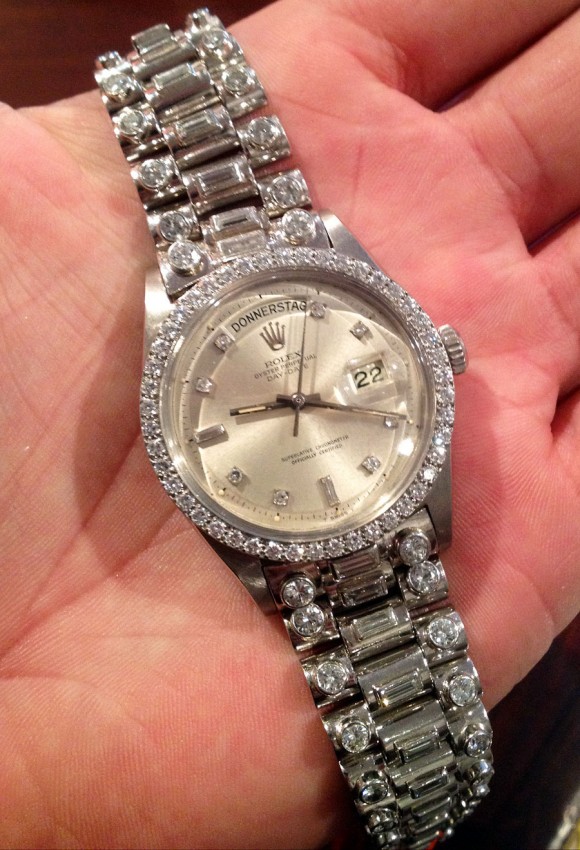 very nice condition of this early pump pusher Rolex black dialed daytona..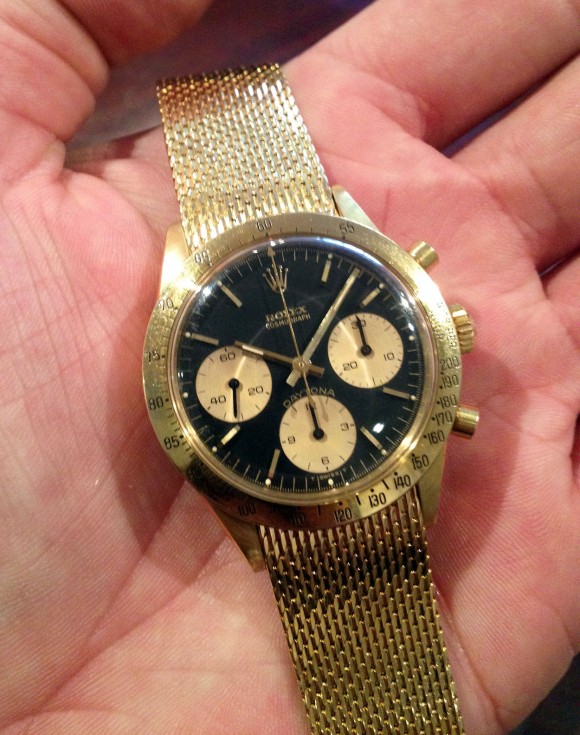 Unusual black dialed Rolex star dial…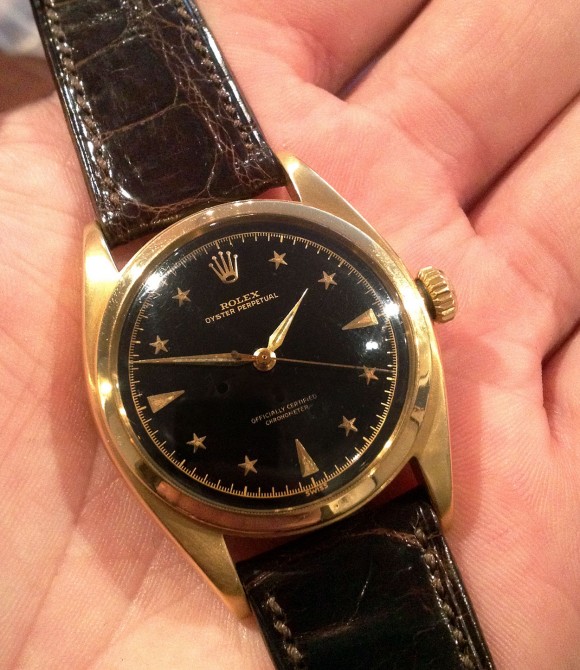 Rolex Monobloc Chronograph, ref 3525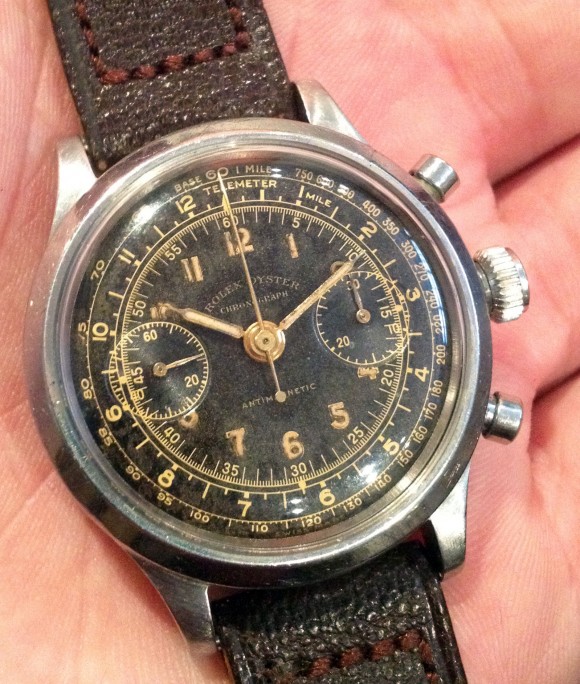 Rolex GMT Master Ref 6542 with tropical dial..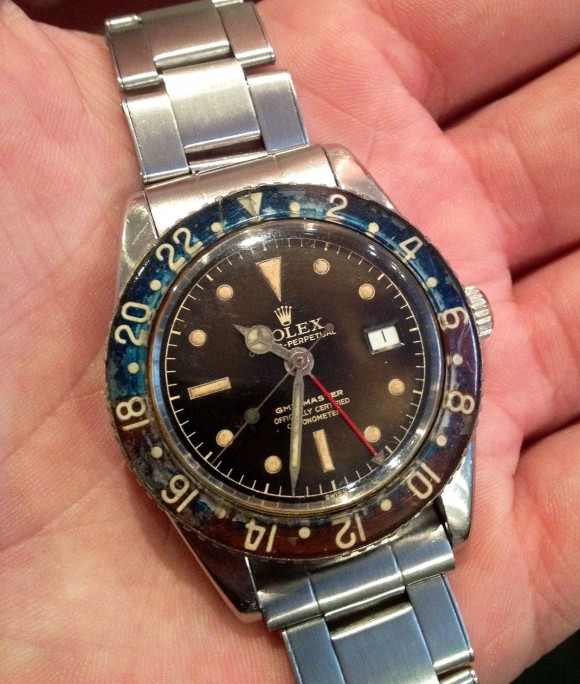 The Red 'Octopussy' on wrist of Nathalie Monbaron of Christie's..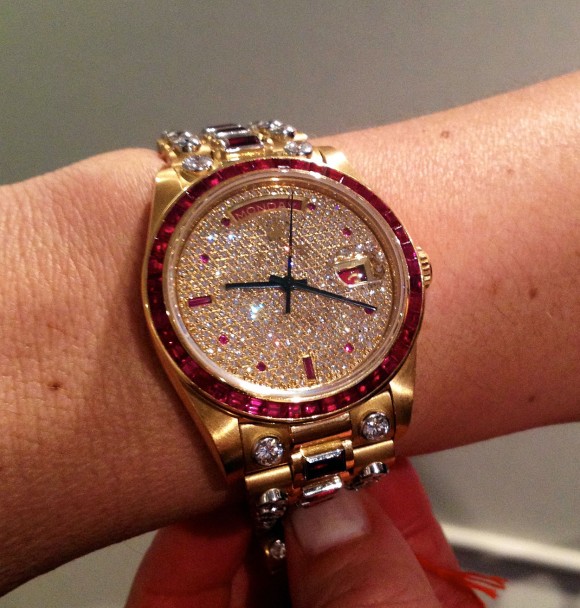 Red Stella with diamond index..
NON luminous Rolex Paul Newman…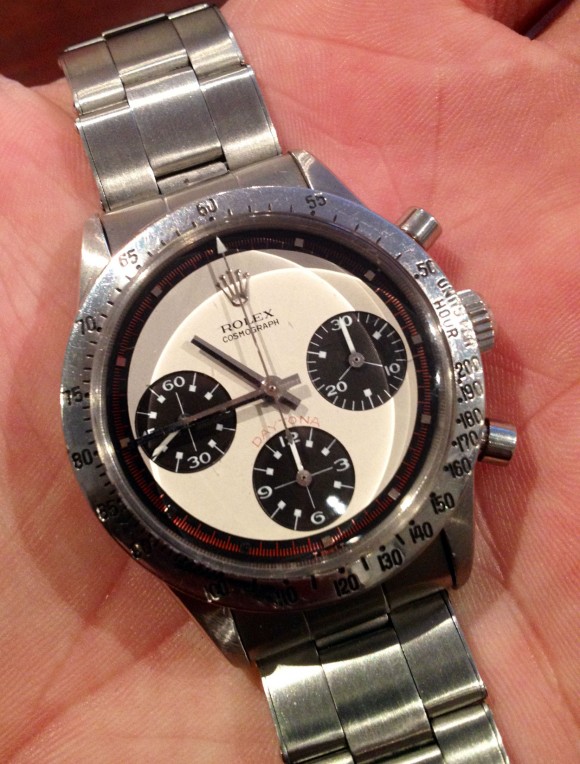 The gold ref 6542 SYL..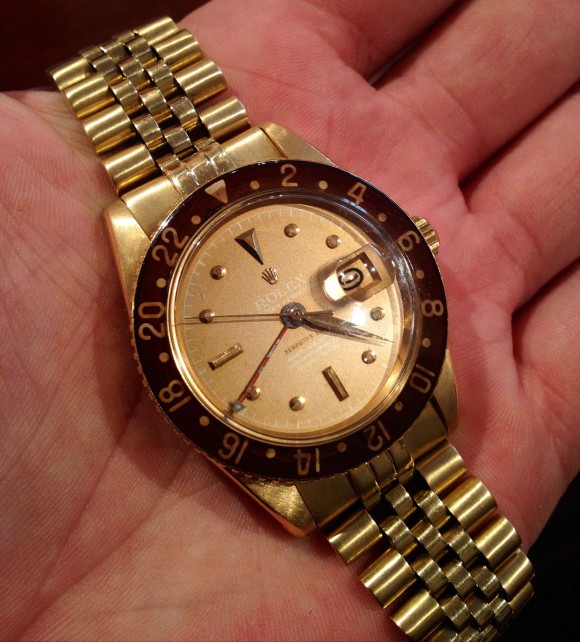 Having Big Logo bracelet…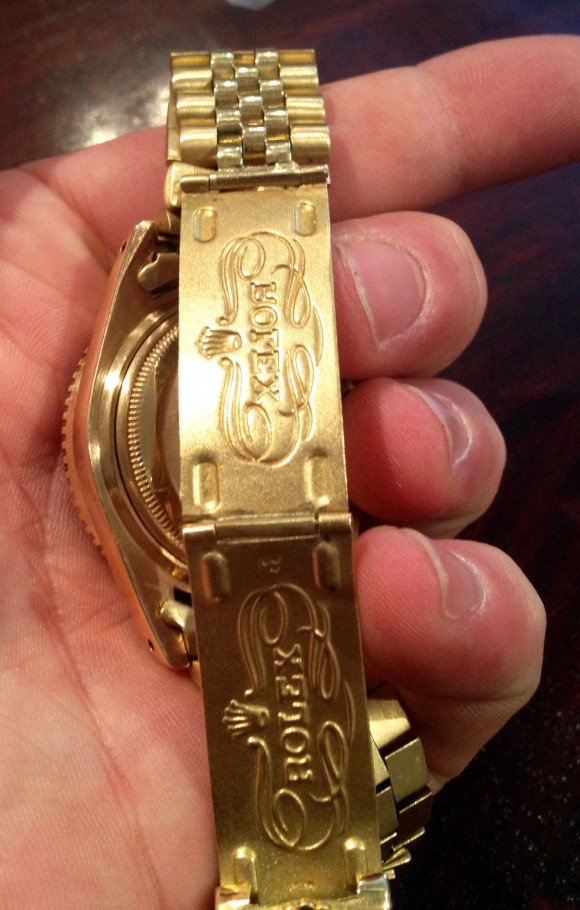 but couldn't see the SYL stamp in the case back anymore so quick..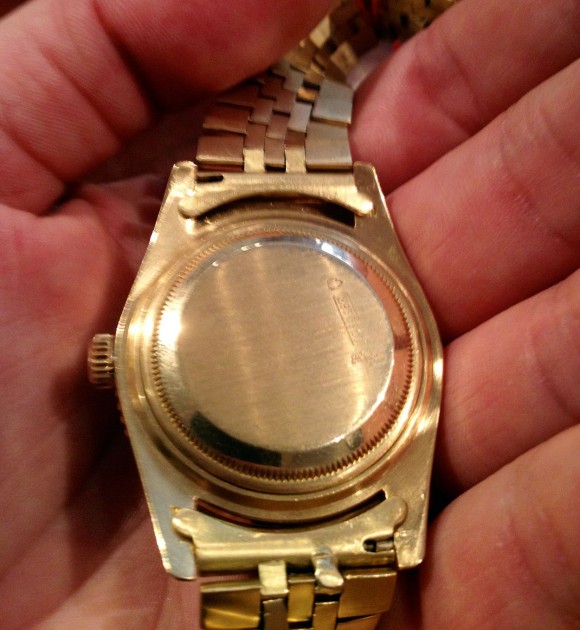 Rolex Military ref 5513..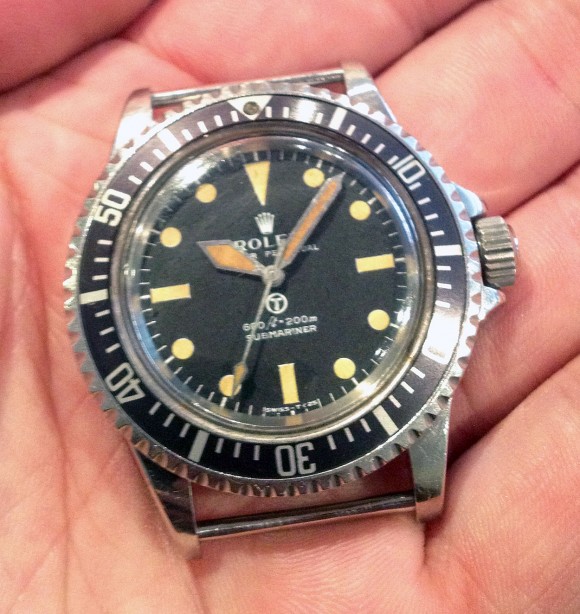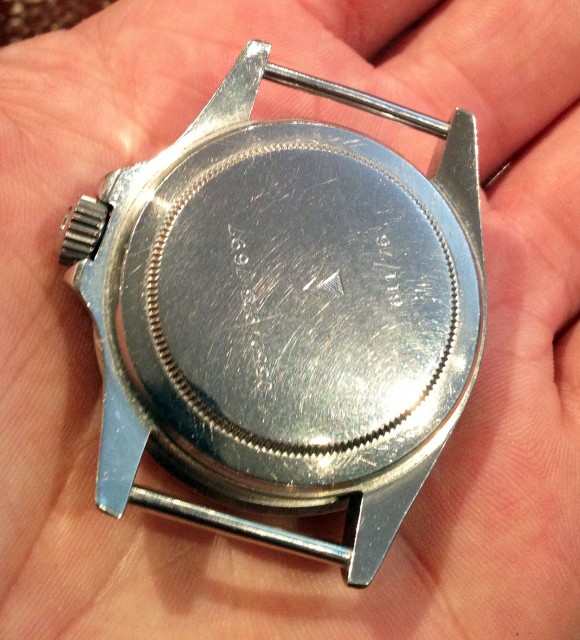 Lovely Rolex Prince ref 971!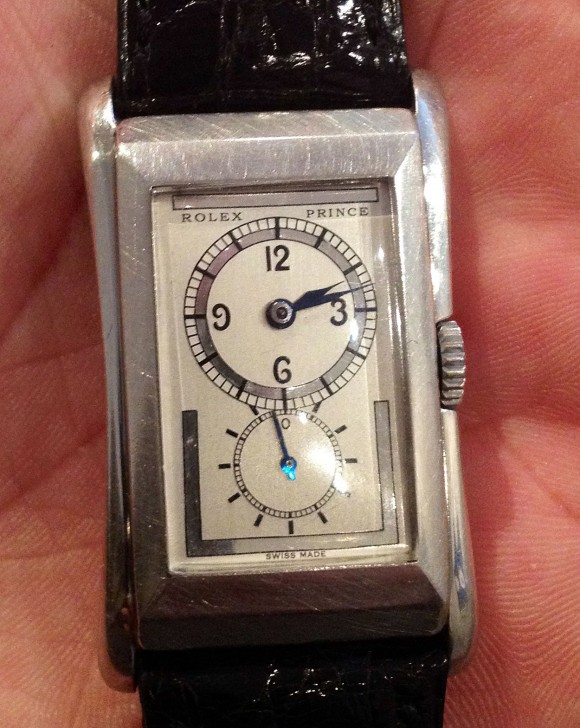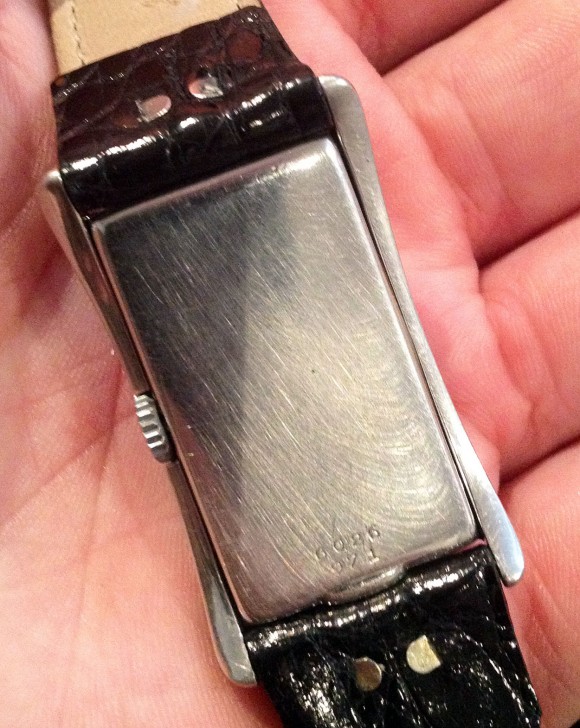 Comex, made for M.Ward..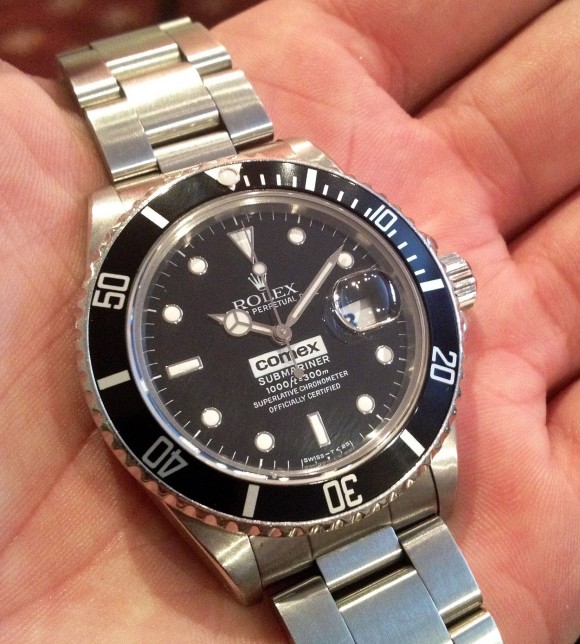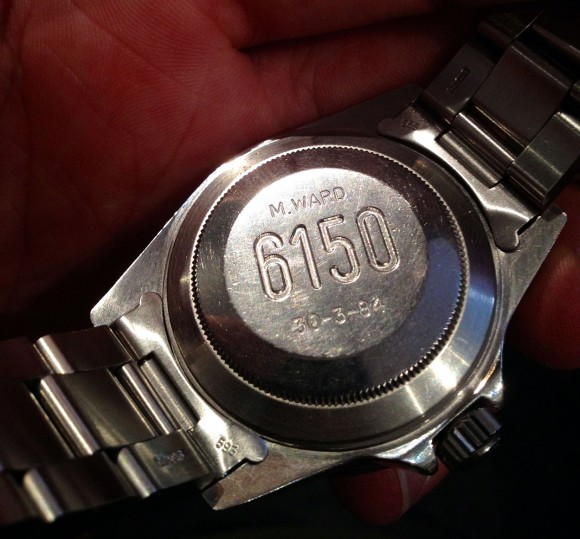 More information about above Rolex watches you can get at:
Mr. Aurel Bacs & Dr. Nathalie Monbaron International Department Head, Associate Specialist Tel:+41 (0)22 319 1720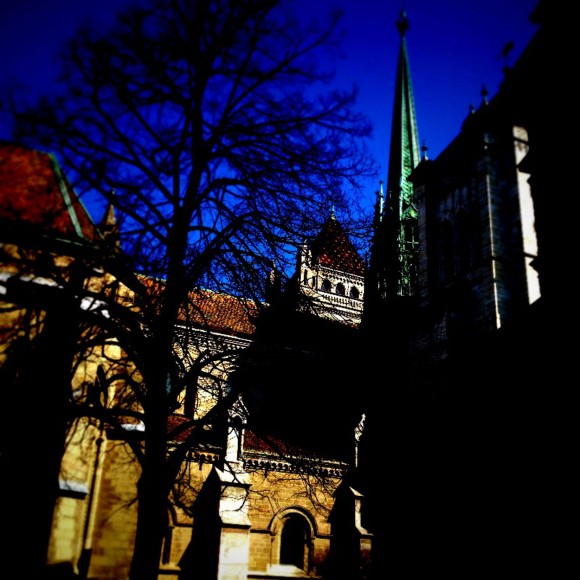 Time for lunch with my good friend Daniel, thanks! 😉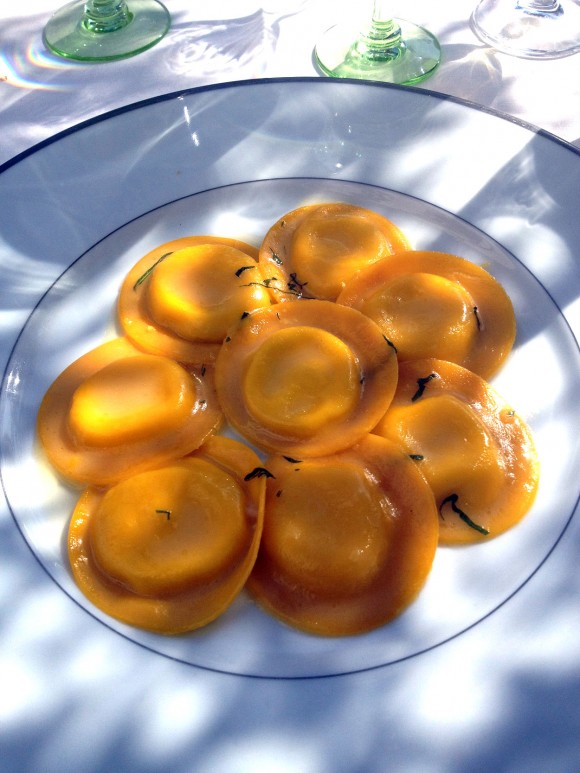 A orange street fighter, the new Lamborghini Aventador… What a machine!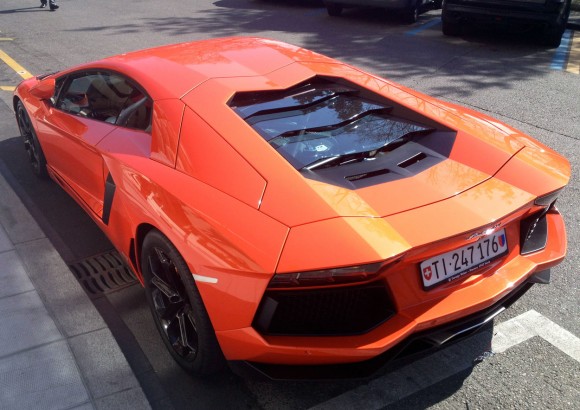 Next stop, Sotheby's Geneva. Mr Geoffroy Ader was so kind to show me a his nicest Rolex that will come up for sale on May 15 th in Geneva. Lets start with a very unusual Rolex Daytona Cosmograph. What we see is a very rare dial version i've not seen before, black non oyster, with gold index, gold sub dials and hands with red Daytona dial in a almost NOS Oyster case with 4.1 million serial….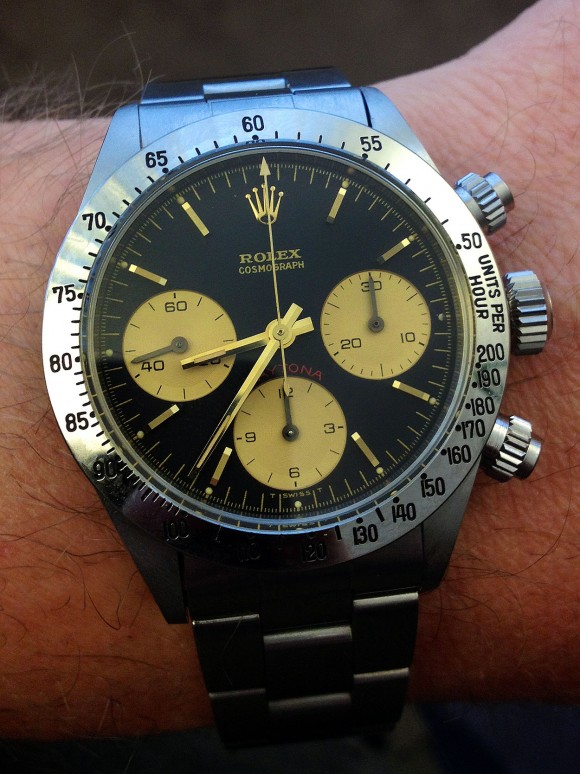 How exactly this dial came in this case, is a miracle to me as logically, the serial should be much earlier so maybe it's delivered on special request / order, at a later stage or the dial has been changed during a service ( althought the last seems not logic at all as case is mint ) Apparently it comes from first owner with box and leaflet Geoffroy told me…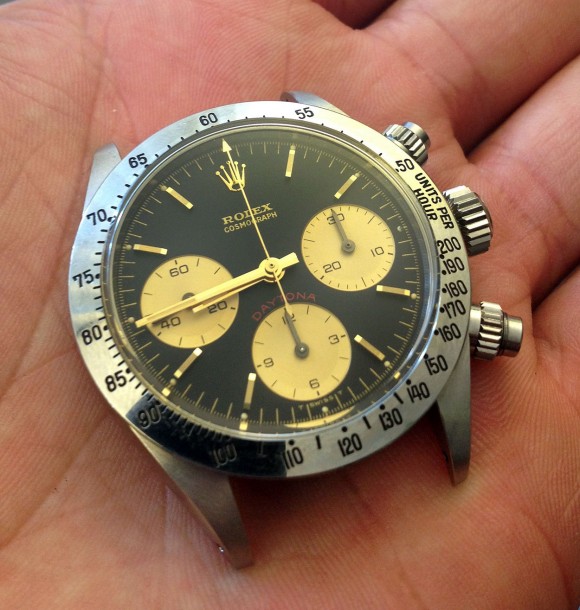 I think it's a interesting find we have yet not seen before..
Movement is clean…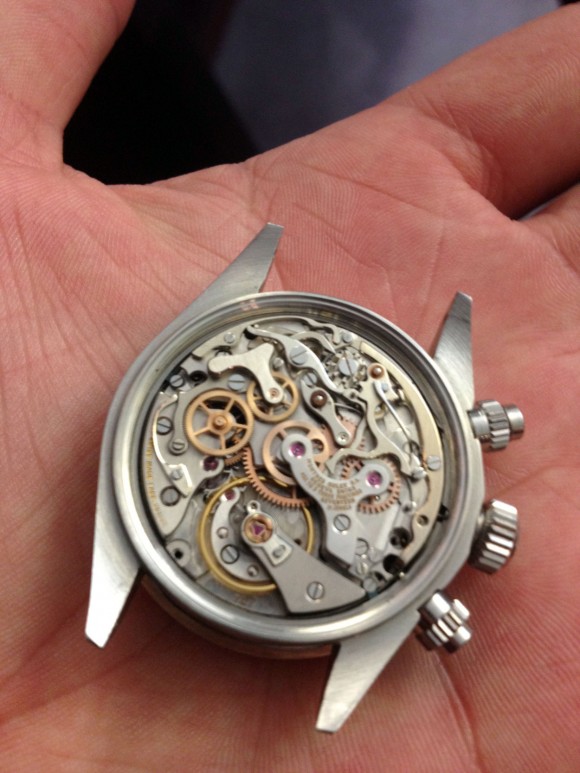 same as the case..the case back is still having it's Rolex 6265 sticker…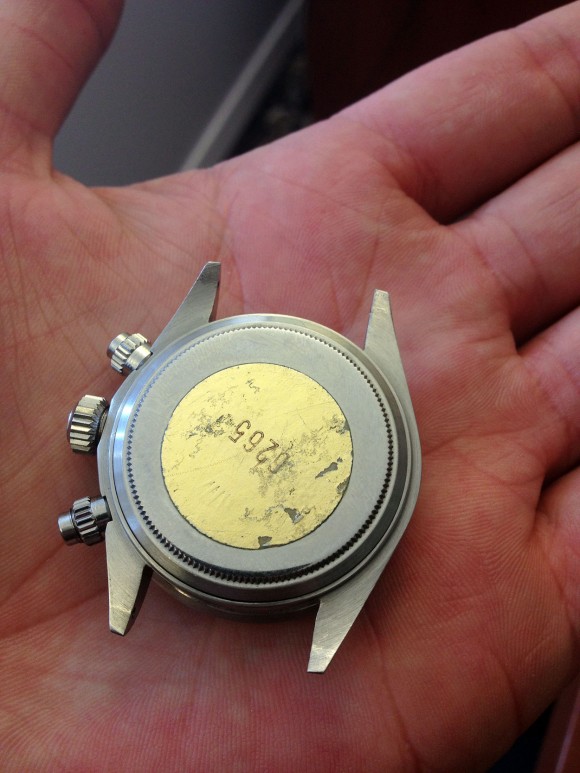 UPDATE: Now let's look how this dial should be fitted ( photoshop ) in a logical gold case, much more logic and beauty imho!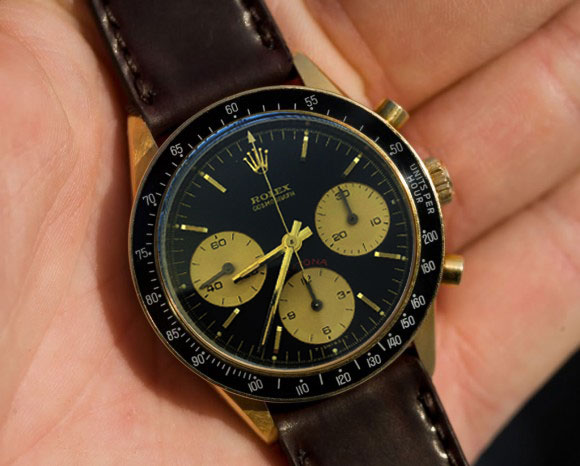 And here, thanks to Silverello, the rare steel version..Thanks my friend for sharing!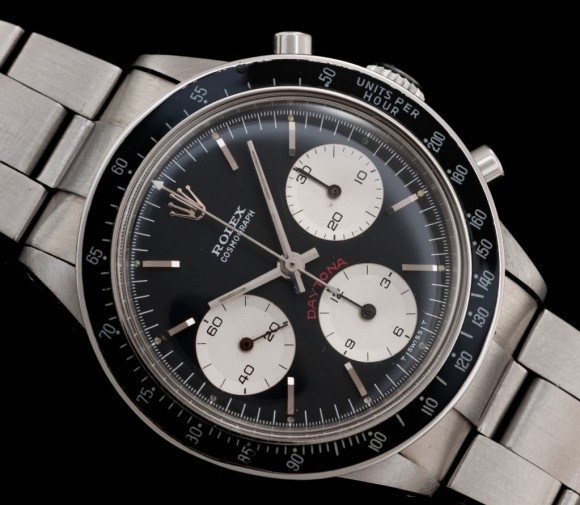 Another very atractive Rolex that will come up for sale, is this pinkgold Rolex 6062 Oyster Star Dial with lumineus index and hands..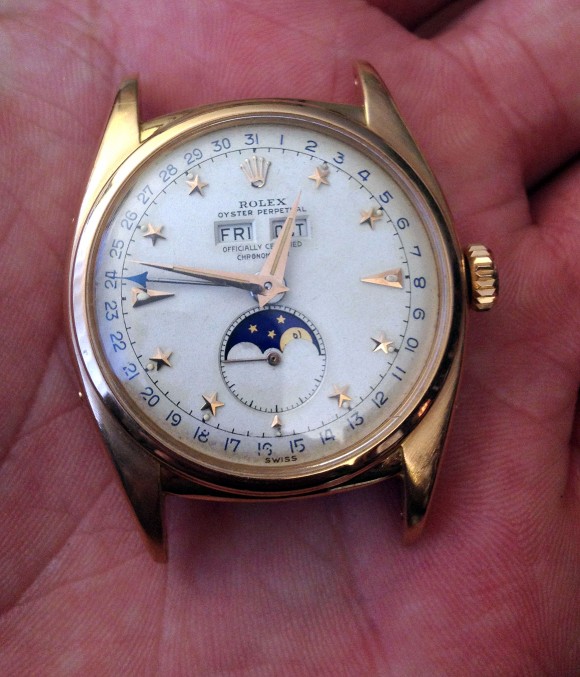 The conditie is good, not perfect but these ultra rare birds we don't see often at auction..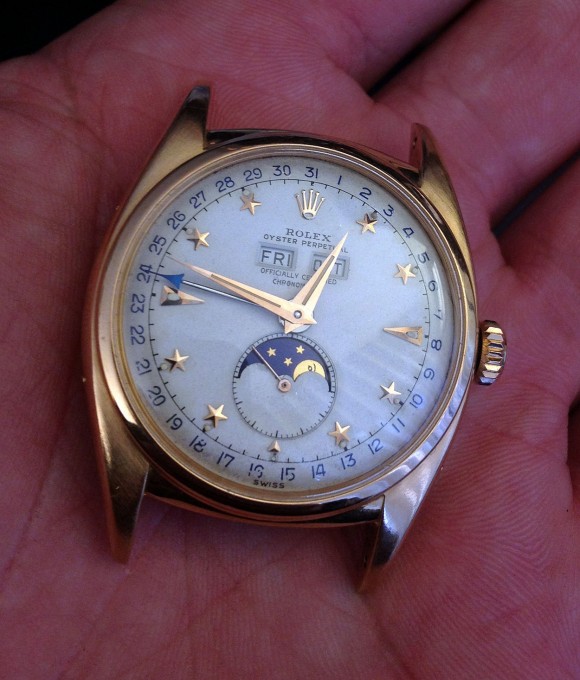 Slightly polished during the years but hallmark stamp is still clearly visible..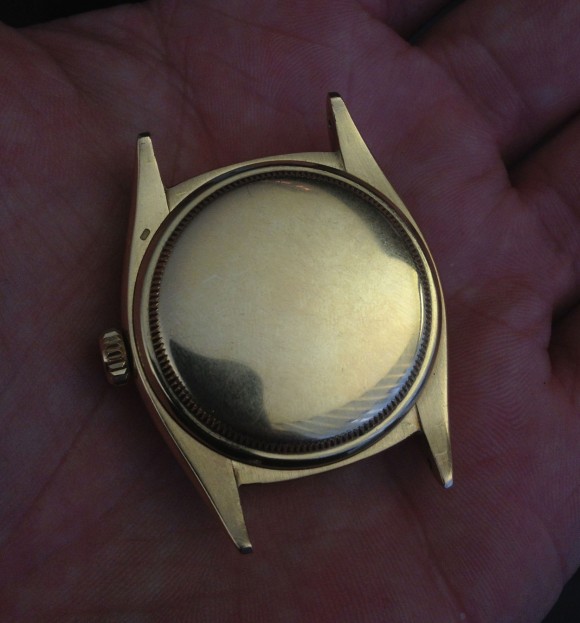 Another find directly from first owner, Rolex Big Crown ref 6538 with 4 line, white second hand in unpolished condition..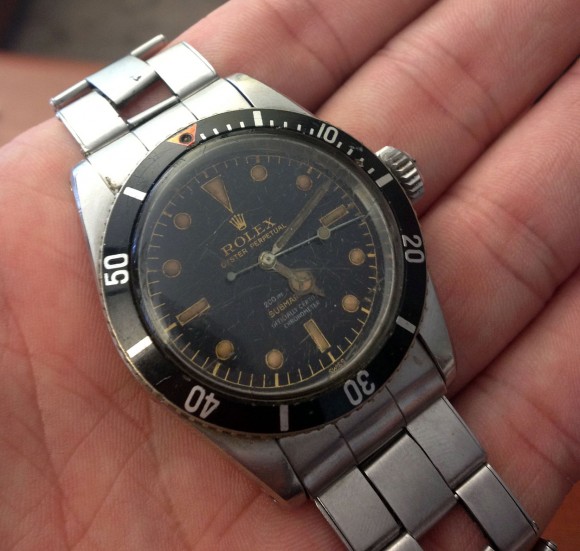 It's nice but as you see next to mine on the right, it's definitely not perfect, never the less, cool find!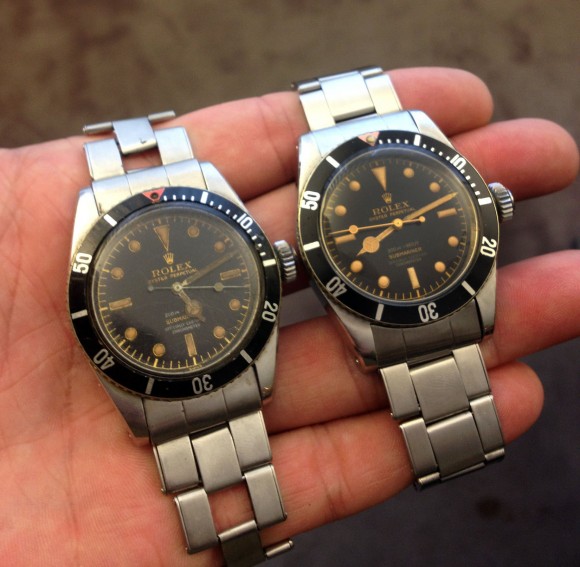 Further a honeycomb star dial…. I personally don't like, the print, the hands to short, hmm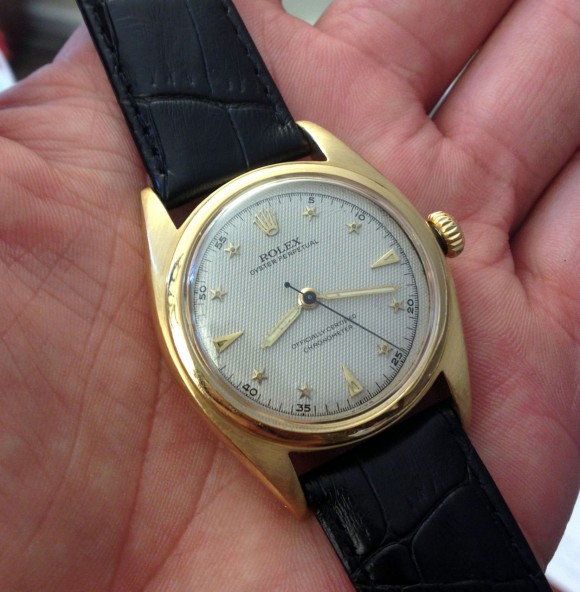 Sigma Rolex Ref 6263 with tropical sub dials..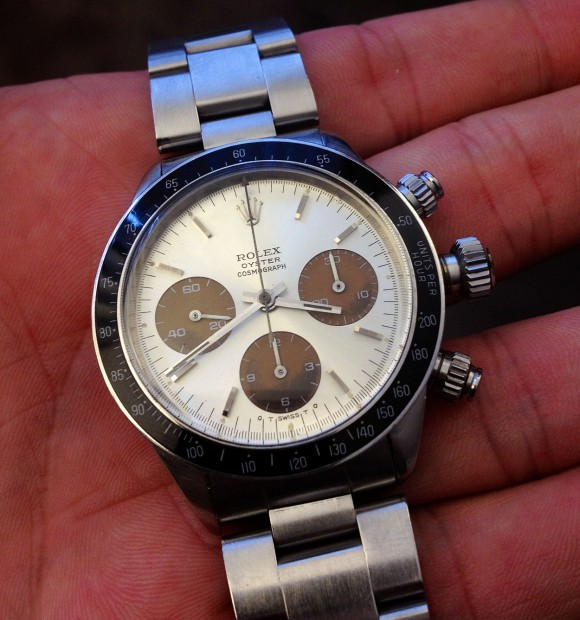 Next is the Rolex Daytona on the right, with caramel index ref 6263, next to my ref 6265 ROC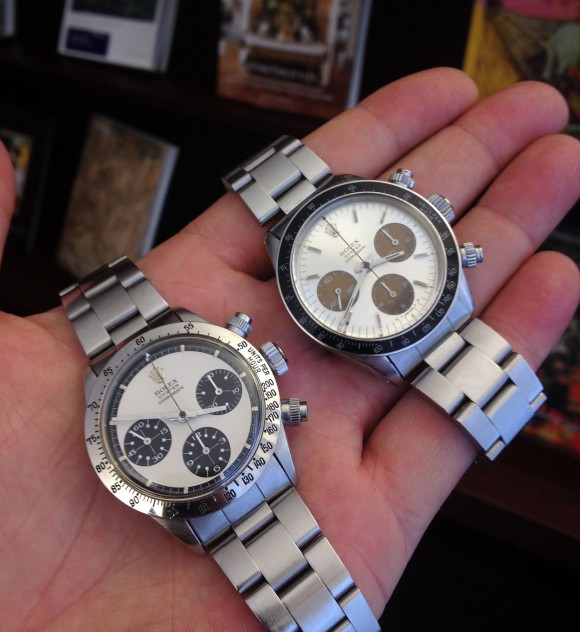 More information about above Rolex that will be auctioned by Sotheby's you find here:
Geoffroy Ader
Director
European Head of Watches
Geneva Watches, T:+41 22 908 4702
E:geoffroy.ader@Sothebys.com –> http://www.sothebys.com/en/departments/watches/specialists.html
Greeting to you all from sunny Geneva!