Our previous adventure: the Single Red Deep Sea – Jacques Piccard edition. With this special edition we honoured Mr Piccard's life. A total of 86 examples have been made, that's one for each year of Mr. Piccard life. A part of the revenue has been  donated to the preservation of the Jacques Piccard archives.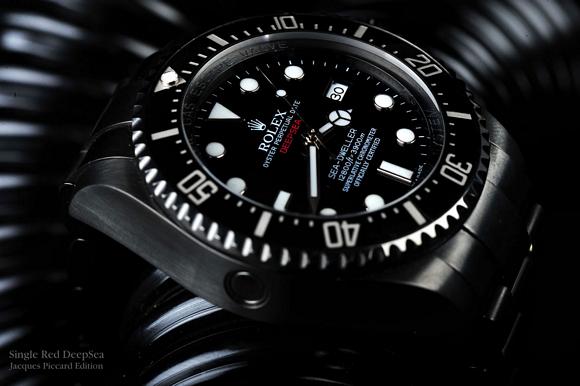 The black DLC coated new Rolex Deepsea ref.no.116660 with DLC bracelet and single red painting on the original dial + special engravement in the titanium casebackwill comes with a customised black drybox with goodies such as a original copy of the Jacques Piccard book: Seven Miles Down: the Story of the Bathyscaph Trieste from 1961……
The engineer and deep-sea explorer Jacques Piccard, who has died aged 86, made many contributions to the development of deep-sea exploration and marine conservation. But he will be best remembered for one remarkable feat: on January 26 1960, in the bathyscaphe Trieste, he and Lieutenant Don Walsh of the US navy reached the bottom of the Challenger Deep, east of the Philippine Islands. At 10,900 metres (35,761 feet), located in the Mariana Trench, this is the deepest possible human descent into the abyss.
For the history of Rolex, their development towards a perfect toolwatch, Jacques Piccard played an important role. After his succesfull mission, with the Rolex Deep Sea Special attached on the outside, Piccard sent a telegram to Rolex in Geneva saying "I am happy to confirm that even at 11,000 meters your watch is as precise as on the surface. Best regards, Jacques Piccard" the watch holds up to a pressure of 1,150 atm or 1,150 kgs per cm2. For me it's an honour to bring out a special customised Rolex dedicated to a man who explored the deepest level on earth and played a important role within my passion, Rolex and it's great history…
Many thanks to Mr. Bertrand Piccard (son of Jacques Piccard) for his full support on my initiative. Together with Jerrel and his watchmaker Bas we can be proud of the achieved result. Further I want to give my special thanks to those who helped me realising this project!!
See the website for more detailed information.
Best Regards
Philipp