The Story about "The Mount Everest  – Rolex Expeditions 1952 and 1953" –
My quest to find all the answers…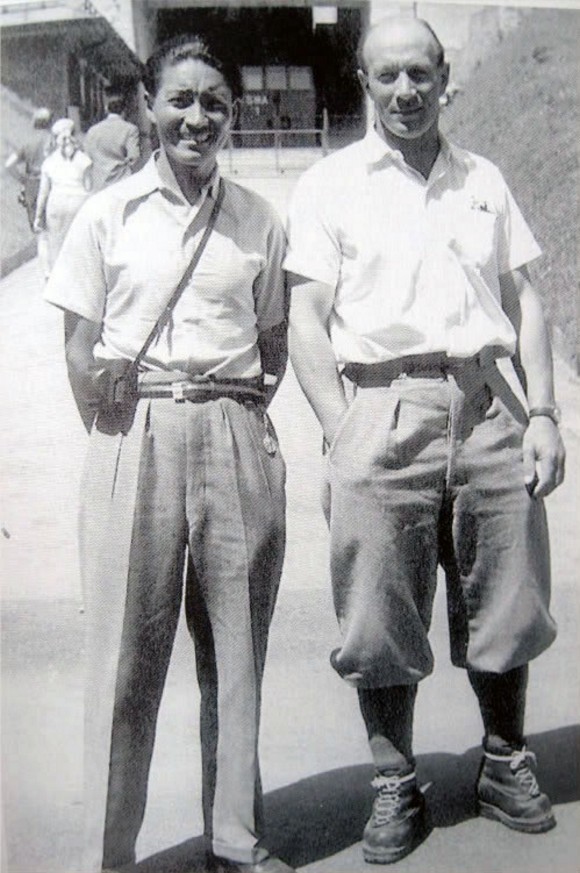 Intrigued by the mystery around '52 & '53 Expeditions I started doing research, studying the Rolex watches that where used on Mount Everest expeditions to come to a more 'logic' overview from what exactly happened. Being in the fortunate position in having access to all sorts of closely related info, I starting archiving all serial numbers, references and dial versions.
In this quest to find more logic and information about what exactly happened around 1952 Swiss Expedition, fully sponsored by Rolex turned out to a big disappointment for Hans Wilsdorf as the Swiss Team led by Roch didn't made it till some 200 meter from top, even their second attempt failed dramatically but it created a great friendship between Lambert & Tenzing as he was treated as full member of the Swiss team from the beginning!
Inspired by the great "Hans+Wilsdorf+lost+dream" post by philip from the 'VRF Archive' "The History initially imagined by Hans Wilsdorf was that the Everest would be conquered by a team of climbers wearning Rolex… but a Swiss team not an English one! (that is when we have to remember that Wildorf was a marketing genius even before being watchmaker). More than a swiss team, the 1952 crew was made only with Geneva area climbers. A Geneva team on top of the world with Geneva made Rolex watches, that was Hans Wilsdorf initial dream. "
http://www.network54.com/Forum/207593/message/1261296642/EVEREST+1952+-+Hans+Wilsdorf+lost+dream
http://www.network54.com/Forum/207593/thread/1260704132/Mount+Everest%2C+Hans+Wilsdorf+and++Rolex+-+The+unknown+story+%281933%29-
Quote:
"To comeback to the historical facts, both 1952 Swiss Expeditions sponsored by the Swiss Foundation for Alpine Research and Rolex were including Tenzing Norgay and Raymond Lambert and both attempted the summit via the South-East Ridge route."
Question:
So what was Tenzing then wearing on this picture below one could start thinking when we know Tenzing was not a member of '53 expedition ? And thus not one of the 13 that got a sponsored Rolex for the 1953 expedition?!
Tenzing Norgay & Raymond LambertI started from there. Some of the Everest Rolex have been auctioned, some are with collectors and some of course are still with their original owners or their children. Fact is, the British Mount Everest Expedition succeeded with Sir Edmund Hillary & again Tenzing Norgay to conquer the Mount Everest on 29 May 1953. Also this expedition was sponsored by Rolex, but also by the UK clock- and watchmaker Smith English Clocks. The last also delivered 4 x " Travel Alarms in ecrase case" I noticed 🙂
So my first quest was to find any Rolex papers related to Mount Everest that showed they where involved. A great journey brought me to George Band, one of last living '53 members.
His incredible information not only about his 2 x original Himalaya Oysters he had but also about suggestion where to find mor info as his anecdotes of other team member was ultra interesting and got me even deeper into detail when I met with Jan Morris, the lucky correspondent of The Times Newspaper that not only covered the whole 1953 journey but their
Times money sponsoring was vital to succeed the enormous preparations. So I met her with some close friends in Wales for lunch when I stayed at the legendary Pen-y-Gwryd Hotel http://www.pyg.co.uk/ & http://en.wikipedia.org/wiki/Pen-y-Gwryd
The British 1953 Expedition members still hold regular reunions at the Pen Y Grwd Hotel. Their signatures are visible on the ceiling in the cozy log room.
Inside the grail vitrine with important Everest '53 memorablia….
Now, I enjoy this 'vibe' enormously, so since all effort we've made I come to the reason why I wanted to share this with you my friends. I believe that when you really want something, it's going to happen…so after the 'discovery of Tenzings – Rolex', yet another dream came through! I found the invoice of Rolex send to the British Mount Everest 1953 Team where they state the delivery of their watches!! For privacy reasons I removed ALL sensitive data of following scans so I can still show it to you guys.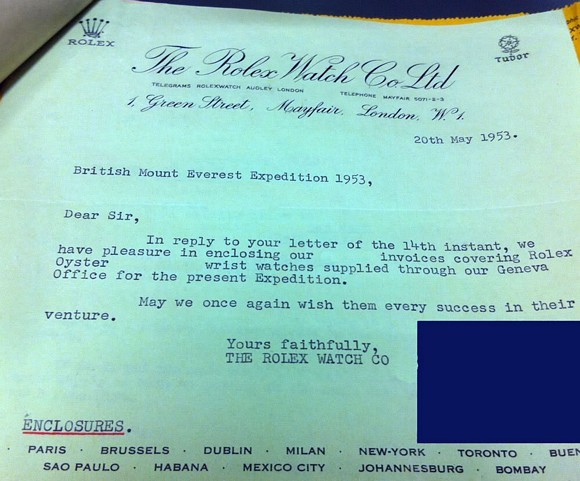 Much more of my quest in detail I'll share soon. Until now I want to THANK my close old friends in particular & recent made new friends that helped me so far!!
Best to you all!
Rg.Philipp
PS After reading below Rolex add, next one is having a great line of text that shows deep involvement by Rolex & the respect their watches gained!!!
"Doing Well. No stoppages. No complaints!" –> BRAVO Rolex!!!!! BIG Respect!