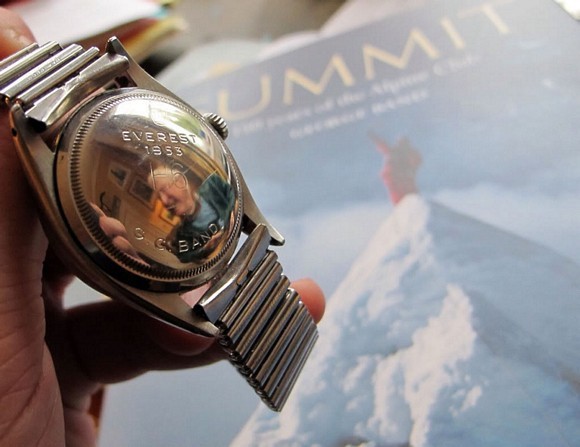 My Rolex Mount Everest Expedition Quest.
Following up on my previous post on my quest about finding the truth on Rolex & Mount Everest. I still had some questions about the delivery of Rolex towards the British Mt. Everest Expedition. How many Rolex exactly where send to UK for the 1953 Expedition was NOT 100 % clear yet!!
My research shows that on 20 May 1953 Rolex made a invoice for 13 watches!!…
(Note the describtion : "On extra long leather strap" !!…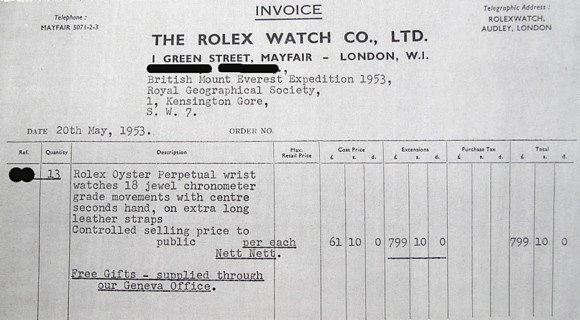 But during my quest to find more detailed info, a Rolex invoice from 25 June 1953 suddenly showed also a delivery of 7x Rolex !?!….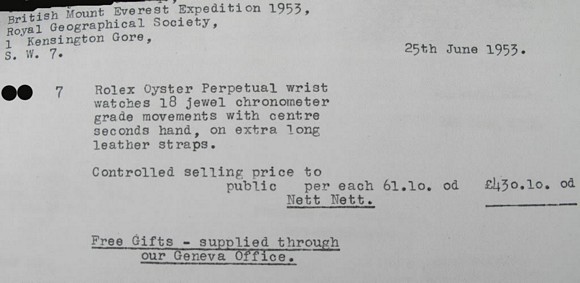 Hmmmm, that's not logical… 13 & 7 makes 20 but there where only a total of 13 members in the British Mt Everest Expedition! So why did Rolex send another invoice for a additional 7 of their finest prototype watches. Was it because some where lost? Or maybe because the British needed 7 more Rolex after the succesful ascent to give away?? My head kept spinning all the time trying to find a logic answer, so I asked the Hillary & Tenzing family if they had any info for me to solve the mystery.
Today I got the missing info I like to share with you. After an intensive research in their family files, here's the explanation:
"As you know Rolex in Geneva wanted a Rolex on the summit of Mt Everest and they supported the Swiss 1952 expeditions but they also sponsored the British 1952 Cho Oyu expedition as well. In 1953 Rolex again sponsored the British but John Hunt felt it was unfair (on the other expedition members or perhaps Rolex) that the Cho Oyu expedition members should get a second Rolex so only the 1953 members who had not already been issued with one got a Rolex in 1953. That explains the numbers of watches that Rolex sent to the British expedition in 1953."
The 6 members of the Cho Oyu 1952 'Research for Mt.Everest expedition' that had already received their Rolex were:
– Gryffith Pugh
– Tom Bourdillon
– Charles Evans
– Alfred Gregory
– Edmund Hillary
– George Lowe
The 13 members of the British Mt.Everest 1953 Expedition were:
– George Band
– Tom Bourdillon
– Charles Evans
– Alfred Gregory
– Edmund Hillary
– John Hunt
– George Lowe
– Wilfred Noyce
– Gryffith Pugh
– Tom Stobart
– Michael Phelps Ward
– Michael Westmacott
– George Wylie
13 x Rolex in 1953 minus the 6 already given in 1952 makes a total of 7 delivered for British Mt.Everest Expedition. This also explains the big difference in serial numbers we see when we compare these Rolex in detail.
For instance, Sir E Hillary's Rolex at Beyer Museum has 726.xxx serial, Gregory's Rolex that got auctioned last year had also 726.xxx, only 2 numbers away from eachother! But George Bands Rolex (He was NOT at '52 Cho Oyu Expedition) has serial 916.xxx. Michael Phelps Ward was also 916.xxx!
And yet another mystery got solved spinning in my head as Rolex DID make a difference between both deliveries! Why do I know that? Because Rolex added a special caseback gravure to show the difference!!
Here up close the still all original Rolex of Mr George Band with added H6 !!!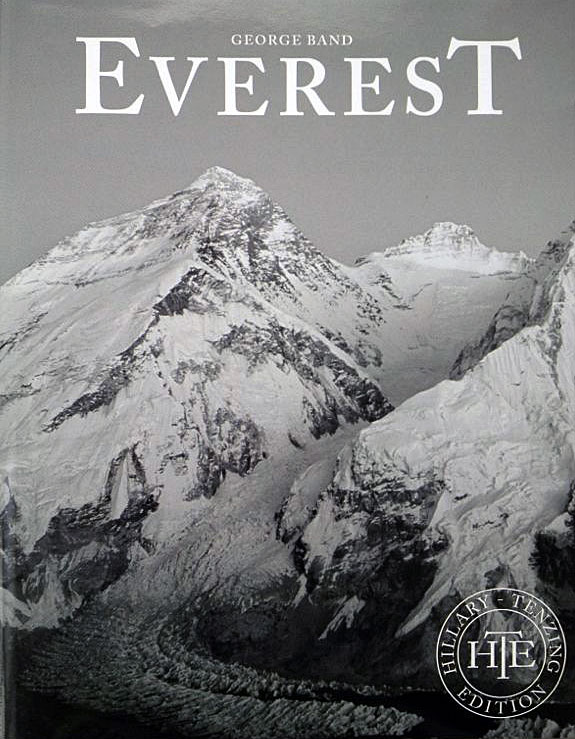 Hope you enjoyed it as much as I did!
Rg.Philipp