THE ULTIMATE DEEP SEA SPECIAL THAT WENT DOWN 10.908 METER in 1960 =  No 3 – WHITE DIAL !
The DeepSea Special with engraved caseback No 3 &  special white dial, on display at the Smithsonian Institute (SI) in Washington, actually went down with Jacques Piccard and Lt. Don Walsh to the deepest dive on world 23 January 1960 their Submariner Trieste reached 10,916 meters floor of Mariana Trench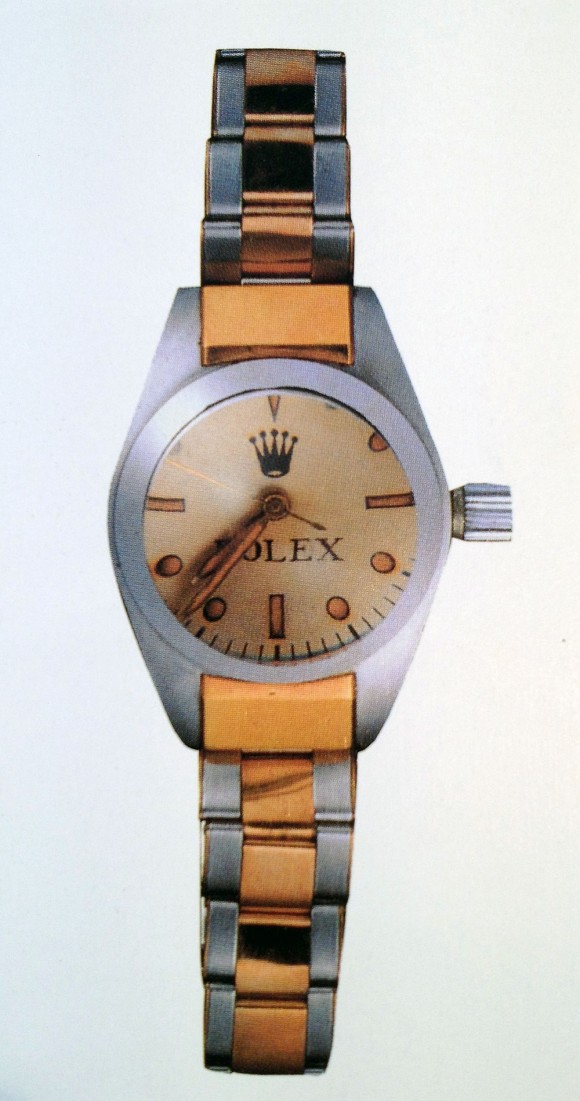 Finally i've found proof with below Press Release of the United States Information Service dated September 13th, 1960. In this paper it's been stated thatthe White Rolex Deep Sea Special presented by Rolex Geneva to  Smithsonian Institute in Washington actually went down 7 miles with Piccard & Lt. Walsh, attached to the outside of the Trieste bathyscaphe. Quote: "A Rolex spokesman said knowledge gained in it's construction will be invaluable in helping future challenges in the field of time keeping mechanism " !!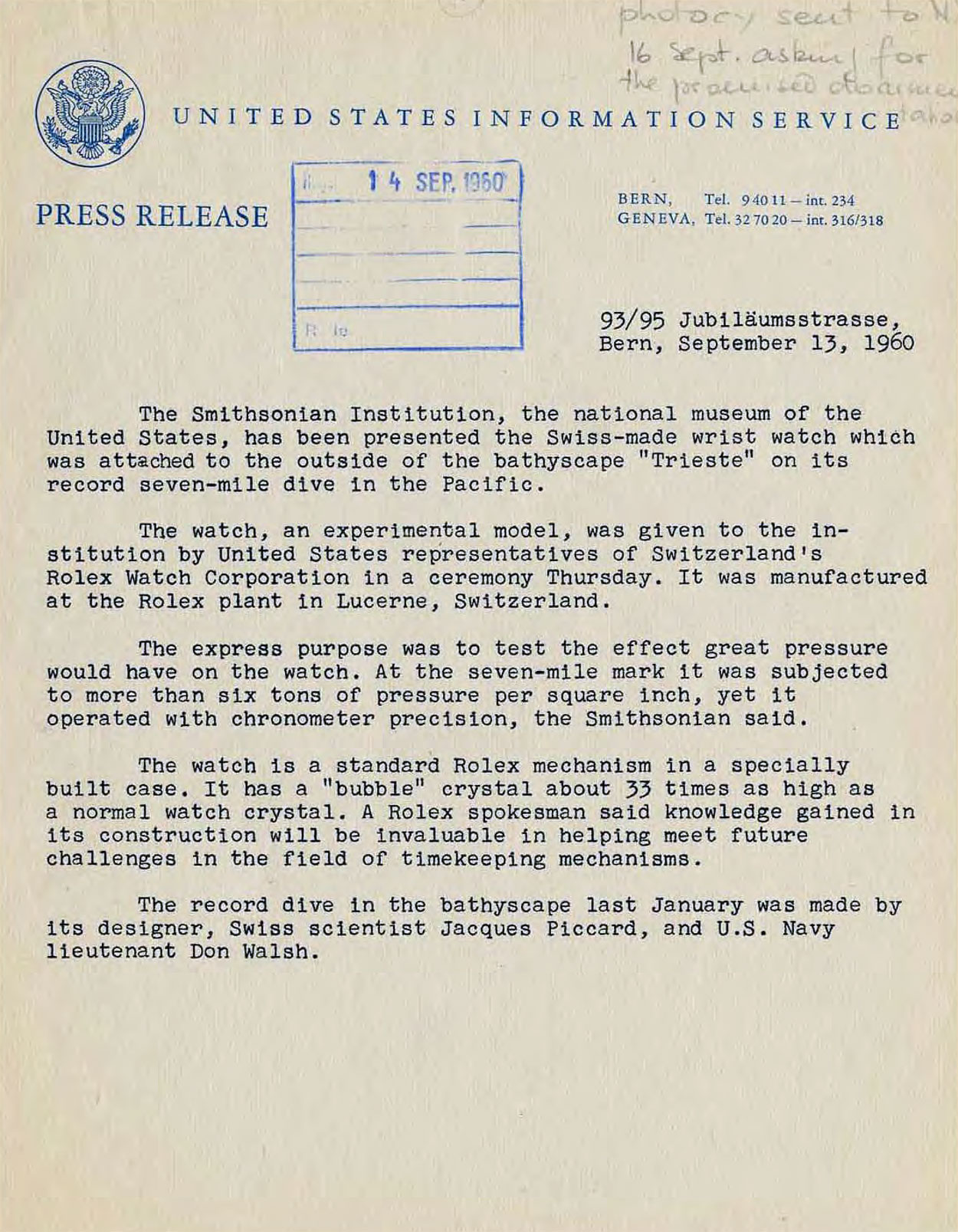 Then I finally found the last piece of the puzzle in the Deep Sea Saga of which number of DSS precisely went down when I received email from the Curator of Maritime History, National Museum of American History, Smithsonian Institution. The billion dollar question was obvious so I asked Mr. Paul F. Johnston, which number had been engraved on the case back of their White dialed Deep Sea Special Proto type presented to them by Rolex in 1960. Below is their official statement; the Rolex Oyster  / No 3 / Deep Sea Special is the REAL one!
"Dear Mr. Stahl,
The engraving on the back of our Rolex:
ROLEX OYSTER / NO. 3 / DEEP SEA SPECIAL
I'd be grateful for any information you could provide as to the significance of this, and how it fits into the bigger picture of deep sea Rolex watches.
Best wishes,
Paul F. Johnston, Ph.D. Curator of Maritime History, National Museum of American History, Smithsonian Institution. "
Finally I can finish this quest of mine and have peace in my mind as Number 3 is the one that made history! 
RPR: The Rolex Deep Sea Special – First DSS Prototypes made between 1953 and the final Deepest Dive of Piccard and Walsh in 1960 and the later DSS Display
We all know about the exceptional story of the extraordinair Rolex Deep Sea Special, Jacques Piccard &  Lt. Don Walsh, Trieste, Challenger Deep, Deepest Dive in 1960 and the latest James Cameron dive to deepest place on earth with a new Rolex DeepSea Challenger attached to the his submariner.
Today I want to explain the difference between the early, prototype Rolex DeepSea Special Geneva started to develop from 1953 and the later after 1960 by Rolex made a fully engraved Display Version of the DeepSea Special for marketing use by producing a much larger batch and sending it out to their worldwide offices to impress their clients. With their first mayor test on November 30, 1953 a Rolex DSS was attached to the exterior of the Trieste depth craft submariner, which reached a world-record depth of 3150 meters which is 10.245 feet or 2 miles down. This was achieved of the coast of Ponza Island. After surfacing the watch was carefully inspected and was intact and functioning properly. Find below the official Rolex information from their experiences during testing..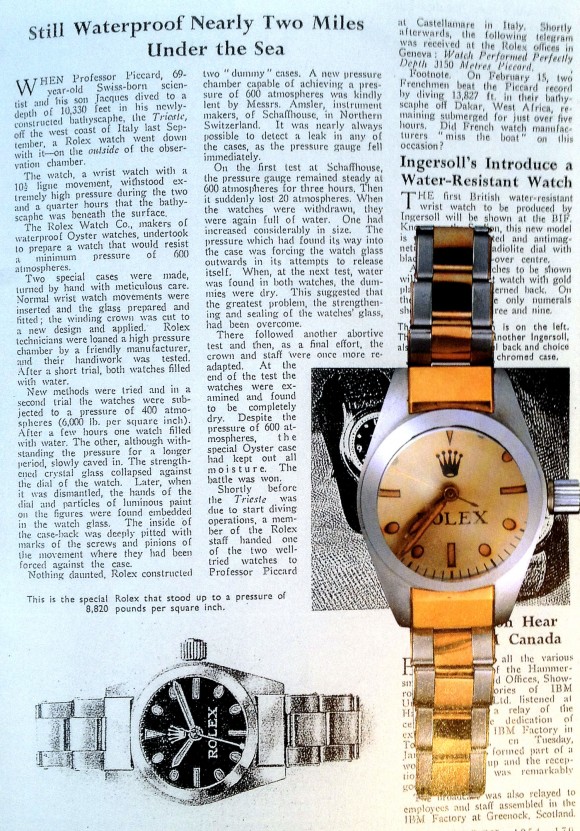 Historic important picture of Jacques Piccard and the Rolex DSS Proto early 50-ies in Italia, the city Trieste in the background and the Submariner Trieste that's officially published in their Rolex Perpetual Spirit Magazine This is the only visuel proof we've ever seen where a Piccard is pictured with the Über Rolex on board. NOTE the end links are not perfectly matching of this early DSS Proto.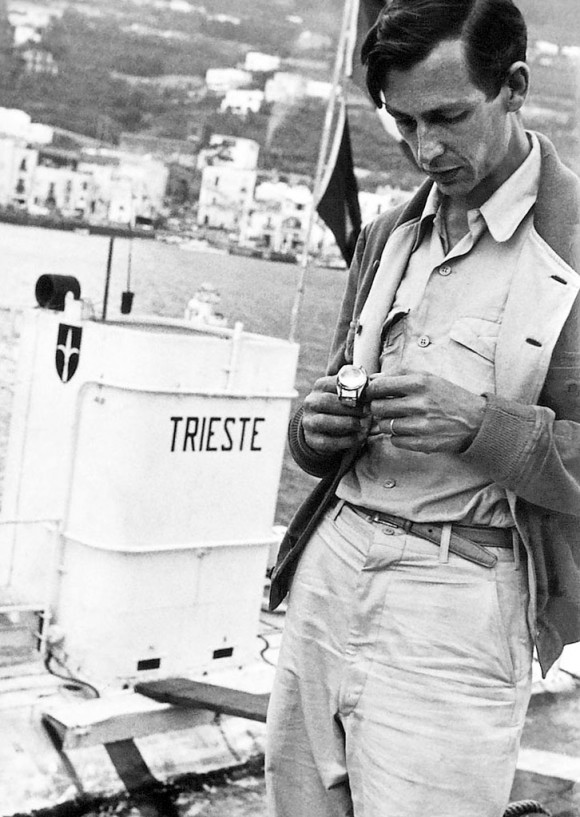 In above text we read that Rolex testet ONLY 2 x Proto DSS of which one of the two got handed over to Jacques Piccard for his 1953 deep 3150 meter dive. But until now we known of 3 x original Prototype Rolex DeepSea Specials that are fully intact and survived the extreme tests by Rolex and made between 1953 and 1960 when Piccard & Walsh hit Challenger Deep. Comparing the movement numbers of the exclusive caliber 1000 of both auctioned DSS by Christie's we see they a gap of 92 numbers between No 1 & No 5 Rumor says Rolex had developed 7 examples of the Proto Rolex DSS. The question is how many remained in working condition & does Rolex Geneva have one of these?? Here're 3 known Proto DSS's.
1 – The white dialed DSS with number 03 ( from Smithsonian Museum, Washington DC ) given directly presented by Rolex Geneva and the actual DSS that went down with Piccard & Walsh in 1960!
2 – The black dialed DSS with number 01 engraved, caliber 1000 – mov. no. 419.251 sold by Christie's in 2005 for CHF 322,400,-
3 – The black dialed DSS with number 05 engraved, caliber 1000 -mov. no. 419.343 sold by Christie's in 2000 for $ 113,853
Since we know there are only 2 X Proto DSS prepared by Rolex for the 1953 to 3.150 meter dive by comparing the hight of the glasses of No 1, No 3 and No 5 we can now come to the conclusion that DSS No 1  (+ No 2) was made for the 1953 dive with a much LOWER glass, lets call it the DSS mk1, then from the DSS No 3 and No 5, that logically got updated by Rolex engineers AFTER 1953 with the much HIGHER glass to withstand the new challenge for 1960, to a depth of 10.908 meters. This last Proto DSS or MK2 became the example to replicate for the later DSS Displays, that started with No 9.
Conclusion: The first DSS No 1 has been to 3.150 meter in 1953 and not to 10.908 meter in 1960. Once the new crown was made and bigger glass, from DSS No 3, it's possible to withstand the extreme pressure of Challenger Deep Piccard & Walsh managed in '60. Now we know for sure that the white Smithsonian DSS No 3 the REAL one is that went down with Piccard & Walsh in 1960 😉

1:The Smithsonian Rolex DeepSeaSpecial No 3 with unique white dial… Note the different Crown Design then we see with the DSS No 1 as this White DSS doesn't have the extra bigger ring between crown and case, which could point out that it's made before Rolex found all the leaks during testing and adjusted the crown design to withstand the enormous pressure. Also not the different Rolex crown design printed on it's dial, the fingers of the crown are thinner, the mouth is more open, it's less perfect then with DSS No 1.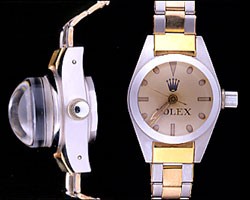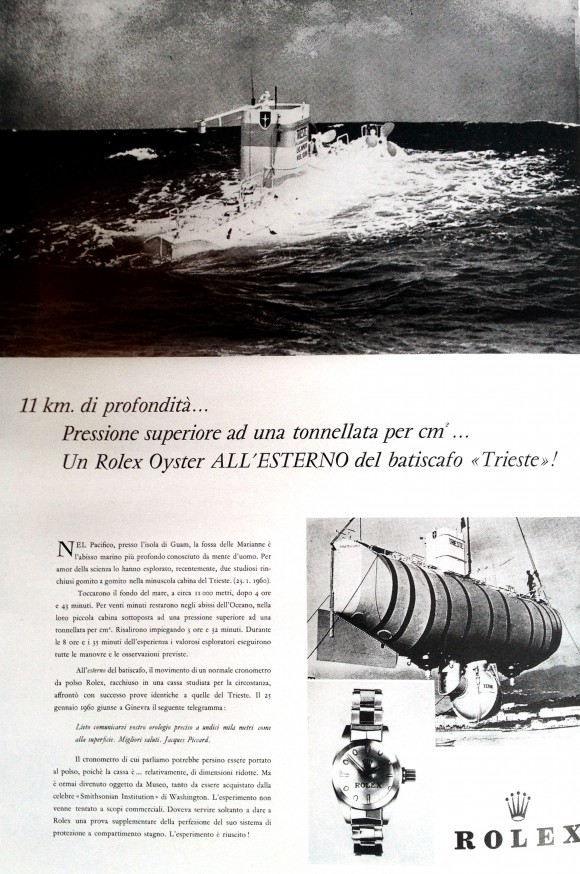 Strangely we see the crown design being adjusted to the final design in following picture of Smithsonian Museum, apparently Rolex changed it AFTER they found out where the leaks where to get the perfect construction. It"s engraved on the case back with: ROLEX OYSTER/ NO. 3/ DEEP SEA SPECIAL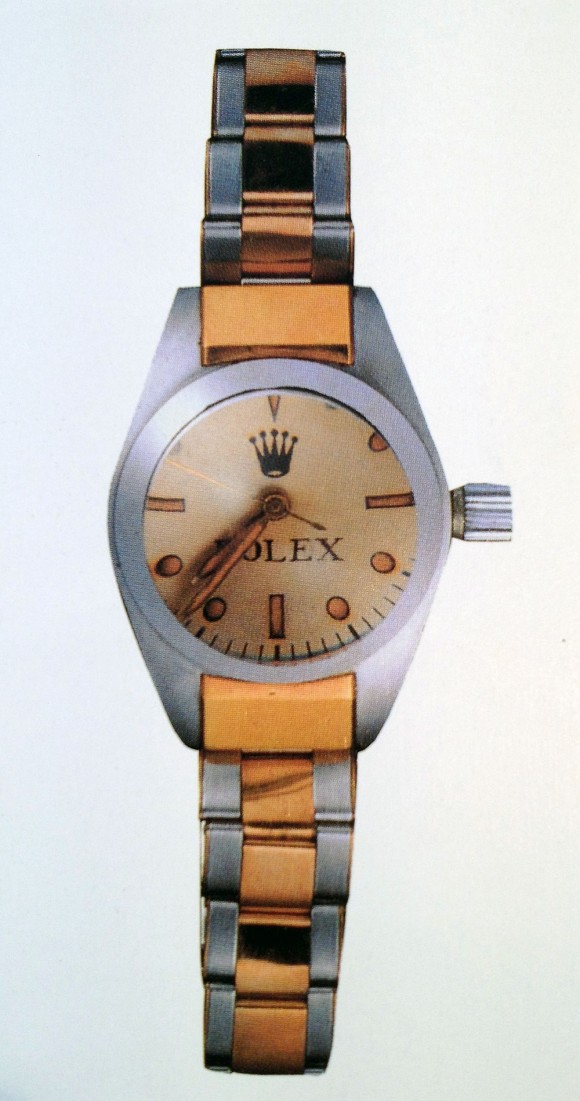 Quote out of below Rolex ad in Skin Diver  June 1961: The same outstanding Rolex craftsmanship that produced the 'bathyscaph' watch ( Now in Smithsonian Institute in Washington )
For comparison, the unique White Submariner ref 6205 from around '54 of my great friend Eric Ku. I personally believe that these ultra rare white dials where made at the beginning of the dial print process, to test the black print for the positioning the cliche. We see up close that the surface of the dial is rough and unfinished, this points me to believe they are proto's of the earliest hours!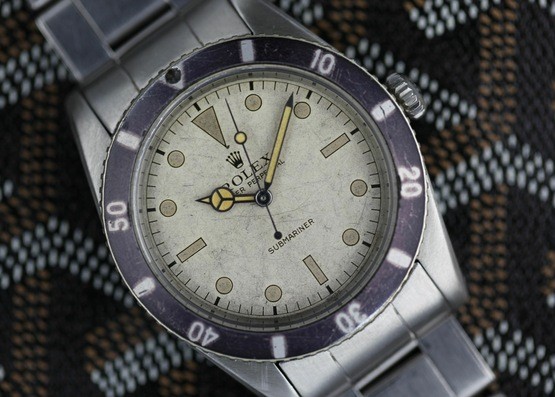 And a rare version in white of the a later Rolex prototype dialed Explorer..this time with visible added radium lume (swiss dial) prepared for sale.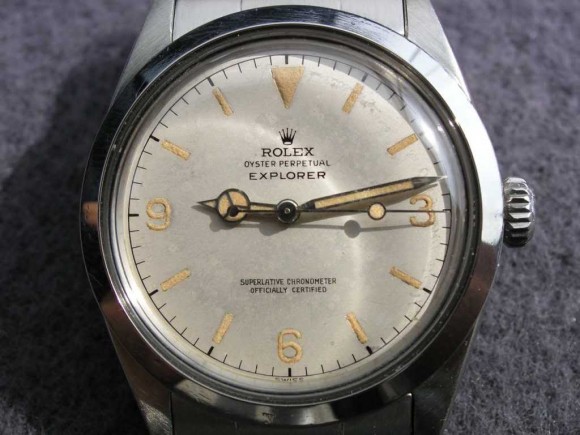 2: The black dialed DSS with number 01 engraved on it's case back. NOTE: the extra bigger size ring between the crown and it's case, the final construction. The deployant clasp is dated 4/53. Originally given by Hans Wilsdorf and finally sold by the widow at Christie's. Maybe it's me but WHY would Mr. Wilsdorf alias Rolex give away such a important watch!? Same Mr Wilsdorf did with the Hillary Everest Rolex when Mr Beyer openend his museum downstair his Bahnhofstrasse, Zurich HQ. So you all can understand that i'm REALLY interested to see what's left at the collection Rolex has on display, apparently at CEO highest floor in their Geneva HQ factory. Maybe one day I make it it up there to show you all 😉 I'm SO curieus to know, it would be my biggest dream to see what they have not shown us until now, what's left in their vaults!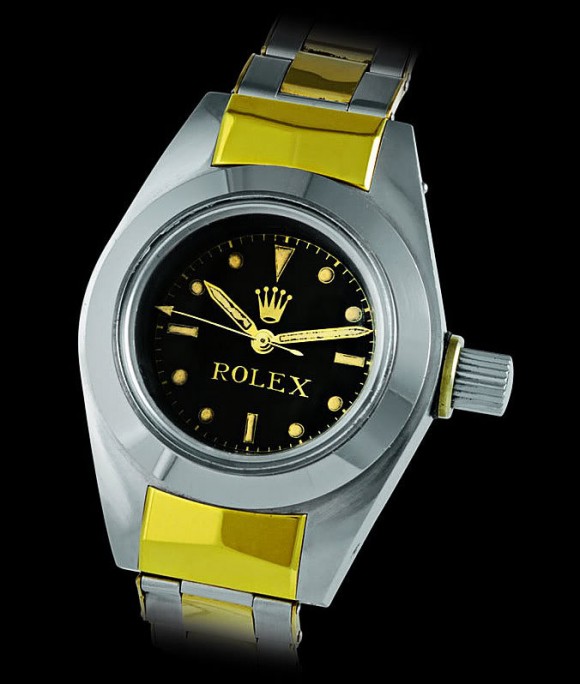 3: The black dialed DSS with number 05 engraved on the back, same crown design & bigger ring between case and crown but more patina on the dial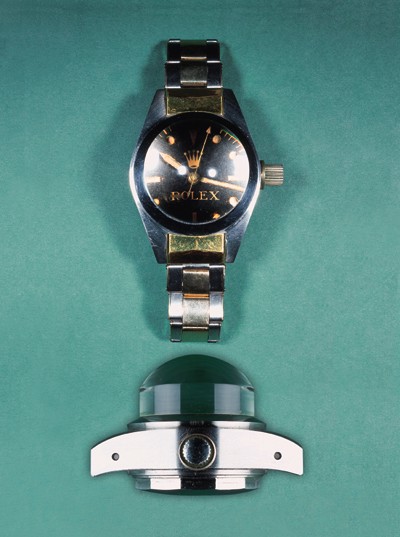 Jacques Piccard in 1953 during their tests near the harbor of Trieste, Italia.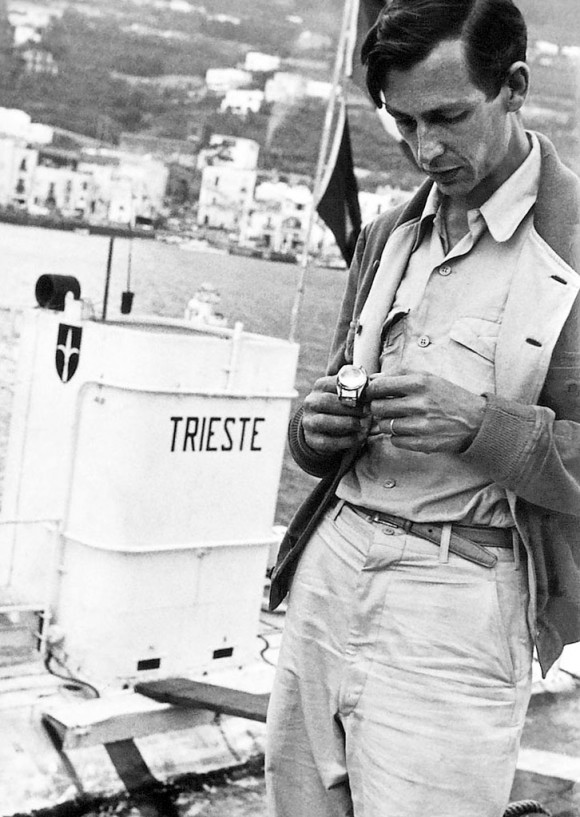 Closeup of the DSS Proto from 1953, NOTE the end links are not matching the case.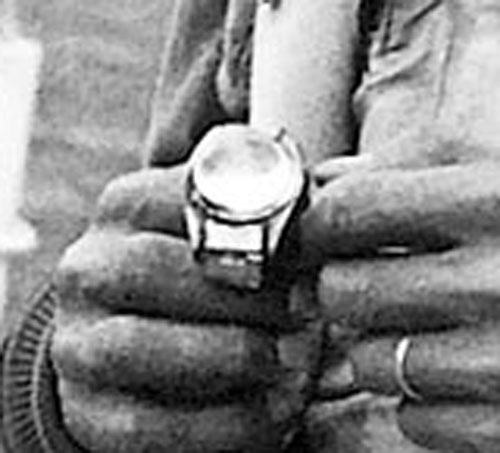 Rolex their 50 years of Underwater Heritage campaign in 2010… 10.916 meter..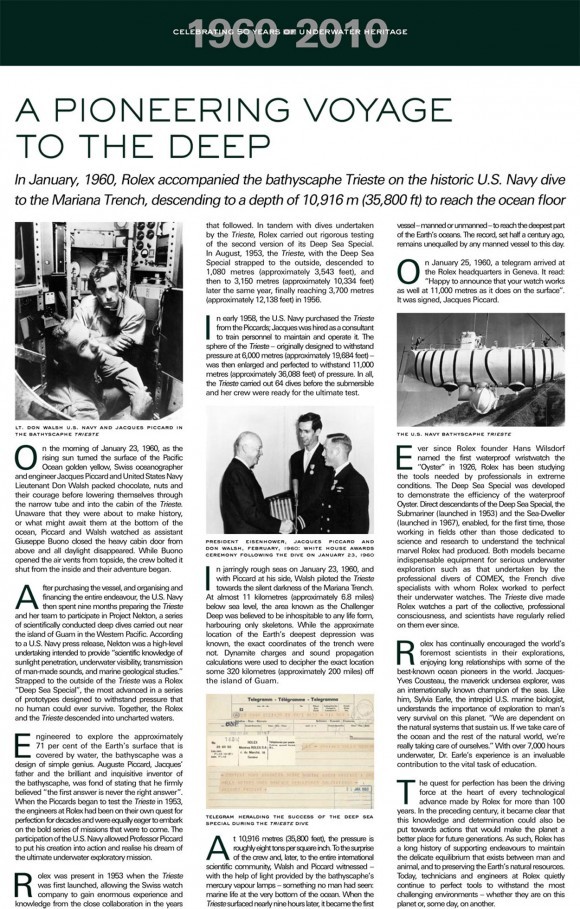 Another discovery I made recently as I found a picture of the case back from the, imho, earliest Rolex Display Version that already where engraved with 10908 Meter & 35789 Feet dated 23.1.1960 with No. 9. So logically we now know that maximum of 8 Proto DSS have been made as with below No 9, the Displays DSS started!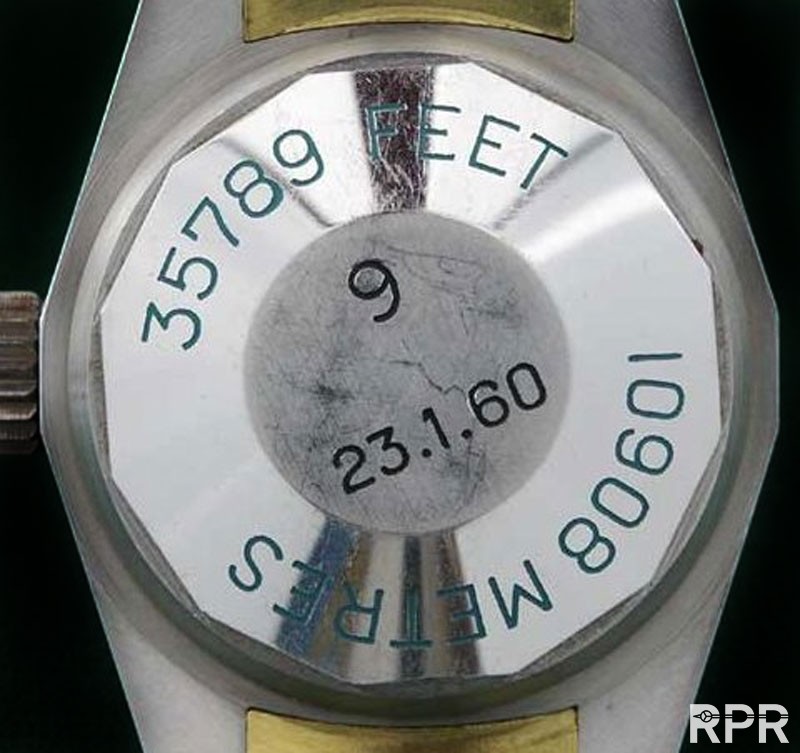 After the successful deepest dive in 1960, we see the Rolex DSS Display Models, specially designed by Rolex ( sometimes having no movement, or were later added ) to market this remarkable achievement. Below we see Lt. Don Walsh and James Cameron together. Walsh is holding the all steel Rolex Display version and Cameron the new 51mm 'for experimental use only' DeepSea Challenger. NOTE: SO Rolex does NOT use the REAL DSS prototype No 3 as we learned above but a LATER Display model!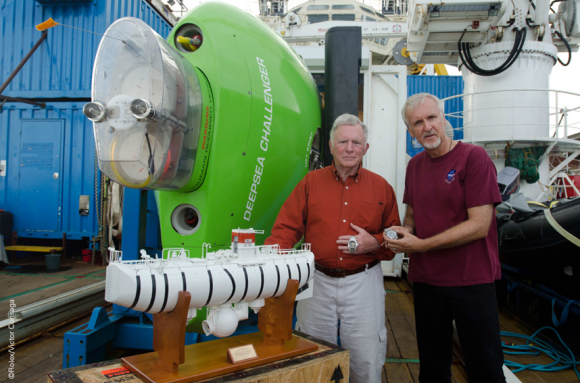 We see in next picture the Rolex DSS Display with UNDERLINE from the Rolex website. We Rolex Collectors know that the Underline was from 1963-1964, so NOT even 1960 as when the deepest dive was.. Different case design, different crown design ( one unscrews the big crown, then a smaller crown becomes visible to set the time )
Apparently, it's the Rolex DSS that is in the London Science Museum (in the Time Measurement gallery) Here a picture made in the museum, also underline. So now we can come to the conclusion that Rolex Geneva has NO DSS Proto in their own vaults as why would they at first use a much later Display version instead of the original Proto and secondly by using the London Underline version for their worldwide marketing, it tells me they don't have a earlier one, imho!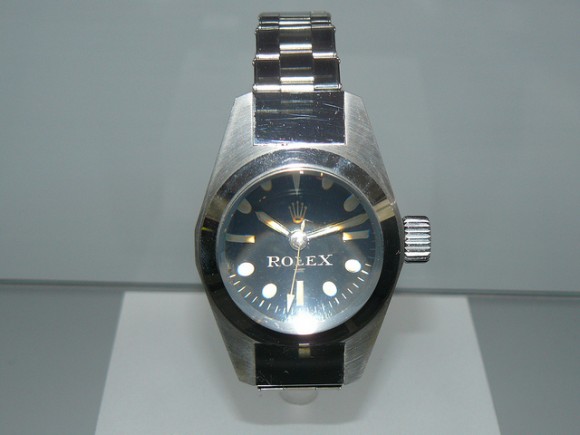 Same Underline DSS on tour at a german Rolex dealer having a exhibition. Picture courtesy by Percy & Hannes of RLX.de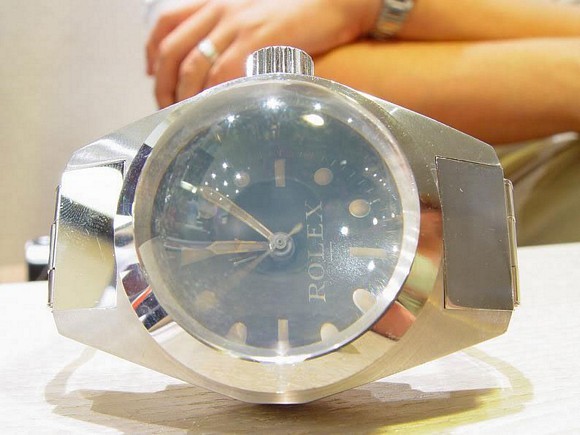 The Underline Rolex DSS-Display No. 20 …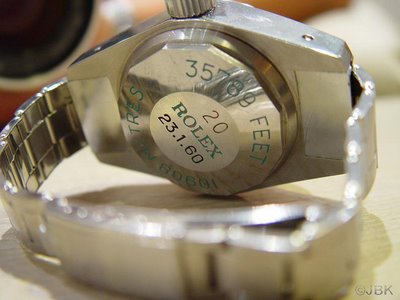 We see this Display Rolex DSS also published by Rolex in 2010 during their 50 years of underwater heritage you see below in the right corner, focus on the crown, the later then 1960 Rolex DSS-Display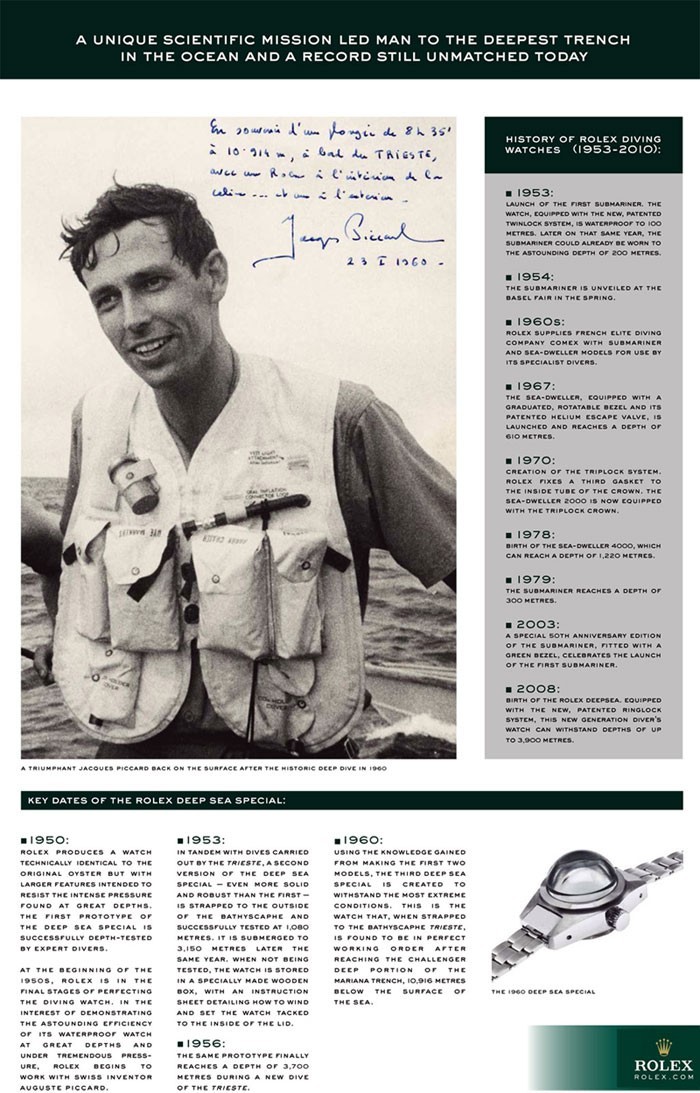 Rolex 1953 Ad…the start of the Rolex Evolution of the Tool annex Sports Watch History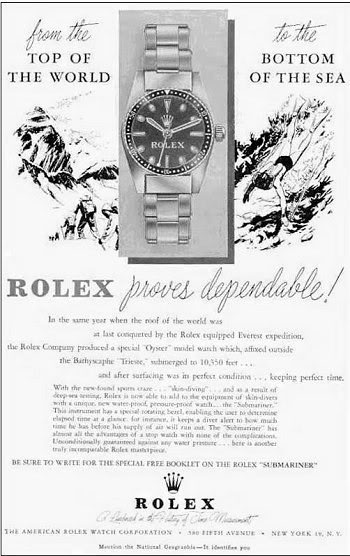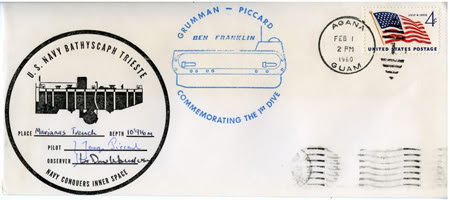 Case design on the left, Jacques Piccard telegram from 23 January  1960 to Rolex confirming 11 KM down with DSS..

Piccard Exhibition at Museum Du Leman, testing the different material and domed glasses..Check my RPR trip to Museum Du Leman meeting up with the legendary Lt. Don Walsh. exchanging passion with a hero!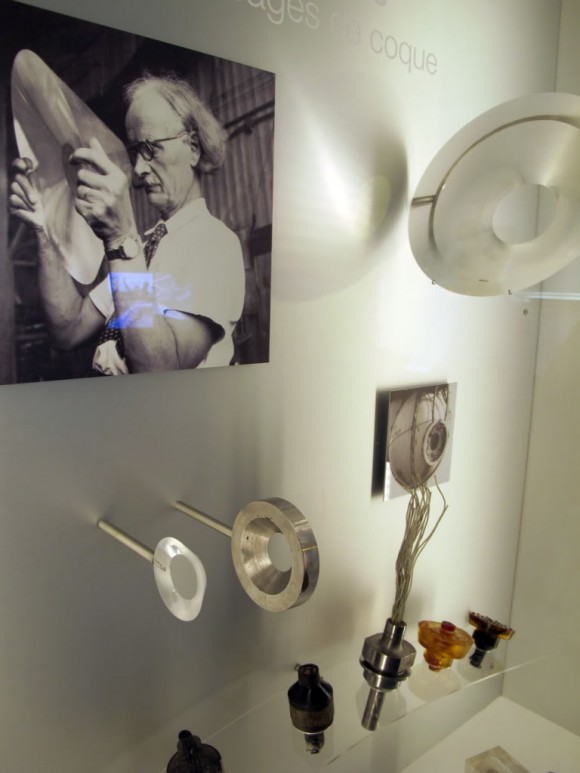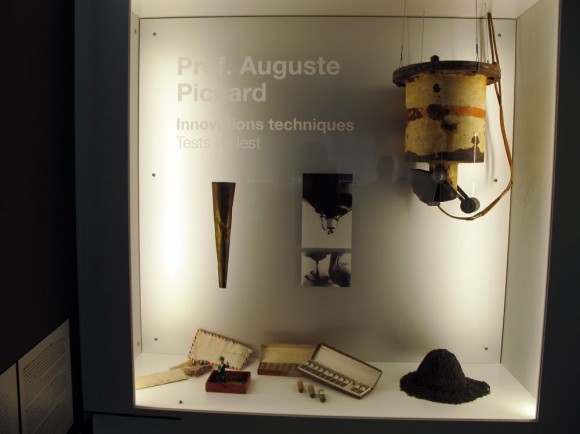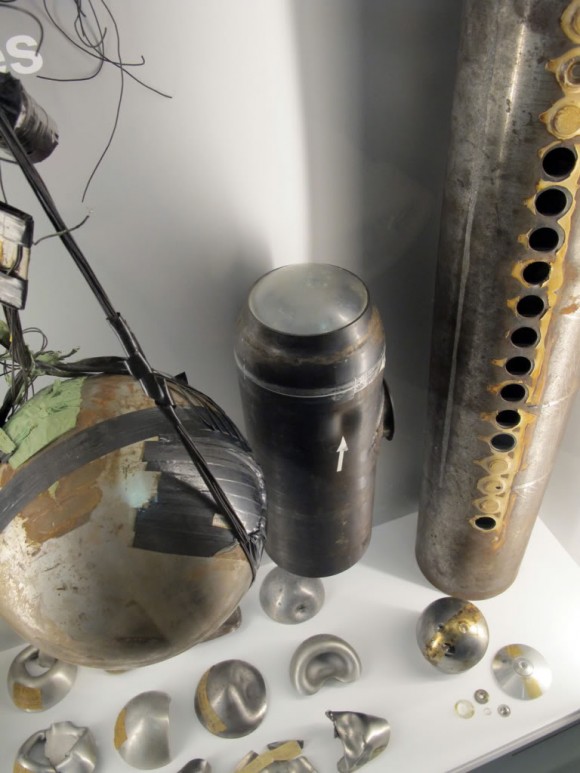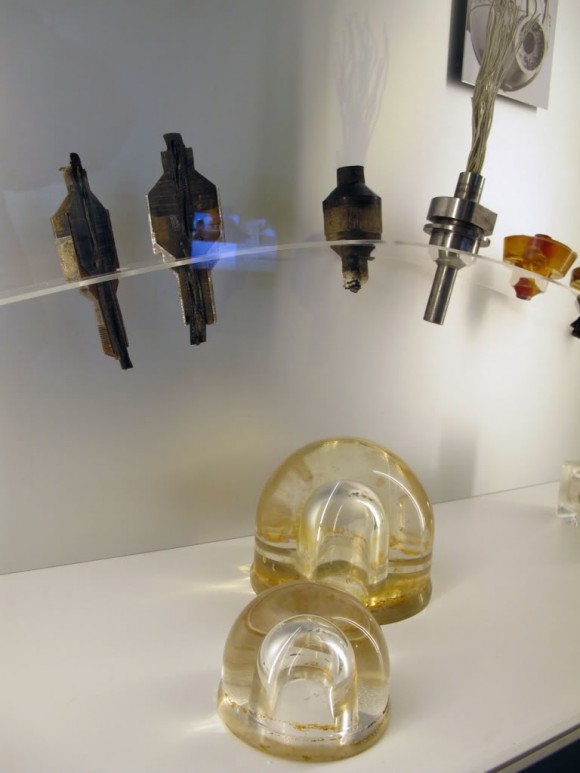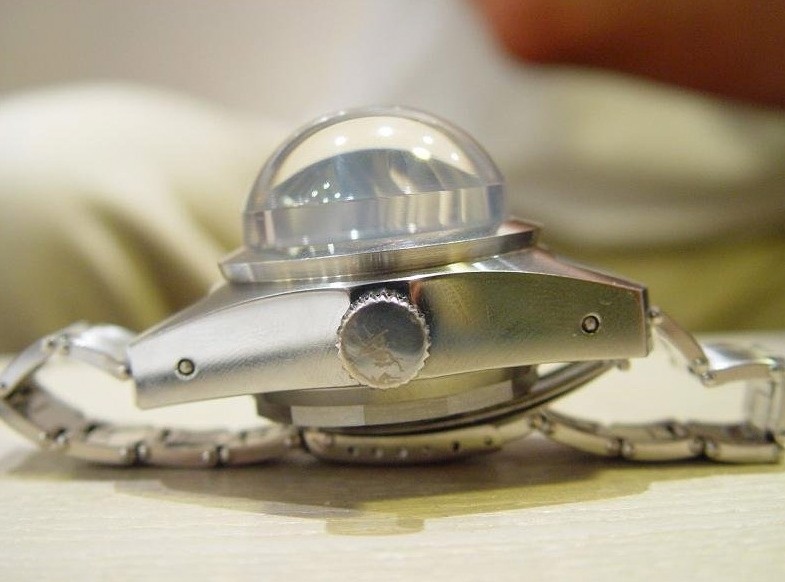 Here the Rolex DSS No 22 that is with Rolex Geneva as it was on US tour last year with Lt. Don Walsh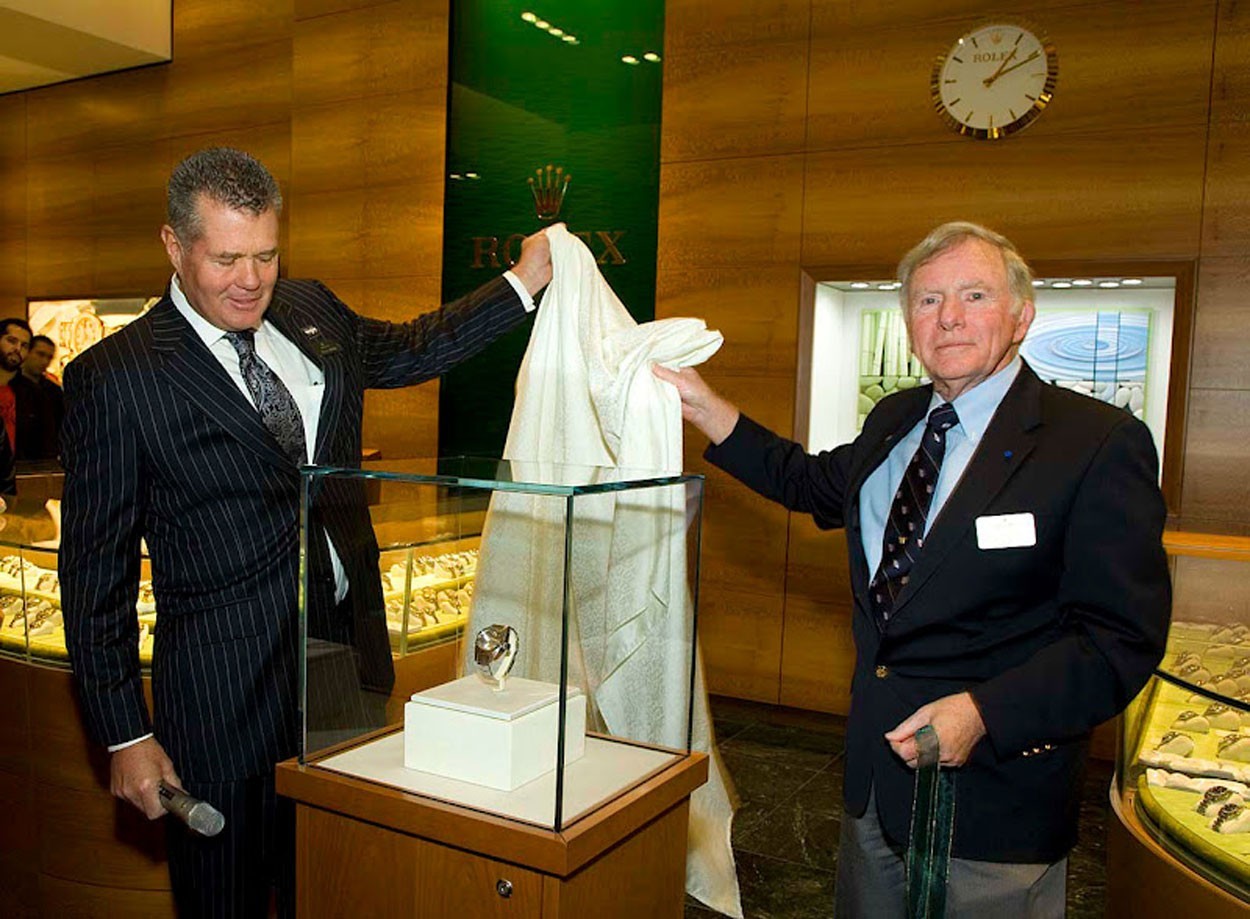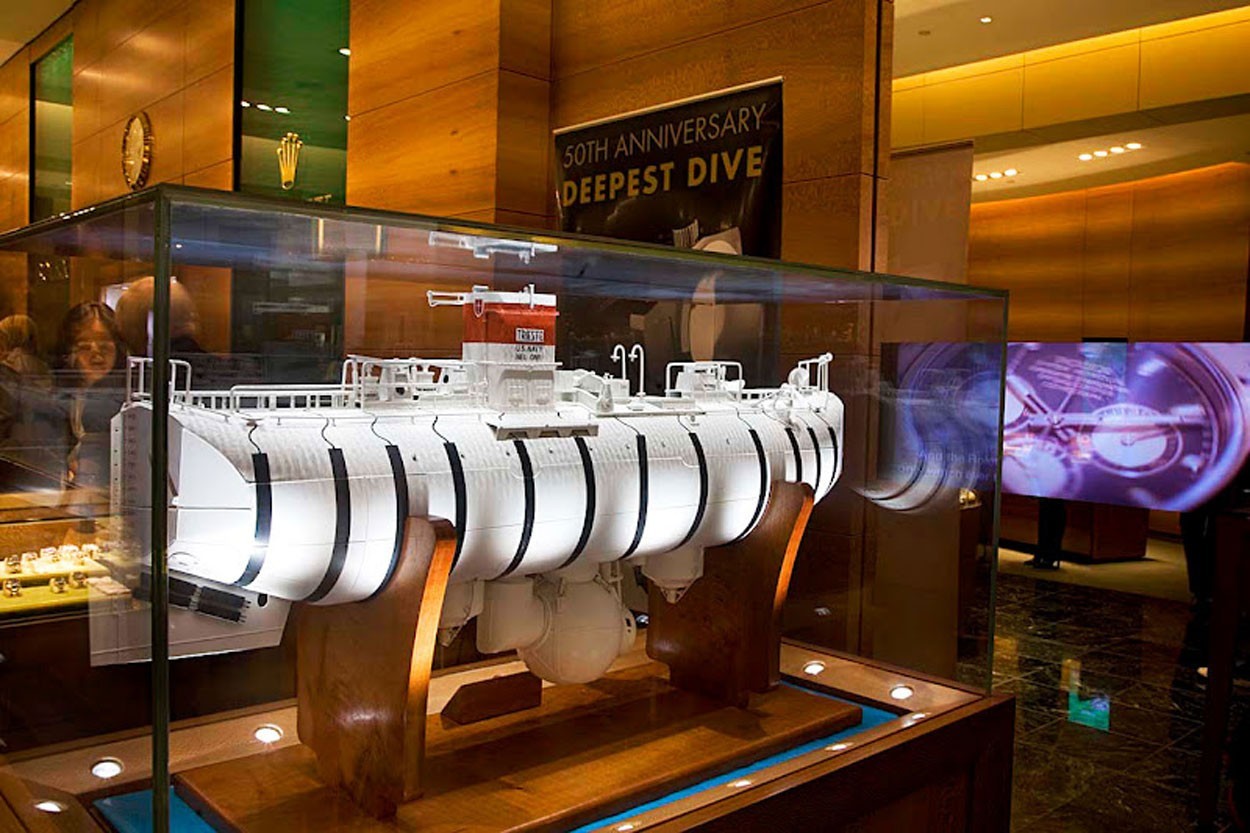 Here the Rolex DSS No. 31 sold for $ 438.000,= at Christies HK in 2009.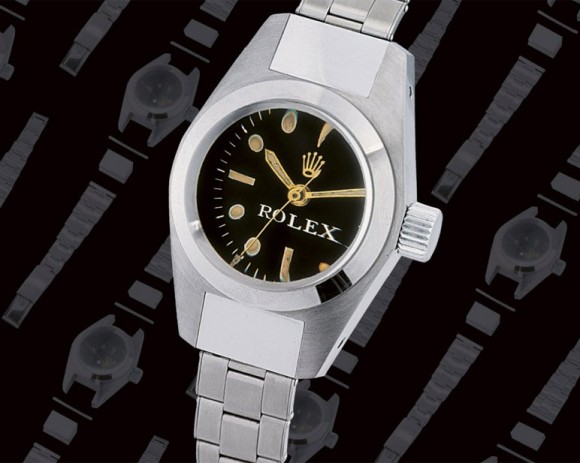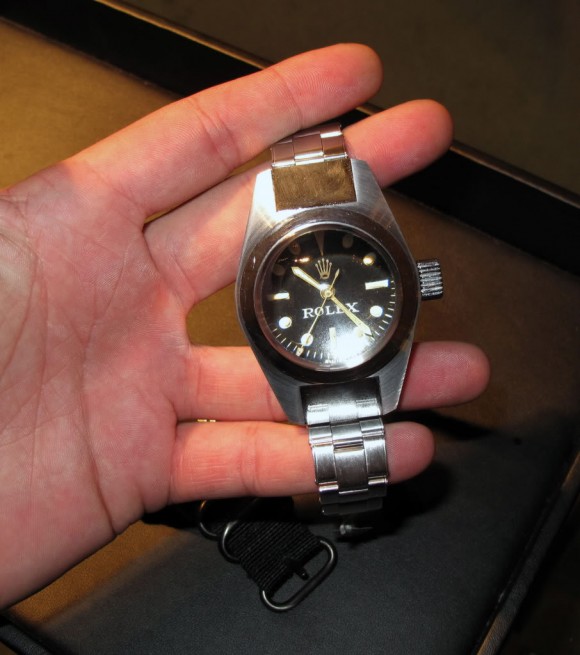 with later Rolex caliber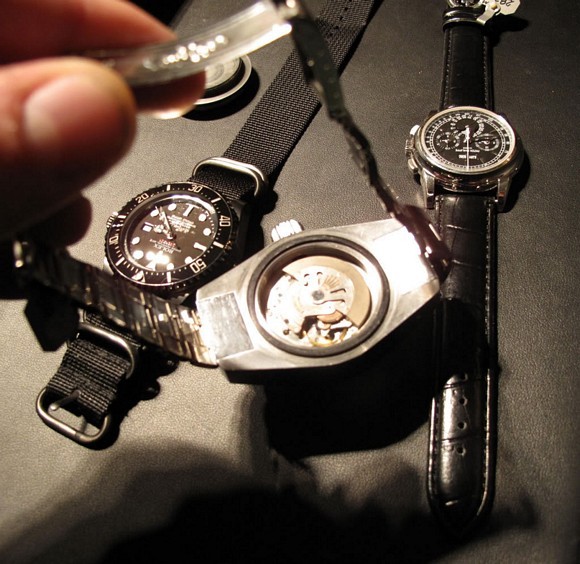 Inspiration of the DSS case design compared to the Panerai – Rolex ref 6152/1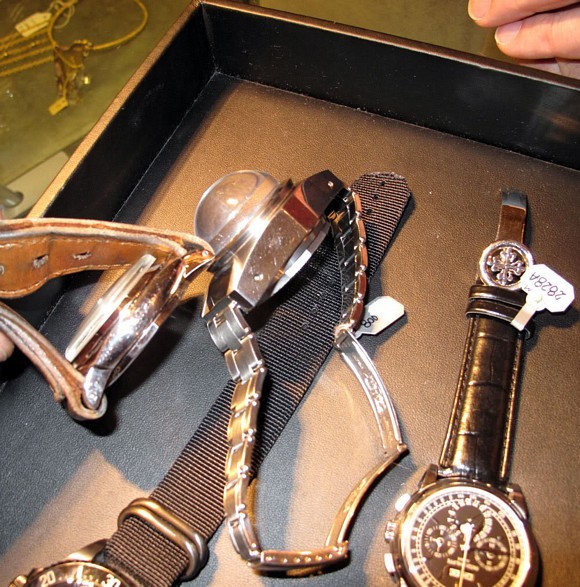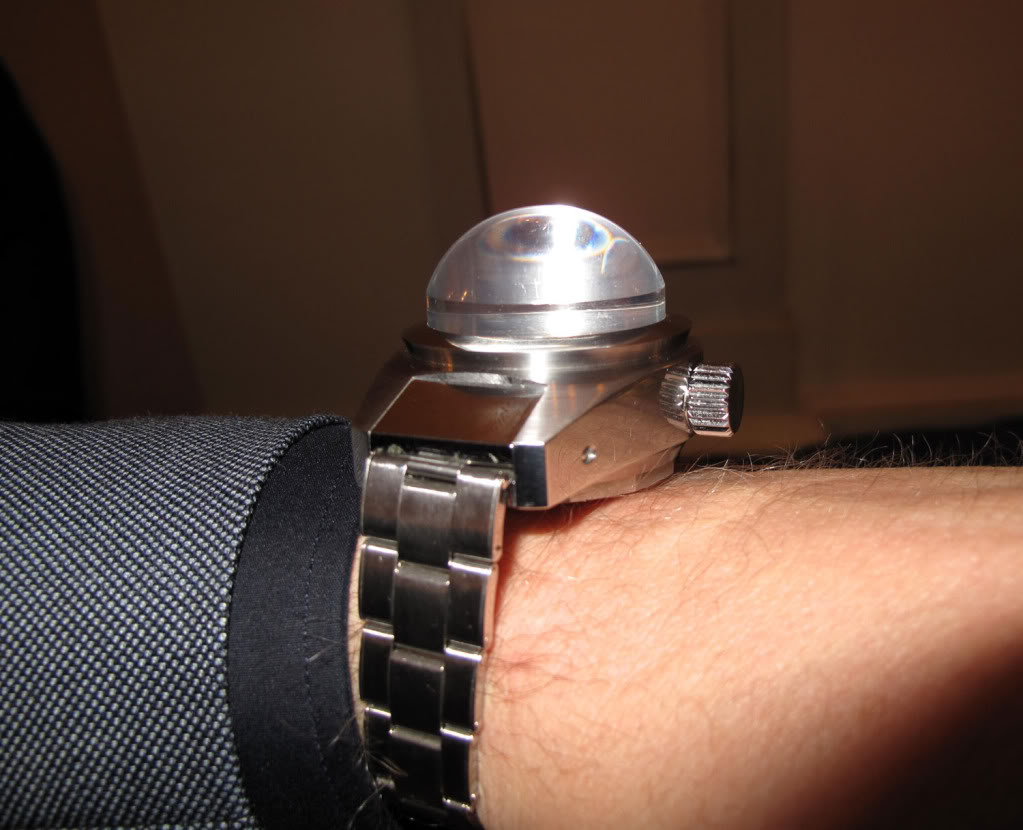 Number 32 of the Rolex DSS having a caliber 1570 sold at Antiquorum in 2003 for  124,500 CHF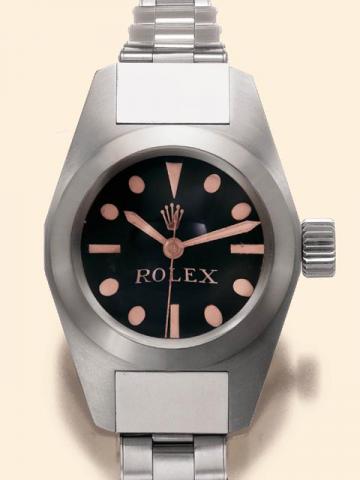 Number 35 of the Rolex DSS-Display with movement No. 641867 did NOT sell at AQ in 2002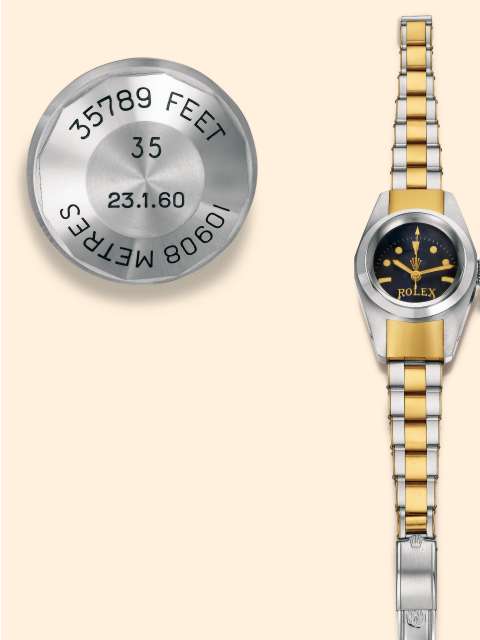 But No 35 got again offered at German auction Crott & Schmelzer, NOTE "She was given by Rolex to the present owner at the beginning of the seventies" !!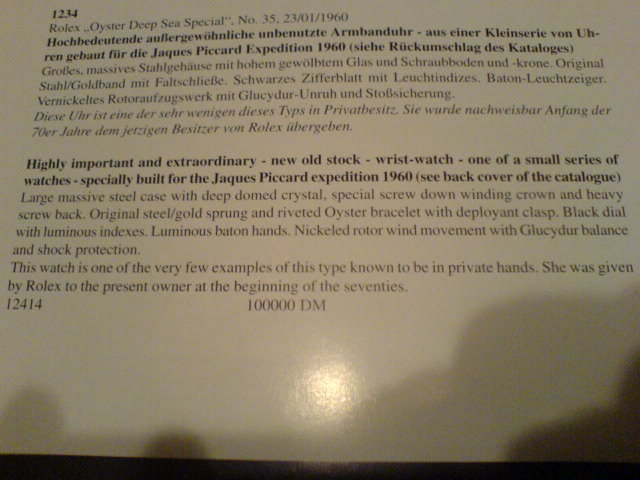 Here the Rolex DSS from the Beyer Museum in Zurich, next to the, by Hans Wilsdorf personally given, Rolex of Sir Edmund Hillary he wore during Mt. Everest ascent.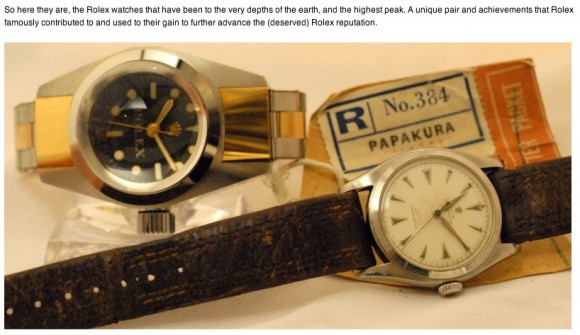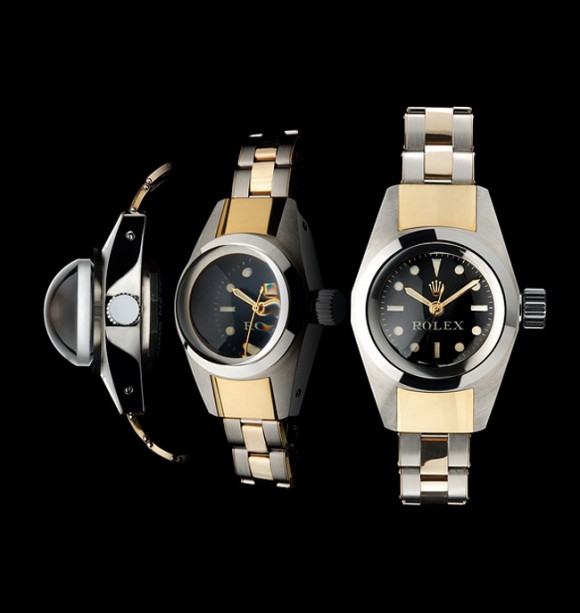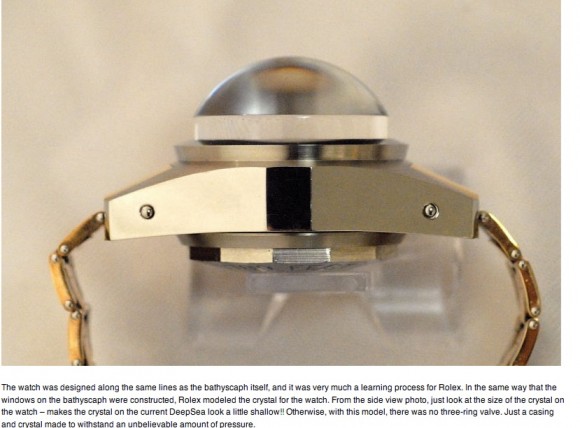 Interesting it is to see this version has a T SWISS T dial, with other words, a Rolex dial made AFTER 1965! That means that Rolex was still producing these DSS-Displays long after the 1960 historical dive.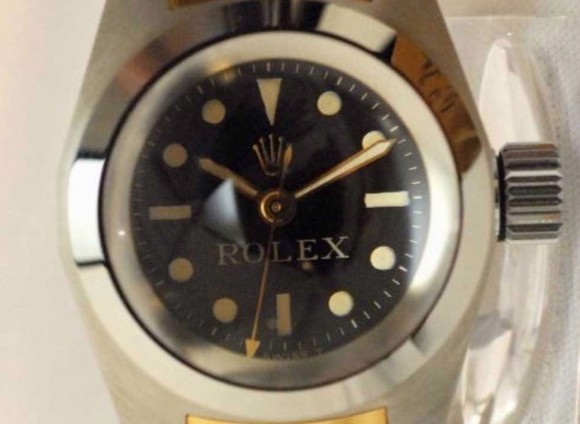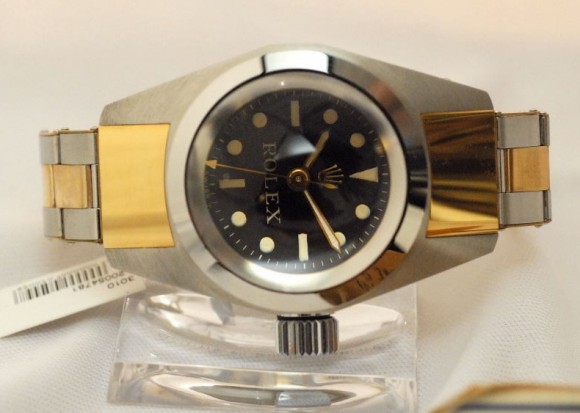 Sideview of the Display DSS, note the less high domed glass it has compared to the early Prototypes at the beginning of this RPR article.
The Piccard Deep Sea Special, given by Bertrand Piccard at the Museum du Leman in Nyon near Geneva.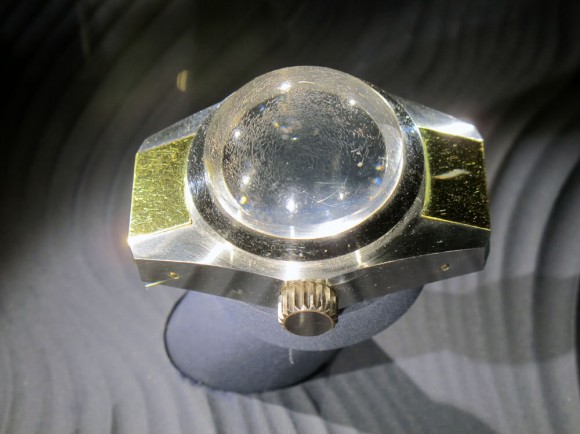 We see it's NOT having the special ring between case and crown, making it a early Display model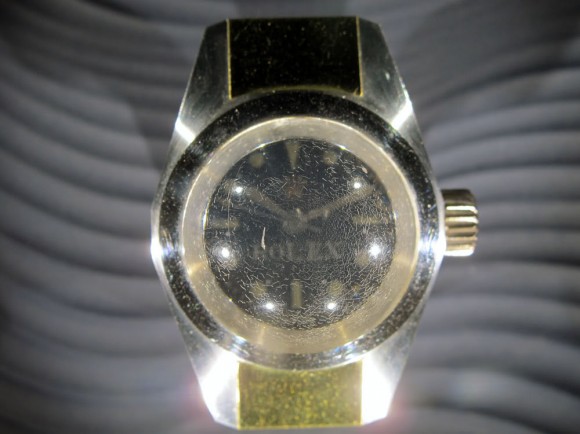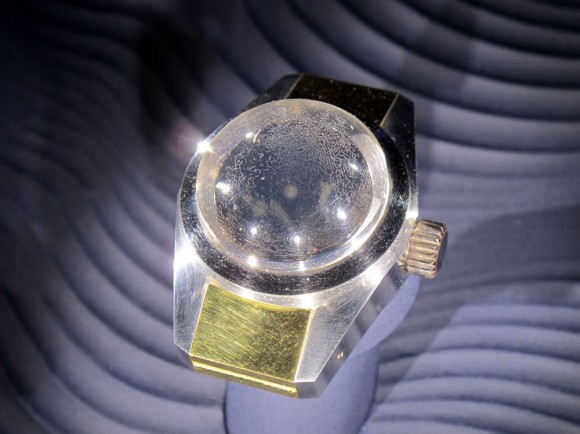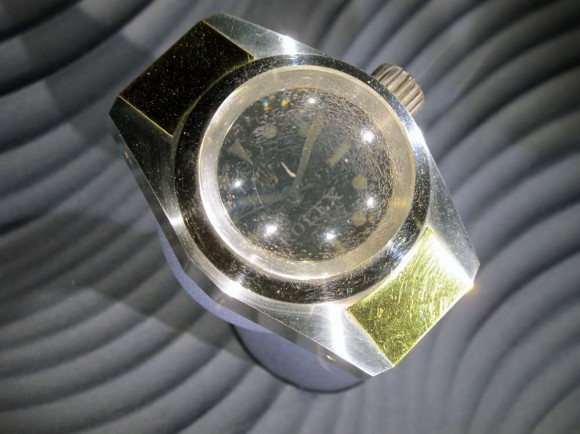 Original Sir Edmund Hillary Rolex Bosescks Calcutta & Piccard DeepSea Special – Display model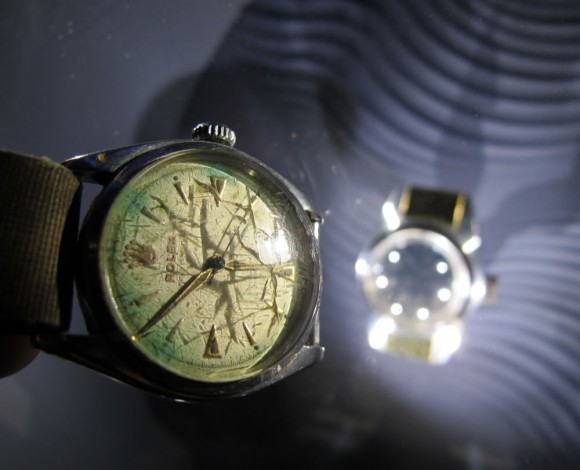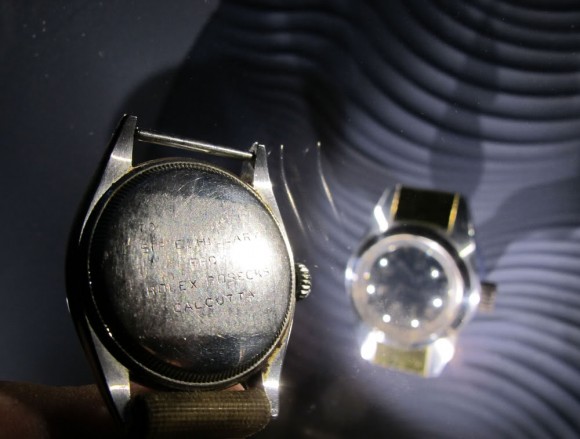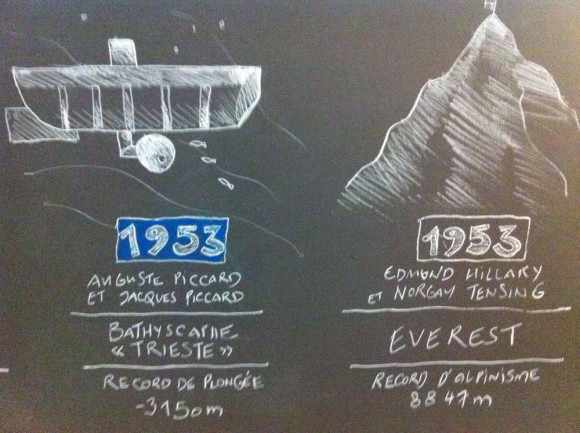 Long before Rolex gave us back the name DeepSea on a Rolex watch with their 2008 über Seadweller model, they already made another DeepSea model in mid 50-ies we see here: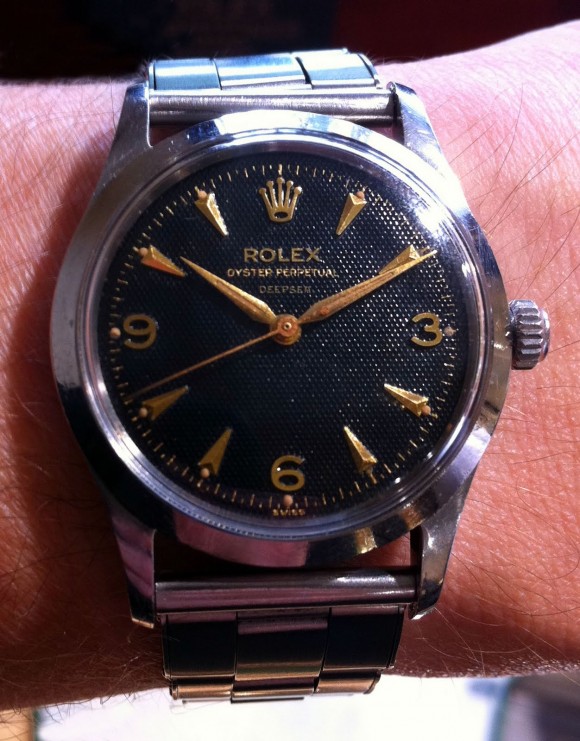 James Cameron with the Deep Sea Challenger. I believe the new DeepSea Story is not yet over, Rolex will come up with something I feel! 😉