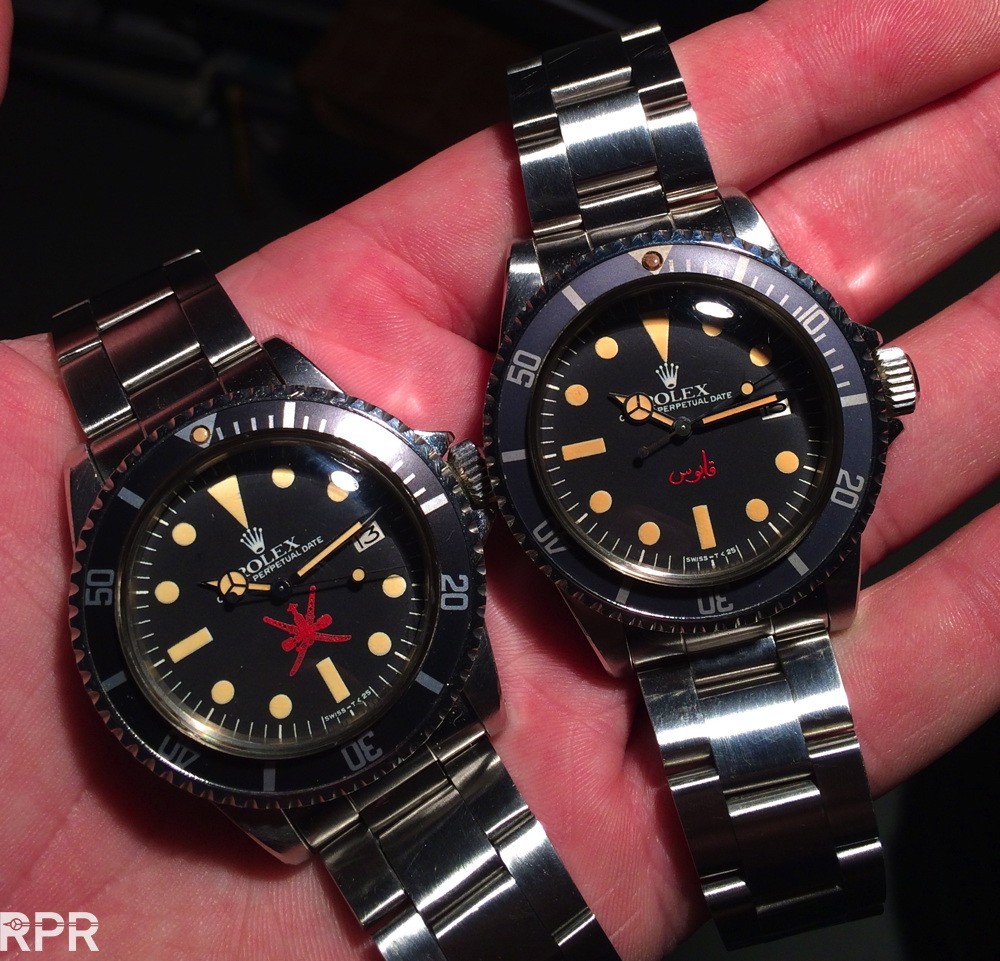 Oman & Qaboos Seadweller ref 1665..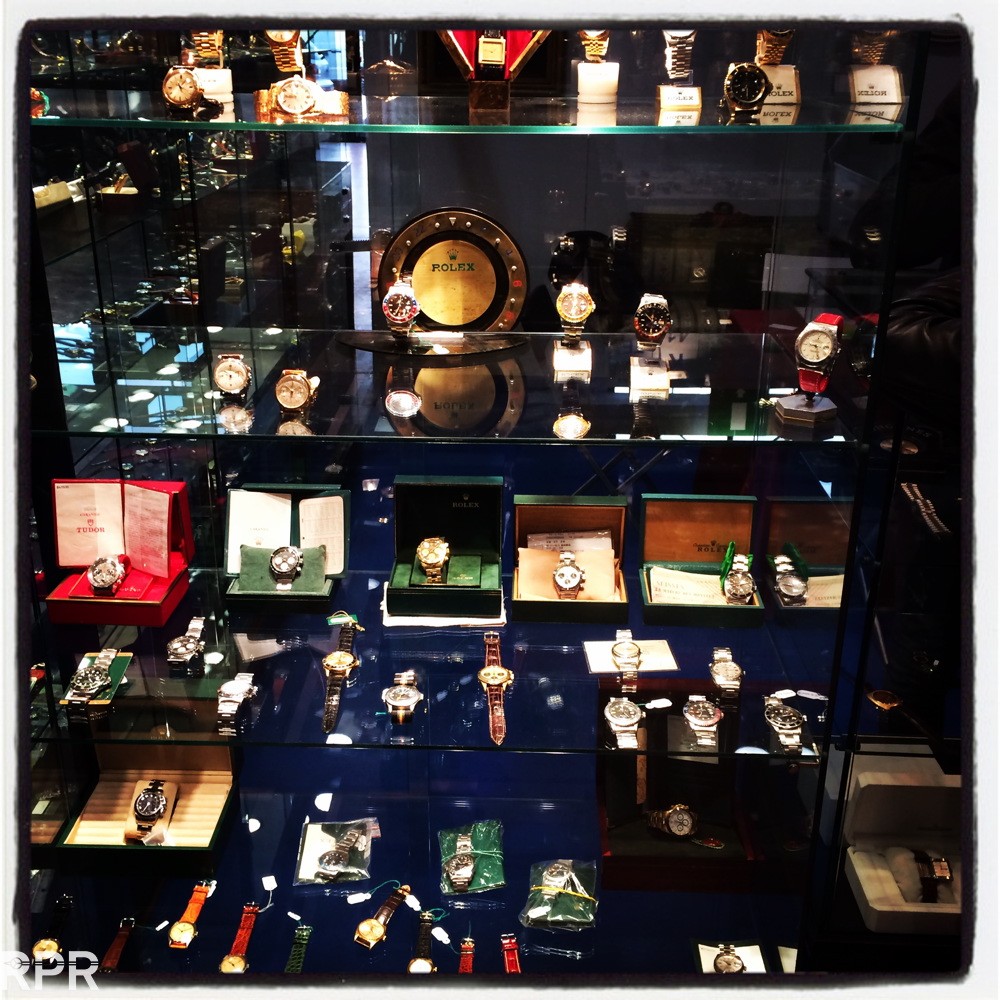 Gold Paul Newman, pink gold Killy, platinum Day Date Octopucci and steel 1463 Freccero to name some highlights being sold at Parma watch show..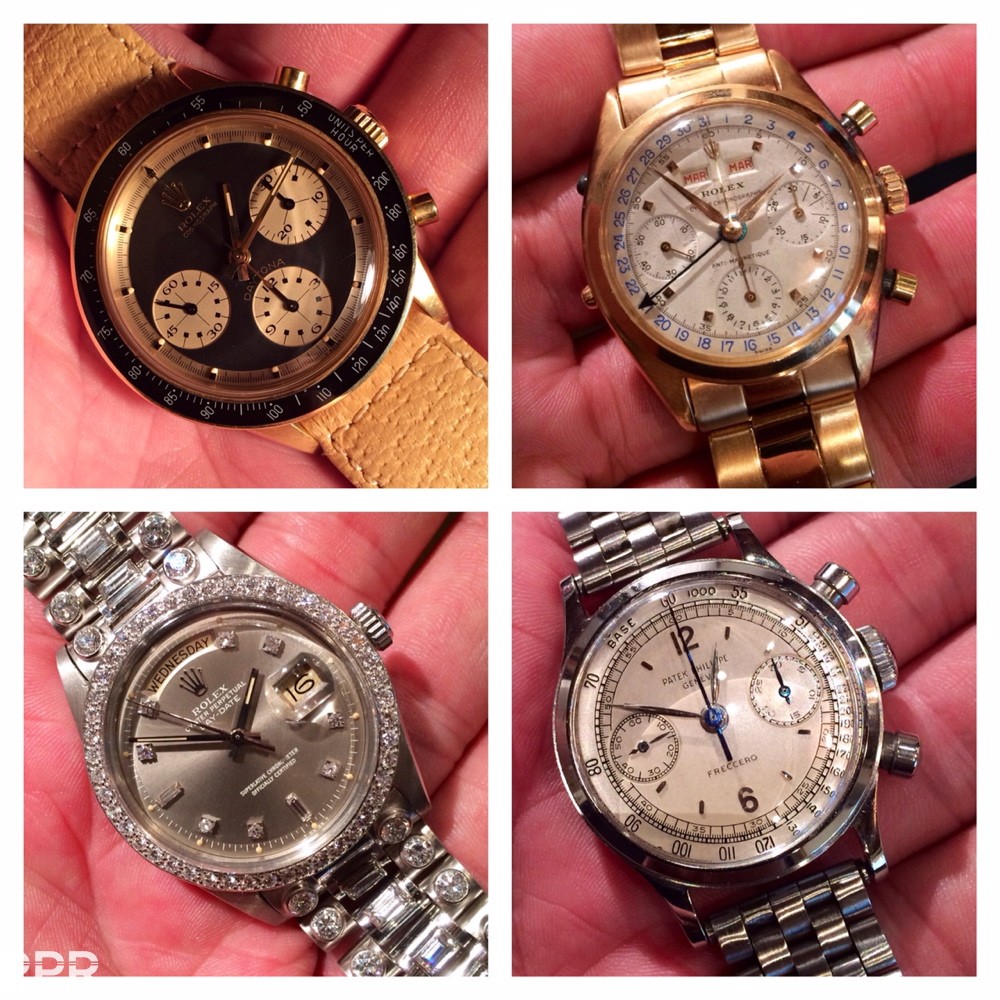 Ultra rare original Space Dweller, by Rolex..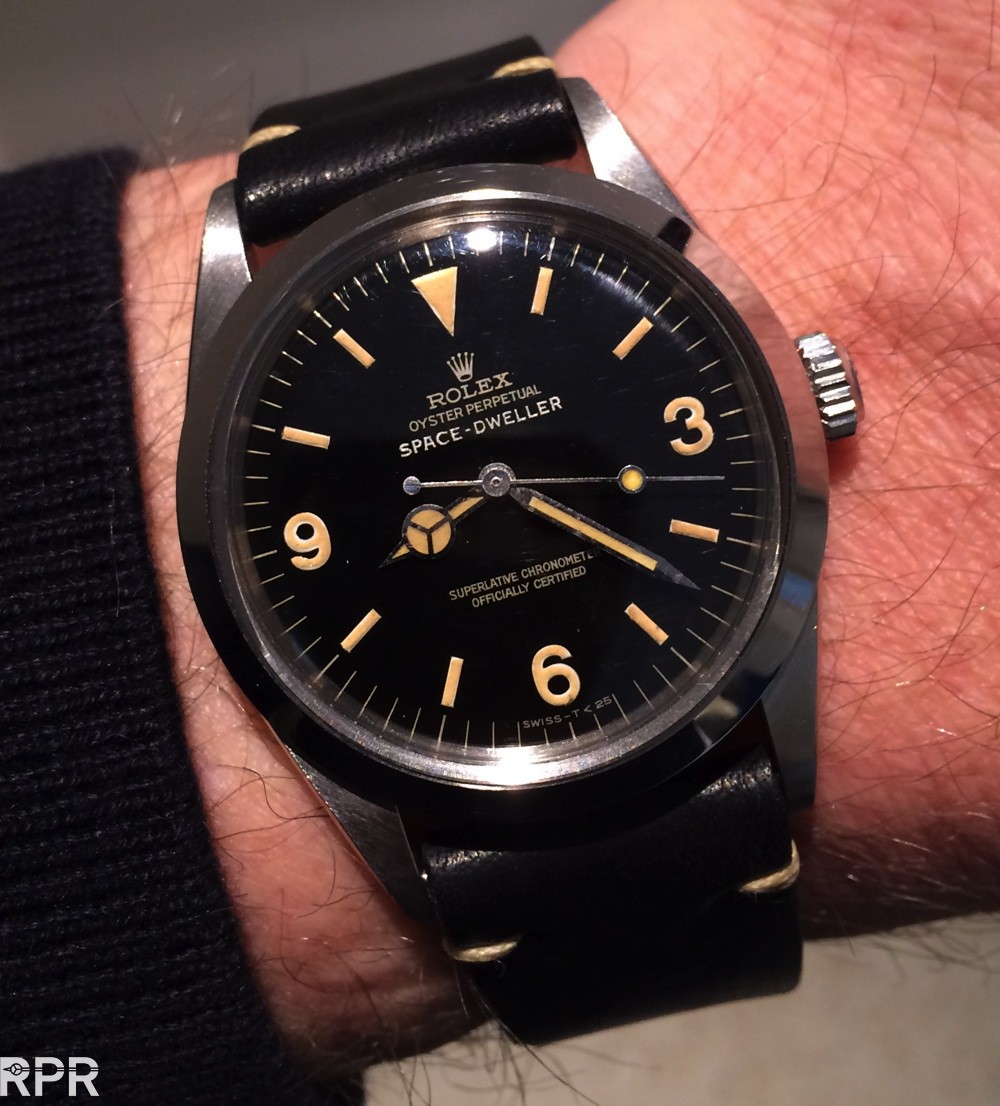 Yet again another trip to vintage heaven, this time it's for the start of the season, the 2 x annual Parma Show. As usual my trip starts in Milan from where we meet up and go together to the watch show. Our friend Davide Parmigiani arranged a stunning dinner at his loft in Milan, seldom i've eaten so much great italian food, prepared in his giant kitchen at home and surrounded by many watch friends, thanks again Davide for your hospitality. The best of these so called informal GTG's is that you always see the best vintage watches that will be for sale. As we all noticed from last years auction results, the vintage Rolex market is still booming and due to the exceptional results achieved, owners are expecting the maximum.
My personal notice was that the quality i'm fond of, best and most original, are getting more and more difficult to buy. One reason might be that we see more buyers then sellers, second reason is that we come to the conclusion that there are only a certain number of Big Crowns, Milgauss, Oyster Paul Newman, GMT, Padellone or Stelline's and hardly any fresh 'barn finds' come to market any more. Thus the dealers have to work with whats around and as we see since some years that important collectors are securing the best examples, not coming back on the market, the demand, and hence the price, is going up rapidly to a niveau I personally never thought we would reach so quickly. We see now that rare vintage Longines, Movado, Omega, Eberhardt, Heuer's are gaining popularity. Logic result is that the medium quality or professional restored pieces are being priced as if they where best and for the great untouched quality it seems there's no price anymore.
The watch market is now developing the same as the rare art market did some 5 years ago, we will see more crazy results when the best comes for sale. 2014 is definitely becoming an interesting vintage watch year again and the expectations for the Geneva May auction are high as everybody is watching market leader Christie's without having Aurel Bacs and his wife Livia as magic factor achieving record prices. Lets wait and see what will happen, personally I think, now the market is so much more developed, it's time for a different collectors approach, one thats having more interaction & education then twice a year in Geneva. I believe watch collectors are interested in a constant flow of knowledge and expertise to build up a proper collection so we see in general that specialist watch forums almost dried up due to the more easy use of Instagram & Facebook to share our watch passion. Enjoy my following impressions, thanks my friends!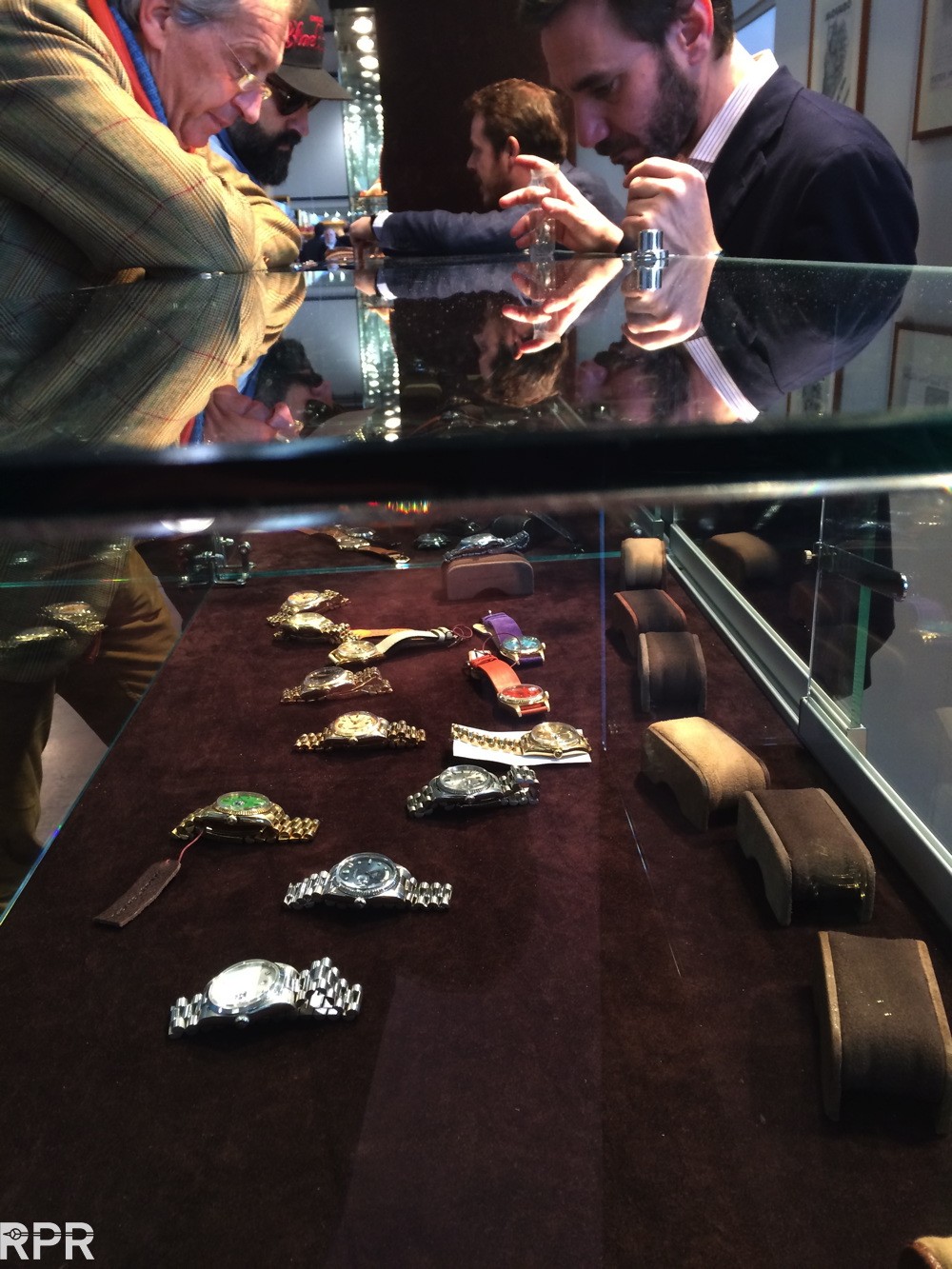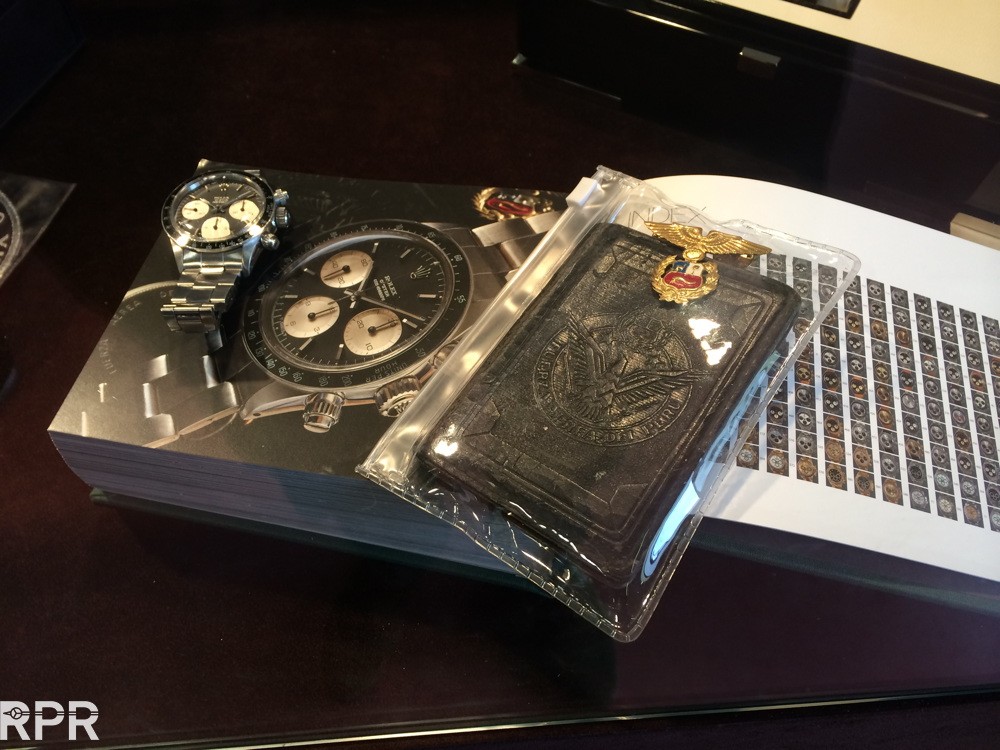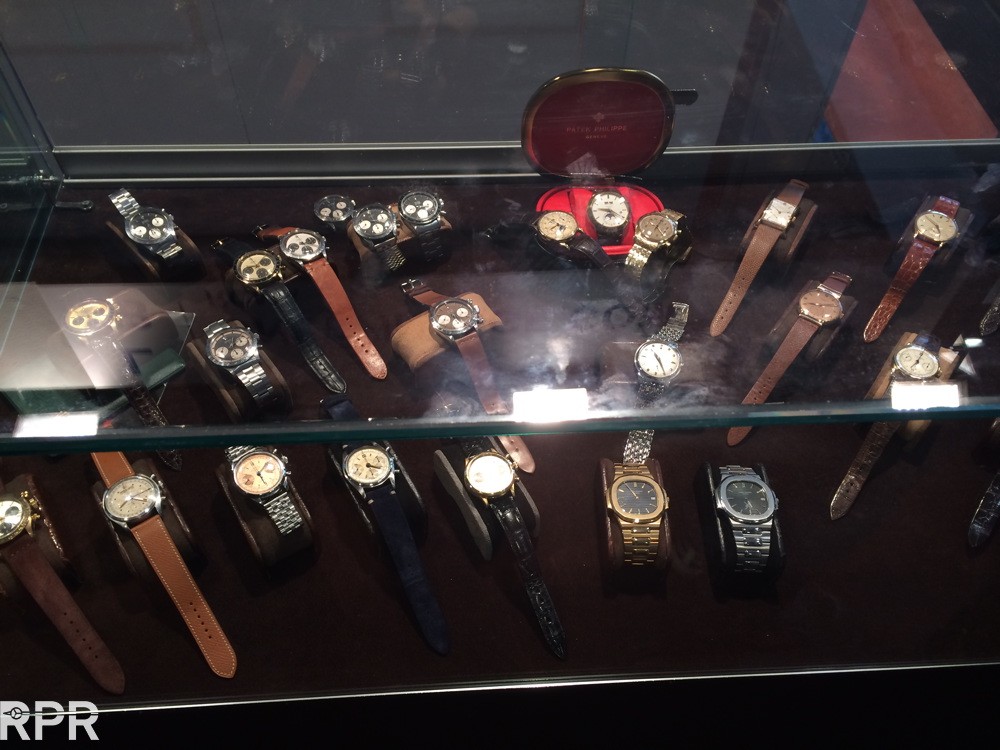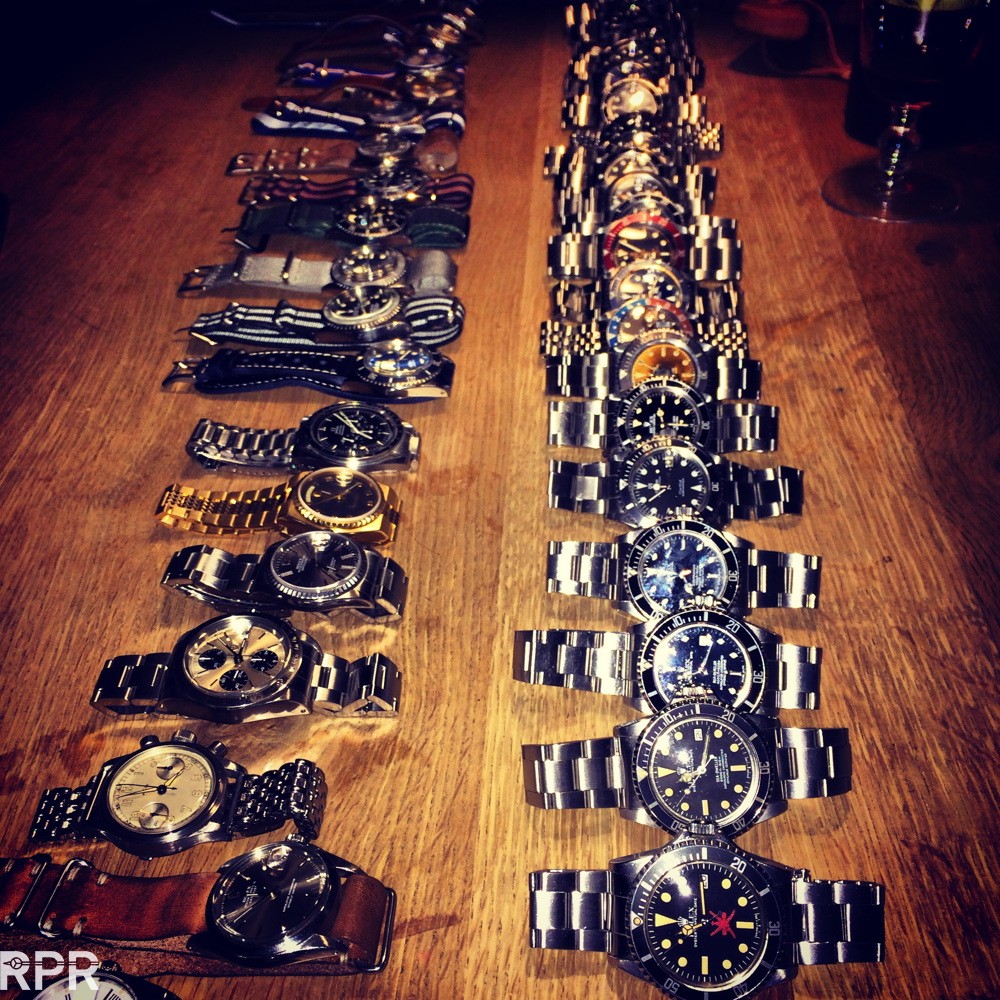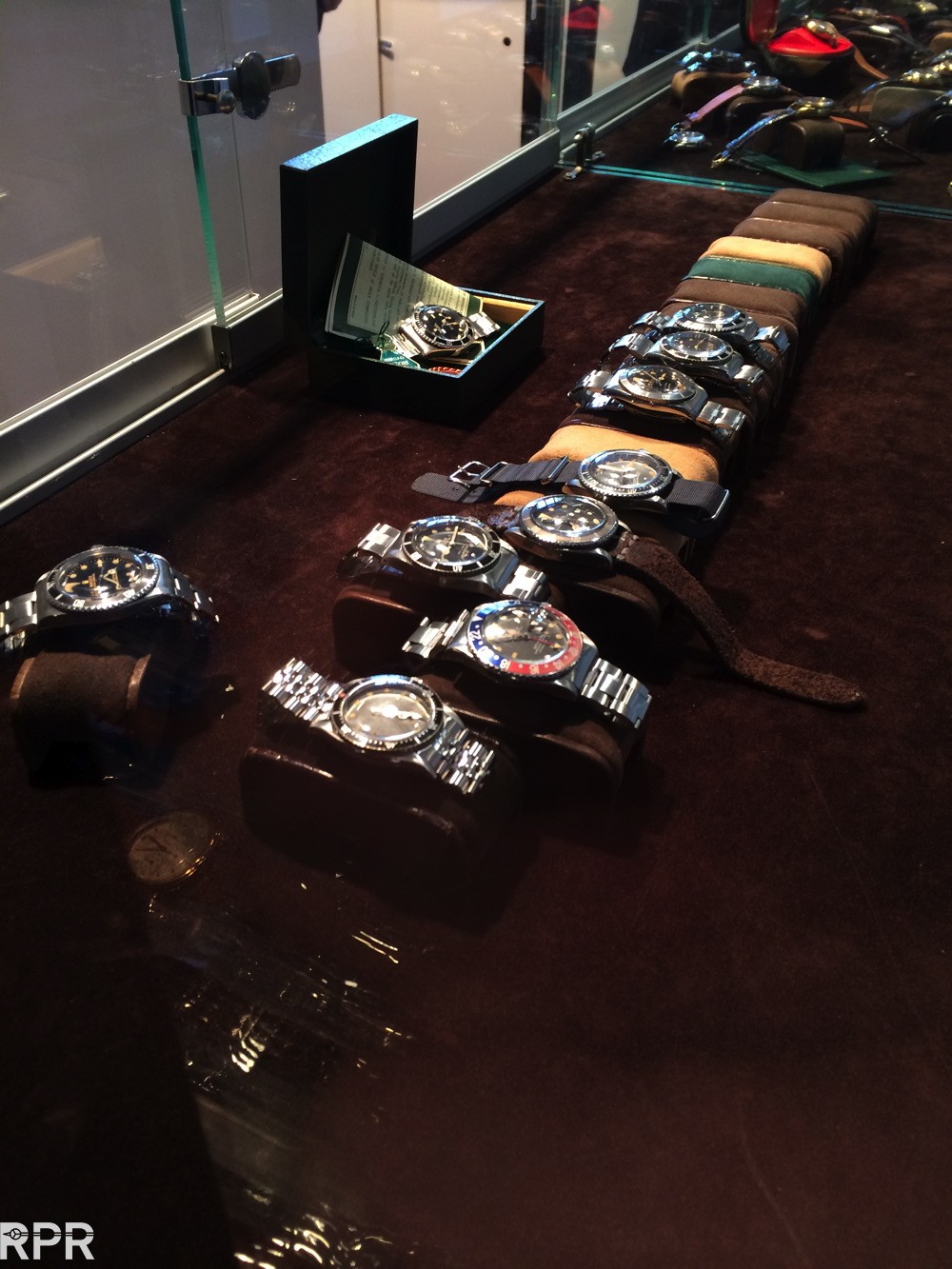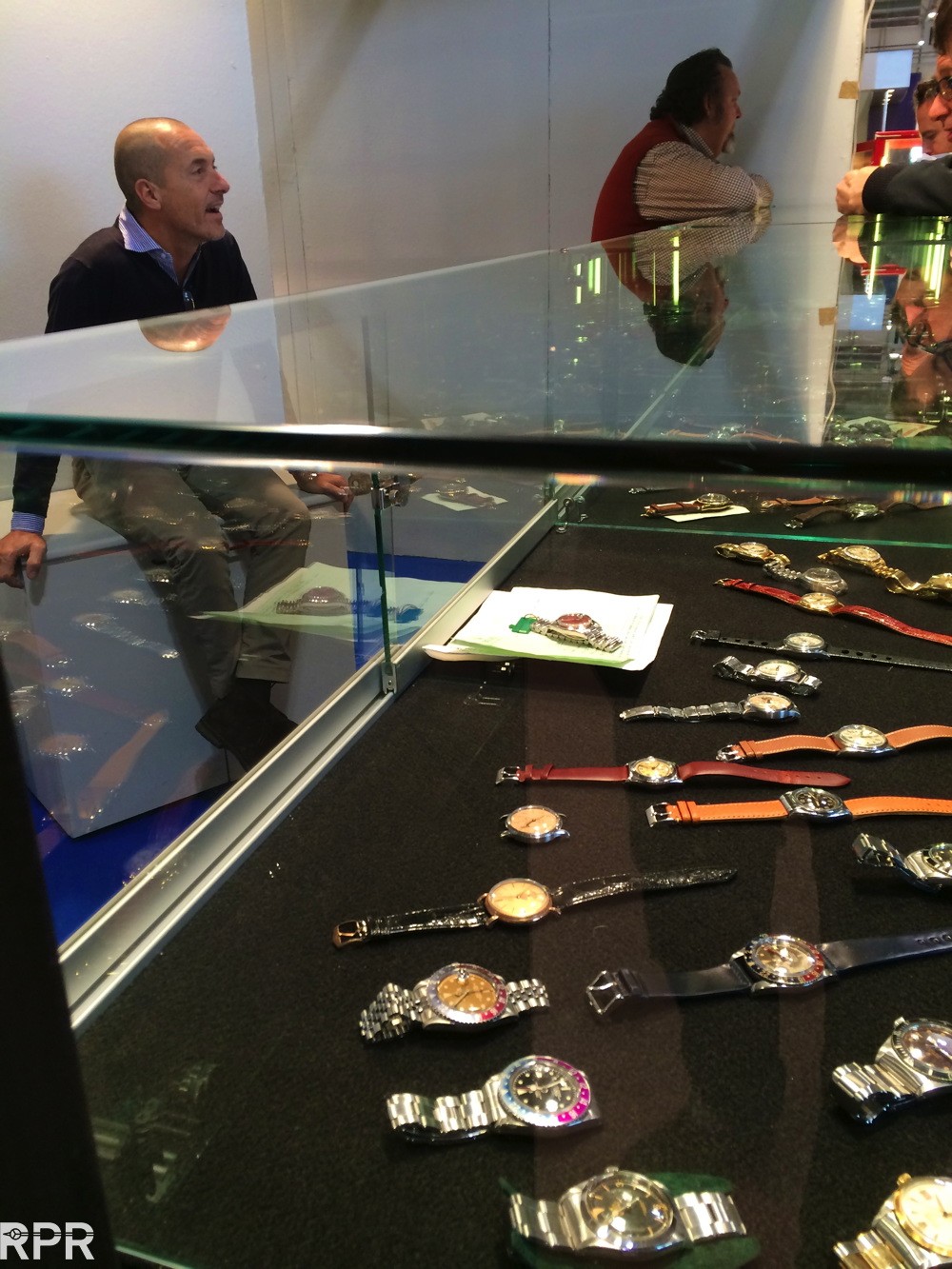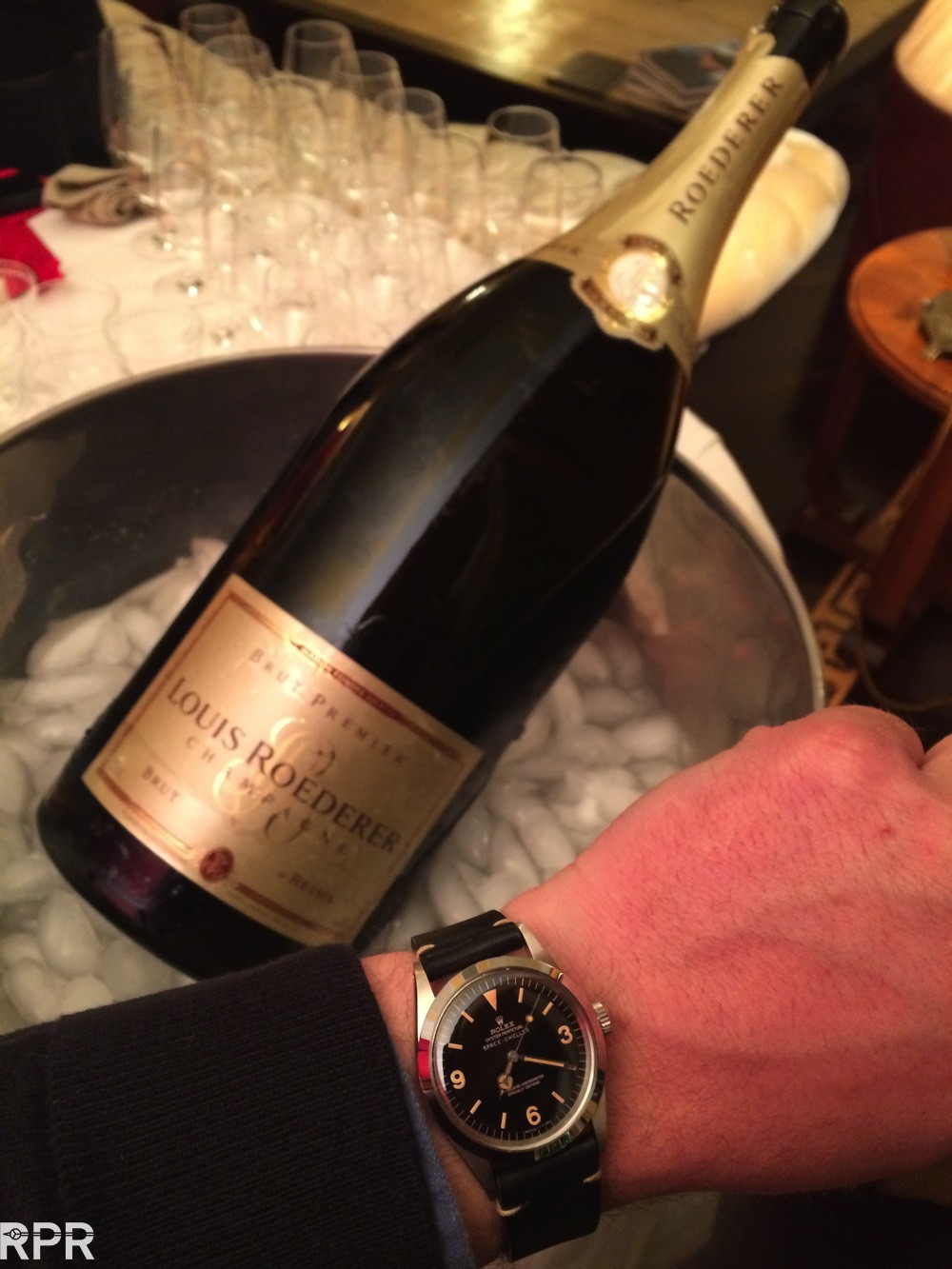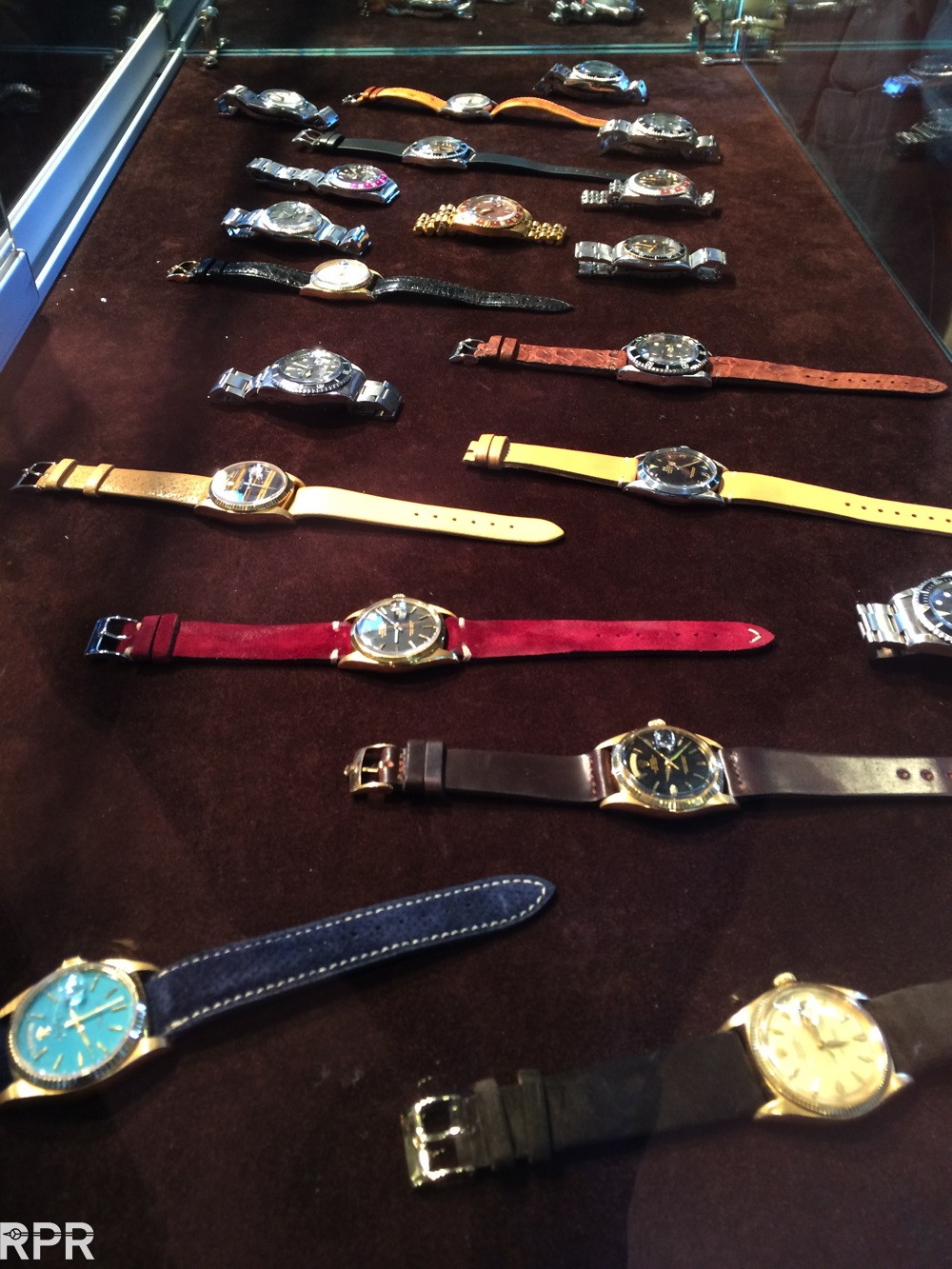 Oman – Asprey blue dialed, big diamonds Day Date..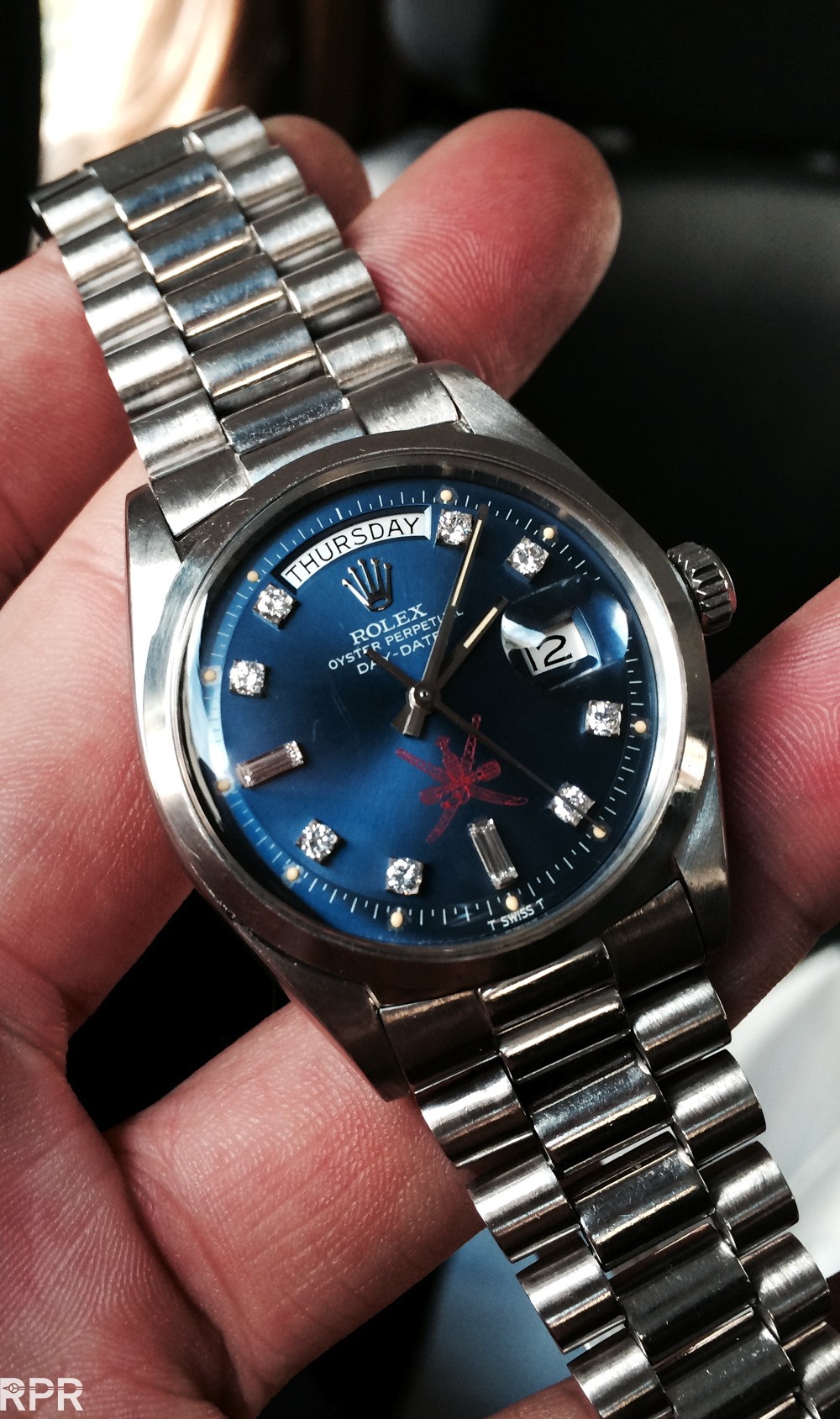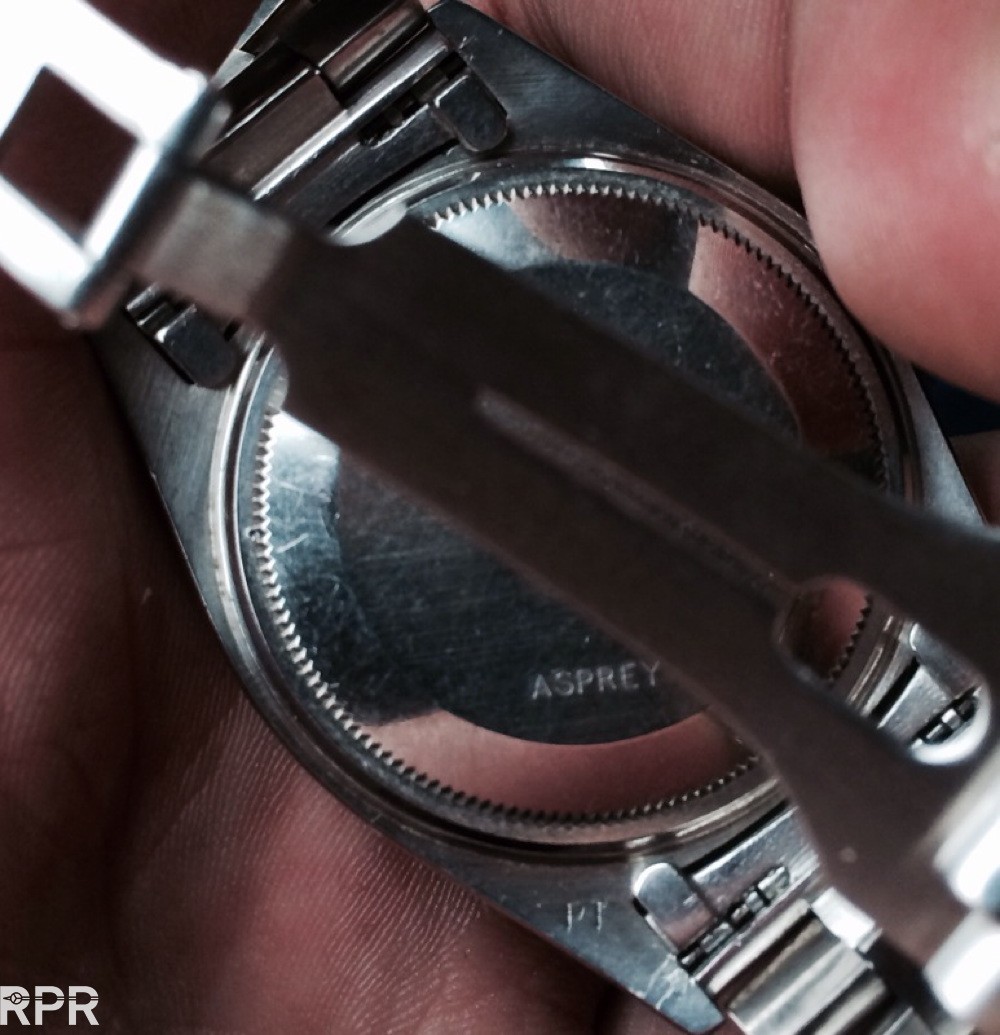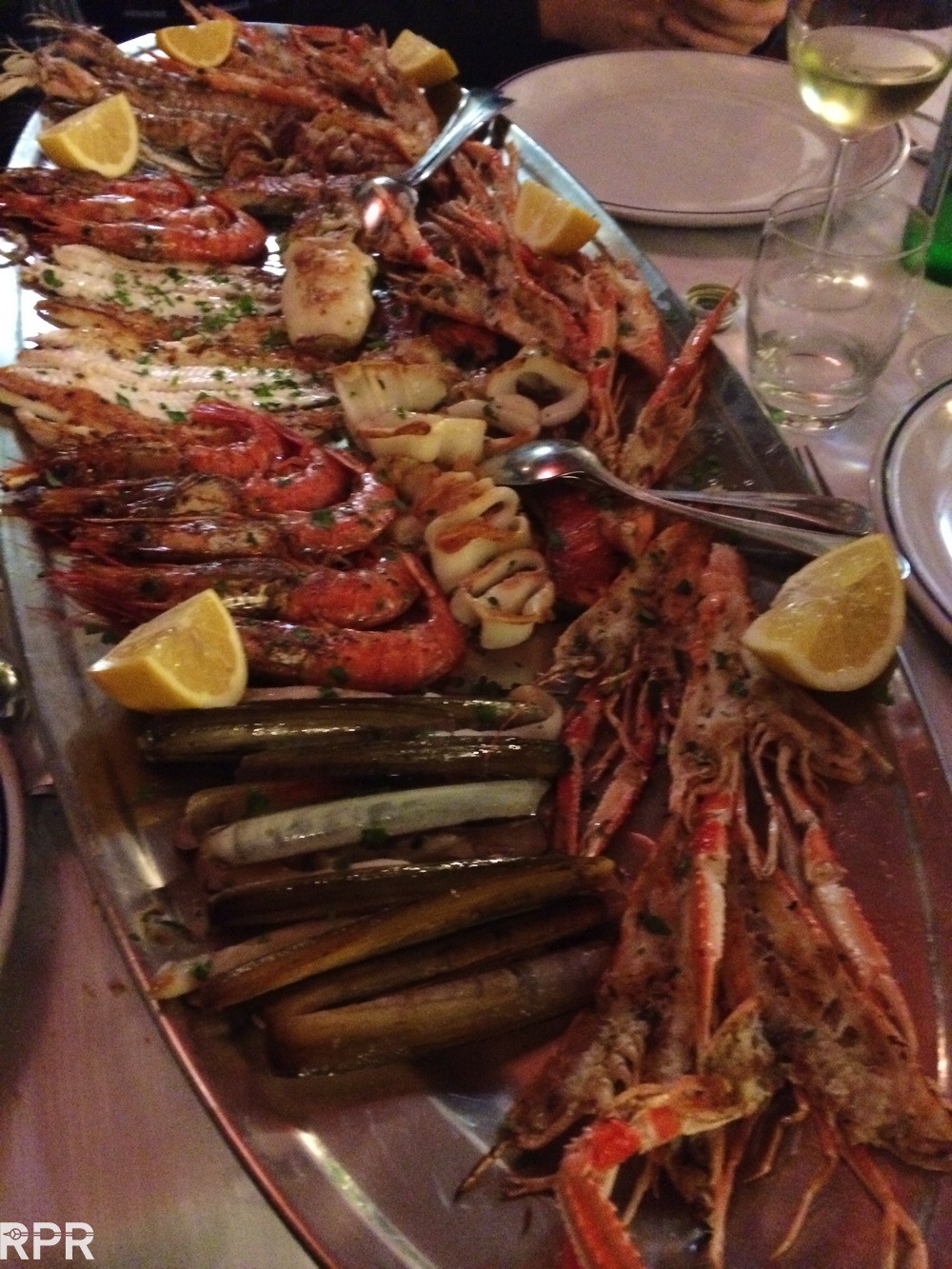 Super elegant Patek Philippe ref 130 with sector dial..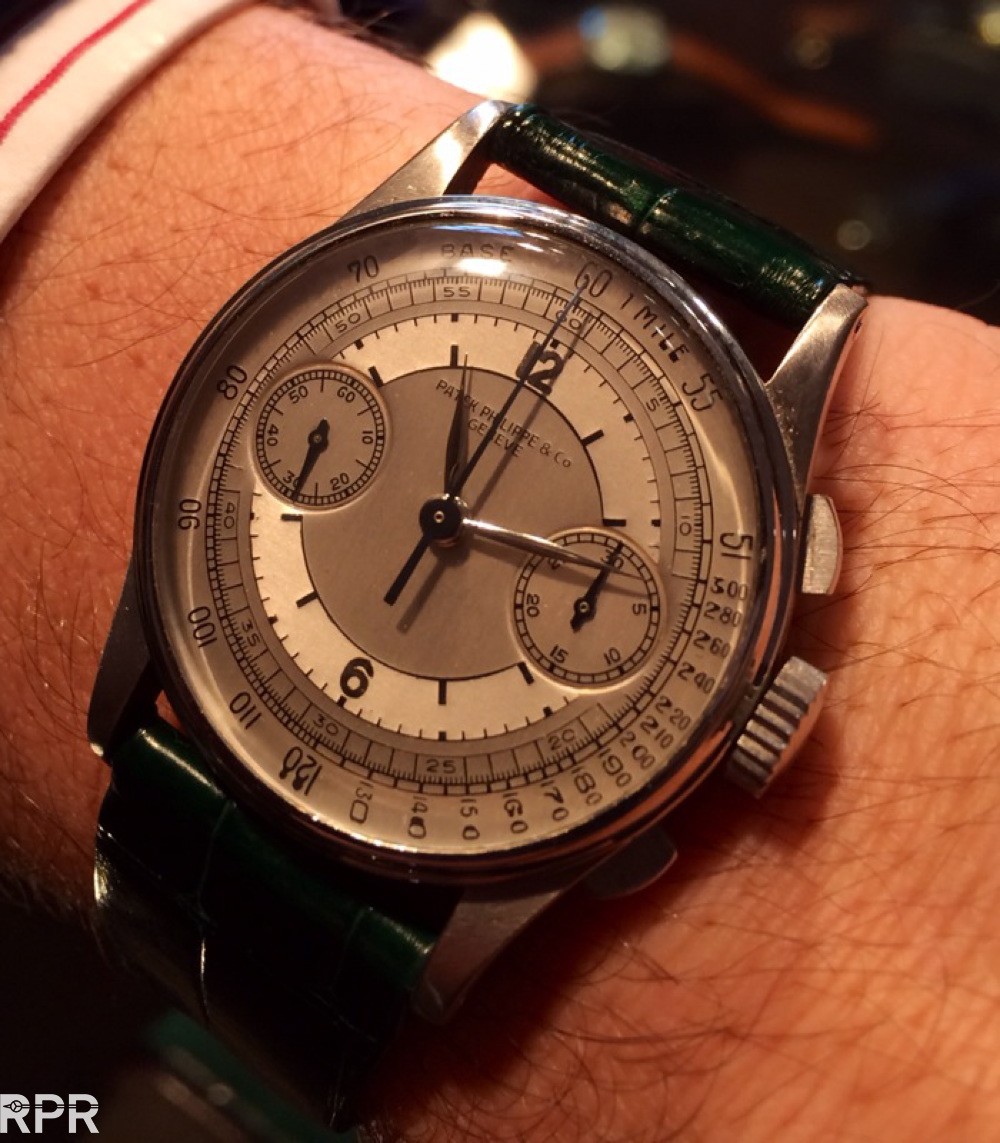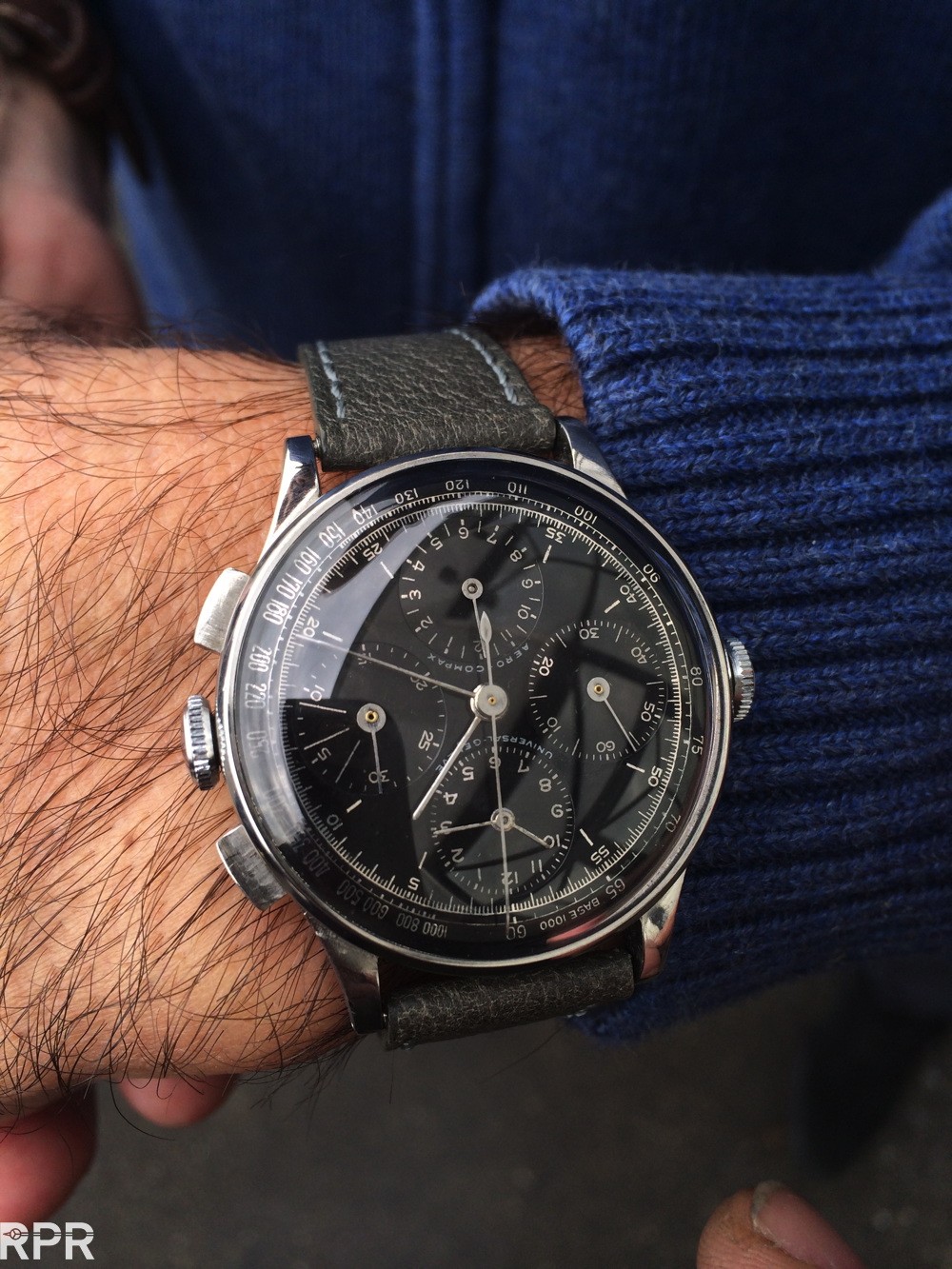 Black Universal Aero Compax..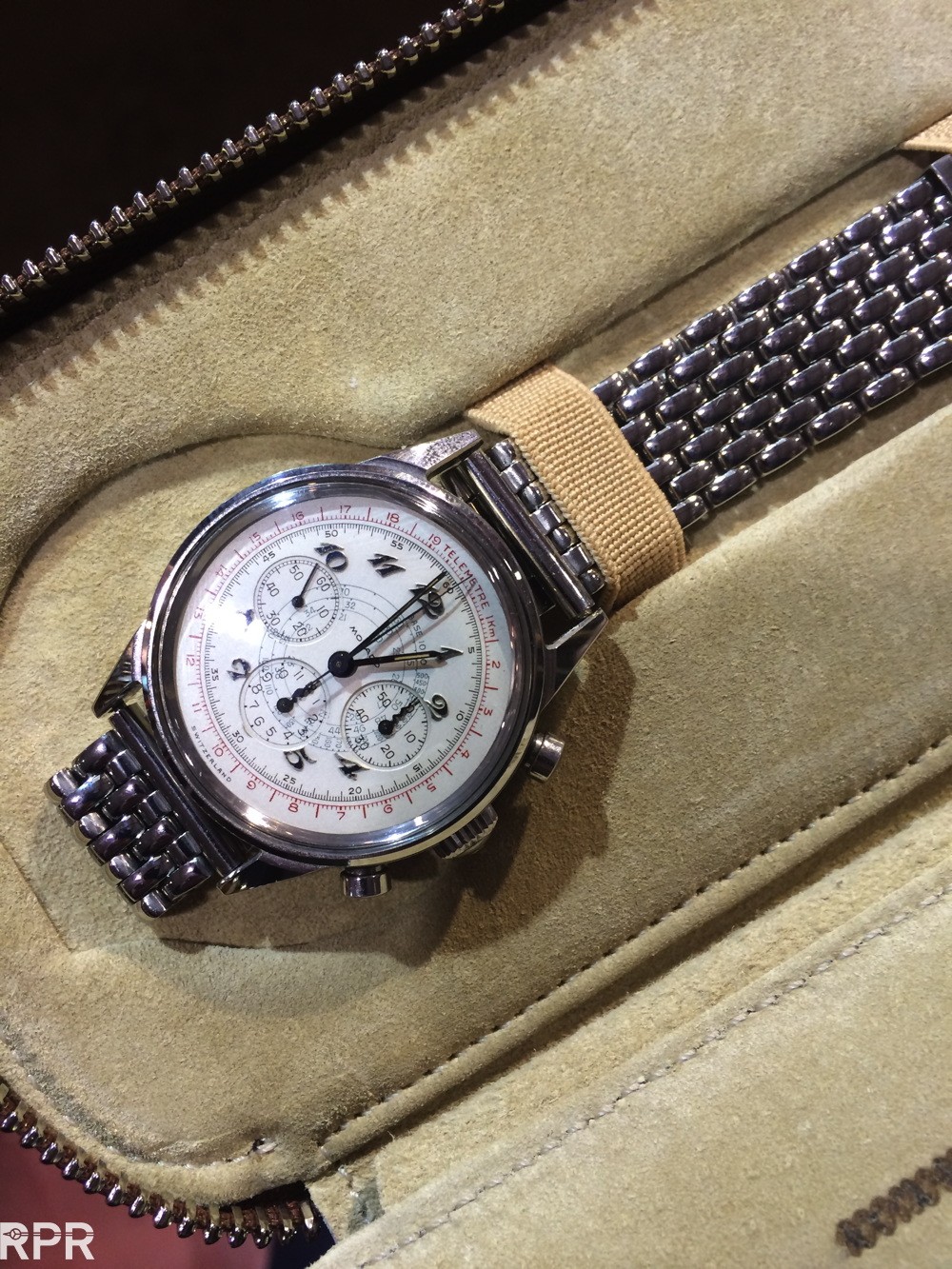 Movado's excellent chrono designs have become in high demand, logically…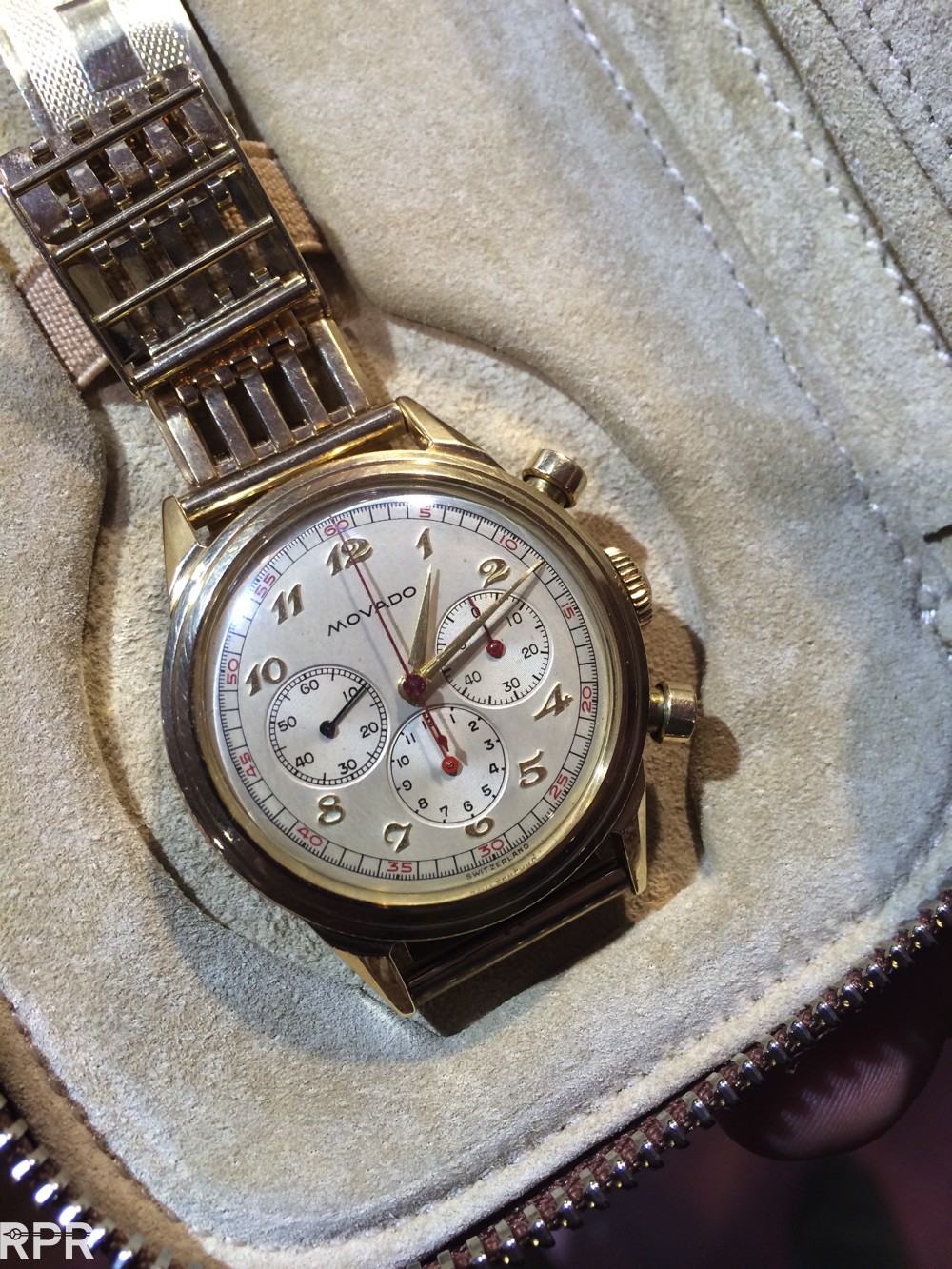 A Prototype Zenith, one of 25 examples…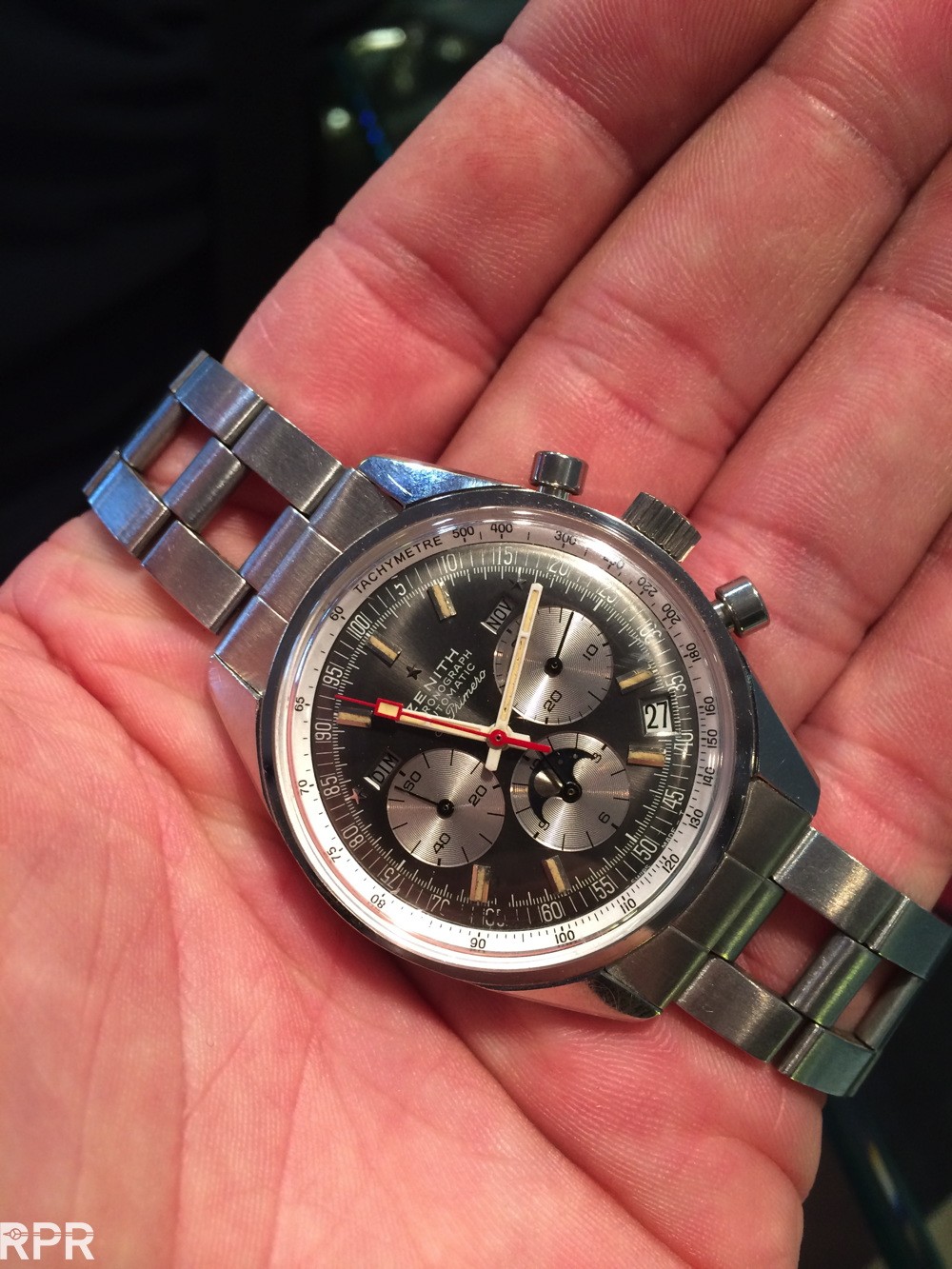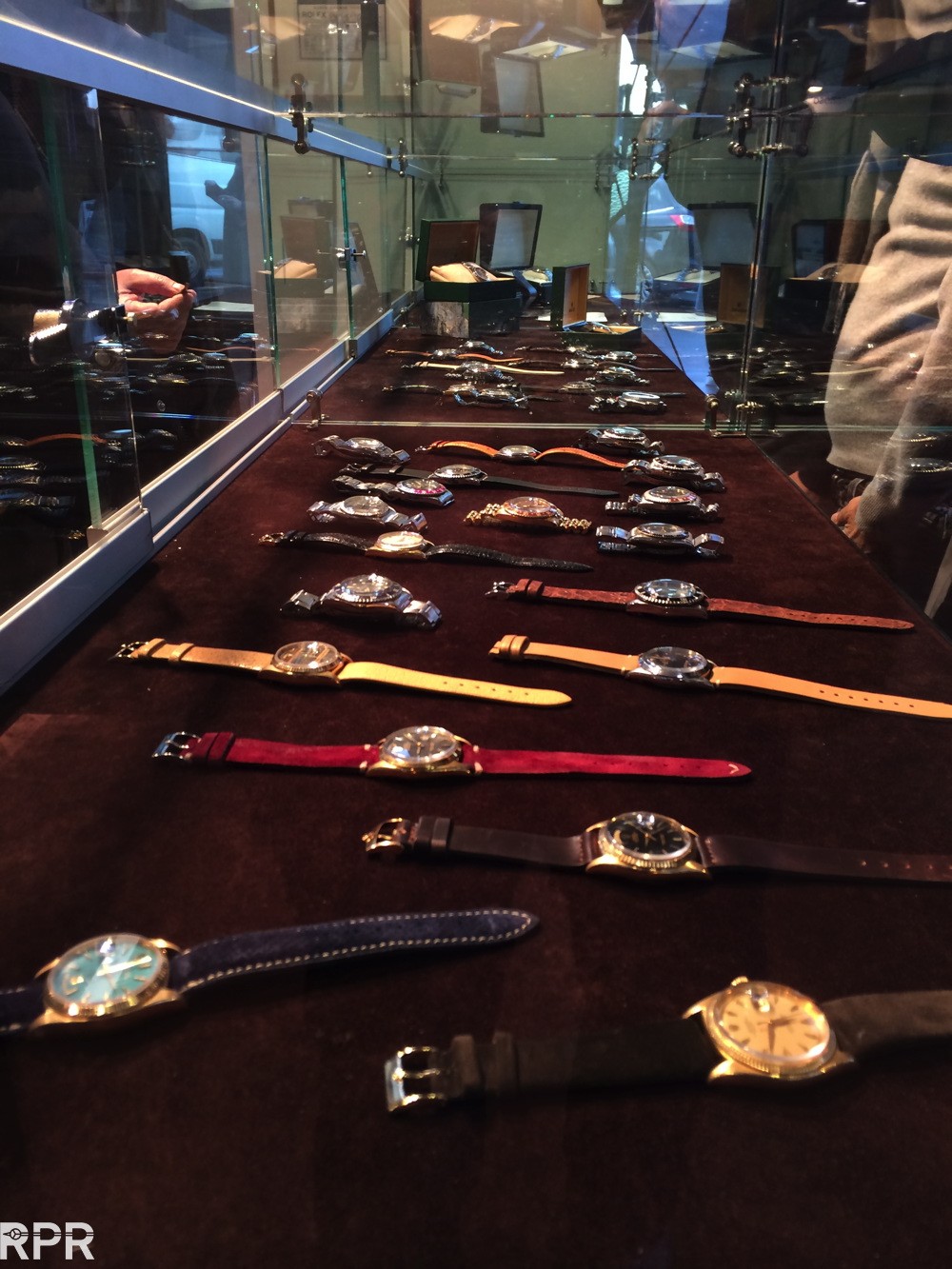 New Daytona, by Rolex..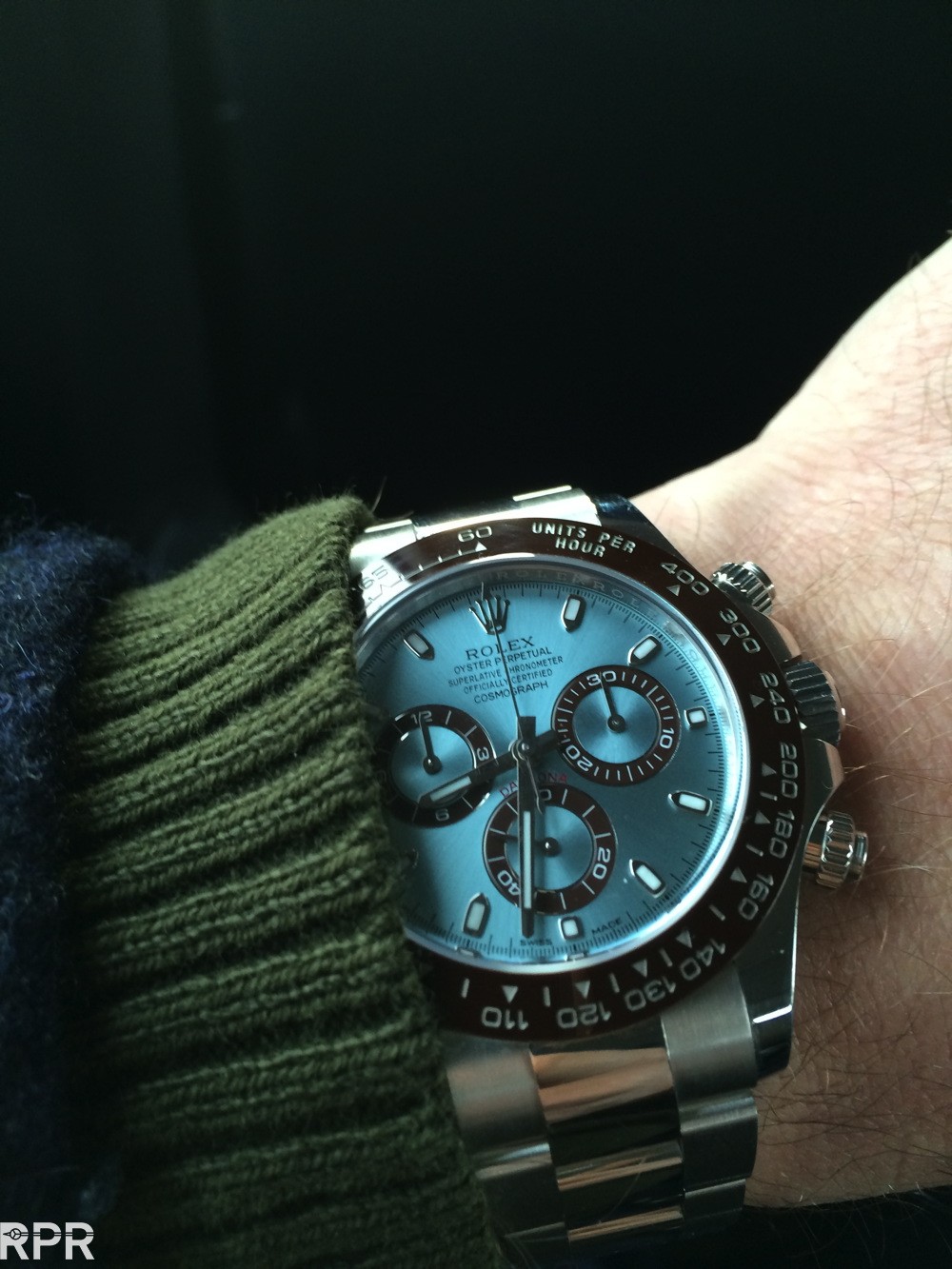 A luminous dialed 1463 in steel…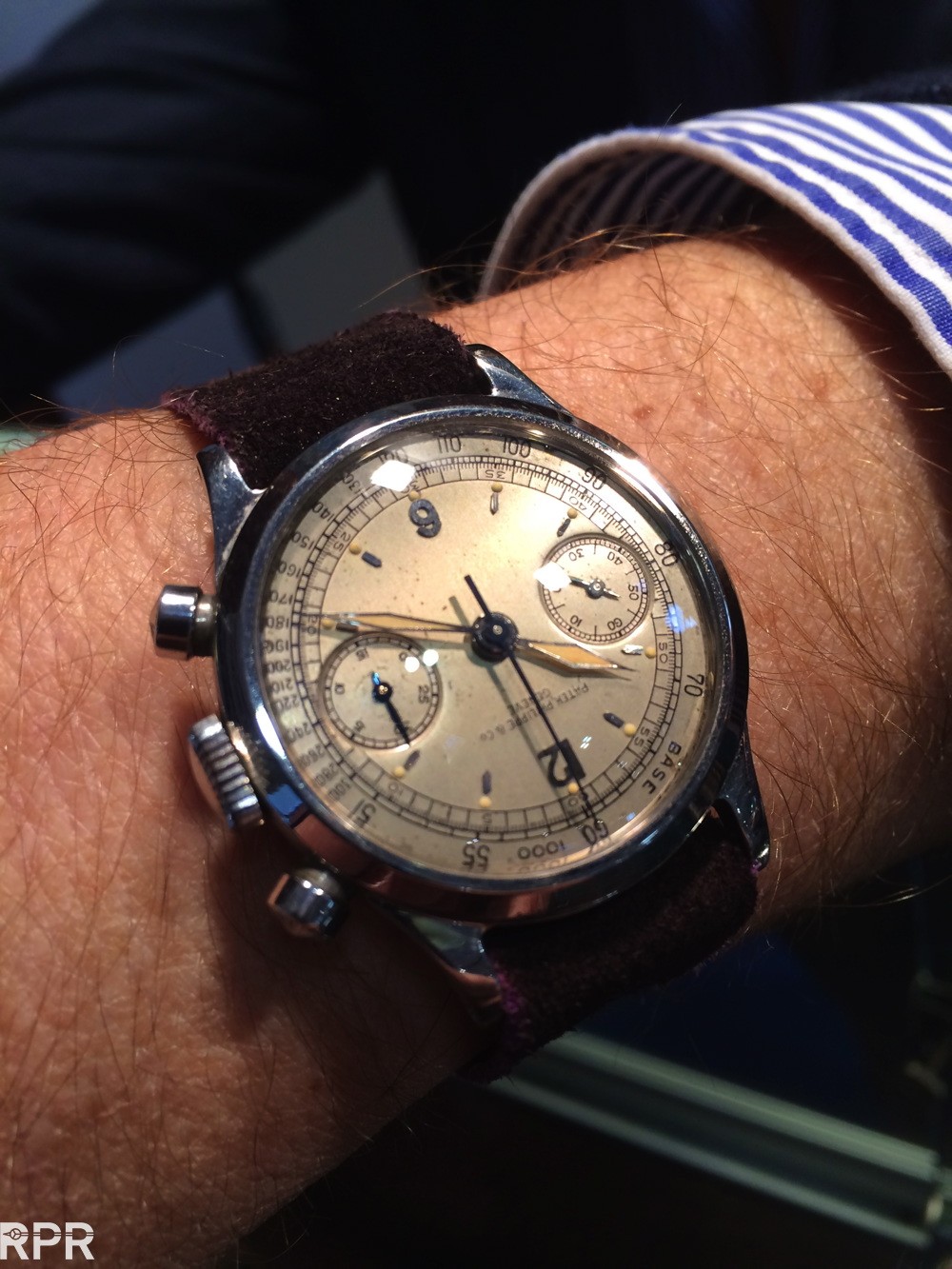 2 x legendary ref 2499's by Patek Philippe…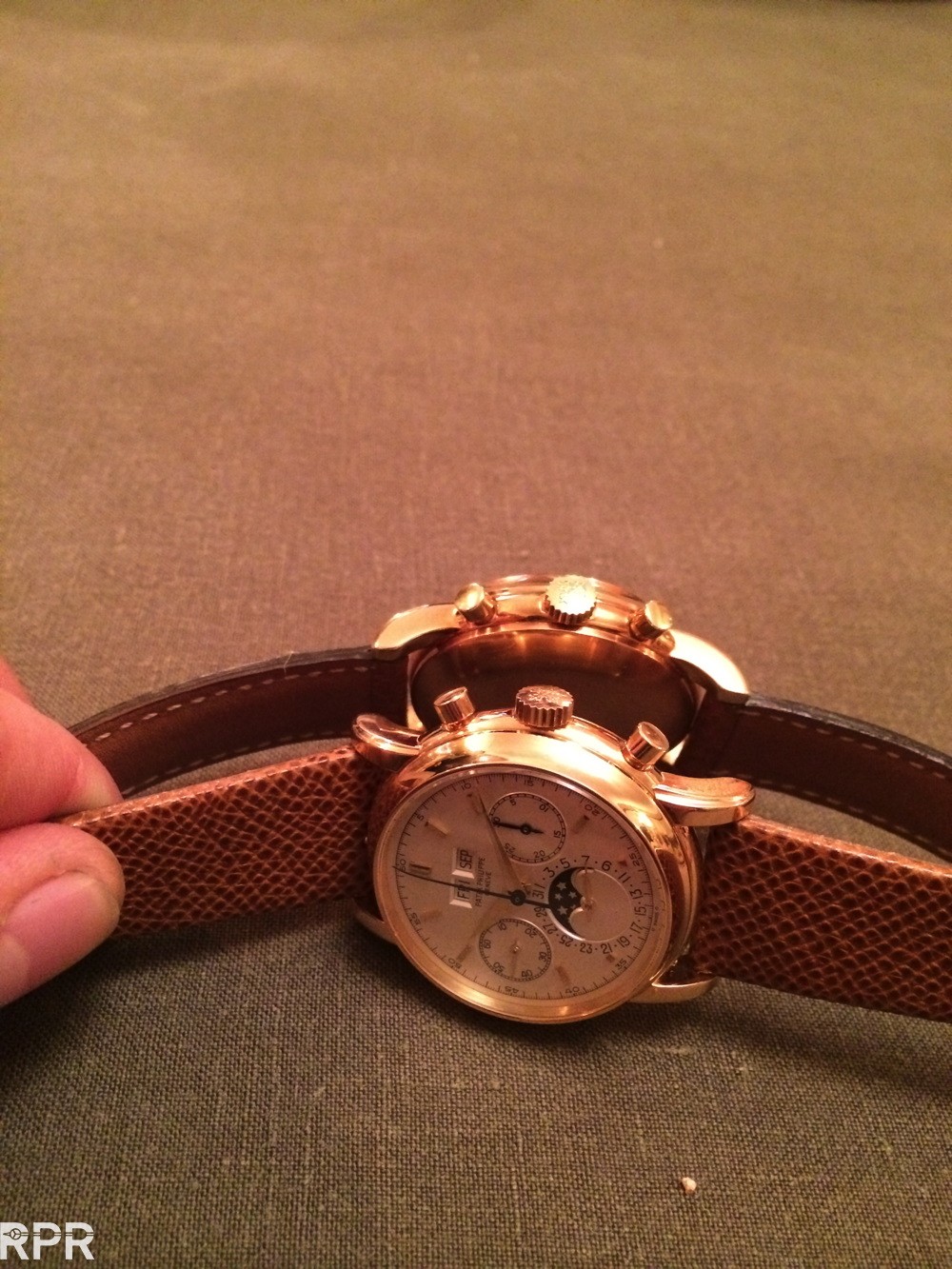 Pink gold 1463 with lovely bracelet, by Patek Philippe…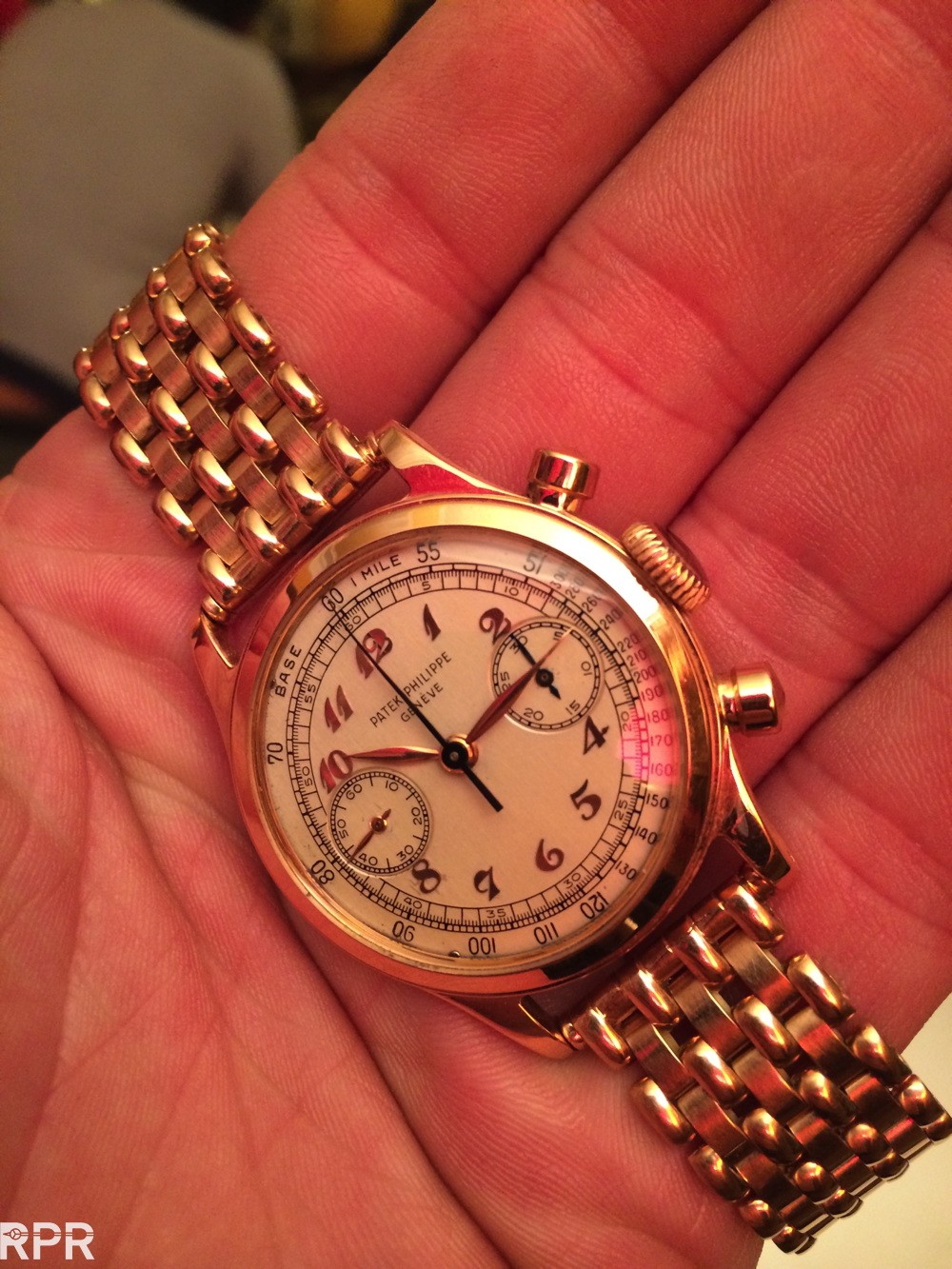 Green Stella Day Date…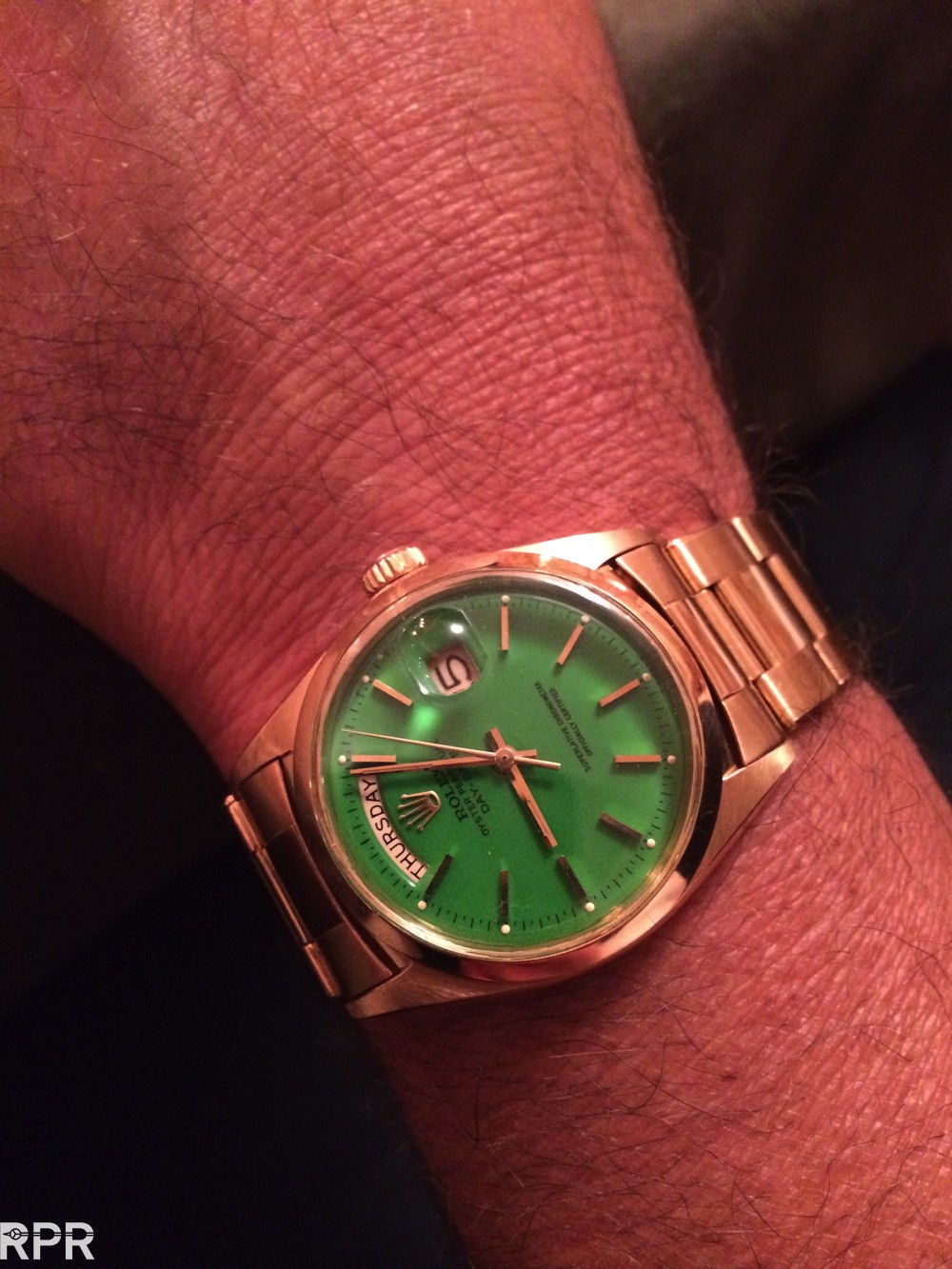 Black Paul Newman pump pusher…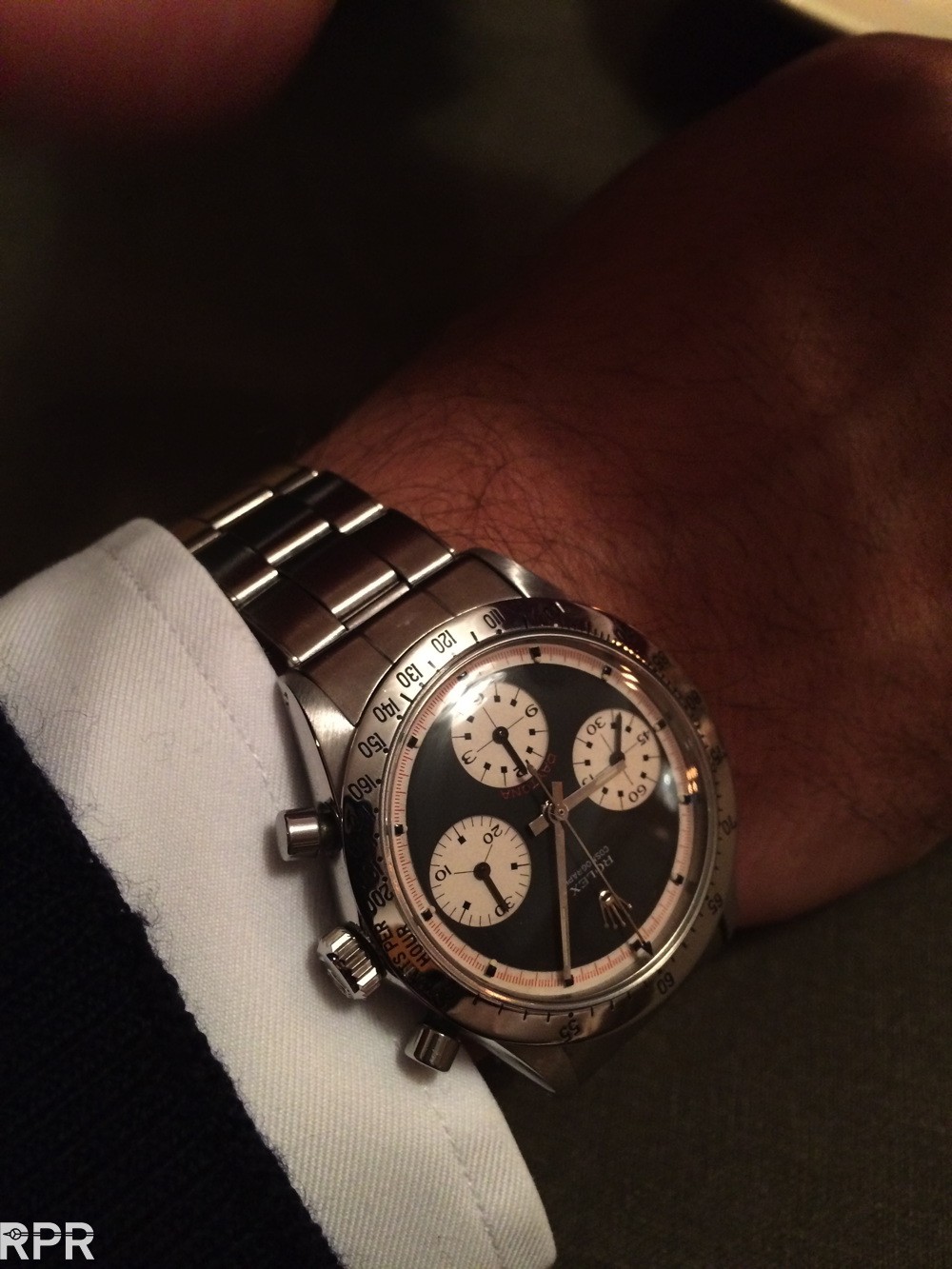 Super nice oversized pink dialed early Rolex chrono…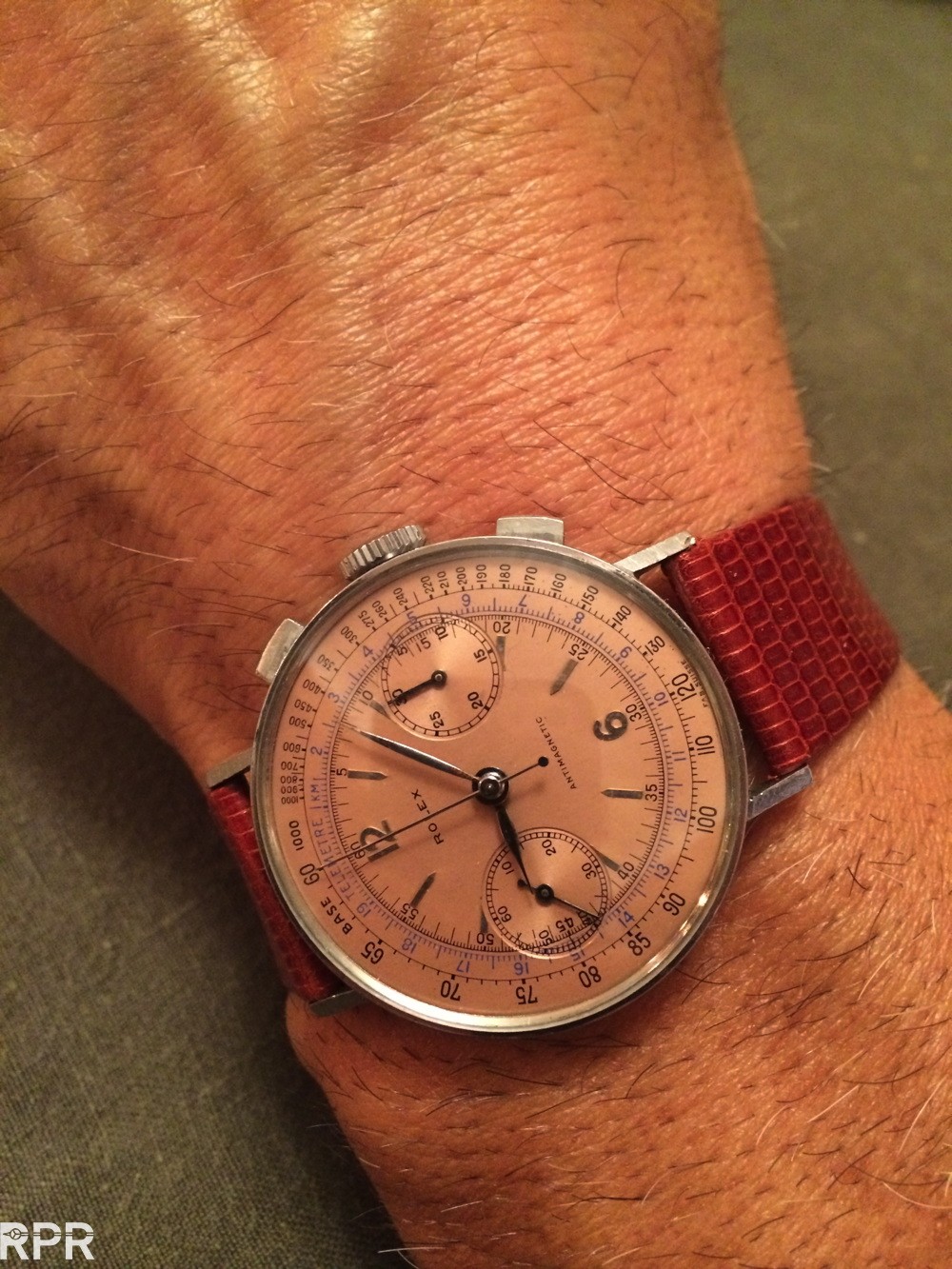 Rarely seen Rolex Tiffany Daytona at the bottom..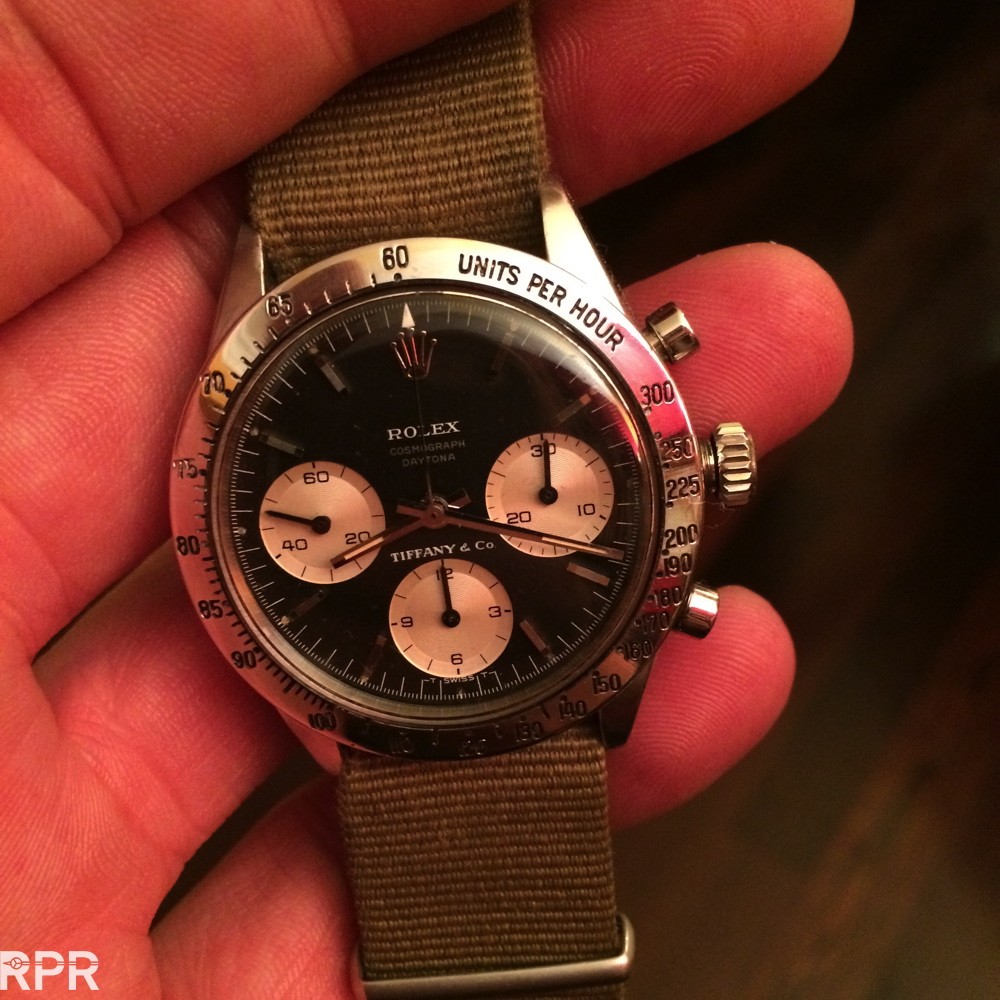 Early waterproof Oyster Chronograph..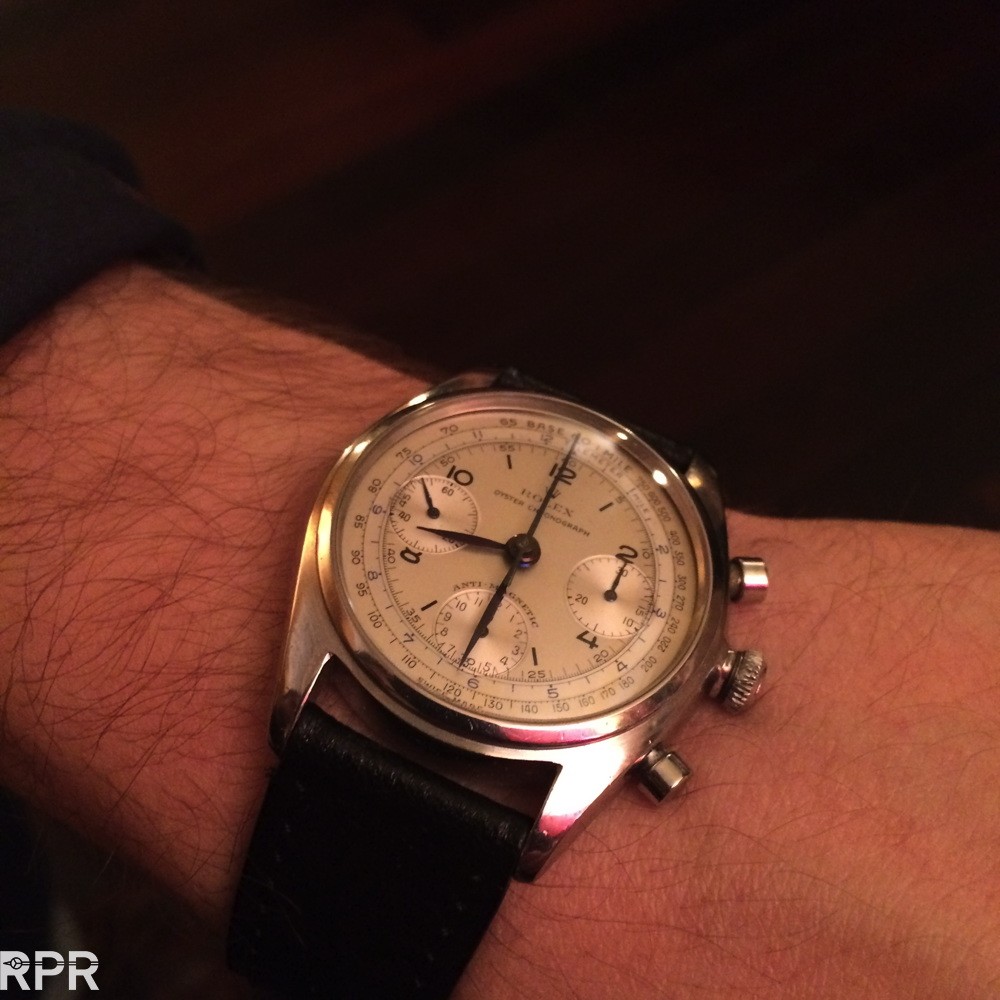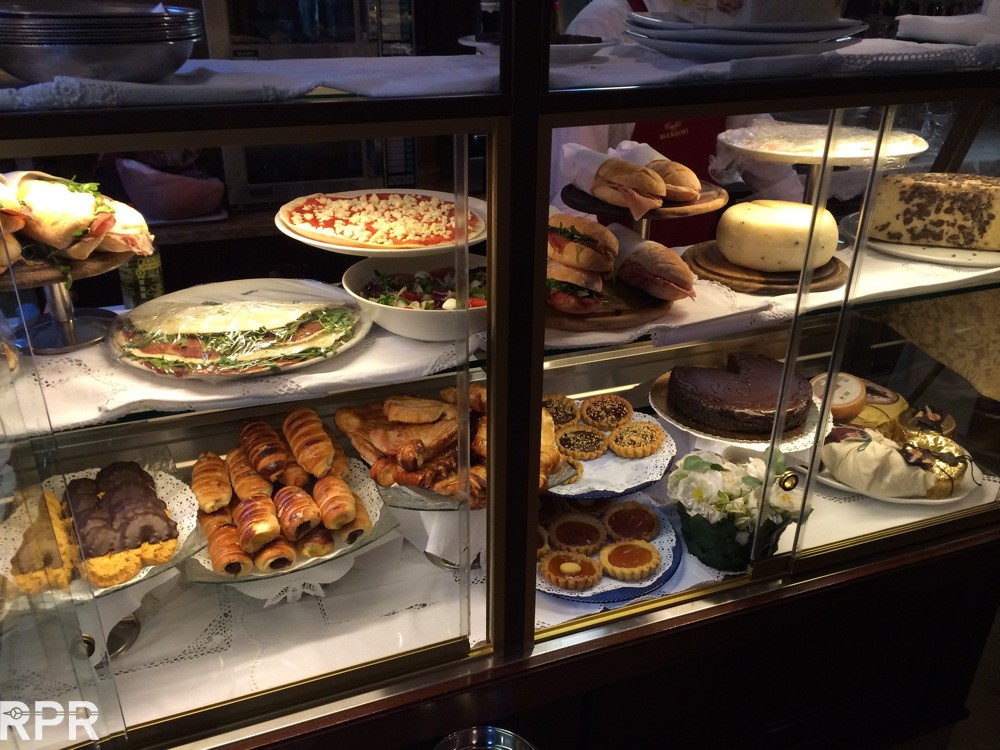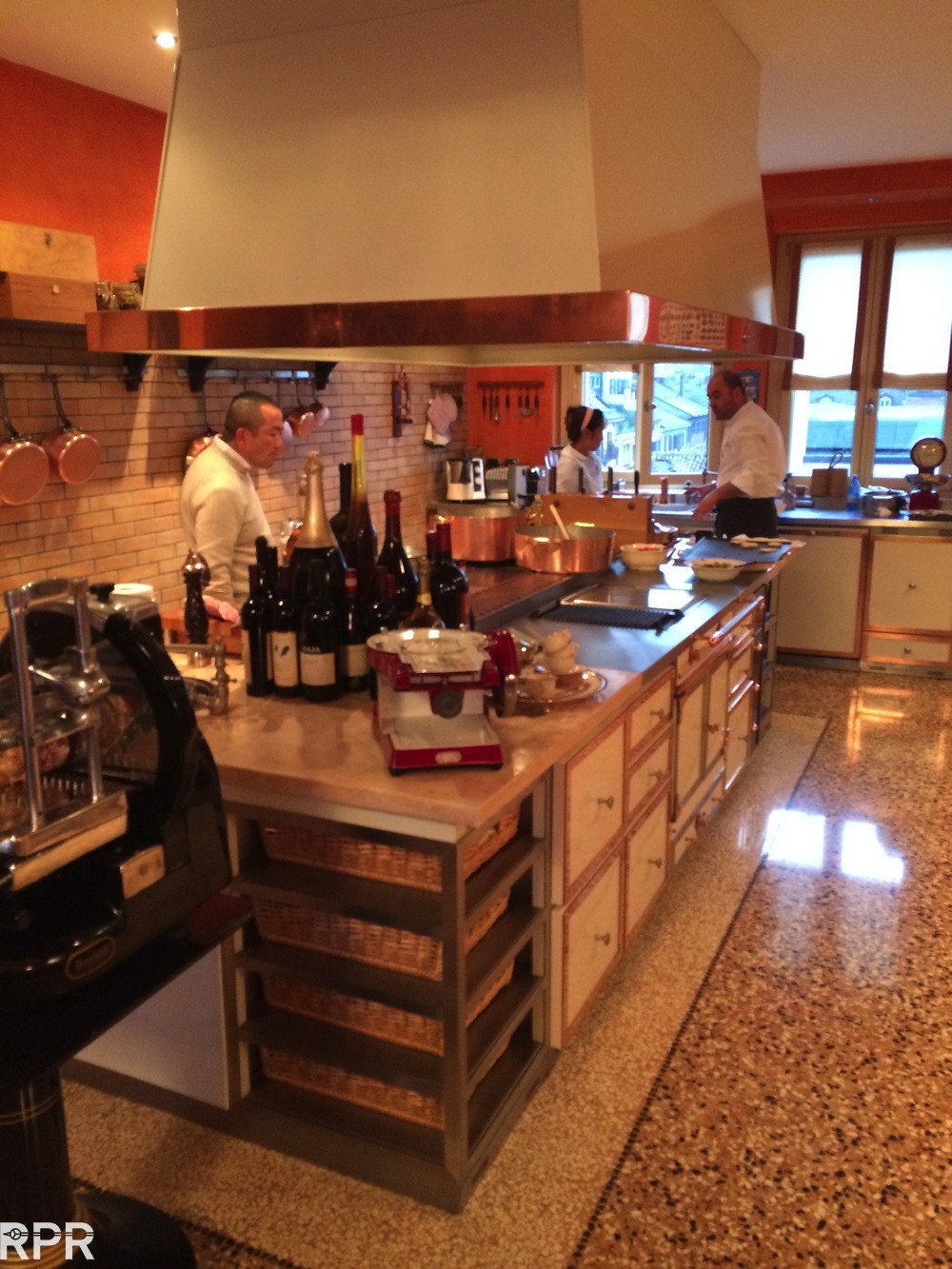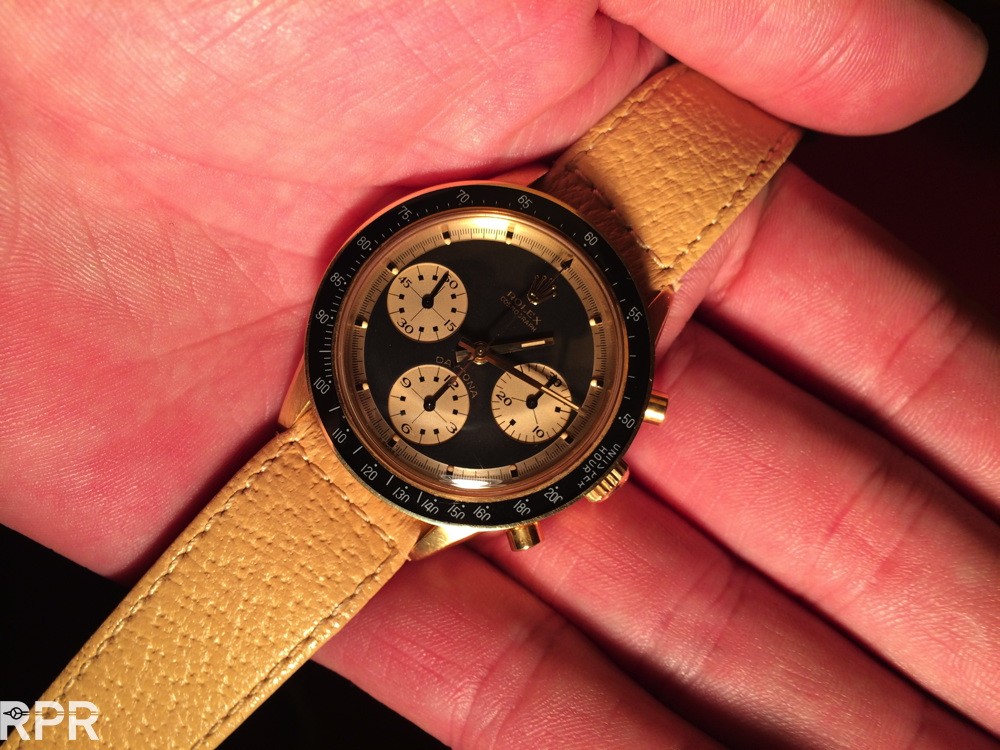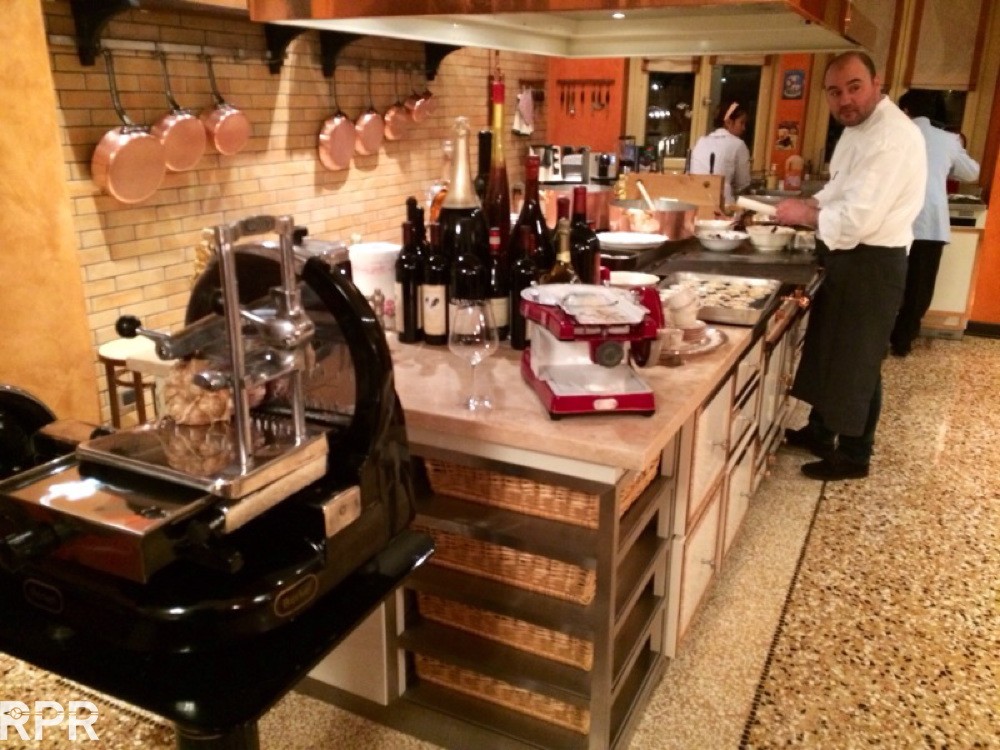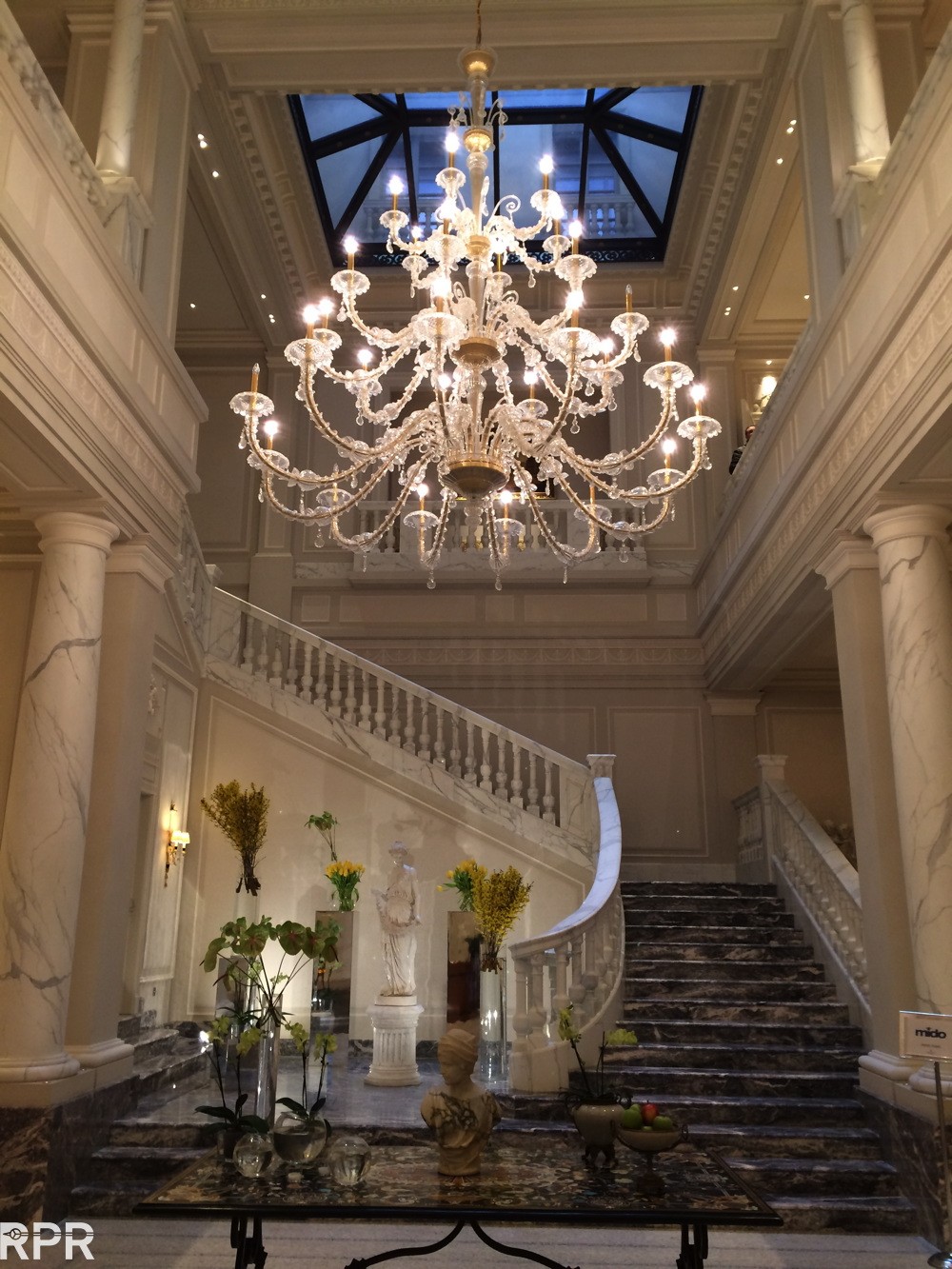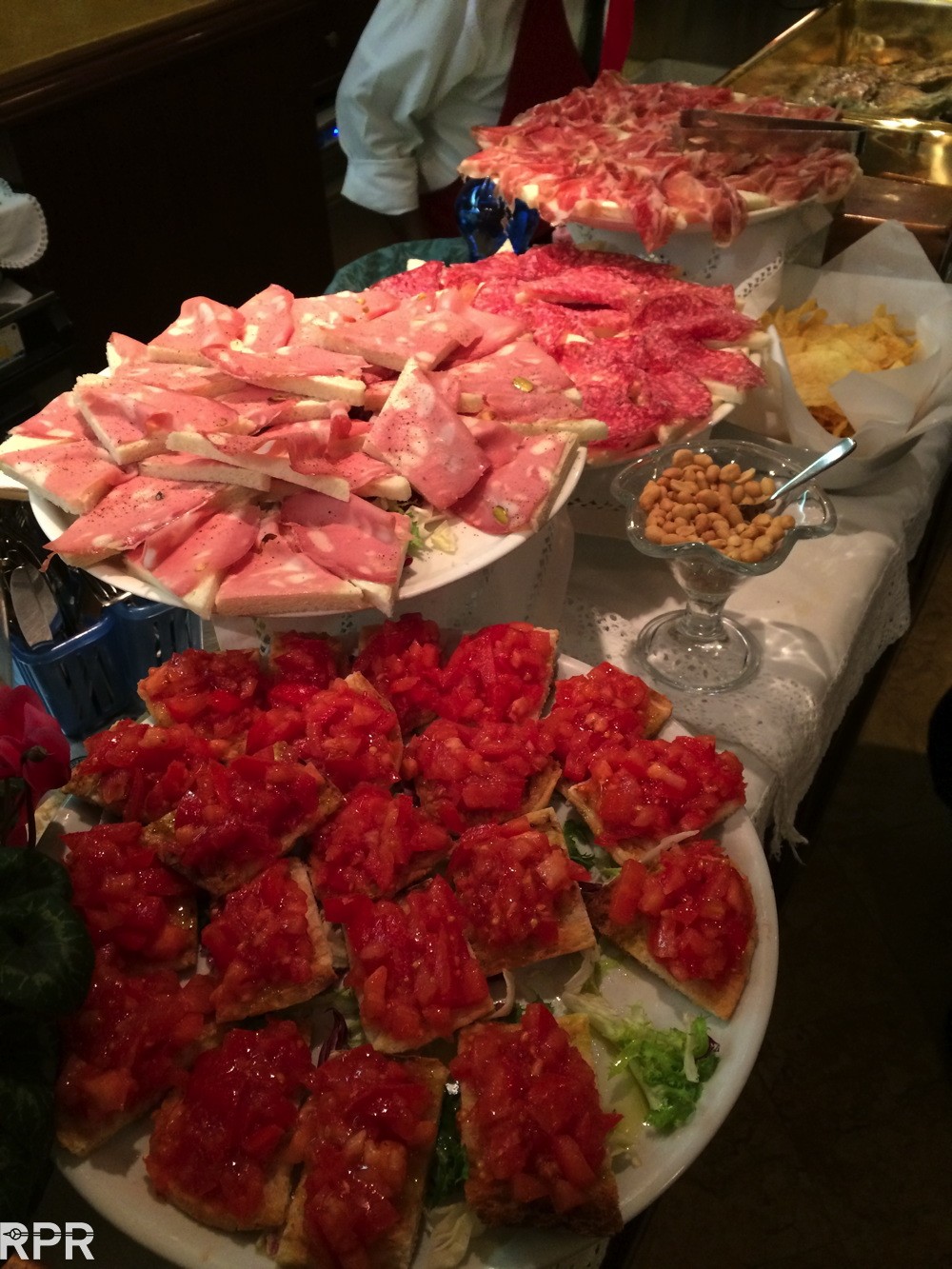 Rolex Boutique in Milan..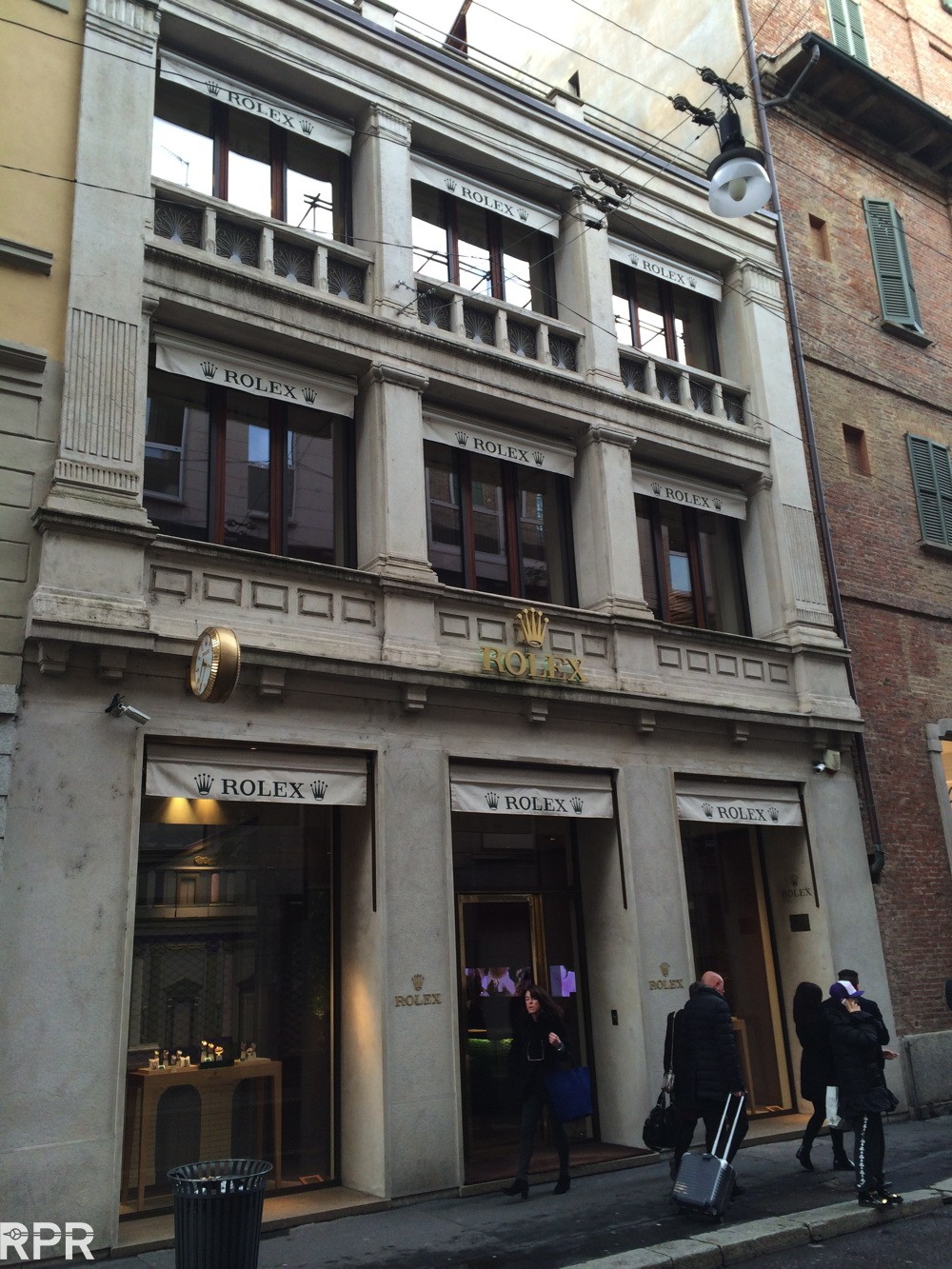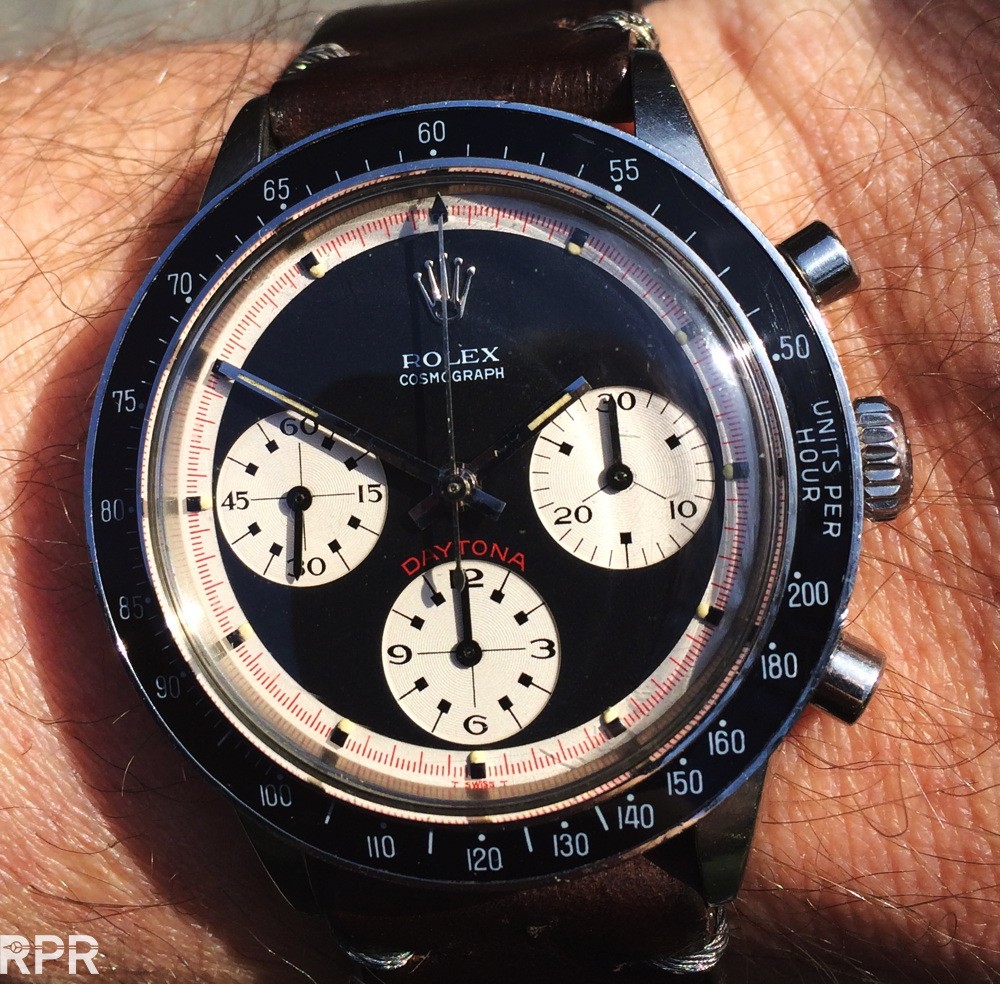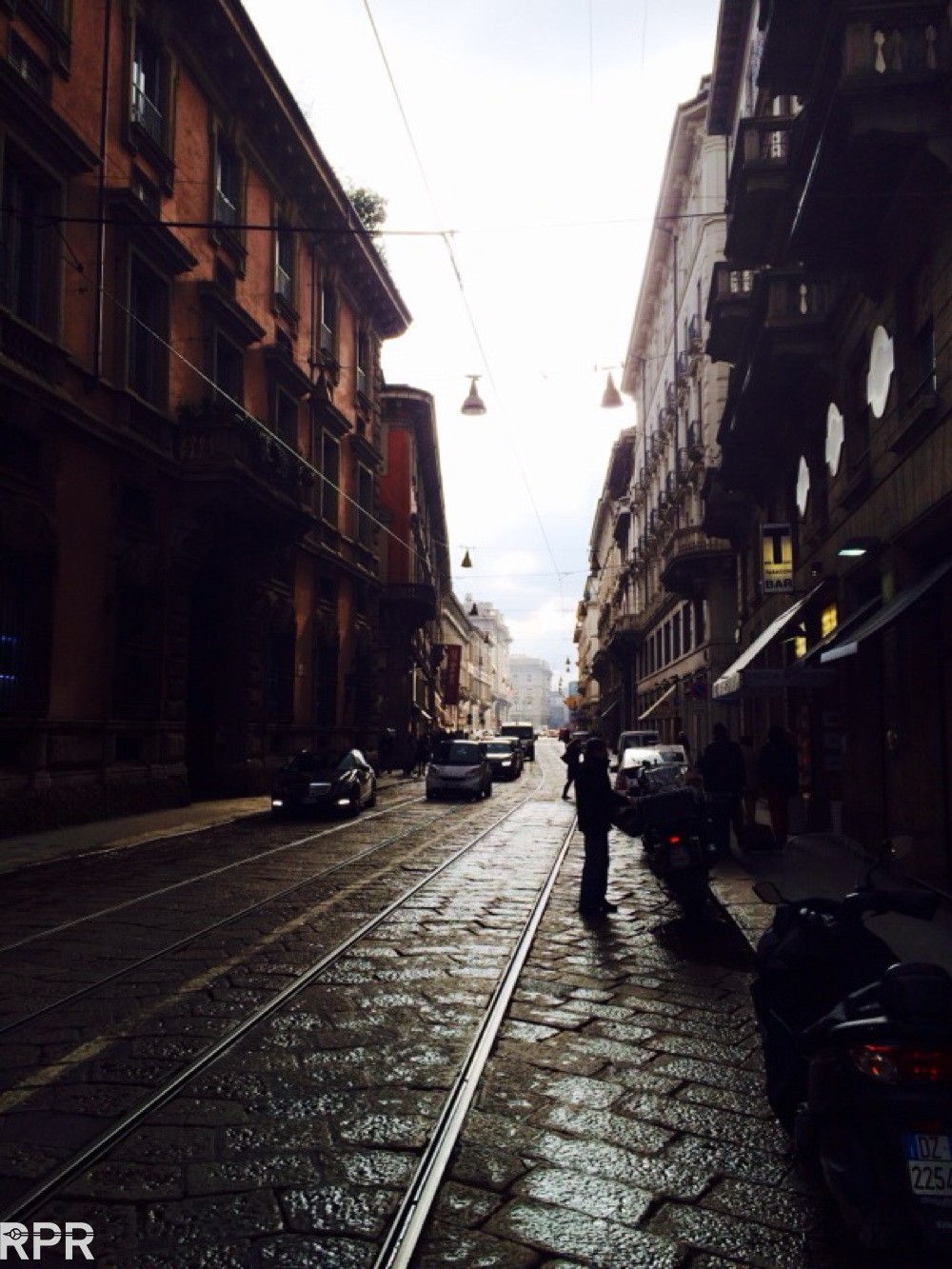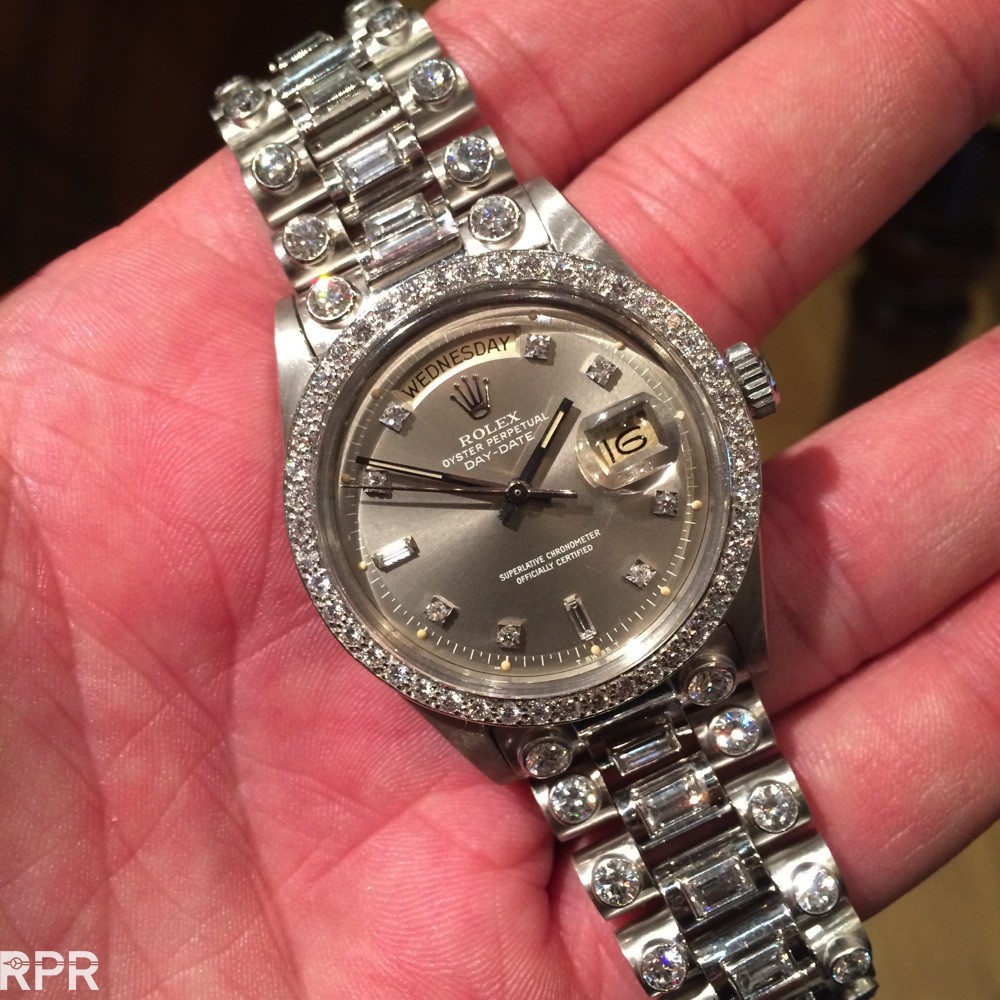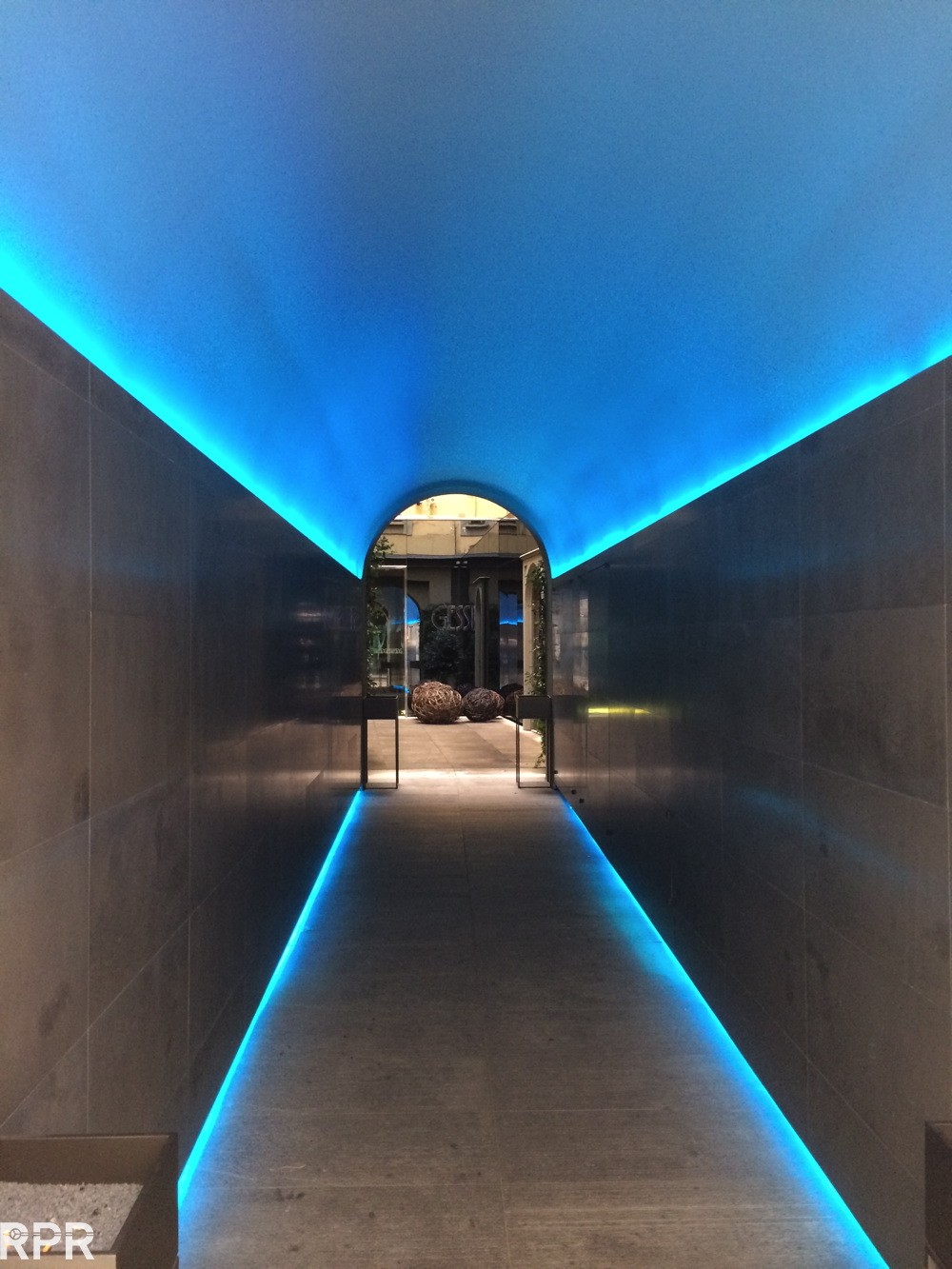 Selection of vintage watches at Davide Parmigiani's store in Milan..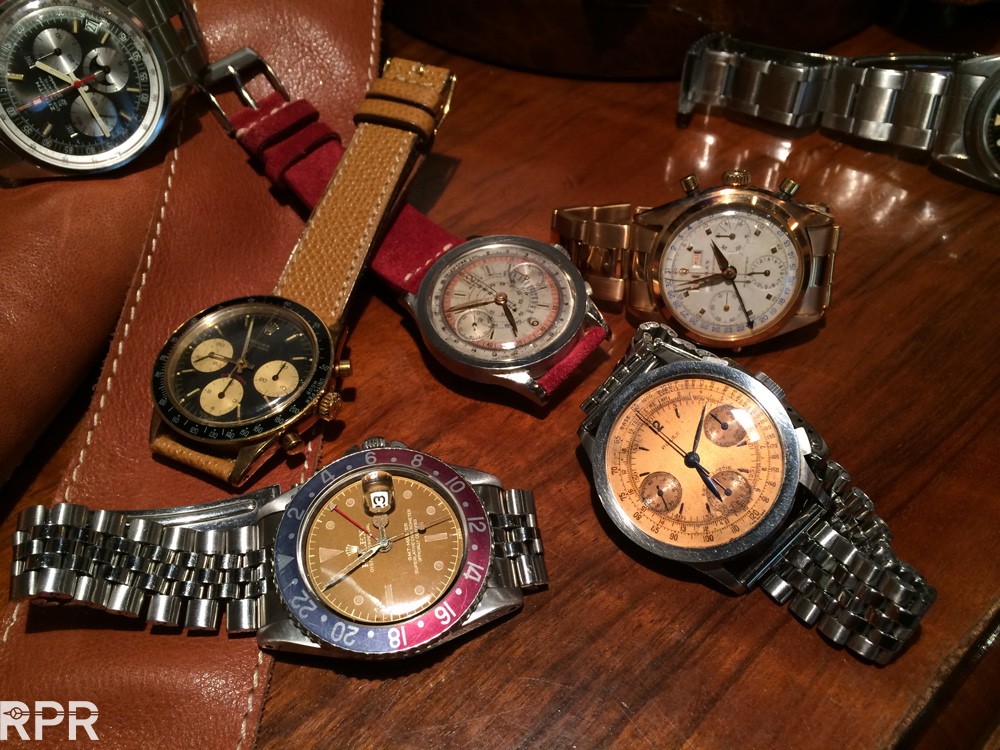 Pink gold Rolex Killy Datocompax..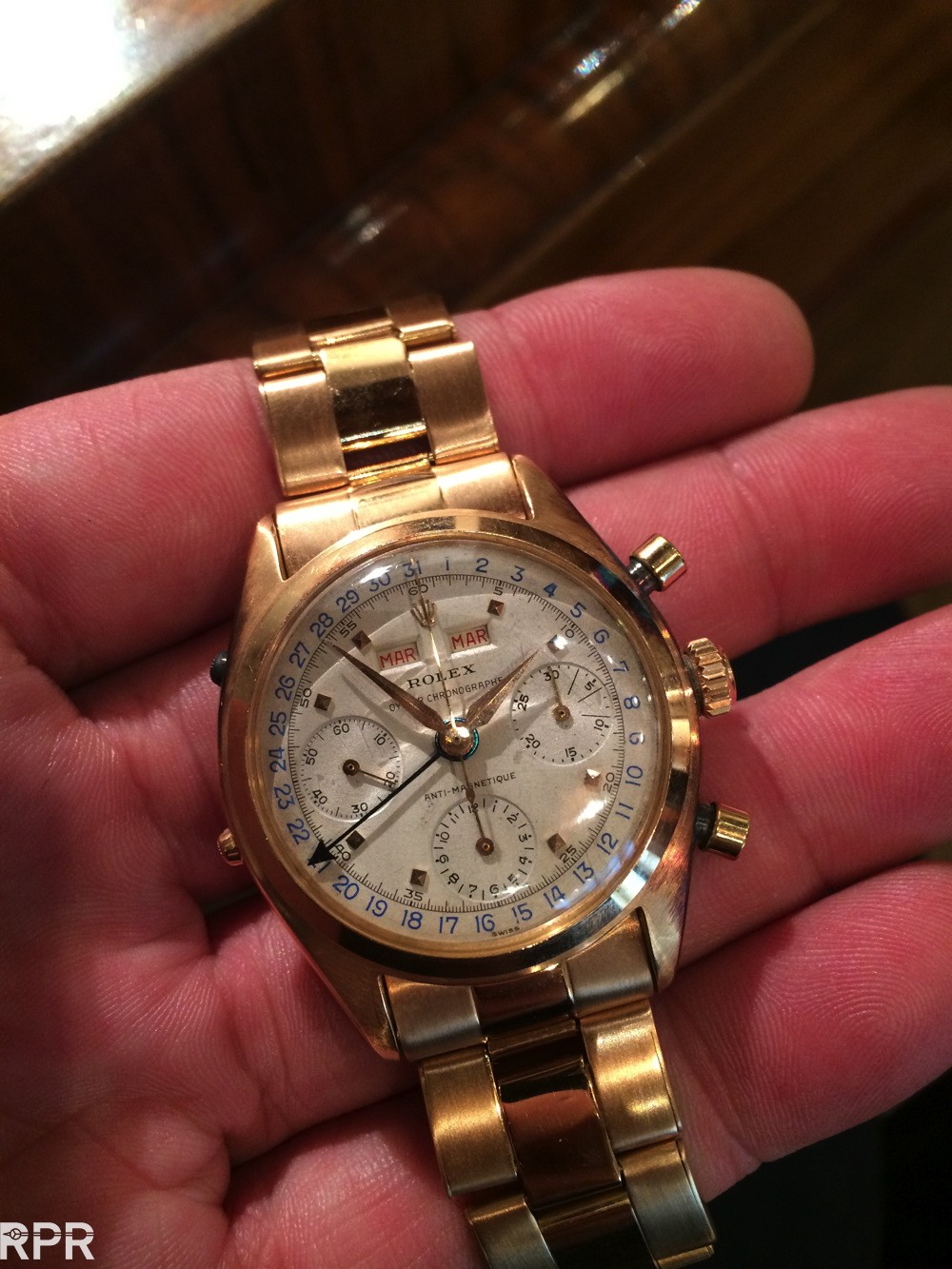 Steel Patek Philippe ref 1463 sold by Freccero..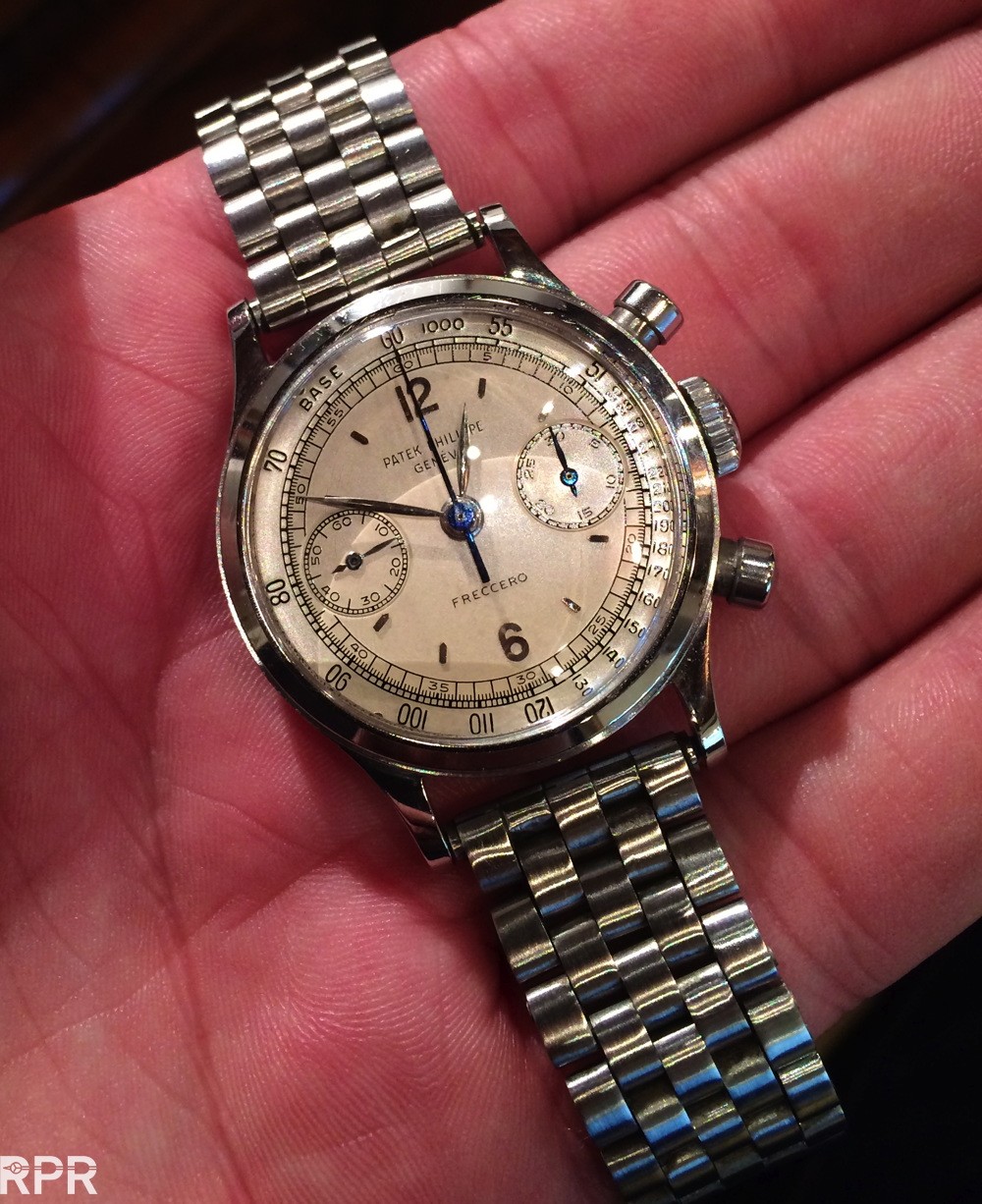 Tropcial brown GMT Master ref 16575..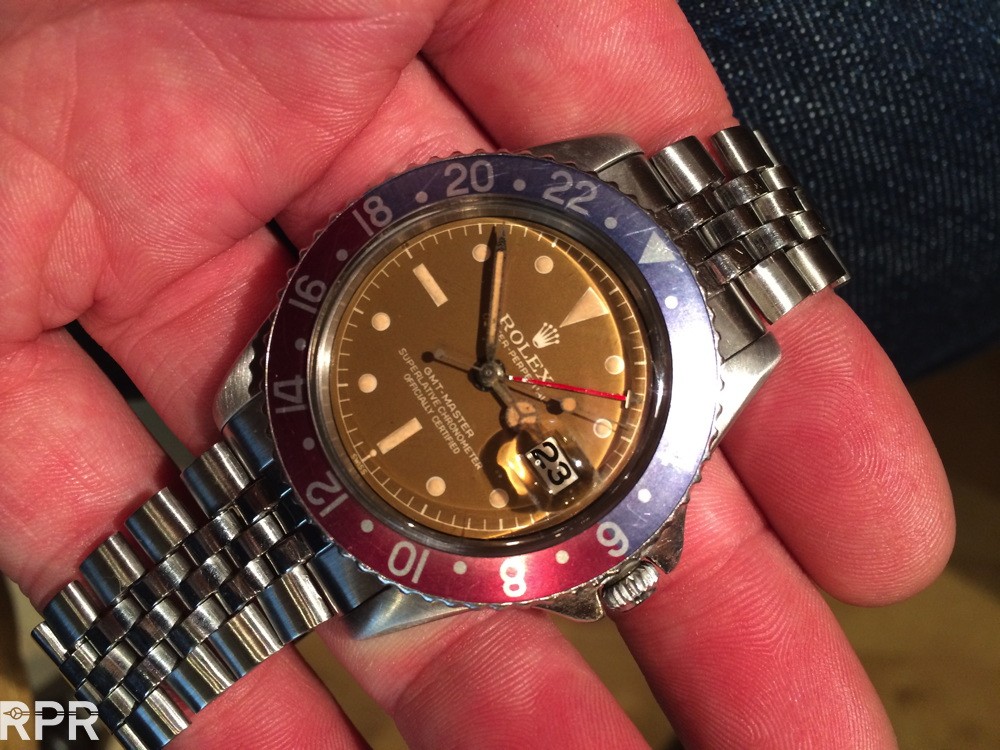 LOL 😉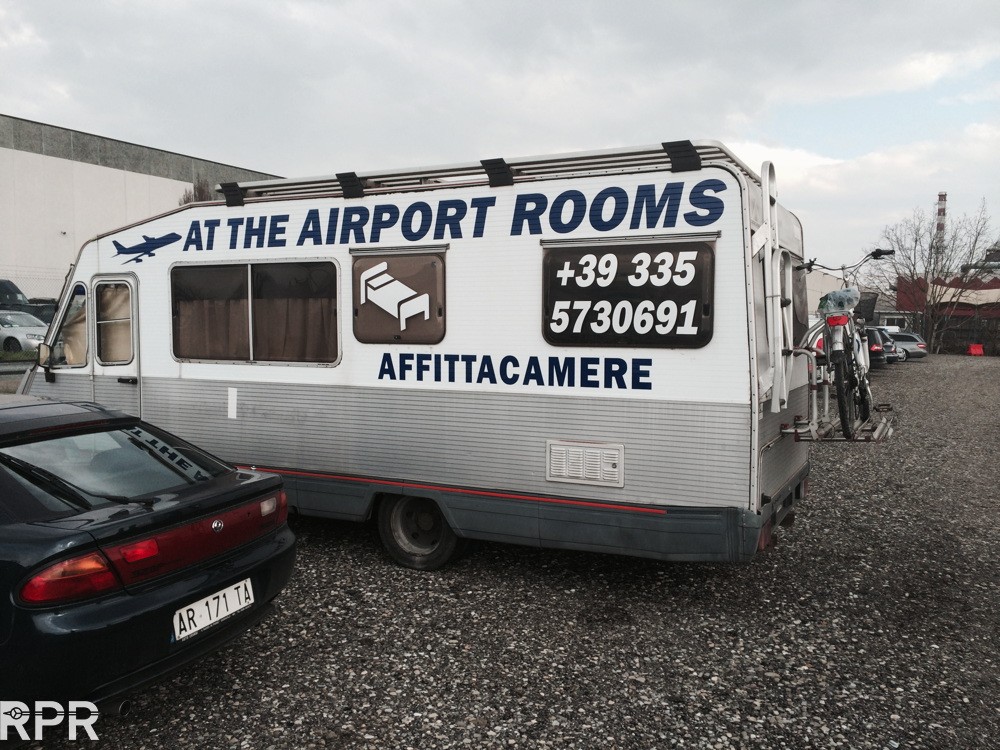 Thanks you all for the great time we had together, see most of you in Geneva, till then, enjoy and happy hunting!