My Analysis of the Geneva Watch Auction Results Nov. 2015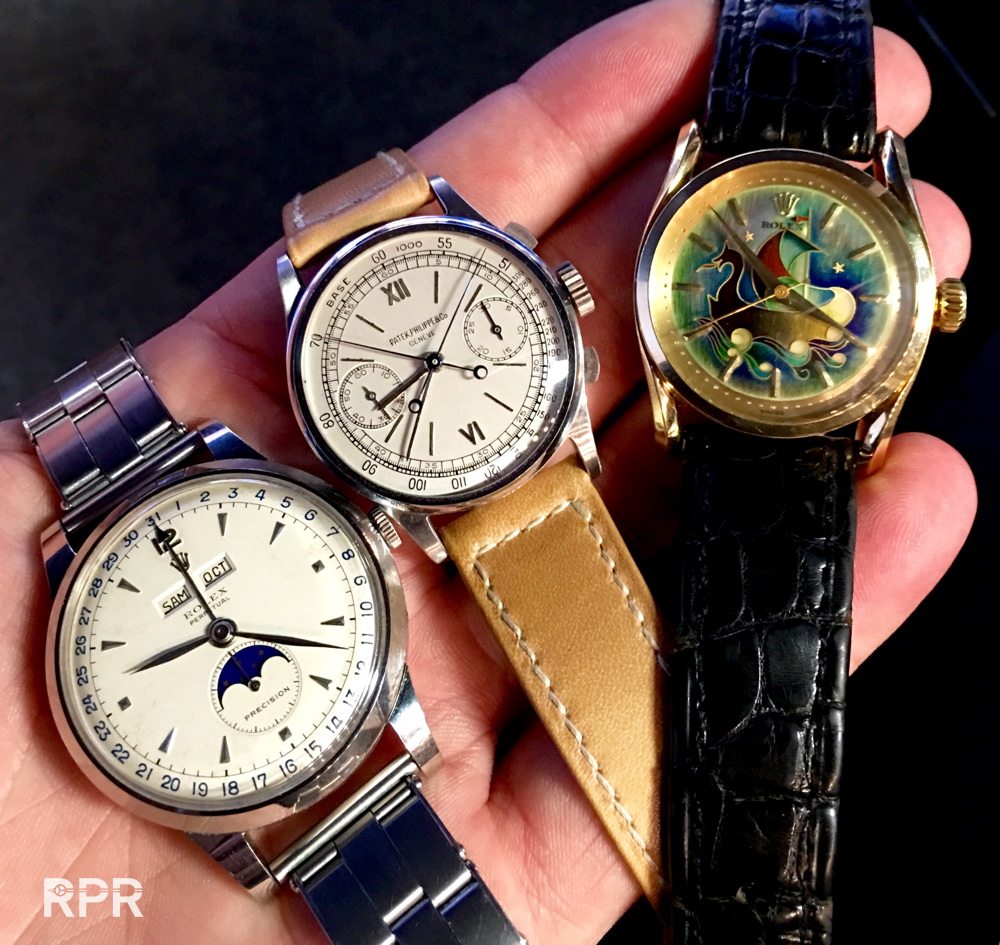 Above 3 of the top lots from last Geneva weekend in my hand which fetched almost 5.5 million swiss francs together!!! Below 3 x PPC's ref 1463 that went for 1.85 million together!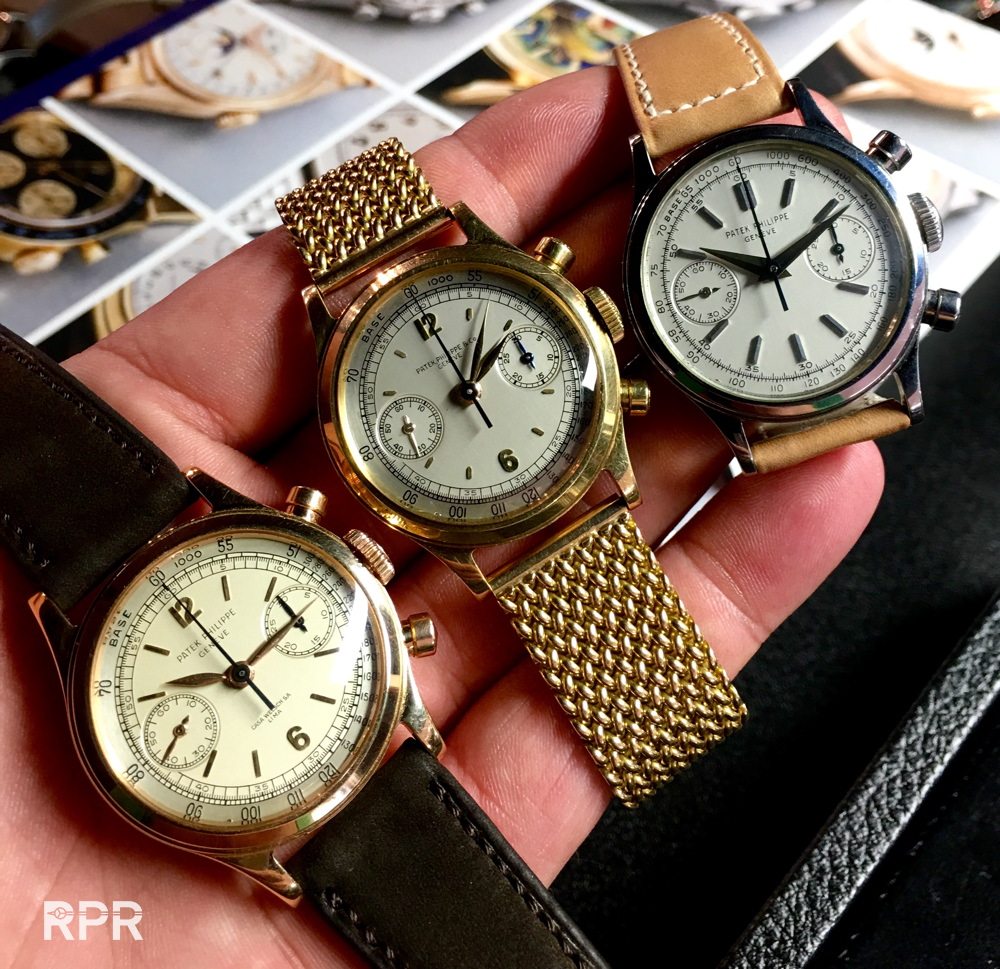 My earlier predictions for the November 2015 Geneva Watch Auctions where close to spot on. Where I was wrong, the achieved results where even higher. The trend to pay record prices for rare top quality only continues. Then another phenomenon has chanced the market when we compare it with some 5-10 years ago. Due to the improved knowledge of the individual collectors and the possibility to bid online and see whats going on in the auction room from their lazy chair, we now see many buyers act on their own, cutting off the dealer provision paid in the past. I do hear that private treaty sales are also becoming more important.
The endless discussions on social media helps the modern collector to act independently. In specific Instagram has become extremely powerful and very helpful for every collector. IG has become a strong tool to connect buyer & seller and so I noticed that many dealers have become spectators instead of successful bidders. They definitely can not spend as much as they want to do during the Geneva watch auctions as the end consumer is bidding against them. A trend that will only continue in my believe….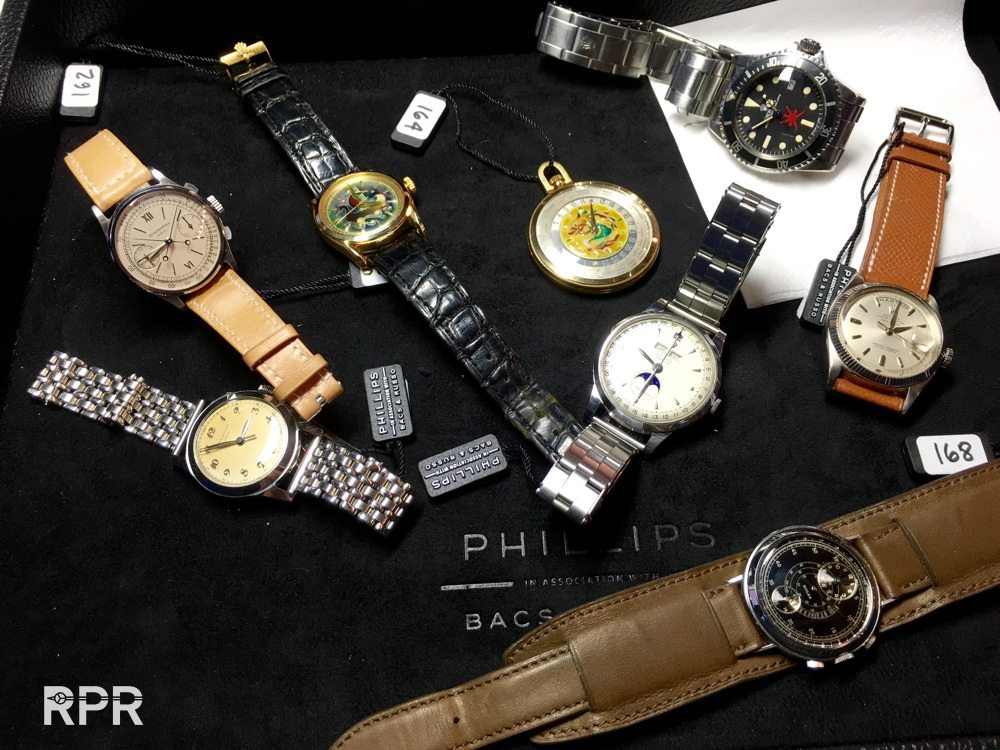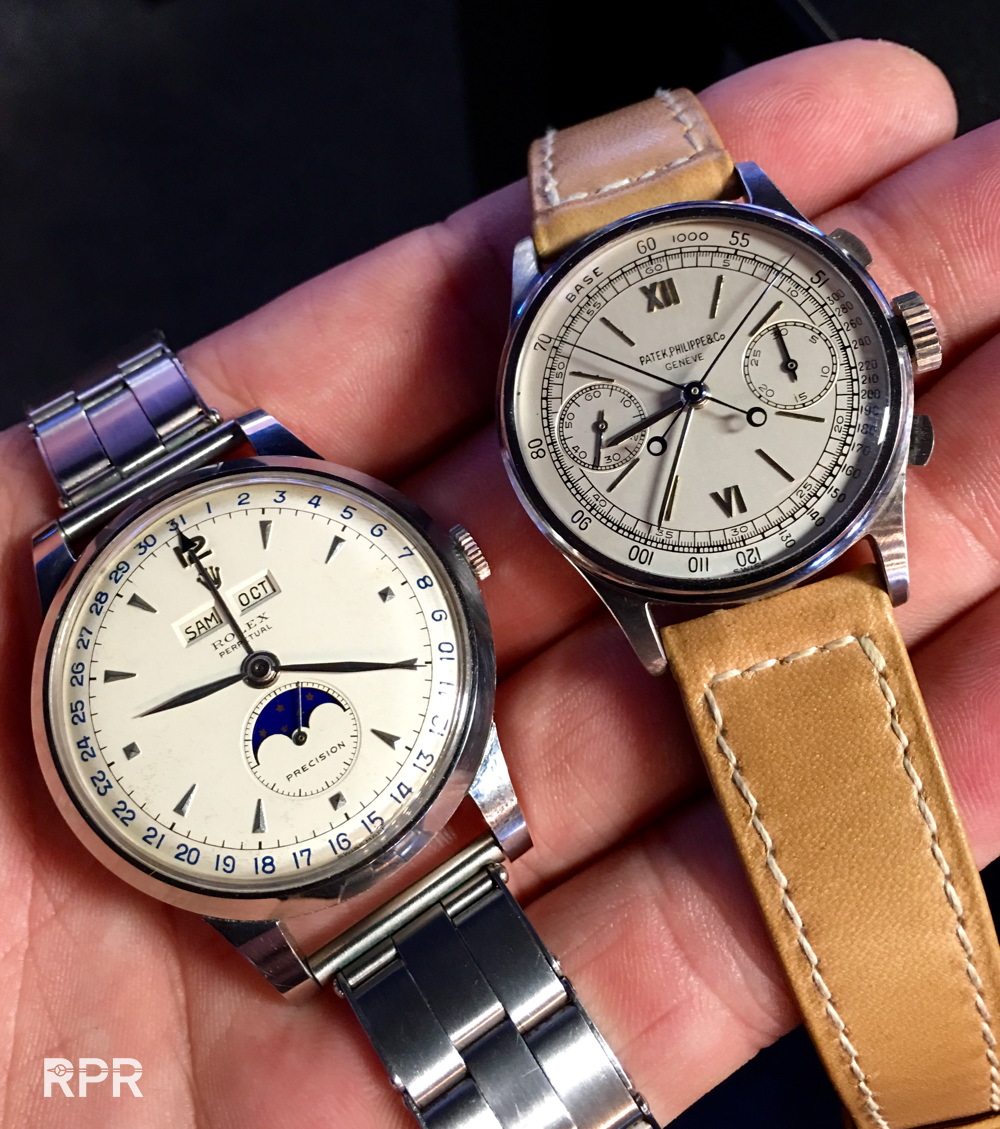 This edition of the Geneva Watch Auctions had again many "known" watches for sale and hardly any fresh finds. As I said before, the market has to realize that we've come to a point where new discoveries, fresh barn finds will only happen once in a while. Then if this happens, it's become even more rare that it's still original and in great condition. That person who gets it then doesn't need a auction house anymore to sell it successfully for the highest price. A simple picture and upload to his IG account and the offers will come in automatically. With other words the watch market will hardly grow in quantity when we talk about the very rare examples as almost everything has been found by now and everybody should realize that what is known to date, is about what has been left over.
So far Phillips had again the rarest examples for sale, which achieved exceptional prices. But we have to ask ourselves, how long will it be possible for the auction houses to find collectors to sell their rare watches now that the market clearly shows us that keeping great original condition brings much more redement then selling it. And if you sell successfully, what you gonna do with the money I hear a lot as there's hardly anything else interesting around in the open market to buy back…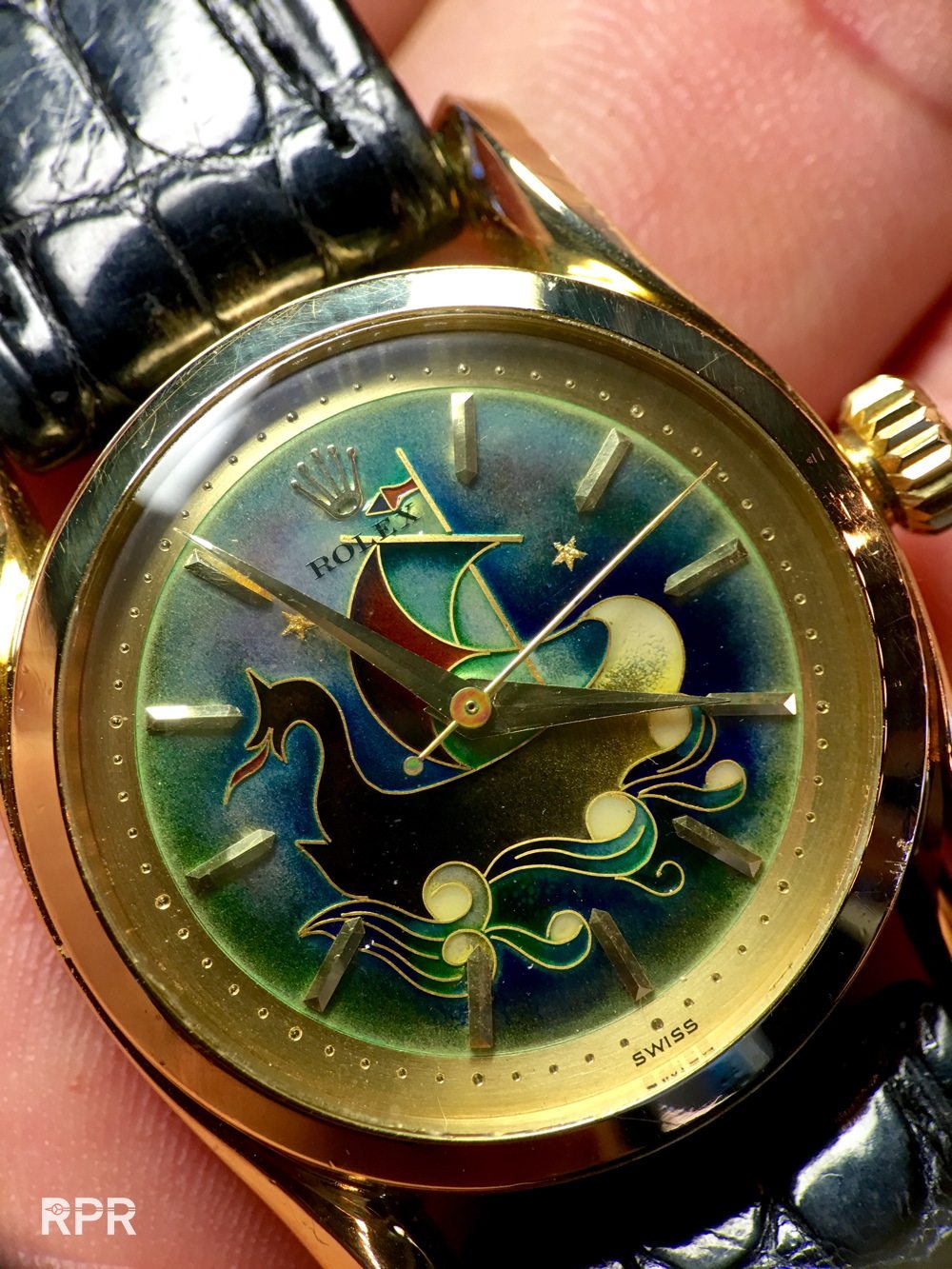 Those that say there where bargains, are blind as there where none. Those watches that sold low, where not worth buying. Those that where interesting went double, triple or even 10 times the estimate. All dealers where ready to spend their cash but many lots sold nowadays go directly to the phone bidders or even to the online bidder. You see, what I ask myself while writing this is, what do all the dealers do now with their corporate money they used to spend during the auctions? Off course I see them buy but then its much less then I've seen before. Their focus is now on the second layer of rarity, that of the B- brand. The Eterna, Omega, Universal, Longines and many others are becoming interesting as they used the same suppliers as brand like Rolex, Patek Philippe.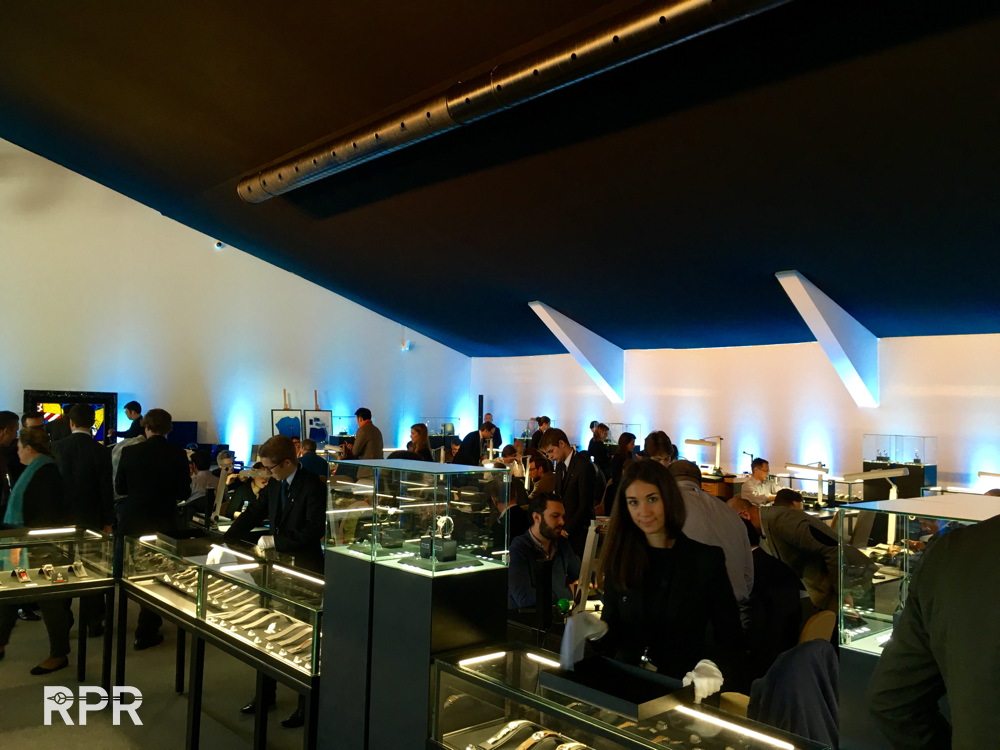 The vintage watch market is still growing in size and awareness. I noticed many more Asian and Middle East buyers in Geneva. The general problem what we see in the collecting world is that everybody wants to own the best, pushing prices for great condition even further. All over the results for vintage Rolex where very strong again, hardly any watch disappointed. We now also see simple references like 1675, 5512 & 5513, normal 6263 & 6265's specially those in gold, going into a new price league, some 25-50 % higher then last years. Then for instance a simple Nina Rindt Universal explodes in value as they get sold for nearly 30K and off the market offers are heading to 50K already, which is imho a bit too quick and crazy for me…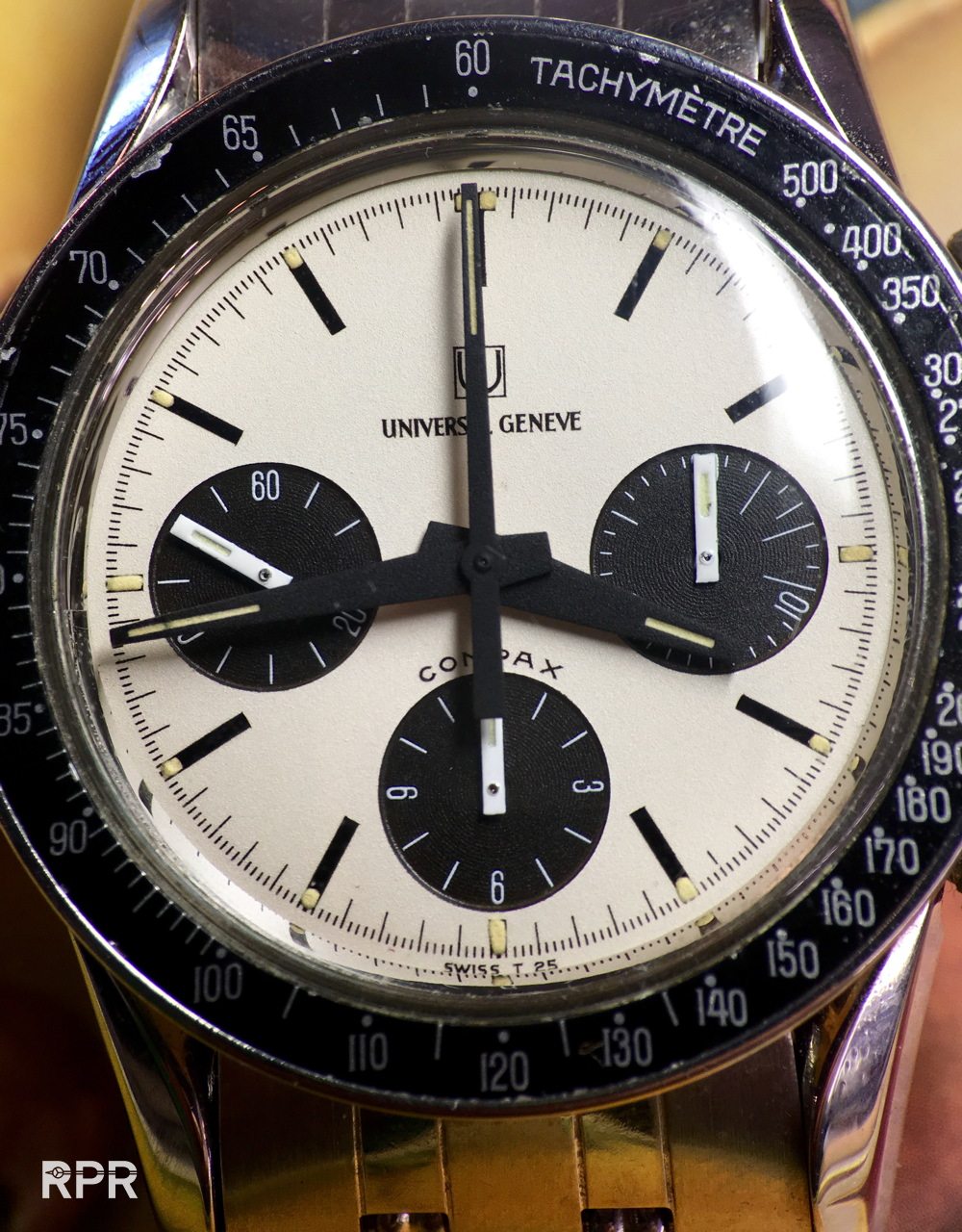 I will not comment on the rumor(s) some big buyer(s) are having problem(s) settling their account(s) as I still saw them bidding nor will I elaborate about the fact that auction houses still guarantee minimum sale prices for the top lots for their clients as that might be part of their marketing budget. Then, apparently the reason why the black military dialed Patek Philippe Ref 2497 suddenly and abruptly got canceled right before it came up is that Ethiopian- Americans together with Haile Selassies grandson successfully blocked the Christie's sale because they believe the PPC was plundered from Selassies estate after a military coupe in 1975. Was this the last time we've seen it in public? Only the future can tell us… Enjoy my report! Thanks my dear friends!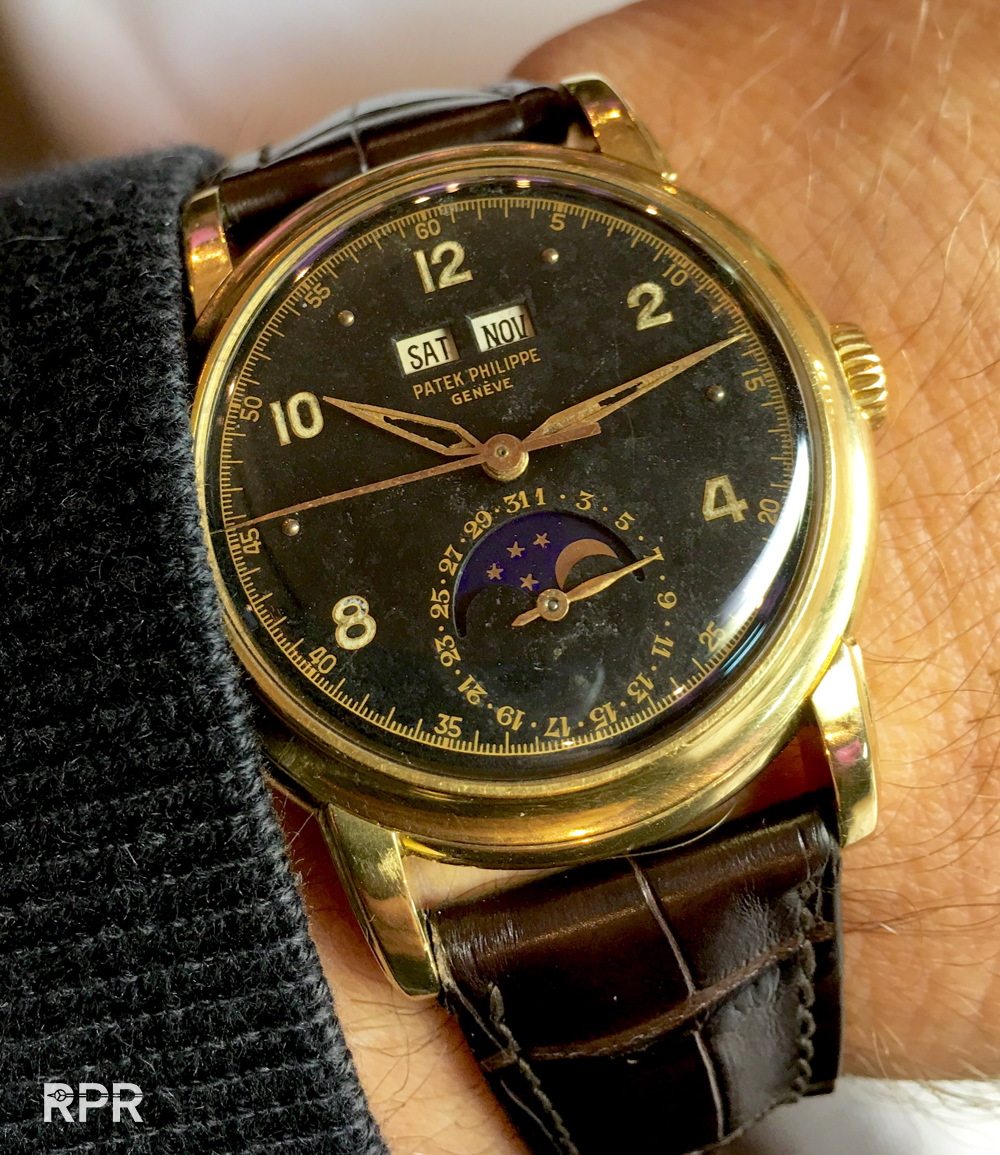 Up close and personal… The Emperor PPC ref 2497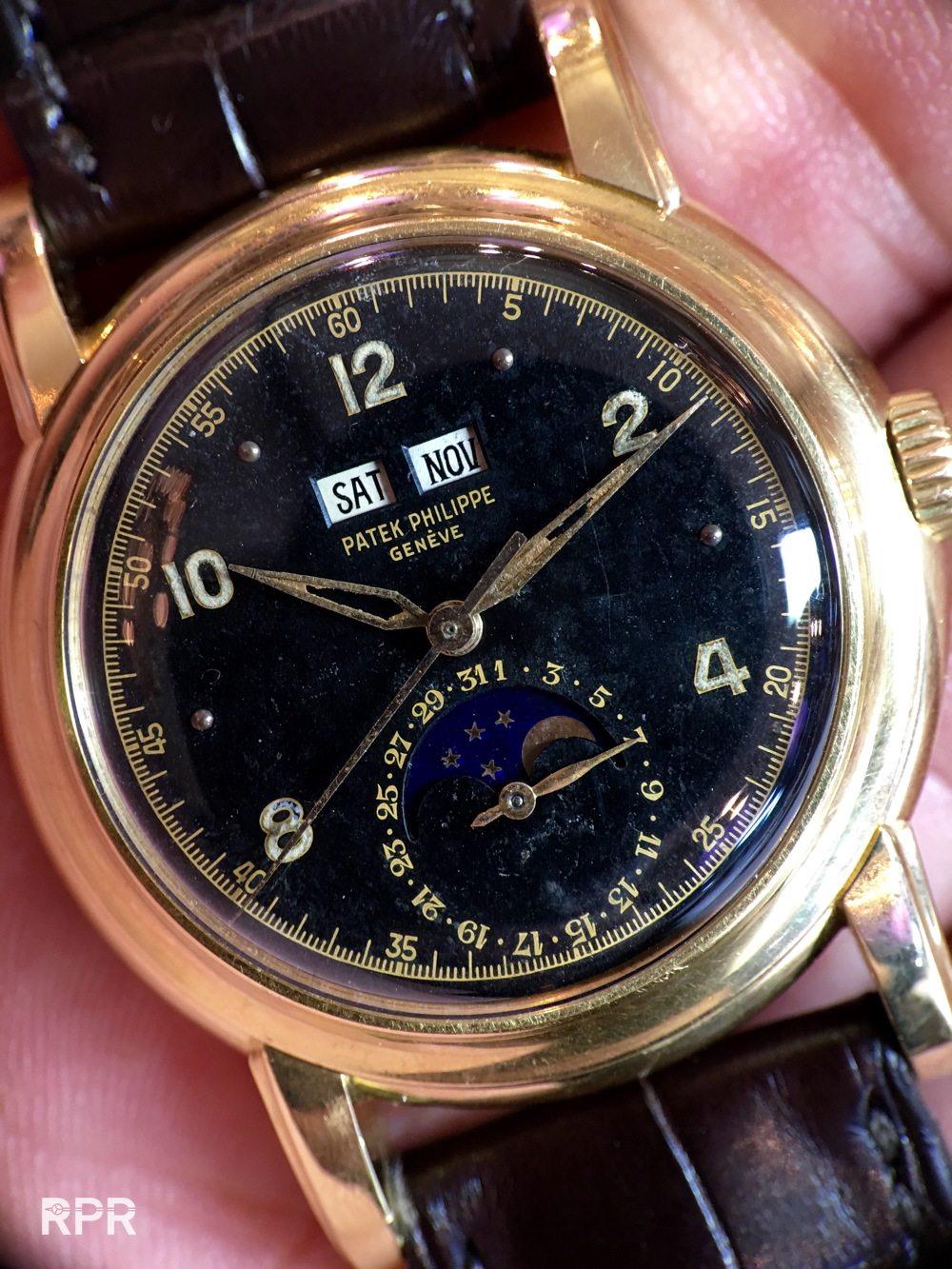 Next I show you some rare watches I checked out during the preview and I will give you my opinion about it as well.. The Solo Daytona sold high. as expected, on the phone for nearly 1/2 million euro. For the cover of Pucci's Daytona bible that seems logic but never the less, only a real connoisseur understands it's rarity. I'm happy for the new & old owner!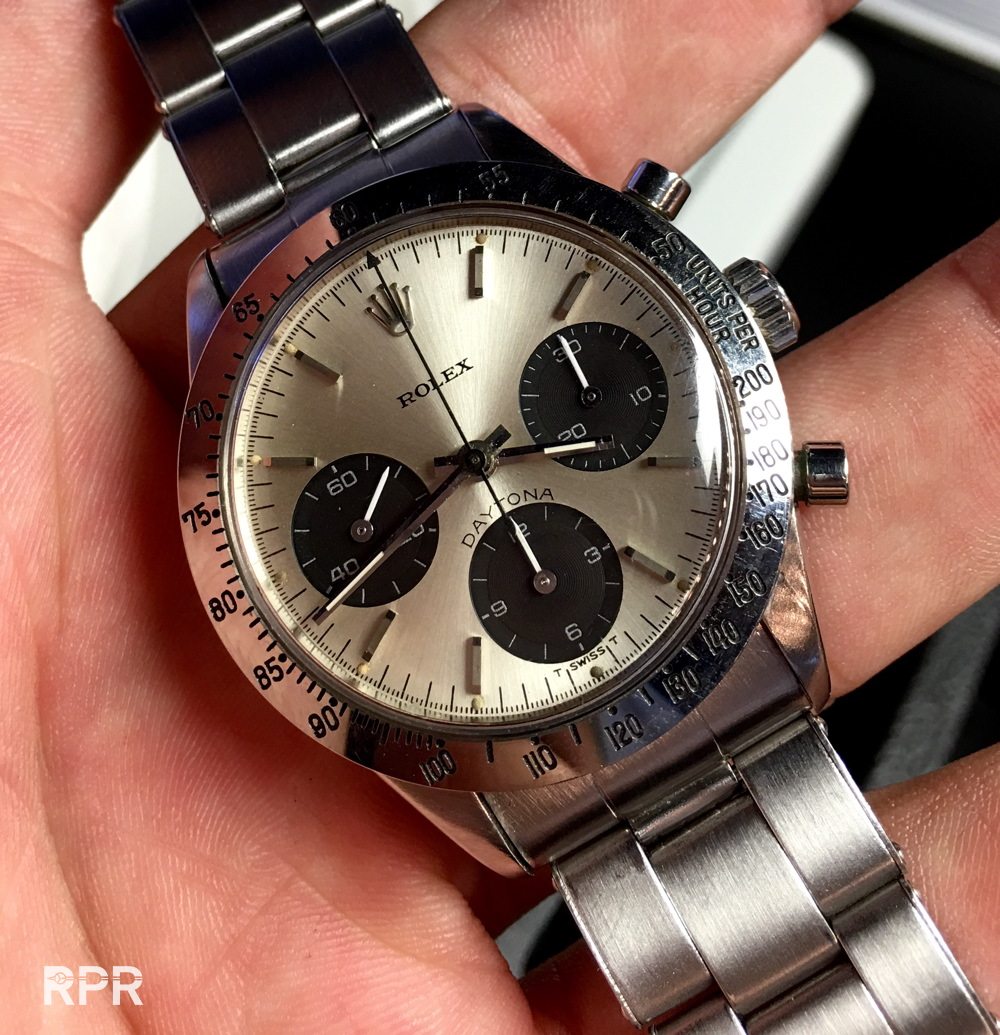 What you did not see from the pictures Phillips shared was that the compax where already a bit dark brown…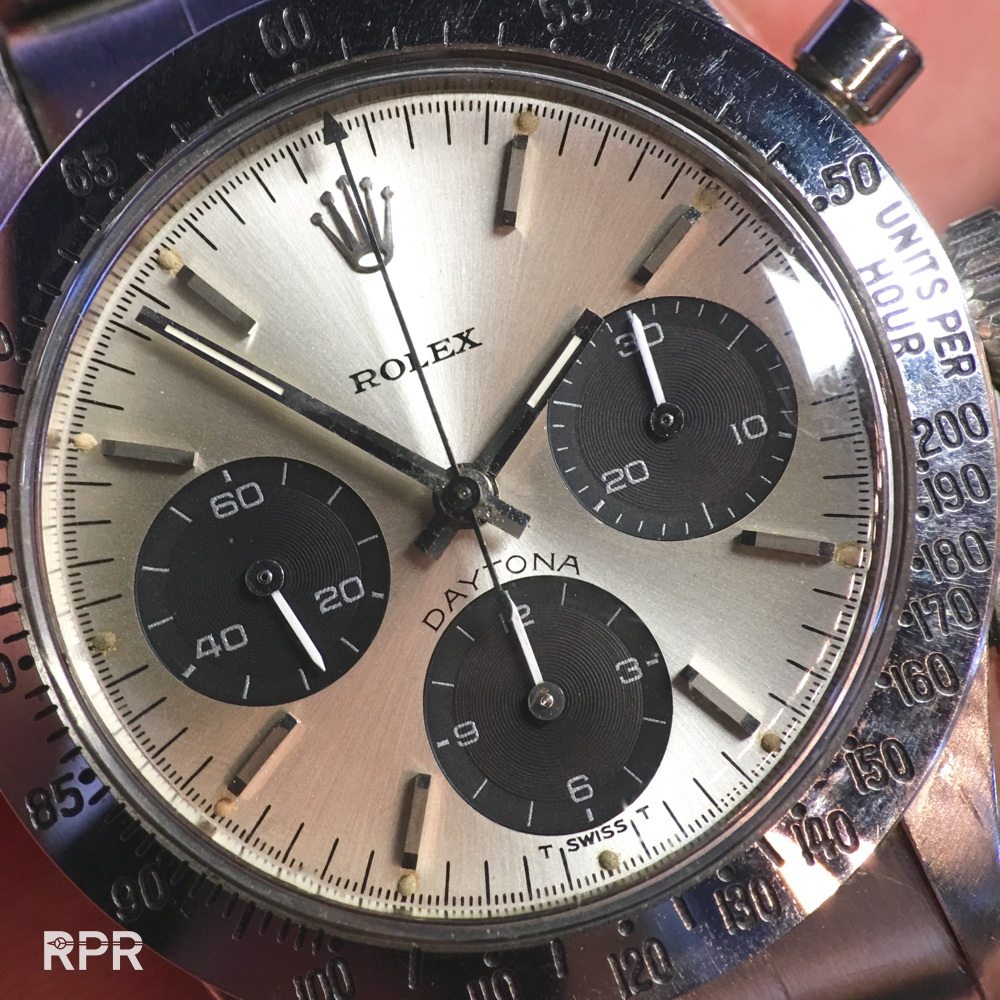 How good was the steel Padellone Ref 8171 was a question I was asking myself. The for that moment high estimate of 300-600K suggested it was marvelous and in real it didn't disappoint at all…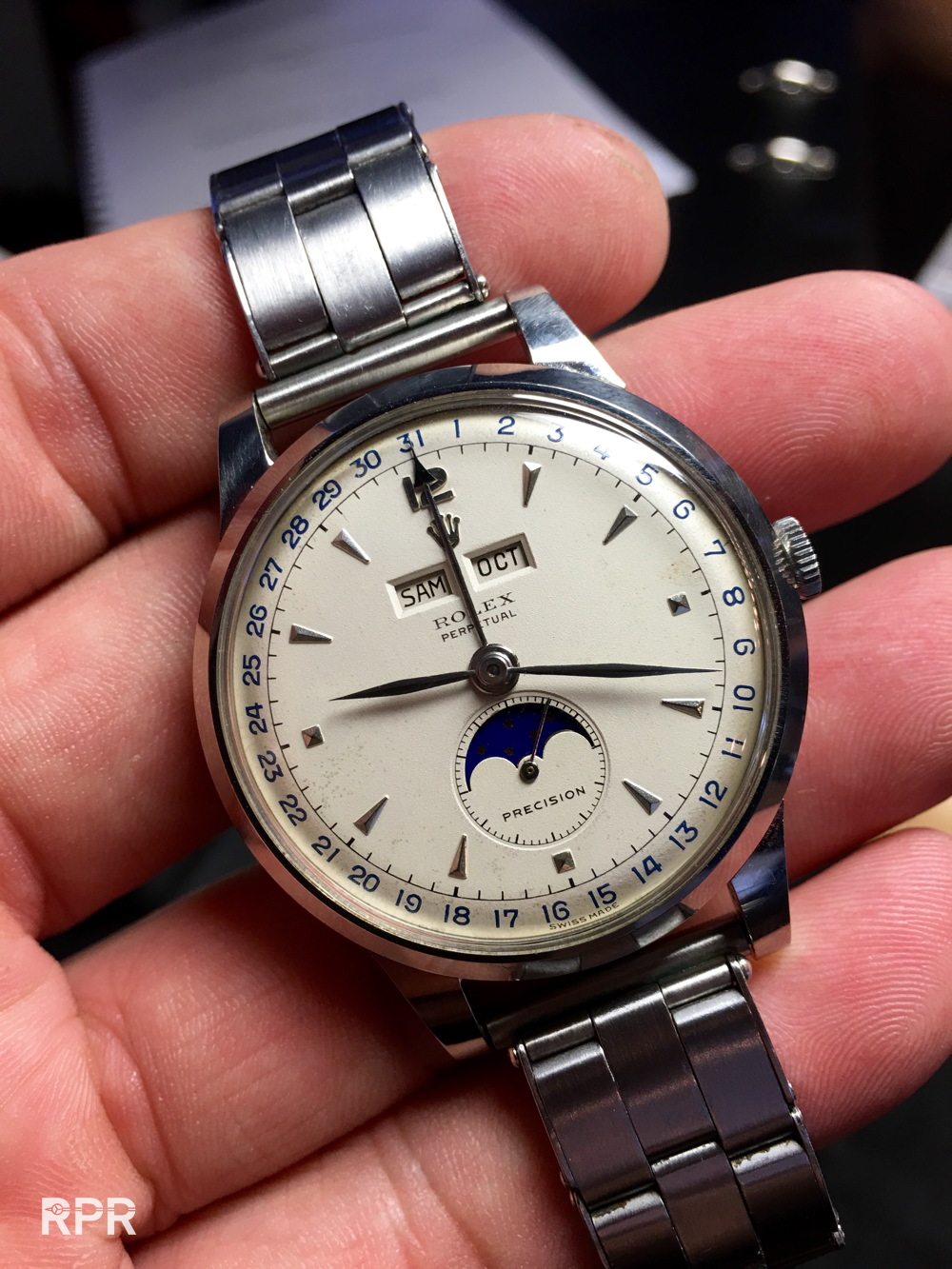 The € 830.000,= paid for this rare vintage Rolex is a new record. I'm glad to see it's not even 10/10 but more like 8.5/9-10 The case showed some minor wear as you see here in my close up..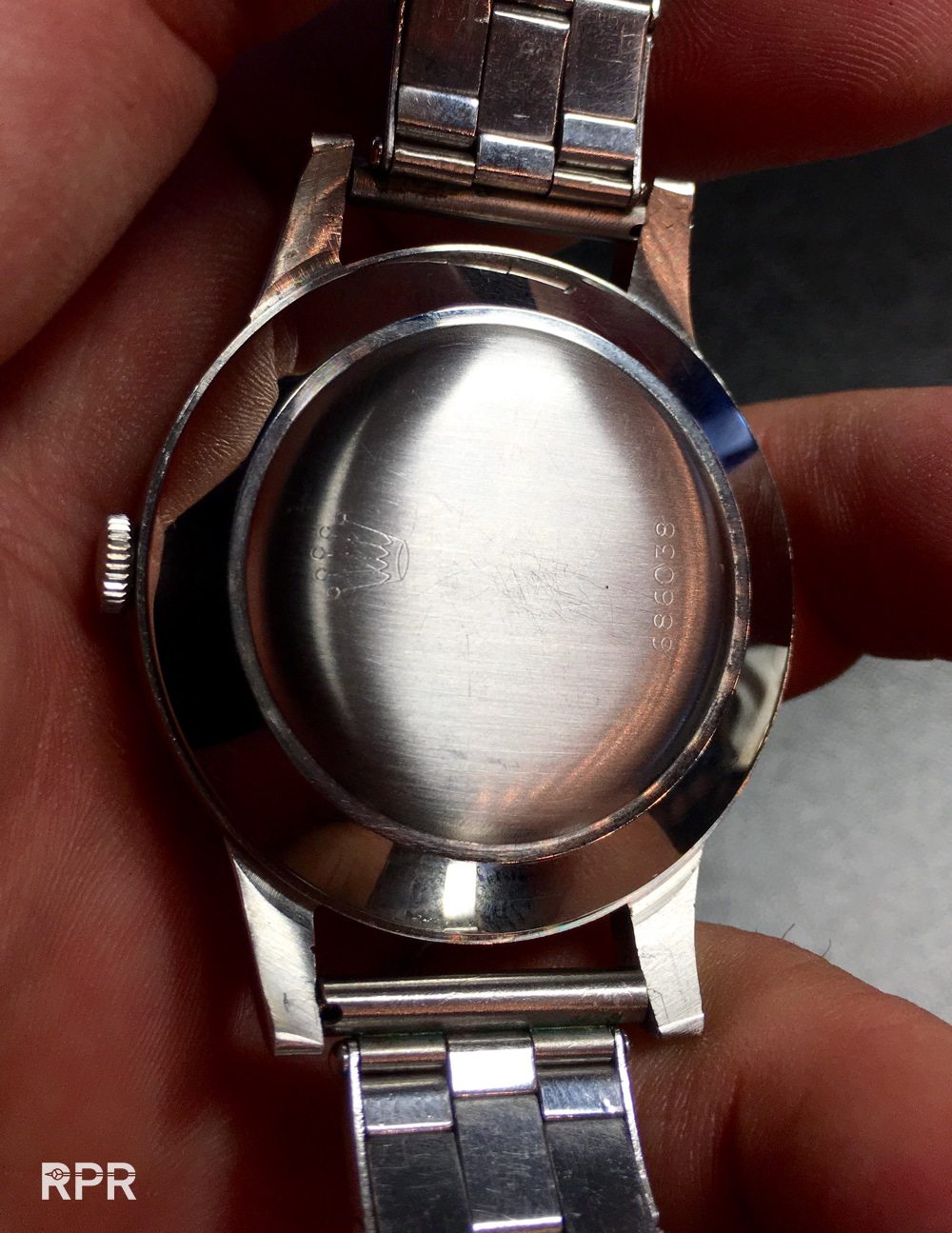 But then the lugs where fat and razor sharp…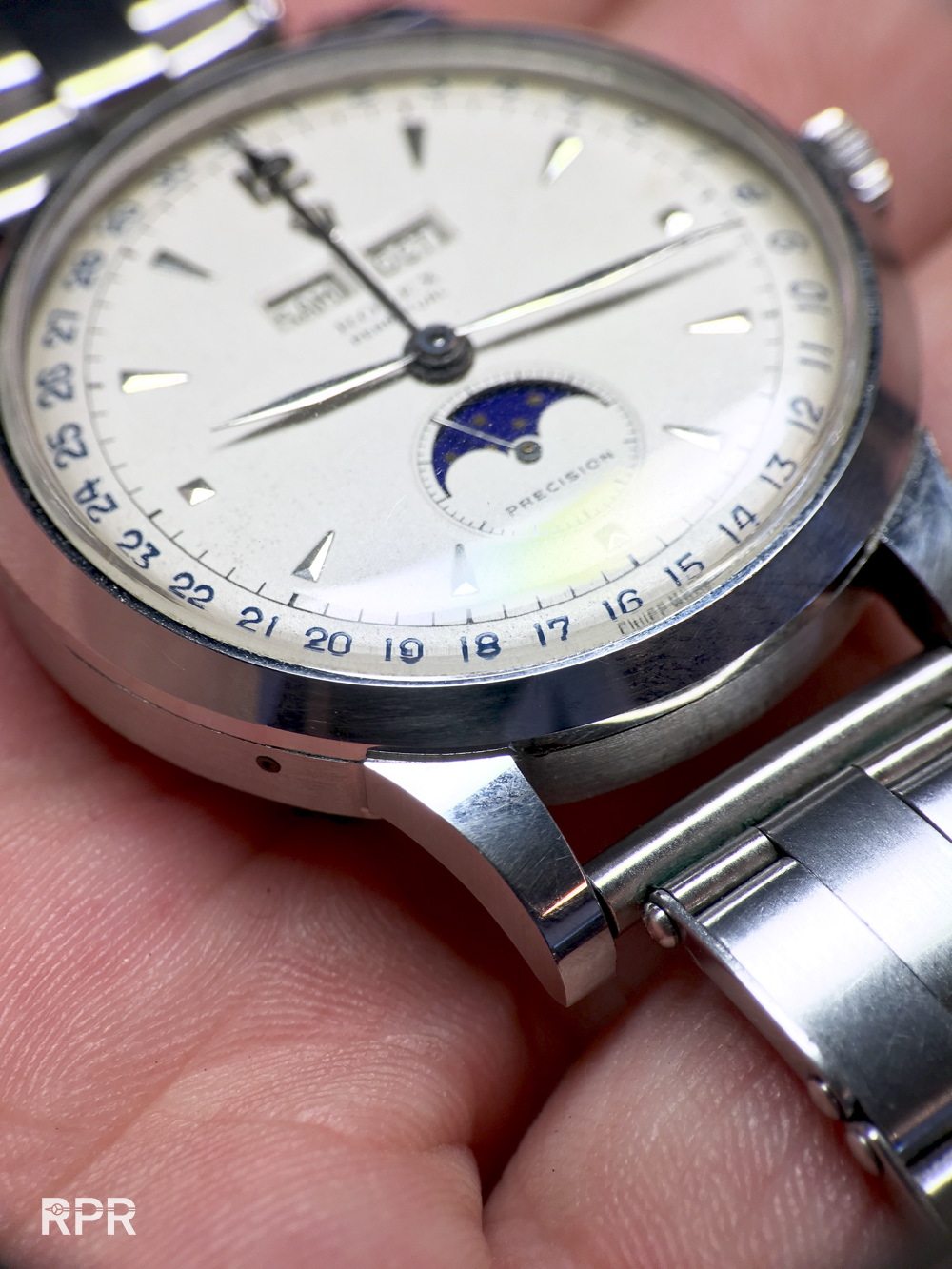 The side was still nicely matt finished…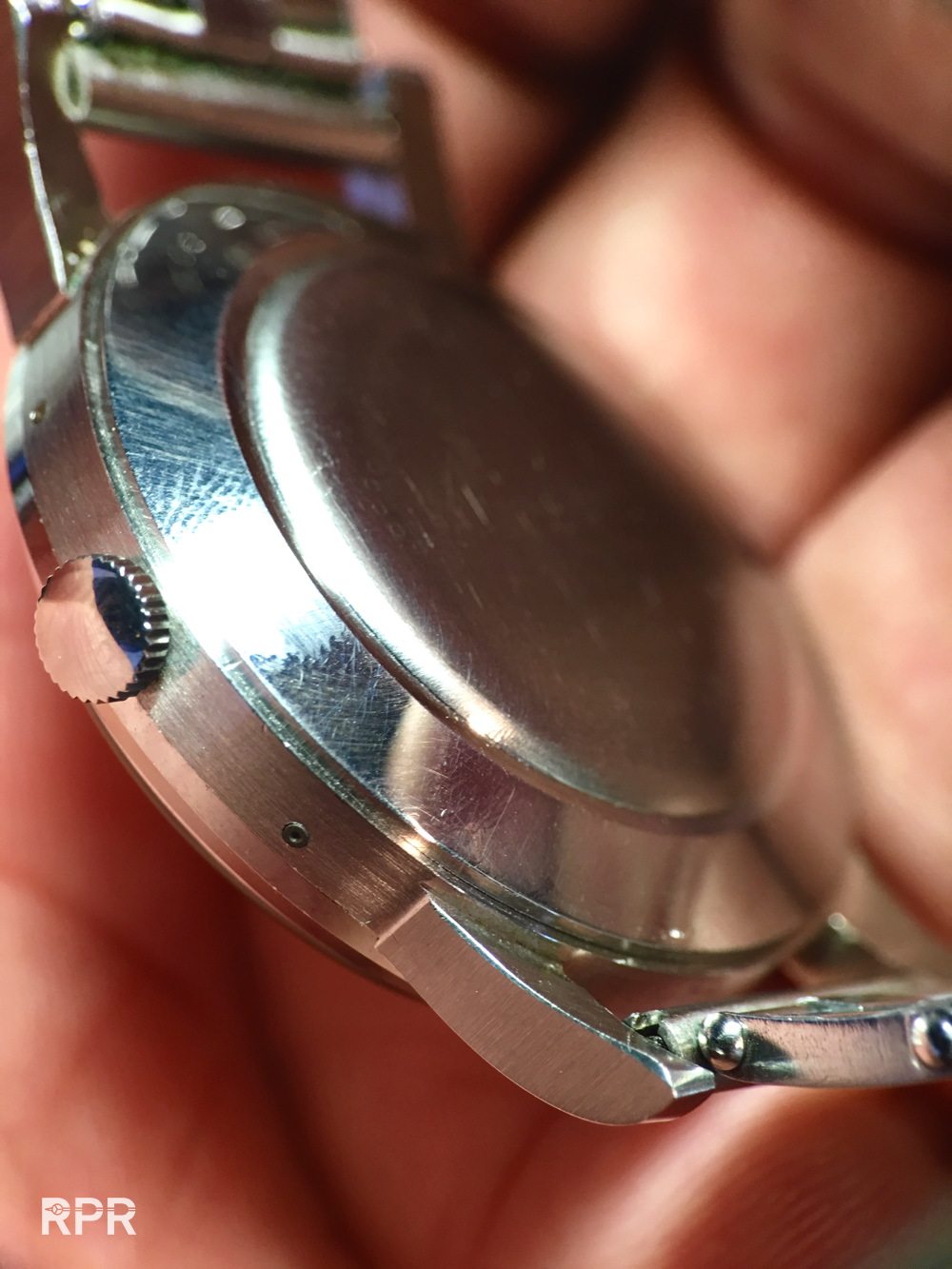 And the close up of the dial shows some imperfections / patina as well. The aging is clearly visible as you note below.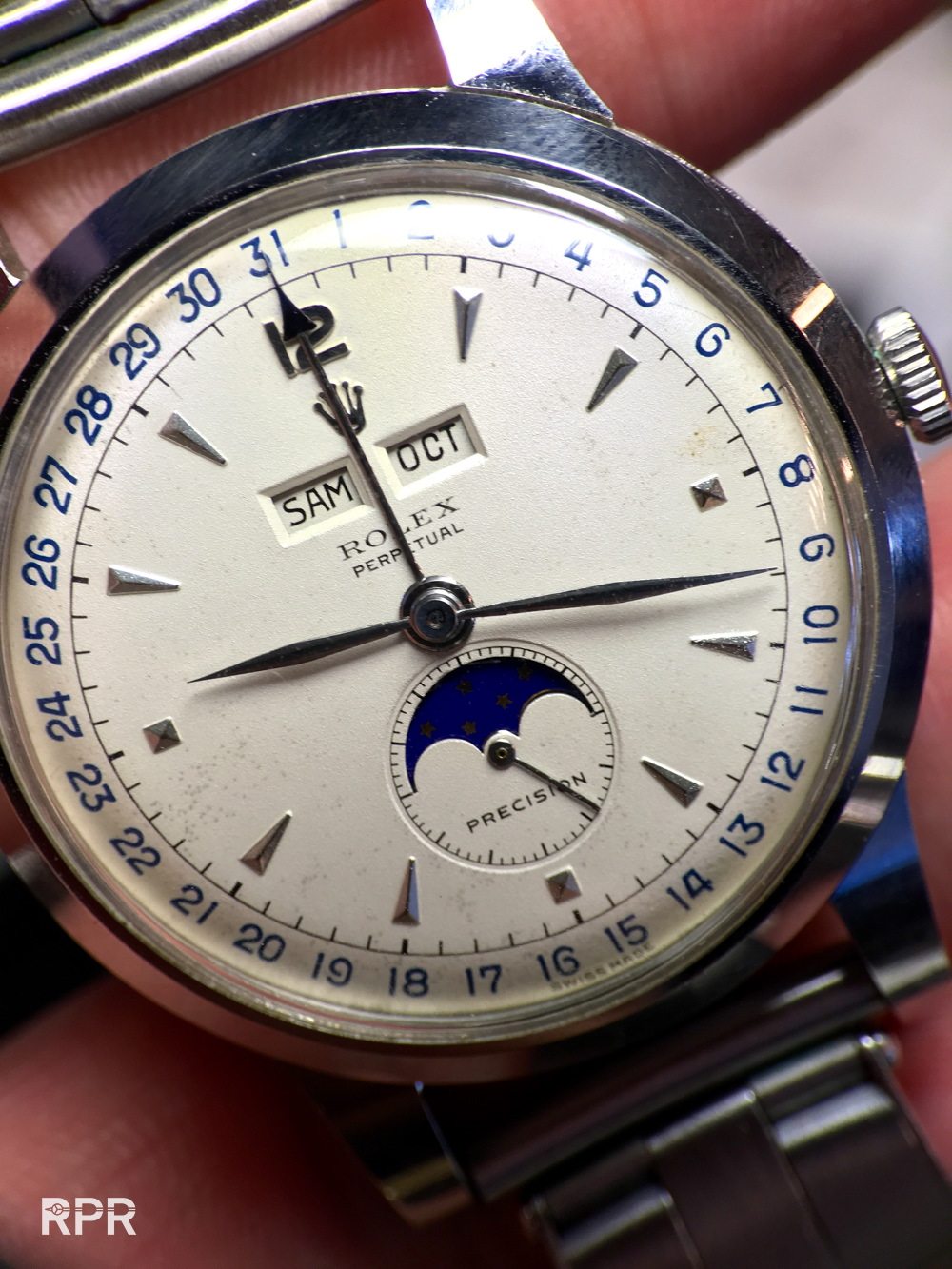 Then another Million Dollar vintage Rolex next, the pink 8171 Stelline that after a heavy battle reached CHF 1.050.000,= hammer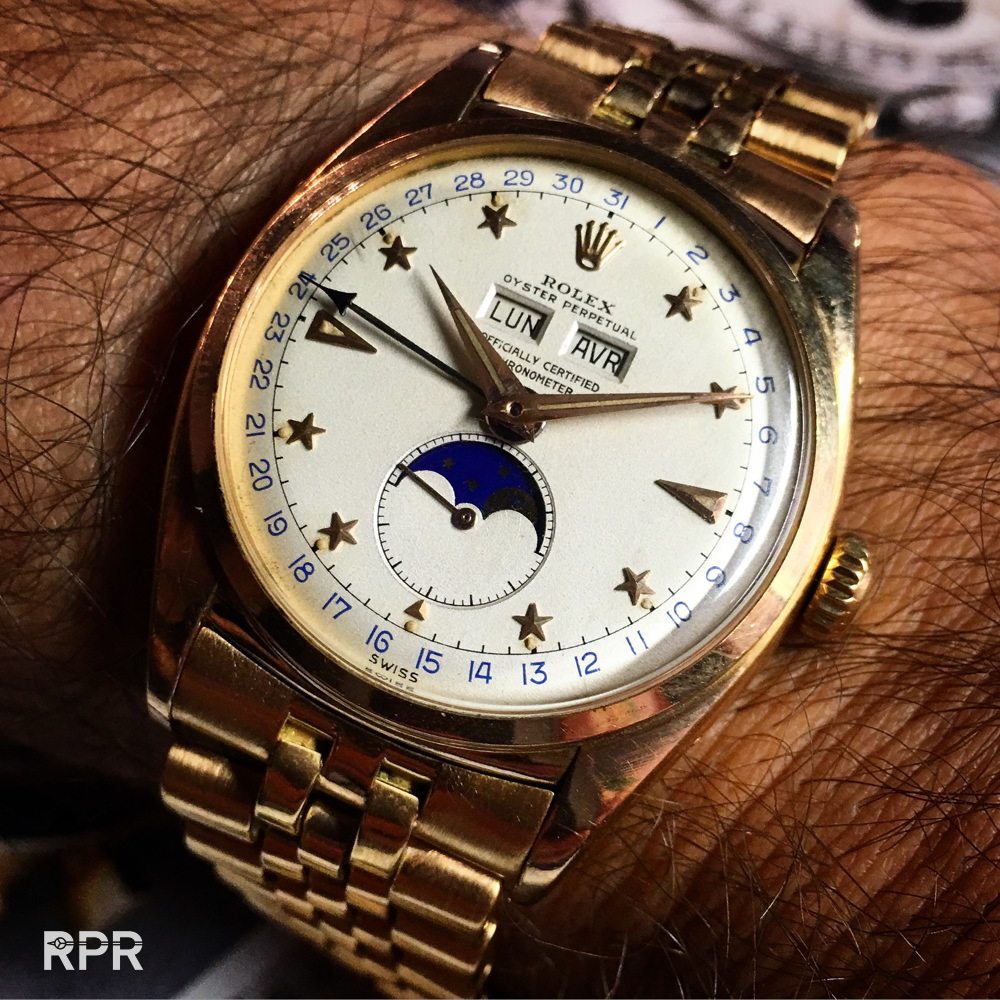 Up close…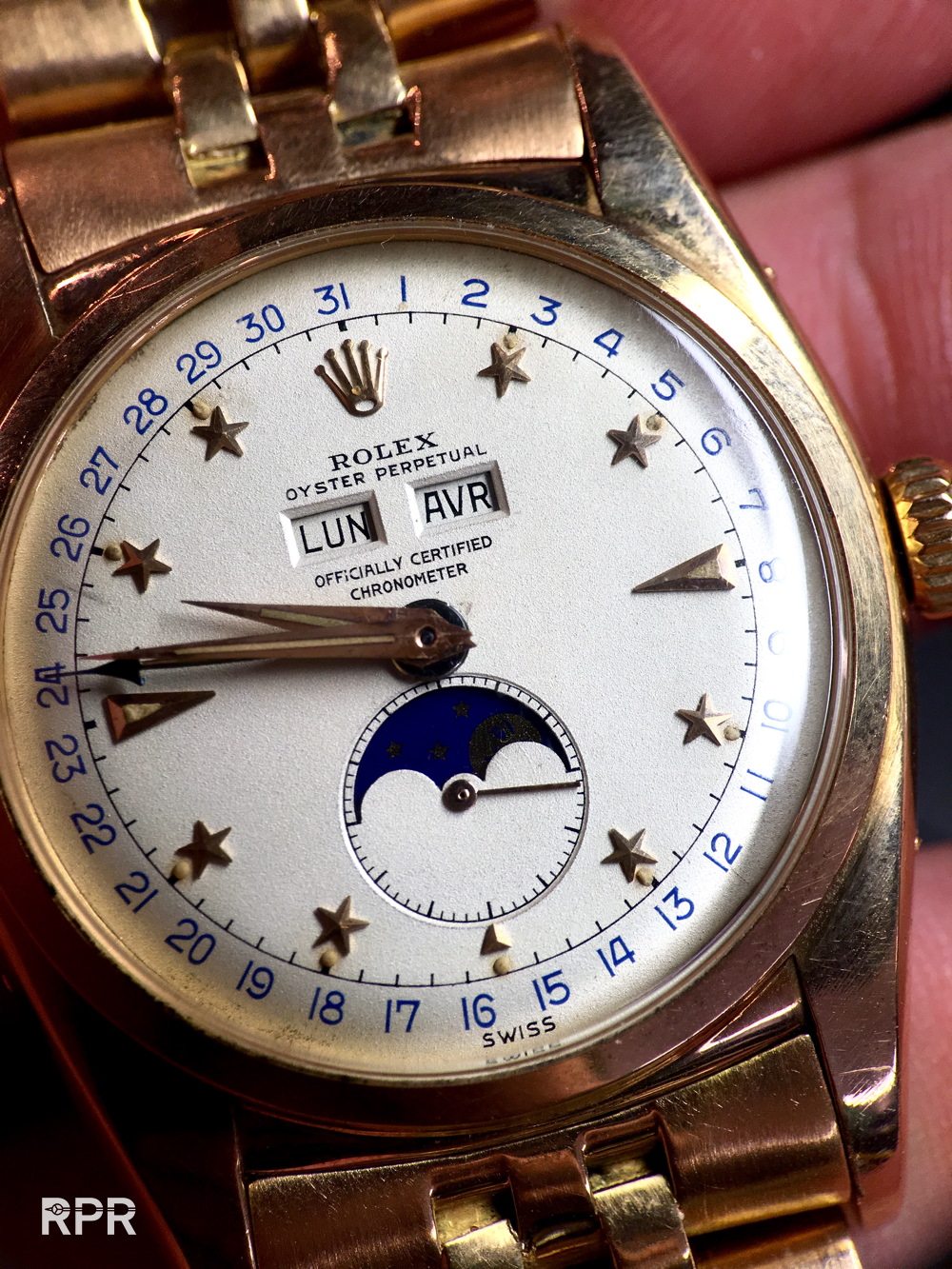 The dial was indeed nice but the all over condition wasn't like the steel 8171…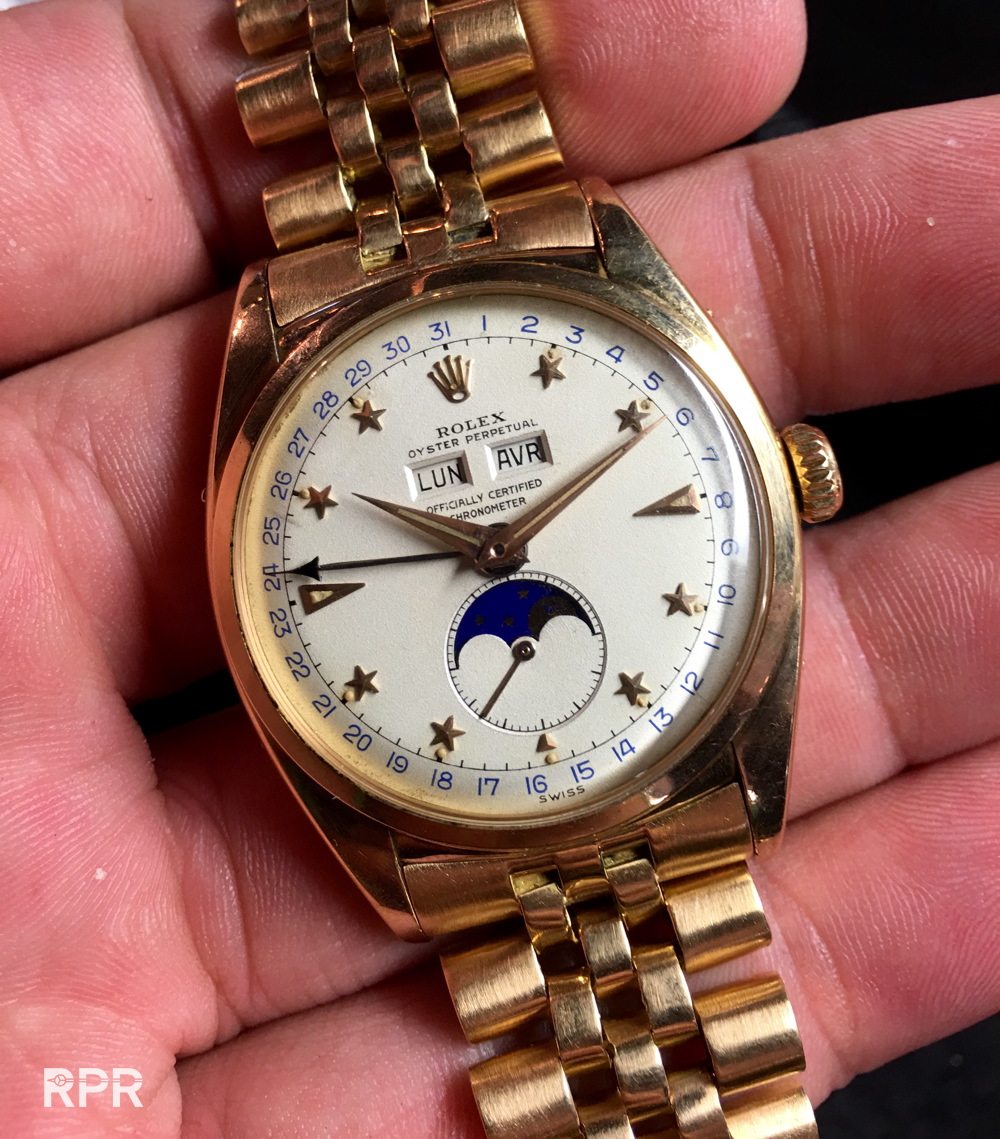 The case back was unpolished as you can see below… The bracelet was not very impressive by condition so that made me wonder why it was fitted to this watch. If the bracelet is this beaten, the case couldn't be in perfect condition as you see now so the all over condition isn't matching. But then, who cares about a bracelet…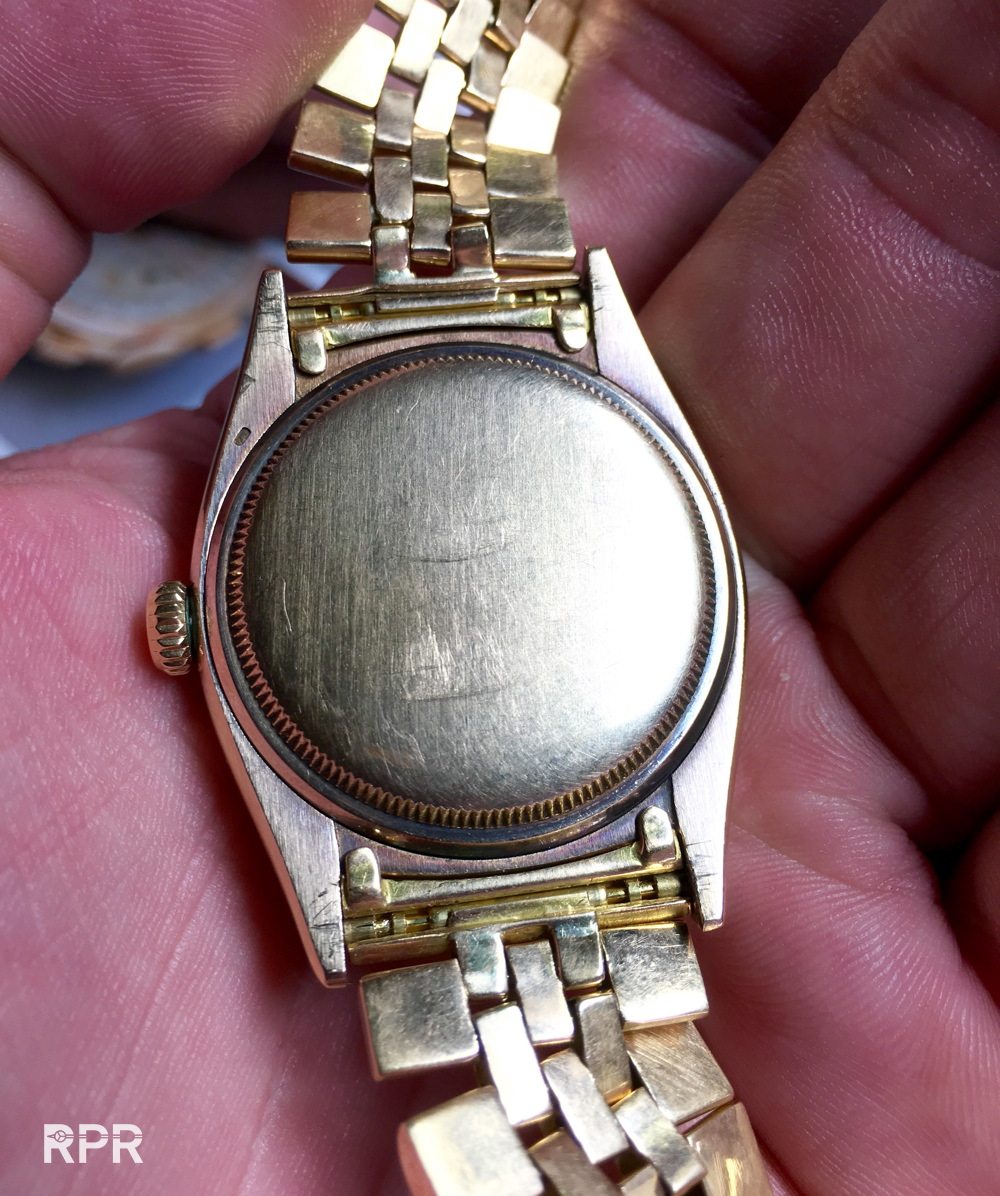 Another rare star dial came for sale, this time on a glossy black surface making the look magical! Sold double the high estimate for 400K!!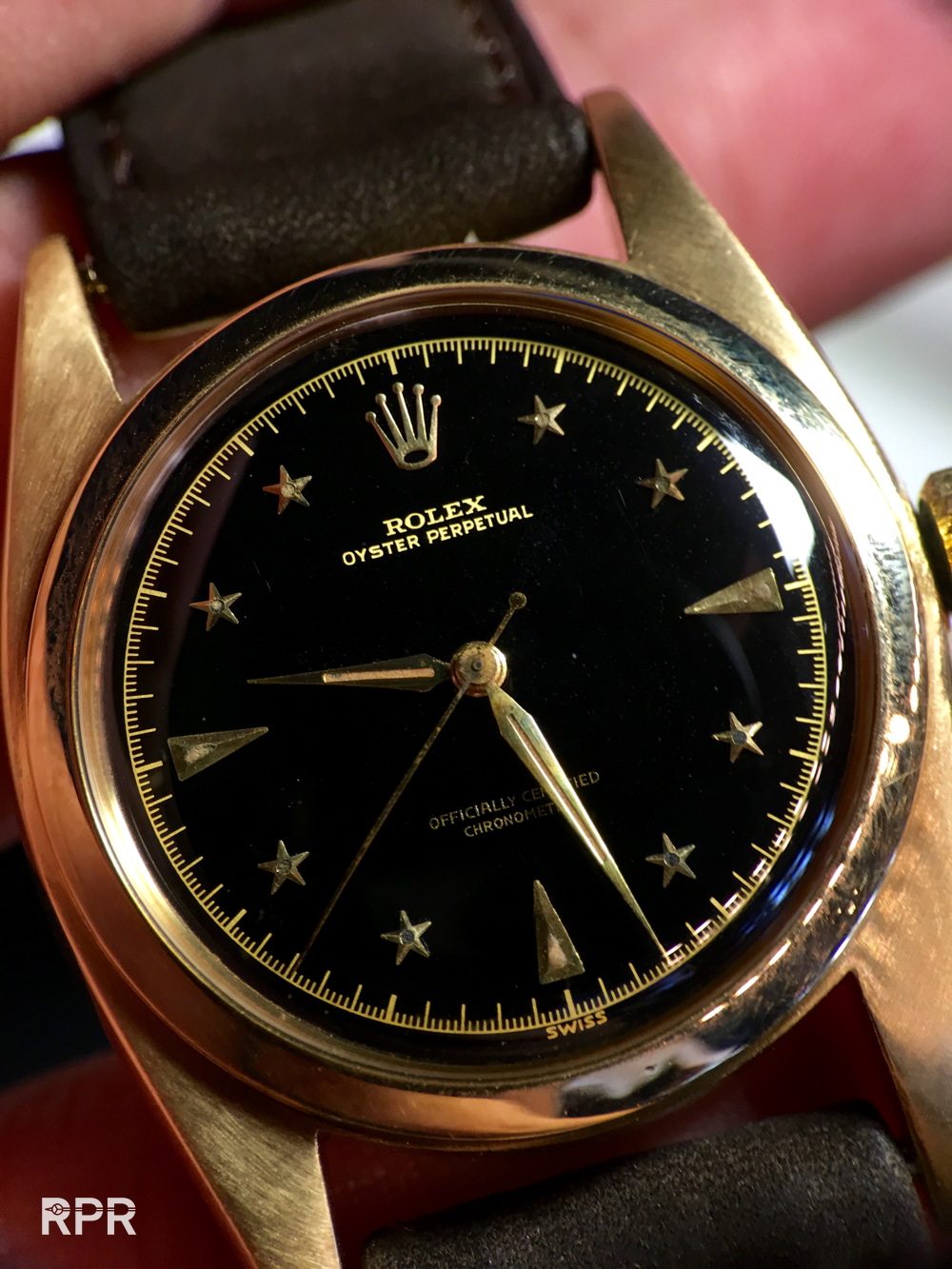 Then the Hermes Paul Newman finally sold for CHF 569.000,=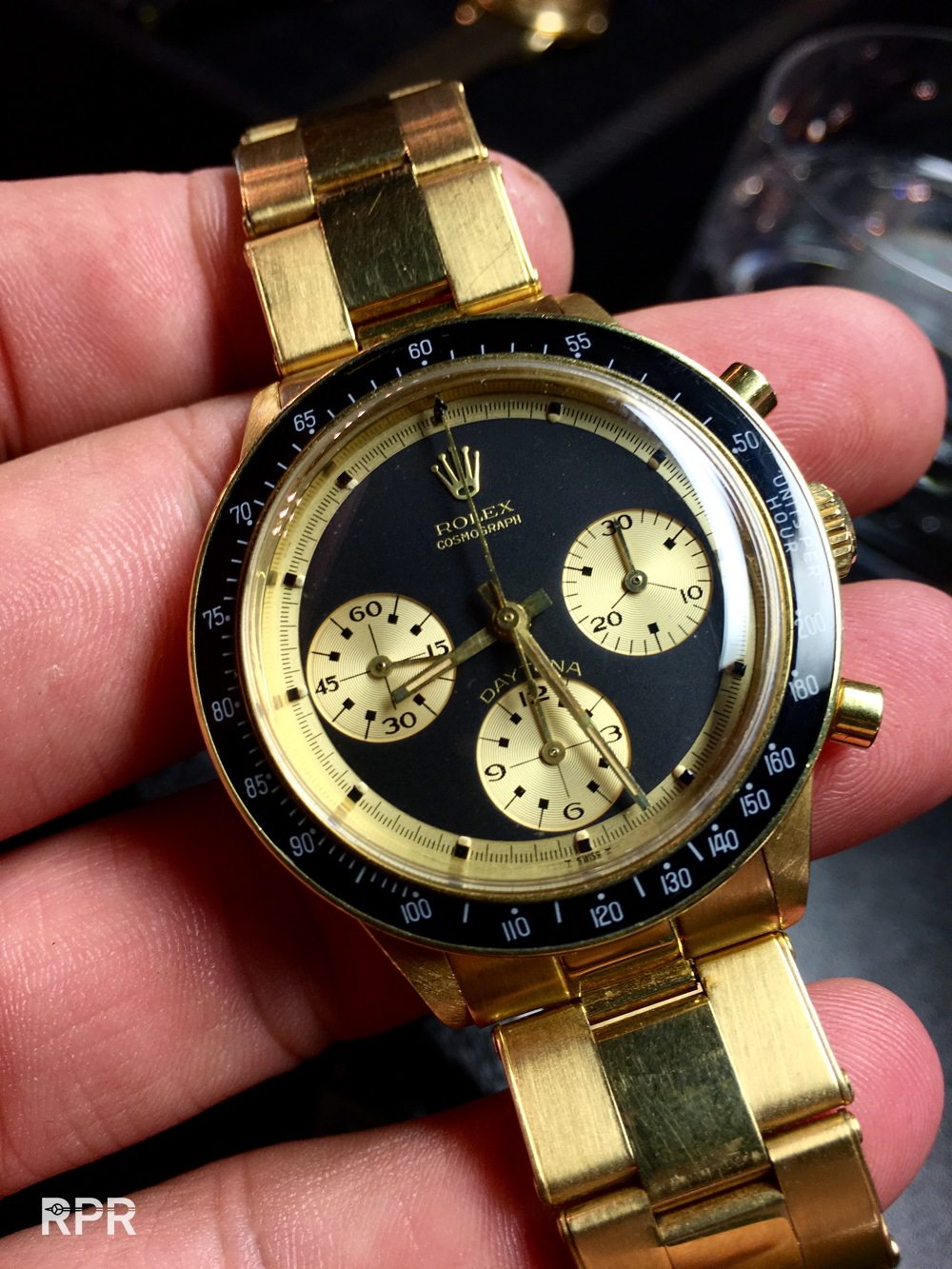 The lume at 3 o'clock was missing and at 11 o'clock is was broken as you can see below…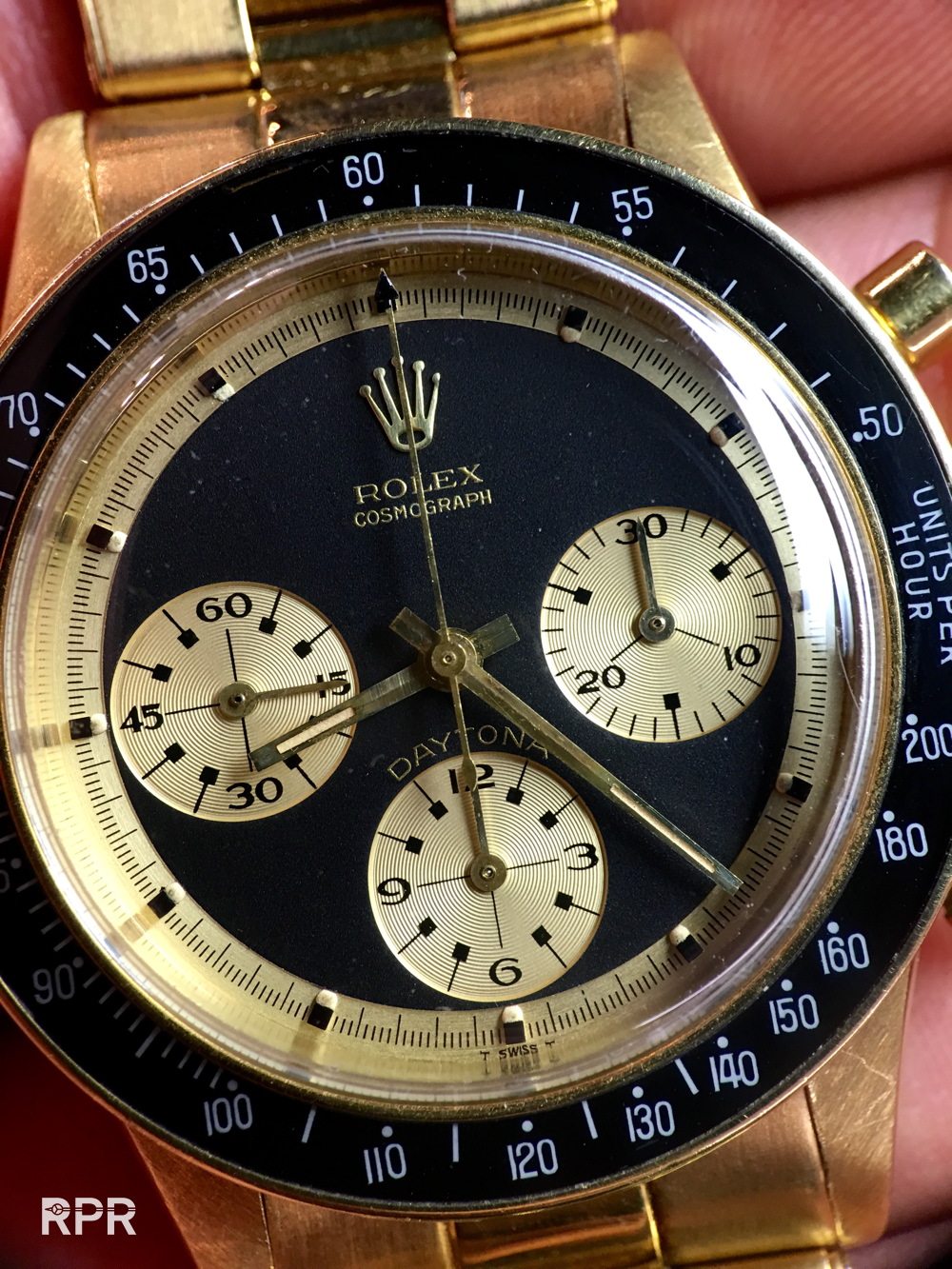 Nice crisp case back with HERMES gravure…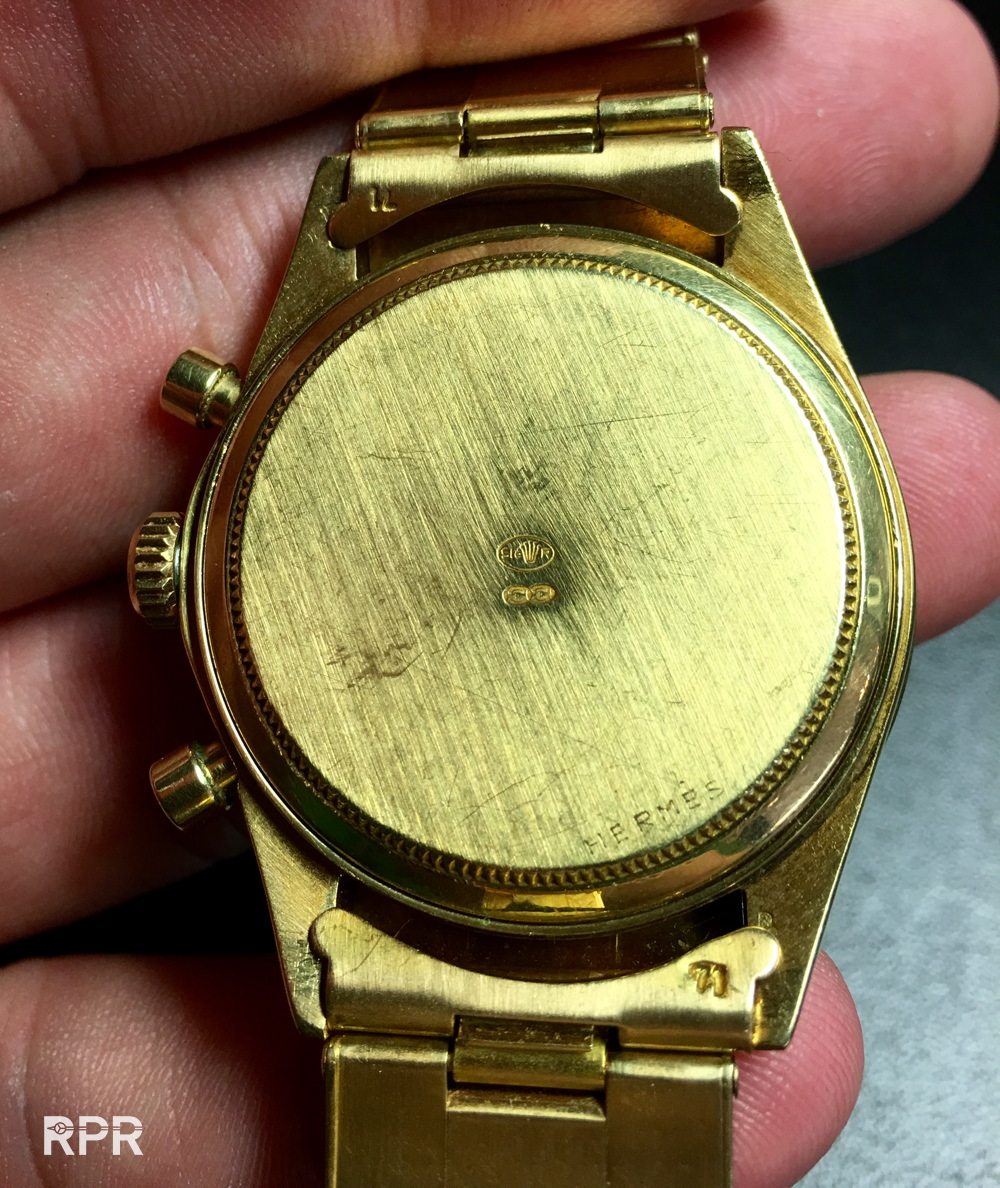 Yet another black killer and super rare, a handful of examples are known, the cherry Red Ref 6264 went 3 x higher then estimated and finally sold for CHF 341.000,=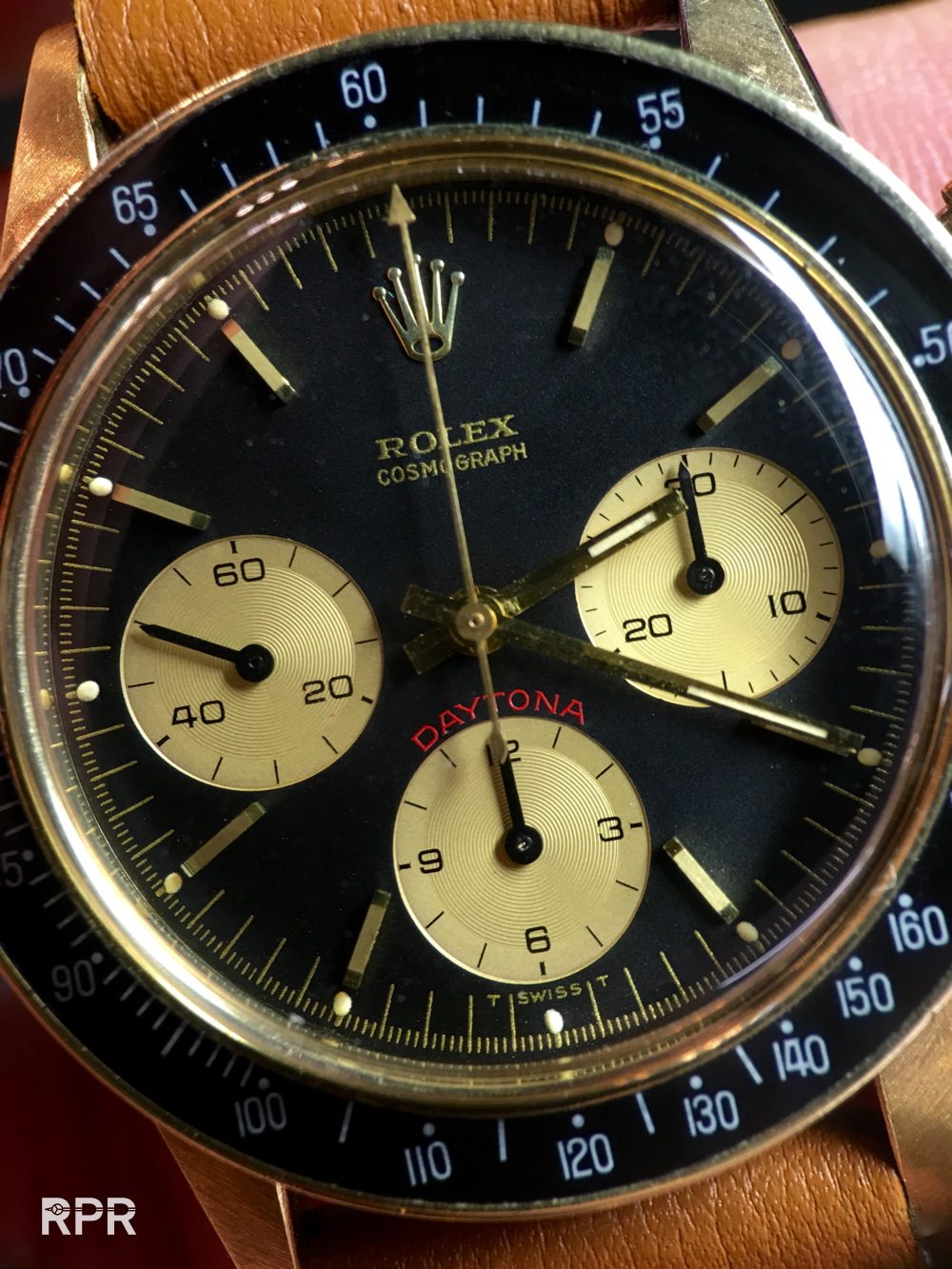 The Oyster Paul Newman, ref 6263 went also for  CHF341,000 and thats for the last serie of Oyster PN's a high price again. The record is still from Christie's 2013 sale where one 2.8 million 6263 Oyster PN sold for  CHF 449,000,=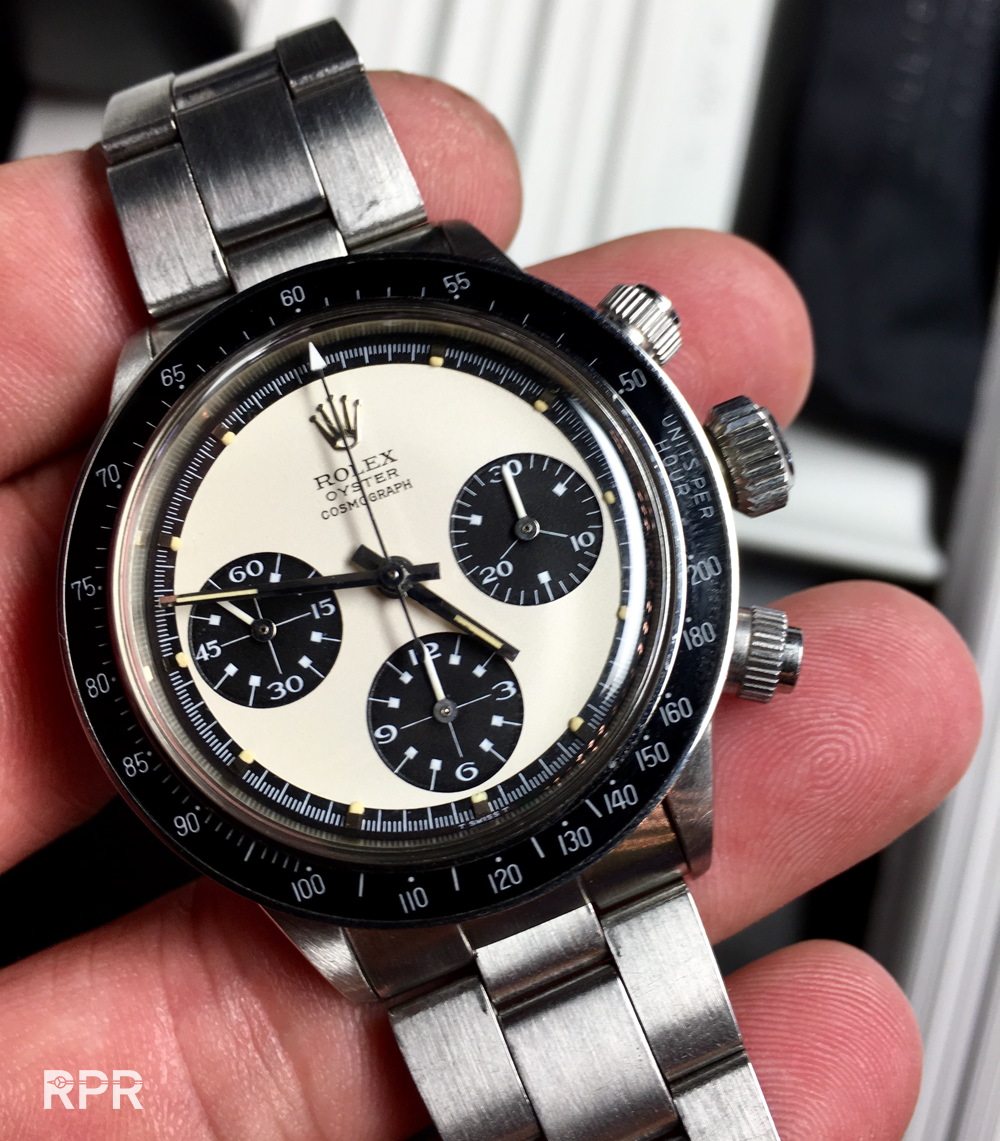 Below, NOT for sale as it was from private collector who got it from the Swedish auction, maybe one of the best RCO around, the dial is perfectly clean, the luminous is matching and perfectly shaped and the case with it's original pushers is just great…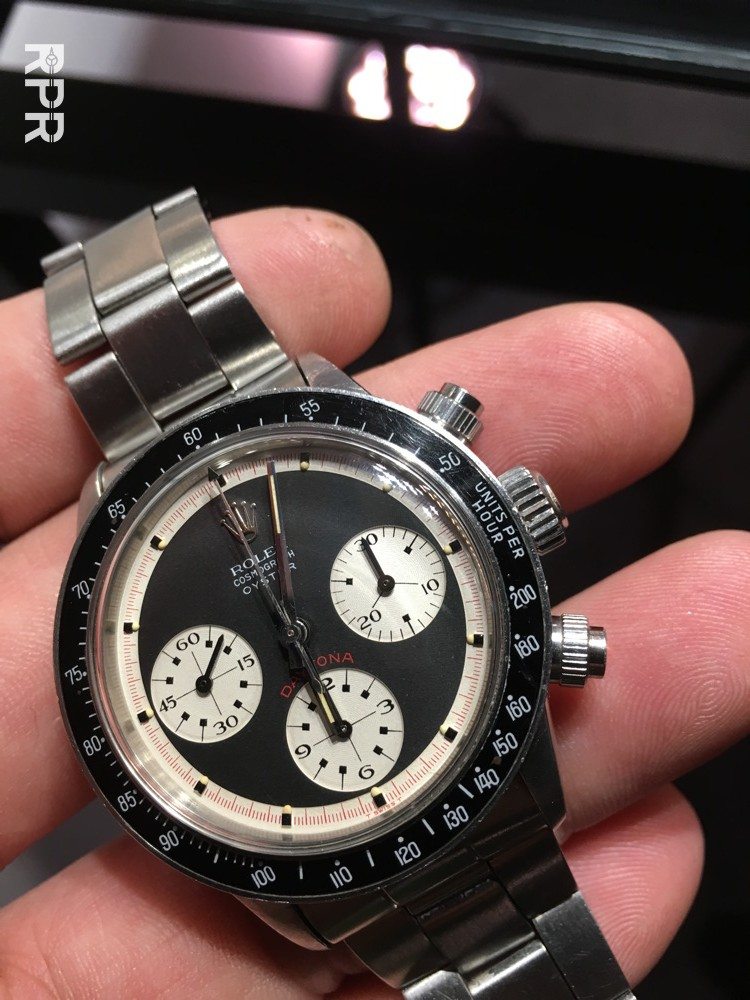 This lucky guy has a amazing collection!…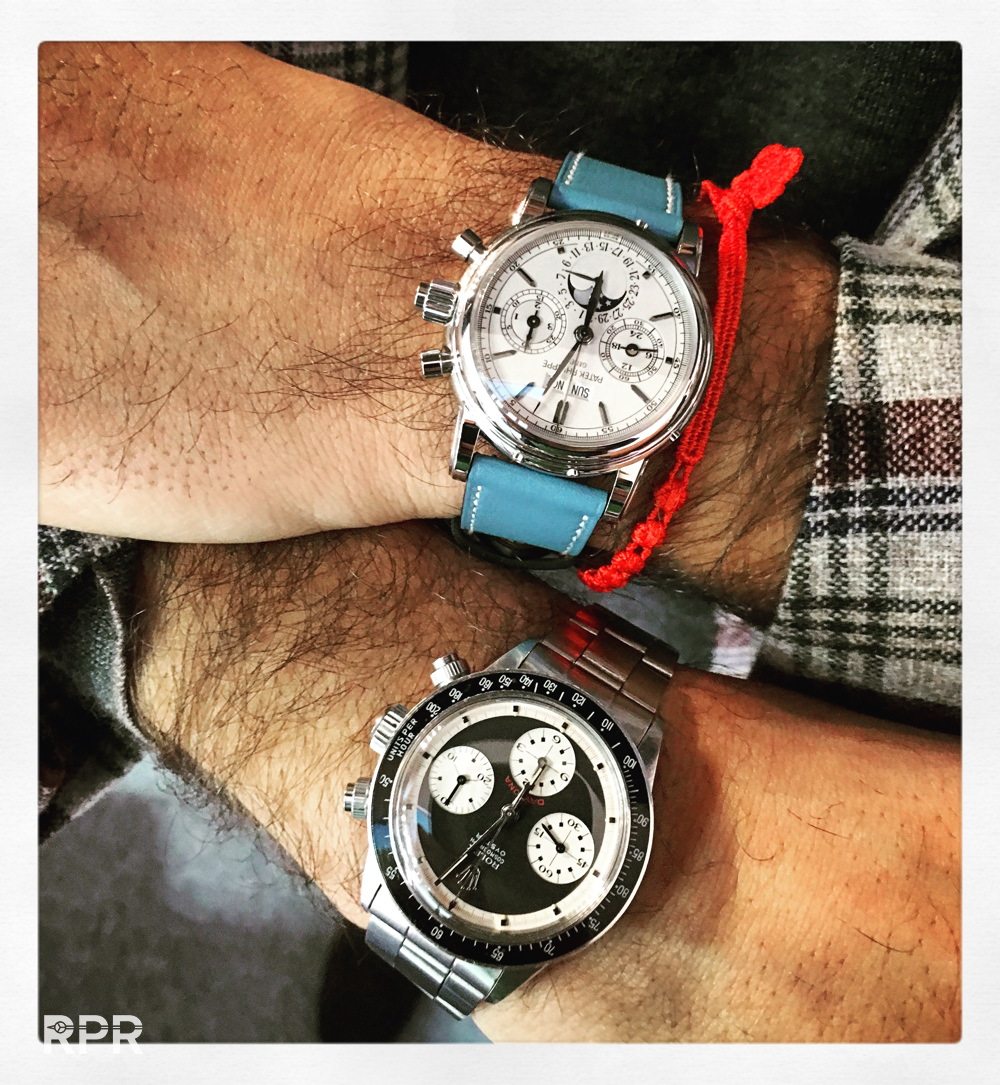 Then, the black dialed gold Monobloc ref 3525 didn't really find great attention. Although this Rolex is exceptional in condition and rarity, it's apparently not as sexy as a newman due to it's smaller size..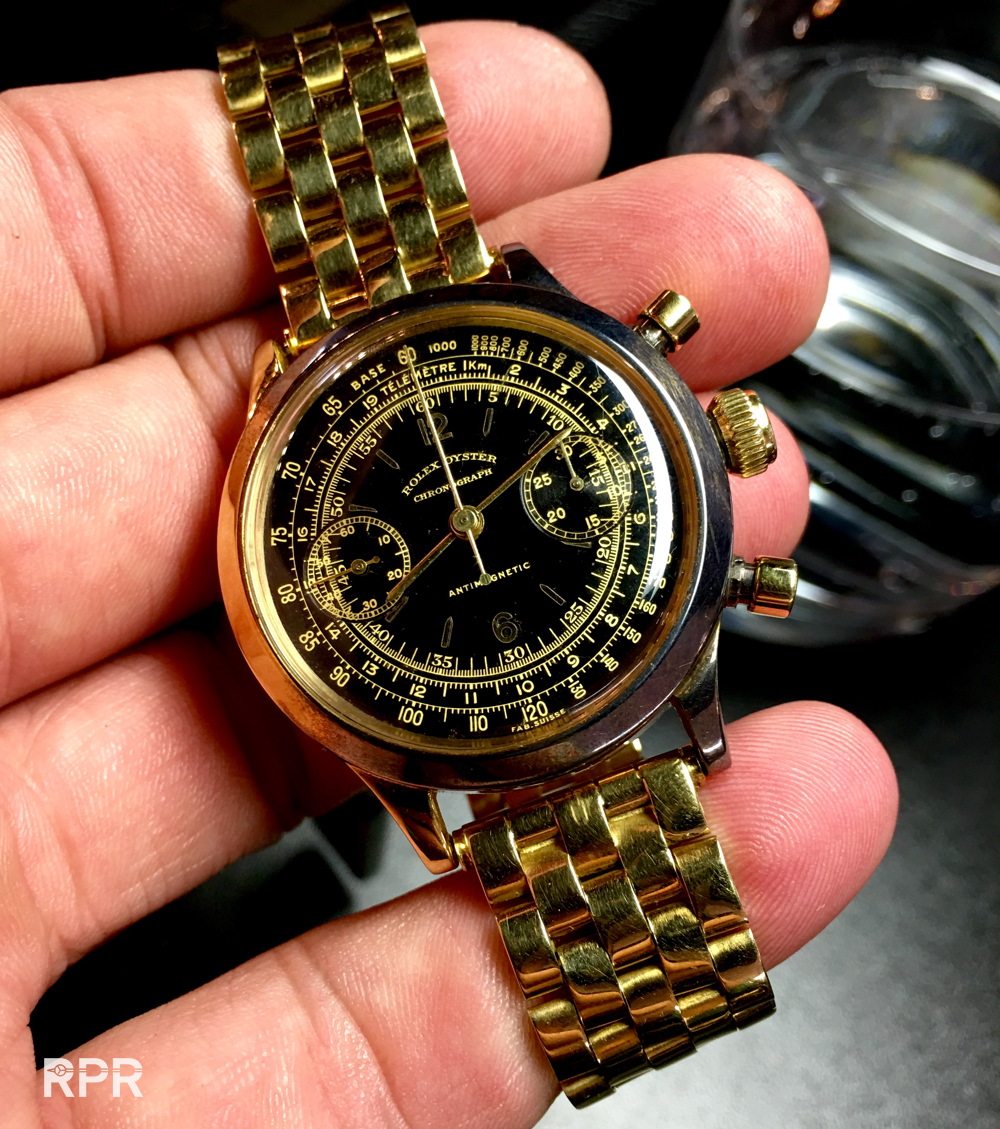 The NON luminous dial was still crisp and clearly glossy gilt. The absence of radium lume always helps the dial to stay in better condition then when in a period of time the radium dust is eating the lacquered surface slowly…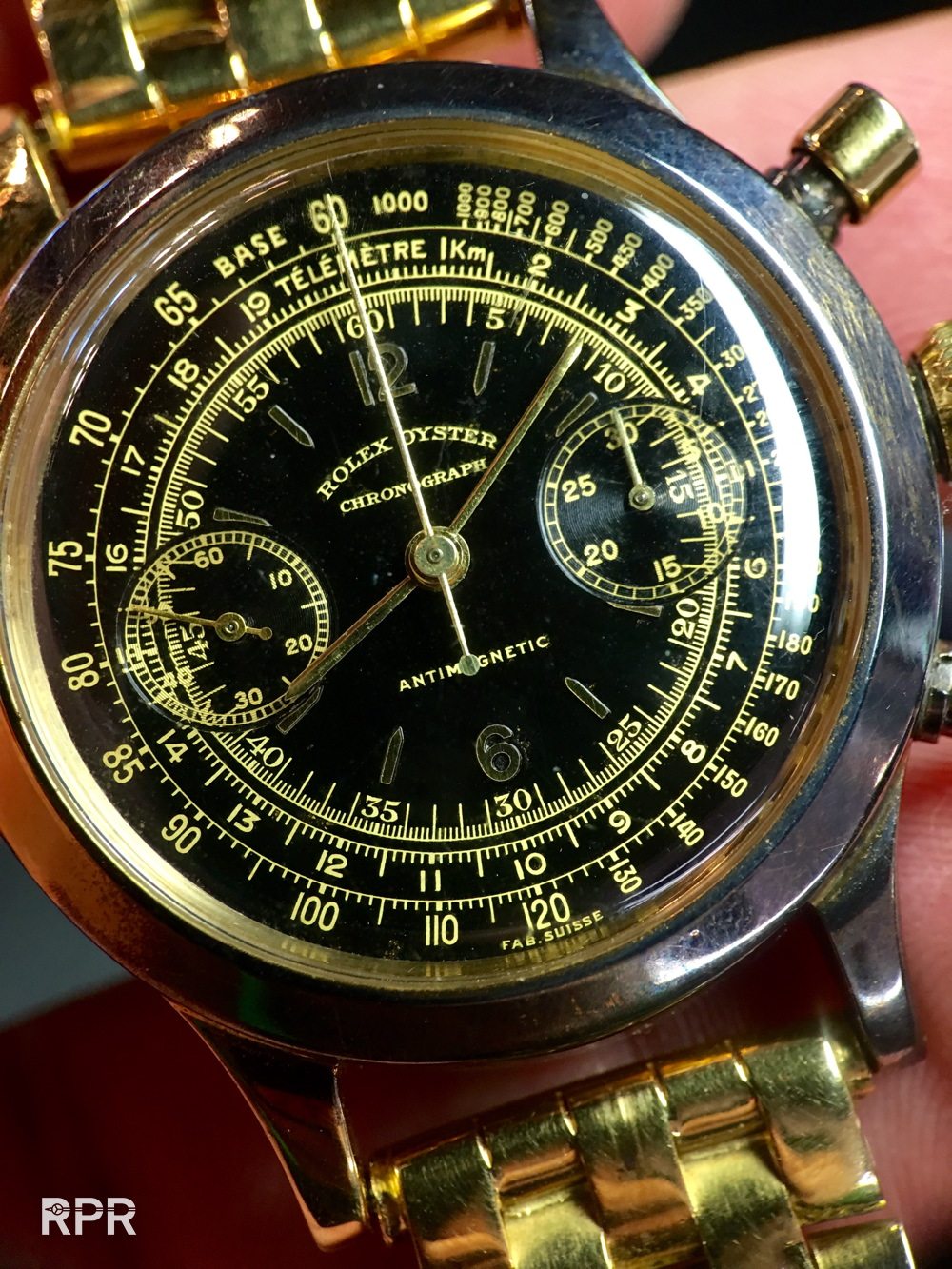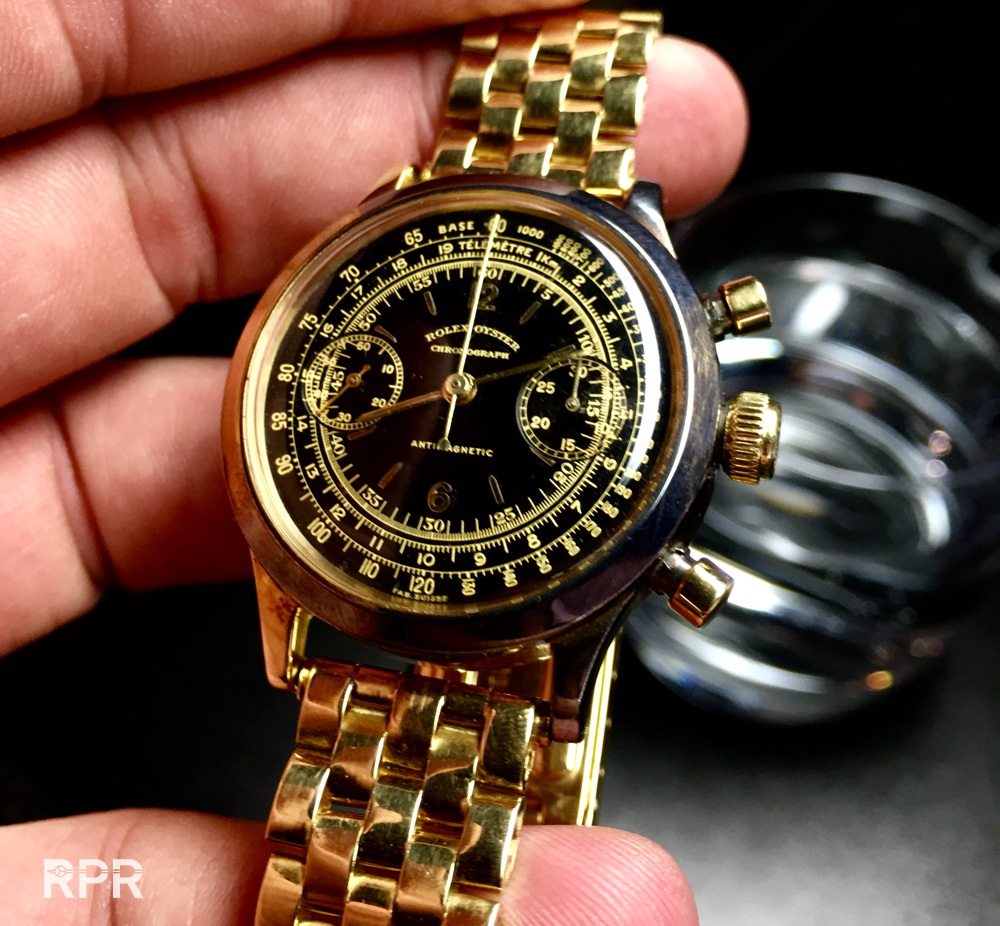 The movement was as clean as you would suspect but once thou look closely you see the screws had been touched a lot, meaning it had been taken apart several times, which didn't really match the case and dial condition… It sold just above low estimate at CHF 233,000,=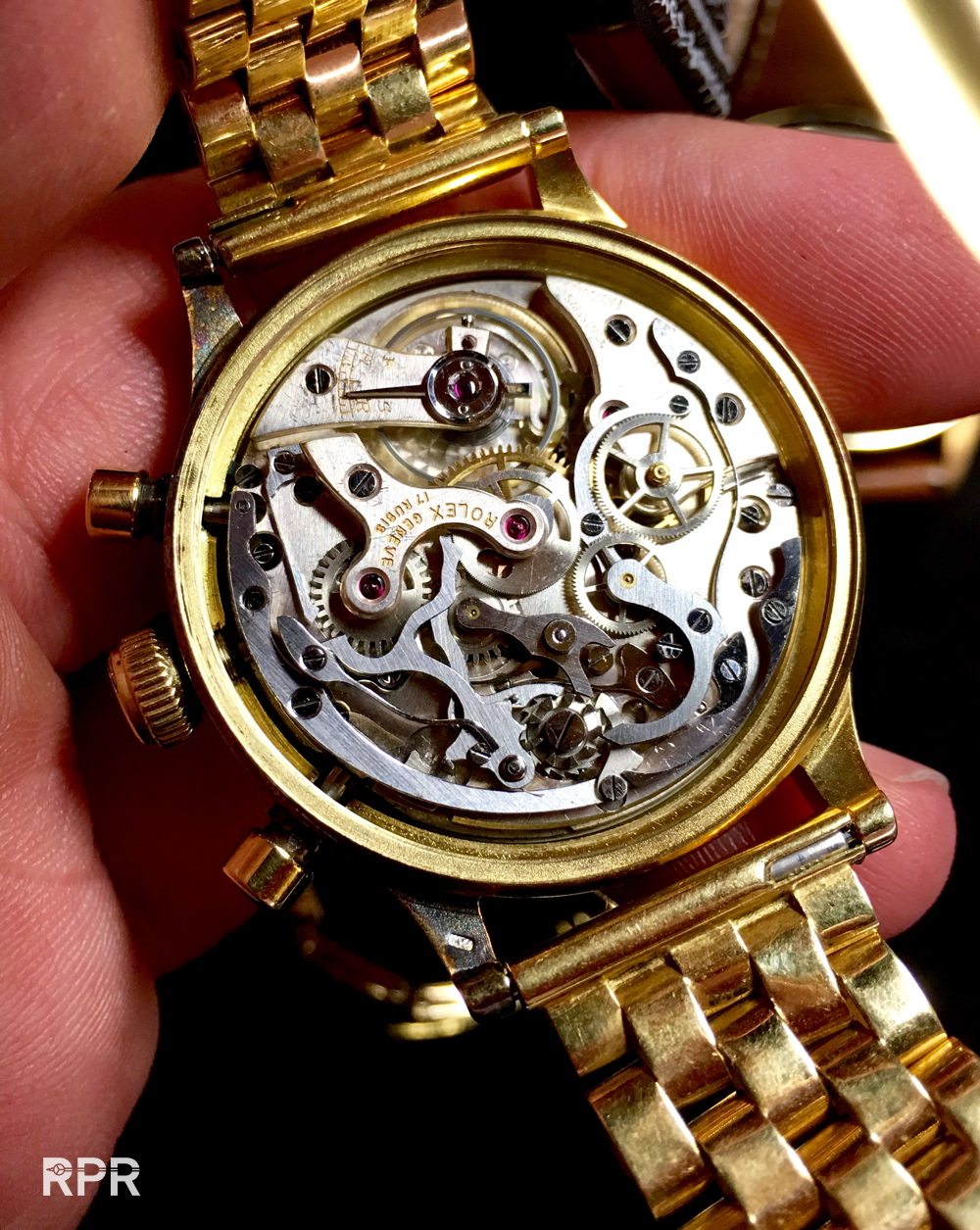 More black and gold, this time added with 5 diamonds, sold 3 x high estimate at CHF185,000,=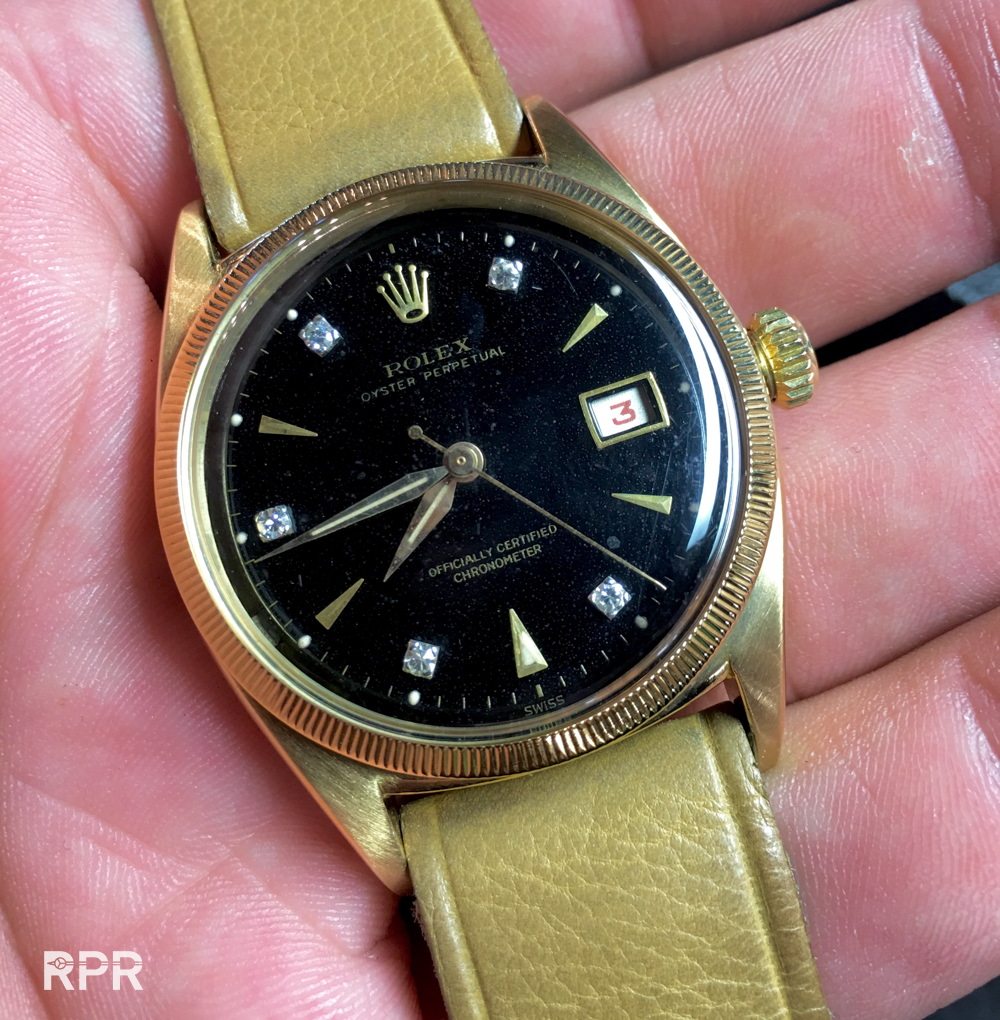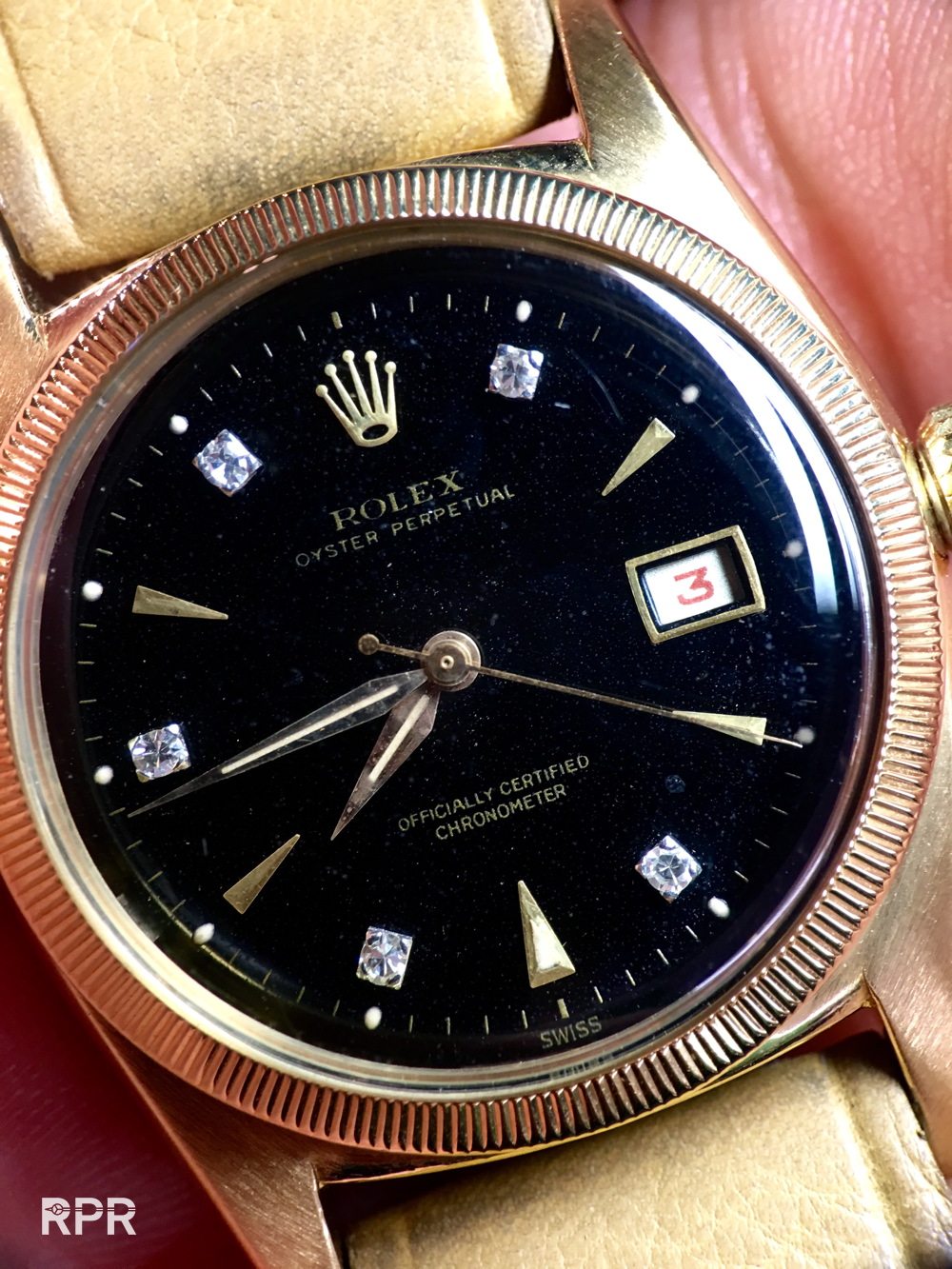 Next was the Tiffany Paul Newman, also from well known collector and published in Pucci's Daytona Bible, finally sold for CHF461,000,=
Next was a NOS gold Ref 2508 that sold for some 60K, 5 times the estimate at Sothebys. Look closely as this is how a new old stock watch looks like in gold…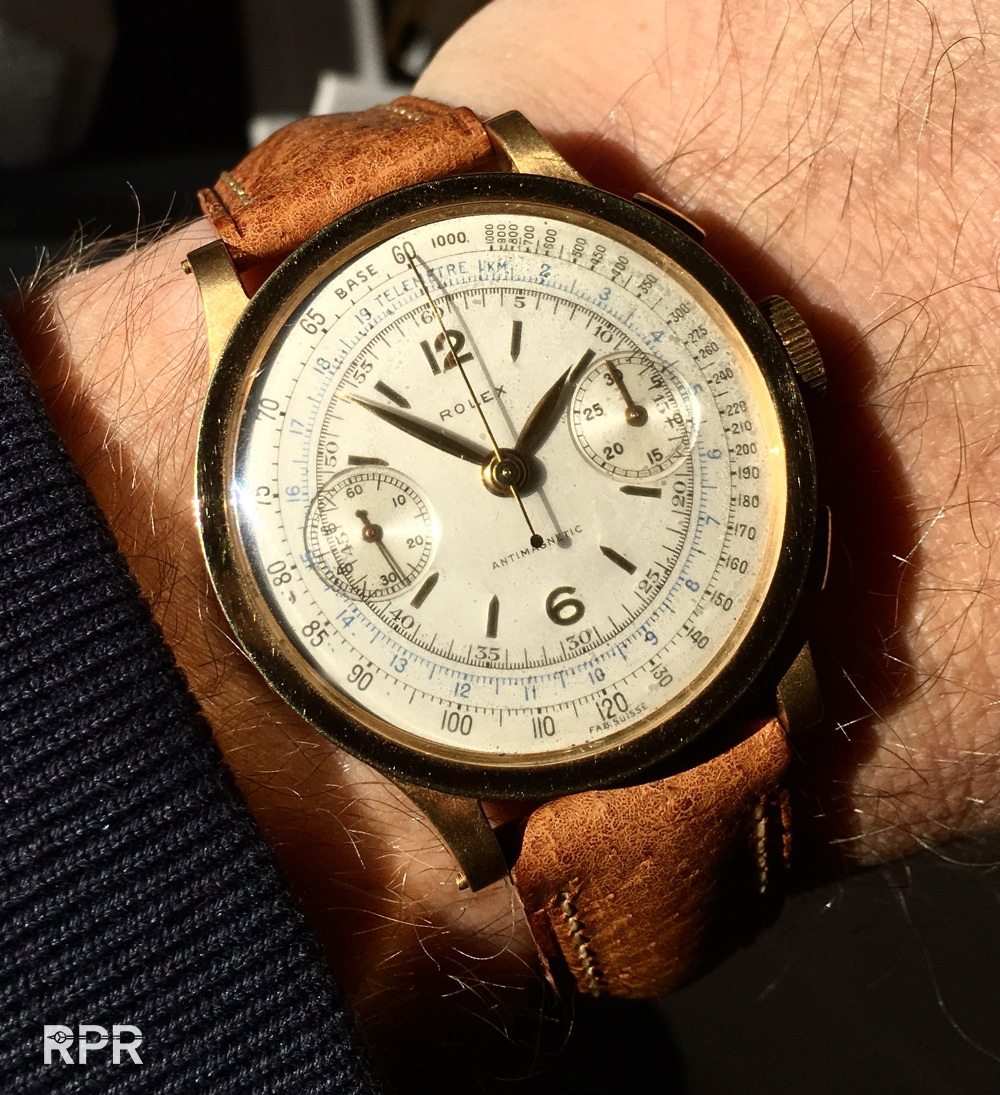 Crispy case back…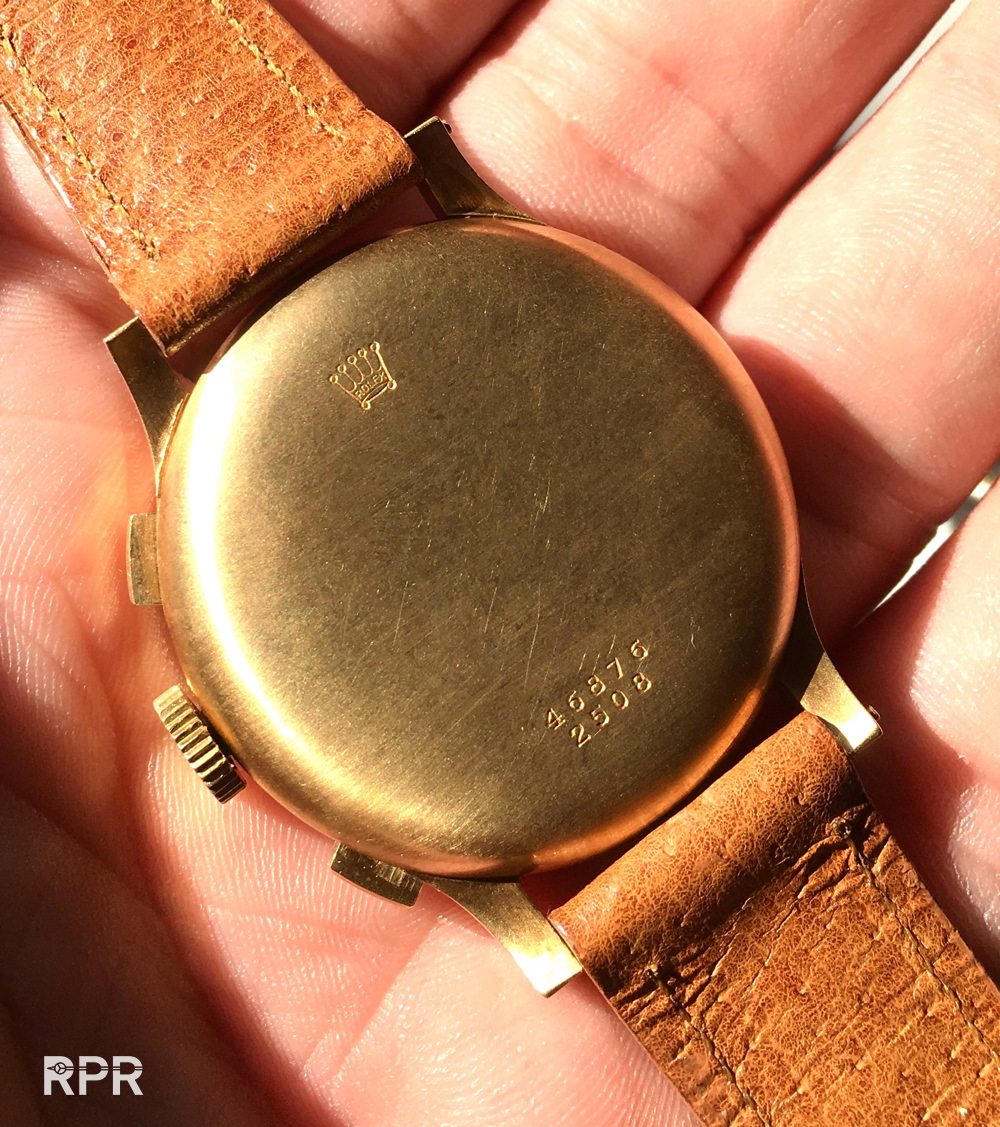 Crispy movement where nobody touched the screws…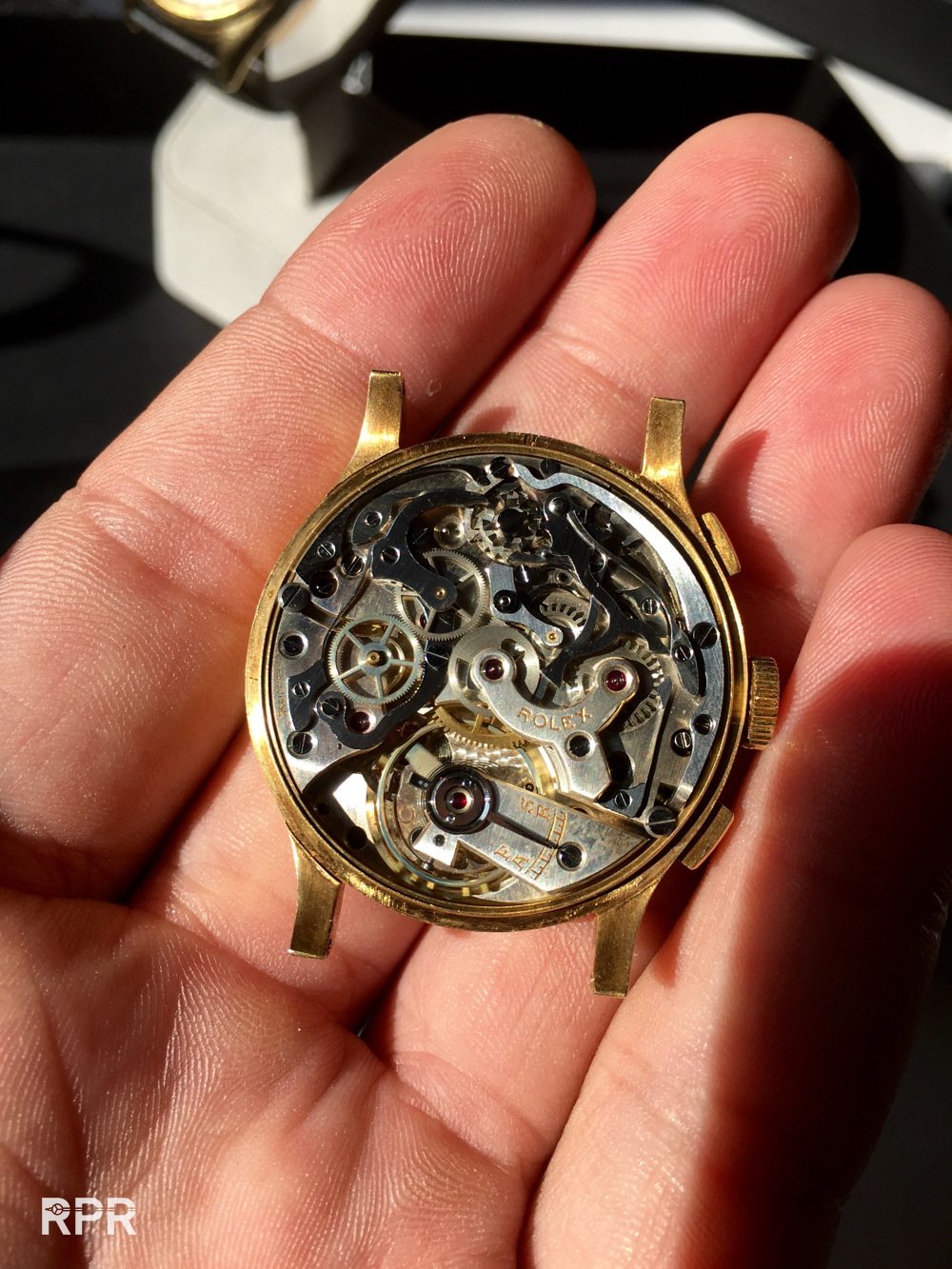 The sides still matt polished and note the little facet on the square pushers you normally don't see anymore..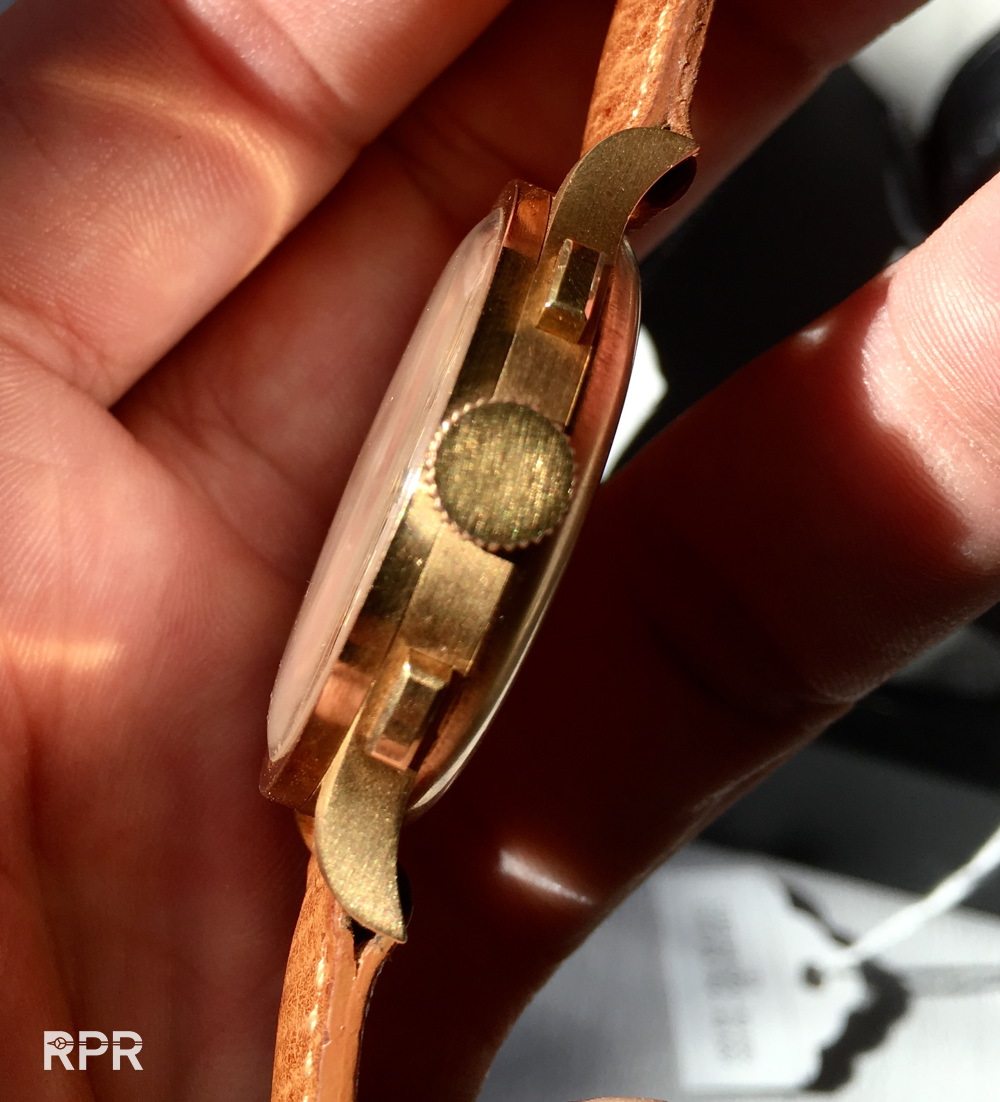 & non service markings in the case back… The small 115 hammer hallmark is stating the case has been made by Favre-Perret in Chaux see Fonds… The lugs are hollow so be extra careful wearing it but I think it will go back into the new owners safe.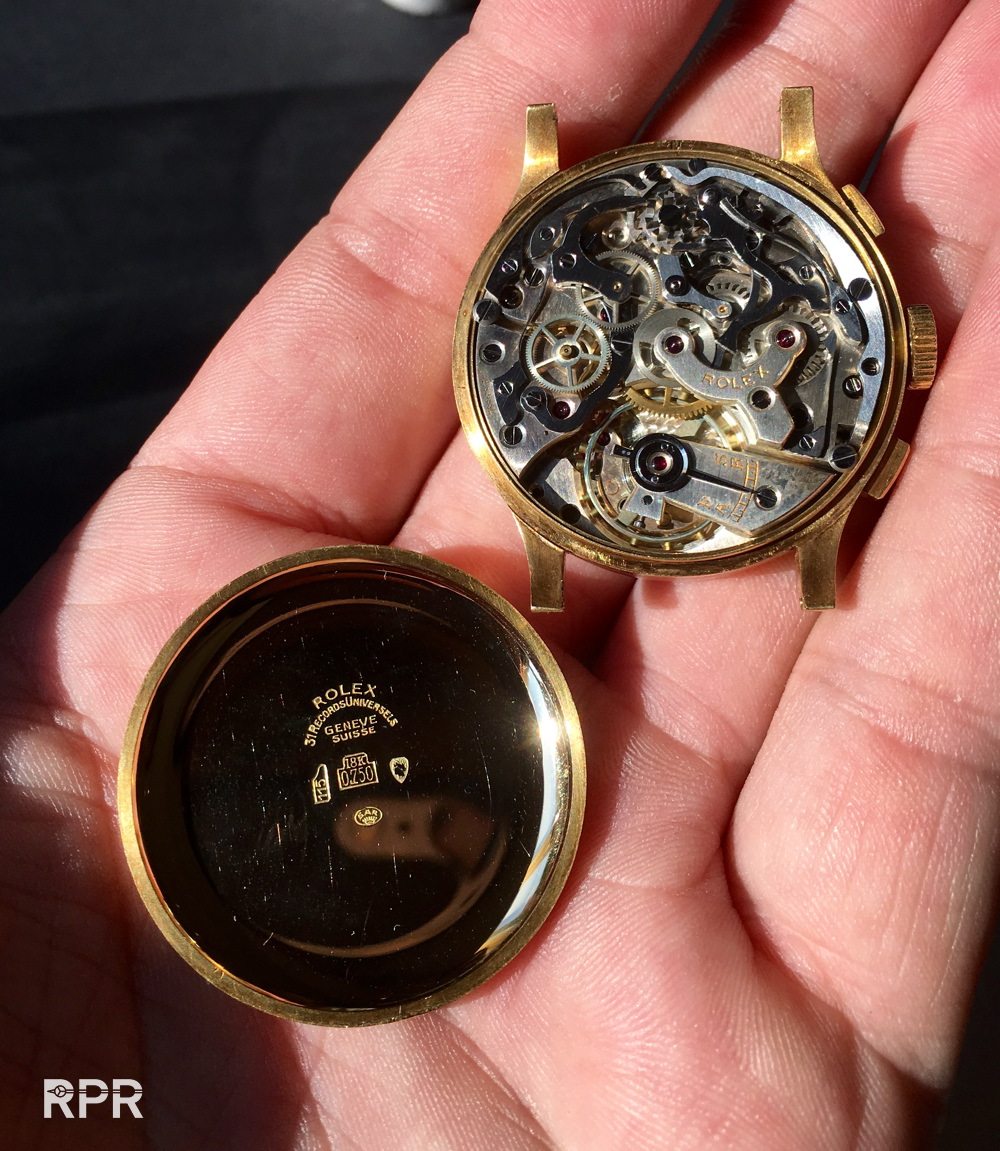 Below the regulator from Rolex, which had a dark brown glossy dial and went for CHF 161,000,=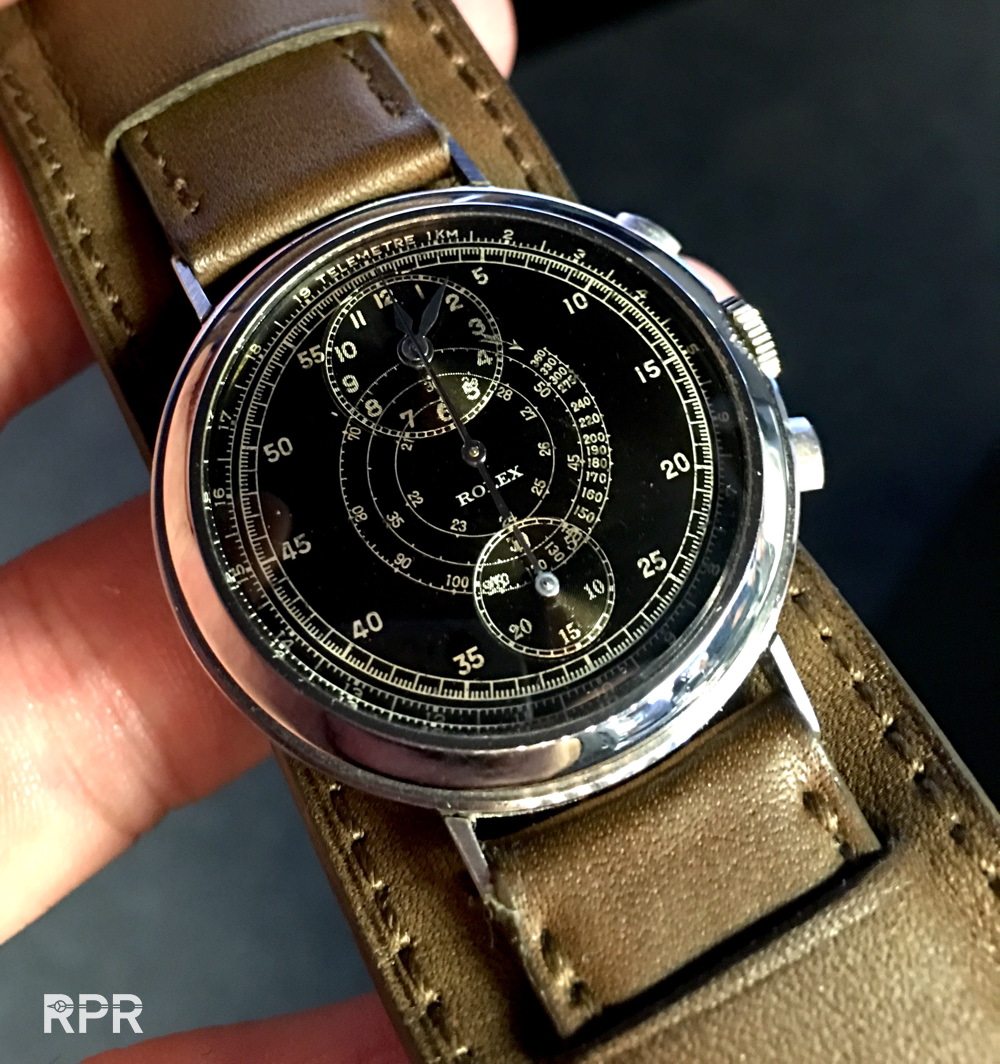 I do made some close up pictures of the Rolex logo we see below added on the dial, somehow it didn't convince me but thats me..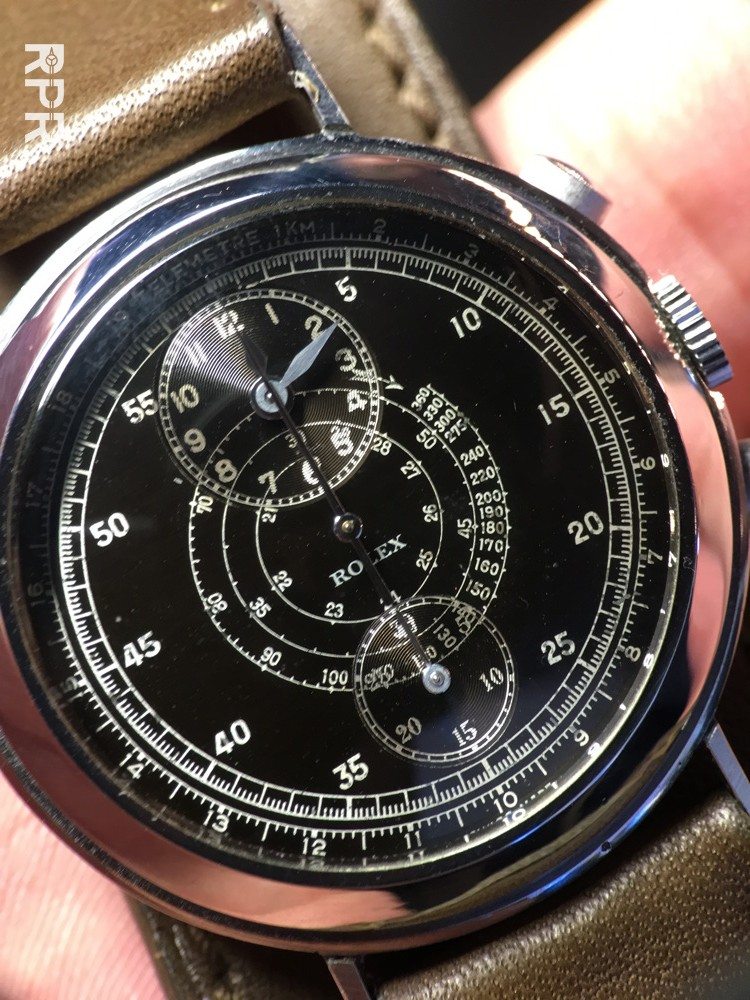 The gold bakelite Ref 6542 GMT Master sold for estimate, CHF209,000,=
Up close it almost looks like the dial was relumed, missing it's original radium luminous as it's added a nbit slob by and much to light colored for a still fat chamfered lugs we see on this. Also the color of the radium bezel isn't really matching the dial…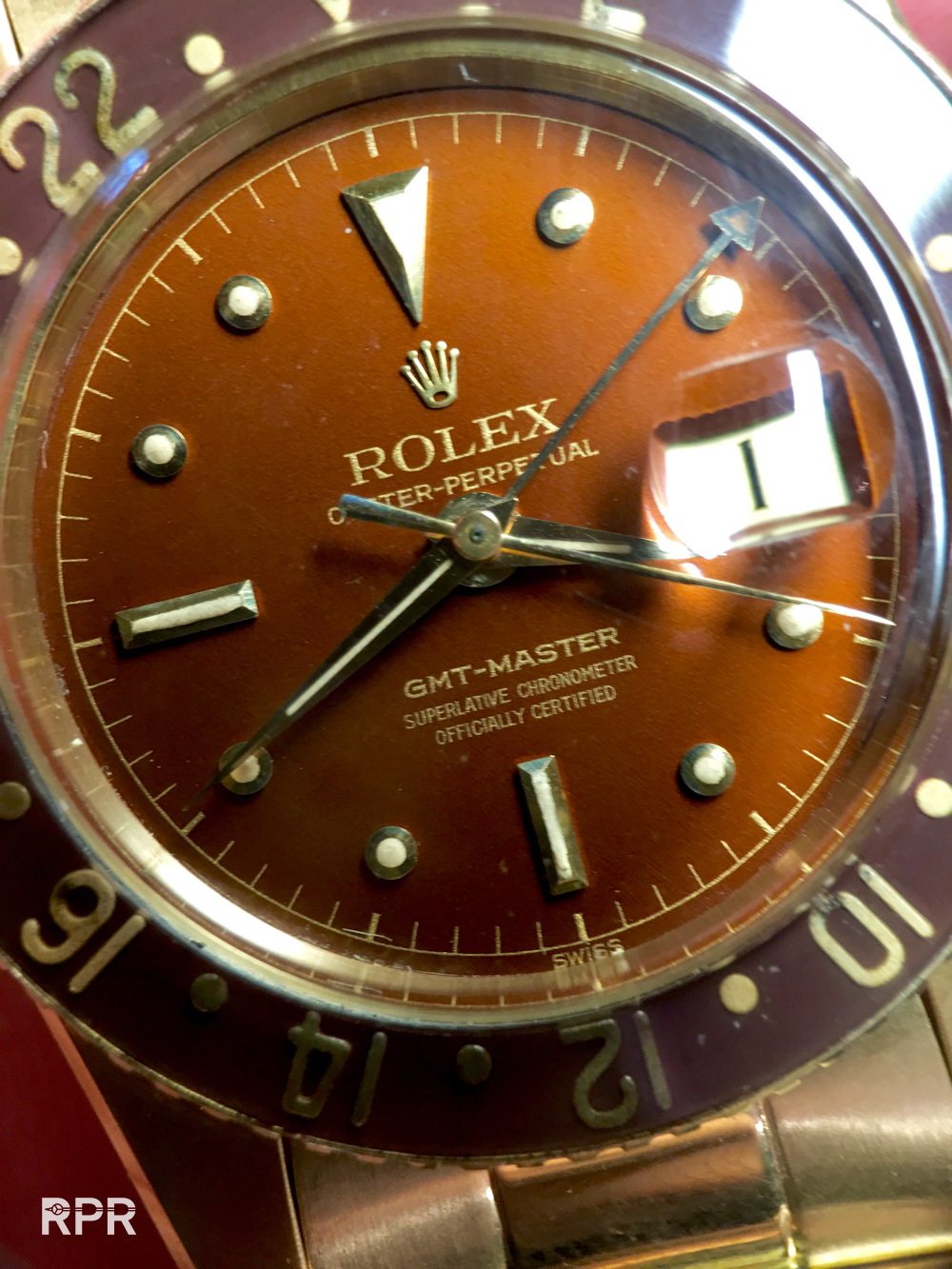 Having food with great friends late at night, after the auction ended at 22:00, Brasserie Lip…
As you can see below, the steel Killy with gold index wasn't perfect, the stains, the missing luminous, the polished case didn't help it to achieve a great result, hammered at estimate: CHF112,500,=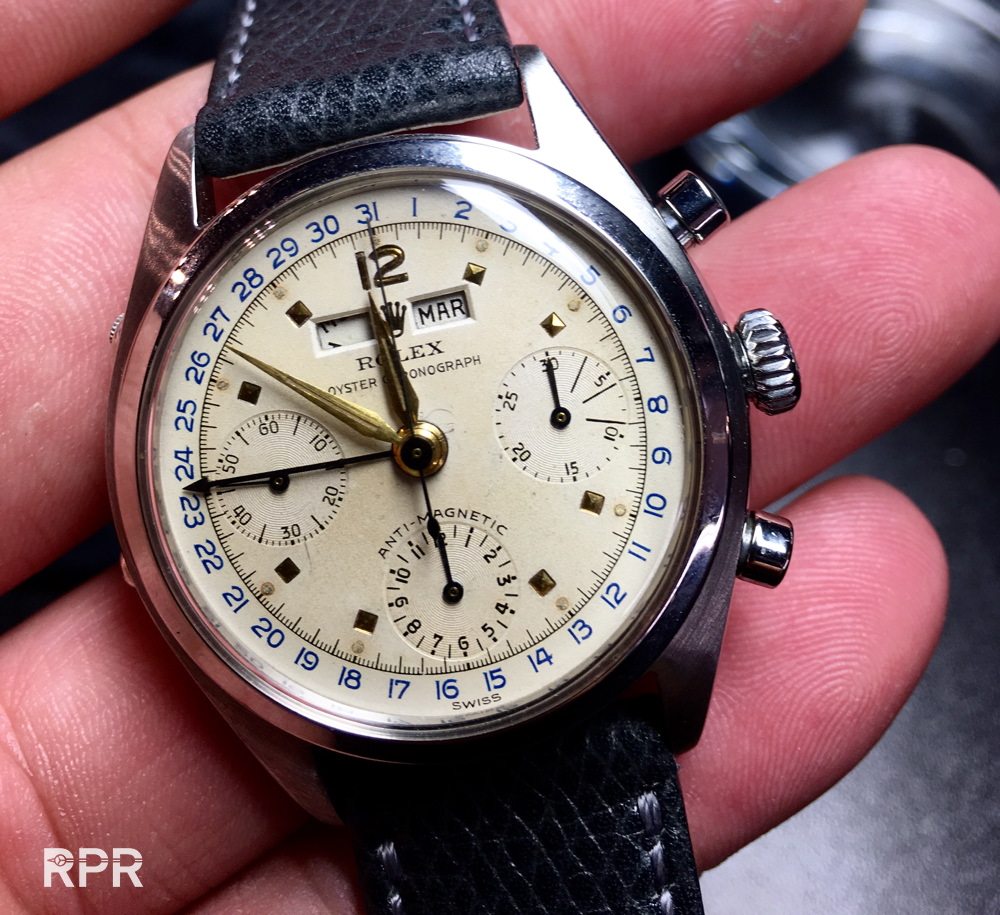 Don't you think Red & Rolex goes well together?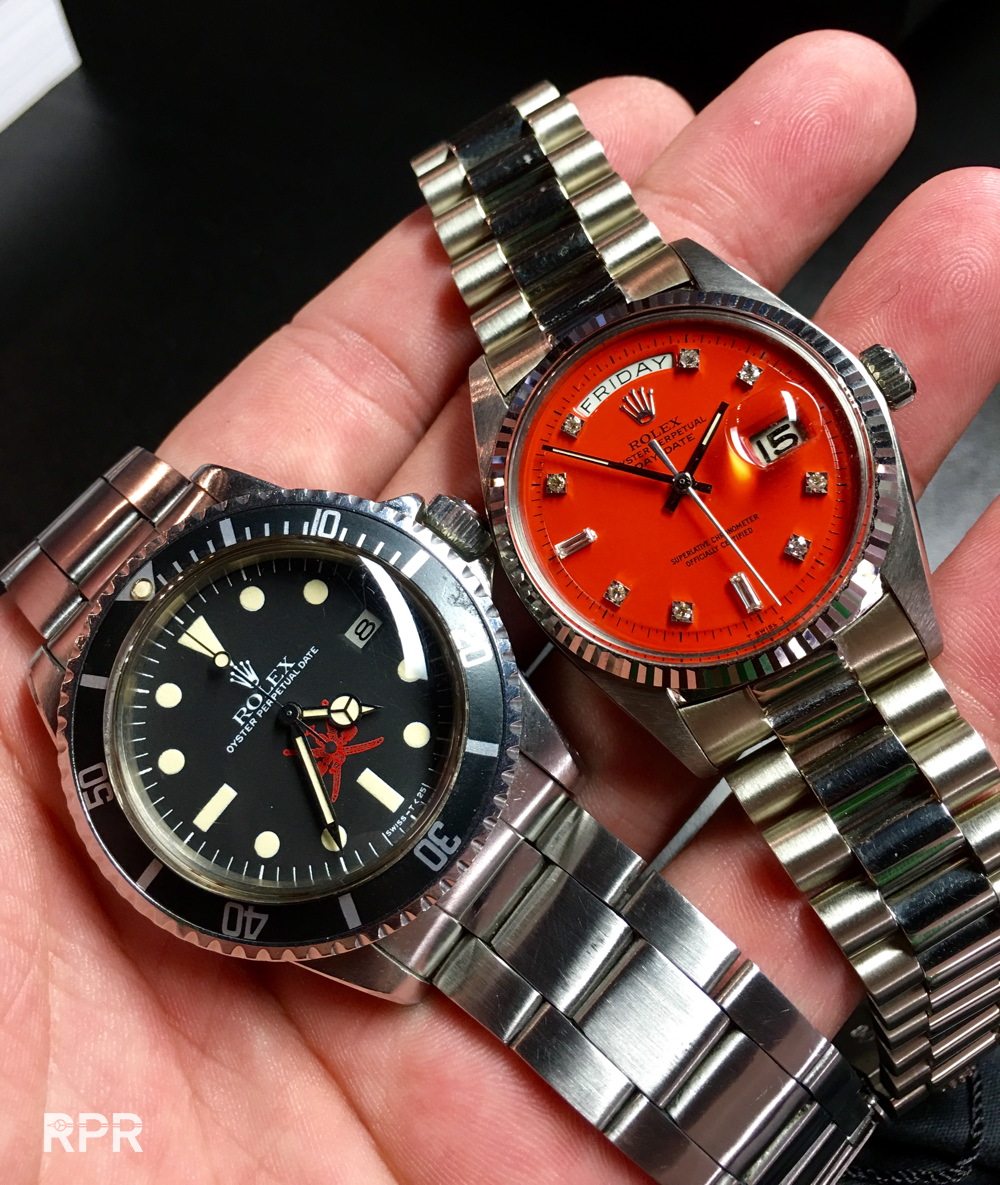 In the category, NOT FOR SALE, here the unique SINGER Prototype Yacht Master for Rolex..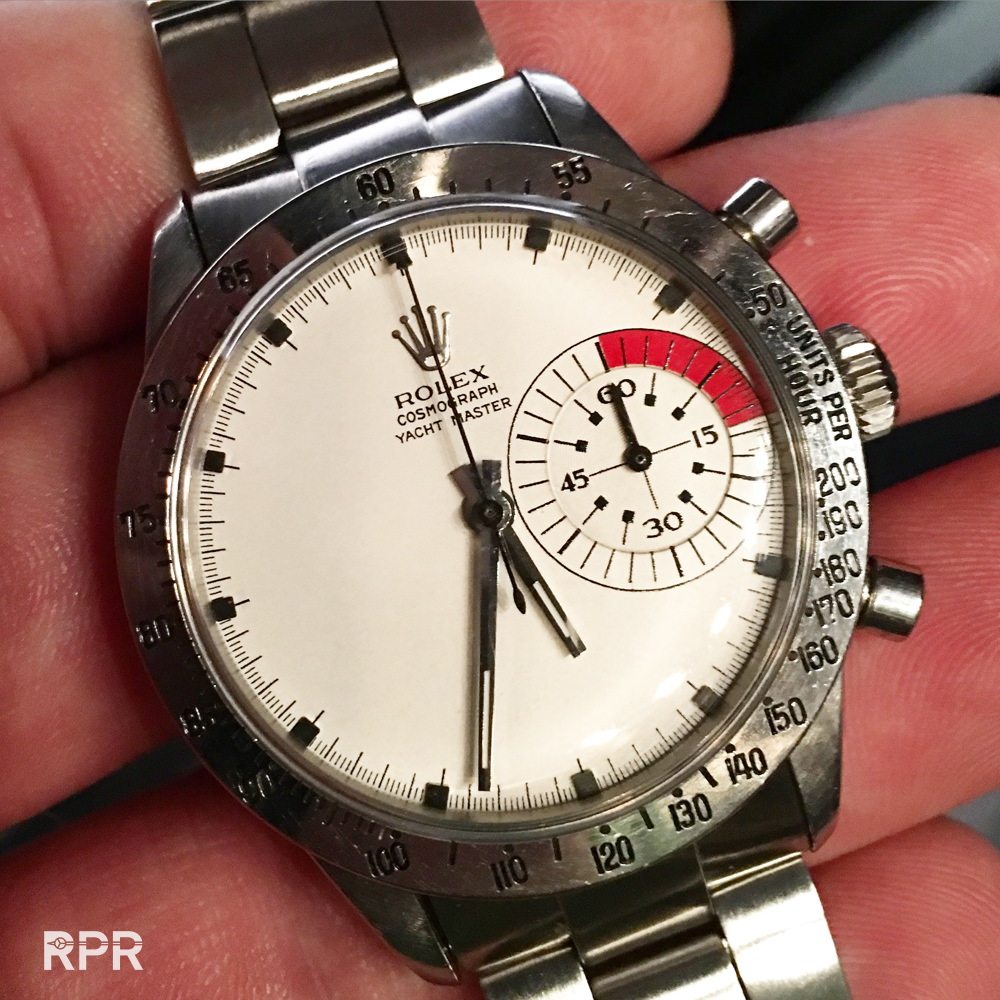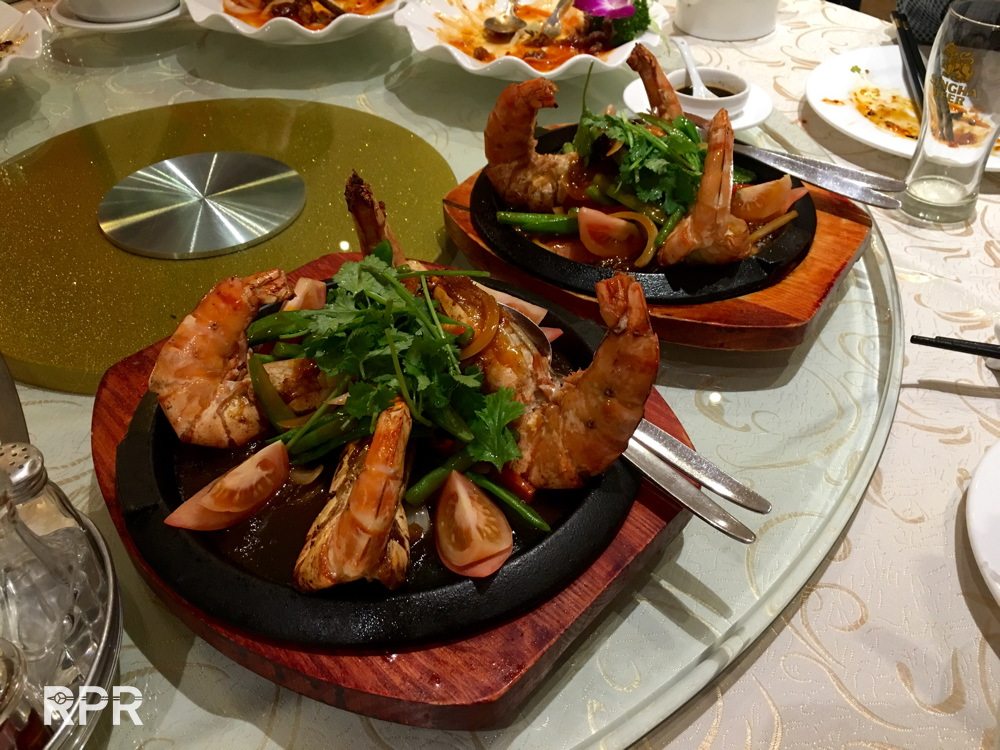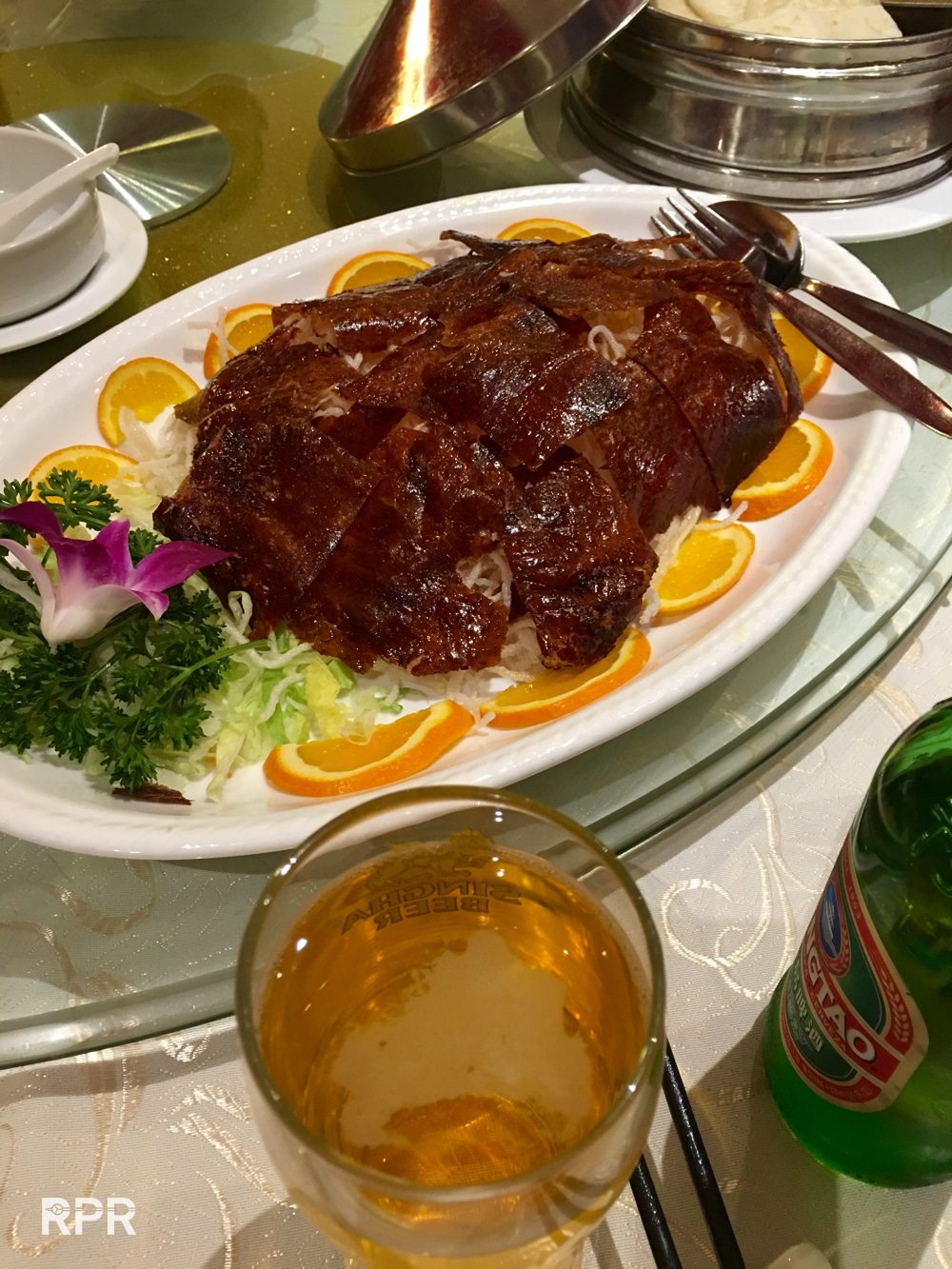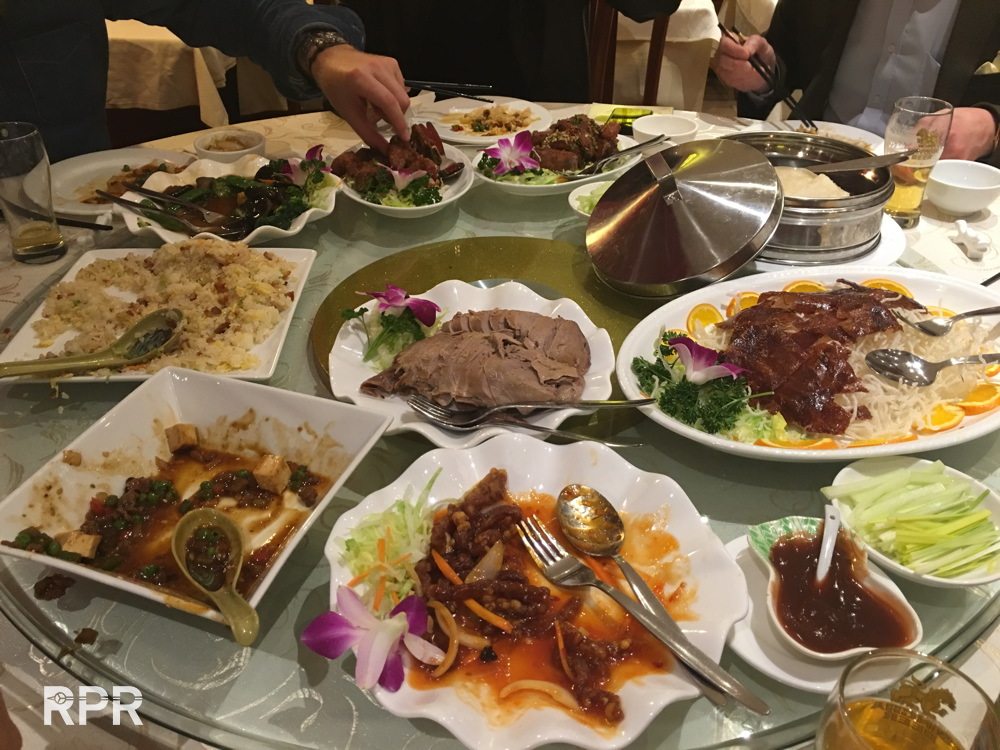 Then Patek Philippe wise the absolute king from this weekend was below Ref 1436 which sold for CHF3,301,000,= !!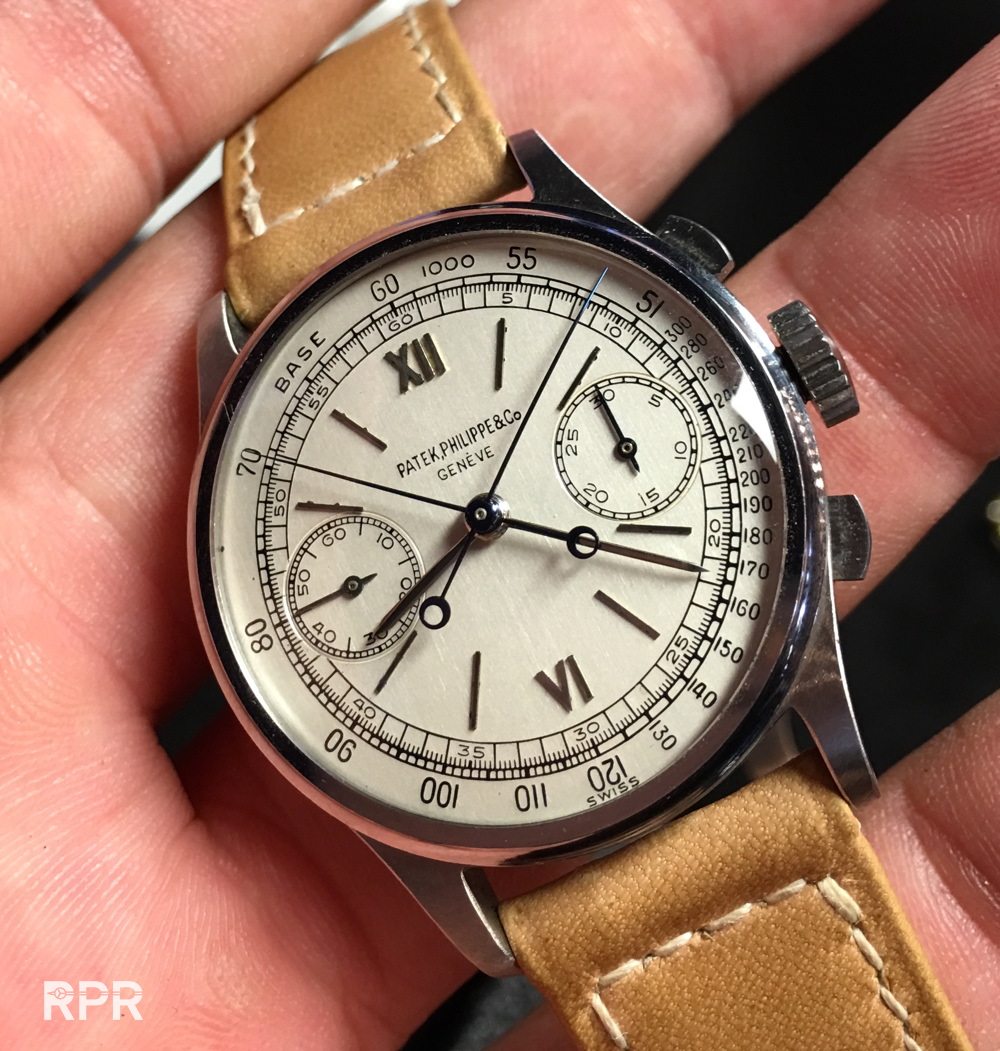 Up close I noticed it looks like the markers have been off the dial before as you see the wholes very clearly. On below picture focus on 7 o'clock and you will see what I mean, the 2 feet of the marker.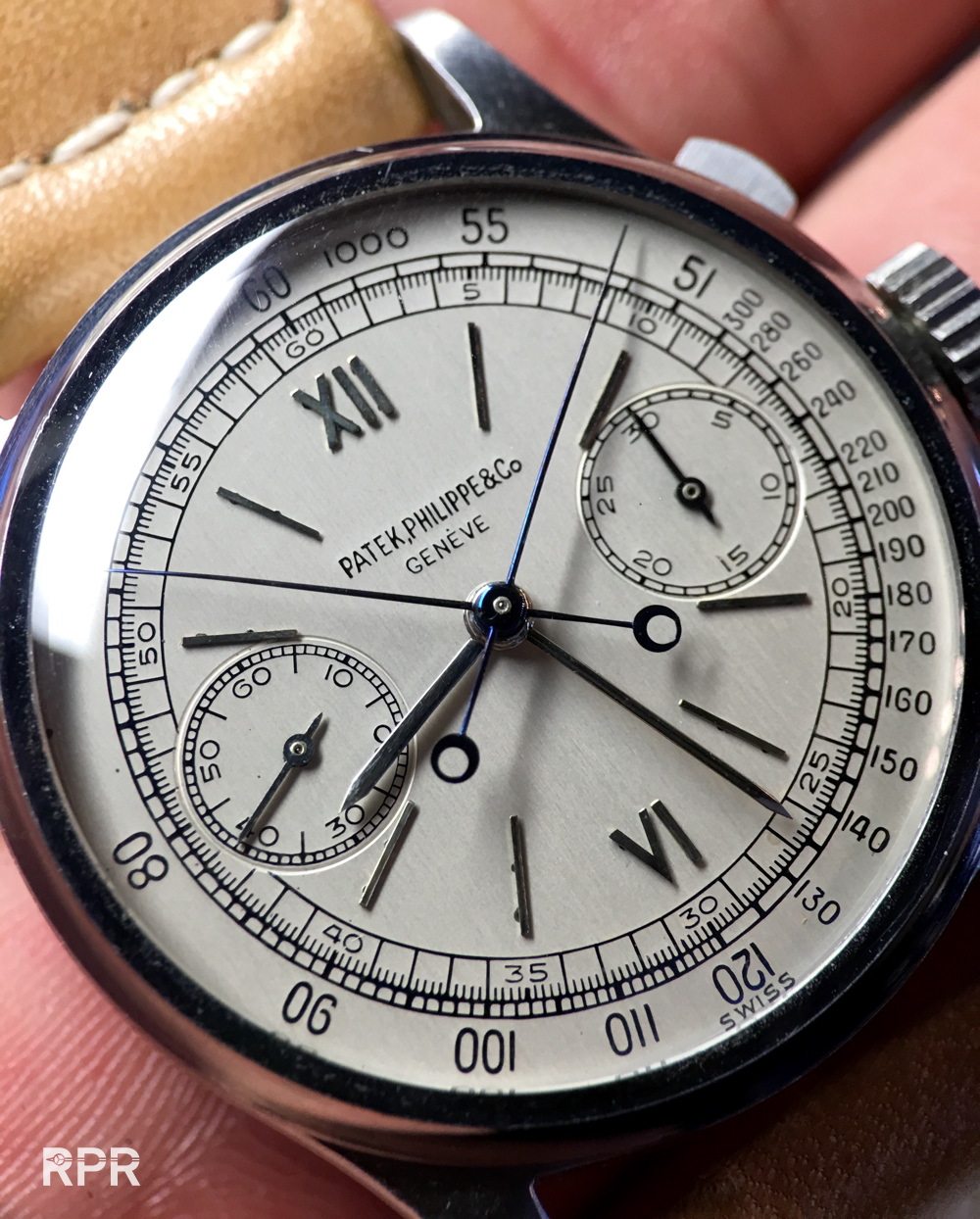 This exceptional rarity by complication in stainless steel we see below next to a lovely smaller sized steel breguet numeral tropical dial Ref 2483 which sold double estimate at nearly 45K CHF.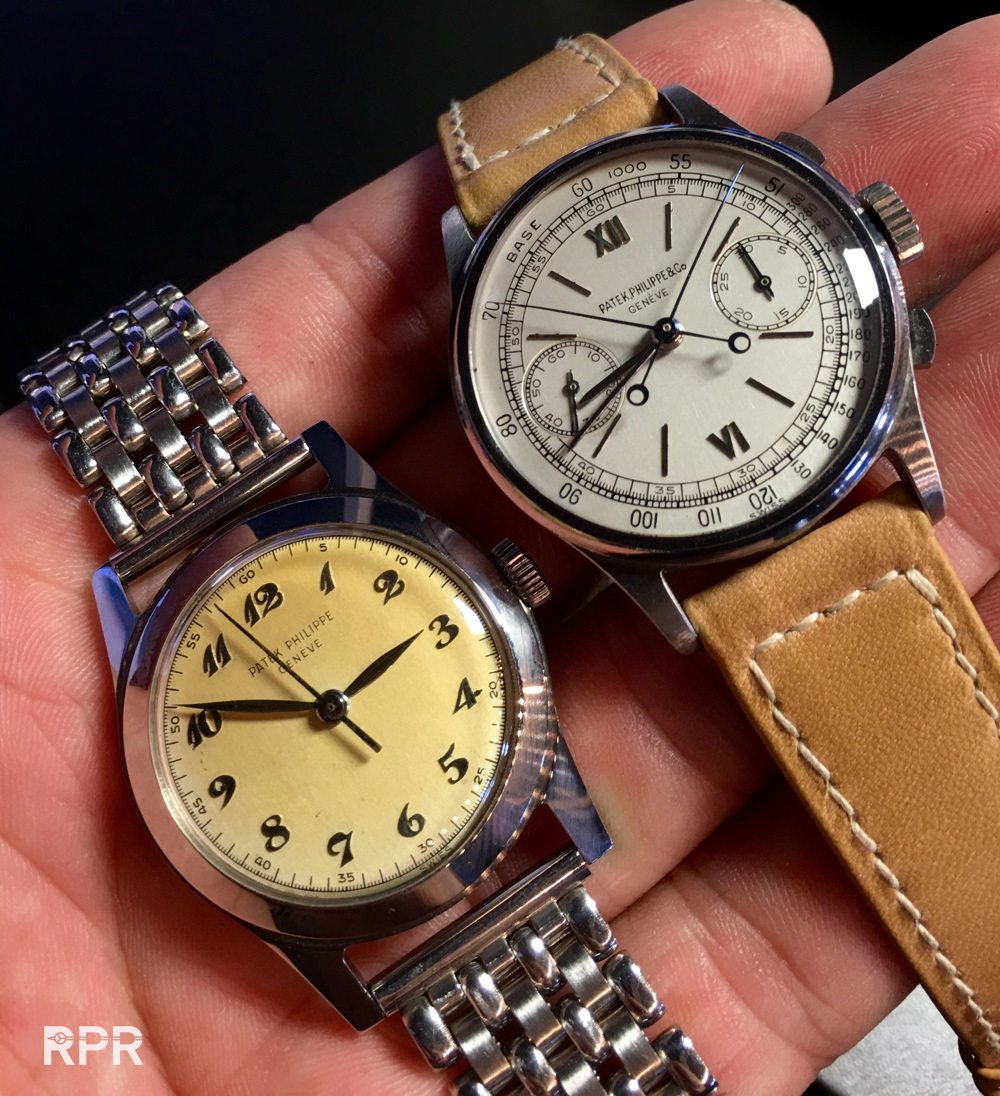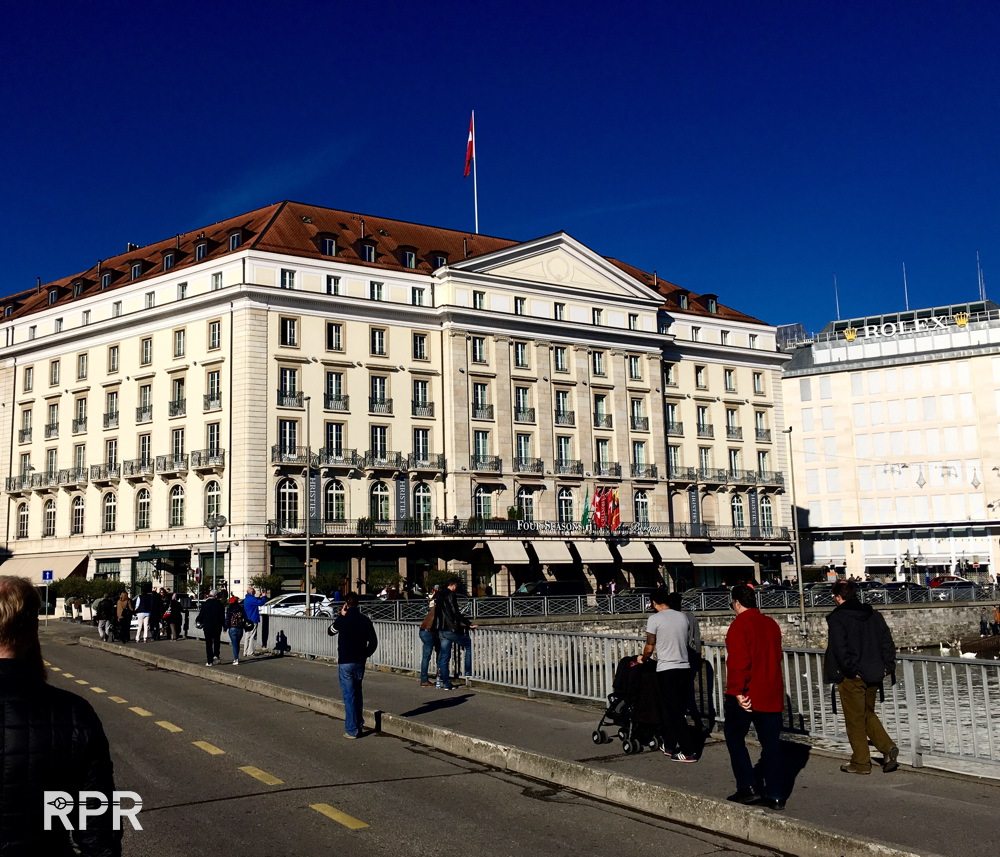 The big Calatrava in stainless steel got crazy price wise. Something I totally understand once you study it up close..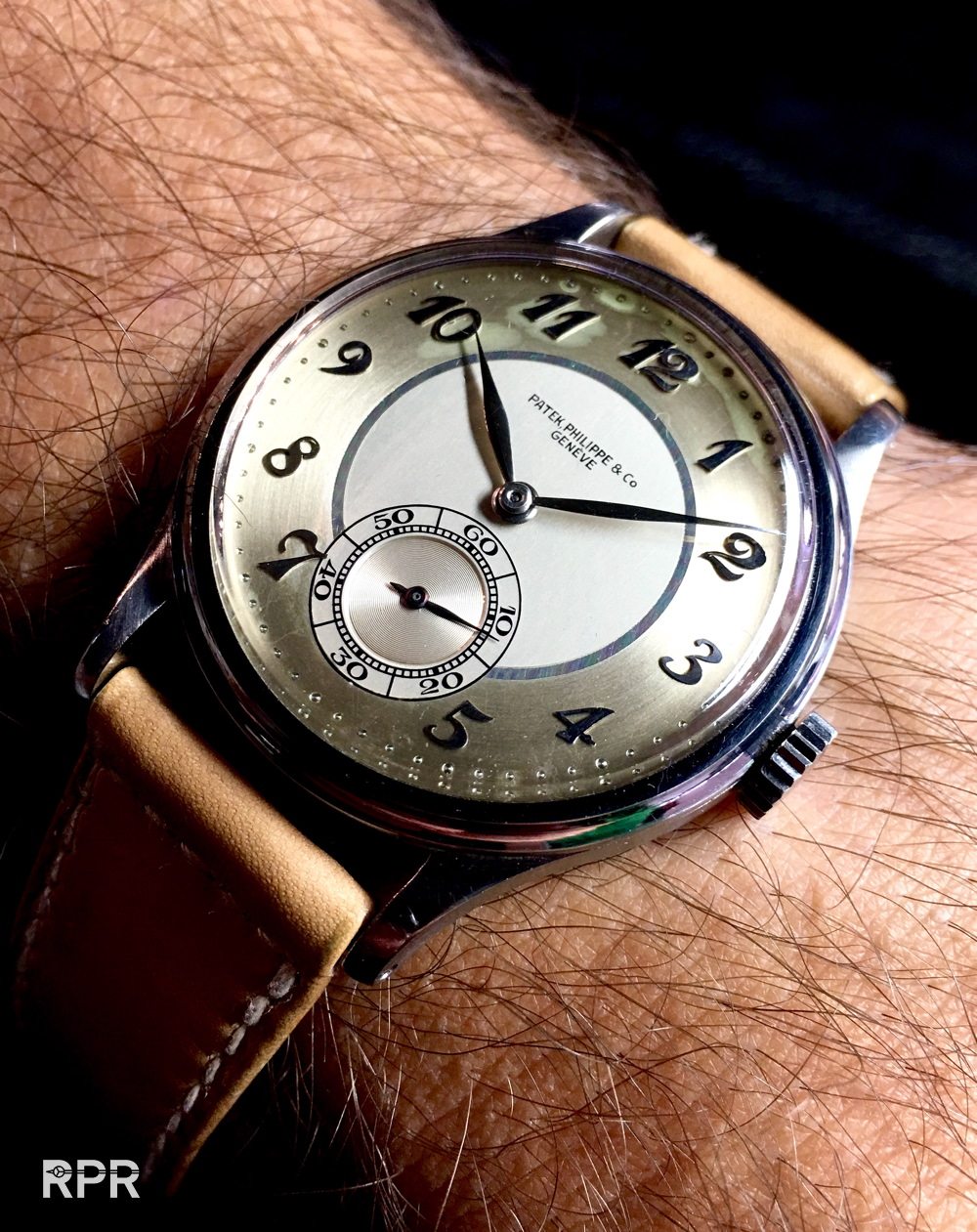 All over the condition was really matching, the case back was perfectly preserved..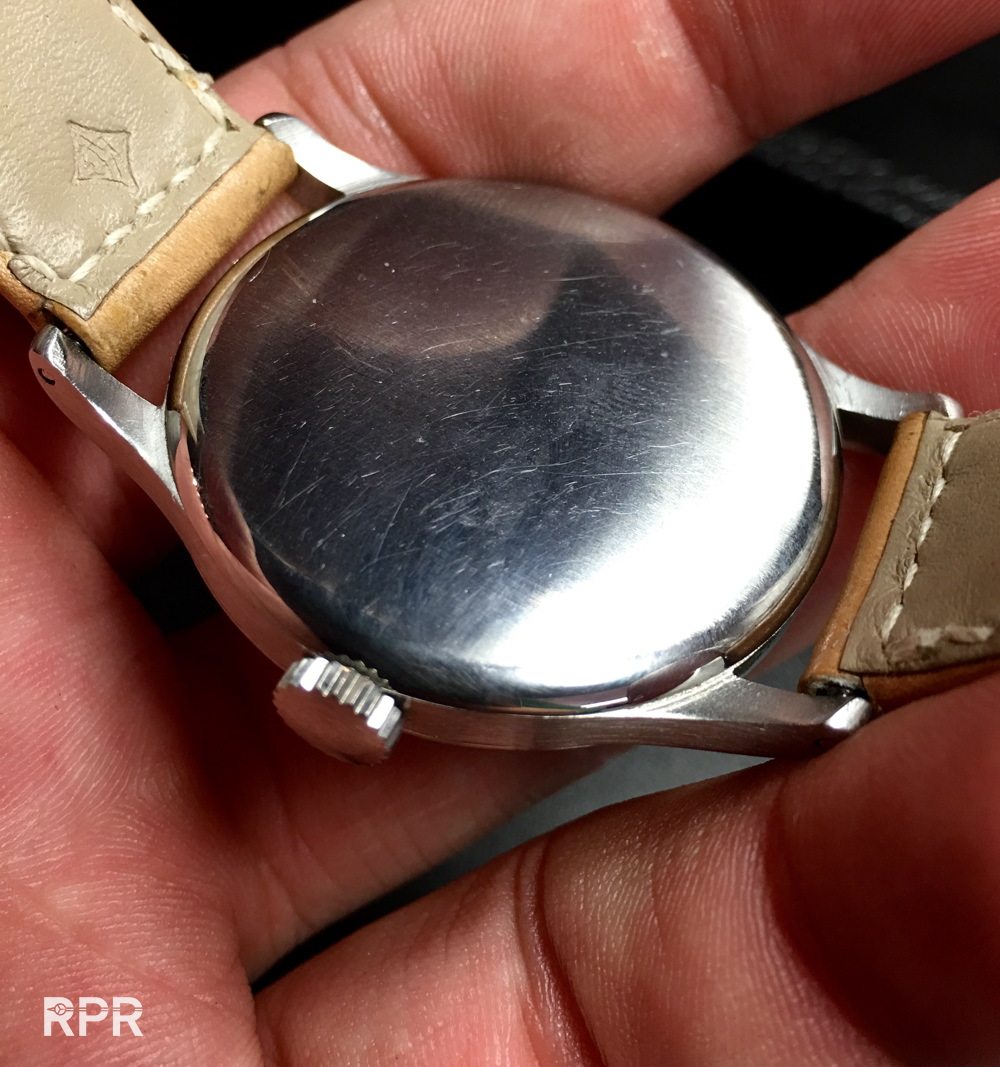 And finally it sold after a phone battle between 2 PPC collectors for CHF 677,000,=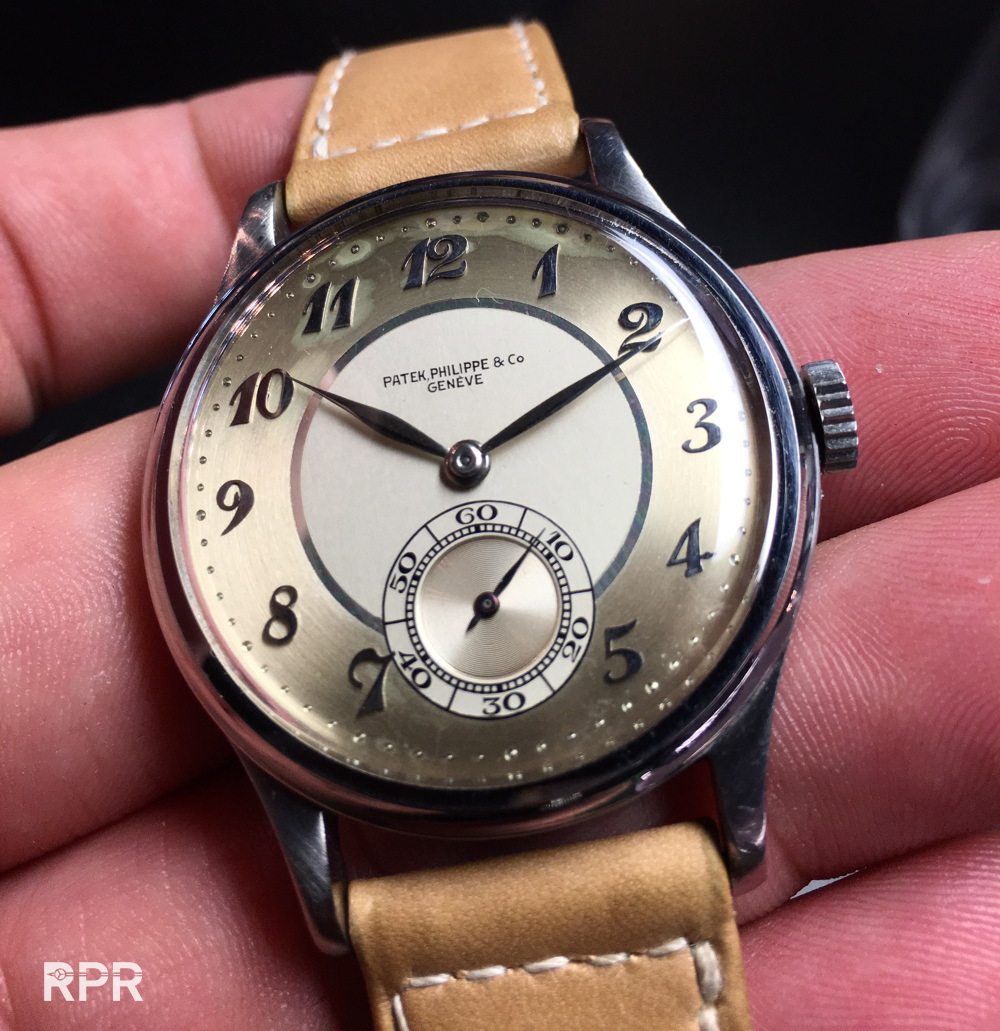 The 2 x waterproof Ref 1463 next to each other, both two tone, left pink gold sold by Casa Welsch from Lima, Peru, who also sold many early screw back Longines..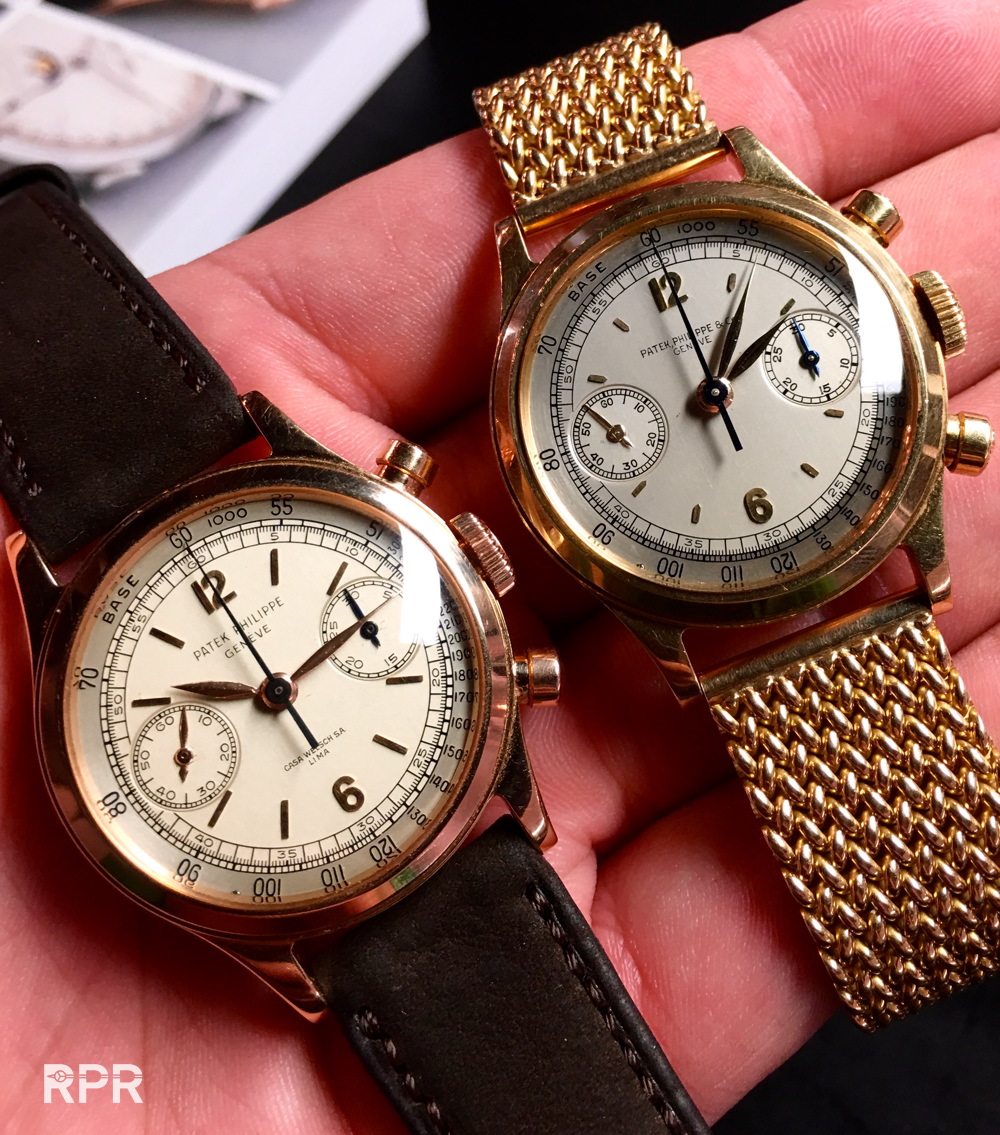 Close up from yellow gold thats sold for CHF 281,000,= Note the screw at 7 & 11 O'clock in the edge that hold the dial are hardly used!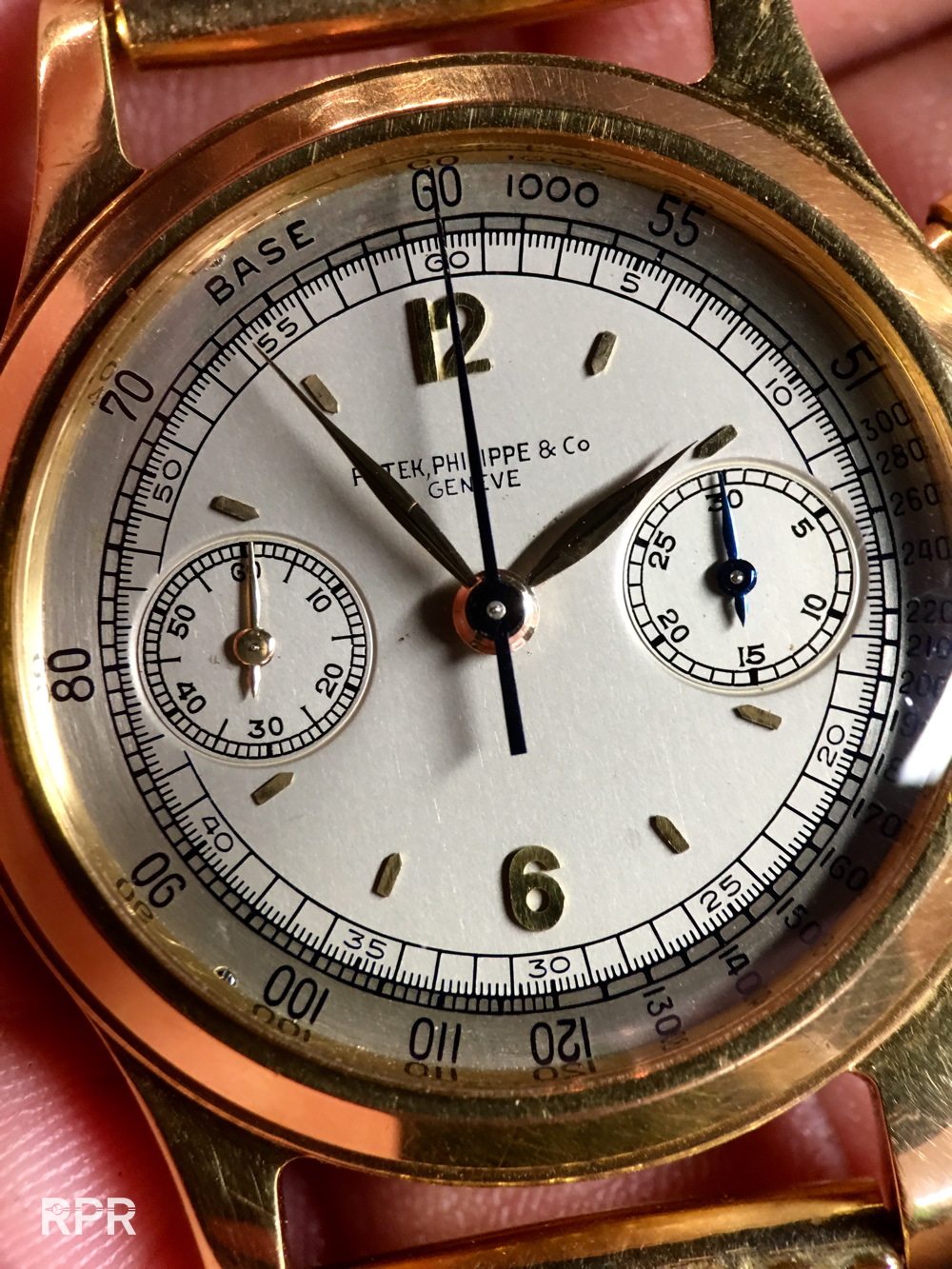 Here's the pink gold 1463 that sold for massive CHF 365,000,=!
Then the biggest surprise from the auction weekend, the steel ref 1463..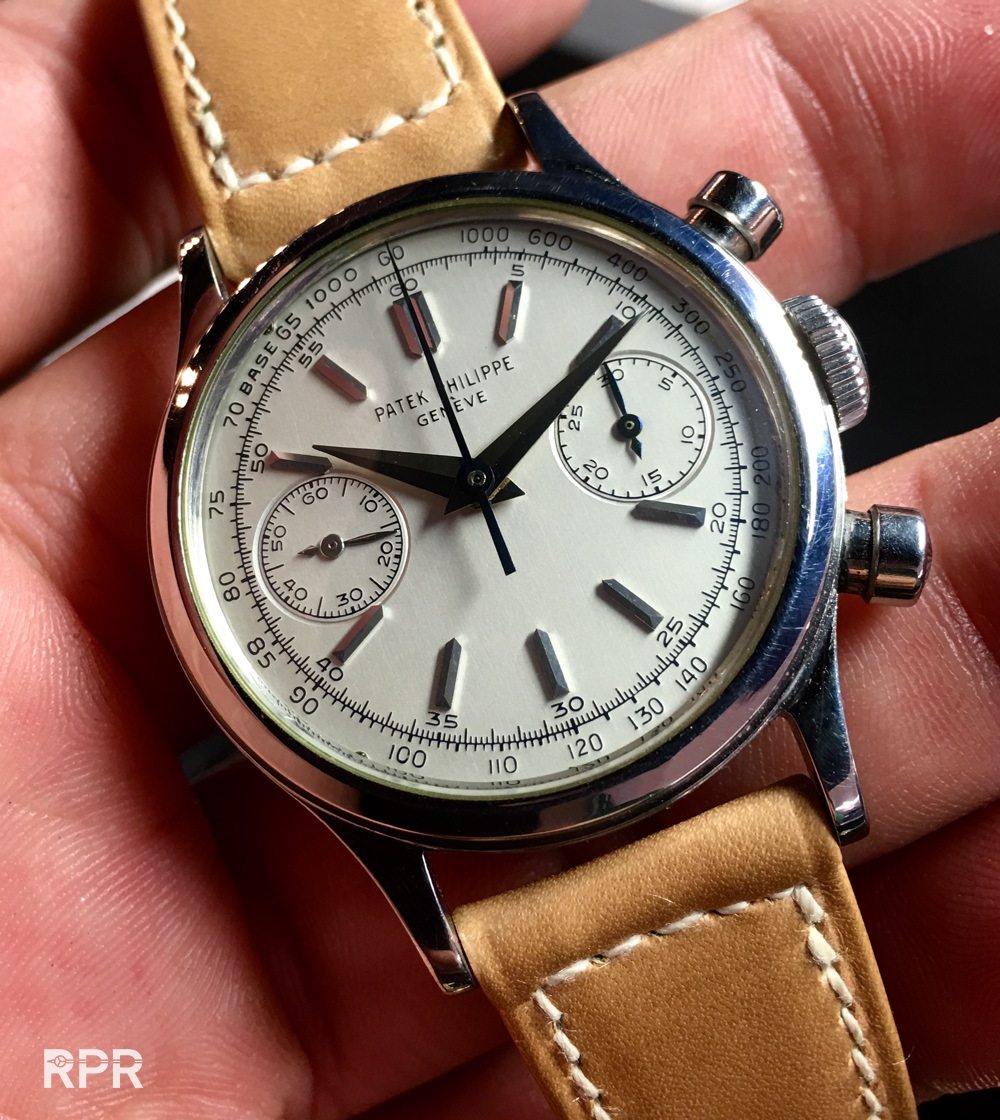 A battle between 2 billionaires perhaps as this doesn't seem to be market correct…but then what is market correct? It finally sold for CHF 1,205,000,= all in!! So below handful was 2 million Swiss Franc, not that long ago you could buy that for 1/2 million, the 3 together!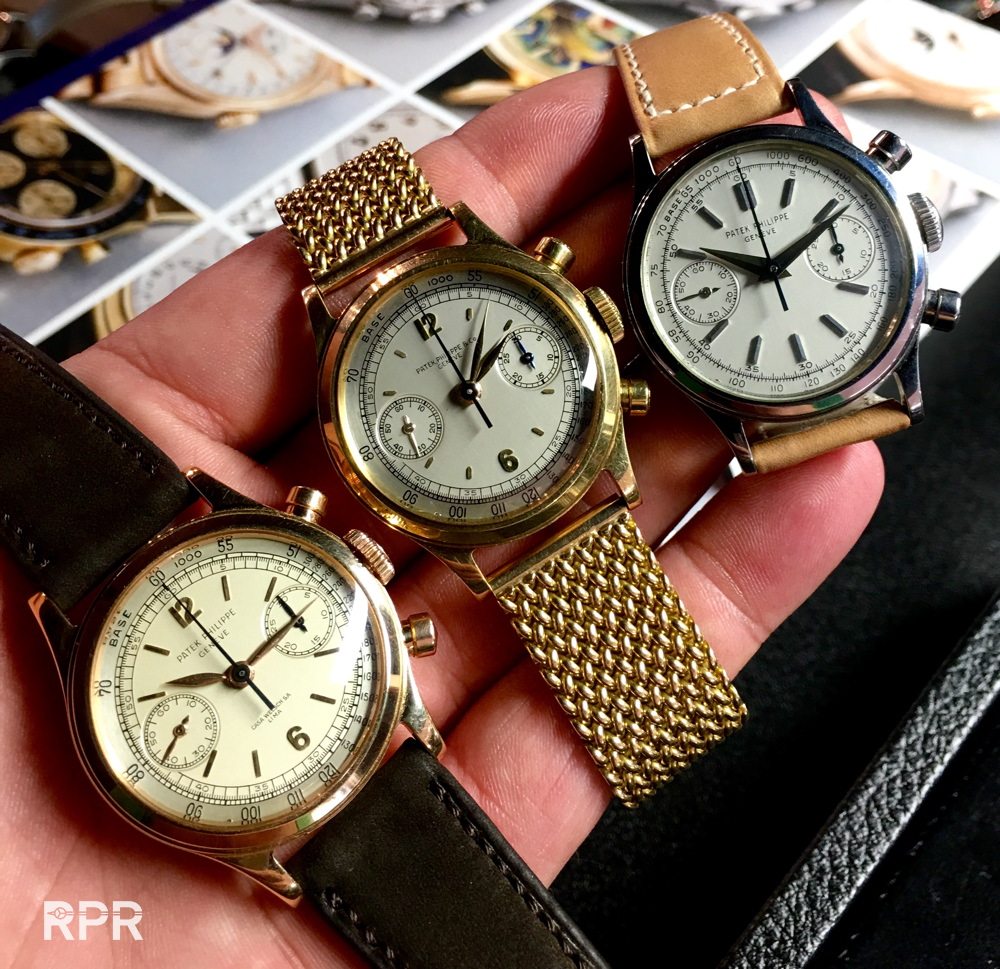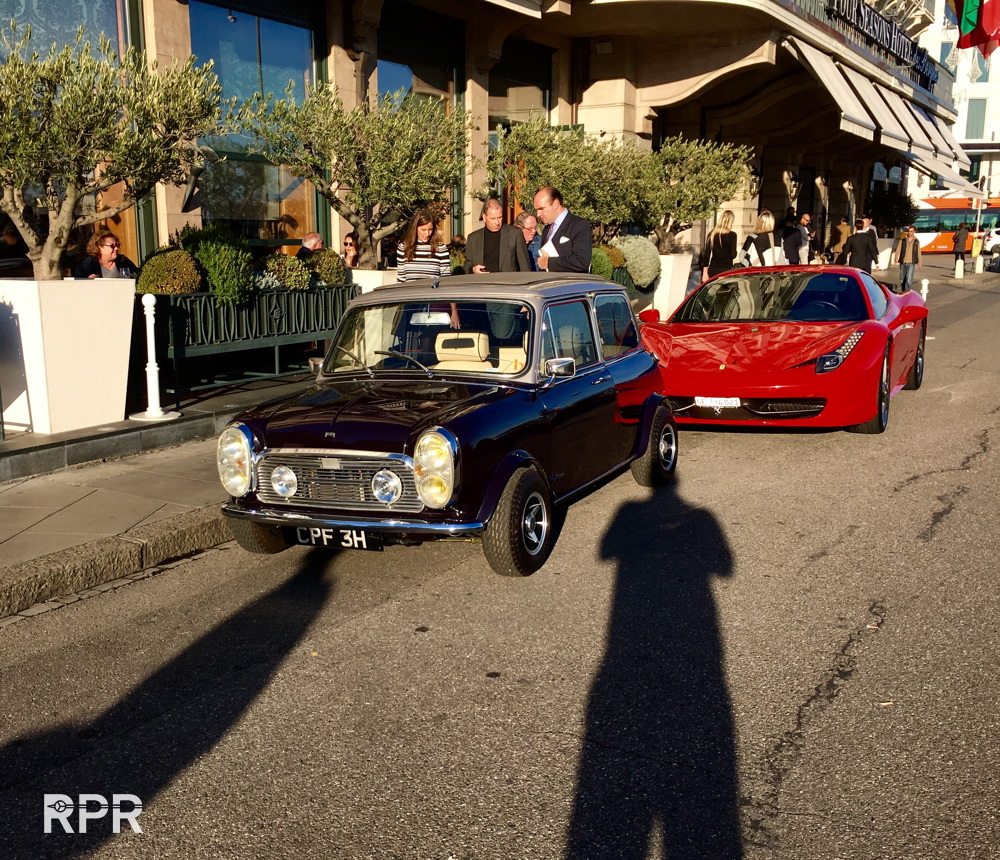 Night out..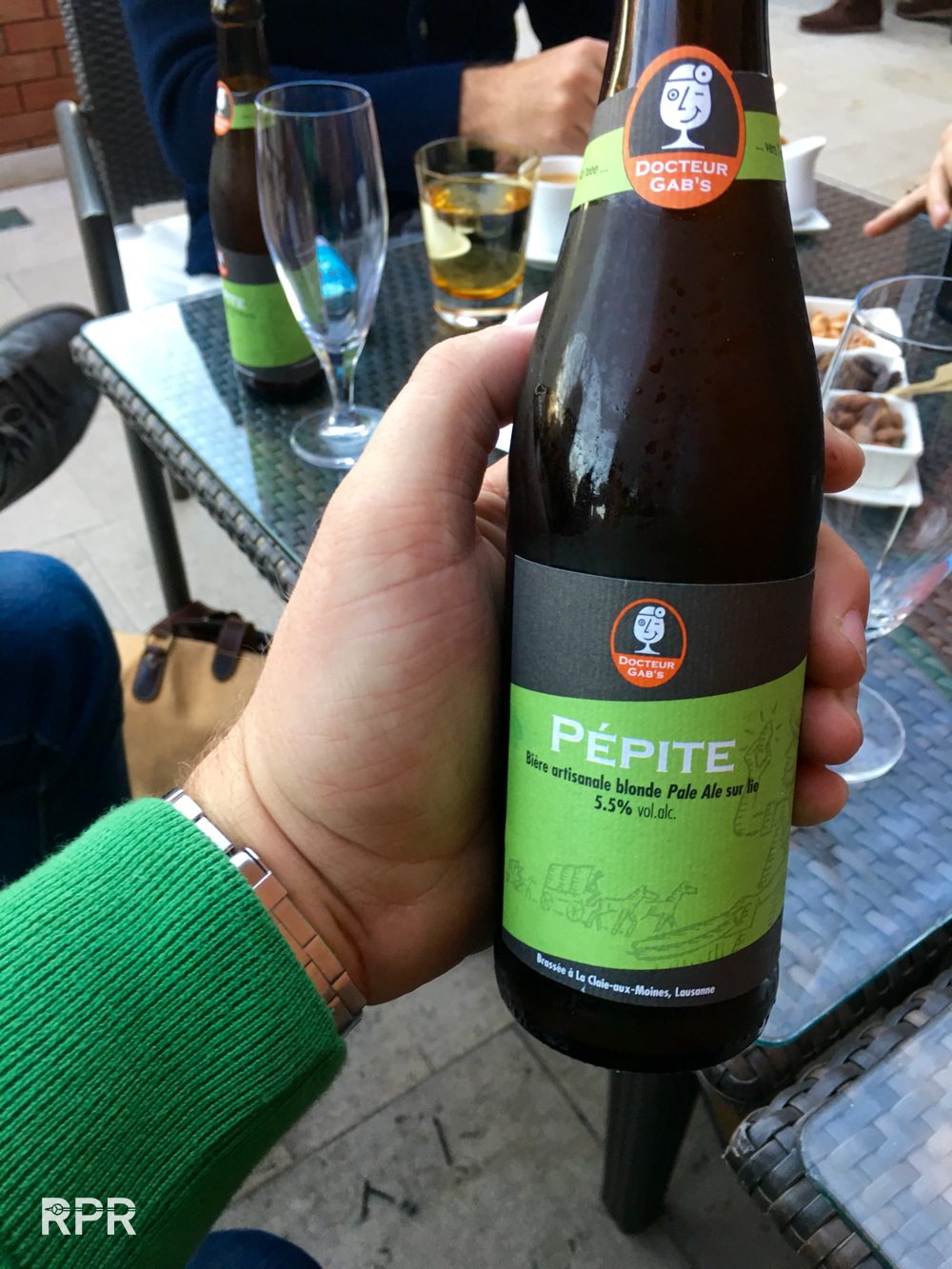 Must do, cheese fondue in the old town..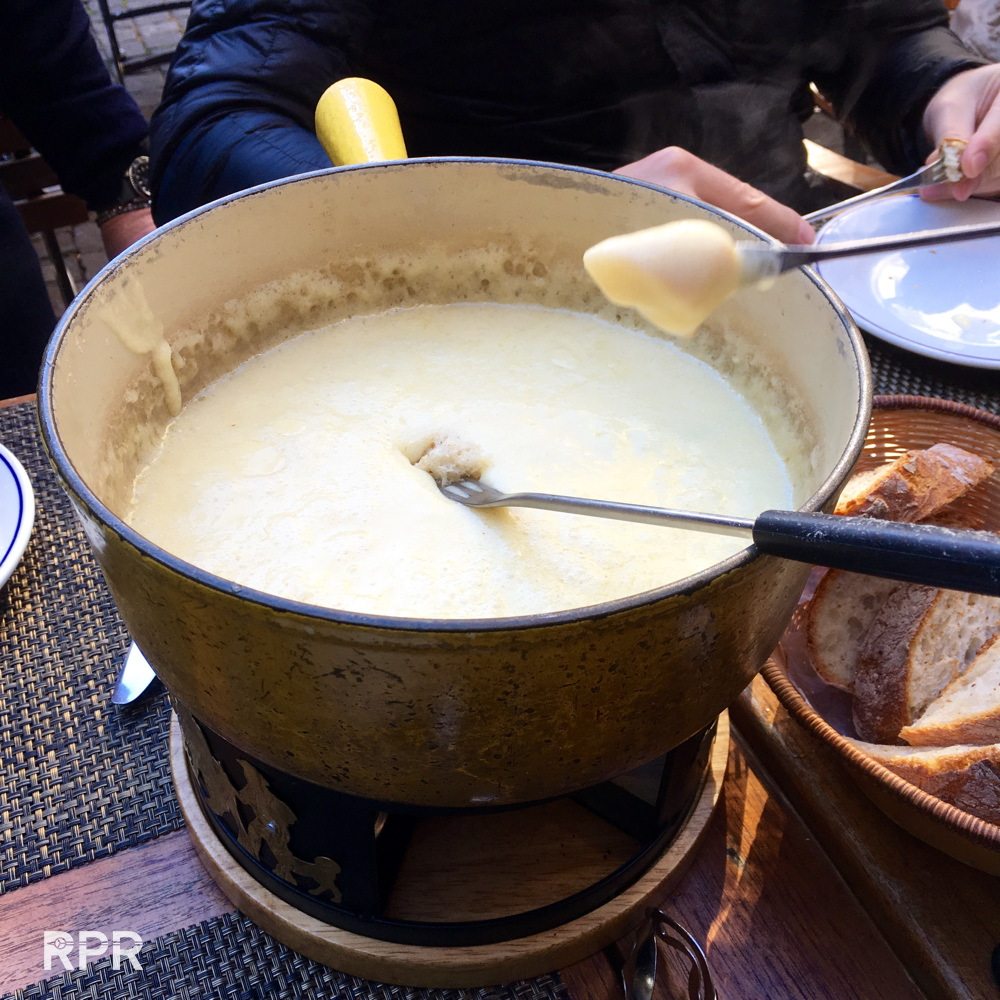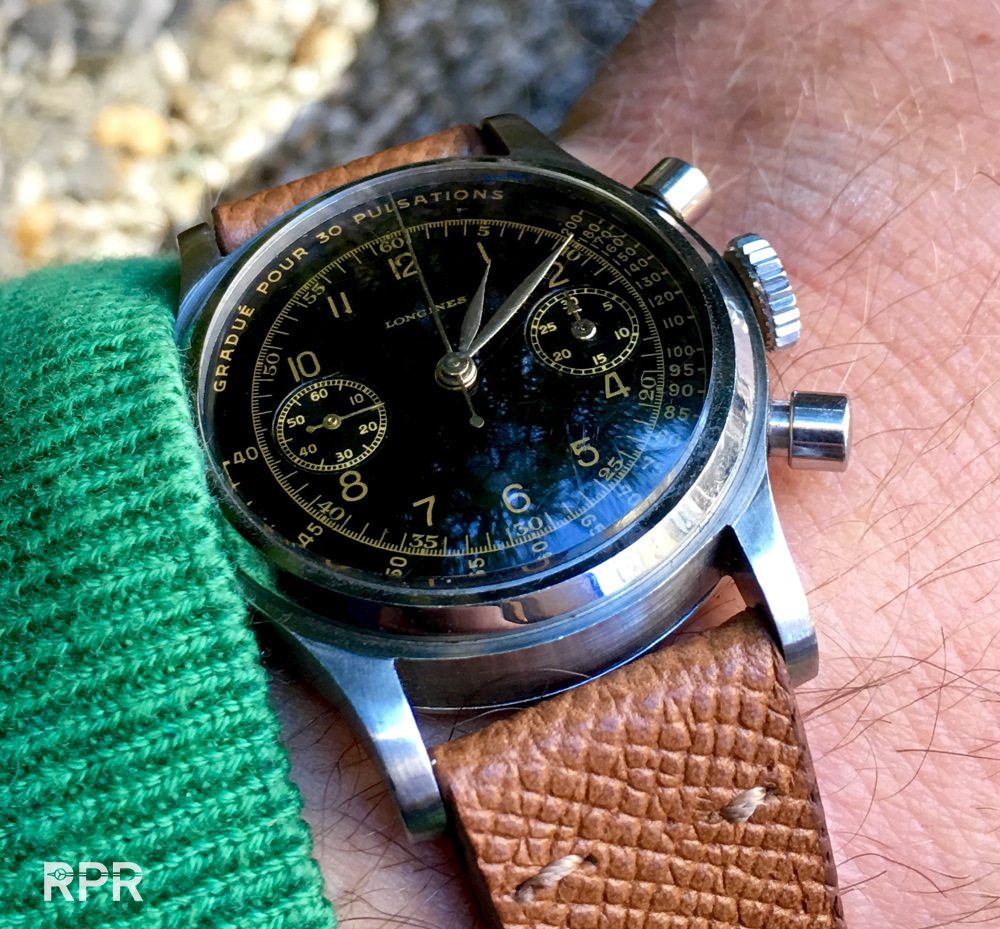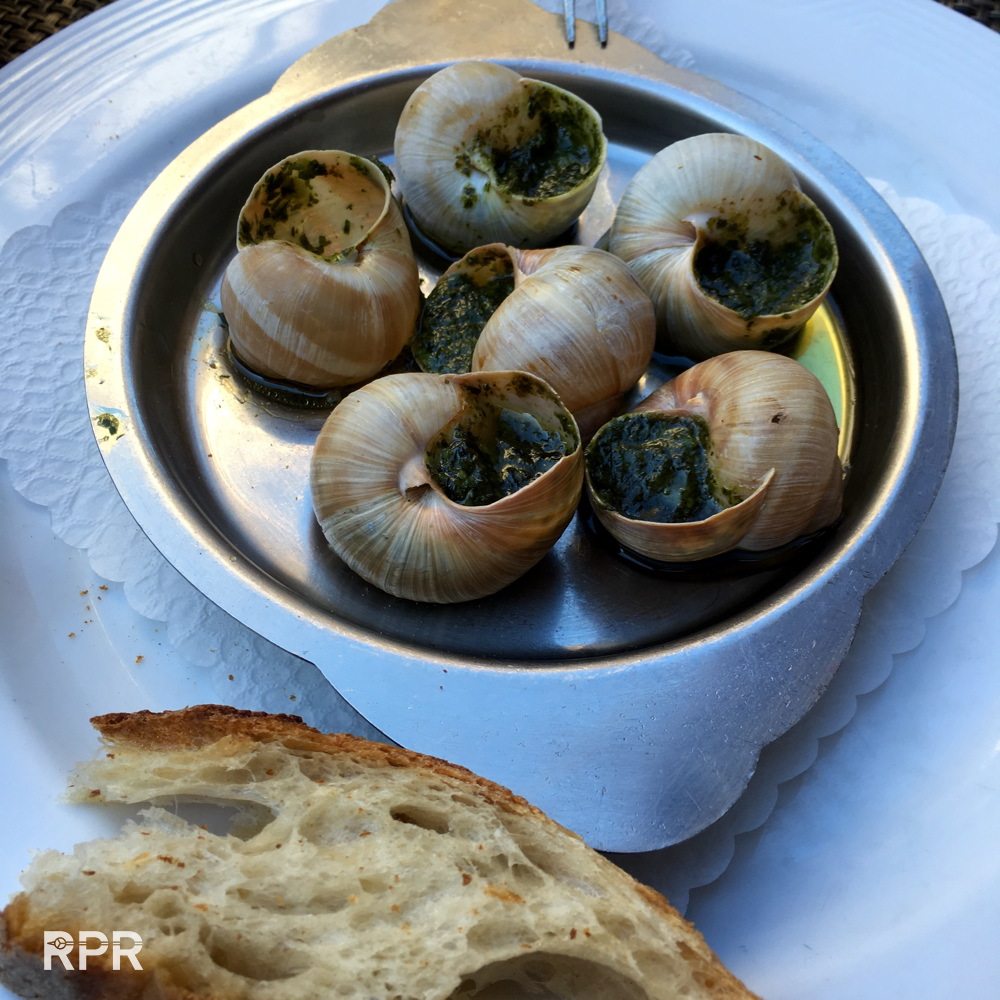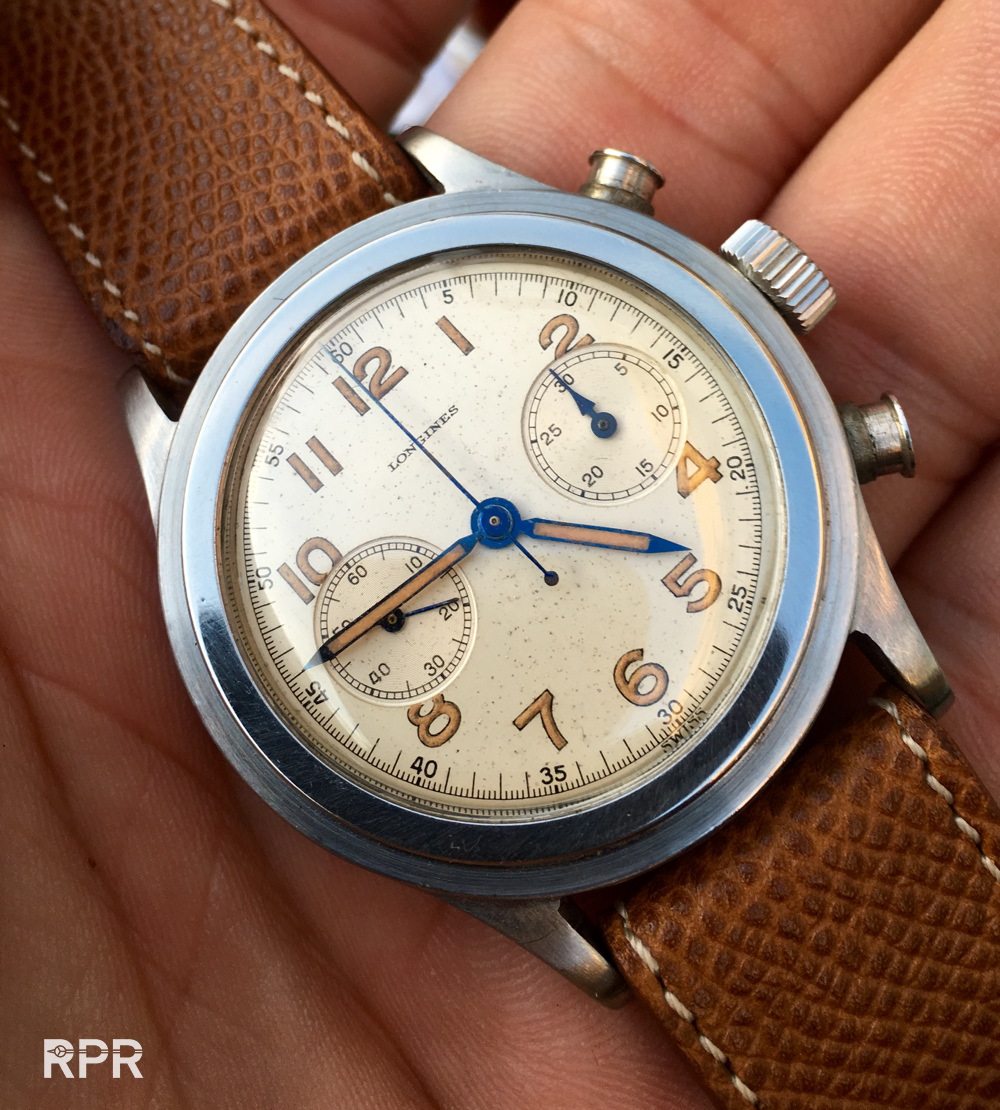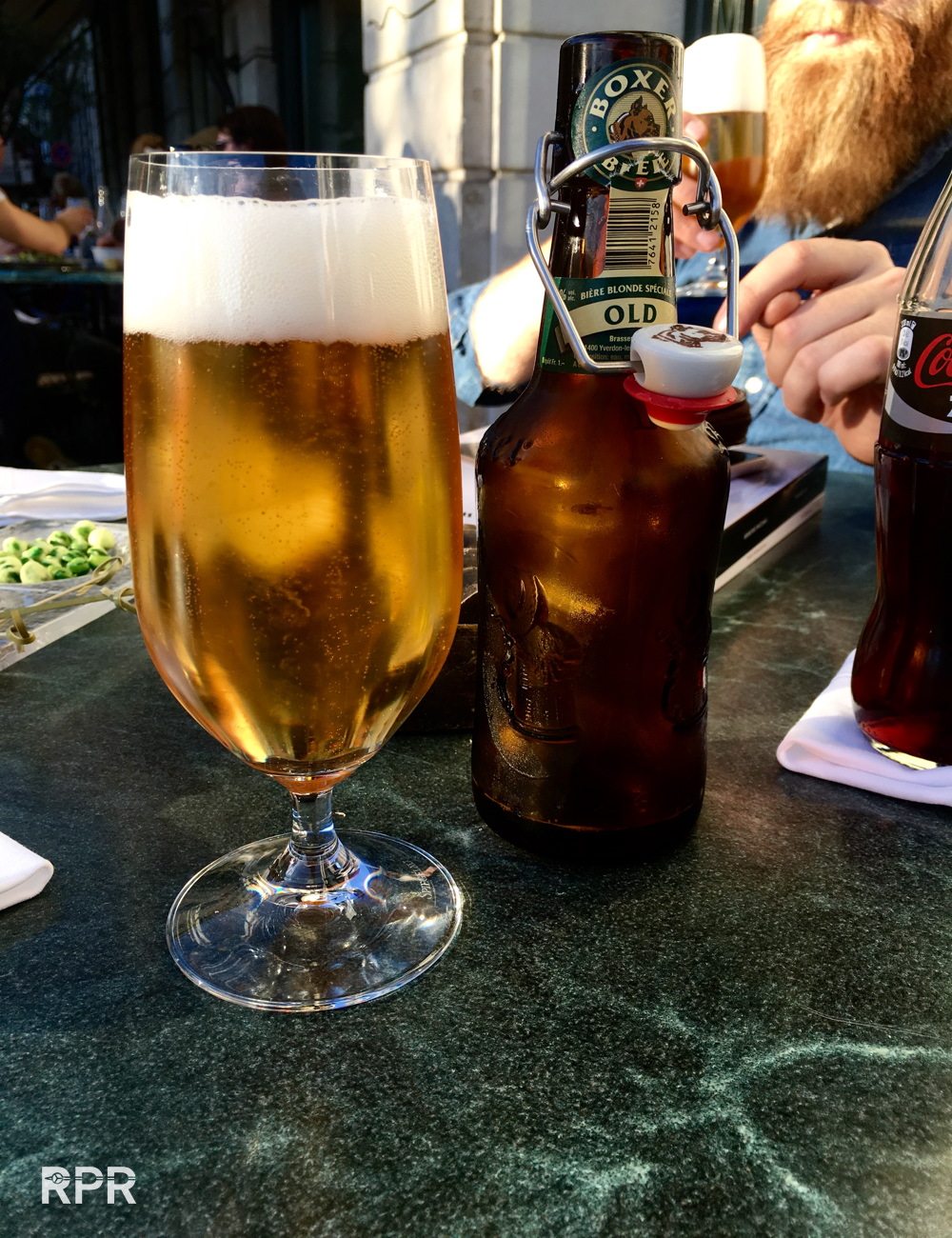 It depends which angle you show your potential buyers…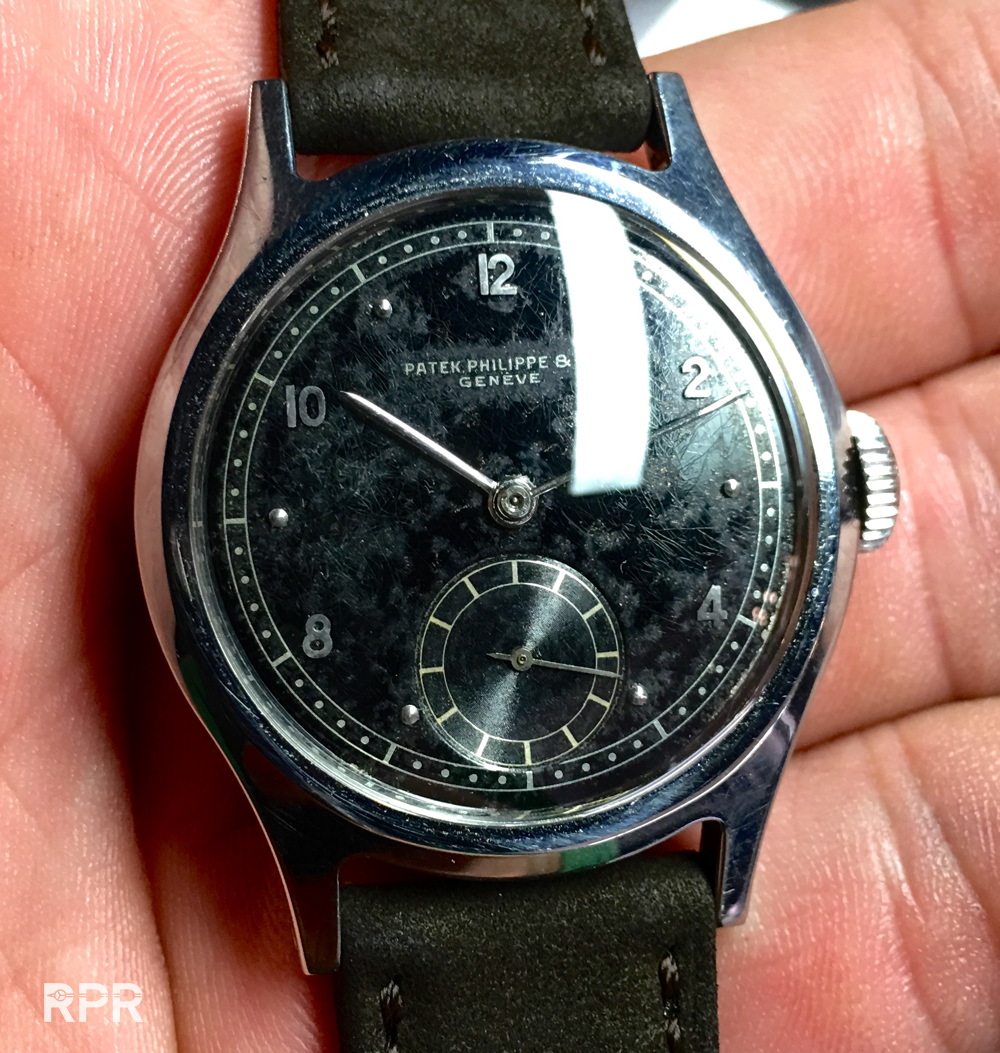 Both taken from the same black dialed ref 565 but above shows how tired the dial is…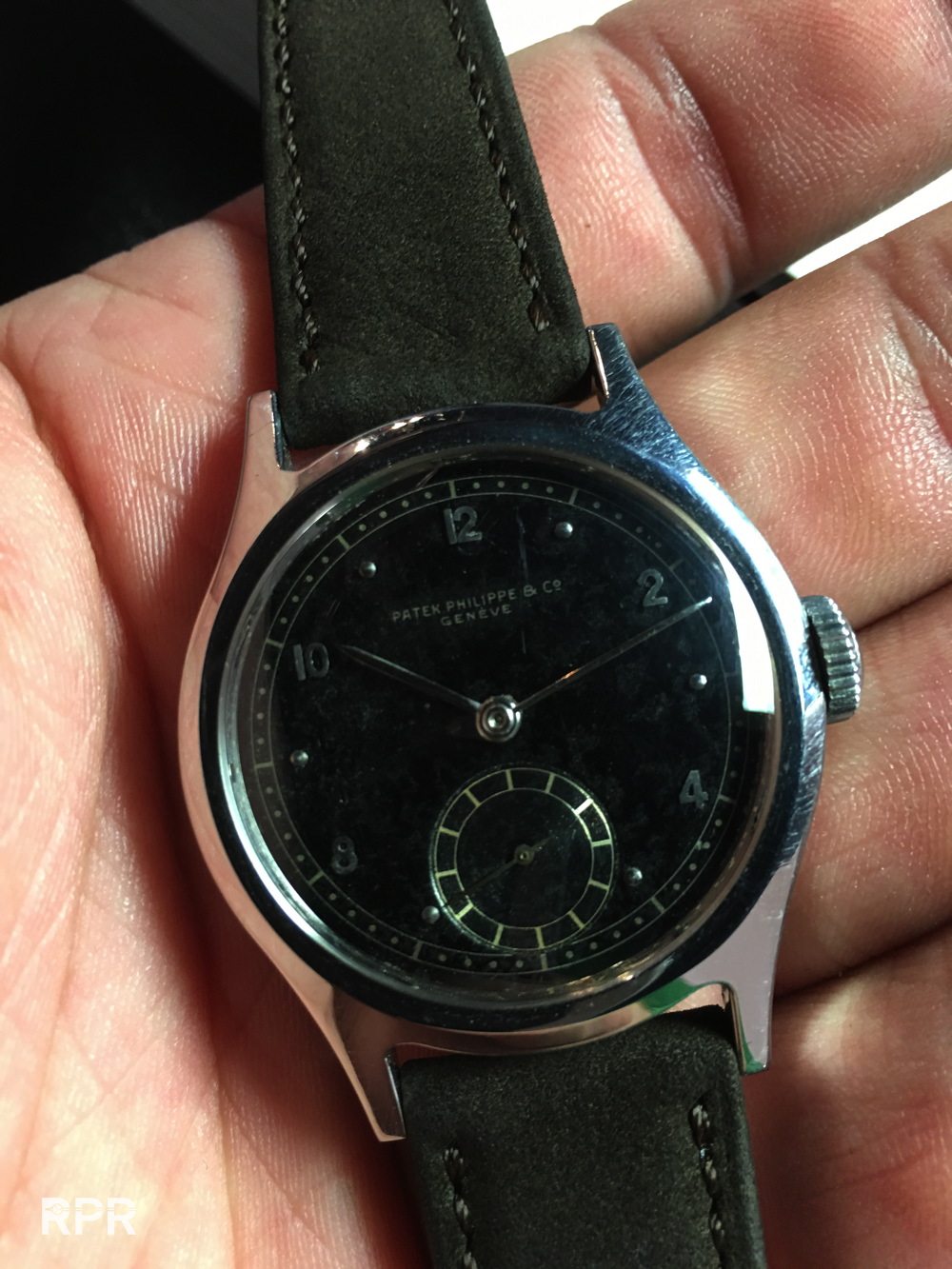 At Christie's this steel Ref 530 went for just over CHF 100K..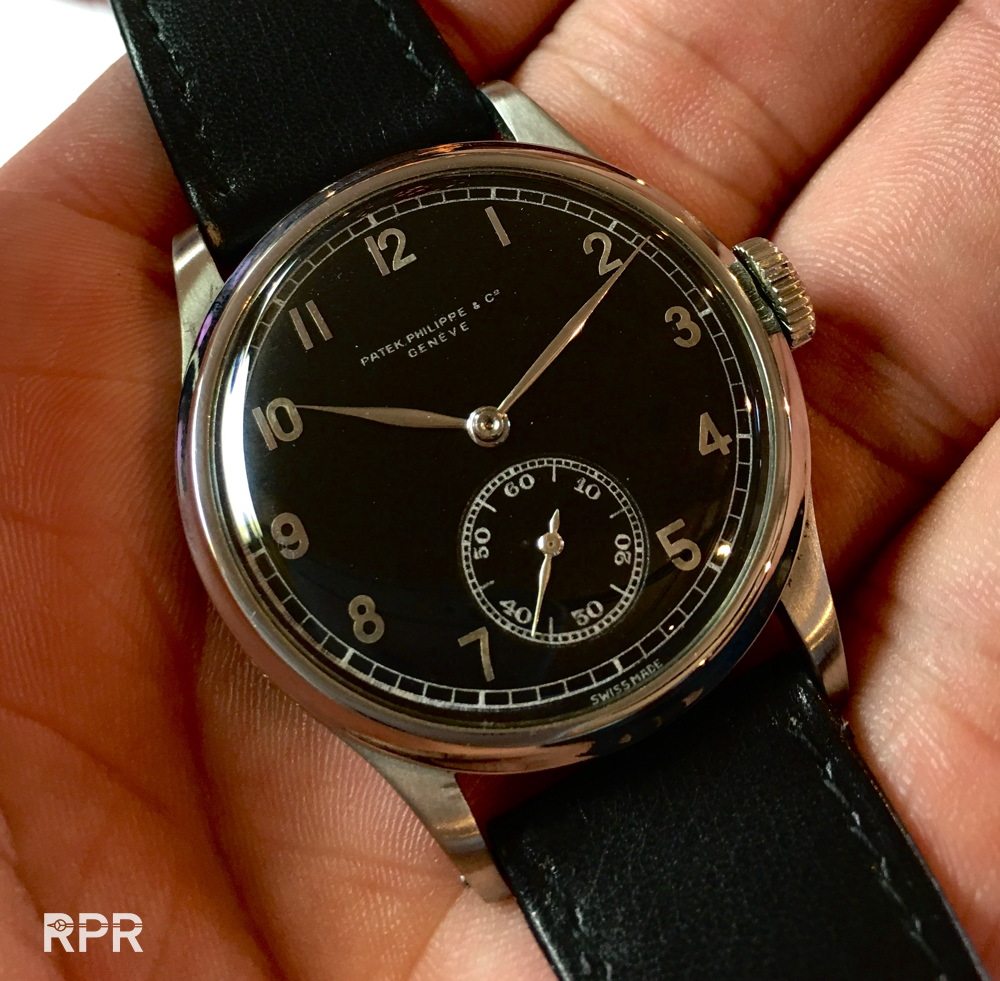 CHF37,500 for this unusual steel ref 2508..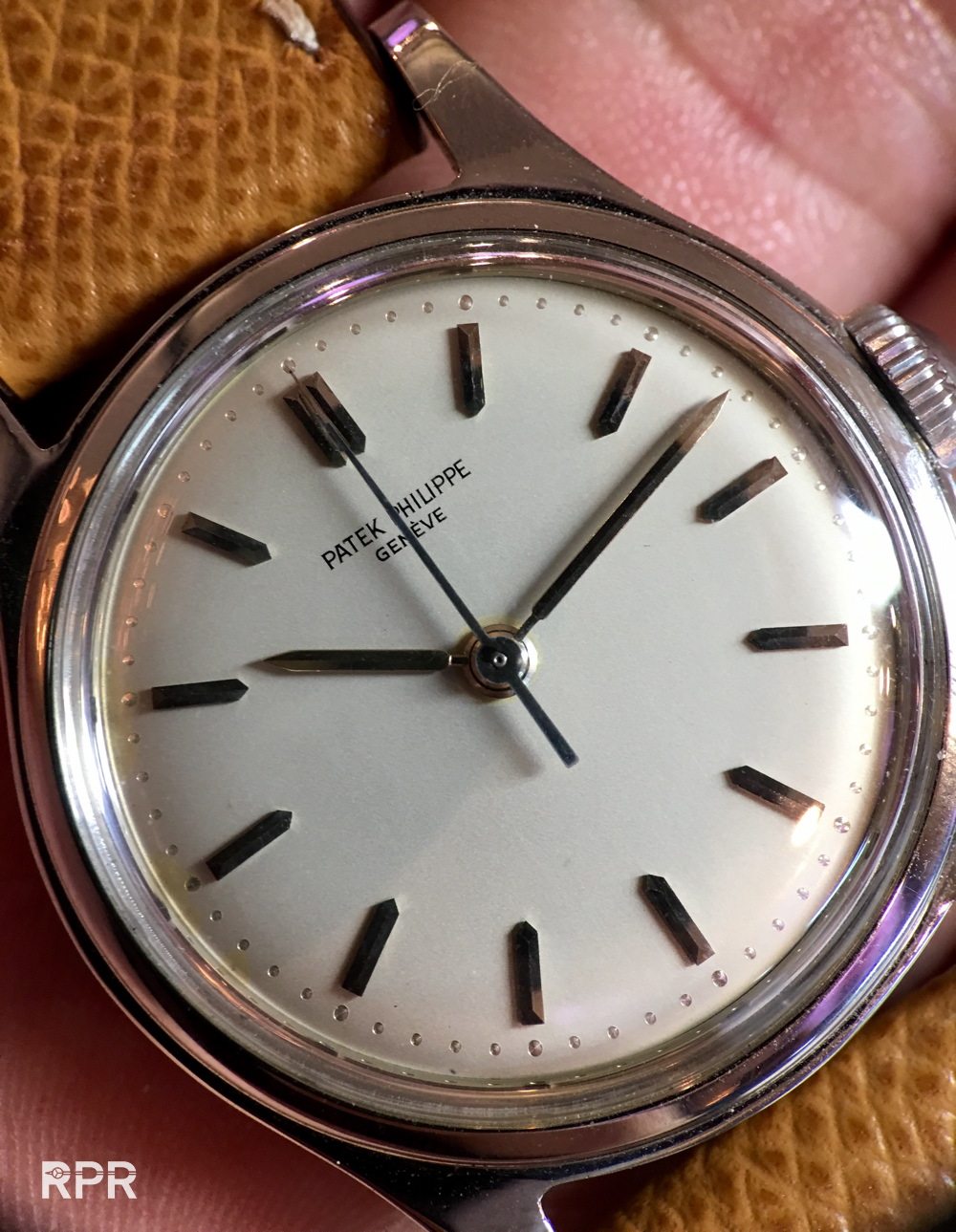 Rare 3 register early Oyster chrono sold for CHF 72,500,=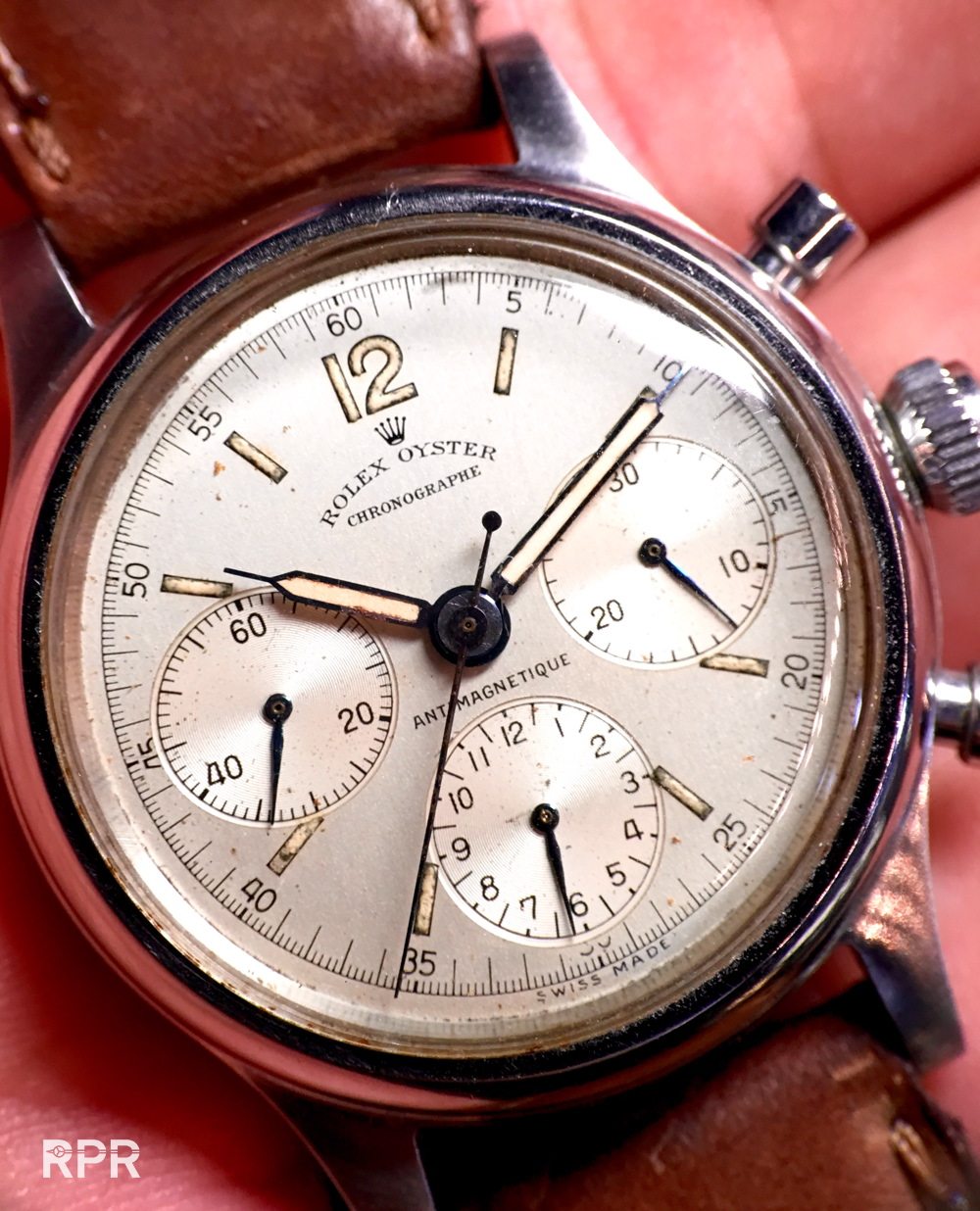 The cloisonné from Patek Philippe pocket watch sold for CHF 965,000,=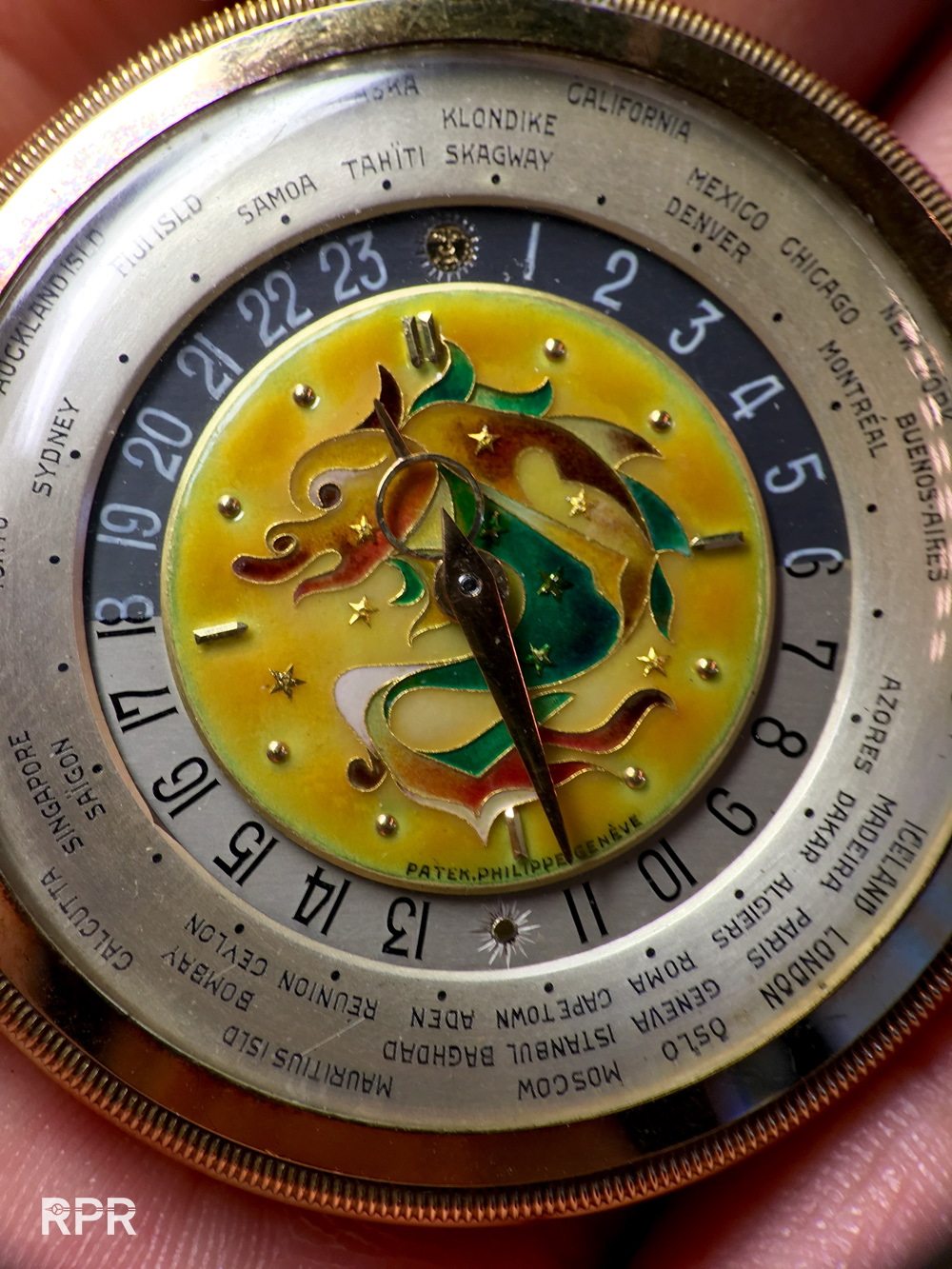 There where Rolex cloisonné is over 1 million, the lovely "La Caravelle" from artist Magarita Koch sold for CHF 1,235,000,=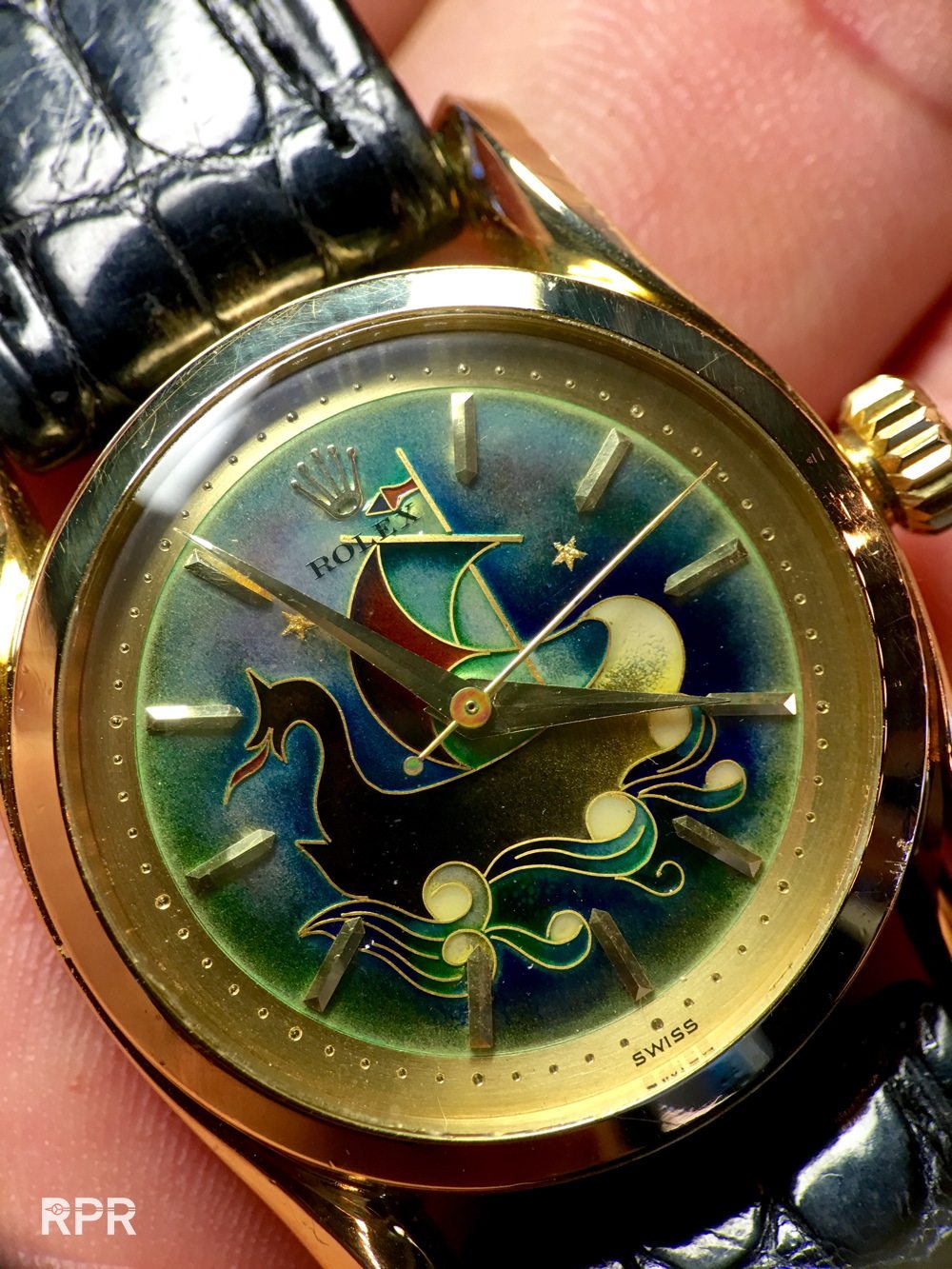 Crisp Paul Newman ref 6239 sold for a stagering CHF 155,000,= !!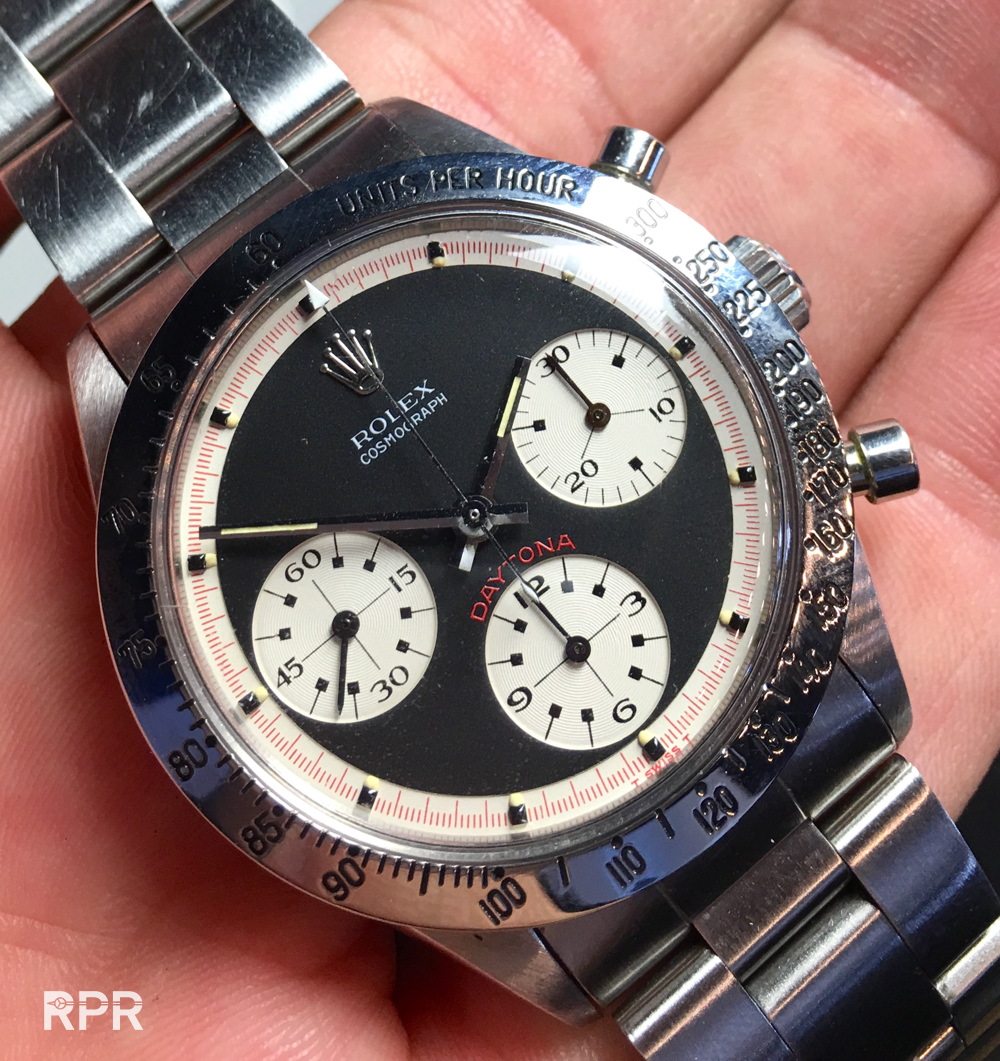 Too early in the morning…
Up to a little local watch show…
Where you find some great stuff  😉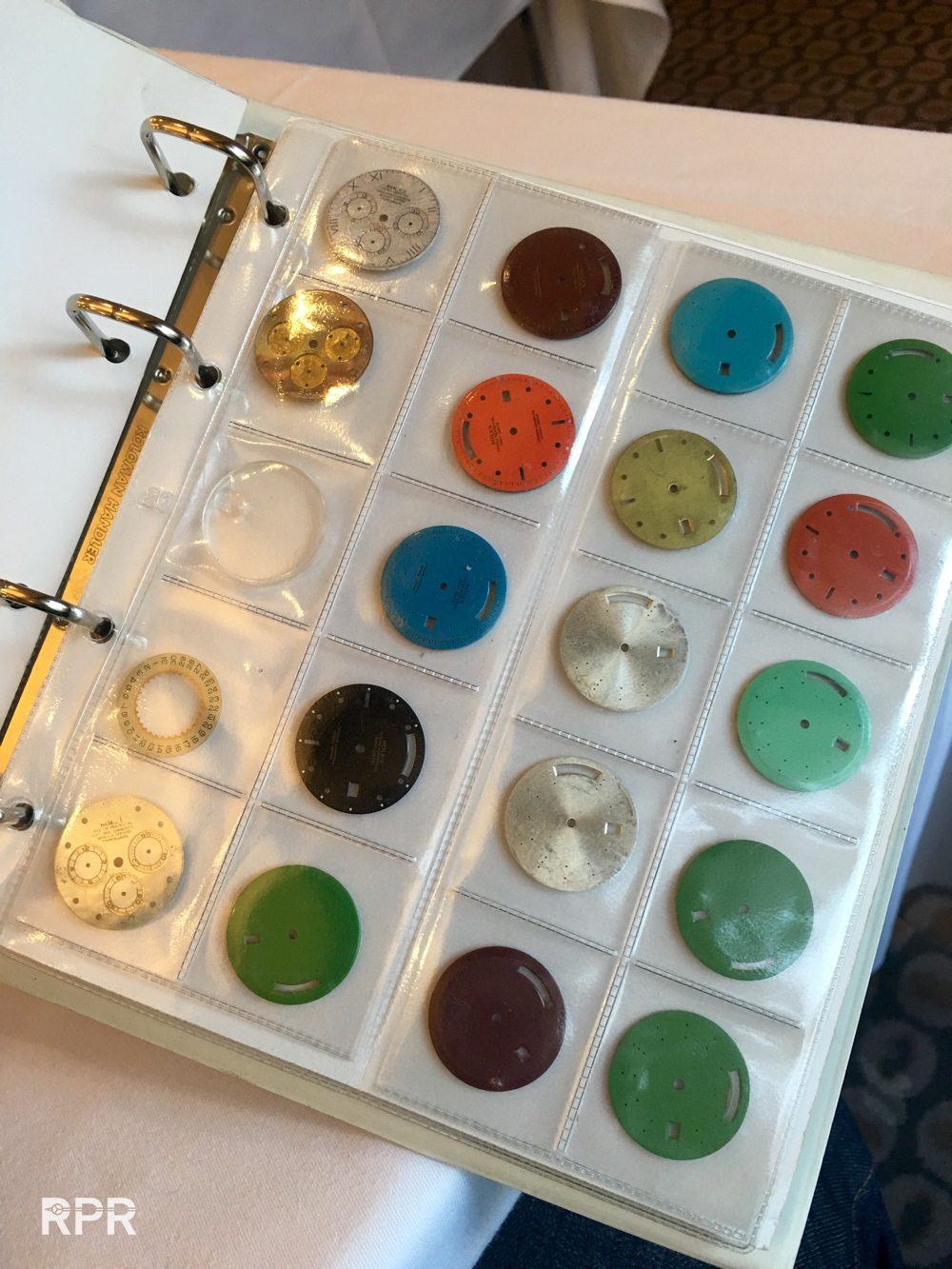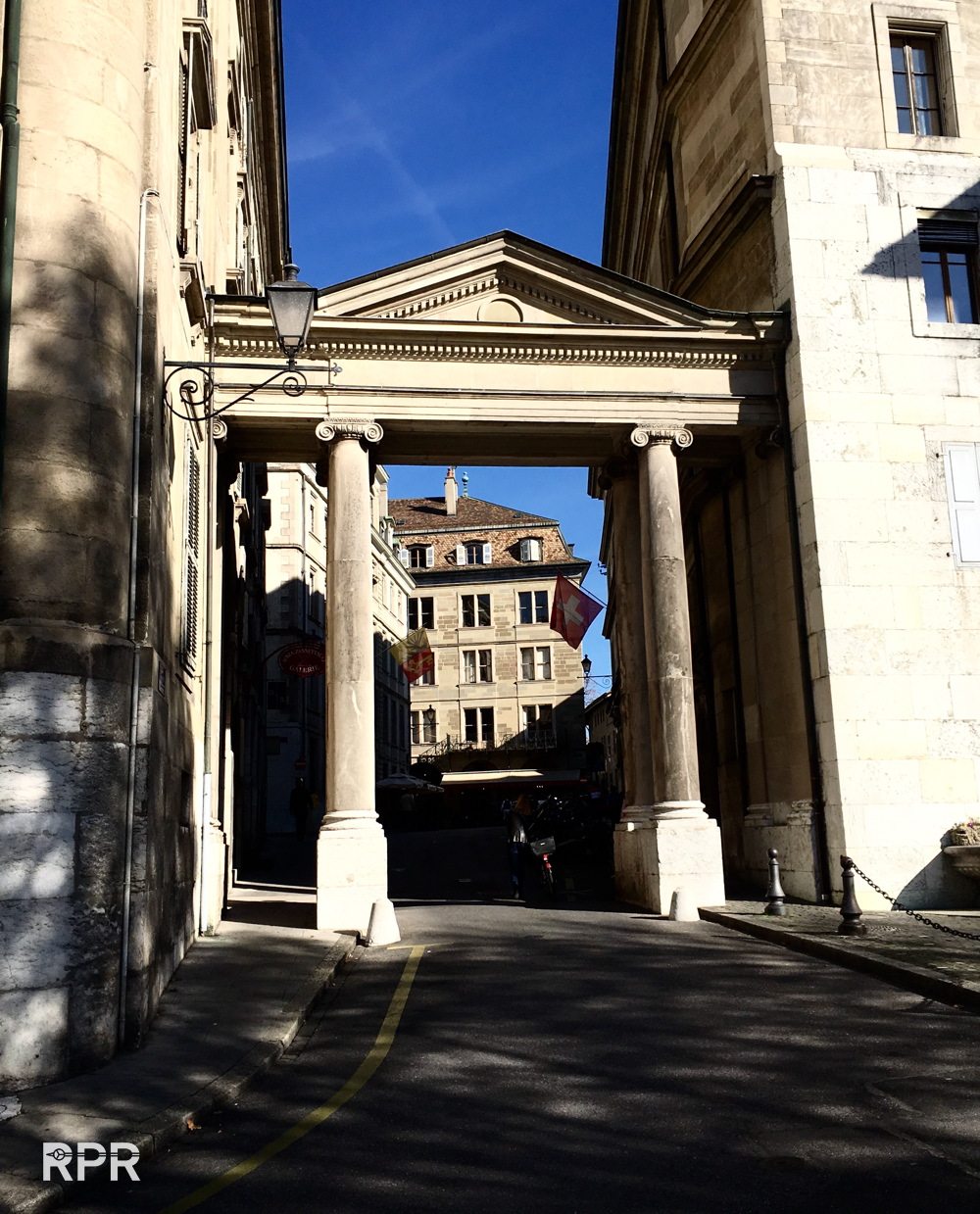 Beer & Military…. that sounds so Mike Wood! 😉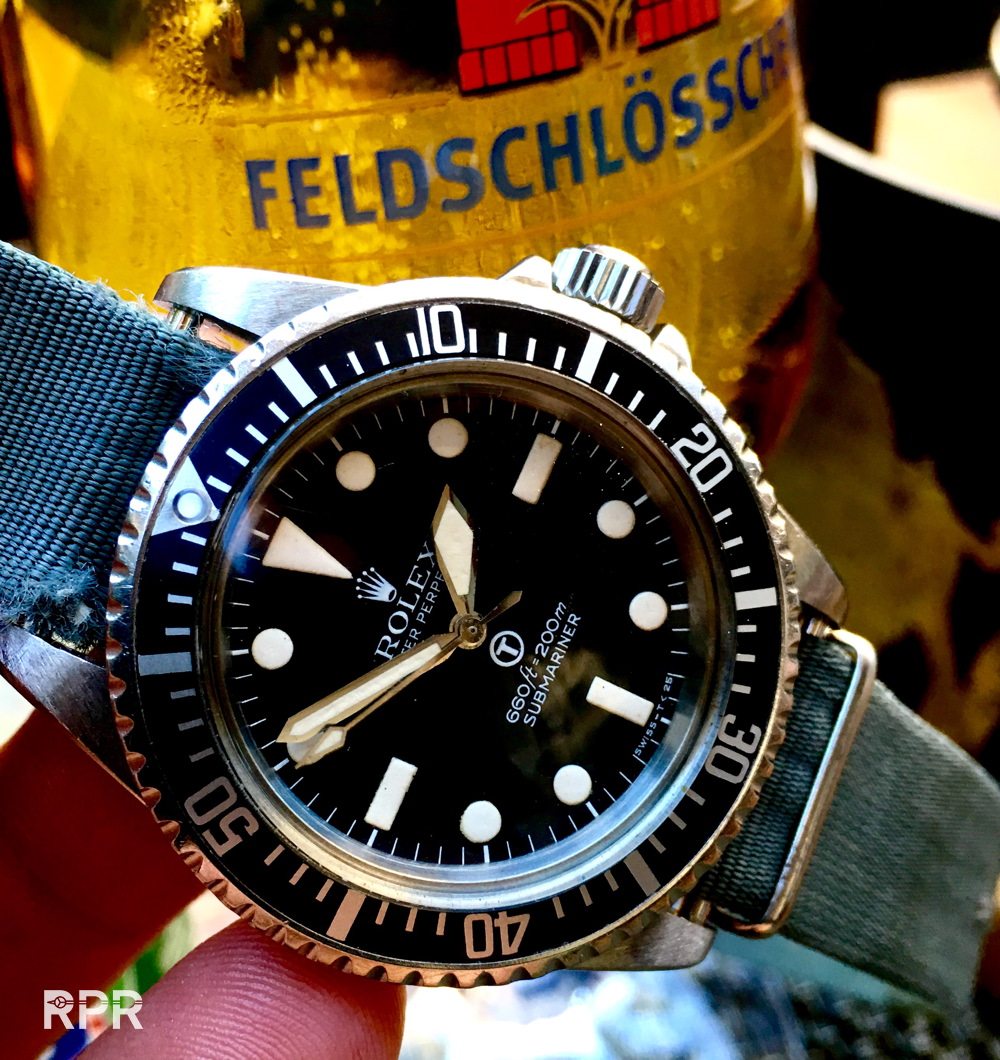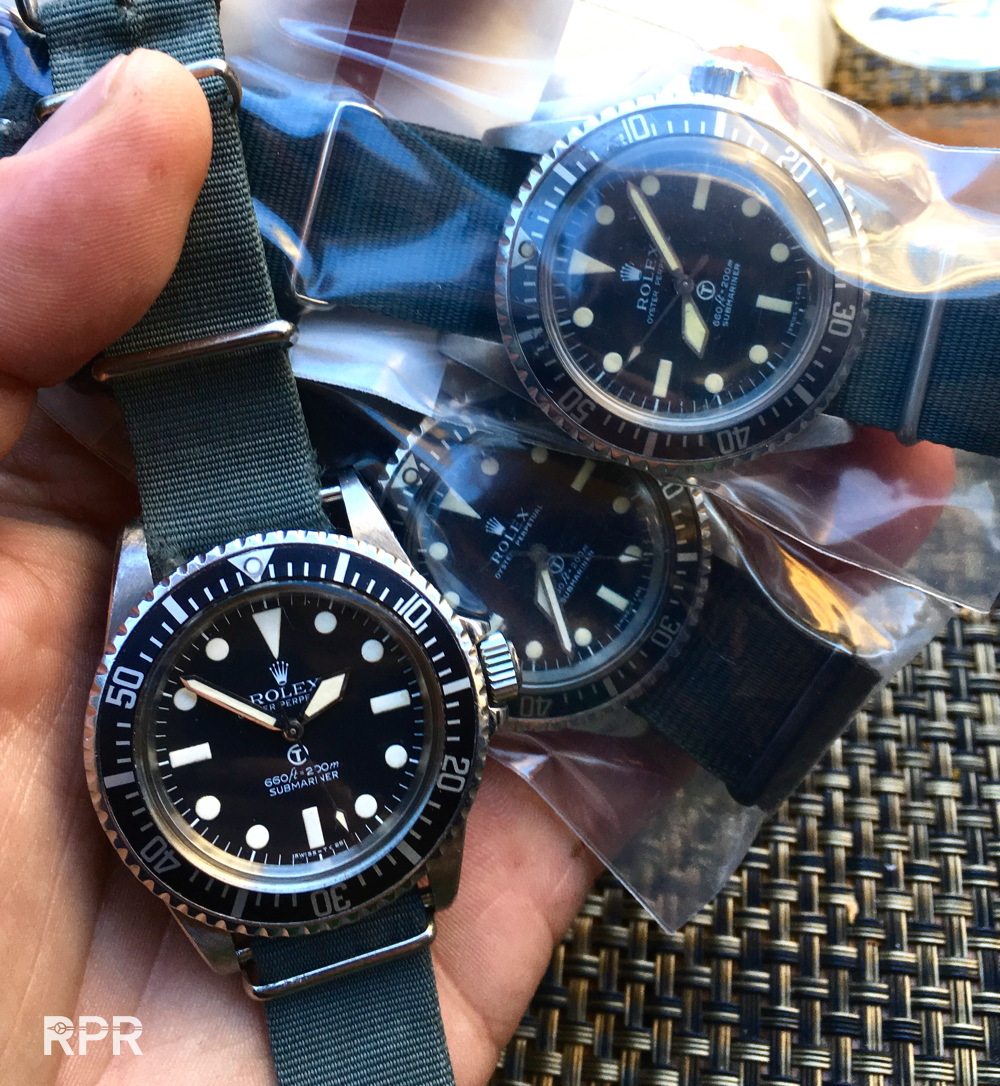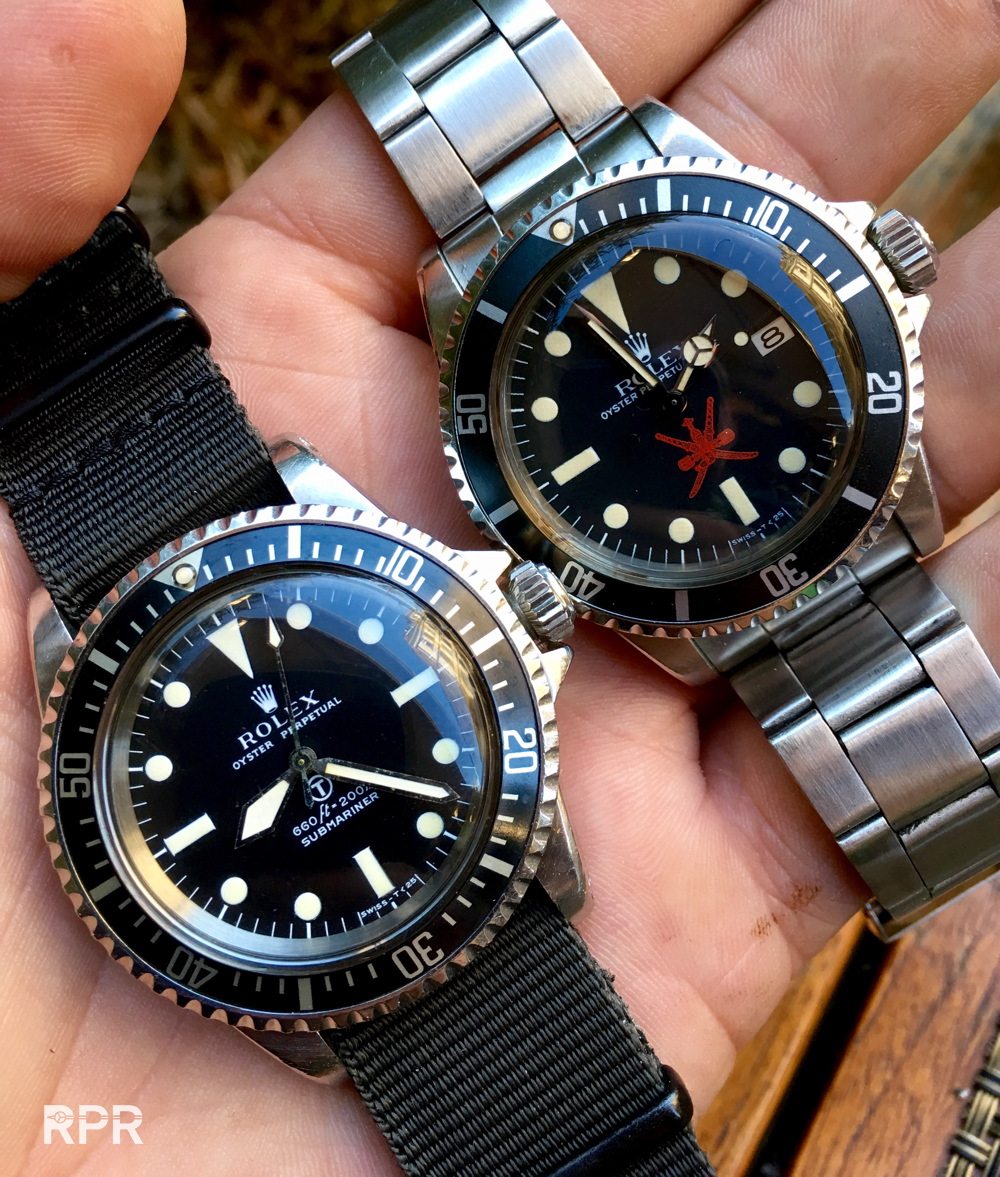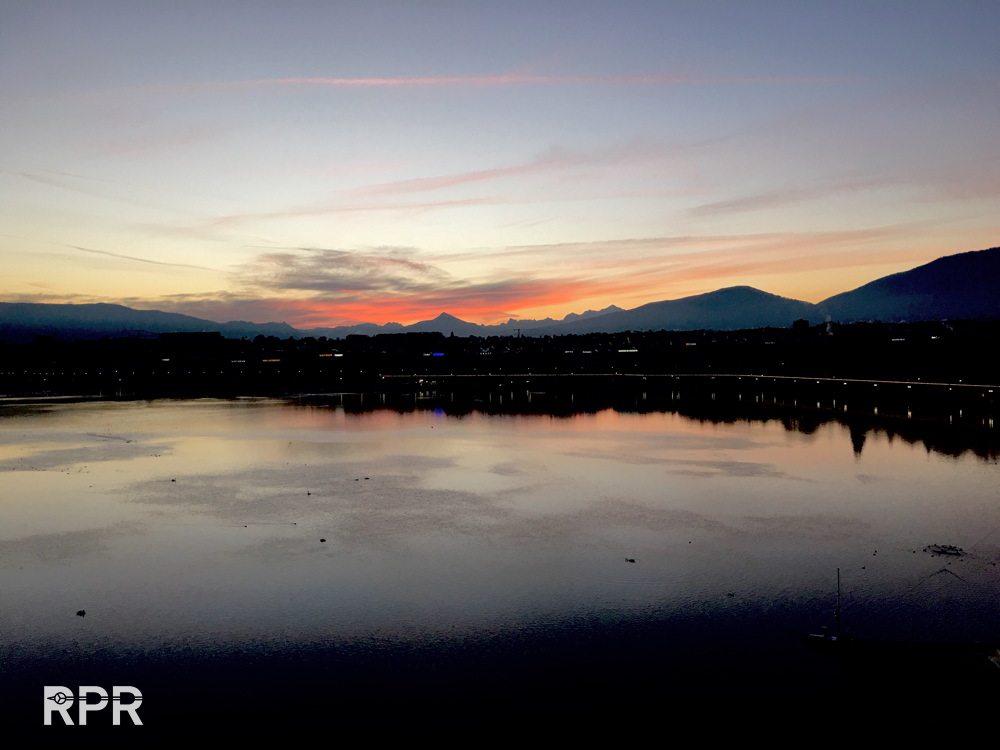 Non Rolex, PPC's watch brands that are high in demand…
Some stella are still selling well….but all over, the hype is gone as the market realized that there are way more spare dials left then everybody though so…
The brown Daytona, with extra stains around the compax, sold for CHF 87,500,=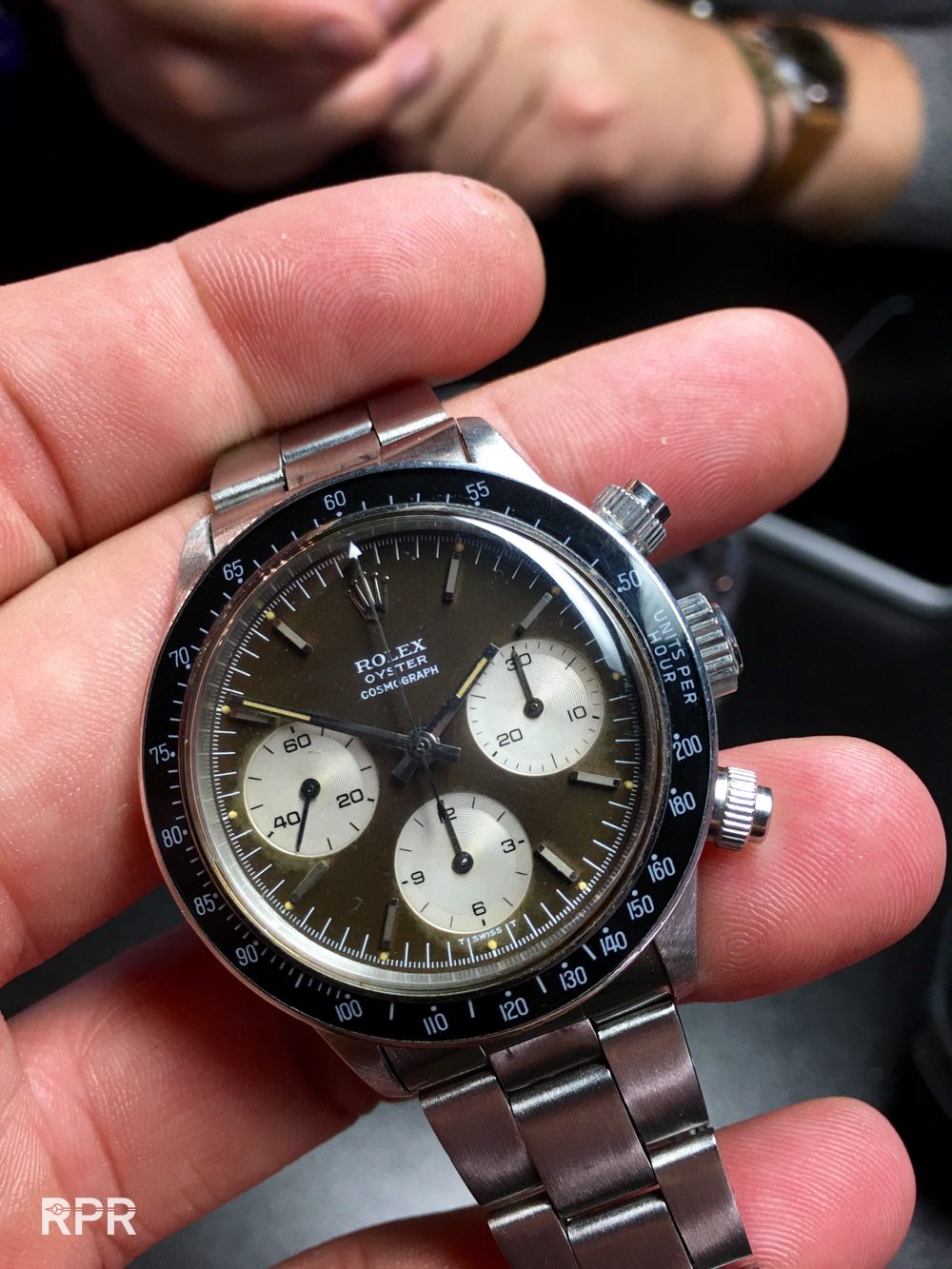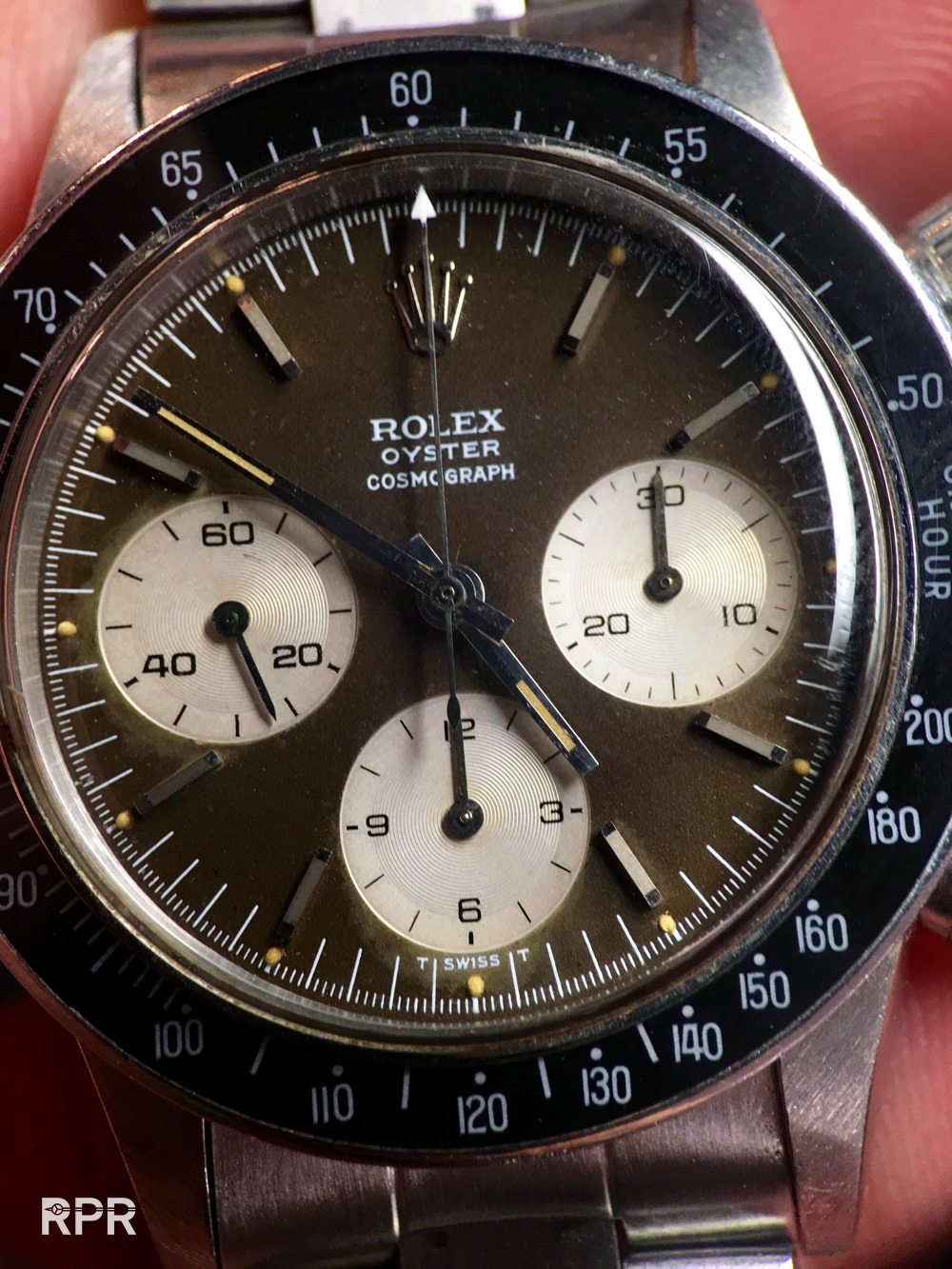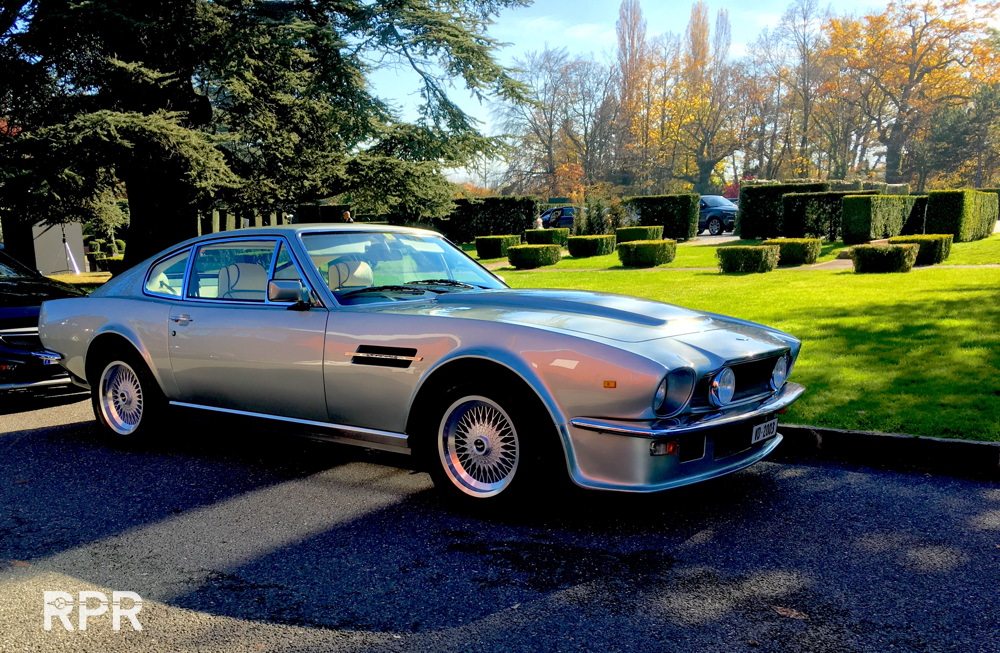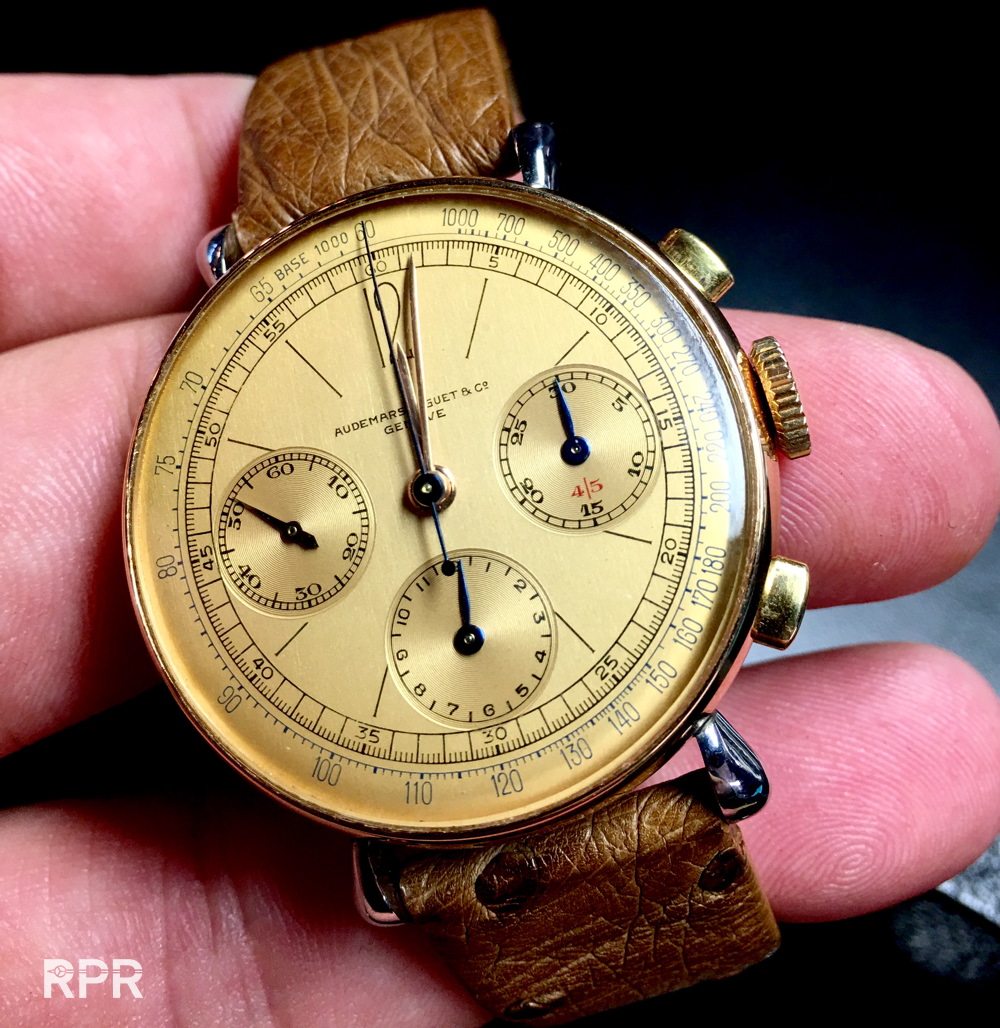 The AP chrono bought by the museum…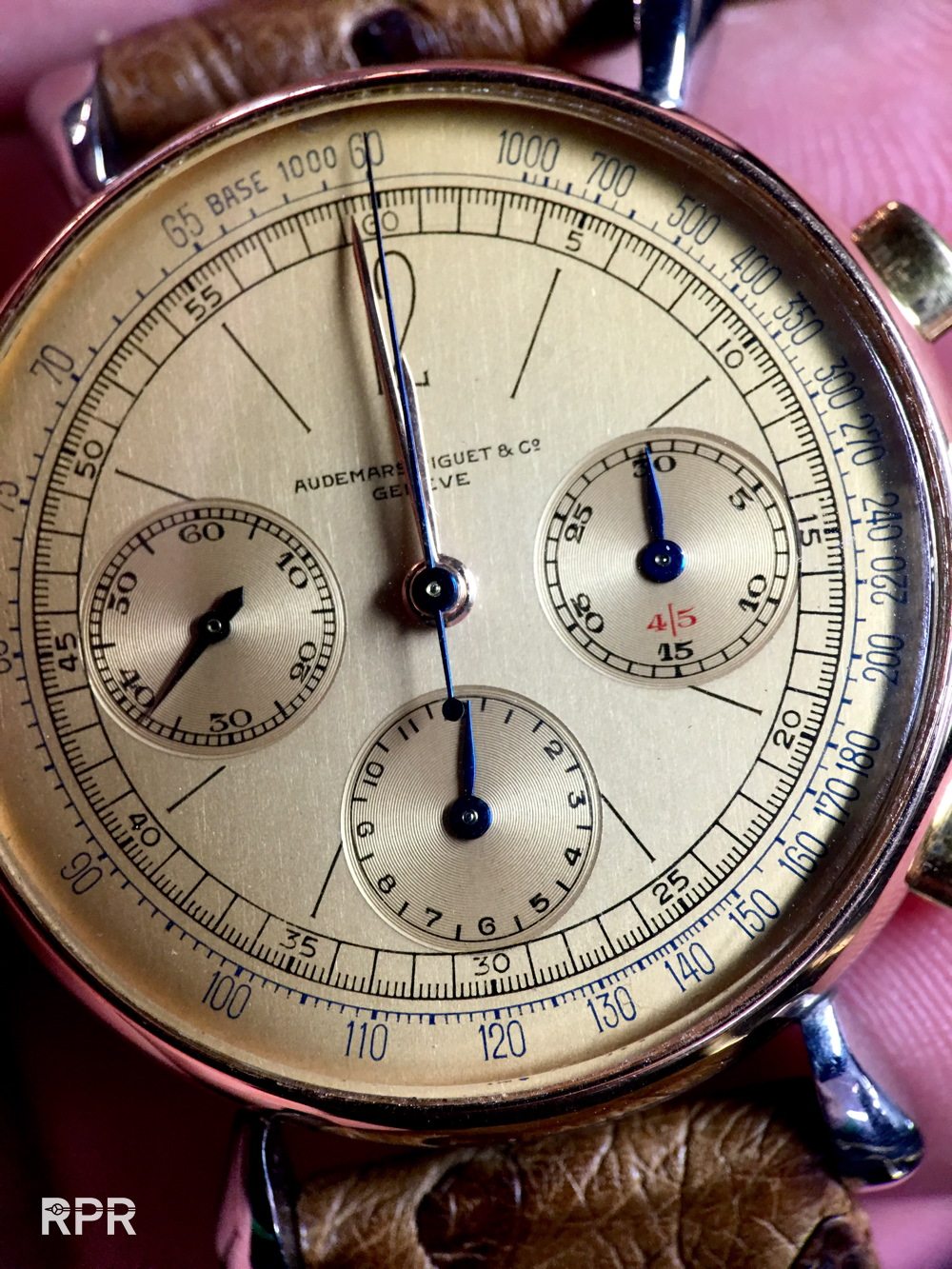 Pink 1518 sold for CHF 581,000,=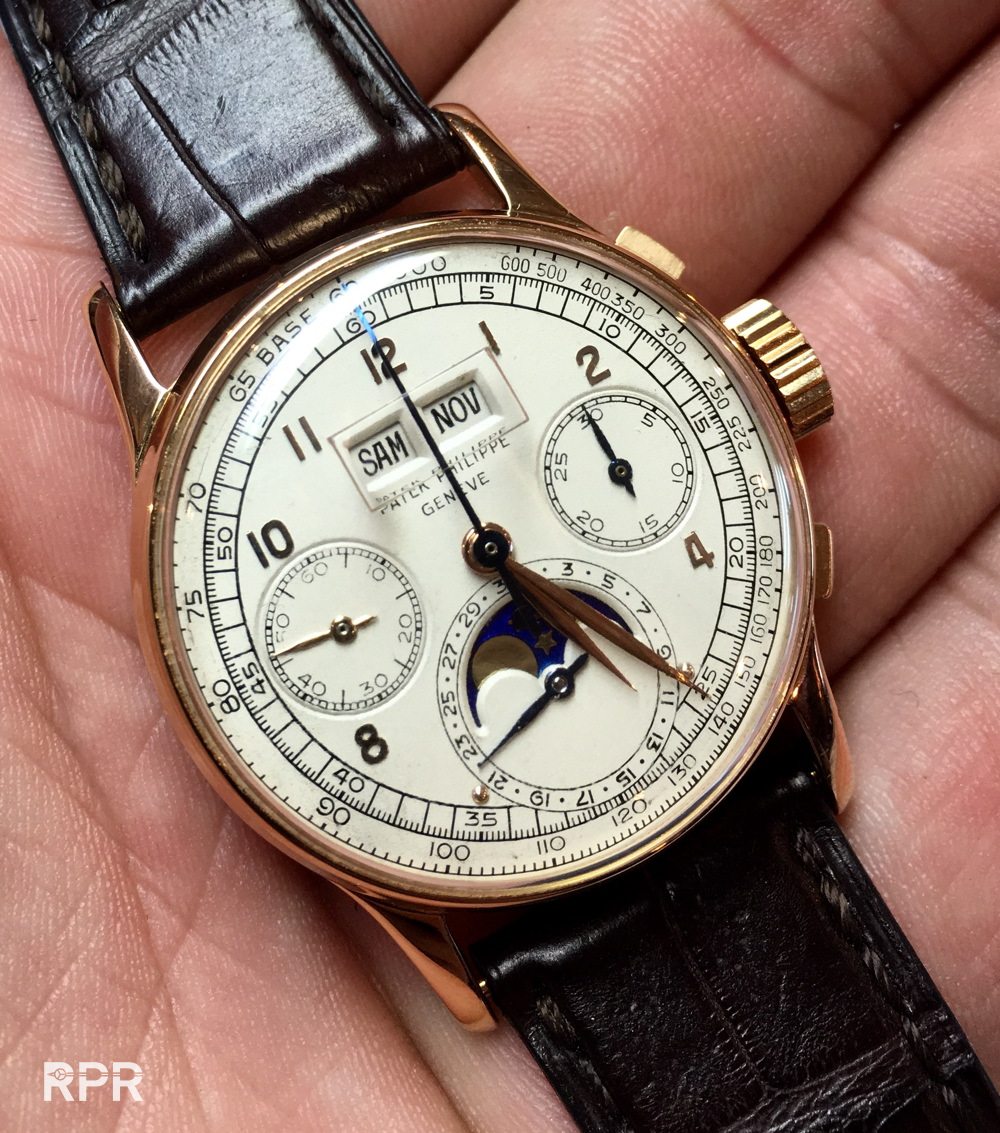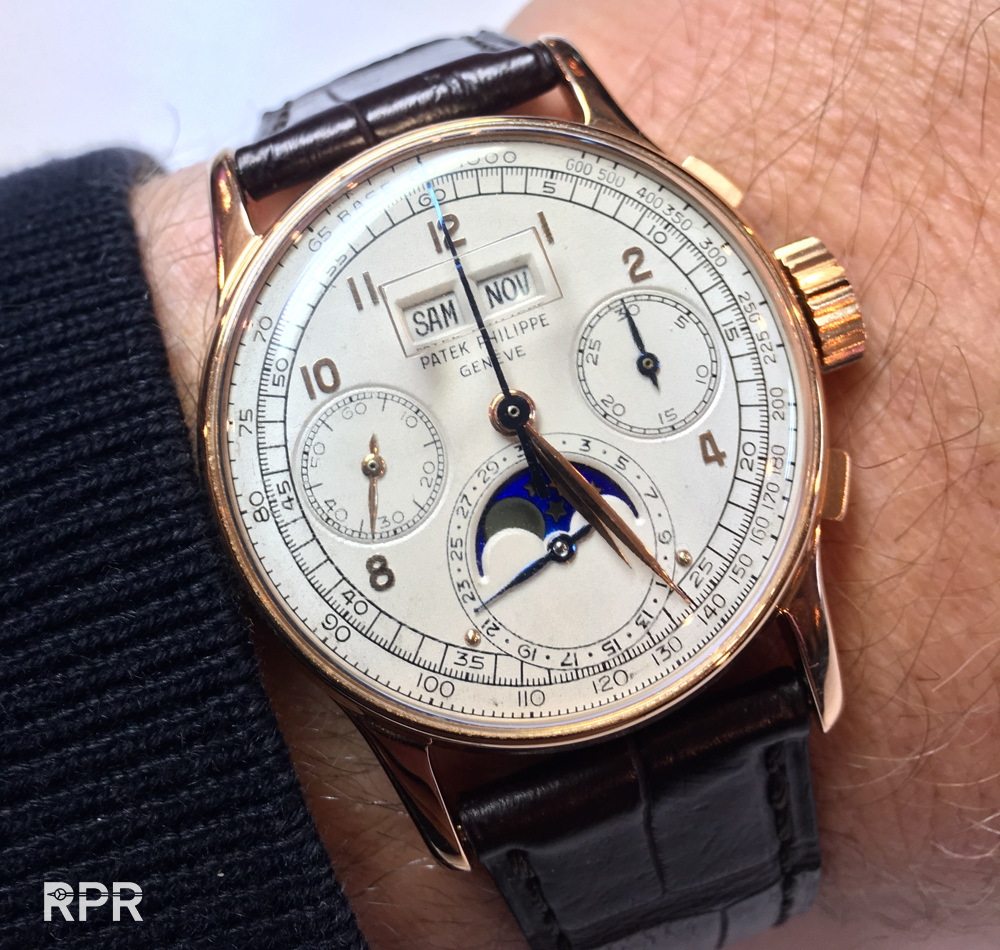 A really lovely Eterna went to a nice friend…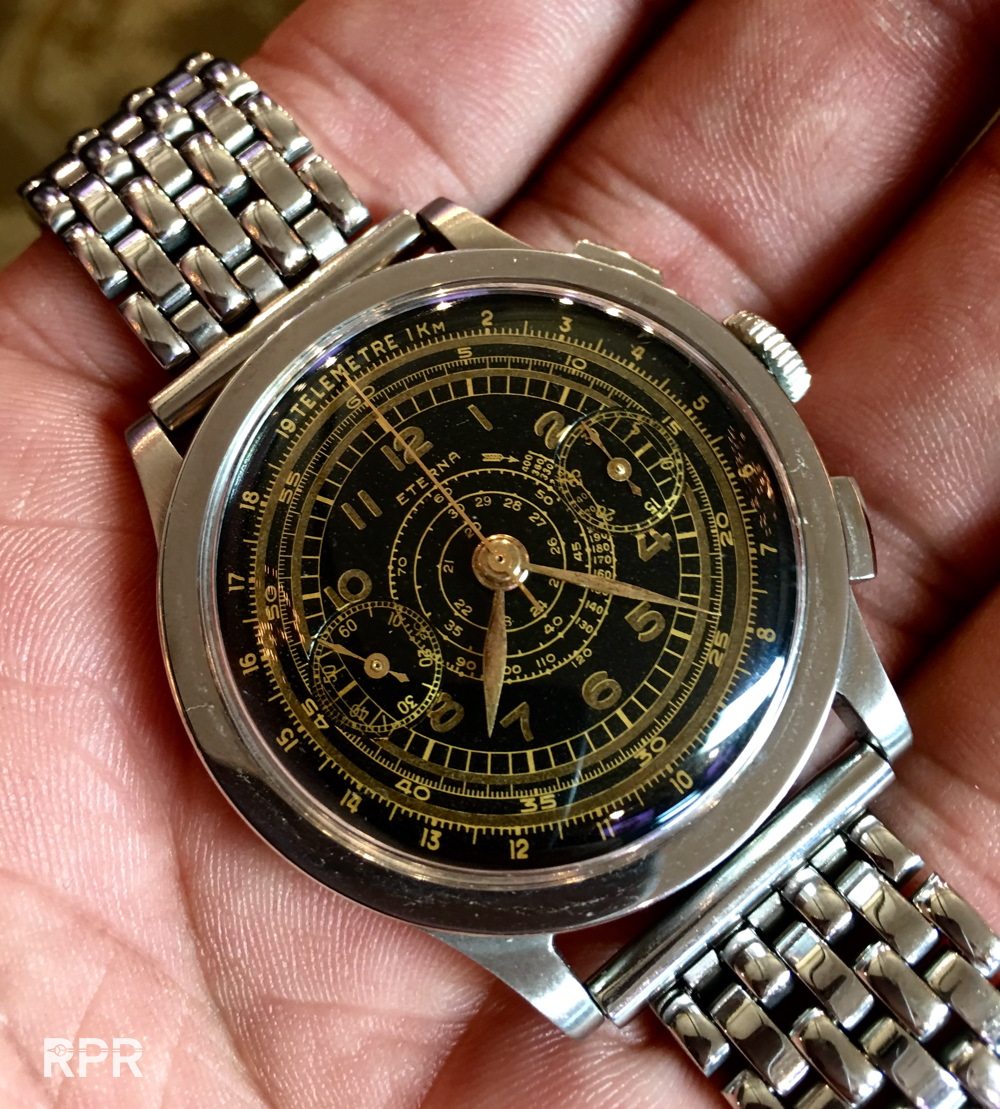 Impeccable Breguet time only up close…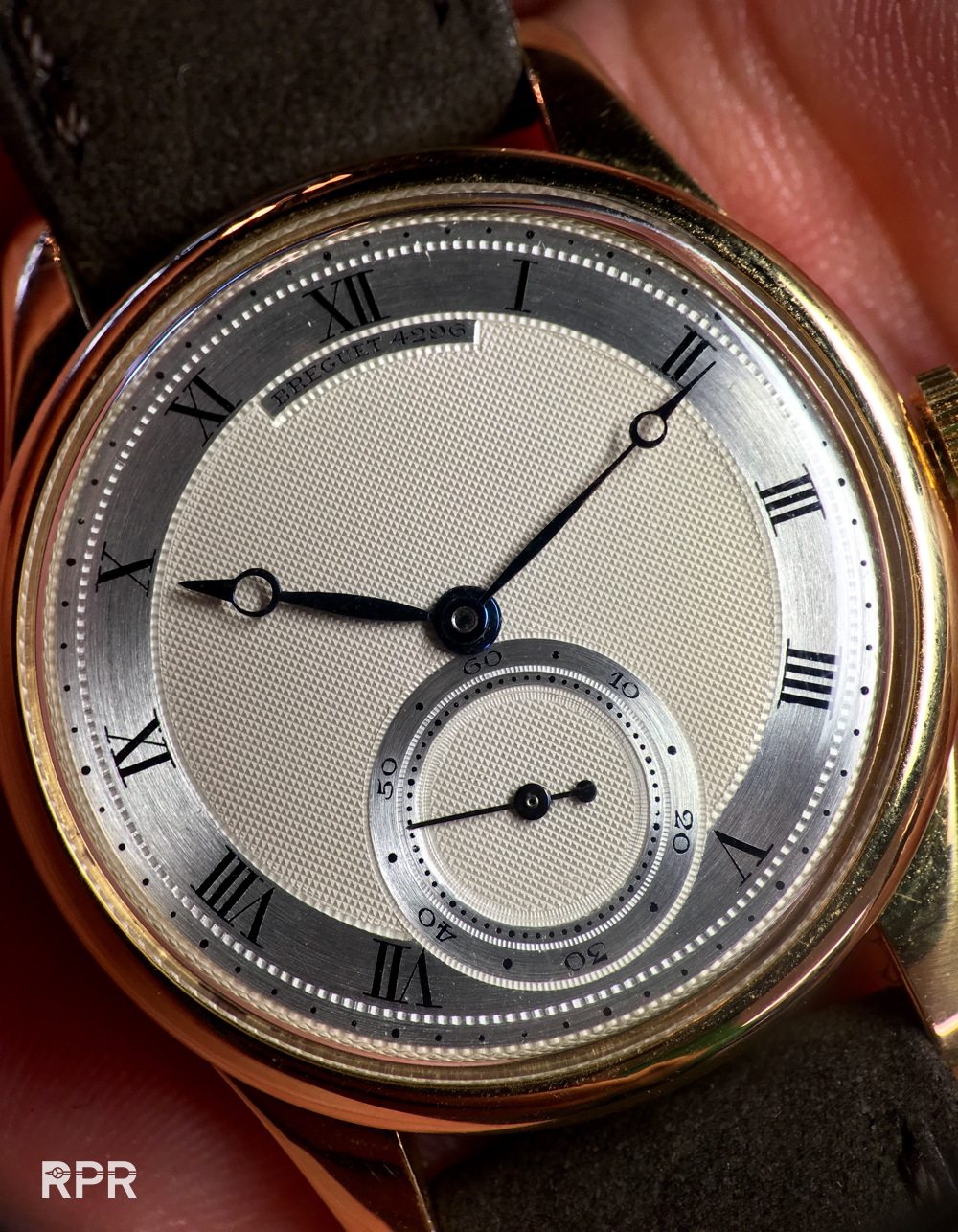 Lovely crisp Rolex Prince steel & pink gold…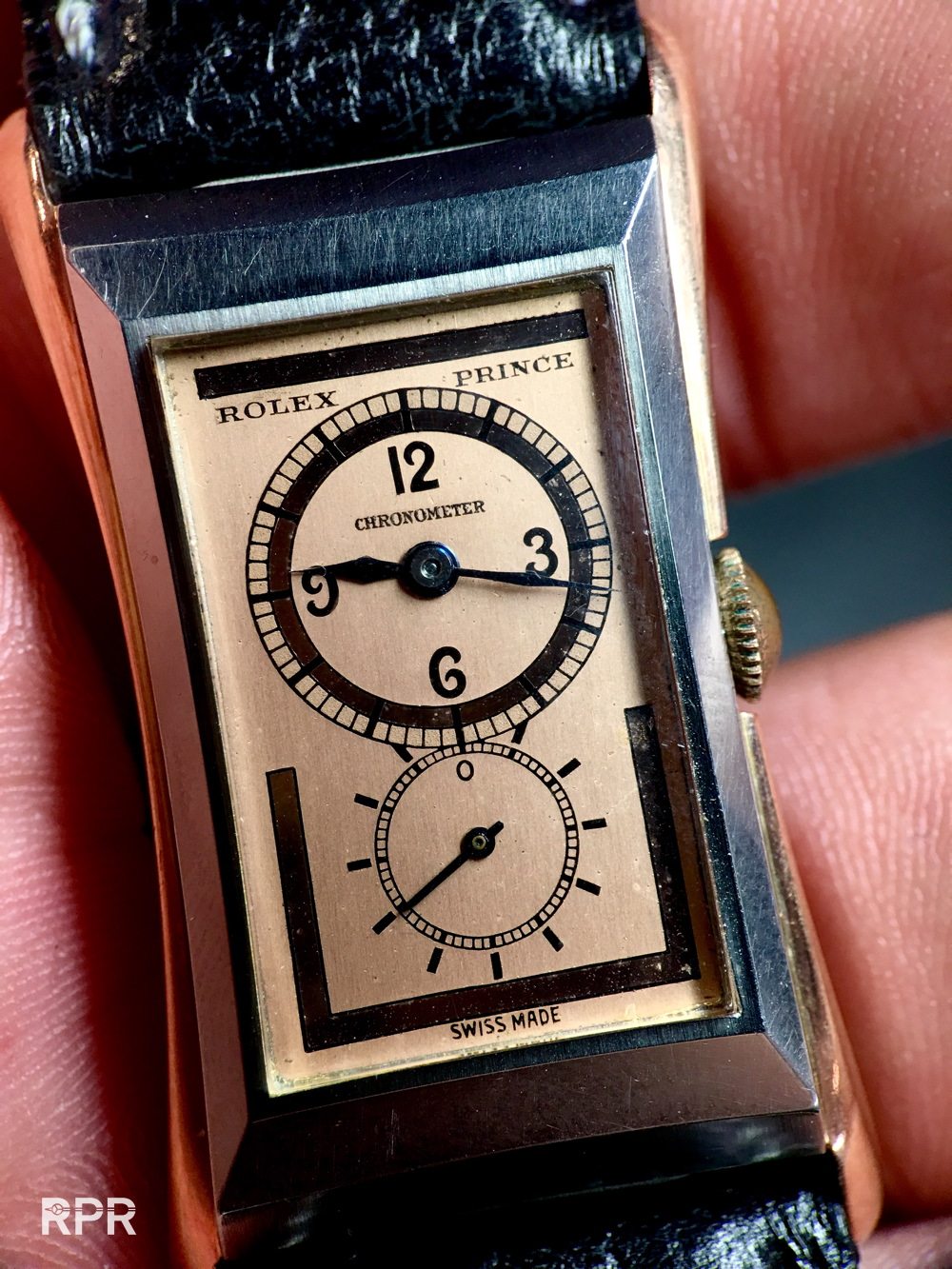 Panerai Radiomir Ref 3646..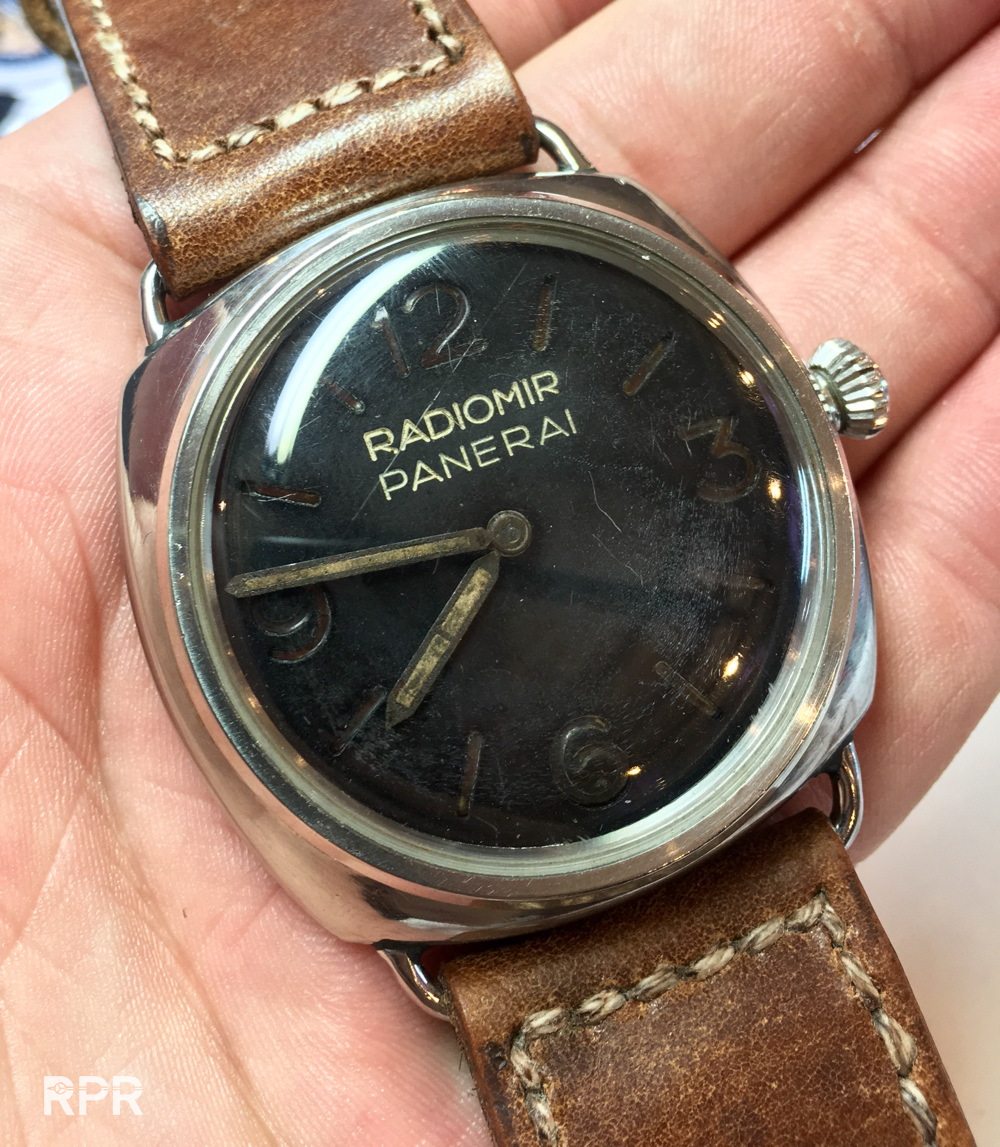 The rarely seen blue dialed Rolex Quartz number 007..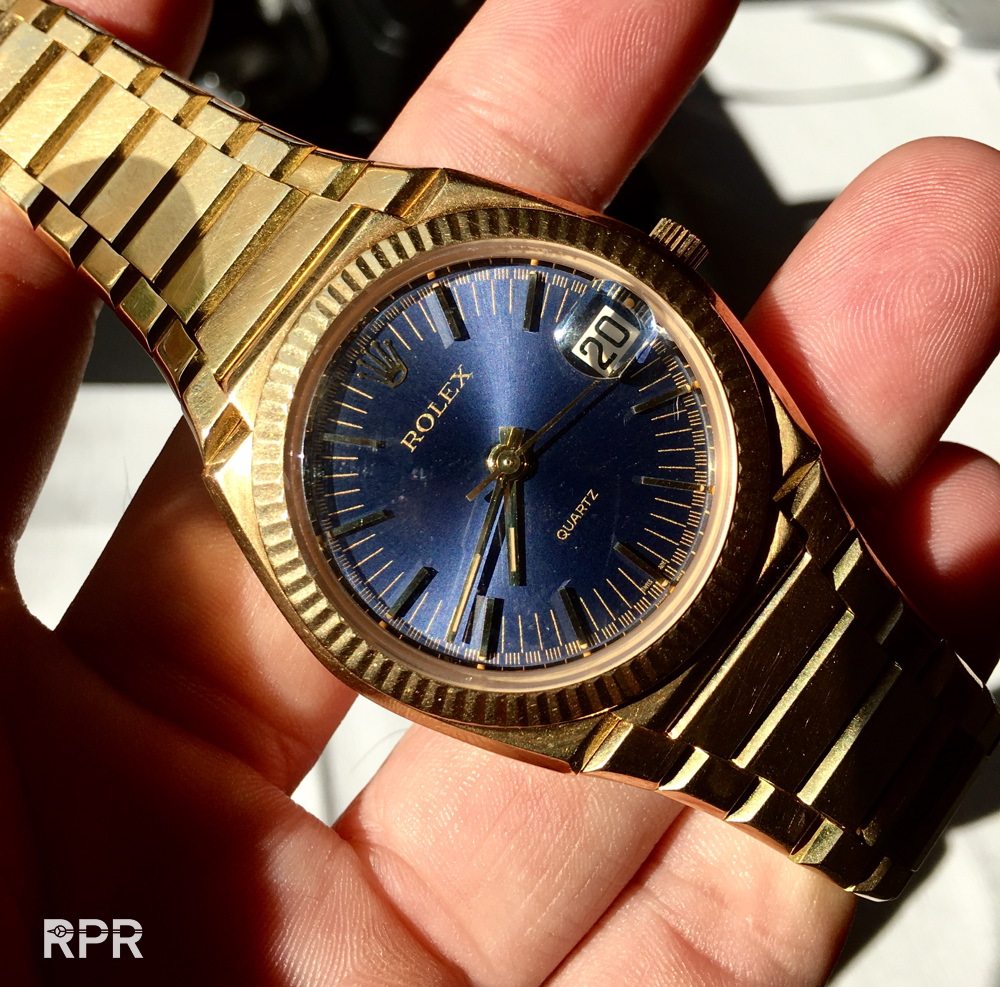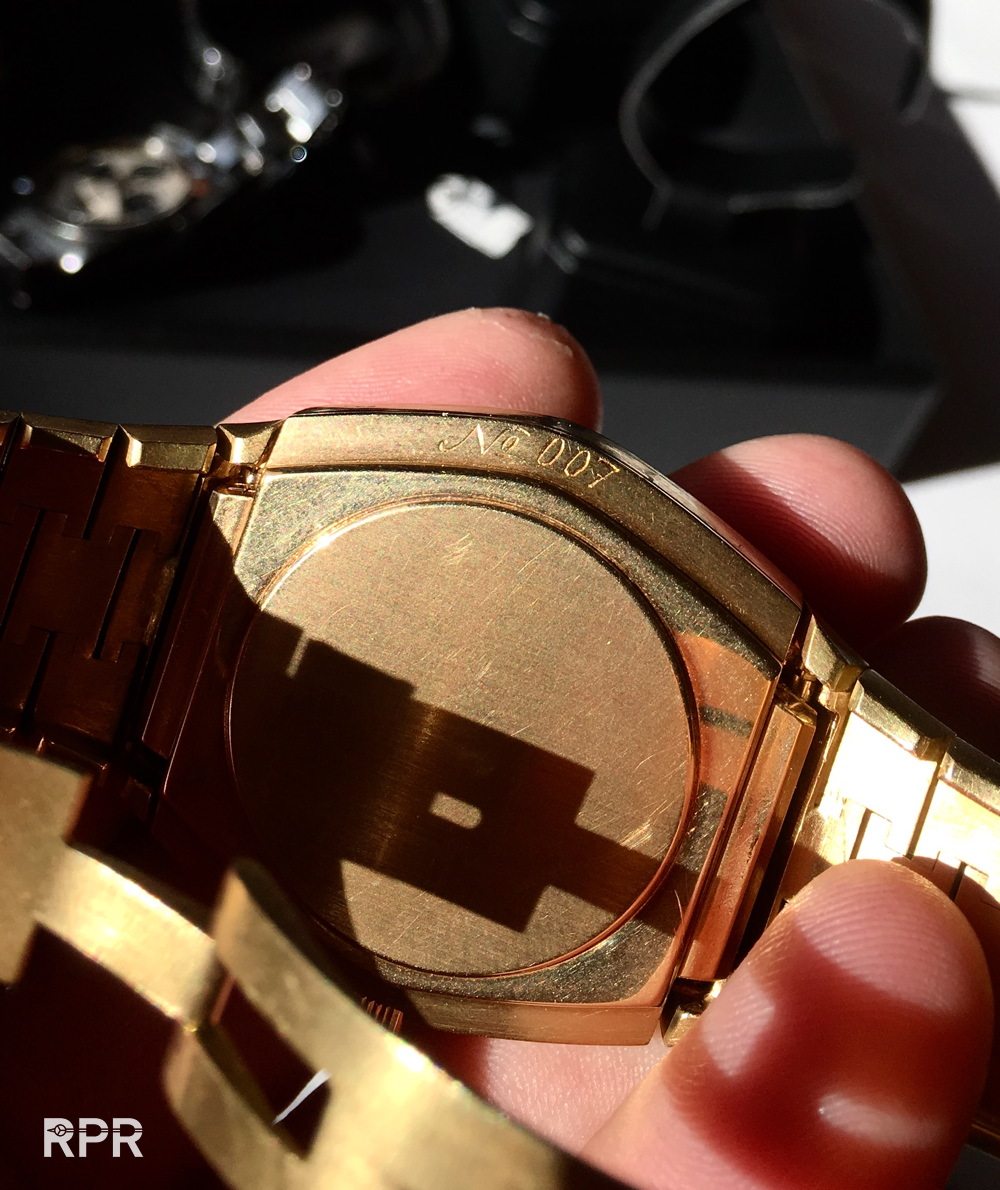 Lookalike Paul Newman made by French watch brand Lip..
Coming up at Christie's in NY mid December, check it out, seems the auction is gonna be a great one, maybe even better then Geneva, that sold only for 13 million.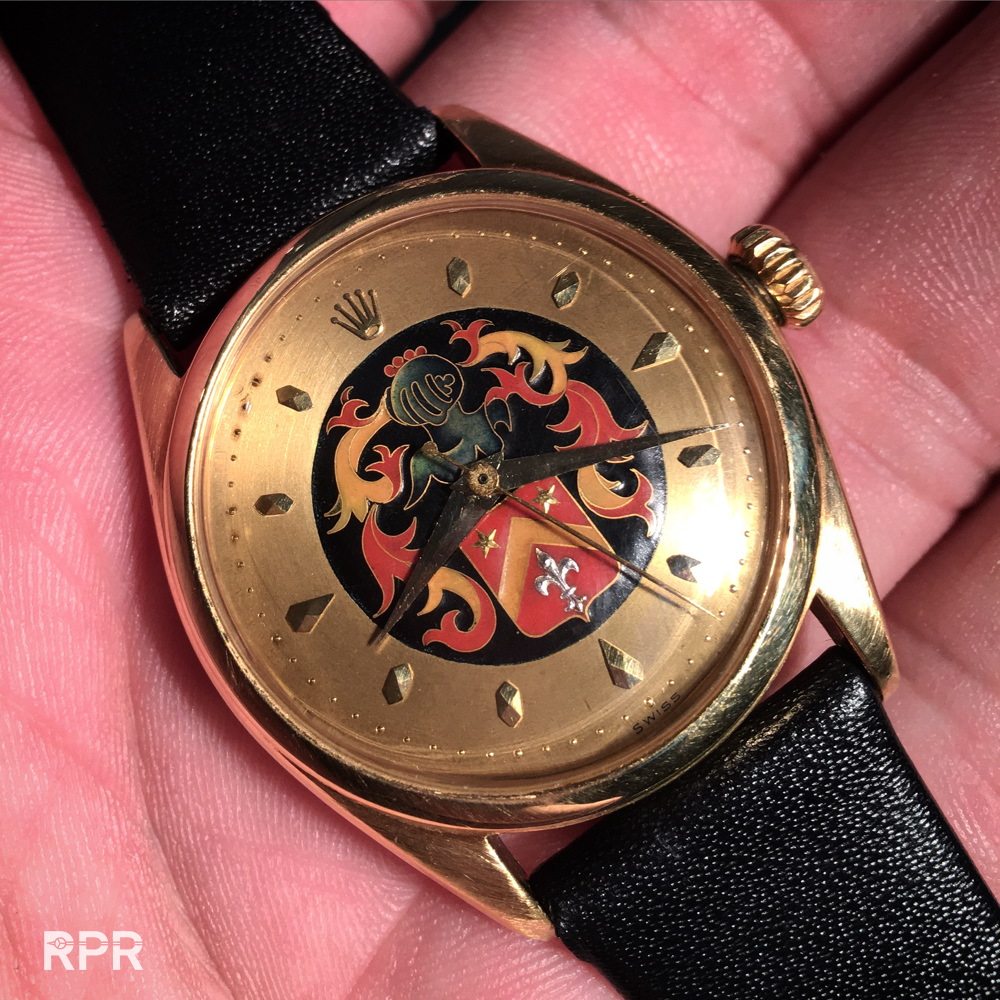 Last but not least, Buddy Pucci made another watch book, about Vacheron Constatin, yet another coffee table in huge dimensions as you can see below..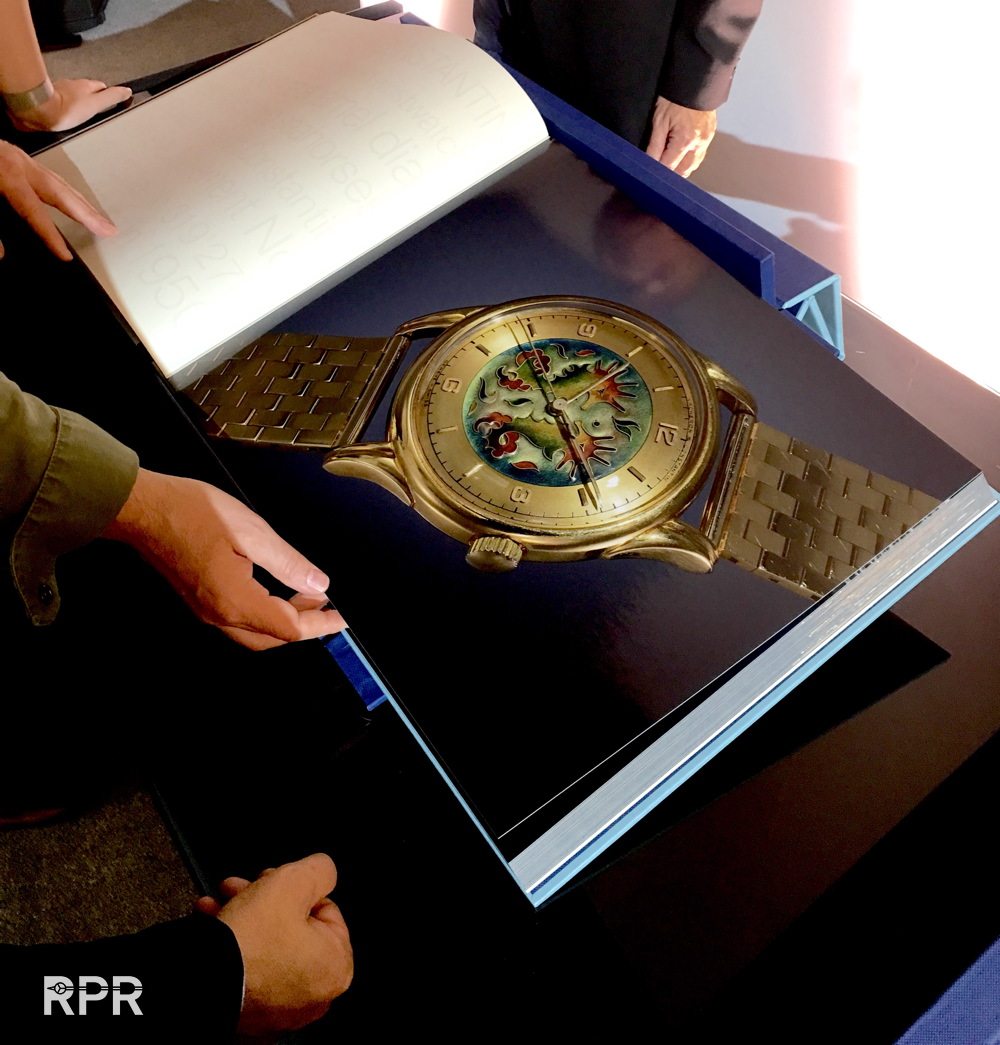 You can order your copy soon on Pucci's website over here…
Greetings from Geneva and it was really GREAT seeing you all again!!;)-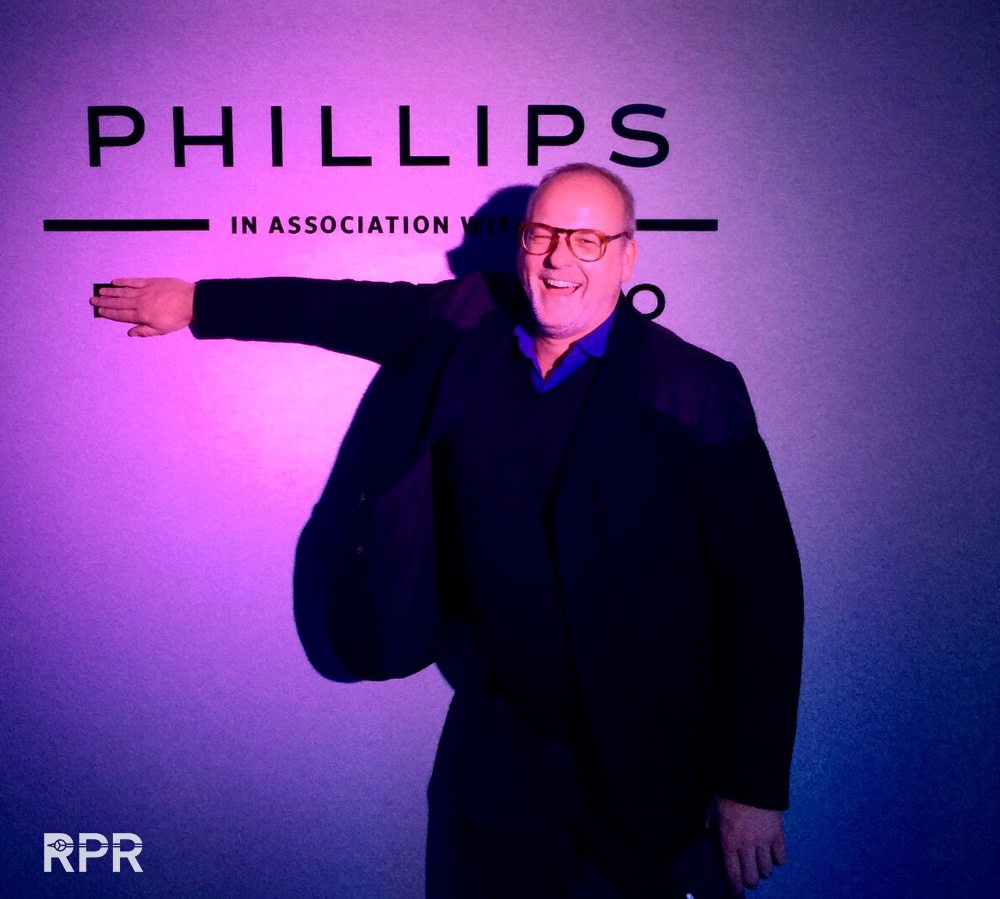 Check out all auction results and follow below link for:
Antiquorum sold totally for  CHF 6,110,405
Christie's  sold totally for CHF 13,380,562,= 
Phillips Watches  sold totally for CHF 27,844,575,=
Sotheby's  sold totally for CHF 5,090,375,= 
Total: CHF 52.4 million
($ 52.2 million € 48.6 million)