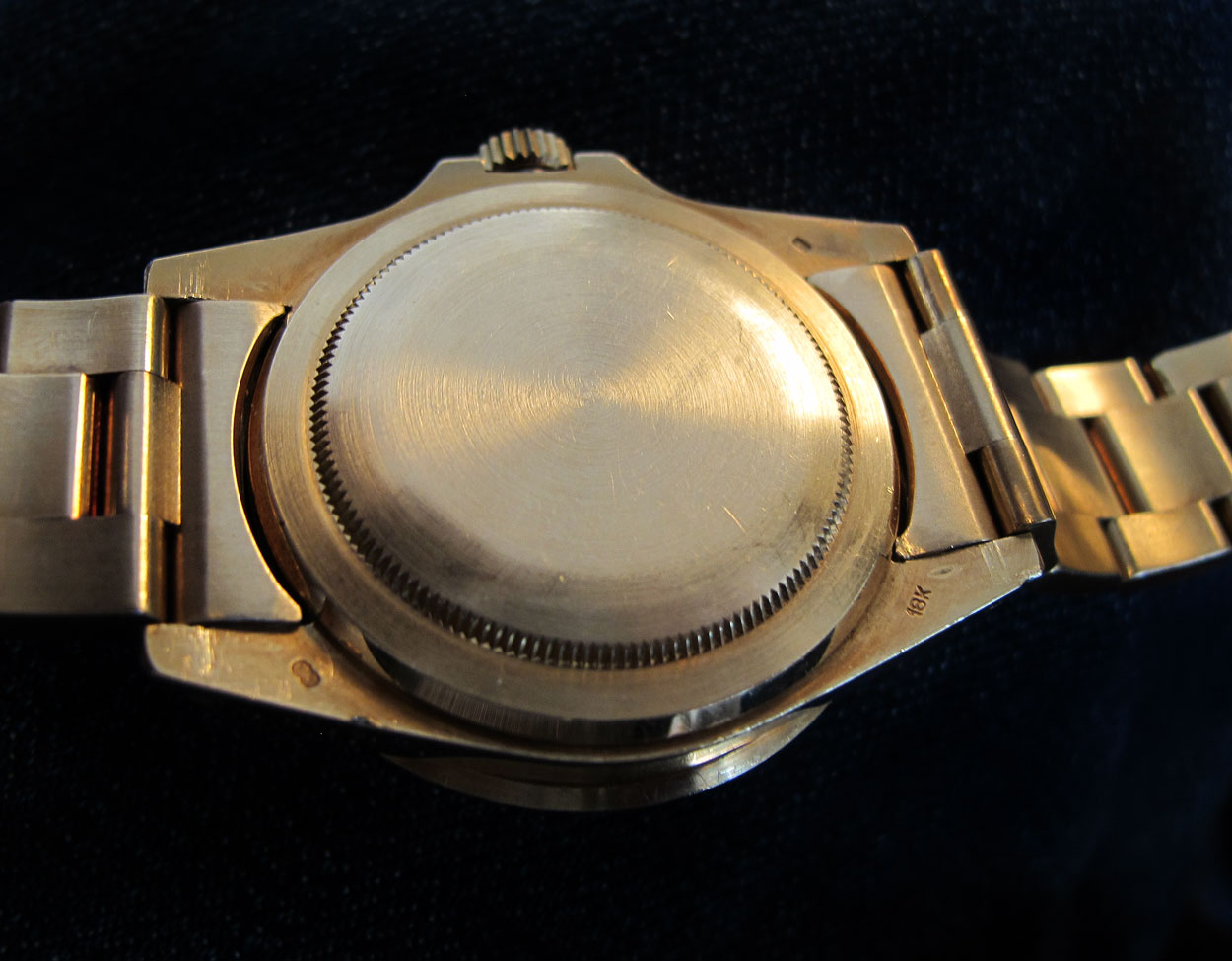 When polished, the back of the lugs will often have the same round finish as the case. You would expect this finish on the inner circle of the case back as well, but this will be sealed with tape during polishing. Still, you can always feel the difference between the factory satin polish and service polish if you go from the inner circle to the outer polished rim.
Wear indicators case back
Magnify screw thread for frequent opening of case
Original rubber sealing ring present
Original rubber sealing ring or replacement
Tarnish on screw thread
Magnify case back for service codes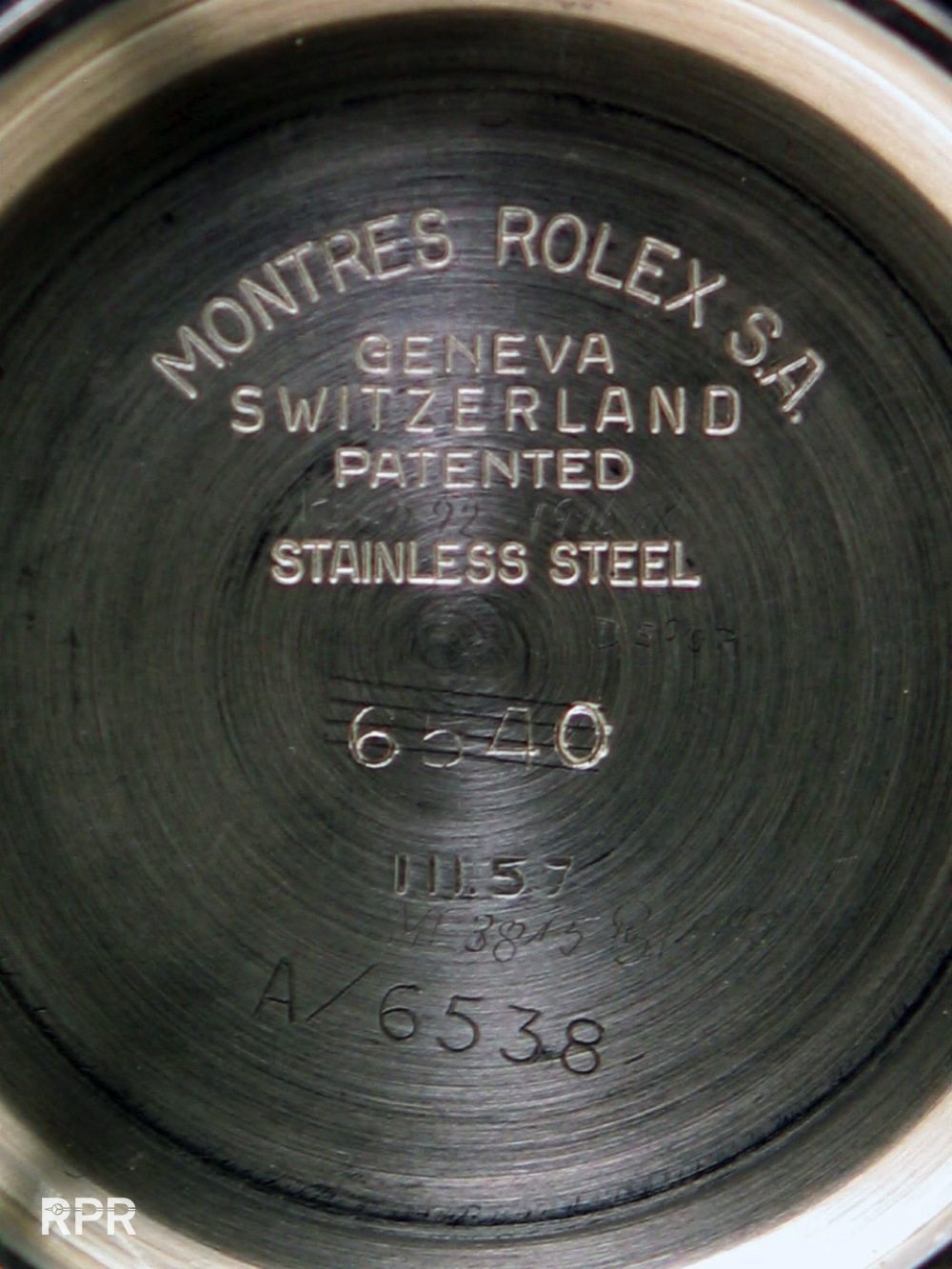 In below ref 6200 Big Crown case back you don't find any little service marks engraved as you see above, instead you see that the automatic rotor left a circled mark in the case back.
Wear indicators glass
Original crystal?
If original, is there any 'icing" visible
Is it a later service crystal with sharp edge
Correct crystal type corresponds with model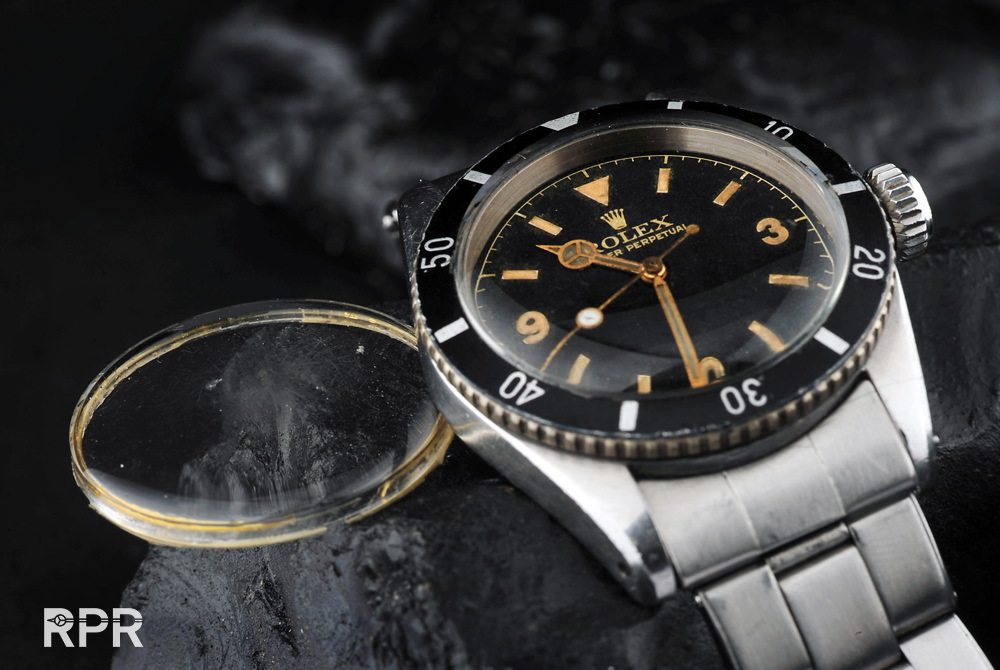 Above original Crystal on the left with lots of radium dust in there, be careful!

See the different shapes of the crystals below. From super domed to domed and service edge…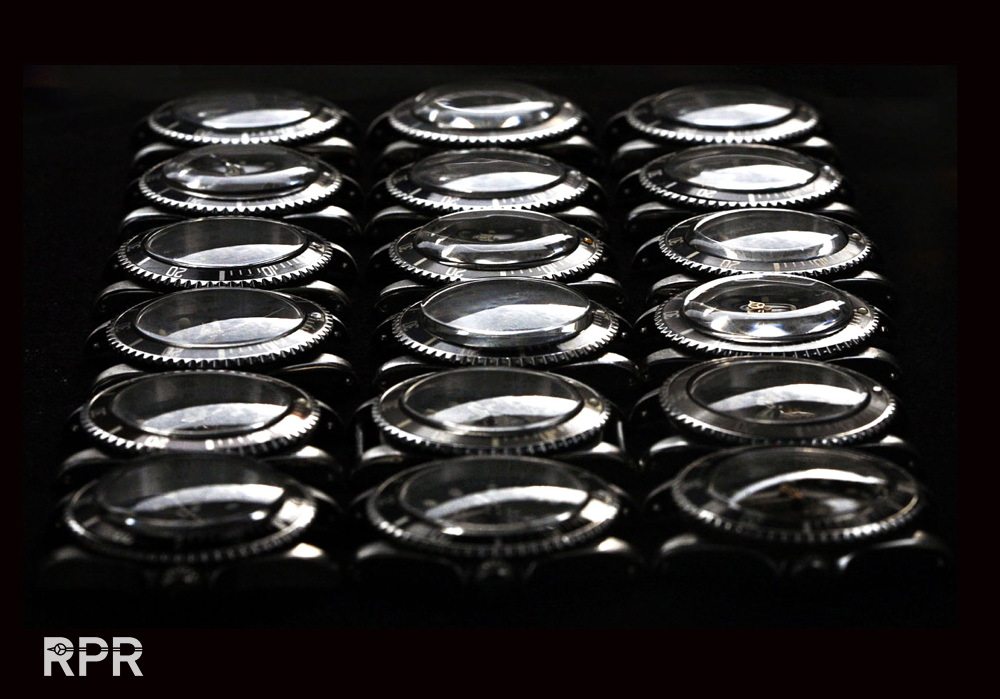 In below A/6538 Military Bg Crown you see the 'icing' in the crystal..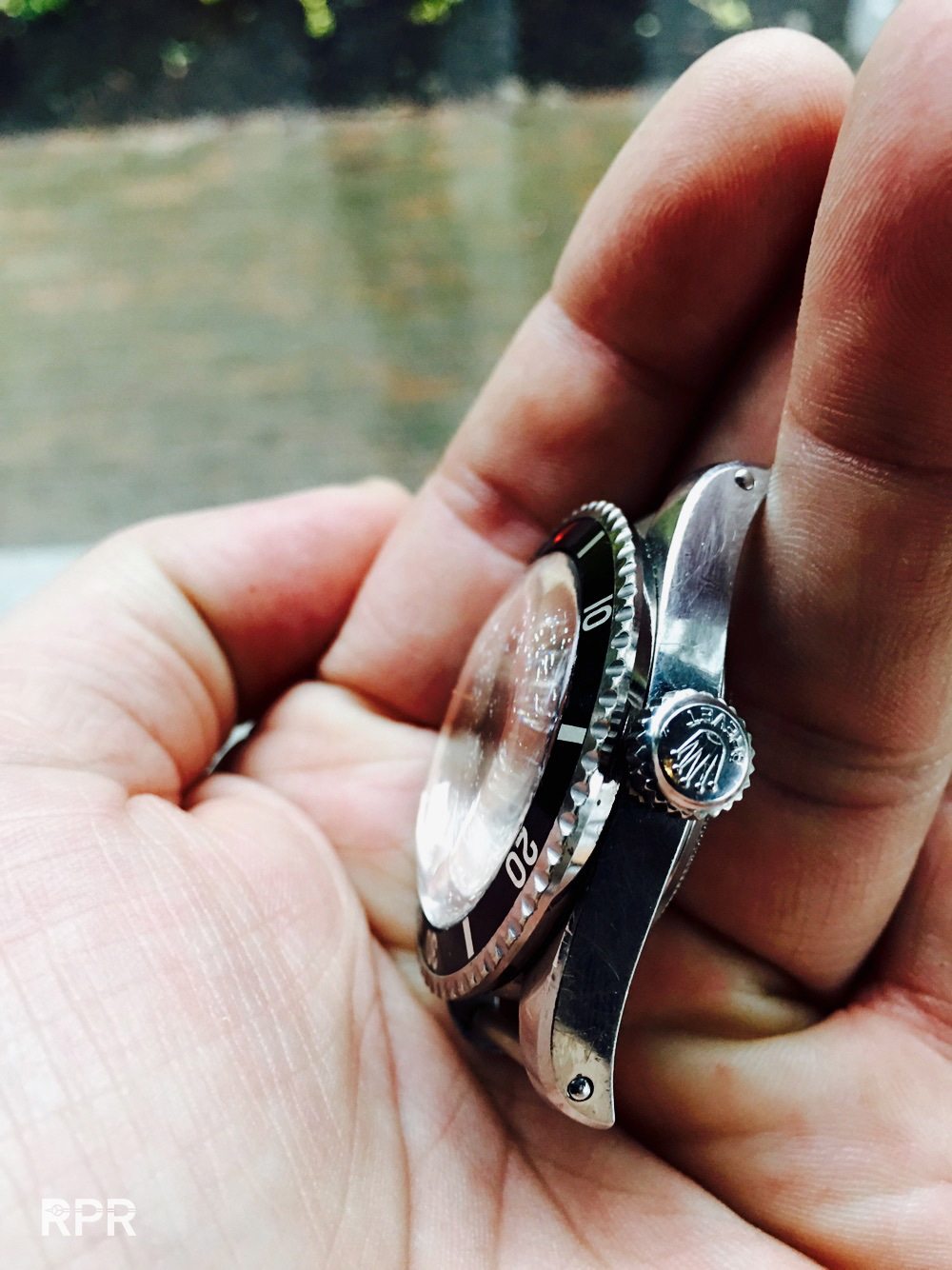 Wear indicators movement
Patina movement corresponds with patina watch
Magnify screw near crown for damage, those are often used to get the movement out of the case
Magnify the screws that hold the movement in it's place, in below example at the edge in the middle of the lugs.
Magnify small screws for tarnish and if they have been used. Often a used one will show you burr on the screw.
Examine the screw thread. Often the rubber seal shows you wear. Also salt water will leave marks clearly visible.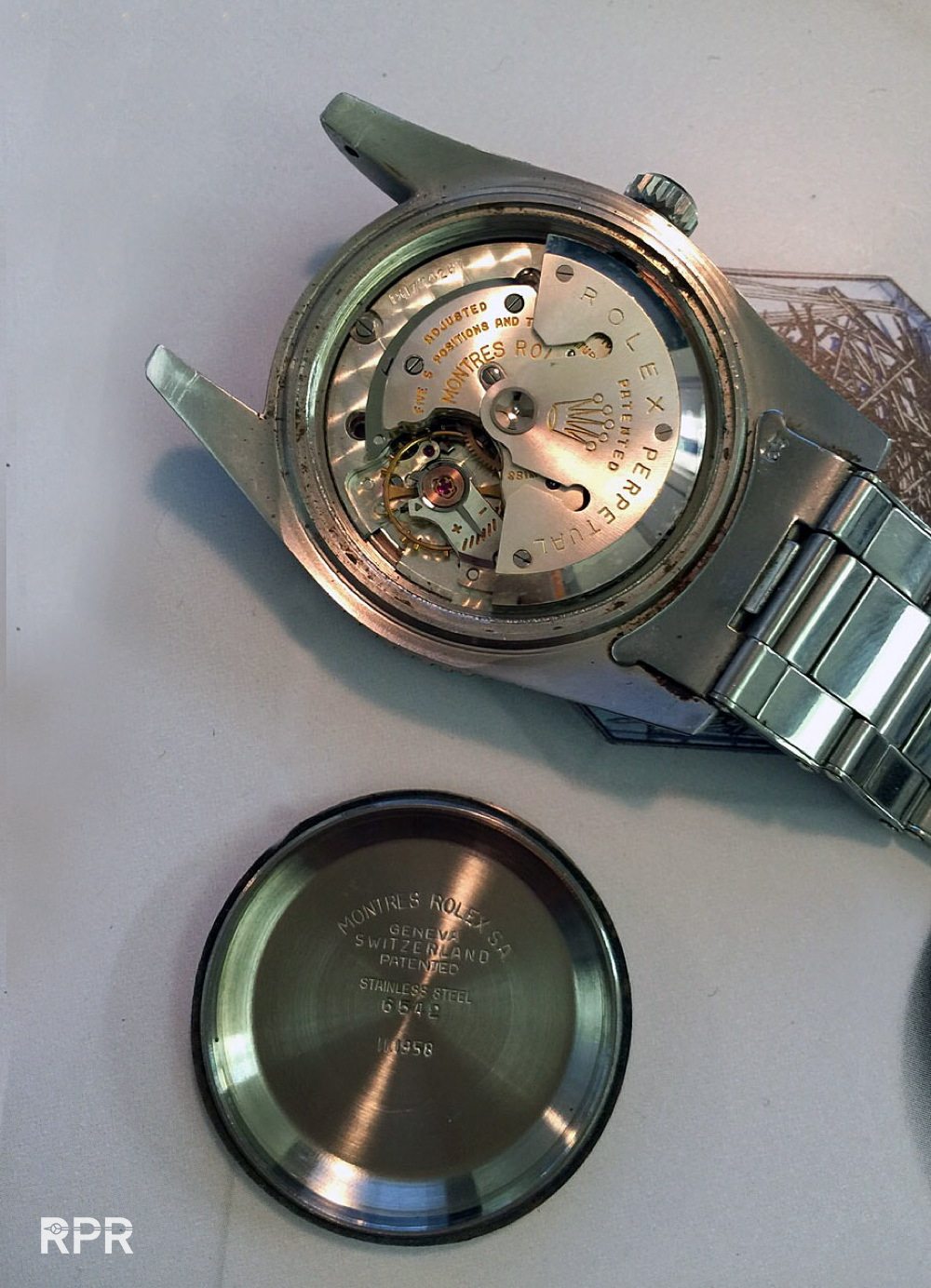 Above the unused Ref 6542 case back inside and movement, which still looks like new. Below a patinated and used movement..
Serial Number
Serial Number present
Magnify Serial Number for clear engraving
Worn out Serial Number corresponds with worn out case
Serial Number matching with model
Serial Number matching with production date inside case back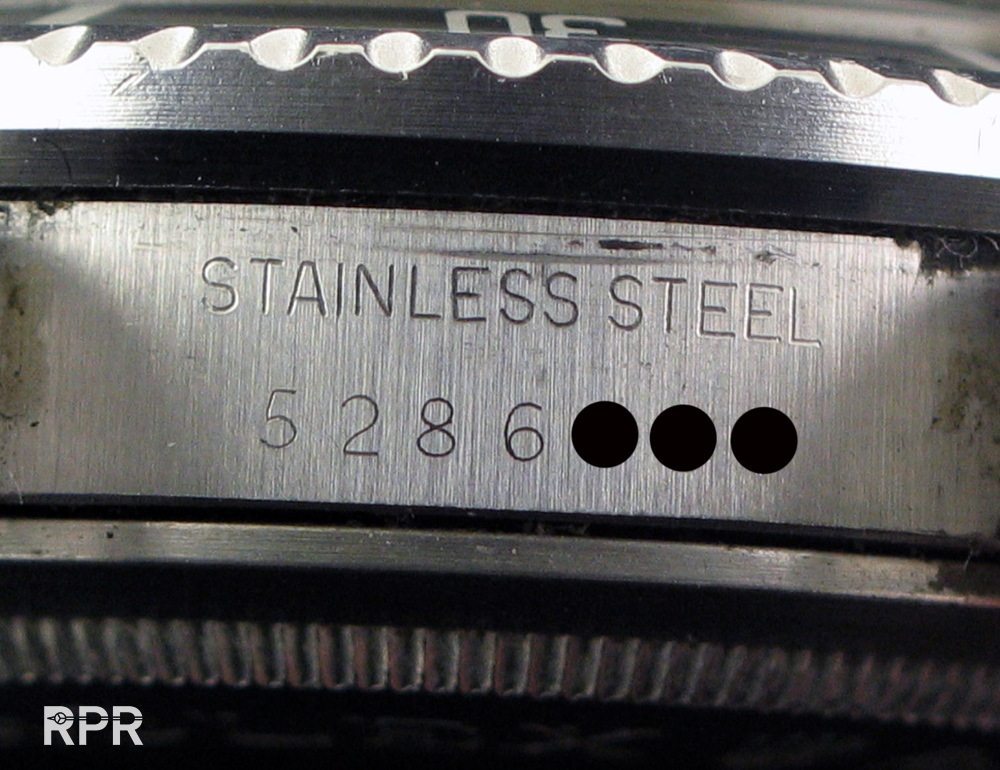 Reference Number
Reference Number present
Magnify Reference Number for clear engraving
Worn out Reference Number corresponds with worn out case
Reference Number inside case back matching with number in between lugs
Reference Number matching with model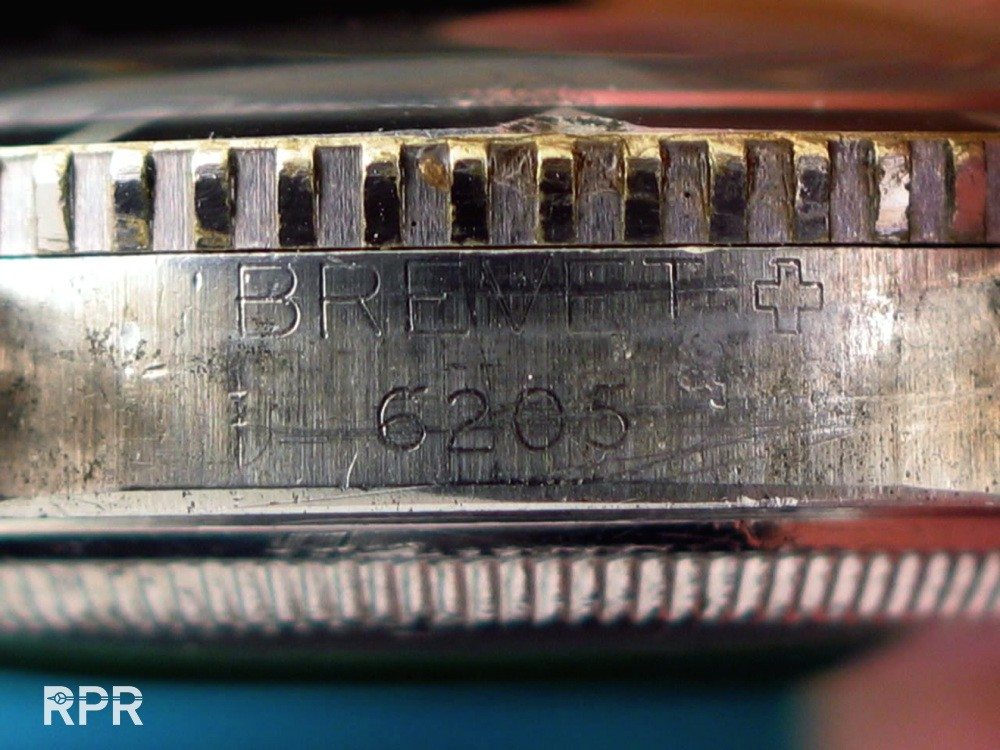 DIAL
Luminous
Type of luminous matching with period of model:

Swiss print with Radium luminous
Swiss + ! with lower Radium luminous
Swiss + _ with Tritium luminous
Magnify for Golden Swiss, white Swiss, double Swiss corresponds with period of model
Swiss – T<25 / T-Swiss-T / T-Swiss-T<25 corresponds with period of model

UV-lamp test luminous glow for several minutes
Overall matching luminous in colour and fluffiness on dial, hands and markers
Colour of luminous matches period of model (<1964 cappuccino vs yellow)
Colour of luminous greenish indication for water damage
Stains on dial due to damage Radium luminous
Luminous paint completely inside surrounds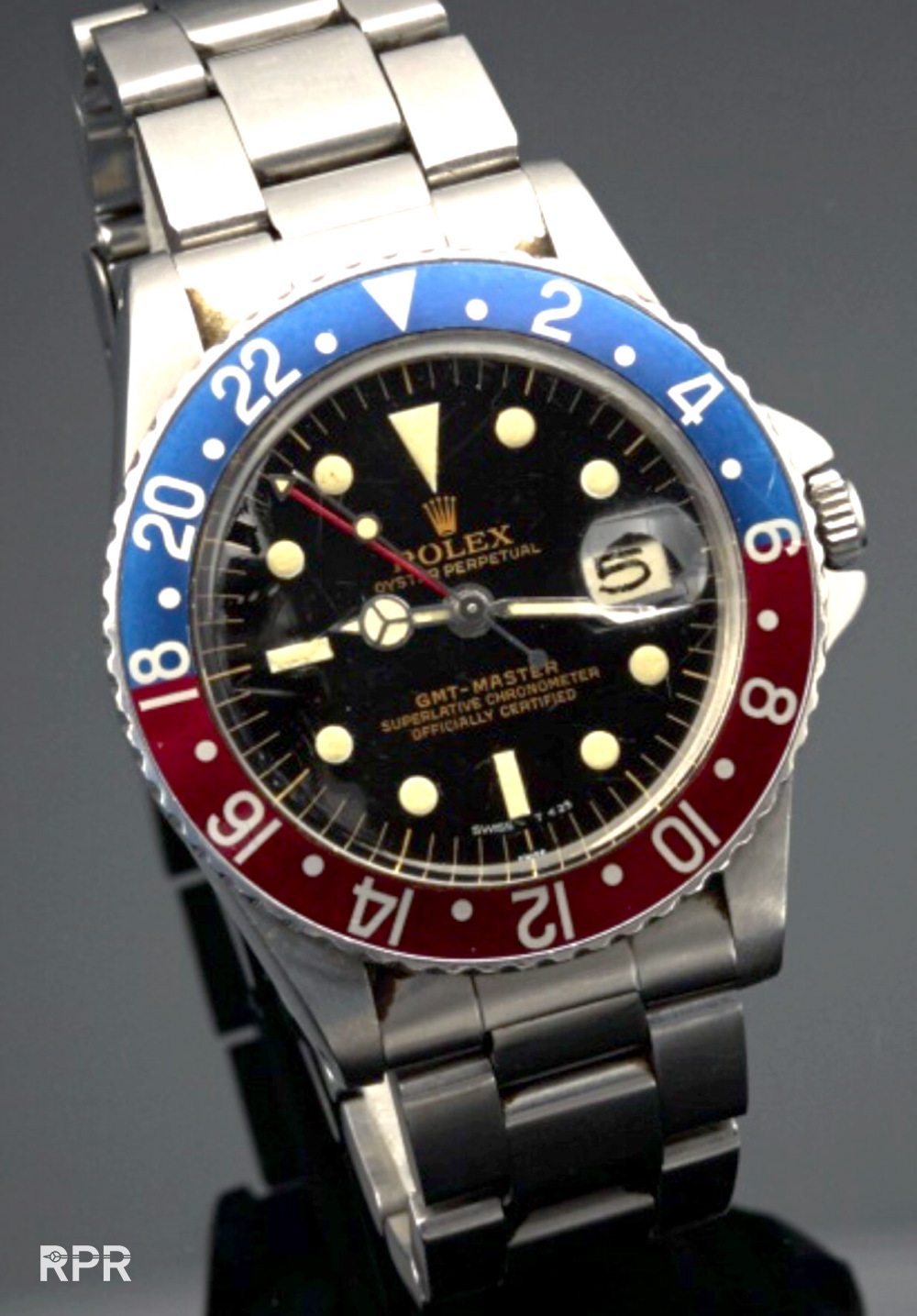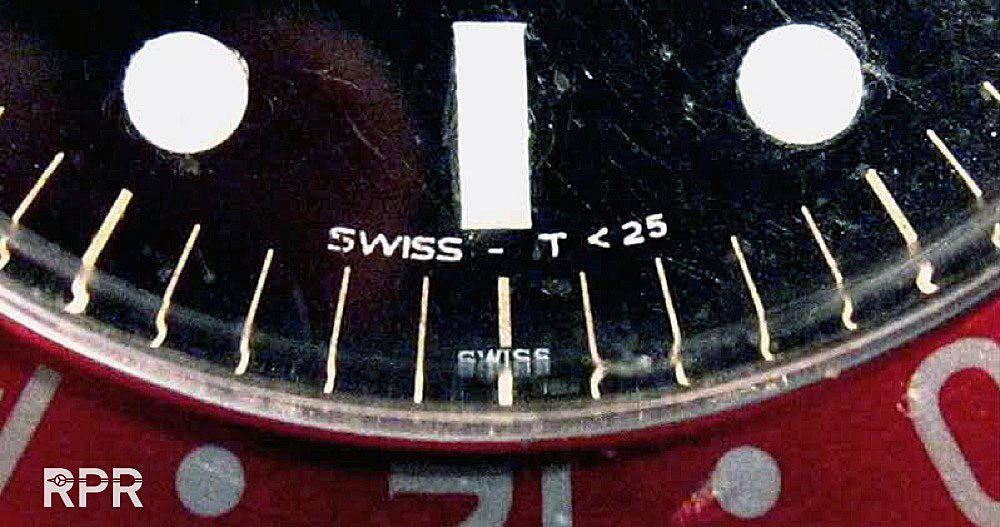 Above clearly visible are the 2 generation luminous stamps, the one below, swiss only and the one above, stating now that the luminous is of new generation, < 0.25MSv. Below interesting close up that shows the swiss has been reprinted over the lume.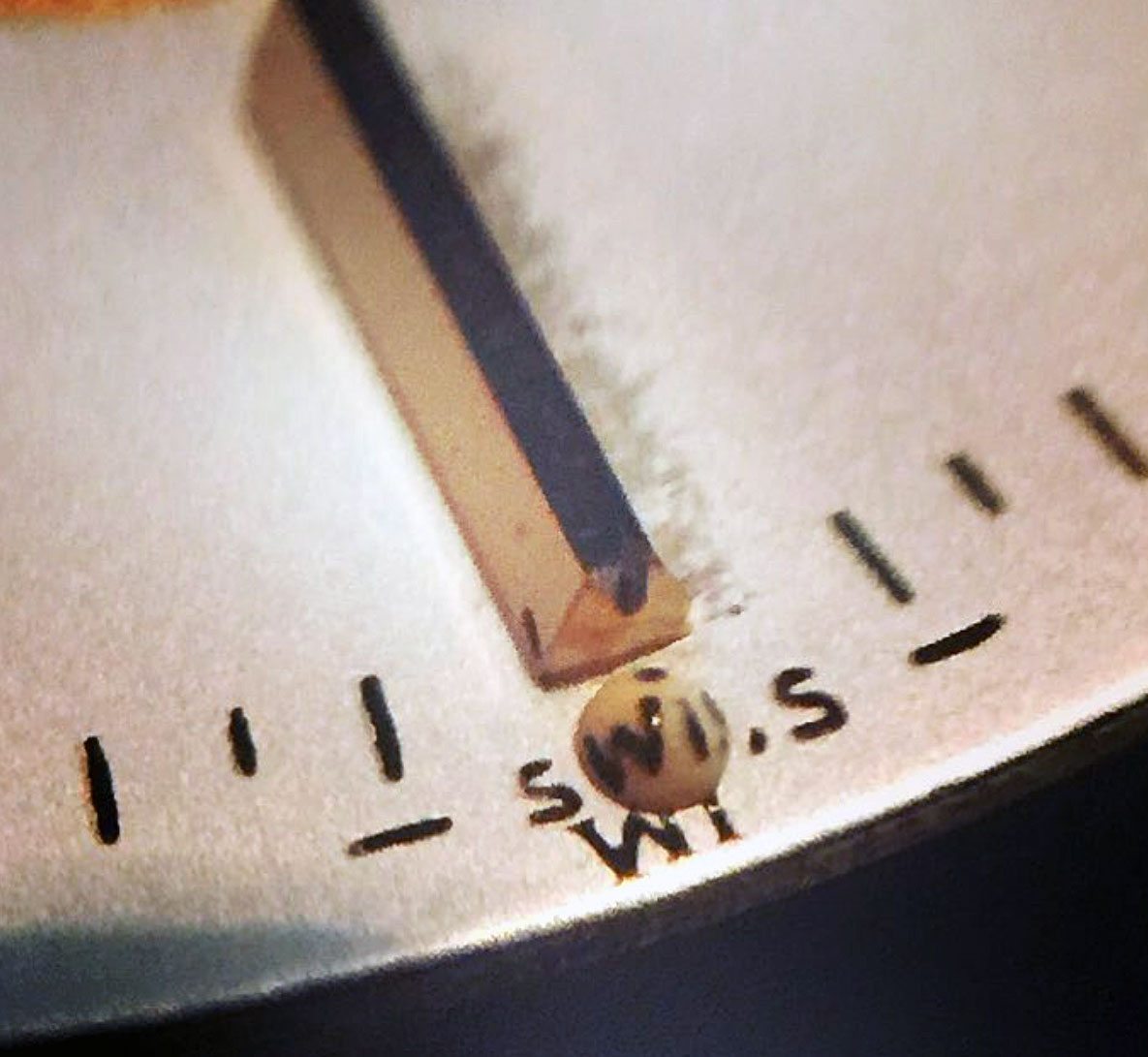 Then a close up of the compound of the luminous. It always make me feel like a cappuccino..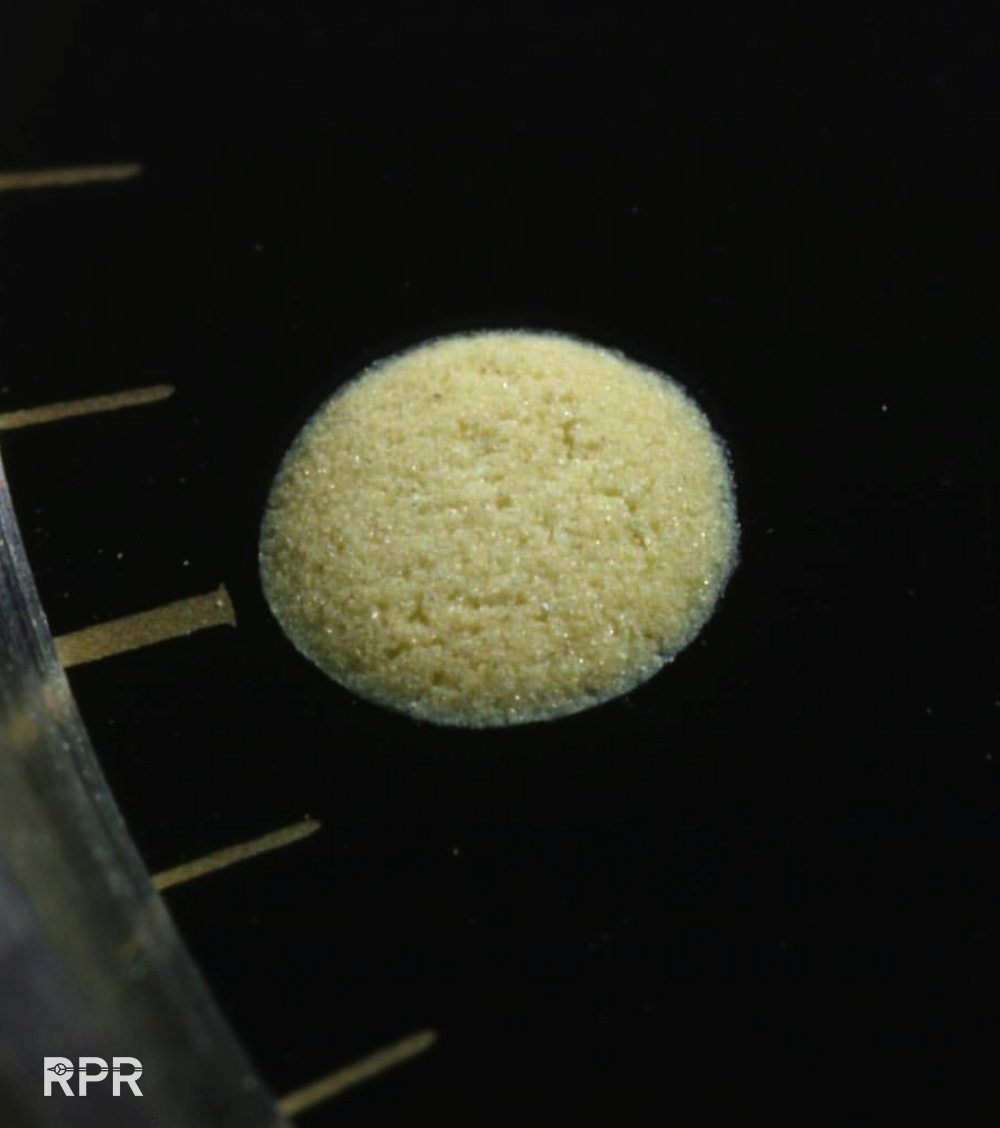 Composition
Cracked dial when tilted in light
Magnify gilt lettering for correct application
Glossy dial corresponds with period of model
Matte dial corresponds with period of model
Tropical dial corresponds with period of model
Tropical dial with intact luminous
Rolex print under/over lacquer layer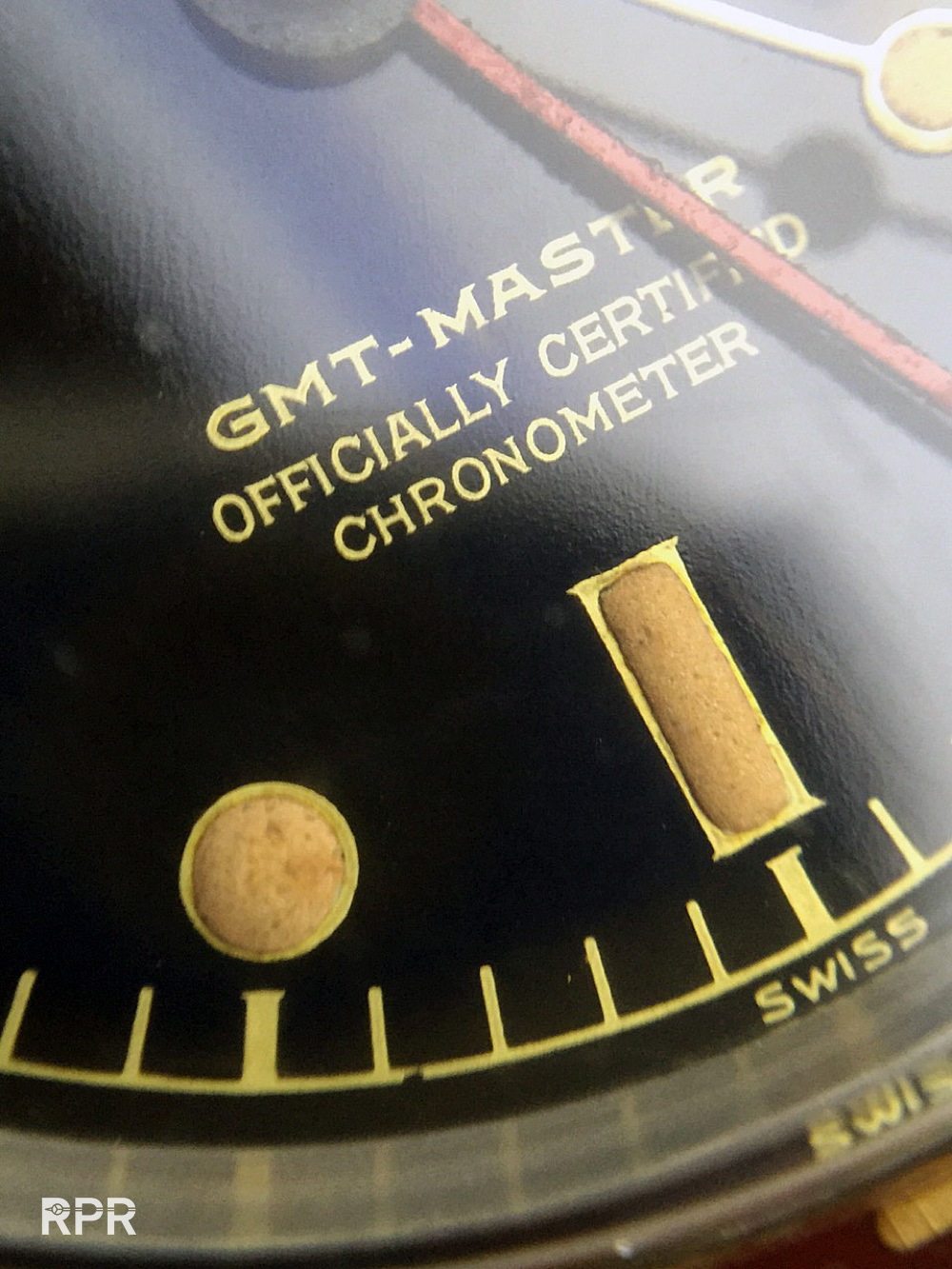 Above flawless glossy gilt radium dial and below a sunburned cracked spider dial…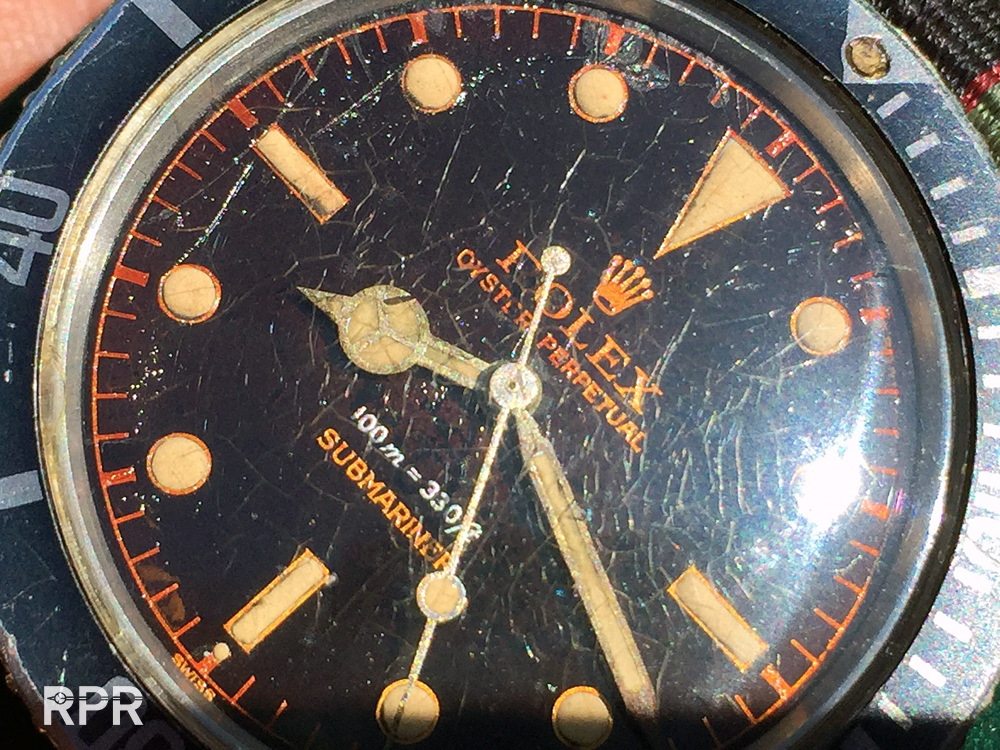 BEZEL
Ribbed edge of fluted bezel matches period of model
Is the inlay original and matching the all over patina.
Faded inlay matches dial and luminous, often inlays get changed.