Today I like to introduce to you the "Prototype Single Red Sea Dweller Non Valve" from aquanaut Ian Koblick. This super important ref 1665 was given by Rolex T Walker Loyd to Ian Koblick for the "Tektite I" project. In 1967, at the beginning of the Sea Dweller evolution, Rolex already thought they made a super waterproof watch with the non valve version signed on the dial with a depth rate of 500m = 1650 FT. As usual Rolex wanted their new watches being tested in extreme conditions outside their lab. Real explorers would wear this tool watch before it became officially available on the market….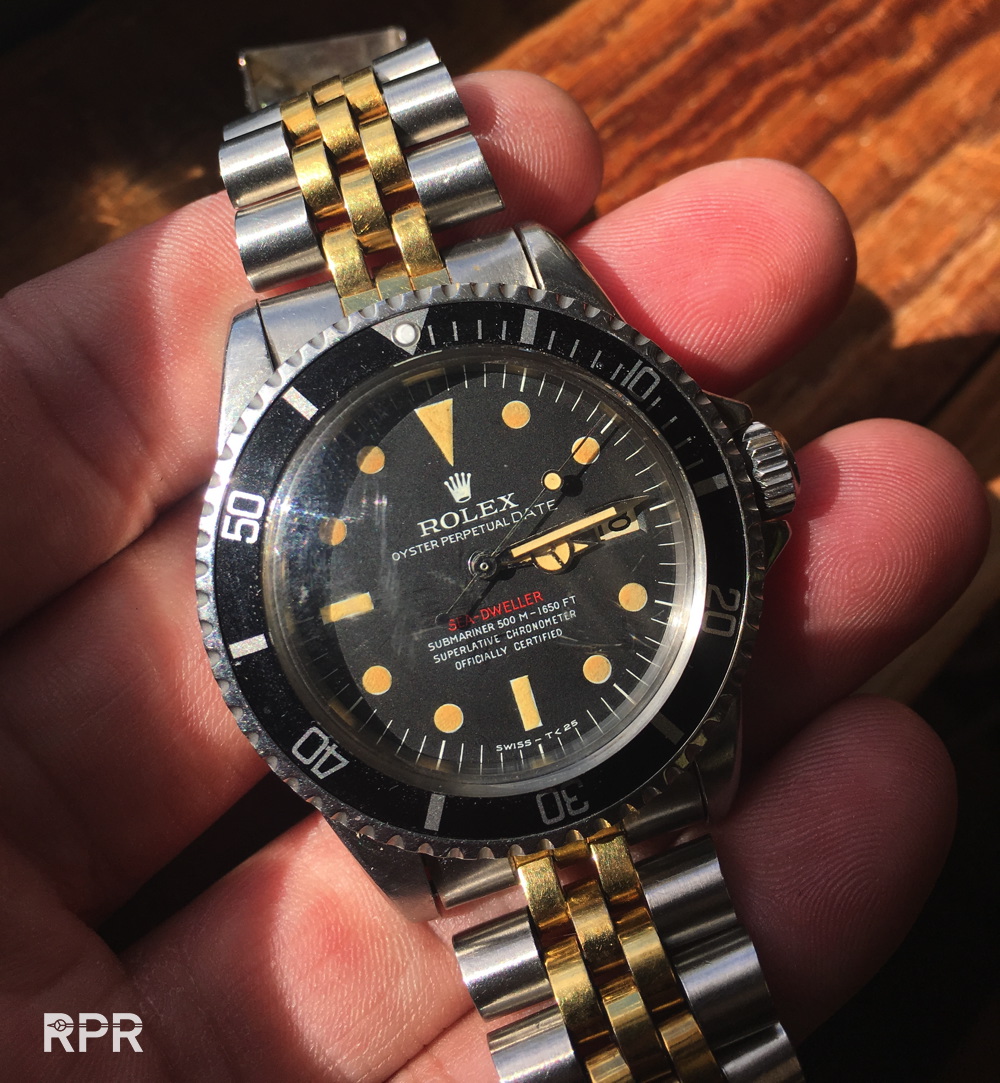 Here it is, in yet stunning condition with heavy patina on the tritium luminous of the dial that tells us hard core vintage Rolex collectors that it had to be stored for at least 25-30 years in a dark spot. When I told Ian this he was all surprised how I knew. As the original steel bracelet was broken (he gave me the spare parts) they fitted a two tone jubilee bracelet on it and although we collectors would never except such a marriage, it matched perfect with the cream colored luminous. Ian was so  proud about having this special prototype Rolex you could not buy but had to be given for research purpose only, he declined an offer of Rolex themselves changing his watch against 2 x new Rolex watches, a gold one and a steel one. Happily for both of us he was so clever to ignore their proposal 😉
&
A must see is above Tektite Documentary Trailer & Tektite Habitat U.S. Navy Saturation Diving Film for general understanding the projects and Ian Koblick in specific. Mr Koblick told me that Mr. T Walker Loyd from Rolex gave him the watches for the Textite project. In total 7 watches were given and of these 7 there were 5 x Sea Dweller and 2 x Submariner. When Mr Koblick asked Mr Walker Loyd how many Sea Dweller have been made, he answered in total 10 examples were 'hand made' in Geneva.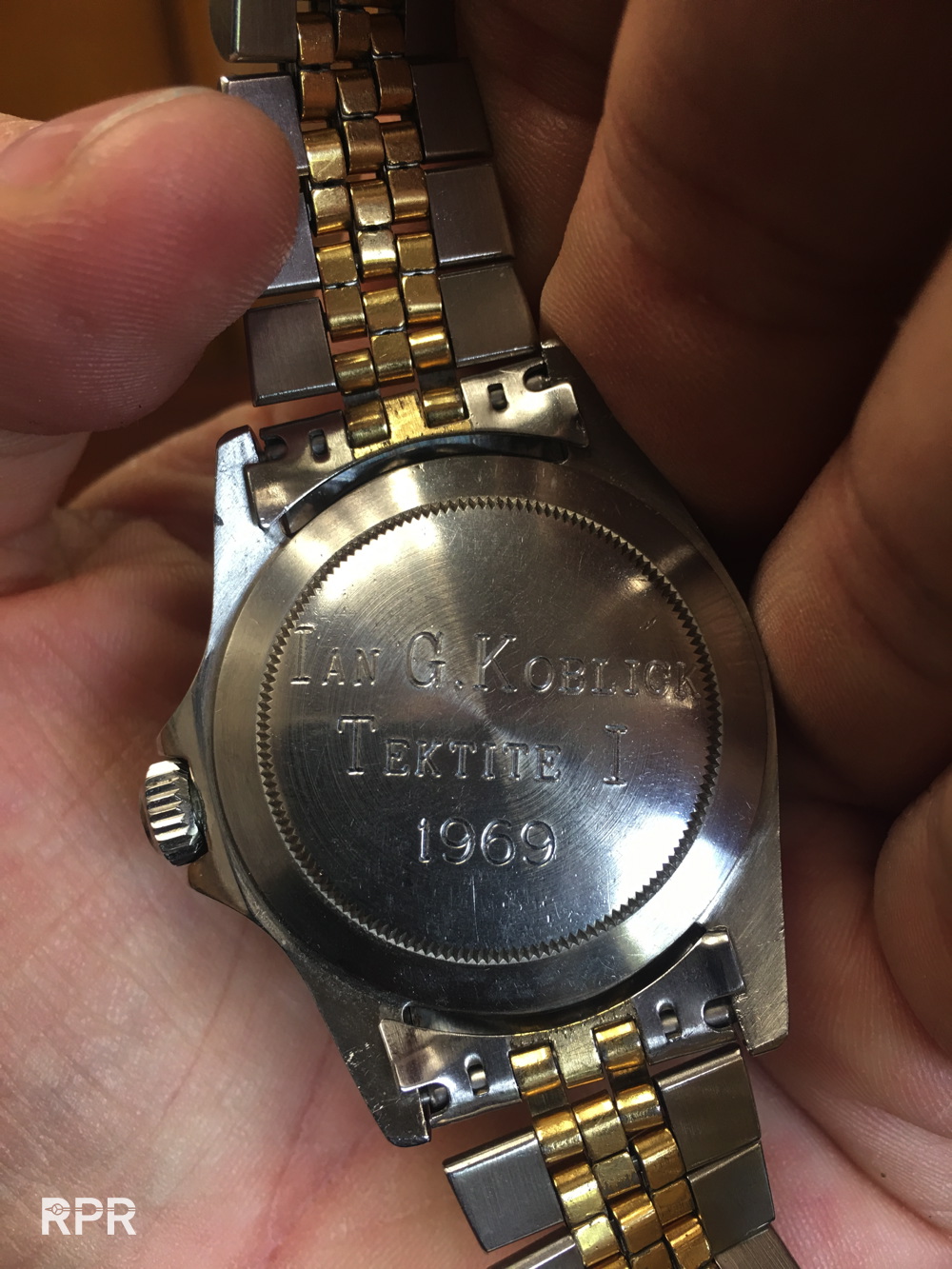 The marvelous case back, unpolished as you can clearly see the rings on the surface. Ian G. Koblick Tektite I 1969
From the beginning Ian offered me his special Rolex we got a special relationship together, this not only because I was interested to have his watch but also to tell the marvelous story about it. Today I can share another interesting story of the great history of Rolex together with you….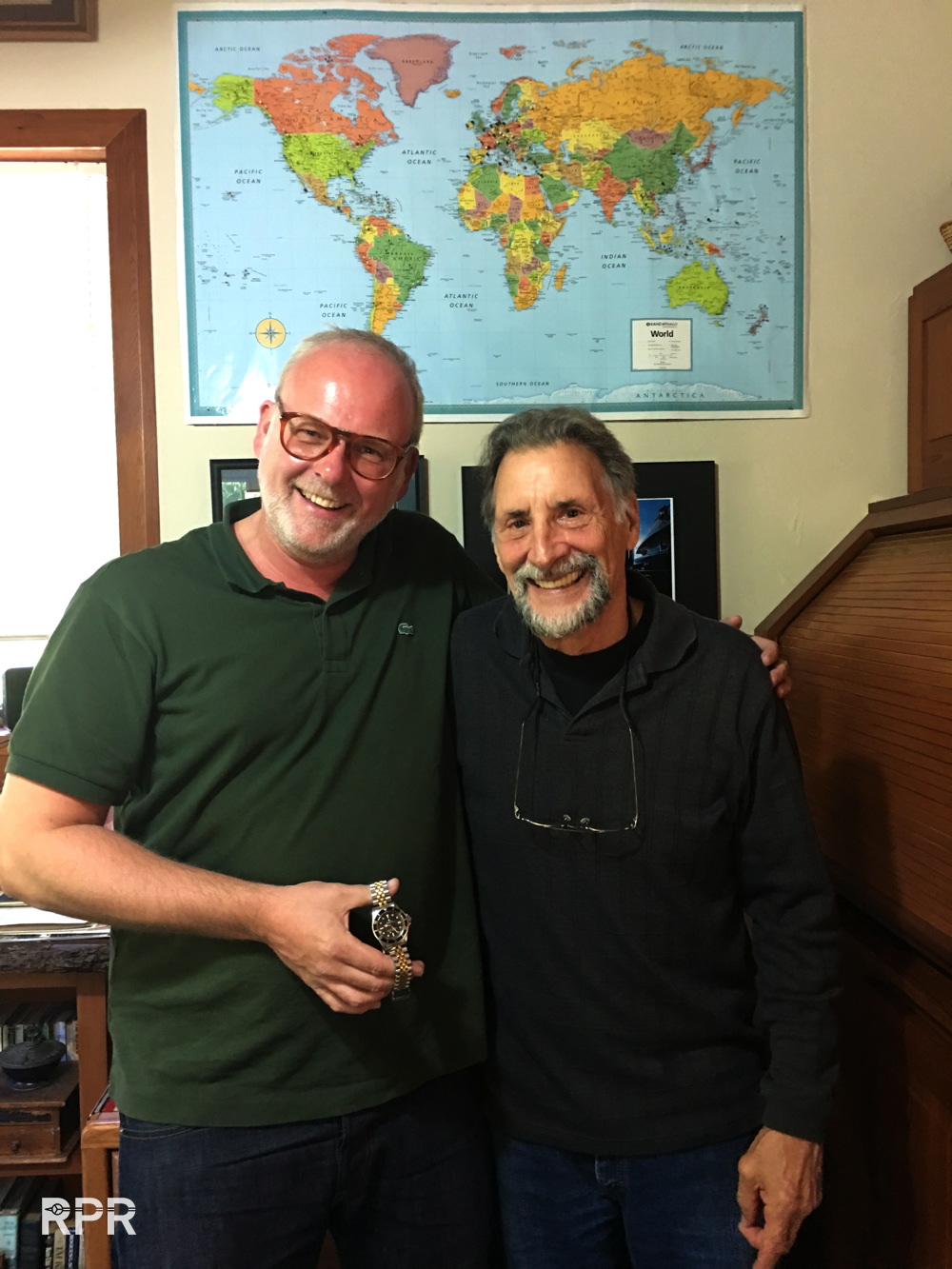 Ian Koblick and me while holding the special Rolex Single Red Sea Dweller ref 1665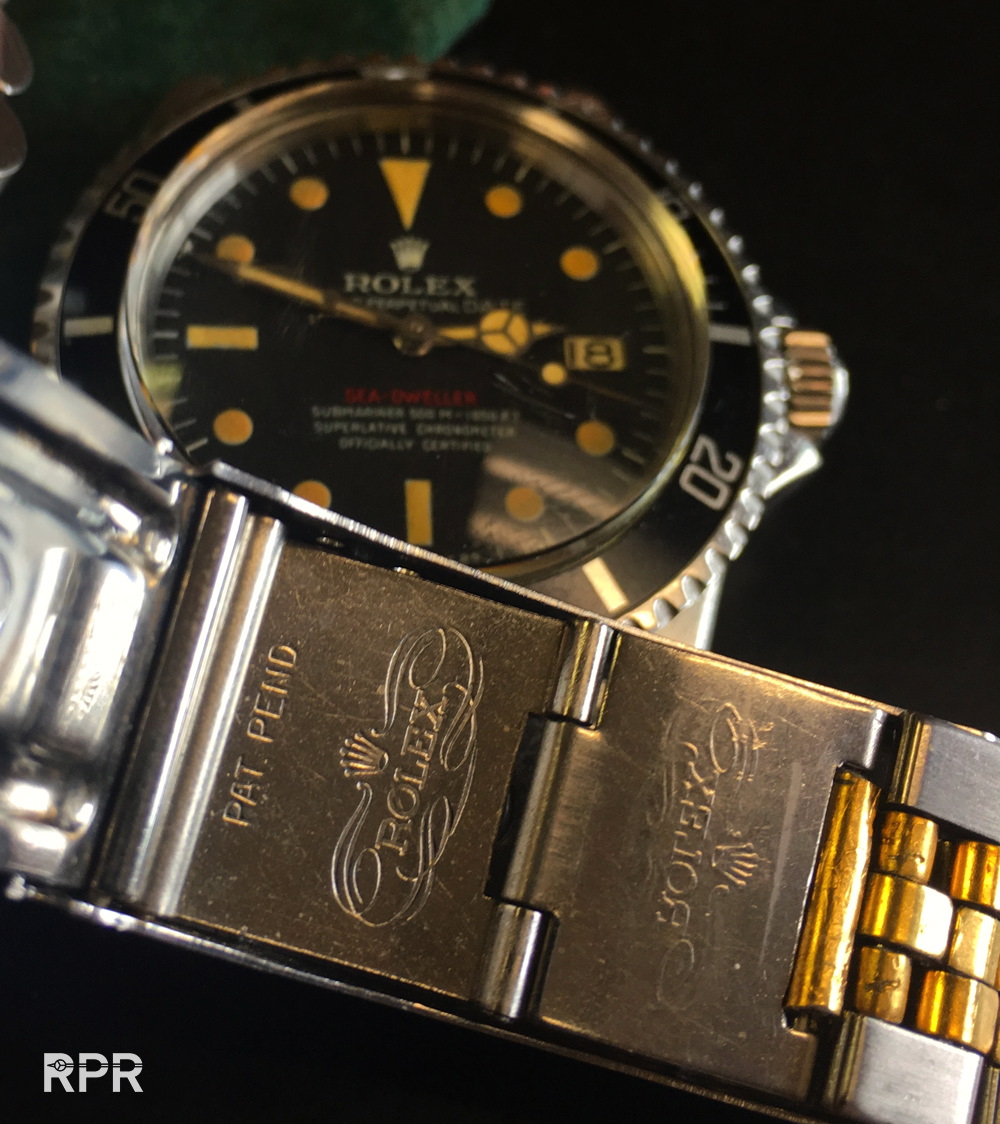 Up close the patent pending clasp that was attached to the two tone bracelet…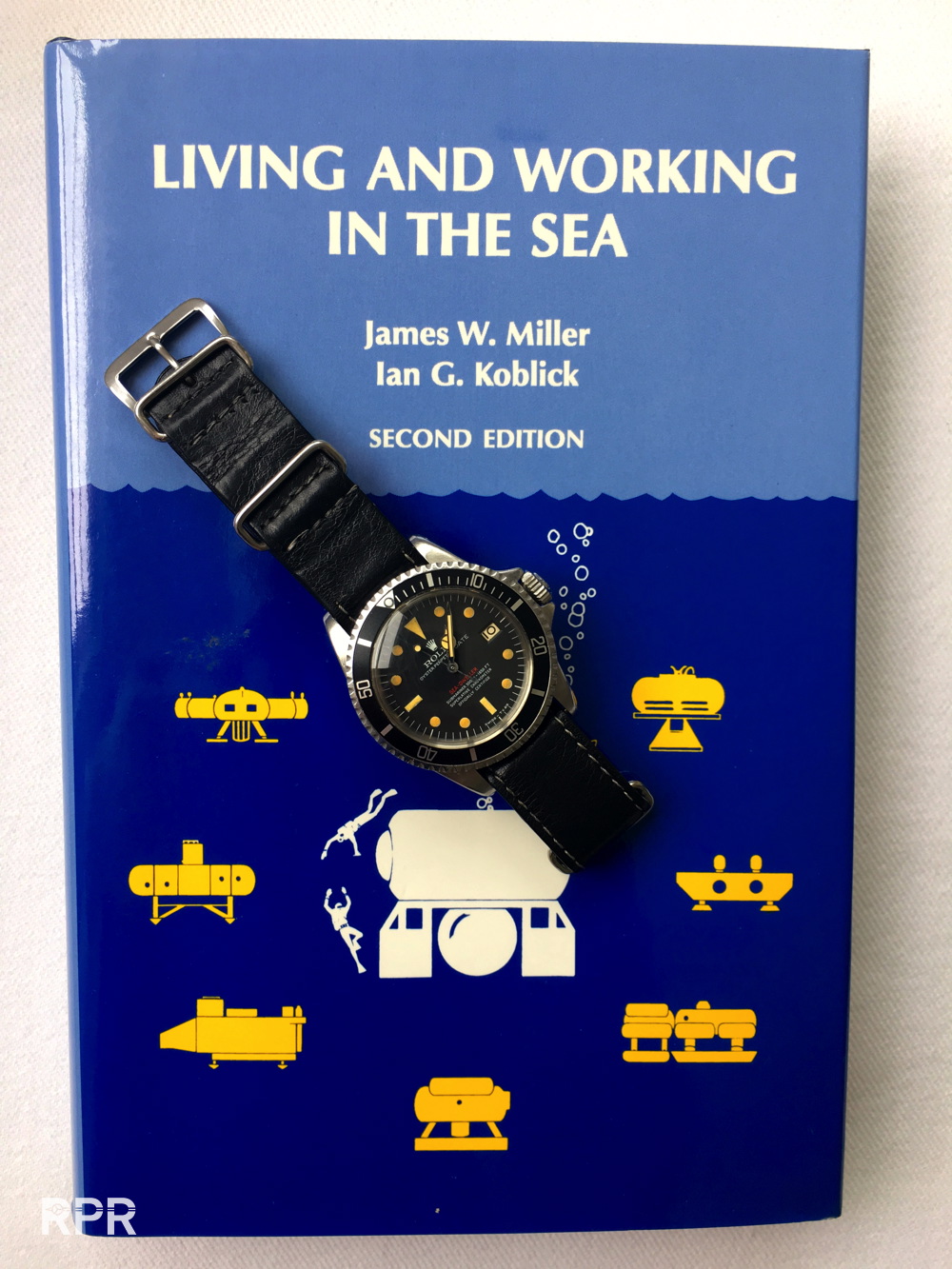 The co-author of "Living and Working in the Sea" Koblick spent more than 40 years in the Caribbean researching and helping establish manned undersea projects — living at the bottom of the sea.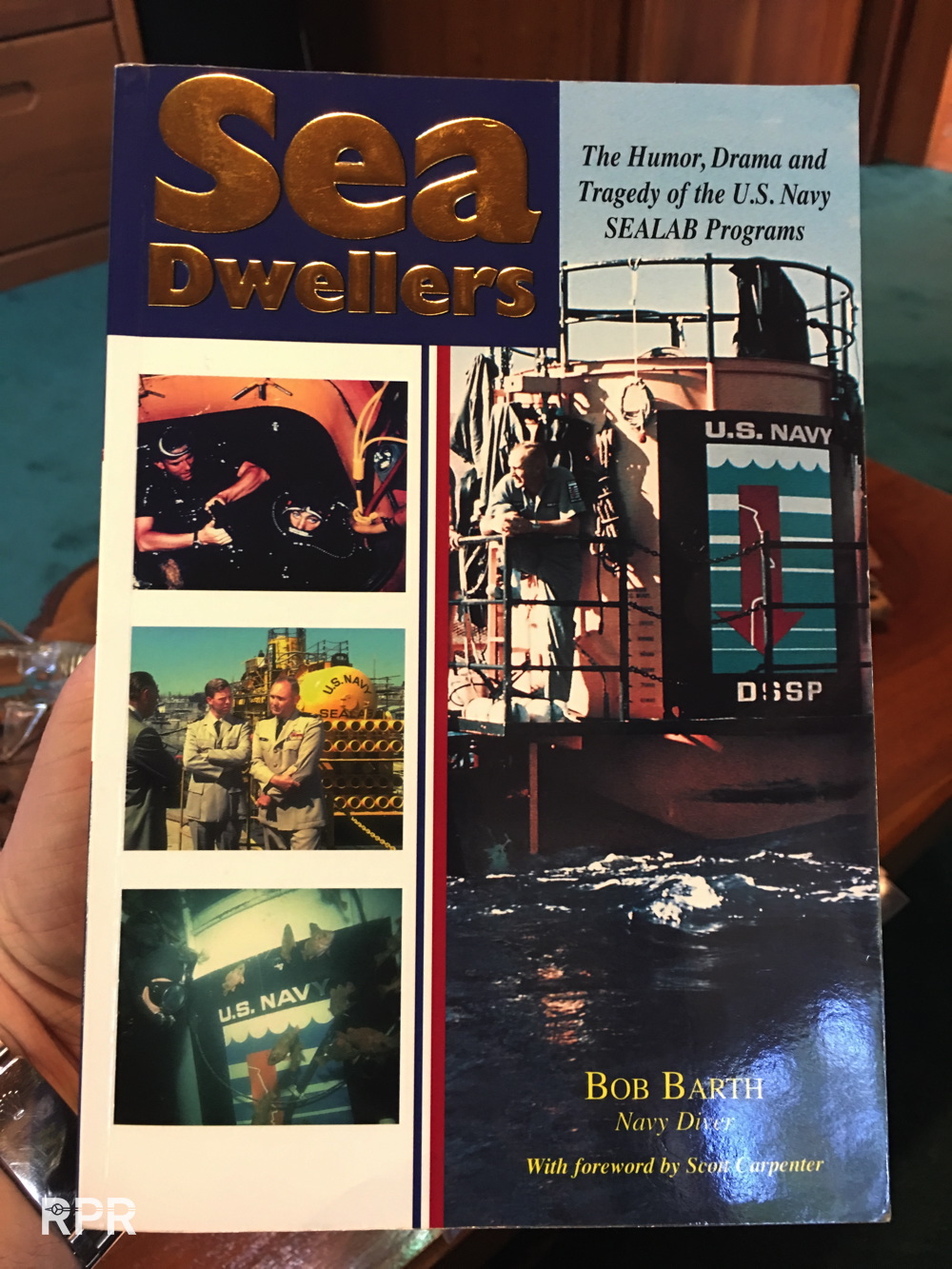 During our talk he called legend "Bob Barth" (read the Hodinkee article about him and his Rolex) to ask him about the evolution of the helium valve and I could hear Bob explaining that back in the days they found out that the crystal of some of their Rolex watches exploded during decompression and that made him suggest to Rolex they should add a helium valve to the watch so it could withstand the new deeper depths Rolex was exploring with their new Sea Dweller. Above note that Bob Barth book was called "Sea Dwellers"…
Below, after I hand polished the crystal…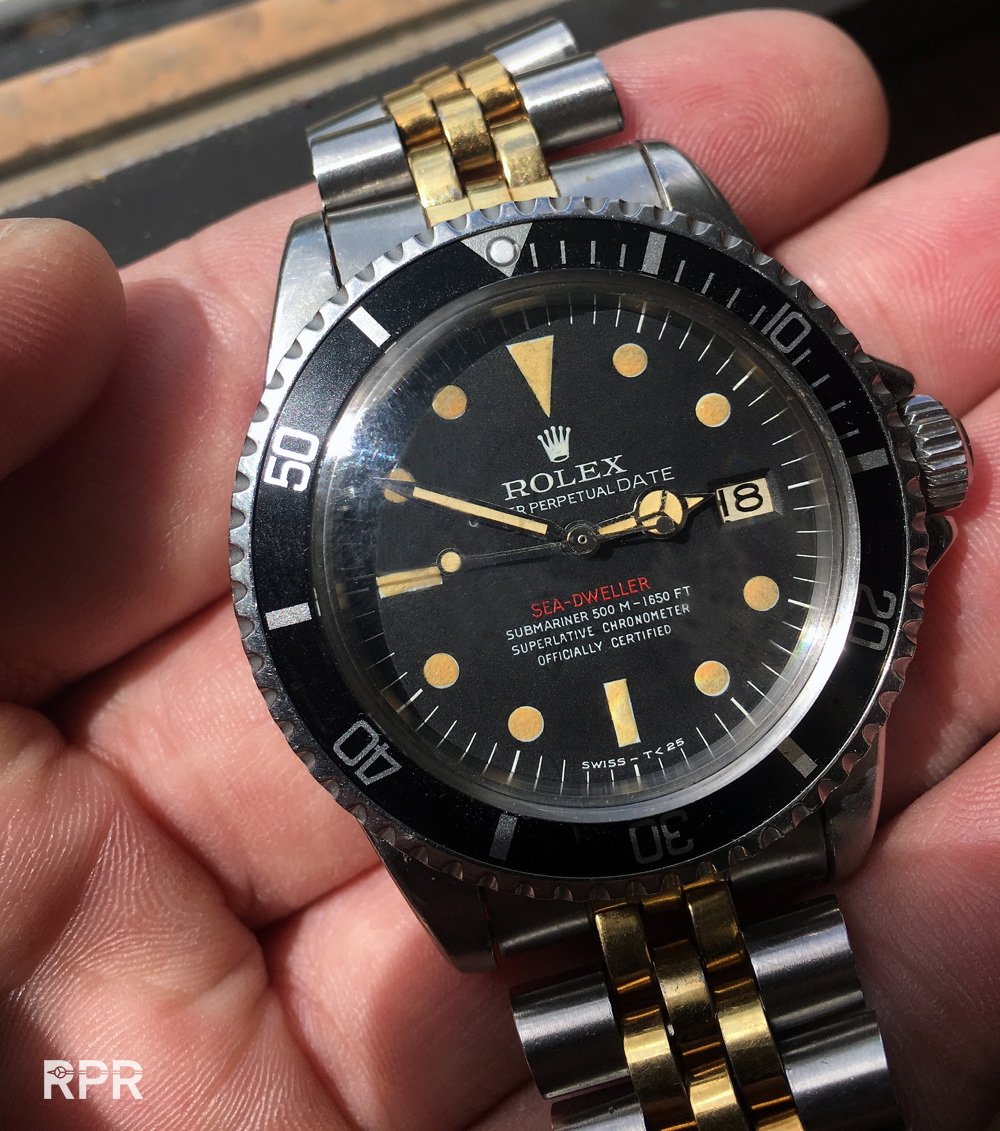 On the trip back from the Key largo back to Miami Beach while I put it on a leather nato strap..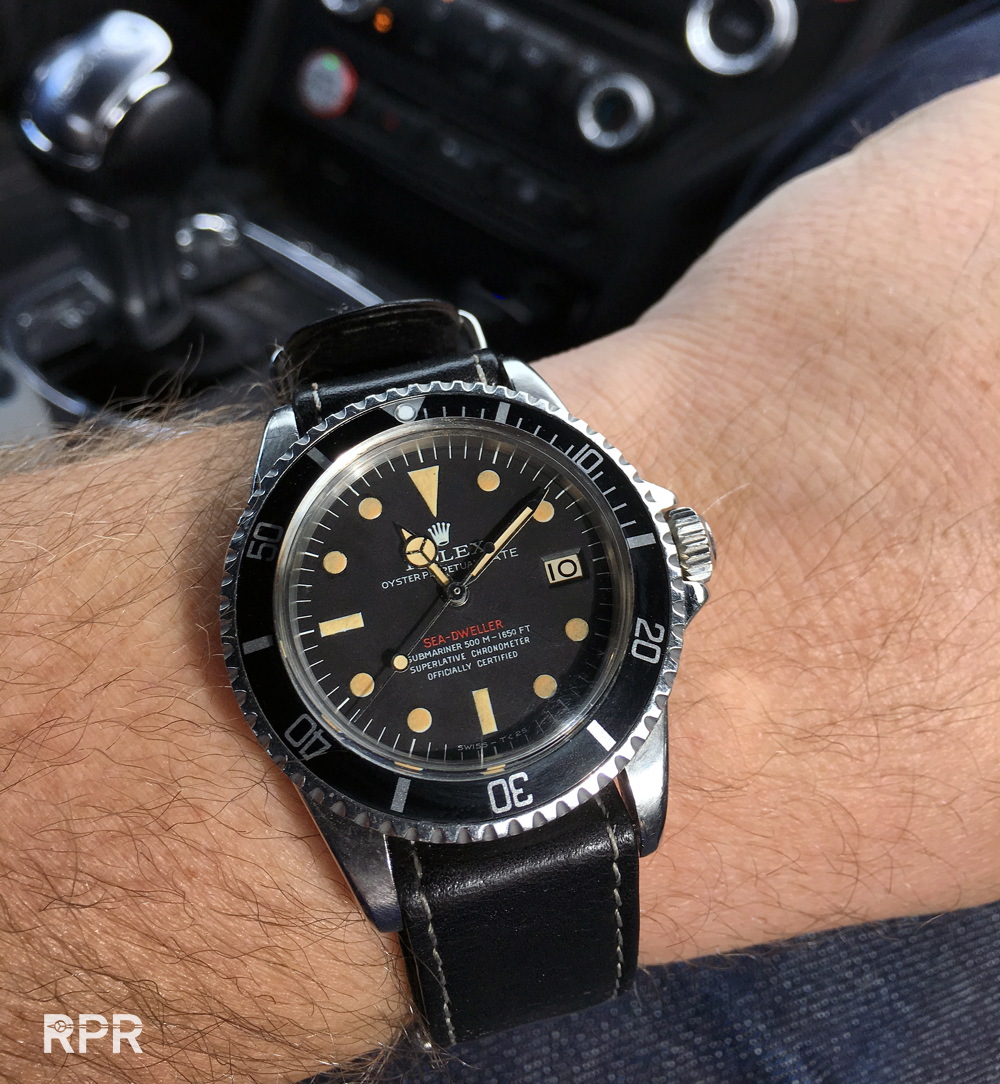 The Tektite habitat was an underwater laboratory which was the home to divers during Tektite I and II programs. The Tektite program was the first scientists-in-the-sea program sponsored nationally. The habitat capsule was placed in Great Lameshur Bay, Saint John, U.S. Virgin Islands in 1969 and again in 1970. At the Tektite II project Ian Koblick was the leader and arranged everything from financing to finding the aquanauts to the actually program of 58 days of marine scientific studies they where undergoing.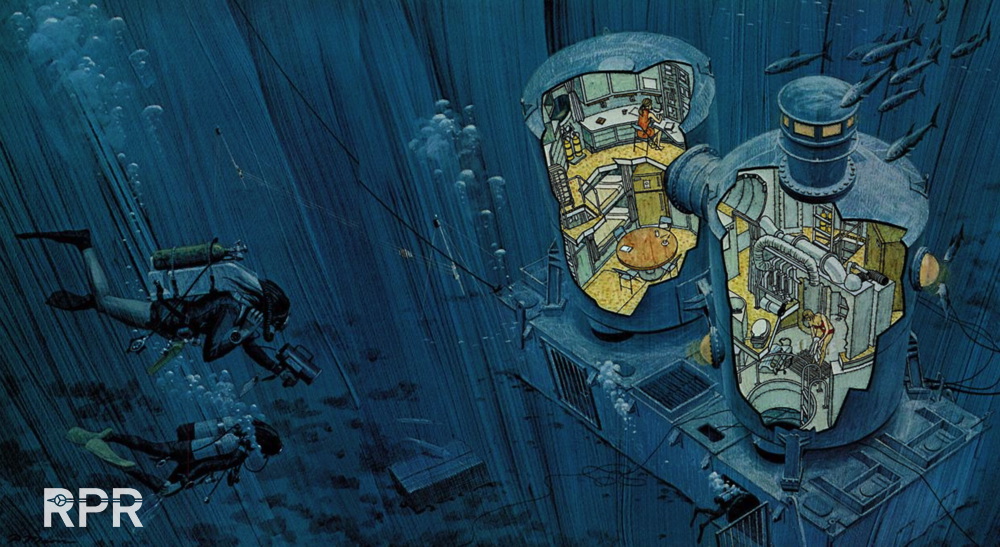 Above an illustration of the actual habitat, Tektite I and below the brochure of the Tektite I expedition…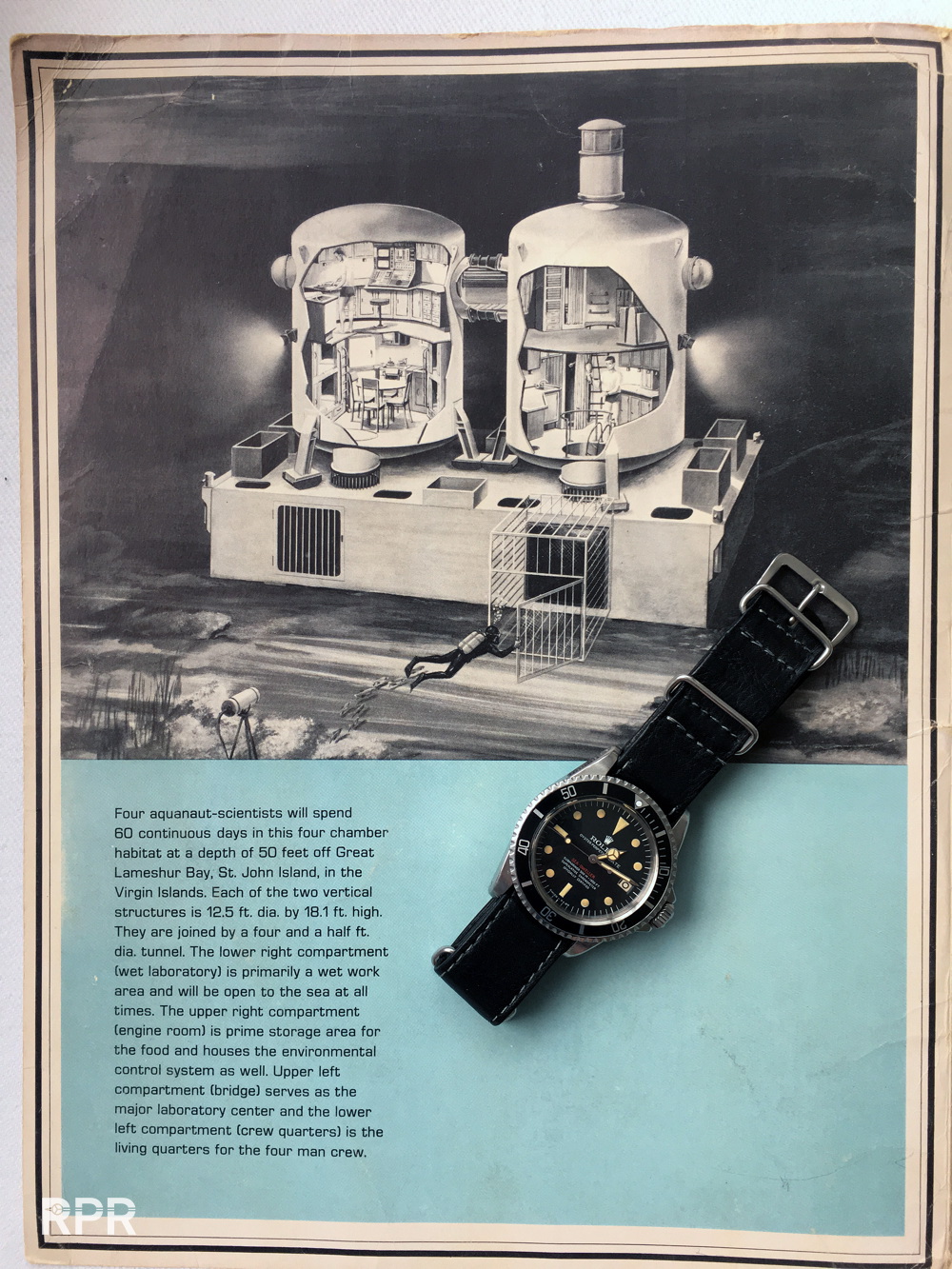 Ian Koblick's prototype Sea Dweller with some of the Tektite I & II artifacts…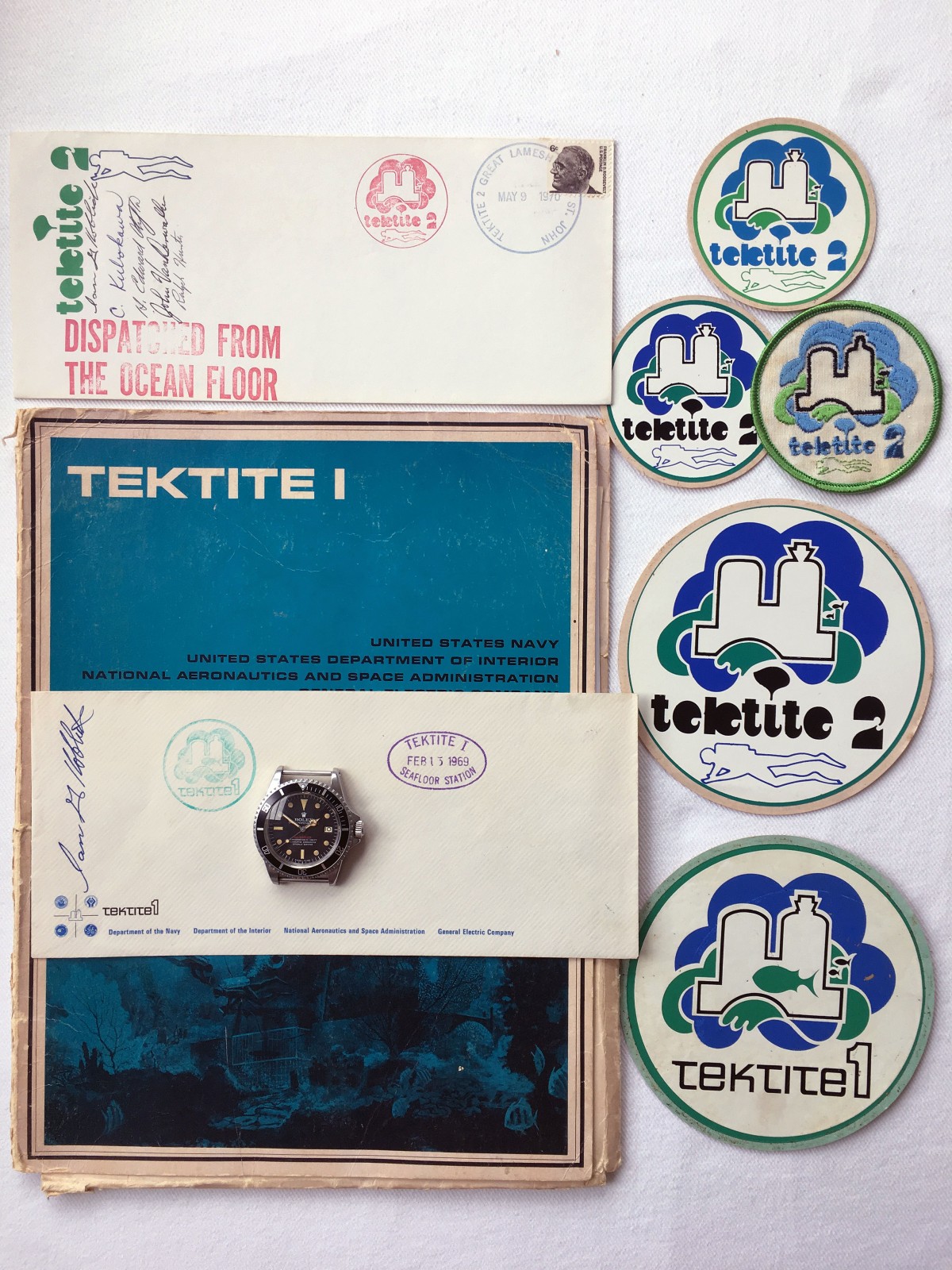 Up close the untouched case back of Ian's prototype Rolex…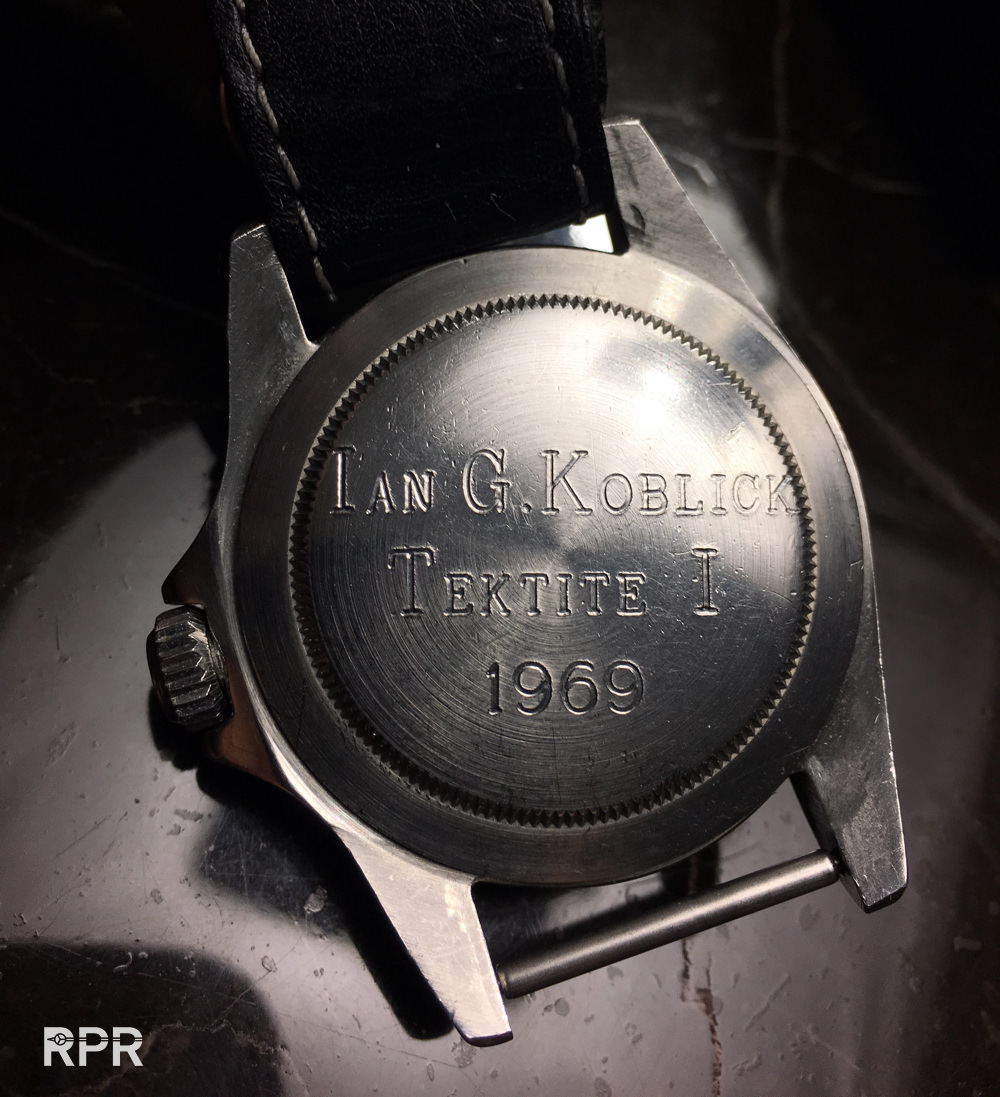 Inside the sphere…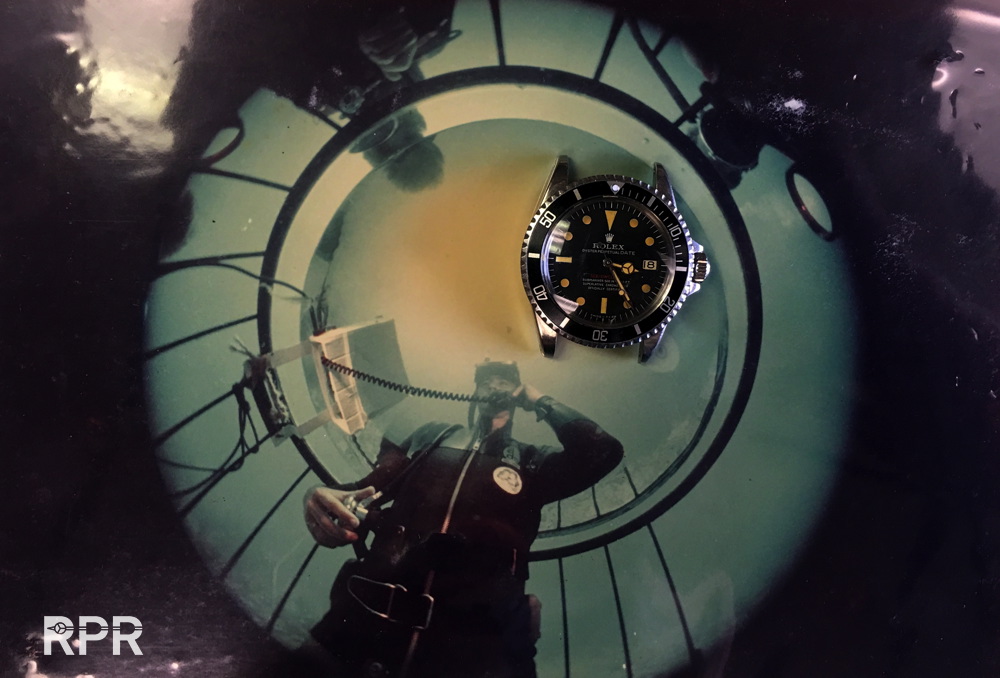 Lets continue to explain the provenance of Ian Koblick so here's a introduction coming from his website: Marine Resources 
Ian G. Koblick
President & Chairman of the Board
Ian Koblick pioneered undersea living in the 1970s as an Aquanaut in the Tektite I undersea living project in the Virgin Islands. At the conclusion of Tektite, Ian pressed for a continuation of the program and succeeded in becoming a project manager of Tektite II, while serving as a special Assistant to the Governor of the VI. In that role he helped manage the science missions, including the first all-female crew in an undersea living project.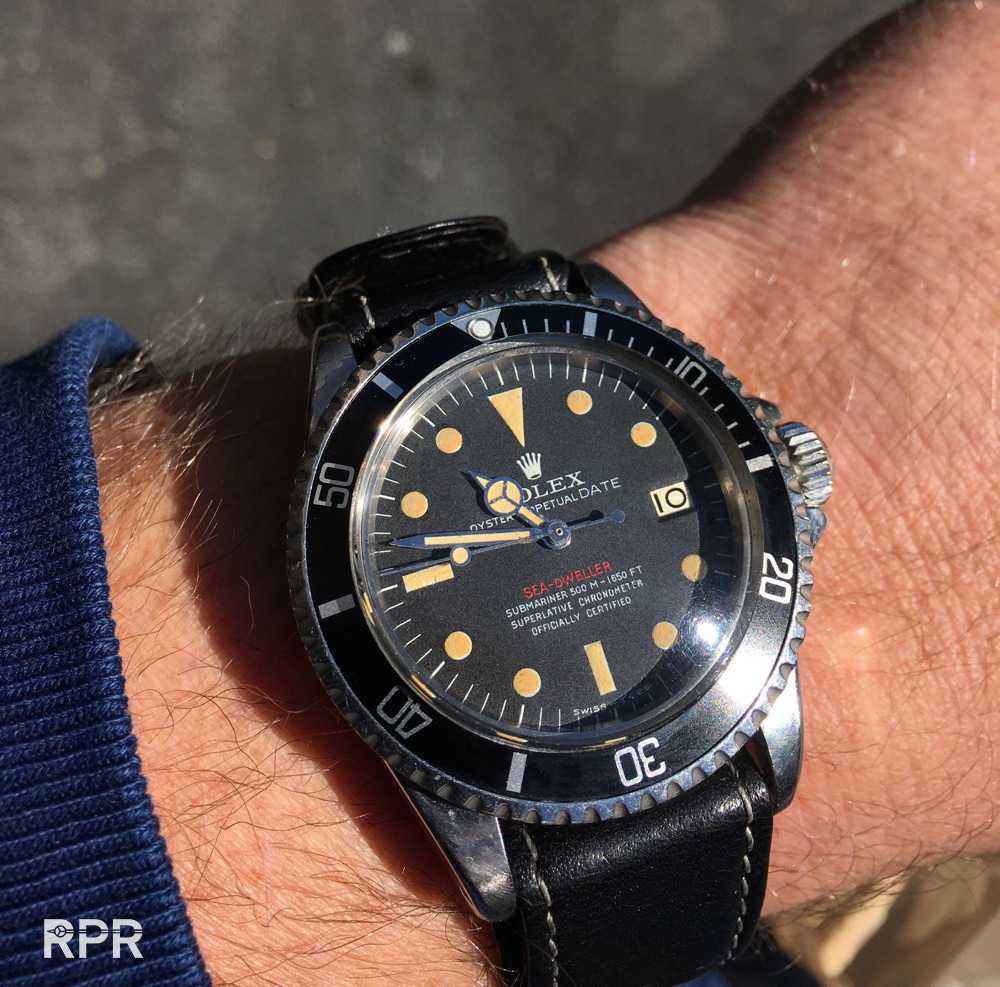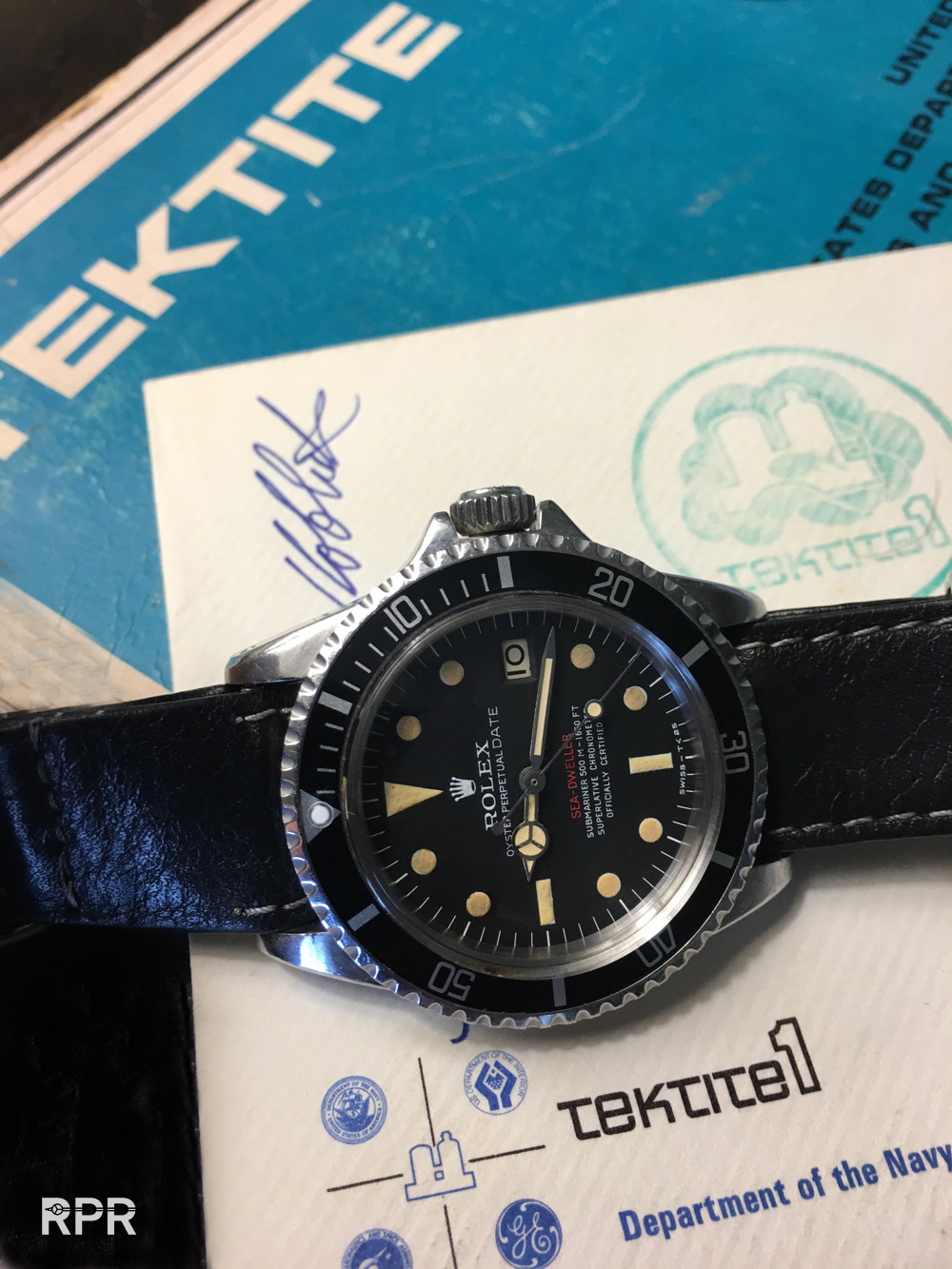 On below pictures you see that Ian is wearing his special Rolex…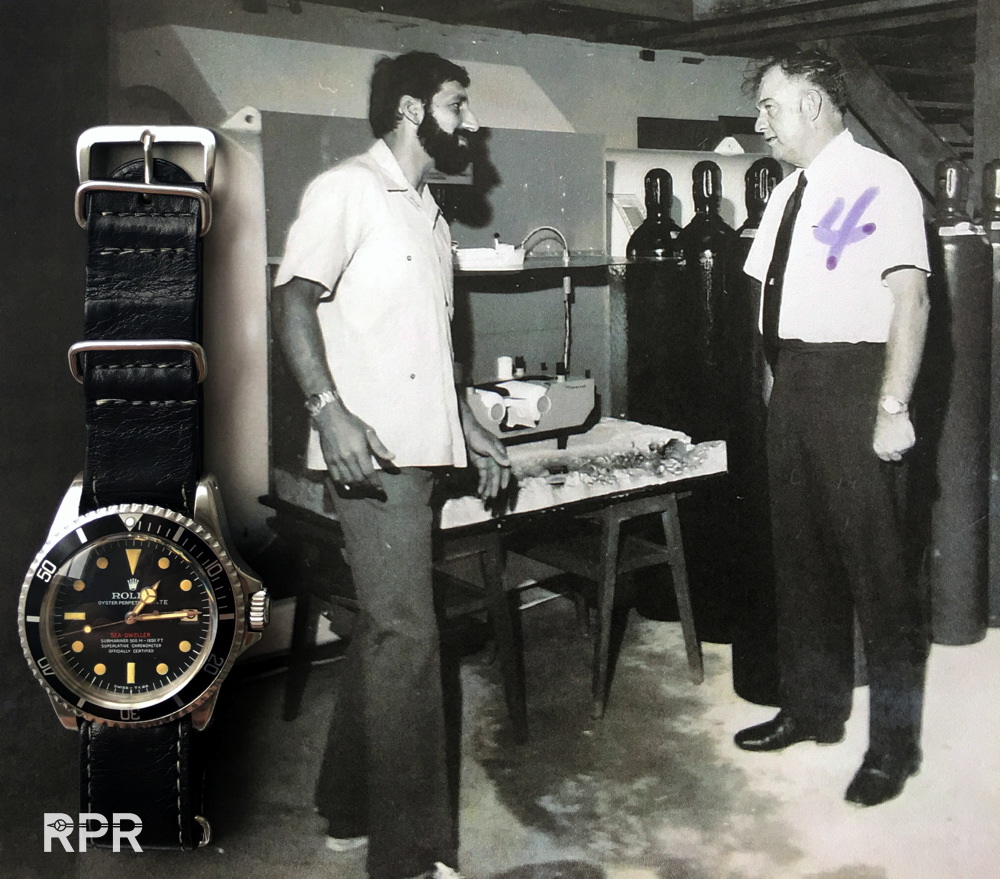 Here some pictures I have taken from of the Koblick Single Red Sea Dweller together with the documentation I was given…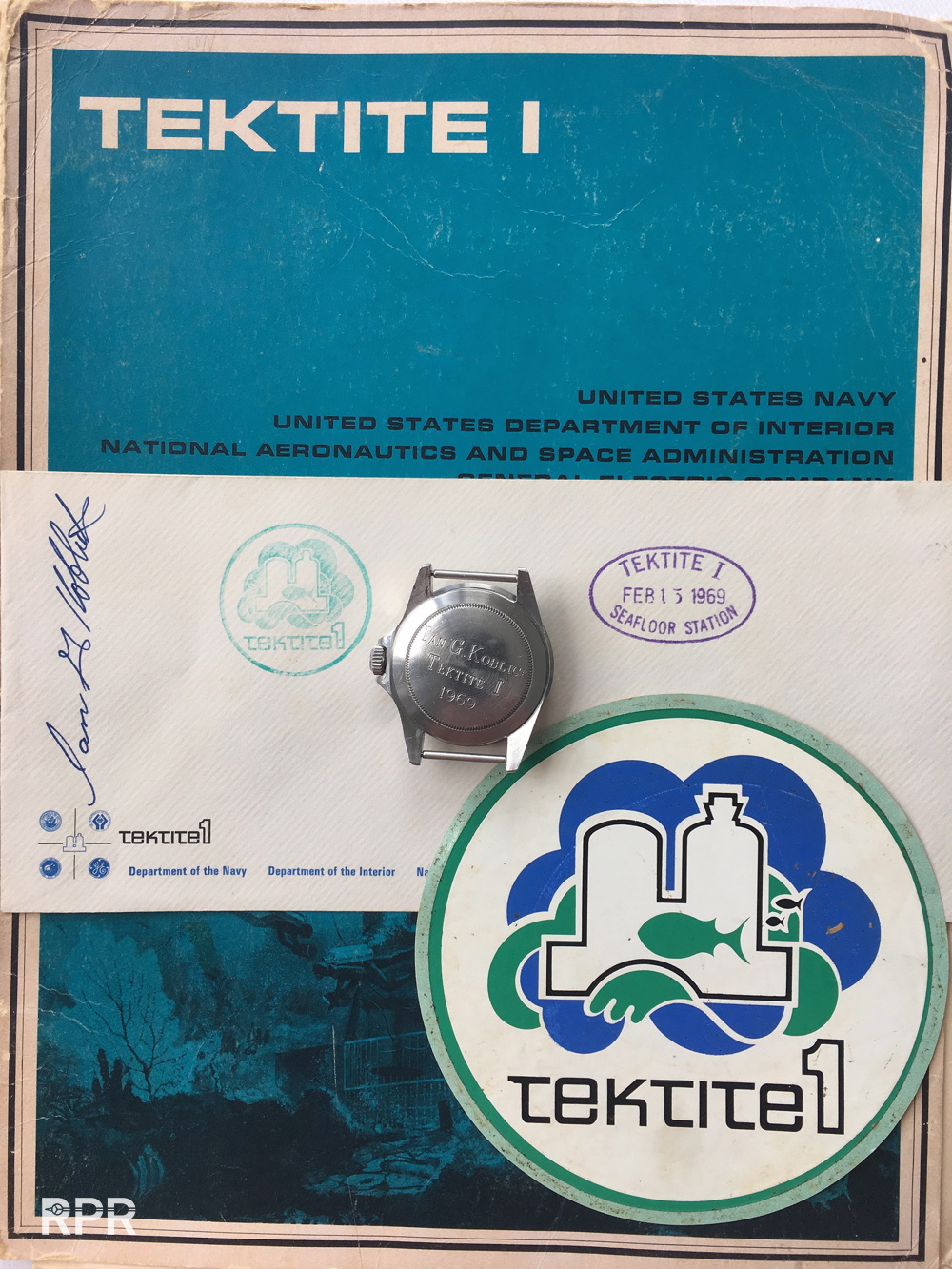 A 30 page special article was published in the National Geographic about the Tektite II expedition..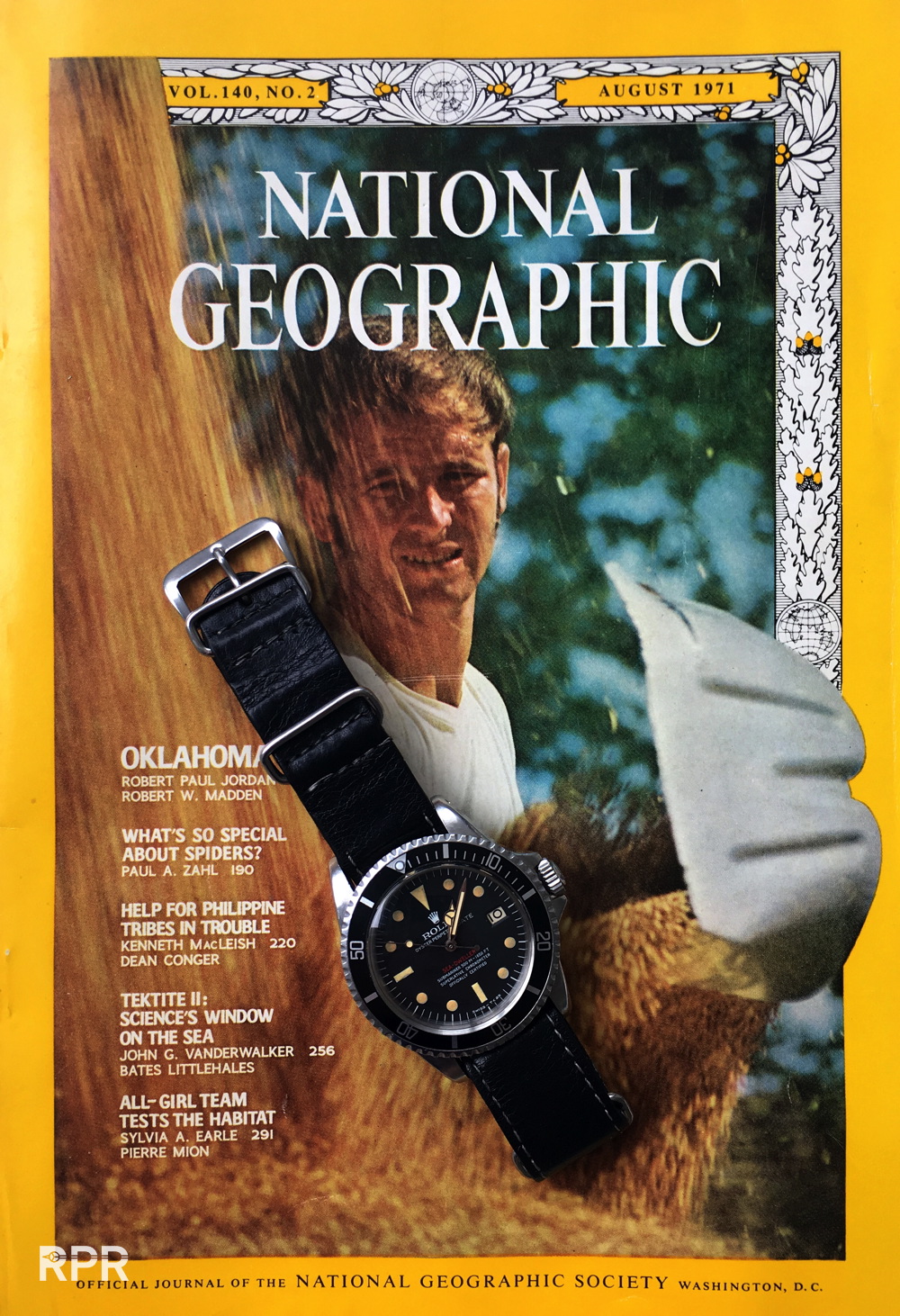 "Science's window on the sea" by John G. VanderWalker…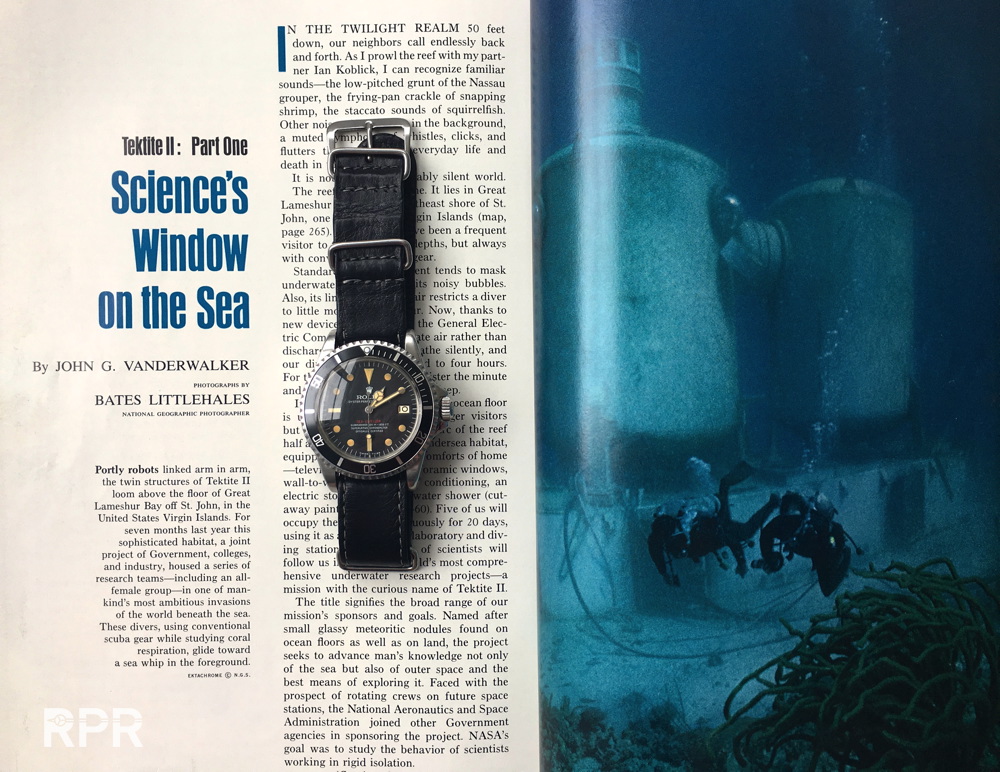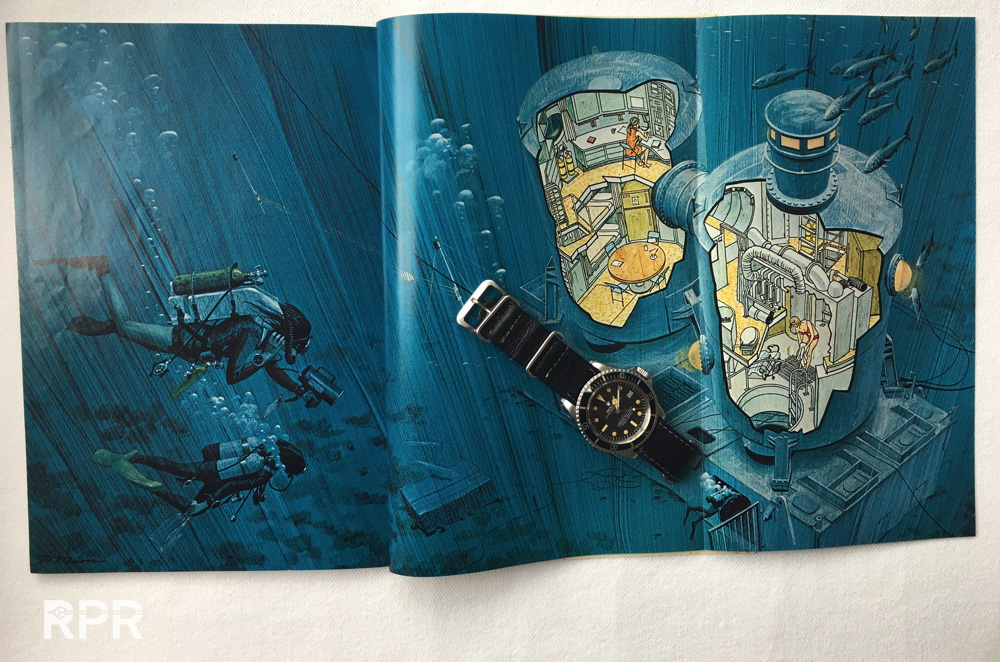 Ian was very precise in explaining the history of what he had experienced over the years…Ian has had so far a wonderful life exploring the underwater world and this brought him into a position meeting people like Fidel Castro, of which he stayed at his private Island for 3 days diving together. Note the shirt Castro is wearing on the right is from Ian Koblick's company 😉
Just like other important Rolex Explorers I like Piccard, Don Walsh and Hillary & Tenzing families, Ian Koblick is also trusted member of the Explorers Club..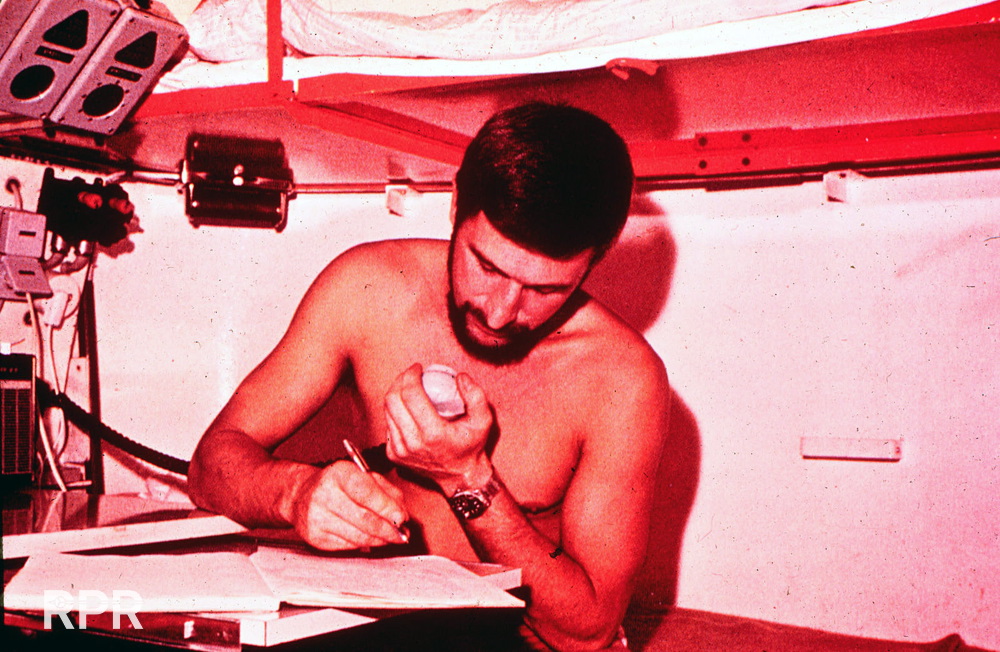 Buoyed by the success of Tektite, Ian established the Marine Resources Development Foundation (MRDF) in 1970 and persuaded the governor of Puerto Rico to fund an undersea living program dubbed PRINUL (Puerto Rico International Undersea Laboratory). Ian designed the sophisticated undersea lab of PRINUL, called La Chalupa, and managed the program from 1971 to 1976.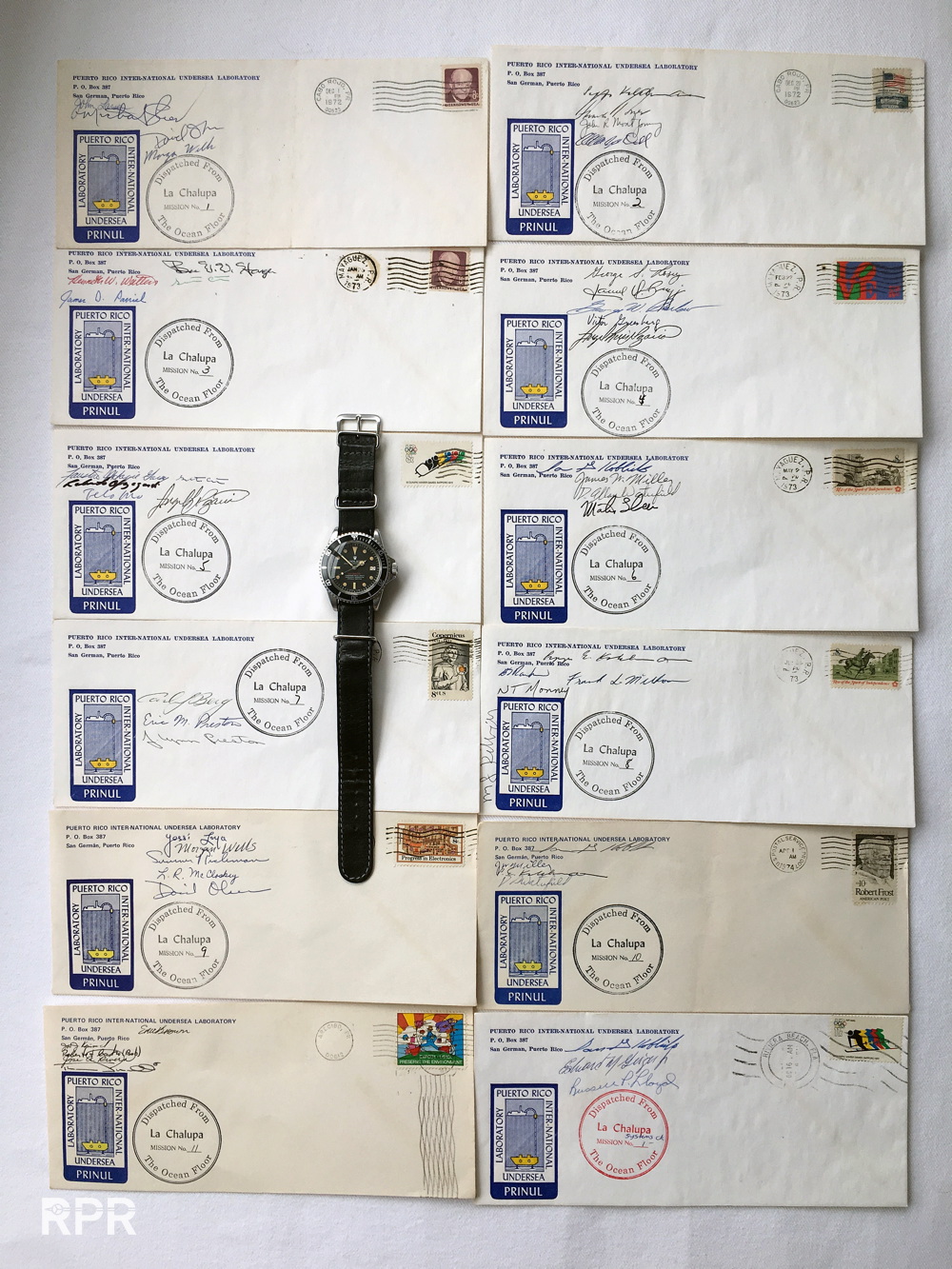 The Single Red Sea Dweller and 12 x special signed envelopes of the different "Prinul" projects 
In 1976, Ian moved MRDF to Florida and began working with the US Department of Commerce on the creation of a national ocean program. He was the consulting editor of the NOAA Diving Manual. He also provided environmental consultation for the Port Everglades Authority in Fort Lauderdale, Florida and served on the NOVA University Ocean Science Center advisory board. In 1981, MRDF acquired The Golden Venture, a 147-foot research vessel equipped for undersea exploration and used it to locate and uncover artifacts from the sunken Spanish galleon Nuestra Senora de Atocha.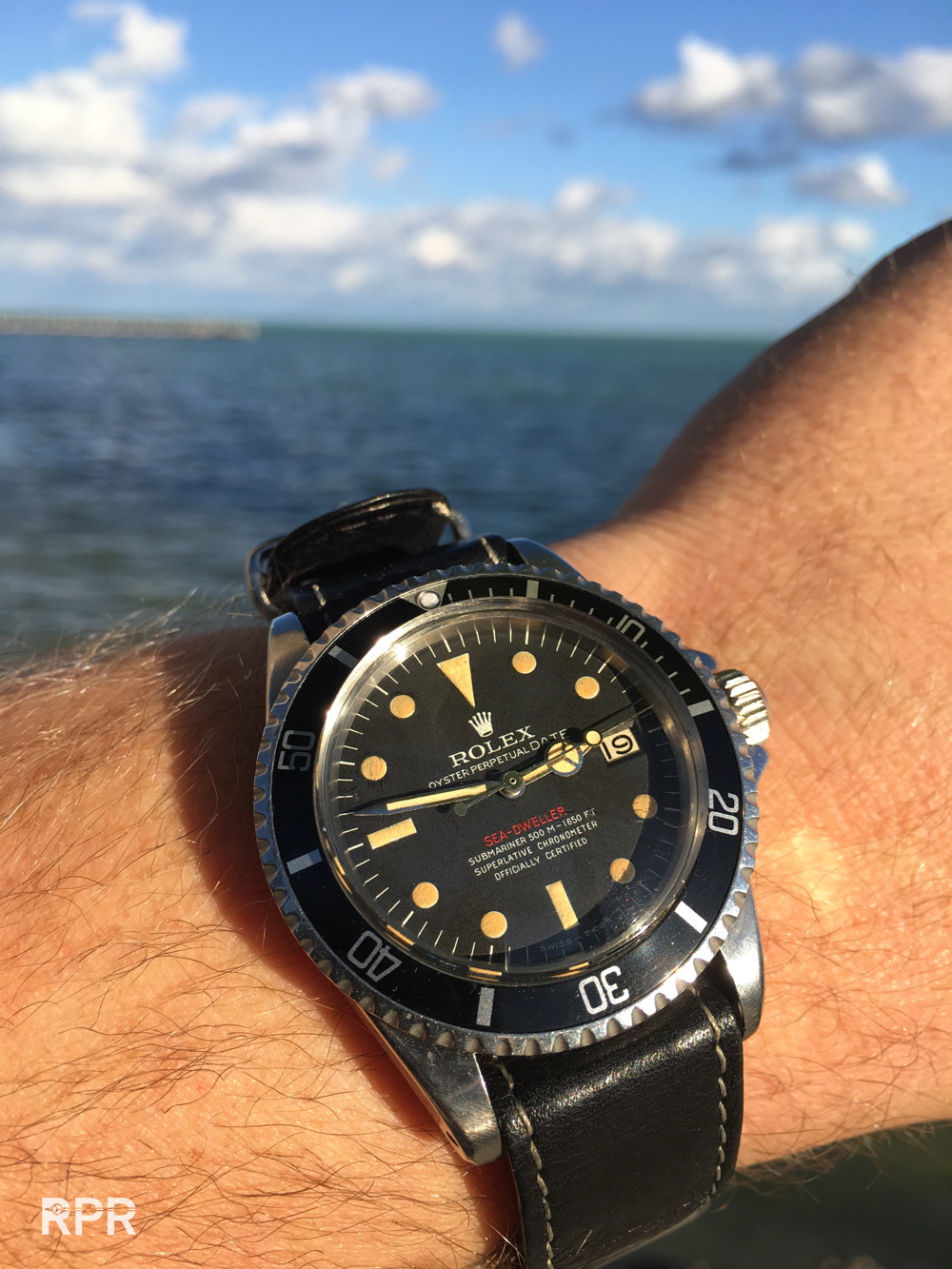 Note the condition of the case, an experienced eye will see that it has been taken care off…
Find below the actual pictures Ian Koblick send me prior my visit to pick it up at his place in Key Largo…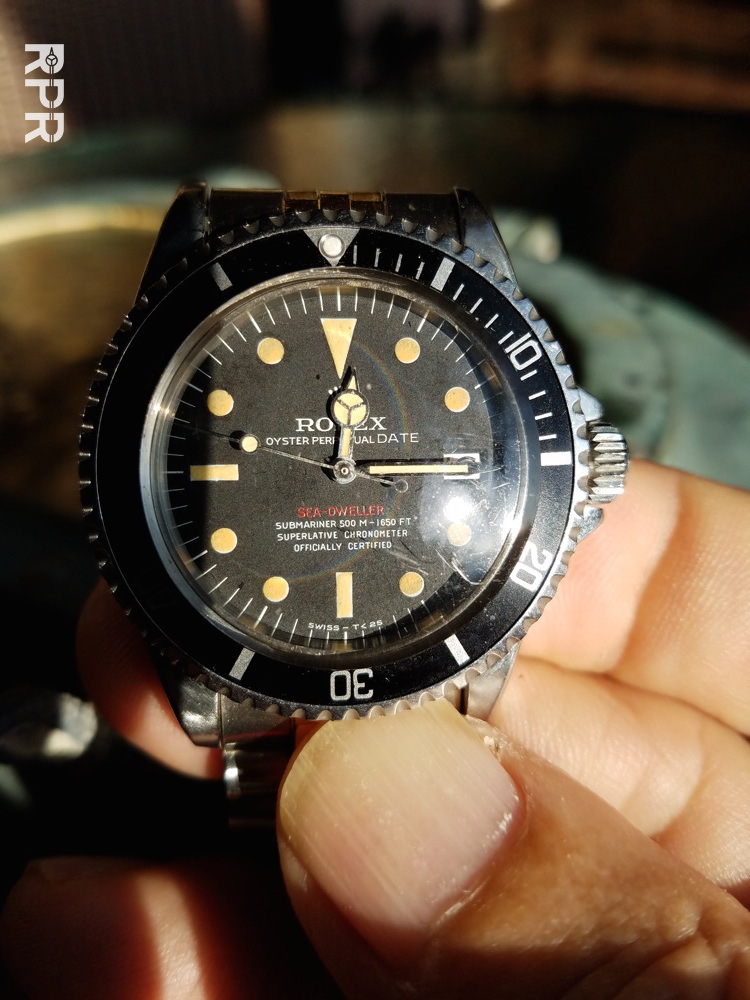 Ian send me this price right in the beginning after he offered me his prototype Sea Dweller..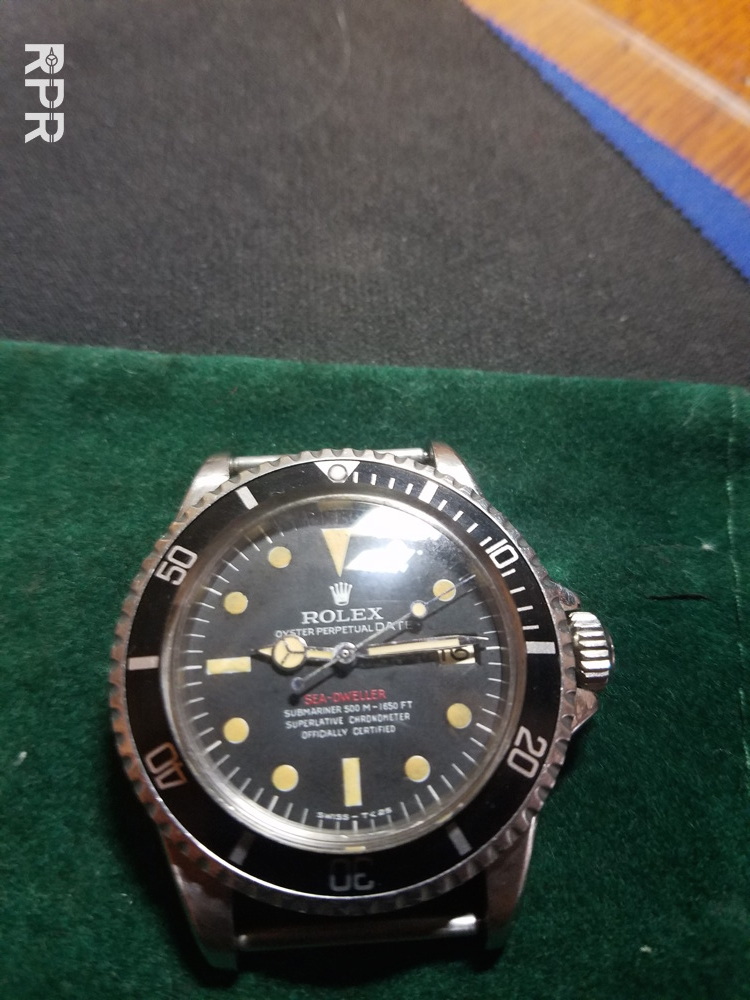 The "non valve" side view…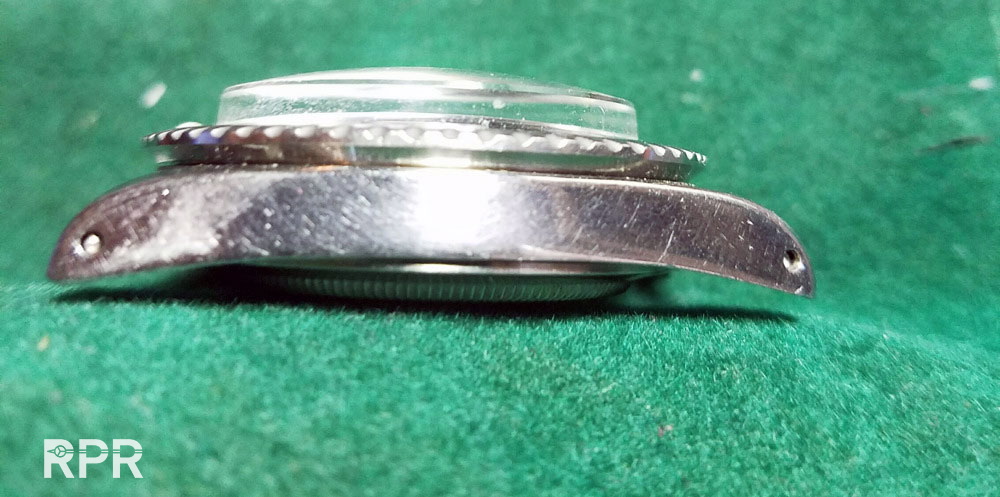 And side view from the crown…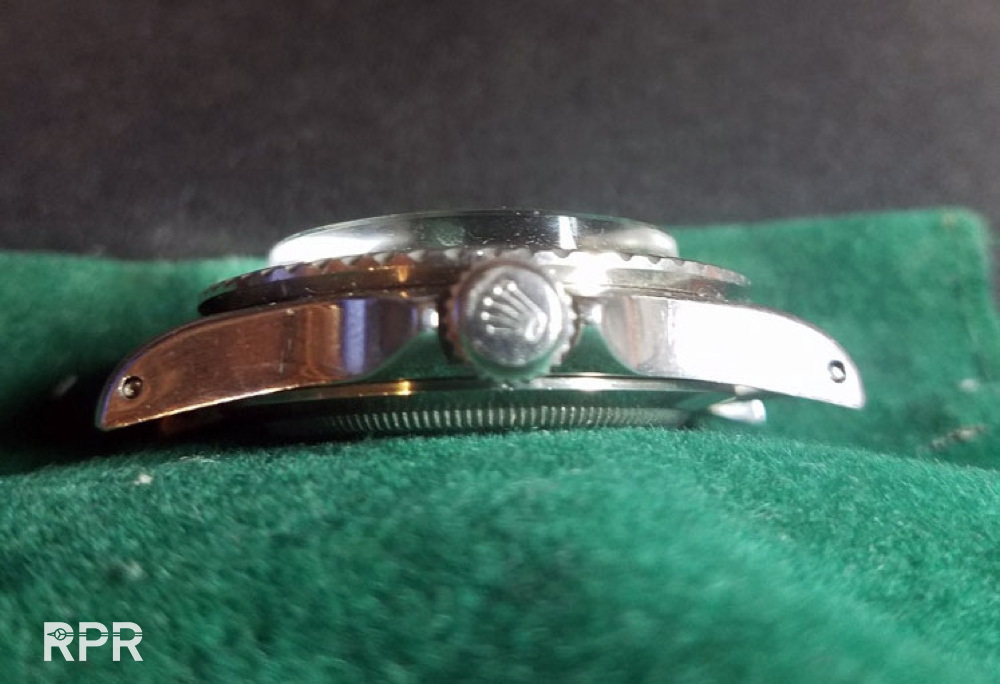 Here are my own pictures again, taken from the Single Red Sea- Dweller…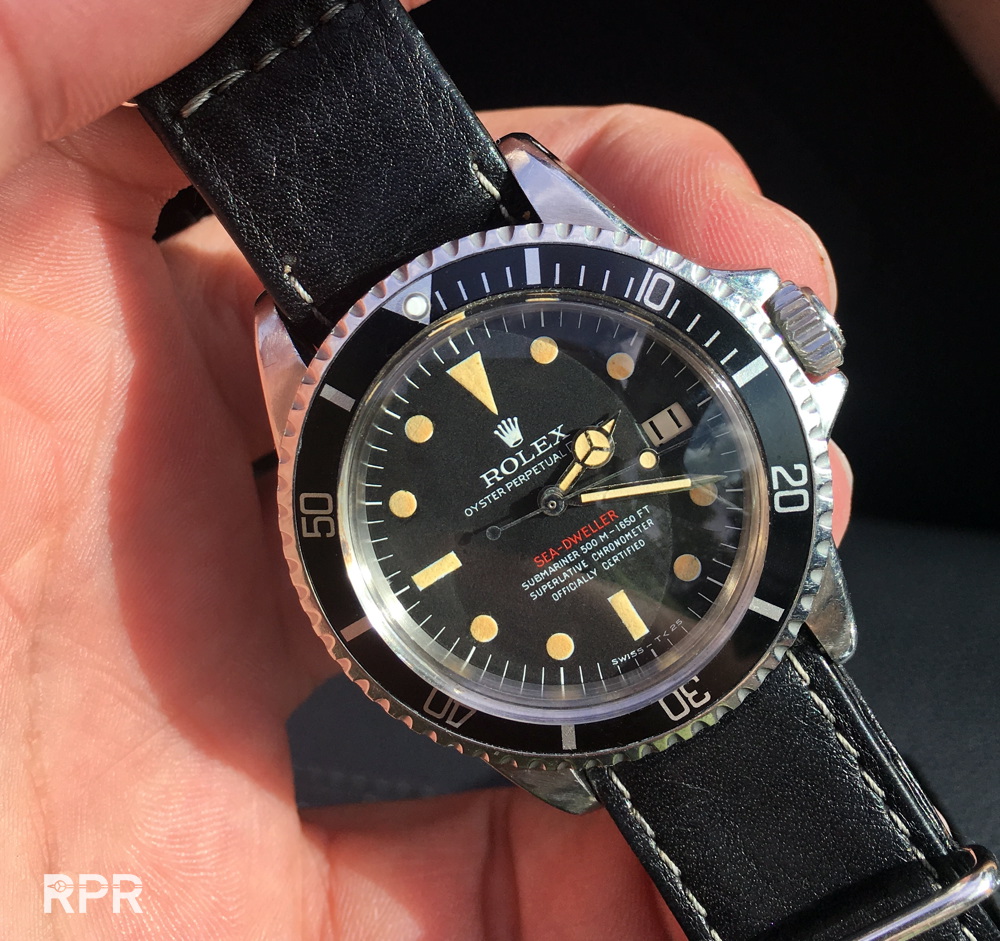 2017 is the 50th anniversary of the Sea Dweller. Here's a close up of the serial number, one of the very first Seadwellers ever made! The first Sea Dwellers has serial number 1.6029.xx, this one is one of the very first with 1.6029.1x…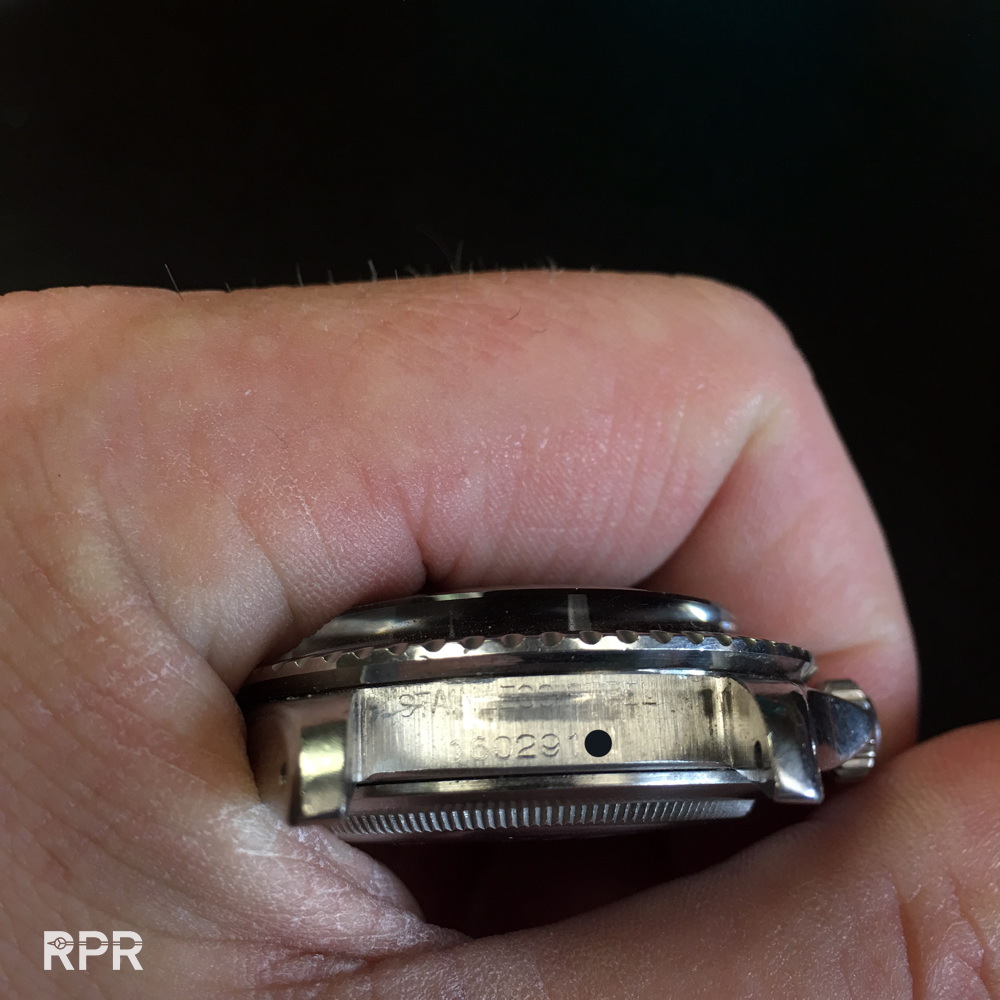 Bright view of the Sea Dweller face…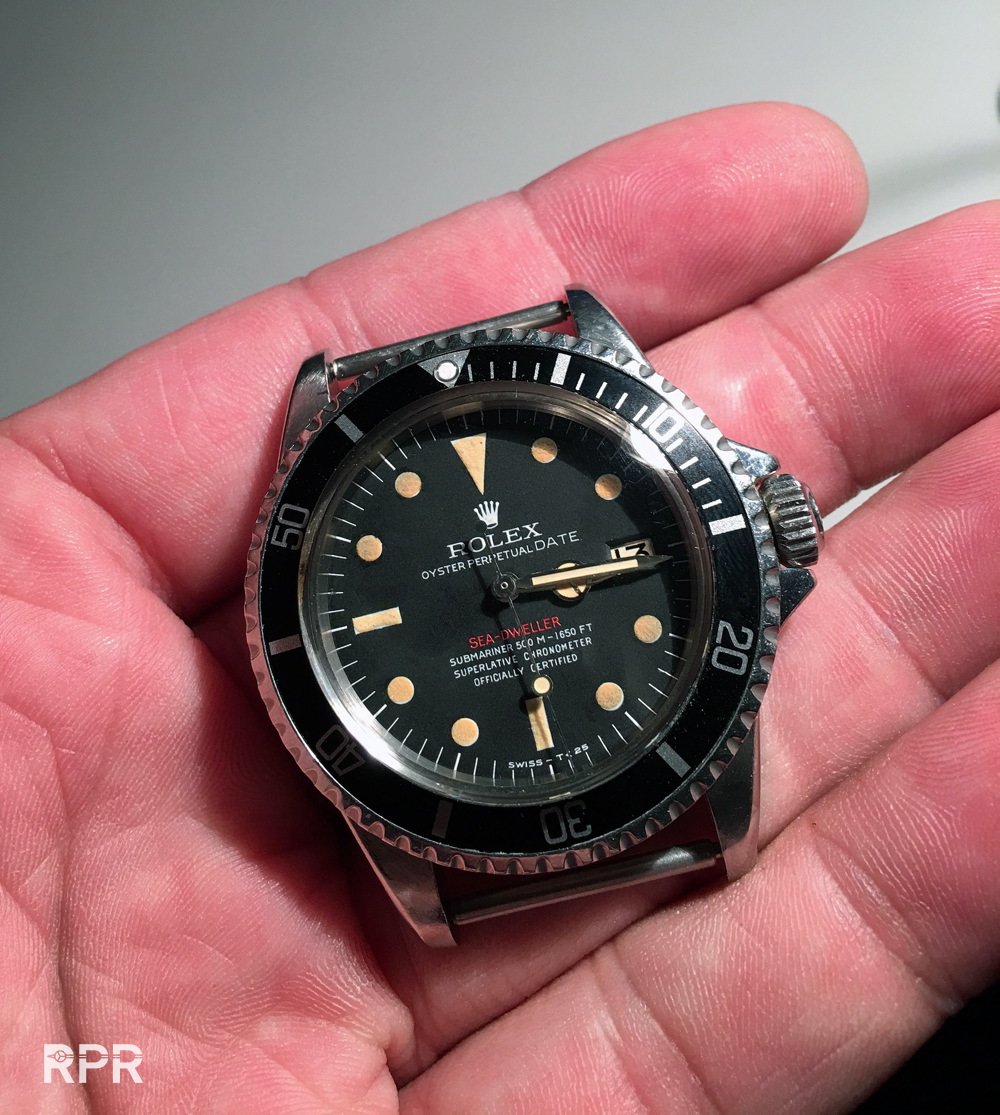 And the other side of the case, the serial number which became legendary, ref 1665….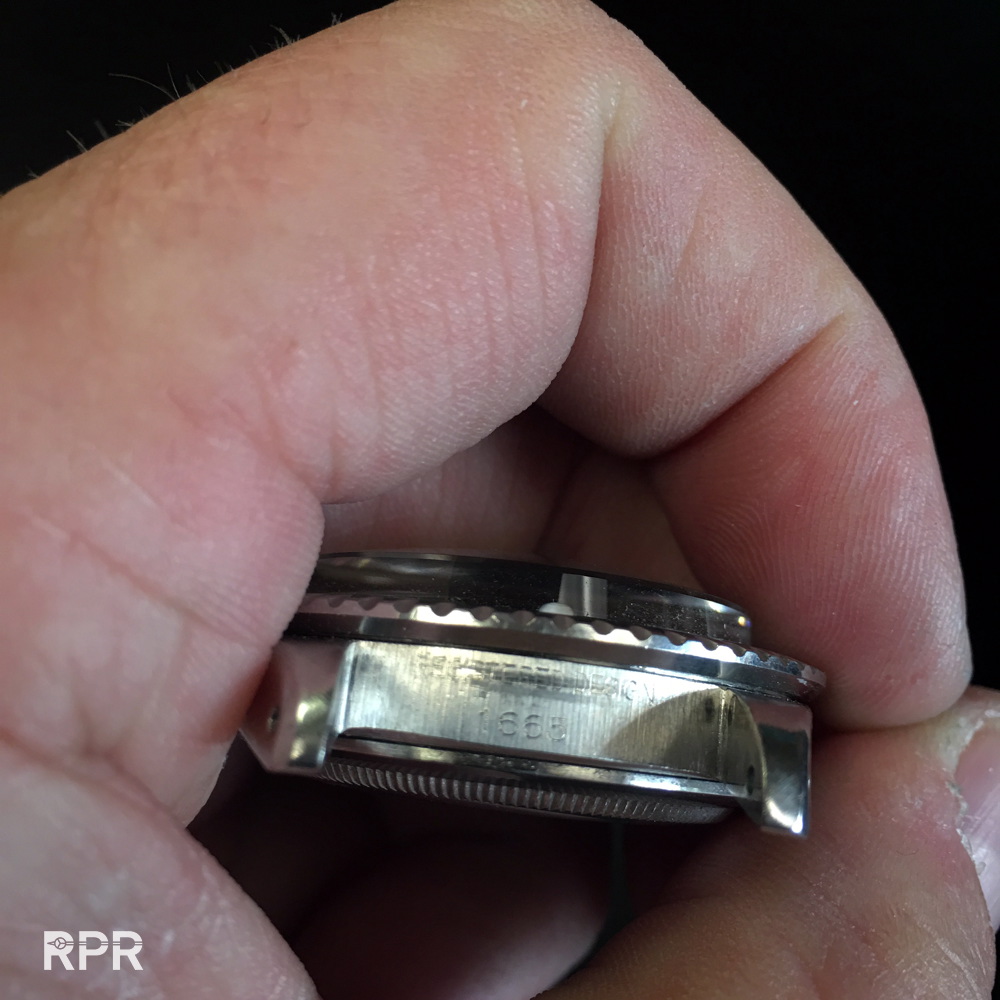 Then, the case back inside, marked correctly with " II 67″ …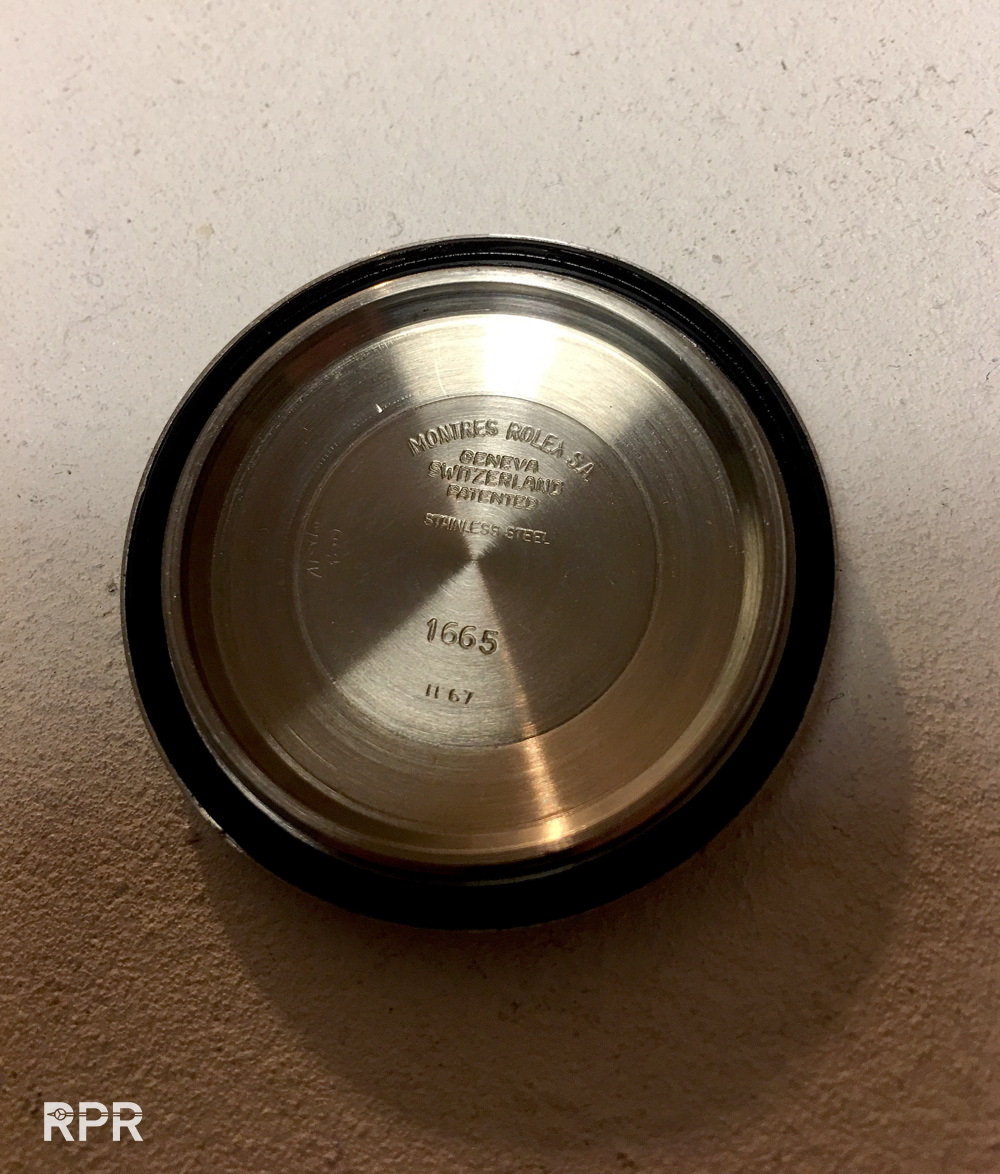 And now check this, the movement, like NEW!! On this picture you actually see a lot of important details. Besides the movement number on the top, we see the 1570 caliber number and the ROW stamp at the button for U.S. import…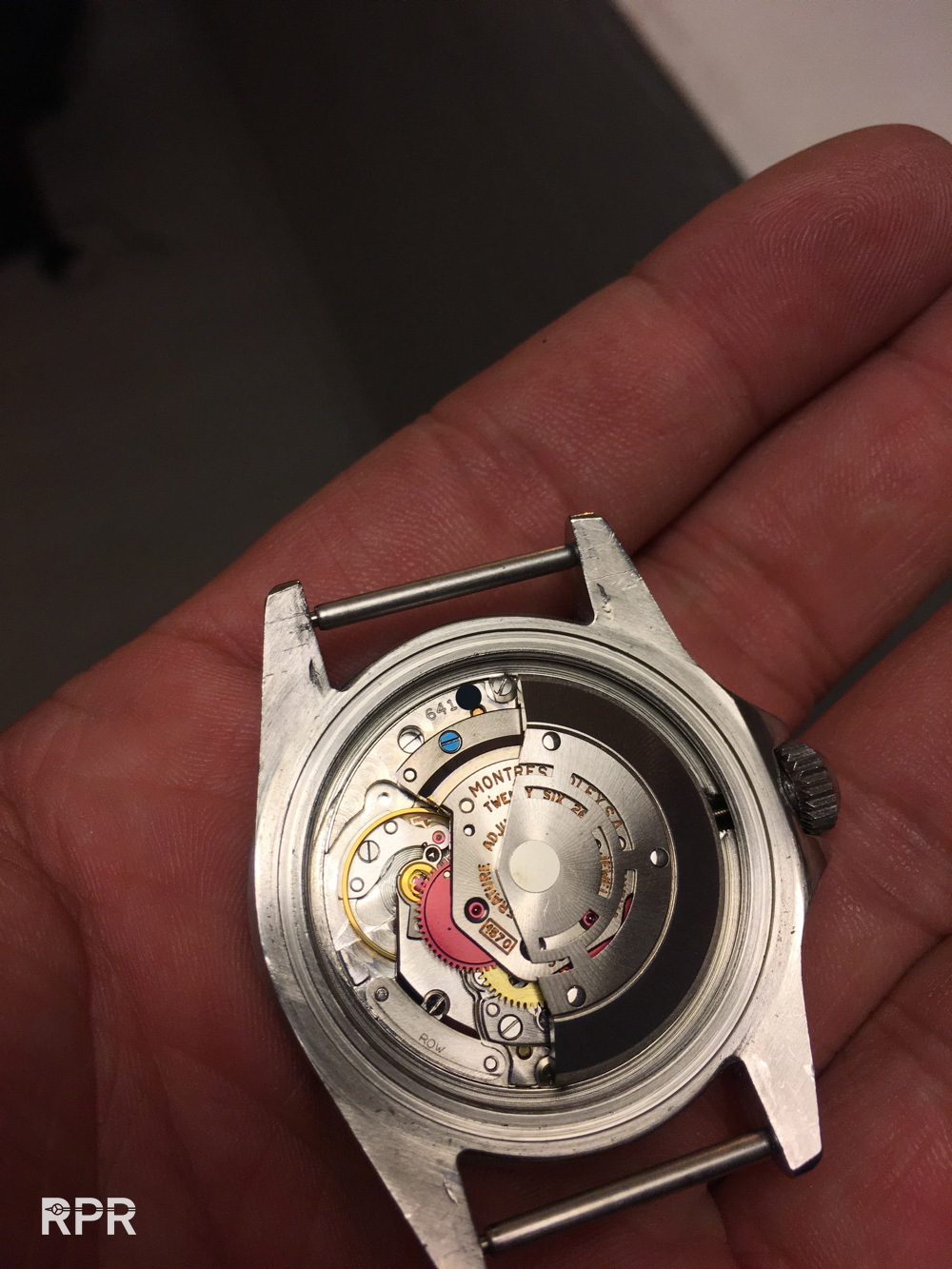 You don't need to be an expert to see that the movement is like new, hardly any use you notice inside. No usage patina, damaged parts or dust / dirt anywhere. The screws are perfectly blue on top and you don't see any usage on the edge or anywhere, just marvelous! This explains the story Ian Koblick told me that he was very careful and proud having this prototype Sea Dweller.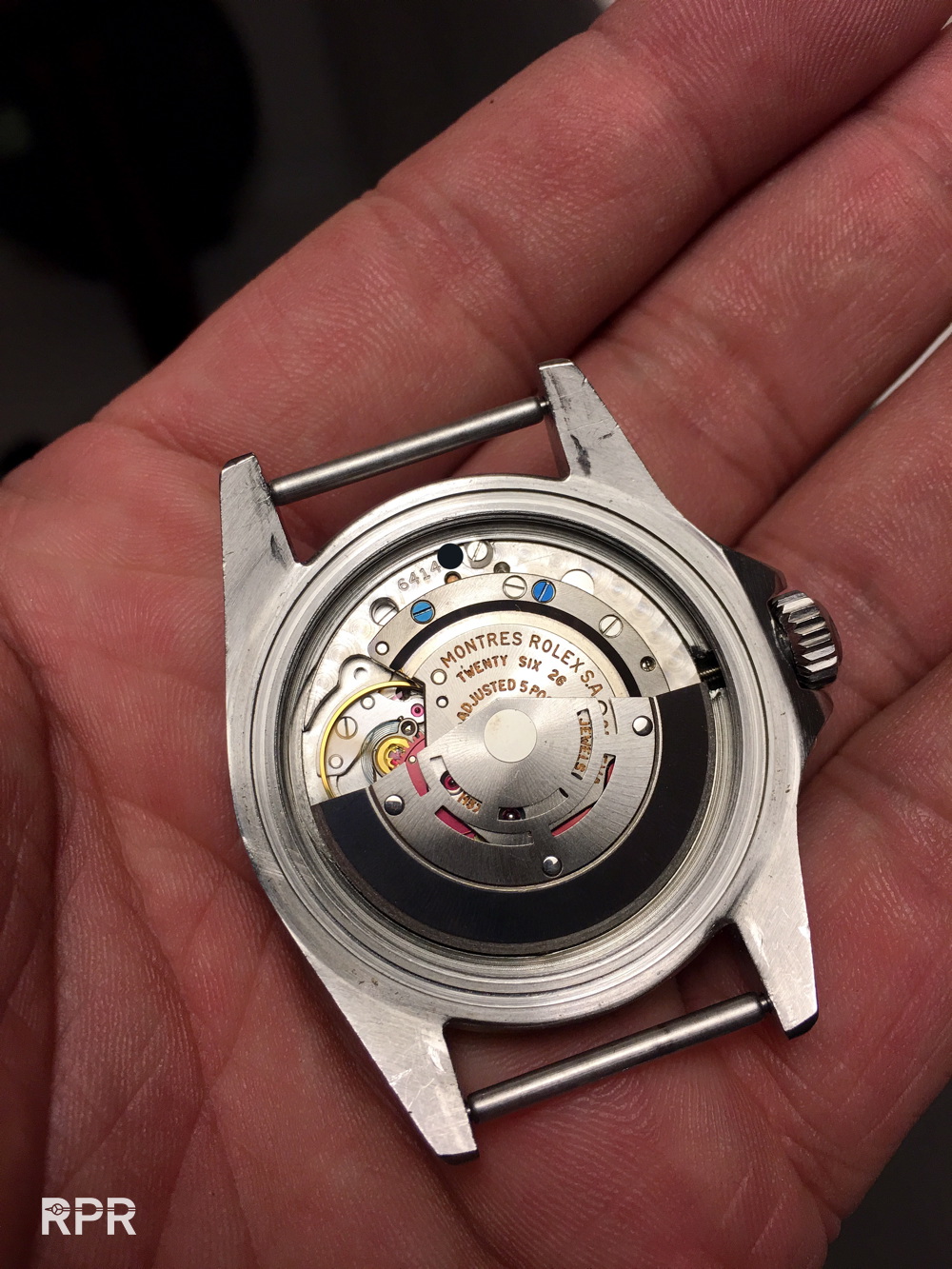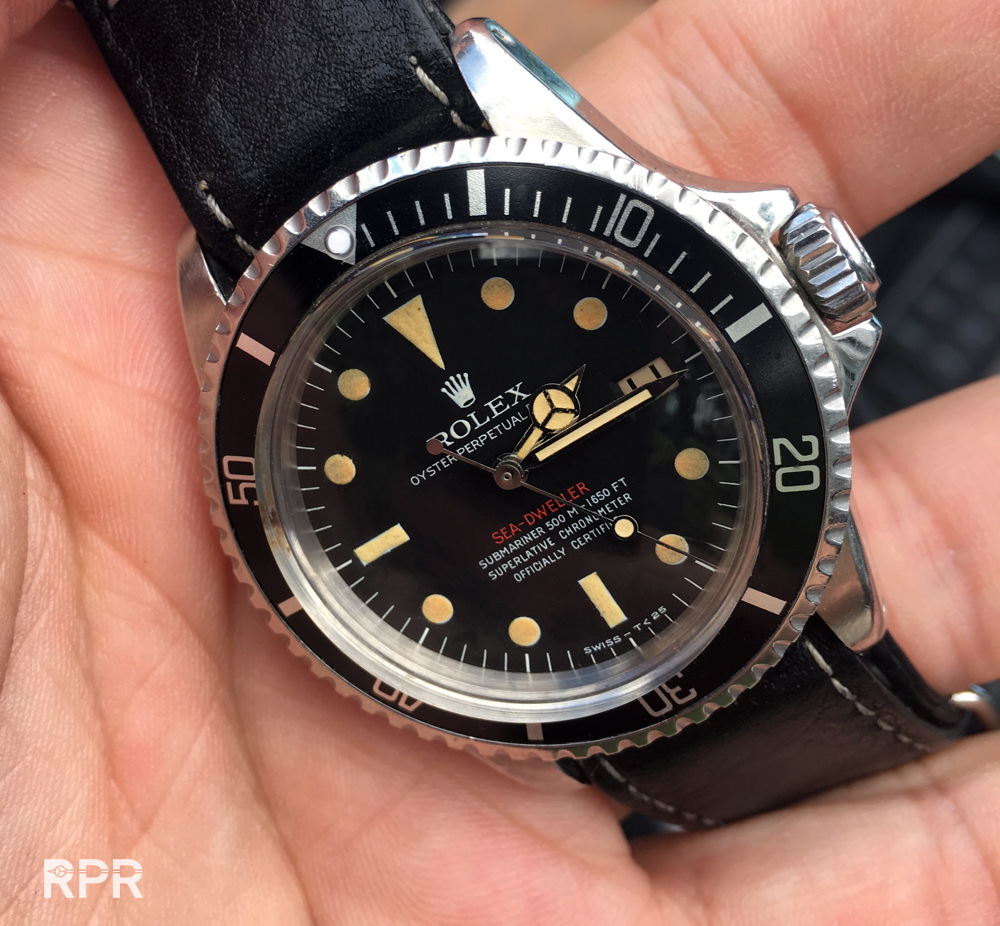 In 1984 Ian collaborated with Jim Miller to publish the definitive book, "Living and Working in the Sea." Ian and his partner Dr. Neil Monney found and re-acquired the La Chalupa habitat used in PRINUL and converted it into the world's first undersea hotel, Jules Undersea Lodge. Since its opening in 1986 Jules has hosted over 10,000 guests including astronauts, marine scientists, celebrities and heads of state. Ian and Neil donated the habitat back to MRDF, and  Jules served as a research platform for a NASA sponsored mission in 1992, "La Chalupa-30." In 1996, Ian joined up with his old friend and Mercury astronaut, Scott Carpenter and they developed the "Scott Carpenter Man In The Sea Program," which ran until 1999.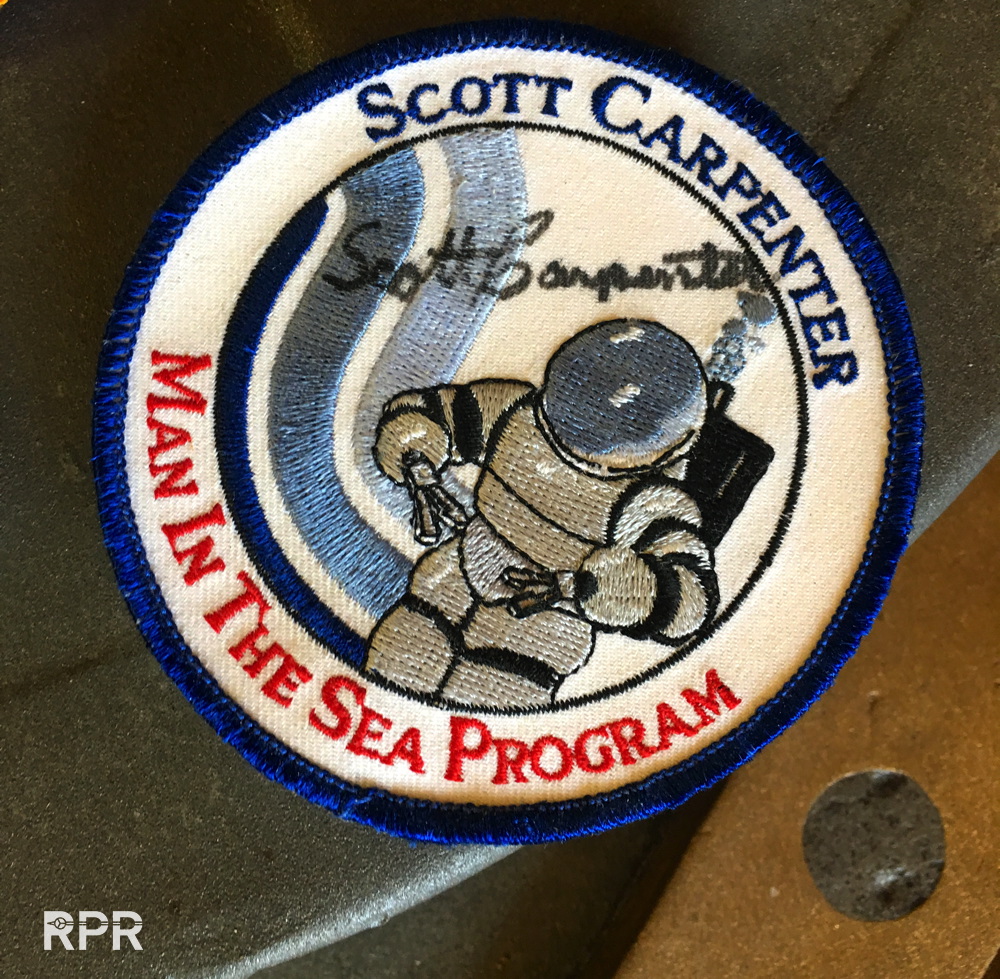 Ian Koblick has been involved in underwater exploration all his life and while having a chat whit him when I picked up his watch in Key Largo, he told me one of his best friends was Scott Carpenter.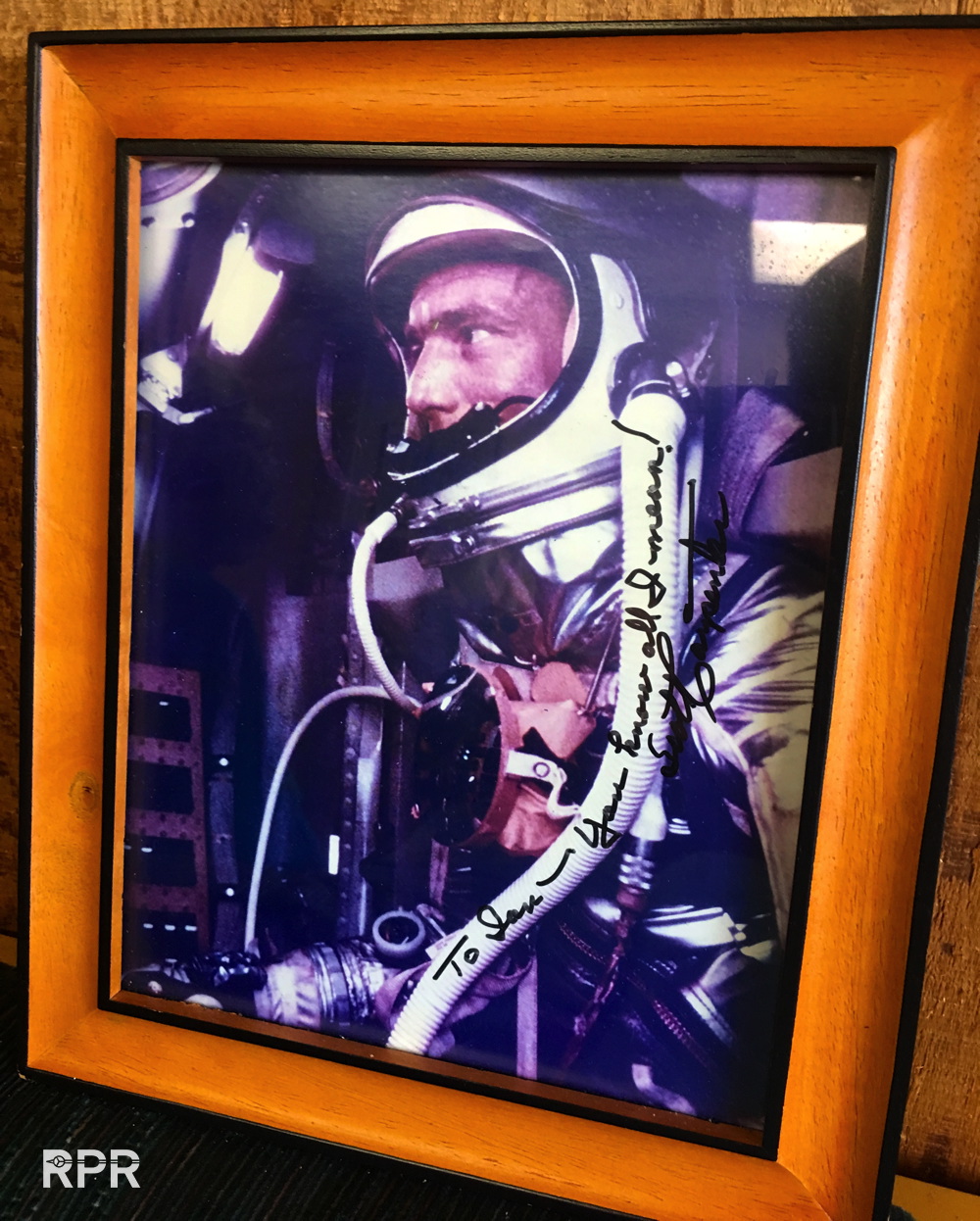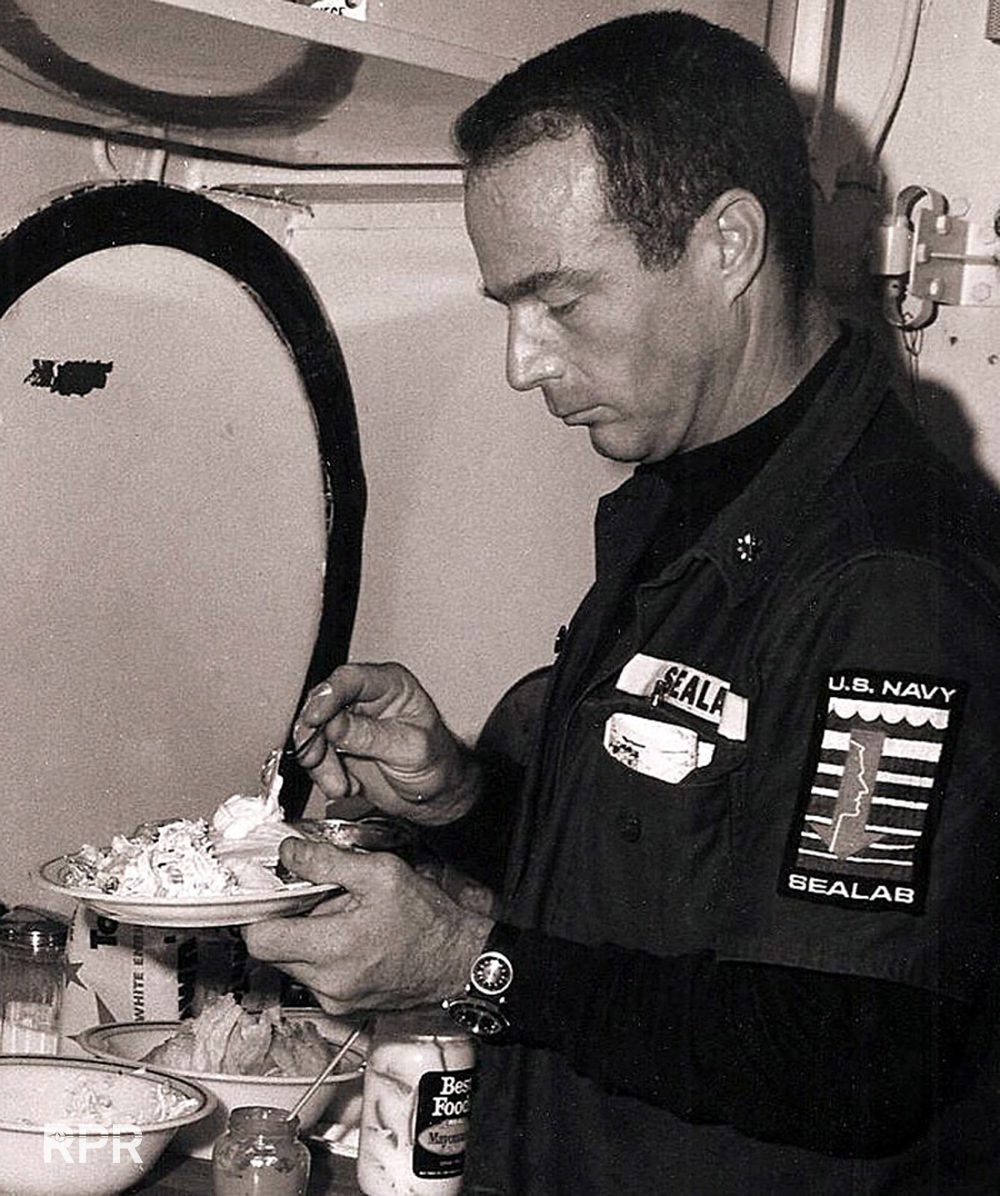 Scott Carpenter and his Rolex. From being the 2nd person in orbit to being a aquanaut below the sea..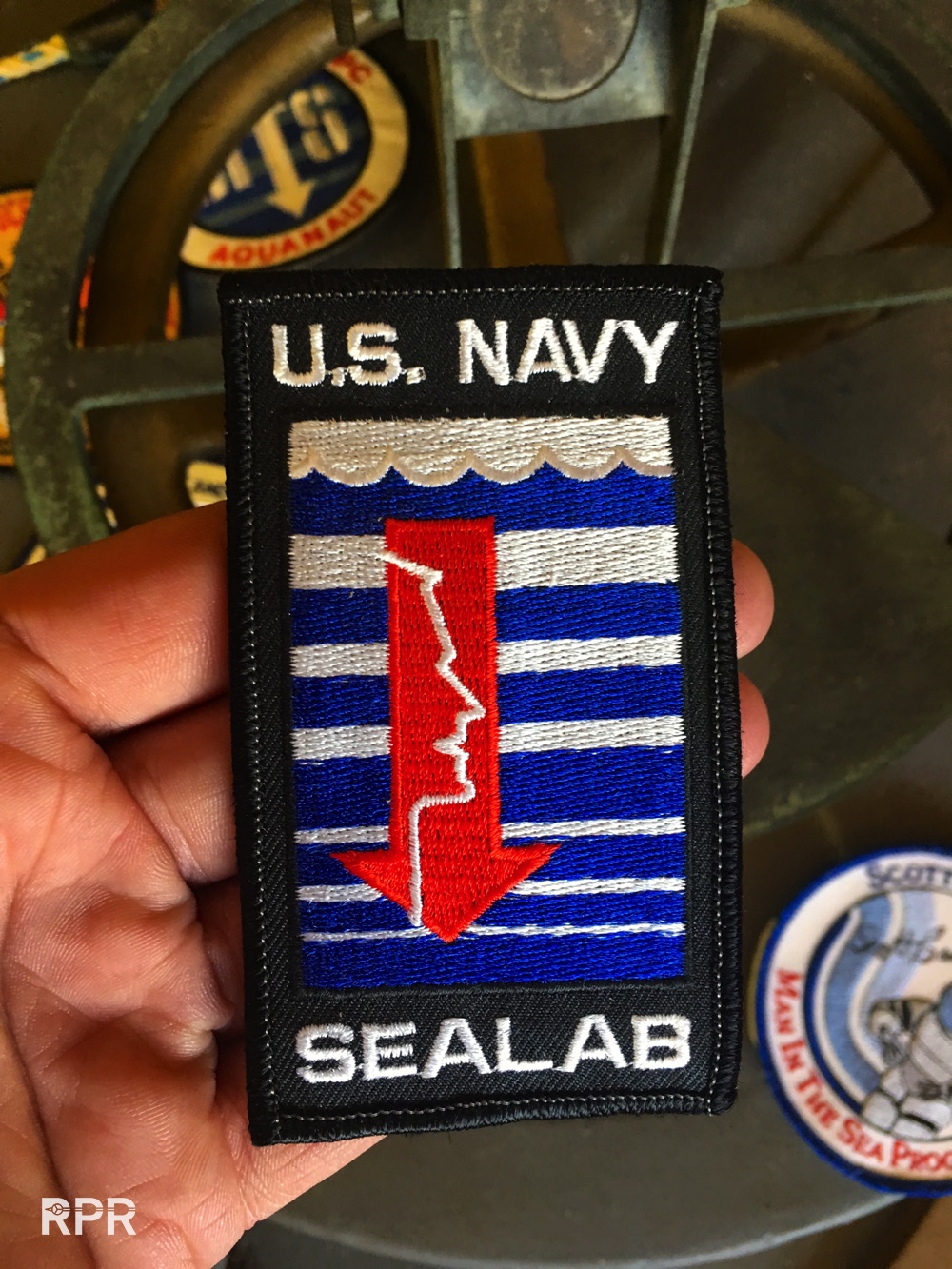 Hanging in Ian's office is this plaquette with all kinds of historic batches. Note the Comex batches. When I asked Ian about it he remembered meeting up with Henry-Germain Delauze, the founder of the Comex company.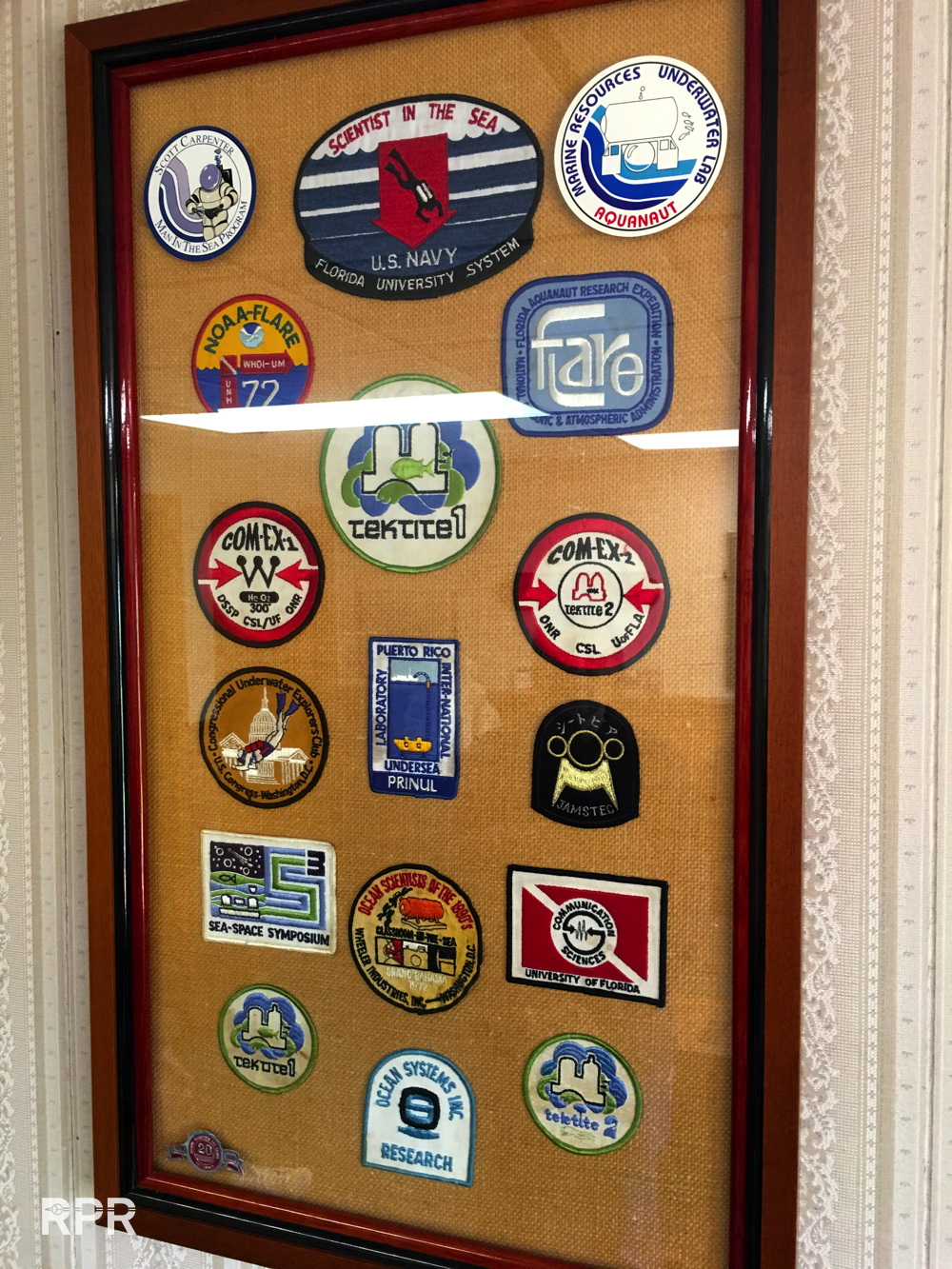 All divers back in the days where buddy's and somehow connected to each other. Here a picture of Ian ( all left ) together with Jacques Piccard ( all right ) and Don Walsh next to him.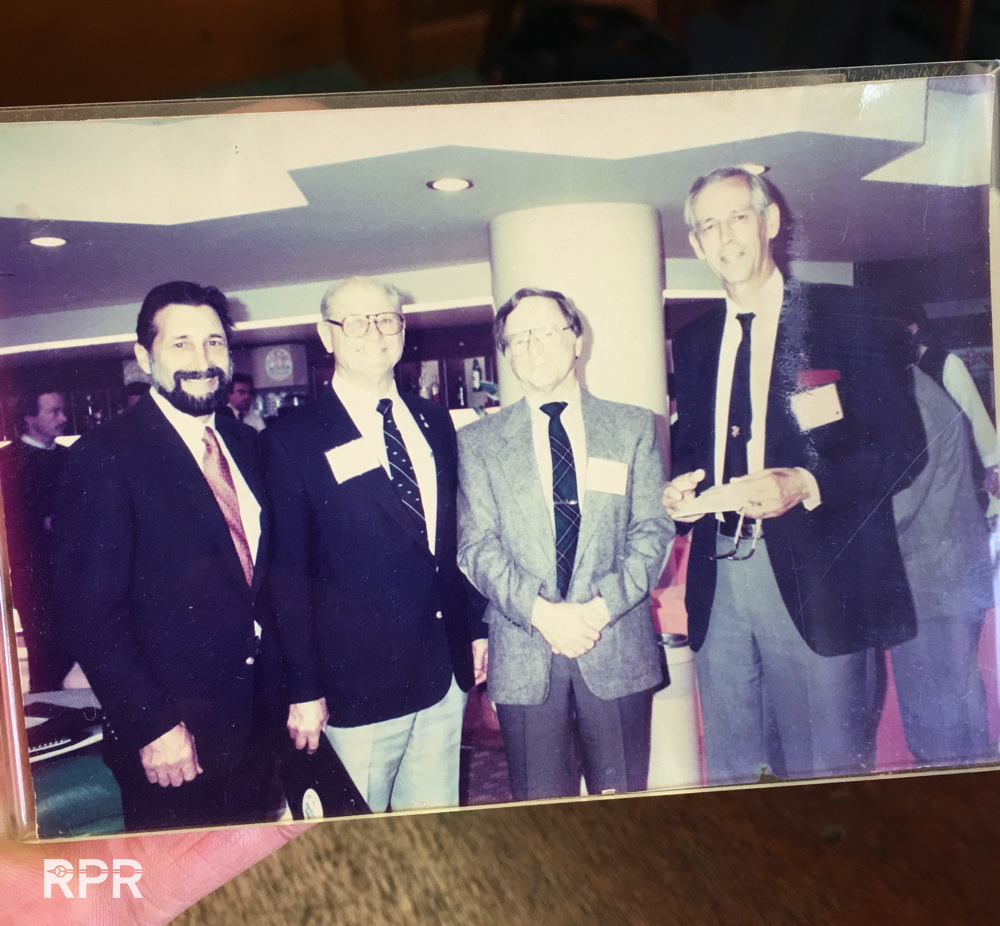 Tektite II certificate of Aquanaut training…
Official Tektite I brochure and signed enveloppe of februari 13th 1969…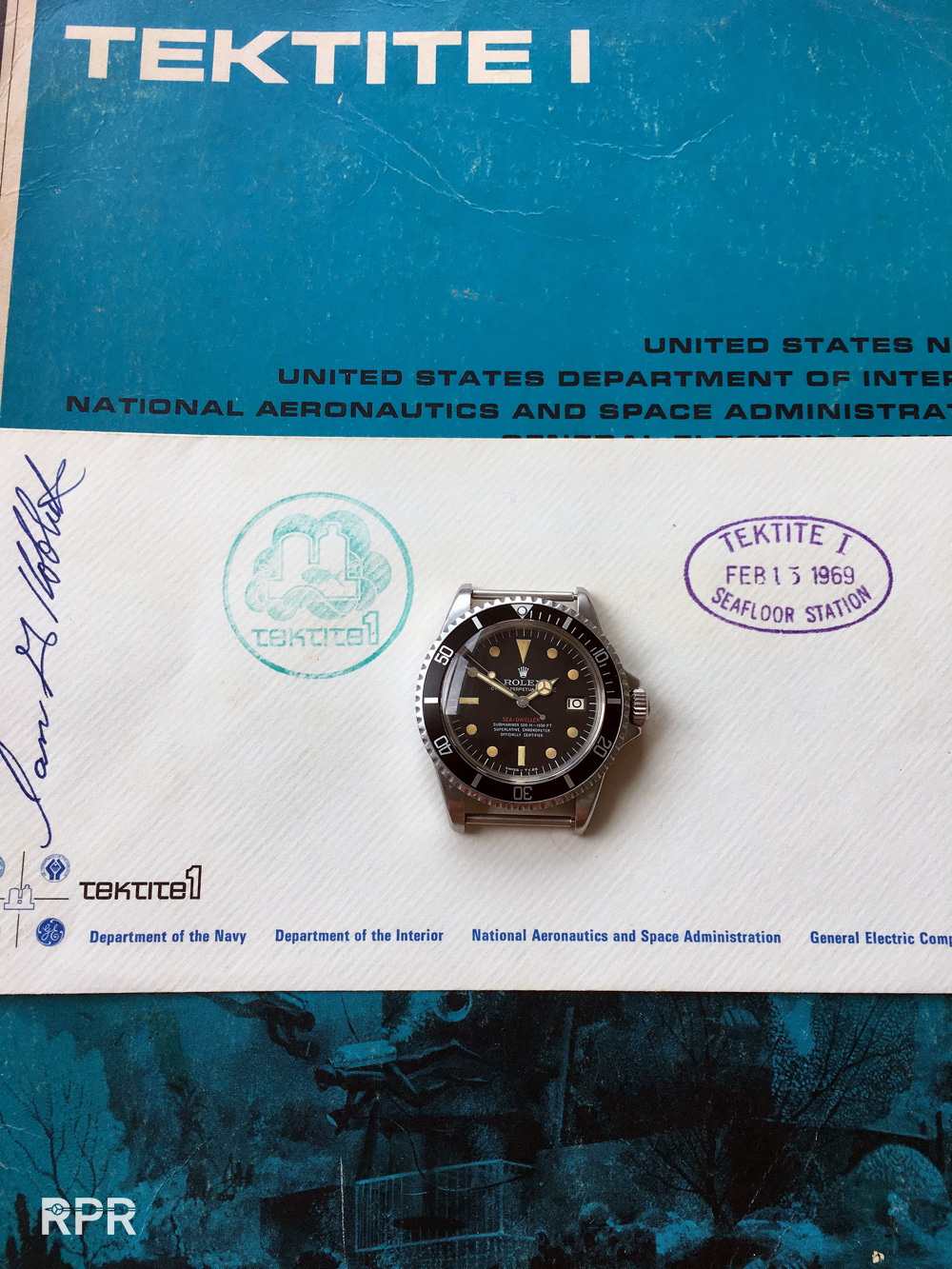 Taken at the office of Ian Koblick is this plate about the history of diving…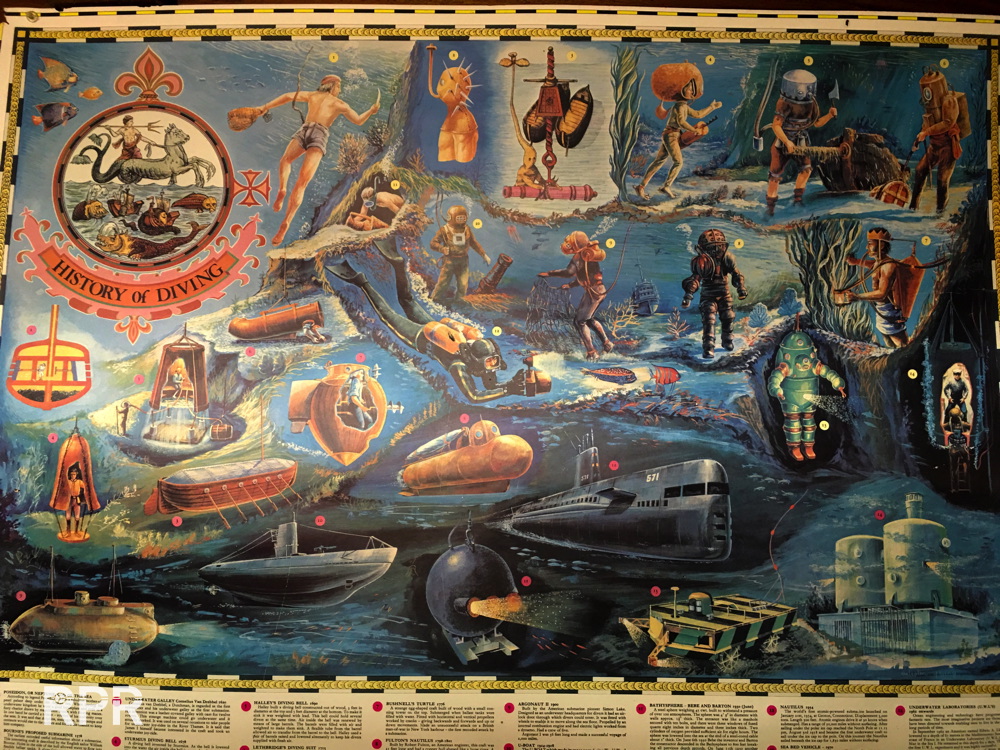 Two underwater habitats that Koblick co-developed with Dr. Neil Monney are located in Key Largo. MarineLab was designed in 1973 as part of the United States Naval Academy's ocean engineering program, and later was donated to Koblick's Marine Resources Development Foundation to be housed in a sheltered ocean lagoon. MarineLab operates as an underwater research and environmental education facility. Koblick said nearly 200,000 students have participated in field trips to the lab for educational outreach programs to learn more about diving technology…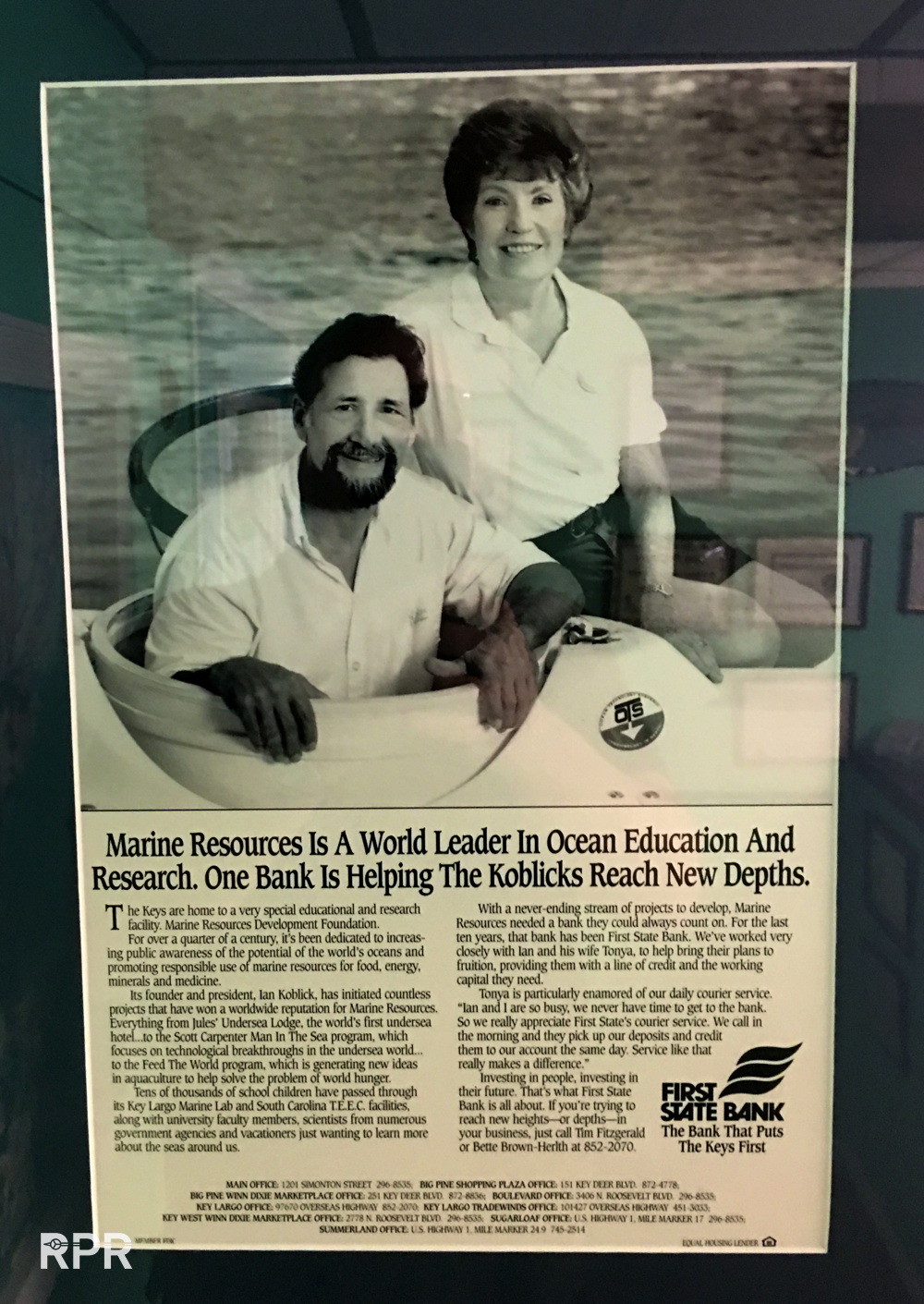 Now back to the watch, the prototype non valve ref 1665 sea dweller, here below lying on a picture of Ian while he was testing a new air tank with special gauge…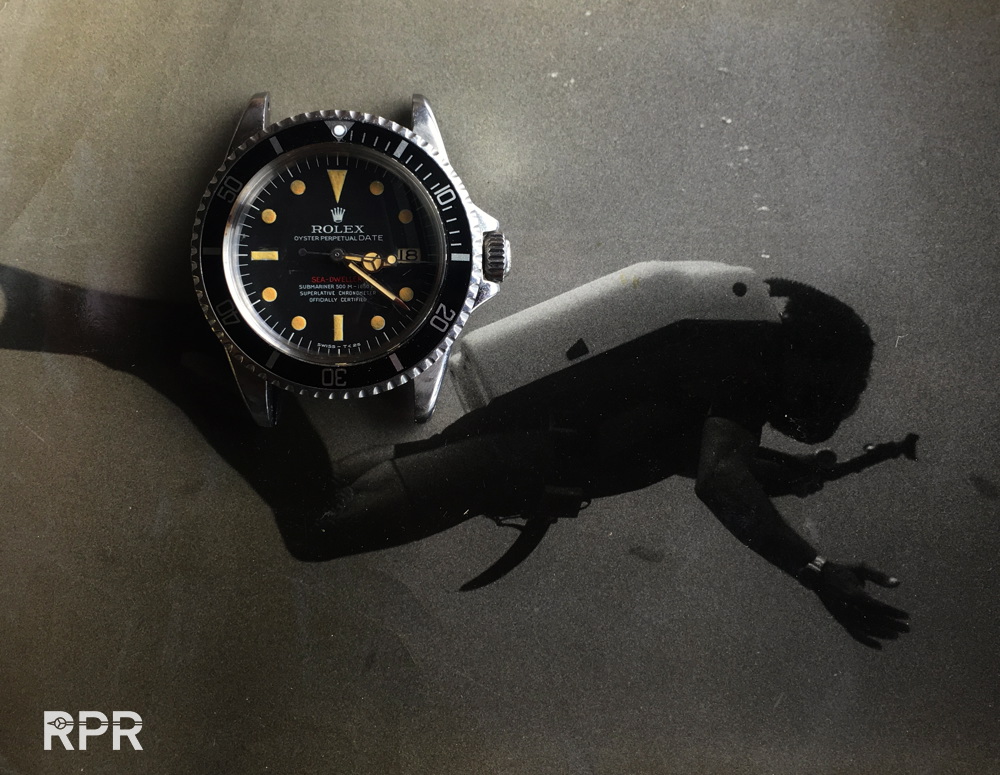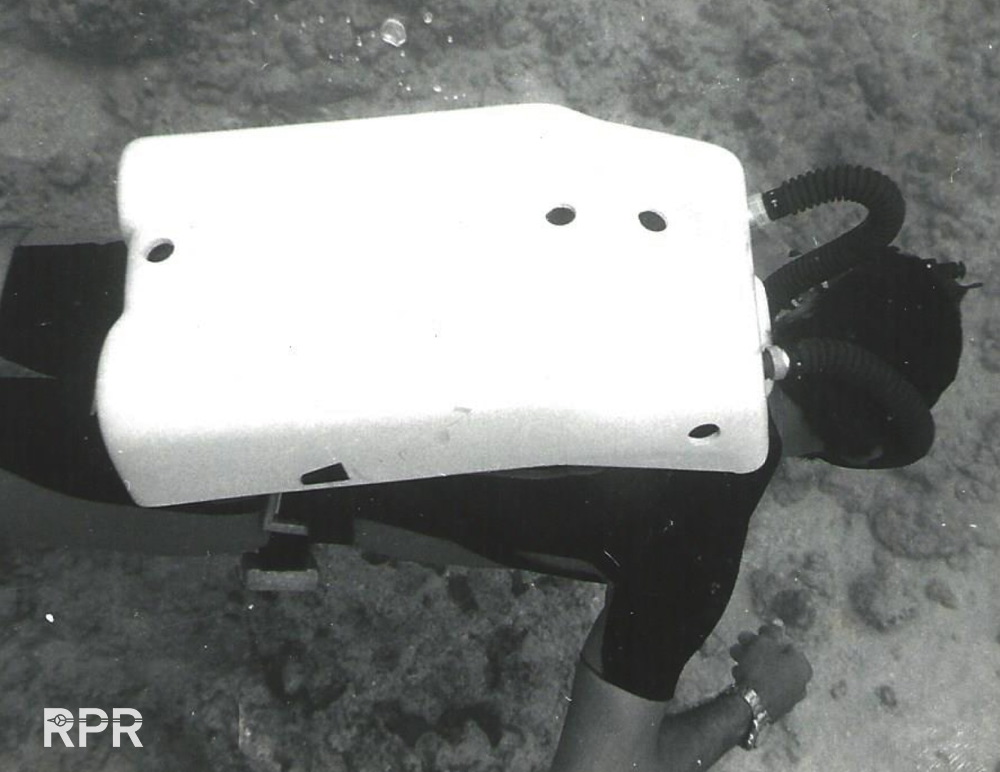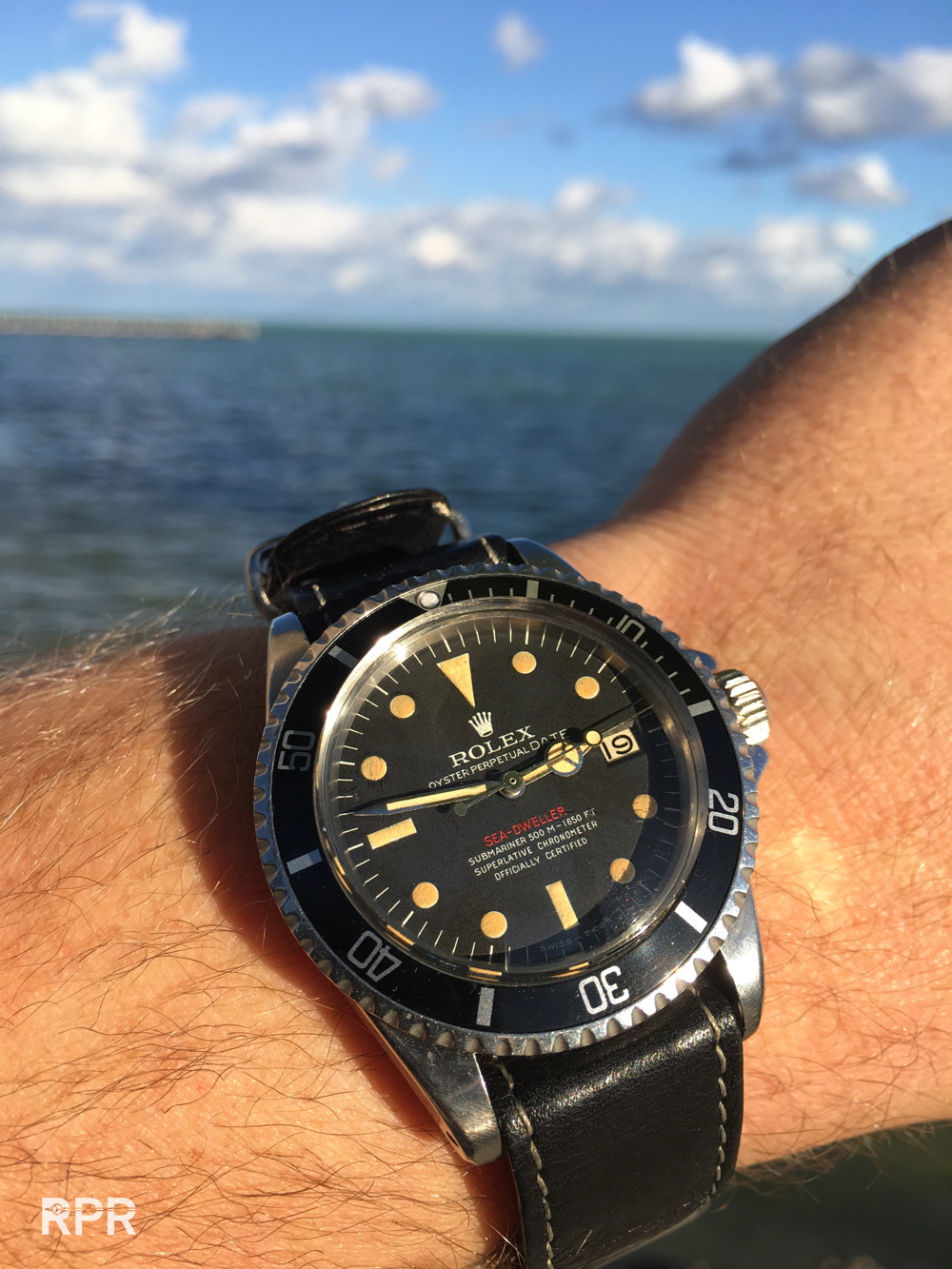 Here below we see Ian Koblick standing on the left with a leader from the ministry of interior and Tektite I leader, Richard A. Waller. When you look closely you will notice the Prototype Sea Dweller Richard was wearing….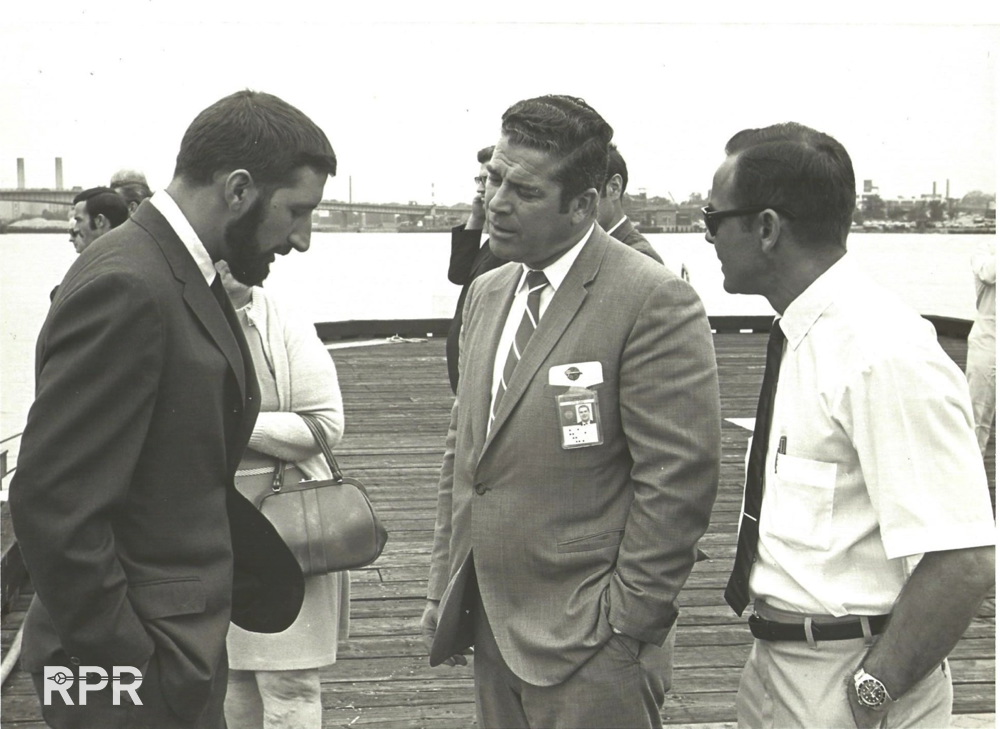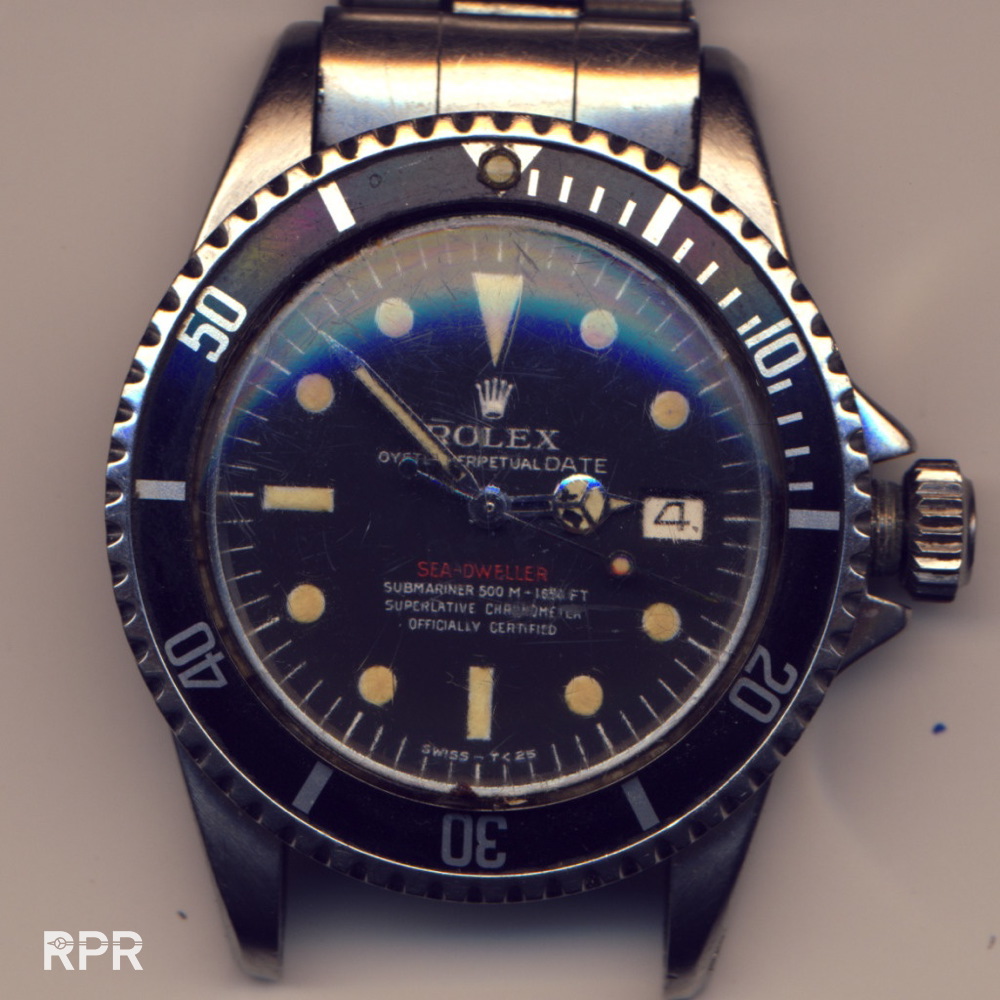 Note the case back gravure is having a different fond then Ian's. Also it states the duration of 2 months in the Tektite I project from 2-15 to 4-15 1969. So far Ian & Richard's Sea Dweller are the only 2 known SRSD with an case back gravure, all others have blanco case backs, sometimes even swapped for a later version…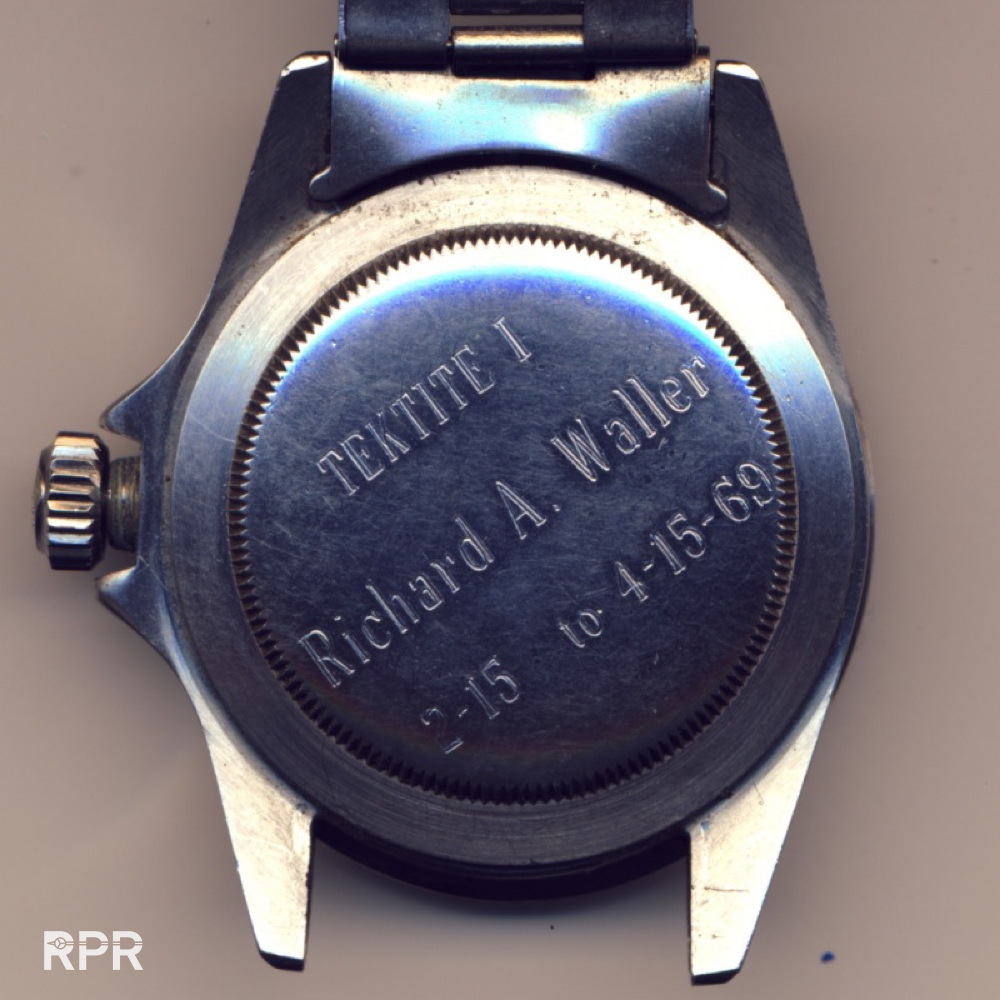 Rolex advertisement with T Walker Loyd, their representative for underwater exploration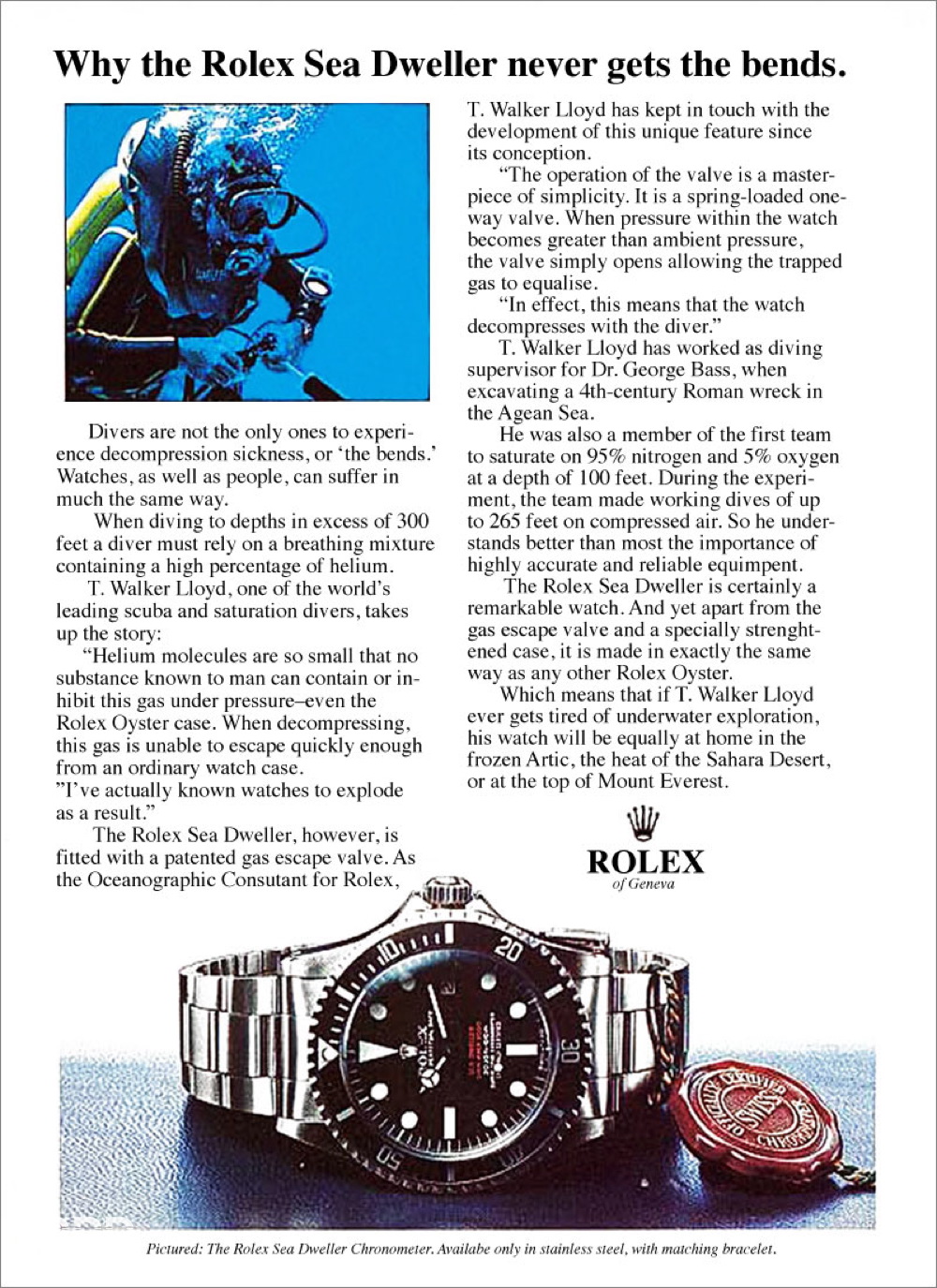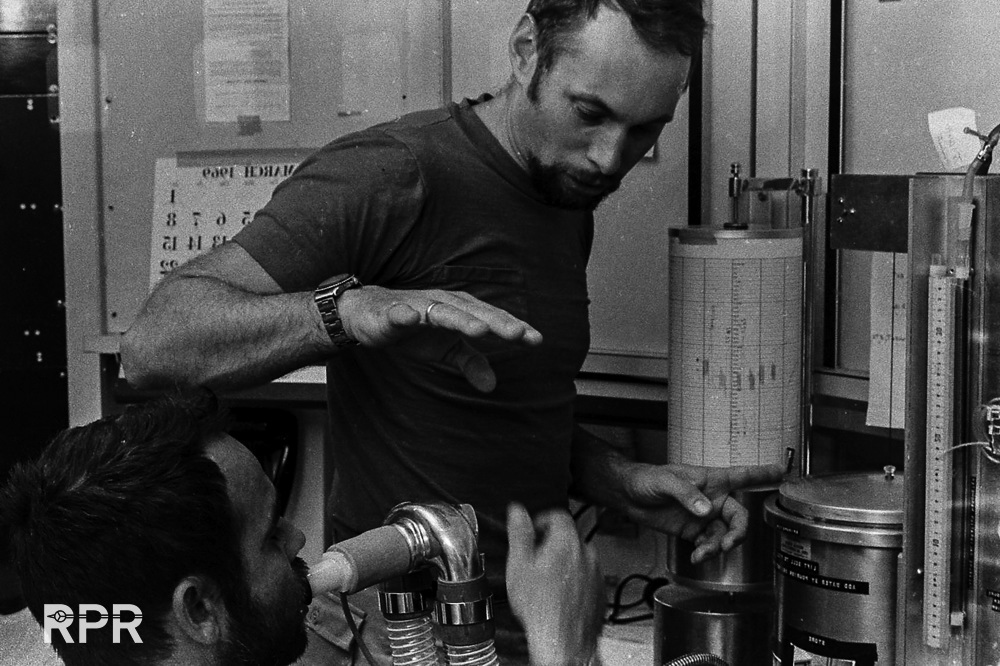 Inside the Tektite habitat…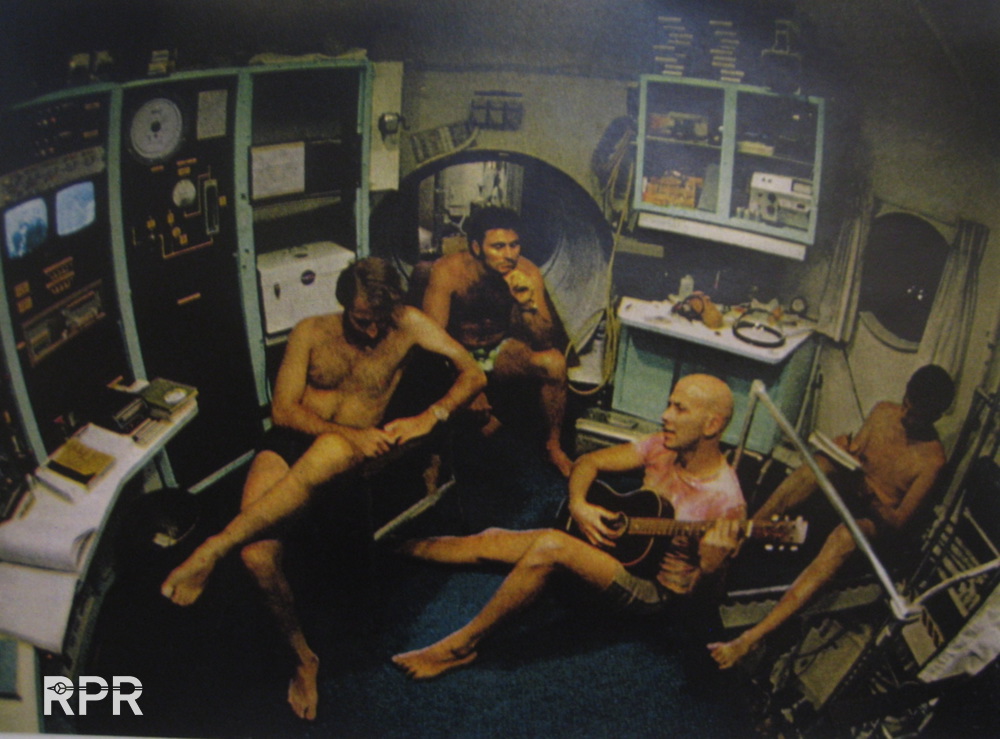 Ending this great story with a remark that I will update this report in the near future with more information about the Sealab & Tektite projects and other known Sea Dweller "Non valve & valve" versions excepts the Waller I already showed.
Many thanks again to Ian & Tonya Koblick for choosing me and inviting my wife and me to pick this marvelous important dive Rolex! I wish you both all the best and hopefully we meet again one day!!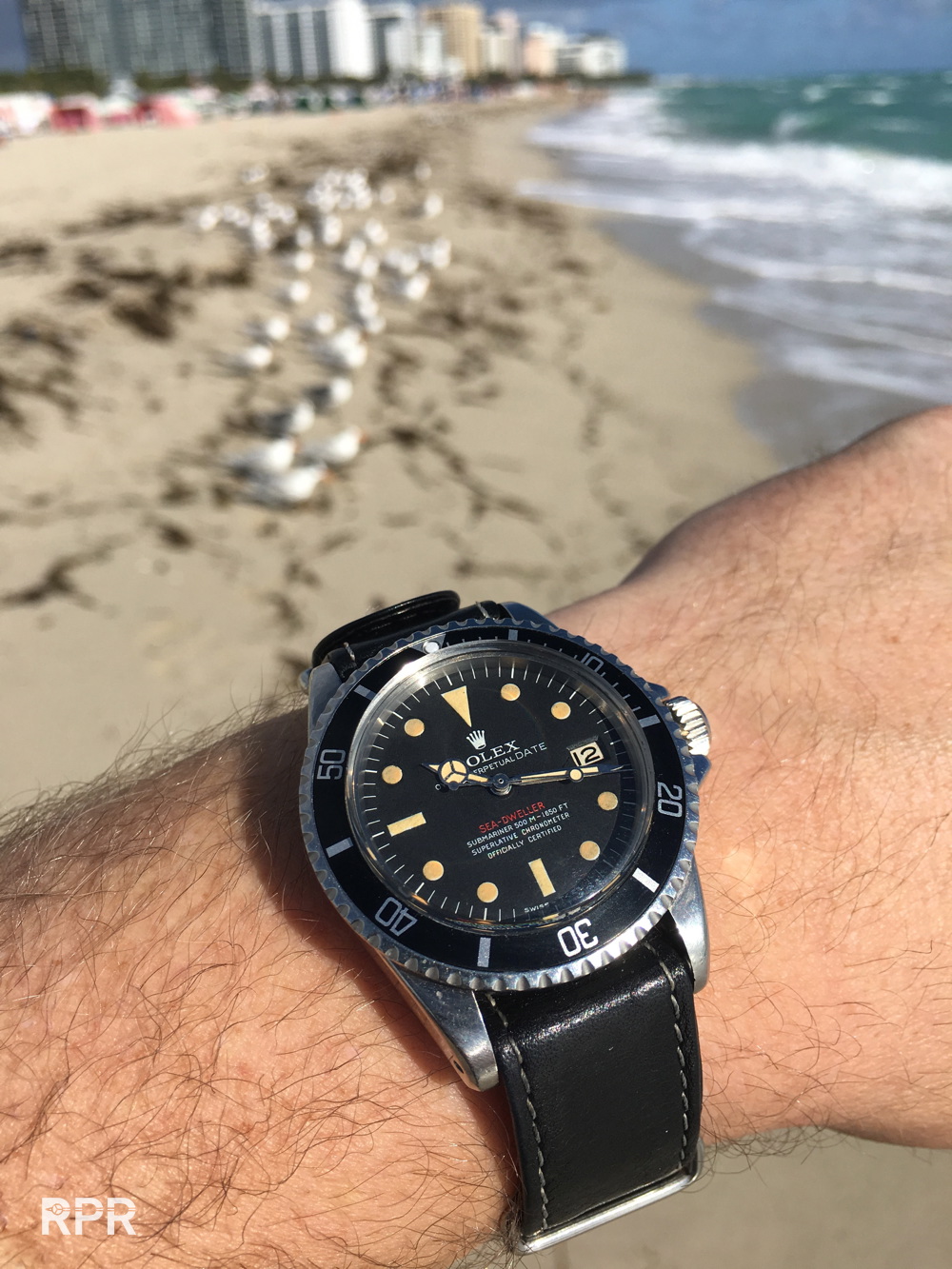 I do hope you like my report. If you have any questions or remarks or you are in the lucky circumstance that you own a important Rolex, please contact me directly by email using this link…
Cheers,
Philipp Stahl
See also my RPReport about the magical trio of rarest red dive Rolex over here….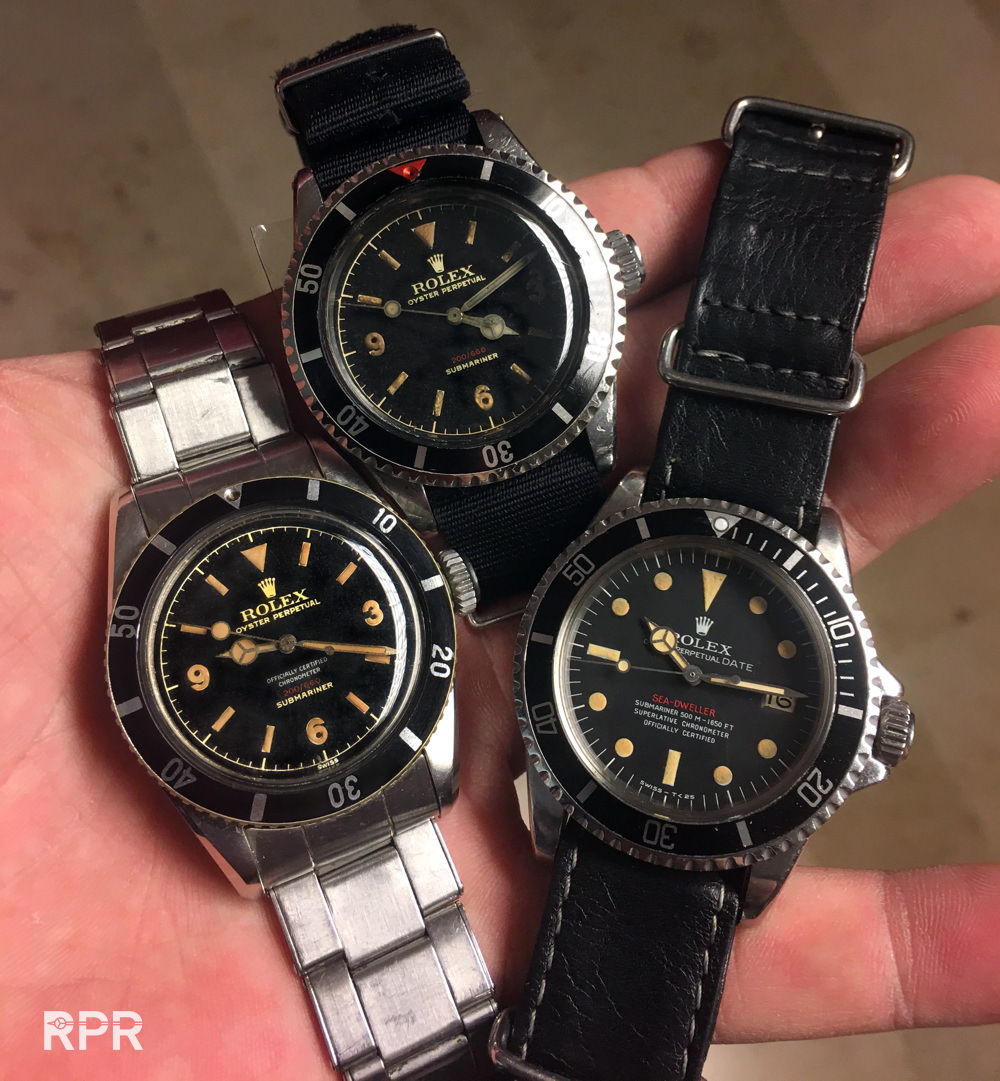 Check out my New 2017 Rolex Basel World...for 50th anniversary Red Rolex Sea Dweller 4000…