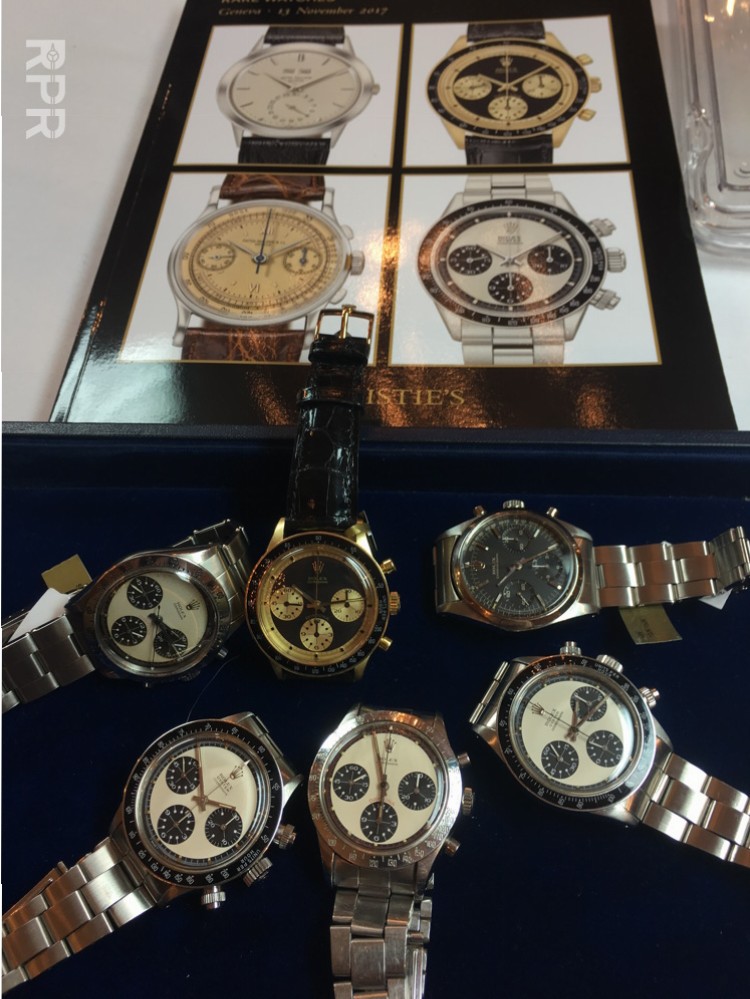 Quickly after the monster Paul Newman sale in New York, we were heading to Geneva for the watch auctions. Let me start this time with a disclaimer 😉 All you see and read here are my personal pictures and my personal opinion. If you don't like what you find in this post, simple skip it and don't read it! It's like with social medial, if you're not interested don't even think to follow me here and on Instagram and Facebook. Its that simple in life, you yourself decide what you want to know. I merely show you my observations and share my comments on the offered lots like i'm doing for you readers since many years. Now lets move on….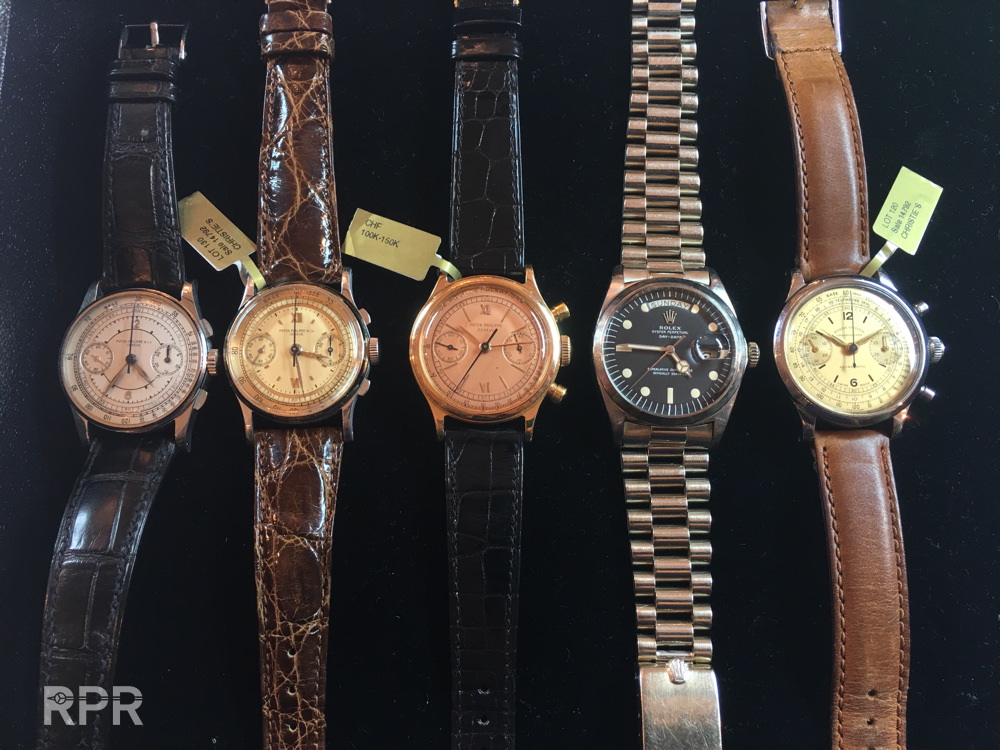 The big question was if the Geneva results would be stronger after the record Newman sale in New York and the answer is YES! Christies Geneva, Phillips and Antiquorum Swiss but also Sotheby's where having their watch auctions last days. As usual Rolex and Patek Phillipe are the most important brands to follow. This time Phillips had a special sale dedicated to Heuer, which sold 100%. So already we see a positive reaction of the vintage watch market after the nearly $18 million result of the Paul Newman…..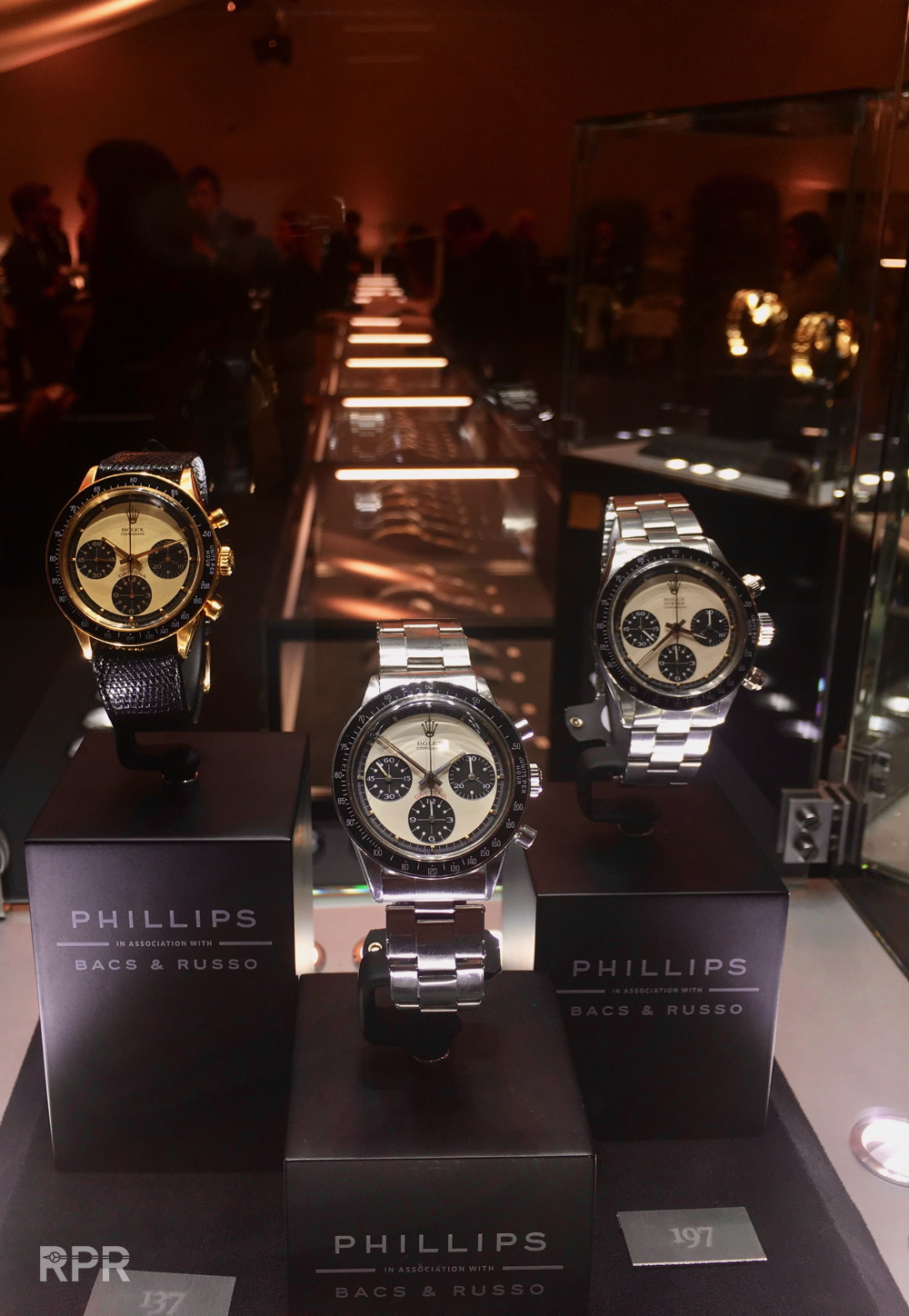 Above the pump Newman ref 6264 in the middle sold for CHF 312.500,= The gold Newman 6241 for CHF 444.500,= and the Oyster Newman for CHF 408.500,= A  modern high complicated Patek Phillipe Minute repeater which most probably took like 6 months to produce sold for CHF 336.500,= Thats not even close to what a perfect Oyster Paul Newman sells nowadays….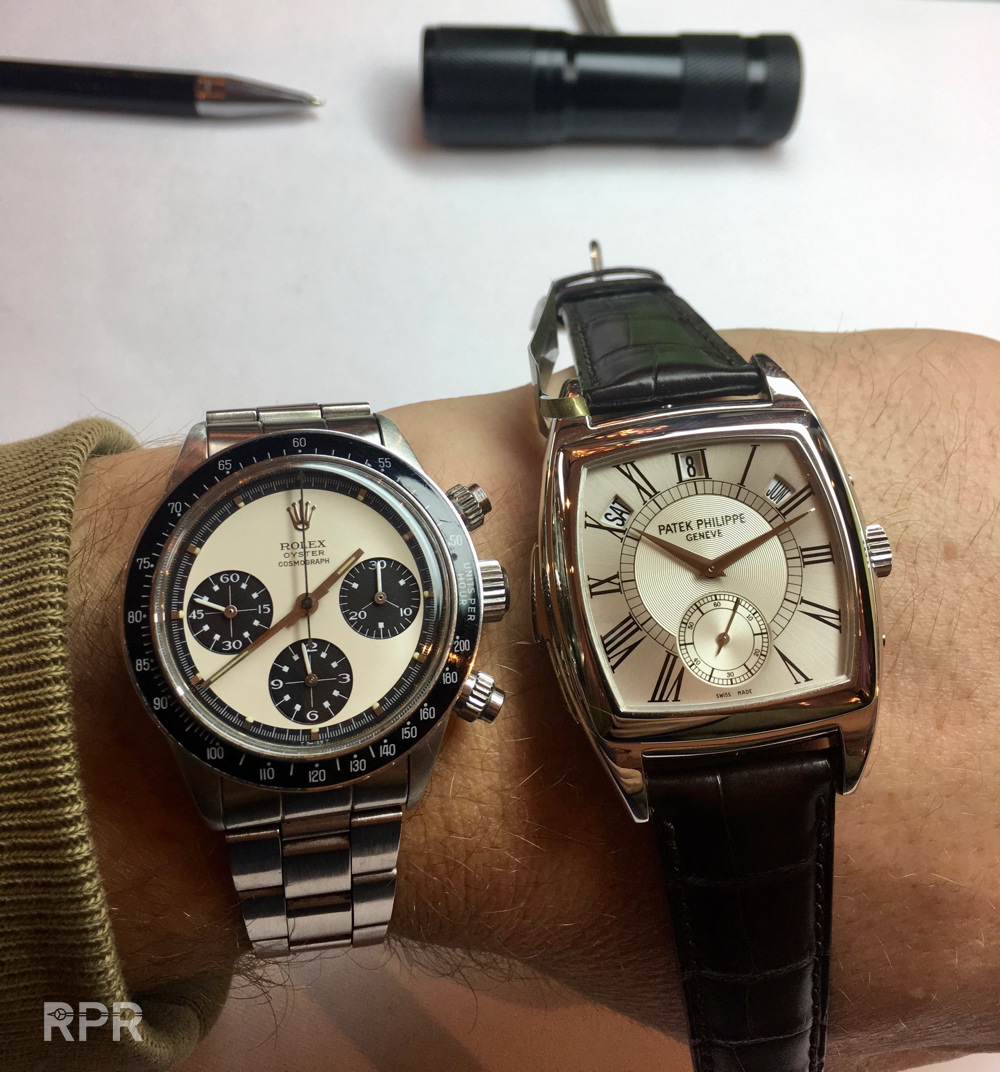 At Phillips this 6263 Newman sold for CHF 408.500,=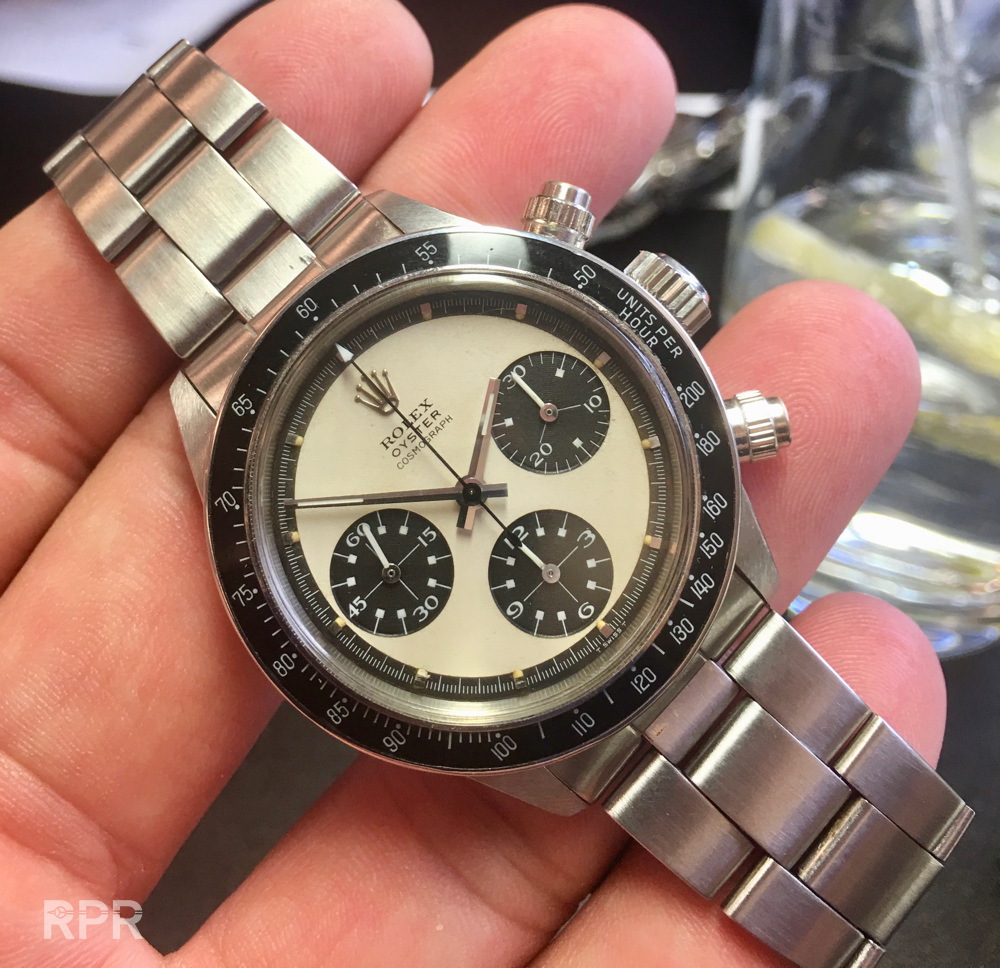 Then at Christies this Oyster Paul Newman sold for CHF 504.500,=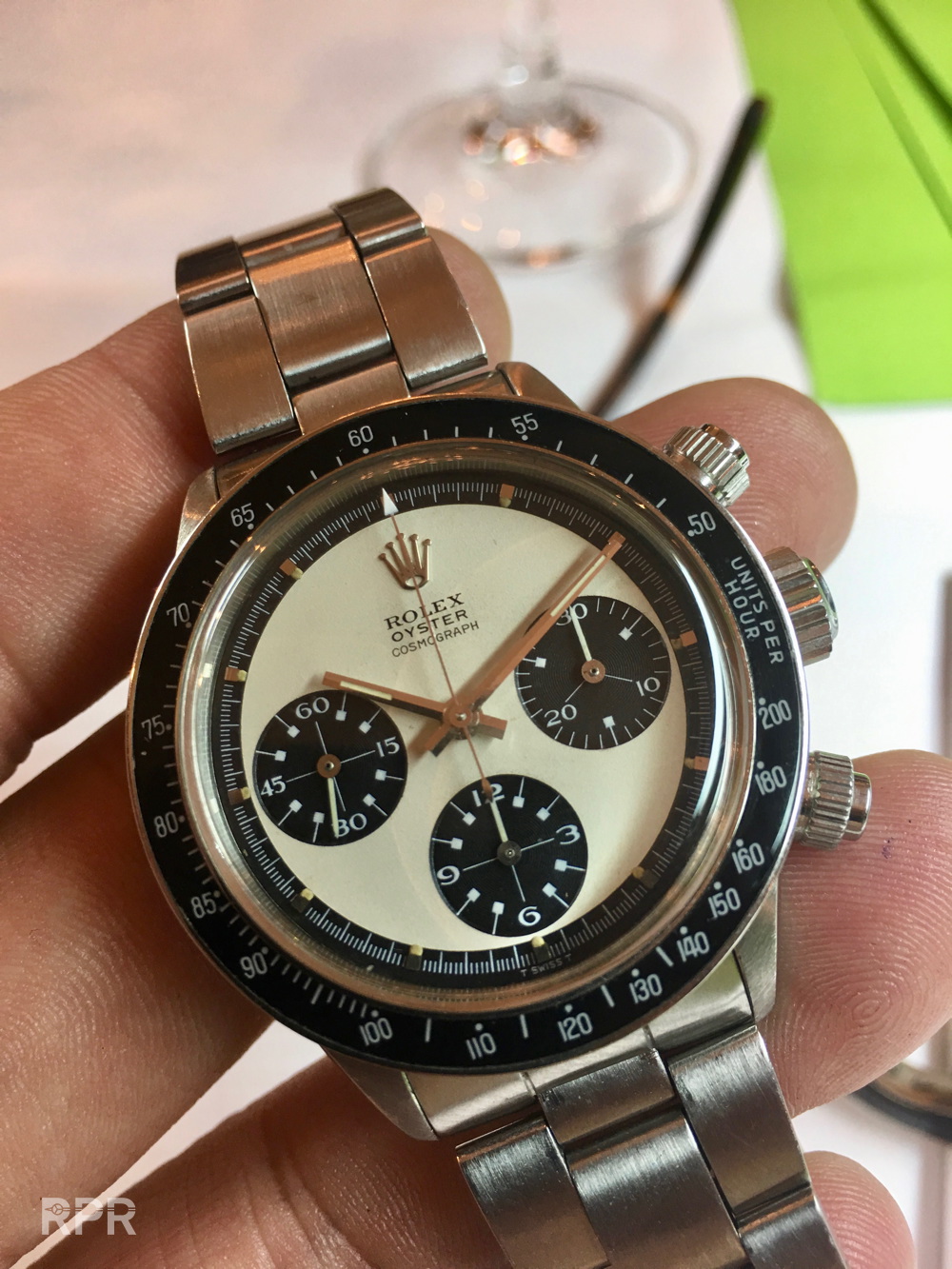 Under UV light you can see if the dial has tritium left or not. It's probably not a surprise If I tell you that the right one is mine 😉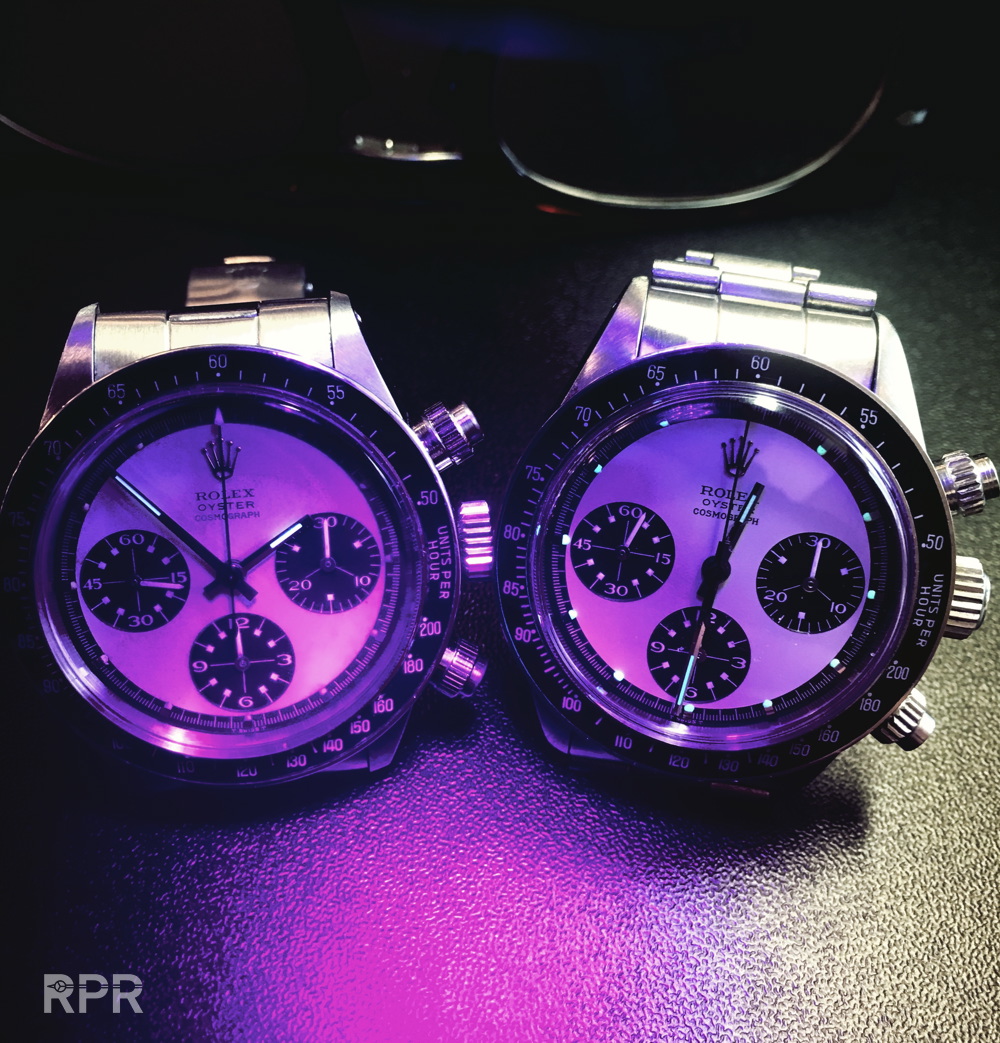 Next unusual Rolex is the Day Date with sporty dial and hands. I remember the owner contacted me 1-2 years ago and I advised him to contact Rolex Geneva, which he did. They serviced his dads Rolex and confirmed verbally. The final result is CHF 275.000,= and i'm really happy for the old & new owner!…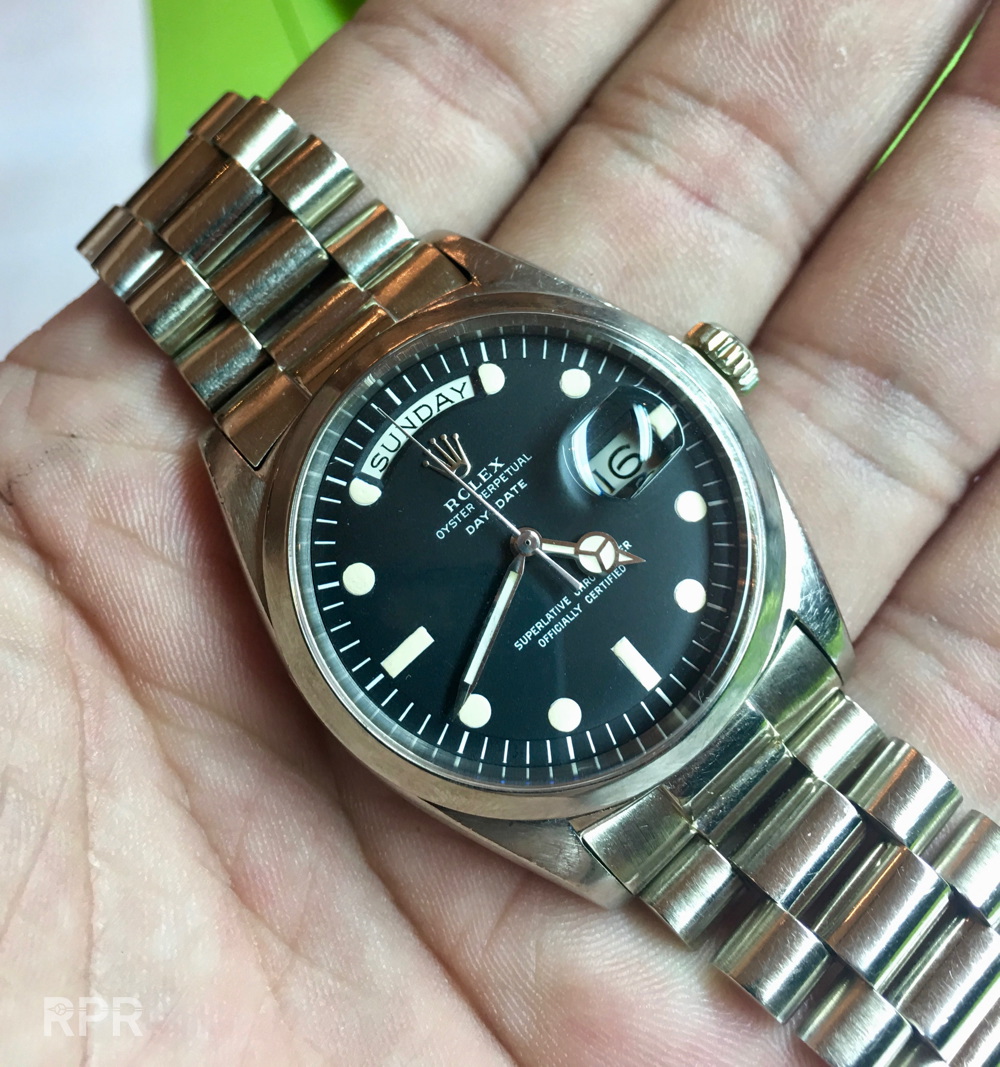 You could wonder why this special dial with Mercedes hands are not luminous, as you can see from my UV light pictures below because wasn't that exactly the reason why they fitted a different dial as request in this white gold day date? Anyways, there will always be mysteries we can't explain with the knowledge we have now. In some cases only Rolex knows, if they know.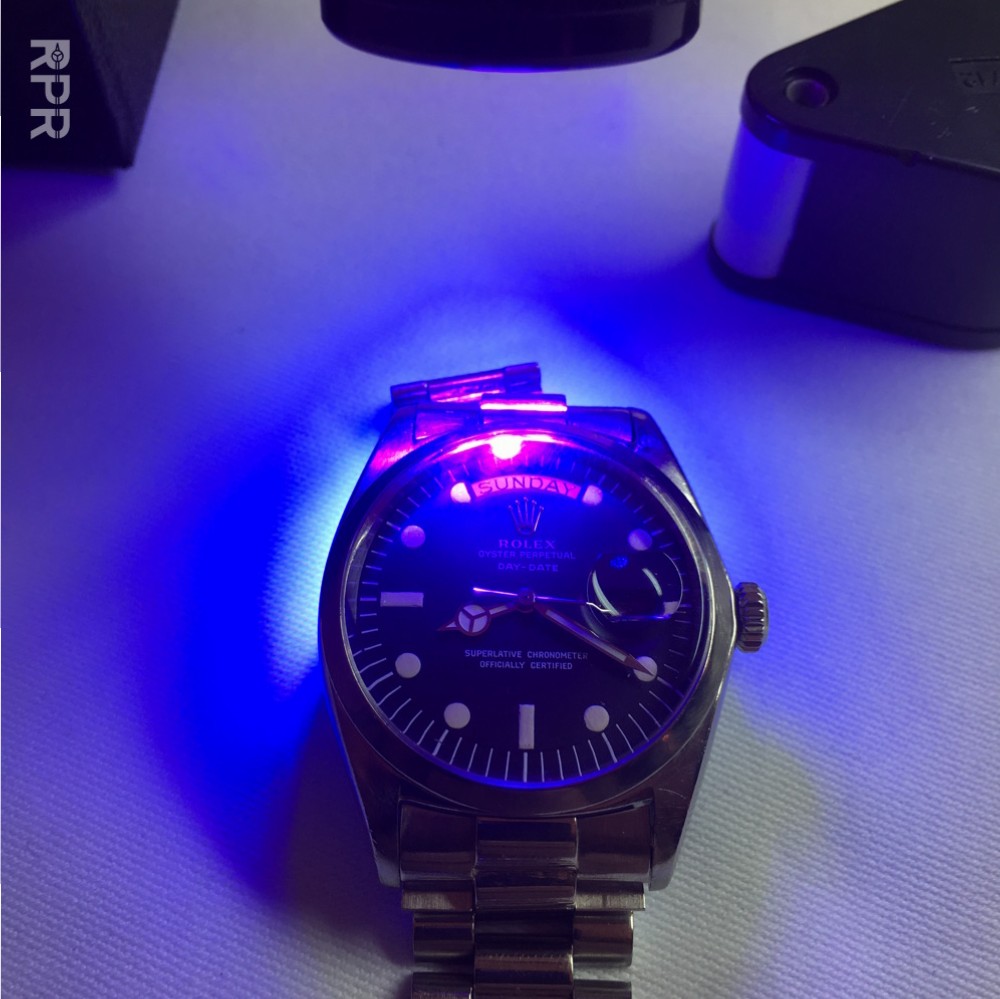 If you want to learn about the "Evolution of Rolex Luminous", check out my previous article…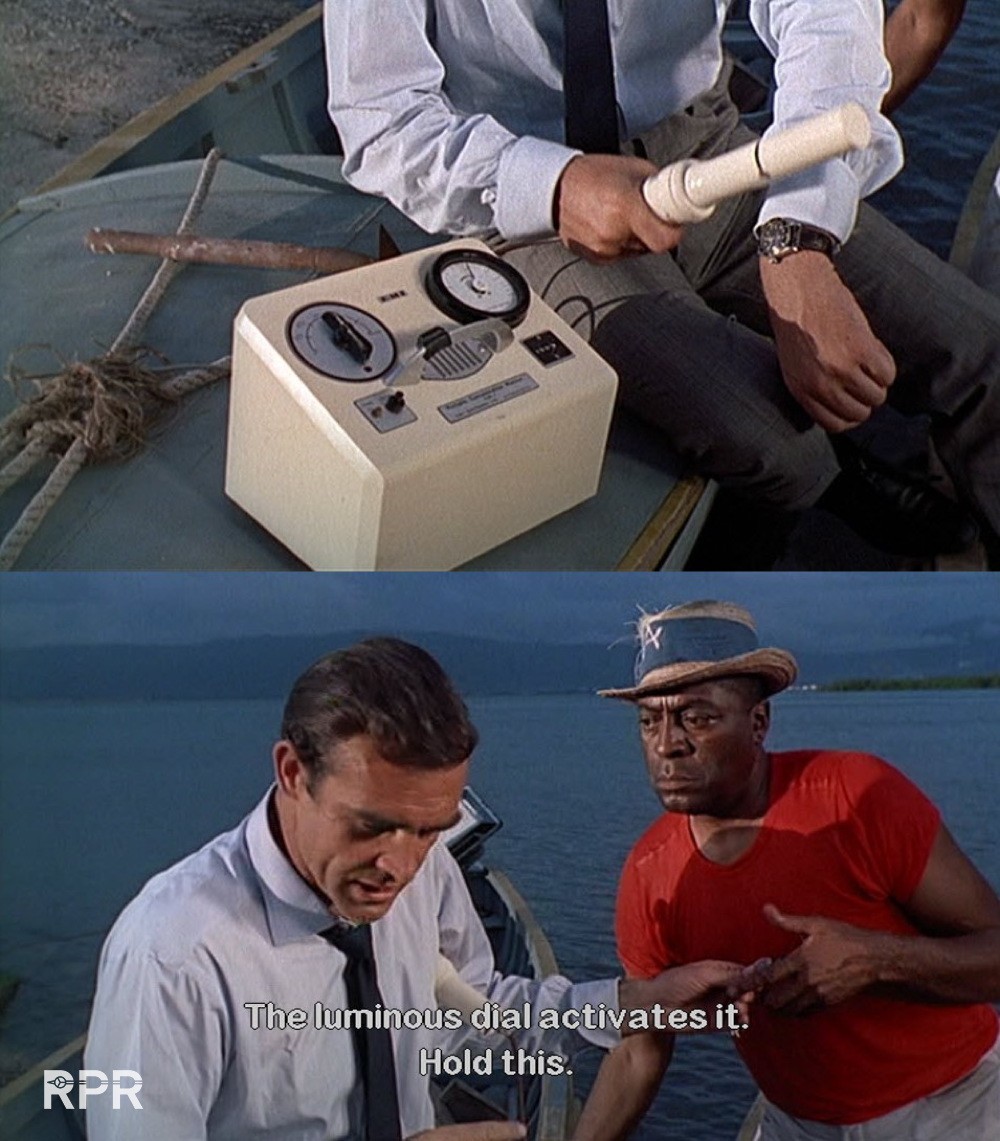 Brasserie Lipp, where else to eat when in Geneva…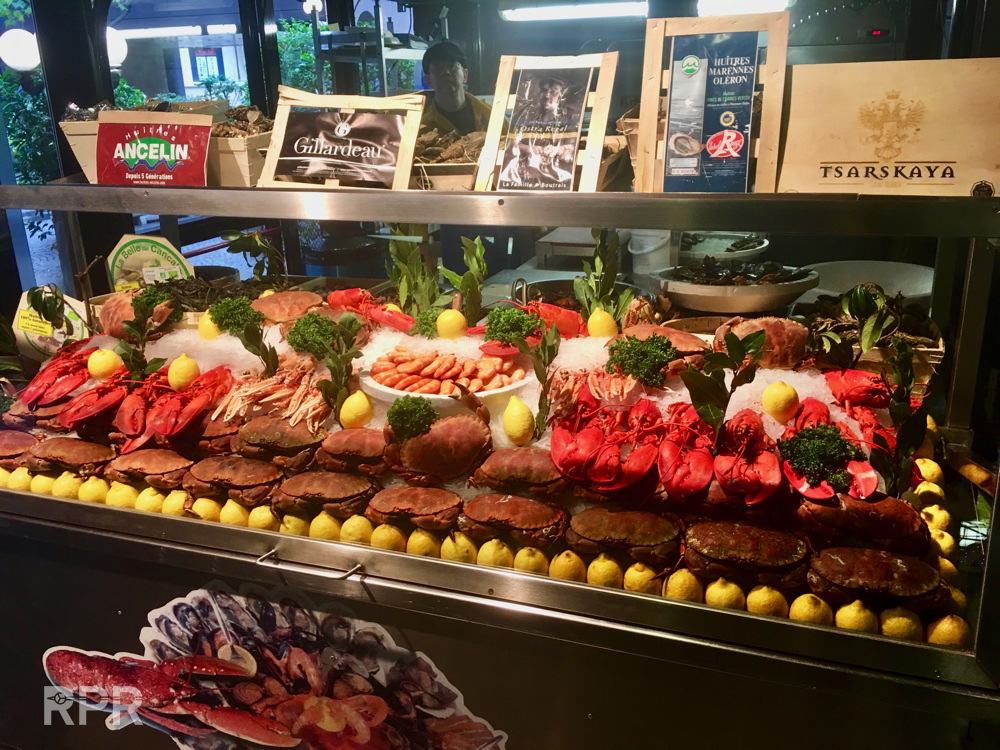 Oysters, what else!..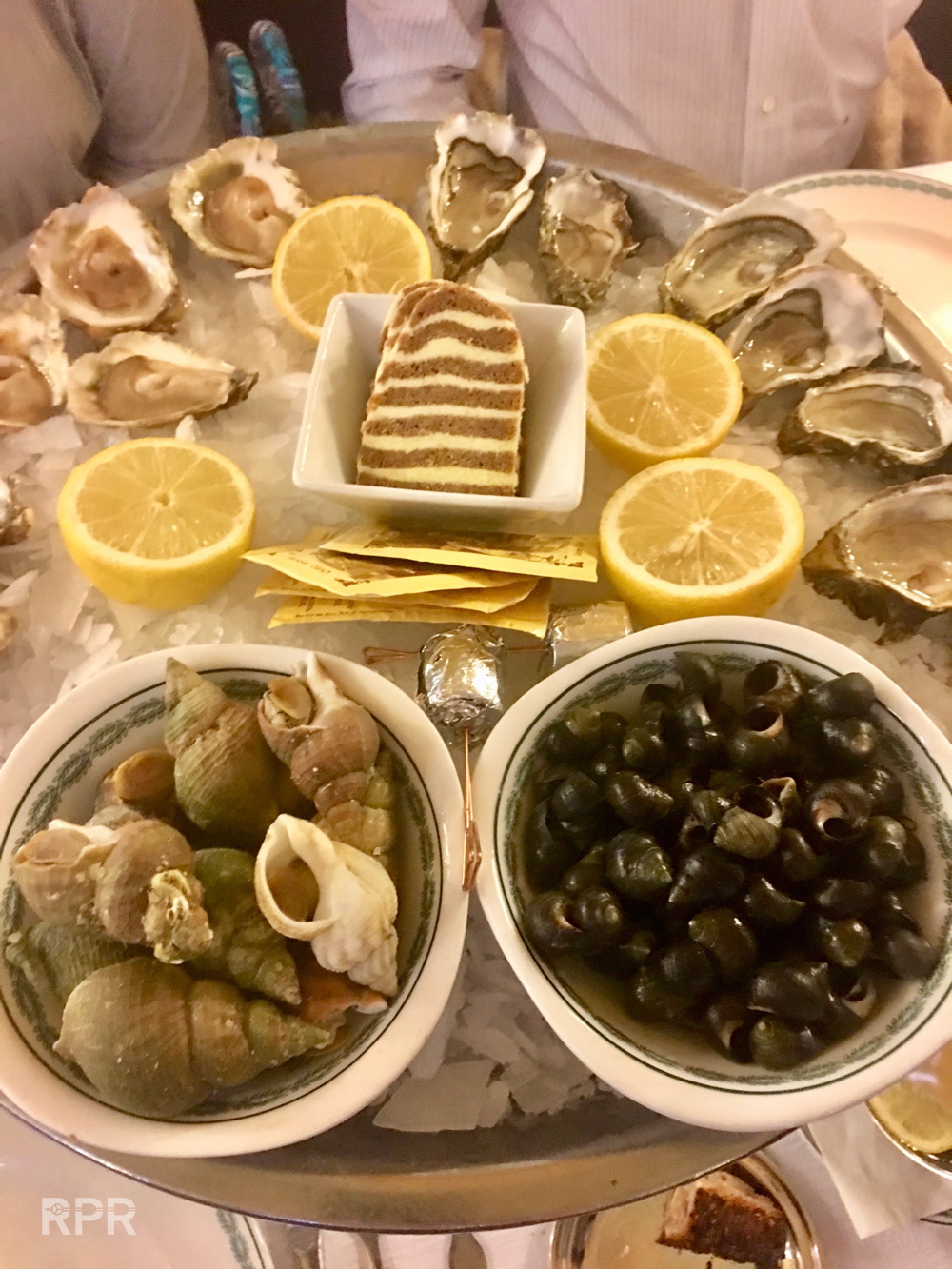 The Gold Daytona Paul Newman at Phillips sold for CHF 444.500,=, which also shows us that the only way is up, price wise…
14K and minty condition explain the almost double price compared to the Christies one…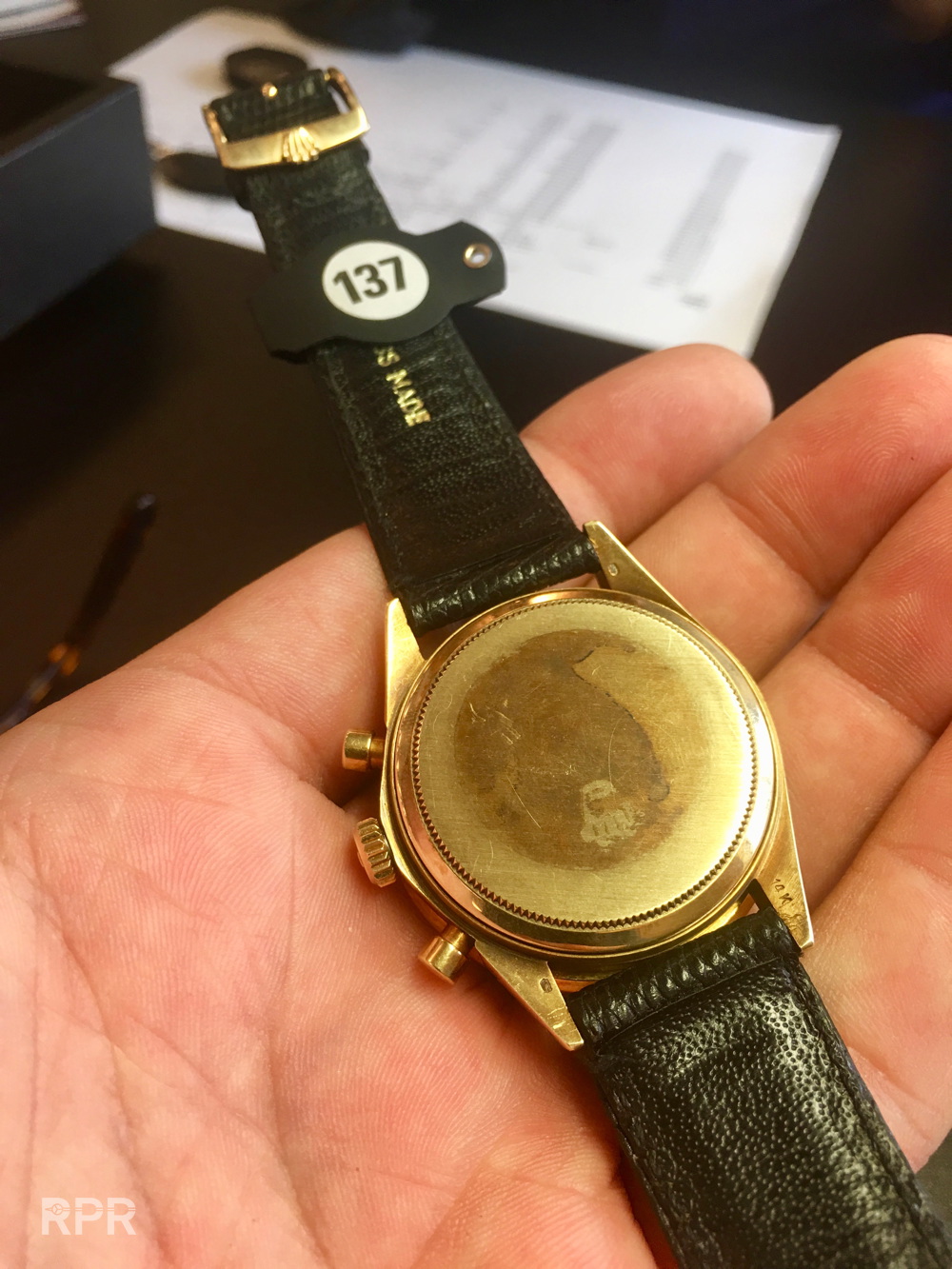 Christies also had a gold Newman in offer, which finally sold for CHF 212.500,= BUT there's always a reason why the market reacts like this….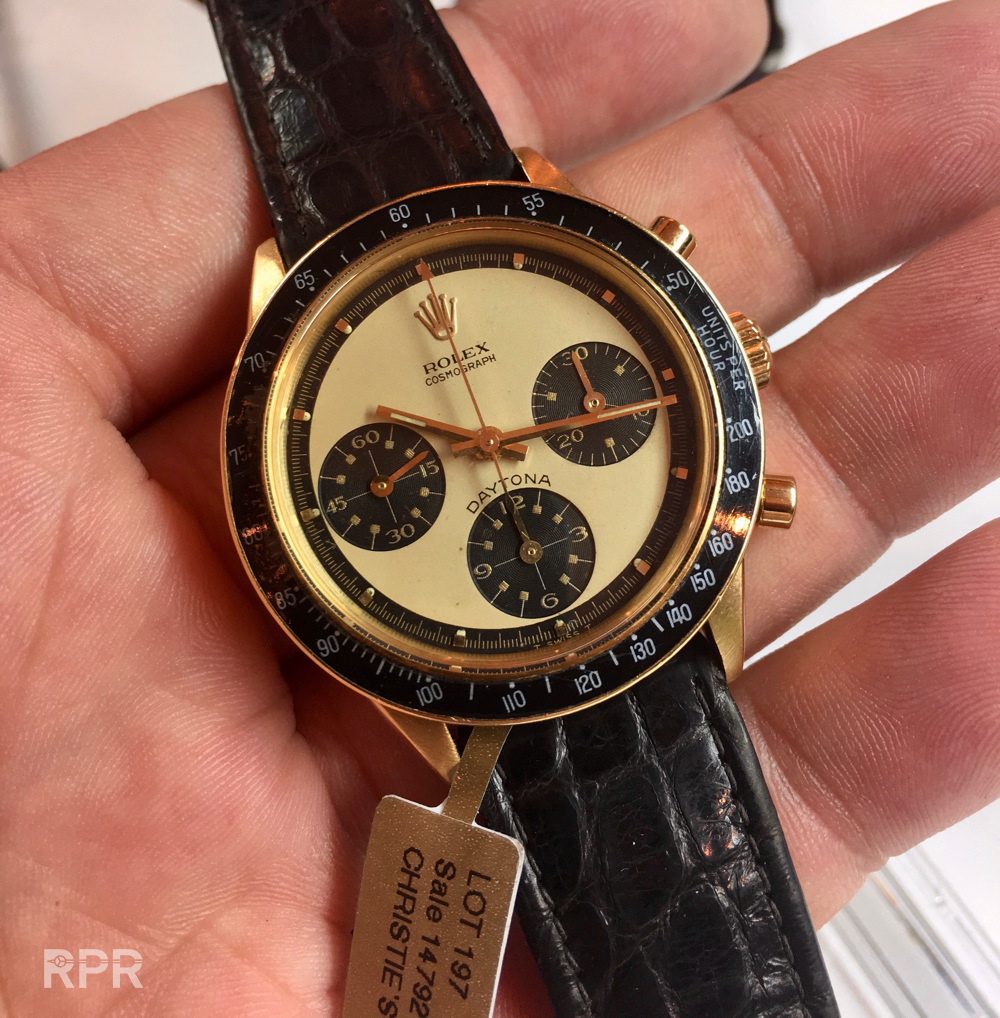 The case back wasn't in best condition any more as you can see below…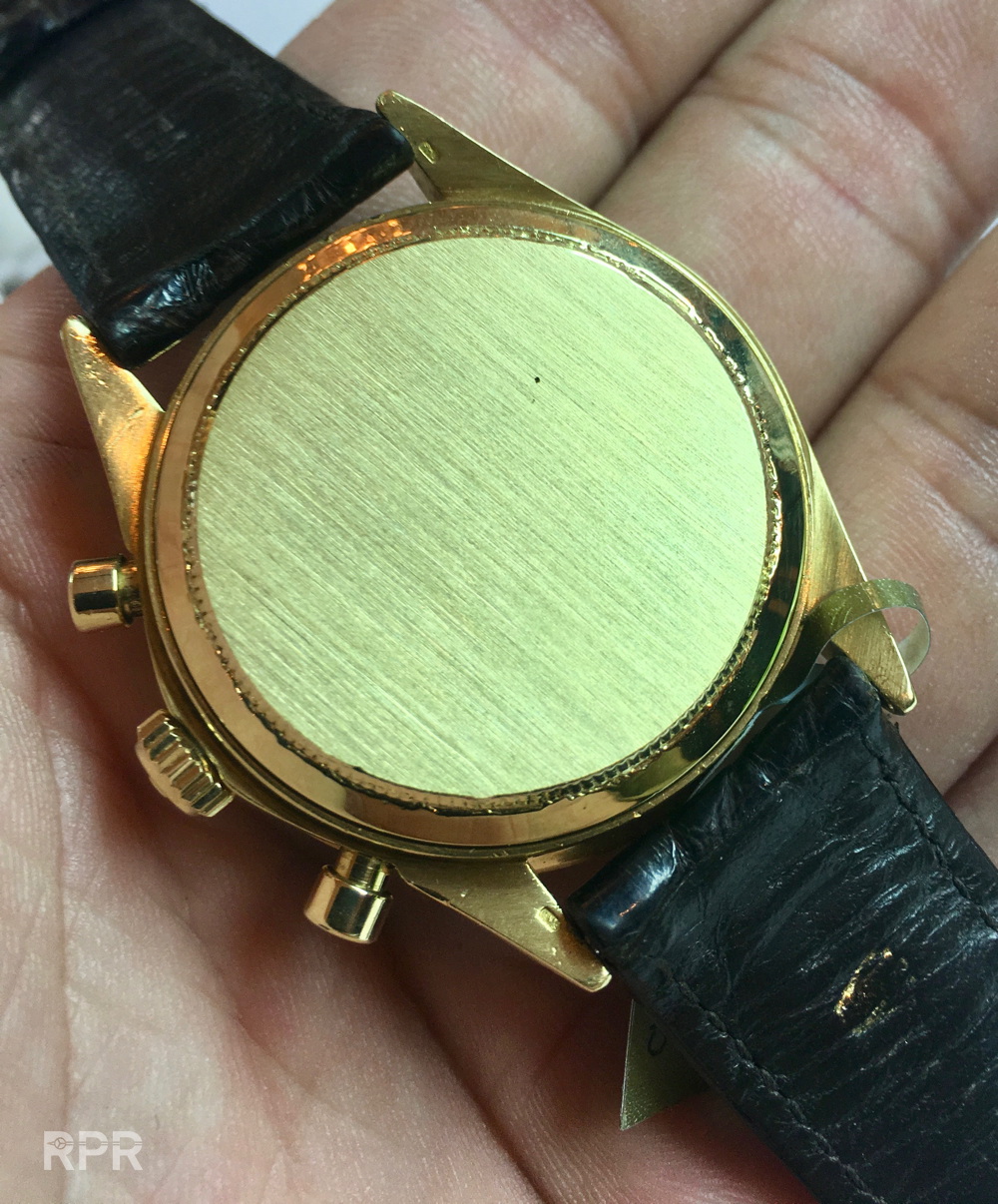 And the luminous on 2& 3 o clock are dead which shows you the UV light test…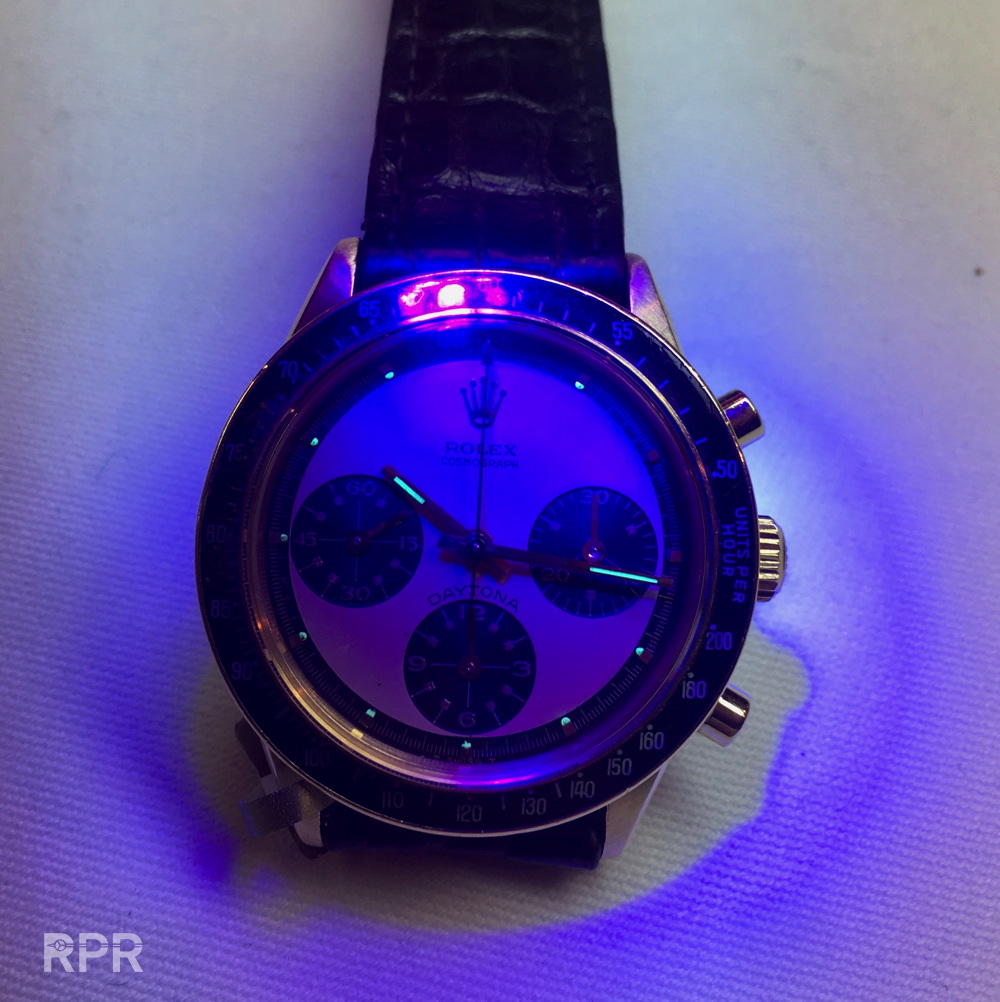 The gold Newman with black dial, so called JPS ( John Player Special) sold for astonishing CHF 744.500,=!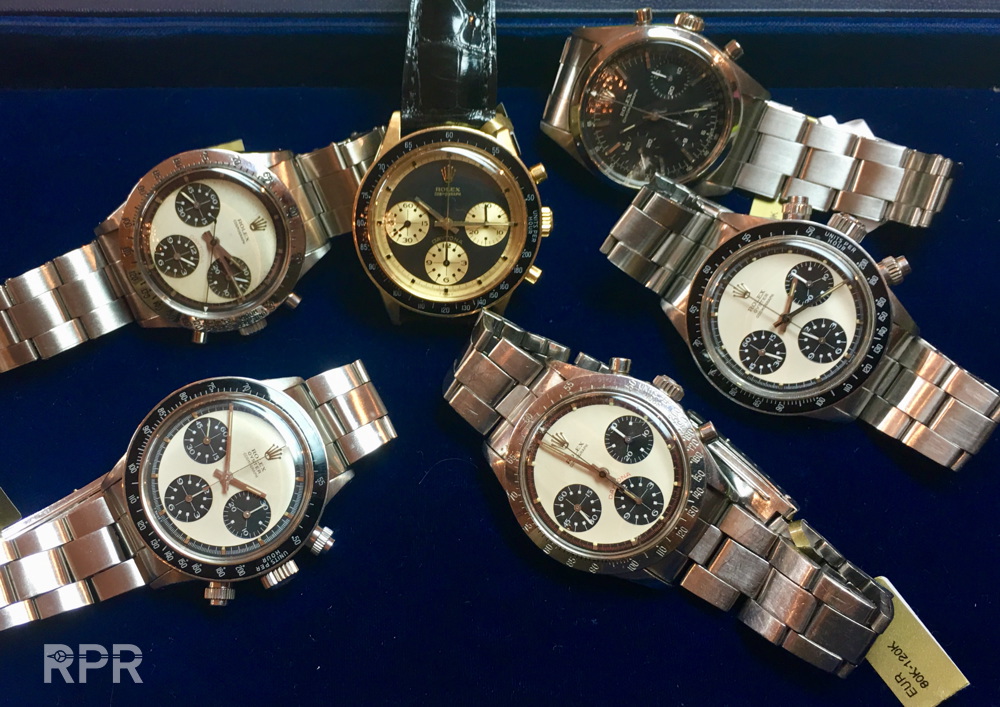 Below the right Oyster Paul Newman sold at Christie's for CHF 500K. Definitely a nice one but many collectors out there will notice that the left is 100% spot on, with all lume dots, matching serial to known batch, in all correct conversion etc.. This tells me we are still at the beginning of yet another price rise for the best quality….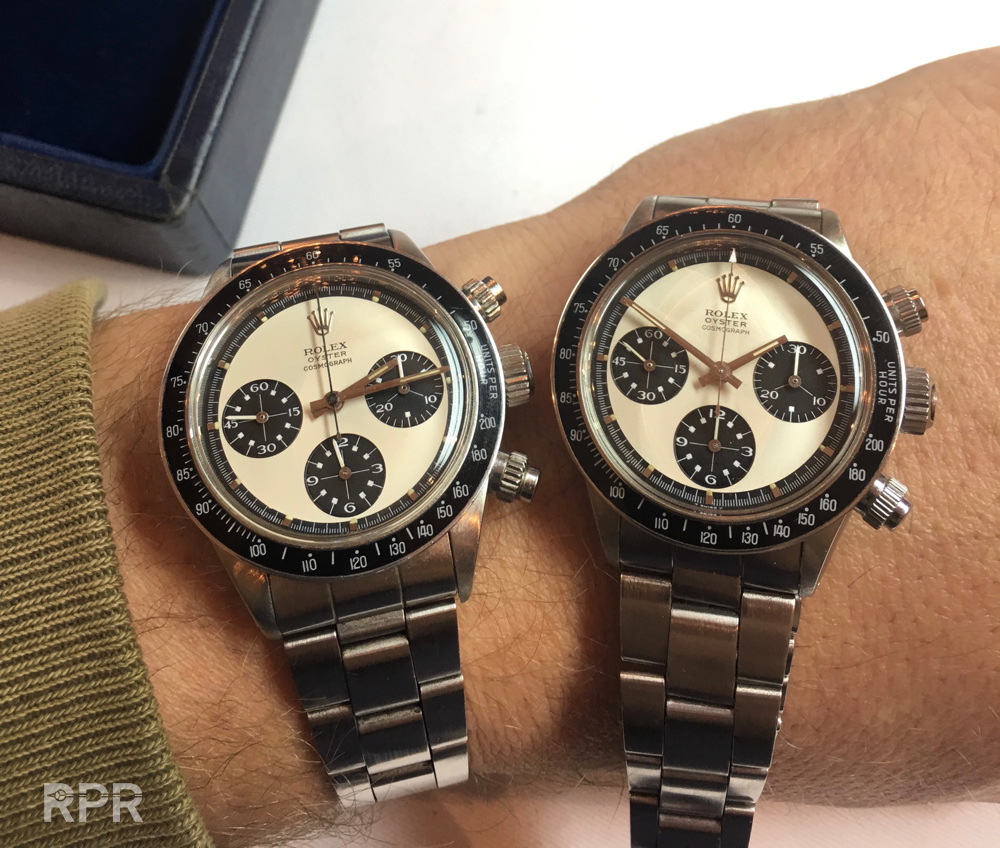 One "dirty" Newman sold for nevertheless CHF 125.000,= and a clean black and a clean white 3 color Paul Newman sold for CHF 200.000,= each, which has become like the entree level for Newman's now. We clearly see a trend of higher prices after the record sale in NY. Below you think to see a regular Rolex Oyster Daytona but it's not. Once you focus on the size of the sub dials you will notice they are bigger then regular. This so called "Big Eye" went for CHF 187.500,=!!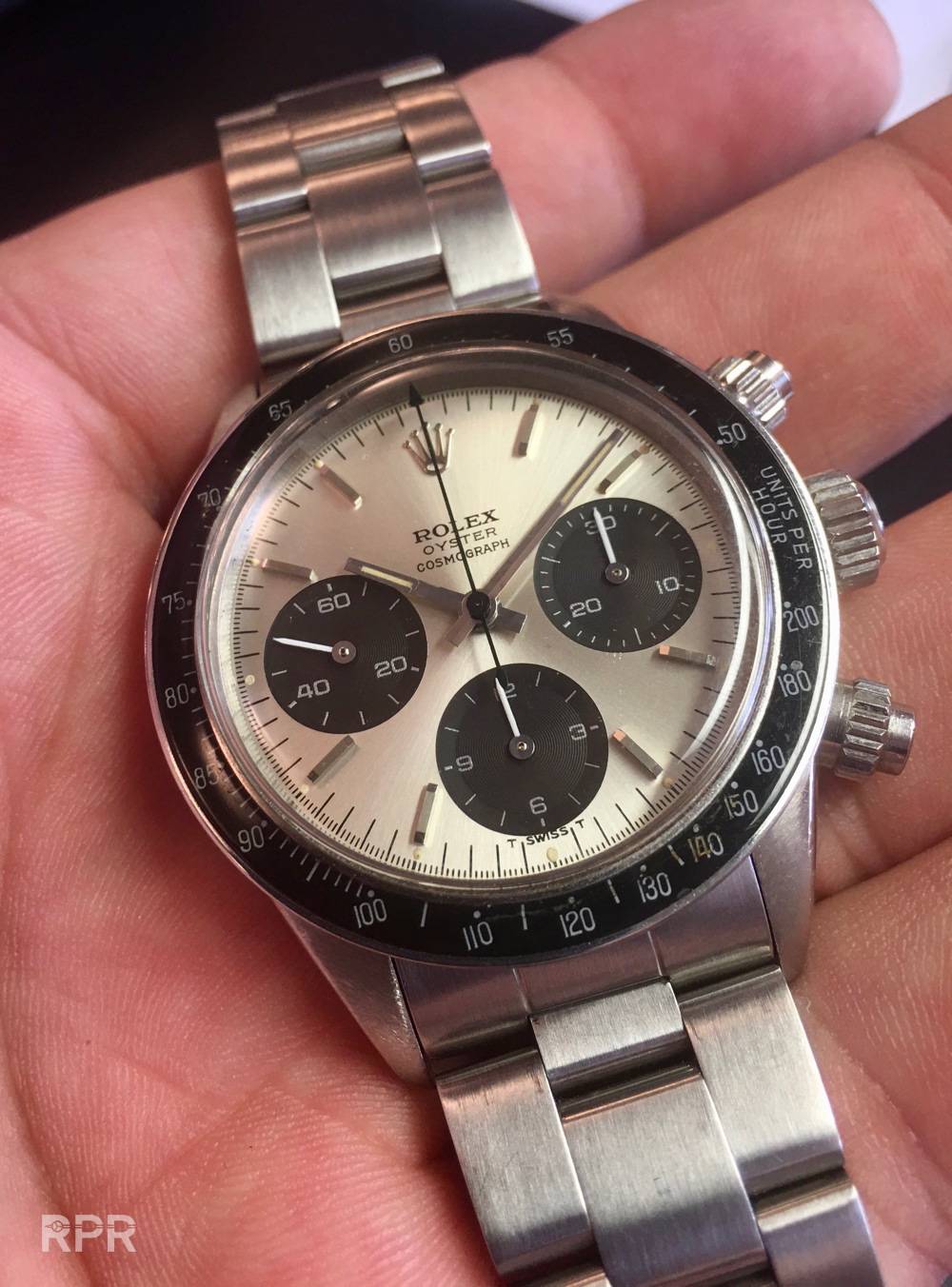 At Antiquorum the 6241 sold for CHF 197.000,=
And their Linz Newman for CHF 275.00,= which is by far not crazy when you compare it with previous Linz result and regular nice 6241's.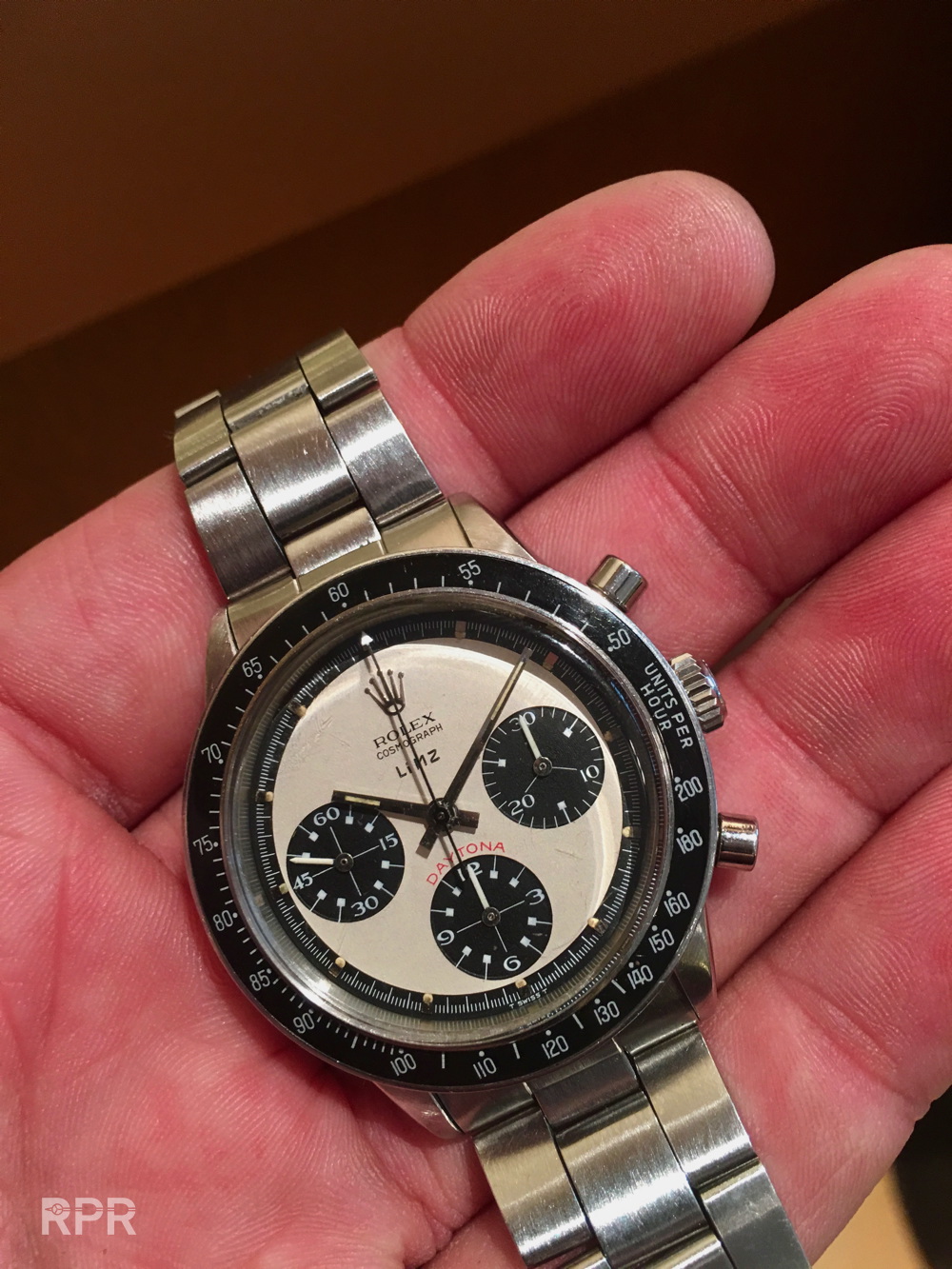 The UAE Daytona fetched CHF 269.000,=…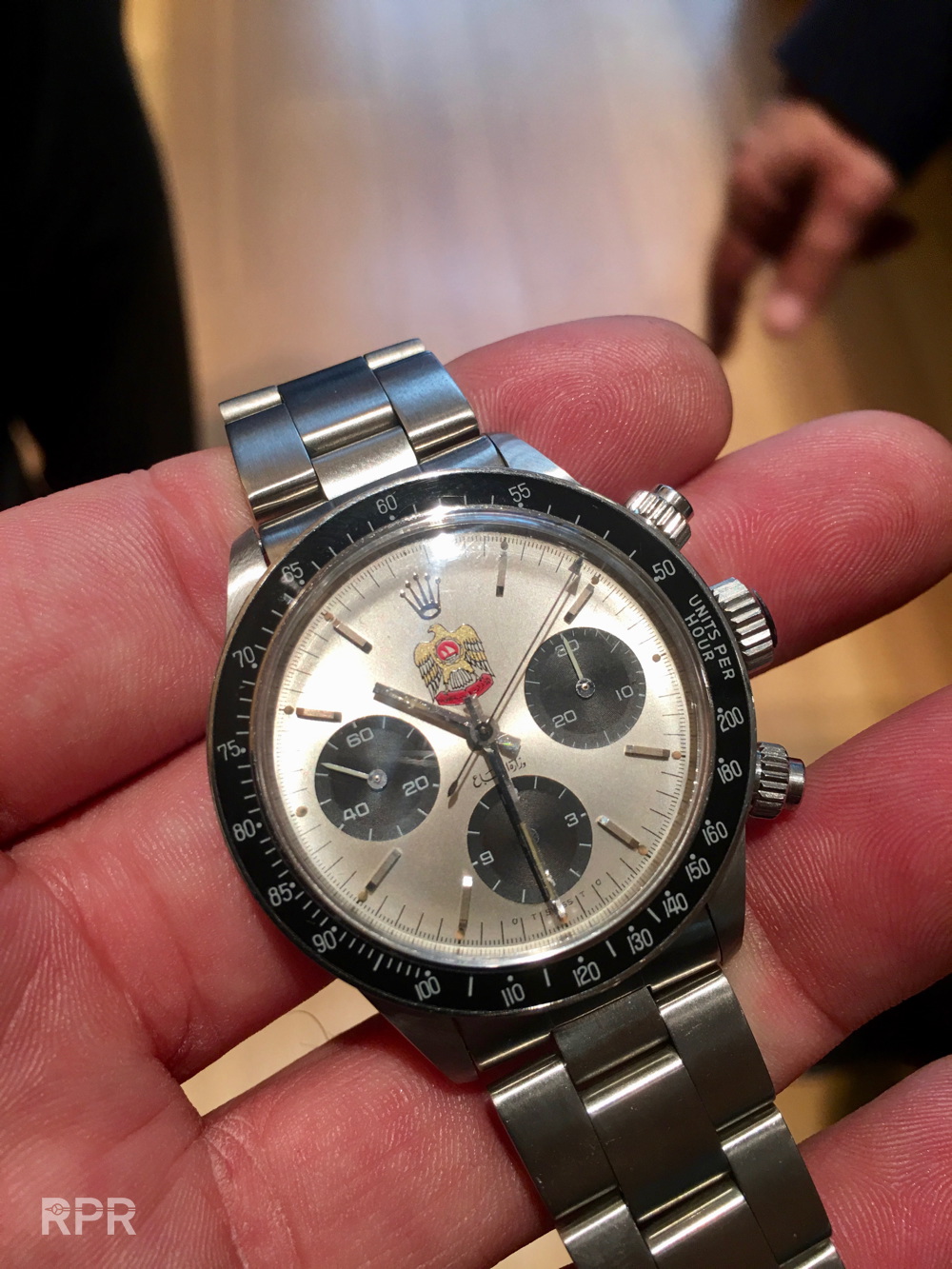 A crisp gold regular Daytona sold for CHF 156.250,= at Phillips…
The NOS gold Oyster Daytona one fetched CHF 168.750,=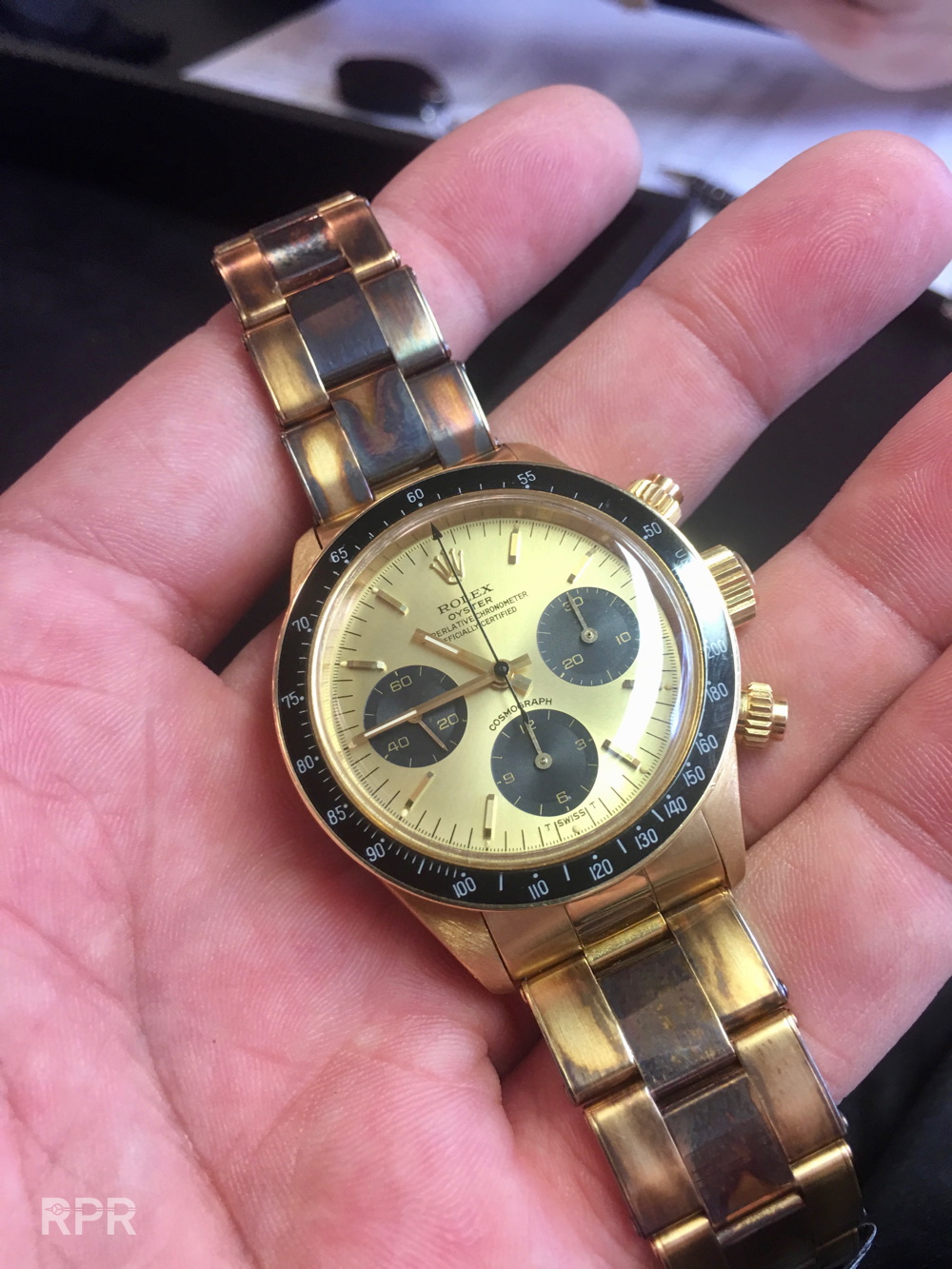 Even a not so popular compared to oysters & newman's this medium quality double swiss underline sold for CHF 100.000,=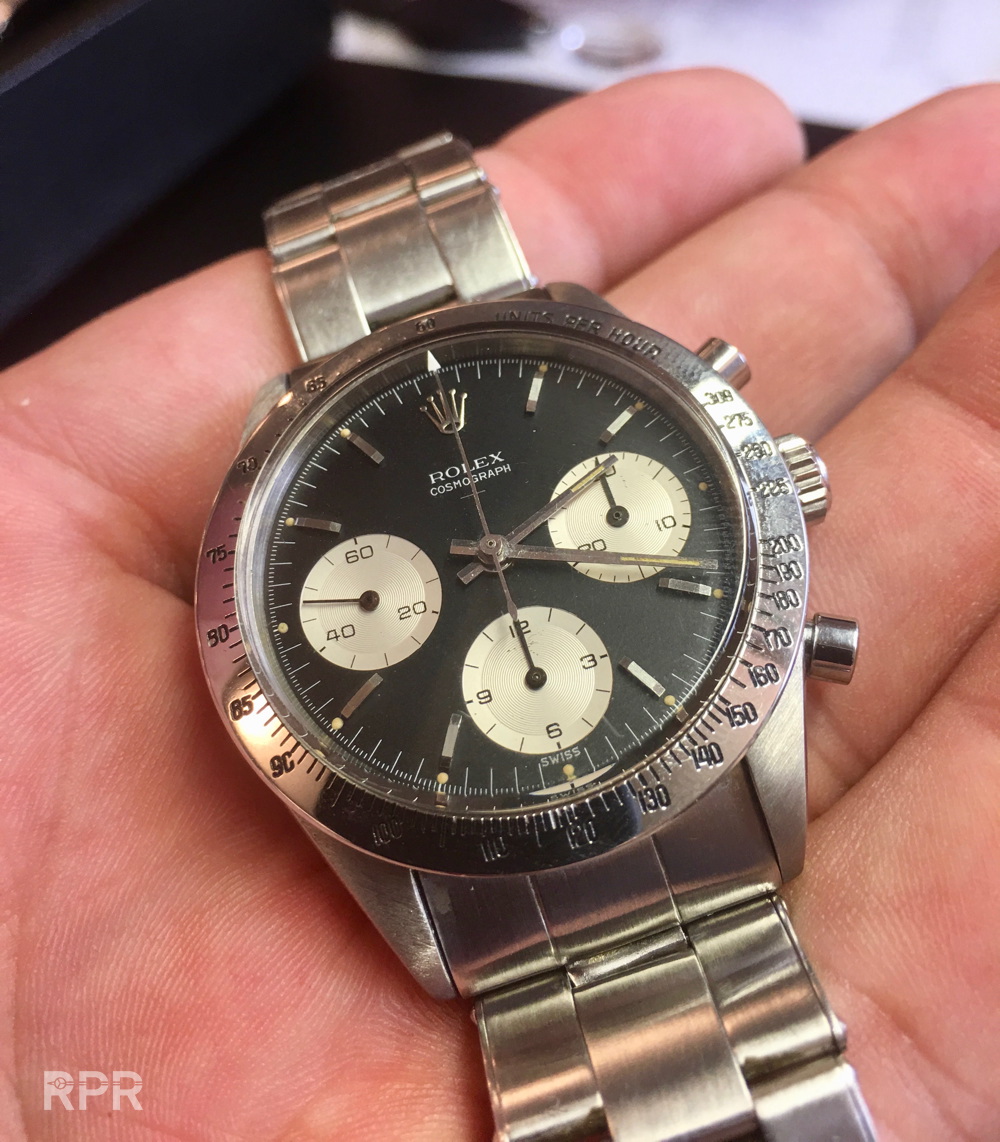 Black Pre Daytona ref 6238 sold for CHF 137.500,= at Christie's…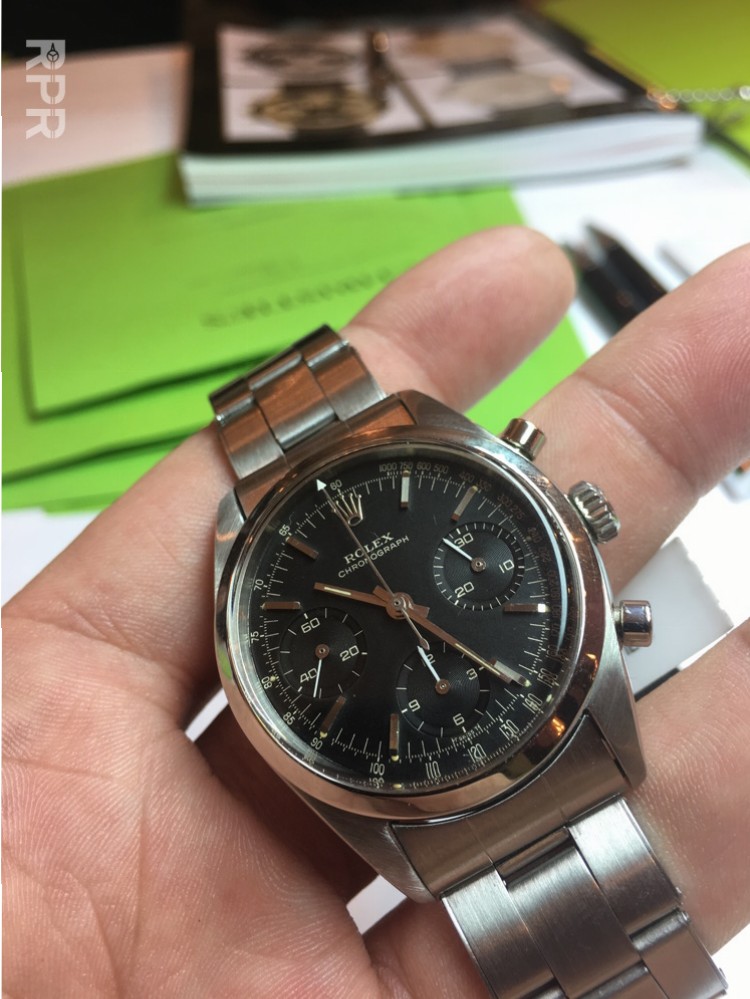 Maybe the best Submariner at auction during the Geneva sales was this crispy small crown Ref 6536 with red depth that finally brought CHF 150.000,=…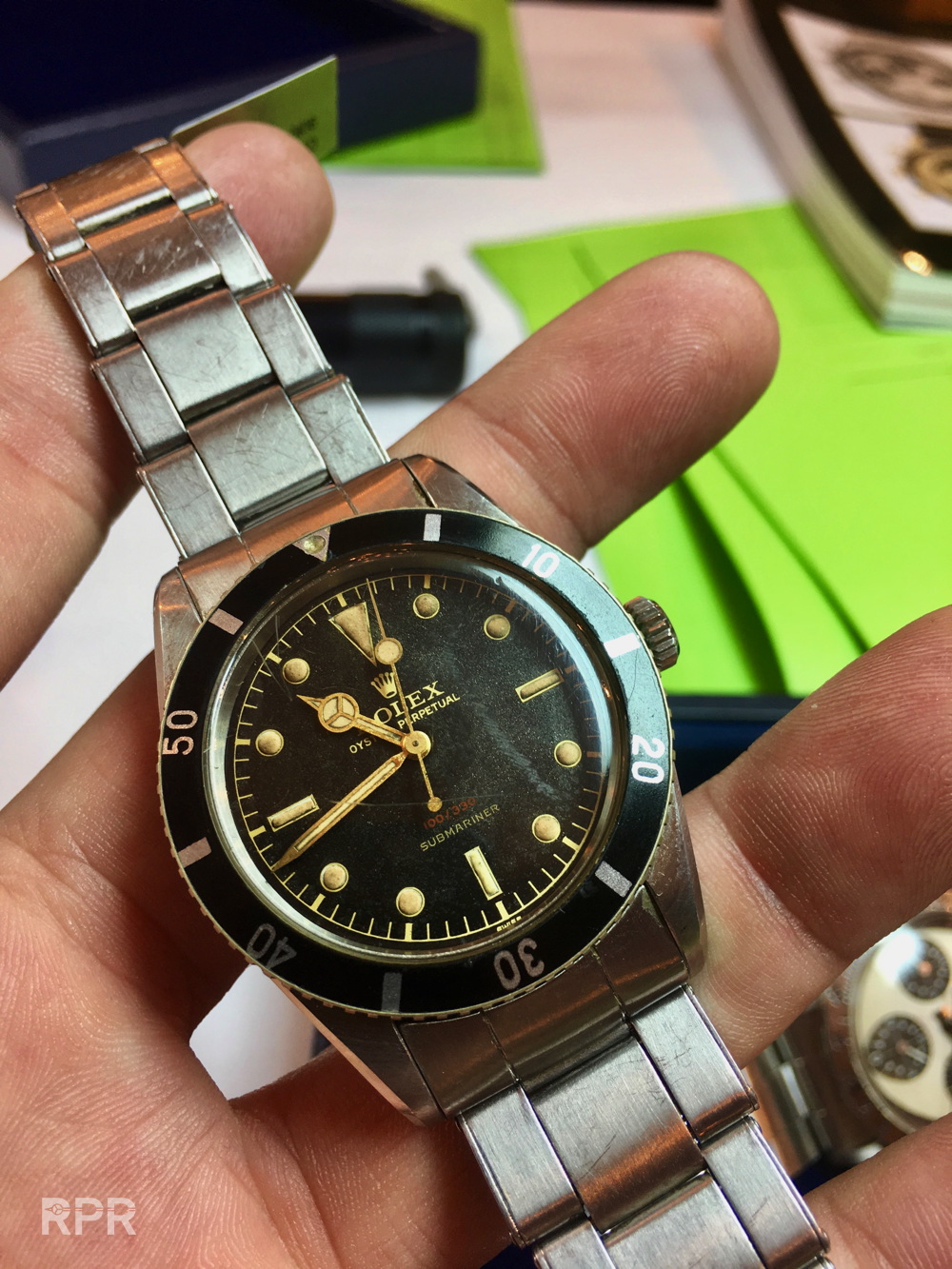 Original craquelle crystal and sharp bevels …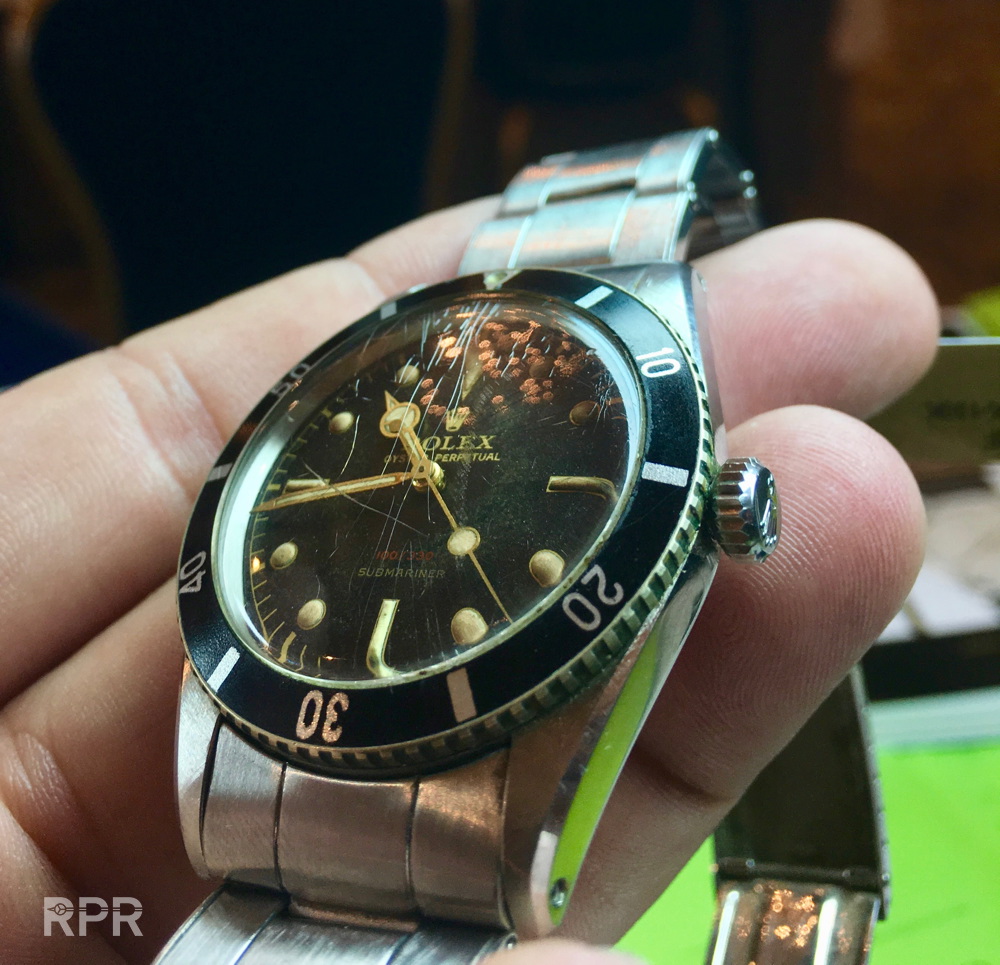 Crispy Sports Rolex other then the Daytona are also high in demand and this GMT master Ref 6542 sold for CHF 300.000,=!!
Historical important Rolex are nowadays also bringing their price. This Explorer from legendary explorer George Band finally sold for CHF 200.000,= I'm really happy for the family!
The pink gold Rolex 6062  finally sold at CHF 672.500,=…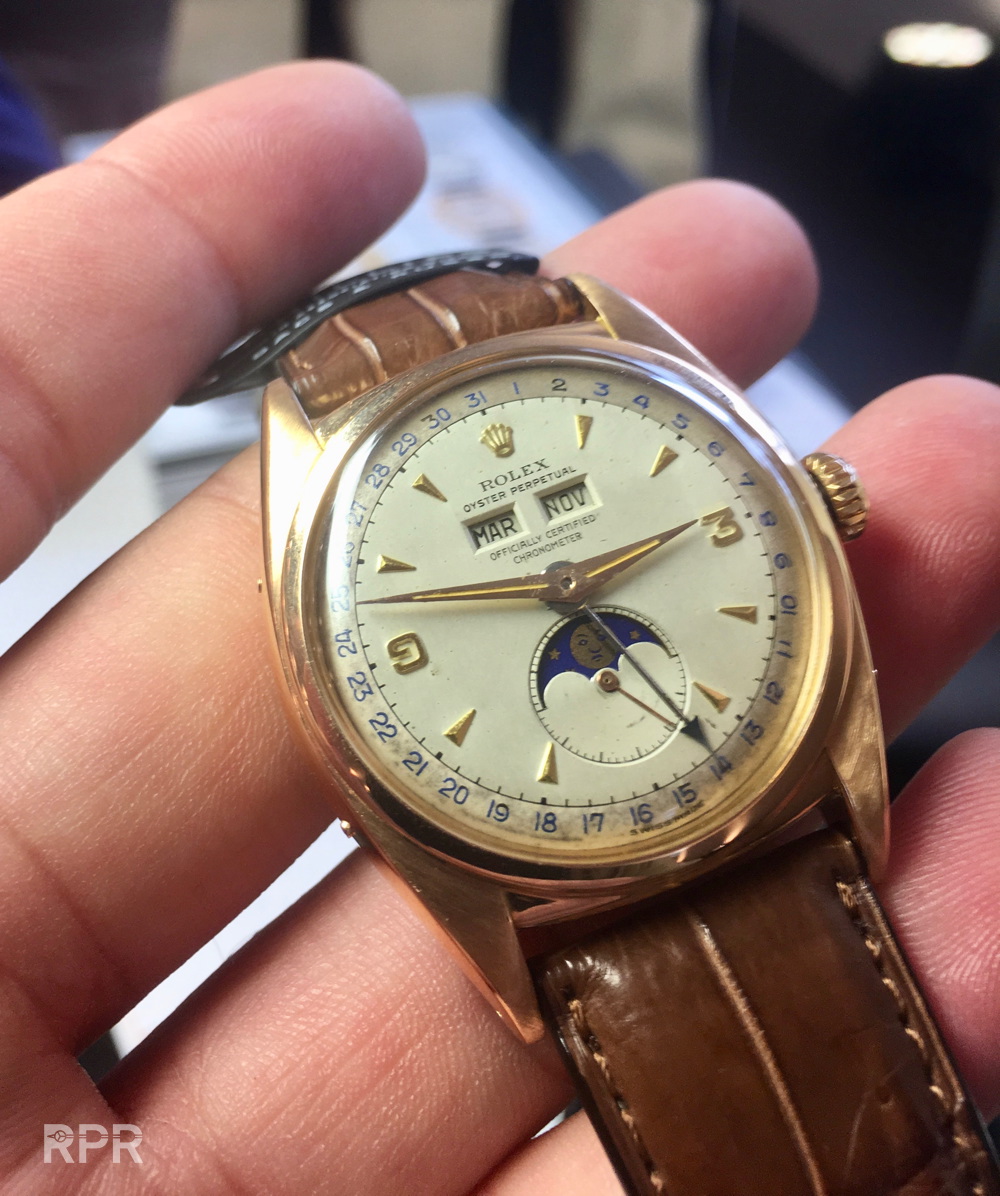 Maybe somebody can explain me why the index on this pink gold Rolex are yellow gold??….It reads "two-tone dial" in their description but logically they describe the 2 color grenee finish of the center of the dial and the outer date track. The dial is in 1 color, yellow gold, the hands are pink…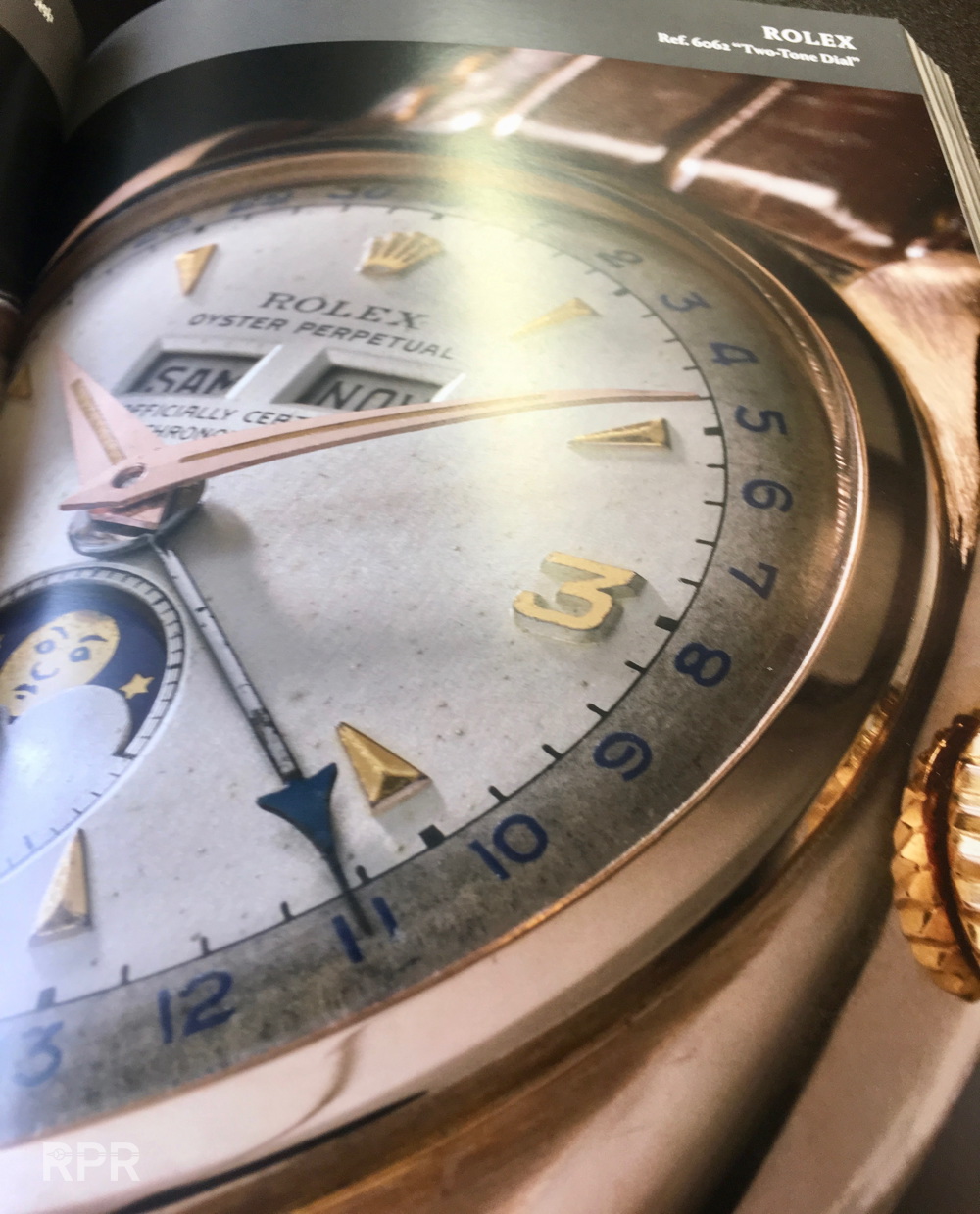 UPDATE:
Actually this yellow gold dial we saw recently in 2 fresh to the market stainless steel 6062 from first owners who bought it like this. Below you see the crisp first owner one recently sold at AQ in Hong Kong for nearly $ 750K…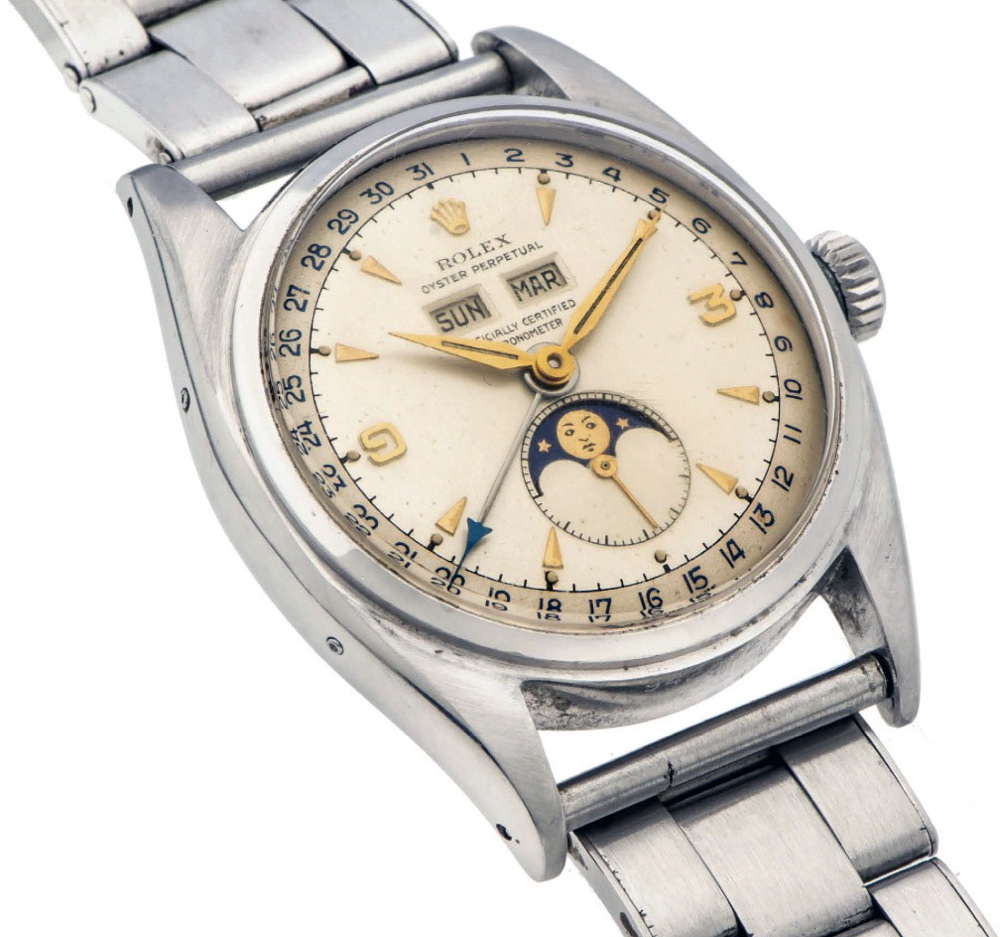 And yet another one coming up at Bonhams NY with $300-400K estimate, from first owner as well..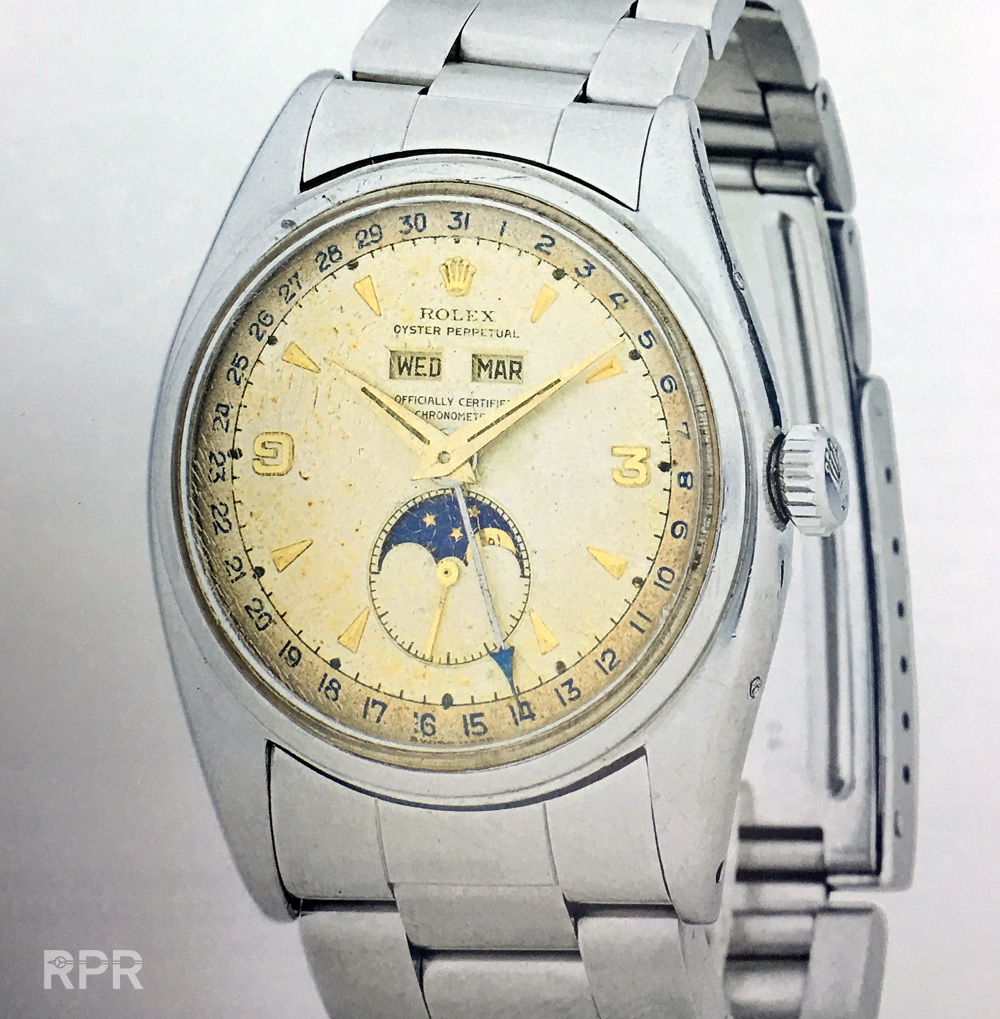 Anyways…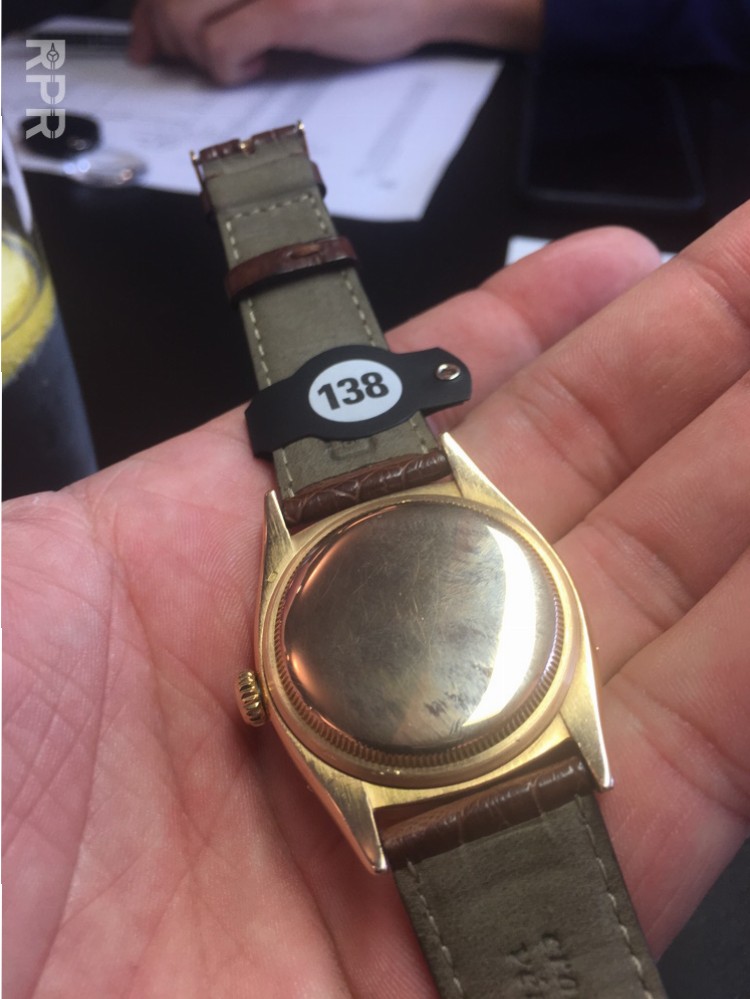 A glossy black Milgauss ref 1019, yet another miracle we've hardly seen before, sold for CHF 150.000,= Which is like 100K more then a regular matte 1019. Clearly vintage Rolex collectors like special dials, something we saw with the colored daytona results as well…
Although I'm totally not into Heuers, Omega etc we clearly see that the raise of vintage Rolex prices are reflecting these others brands as well. With 100% sold the Heuer Parade went well.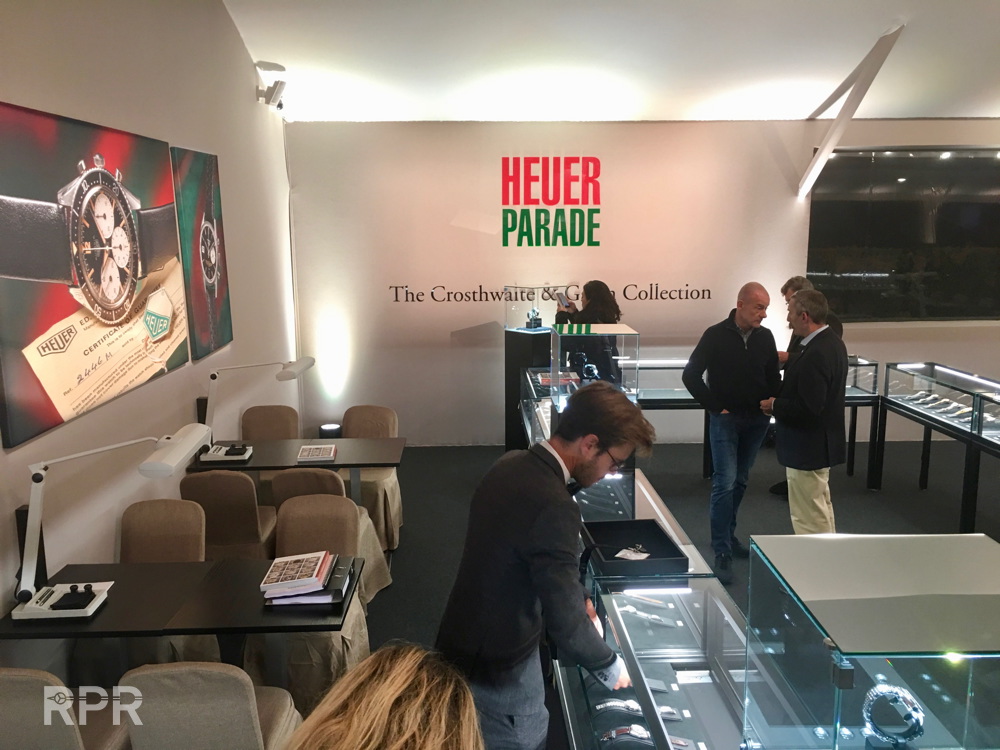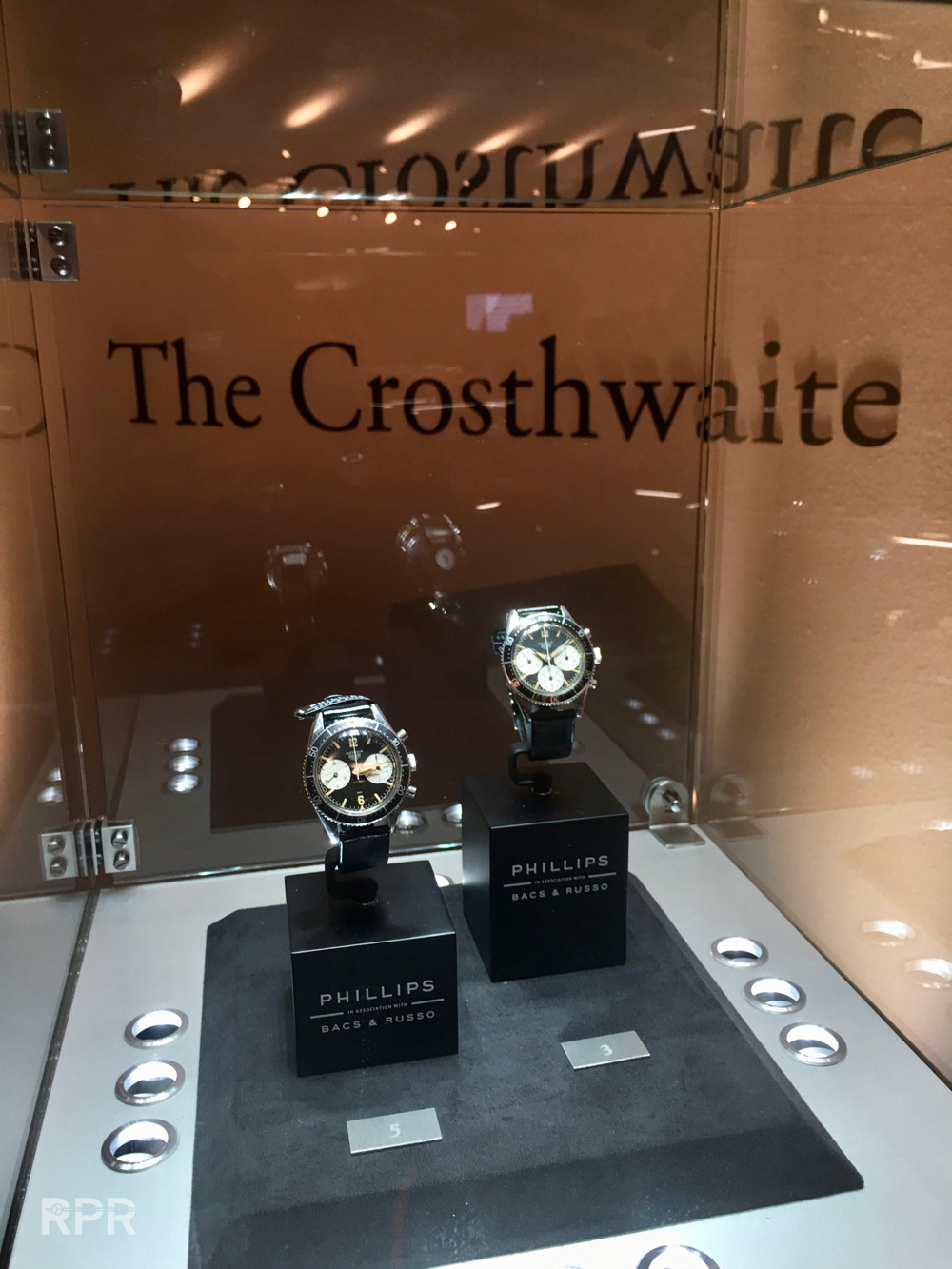 Cool panel interview with legendary Jack Heuer, who was celebrating his 85th birthday and got a special watch from Heuer.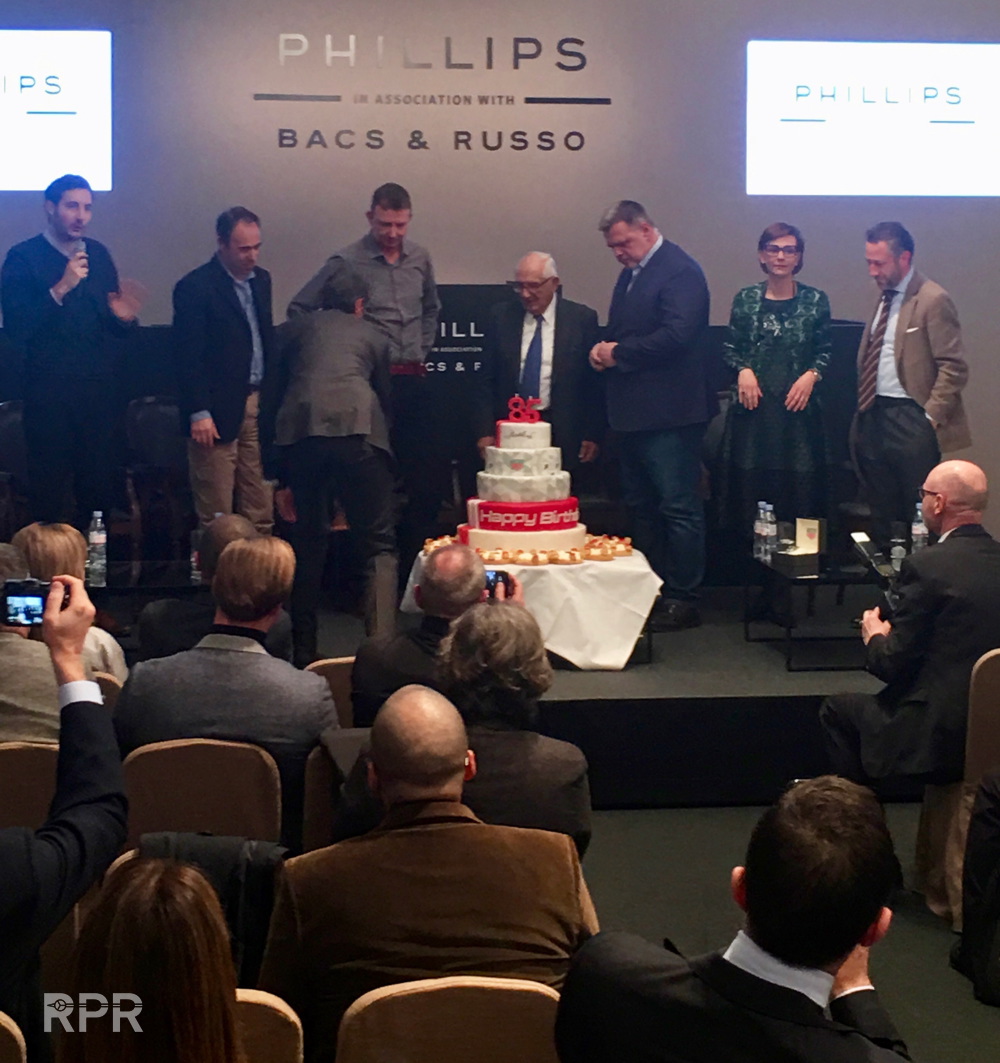 This Heuer 2446M sold for CHF137.500,=
The 2 register version sold for CHF 87.500,=…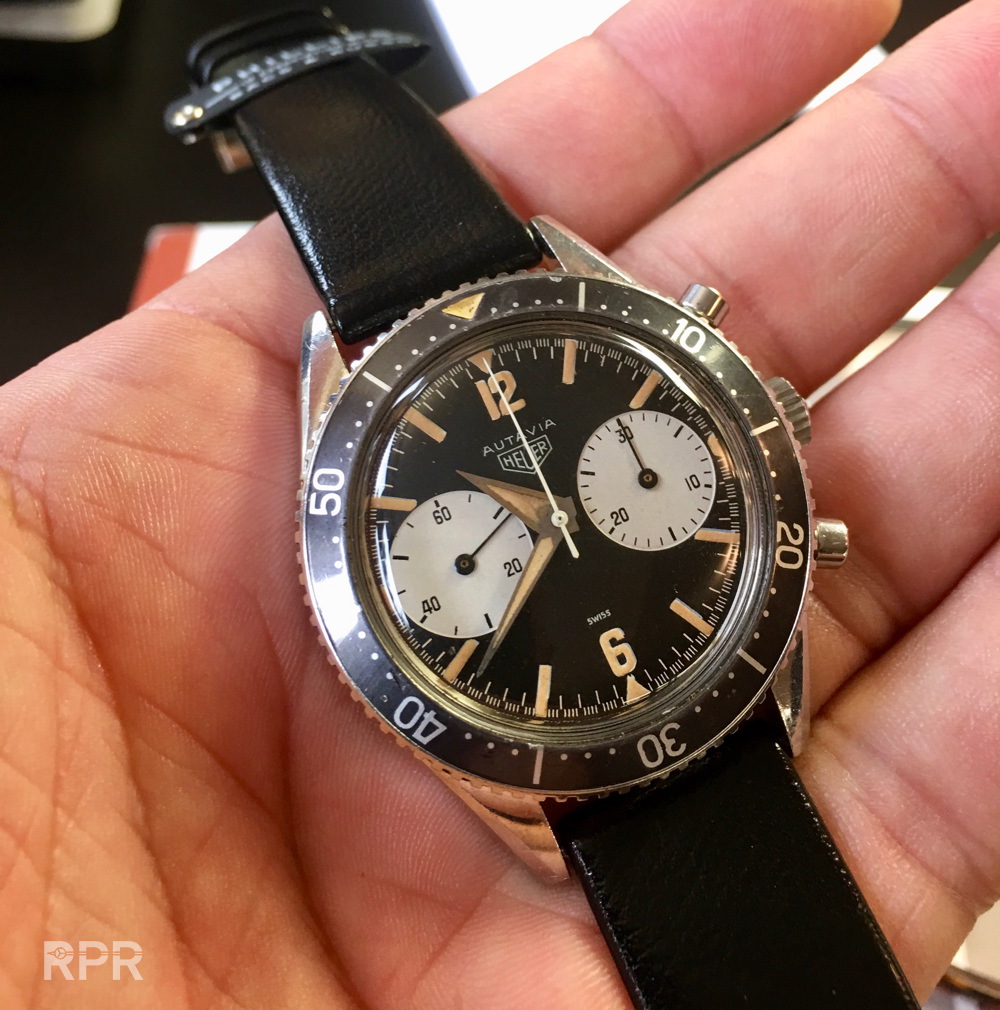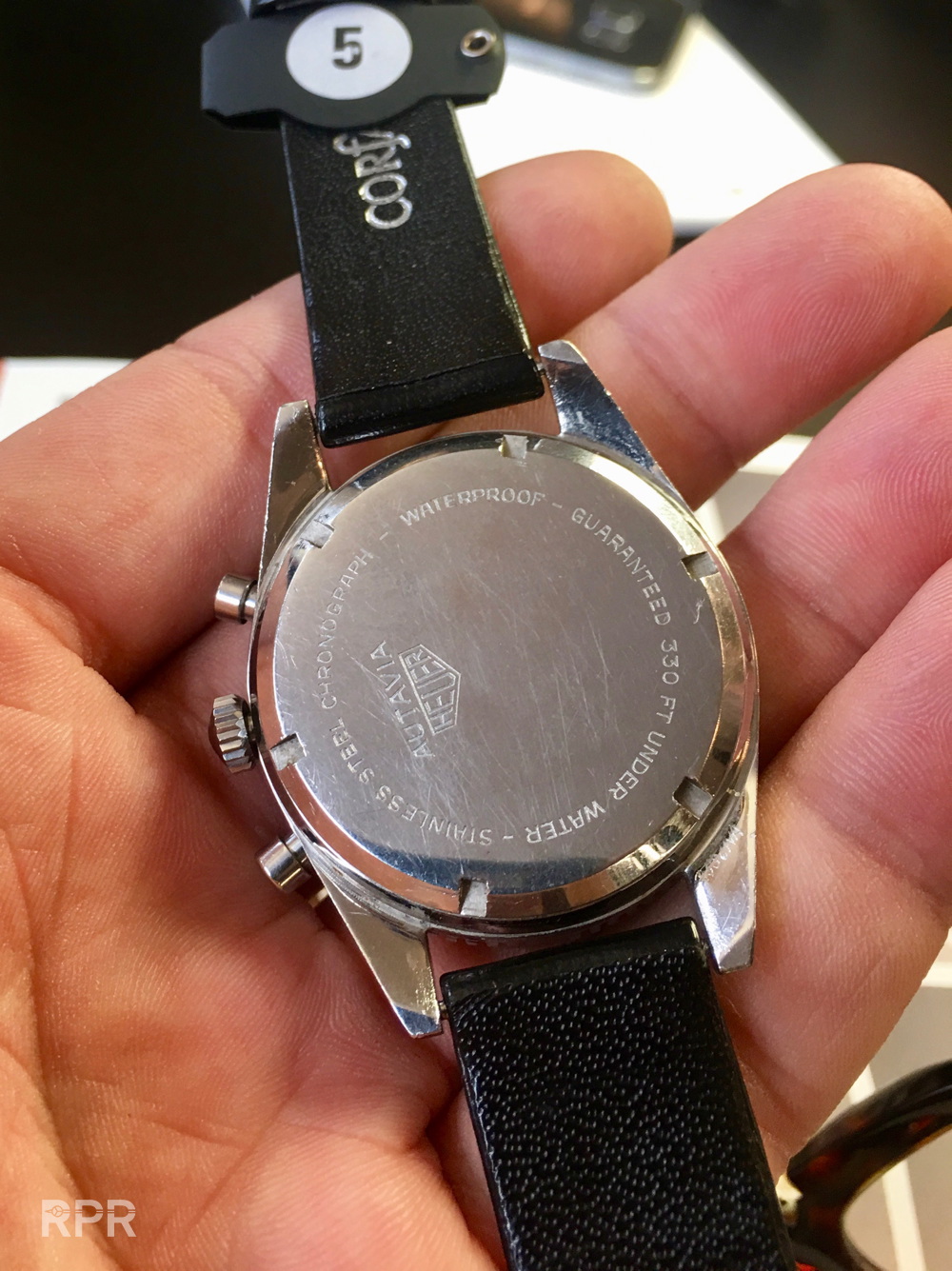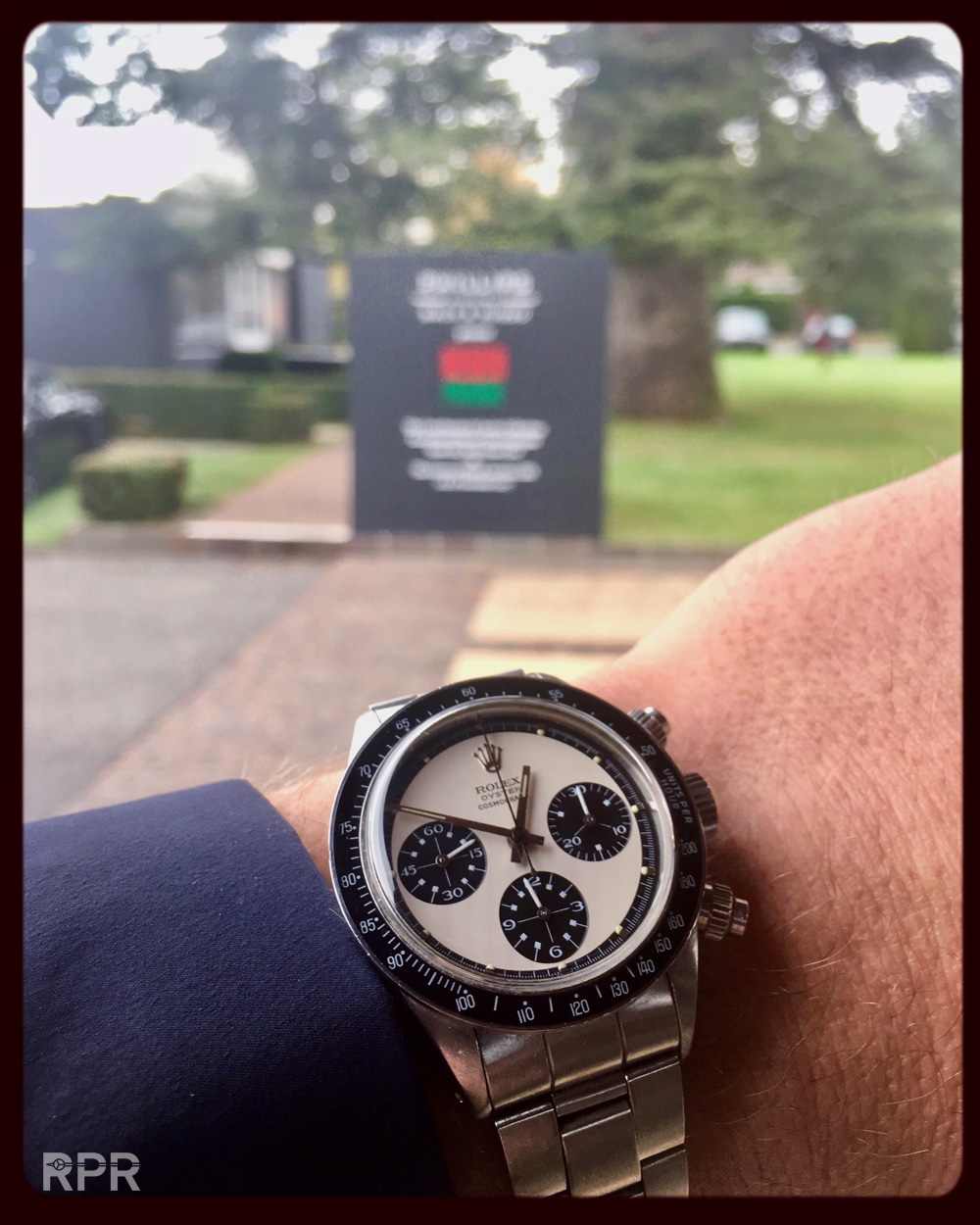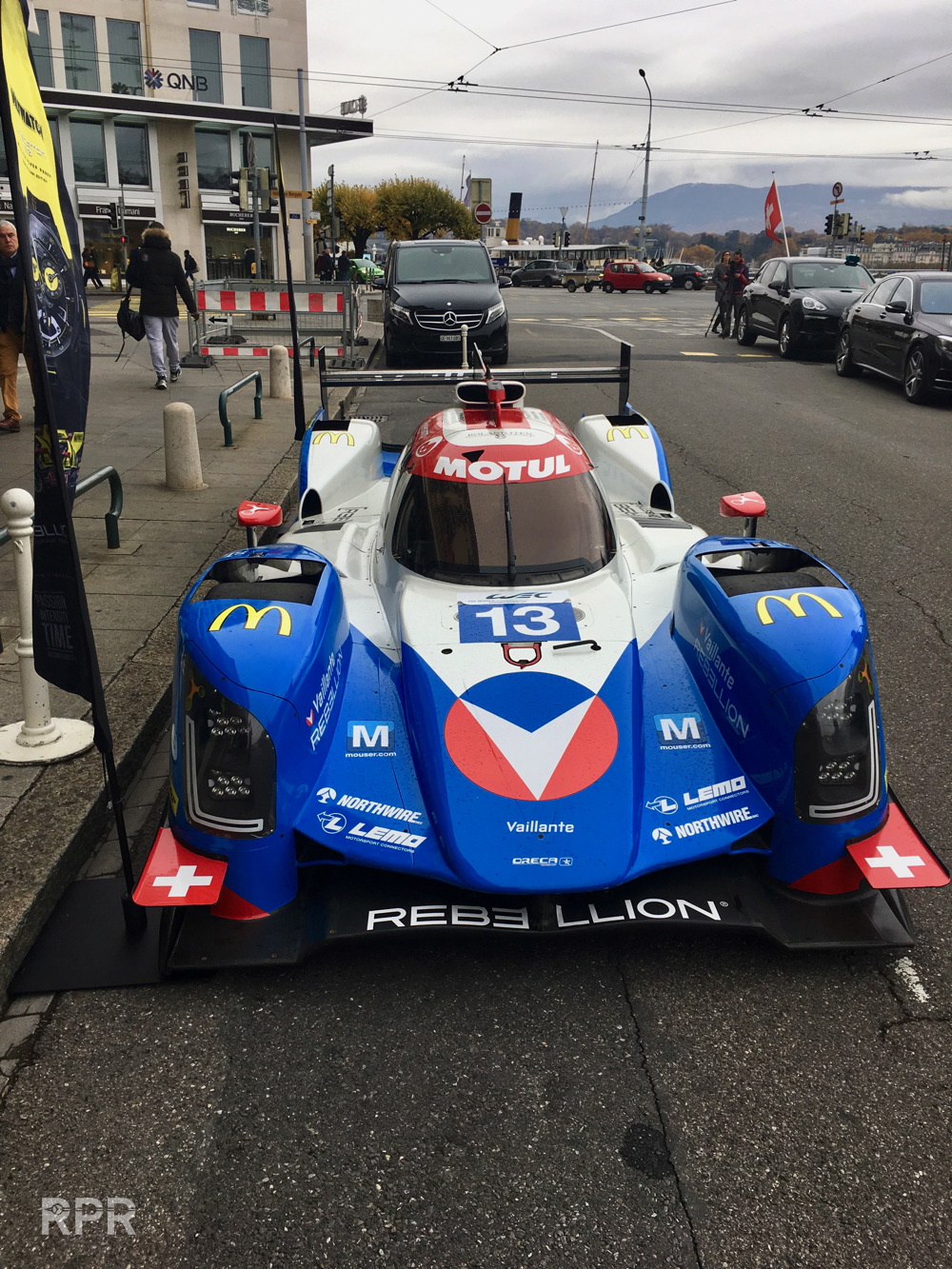 Also Omega fetched a world record for their first stainless steel tourbillion sold for CHf 1.428.500,= !! Picture courtesy Hodinkee because I totally forgot to make one by myself  😉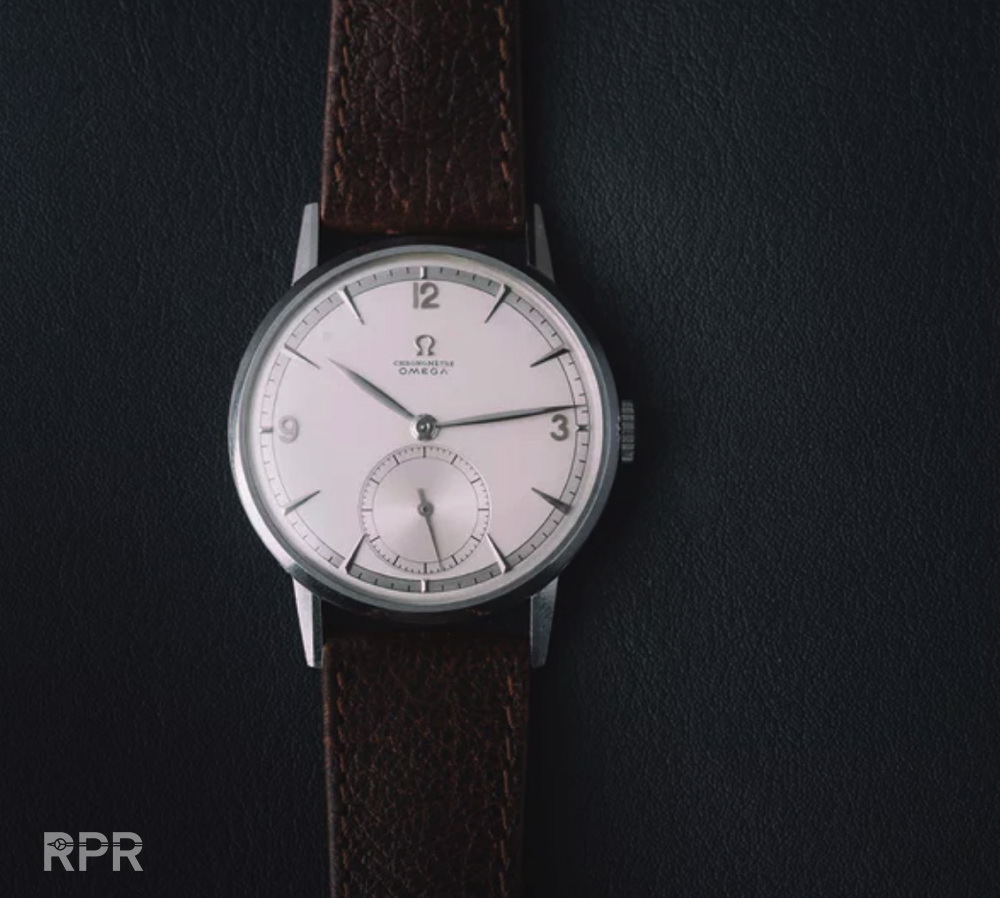 Time for some great Chinese….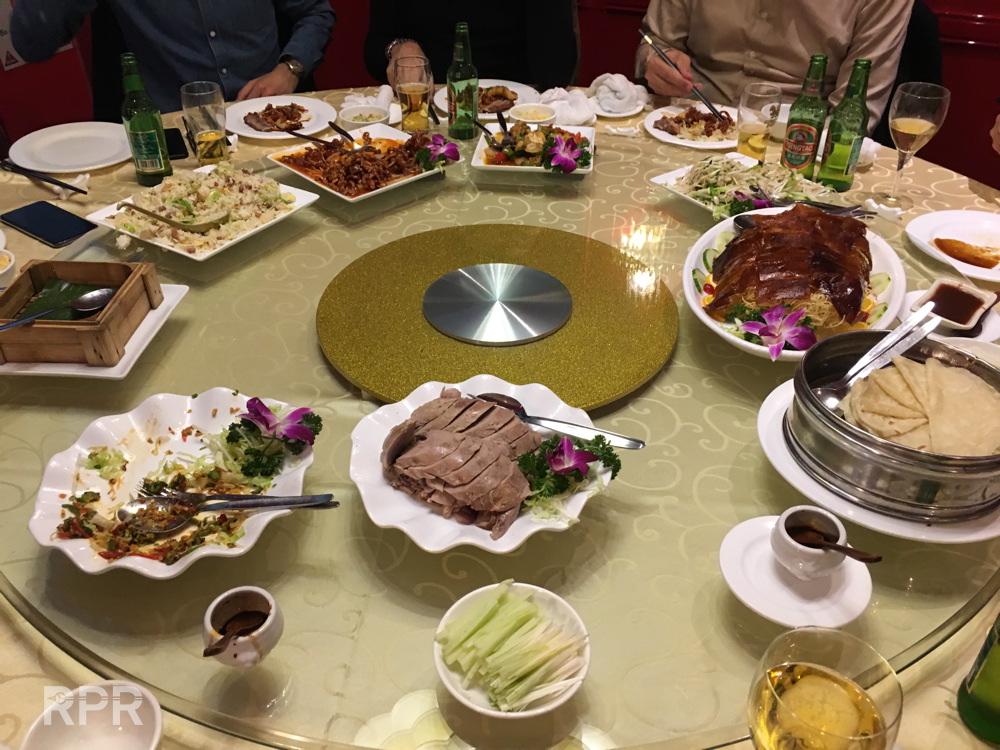 Crispy but still undervalued with an result of CHF 106.250,=…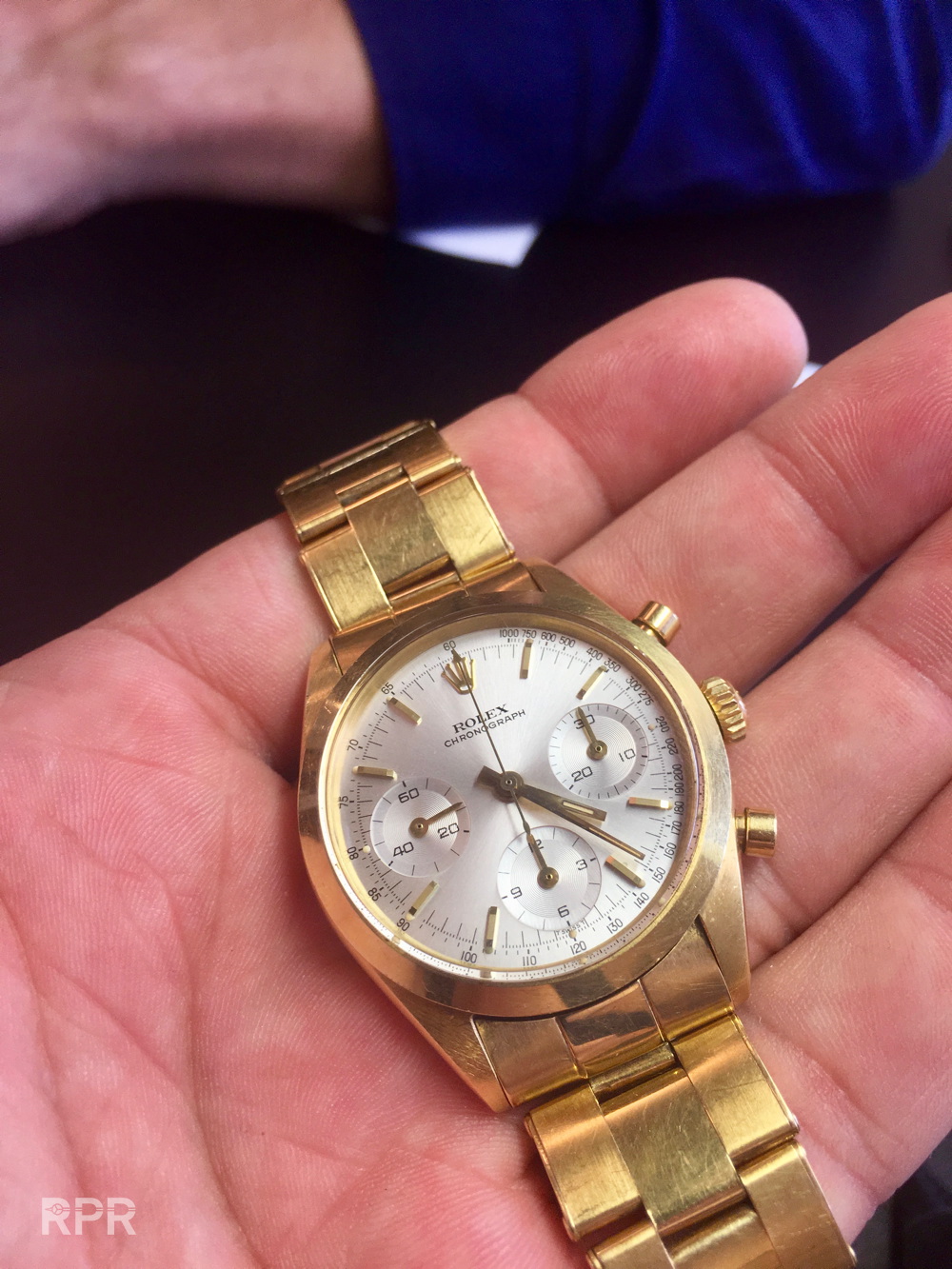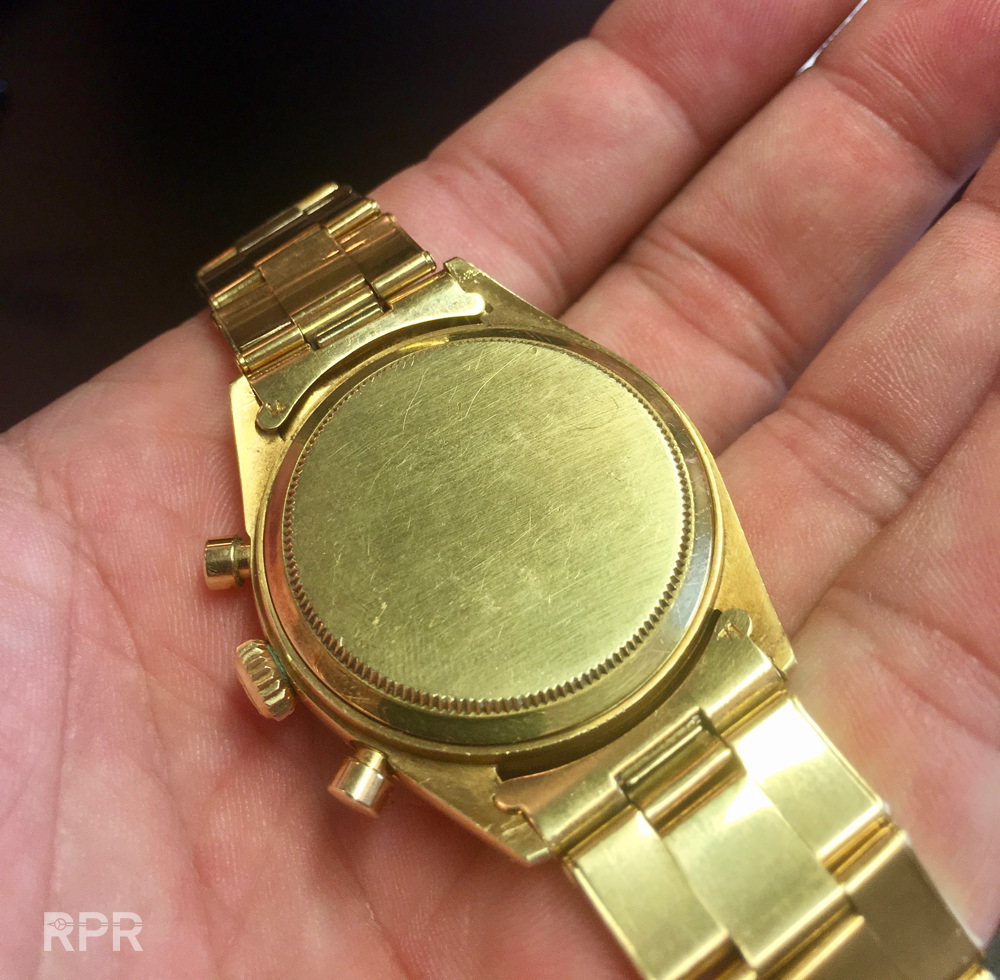 The Panerai got pulled before the auction. This was not the only lot that didn't make it to the sale…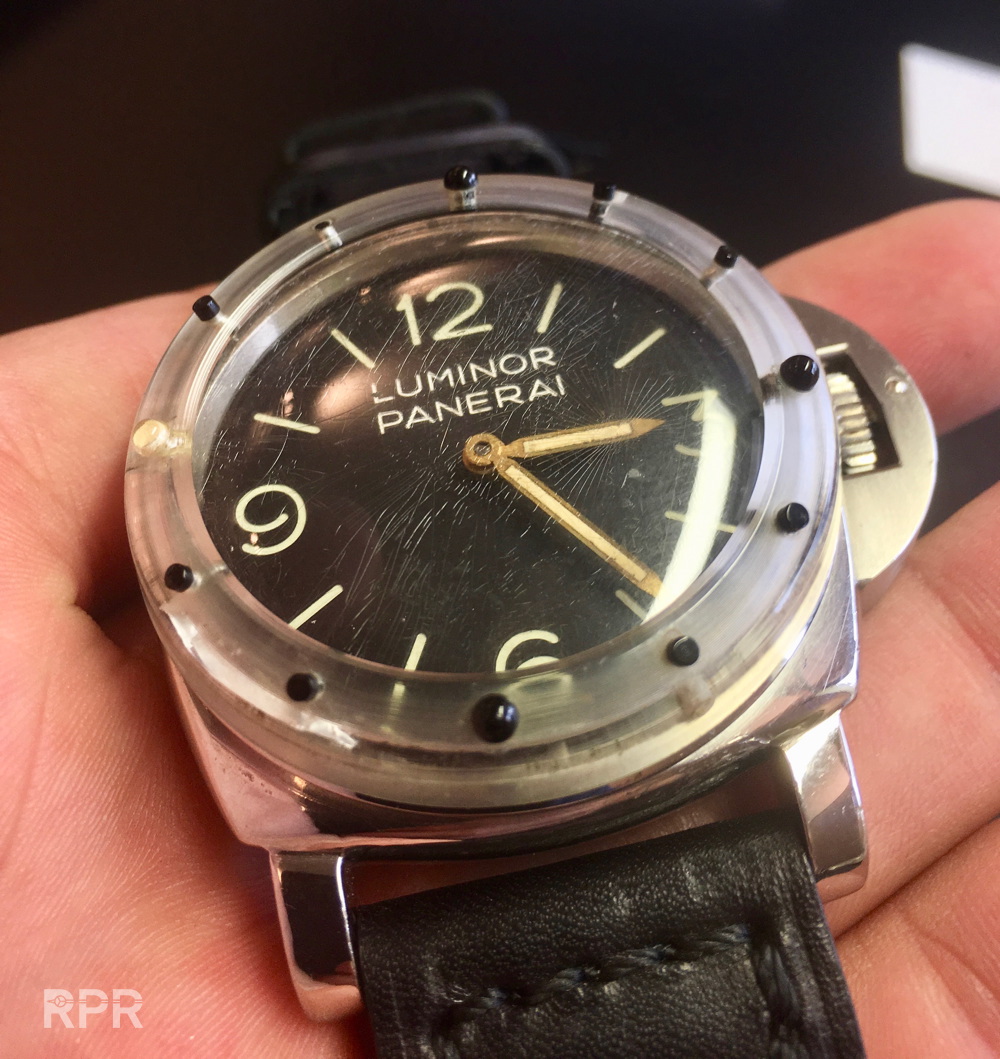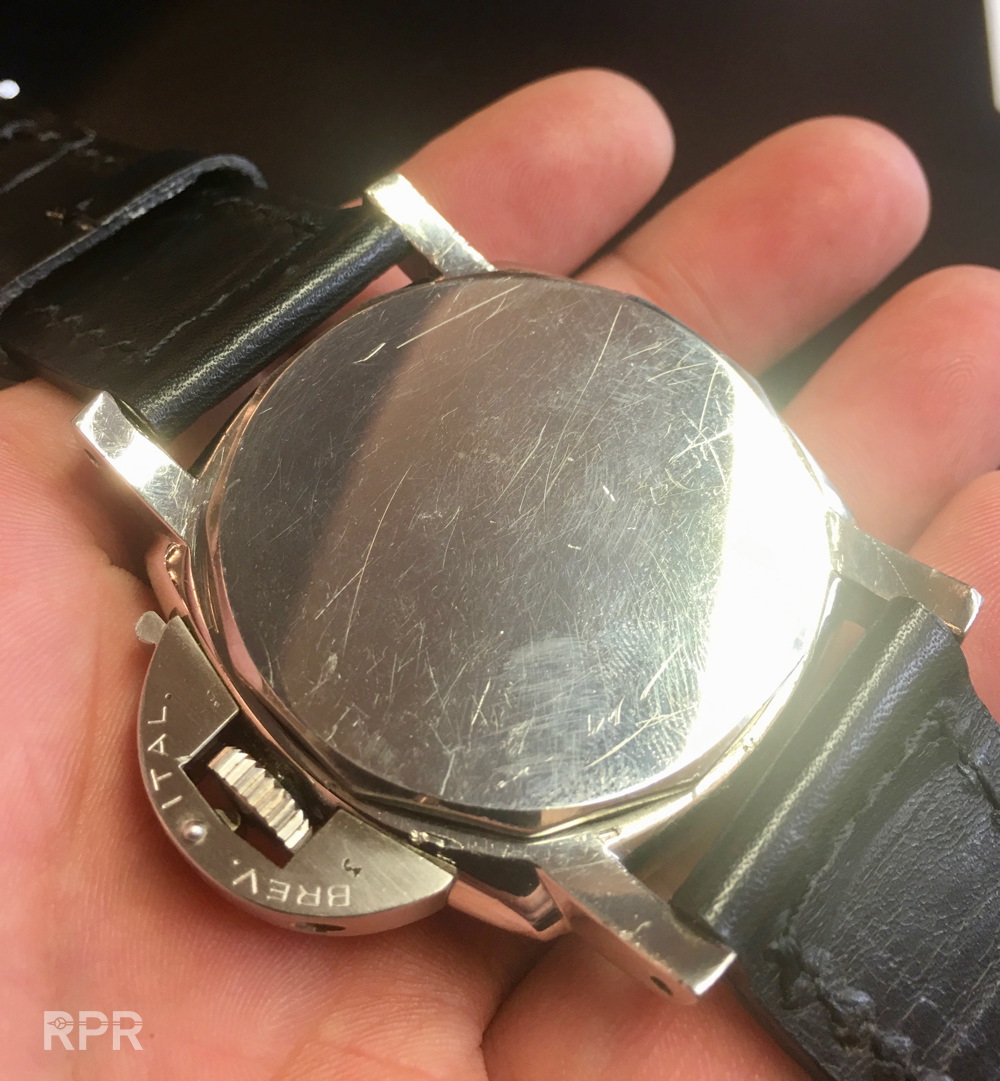 Homemade liqueur as present, many thanks again!…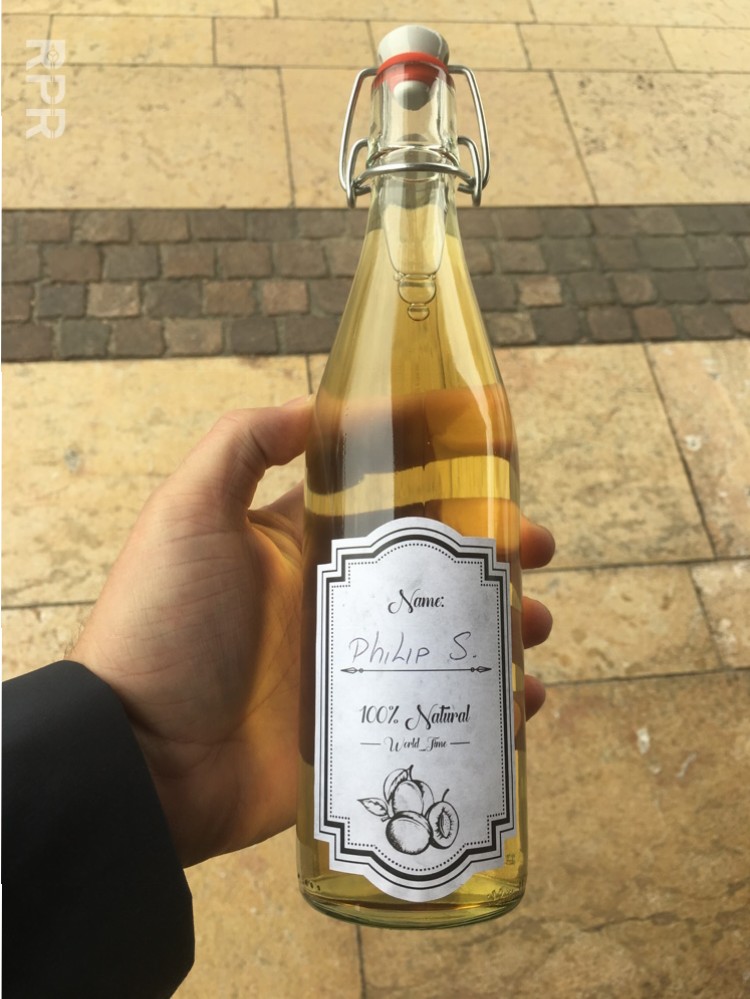 Perfect to digest the mussels…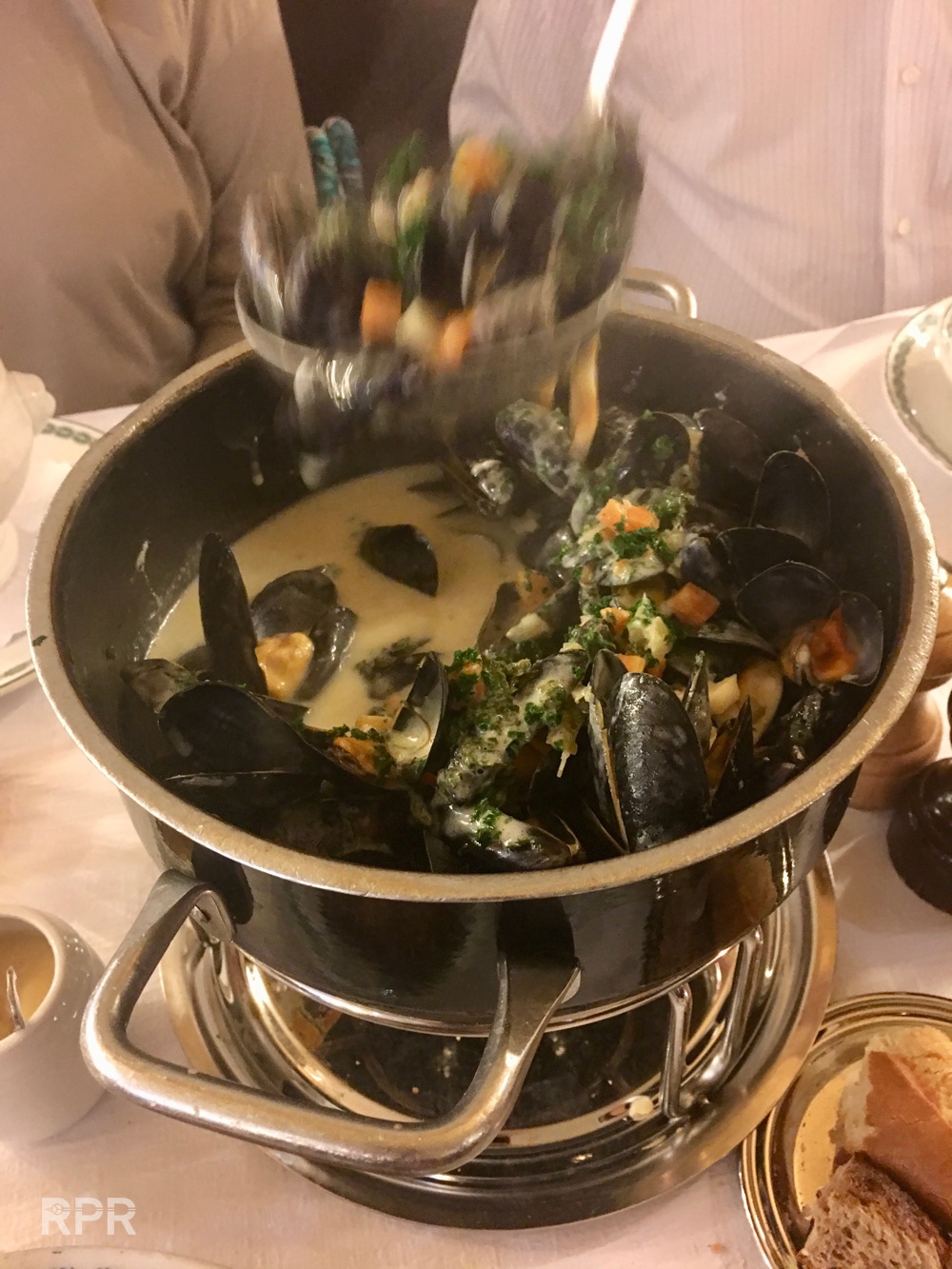 Oman Rolex, not my favorite version, sold for CHF 275.000,=….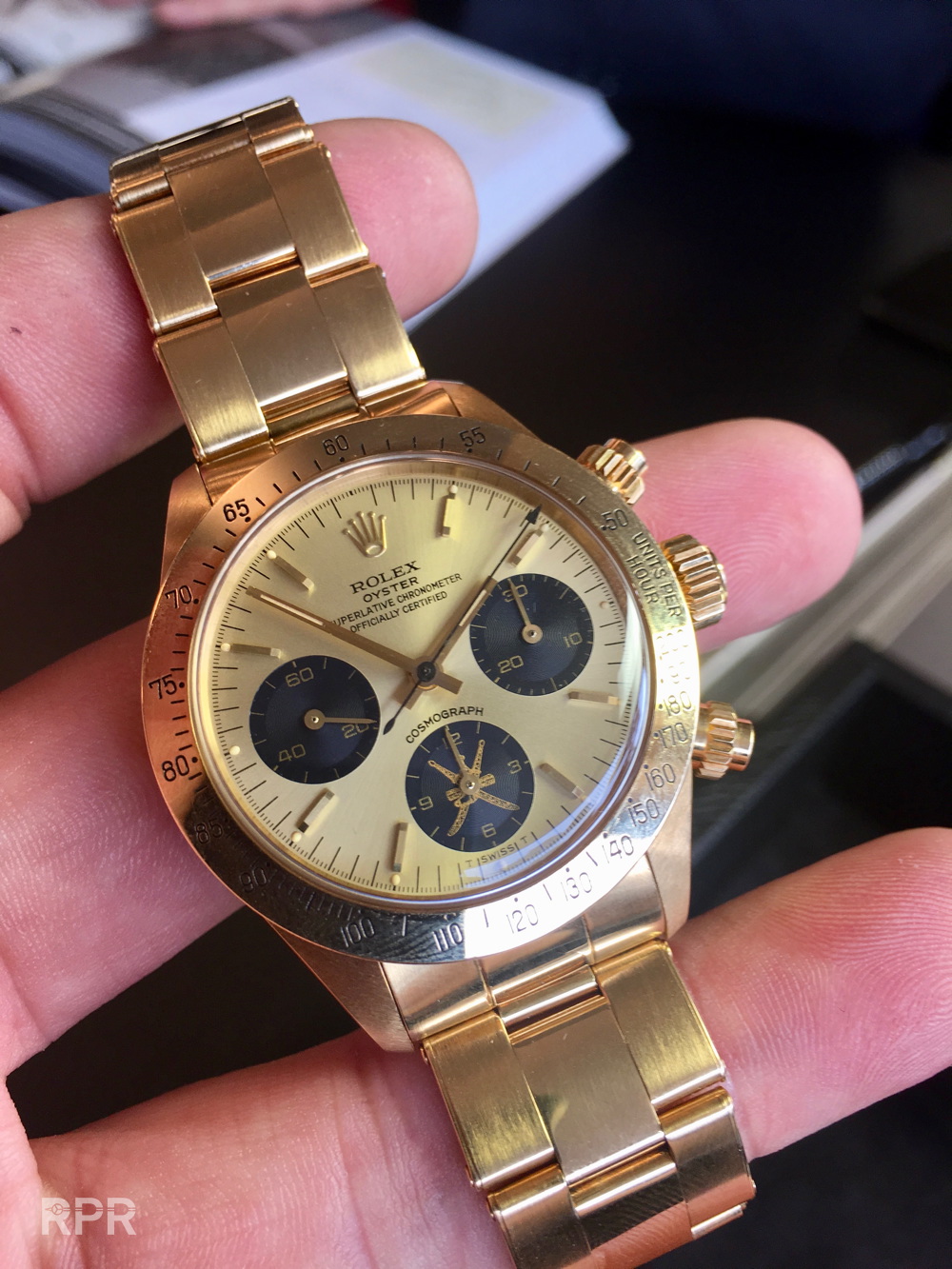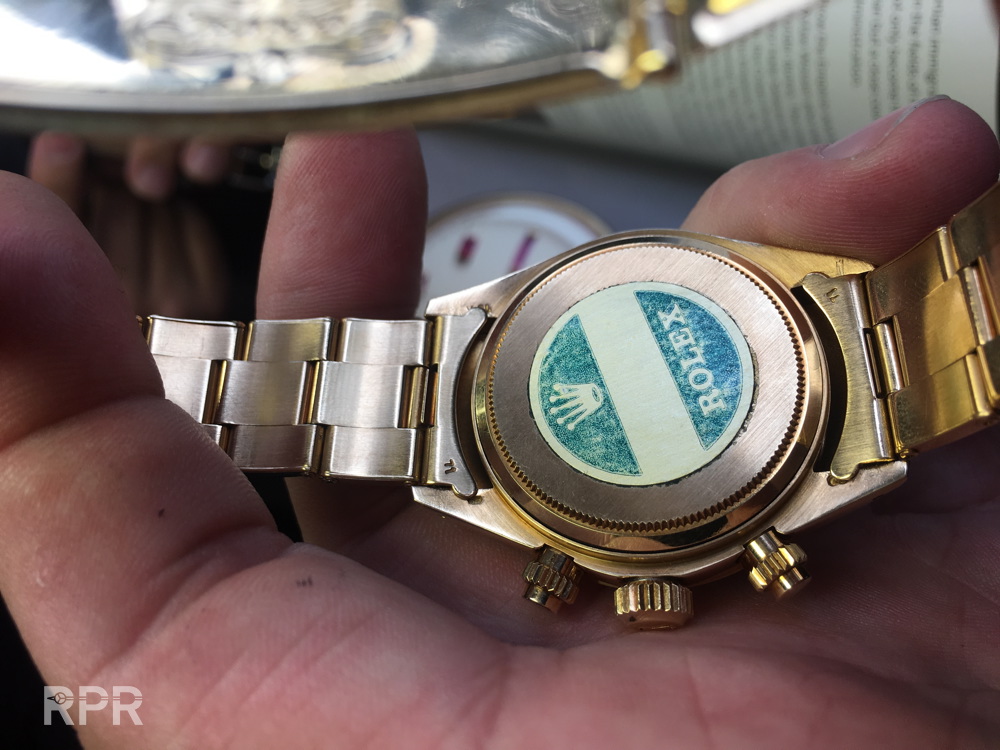 CHF 75.000,=….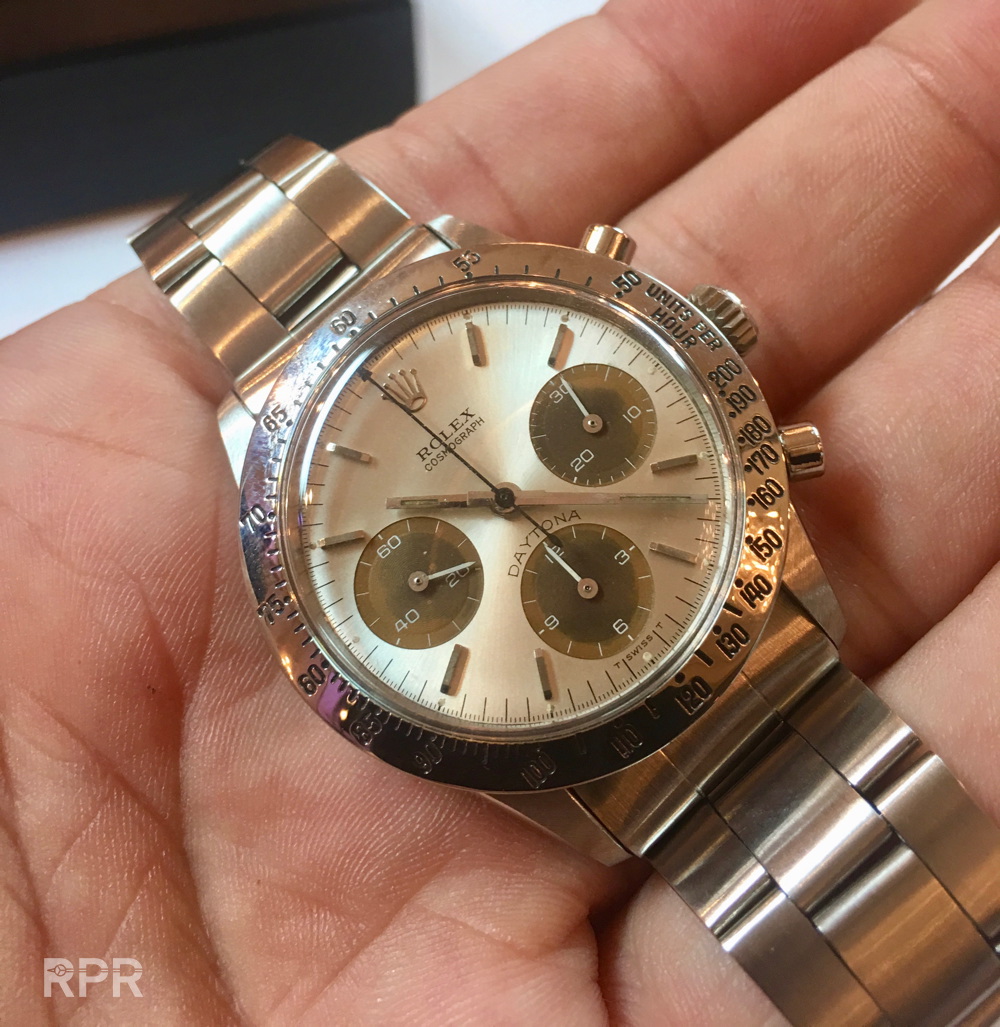 The rainbow Oyster quartz couldn't find a buyer and passed….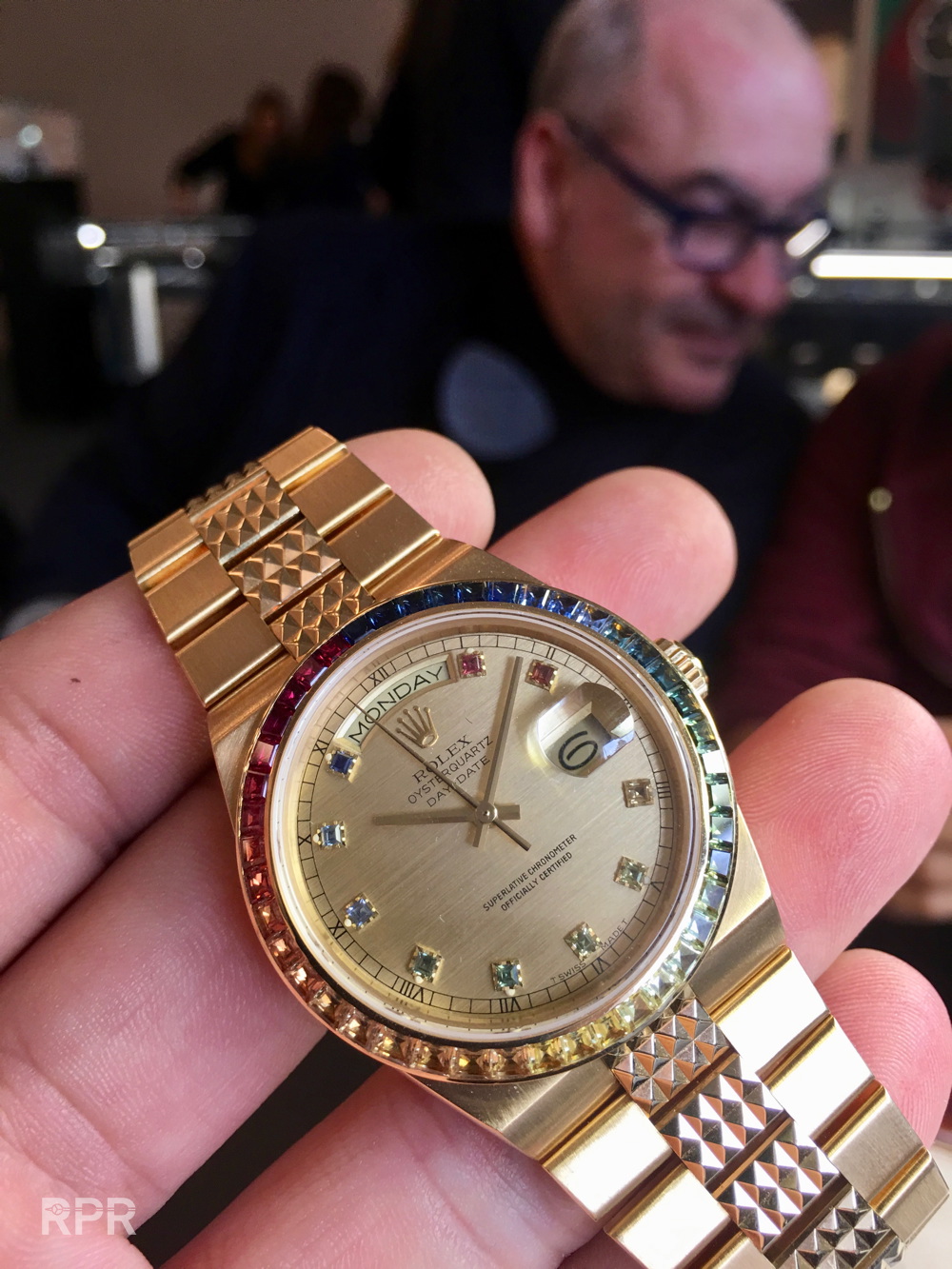 The big size Patek Philippe Calatrava with stunning black glossy dial which previously sold in New York made CHF 444.500,=, which is less then the little more then $ 500K it was sold before….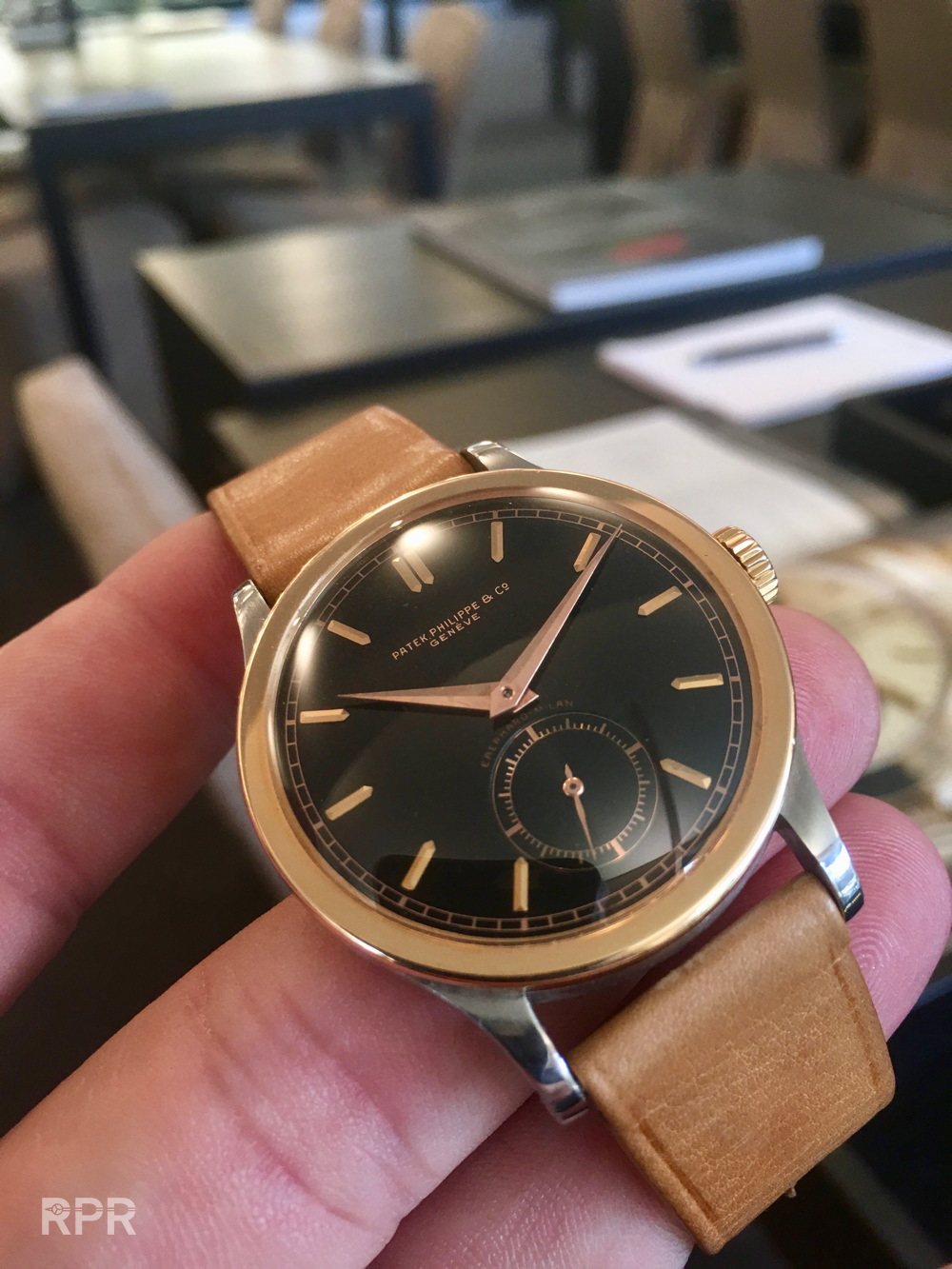 The crisp 1463 in pink sold for CHF 312.500,=…
Tiffany 6263 sold for CHF 100K….
And CHF 106.500,= for the Tiffany Big Red…
Now look closely, something odd was going on with this underline submariner. We know that underline / transitional radium to tritium dials where never great in quality. Often the dials is pitting and in this case there was some lacquer added to make it look better. The luminous dots where also covered and became all shinny when you looped the dial….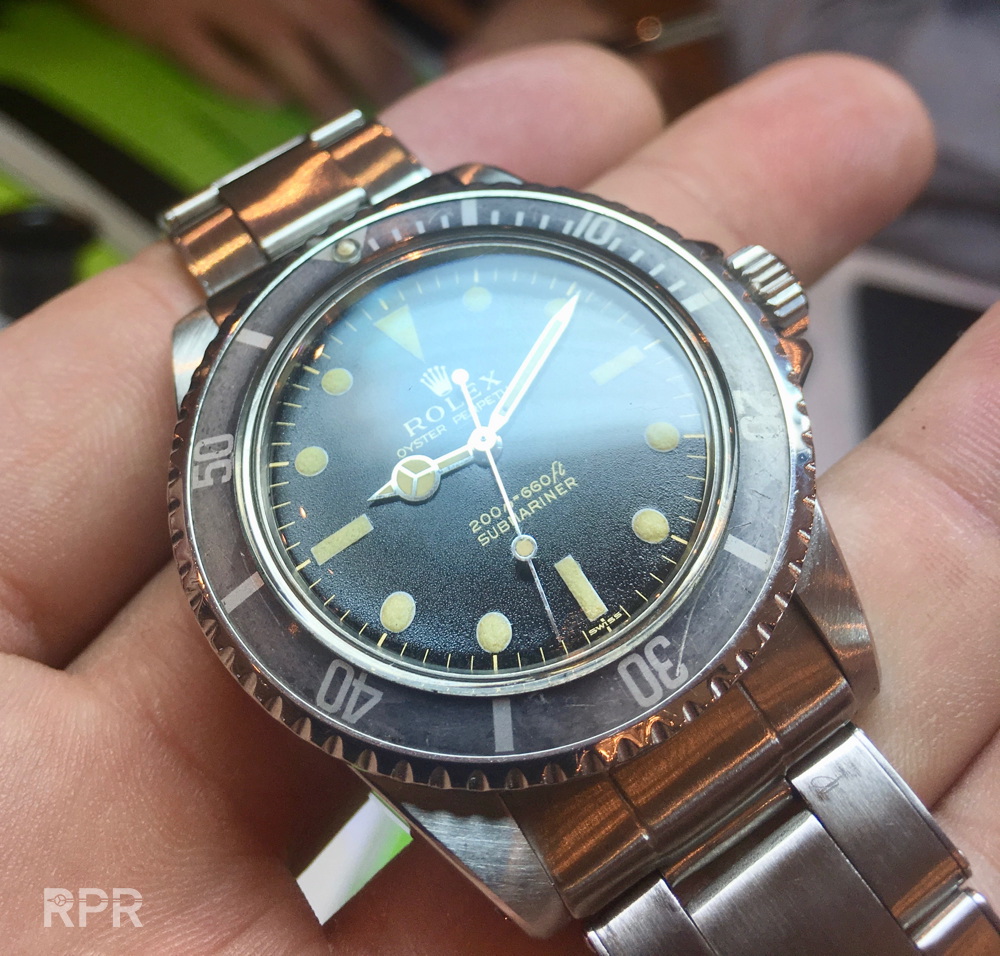 In above picture you clearly see the surface had changed…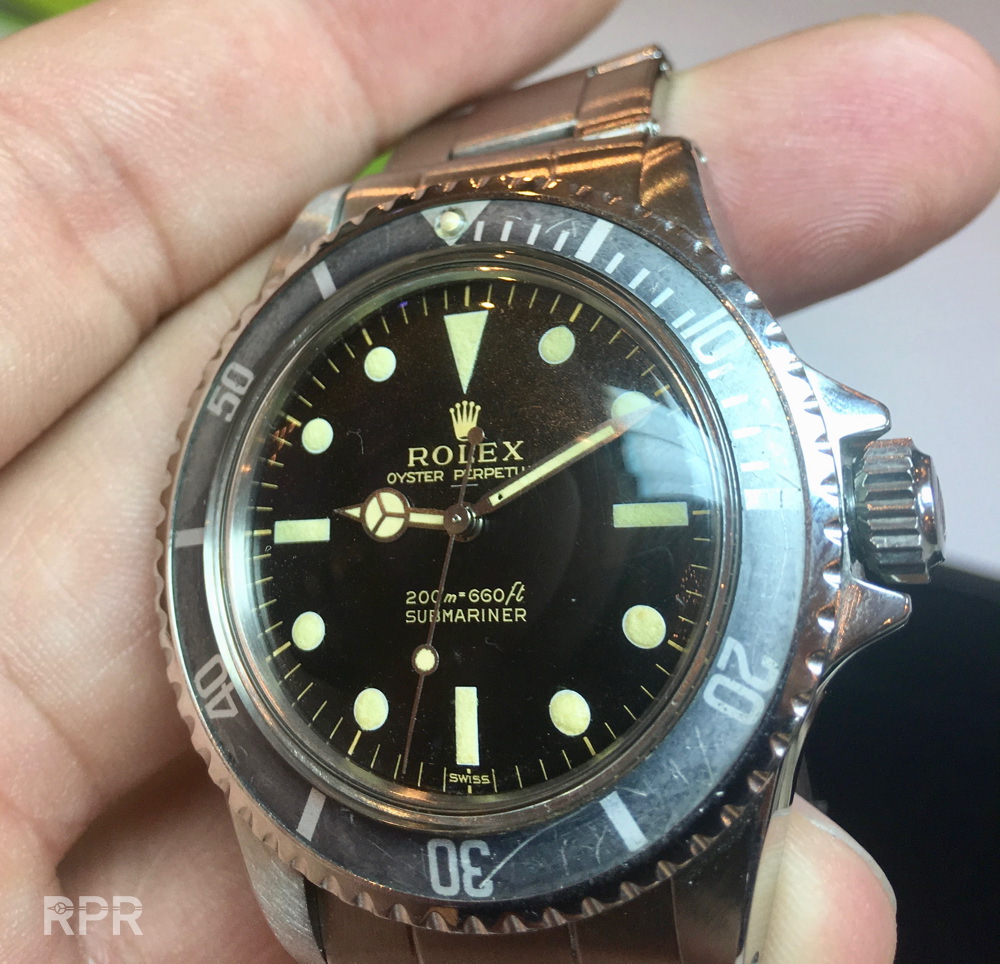 Nevertheless it sold for CHF 43.750,=….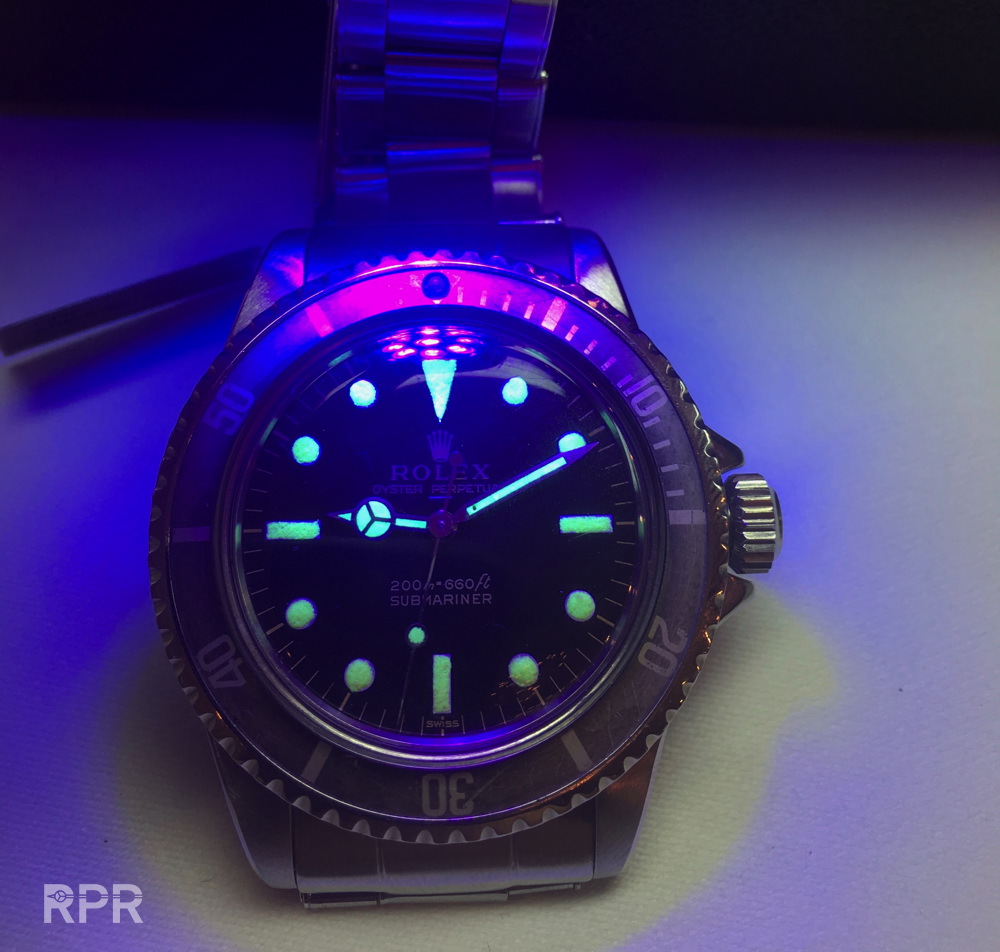 It's all about the quality and therefor this 6538 sold at CHF 52.500,= Judge yourself….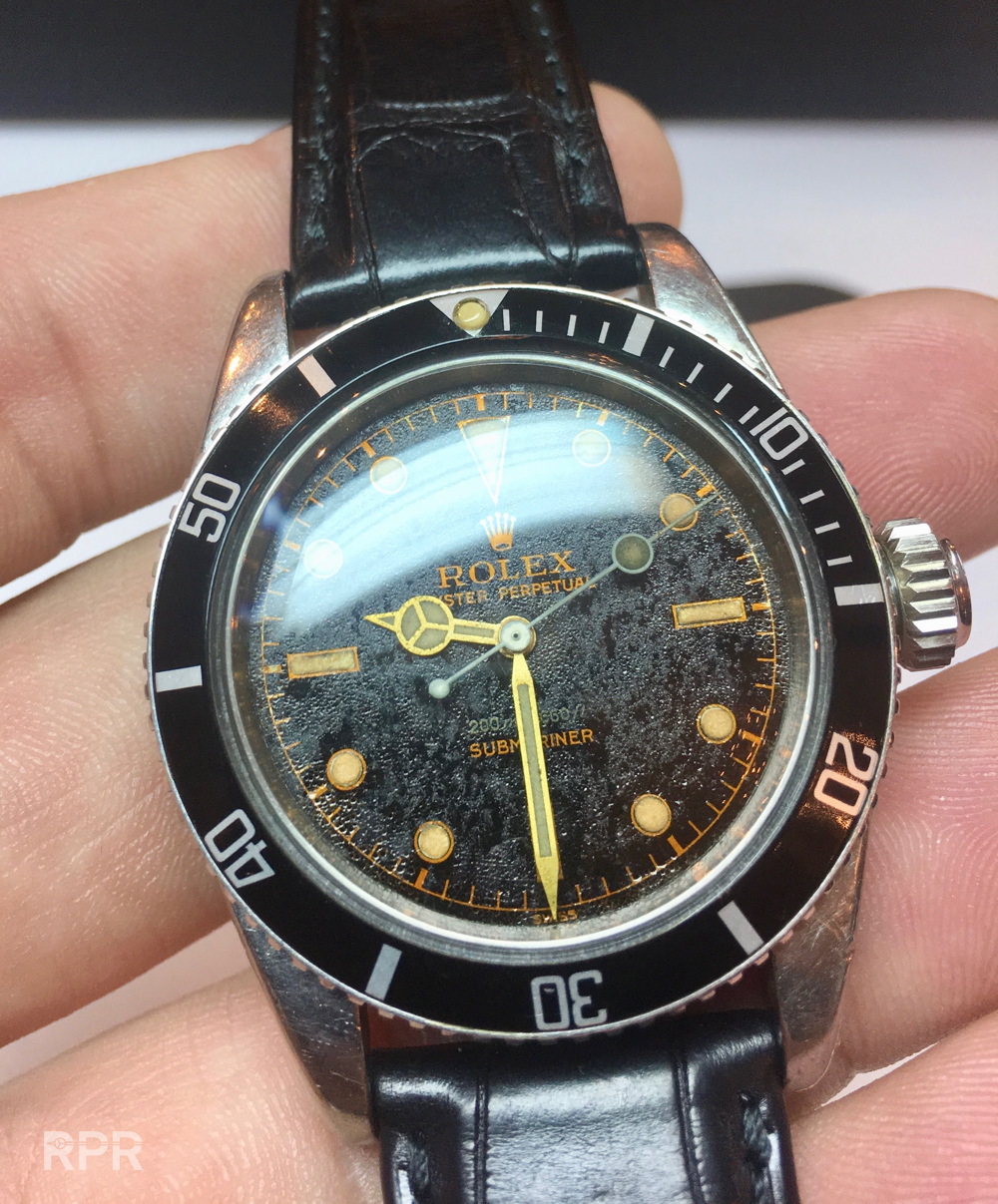 CHF 62.500,= for this small size early Rolex chronology shows collectors want quality…
The crisp senza luna white gold PPC CHF 972.500,=….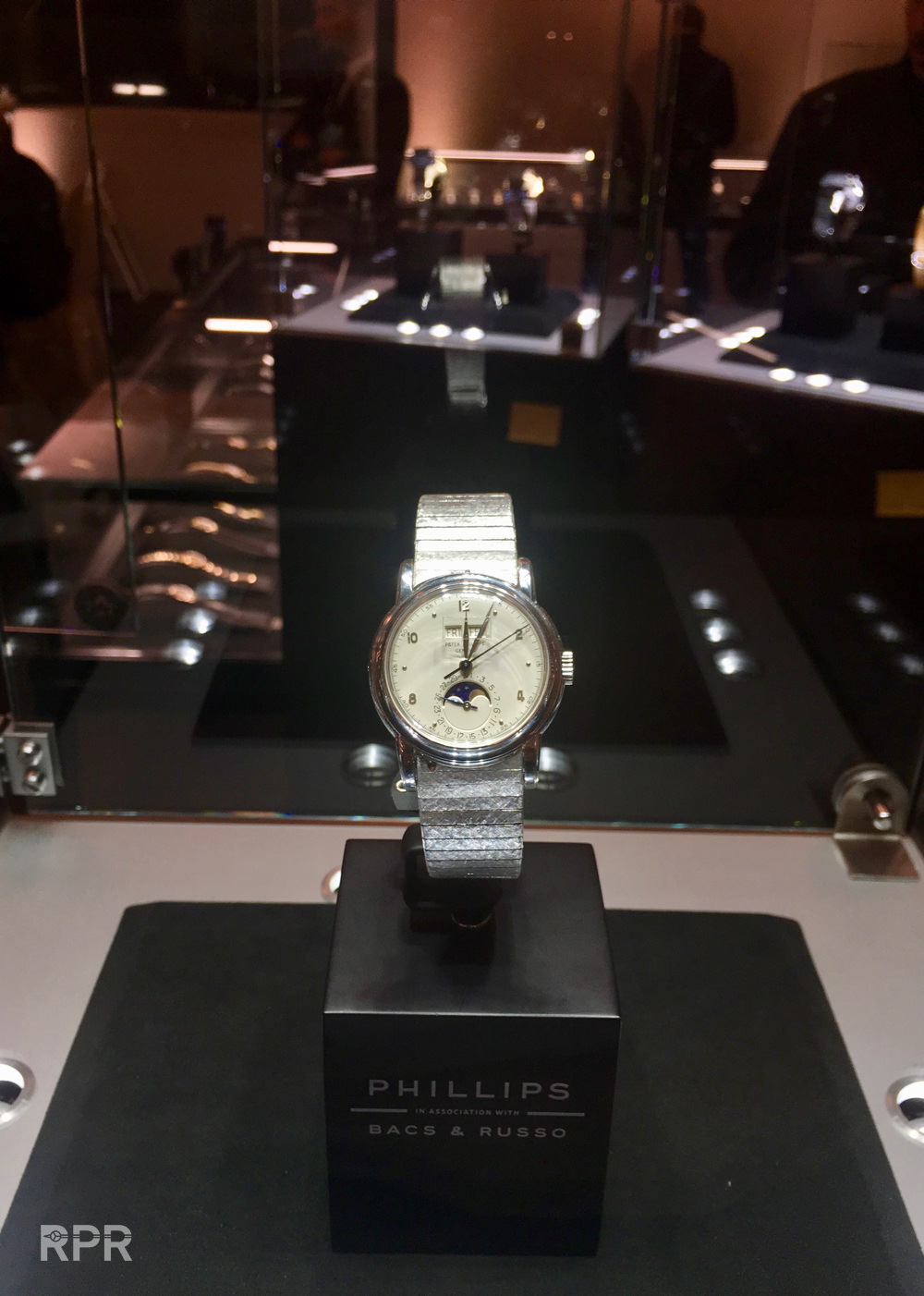 The PPC 2497 in white gold sold for CHF 2.292.500,=….
White gold PPC at Christies sold for CHF 200K, which is as much as a entree Newman Daytona…again imagine!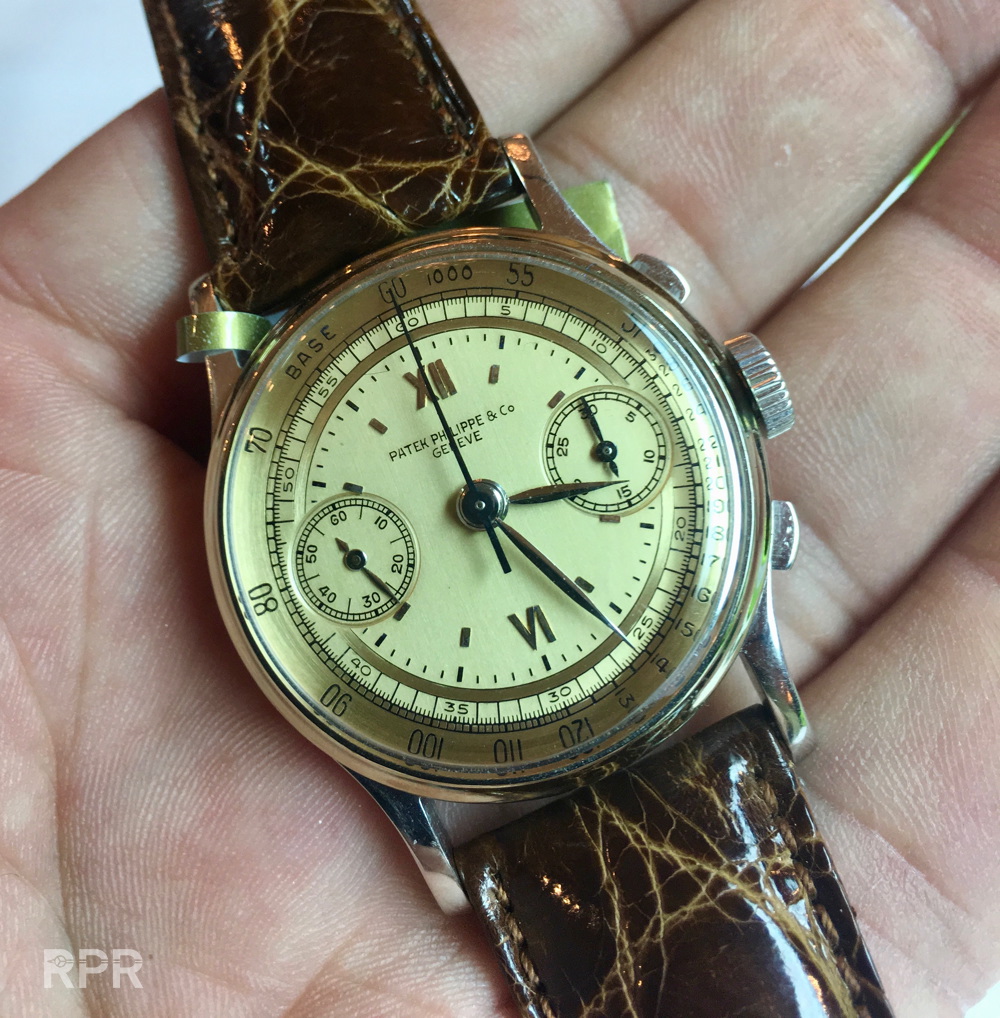 This pink 1463 had a black spot on the dial, something the catalogue didn't show. I still wonder why any auction house is photoshopping their offers, totally unlogic IMHO!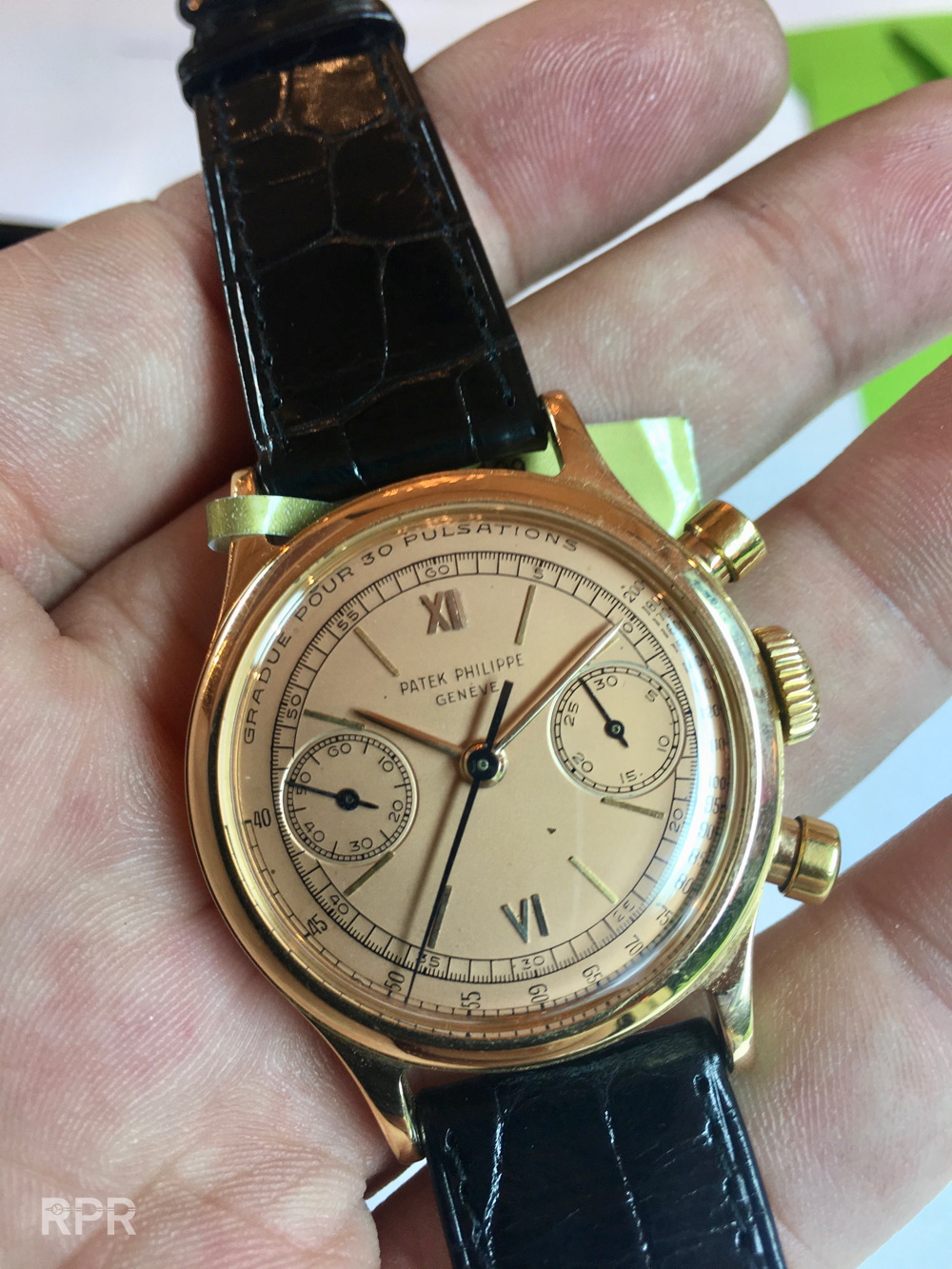 The nice 1518 in yellow gold sold for CHF 552,500, only a little b it more then a nice Oyster Newman, imagine!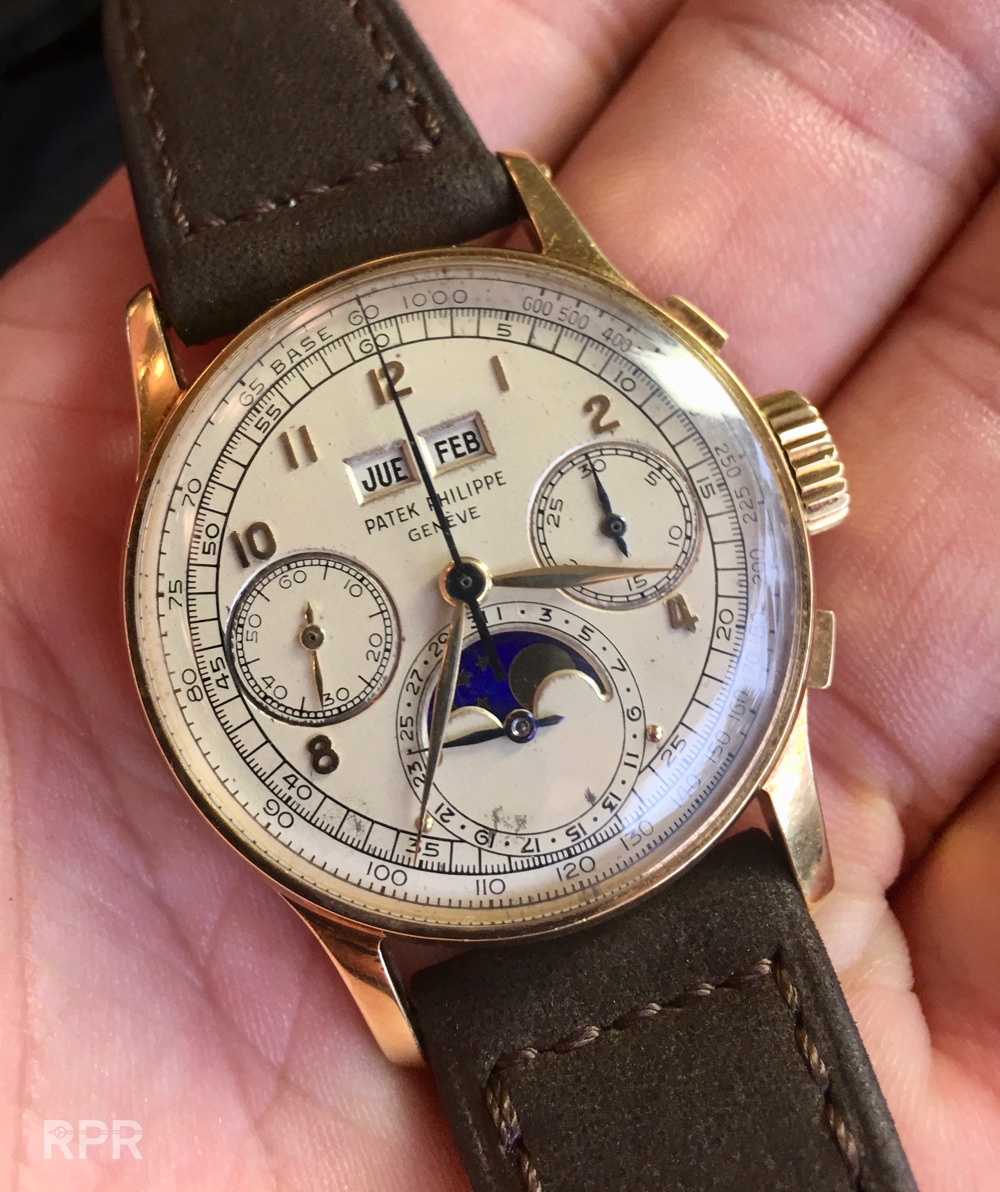 The pink 2499 sold for CHF 2.772.500,=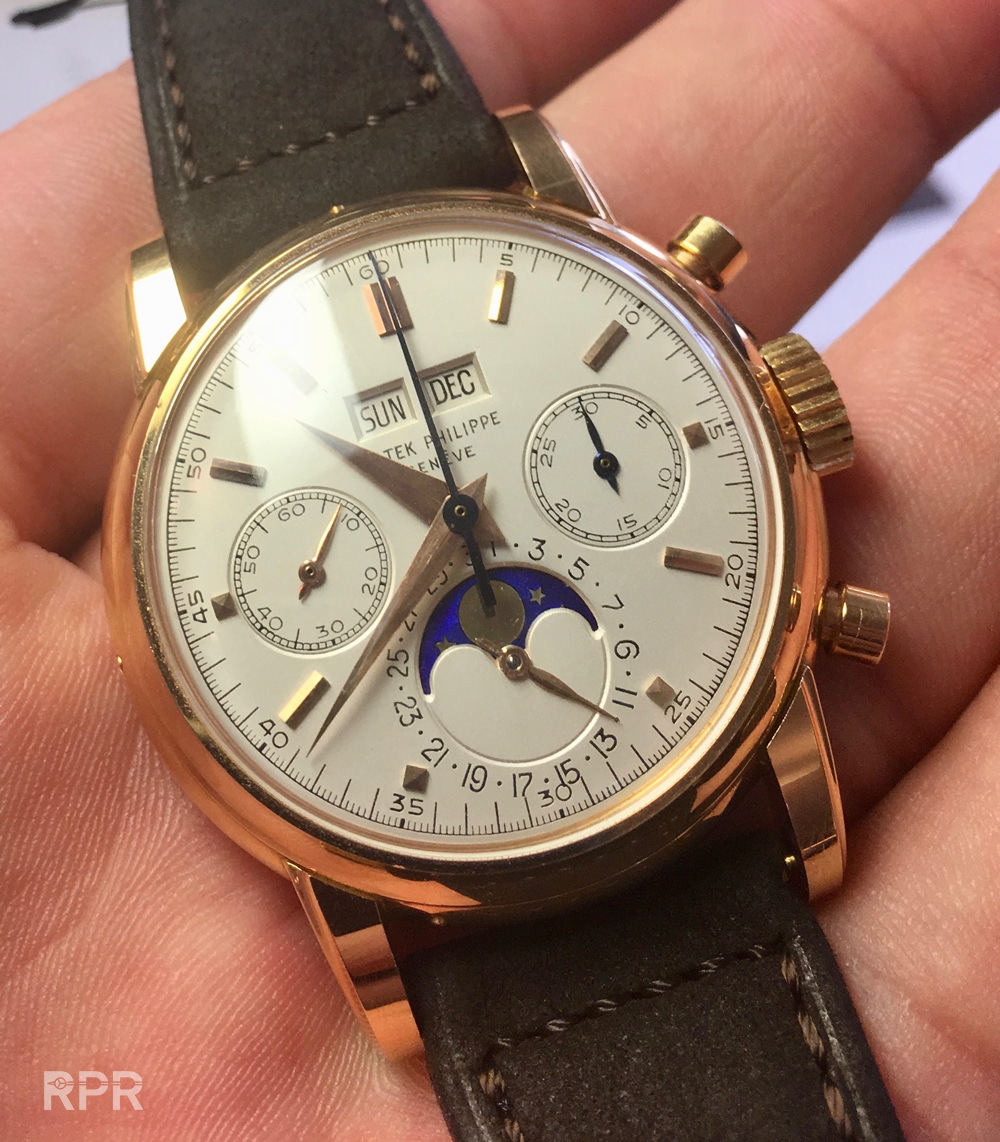 Mr CS…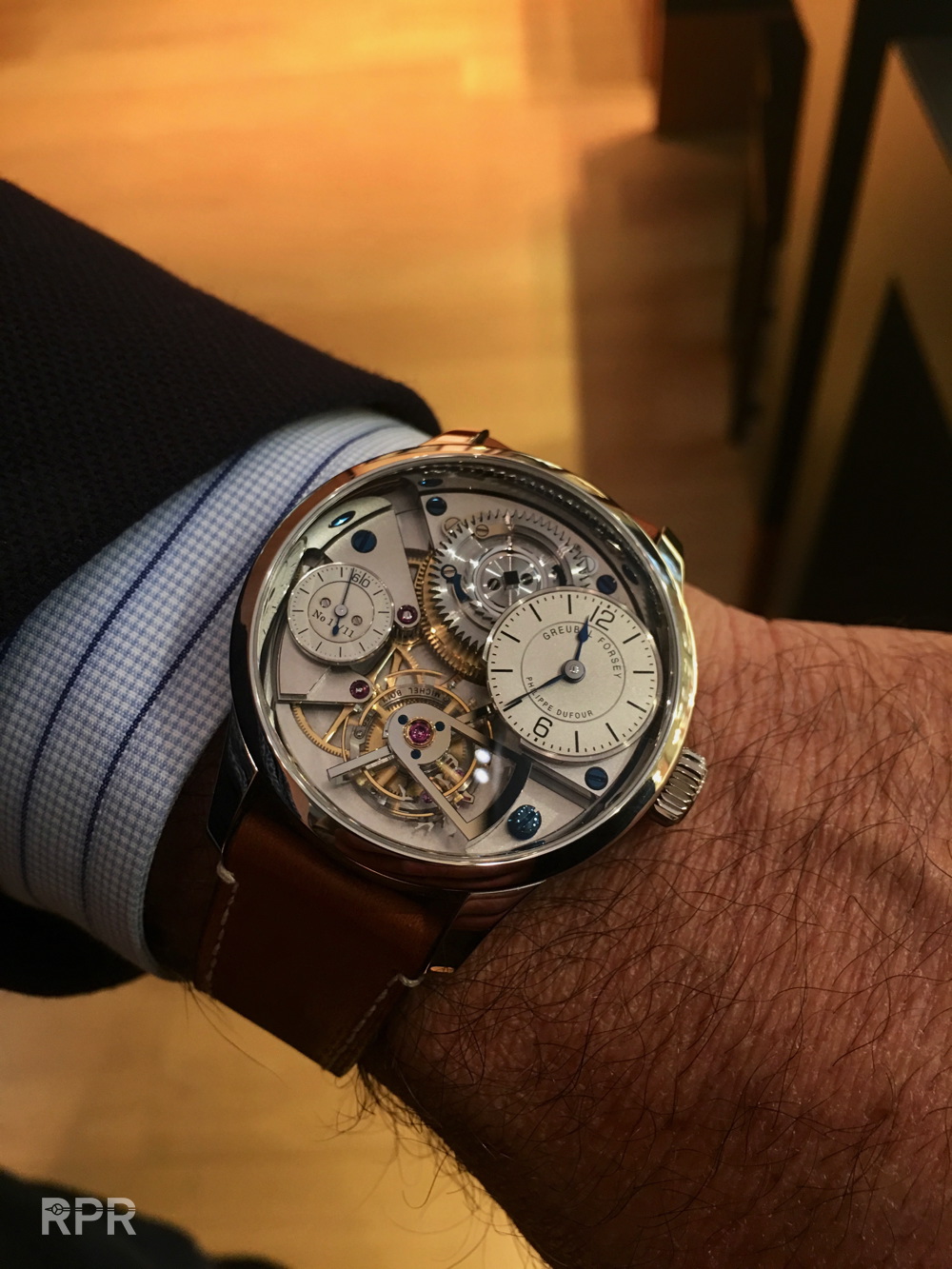 Pizza & Beer with Mike W 😉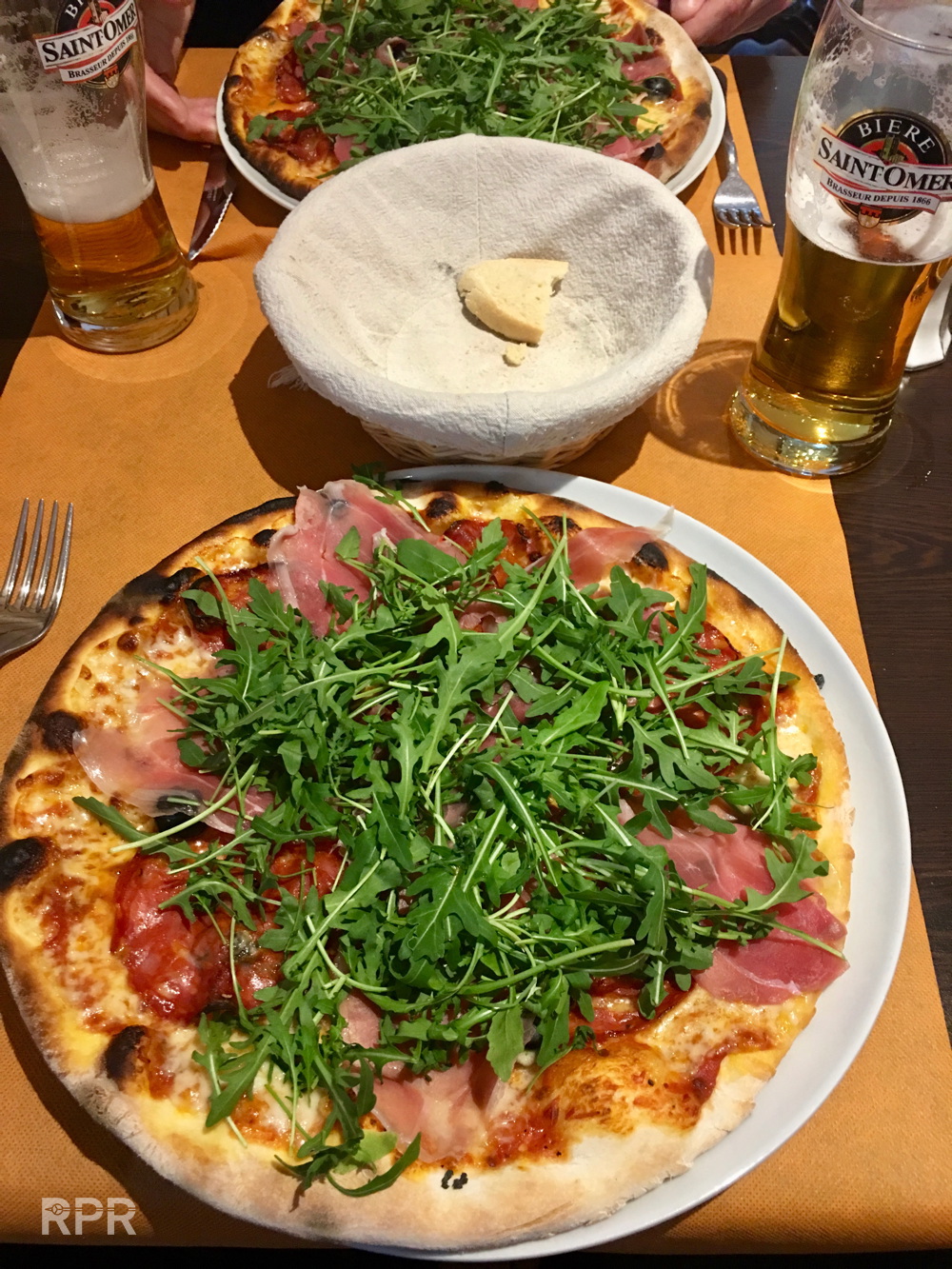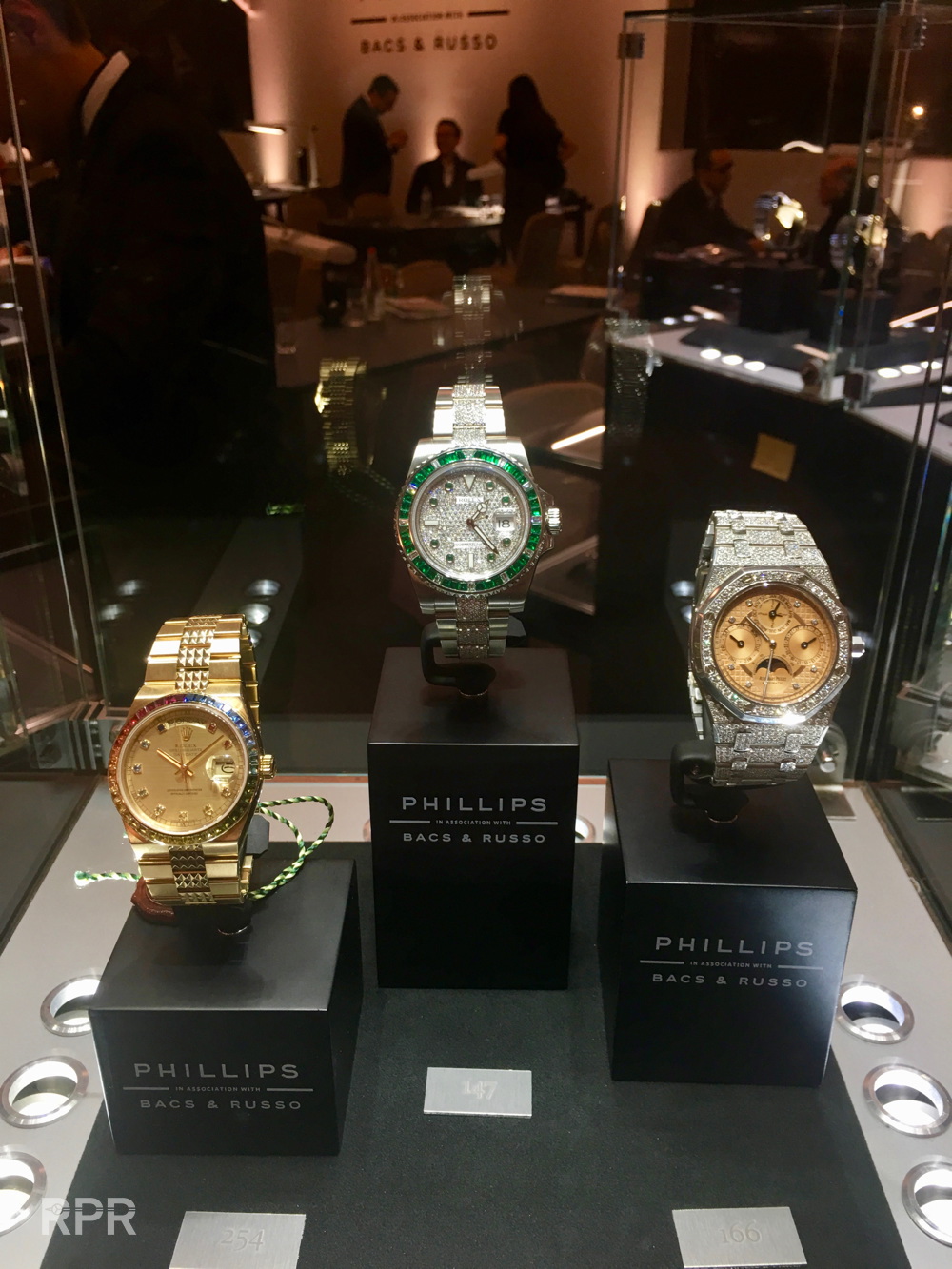 The emerald Sub sold for CHF 275.000,=…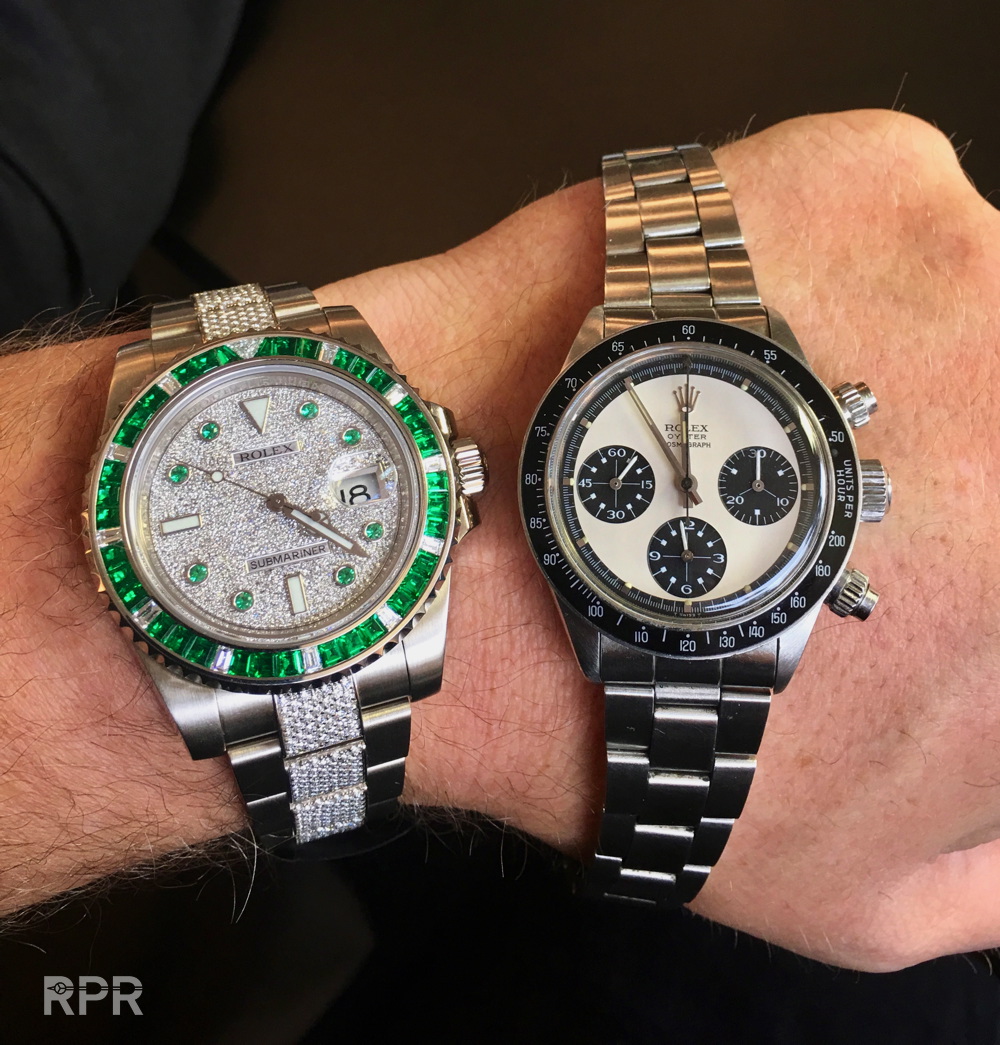 CHF 125.000,= for this cloisonné Rolex Dragon, which is not crazy but then the dial has some minor little cracks which explain the result…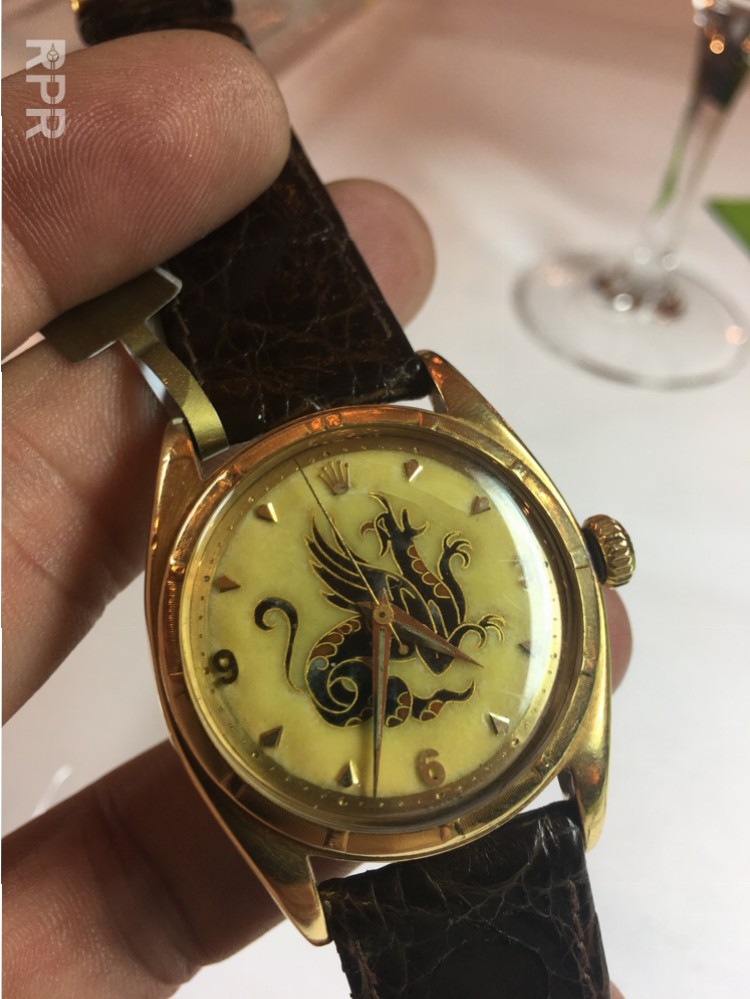 The gold GMT master didn't sell…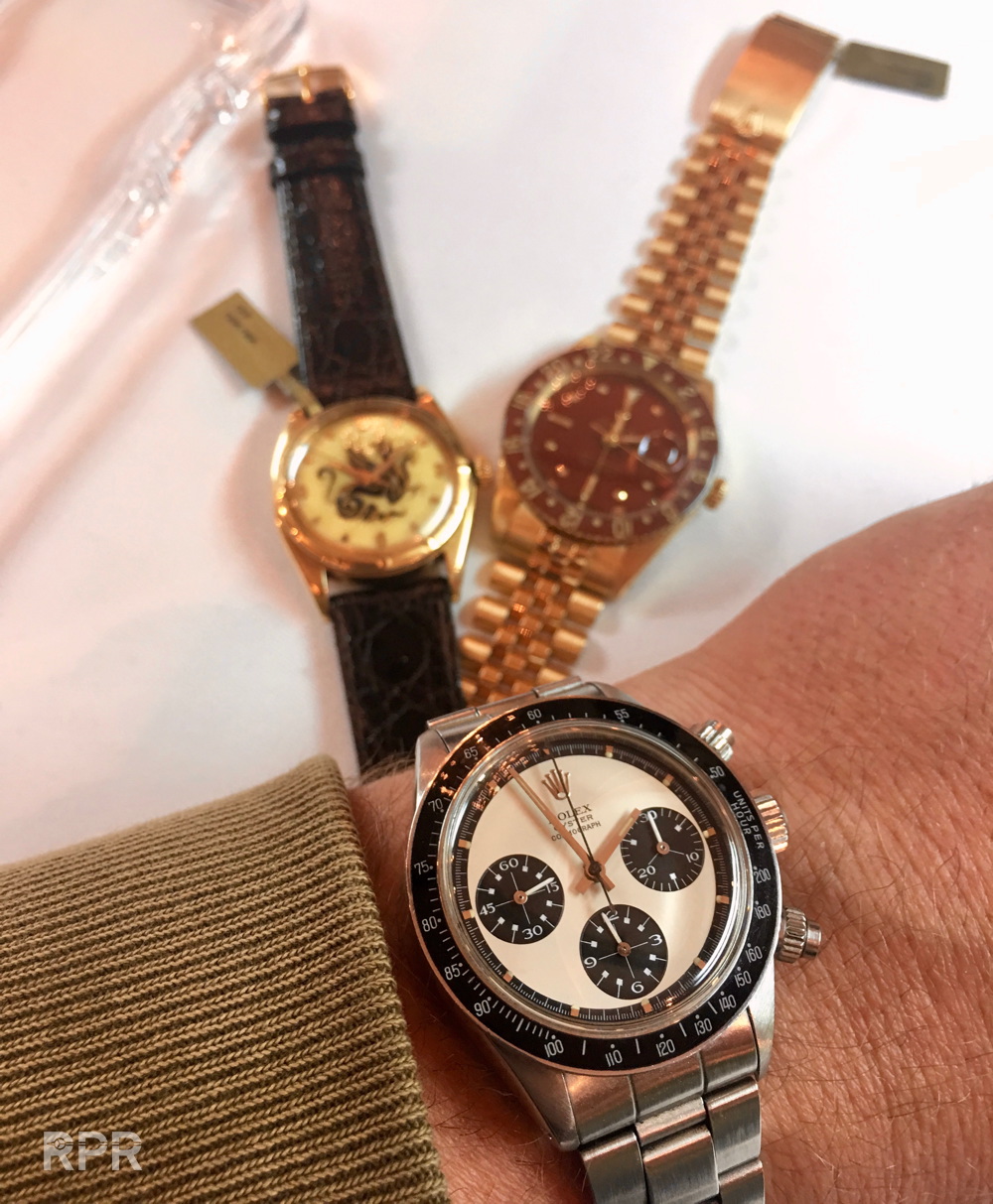 This explorer Sub didn't made the low estimate and passed…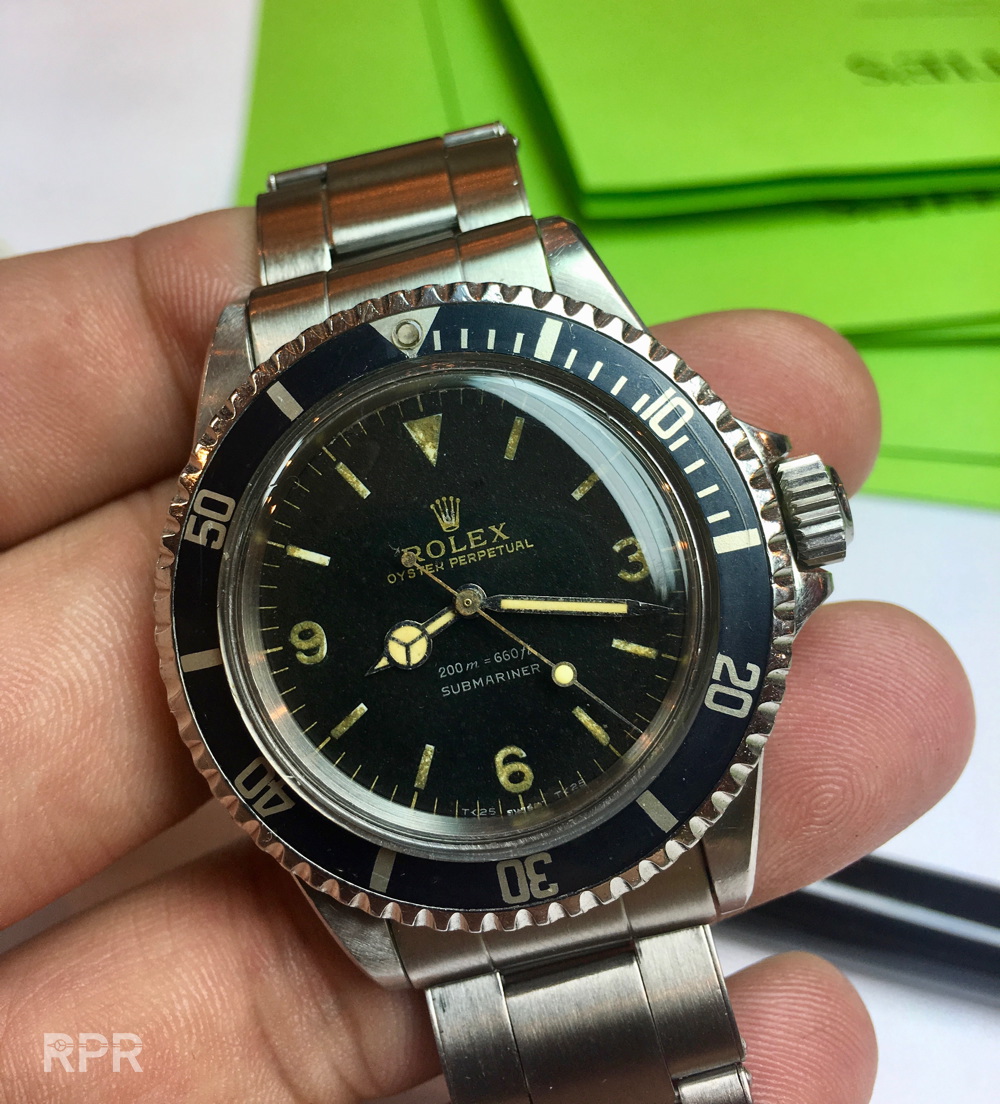 The Monobloc fetched CHF 72.500,= at Christies…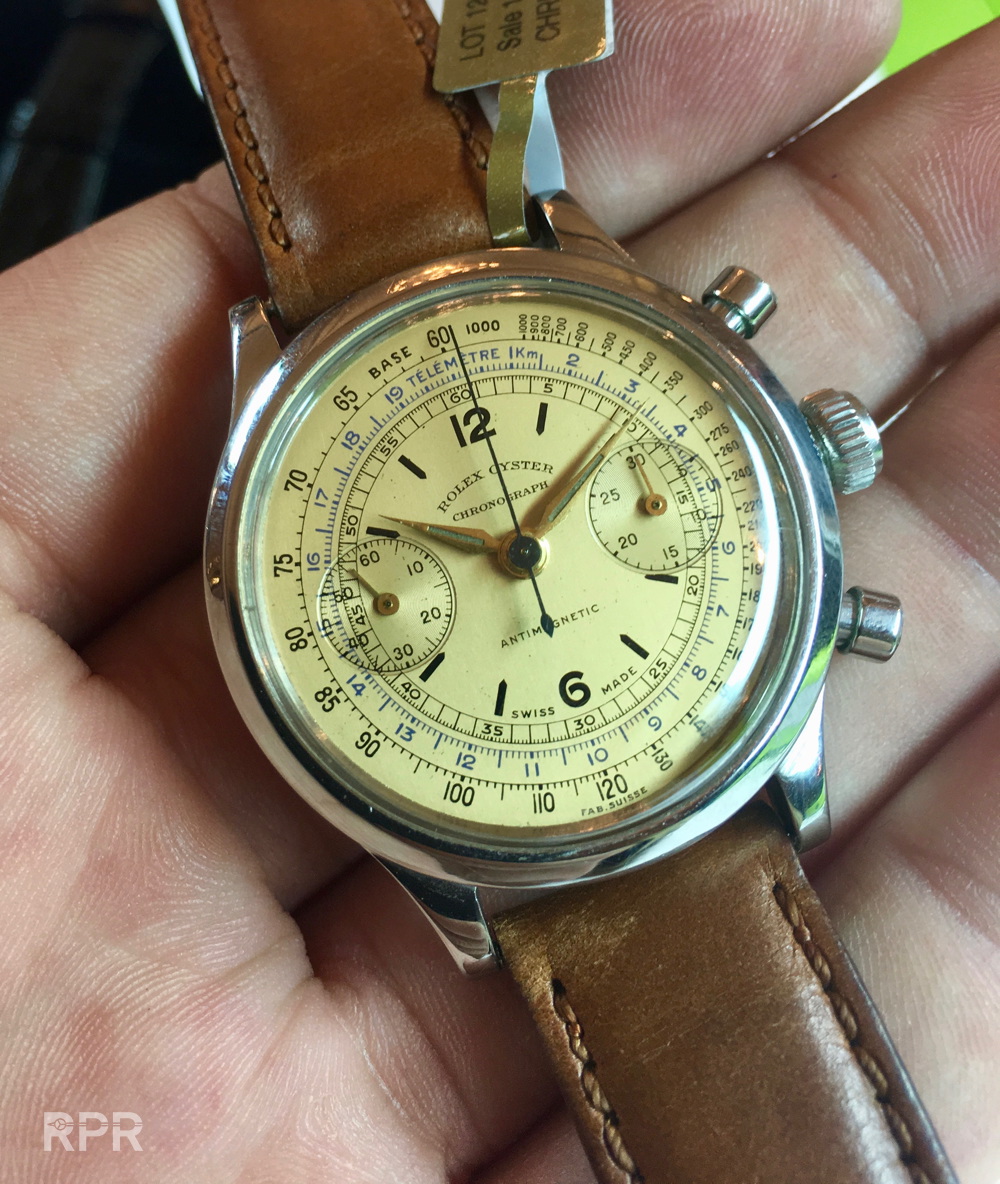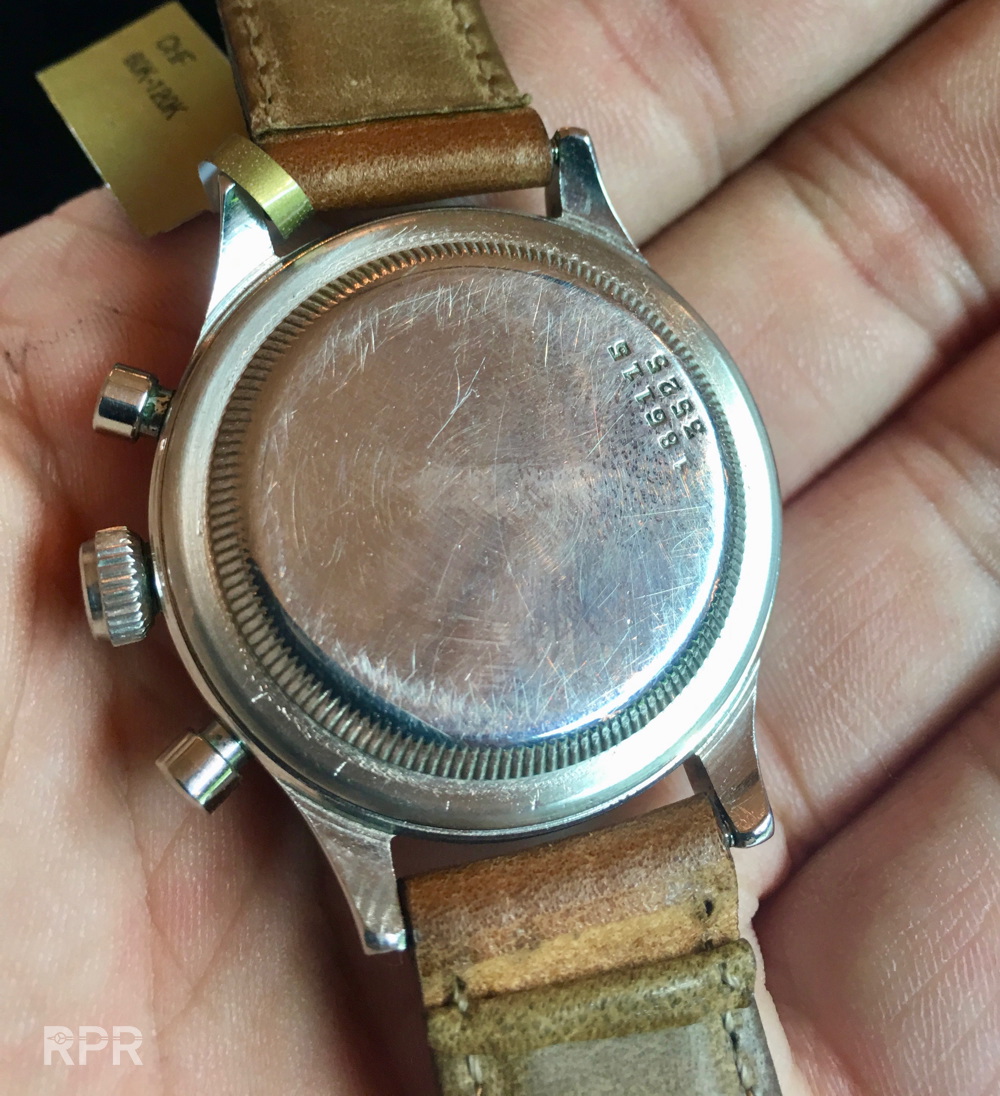 And CHF 81.250 at Antiquorum….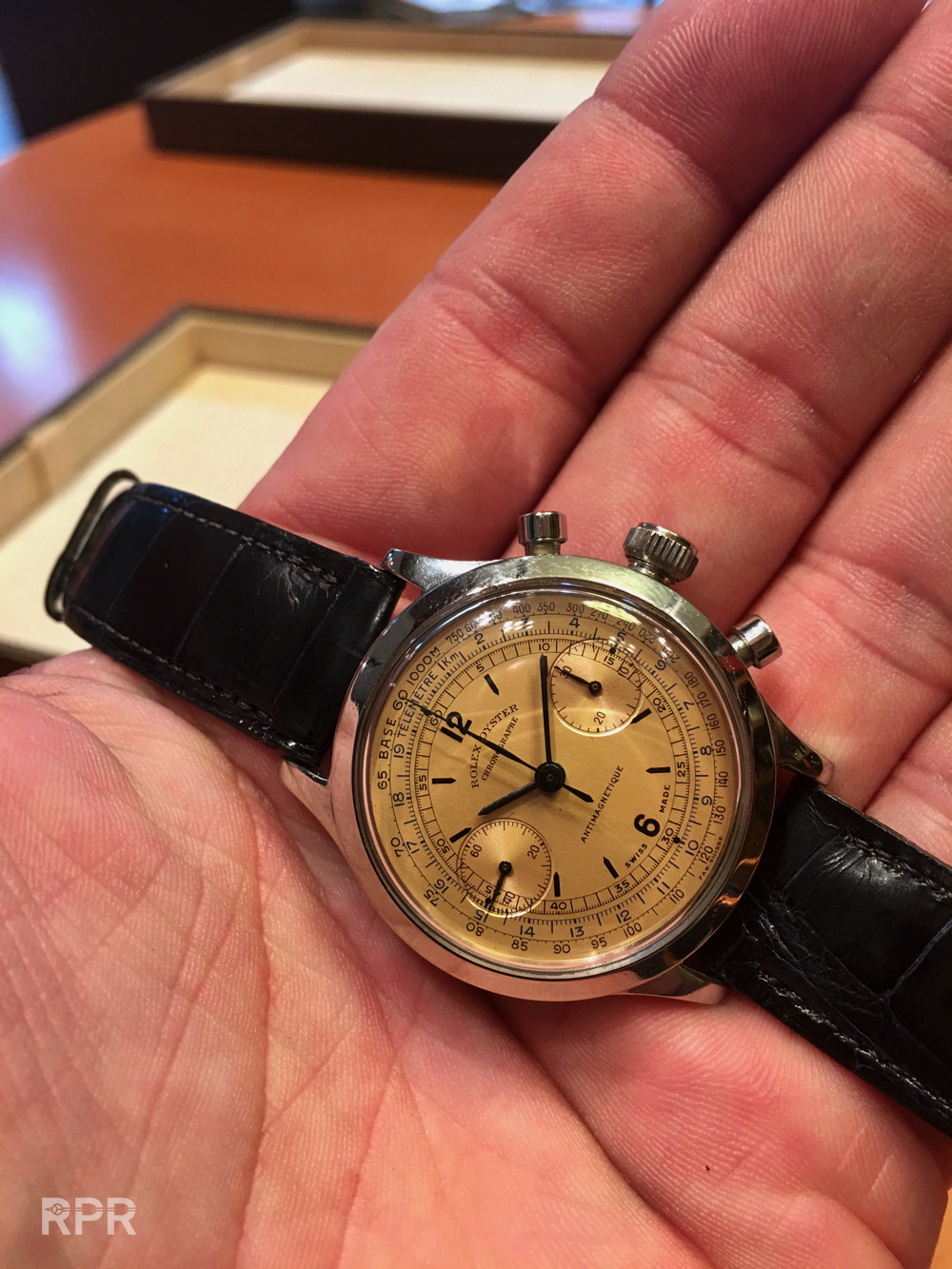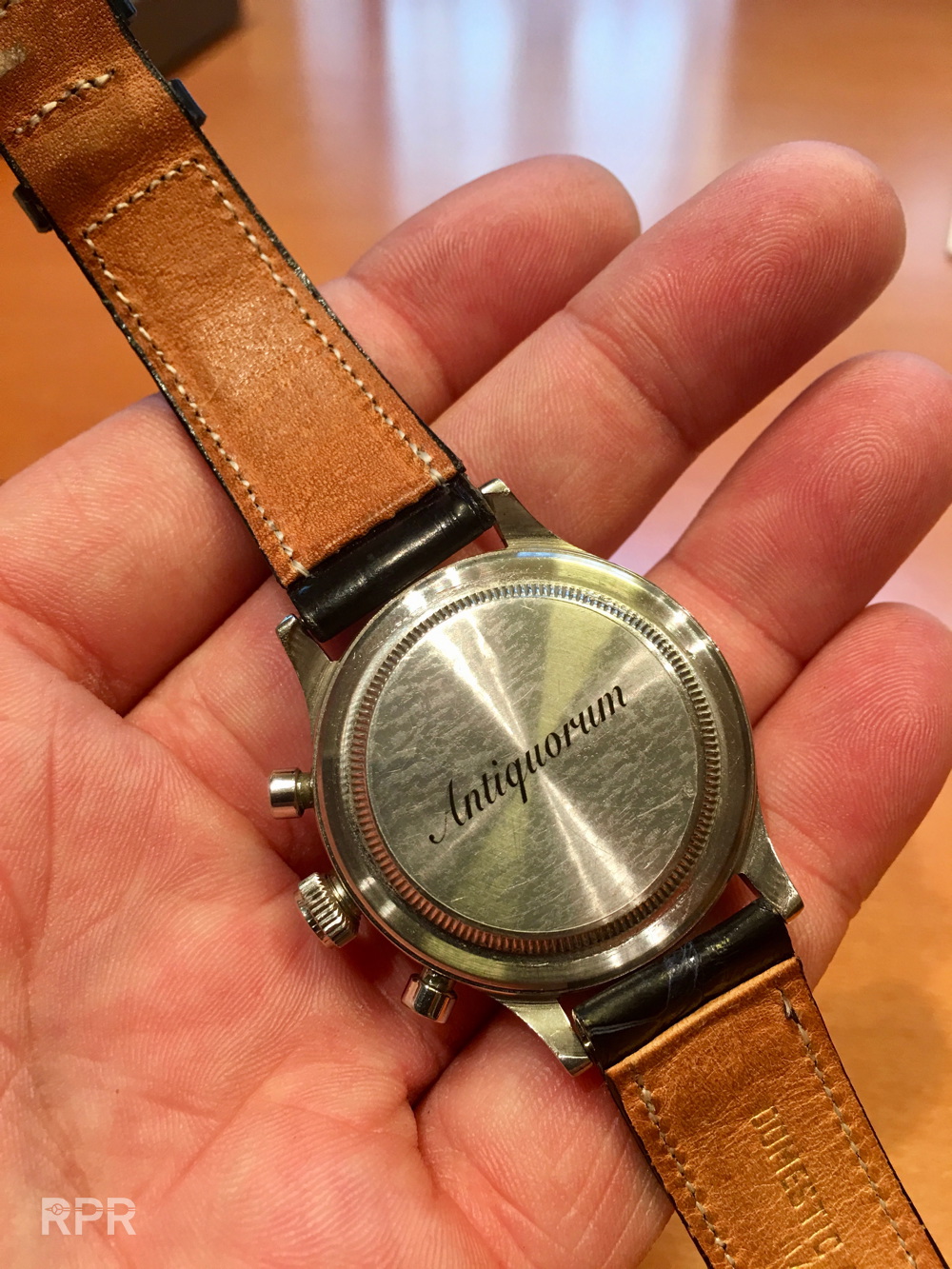 This black dialed early Rolex Oyster chrono sold  for CHF 131.000,=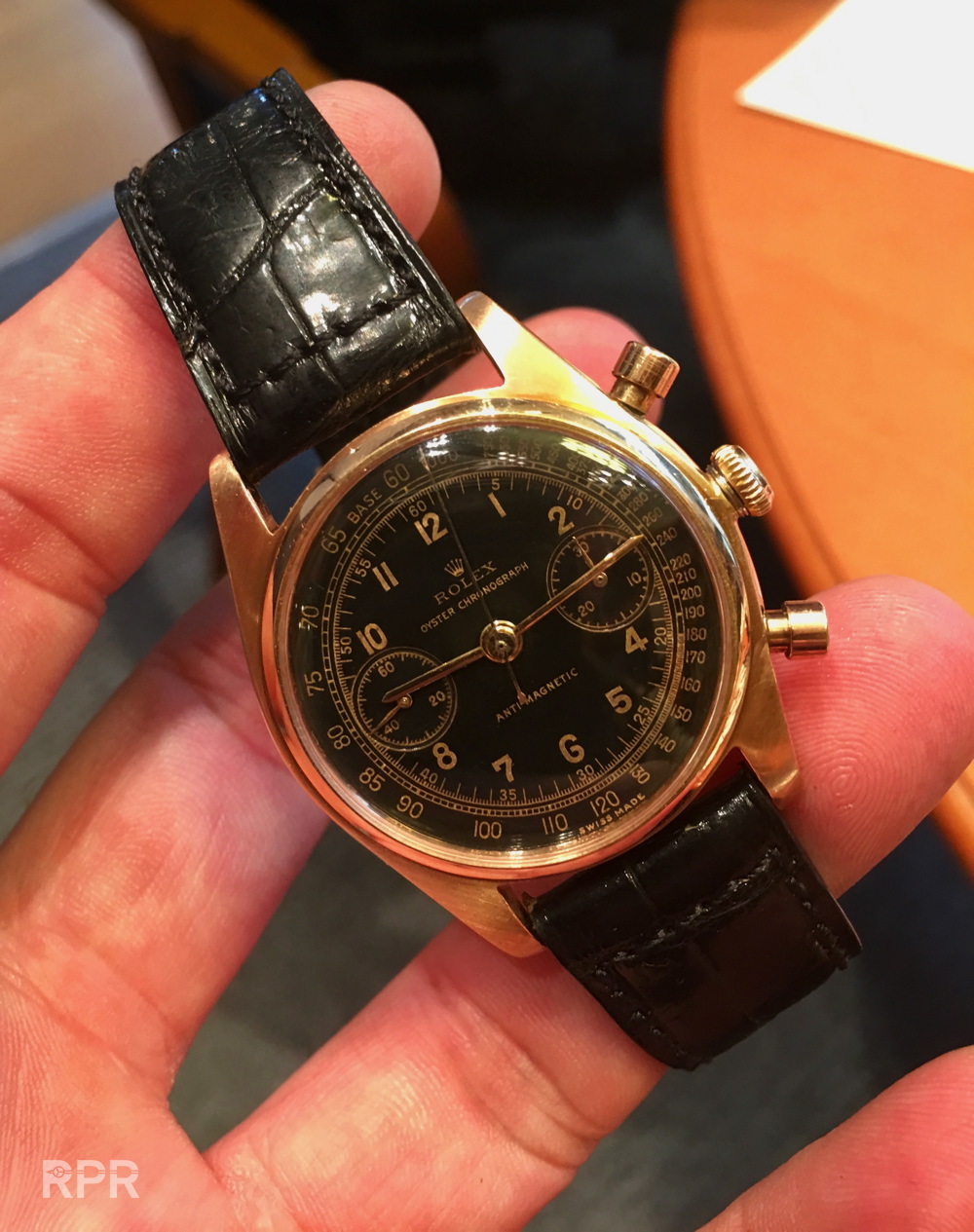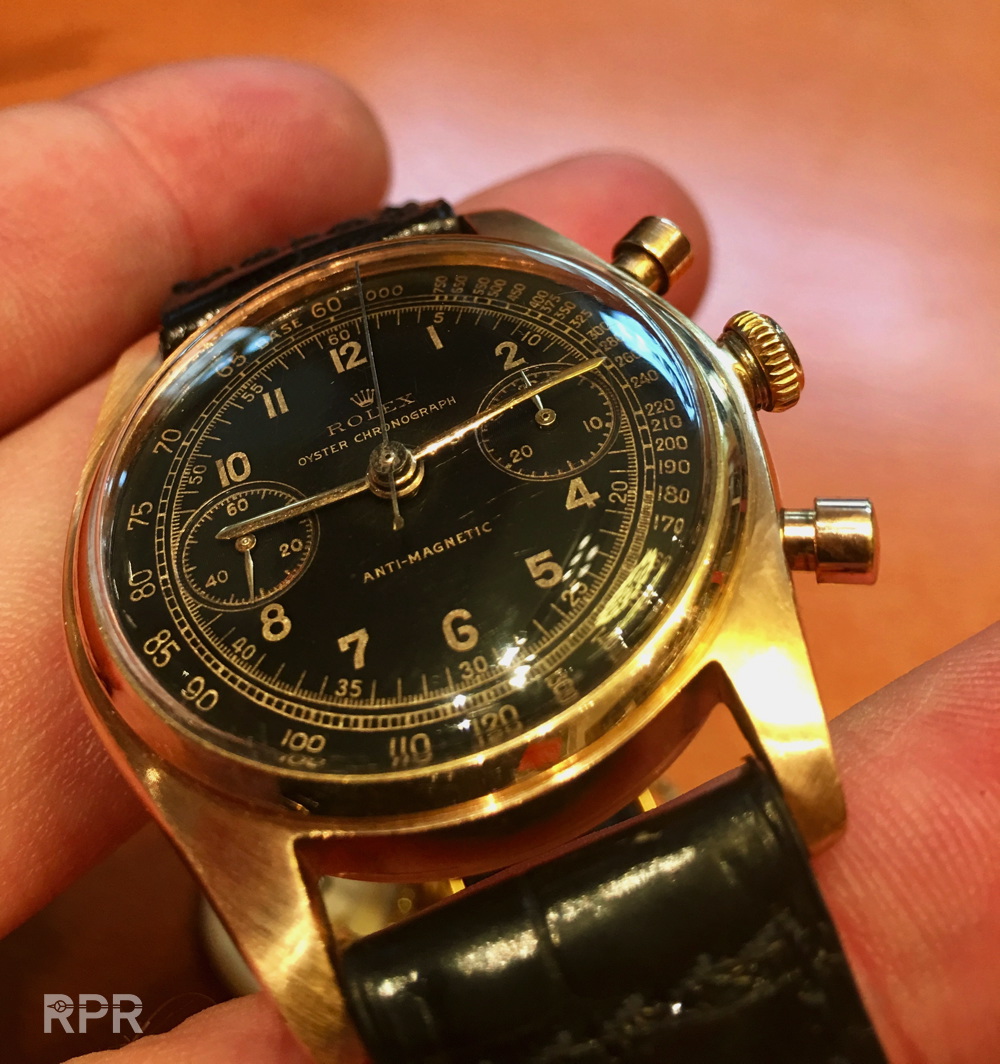 And this rare 4 silver line Rolex Submariner ref 5512 at Antiquorum having some circular marks of the hour hand on the dial didn't sell…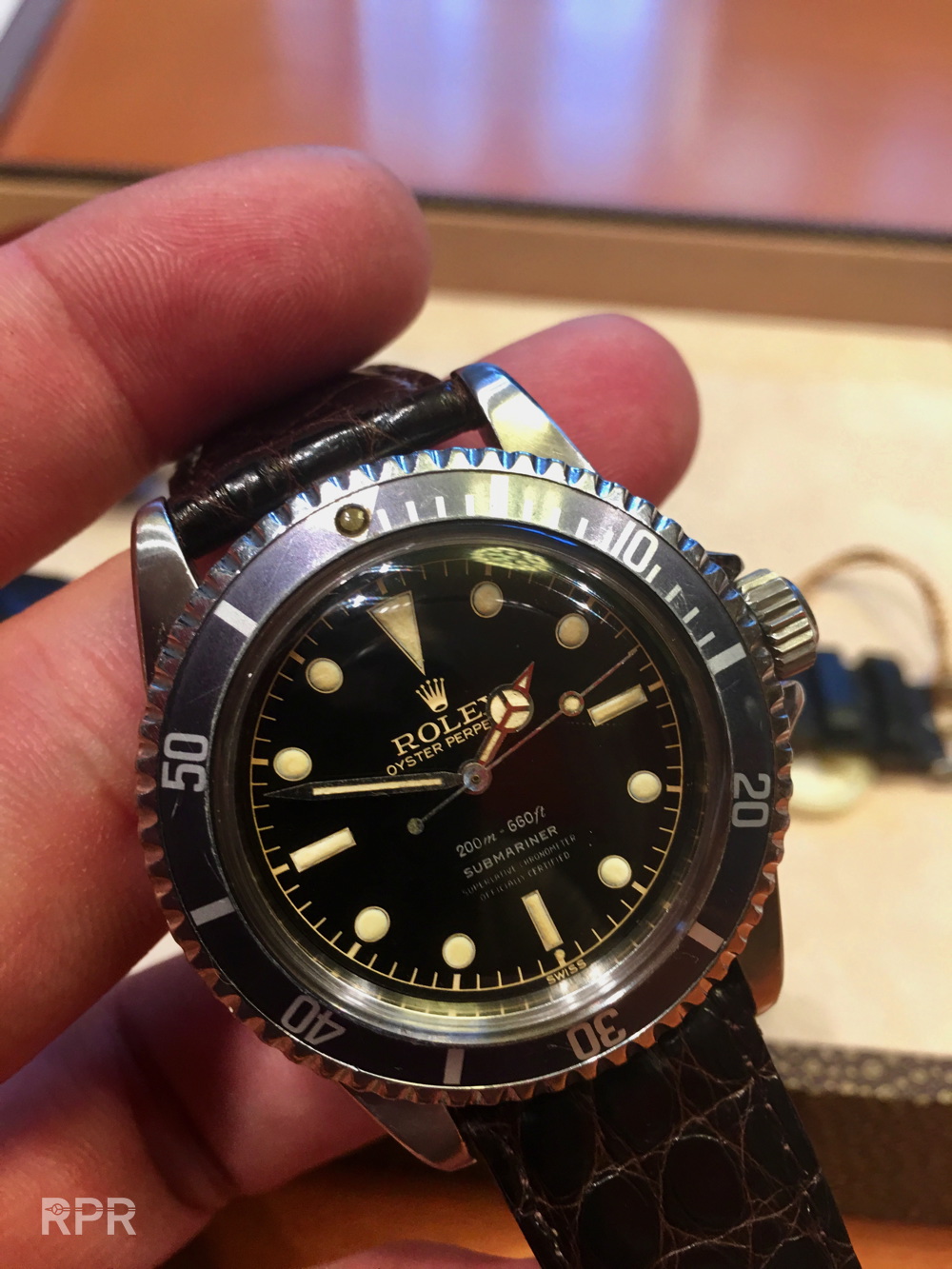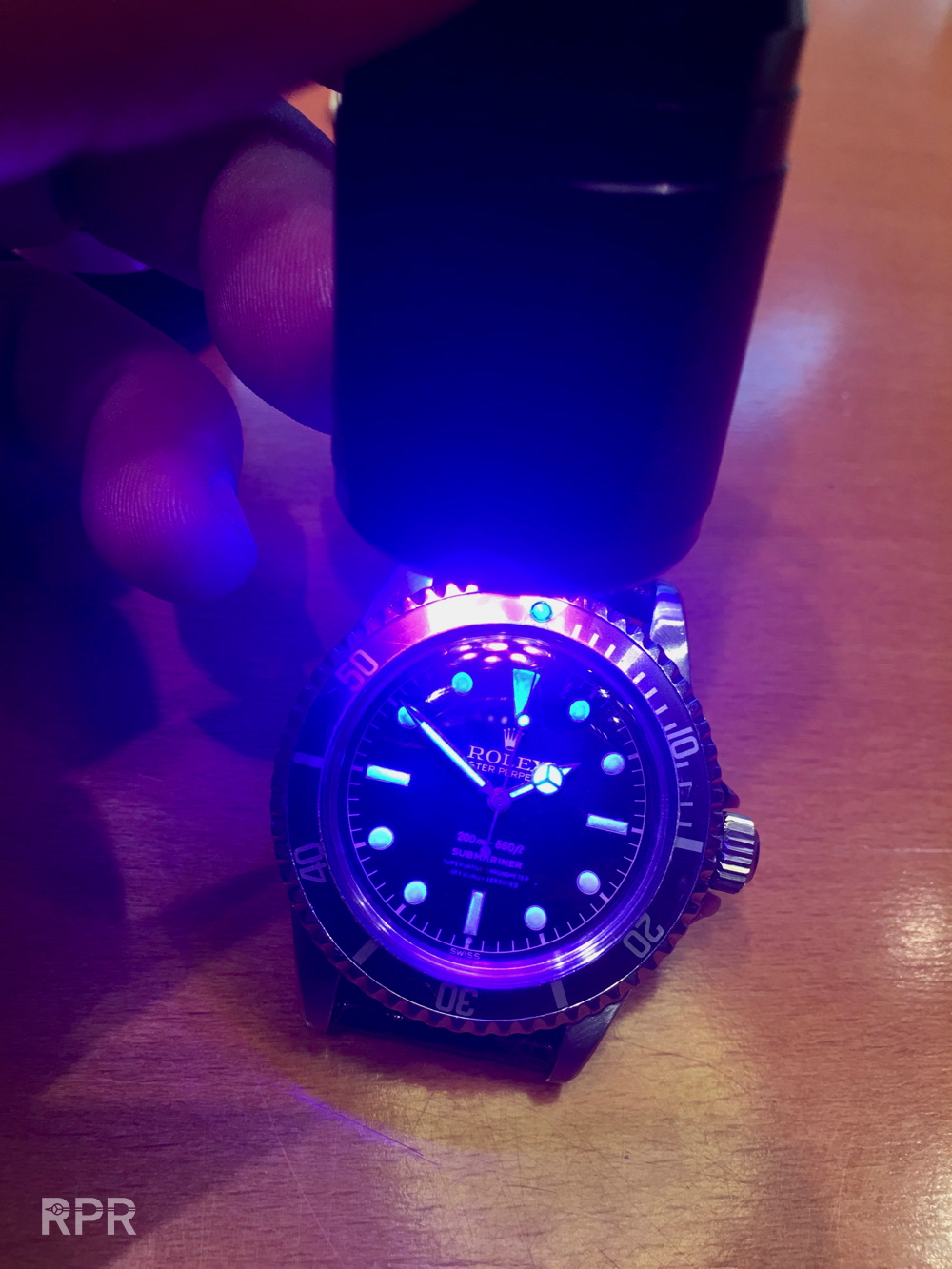 The tropical Rolex square crown submariner sold at Antiquorum CHF 125.000,=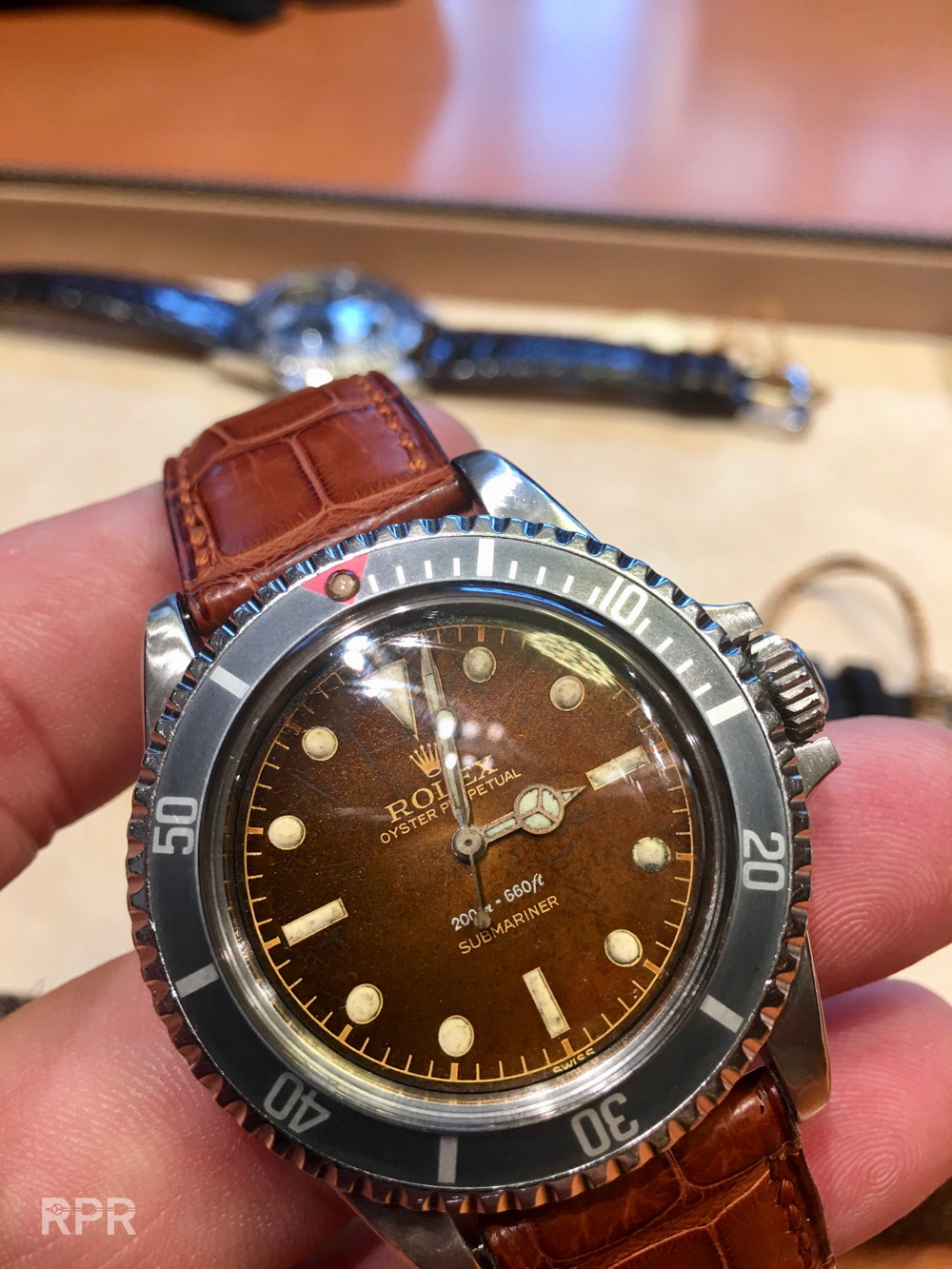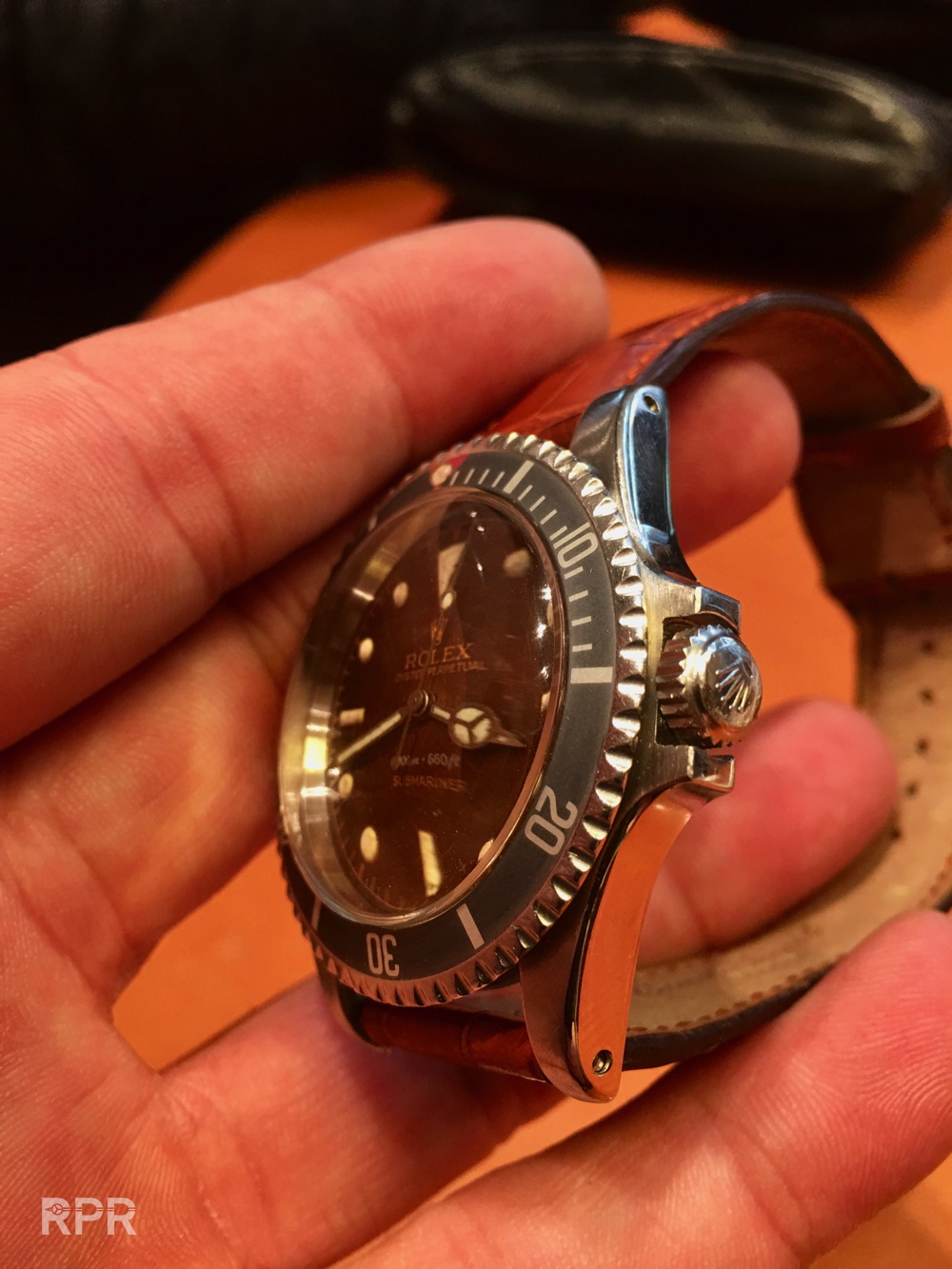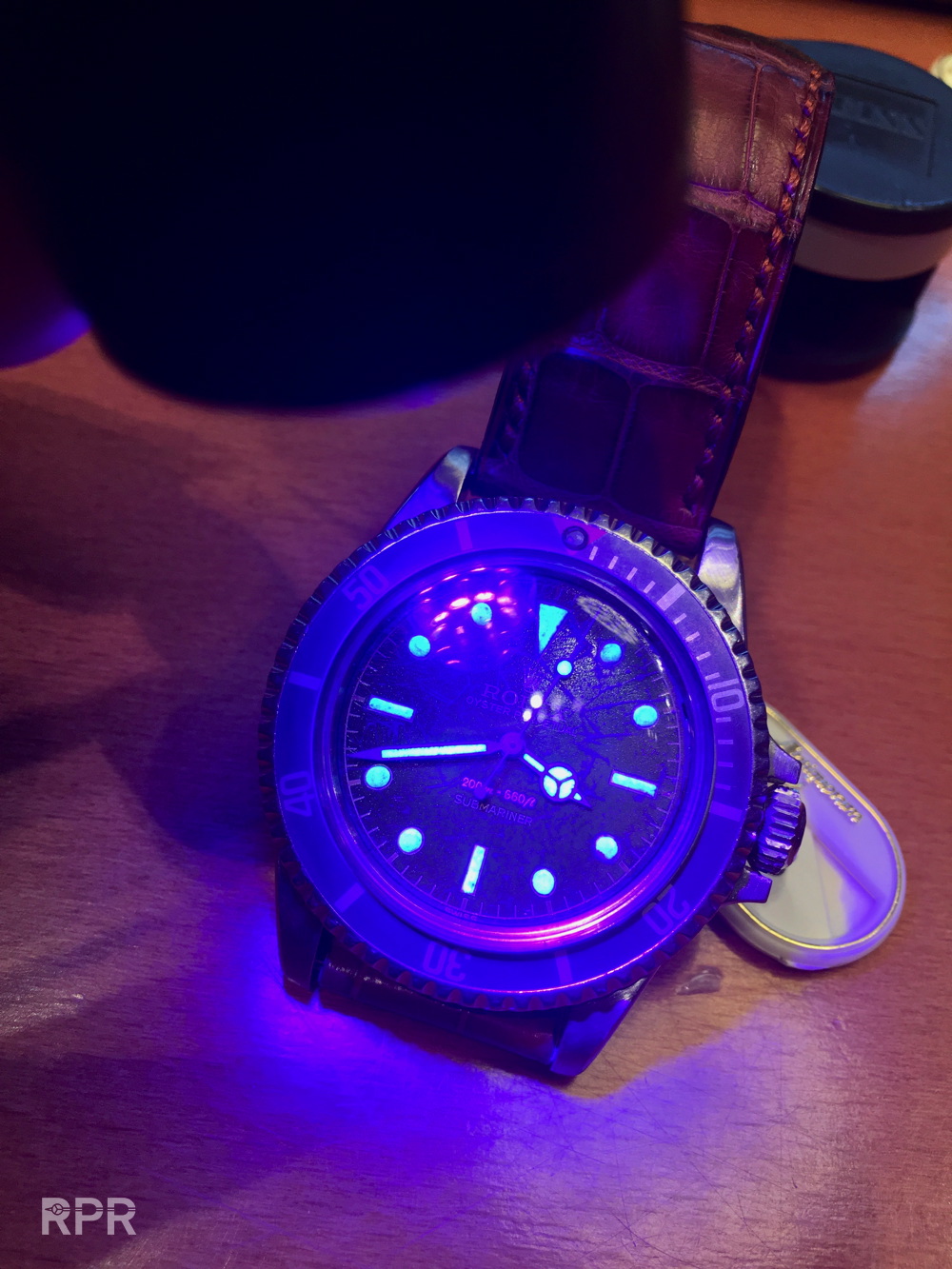 This anominous split second with glossy black dial finally fetched CHF12.500,=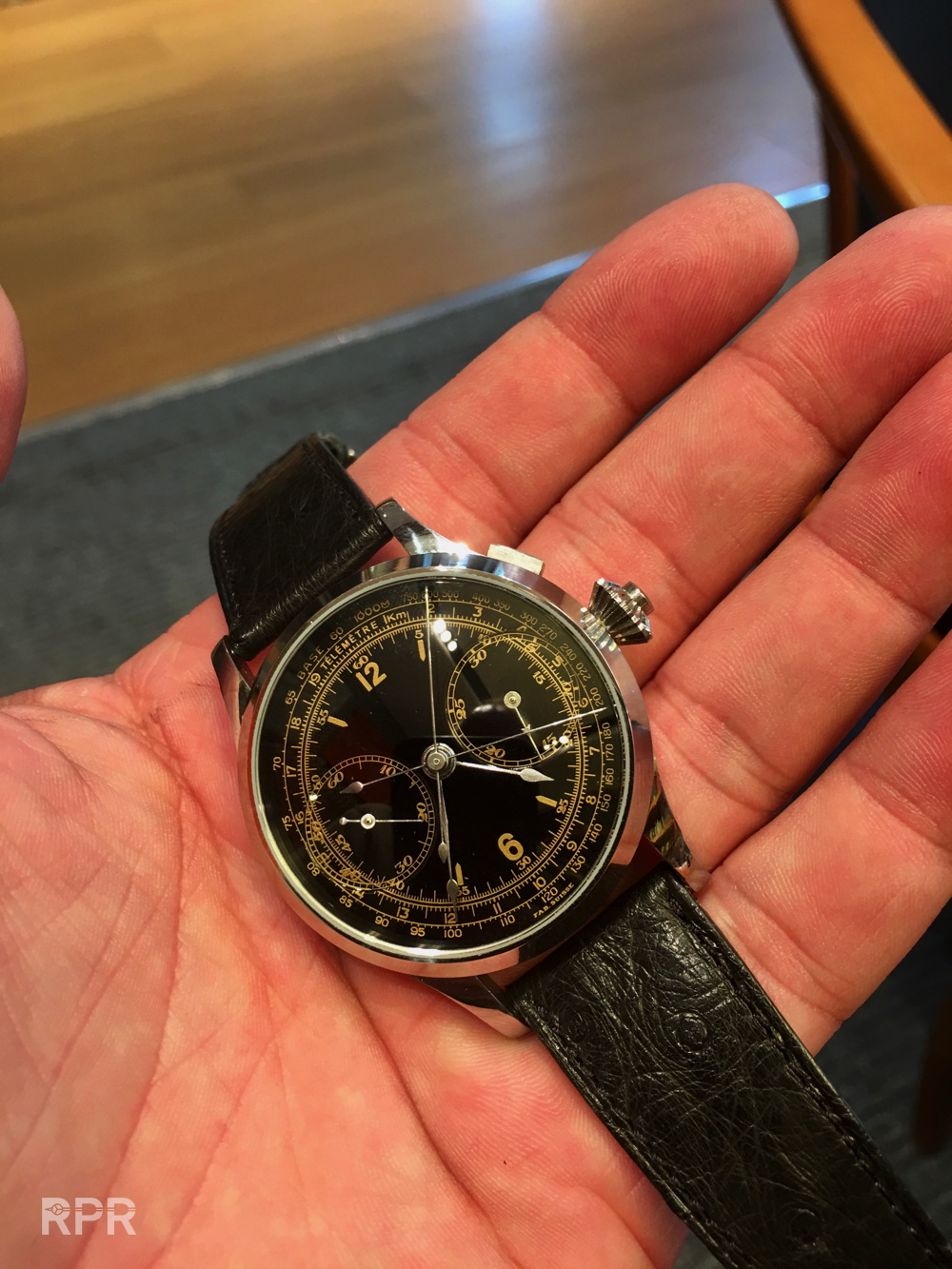 The Explorer made CHF 27.500,=…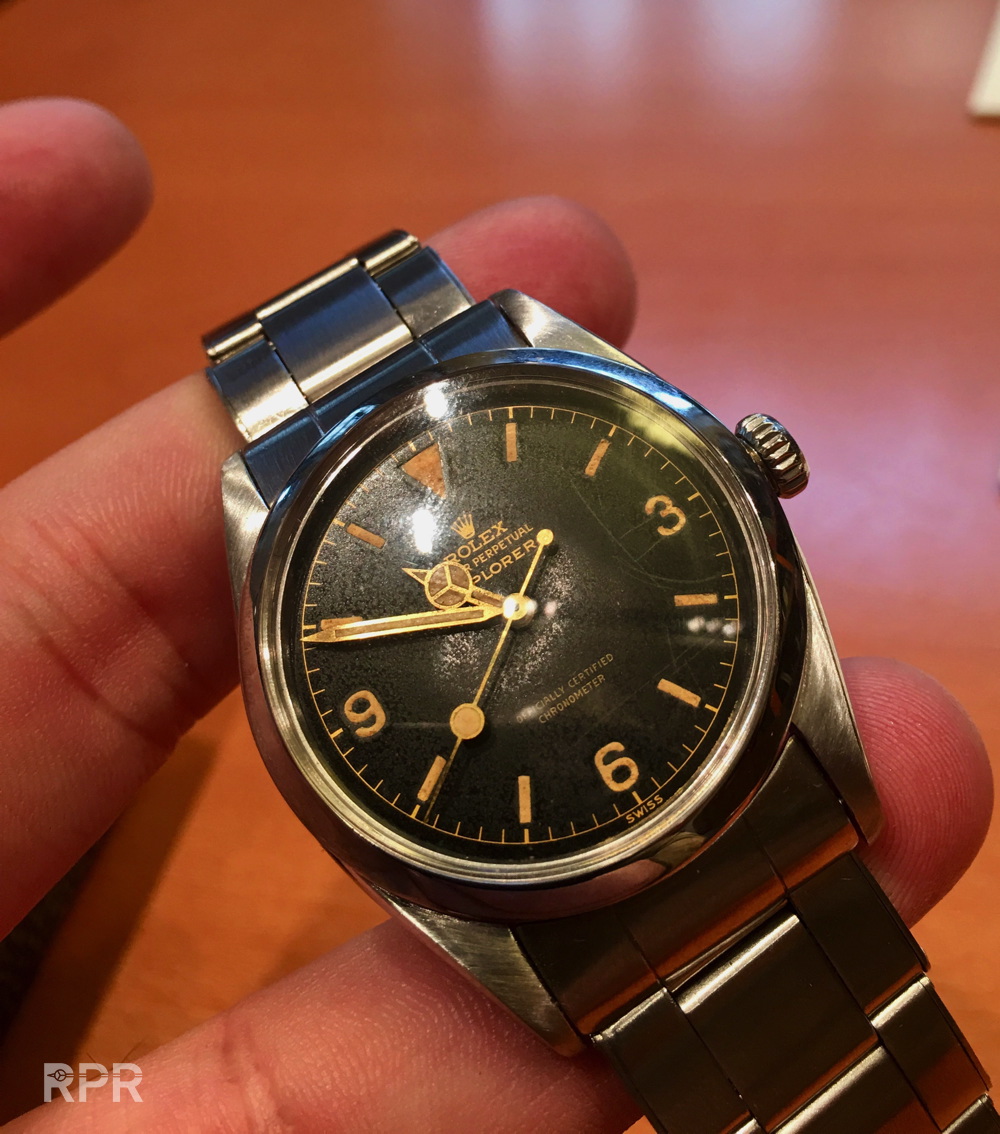 The black chronology just didn't made 100K…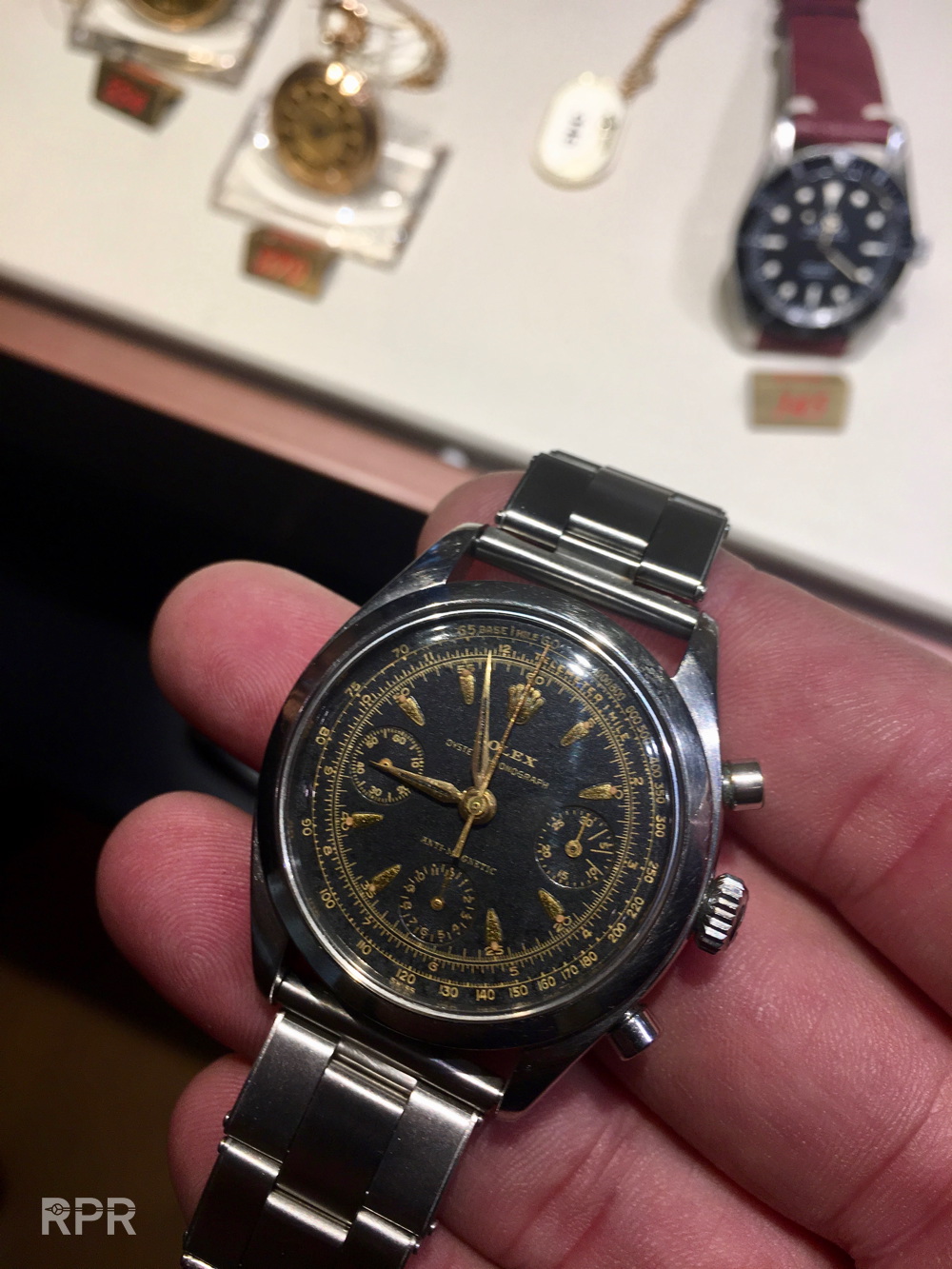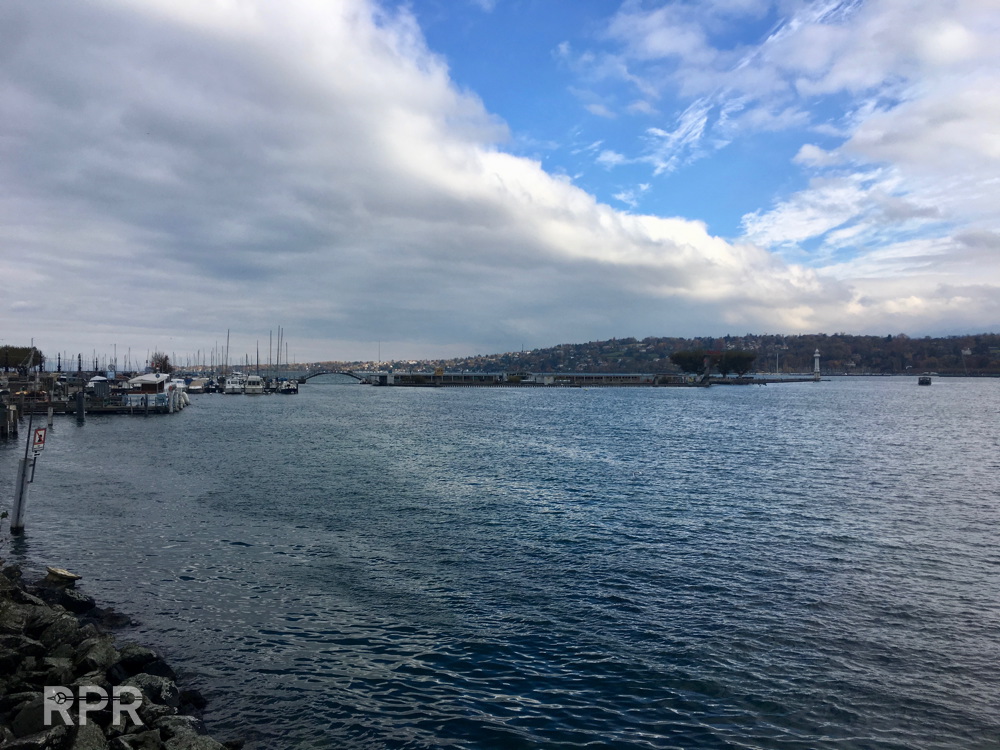 Christie's New York surprised me with a great collection of rare and crispy vintage Rolex. Go check it out!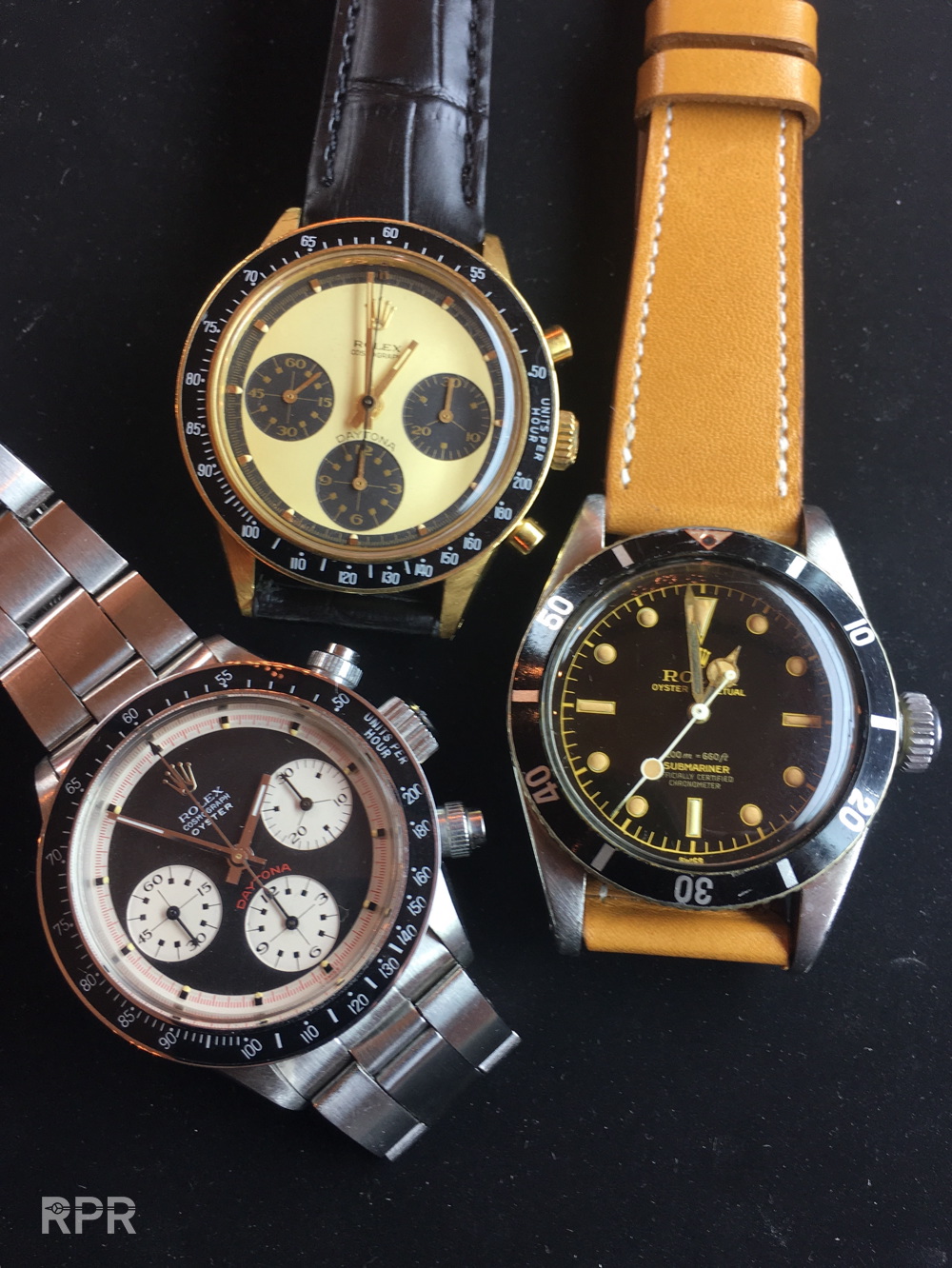 Nice 4 line Big Crown Submariner Ref 6538 with 1957 red triangle bezel, estimated 150-250 which will most logically end higher…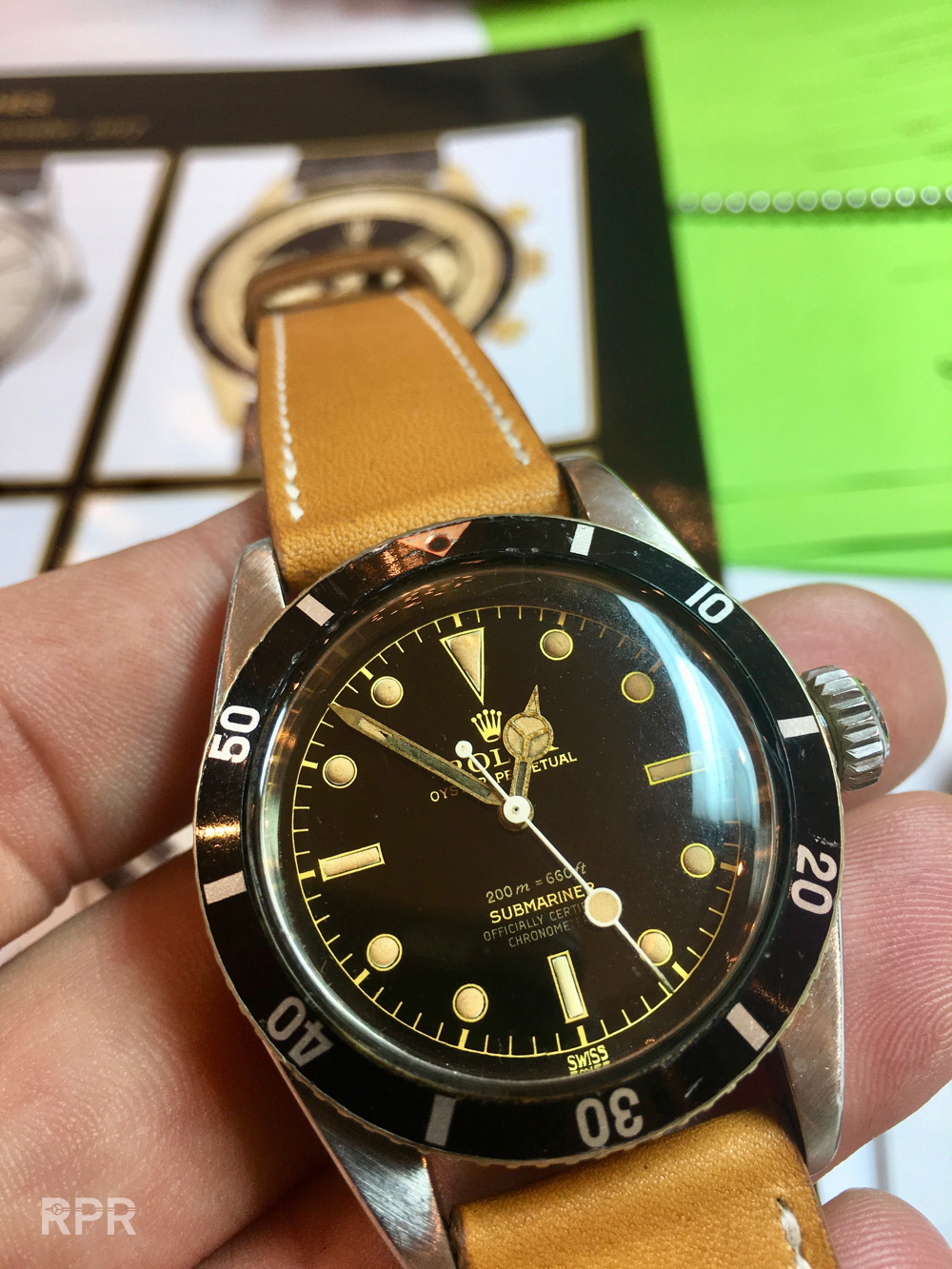 The yellow gold PPC 2499 mk1  is also coming up for sale at Christies NY. Dial and case are not mint…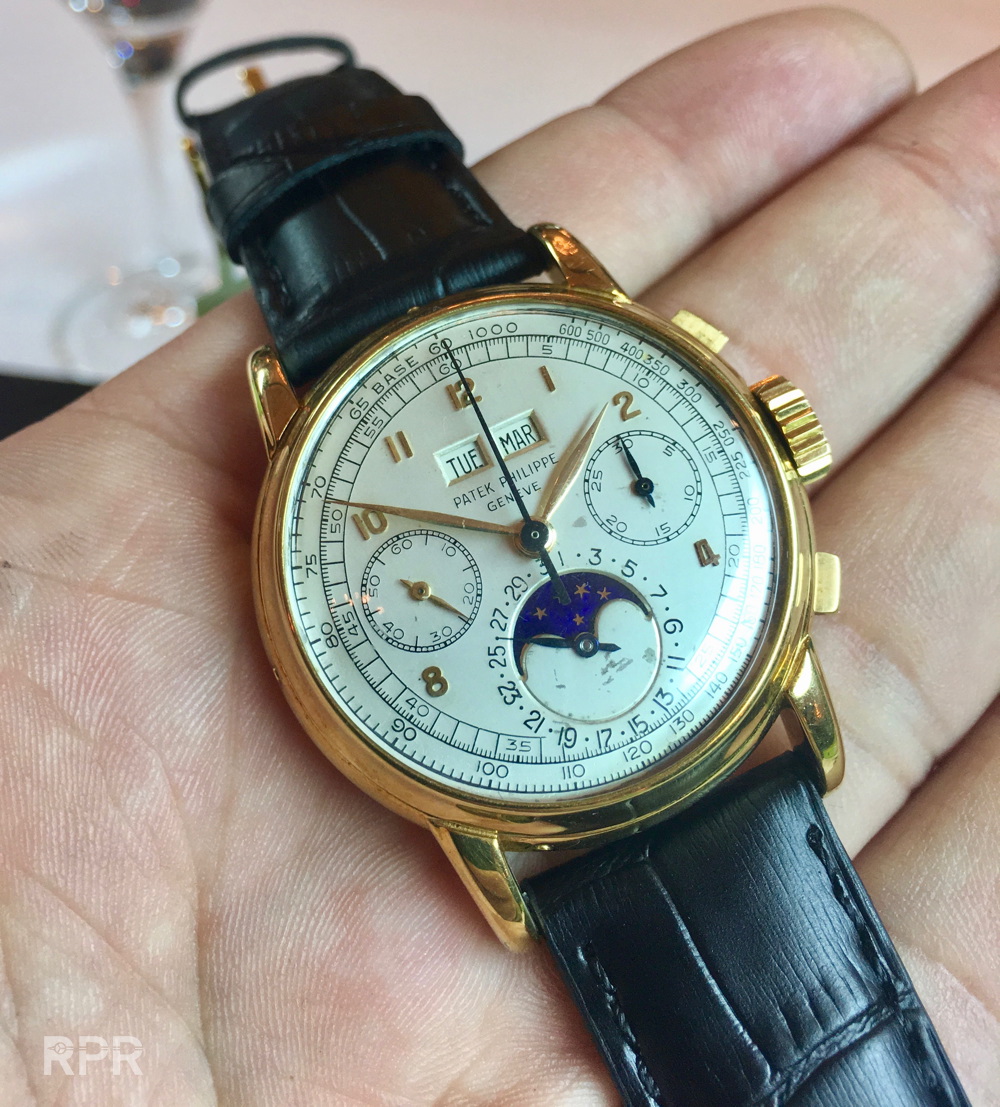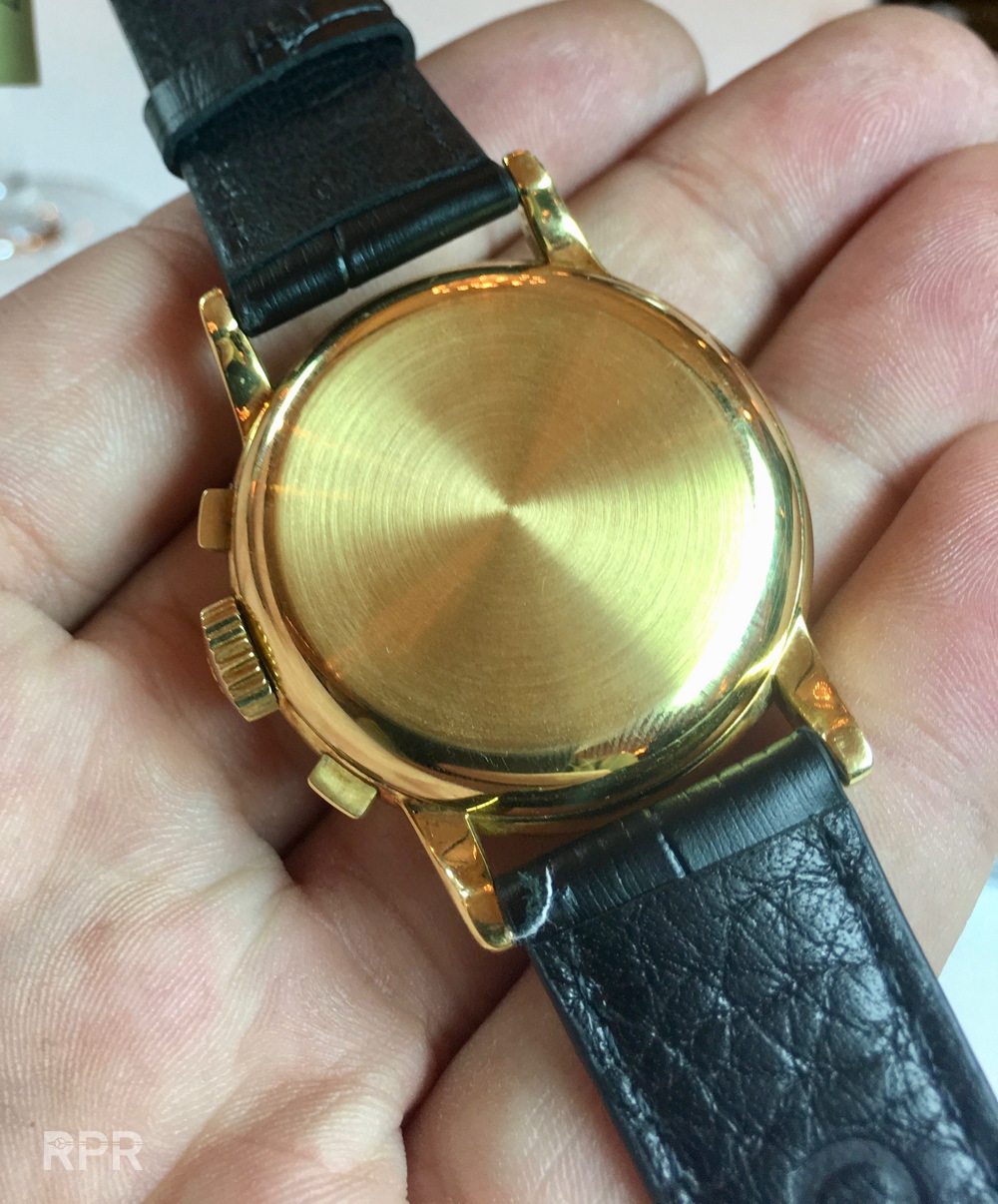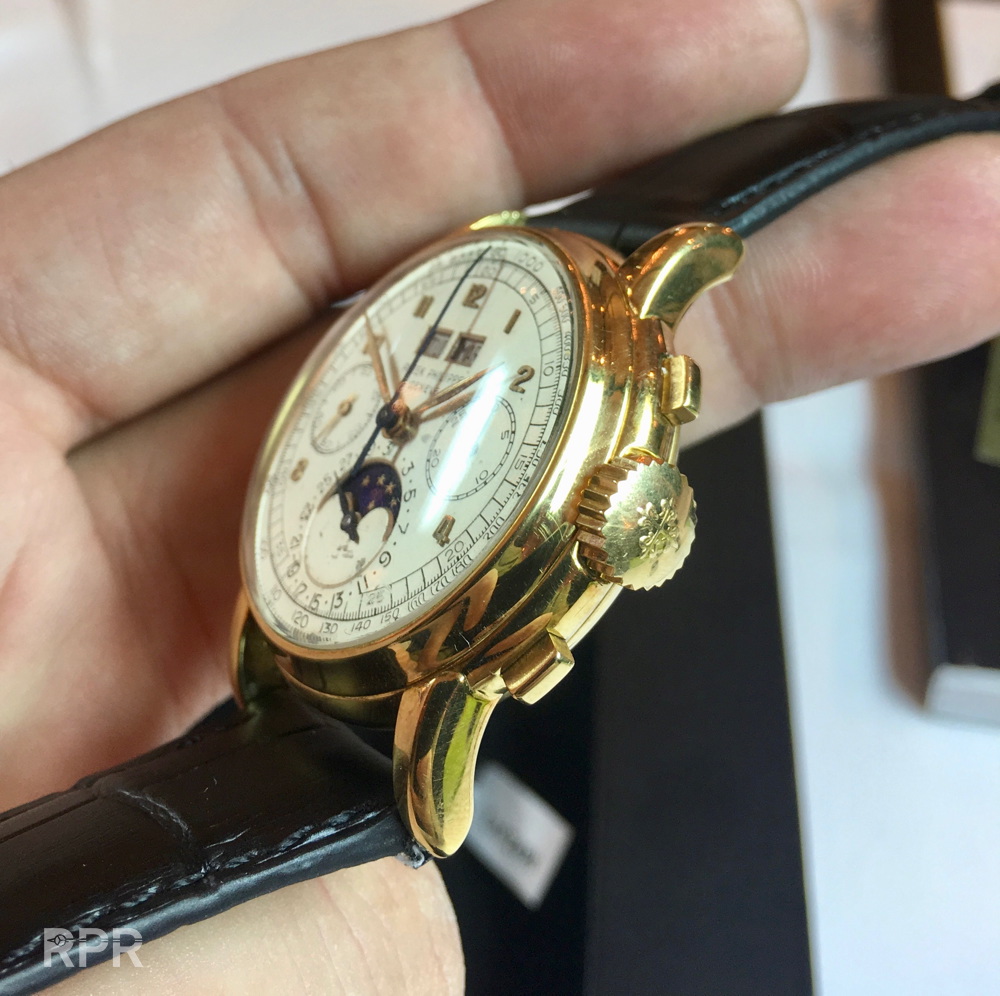 The original owner RCO mk1 with estimate of $ 500.000 to 1 million will come up for sale at Christies New York…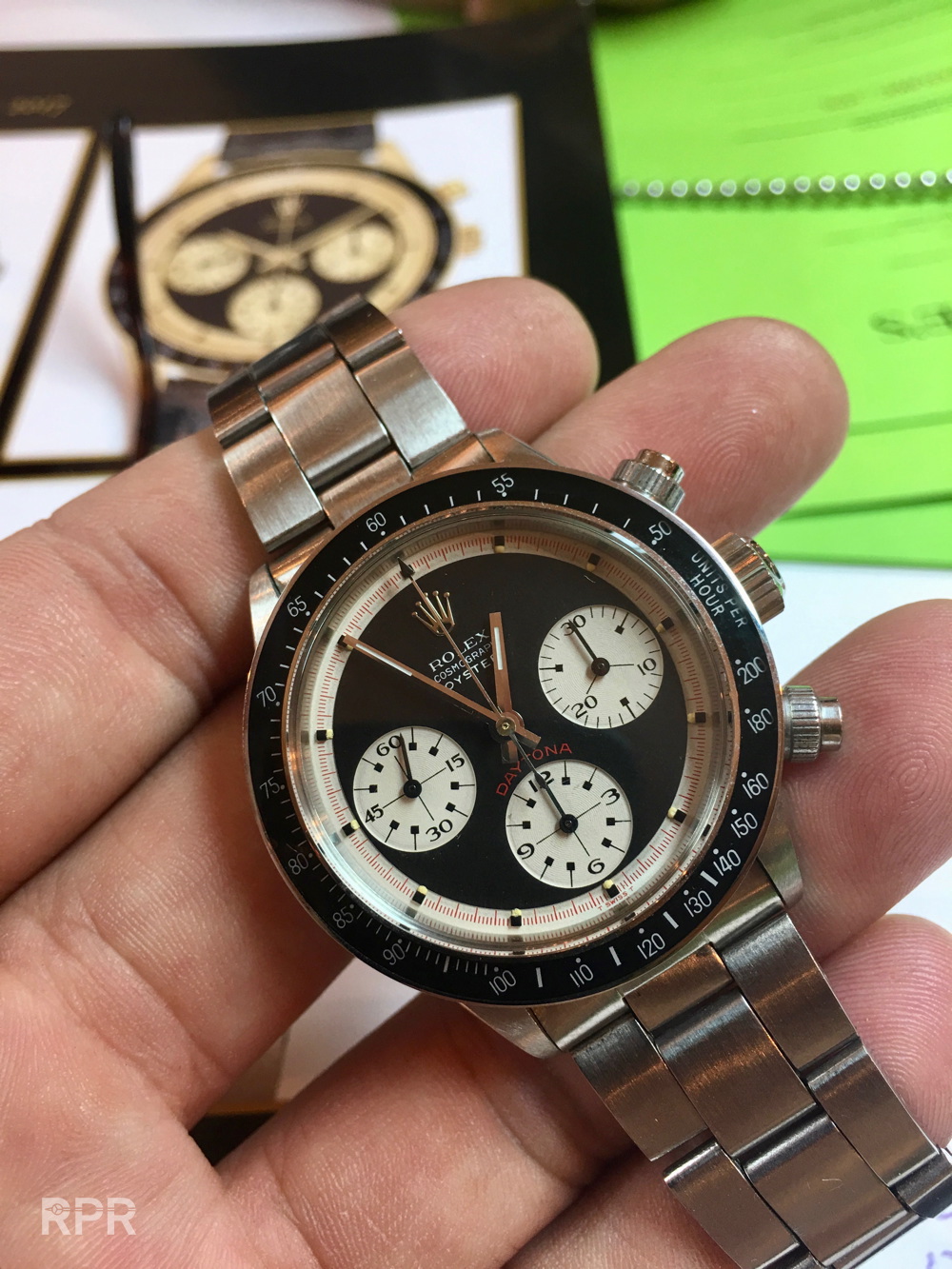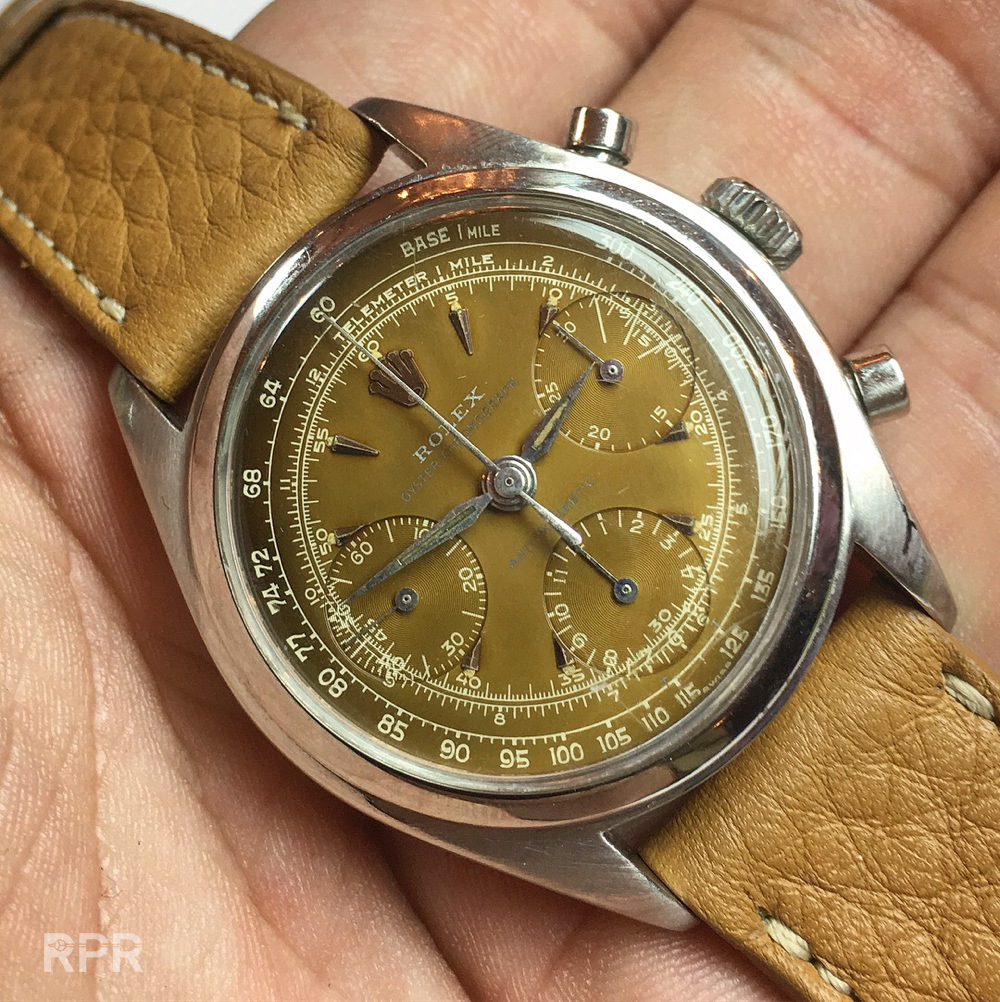 Super interesting detail. Note the 2 x silver T added on top of the telemeter track, to show watchmakers the luminous was made from tritium and not radium as the swiss only sign at 6 o'clock shows…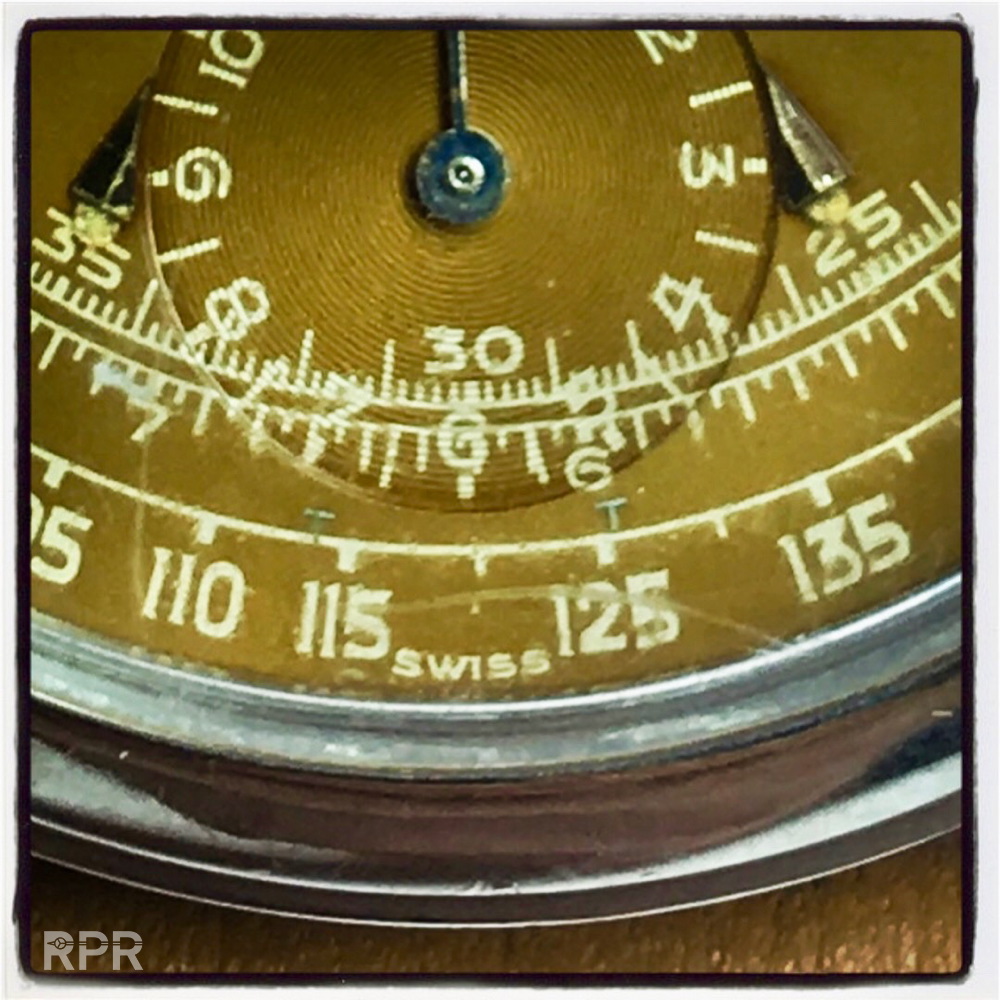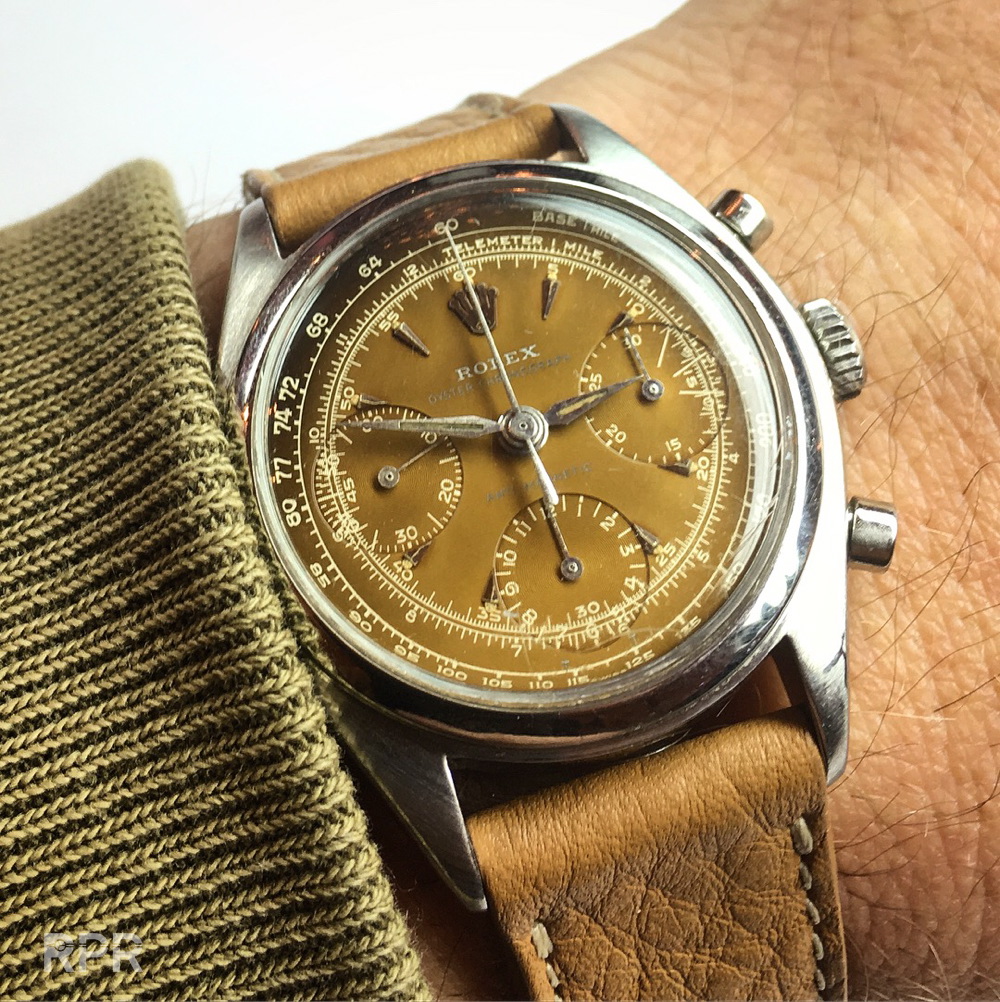 Back home, it was as usual great to see you all, I wish you good luck in Hong Kong and later in New York, safe travels!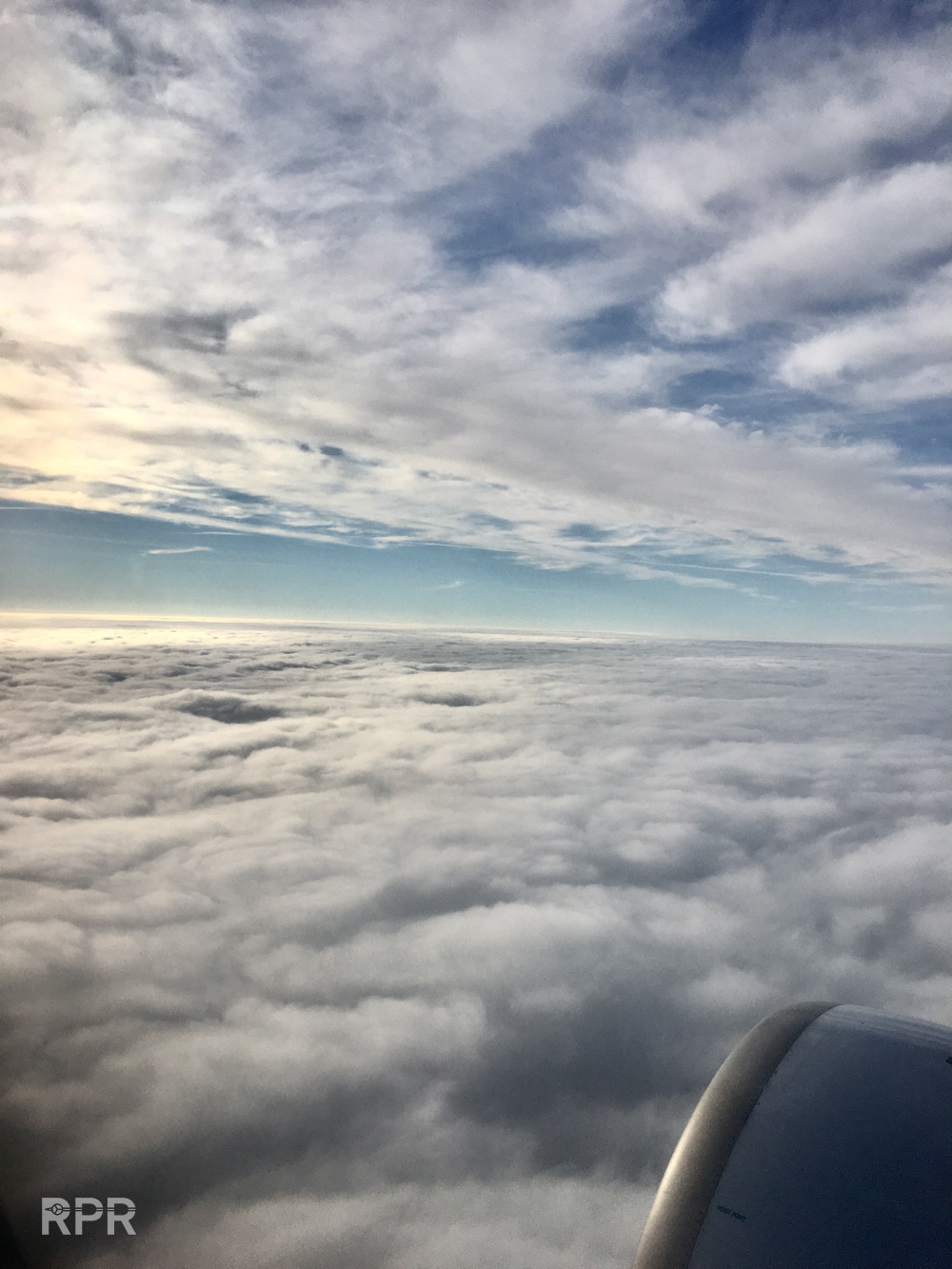 Best regards,
Philipp Stahl