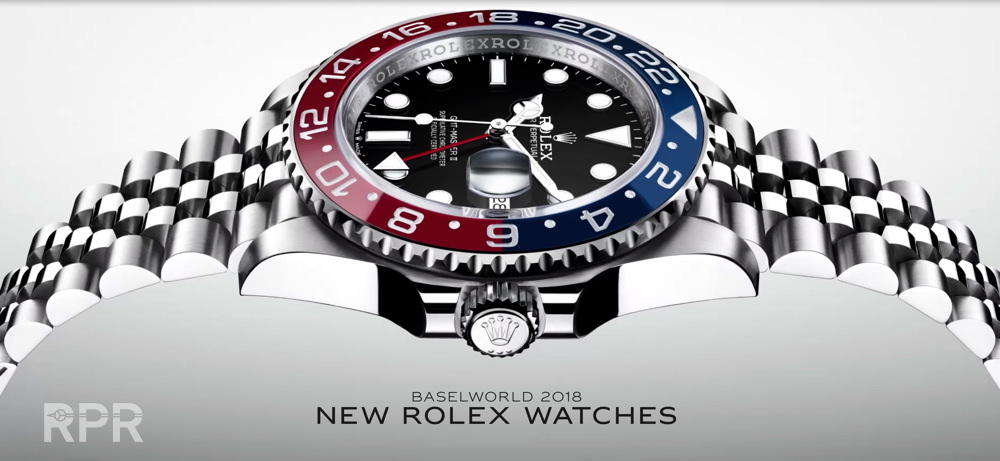 All 2018 Rolex News you find online by following this link…. Live picture from new steel Rolex GMT Master…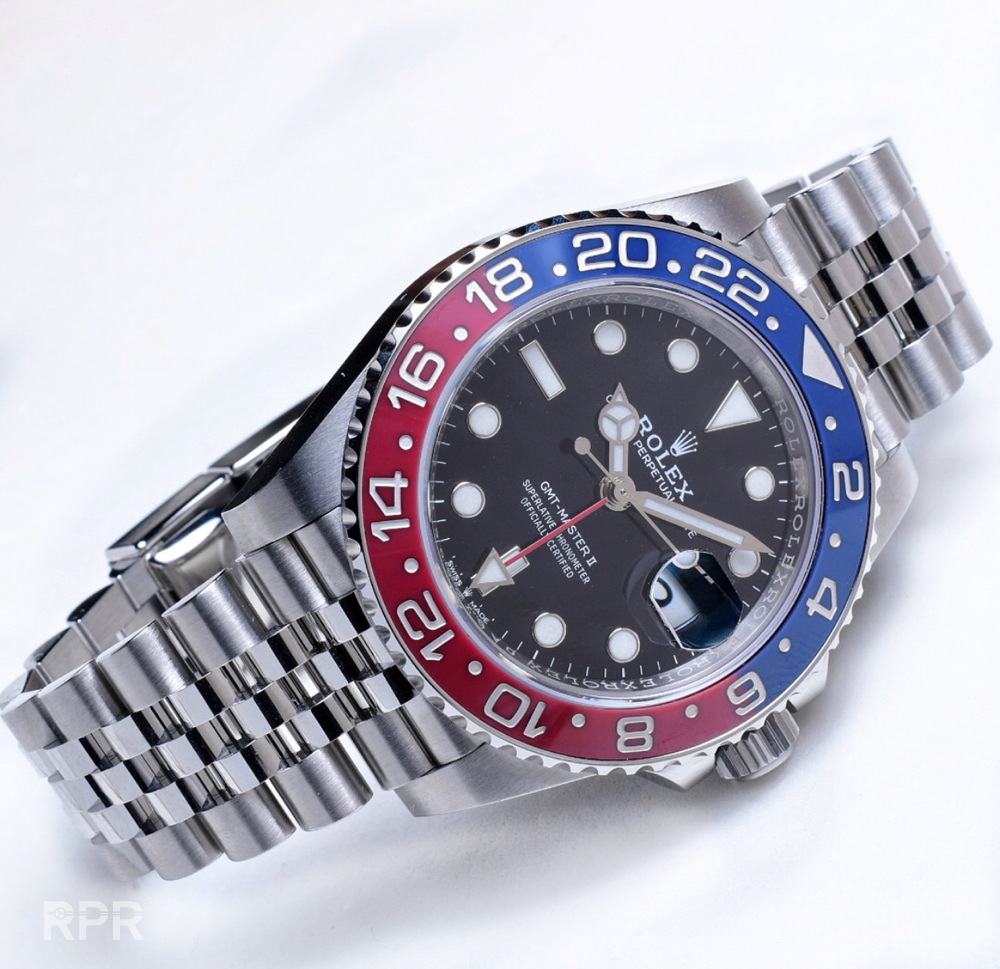 Live picture from so far unshown new diamond Rainbow Daytona….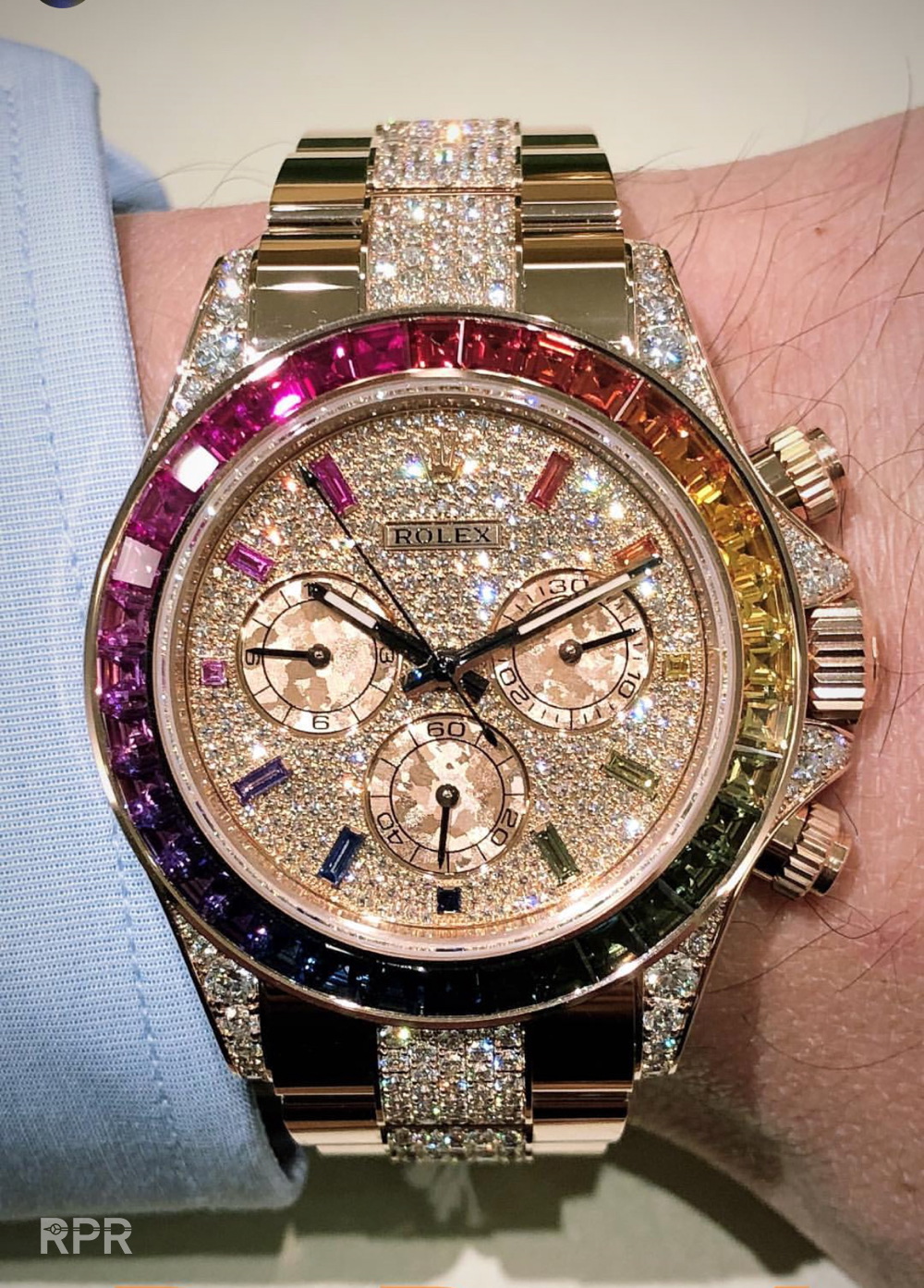 Here they are 😉 the Platinum Arabic Rolex Daytona's, picture courtesy by Aficionado…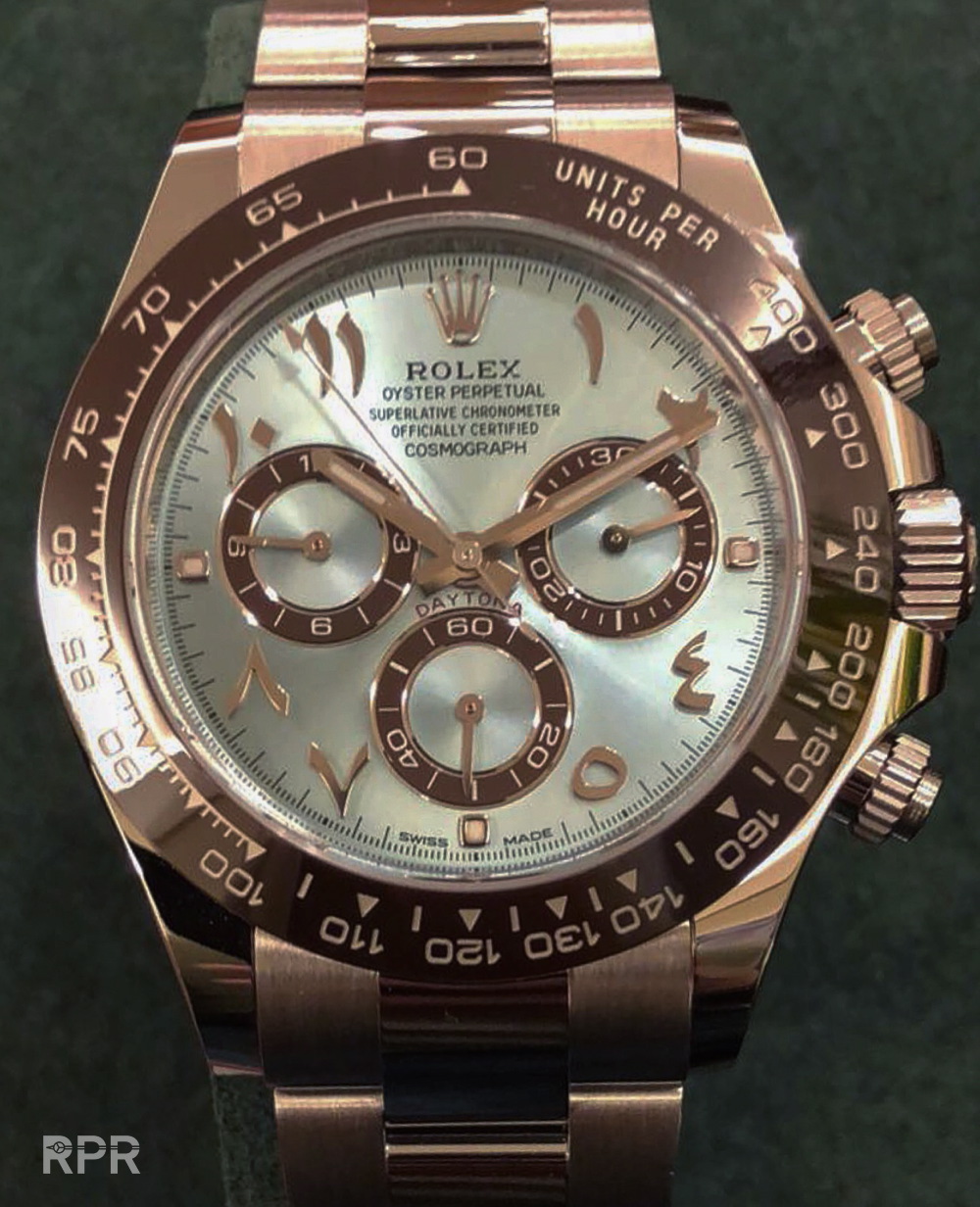 Diamond Arabic Platinum Daytona 2018…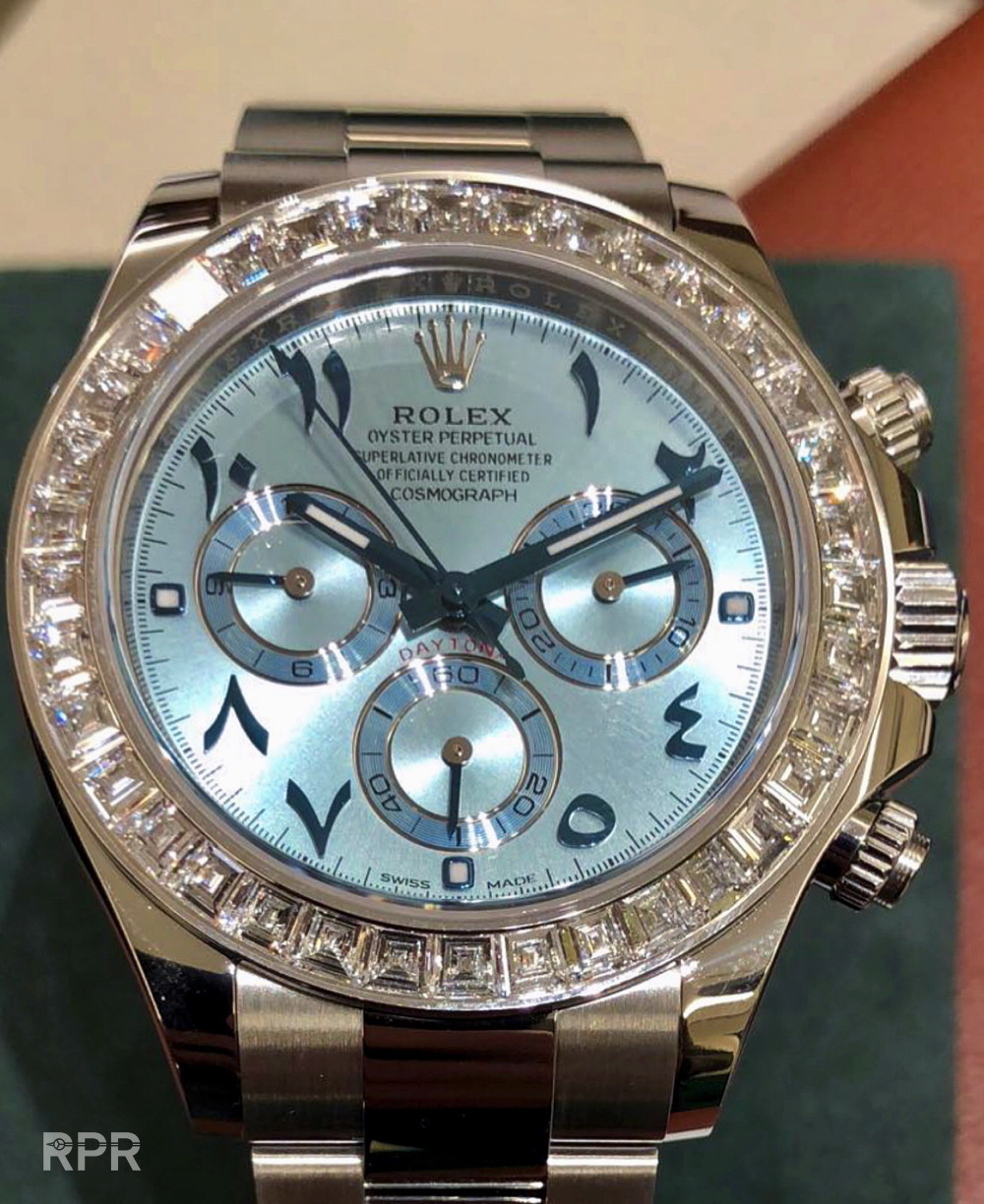 More special pieces you won't see in a shop window at Rolex…Below interesting all blue diamond sapphire Sub with date 👍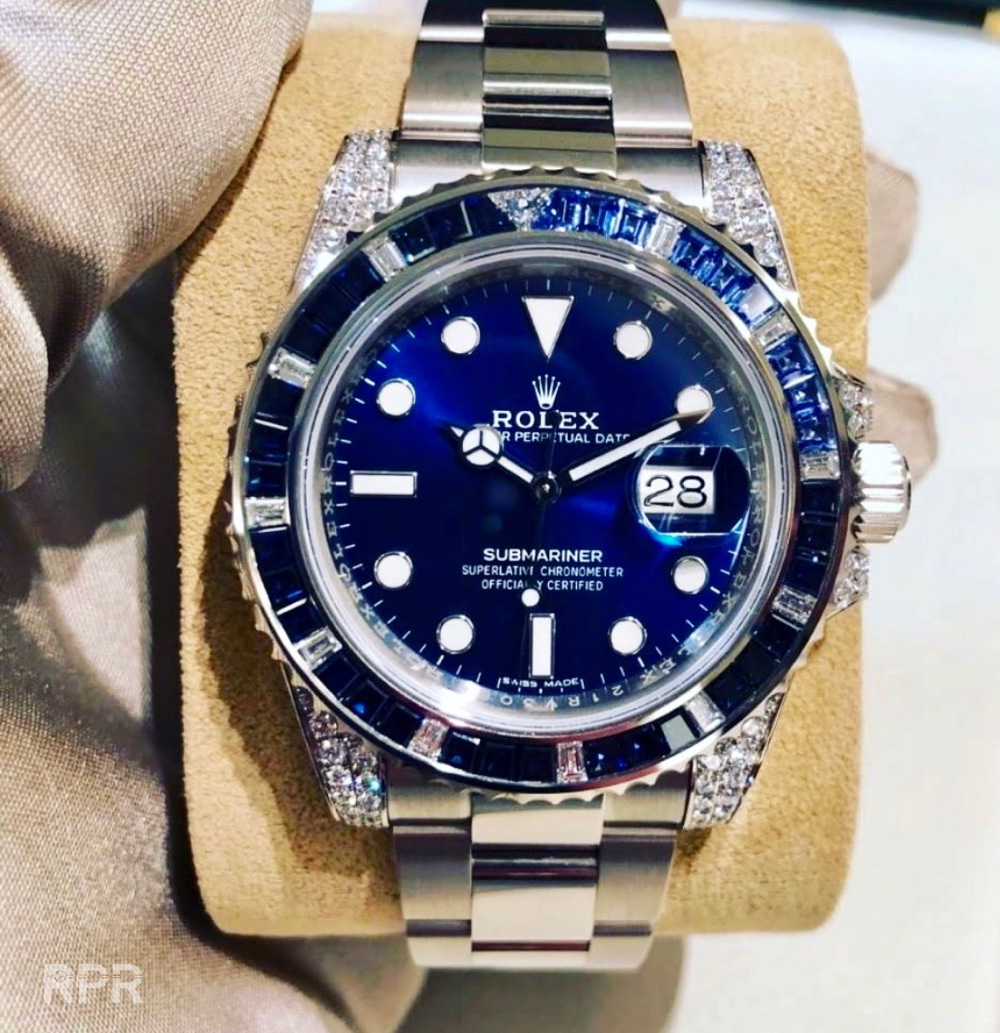 And for the diamond freaks…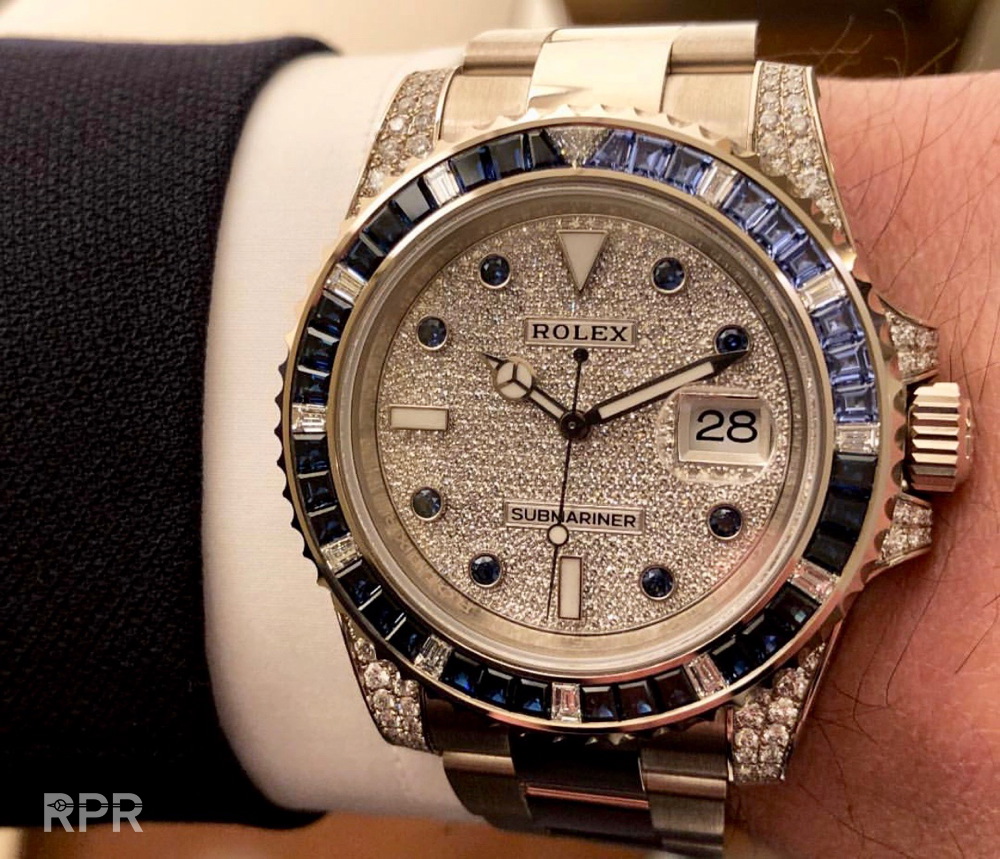 Then, Rolex changed the dial of the white gold GMT from lack to all blue. Here's the new 2018 white gold Rolex GMT Master with bright blue dial…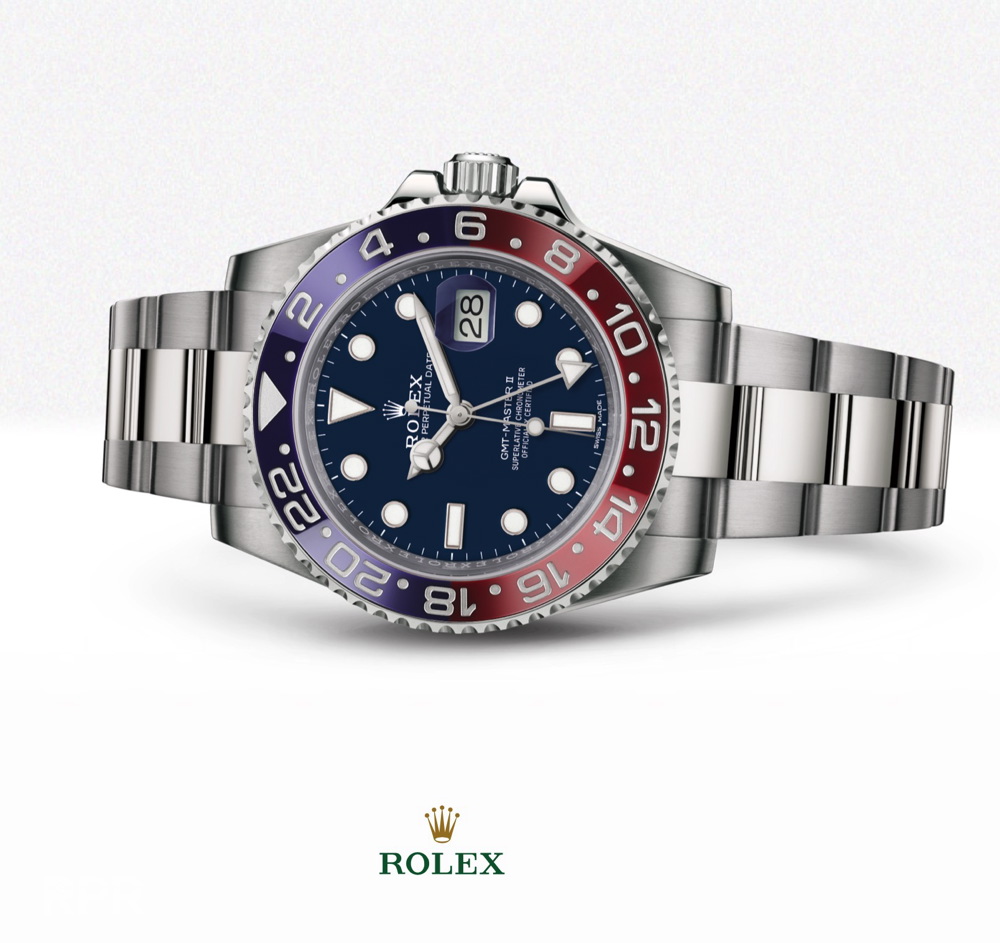 Live pictures from R_L_X…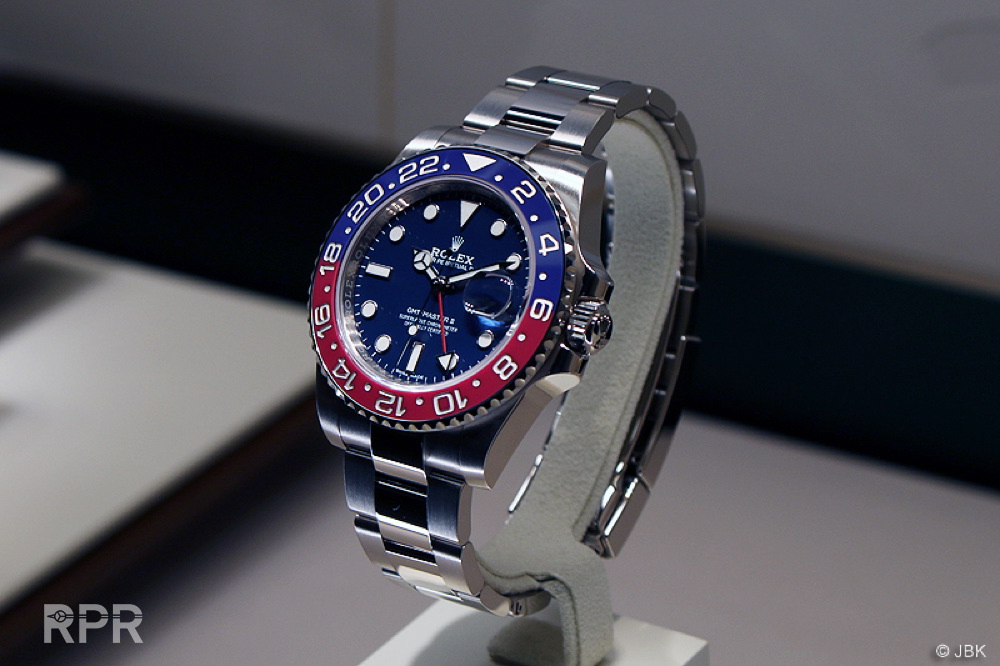 It's a matt blue the dial that makes the whole look very blue, for me a bit too much…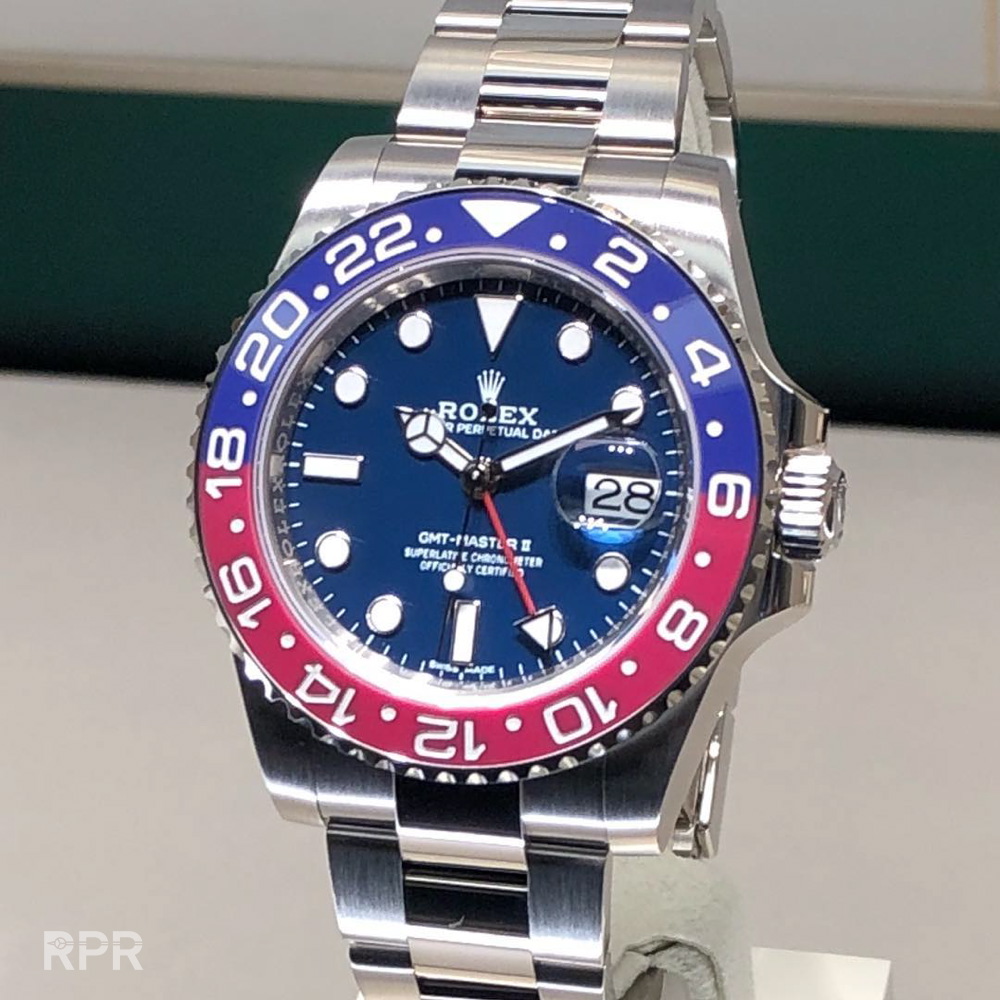 The 2018 Rolex GMT Master Collection…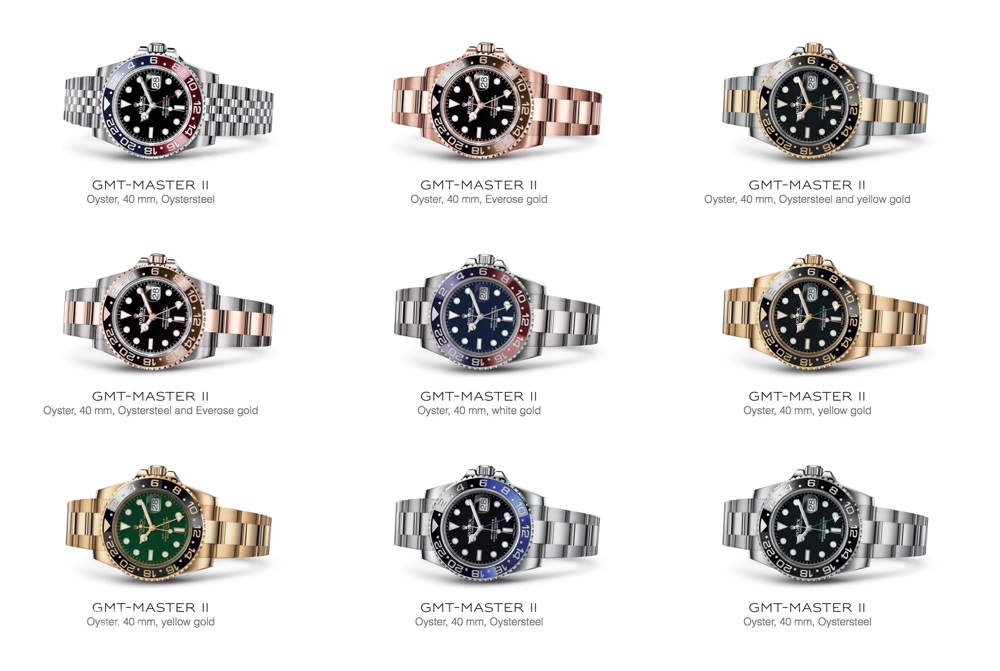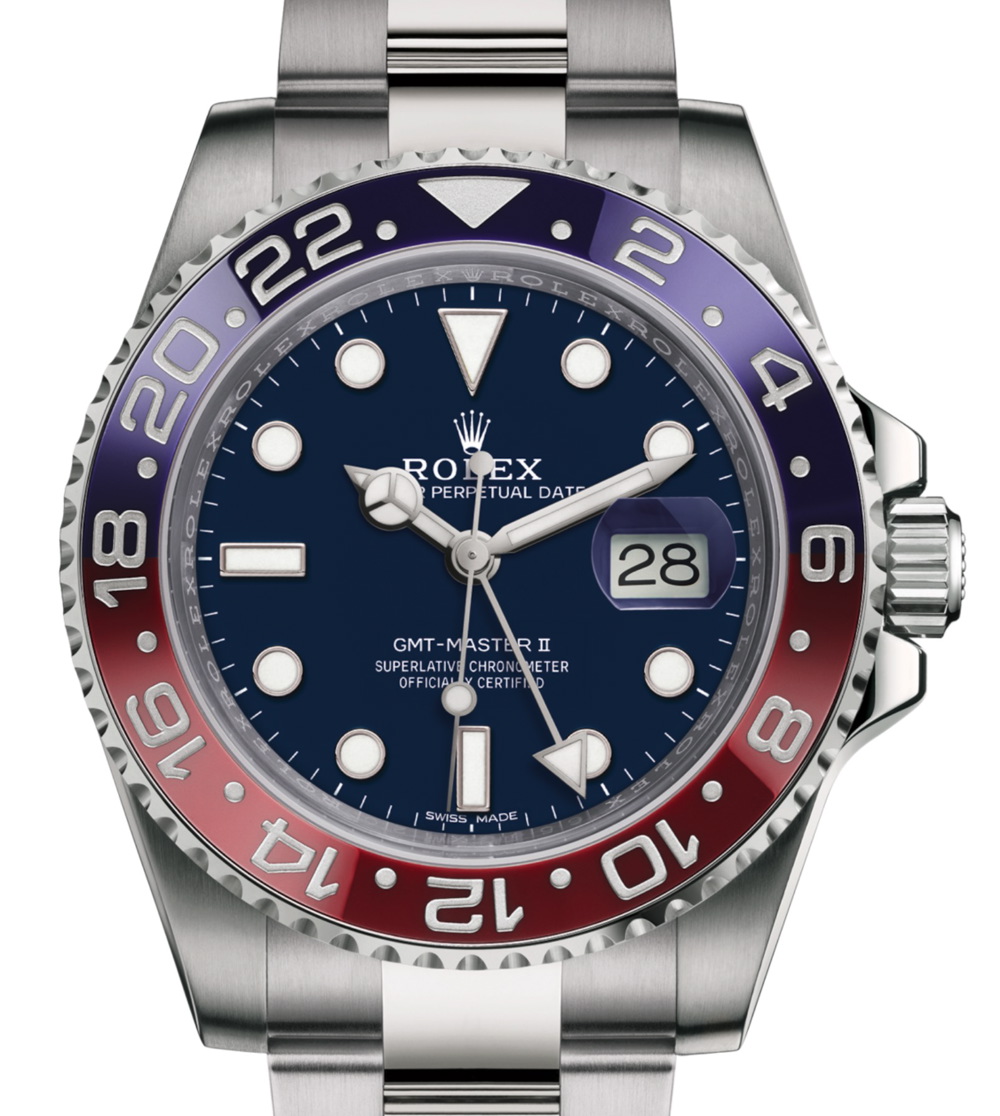 And Tudor also had a great idea, lets make a GMT for Porsche Boxer drivers 😉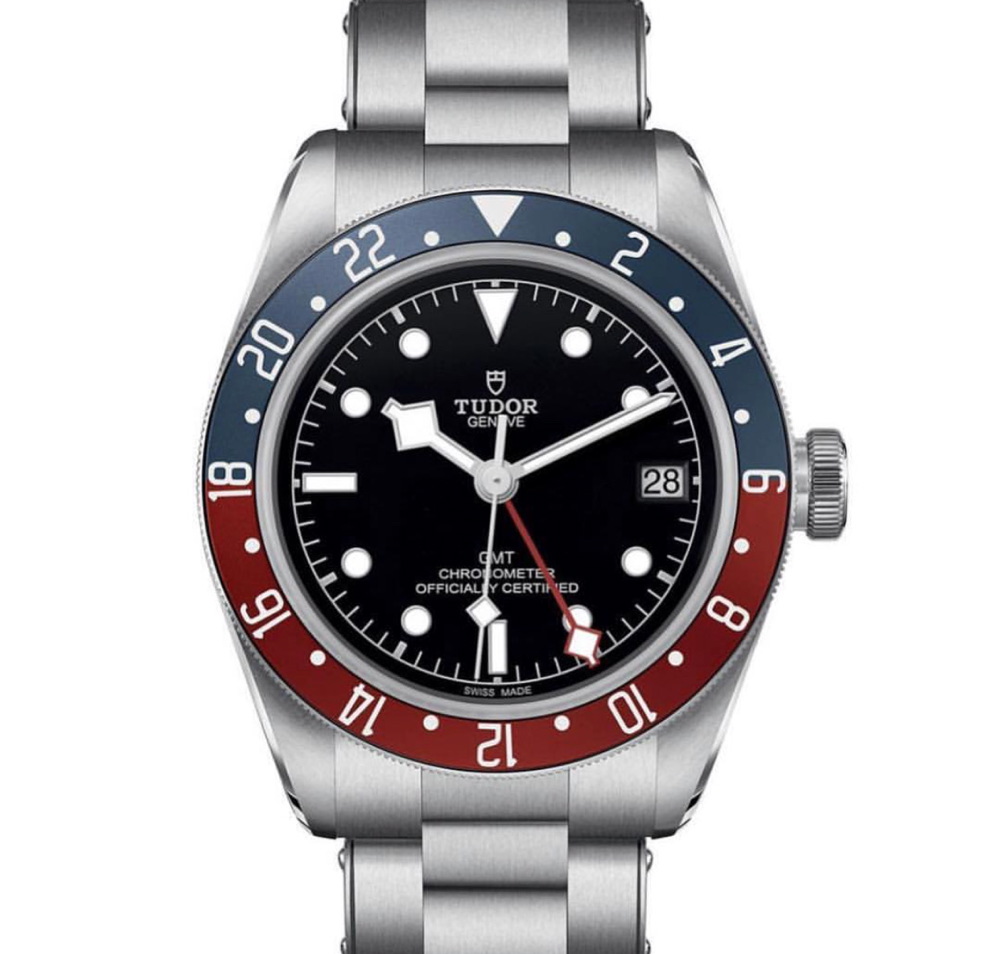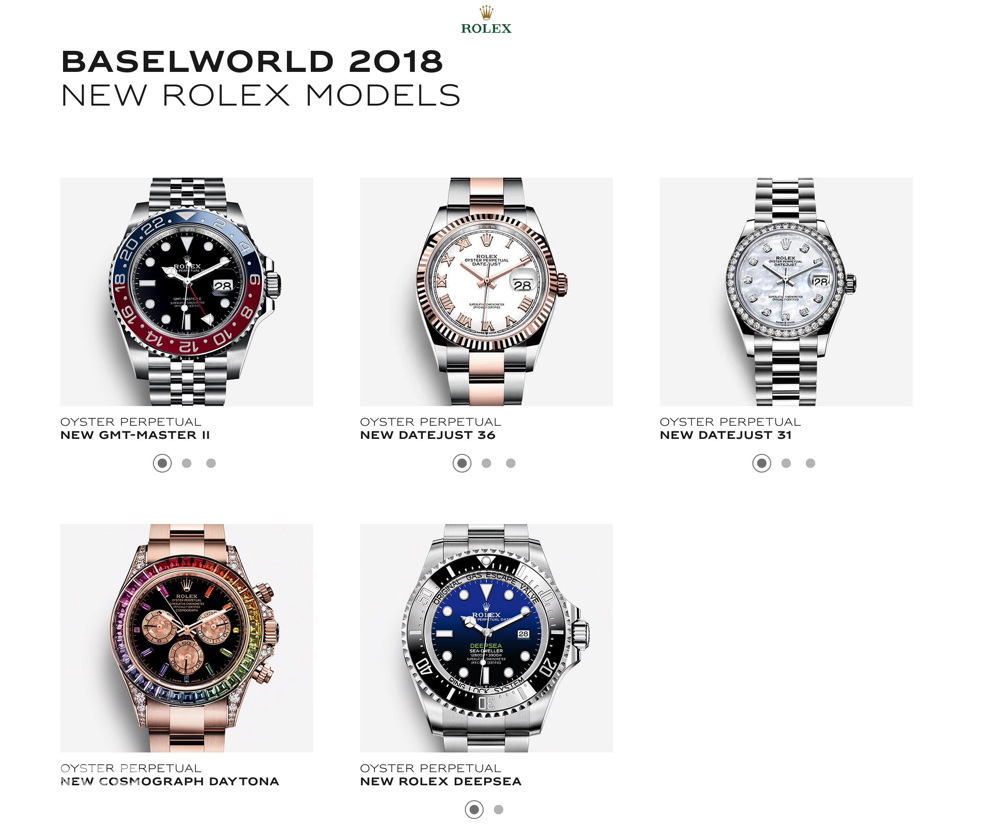 The Rolex news for 2018 has just been revealed and as each year I'm a bit disappointed with the result. Many will like the new Pepsi on newly designed steel case and jubilee bracelet. Long waiting lists for this obvious newcomer. The next newcomer, the rose gold Rainbow will also sell out quickly after the successful of the previous yellow and white gold versions…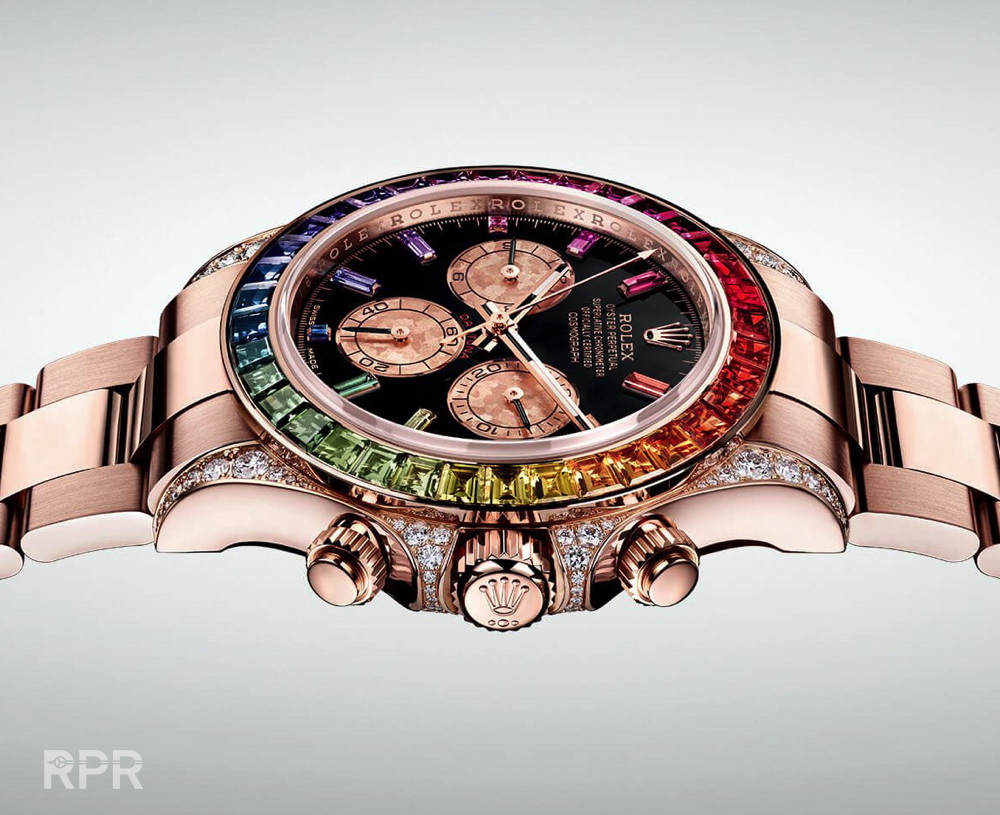 Both there steel GMT Master and Pink Rainbow are as predicted here on RPR…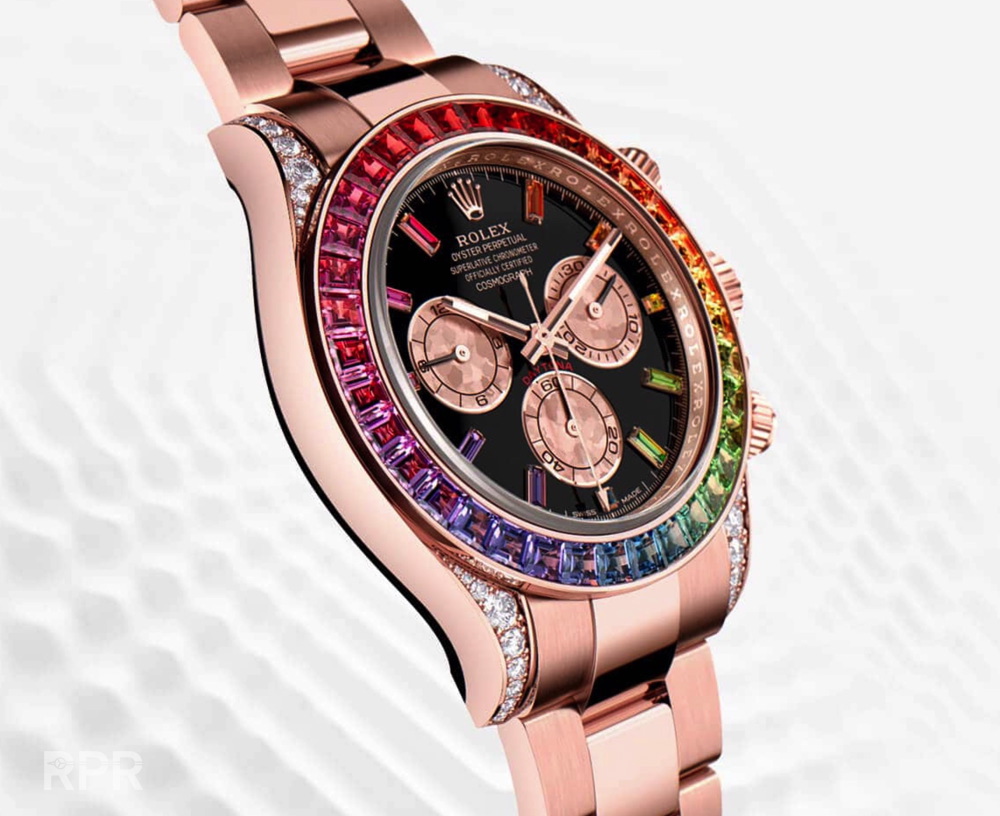 Live picture from new rose gold Rolex Rainbow Daytona…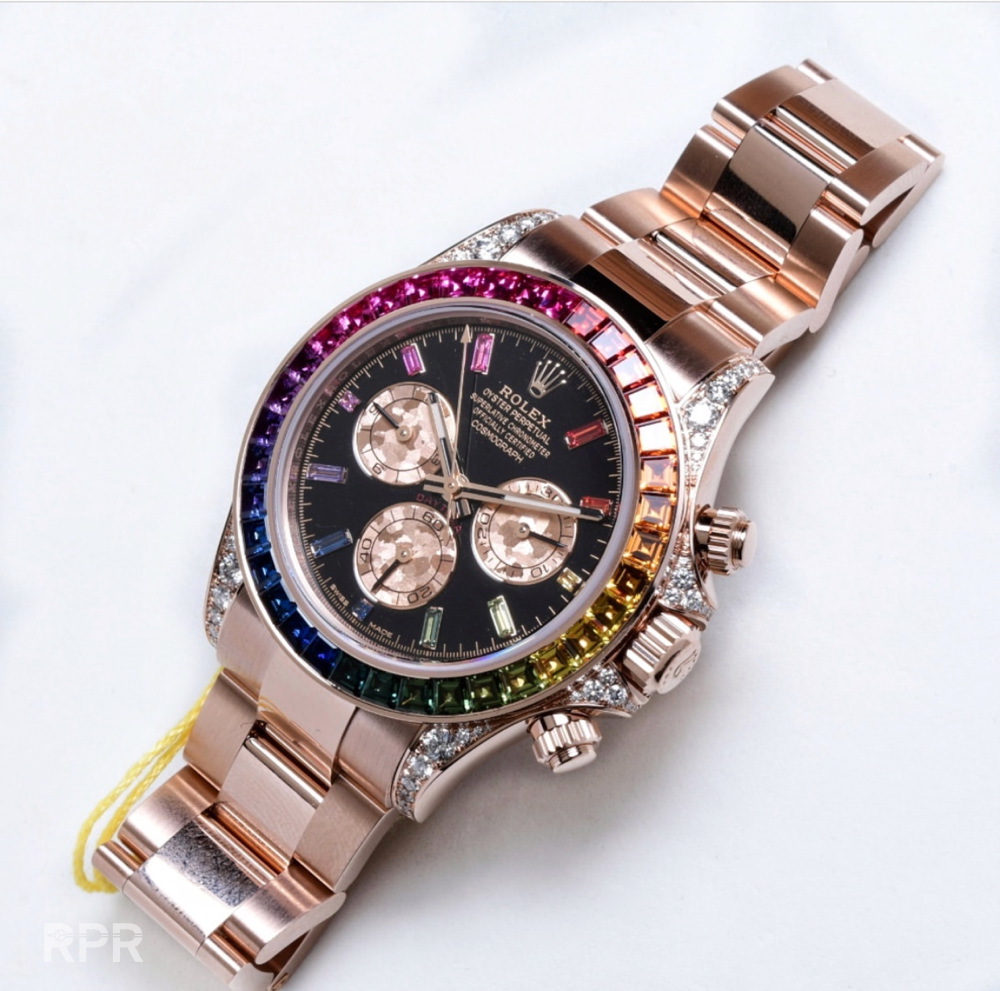 Then somehow unexpected, I think I predicted a root beer in 2016/7 but now Rolex gave us back a old-timer design, black and brown bicolor and gold Rolex GMT Master…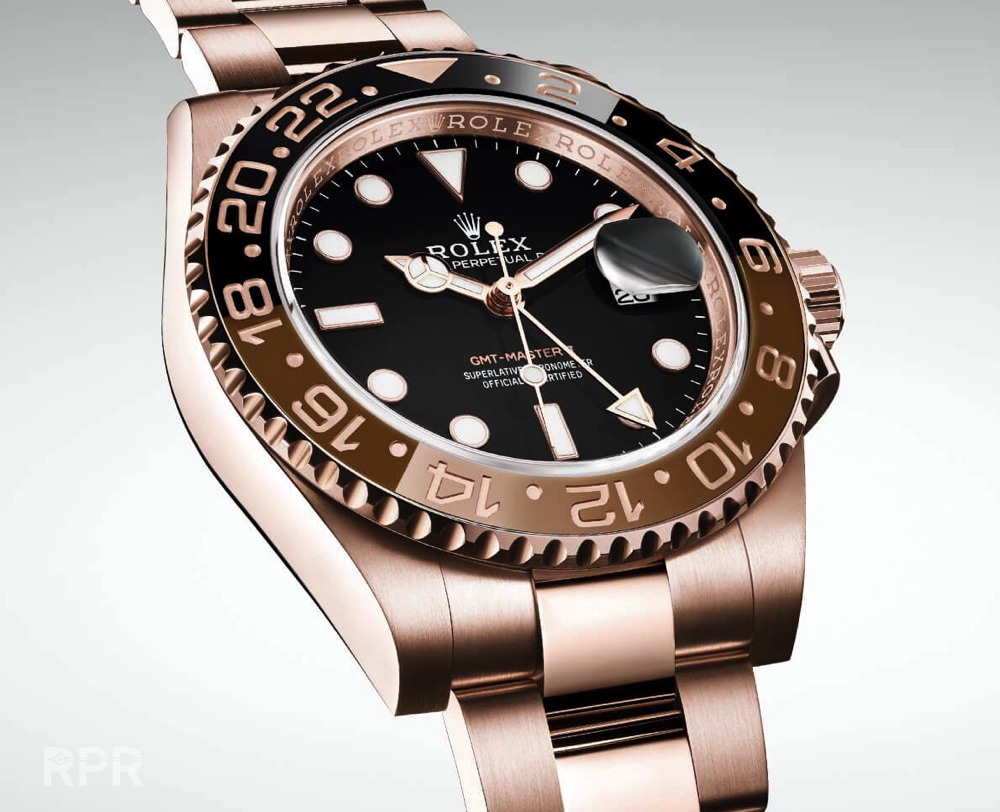 Live picture from Revolution Watch from new root beer Rolex GMT Master…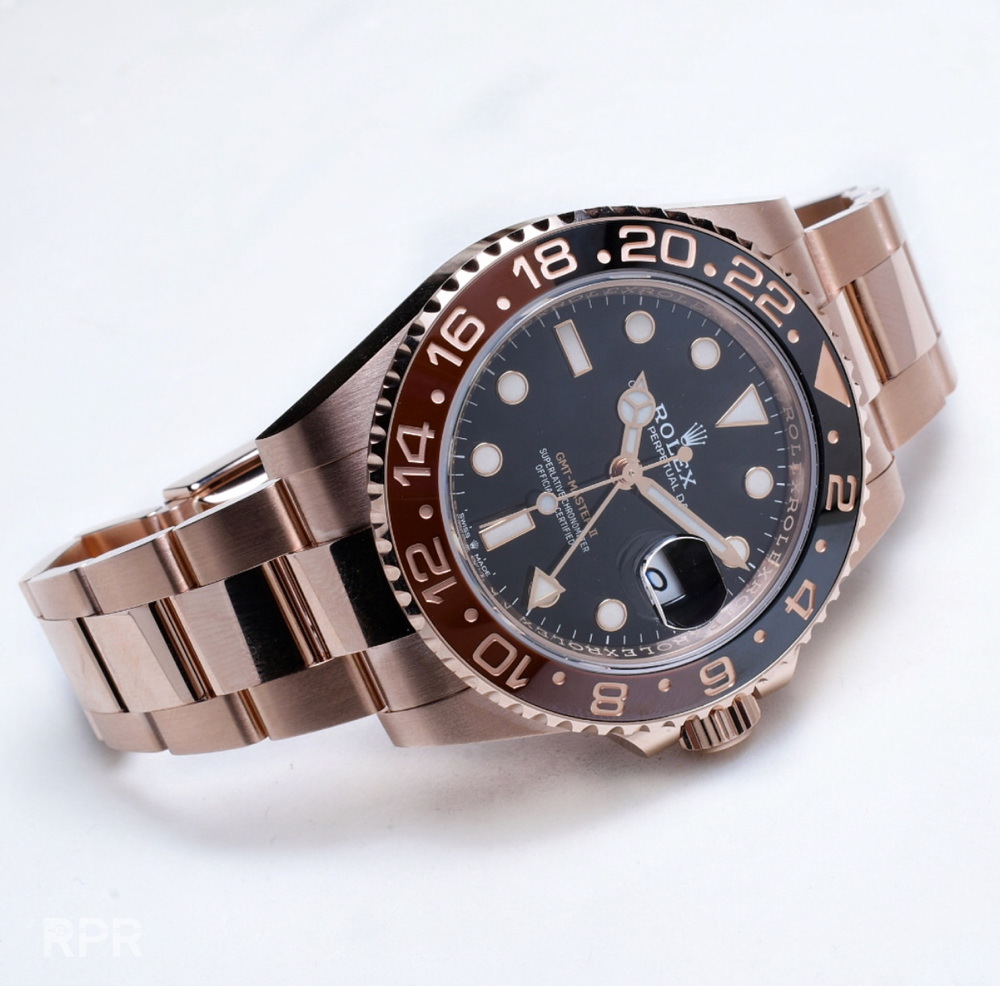 The bicolor Rootbeer is actually looking more interesting to me then the all gold one, but then I hardly wear gold…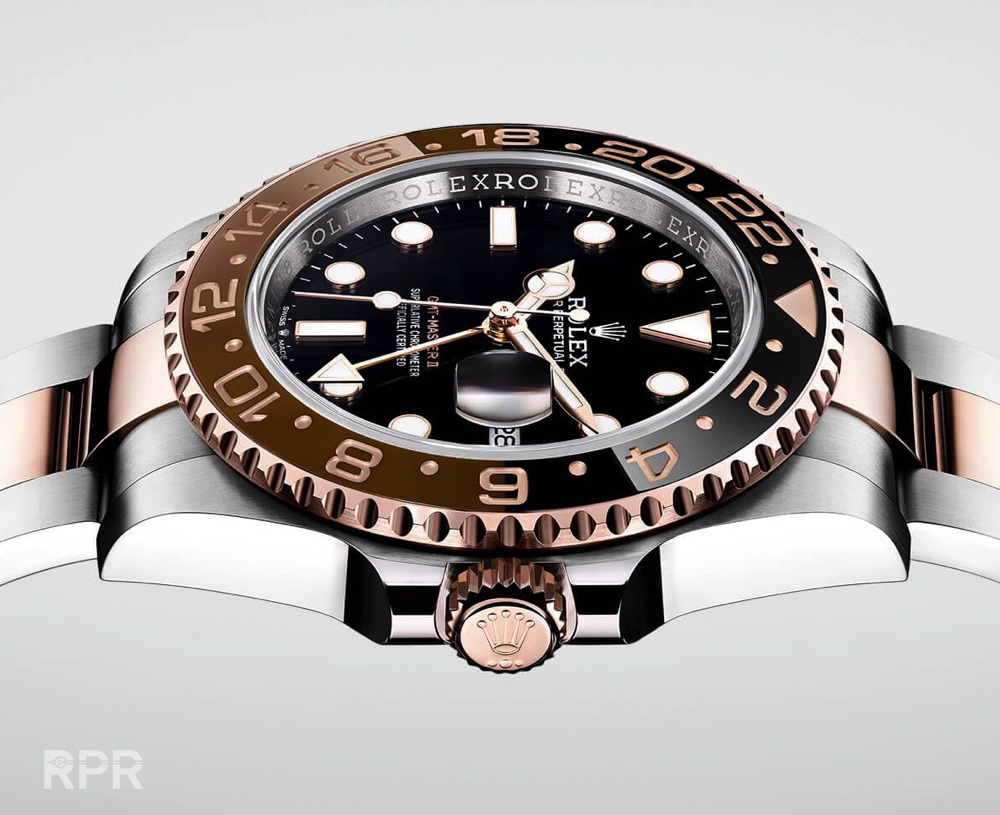 On a positieve note, Rolex seem to listen to us collectors by reshaping their cases towards more classic lines. The new 2018 Rolex Deepsea is yet another example of Rolex redesigning their previous chunky cases into something more elegant,. more vintage…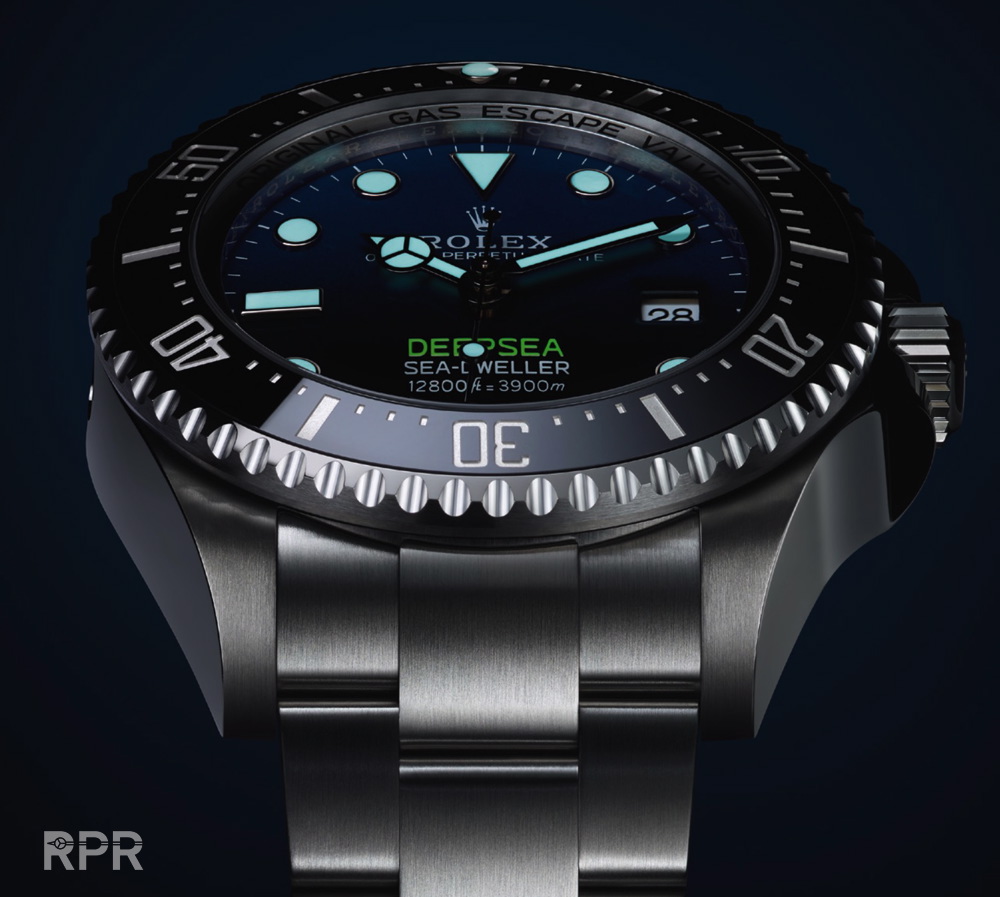 Tudor, Rolex second brand is much more into heritage design, which proofs there newcomers for Basel 2018..
Now the SIHH in Geneva ended with their yearly watch news, I ask myself what the Rolex news will be at the upcoming Basel World Show 2018. Again, we see that many brands find inspiration from their heritage during their SIHH presentations. New editions of successful oldtimers have become a absolute must. After Panerai kind of invented the 'heritage look' we have seen all mayor watchband follow with faux patina, vintage details and heritage oriented re-editions. Every important watchband has meanwhile honored their iconic models from the past with new, mostly bigger sized, modern interpretations of their classic design. Like Porsche is doing with their legendary 911's.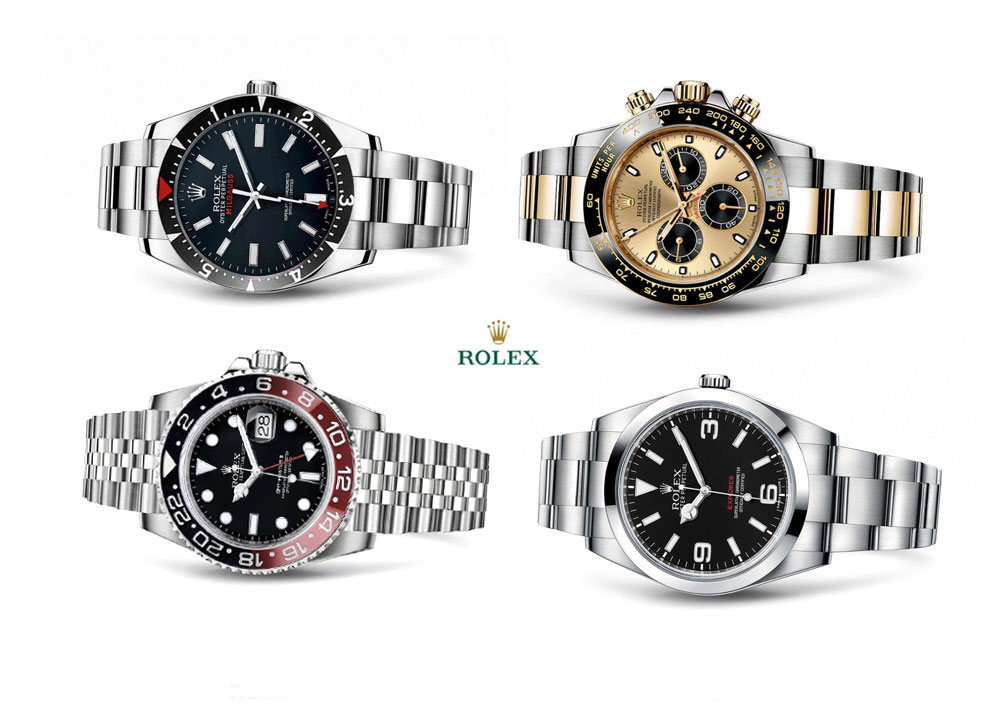 UPDATE: Rolex "teaser" is online in form of a new stainless steel "Jubilee Bracelet" for the new black & red GMT master?…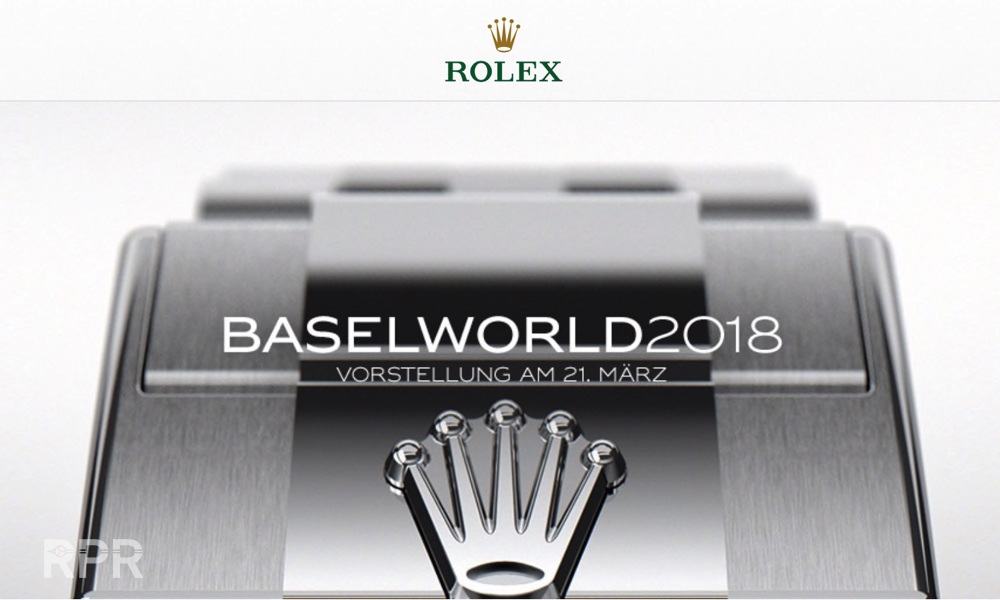 In  the trailer the back of the stainless steel Sport Rolex is clearly visible. No brainer it's gonna be the new steel GMT Master on jubilee. Rolex 'invented' a new jubilee bracelet, which they will most probably introduce of the new stainless steel black/red GMT Master….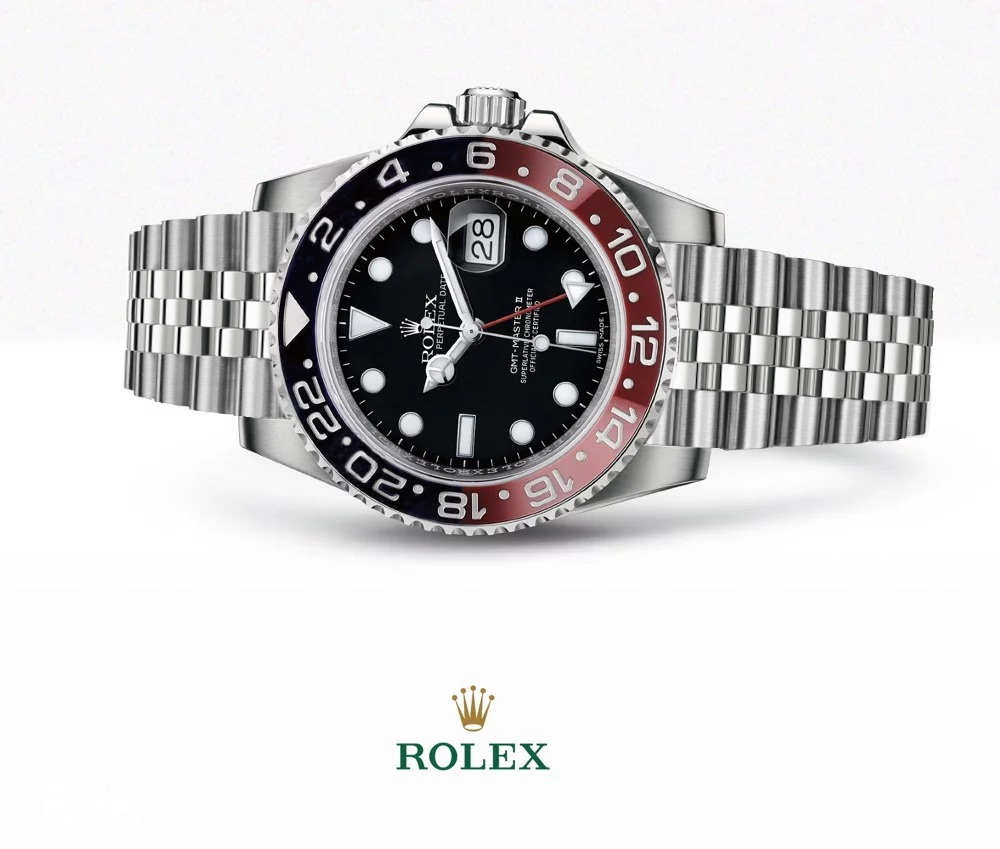 Rolex started transforming in 2009 their collection also, after being lost "design wise" for a decade (think of Leopard Daytona), when Rolex had to change their lossy strategy after Mr. Heininger Jr died. The first real heritage designed Rolex, now with orange heritage detail, was the Explorer II in bigger 42mm case after the "thunderbolt" second hand in the Milgauss. The new Deep Sea was all about the iconic deepest dive by Piccard & Walsh and later redone by Cameron , the GMT Master got it's iconic blue & red ceramic bezel as did the steel Daytona and last year the single Red Sea Dweller was not really a surprise either….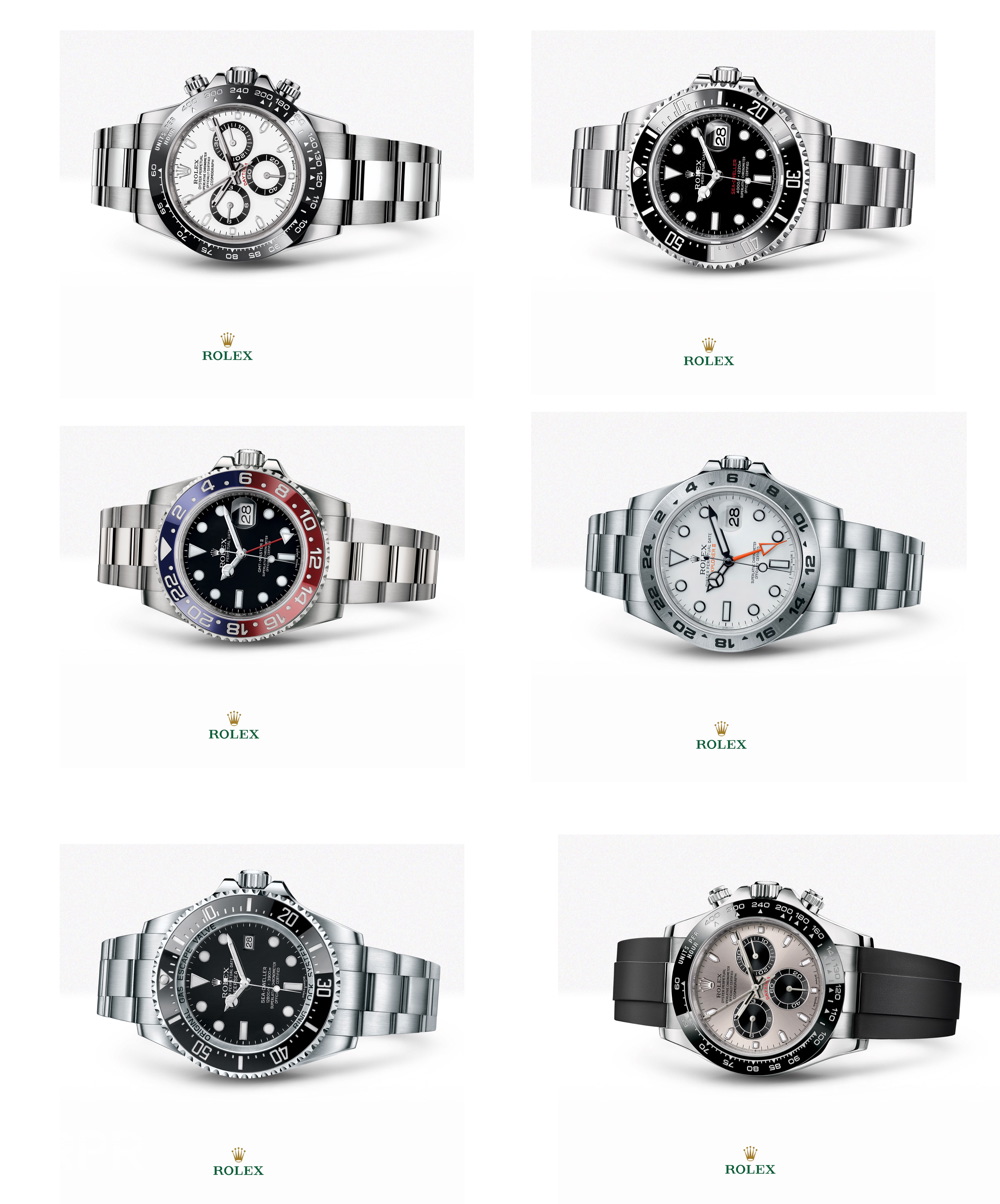 Will Rolex come up with vintage inspired newcomers is the question? My personal opinion is that Rolex will never go back to copy their past and reproduce an old design because they've always wanted to improve their utility watch designs. Minimal change  & improvements is their long term vision. Every new design has to fit into their current line up. In general Rolex will, as they do every year, come up with a small updates like adding a new material, a different color dial or yet another ceramic bezel to an existing reference, not very exciting but necessary to keep the icon alive. The direction has been set 100 years ago and thats exactly what we buyers like so much about Rolex…

Last year the Rolex reintroduced a vintage detail by adding a red line on their stunning single red Seadweller, something I predicted way before the Basel Show opened. Geneva is adapting important heritage details from their past in their current line up. Below the first Sea Dweller "Single Red" Ref 1665 and next to it the modern version, here without loupe…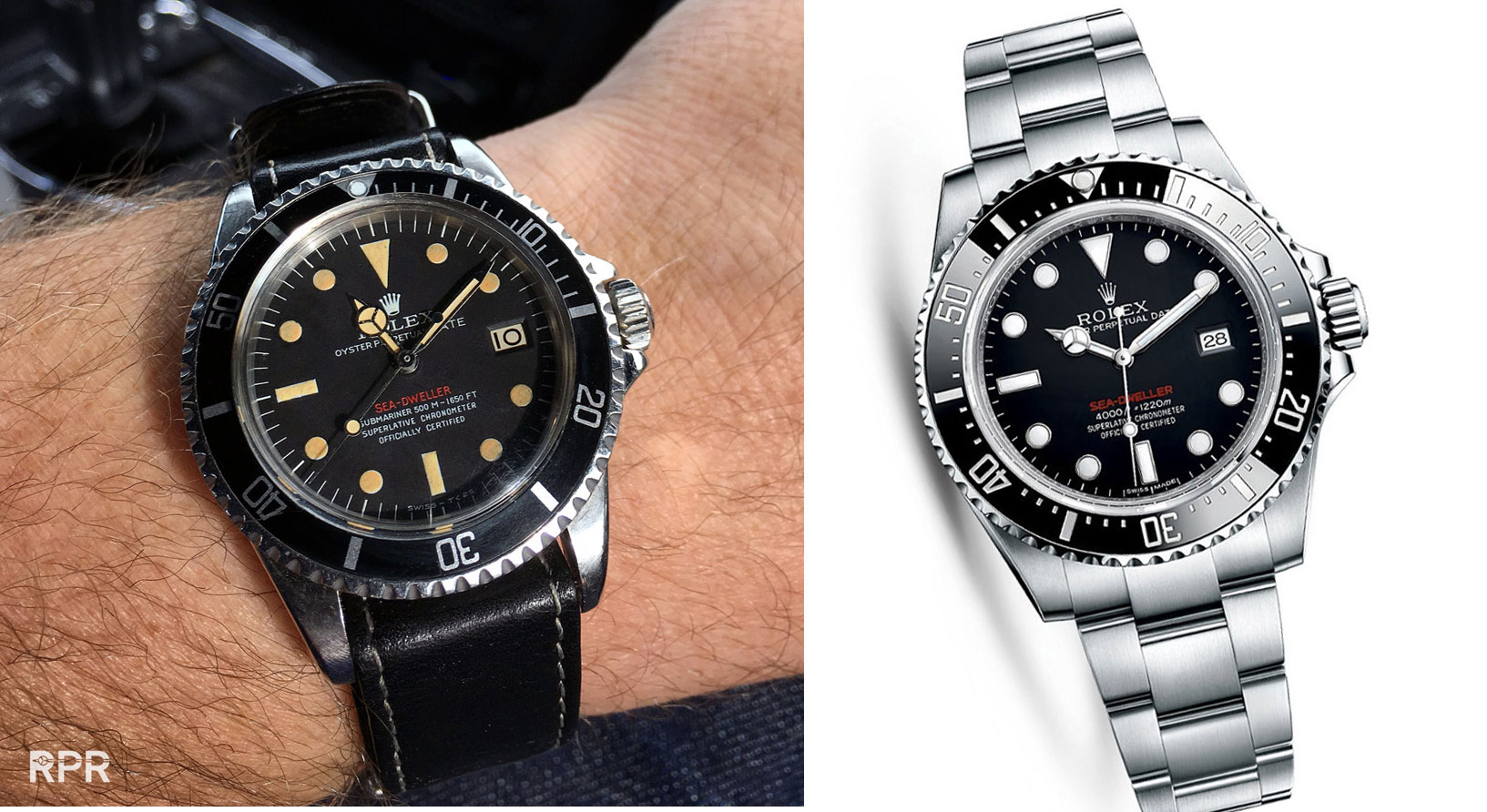 So if thats possible, adding some iconic red to emphasize the important of the reference, then the legendary Explorer deserves also some red accents, specially now Rolex finally added some longer matching hands. Right on time to honor the 65th anniversary of the Mt.Everest conquest, I'm 100 % in favor of this possible new look!…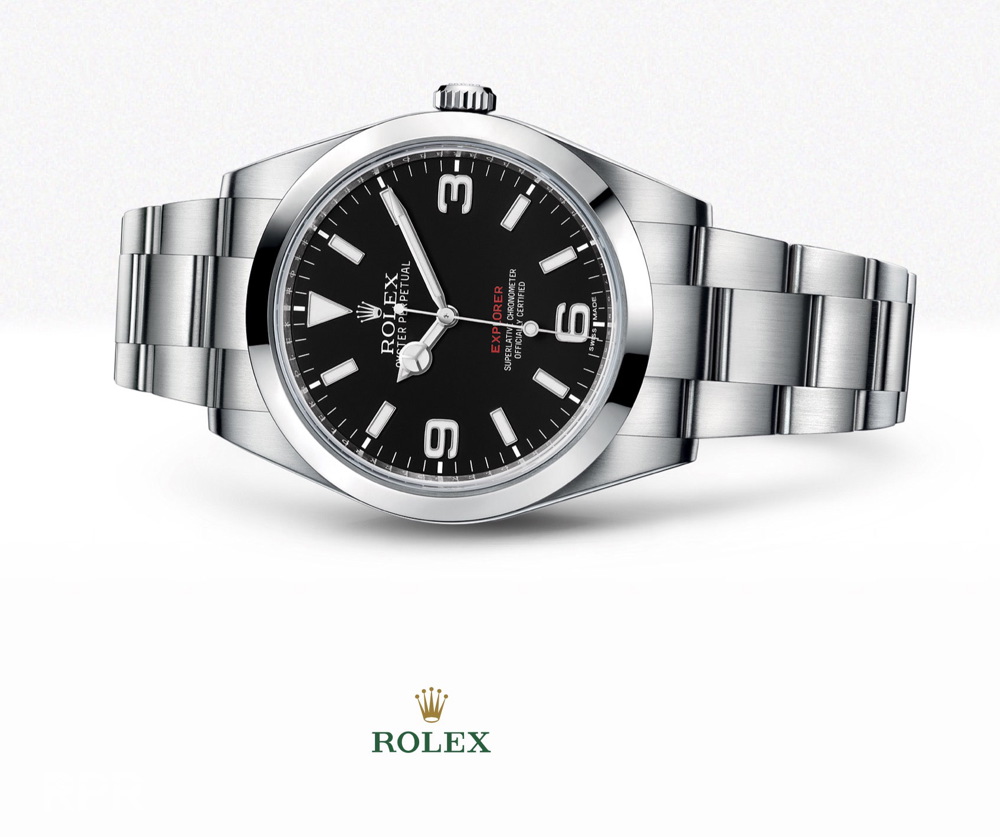 The fact Rolex did add some red on the new Ref 126600 tells me they want to clean up the whole collection and make them historical correct again. Apropos Sea Dweller, Rolex could make a all black ceramic version which would become an instant collectors item like my limited edition 2008 Piccard Deepsea made in collaboration with the son, Bertrand Piccard...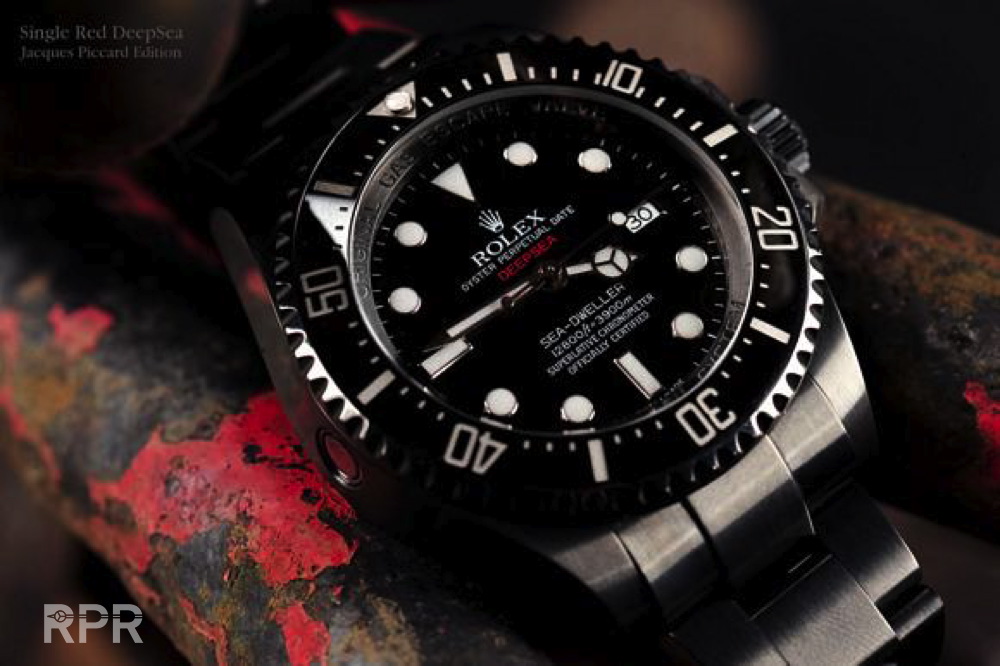 10 years later after my "Single Red DeepSea" design, Rolex brought back the iconic red writing for their super tool watches….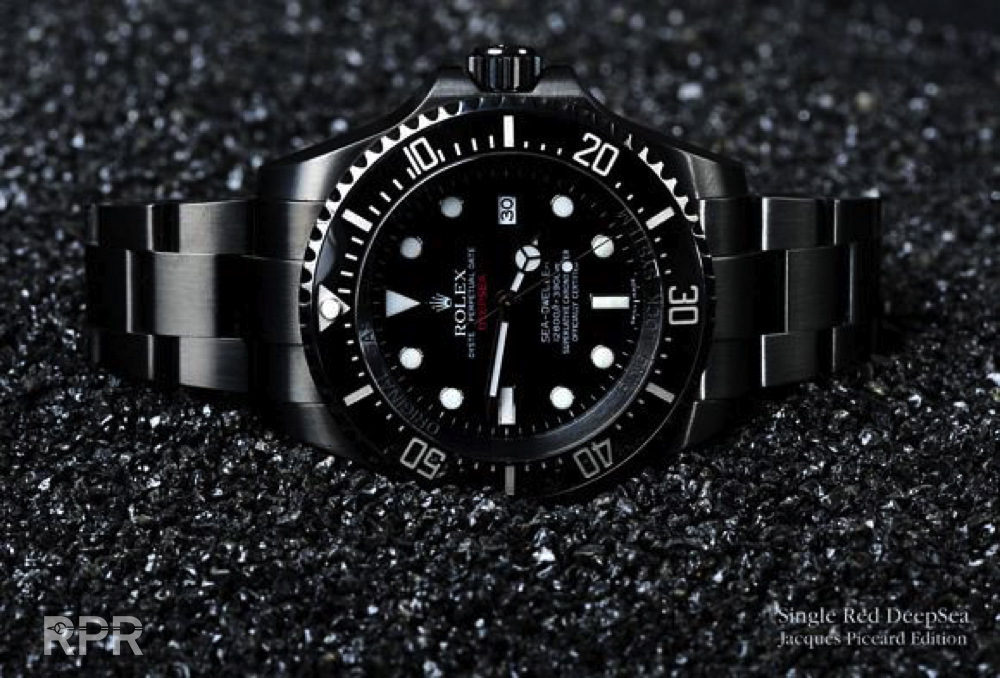 Rolex cares about their heritage now, which has become the only way forward. Tudor showed them the possibilities that modern buyers want details from the past to keep on spending their money. They want confidence so maybe this year Rolex will added the black & red Coca & Cola steel GMT Master to their collection. An option they offered their clients in the old days as well…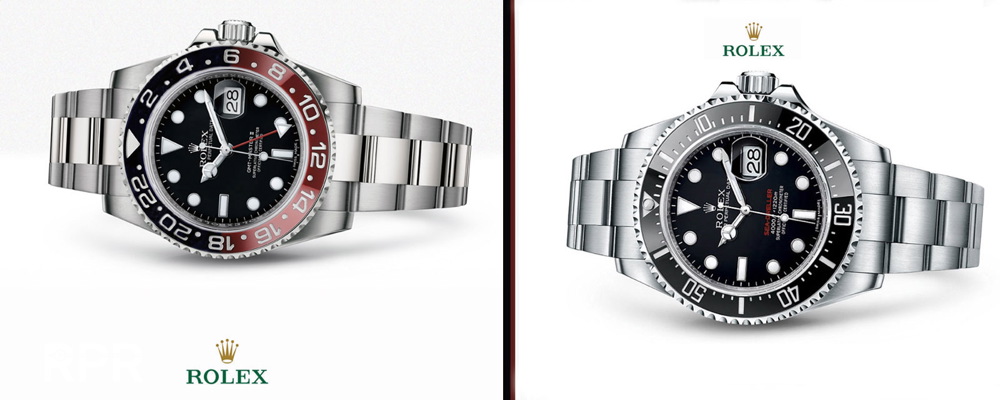 Another classic home run was Rolex ceramic steel Daytona, which perfectly fits in their Oyster Conronograph Evolution…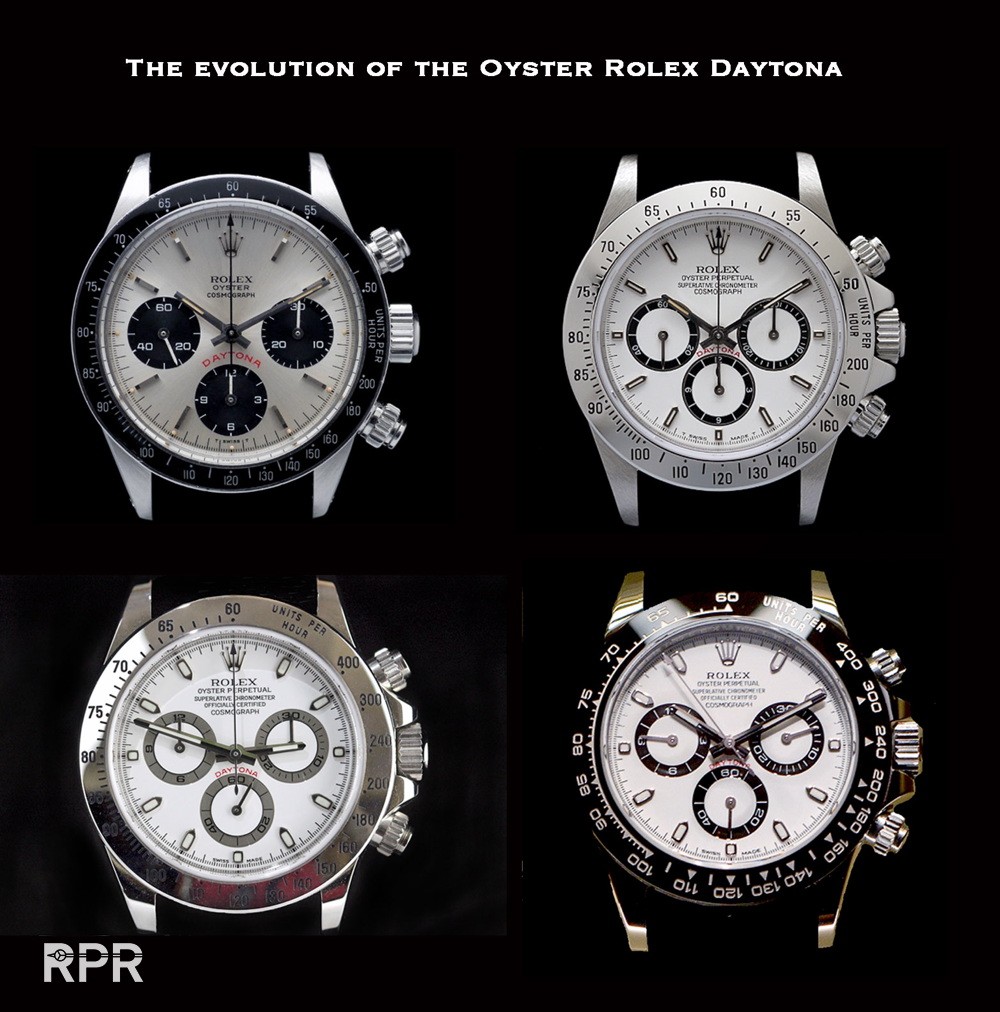 Predicted like 2 months prior Basel World 2016….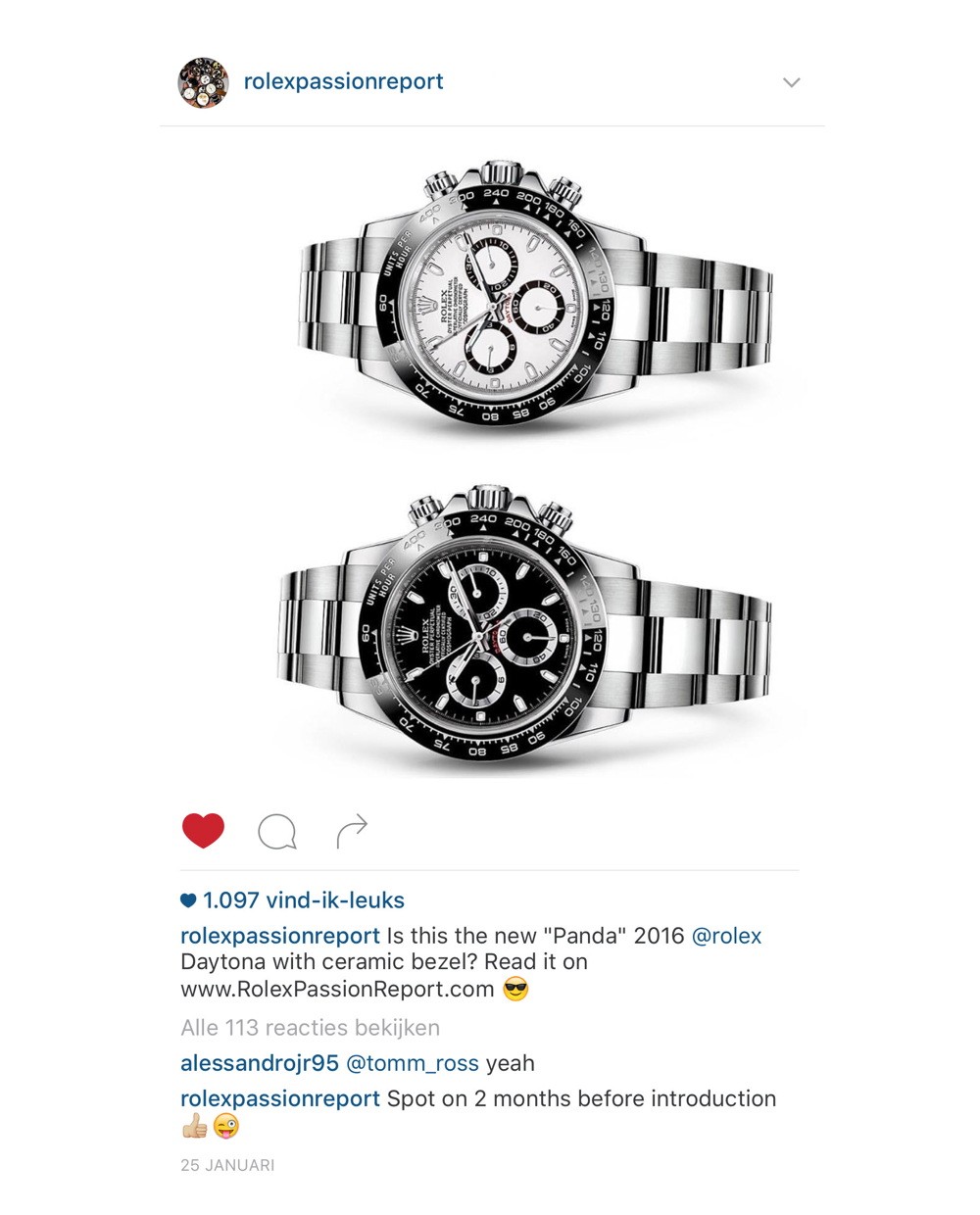 Logically 2018 should bring the bicolor Rolex Daytona being"ceramic bezelished"….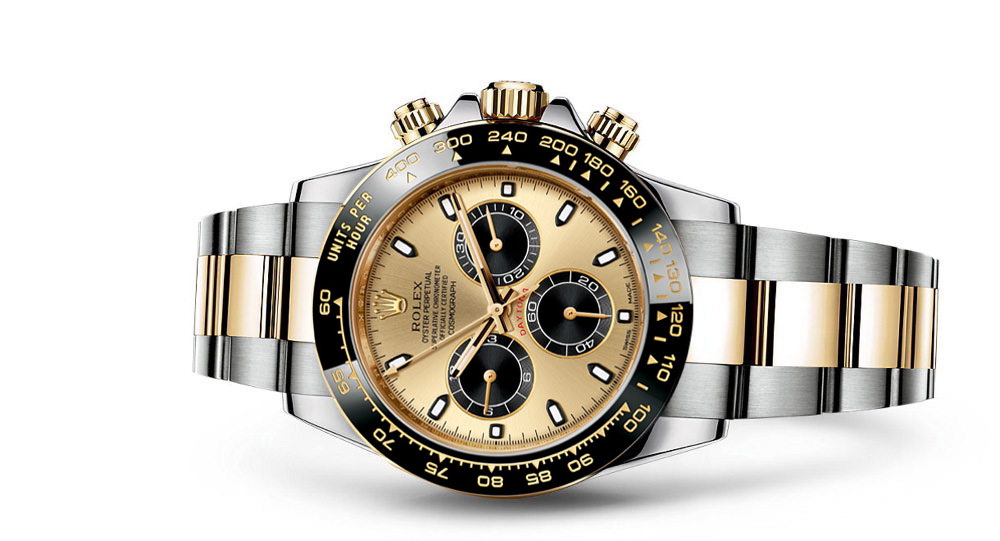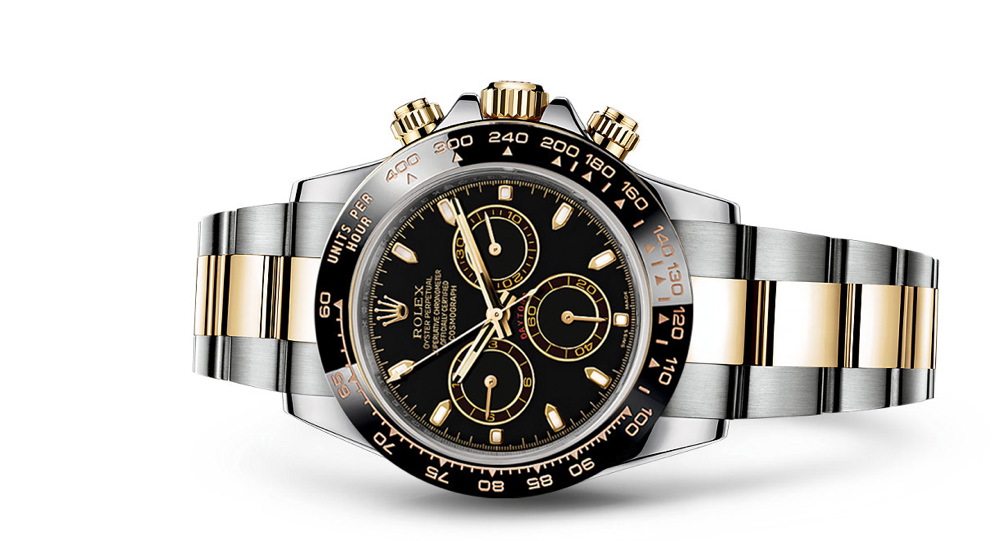 Apropo bezel, I really think it has become time that the Rolex Milgauss get it deserved turning bezel instead of the plain one and could look like this. Although the accents would be better of in red then orange, I still believe this could become a instant hit!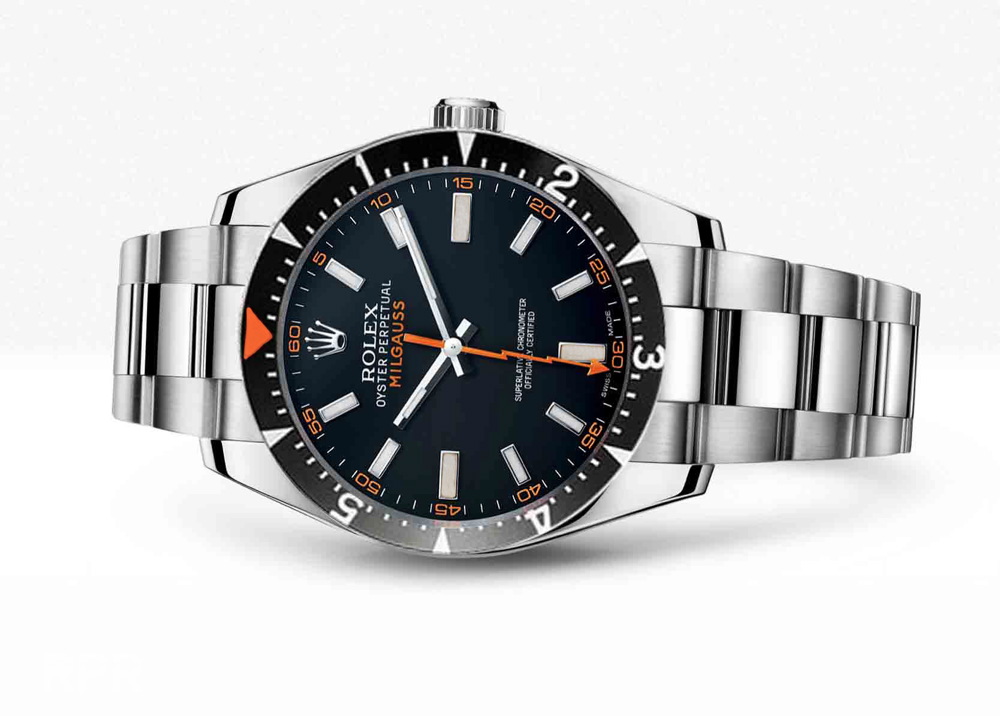 Actually it doesn't need that much orange…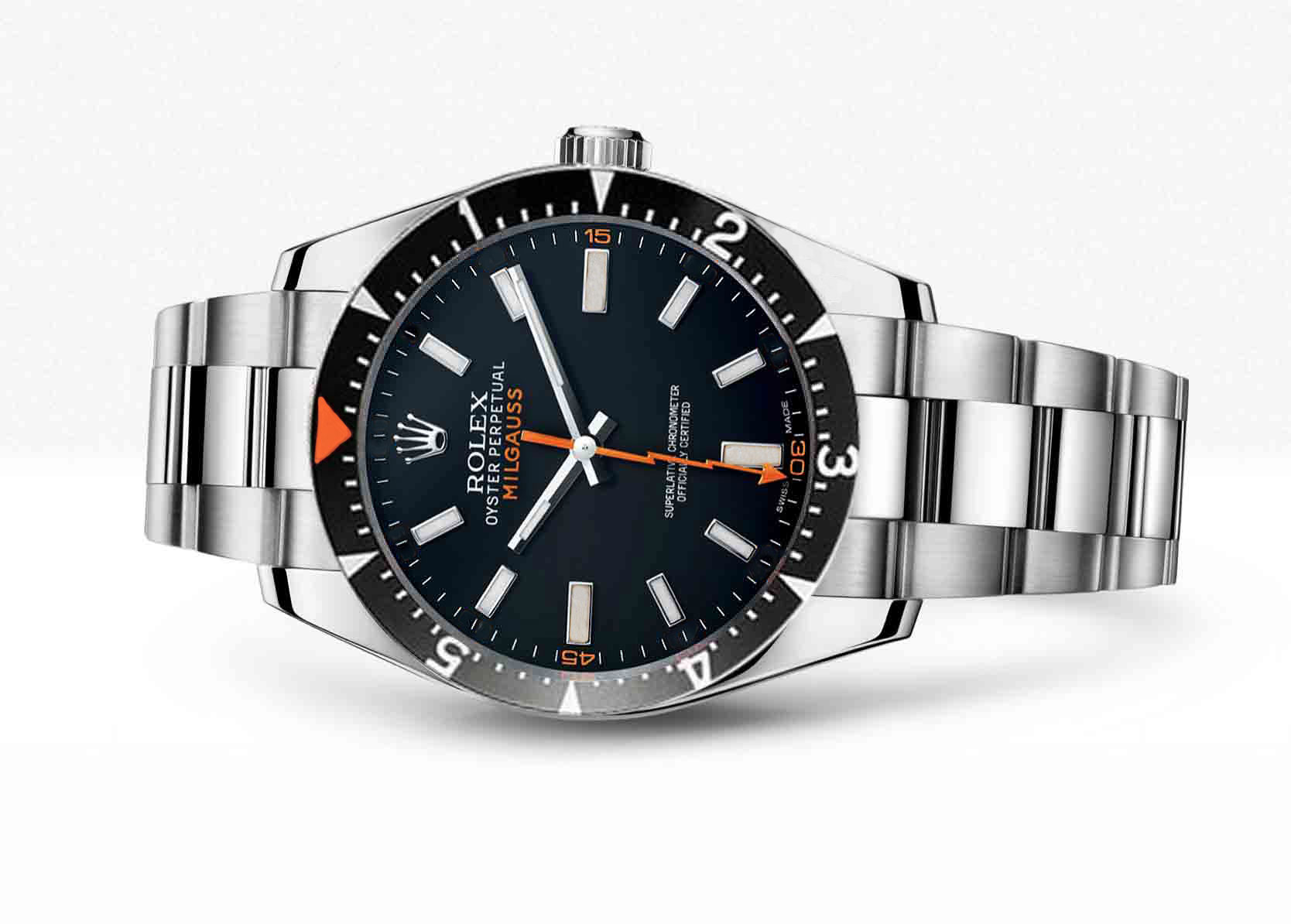 It looks even better when I take off all orange minute and make the look more clean, more Rolex..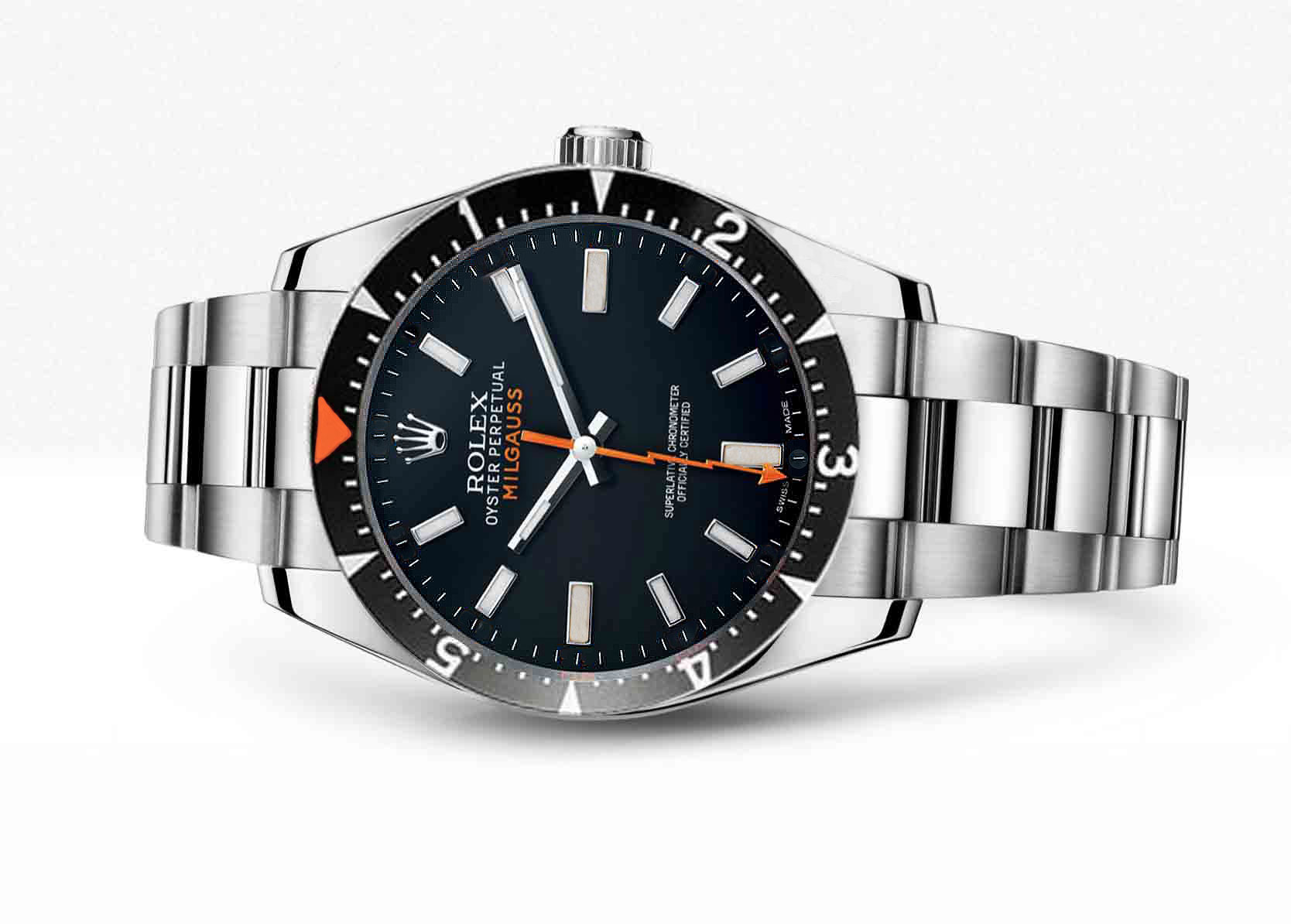 Without any orange and accents now in red. This would perfectly fit next to the 2017 Red SeaDweller…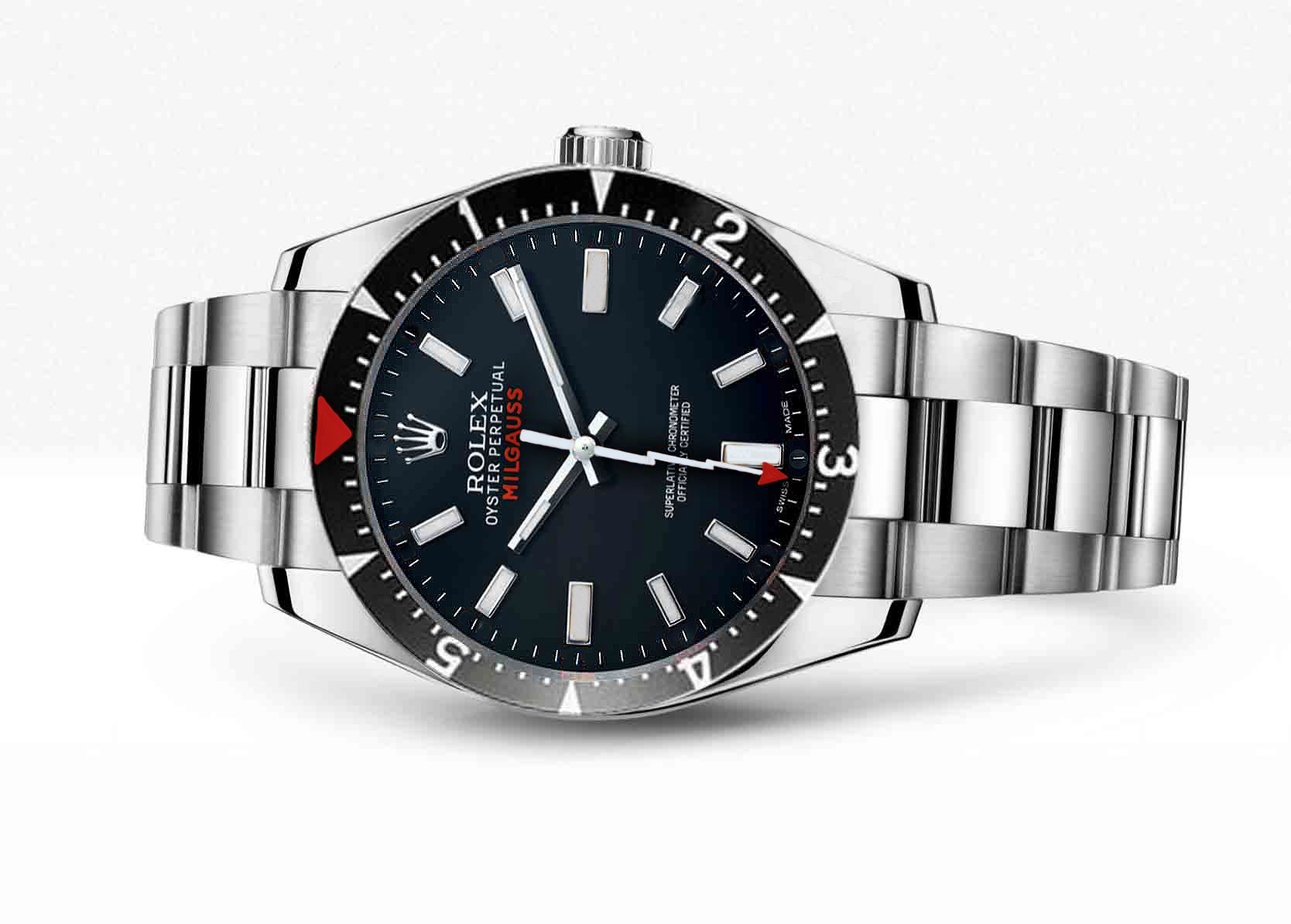 Vintage Rolex Milgauss reference 6541….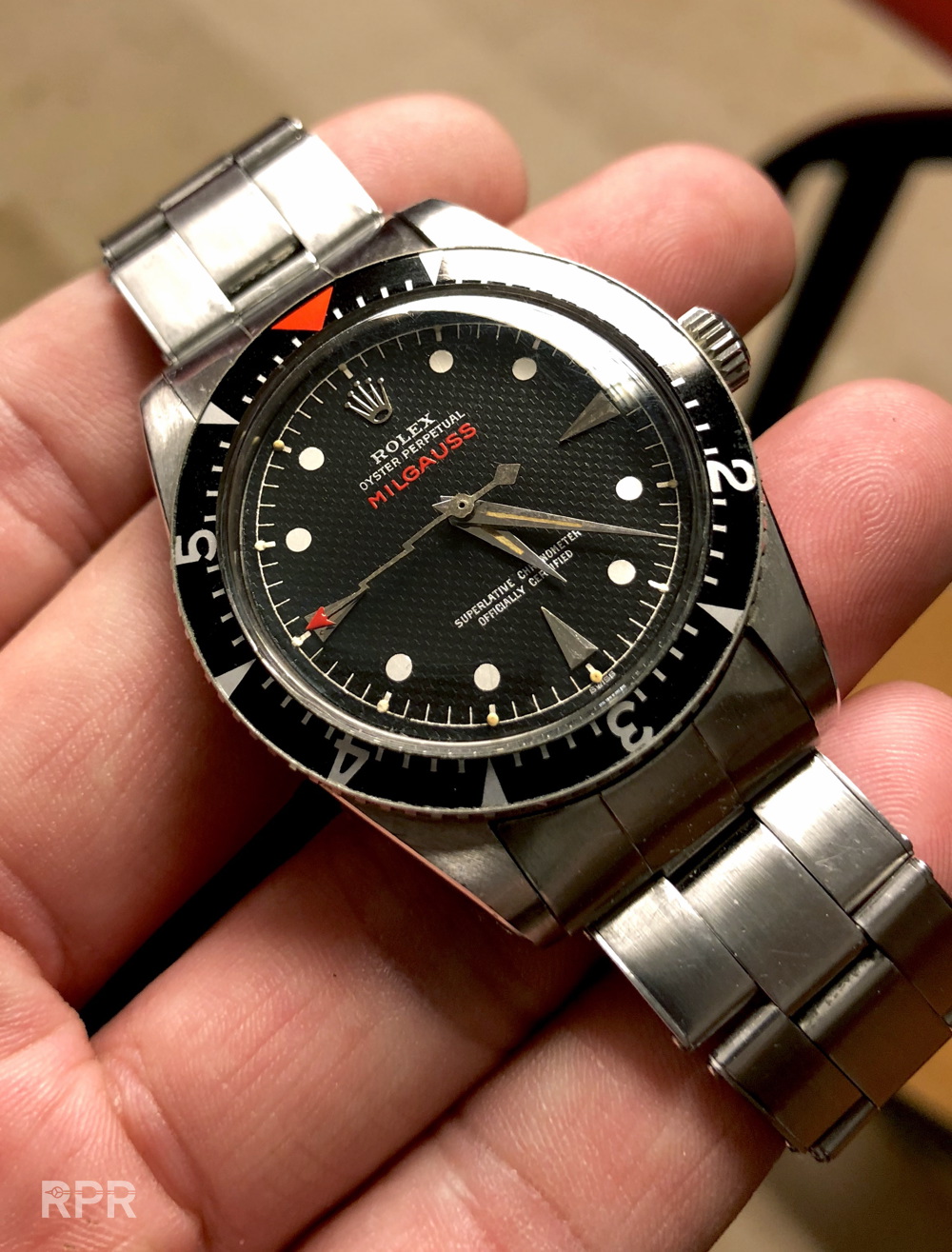 Possible 2018 New Rolex Basel announcements….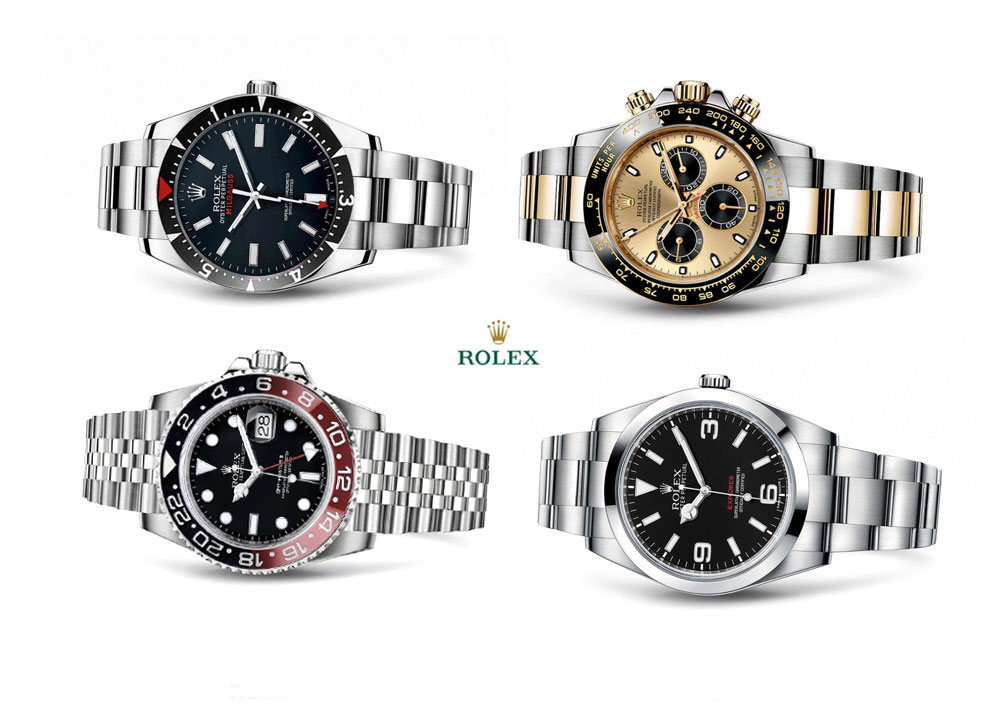 I still believe theirs plenty of room to add the all blue GMT master as well. I read that many would like to buy it if Rolex takes it into production, I also think that it would indeed become an instant hit. The color blue referring to the blue sky, where the GMT master was made for, it's black dial and steel case you can wear at any occasion. It's just another bezel, no rocket science!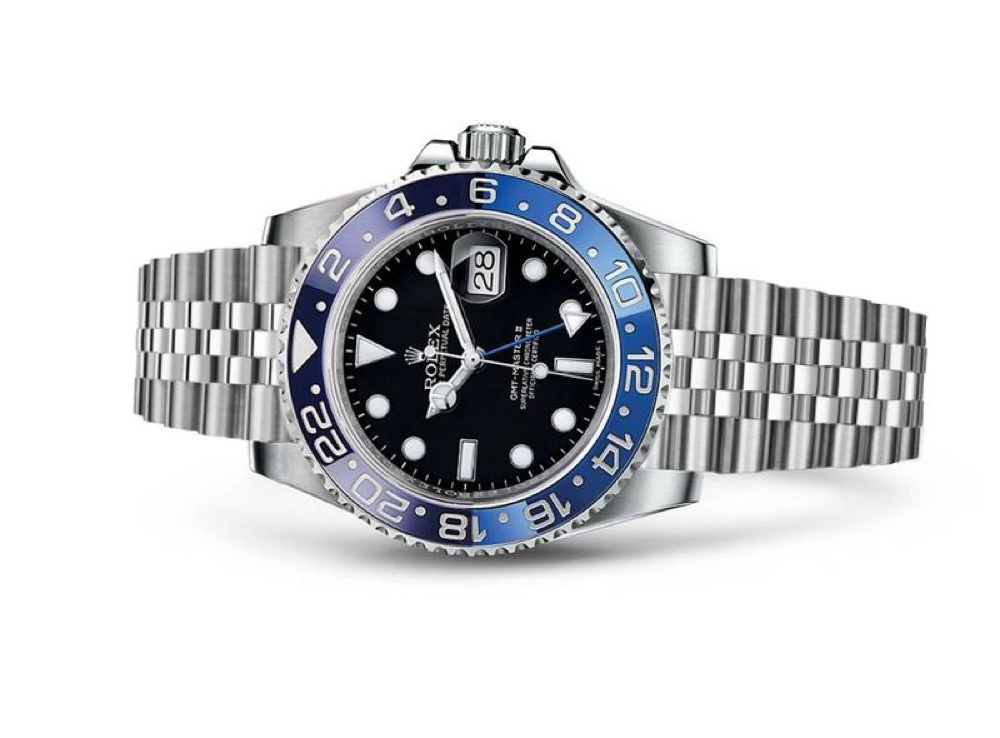 With jubilee or with oyster bracelet….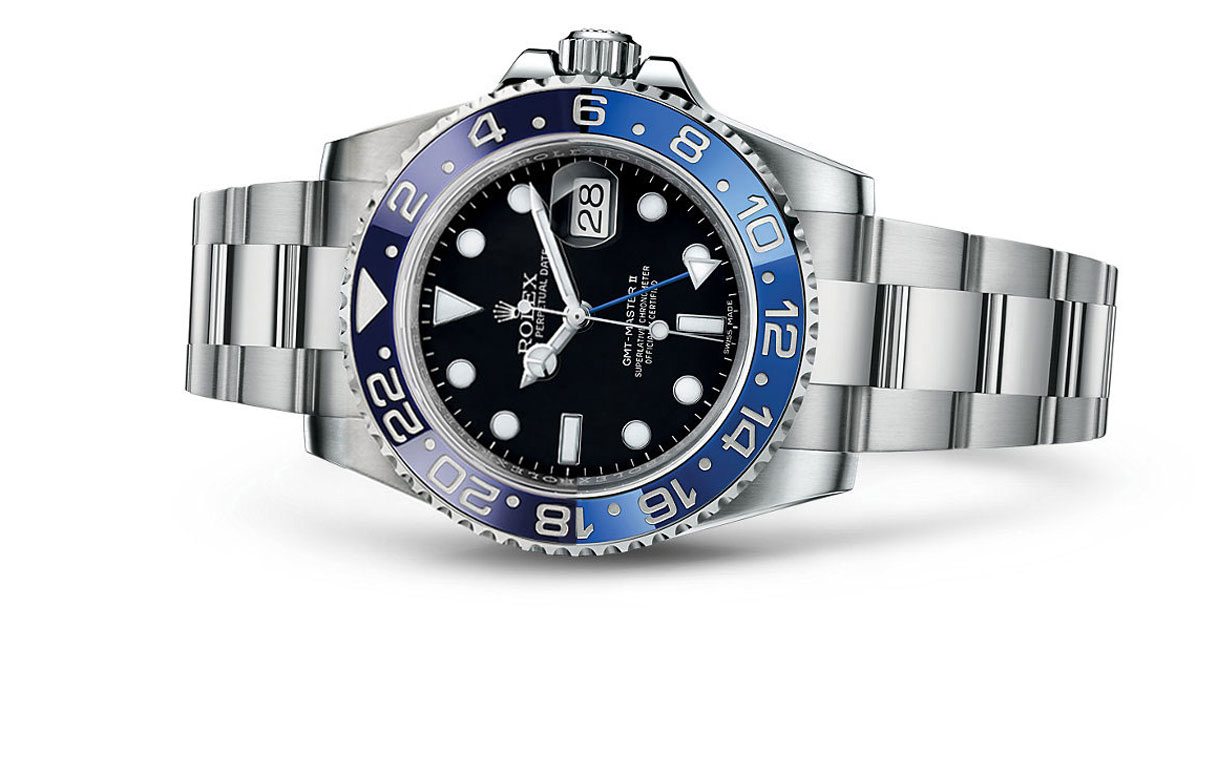 But most logic next step would be to change the regular black steel GMT and change the green into red as I show you below..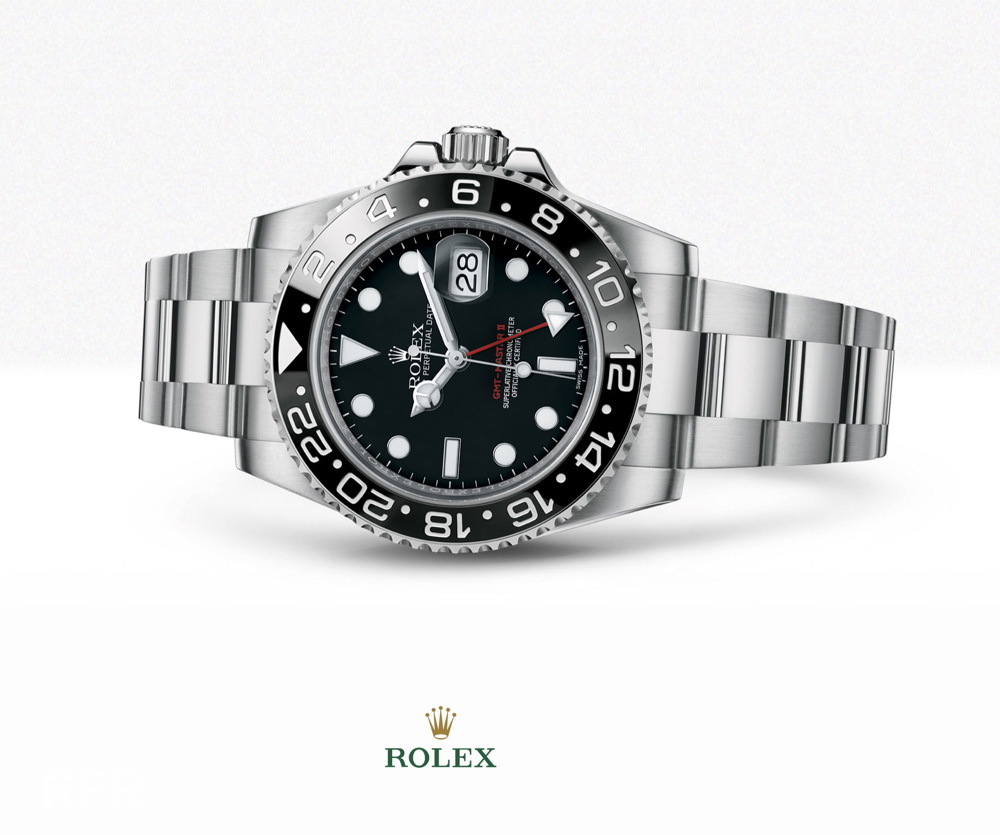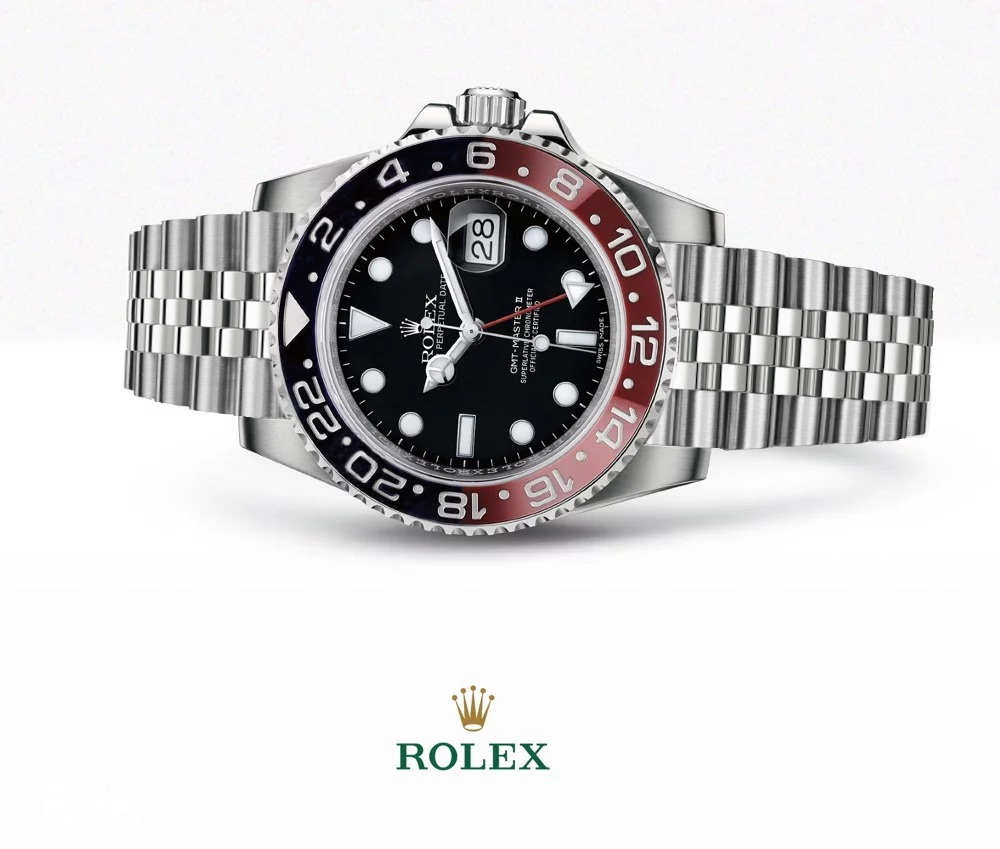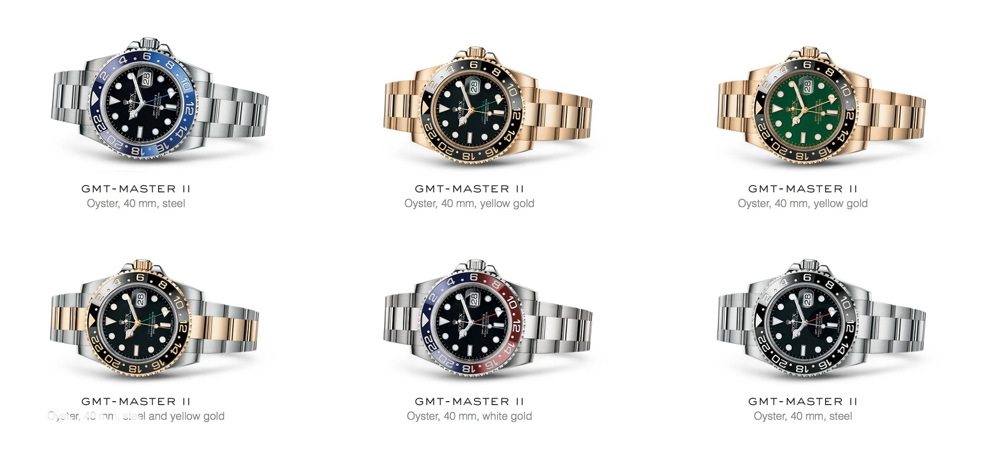 So many collectors and Rolex aficionado's would love to buy a Black & Red steel GMT Master ( coca cola ). As Rolex always had this in their collection, I would be very surprised if they don't introduce it in Basel, on a jubilee bracelet 😉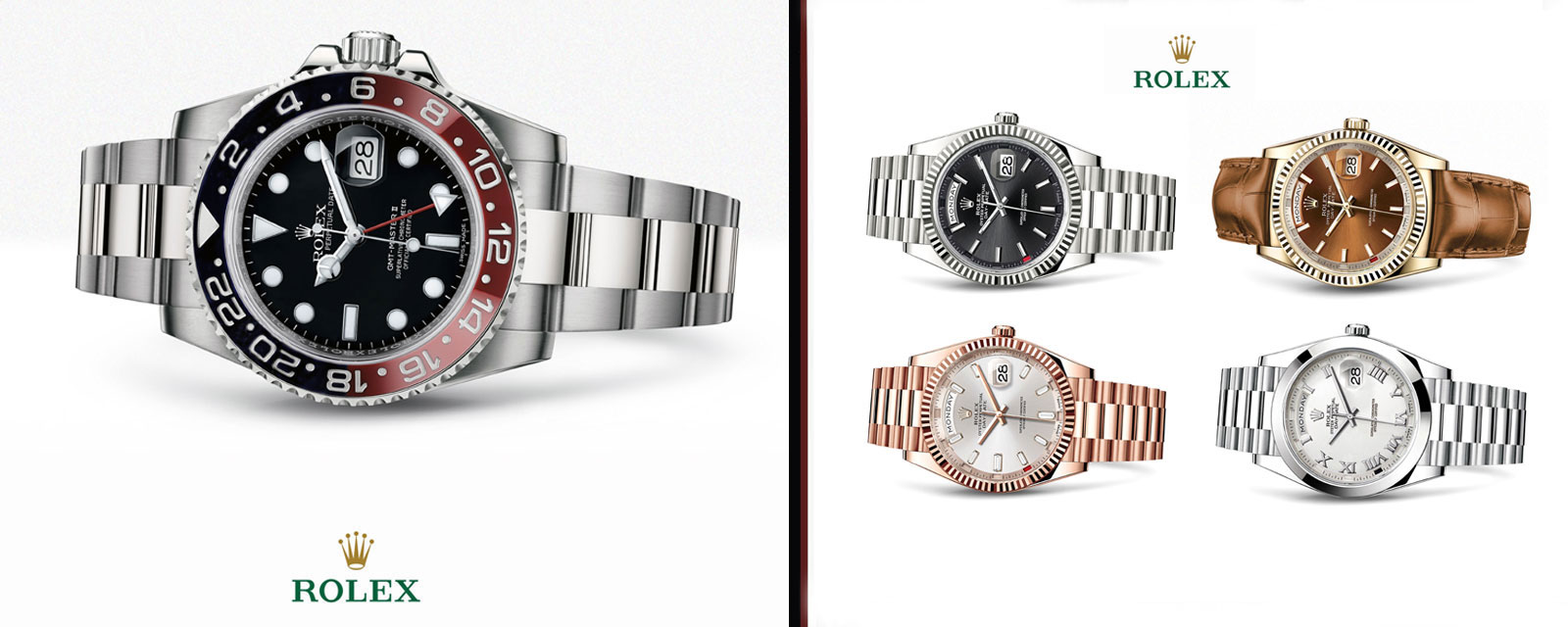 I could also imagine that Rolex will update the Explorer II with a different kind of bezel, maybe even grey ceramic like I showed you in my "What Rolex could adjust to their new 2017 Basel World collection"…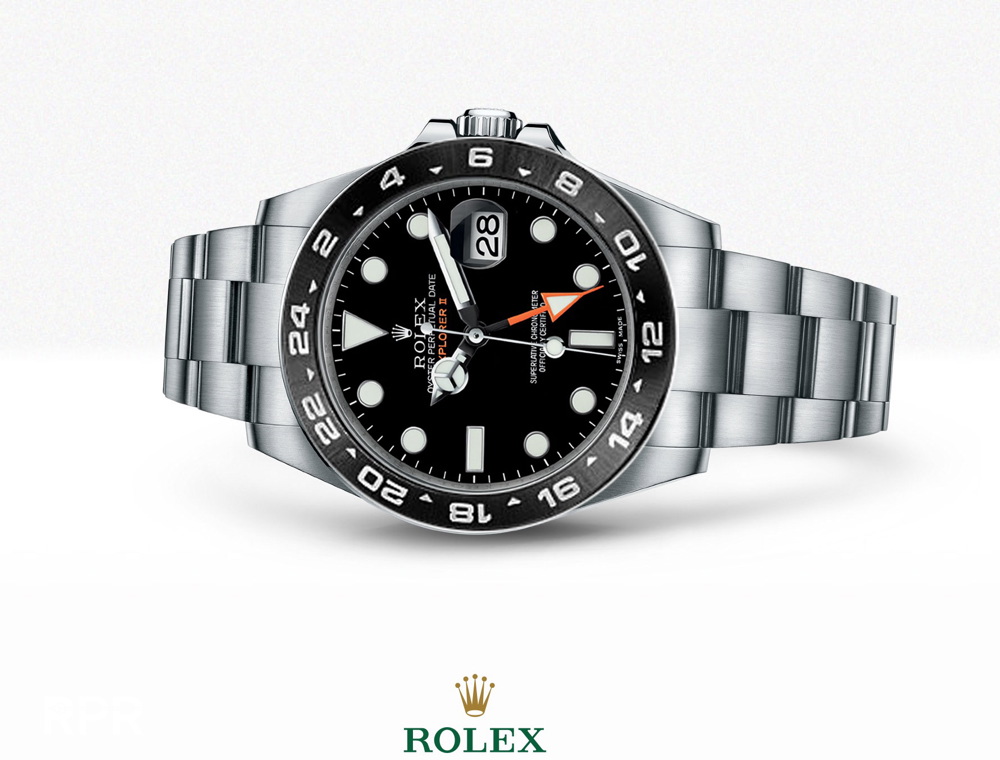 "Heritaged" bezel like I did with my 2012 Hillary & Tenzing Edition….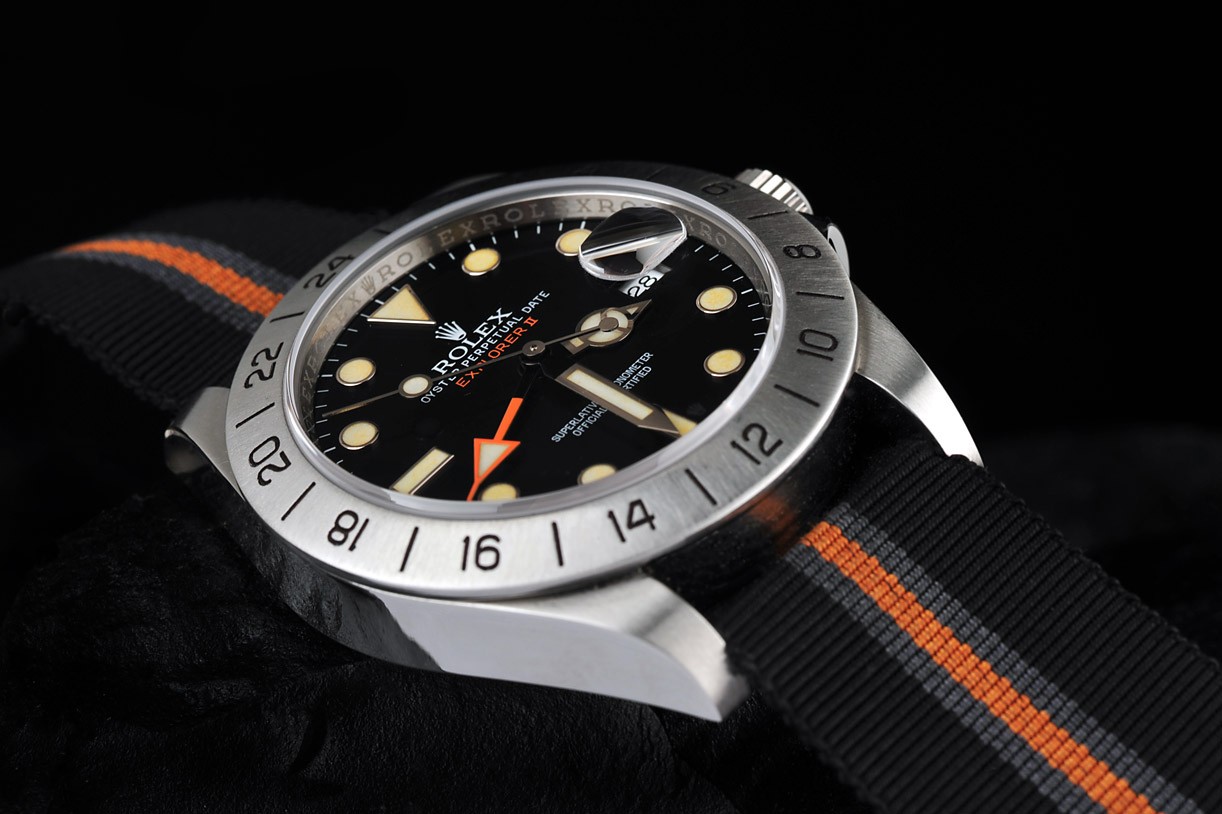 An hommage to Hillary & Tenzing….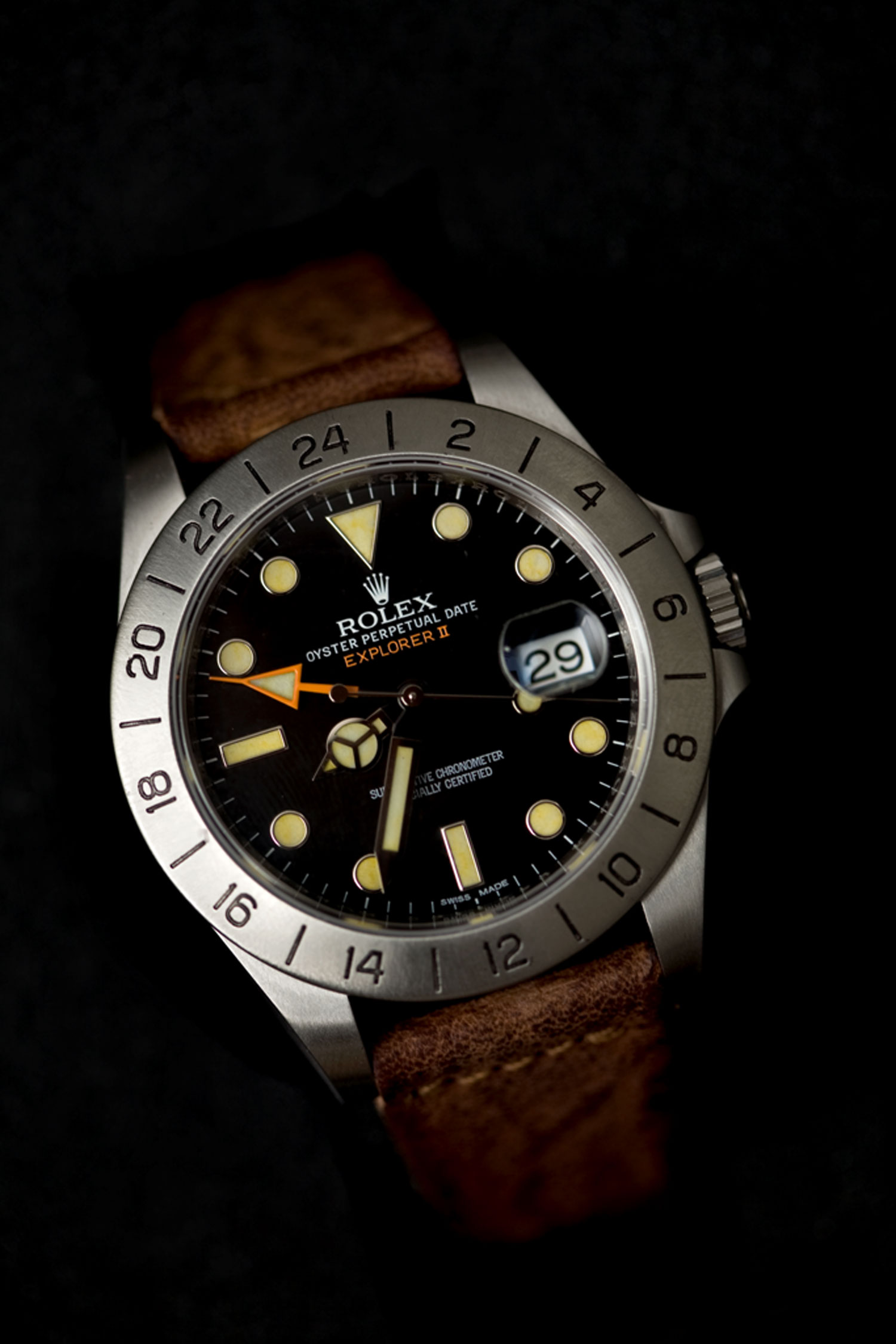 The Explorer I could also use some red on the dial….Look how nice, it really makes the dial stand out!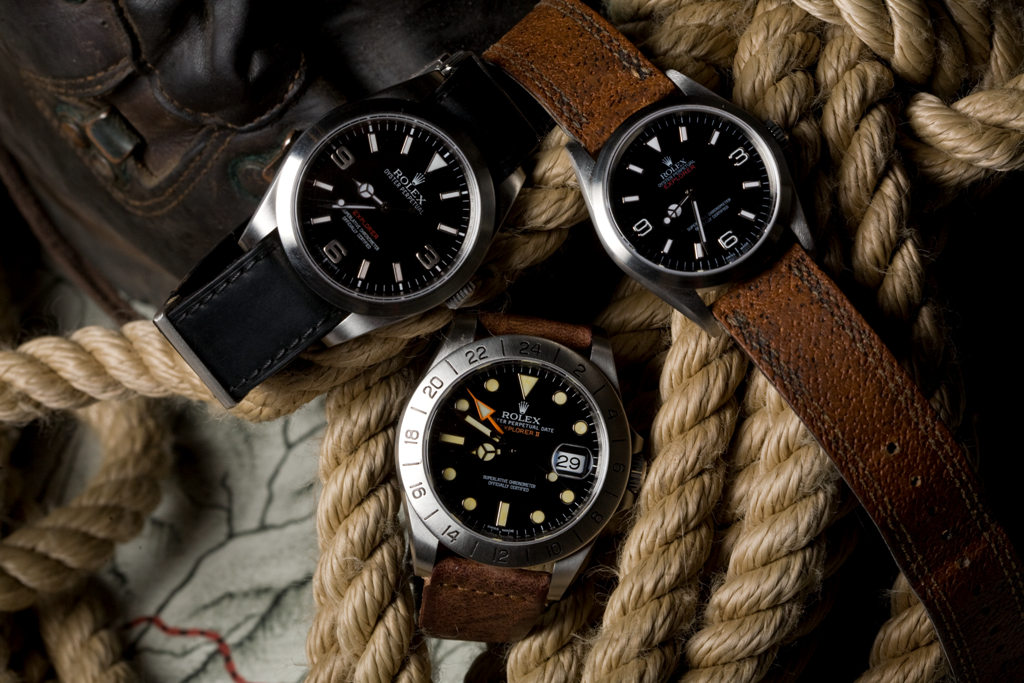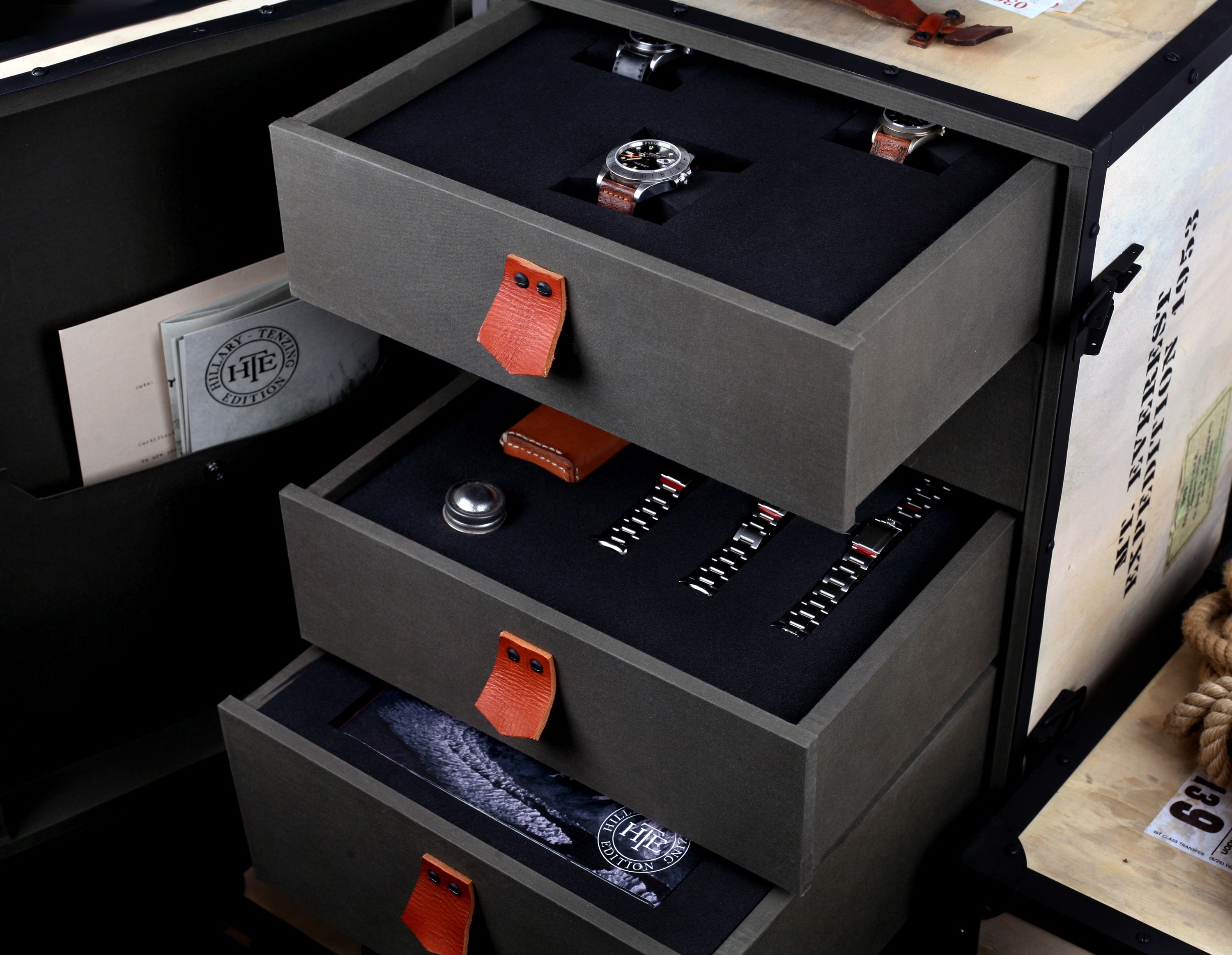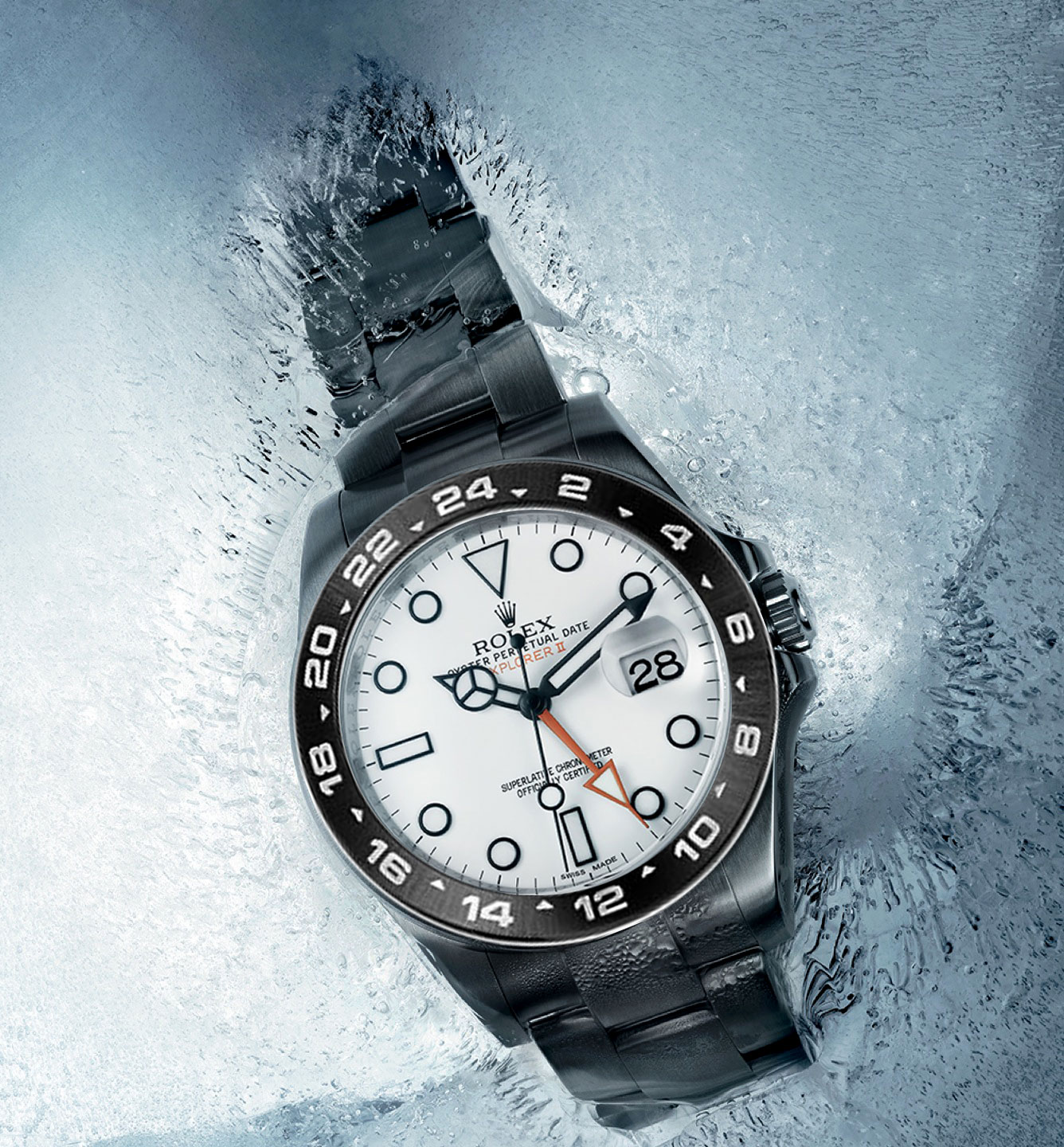 I also believe that Rolex Oyster cases should get their "bevels" back. Not only is it making the case much more elegant, the glossy polished champfer will also become future condition indicators, which makes each Rolex more collectable.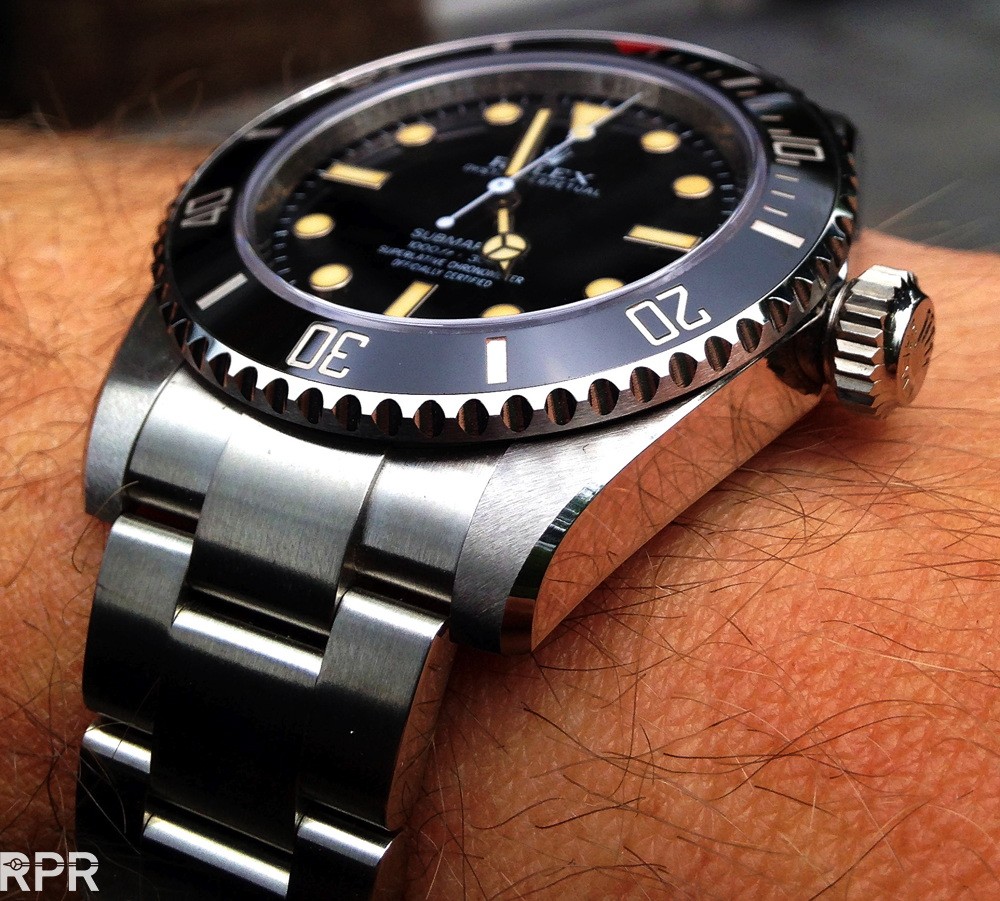 Hommage to the legendary Rolex "James Bond" Big Crown… The Singer Porsche under the special Rolex 😉
Over the years I've experienced that Rolex is rather a slow company. Not slow in terms of producing their watches but slow in terms of changing their strategy. Even when has been proven ( like terminated Prince collection) that a different direction, design etc would be more effective ( read profitable ), the mothership waits long before it reacts.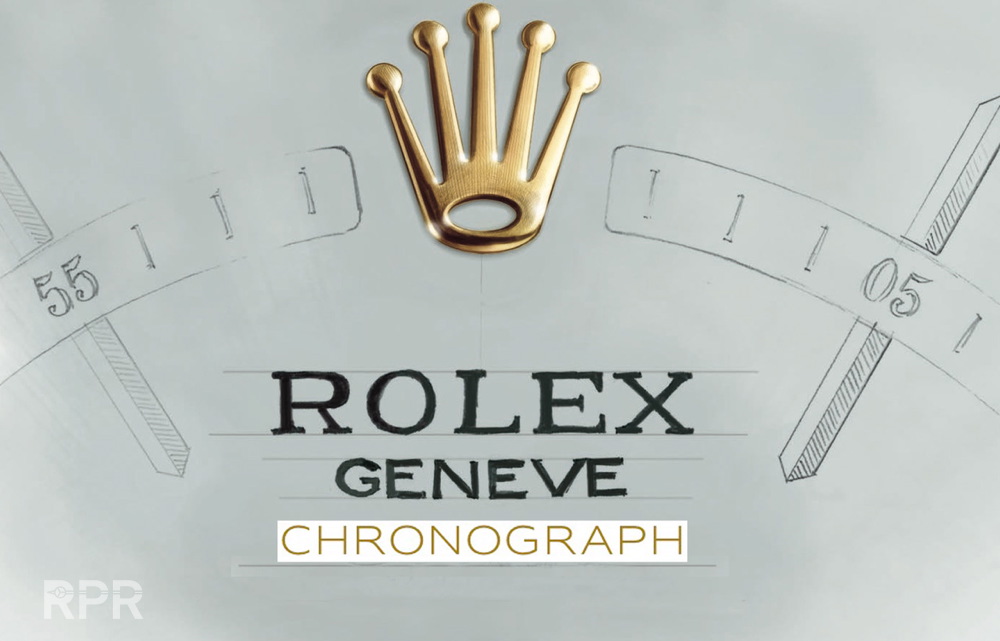 This year I feel like Rolex could come with something new and exciting that they have been prepared in the background. When I look at their current collection line up all corners are covered and every reference has been updated in size, color and material. The only line that needs improvement imho is their below Rolex Cellini collection. Since the Rolex Daytona has reached in 2017 the ultimate cult status after the $ 17.75 million record sale of Mr Newman's Paul Newman, we see collectors picking up other Rolex chronograph references, in particular Pre- Daytona and earlier Oyster & Non Oyster chrono's. With other words, historical there's plenty of room for adding a new Rolex chronograph next to the Daytona!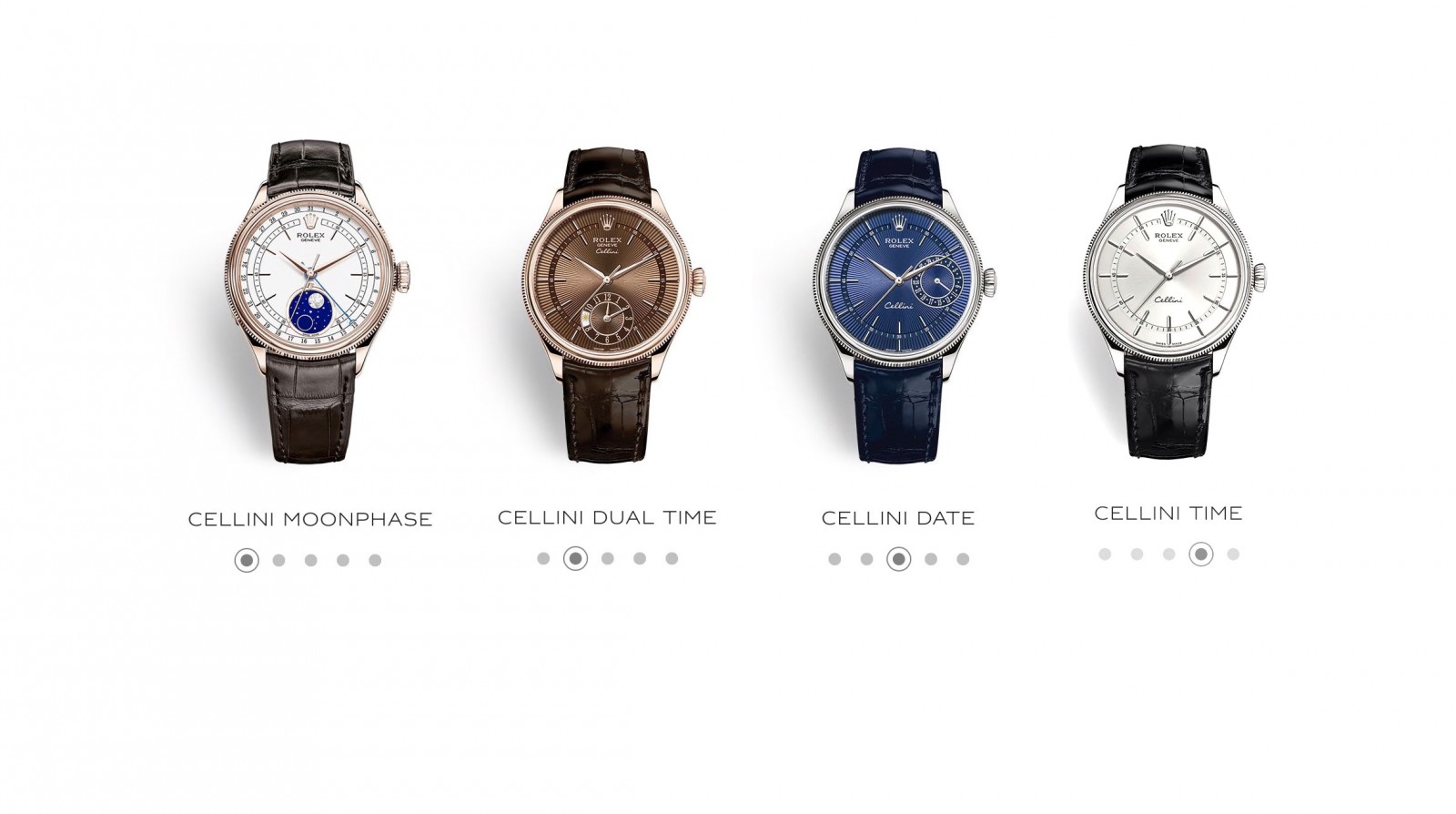 Therefor I think that Rolex could surprise us with a new chronographs caliber, added to the Cellini line. A new elegant stopwatch next to the iconic Daytona in precious metal. The immense possibilities of different dial designs would give Rolex plenty of possibilities to come yearly up with new looks. This new chrono will of course not become a limited edition but I could imagine Rolex would rather announce that it will be made for a limited time, like 3-5 years and then stop the production, creating a future classic collectable. Find below a quick photoshop I made to show you the possibilities. Once this chrono has been adopted, many different dial, bezel and pusher designs are possible to honor the world renowned early Oyster Chronograph's in an elegant way.
It's always useful to check out the patent register to get an idea what is Rolex protecting for the future. December 2014, more then 3 years ago, Rolex patented a "Dual Time Chronograph" that could be ready for production after intensive testing by now.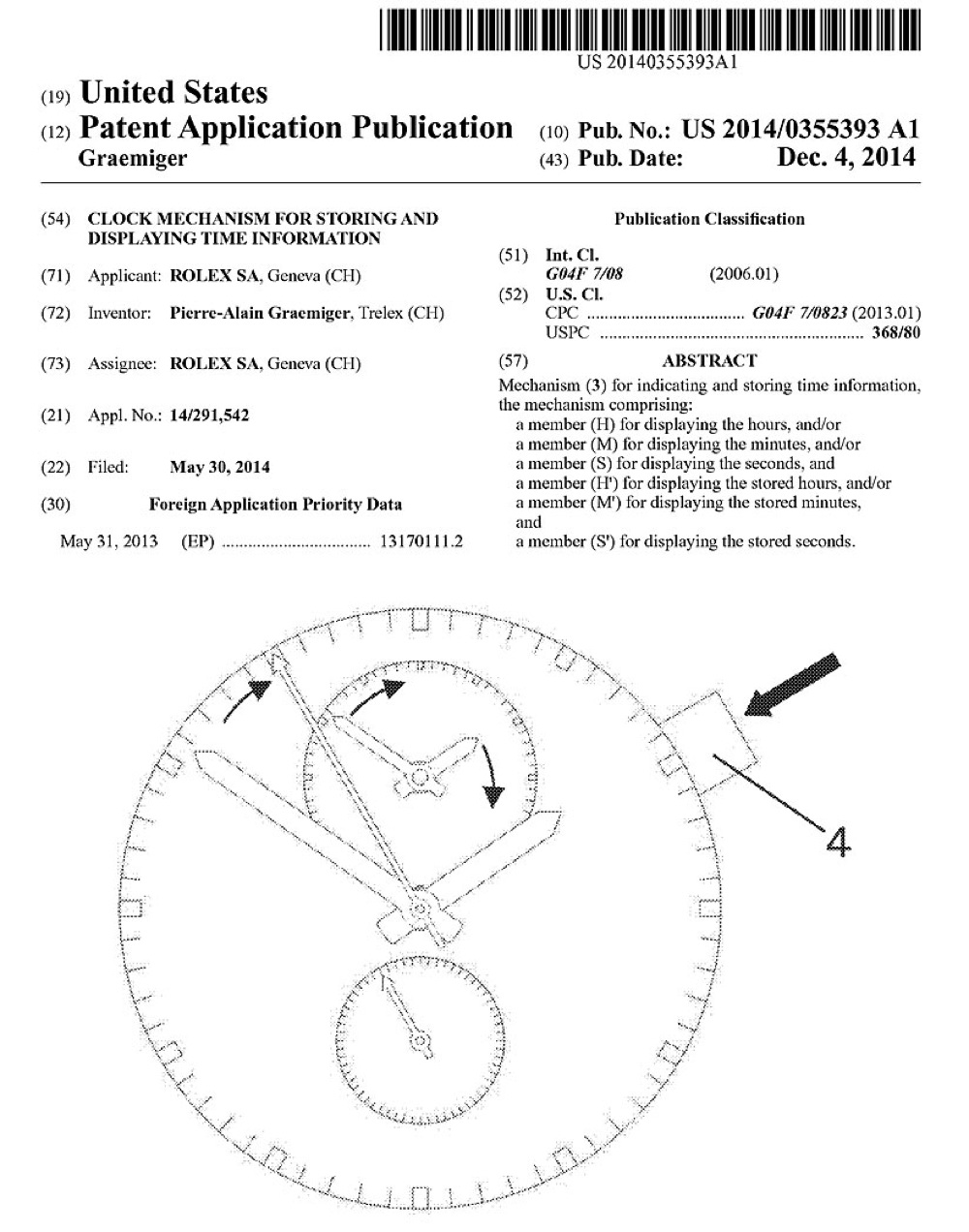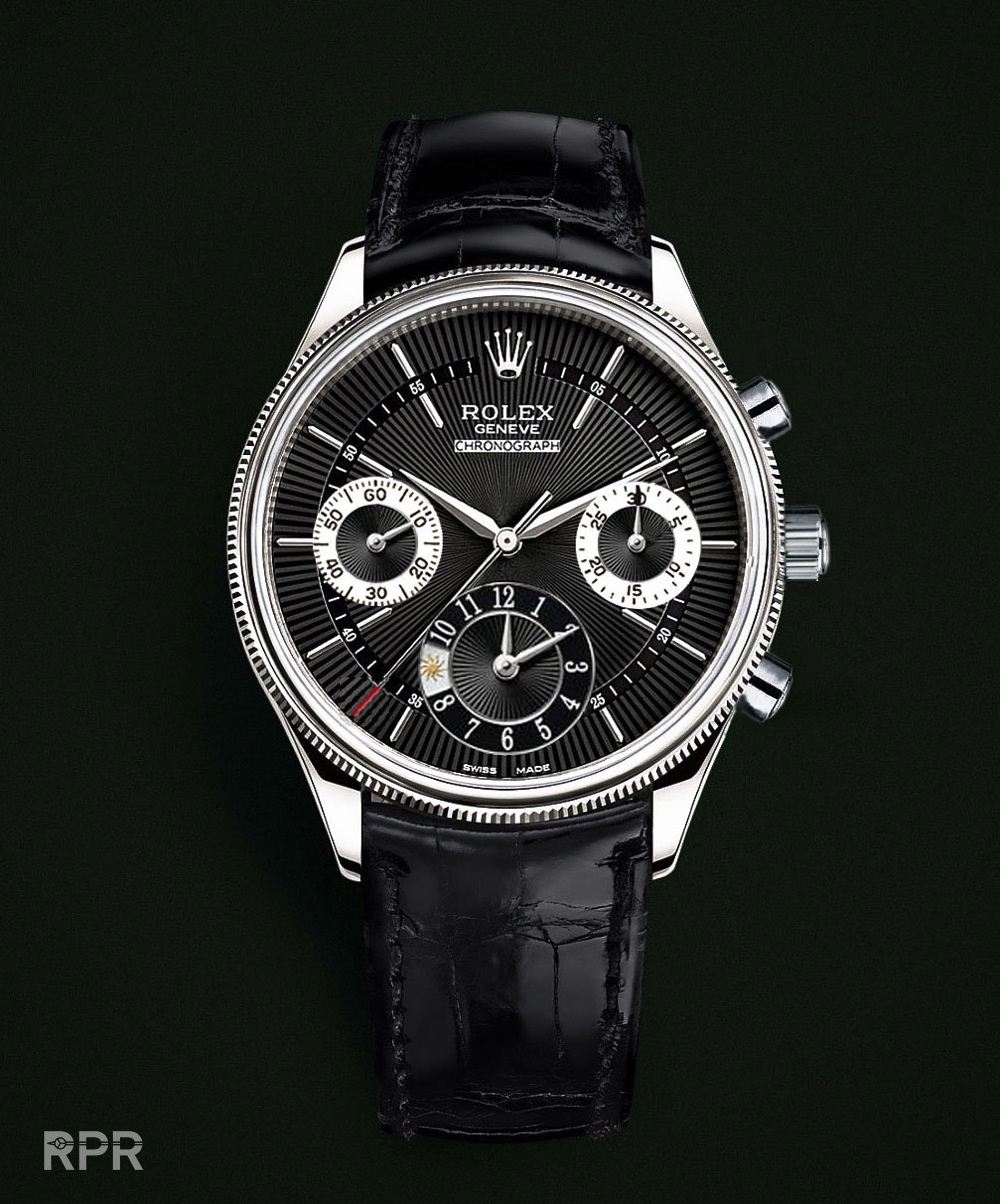 The earlier predicted annual calendar added to the Day Date would also be a logic move…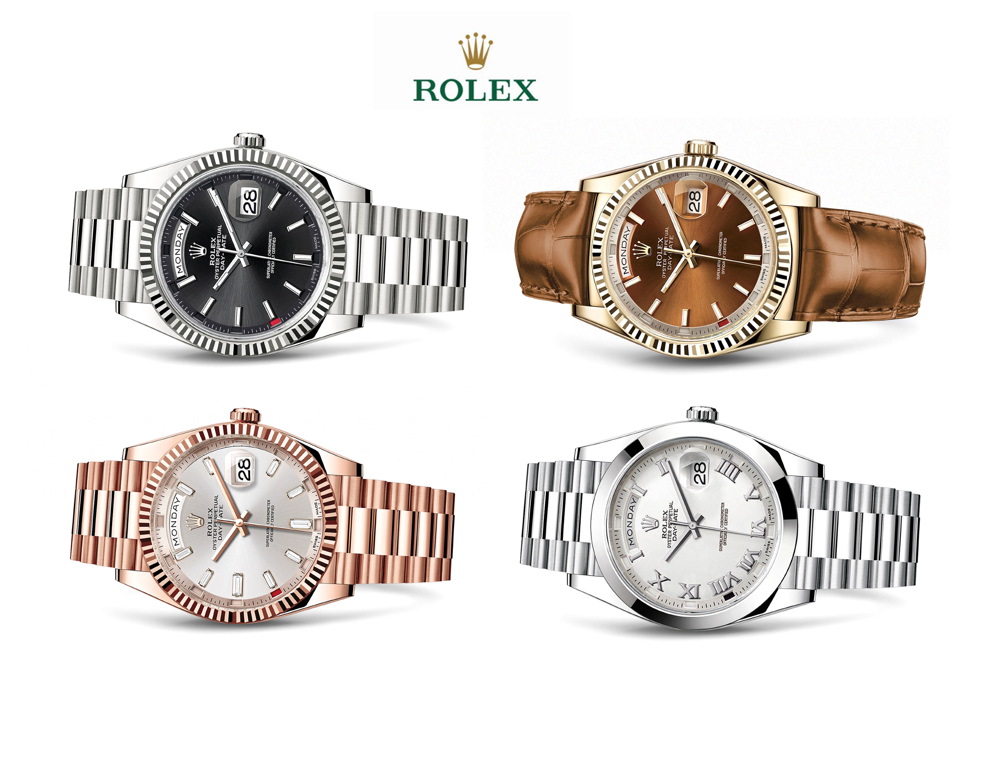 Clean and simple and yet very useful with the month indicator at 8 'o clock. If you wanna rock sales, make it in stainless steel…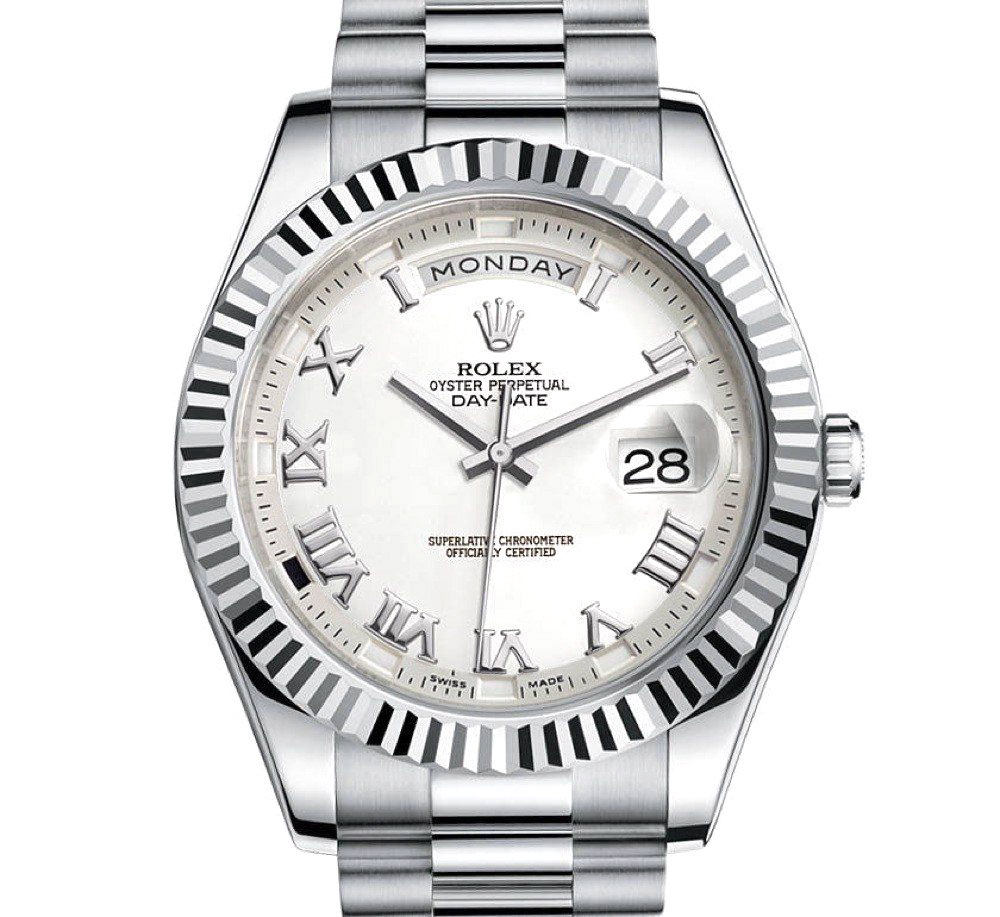 In the upcoming months to Basel I will update this article with more possible Rolex Basel News for you so stay tuned!
Cheers,
Philipp