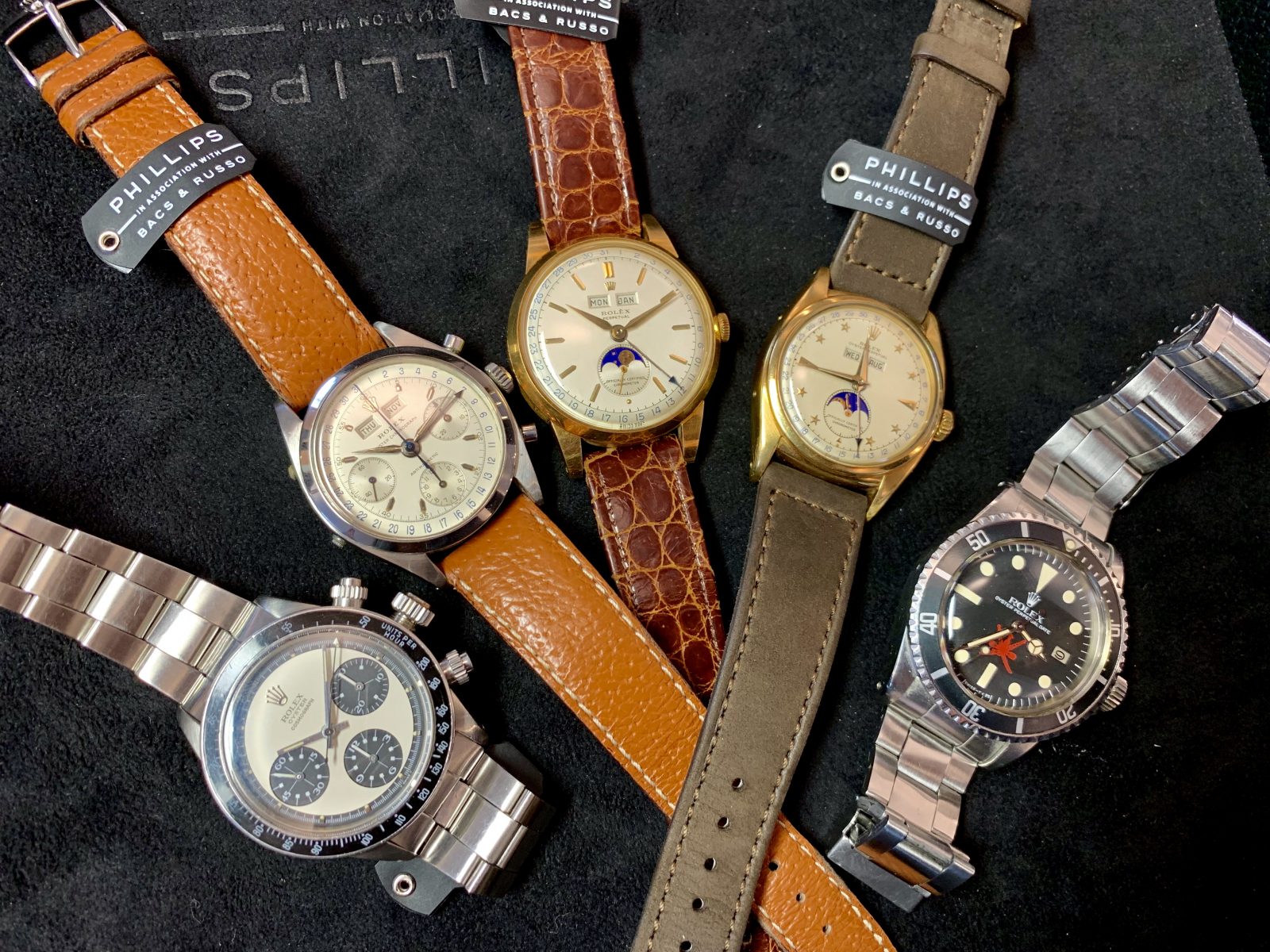 The price gap between good and great is getting bigger every auction season, which is a huge compliment to all collectors that have spend so much of their precious time in understanding the important details over the past years. The vintage watch market is much more mature now and not dictated by the auctioneers & dealers but rather by the knowledge and dedication of the collectors. The Geneva watch auctions where excellent for any serious collector. Why? Because all over each lots of every brand that was really special performed exceptional, above expectation. In the recent past mega rare examples that hardly ever come to the market set the tone but for insiders those results where not really a surprise…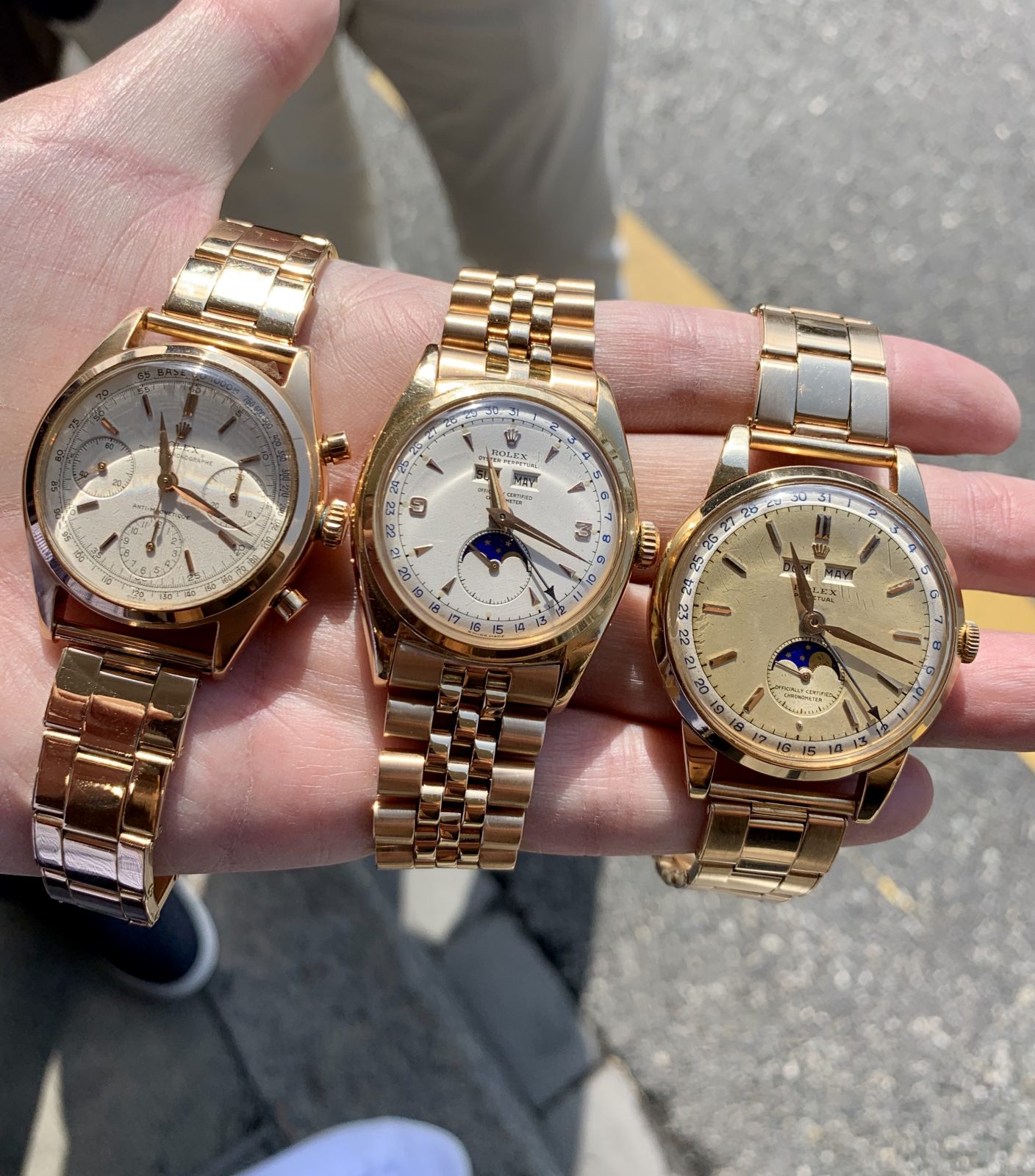 Prior the sale I for instance kept saying that the great Ref 5508 at Phillips and the crisp gold Ref 6239 at Sothebys could easily hit 400K. I was alone thinking they could reach this new height and witnessed many surprised long time collectors and big dealers when both sold even higher towards 500K. It was a long time ago I witness flabbergasted insider faces and thats exactly what's happening now. Great rare condition has become priceless and goes sky-high, not only with Rolex but from any watch brand, the real gems exploded and this is gonna be the rule. This is a huge compliment to all collectors absorbing the necessary info that the community, their dealers and the auction houses are teaching them..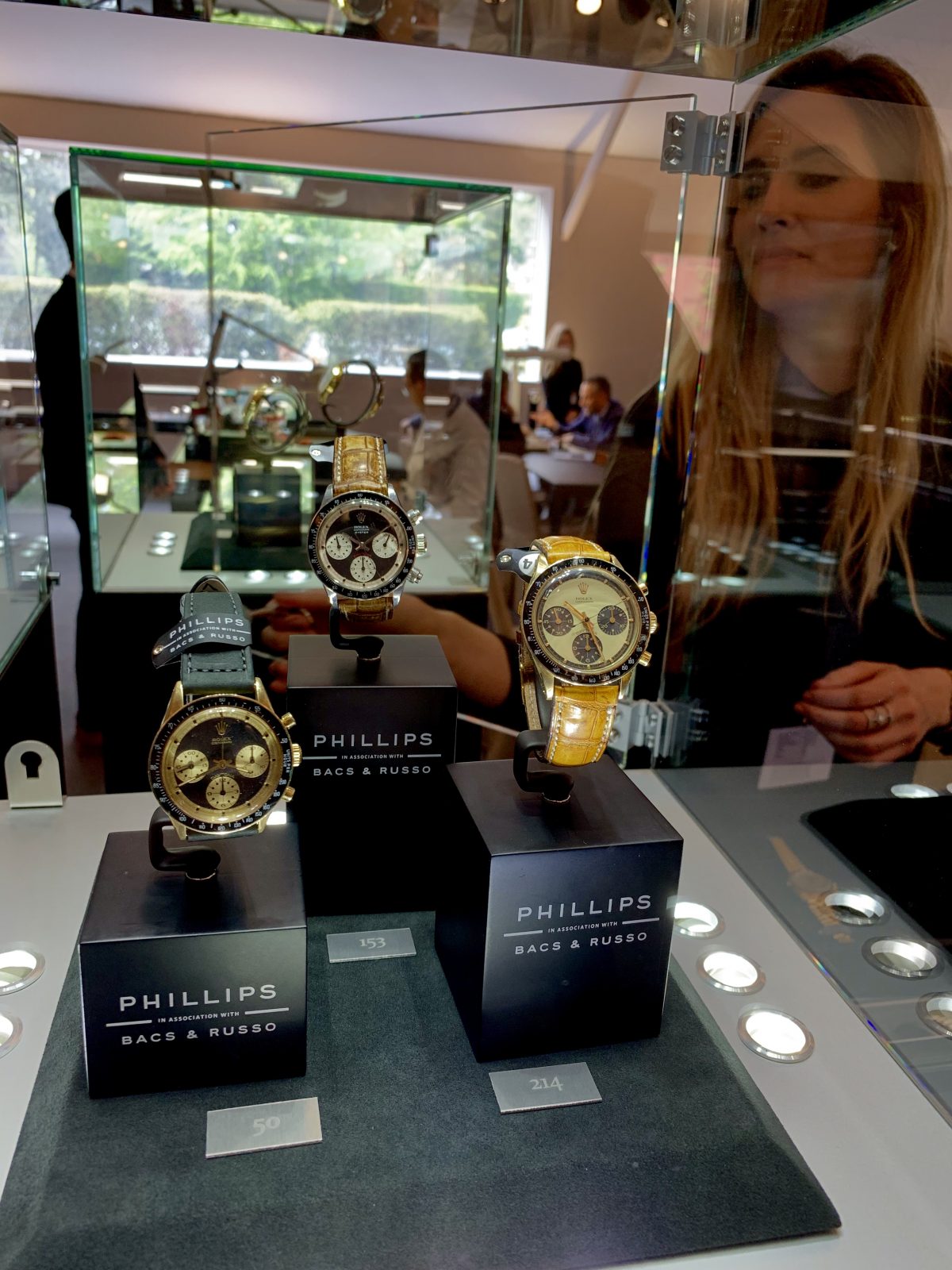 Serious buyers have last year experienced it has become close to impossible to find a really great gilt submariner in the open market. The trend from Daytona's is clearly shifting towards Submariners and even GMT masters as I've been telling you since a while. It's not only become about the rarity of the dial alone as we have seen last 5 years of record Daytona's sales, now the market is ready to go back to its roots, all watch parts are equally important and isn't that what collecting is all about? Collecting watches is a combination of all over matching patina, rare exception, originality and provenance..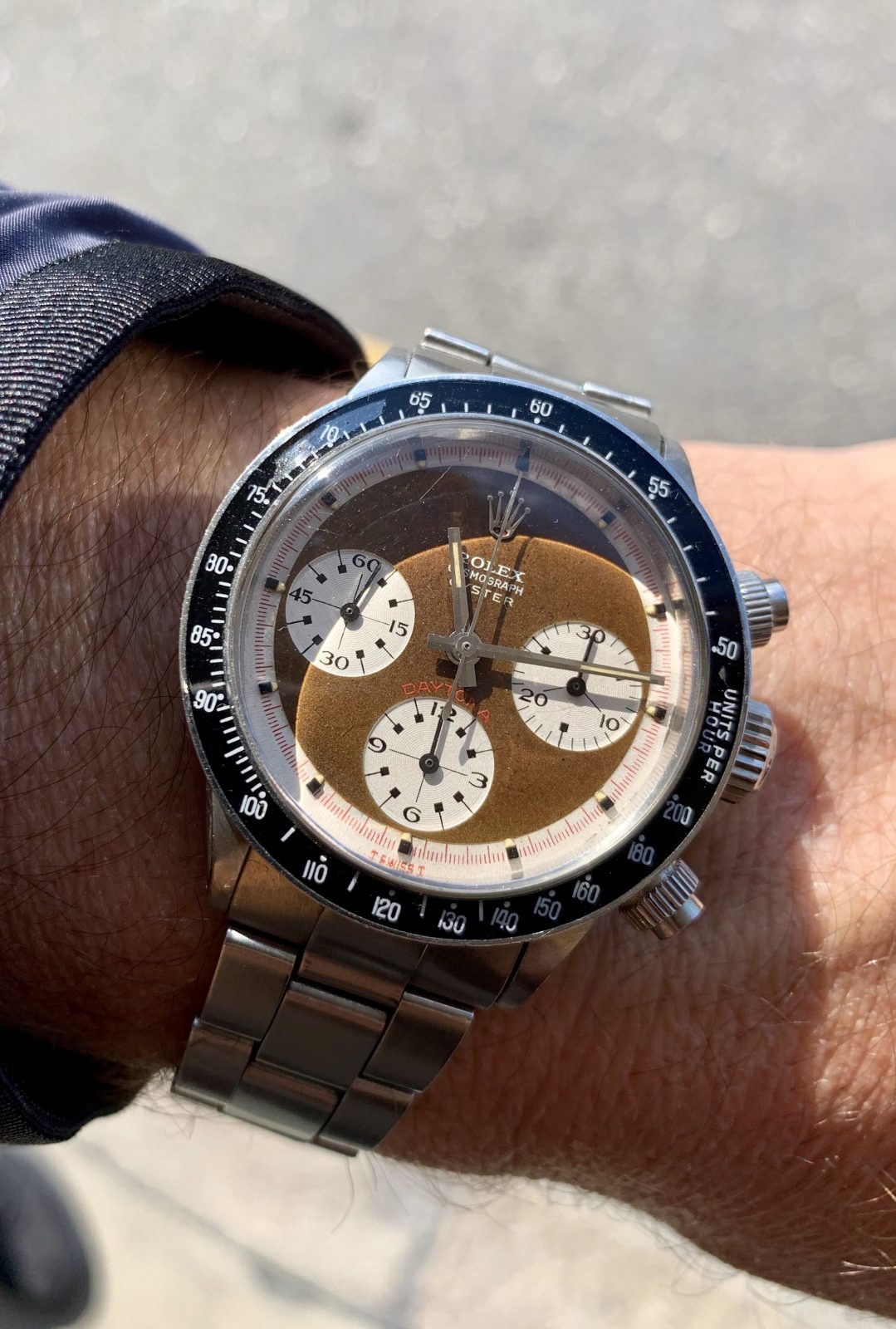 Seems like we're back where it all started as it's about collecting a great watch and not a rare dial. With others word one can say the collectors are back in charge. Fierce bidding was also back although this is much more private by phone and specially online instead of fighting for the winning bid in person in the auction room. Great condition has no price anymore and performs well above the insider expectations, good condition stayed steady although the prices went up very fast in recent years it tells me we're in a very healthy market. Mediocre quality got a hit as prices need to be adjusted downwards for examples you can buy every day…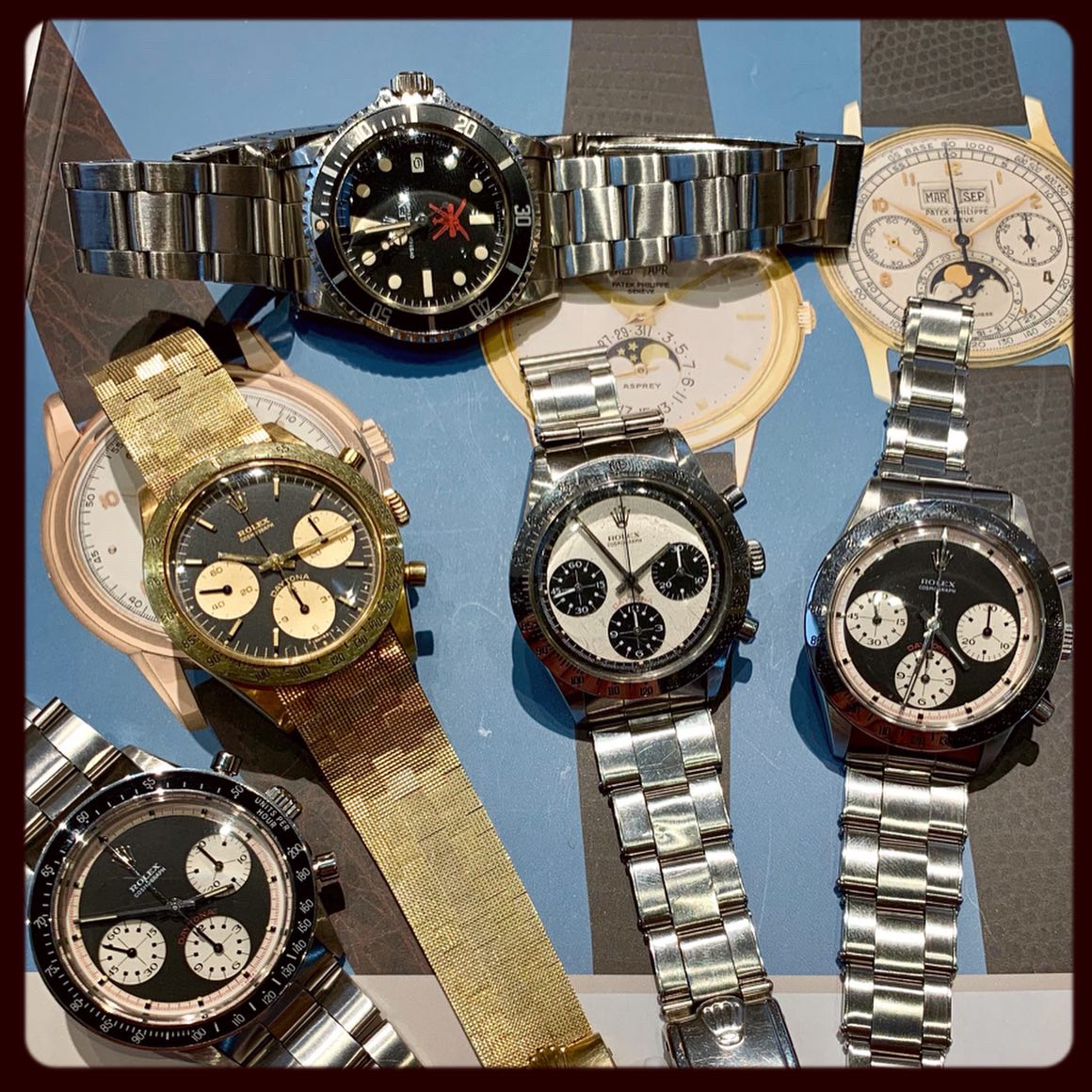 The same but different, above crisp gold 6239 hit 450K at Sotheby's, where below gold 6239 at Phillips did half the price.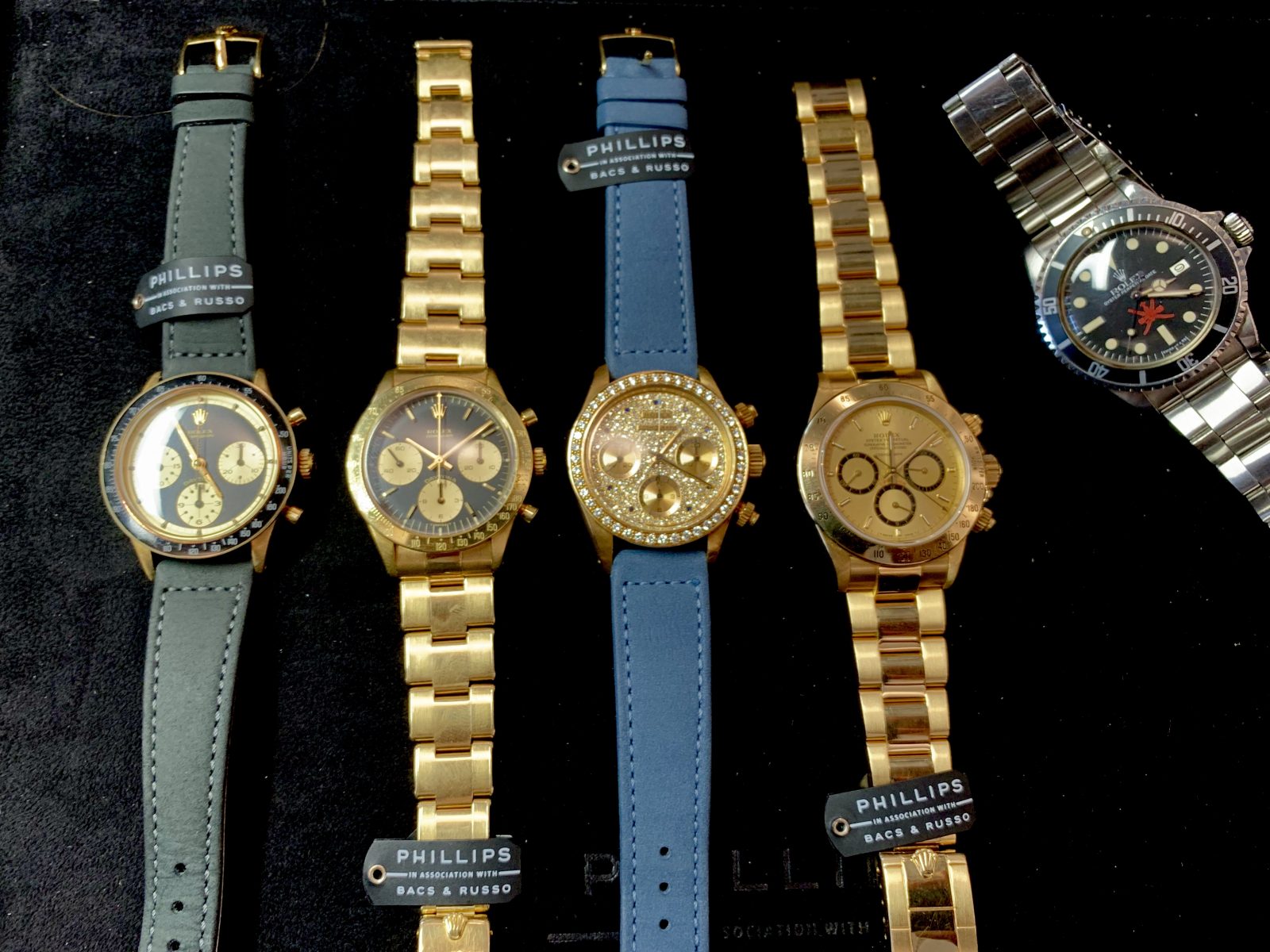 Way less dealers and more collectors where attending the Geneva sales, a trend that won't stop anymore. There're hardly any bargains to pick up for dealers anymore, everybody is aware what is worth buying and those that are not aware will be reminded through the social media of every auction house highlighting each interesting lot prior their sales on their social media to get maximum result. The auction world is logically riding this trend and took that part over from the dealers providing the necessary information and education and selling directly to the end consumer not only by auction but also by private treaty. Auction houses are also dealers now so dealers have to reinvent themselves to stay ahead since everybody who has a IG account can call himself a dealers. Fact is, its all about trust but trust you have to gain and thats far from easy as it will take you many years of successful dealing to have the confidence of buyers. Those dealers taking this serious are very successfully selling their stock like never before as I see on my trusted Rolex RPM marketplaces…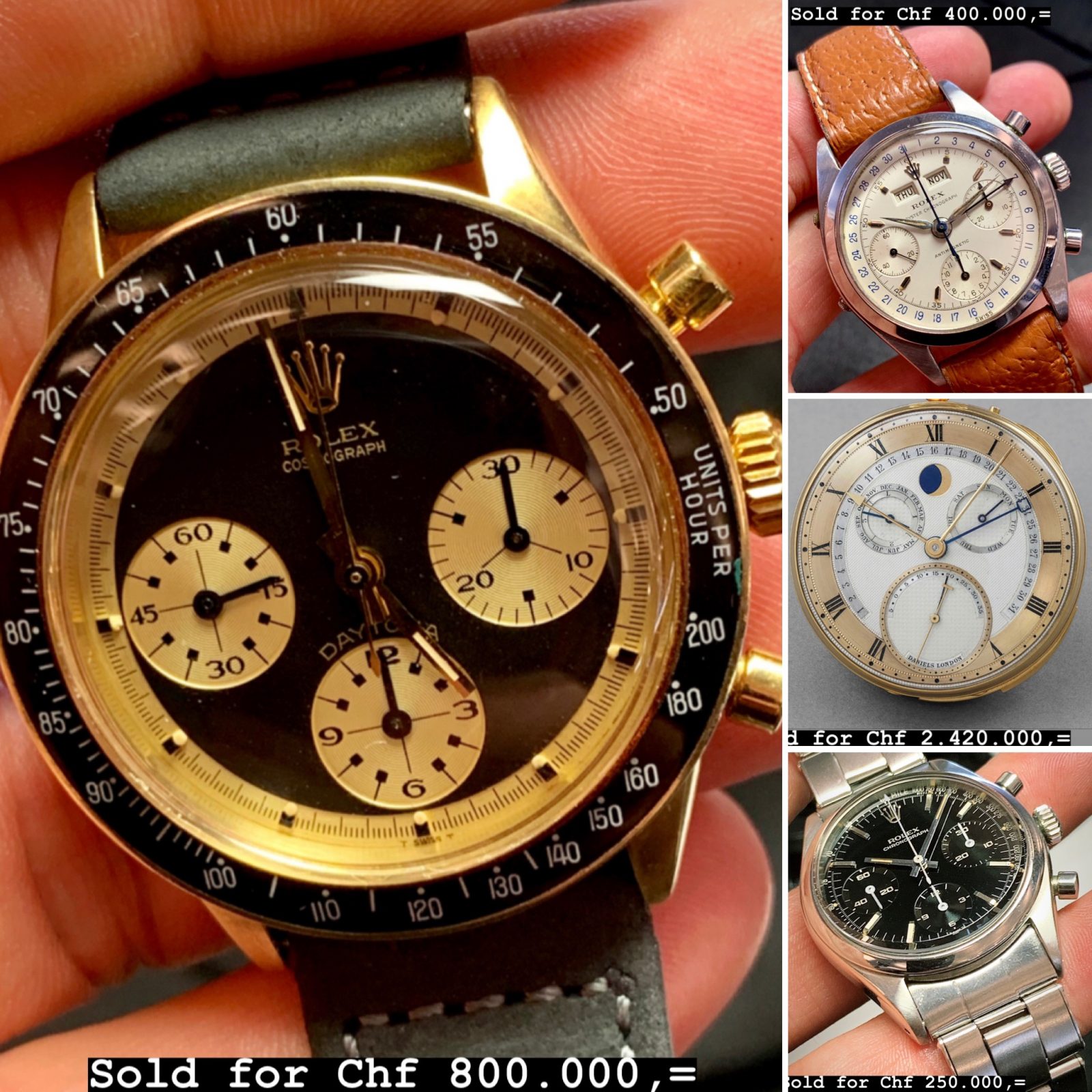 The other side of Geneva…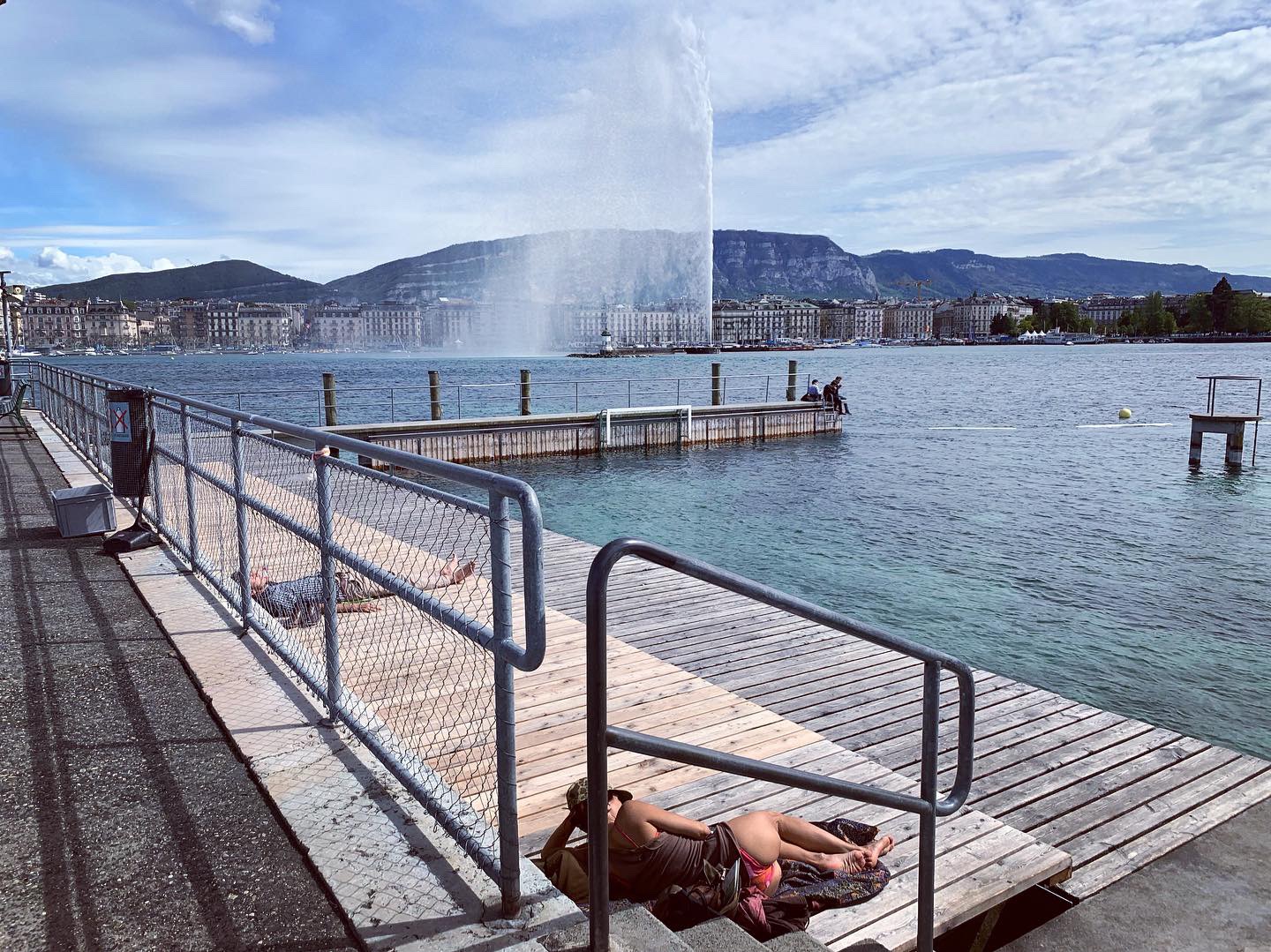 The previous commotion around public opinions pushed online, often falsely spread by so called armchair experts that have hardly studied any up close, was totally gone and had zero impact on the results. As quickly as those sensation seeking amateurs came up, they left the stage as nobody seems to care to listen to a broken record. If you spend big money you do proper investigation, it's old news you need somebody to tell you what to look for, today collectors know what to look for! The good news is that the fun factor is back, sharing your passion with the constantly growing worldwide community of watch nuts is bigger as ever. I met many new faces seriously interested in building up a great collection which was the best part for me! All auction houses performed well again, Sothebys did a great job in such a short period of time to get back in the game due to a strong team of experts. All over this auction weekend was a turning point as it showed us there's no room for made up watches, false claims and orchestrated sales anymore. Although we didn't had blockbuster watches like we've seen before I believe this weekend was even more important then ever because the confidence and trust is back opening a bright future for all of us involved..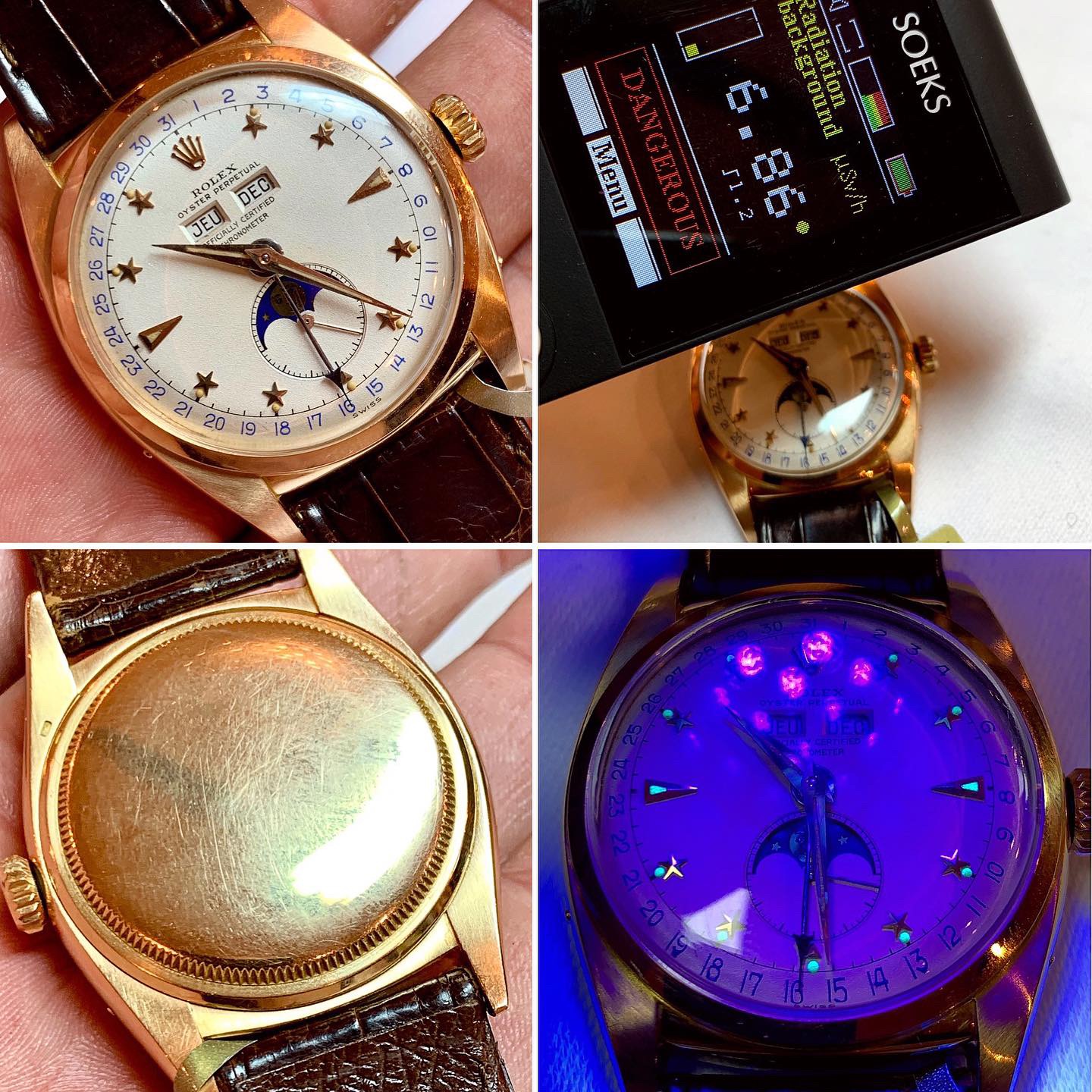 Ending my recap with 2 trends I noticed, first of all the hype towards Submariners is pushing any gilt sportmodel to new heights. Glossy GMT masters doubled in price but also great minute track Explorers are on the move upwards and both you still can find in the open market so take your advantages before its to late. Second trend is restoration, which still needs to be further developed but fact is when a nice relumed pink Stelline Ref 6062 sold for 300K 4 years ago sells at Christies for nearly 1 million now having newly added radium lume dots the market is clearly ready for restorations. A lot of question are raised like who actually did this restoration job handling the dangerous radium material, how was the job done exactly as in the art world all is known and what is the impact of the used materials on the dial in the future, is it reversible etc. Time will provide us the answers but it clearly opens a whole new market, a perfectly relumed pink 6062 sold for 1 million so an all original untouched pink 6062 Stelline is at least 2 to 3 million now. The restored ones are helping to push the all original examples upwards in price even though none are being sold. It was a great pleasure seeing you all, take care, next stop Hong Kong, looking forward seeing what the curated Sport Watch Phillips sale is going to do.
Enjoy an overview of the picture I made last week..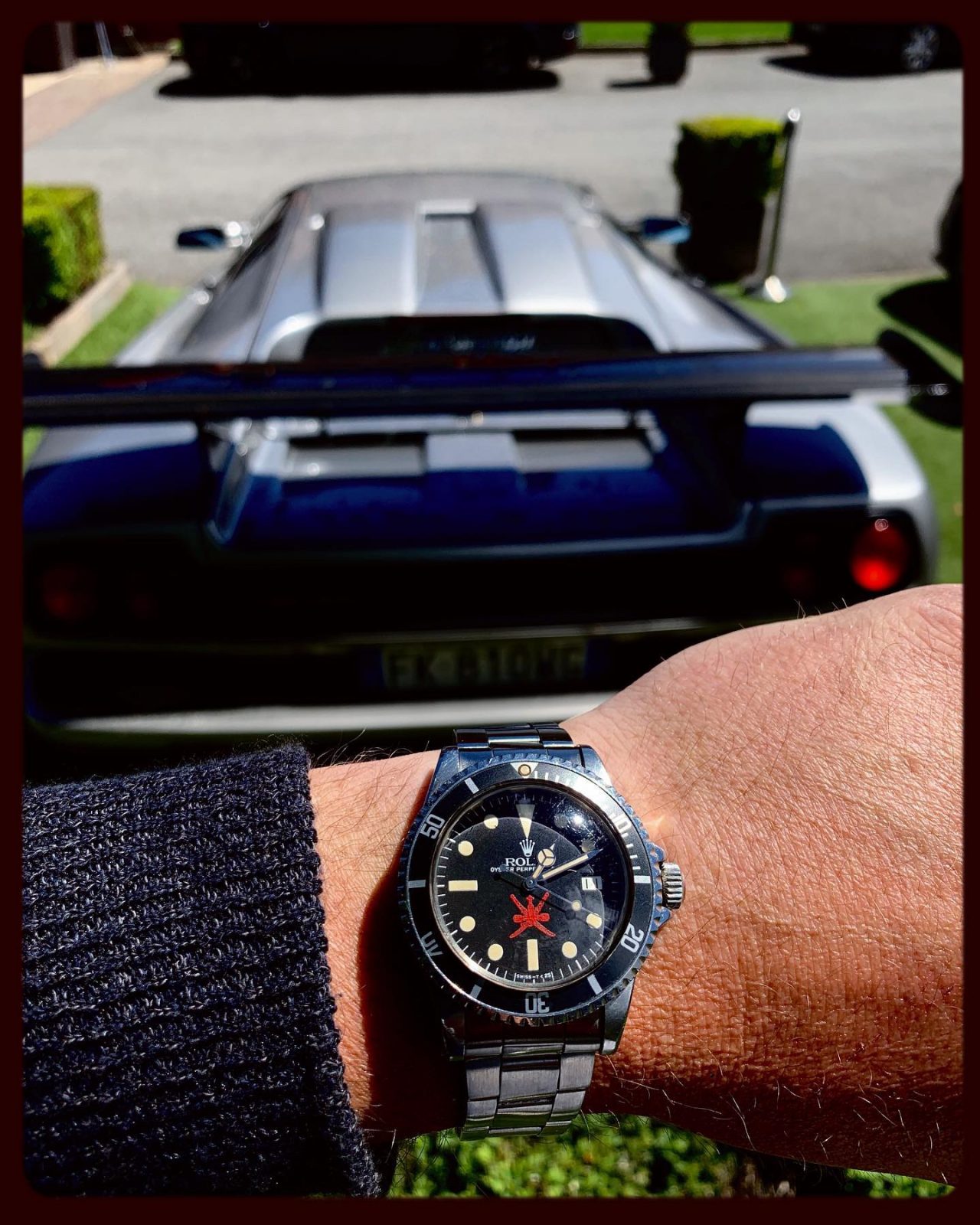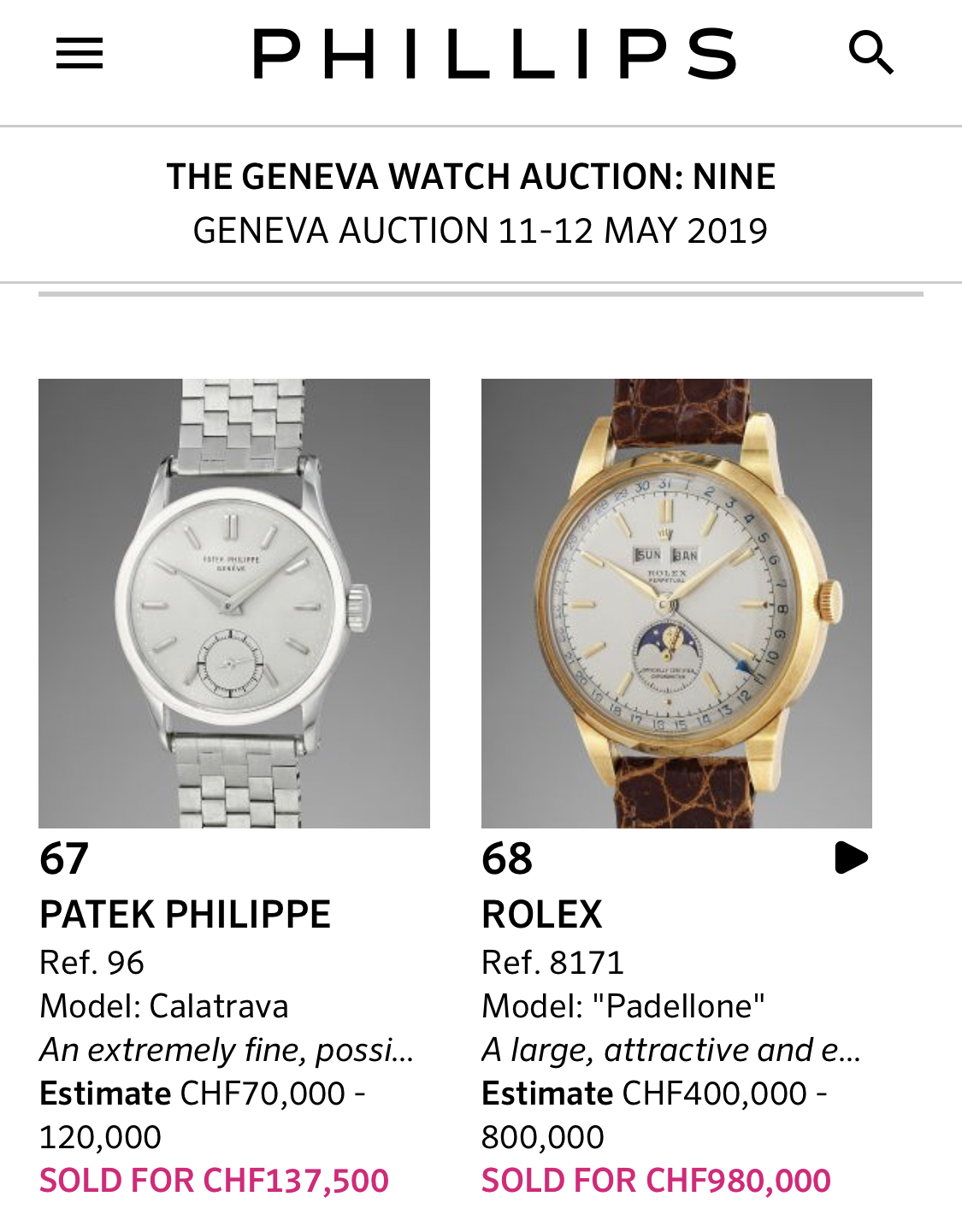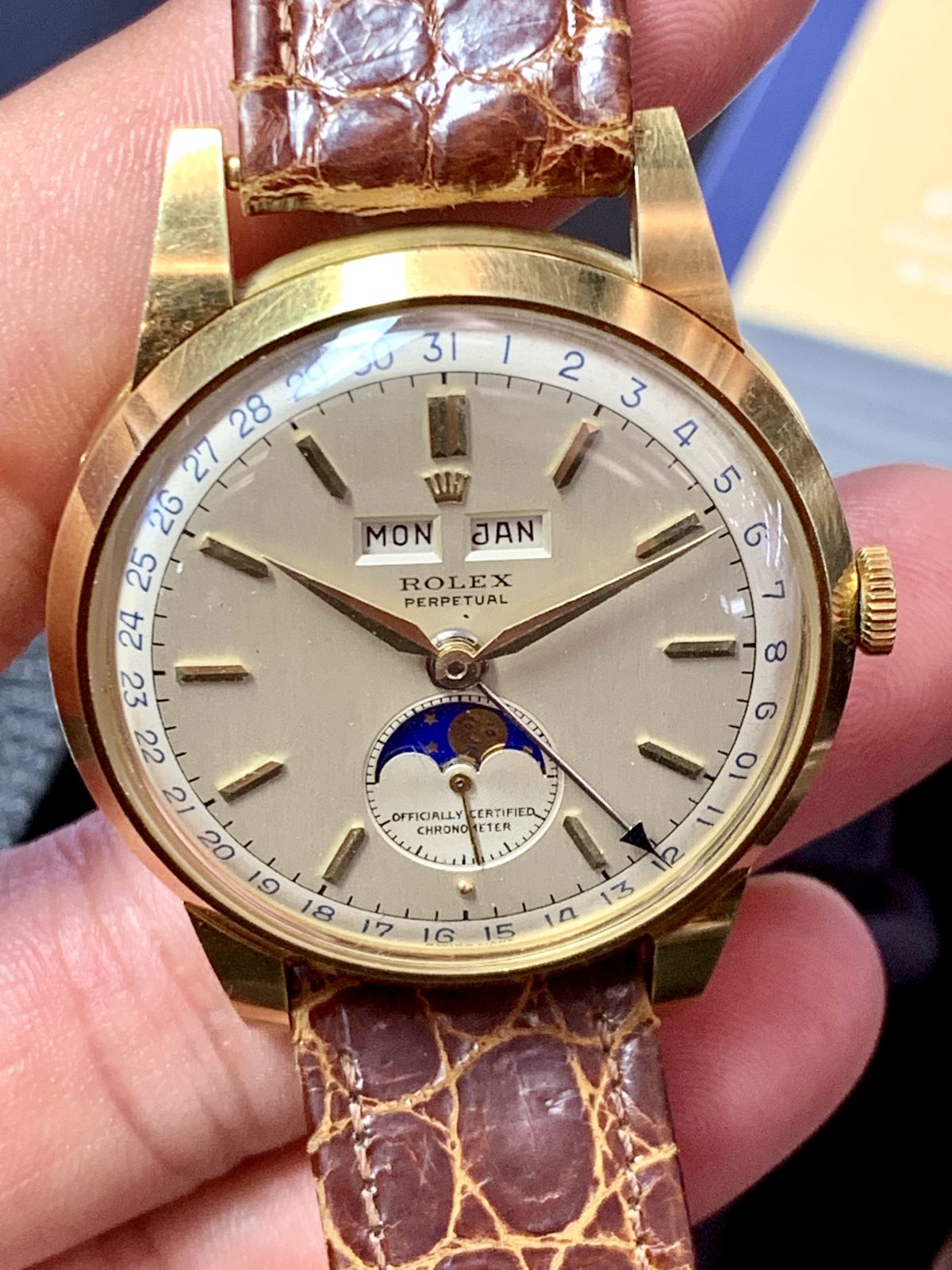 Andy Warhol's 3525 exploded at Christie's for Chf 471.000,=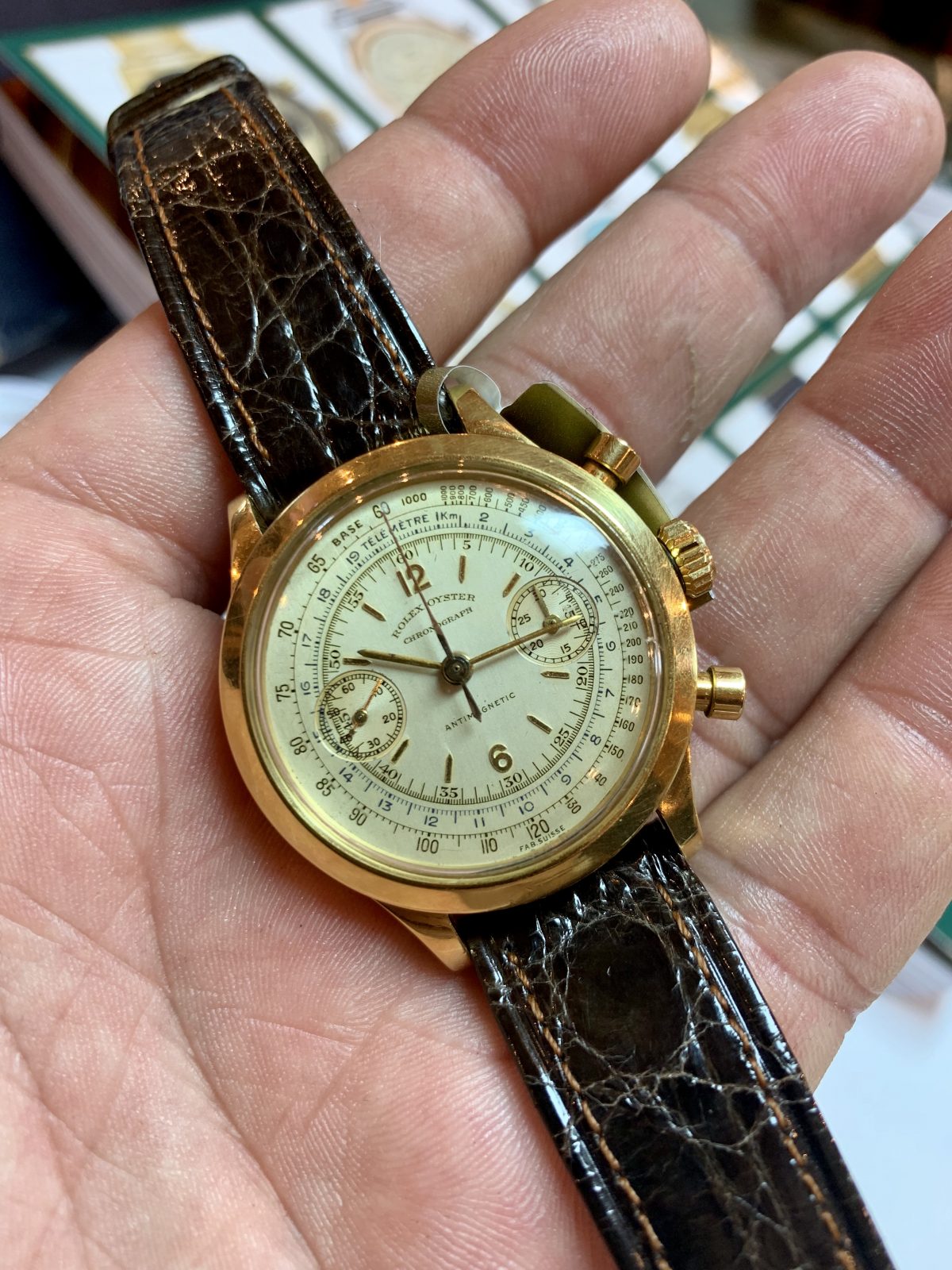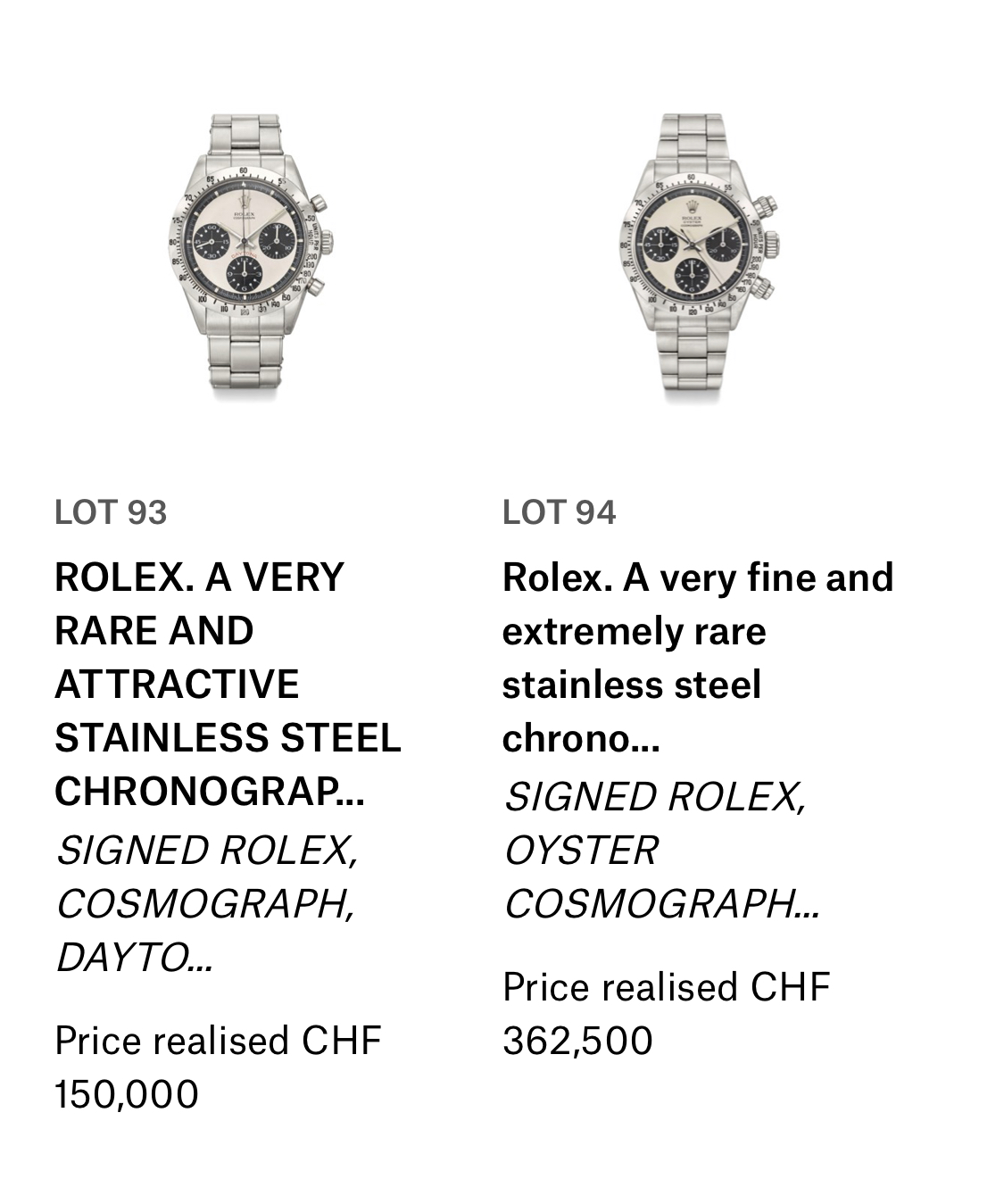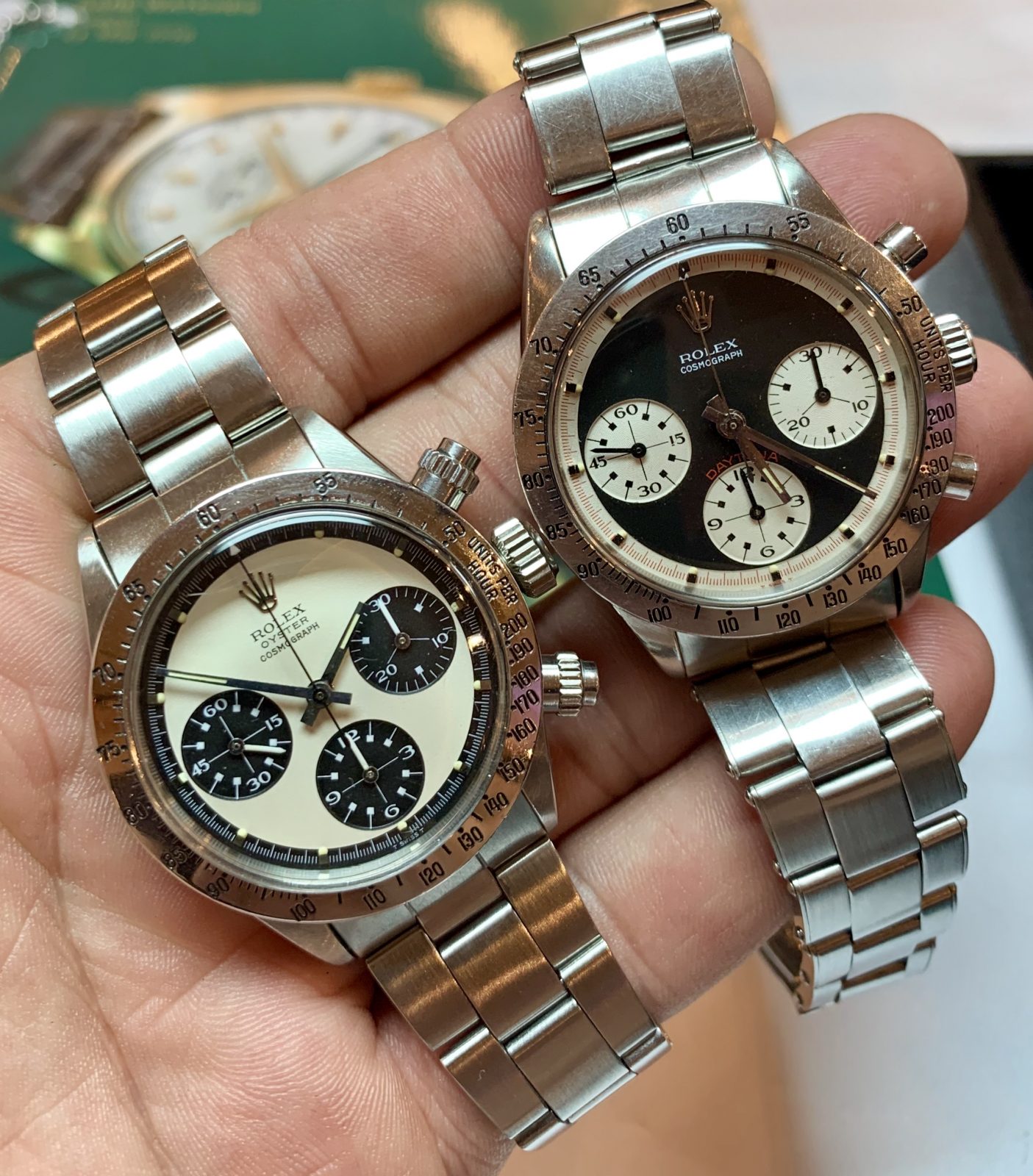 Nice but not perfect and thats why they don't hit 400K plus anymore… Only best will go higher.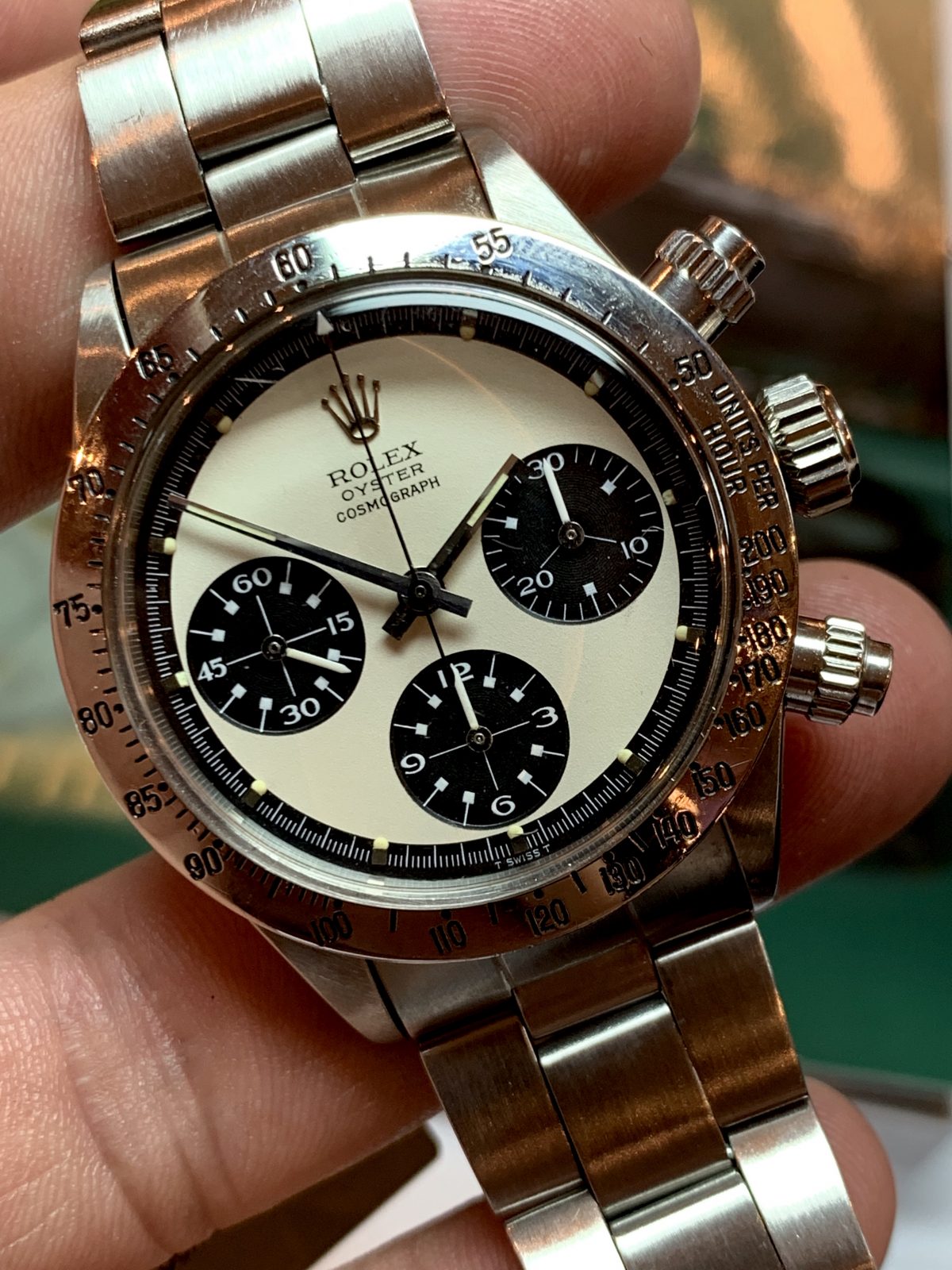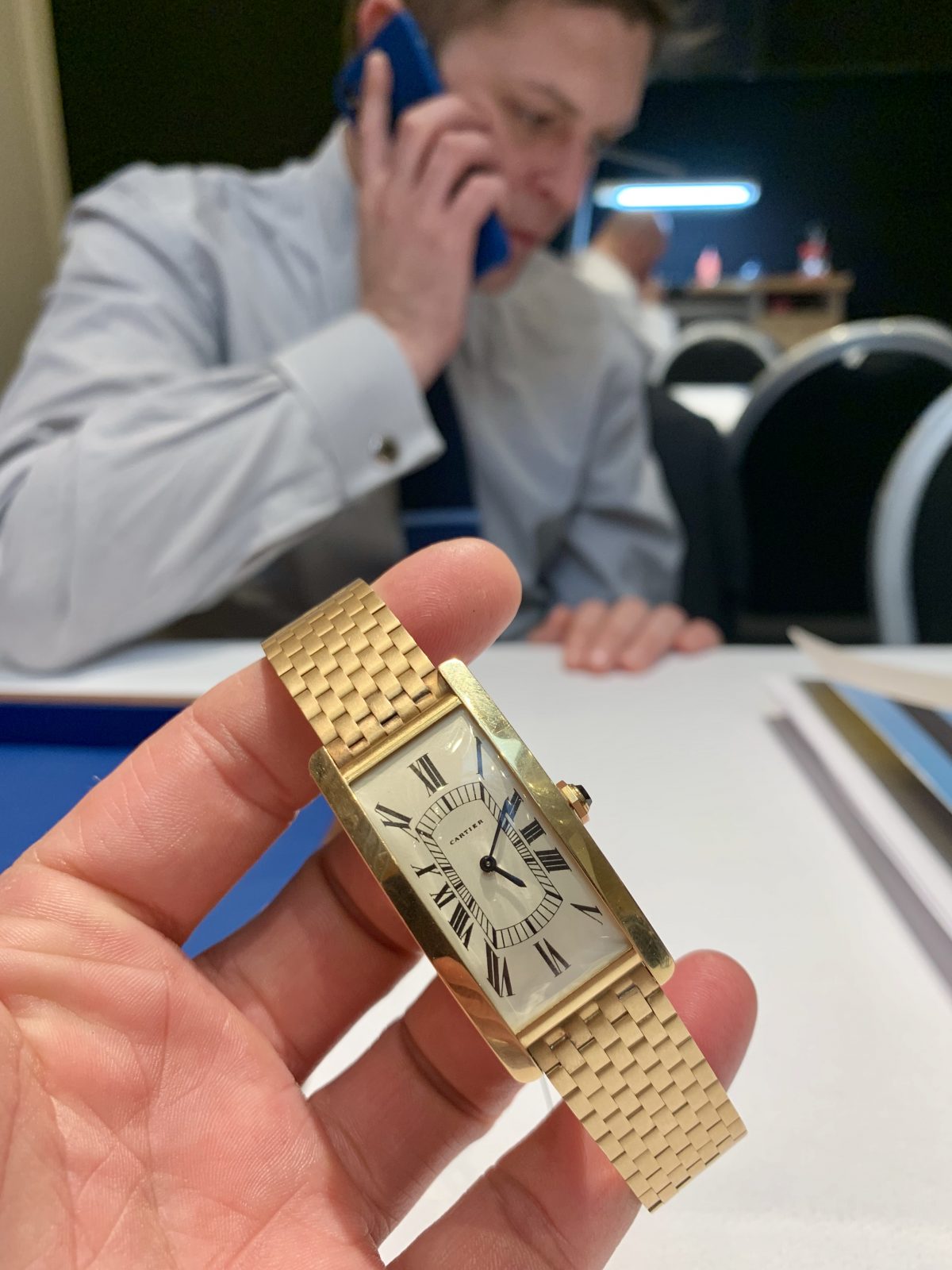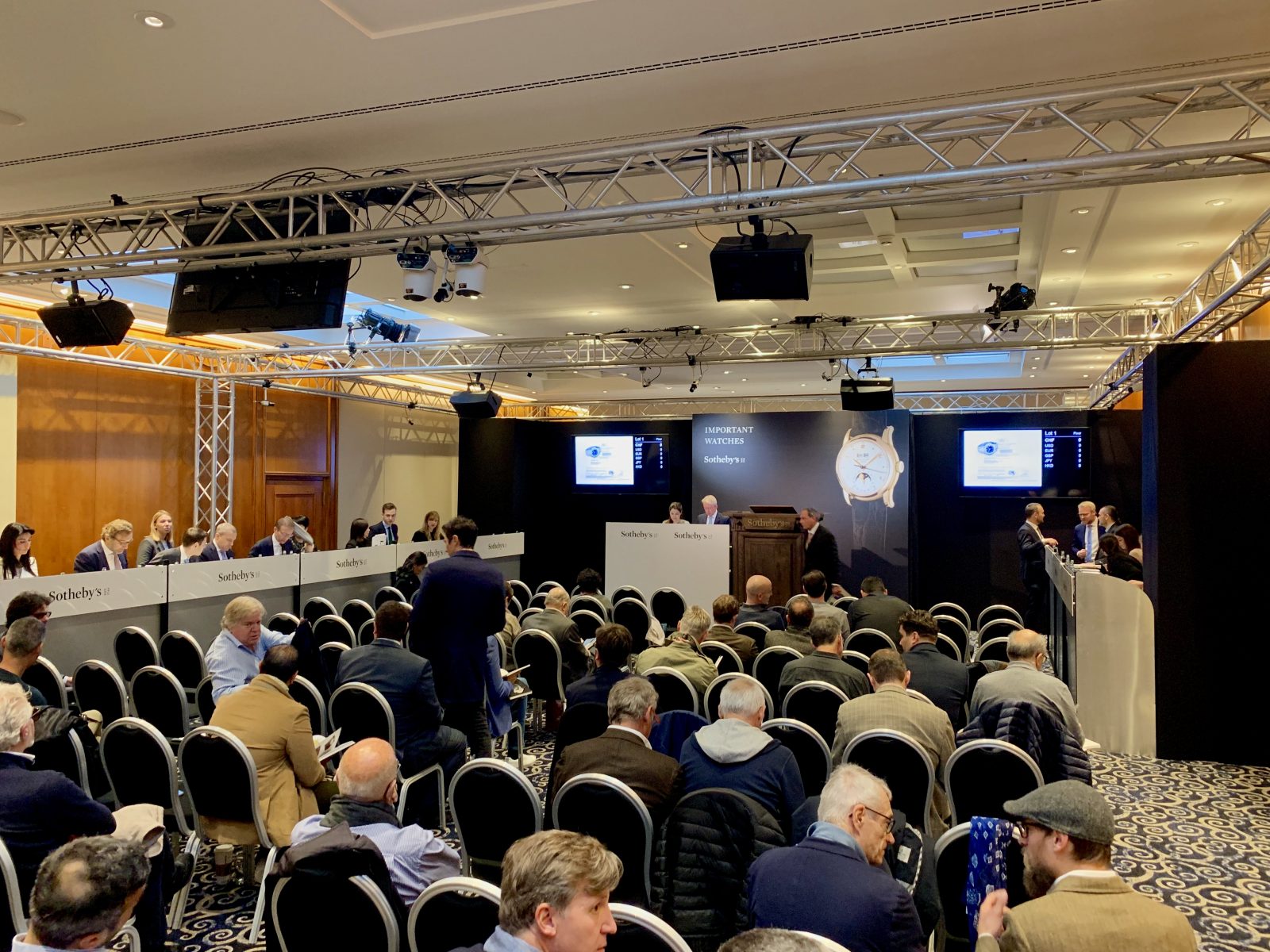 One of my favorites together with the minty Ref 5508 small crown…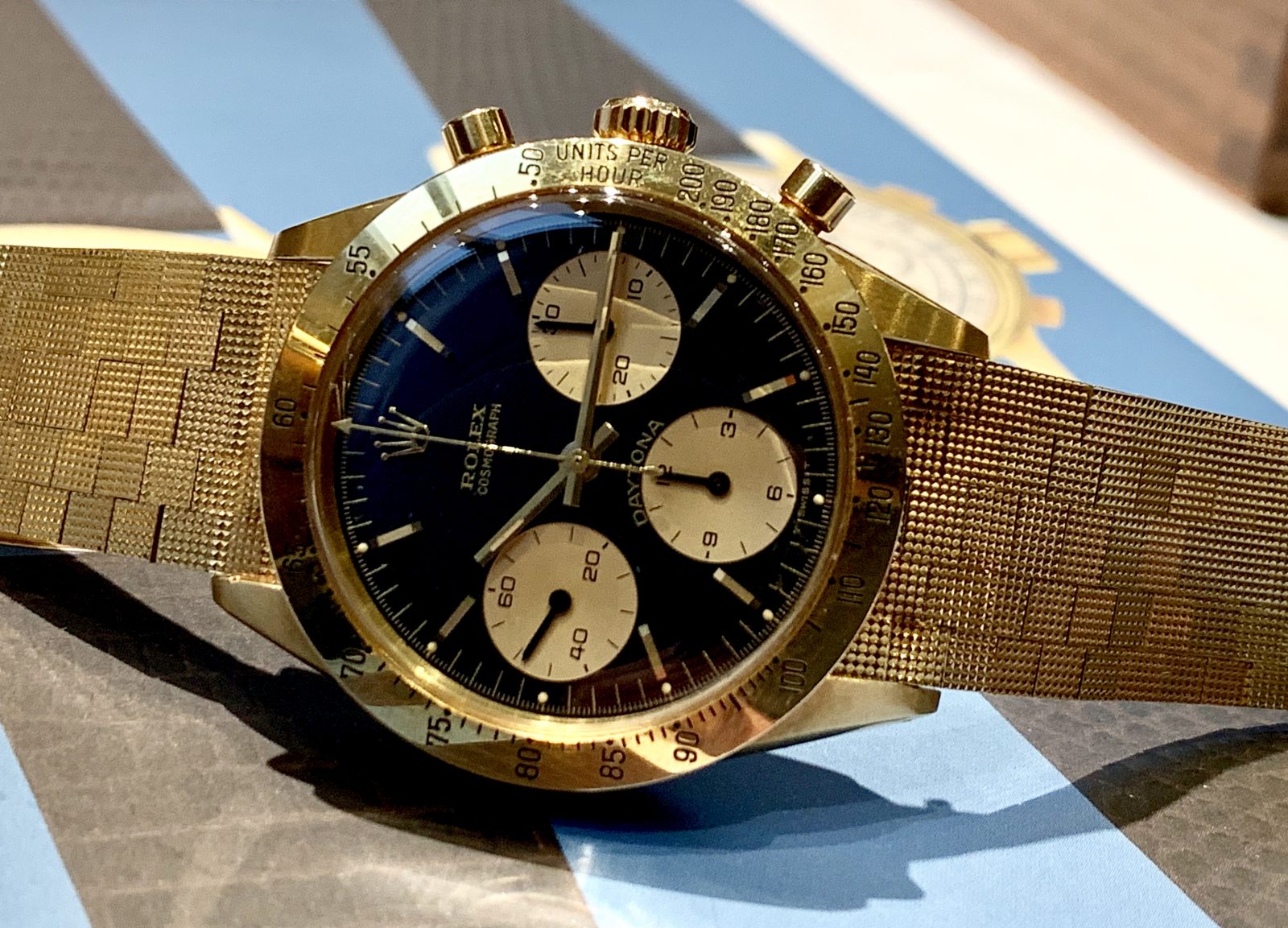 To find a rare 18 k gold Daytona ref 6239 in this condition & bracelet is indeed an exception so I was not surprise to see it hit Chf. 450.000,=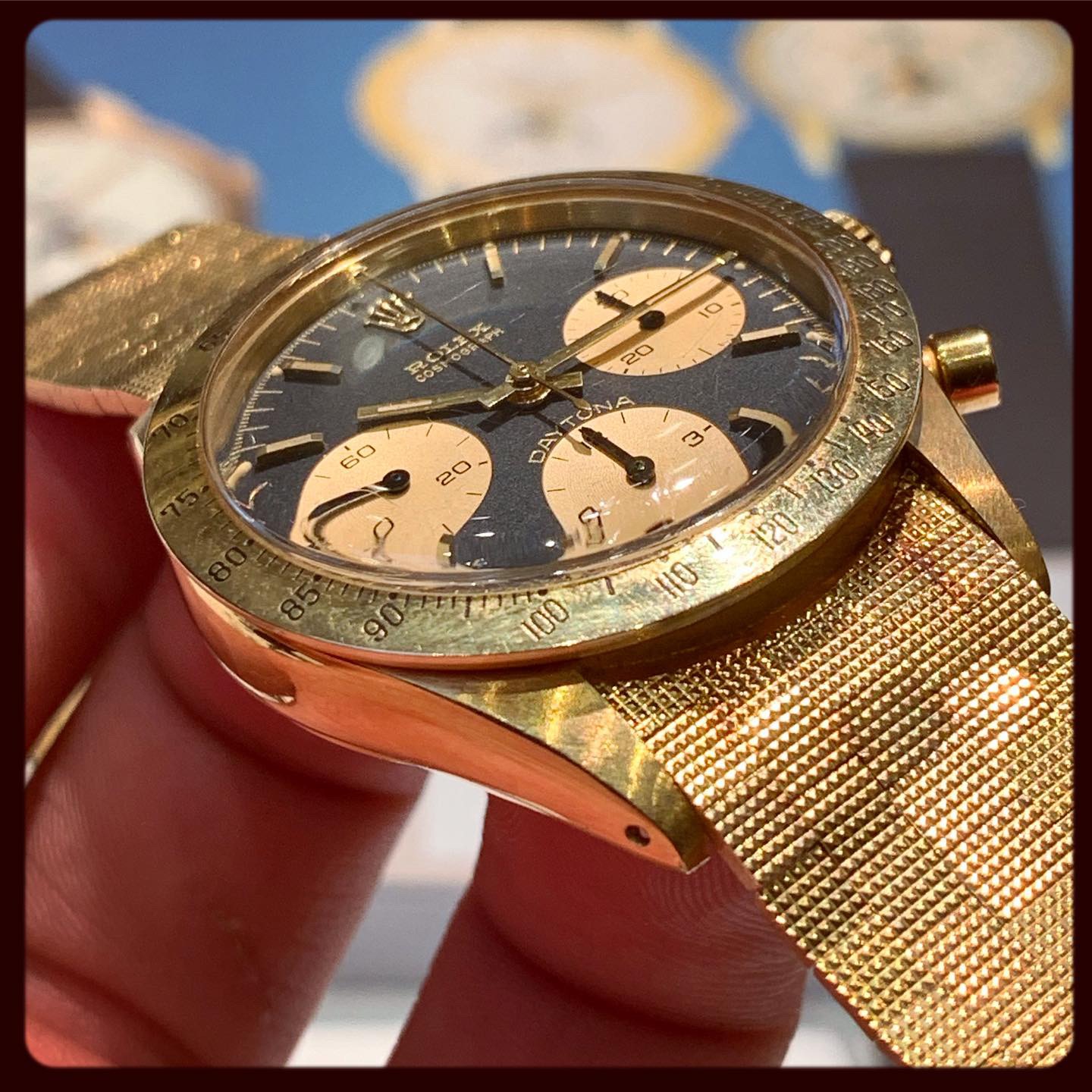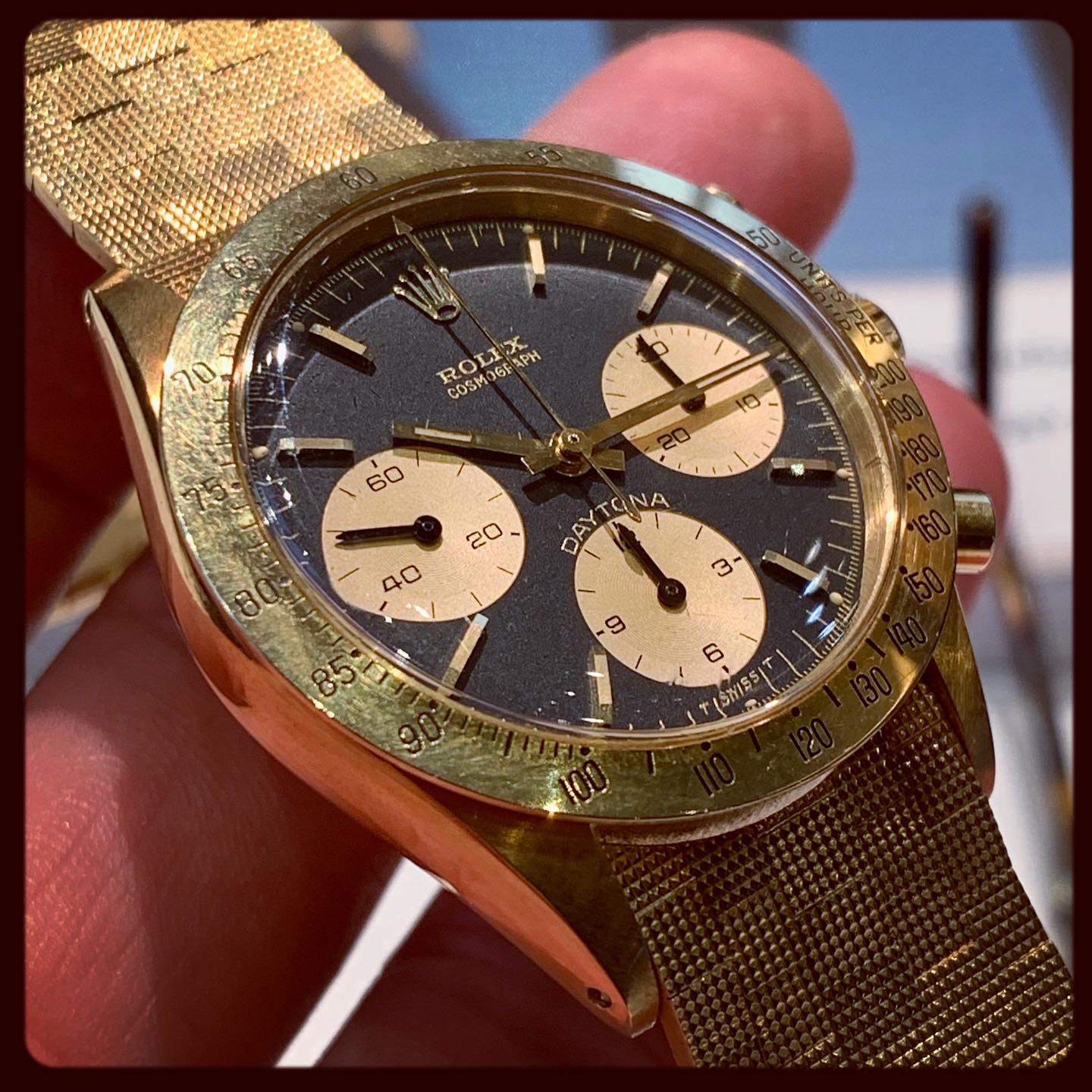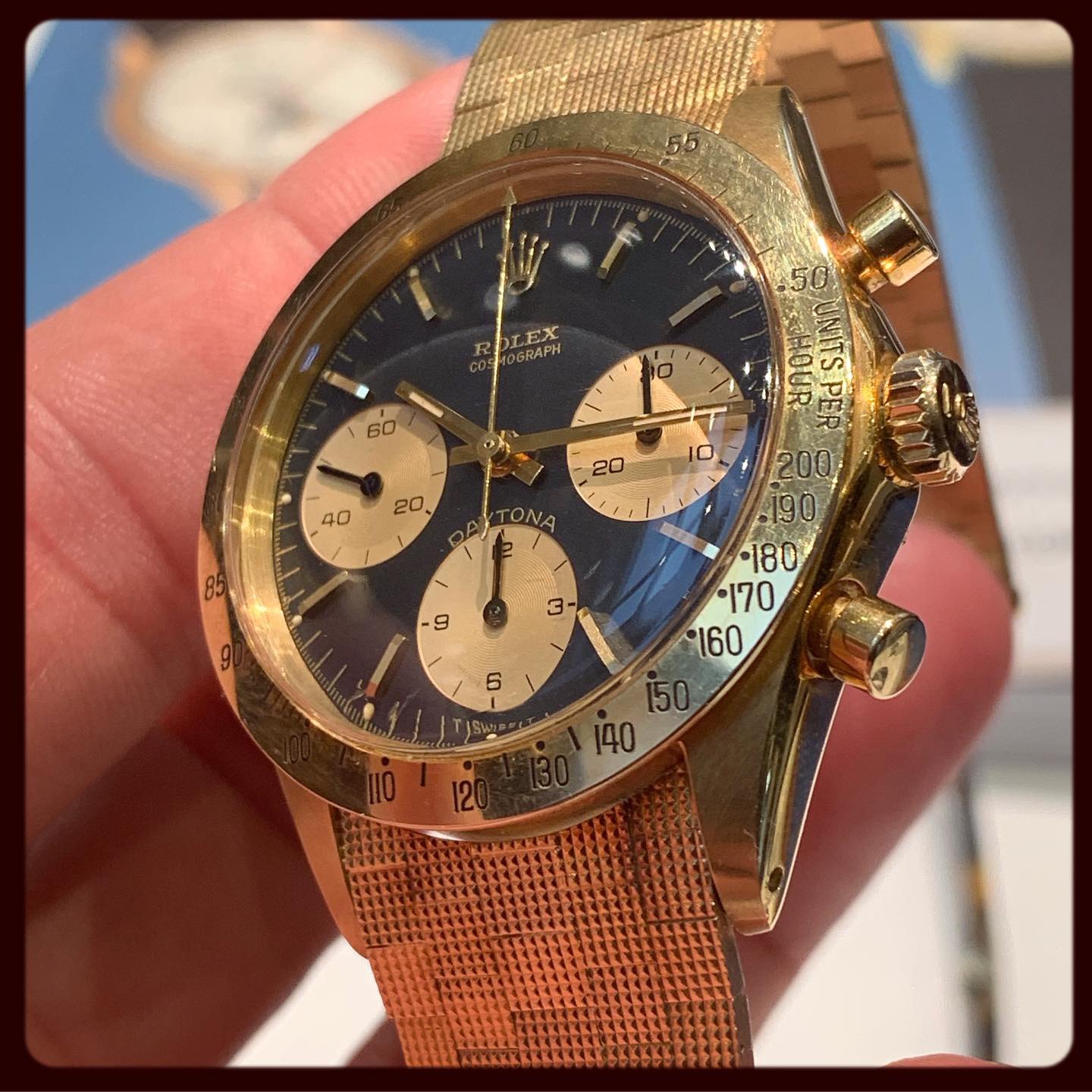 At Sothebys checking pout their Rolex highlight. Again i'm pleasantly surprise to see them do so well, congrats to all of you involved for the hard work you put in to be back where you belong…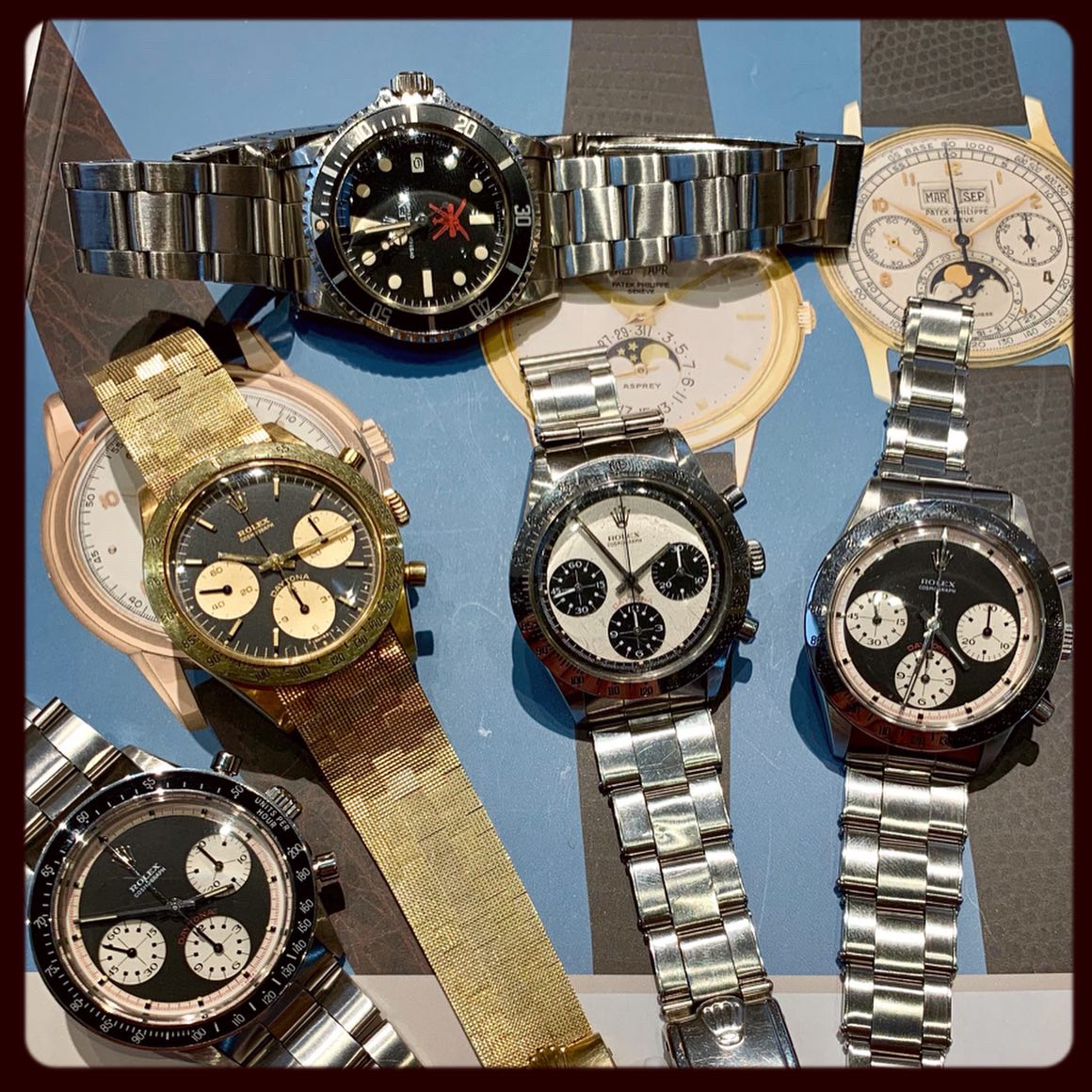 Octopucci….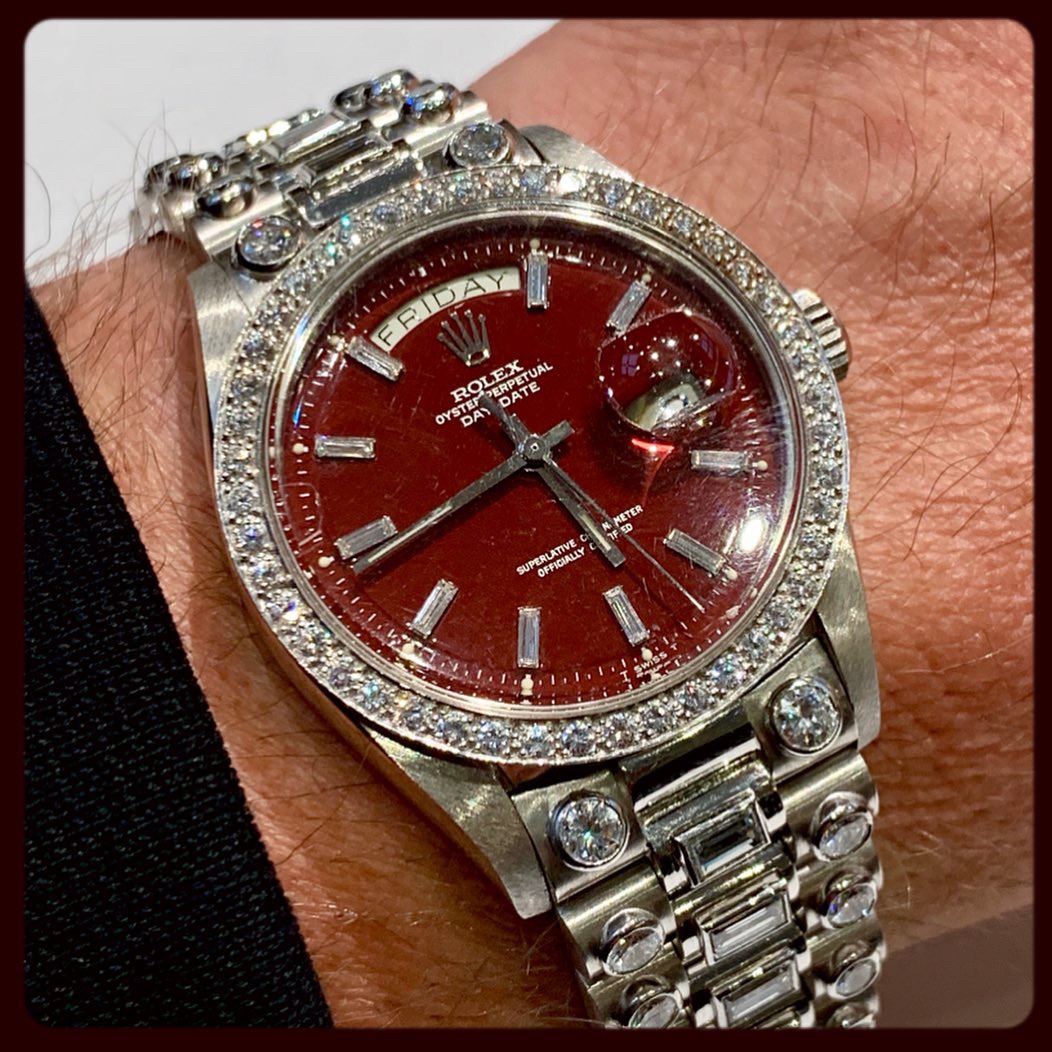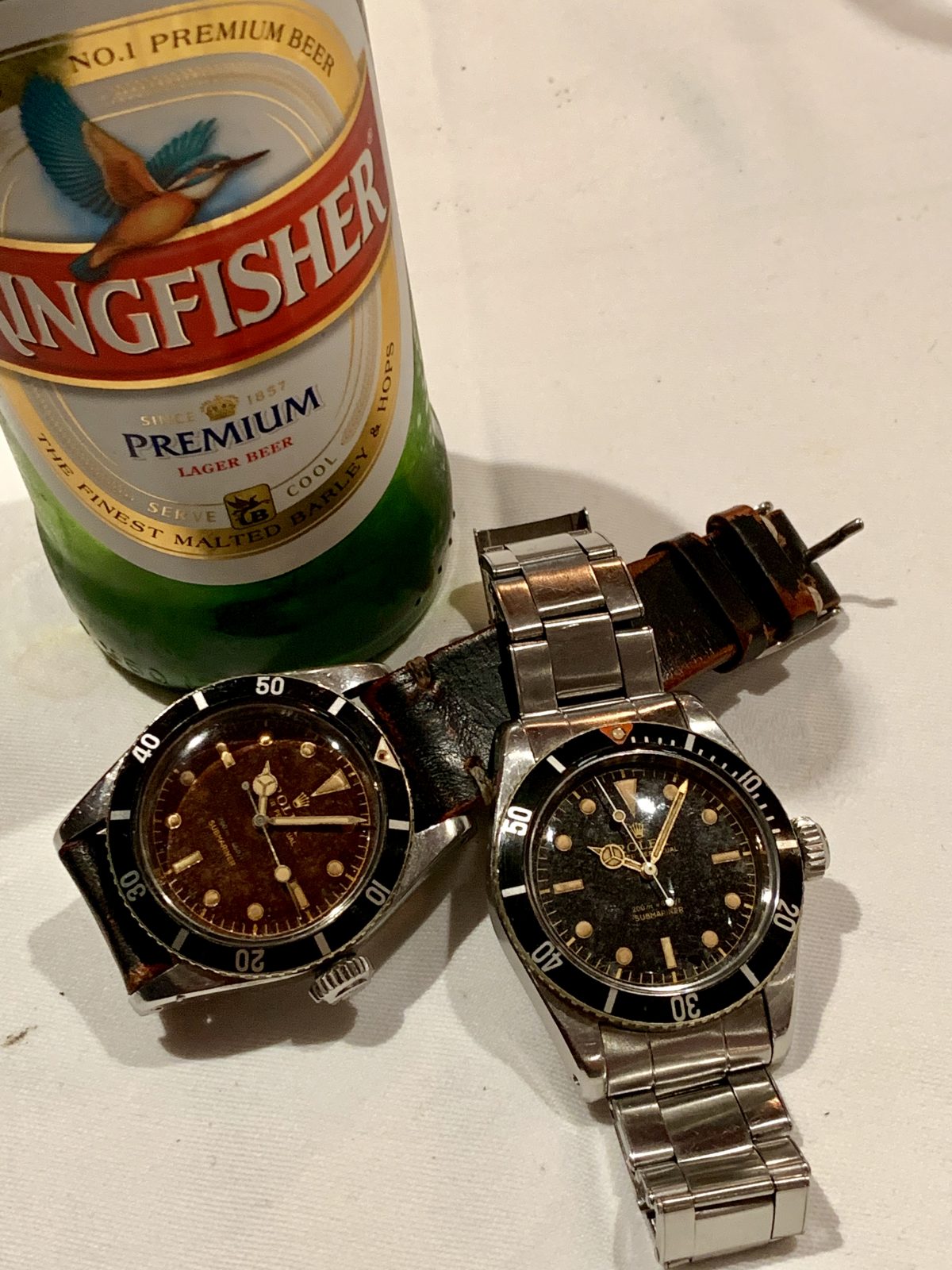 Enjoying my 1957 brown Big Crown Submariner Ref 6538…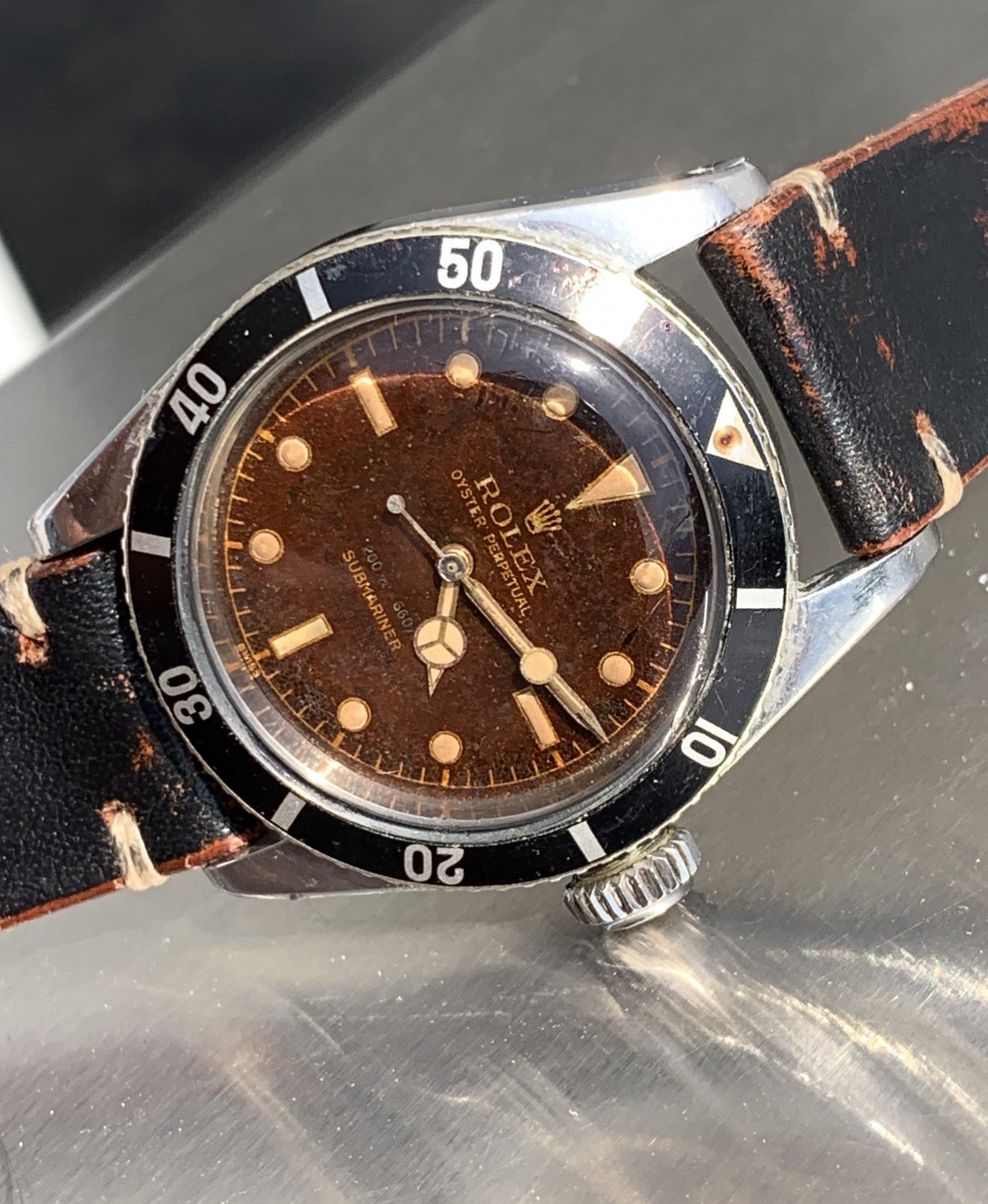 If you look carefully you see it's a 4 liner, which spend most of it's life in the Bahama's..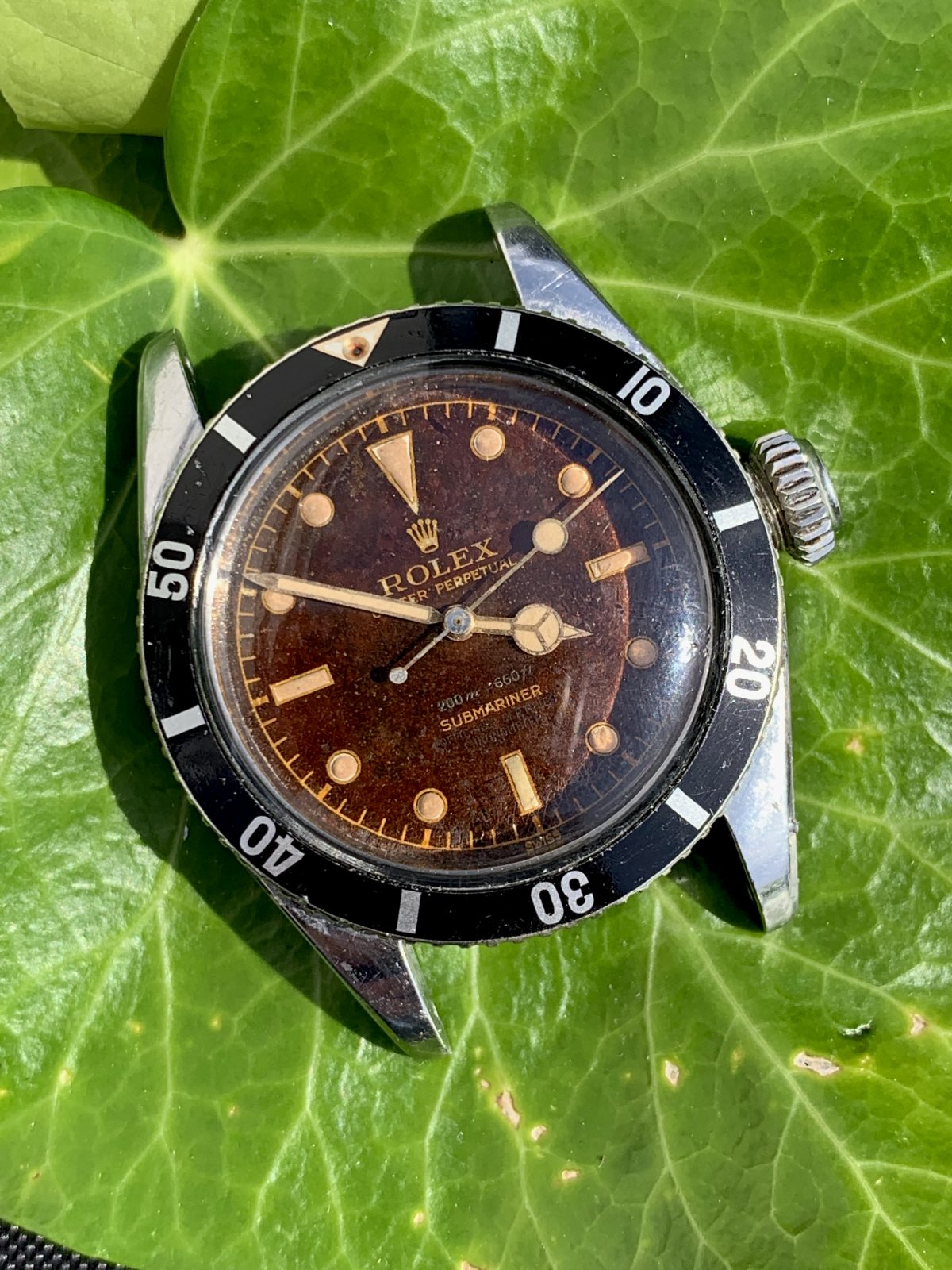 The many dinners I have with watch  friends are always the best reason to go to Geneva, cheers to that!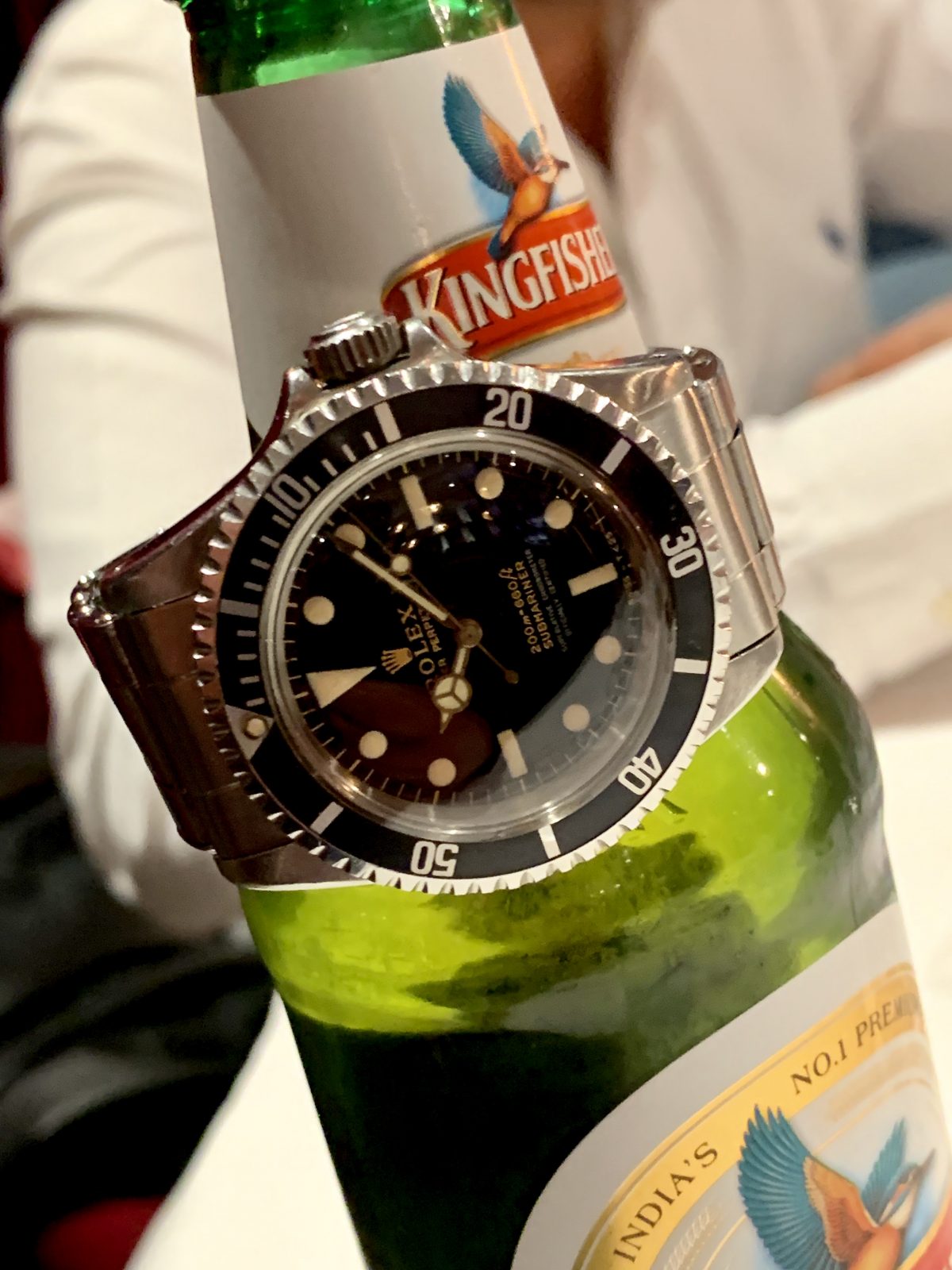 Although it wasn't having the correct reference number carrying the Ref 6265 instead of the 6269 reference, it shows us how expensive original rare parts have become, final price was still Chf 368.750,=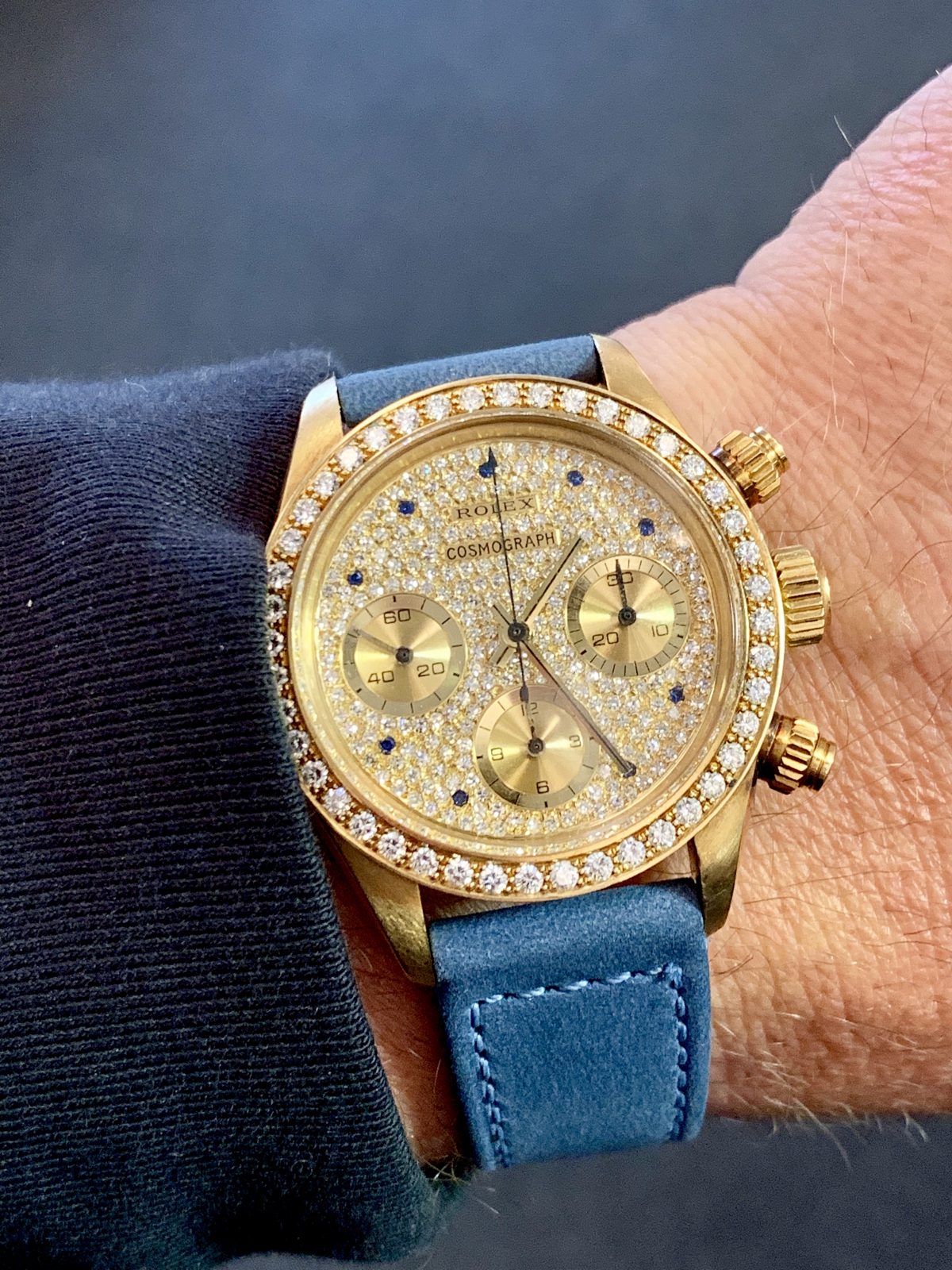 Beauty sells 😉
A good Oyster Newman ref 6263 and a 18K yellow Gold Pump Paul Newman ref 6241 are about same price now..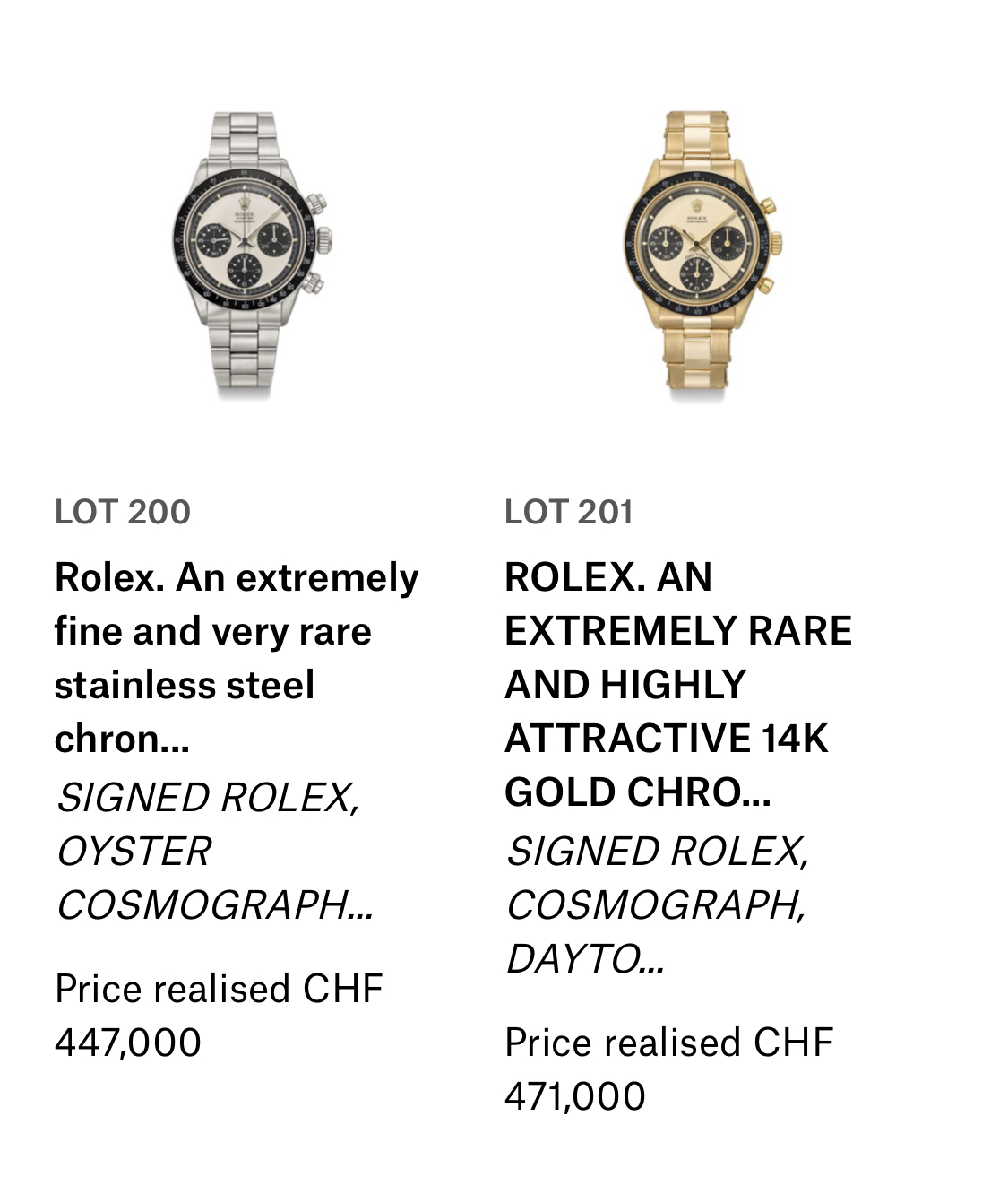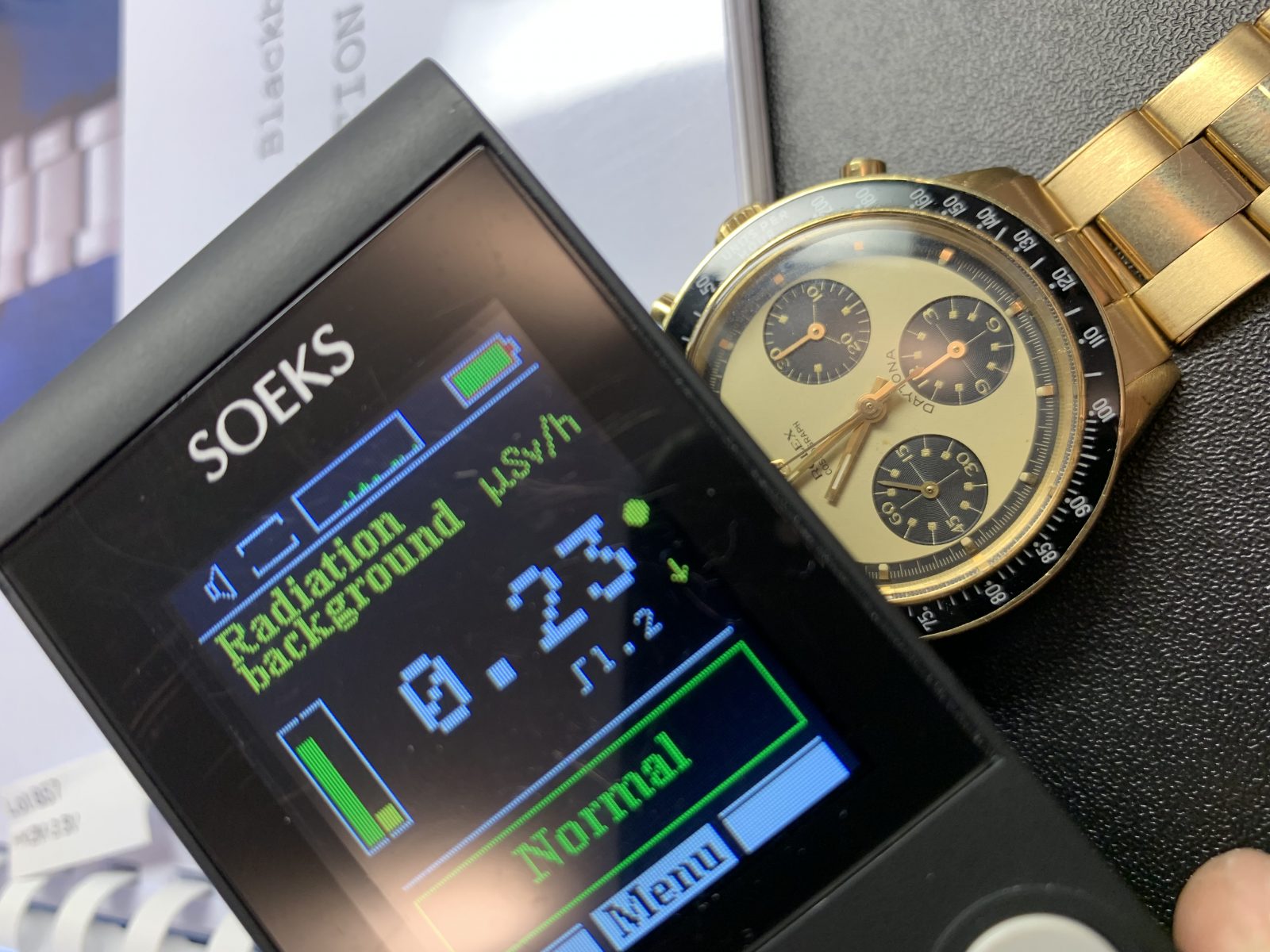 As always I travel with a geiger counter to double check the radiation on vintage Rolex. Not only to see if the radium level is according to my research but also to see if the tritium level is still present, both Newmans above show us a lower then 0.25 as it became standard after 1964 Swiss T<25…
The many exceptional watches collectors show me during the auctions is one of the reasons why I go…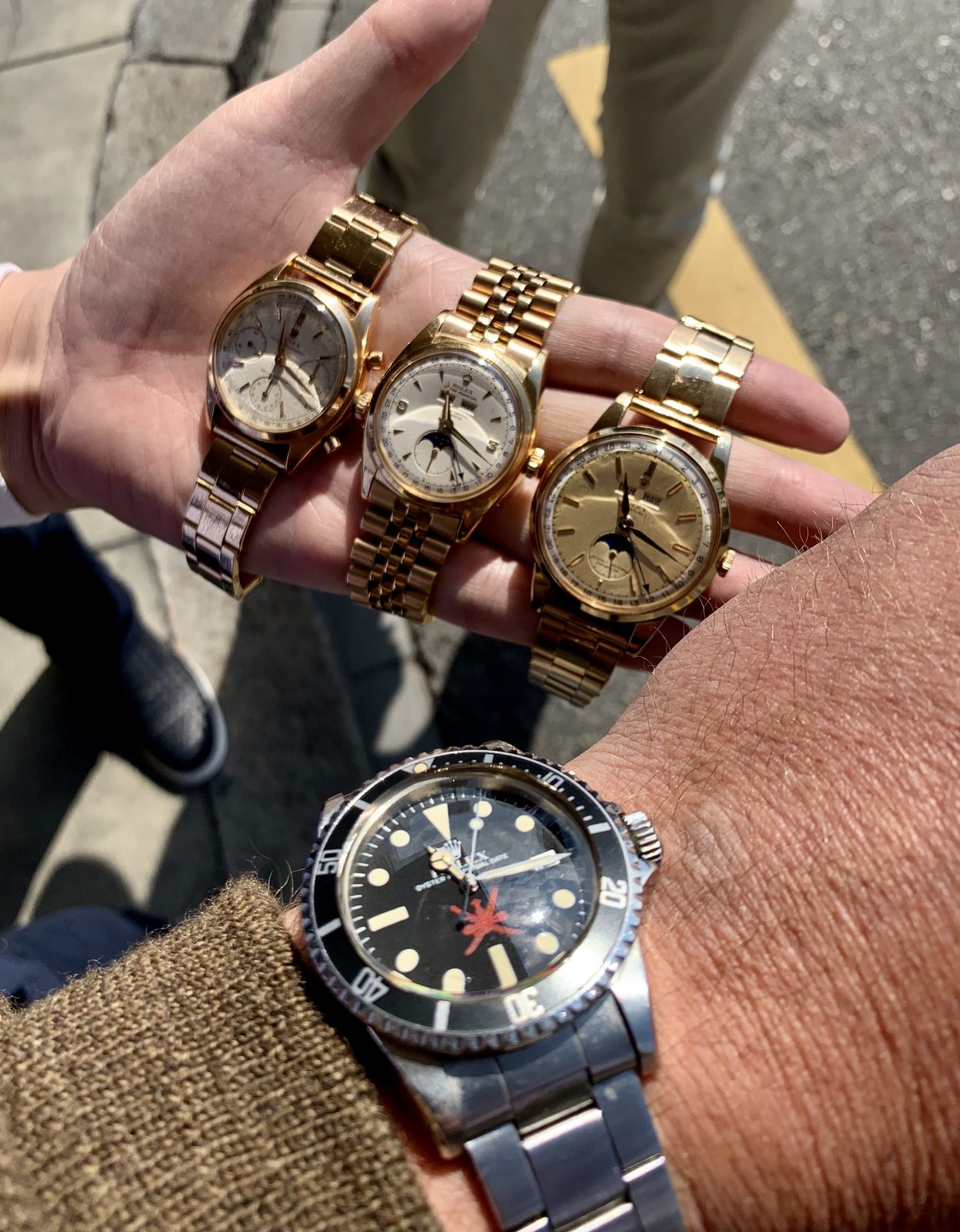 Mr Tudor wearing a Rolex, in camouflage 😉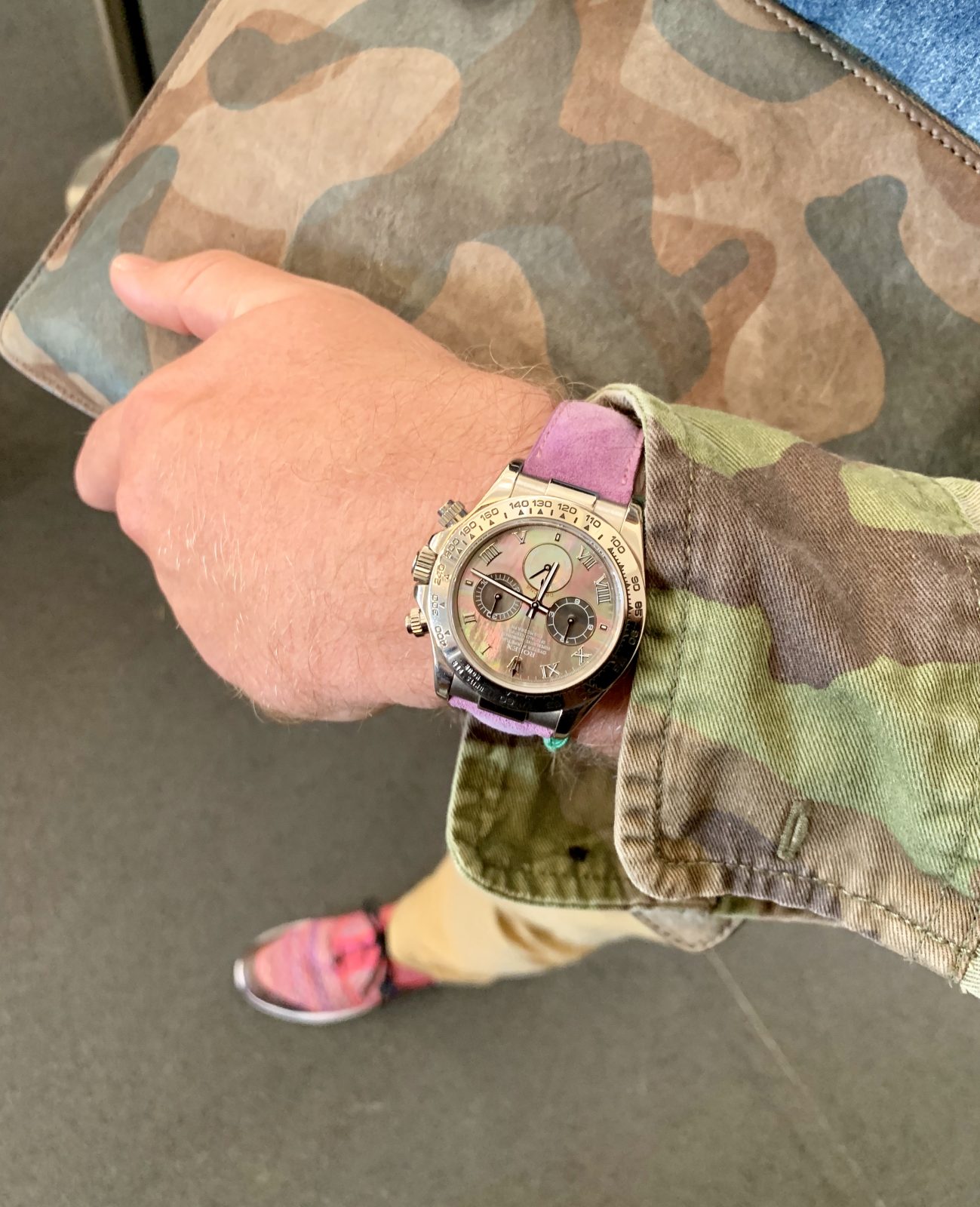 Everest Rolex at Phillips Private Treaty enthusiastically explained to me by James Marks from their London office, well done!…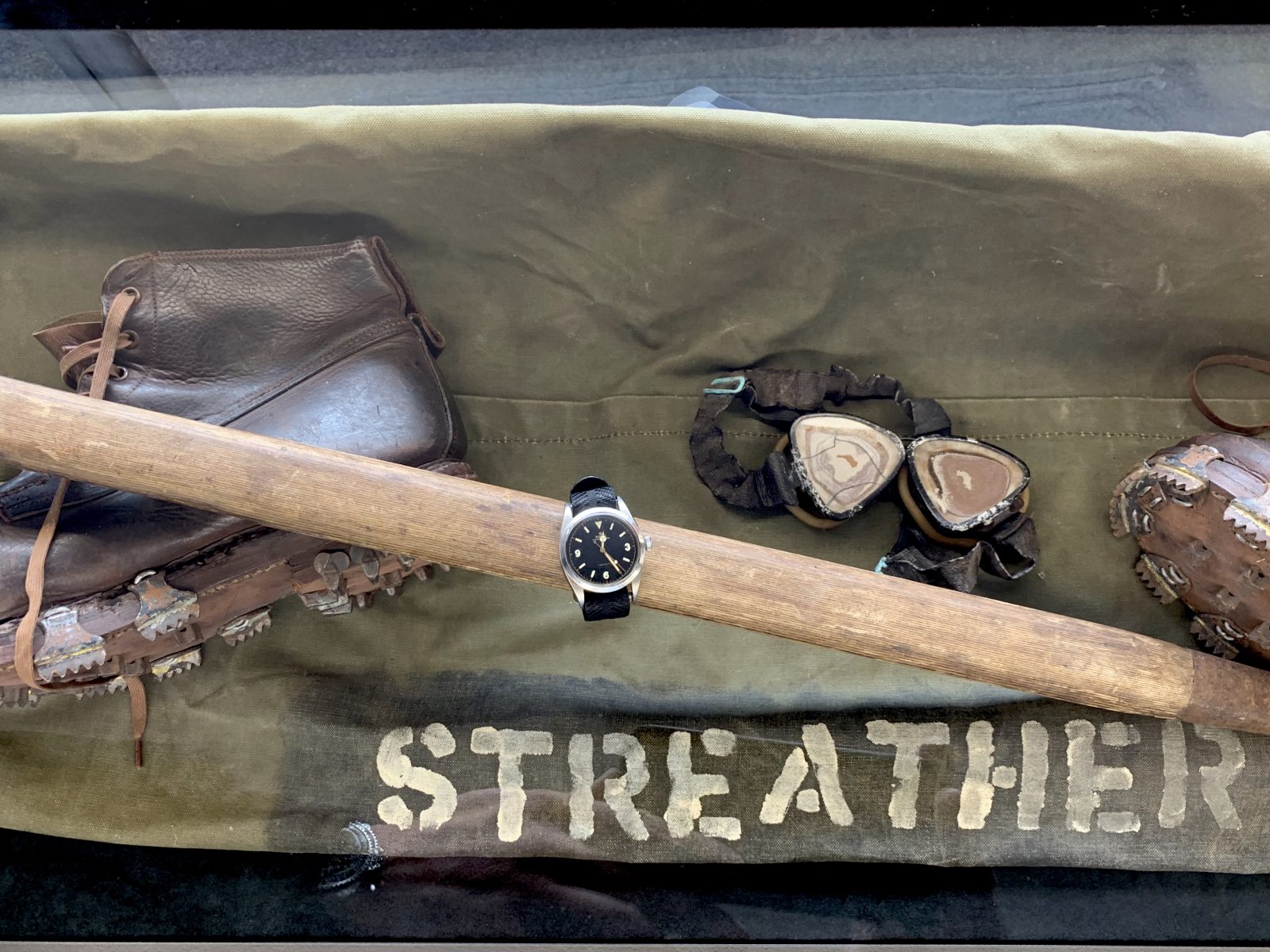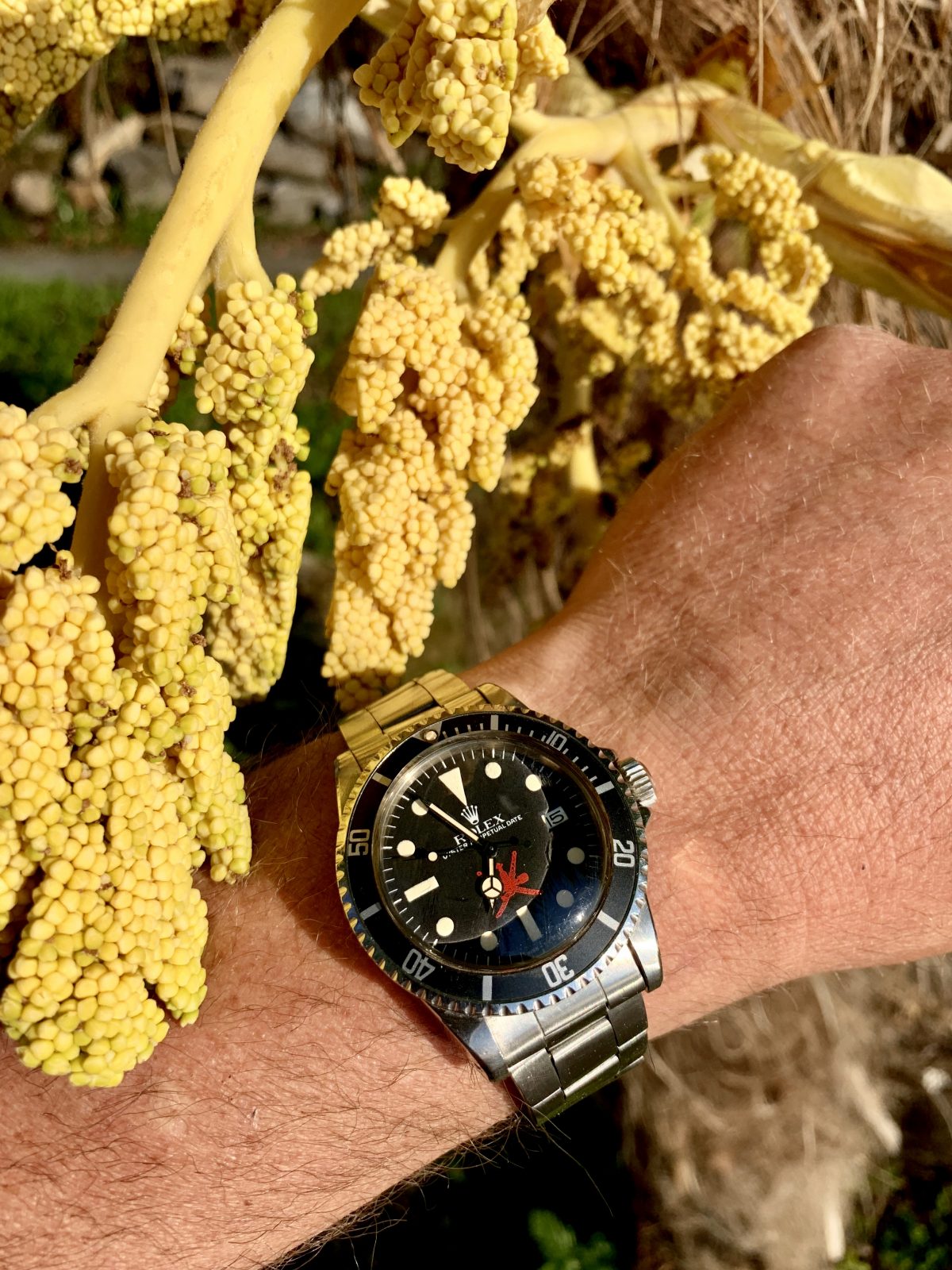 Not my cup of tea but impressive to say the least…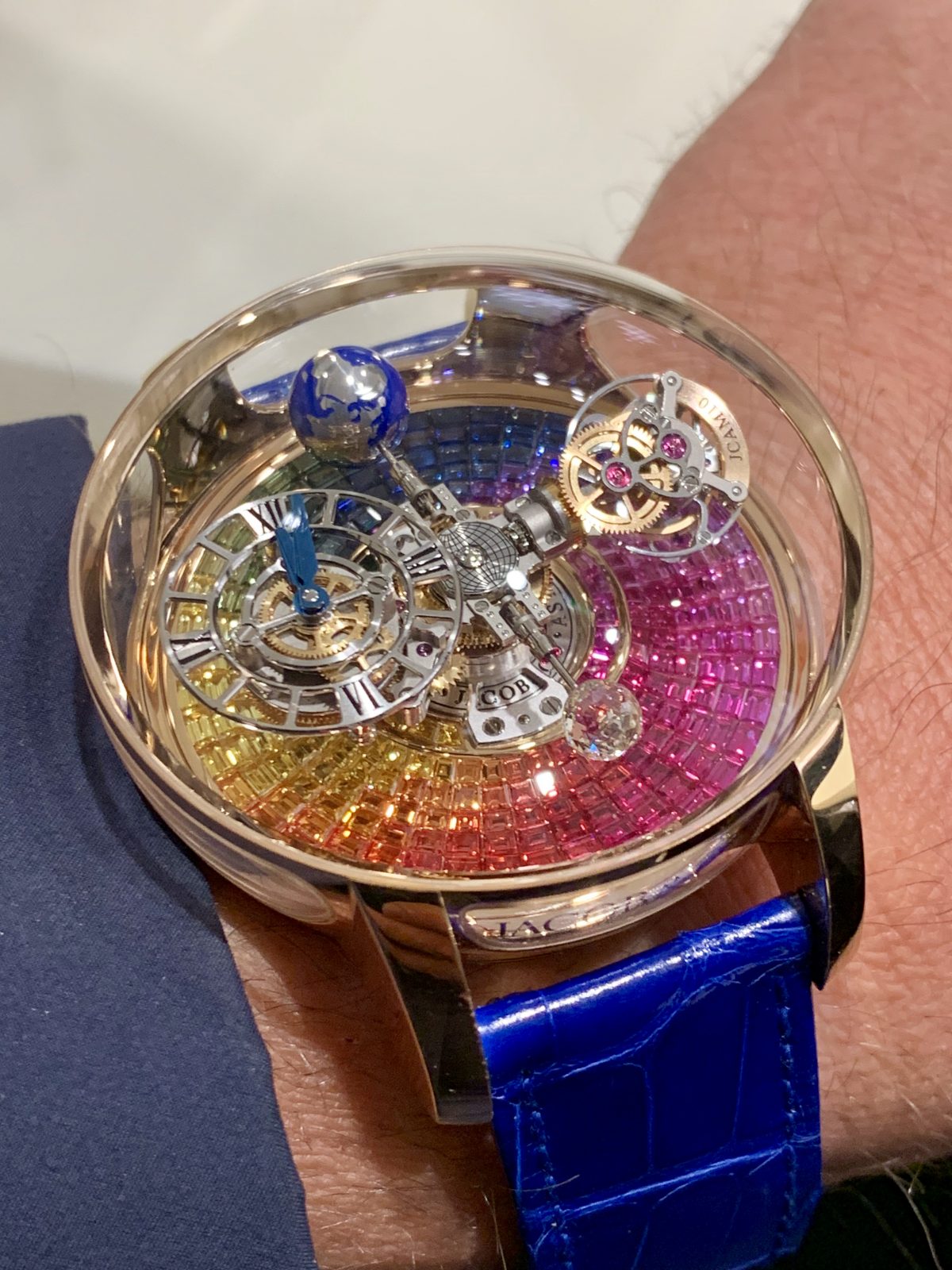 Check check, double check…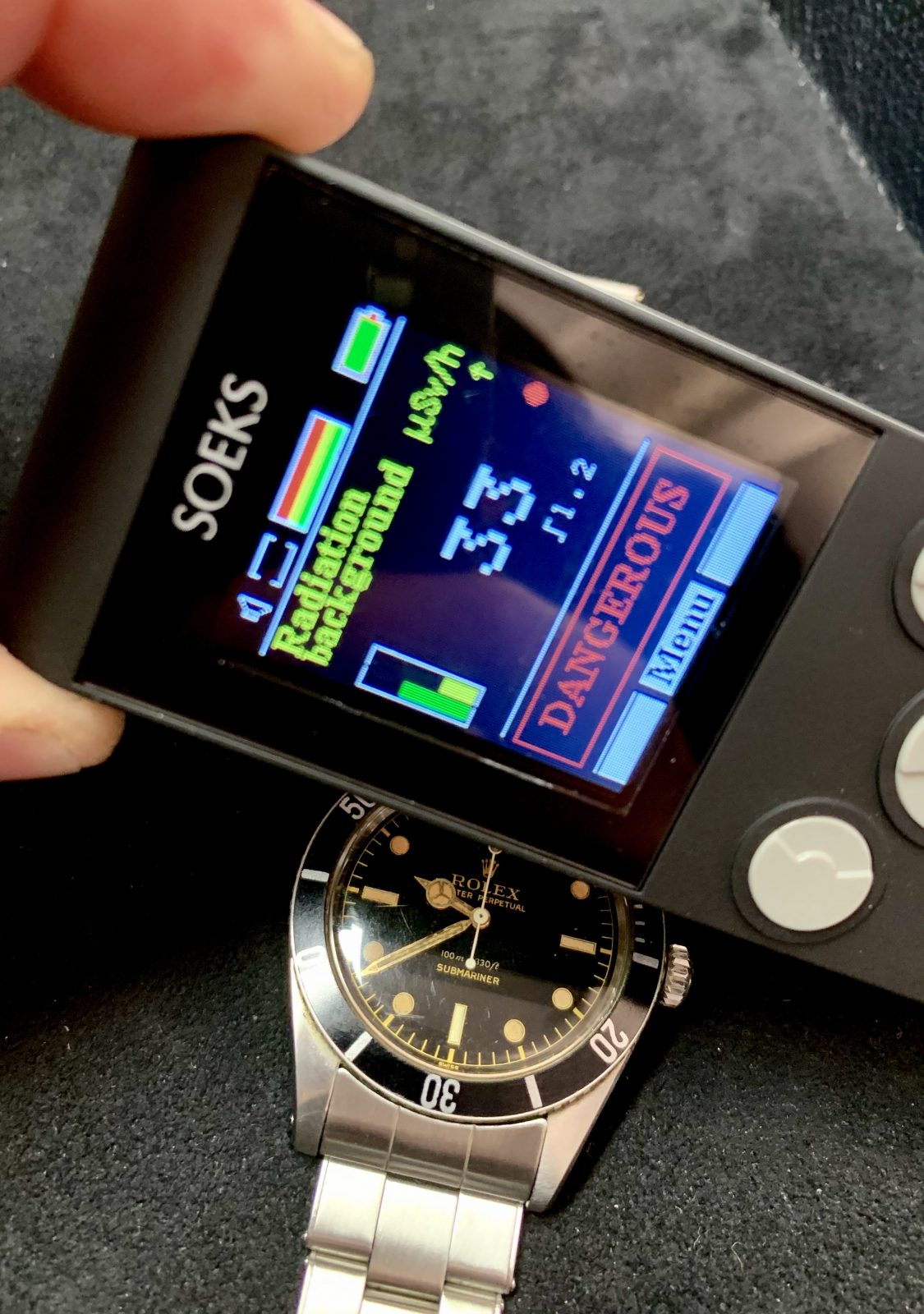 The meaning crisp whole new level after this 5508 was found… Every details and angle is like new old stock.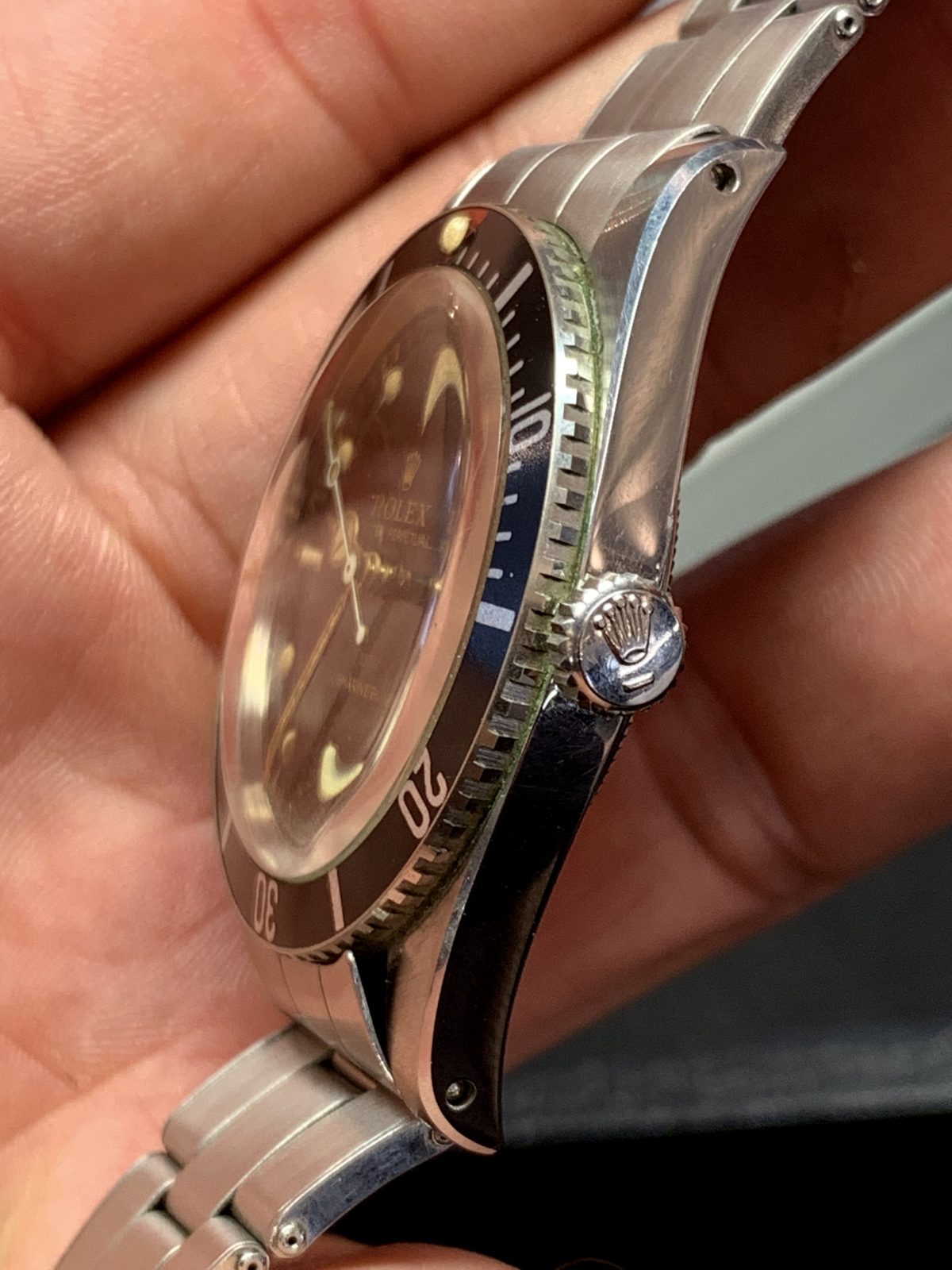 Prototypes are hot, this small size PPC Nautilus hit 400K after fierce bidding…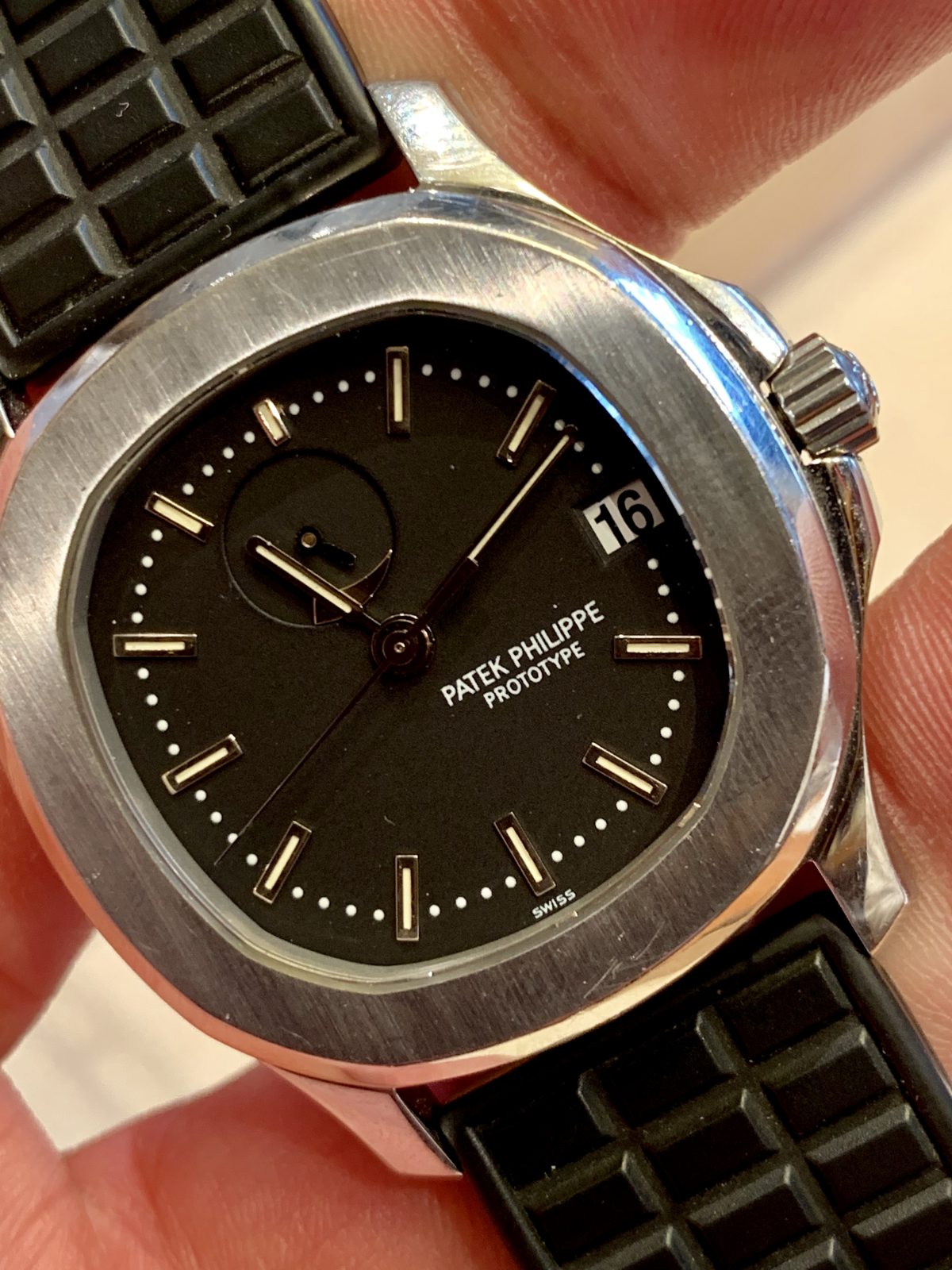 Another Prototype came for sale, this time it was a Tudor and sold by Christie's. Dial was damaged as you can see but the result was nevertheless way above expectation…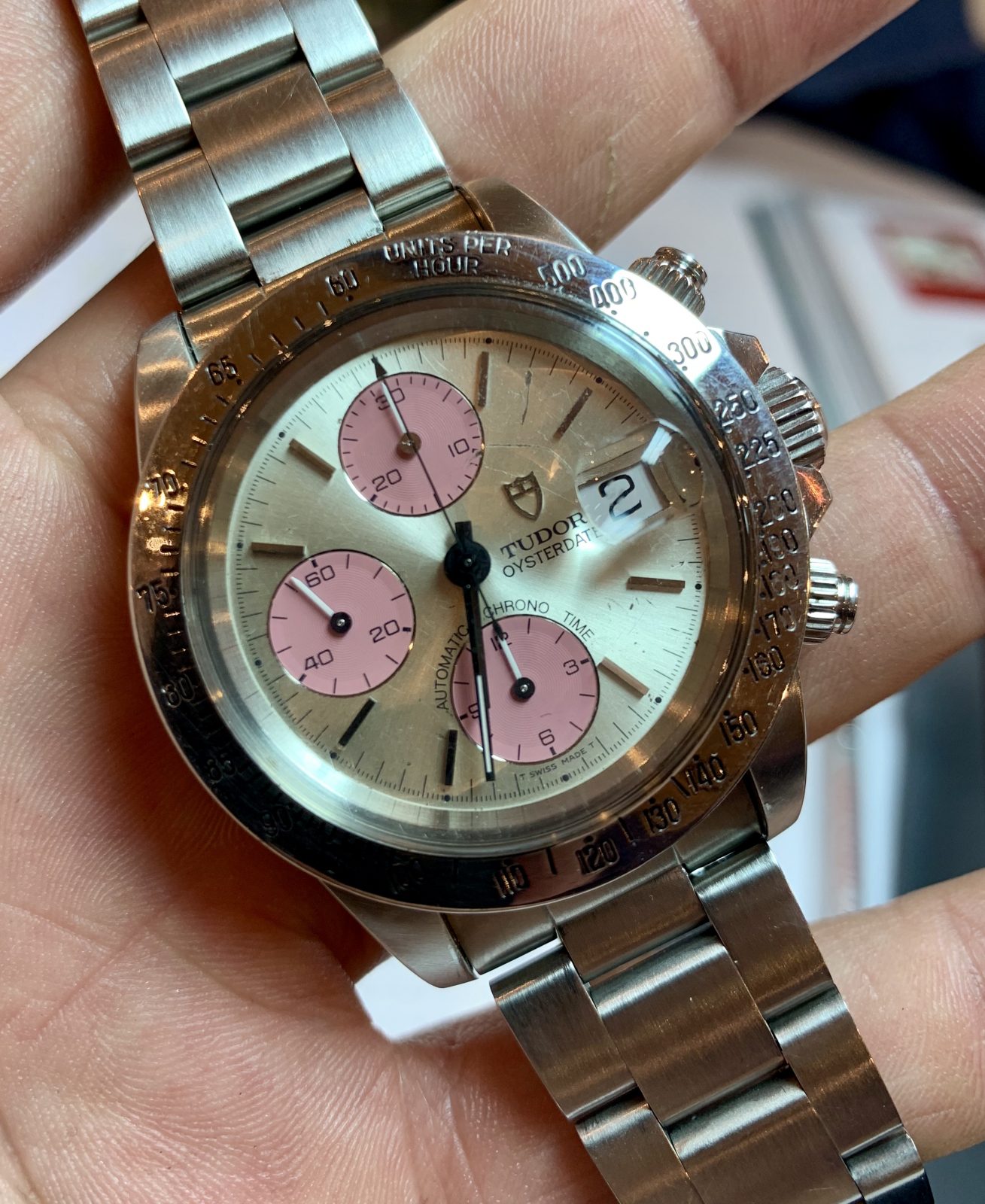 Little watch show downtown Geneva…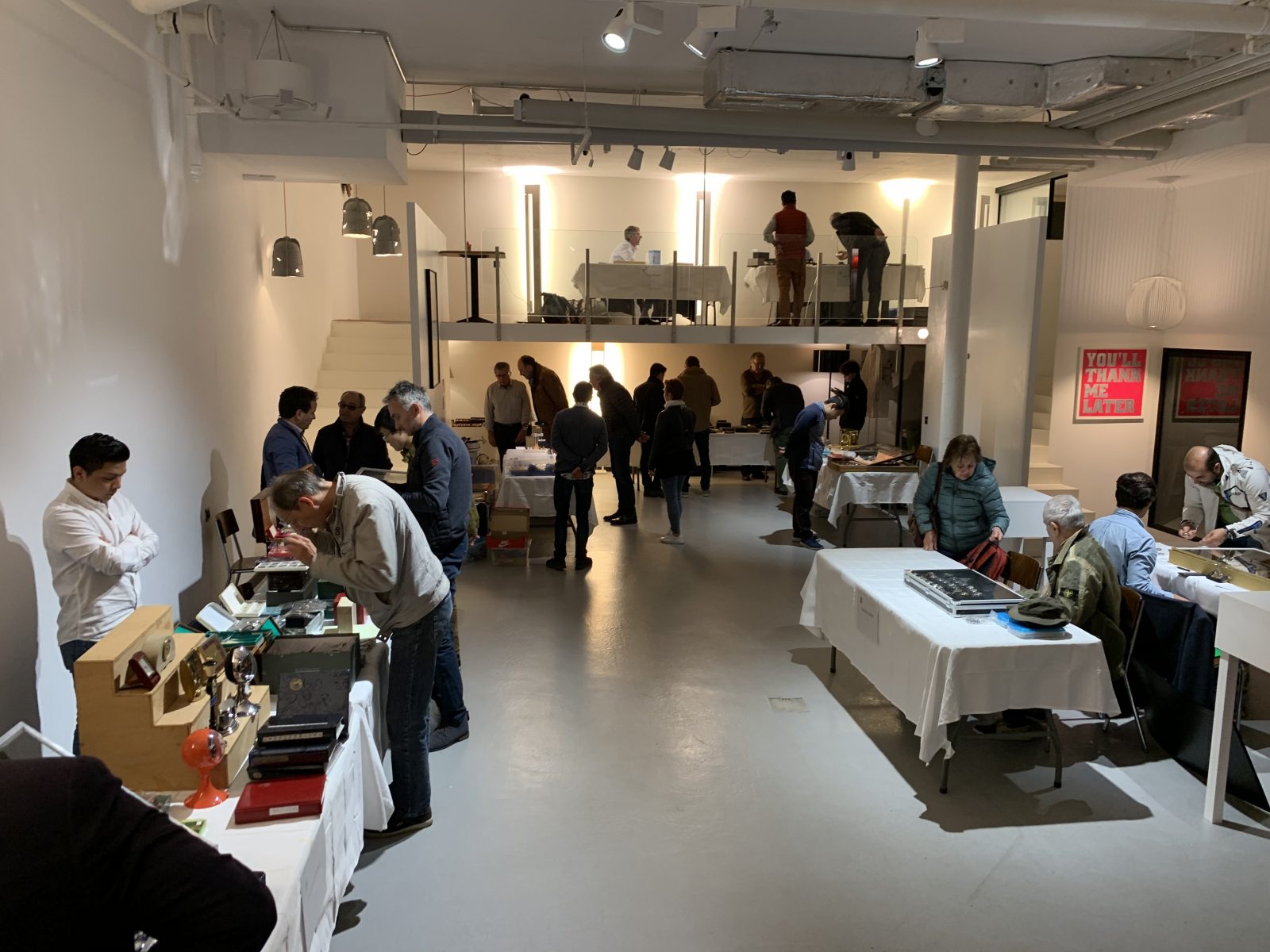 Is the place where treasure are found…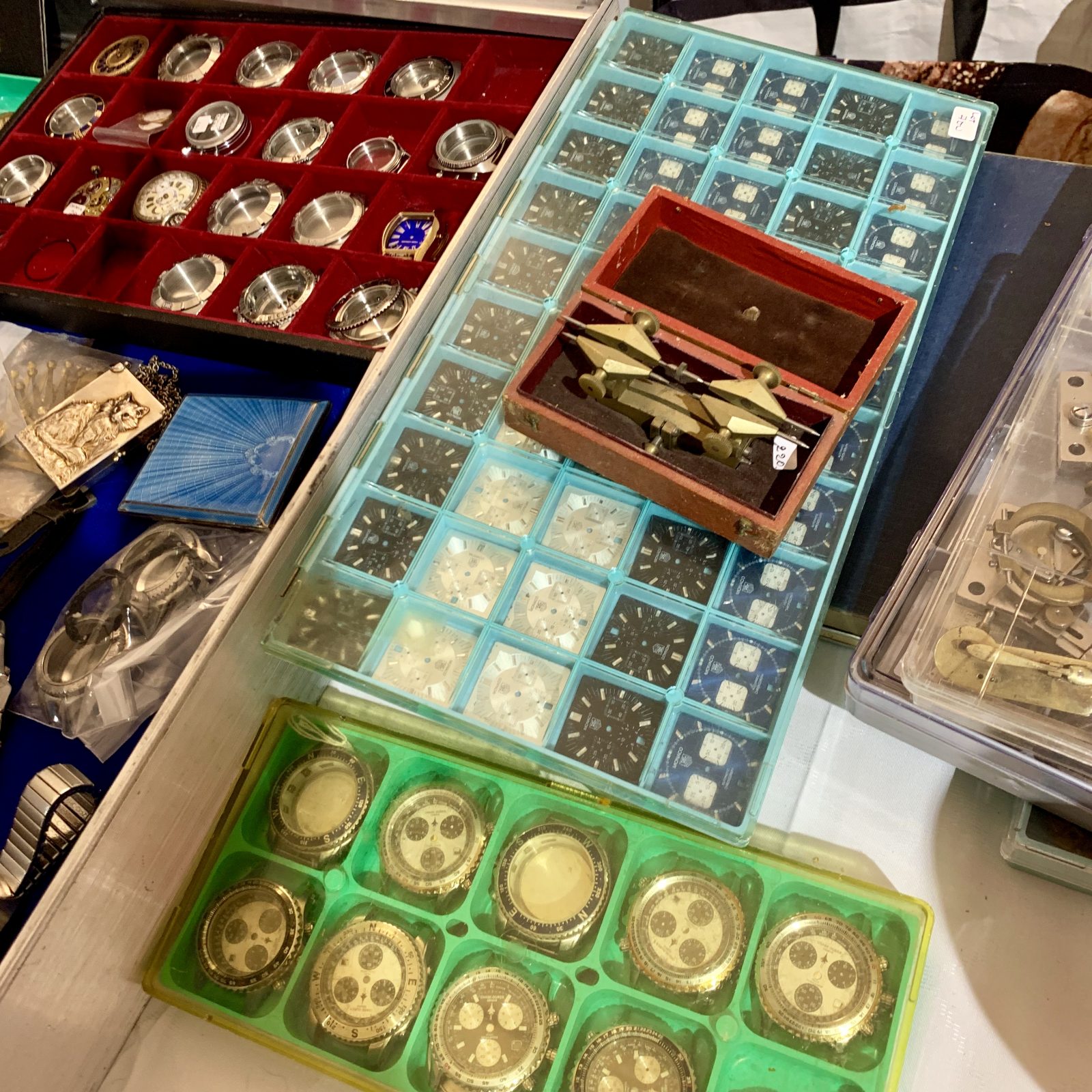 Heading over to see an iconic rockstar perform in Geneva, great experience backstage and up close with a legend!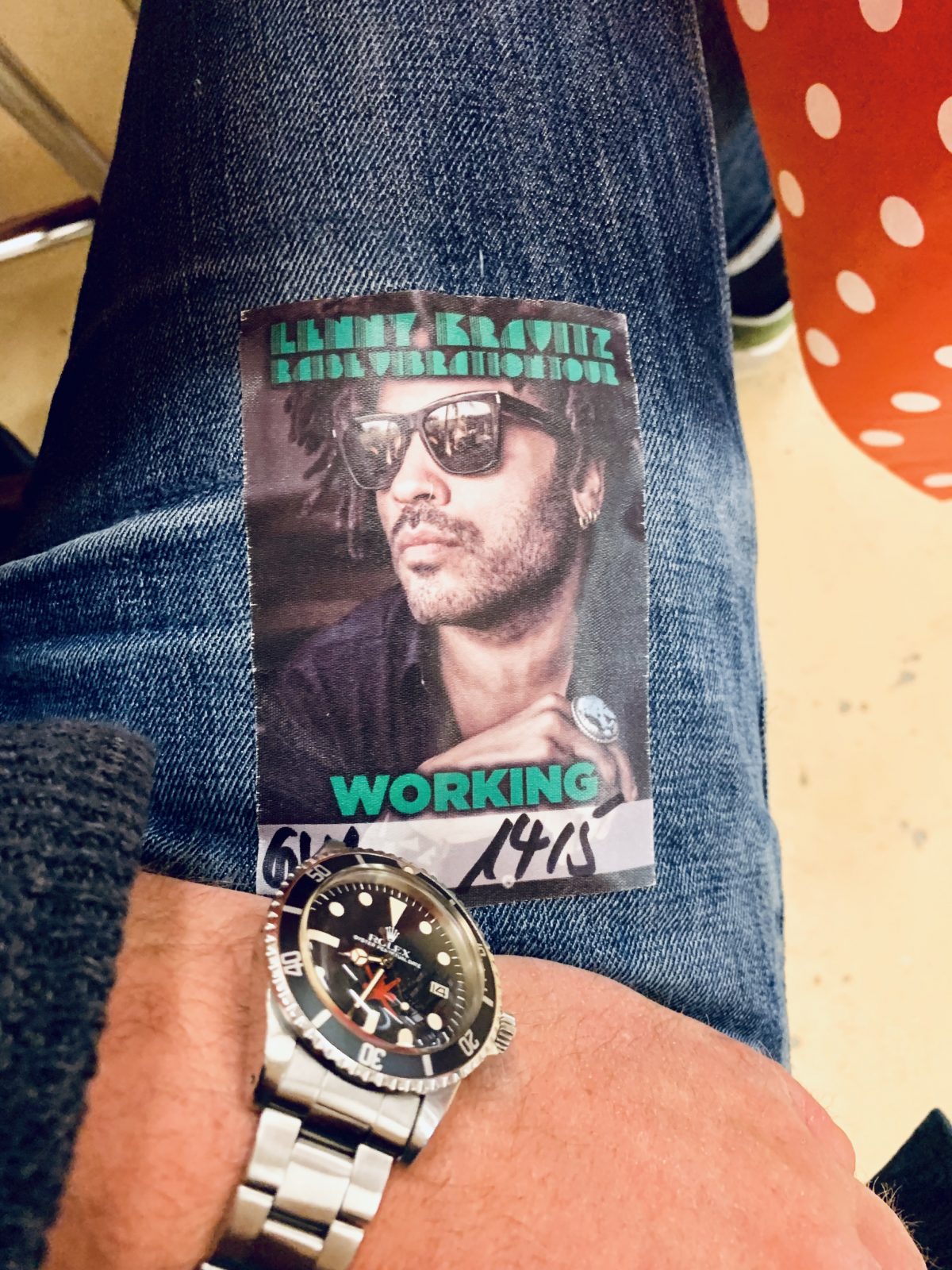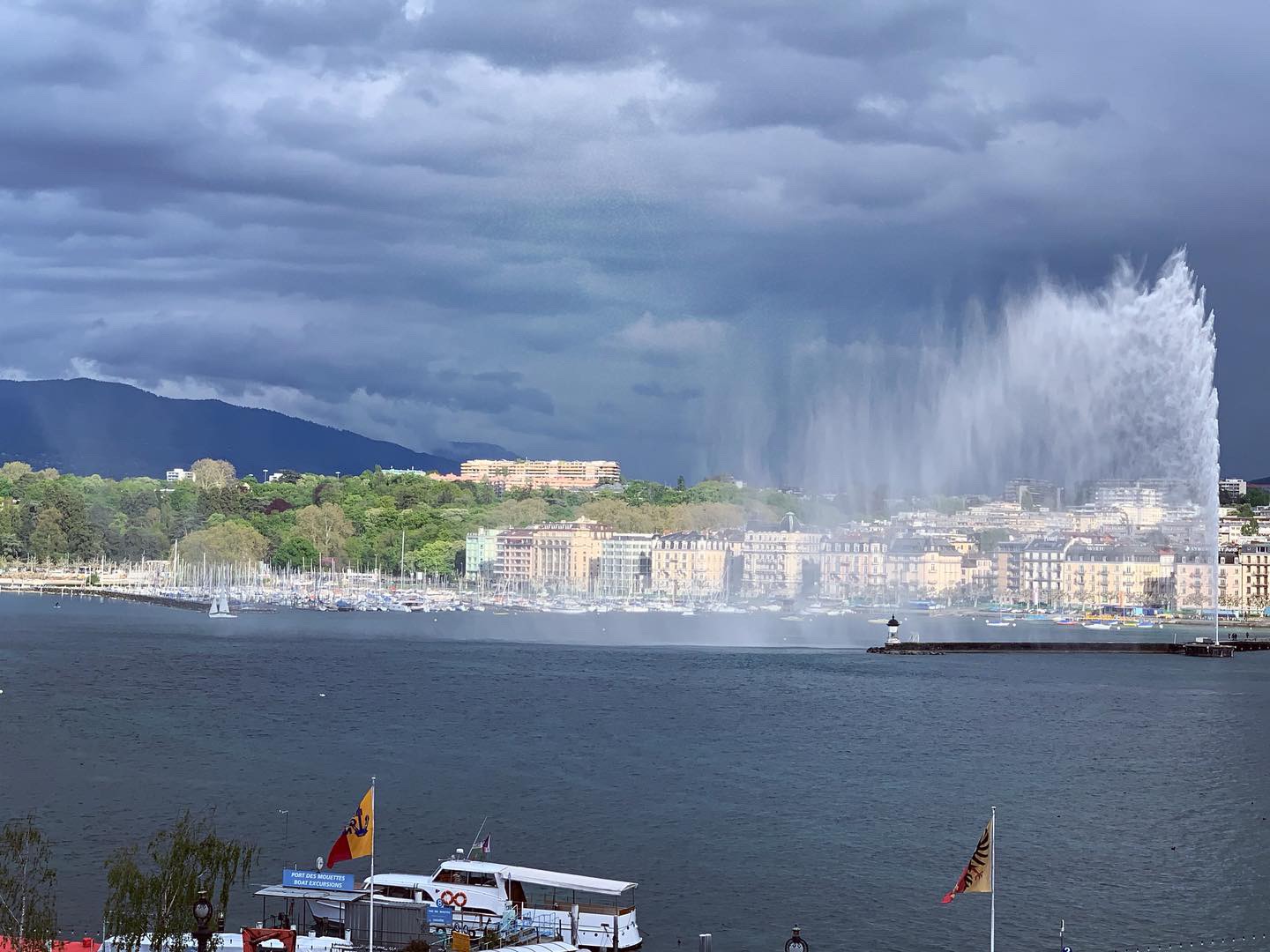 Back home at work after an intens week of Geneva, thank you, it was a great trip again to see you all!