The History of the Iconic Rolex Small and Big Crown Submariner – James Bond.
Let's begin this report about "The History of the Iconic Rolex Submariner Small & Big Crown" with a really special group shot of rare vintage Rolex. We see some different lume Rolex used originally in their early days of their tool watch evolution. From left to right; Milgauss ref 6541 from 1958, Submariner ref 6538-4 line brown from 1958, 6538 Red OCC from 1956, 6200  from 1954, 6538-4line from 1958 and a ref 6204 Submariner, maybe of of the earliest with 949.xxx serial from 2 quarter 1953 wit rare texture dial [guillochet – honeycomb] and difficult to read but still there, the OCC at 6 o'clock printed on the dial…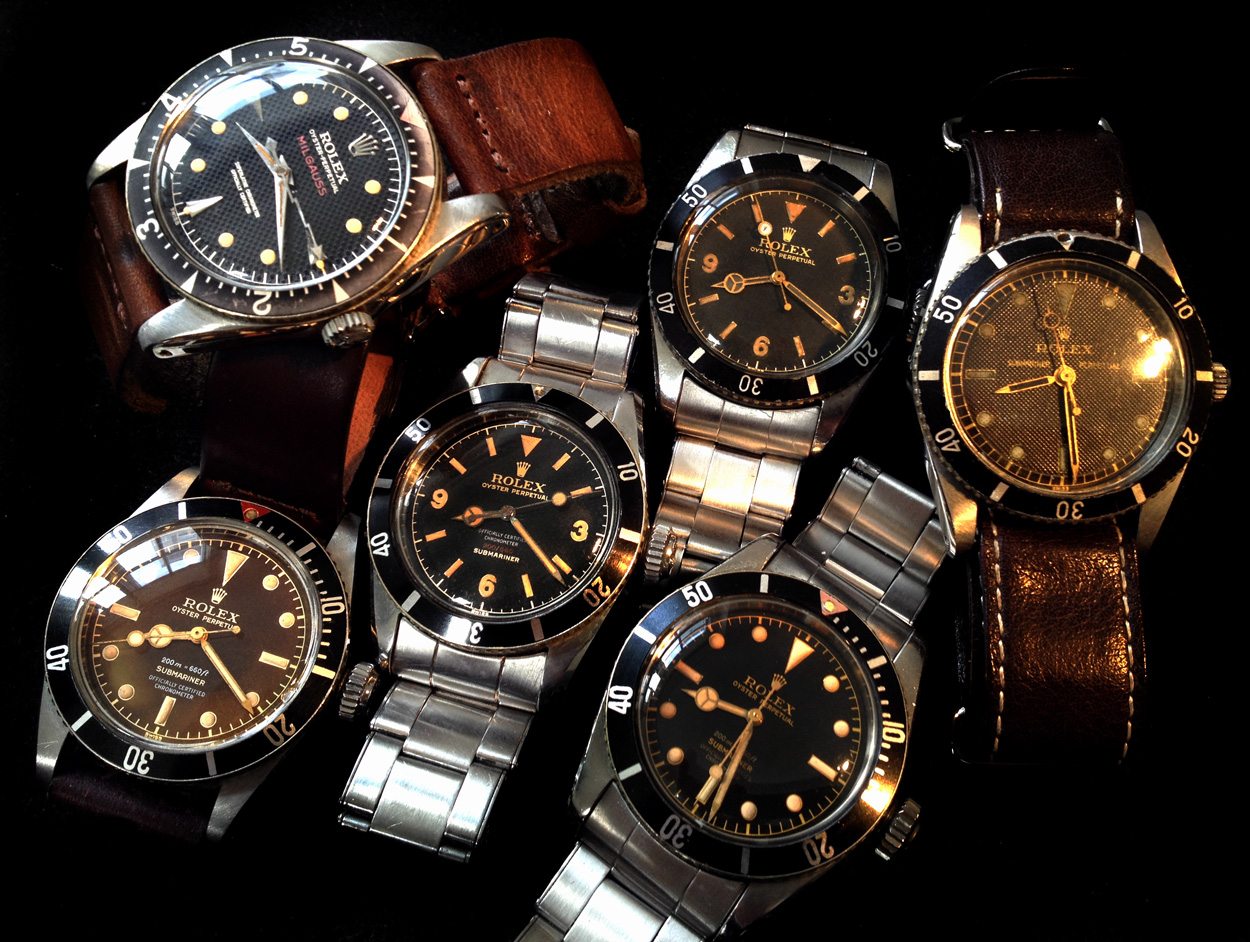 Earliest Submariner was the Rolex Ref 6204 by release in 1953. Logically was the ref 6200 as the Big Crown the first but it was introduced 1 year later at he Basel Watch Show, in 1954. Hans Wilsdorf apparently wanted to start with the small crowns, the Ref 6204 and slightly bigger Ref 6205. See below the split logo with texture dial that was still populair in 1953, this examples is from 2.1953. In the back ground you see a 1956, MK1 Big crown with high radium luminous.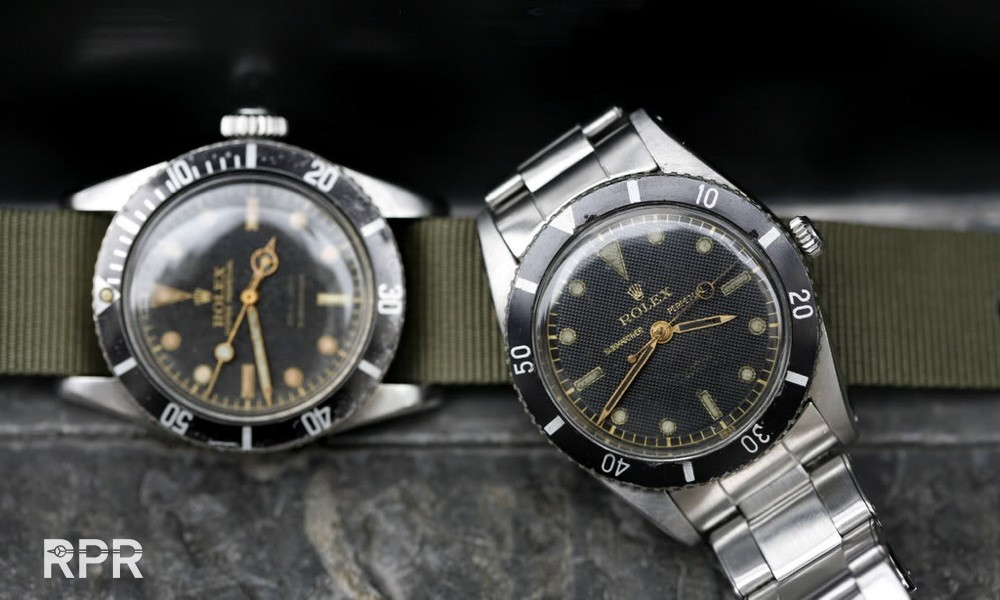 Up close the texture dial of the Rolex Ref 6204 Submariner…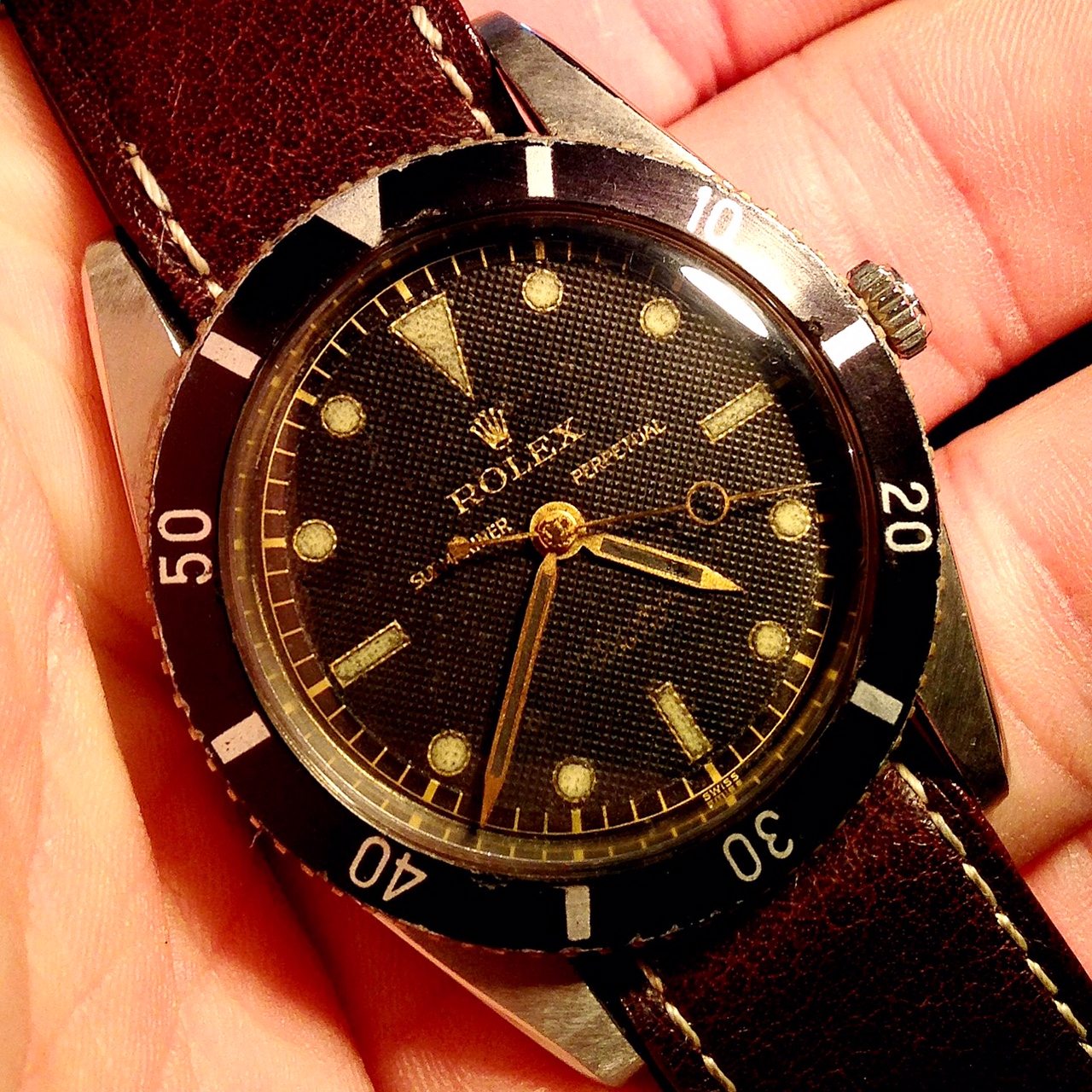 Below you see the case back, with old style Montres Rolex SA logo, the reference: 6204 and the datestamp: 2.'53 and the clean automatic movement A260. There where the Ref 6200 was having the A296 movement, the 6204 and 6205 had the A260 movement. The A260 is not an improved movement, but rather just one that is appropriate for the case size – the 6204 and 6205 small crown is having a much slimmer case than the big crown.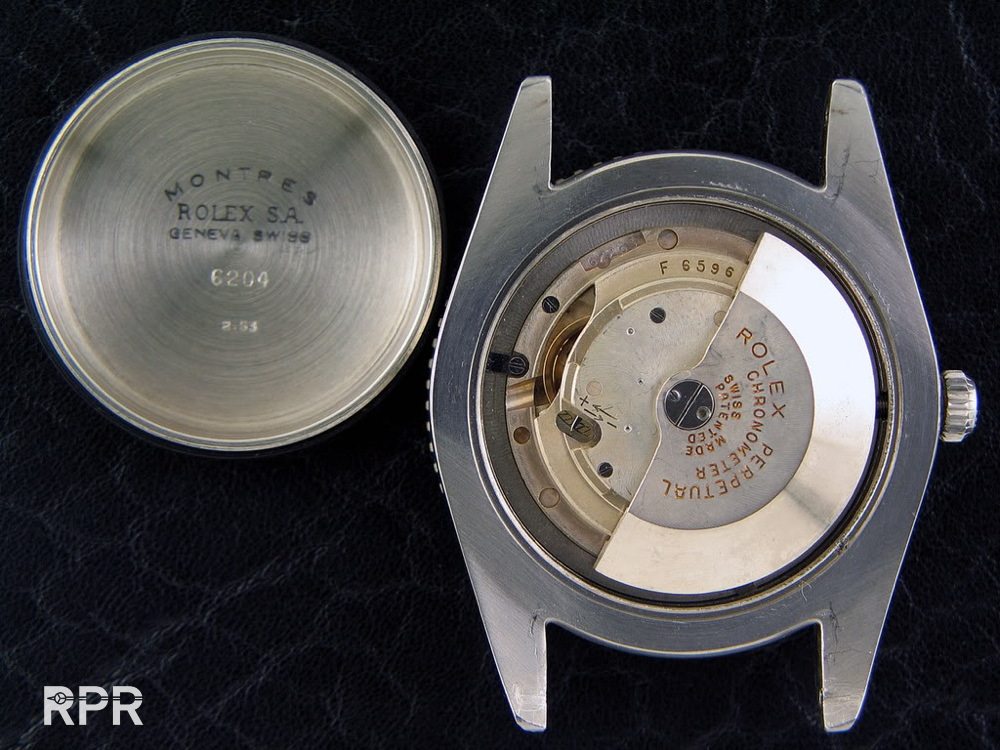 Brevet +, meaning the case design was patented…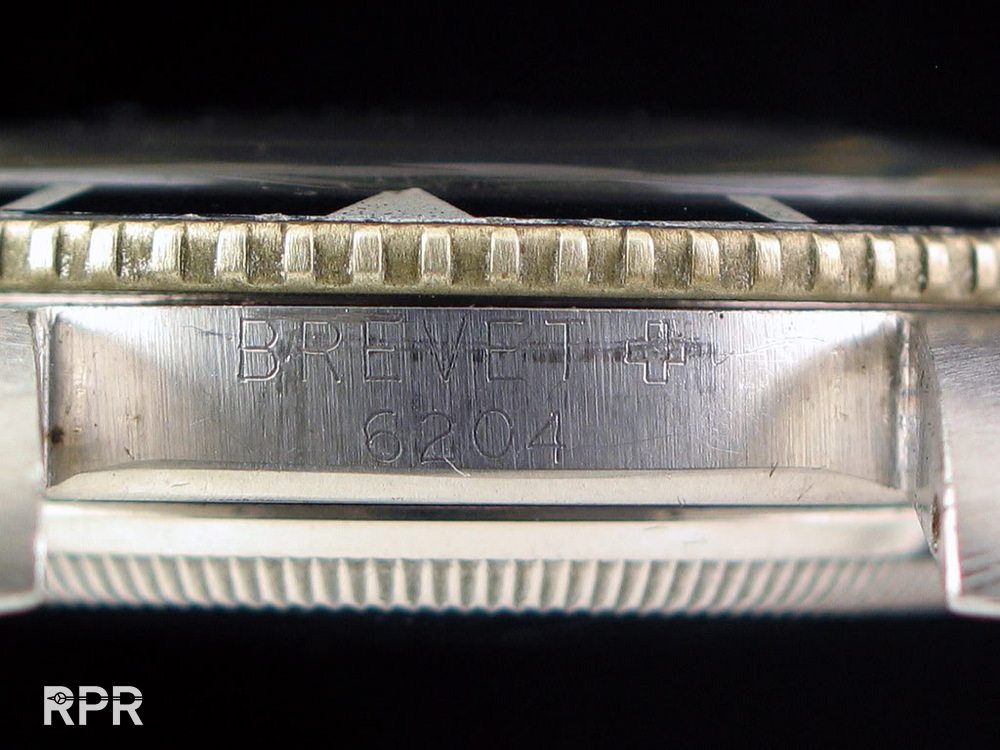 Now that's service "Free insurance and a two year guarantee against everything, including accidental damage"…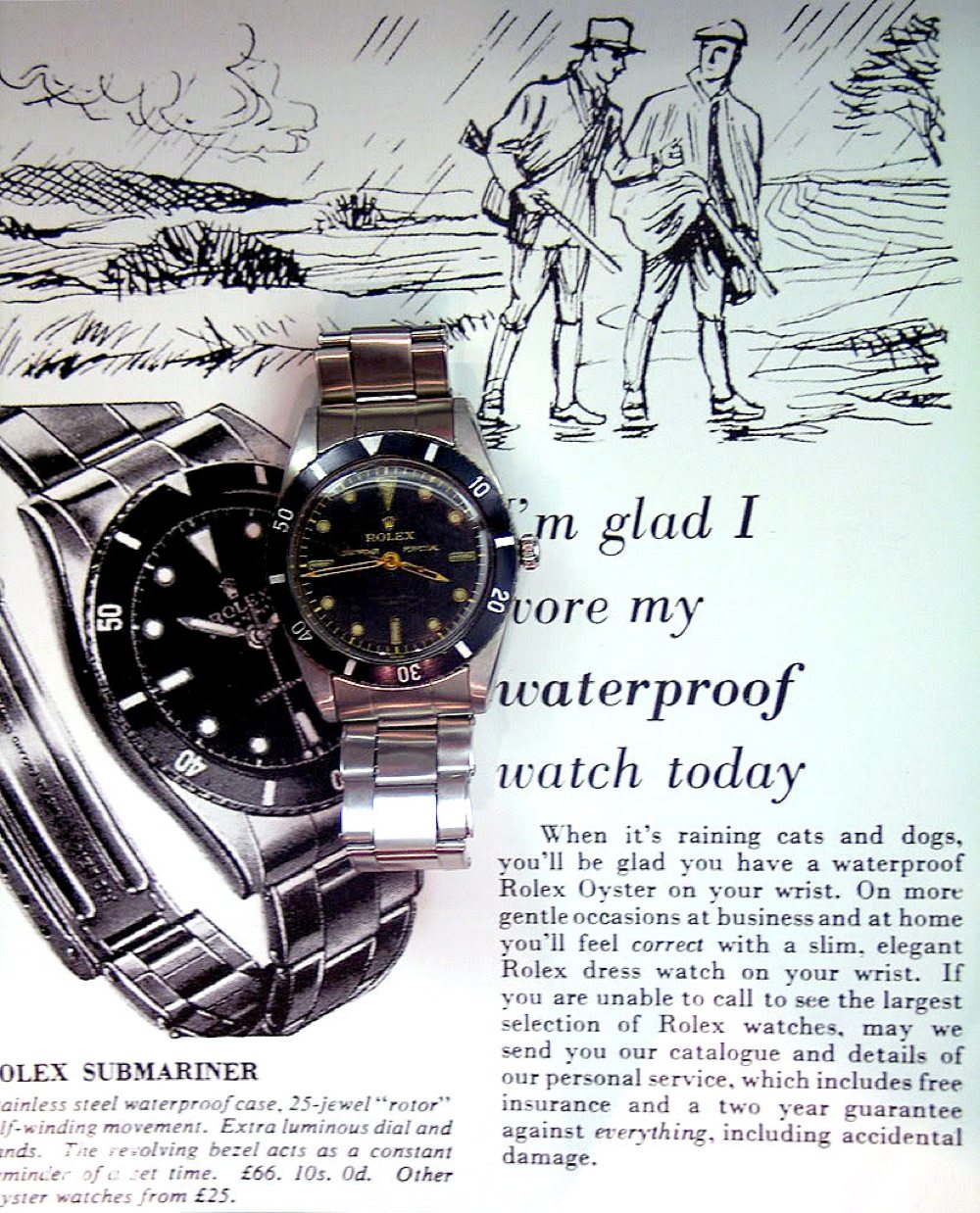 Still having "pencil hands" and not the famous "mercedes hands" ..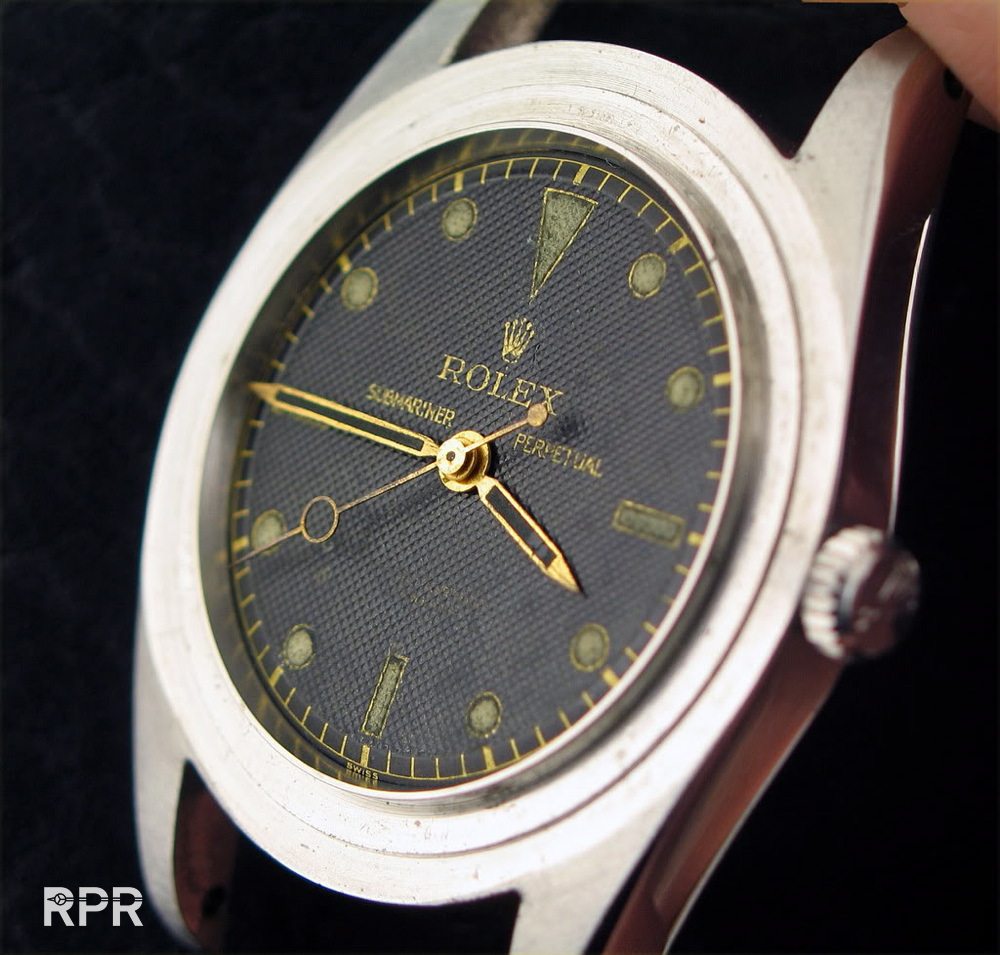 Note the high radium in the gilt hands got all black, most likely due to some moisture that entered the crown…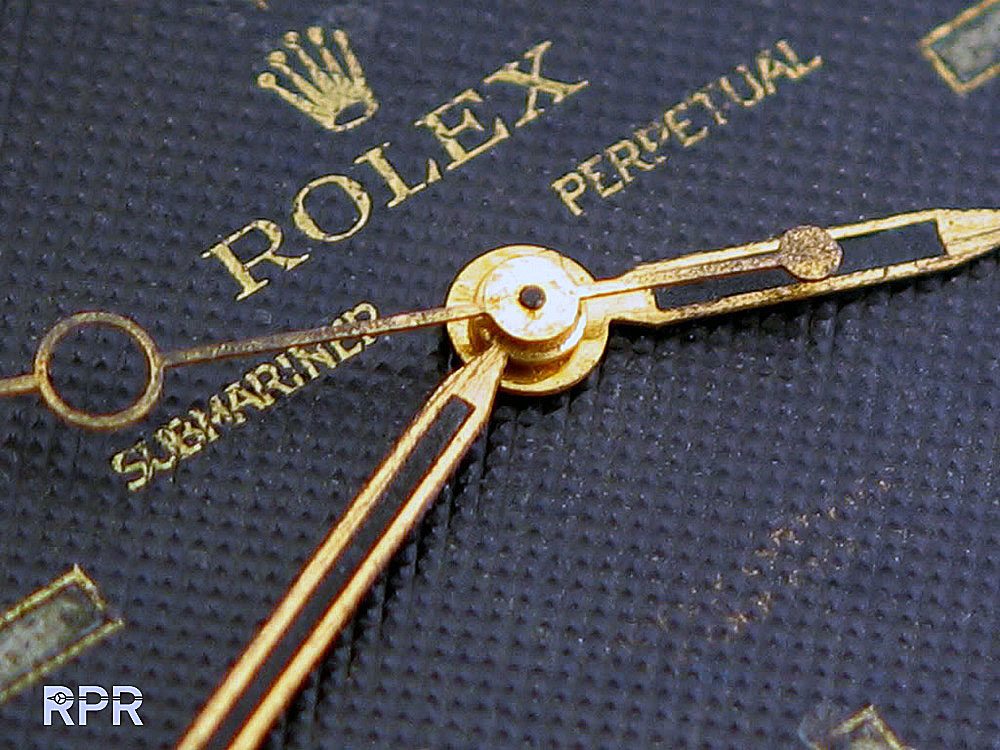 Original as it is, on the rivet bracelet with special end links so it fits perfectly to the case…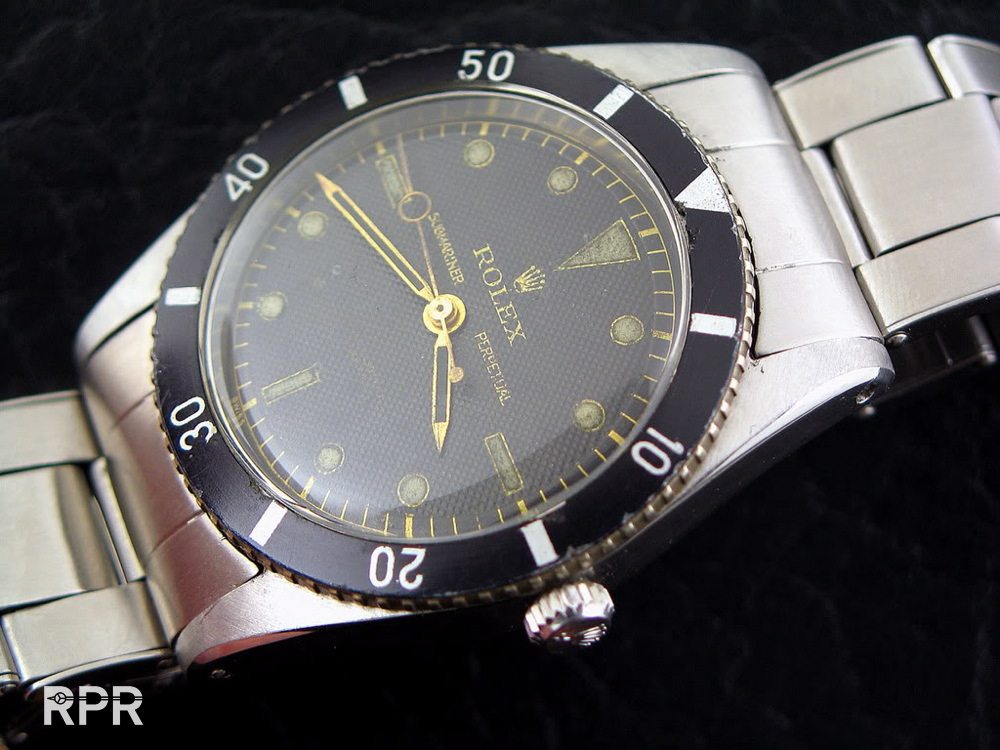 The small crown and small mid case in detail…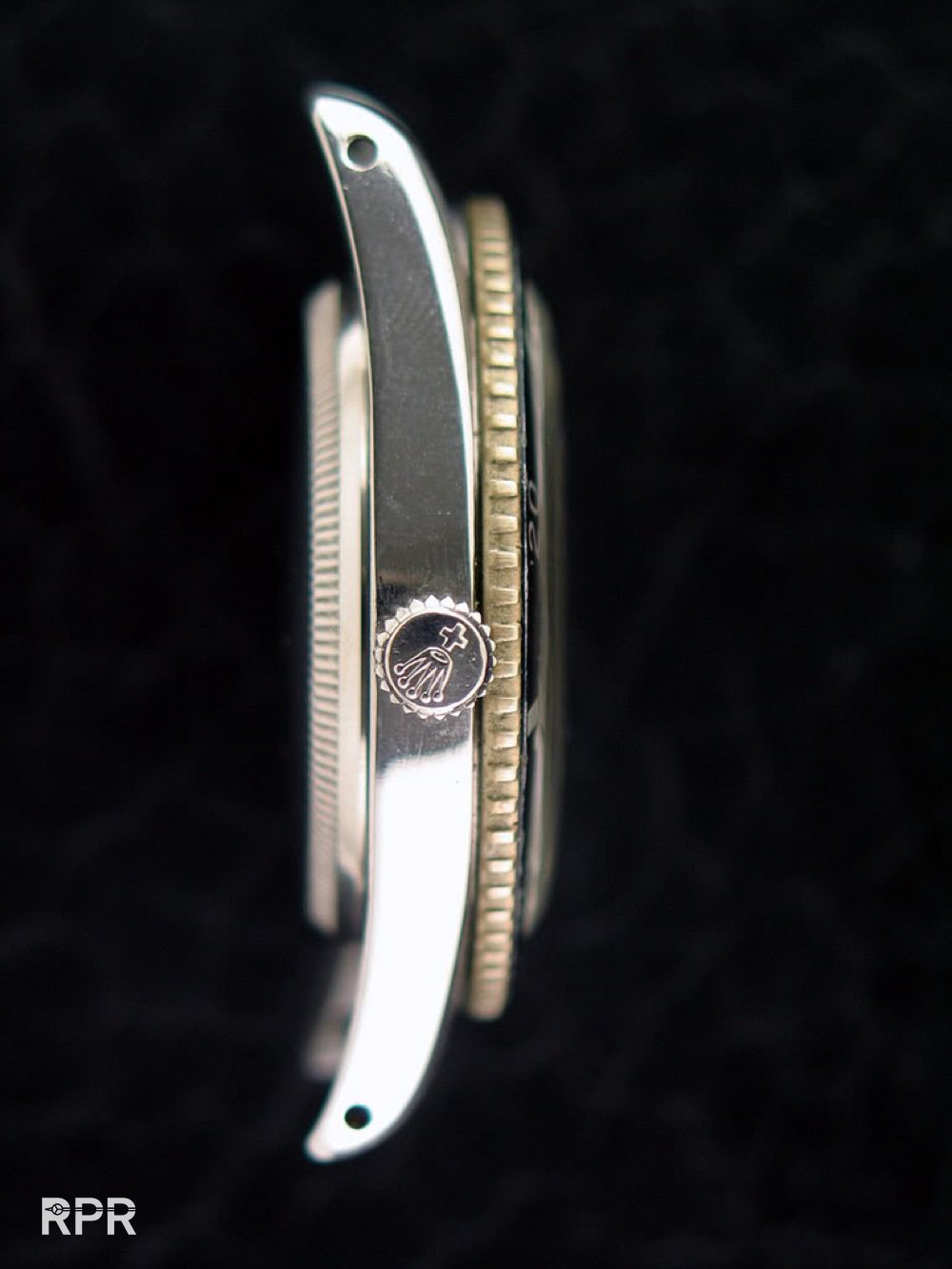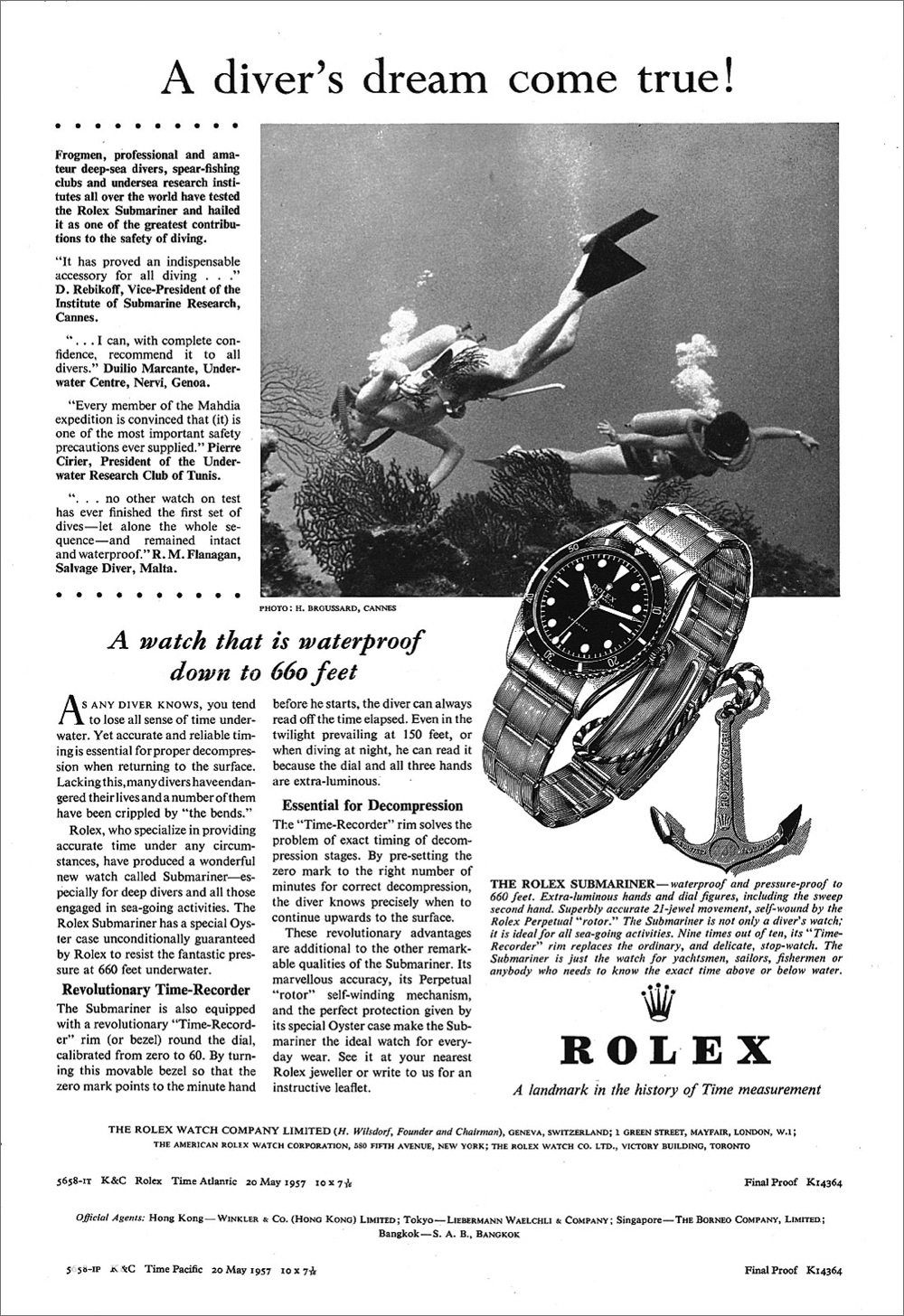 A little later by serial we see the Ref 6205's, here's one with 21.39x serial. The later Big Crown Ref 6200 have serials around end 31.9xx to 32.xxx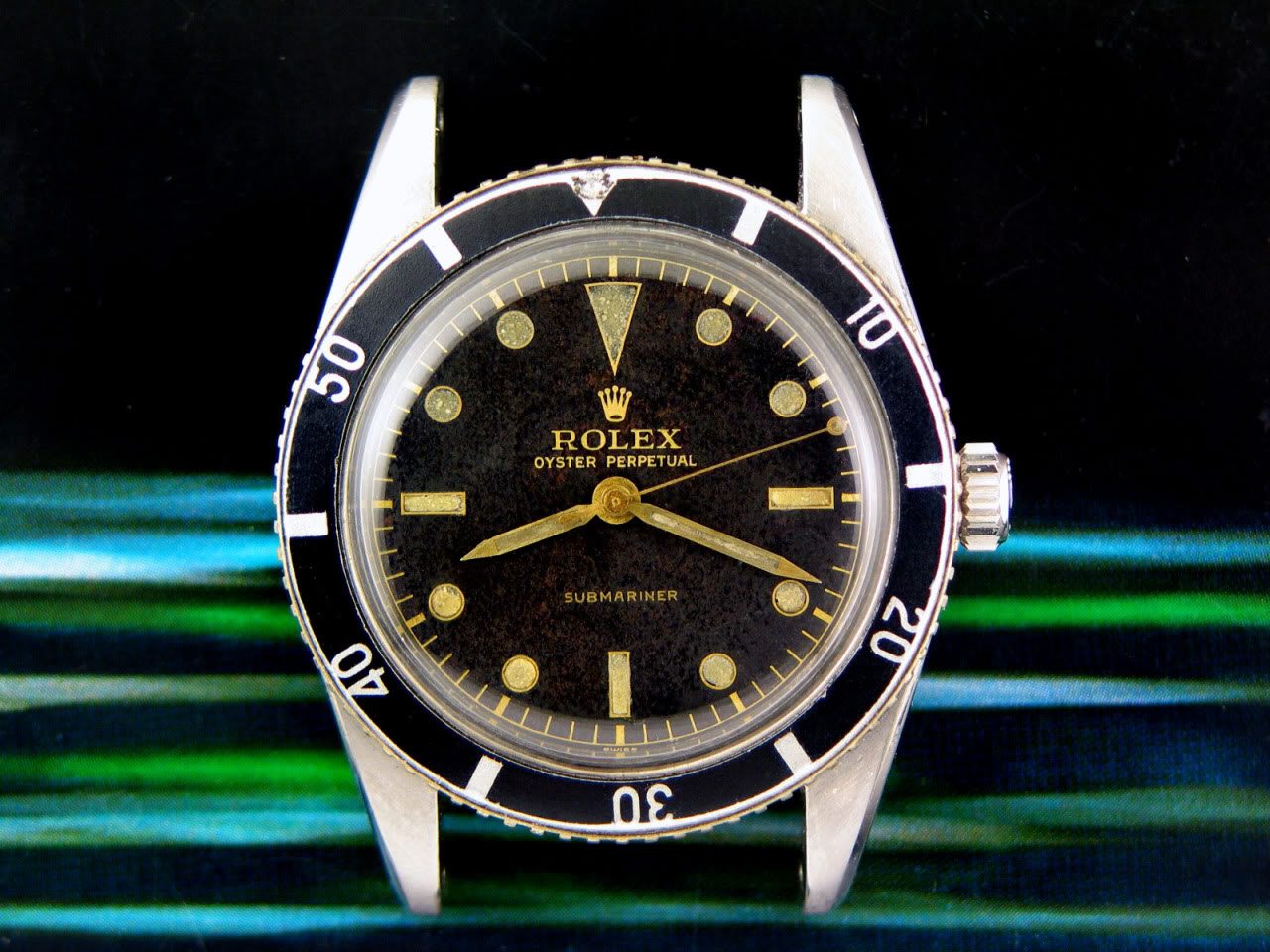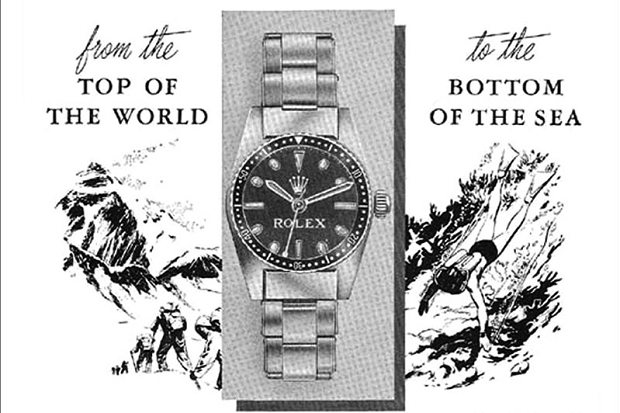 Here's a "Small Logo" ( like we see on the Explorers ) Ref 6200 Rolex Submariner…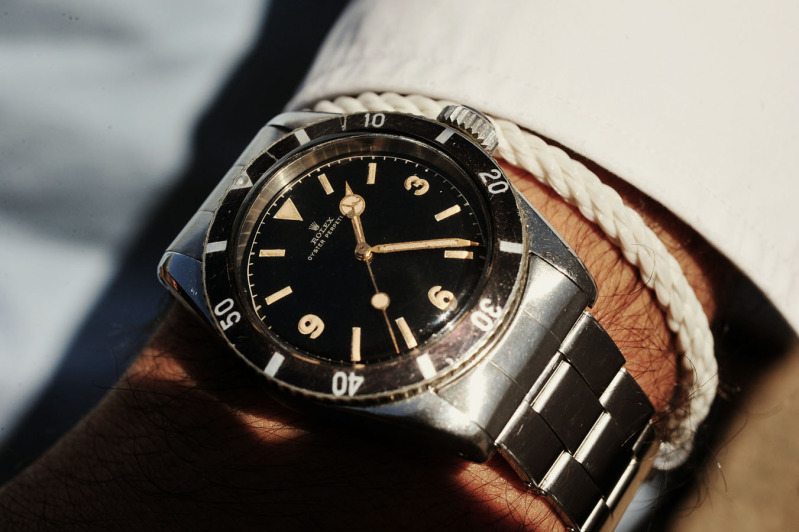 4 x Rolex Submariner ref 6200's with big logo, the most sought after version…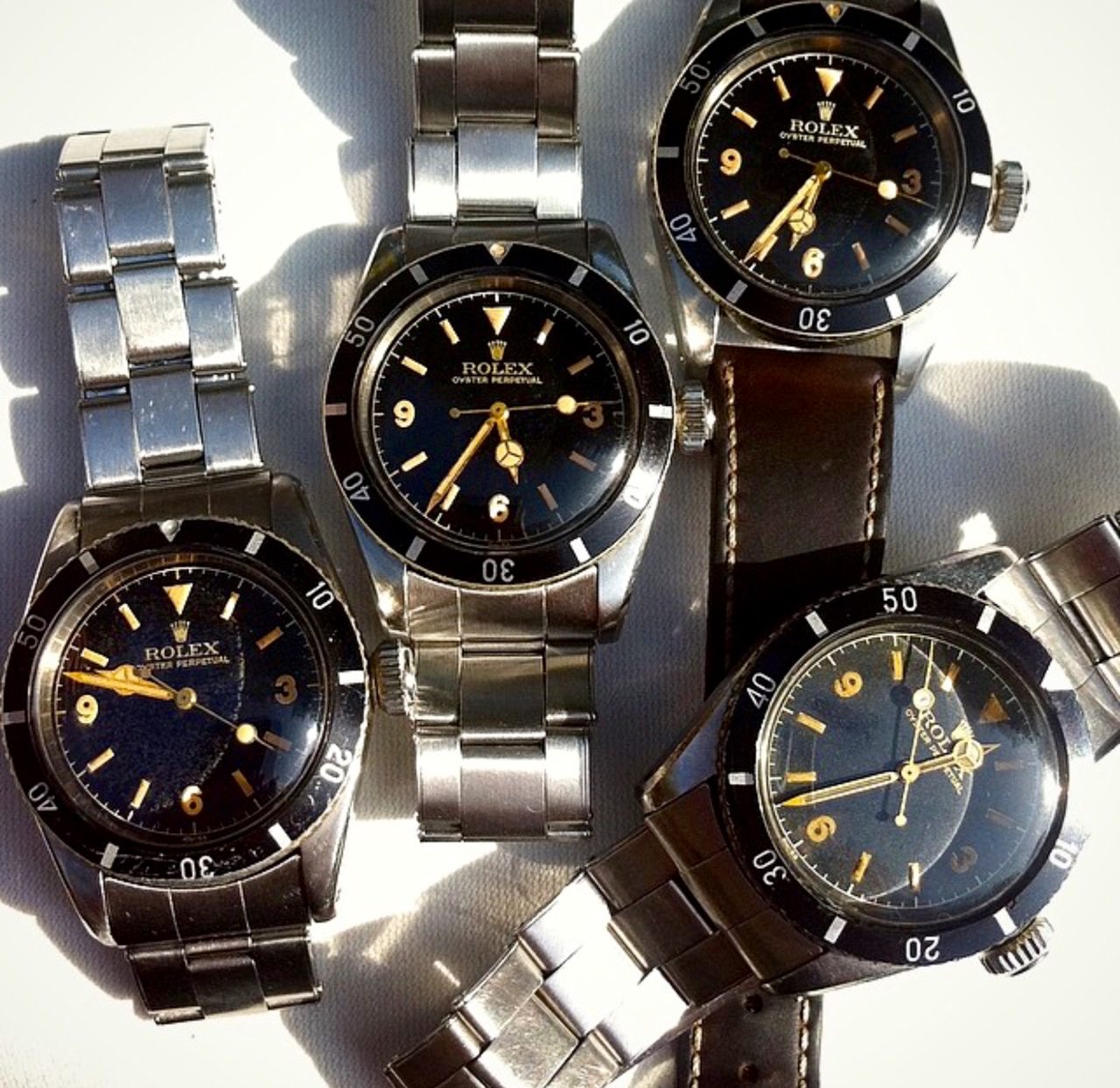 The first Rolex Big Crown was the Ref 6200. We know models with and without the "submariner" writing on the dial near 6 o'clock. Here an all original first owner model I bought directly from the son of the owner in Miami…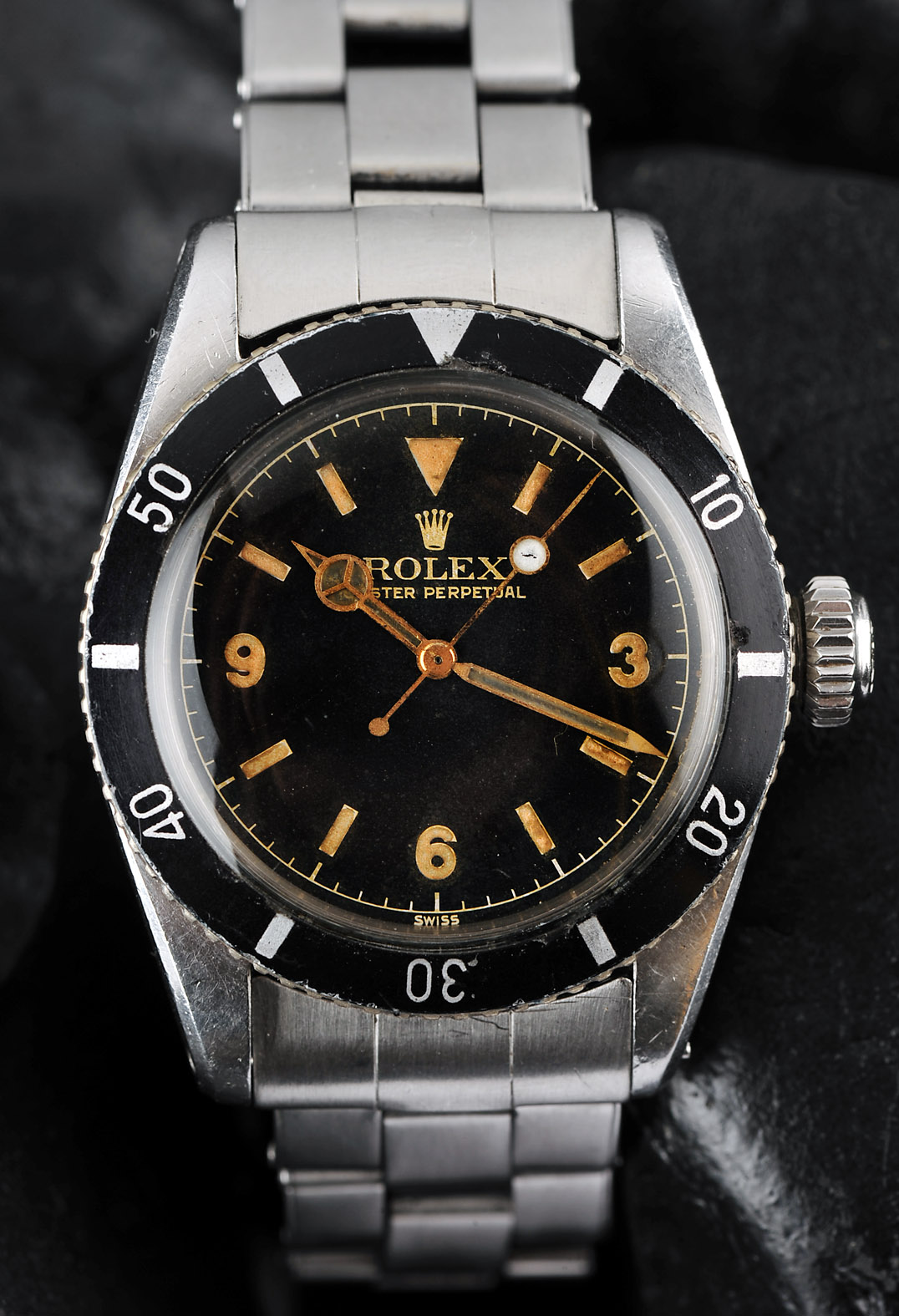 Now look at the phantom hands, the glue which was holding the radium luminous aged so it became transparant..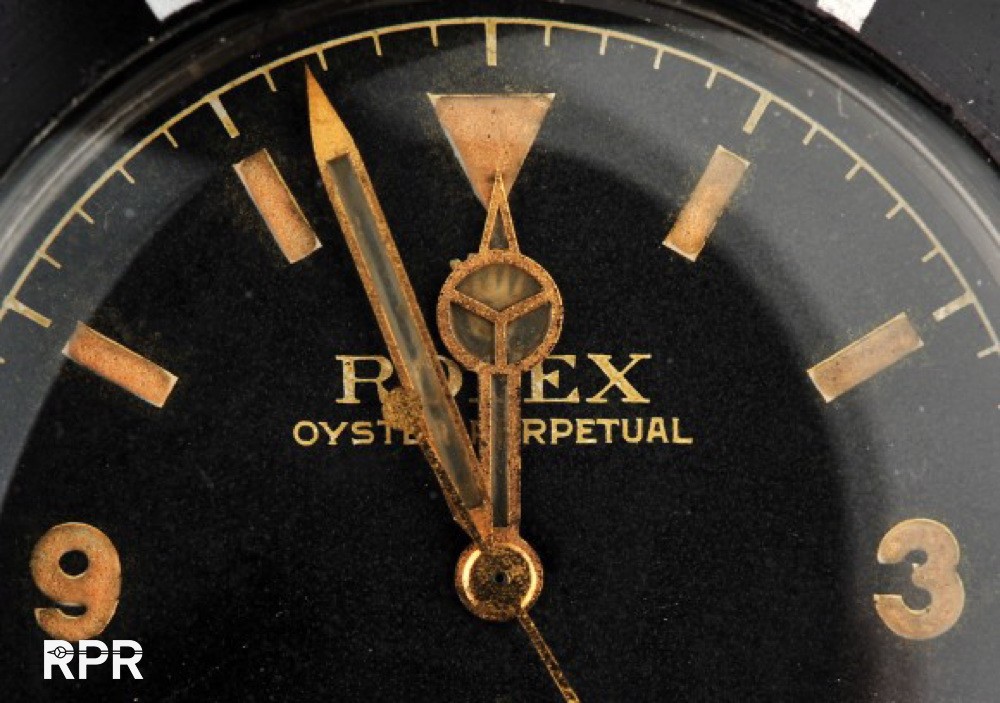 Next you see the by the radium dust original "iced" crystal of this Ref 6200…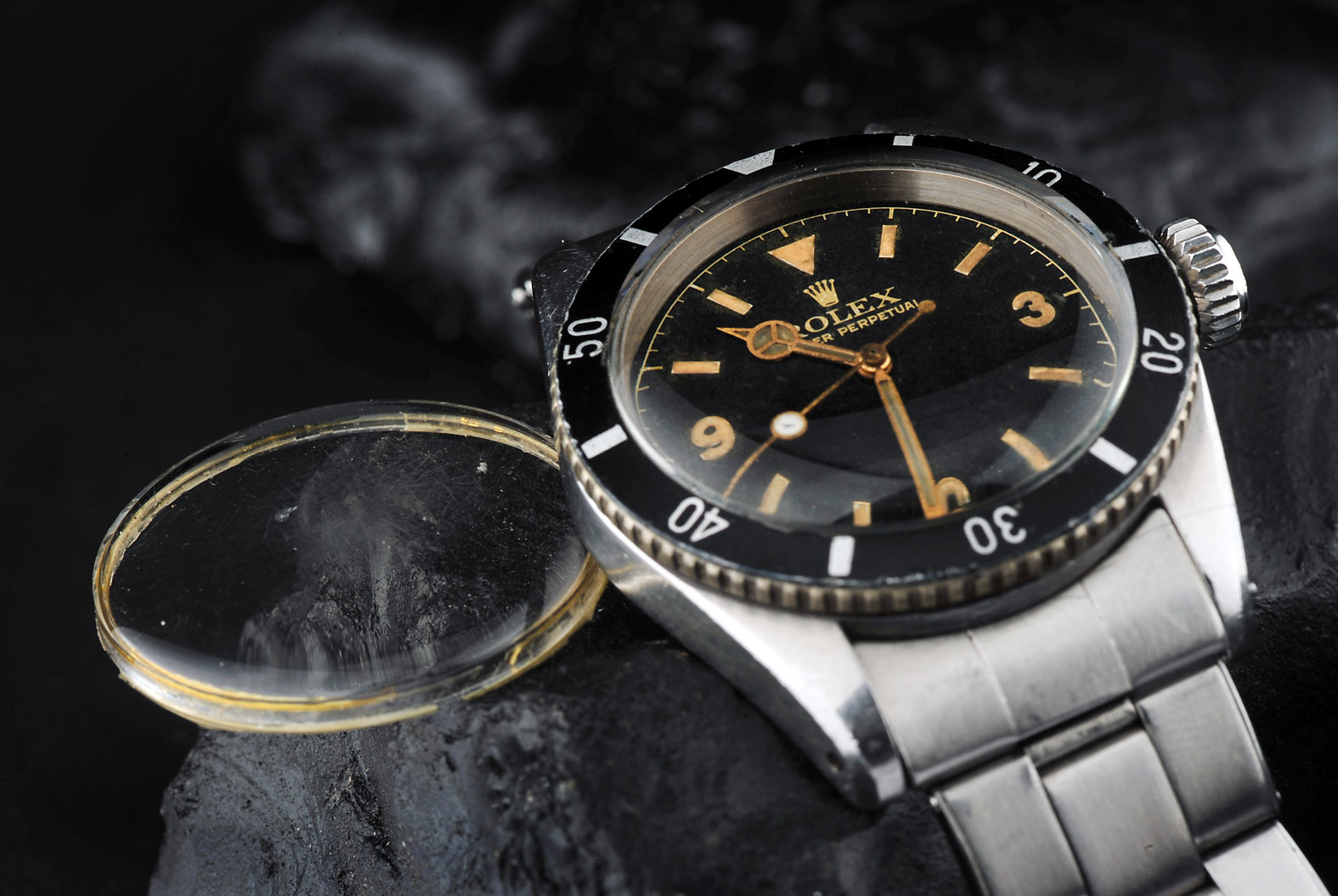 The start of the Rolex Tool Watch / Sports Watch evolution. Still some "explorer" influences with the 3-6-9, which became an ultimate feature for any Submariner..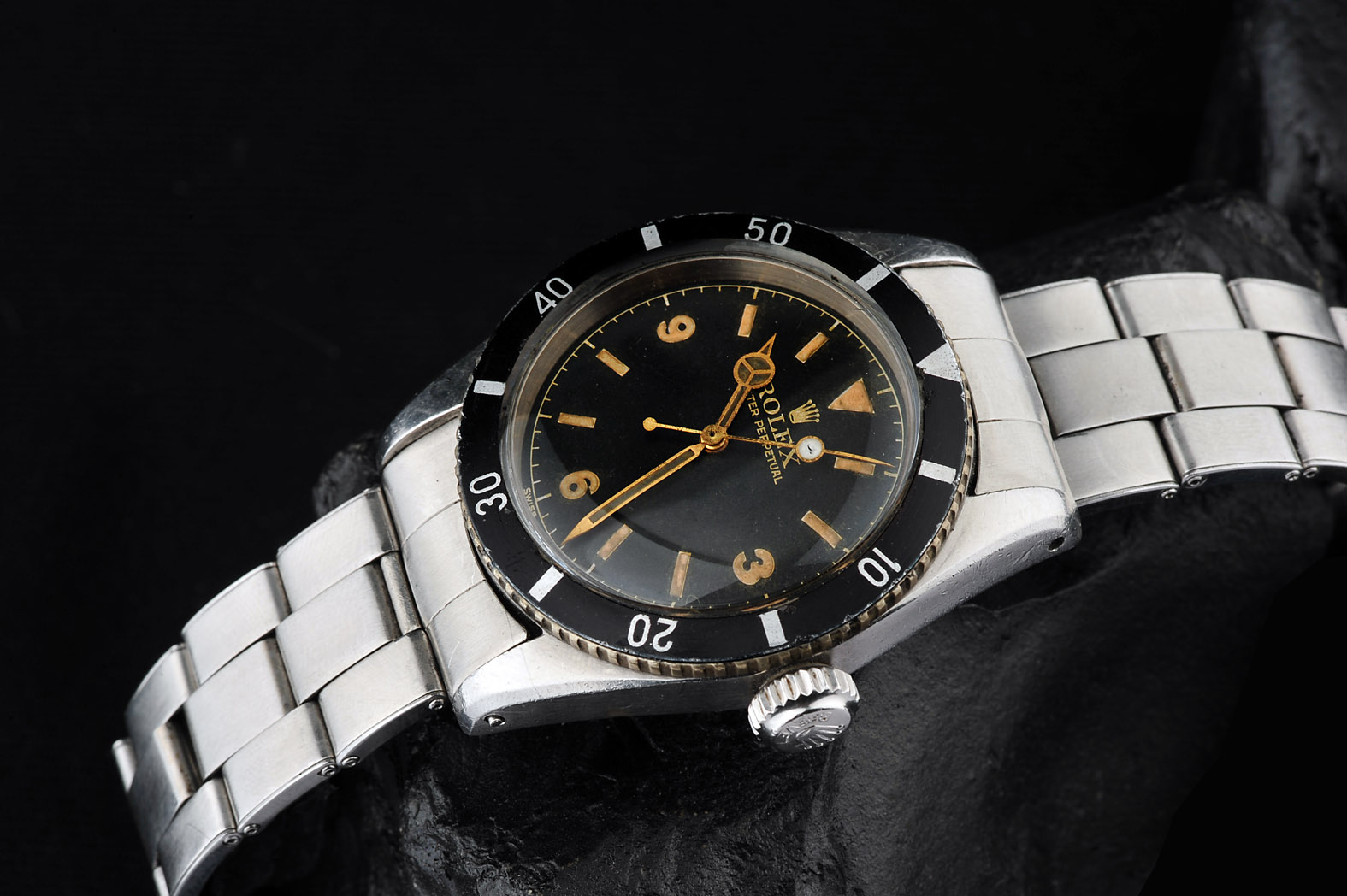 In 2012 while organizing my first Hong Kong vintage Rolex meeting I had the honor to have these 3 musketeers in my hand, the rarest regular delivered Submariners you can imagine, the 6538 OCC, Red Depth 369, the 6200 OCC and Submariner which sold in 2013 in Geneva and a minty Ref 6200…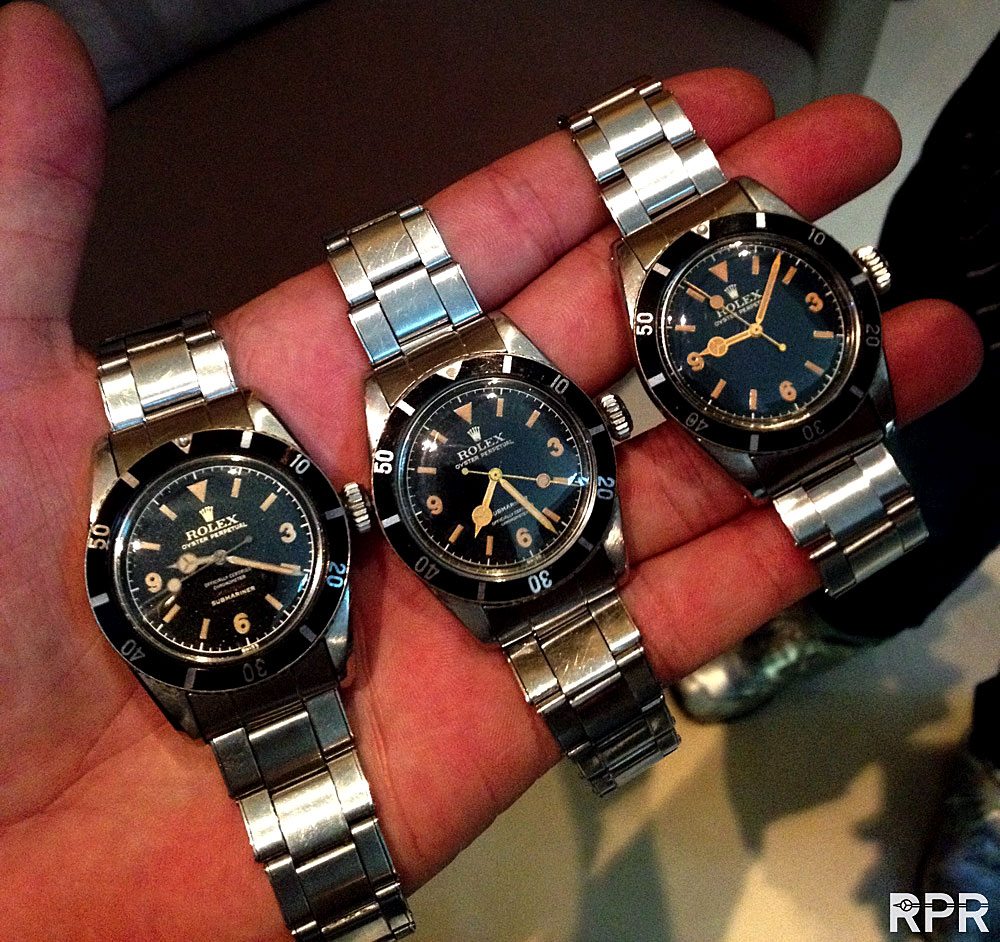 A tower of Rolex Big Crowns Submariners. I remember doing this crazy act as it was yesterday, I was so happy the tape hold them all 😉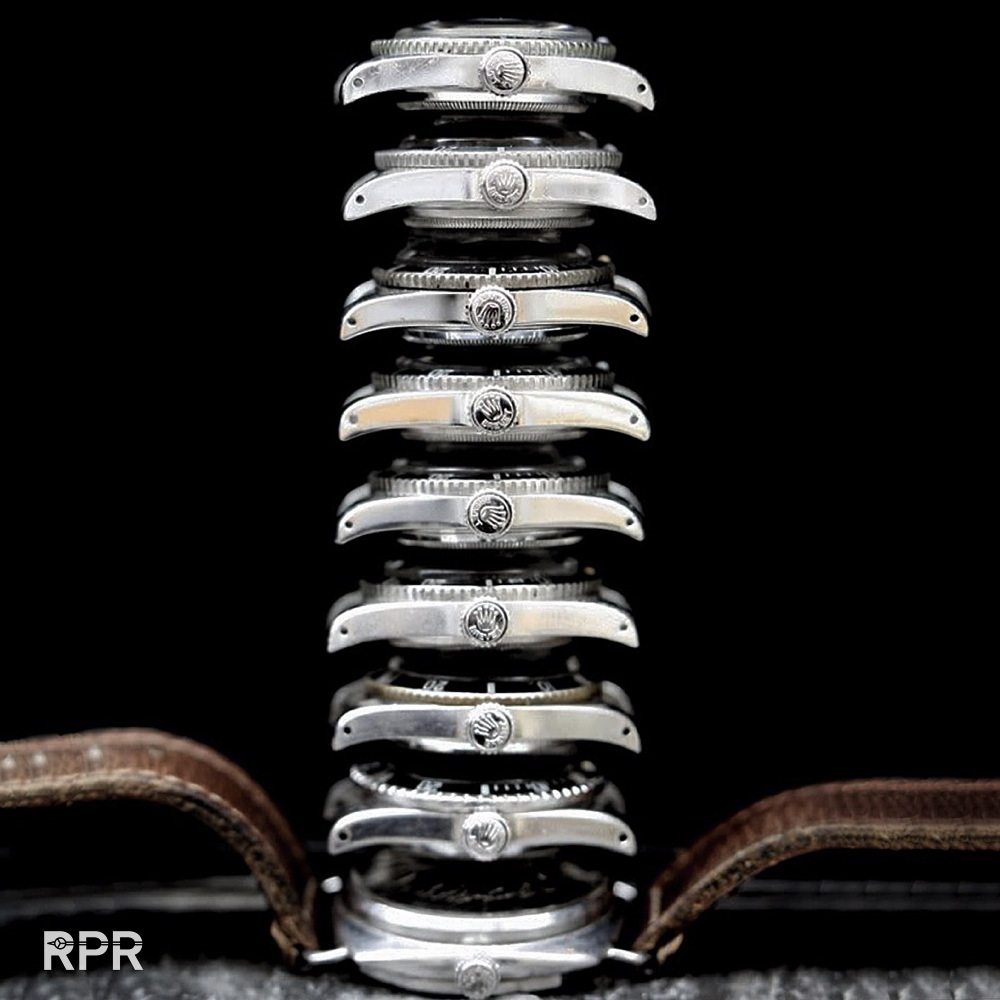 Find below an important US military owned Rolex Submariner ref 6200 with "Submariner" added to the dial..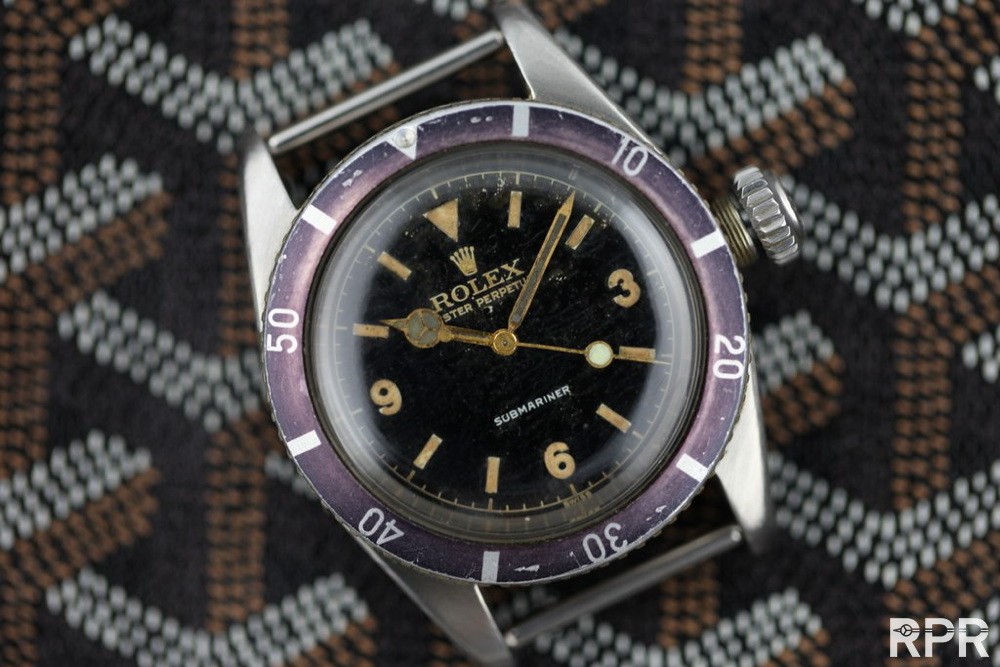 The "Griggs" Ref 6200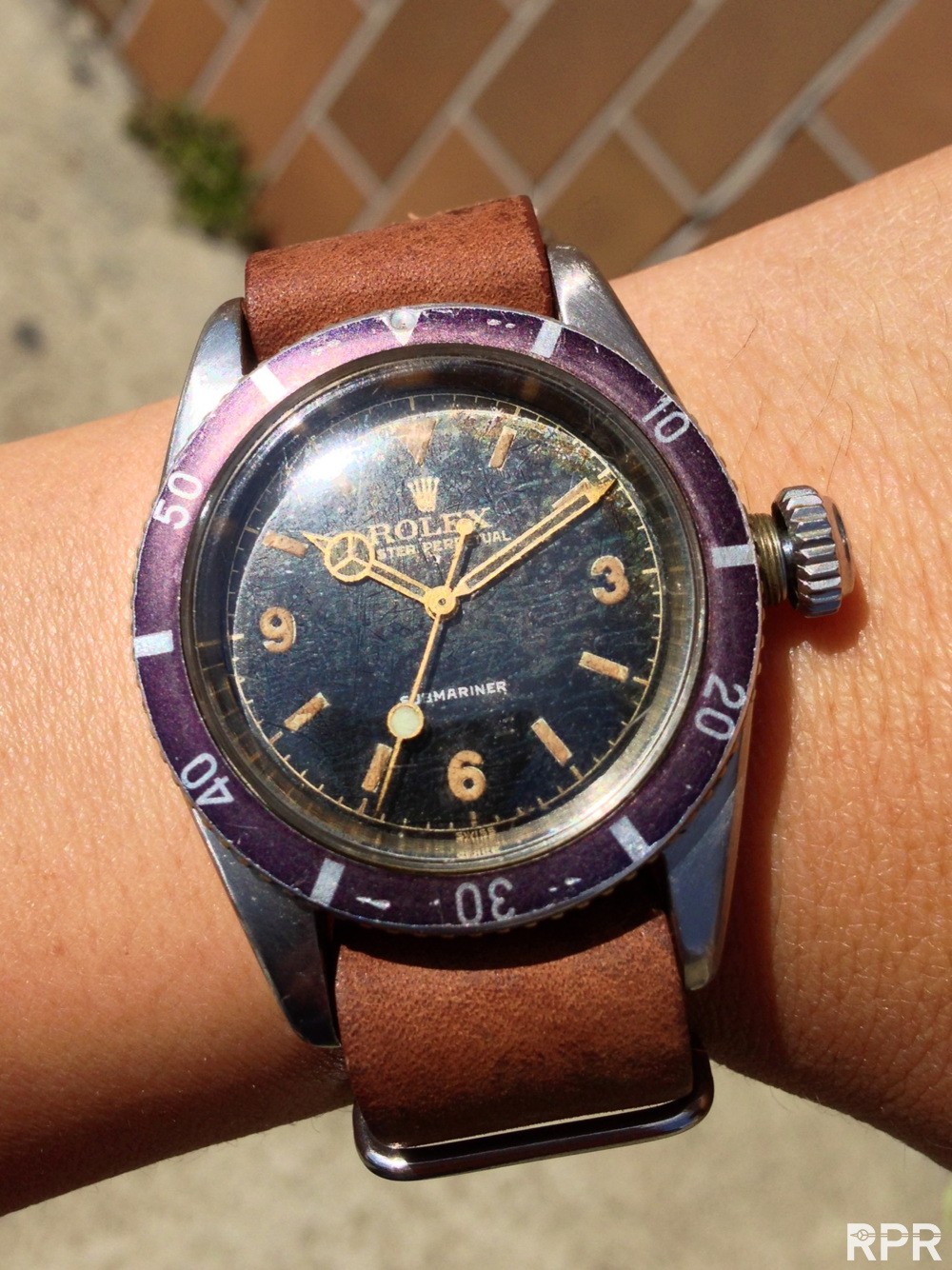 During our vintage Rolex Passion Meeting from 2012 my hand was full with Ref 6200 Big Crowns..
Yes another big crown was the Panerai – Rolex Ref 6152/1 & 6154…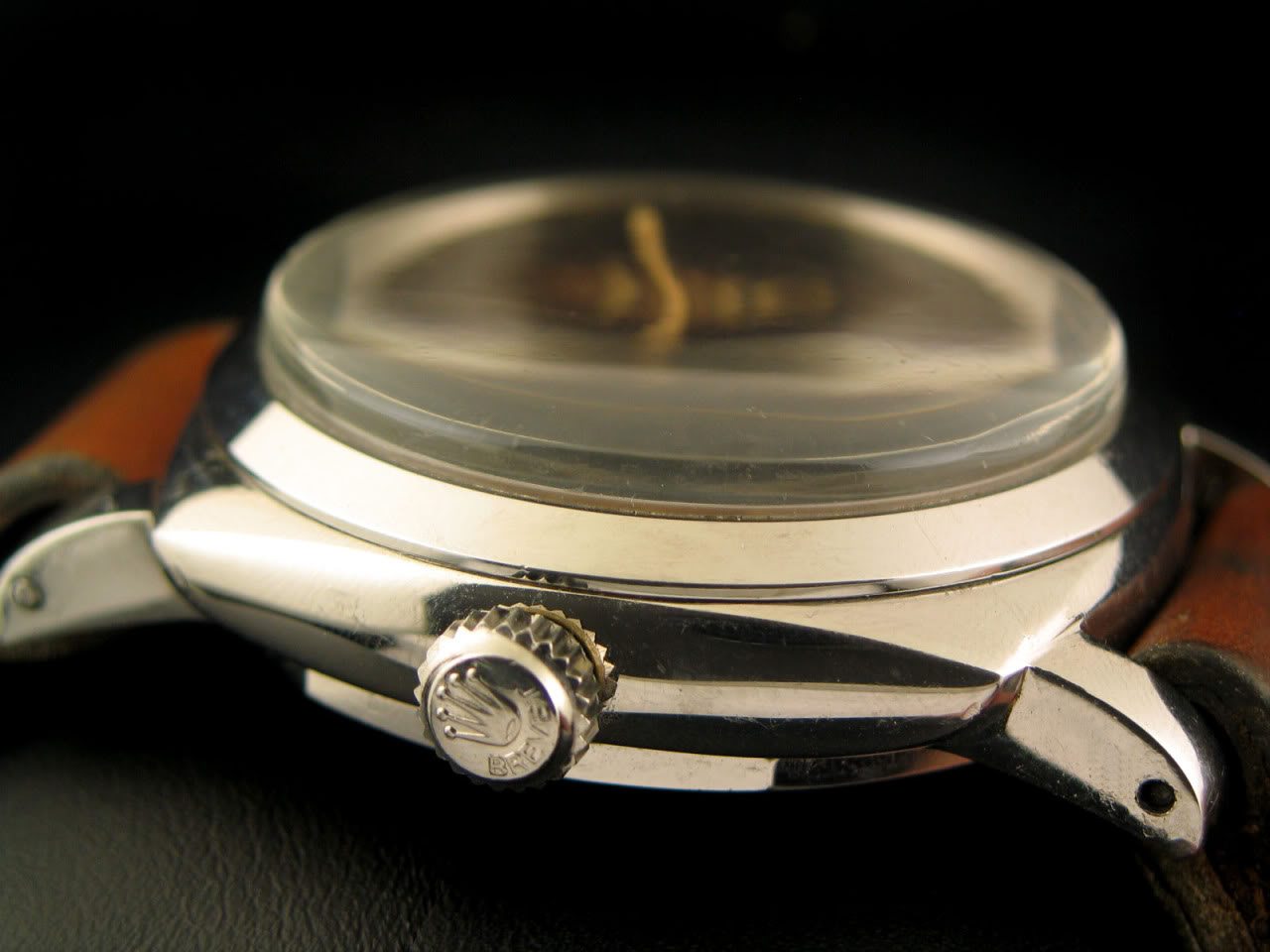 Tropical ref 6152/1 & 6538 next to each other. Both been seen as ultimate tool watches…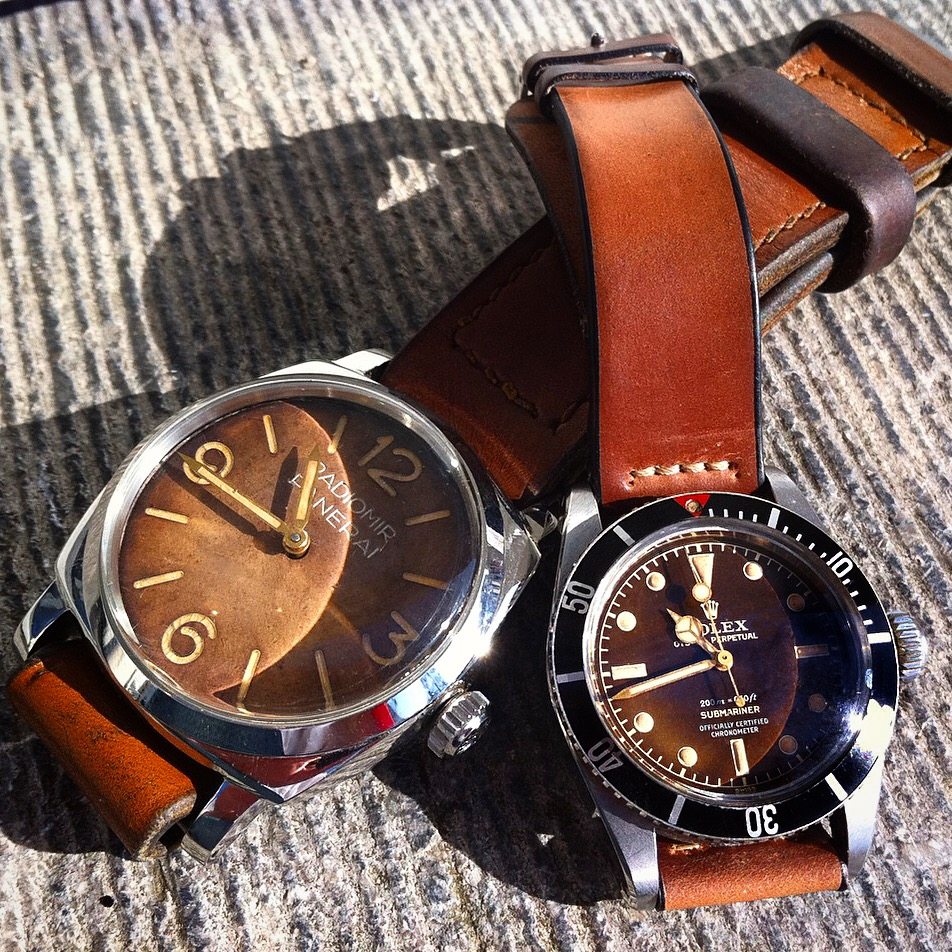 Here's a 1956 Rolex Big Crown Ref 6538 with 1 color print and high radium luminous..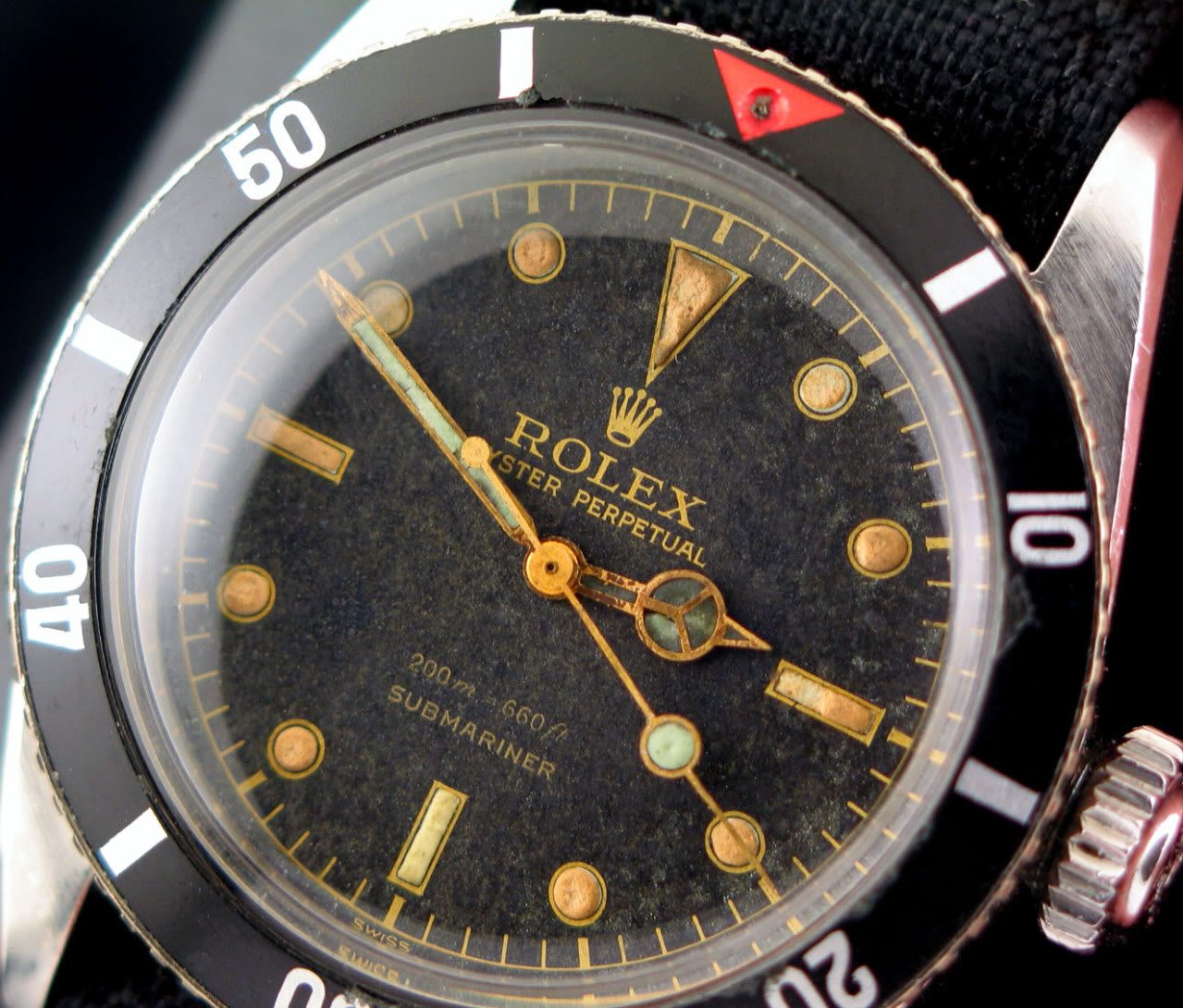 Note how the surface got partly "eaten" away by the radium dust..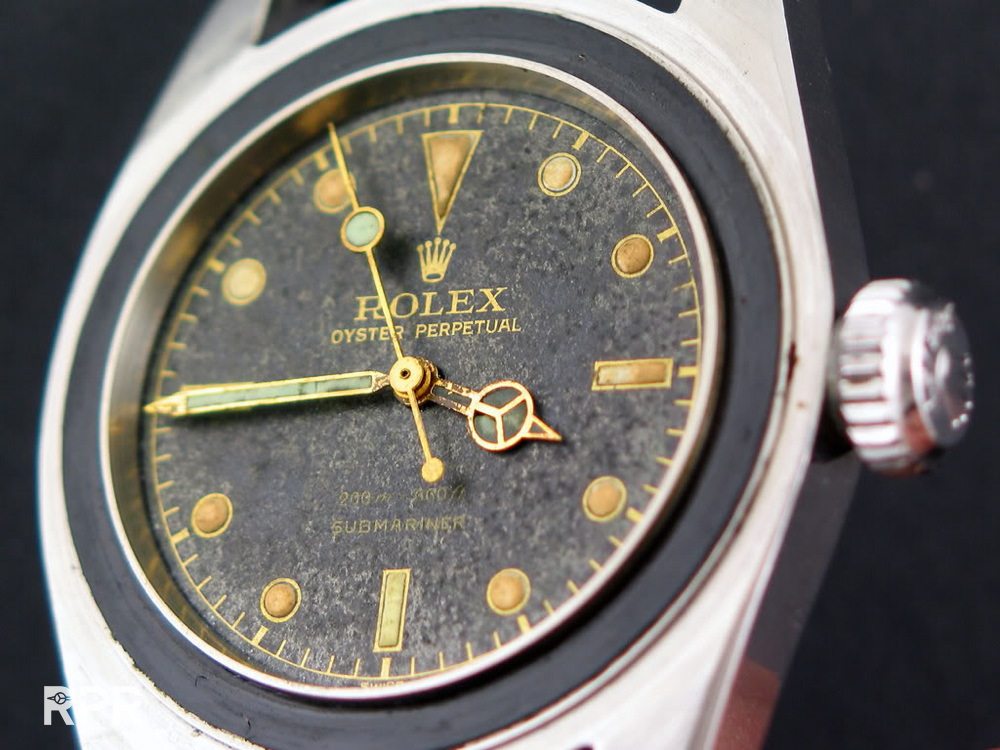 And a early 1956 – 4 line Rolex Submariner Ref 6538…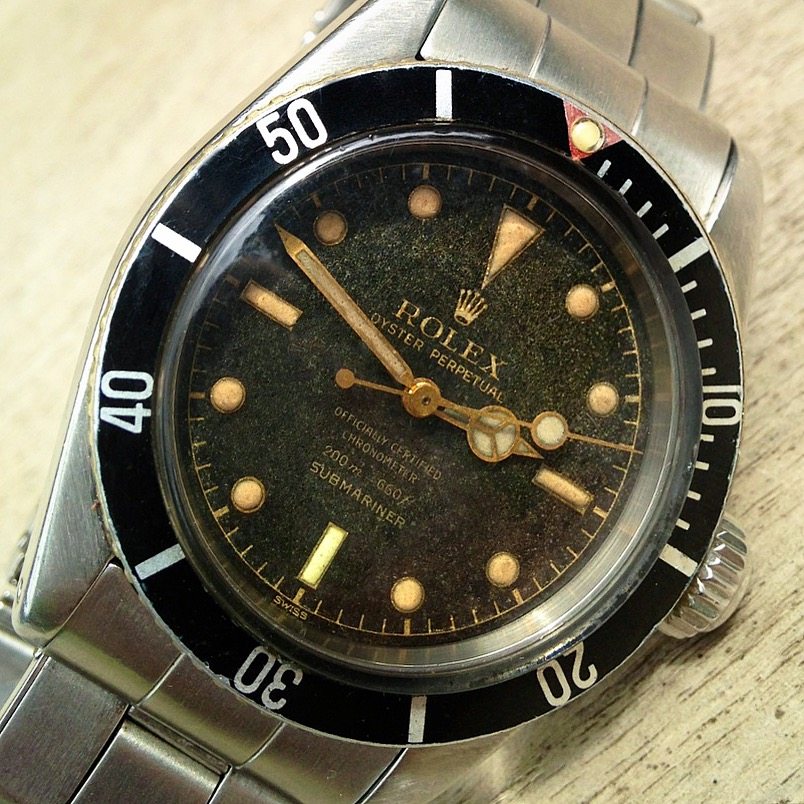 See below the switch from 1 color print to 2 color print where also the radium became less aggressive…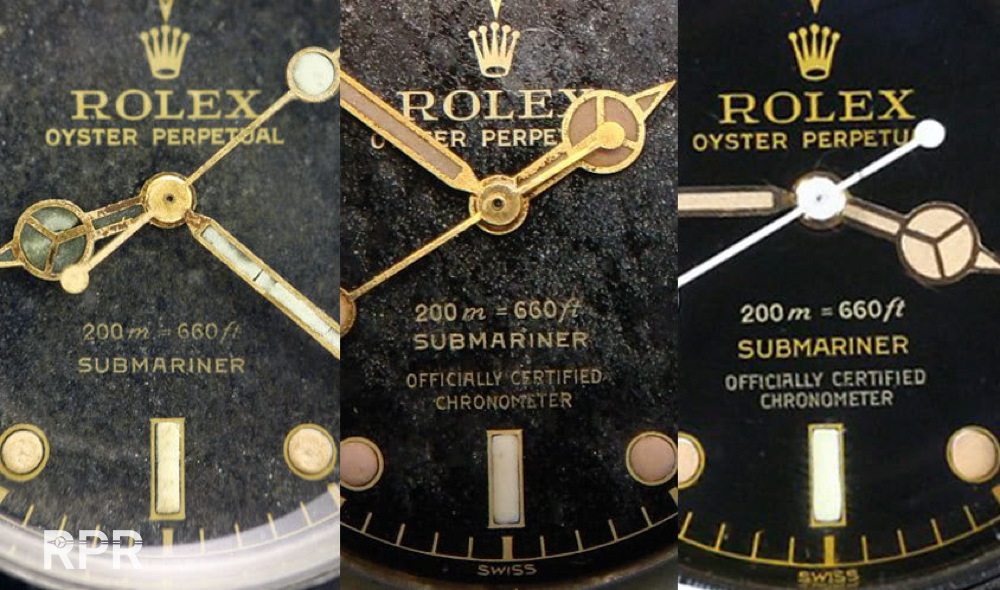 Back to pure Rolex, here's a complete Rolex Big Crown ref 6538 with it's original hangtag, receipt, warranty and CSOC certificate, invoice and dealer papers, box and catalogue and first service papers from Rolex New York. Every little bit that came with it some nearly 60 years ago I have. Honestly I think besides being very clean and perfectly tropical, this Big Crown might be the rarest and best treasure of Rolex Sports History…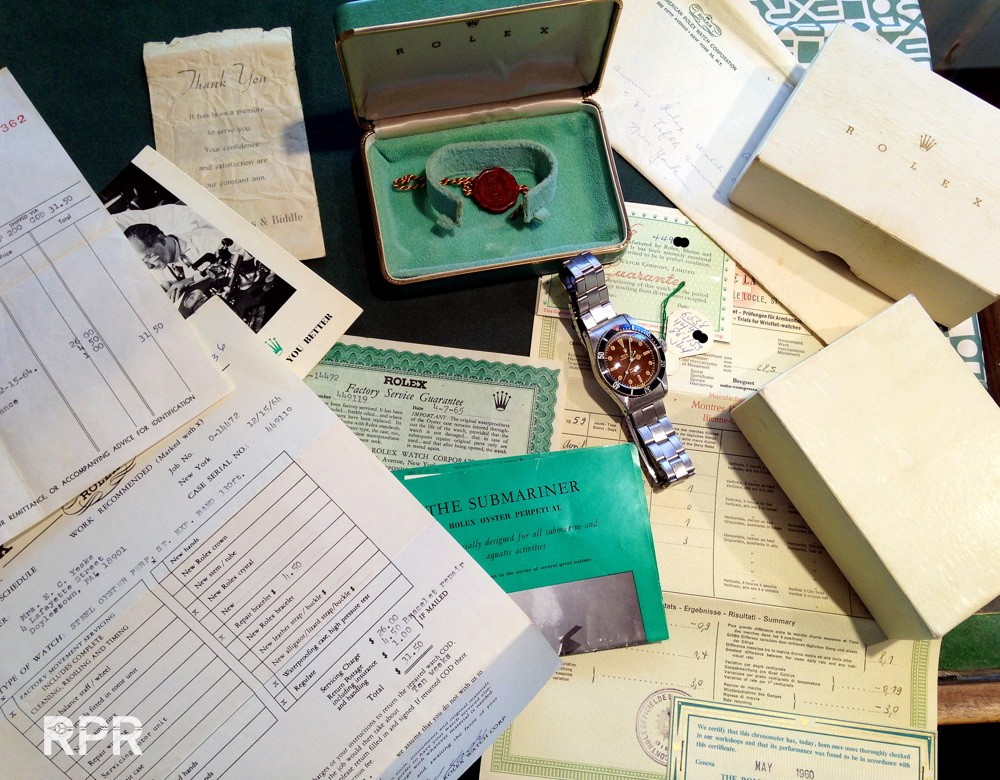 Up close, the glossy brown color is so intense, one can hardly believe that Rolex delivered it originally in black…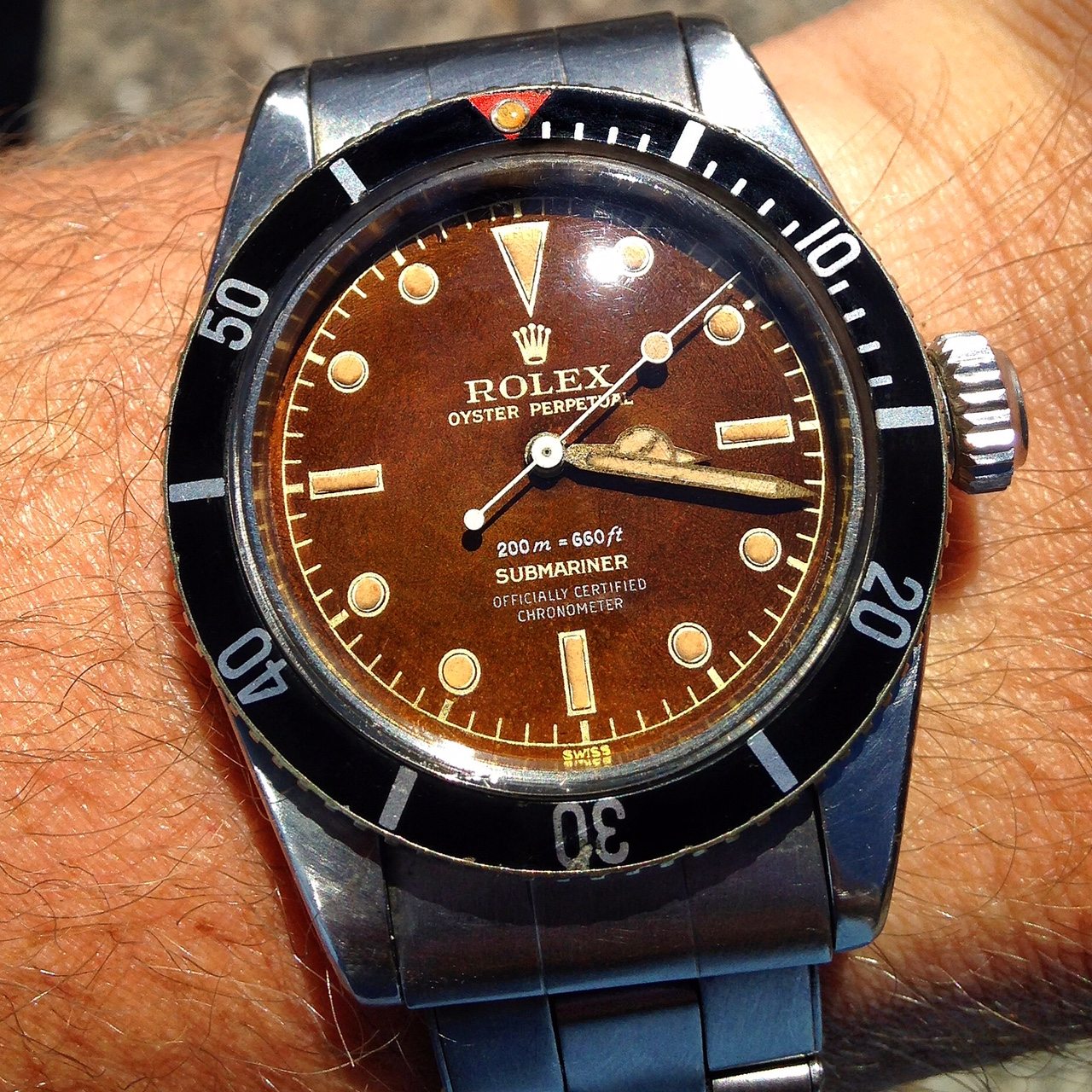 James Bond was already aware about the fact that the Big Crown dials where having radium, that you could detect with a geiger..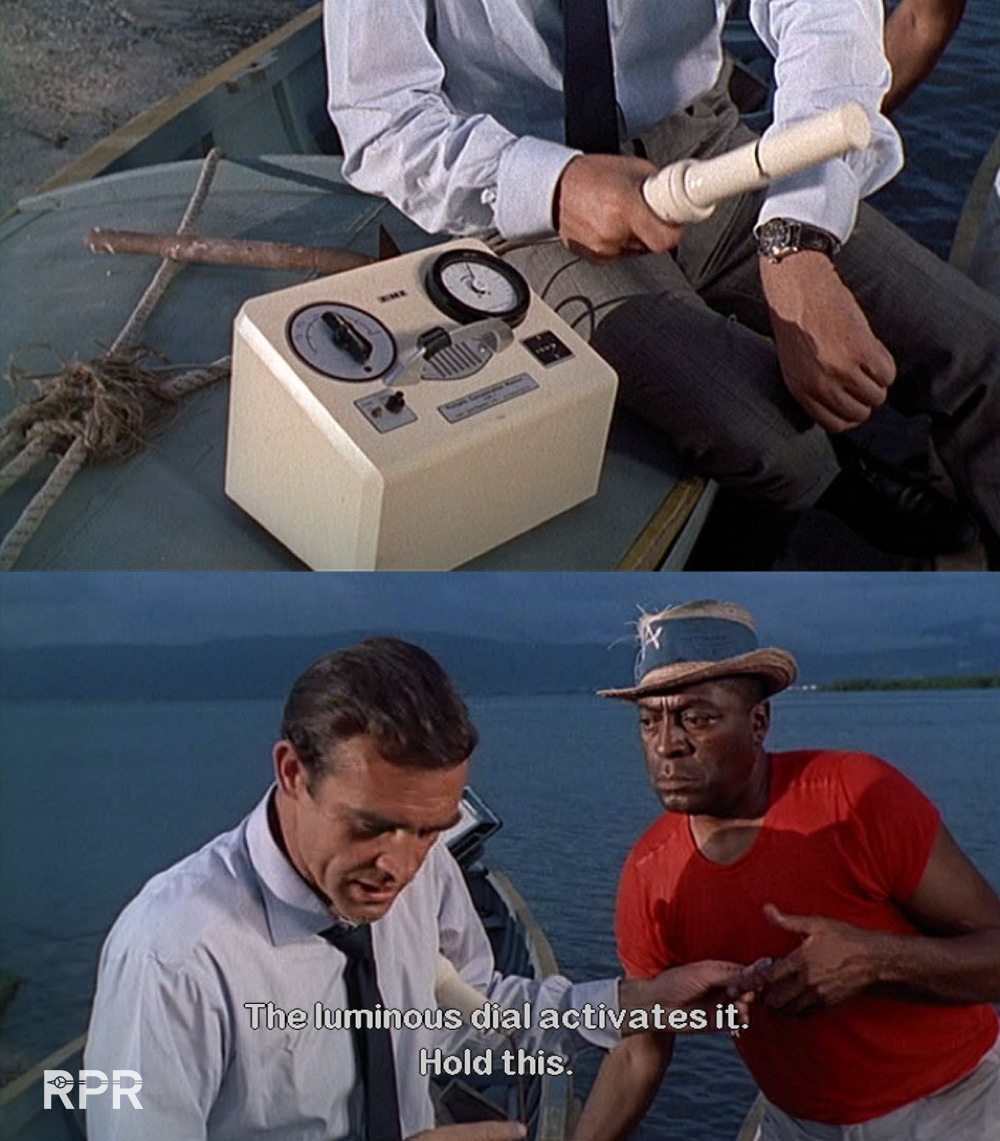 Below you see a 1954 Ref 6200 OCC, a 1956 Ref 6538 and a 1958 Ref 6538….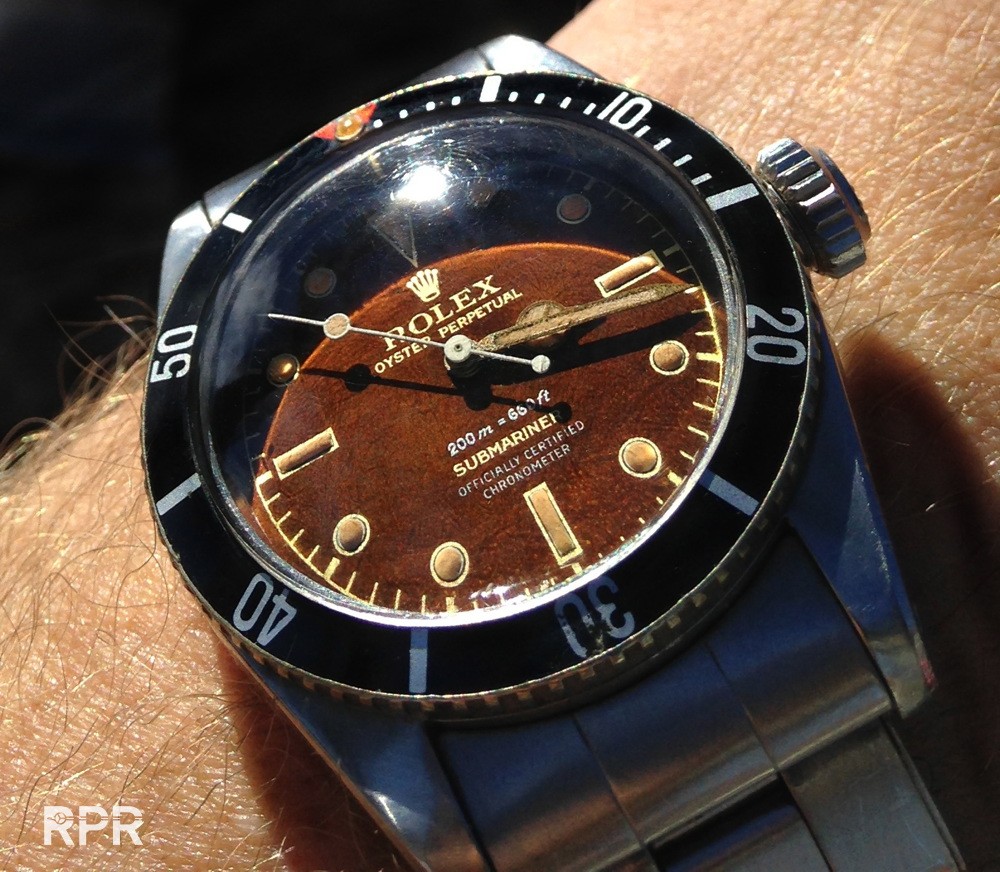 2 x 4 line Big Crown ref 6538, the left one is from 1956 and the right one is from 1958…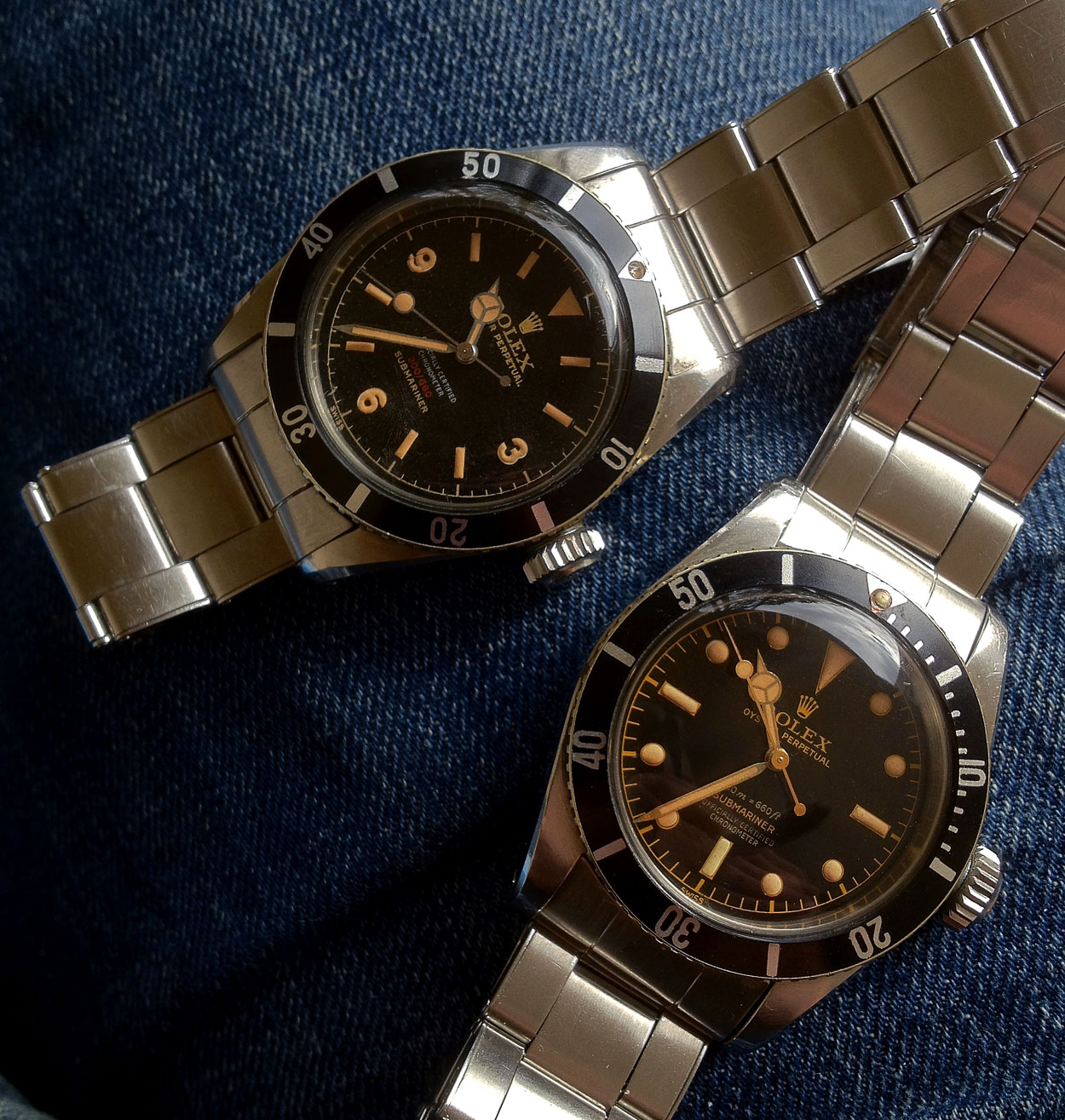 The Ultimate Submariner so far, the rarest version of James Bond Submariner we've seen so far, the MK1 Big Crown ref 6538 with fat chamfers, 3-6-9 explorer dial, red depth and white OCC in untouched all original condition. It's found in South America.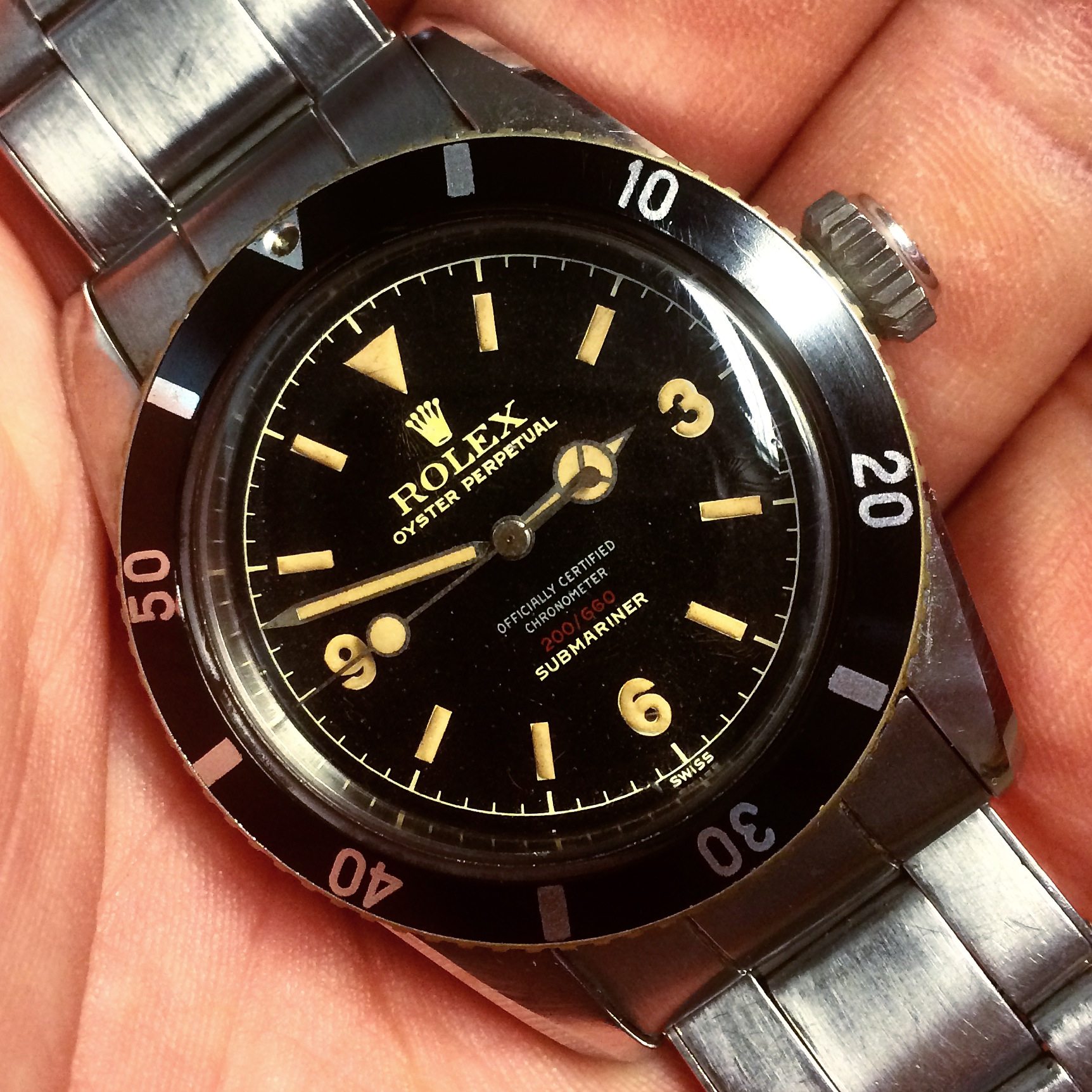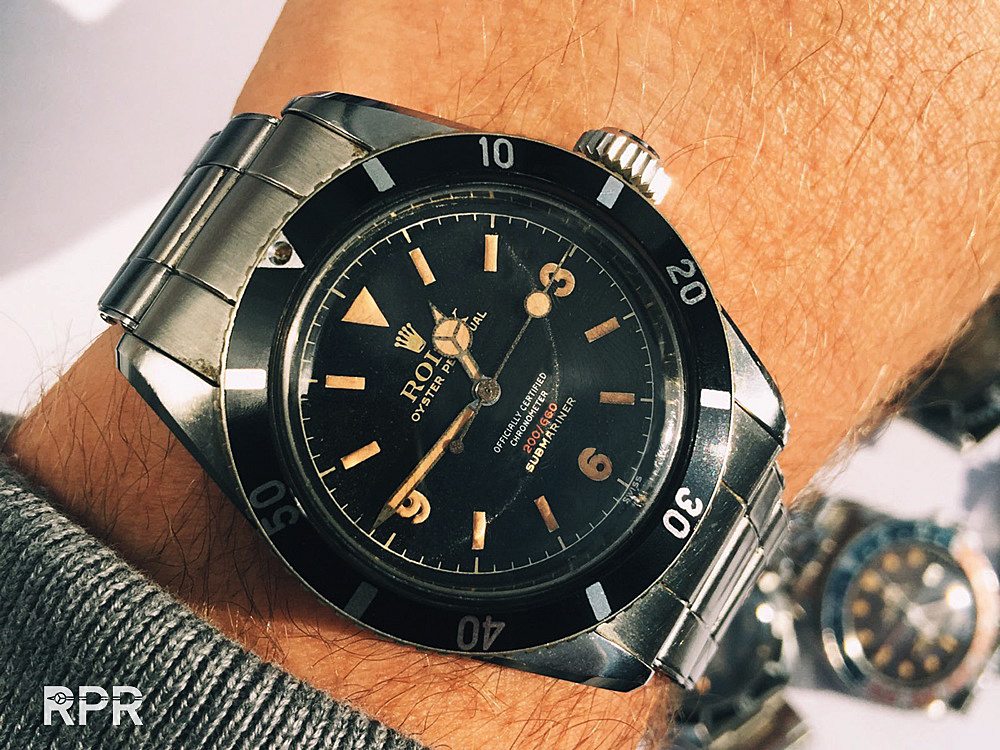 The original crystal is still on it, iced by the radium dust…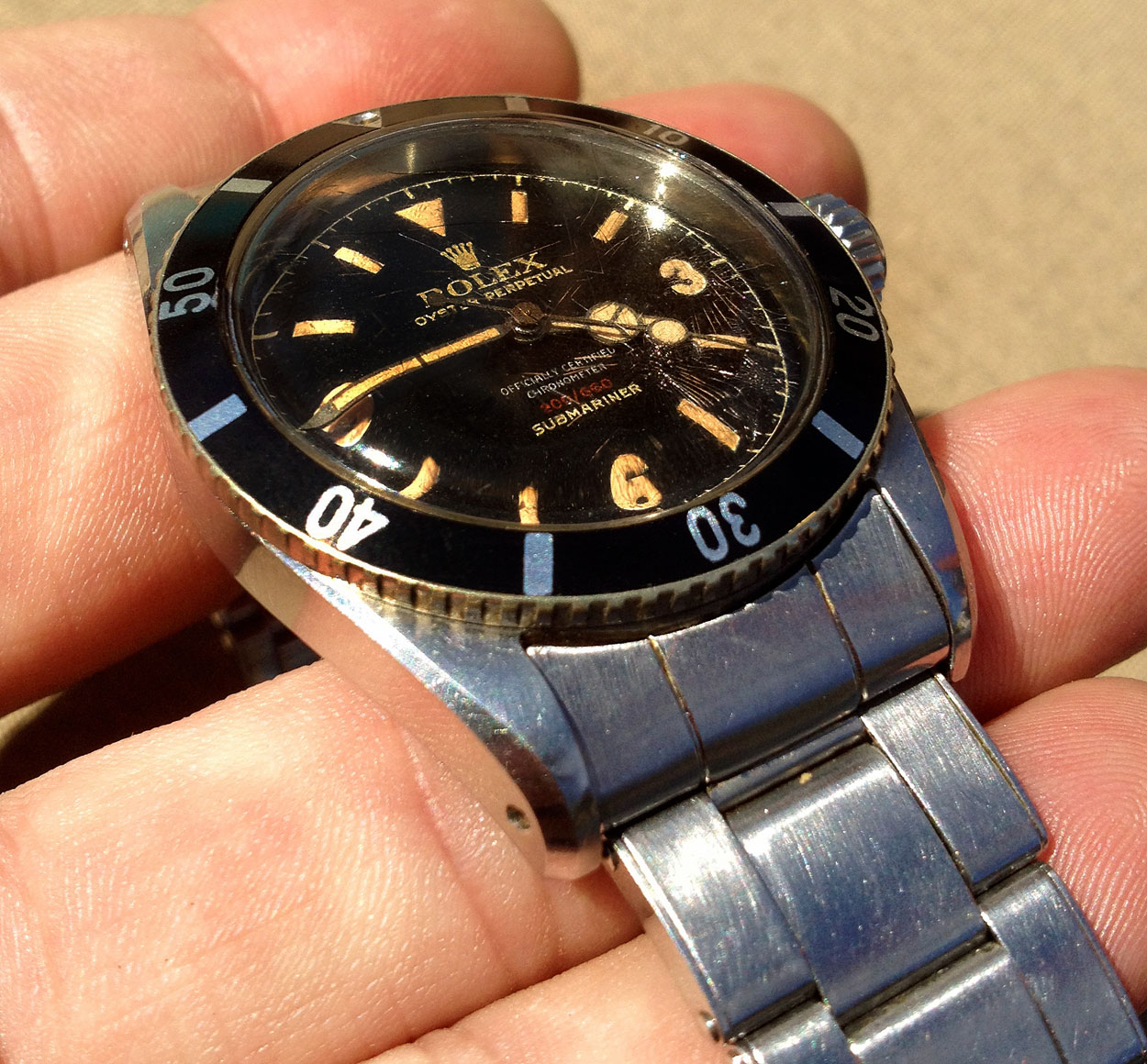 Small Crown Ref 6536 with red depth: 100/330 vs Big Crown 6538 red depth: 200/660, Note also the different bezel insert!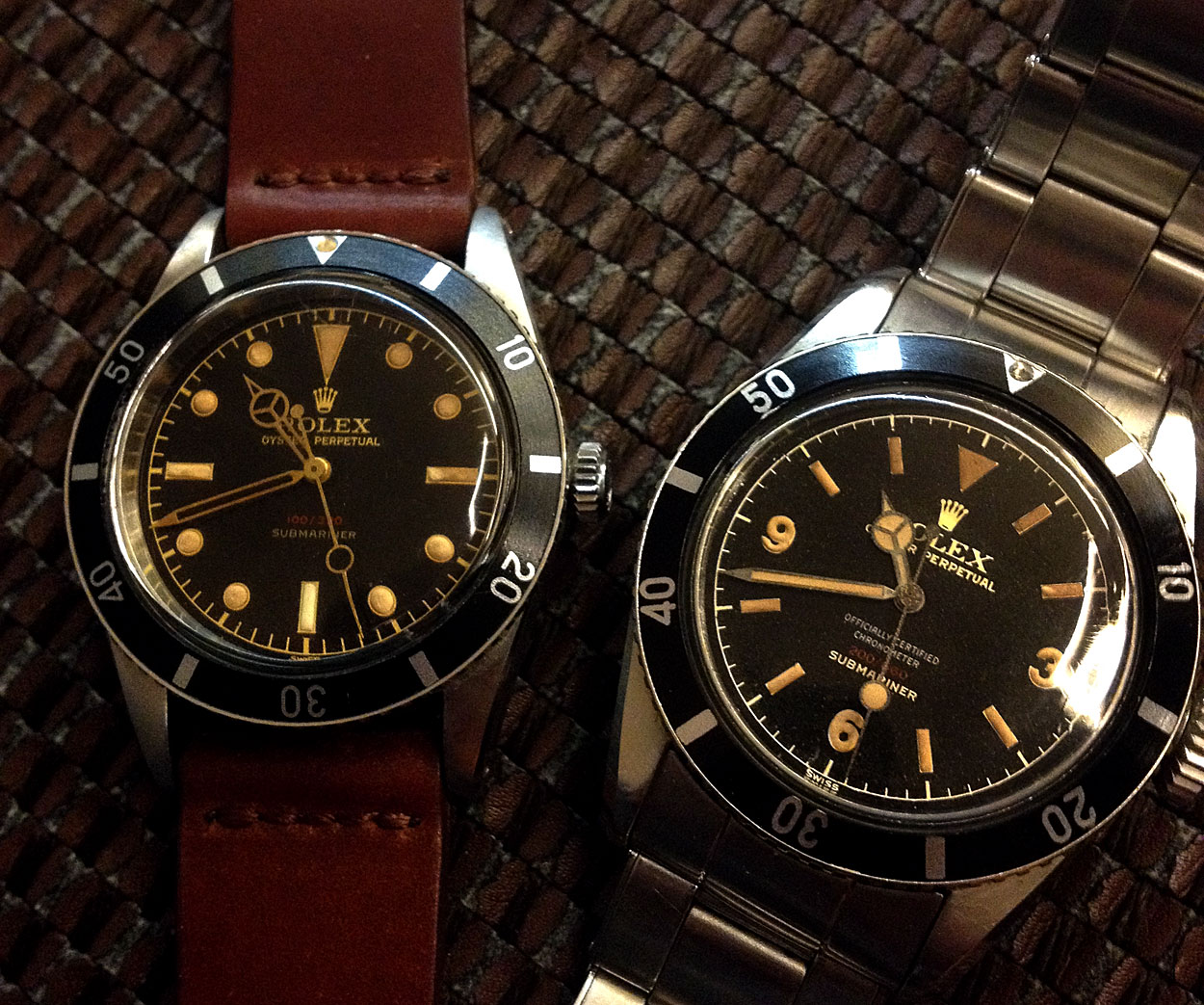 Big Crown Rolex Ref 6538 with 3-6-9 explorer dial and Red Depth…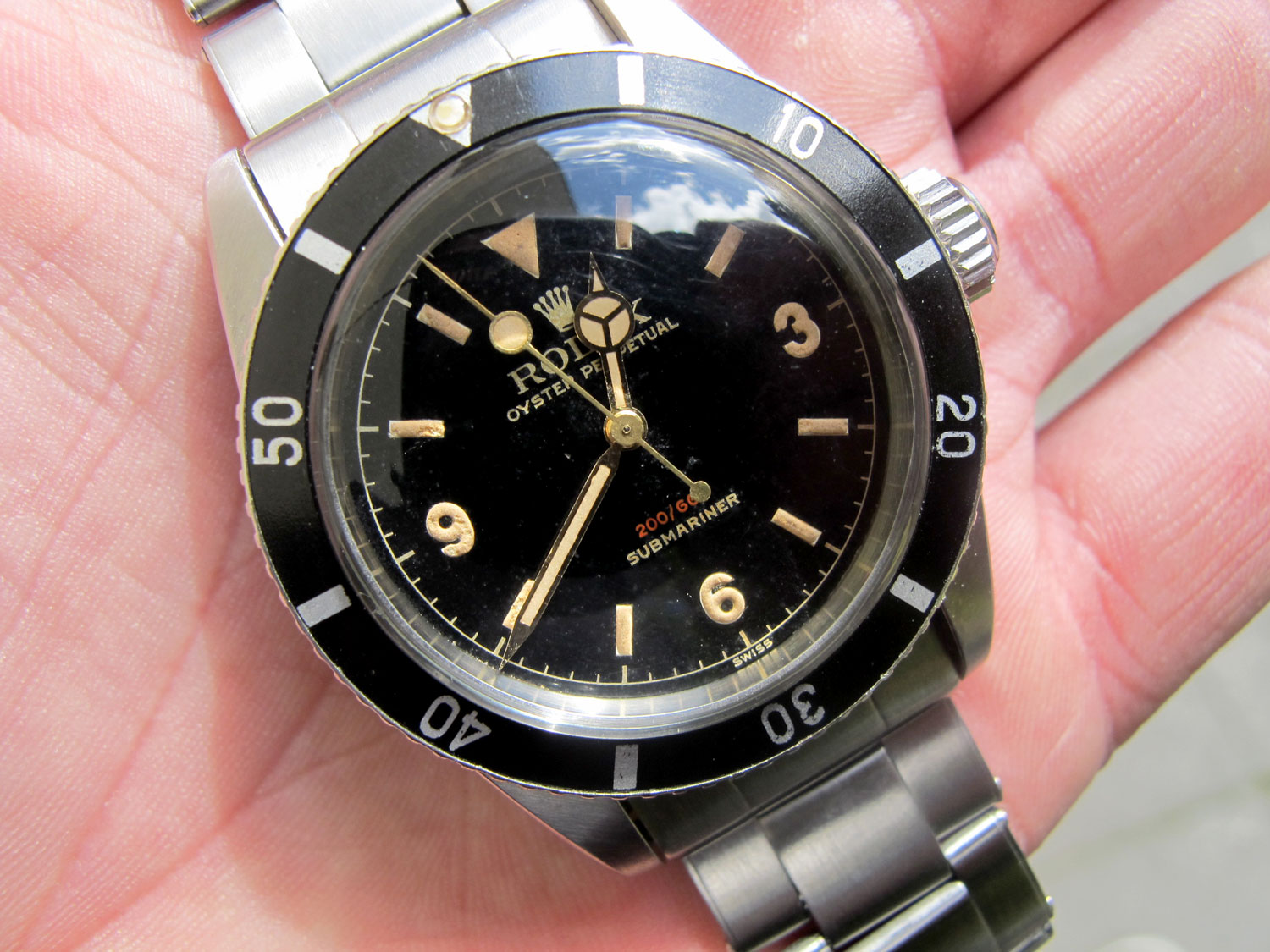 The robust automatic movement by Rolex, caliber 1030..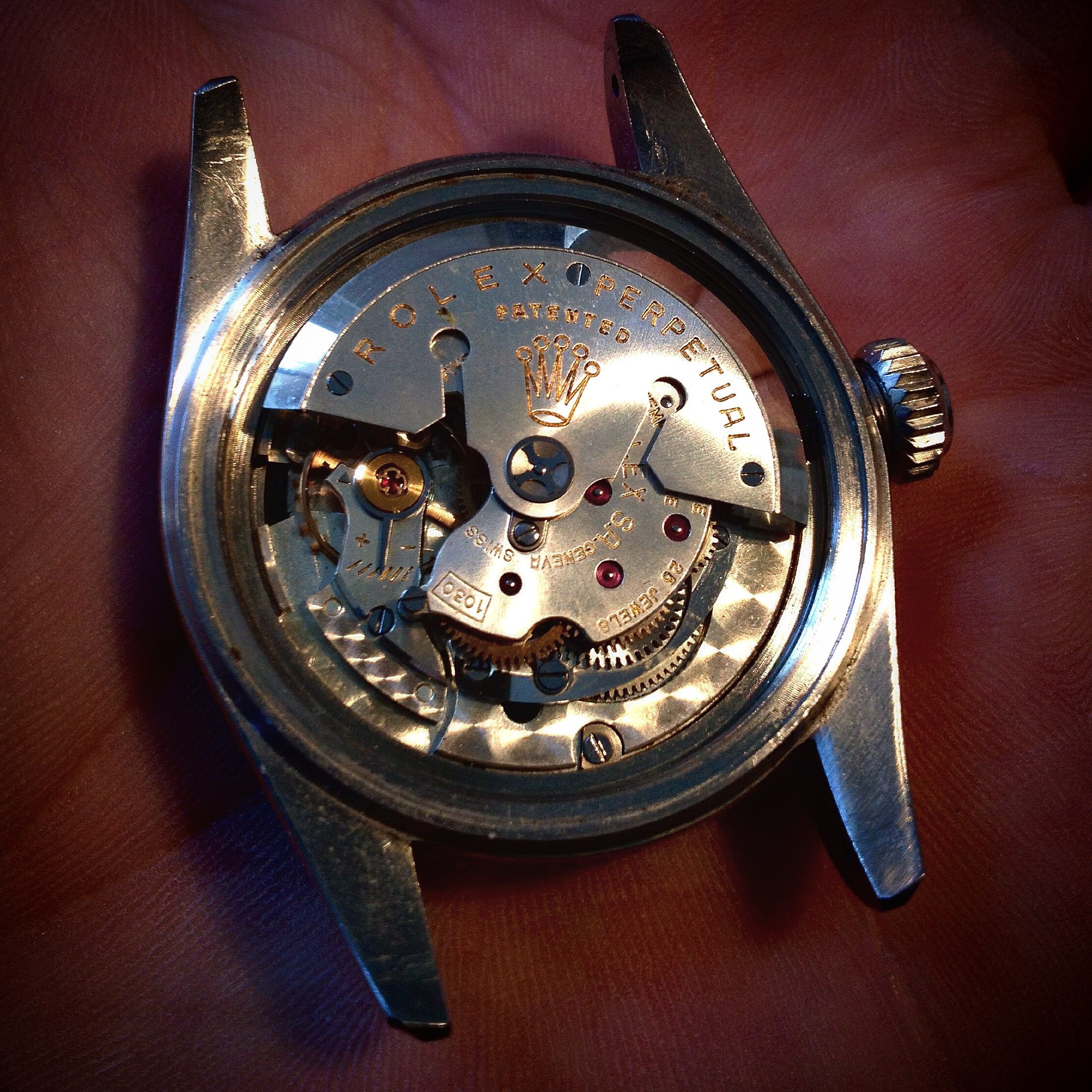 On the left it's a regular Explorer Ref 6350 from 1953 that stood as an example for the early 3-6-9 Submariner ref 6200's and on the left you see a regular Rolex Big Crown Ref 6538 of the final version..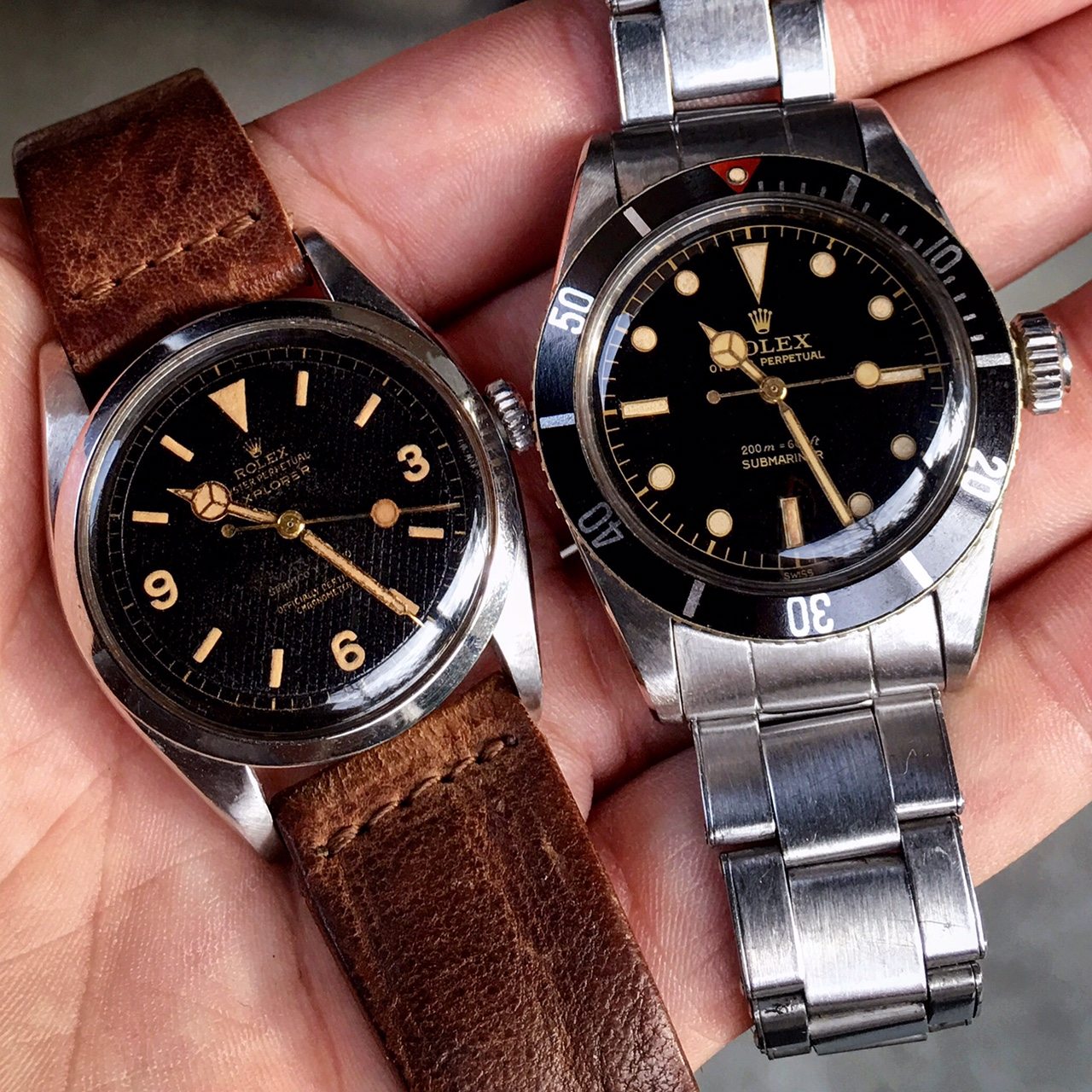 Here's another  'regular' rare Rolex Big Crown ref 6538 with 4 line text in black…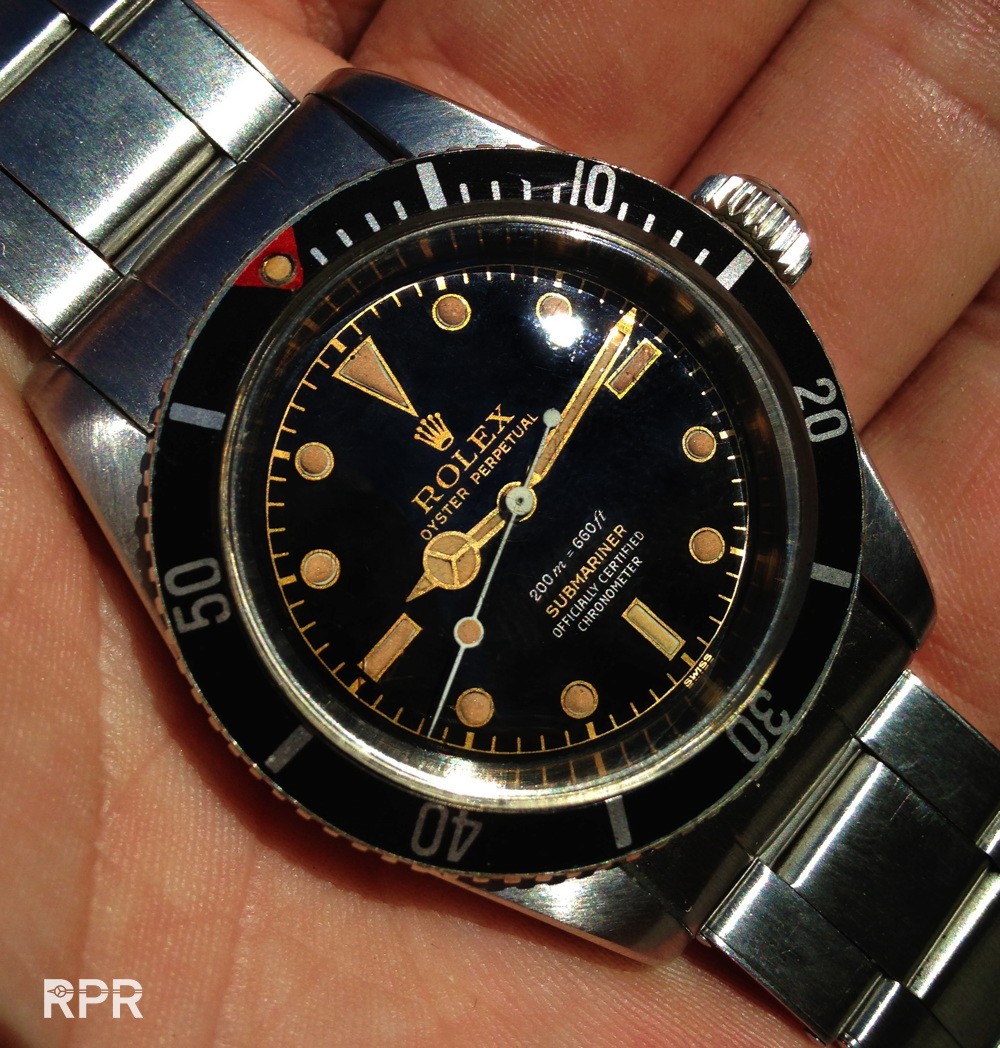 From different angles, here you see how thick the super doomed crystal was..
And this one is having a perfect glossy brown tropical dial – 4 line Brown Rolex Submariner Big Crown Ref. 6538.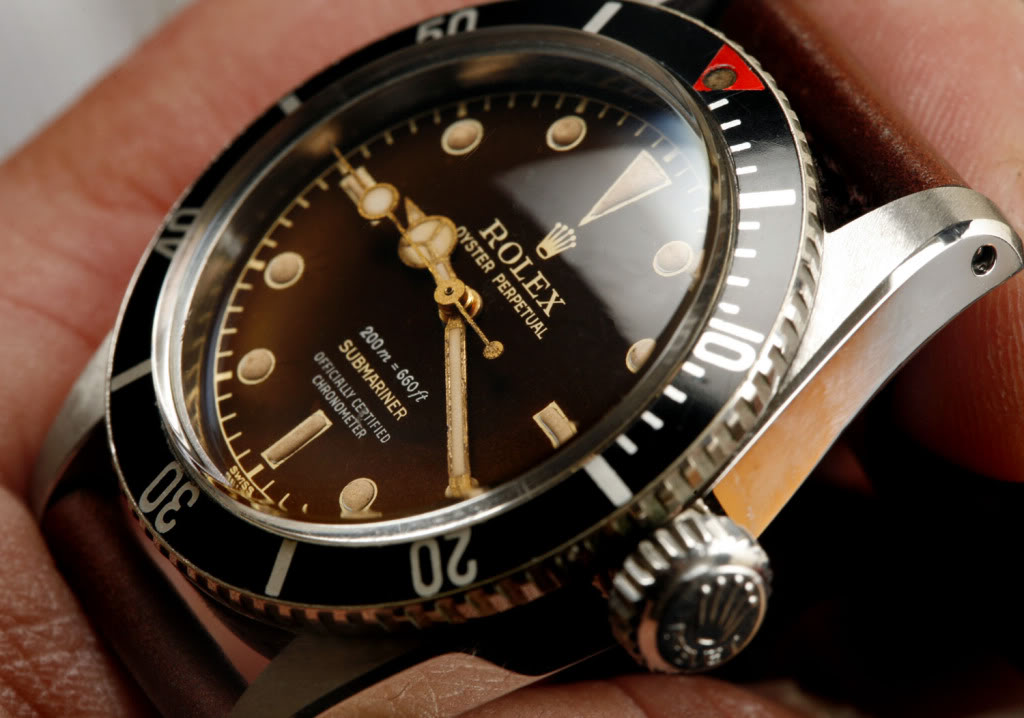 The glossy brown dial has so beautifully aged that I was very scared to wear it for a long time..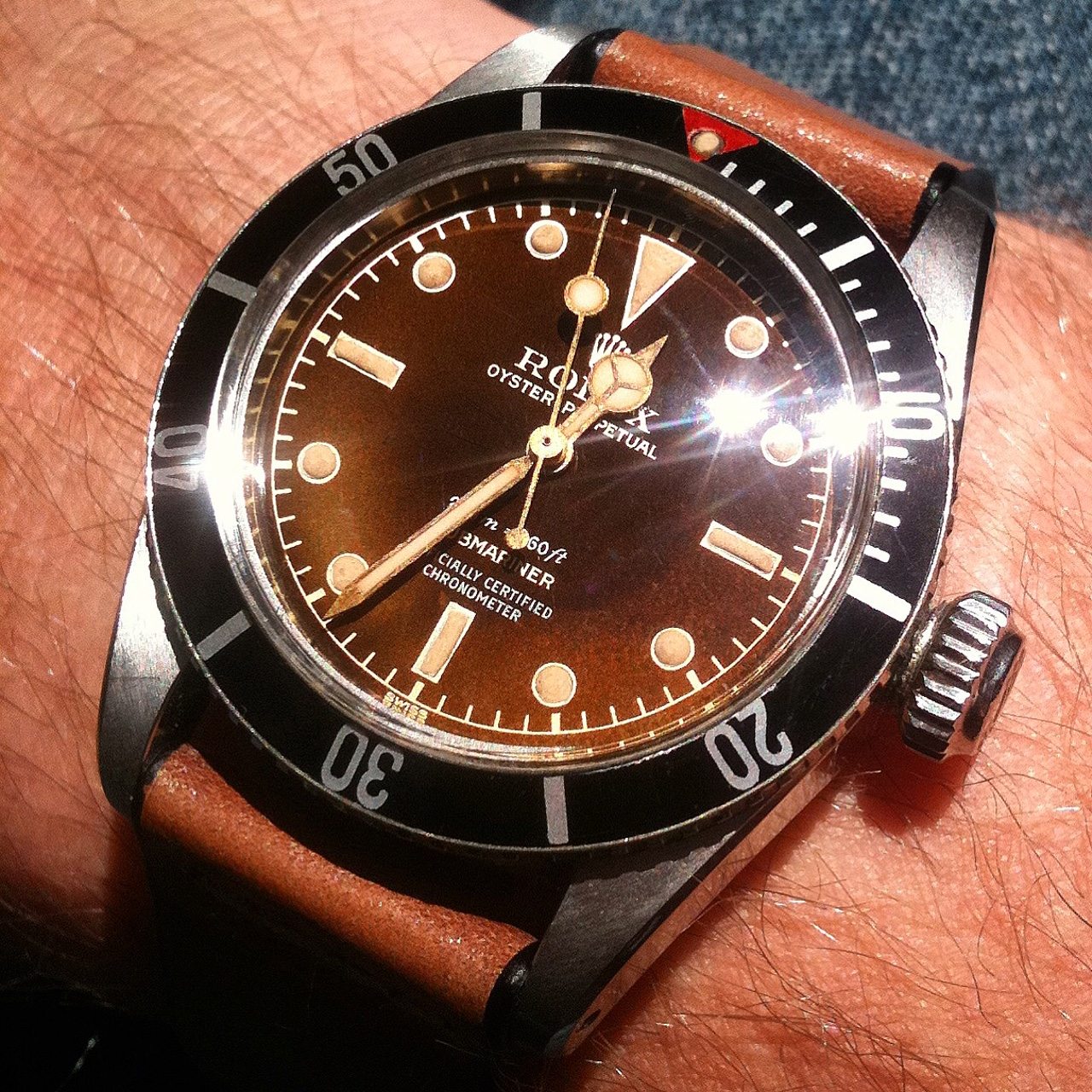 From every angle it's different and only actual owners of these ultra rare vintage Rolex do understand the magic they have!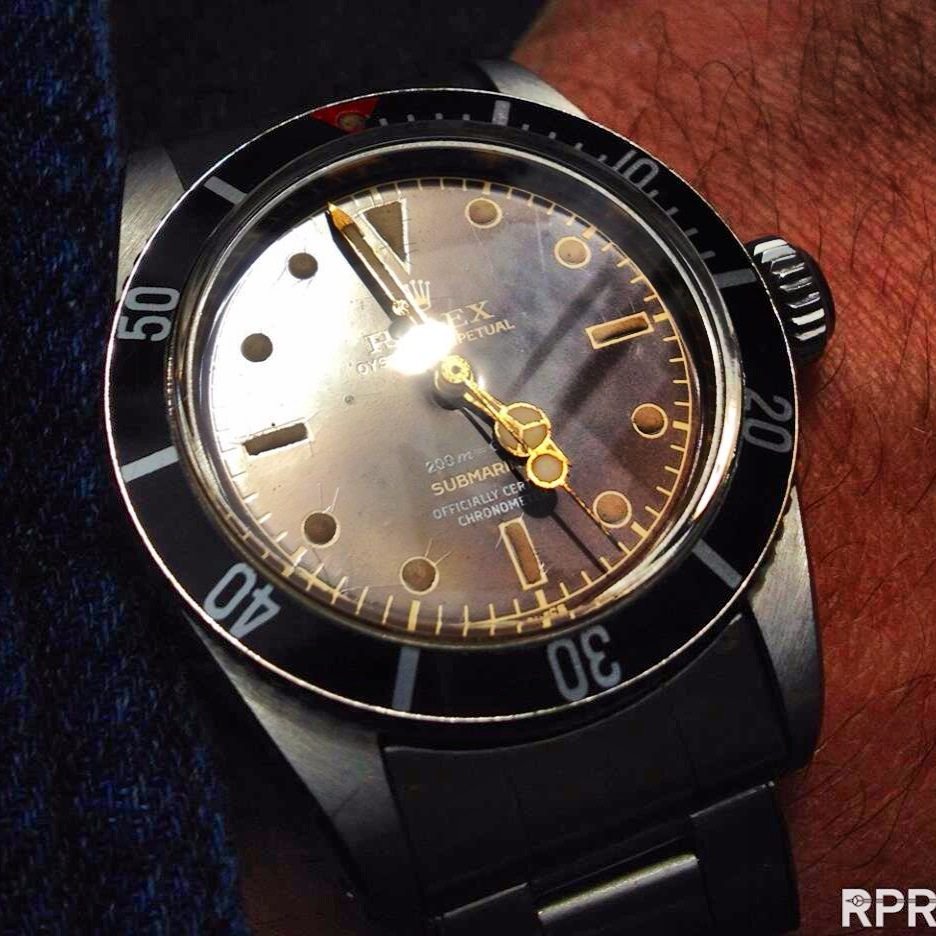 Up close with a cool macro shot from the son of the original owner, "The Desert Big Crown"….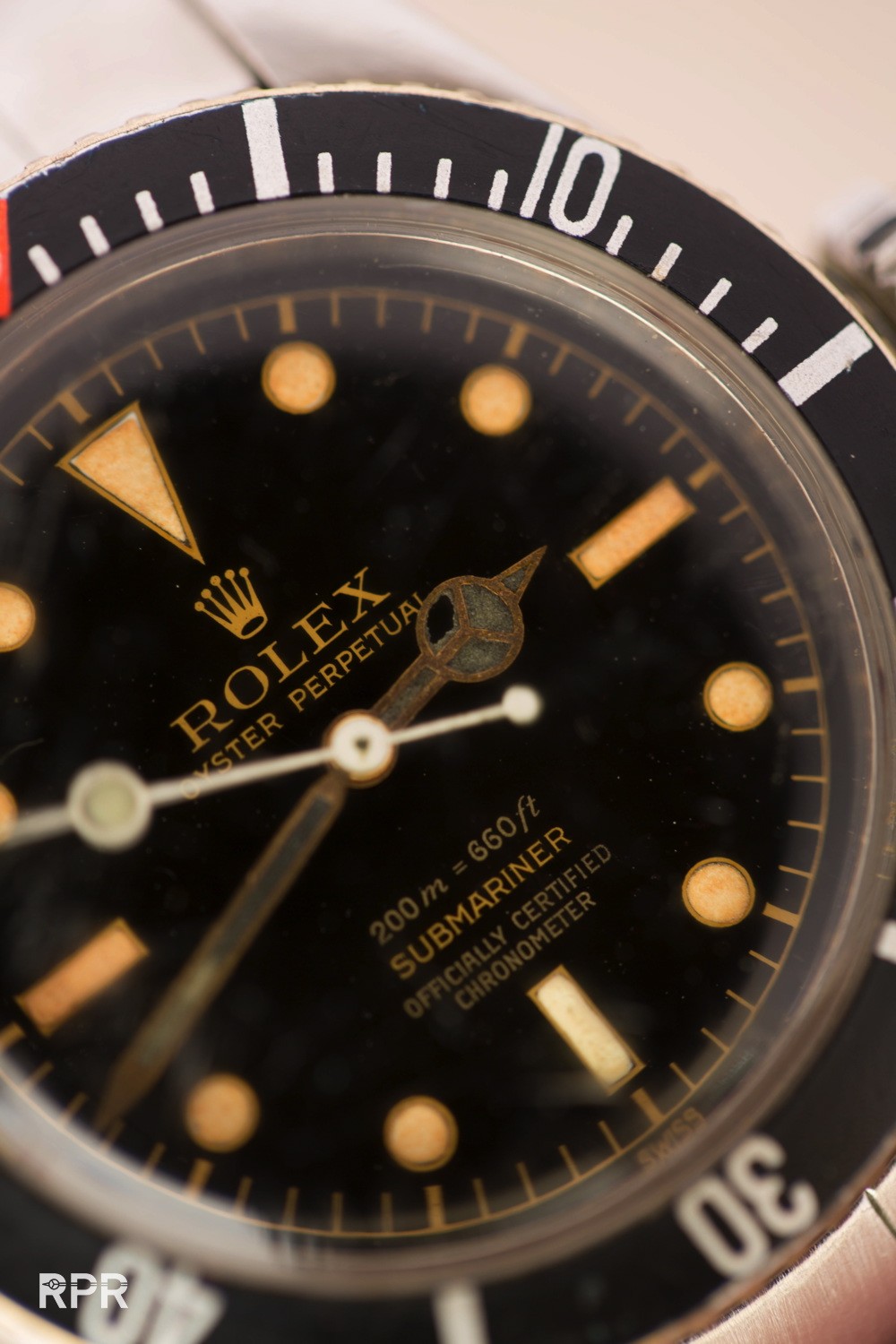 Without the crystal i'm holding it in my hands. Remarkable to see that the dial quality is still so perfect after many years of heavy use. The original owner told me he rinsed his big crown every time he dived with it in salt water. Each and every of these exceptional tool watches Rolex made proof their durability and are an compliment for the achievements of the constructors and designers back then. Geneva can be very proud of what they produced from 1953 upwards..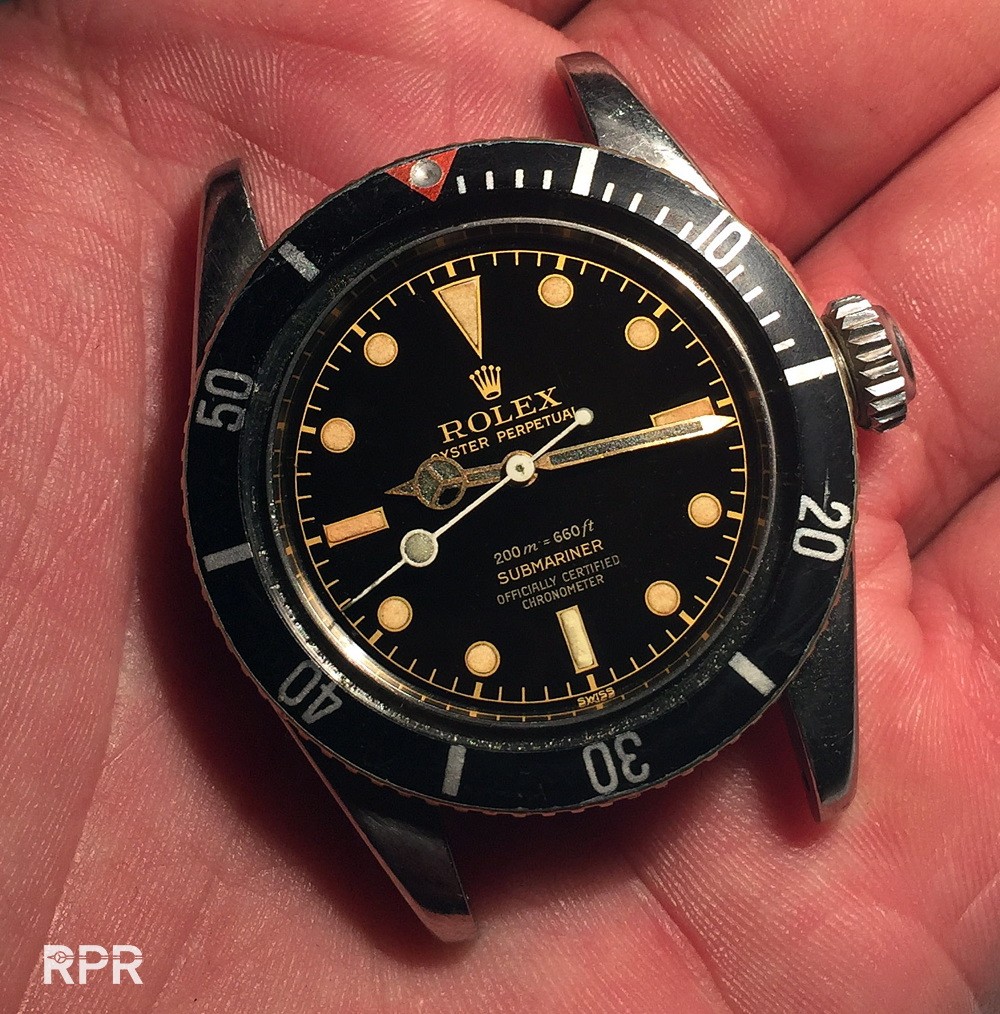 Then Rolex also specially made a Ref 6540, later called the Ref A/6538 for the UK Military. This so far unique example you see below I recently bought directly from the original owners son, who contacted me. Read my report about the whole story over here…….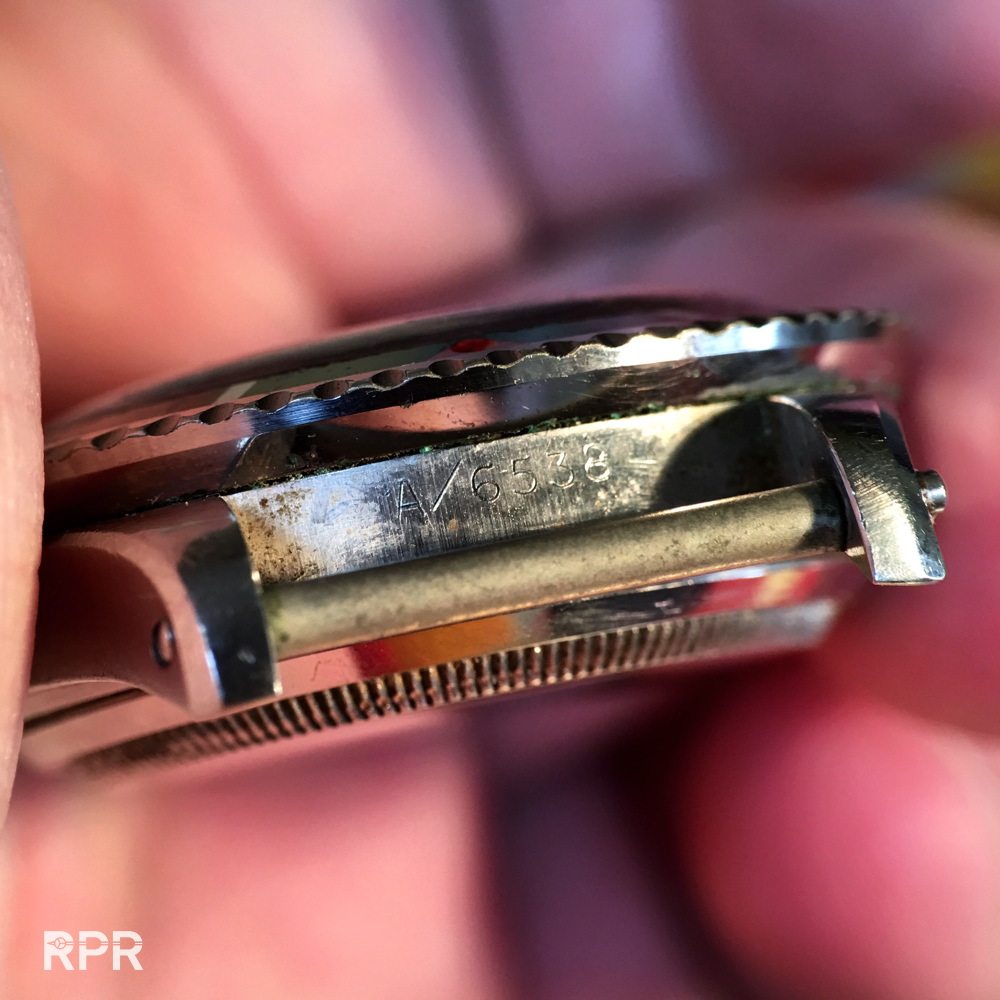 The prototype "german silver" bezel up close, which later became so iconic on every Submariner that left Rolex factory…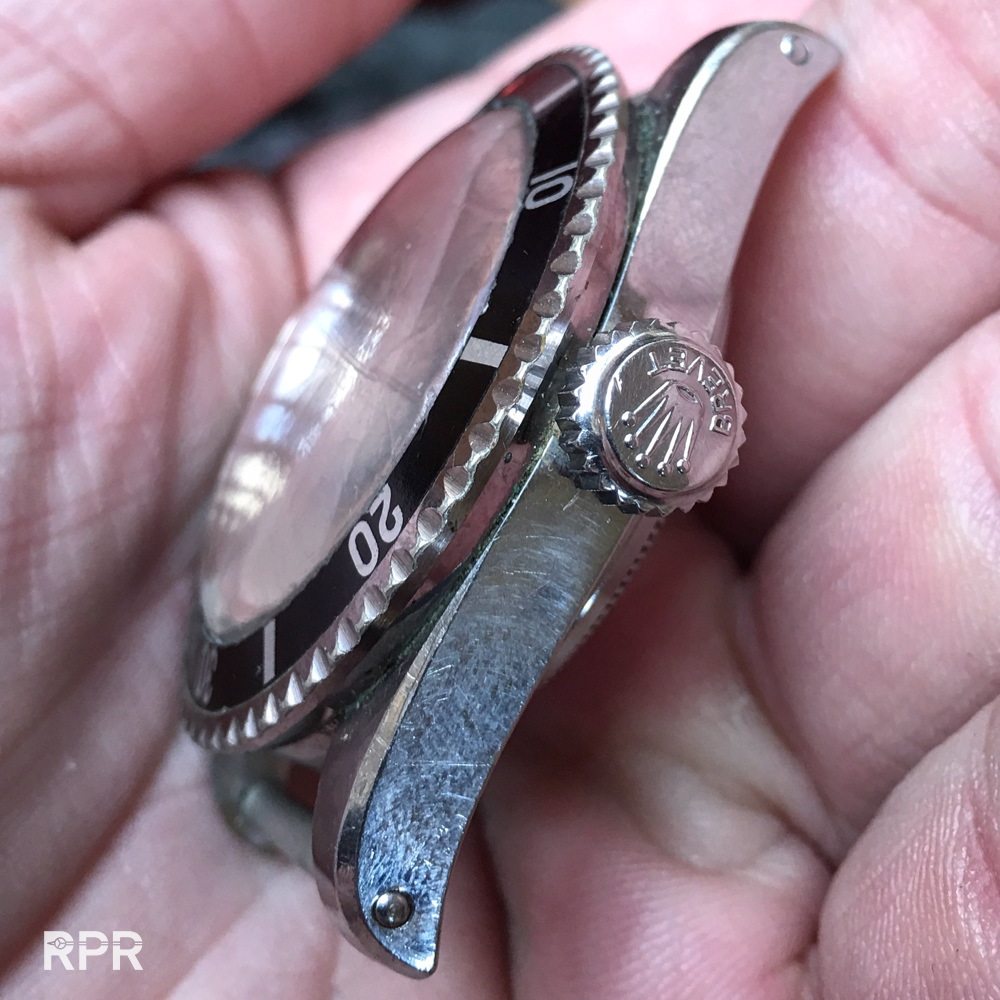 Special UK Navy markings in the caseback, fixed springbars and the serial number on the case back instead of between the lugs are some of the unique features this rare A/6538 Big Crown has.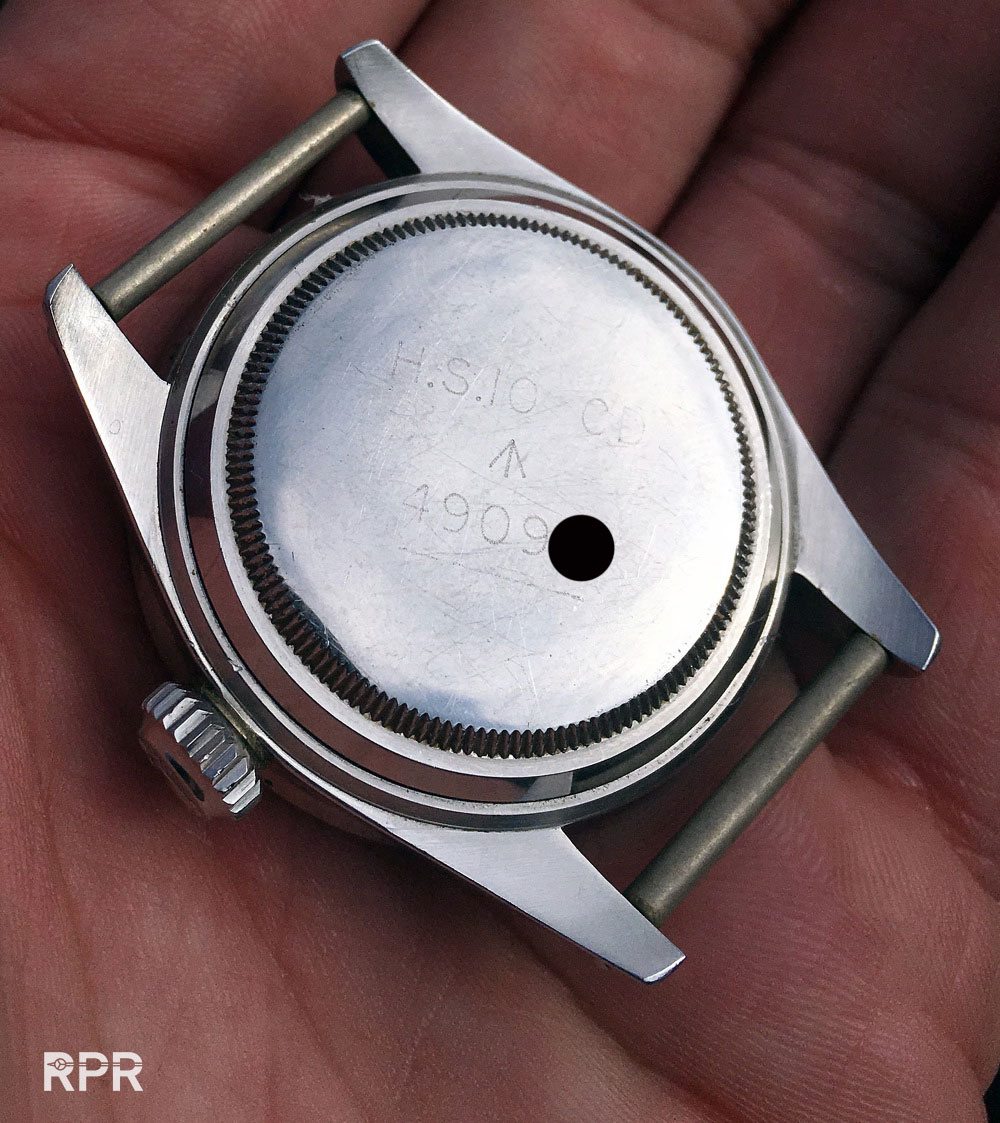 Mike Wood wrote: "As the real danger of radium became apparent, the watches were recalled to the Ministry of Defence in the early 1960's, where the watchmakers at the observatory at Herstmonceaux Castle in southern England fitted dials with tritium luminous markers, tritium hands, and bezel inserts with tritium markers dots. This below one is having the later reprinted tritium dial…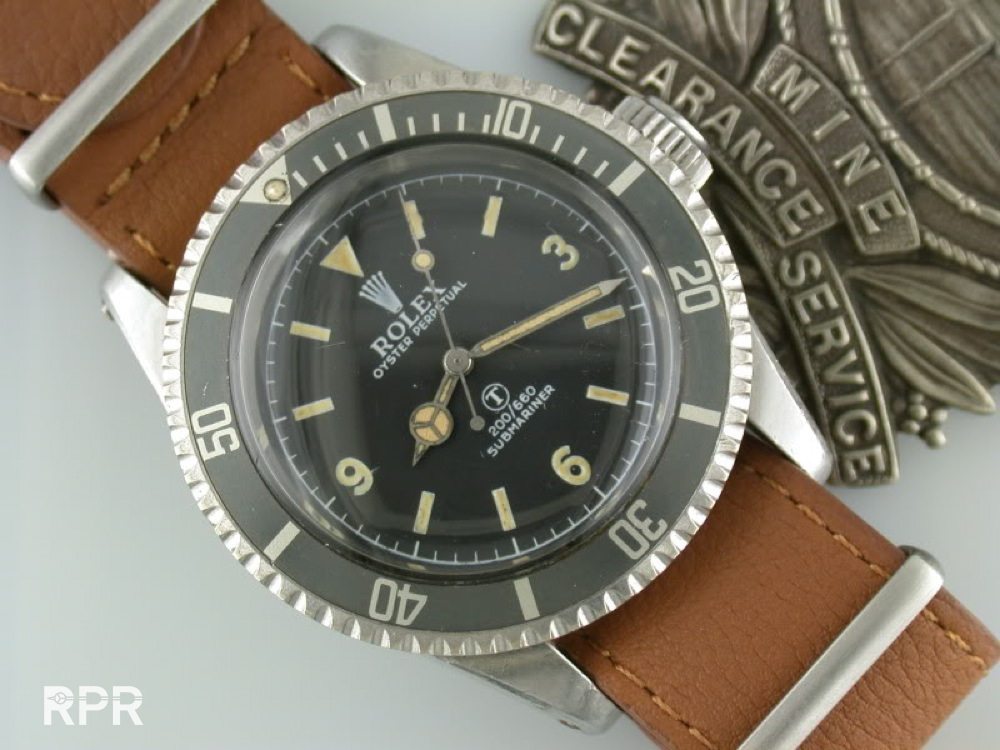 The dials were printed for the Ministry of Defence with a very clear and legible 3-6-9 lay-out, with a very tall Rolex coronet, and the T-circle signifying tritium luminous compound. The dials are also referred to as the "Burford dials". The bezel on the watch is unique to the A/6538, being much deeper than that fitted to the civilian Submariner watch (possibly for better grip when wearing thick diving gloves?), and is made from a metal alloy referred to as German silver. The extra height of the bezel necessitates a "double height" glass retaining ring, but the bezel does not clip very securely and invariably these watches lose their original bezels (replacements are unobtainable 🙁 )
Here's the A/6538 – 6540 I found, without the german silver bezel Mike describe up here, probably lost in combat…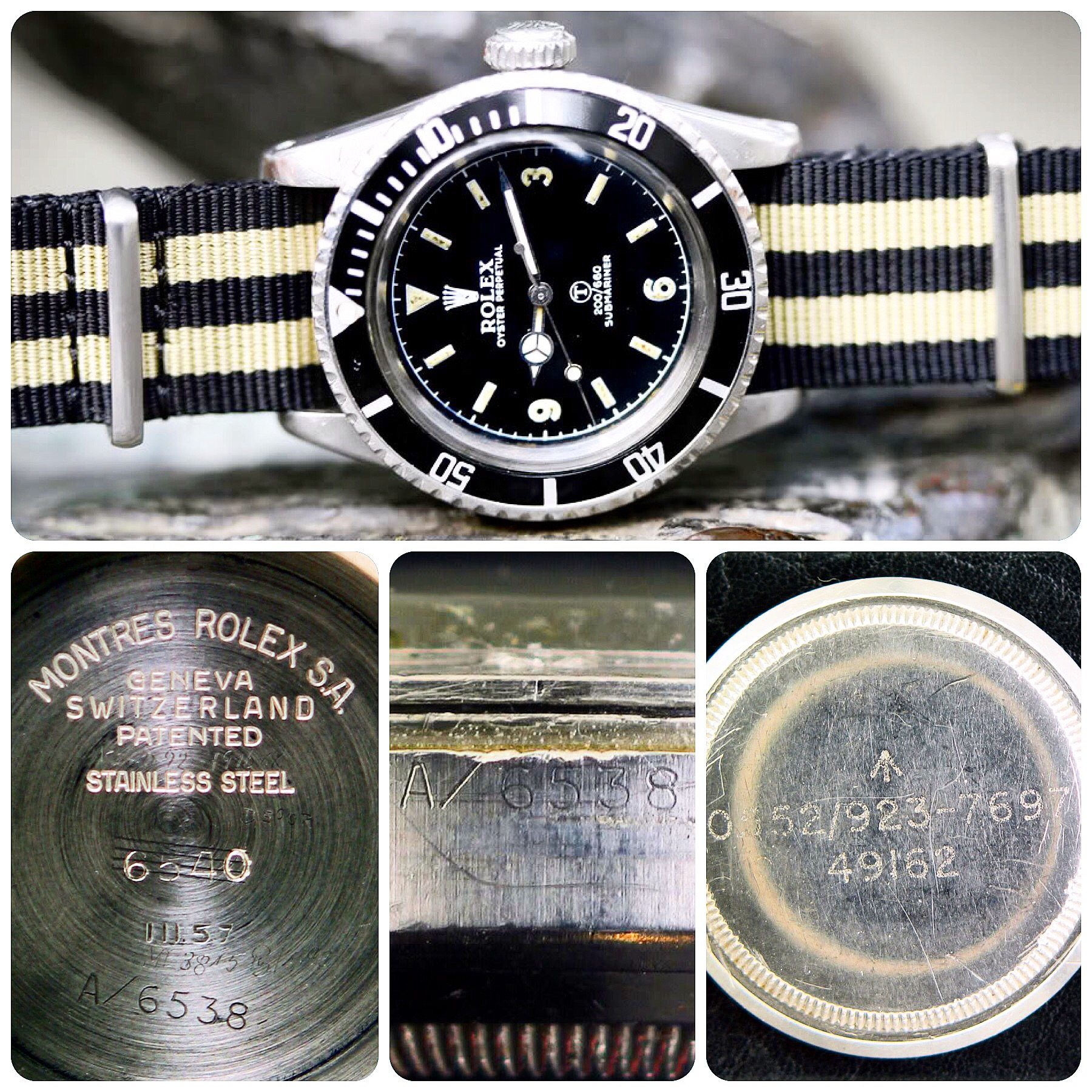 That Rolex has done some mayor testing is something we know from all the great stories of original owner Submariners. See below and you come to the conclusion Rolex used Tudor for some testing as well. We see a ref 6538 from III-1957 where the 6538 has been crossed out and got re-issued tp Ref 7922, an early Tudor Big Crown reference…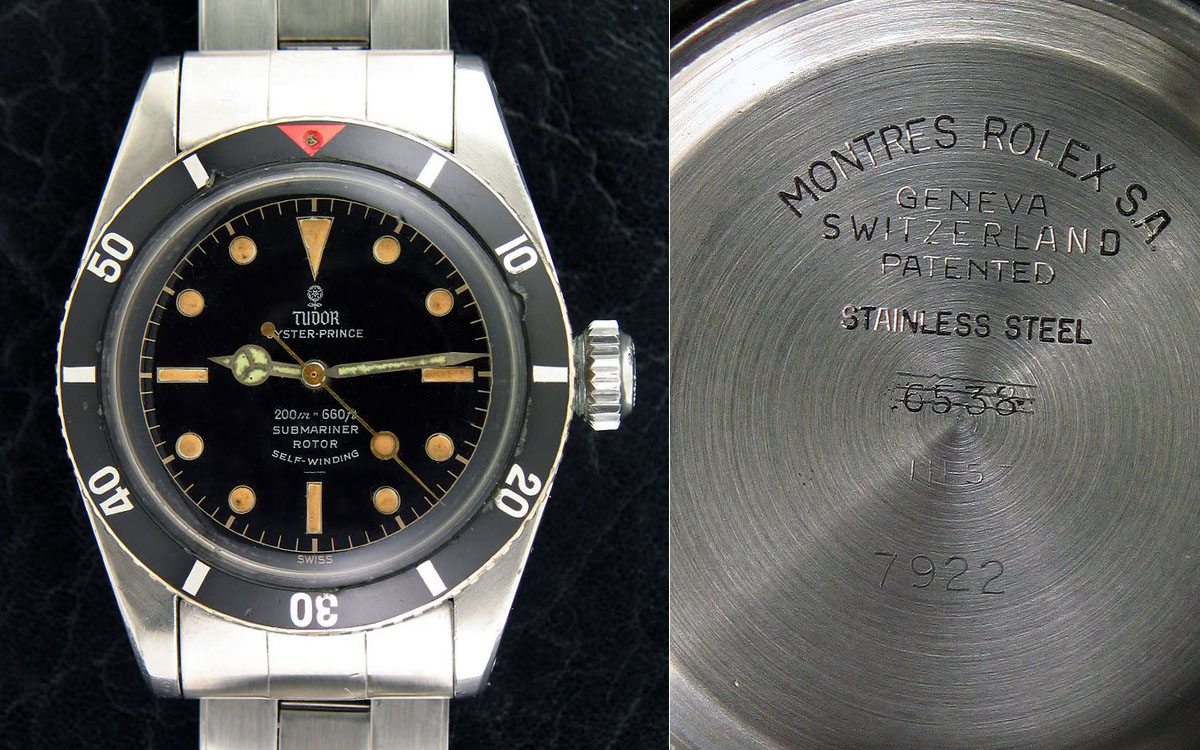 Ref 6200 next to a much later, only produced for 1 year, the Ref 5510, predictor of the ref 5512 with crown guards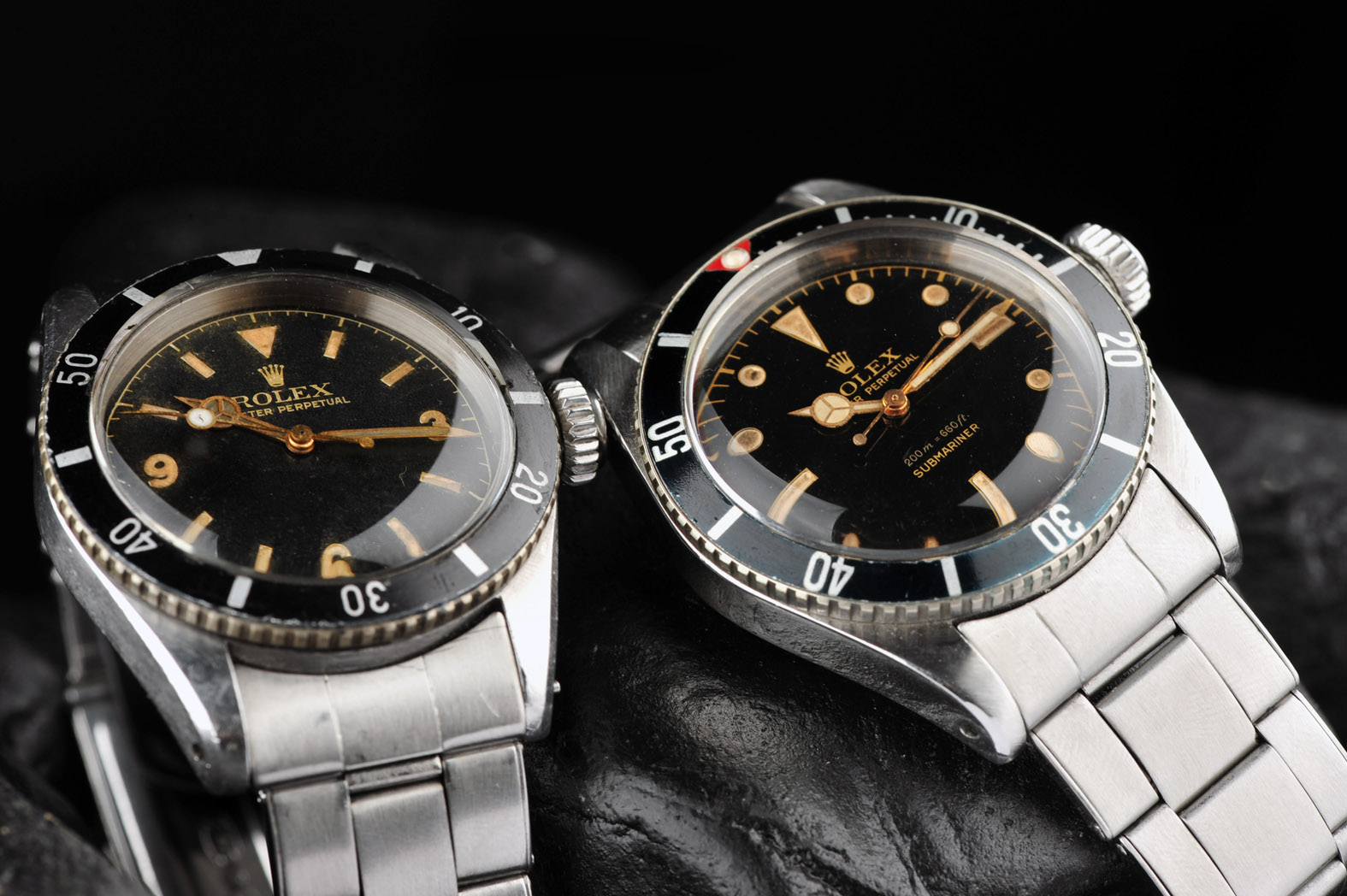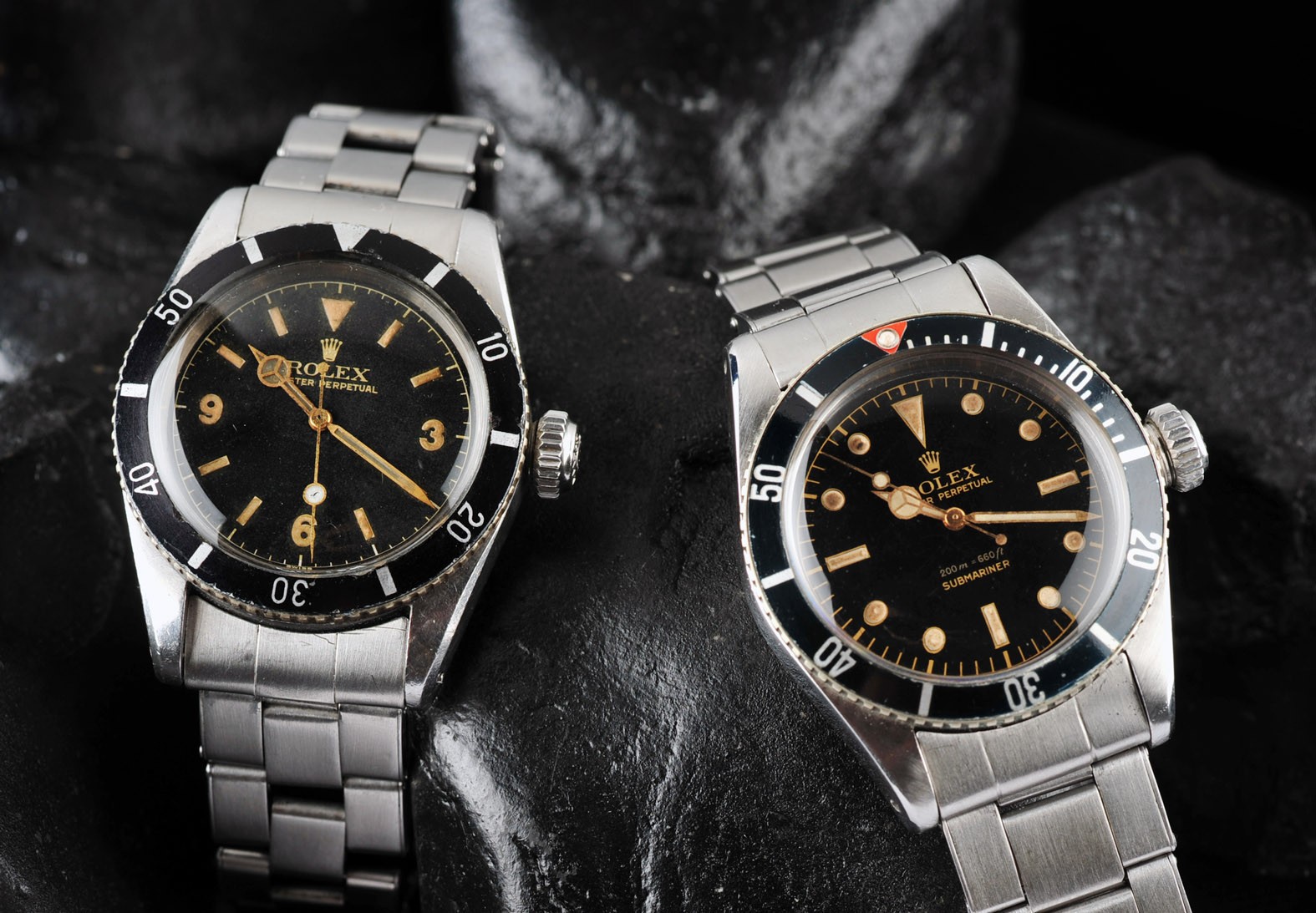 Here's another mega rare Rolex Big Crown. The Ref 5510 with small logo and 3-6-9 explorer type of tropical dial..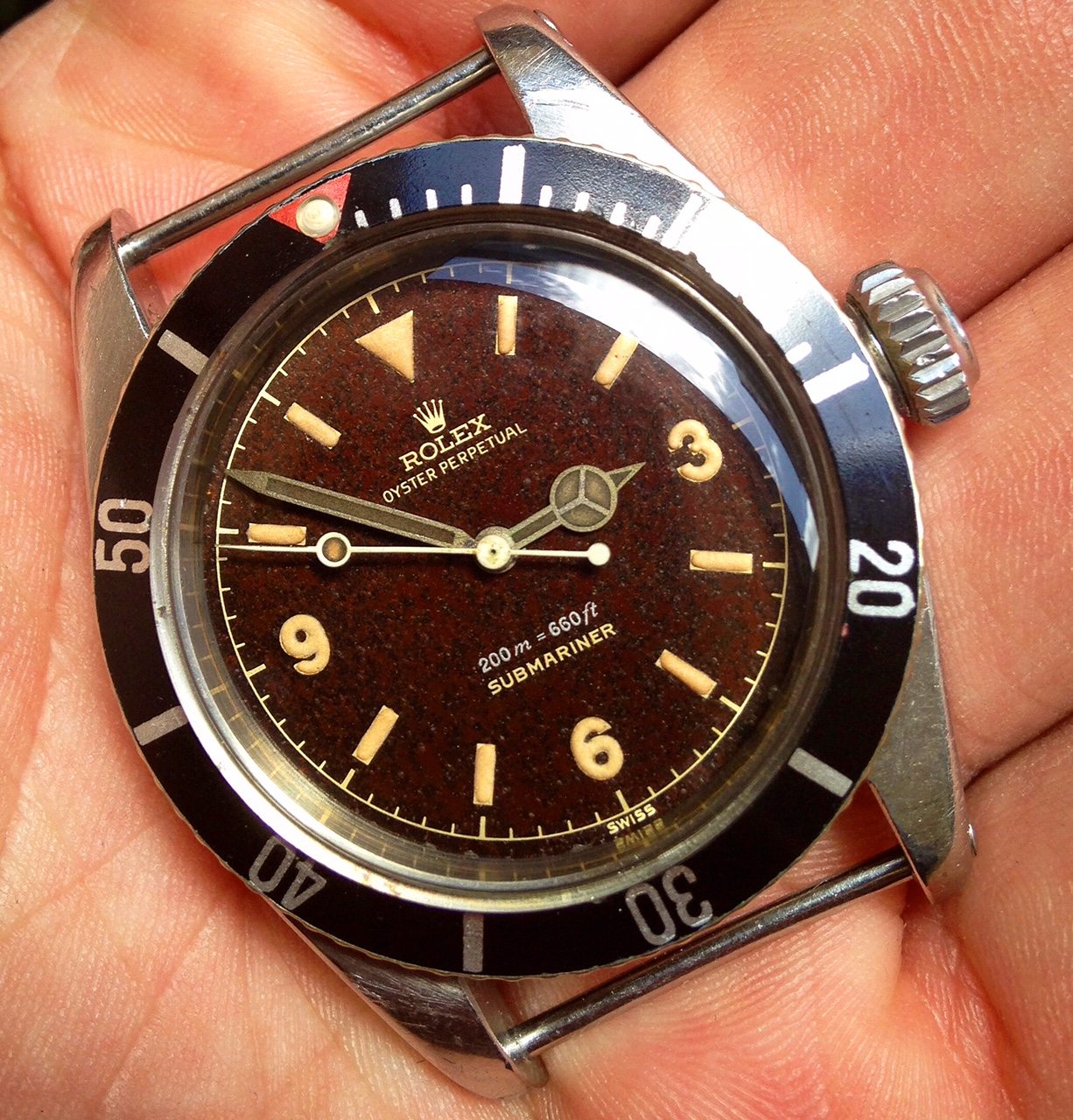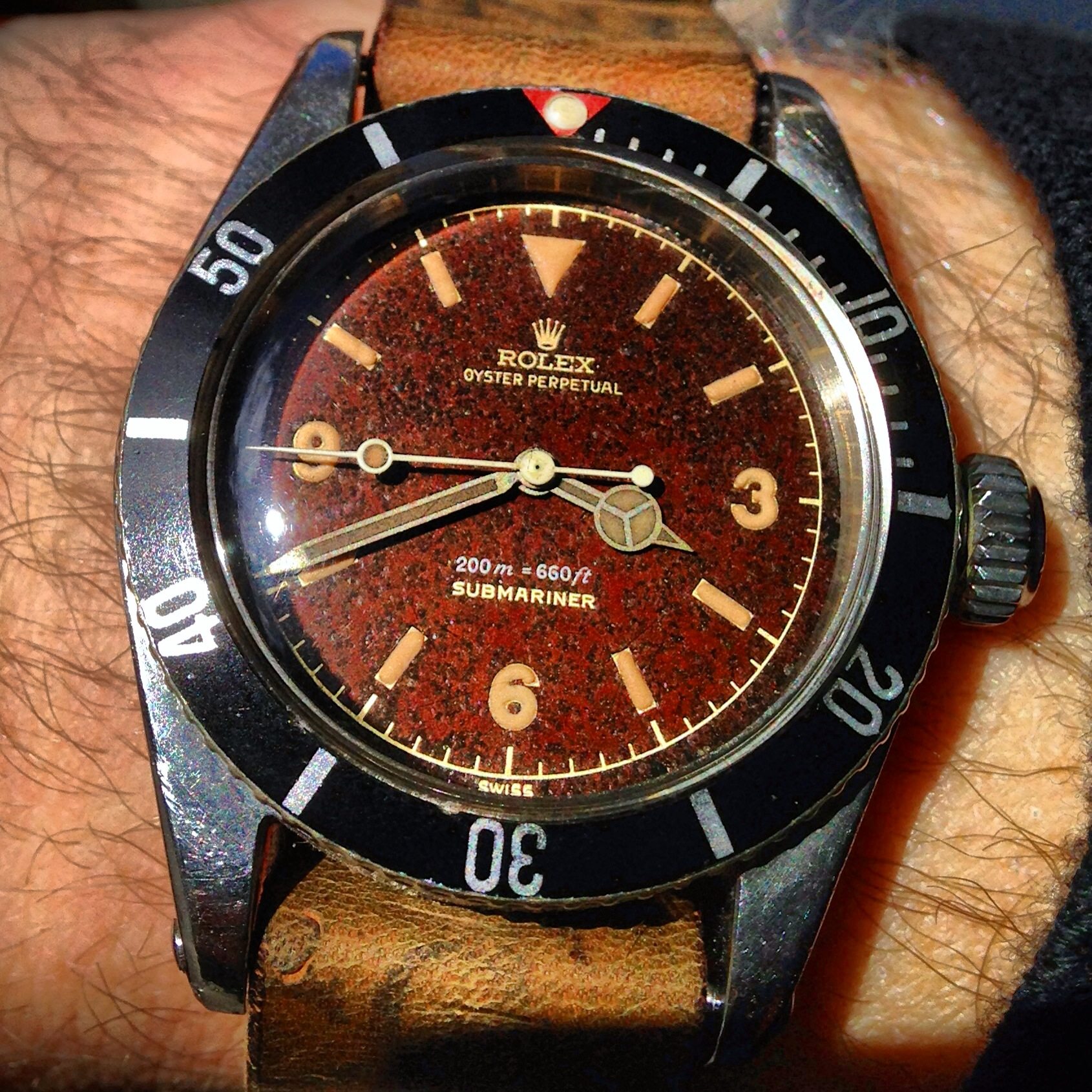 Some say it was made for the Australian Army as it came with fixed bars as you can see below. So far I know 2-3 examples have been discovered in Australia like this, none was having such a great tropical dial and luminous as this one is. You see that the design from this 5510 came from this early Explorer Ref 6350 from 1953 retailed by Serpico Y Laino.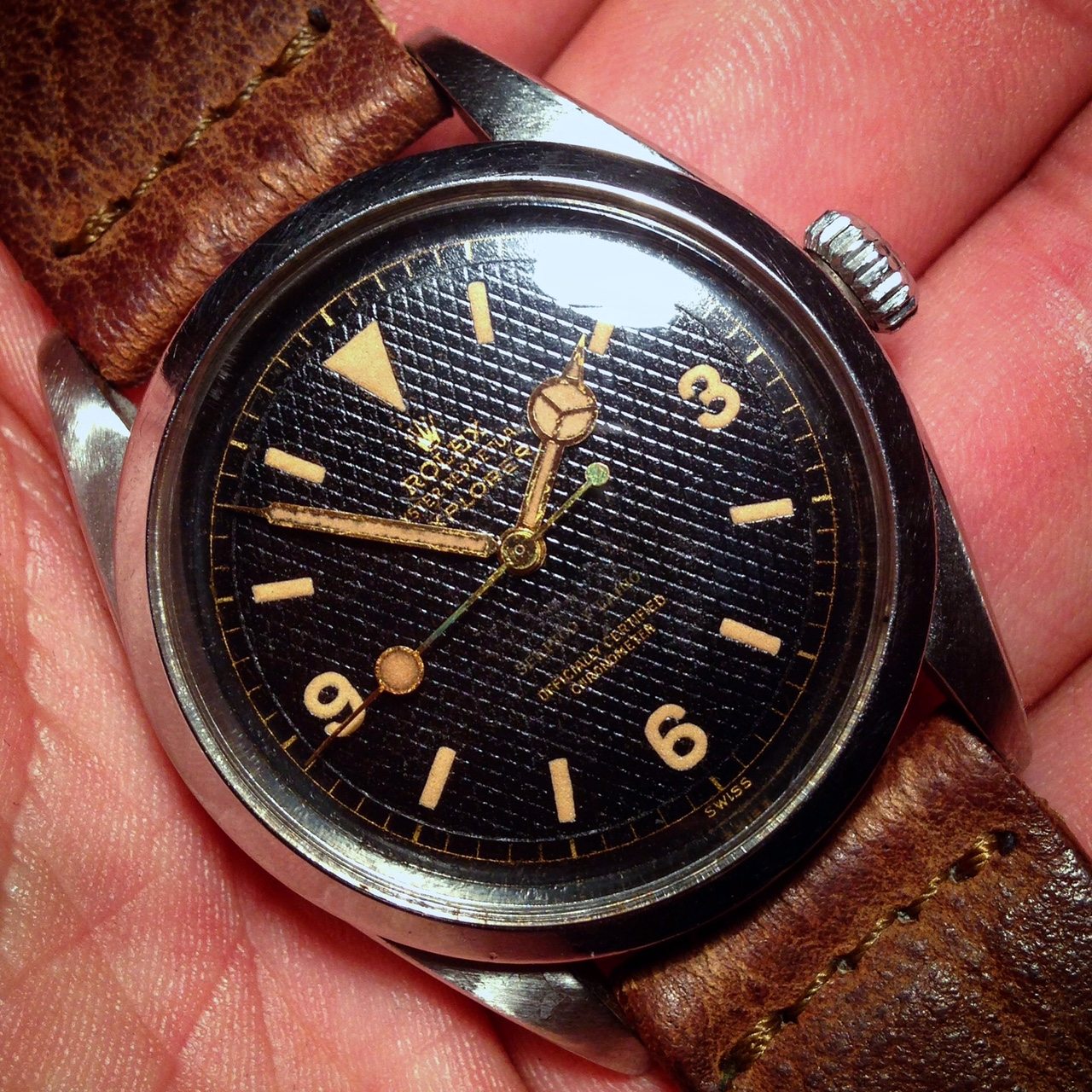 And the beginning of the tool watch history Rolex cleverly invented. Below on the right you see a regular Rolex, one that was worn during the successful 1953 conquest. On the left you see an early Ref 6150 "explorer" type of dial without Explorer written on it…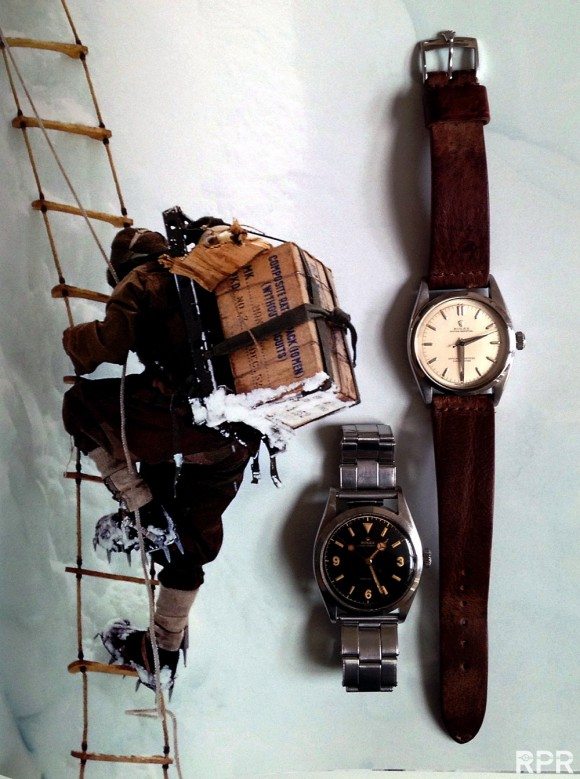 Evolutionary, on the left the Ref 6150 without "Explorer" from 1952, then next to it a "regular" white dialed Ref 6098 which was actual on top Mt. Everest during the successful UK Expedition in 1953. The signed case back of Dr Evans you see little more down. Then the lower Explorer in this picture is the final version of the Rolex designed, the ref 1016 which was for a very long time in production.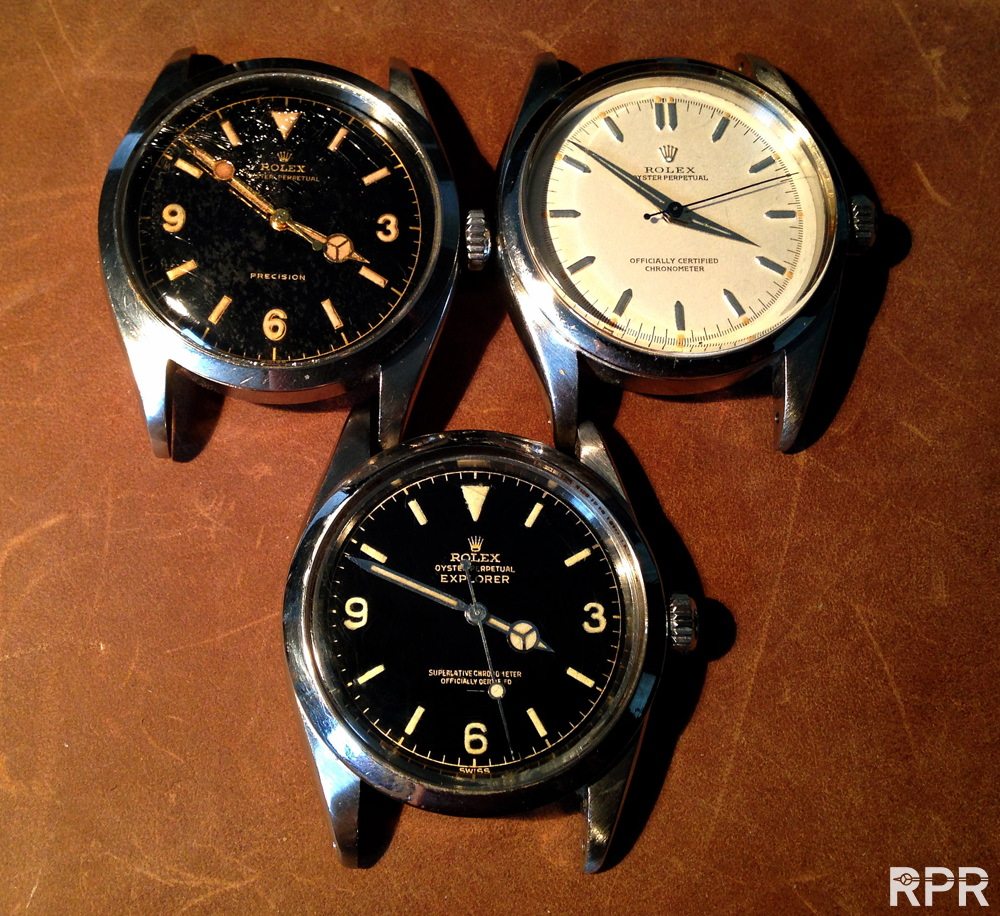 Here you see the engraved case back of the 1953 Mt. Everest when Sir Edmund Hillary and Tenzing Norgay conquered Mt. Everest that Rolex delivered to the UK Expedition…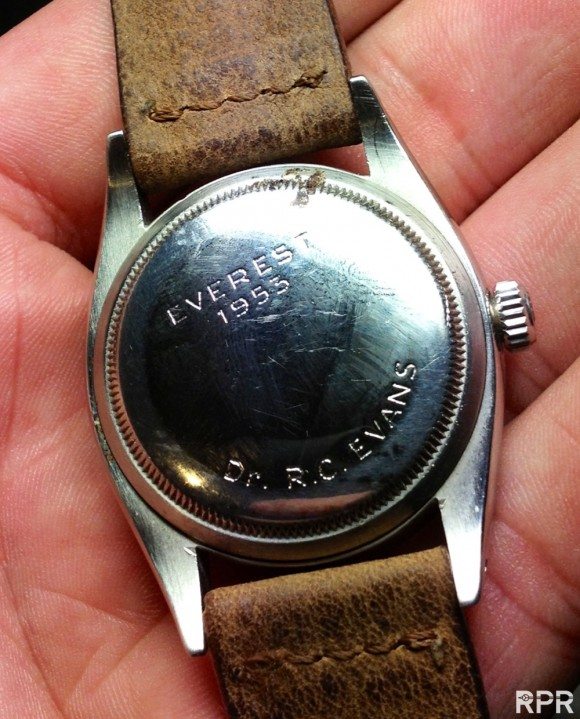 Big Crown group shot, from ref 6200 with and without Submariner, the 6538 in black and brown, 2 and 4 line, the regular ref 5510 and the Military one with 3-6-9 and a Tudor Ref 7924 in the corner. Hard to beat these 9 x exceptional vintage Rolex Big Crowns from 1 person GTG of my dear friend @Vinontre…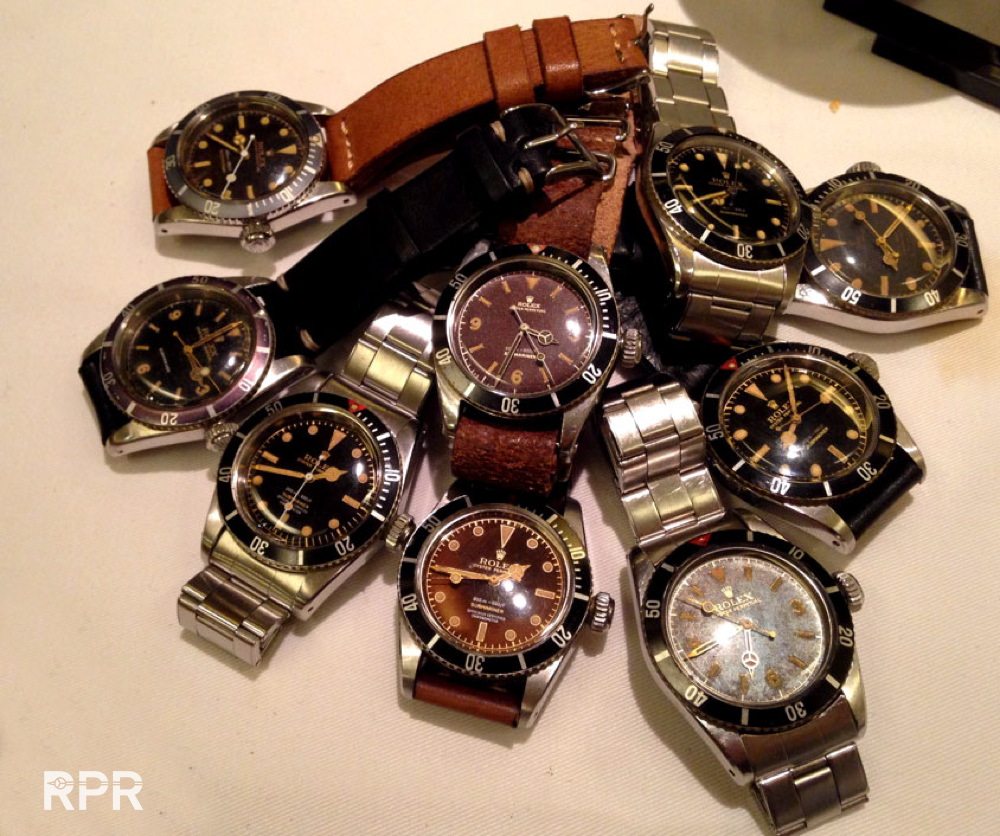 From Big Crown to Small Crown, here's one of the rarest Small Crowns, the Ref 6536 with Red Depth. You see that this early 1955 example is still having the long hour hand and big lollipop second hand, also the non dash bezel insert is like the early 6200 models. We come across some examples with 6538 mid cases that where used by Rolex to deliver the small crowns, some left over where we see that the 6538 has been crossed out and got re-engraved with 6536.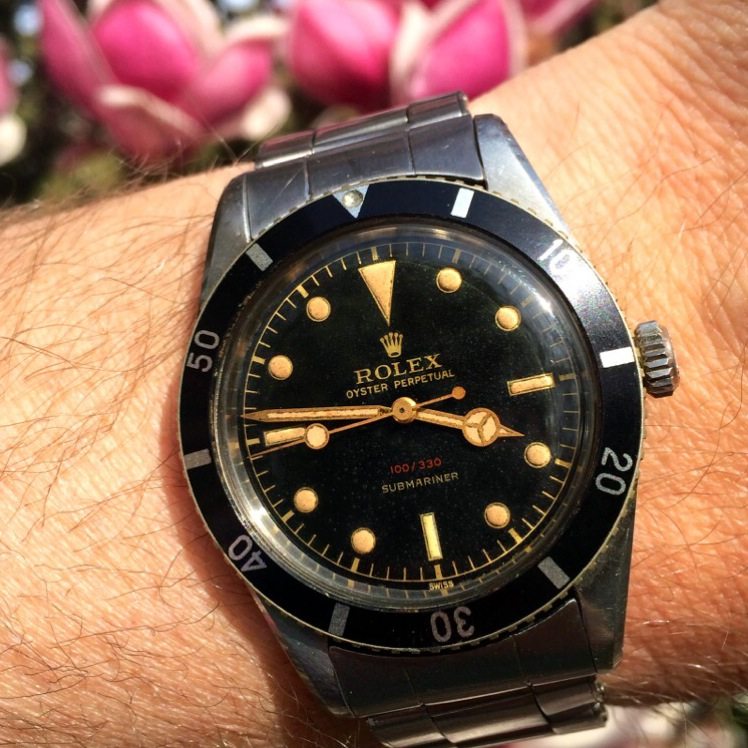 These early small crowns ref 6536 with 1030 caliber had a crossed out case back as you see below. Initially it was festinated to be a ref 6538 big crown but Rolex used these left over case backs for the small crown 6536 as they never through away any spare parts. You'll notice up close that the curly center engraving typical for Ref 6200, 6202 etc around 1954 is. Small batch of early 6538's with thinner mid case where using this type of left over case back as well, which we see crossed out for the ref 6536..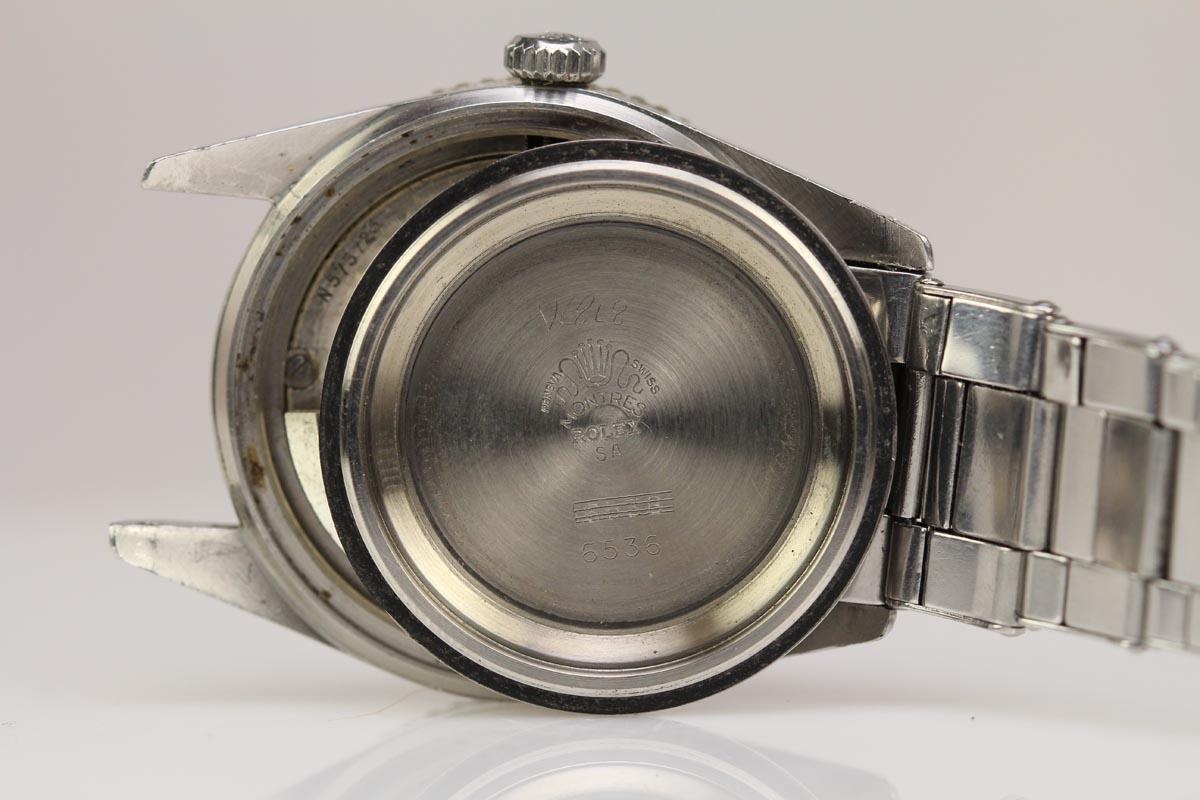 Different types of Rolex case back engravings, every periods has it's now kind of design..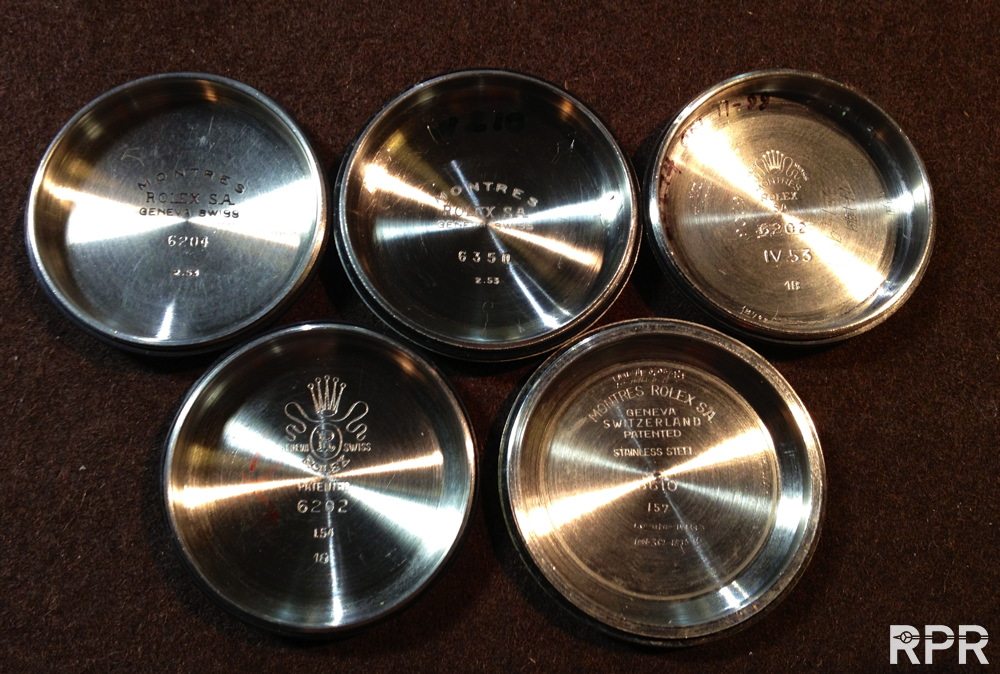 Here's a Ref 6200 Submariner movement and case back inside…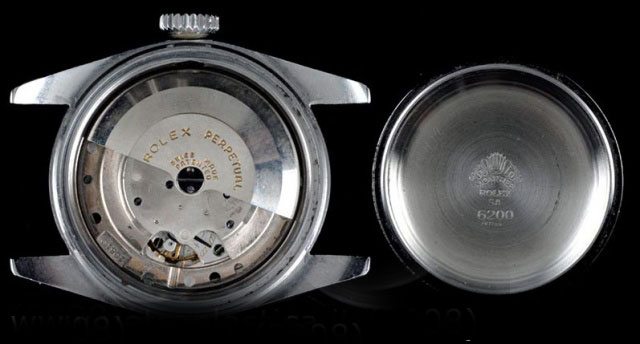 And here a typical, from I-1956, Rolex Big Crown Ref 6538 case back…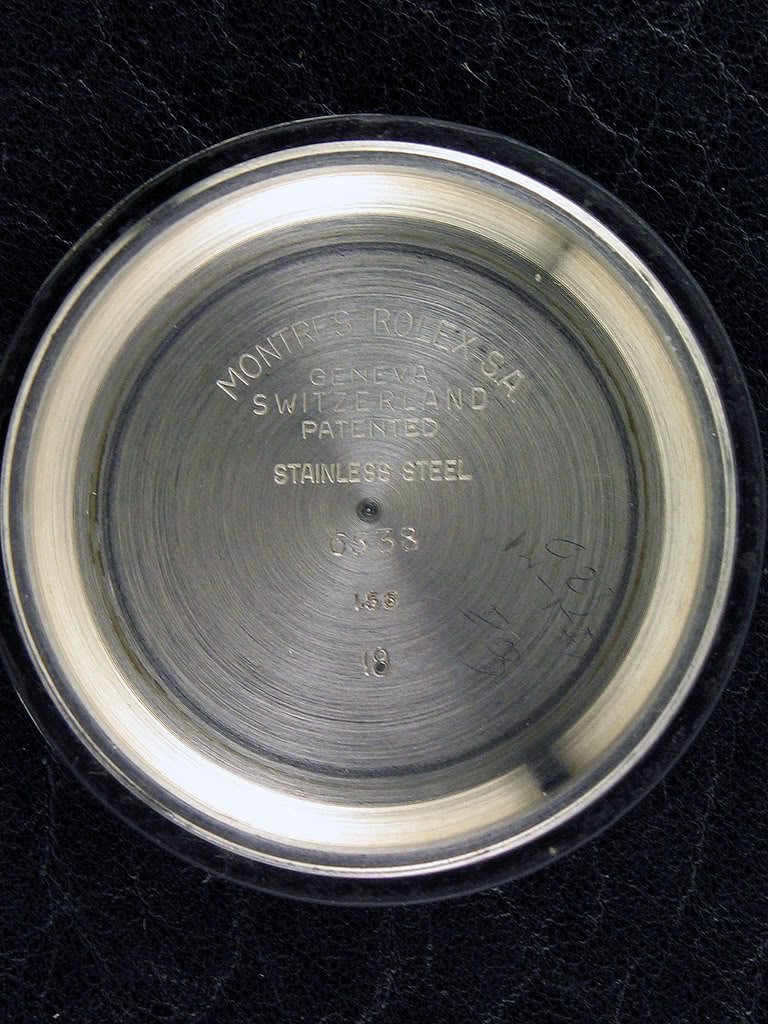 The Red Depth 6536 small crown next to a 1958 Rolex Big crown ref 6538. The Big Crown is having the iconic red triangle bezel we see from 1958 and the depth rating is now fully added; 200M = 660 FT..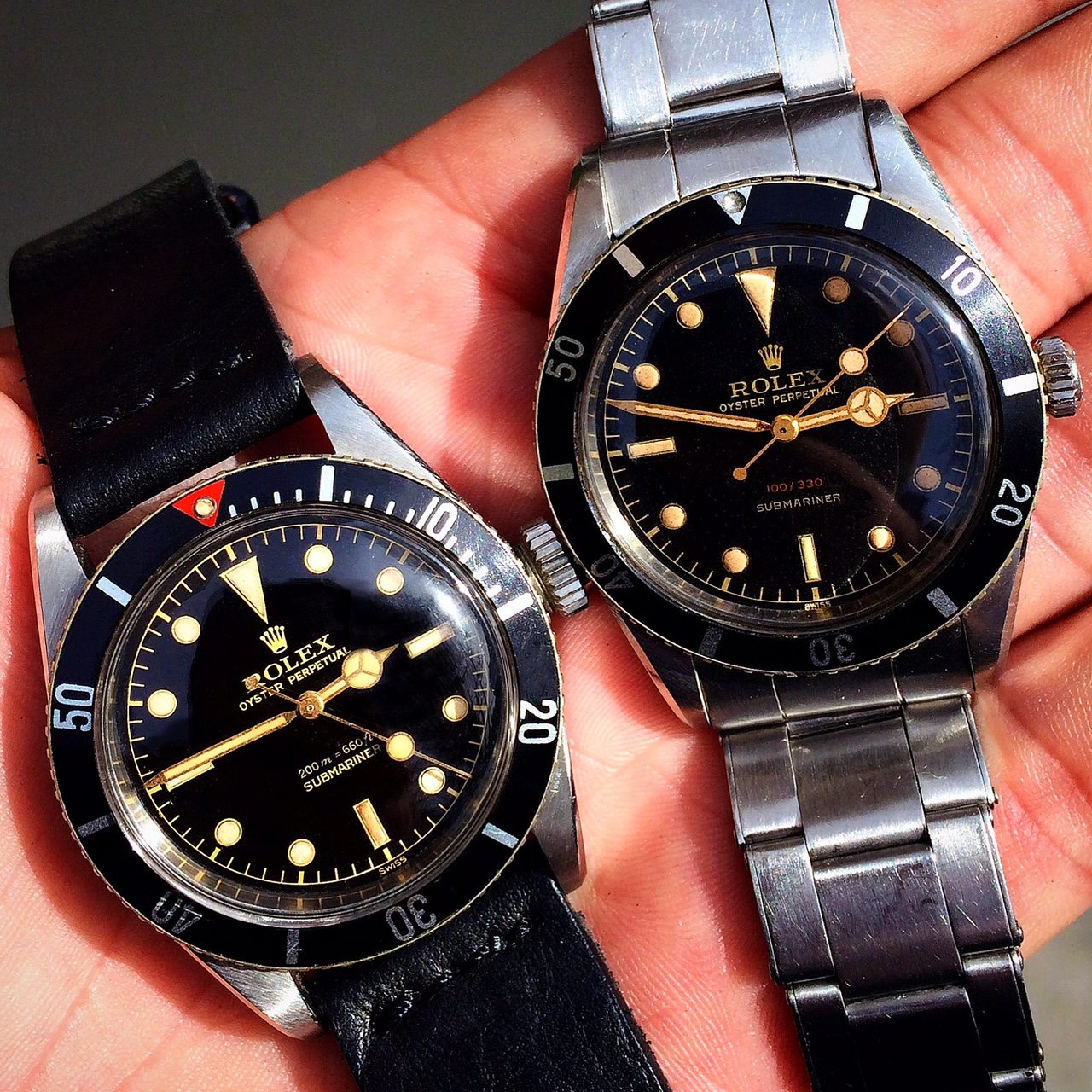 Rolex wouldn't be Rolex if they made yet another different version of the Ref 6536/1,namely where the 100/330 was printed in gilt. The serial batch is with 155.xxx serial from I.1956, here's one I got directly from the son of the original Japanese owner…
Here's a later ref 6536/1 with red triangle…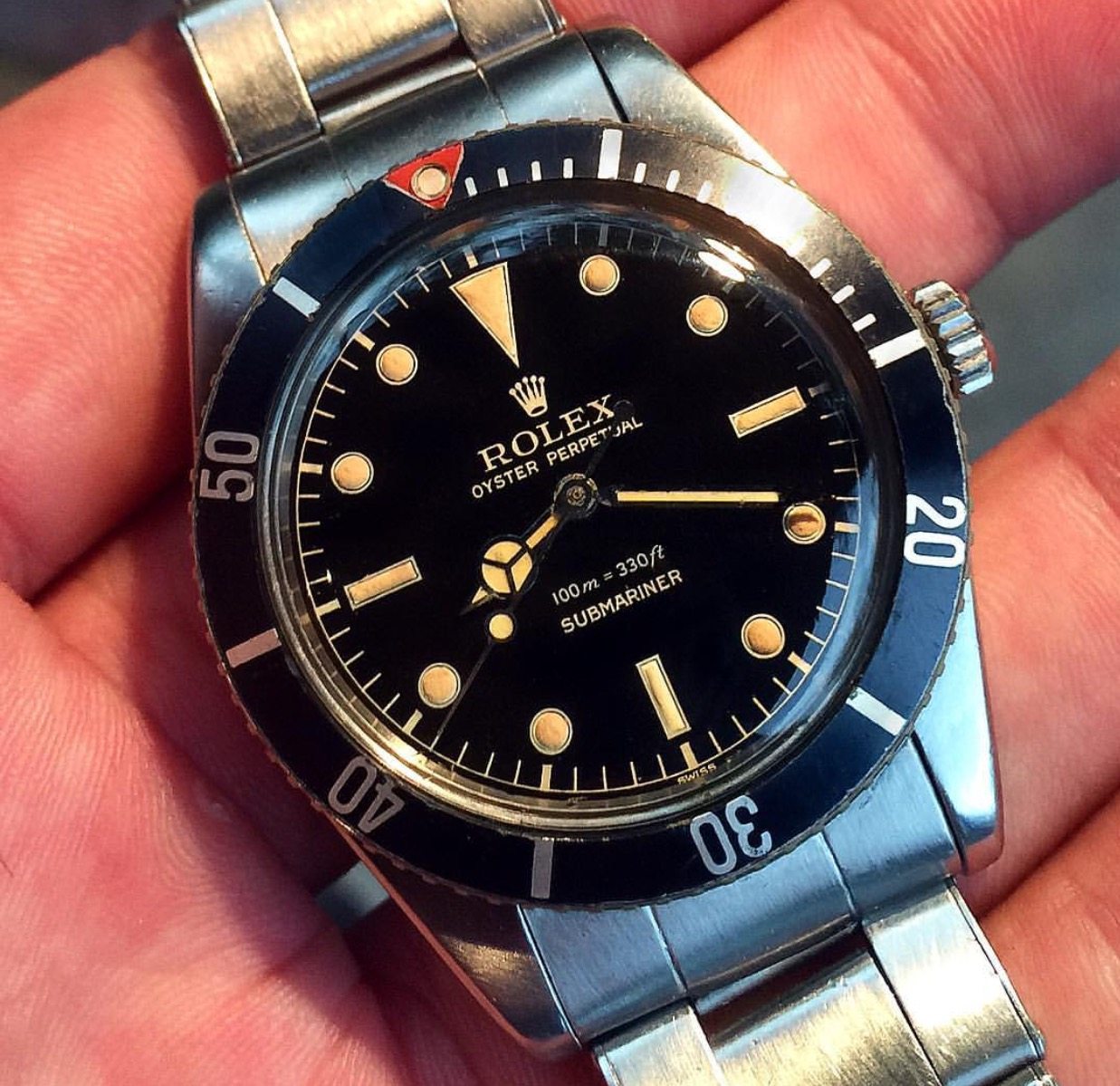 Which came with the original Rolex warranty and New York service papers…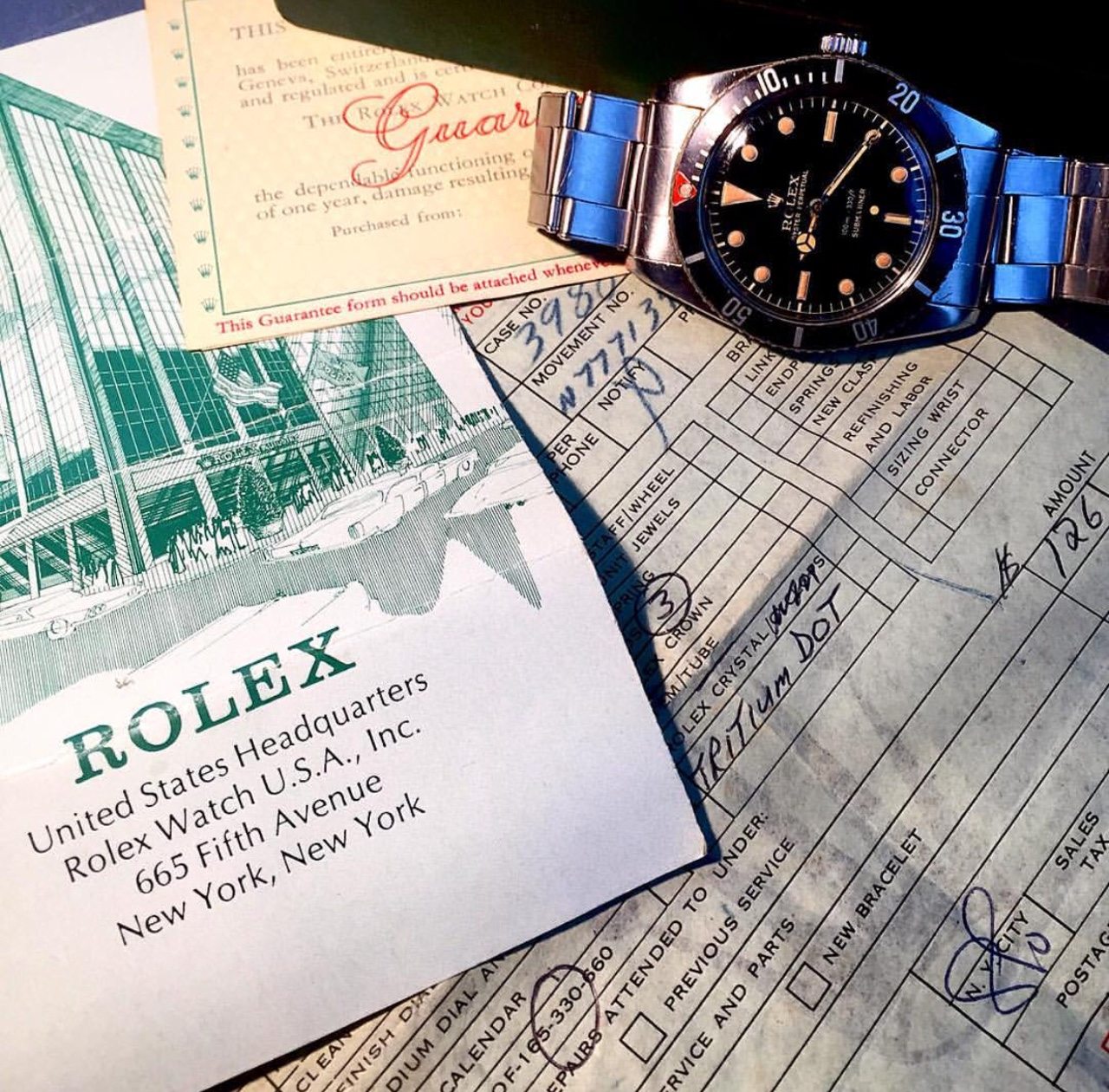 Below we see a small crown Rolex Ref 6536/1 with OCC ( Official Certified Chronometer ) from 1958. Note the Small lollipop second hand in white..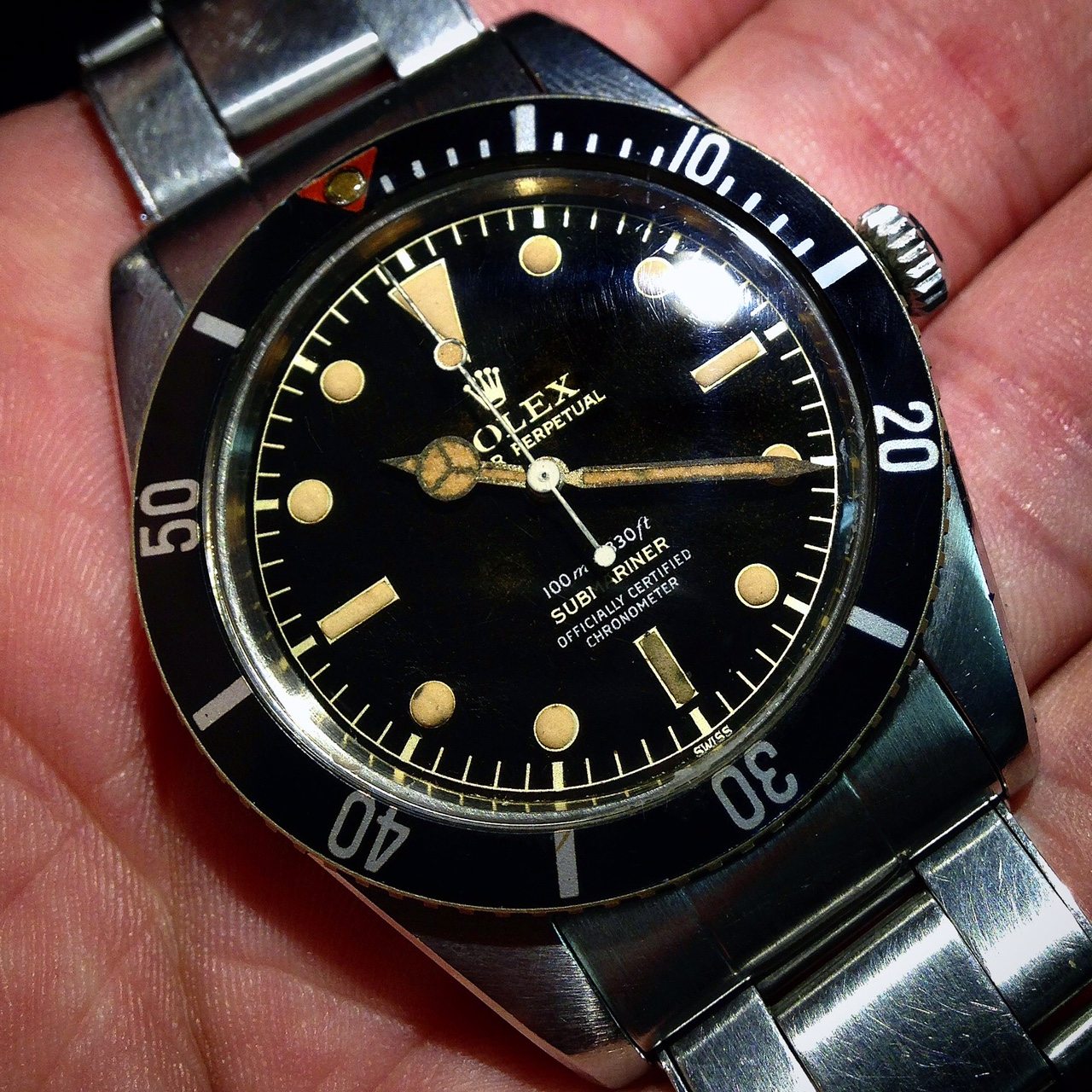 Next is a original find from first owner ref 5508 from 1958. Note that the red triangle bezel is having a different typo (more square) then we see with the Big Crowns…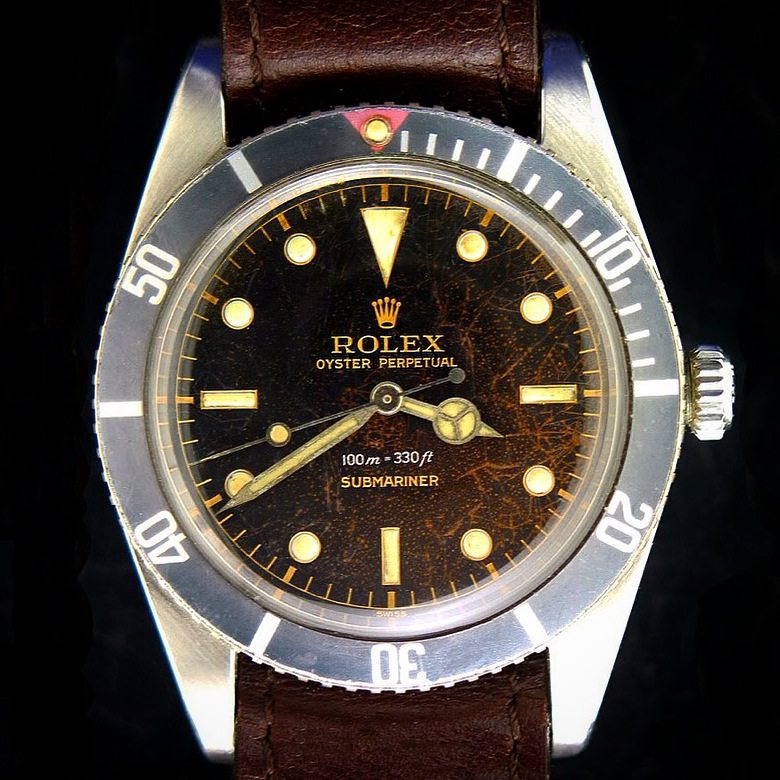 Small & Big Crown Rolex Submariner next to each other…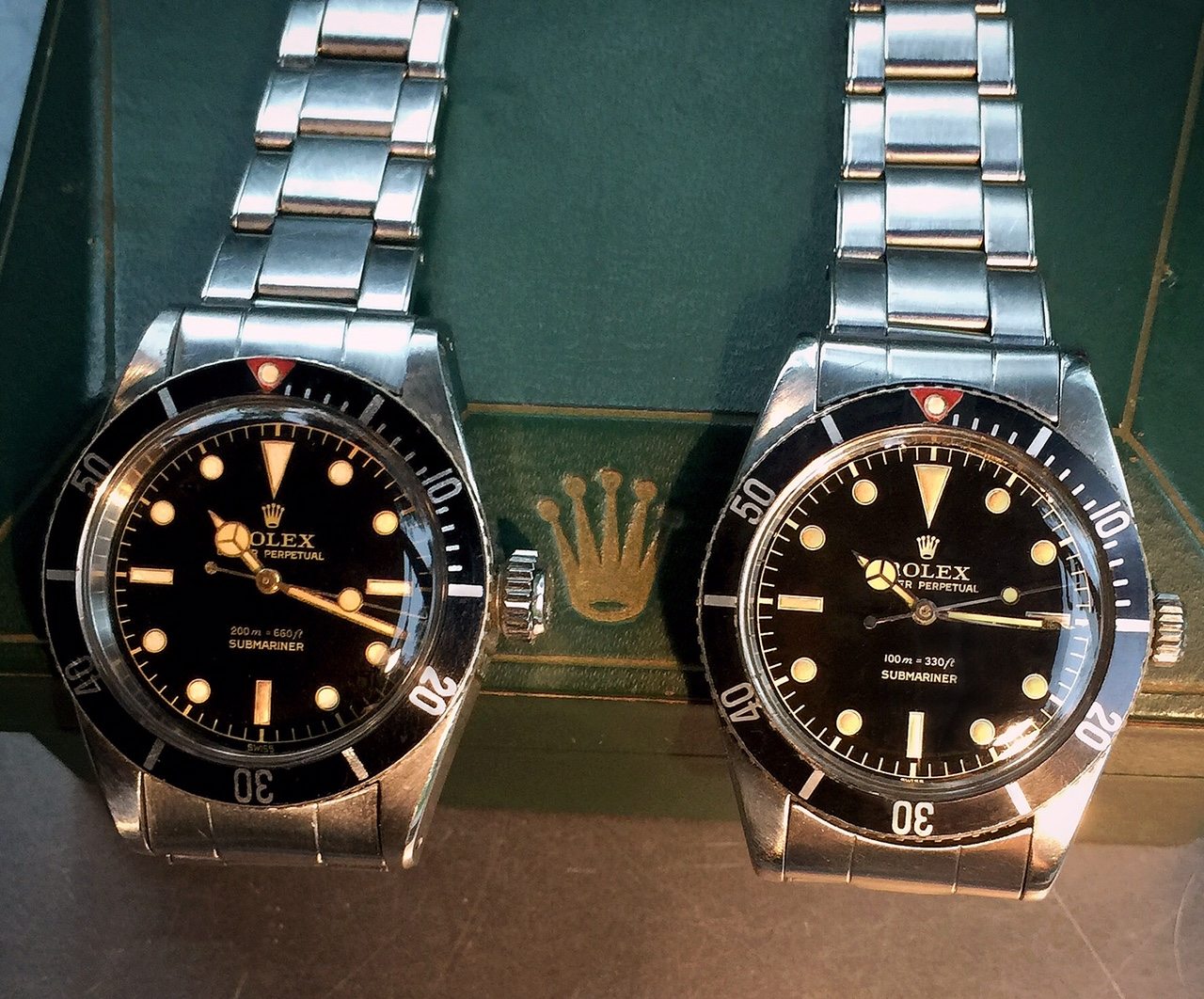 Next is one of the very last small crowns that has been made, from 1962 is this Exclamation Mark Ref 5508. The bezel has the same typo but is much cleaner now, without the red triangle..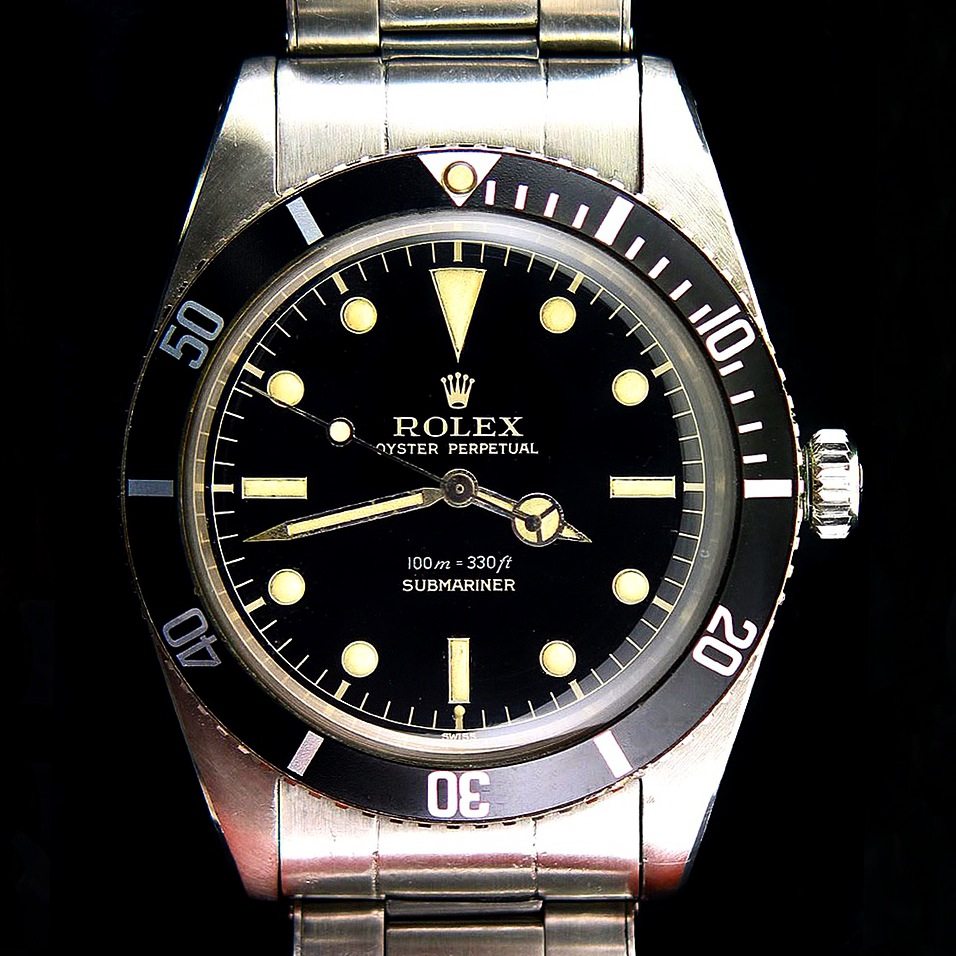 And this is how a NOS ( New Old Stock ) Rolex small crown ref 5508 looks like..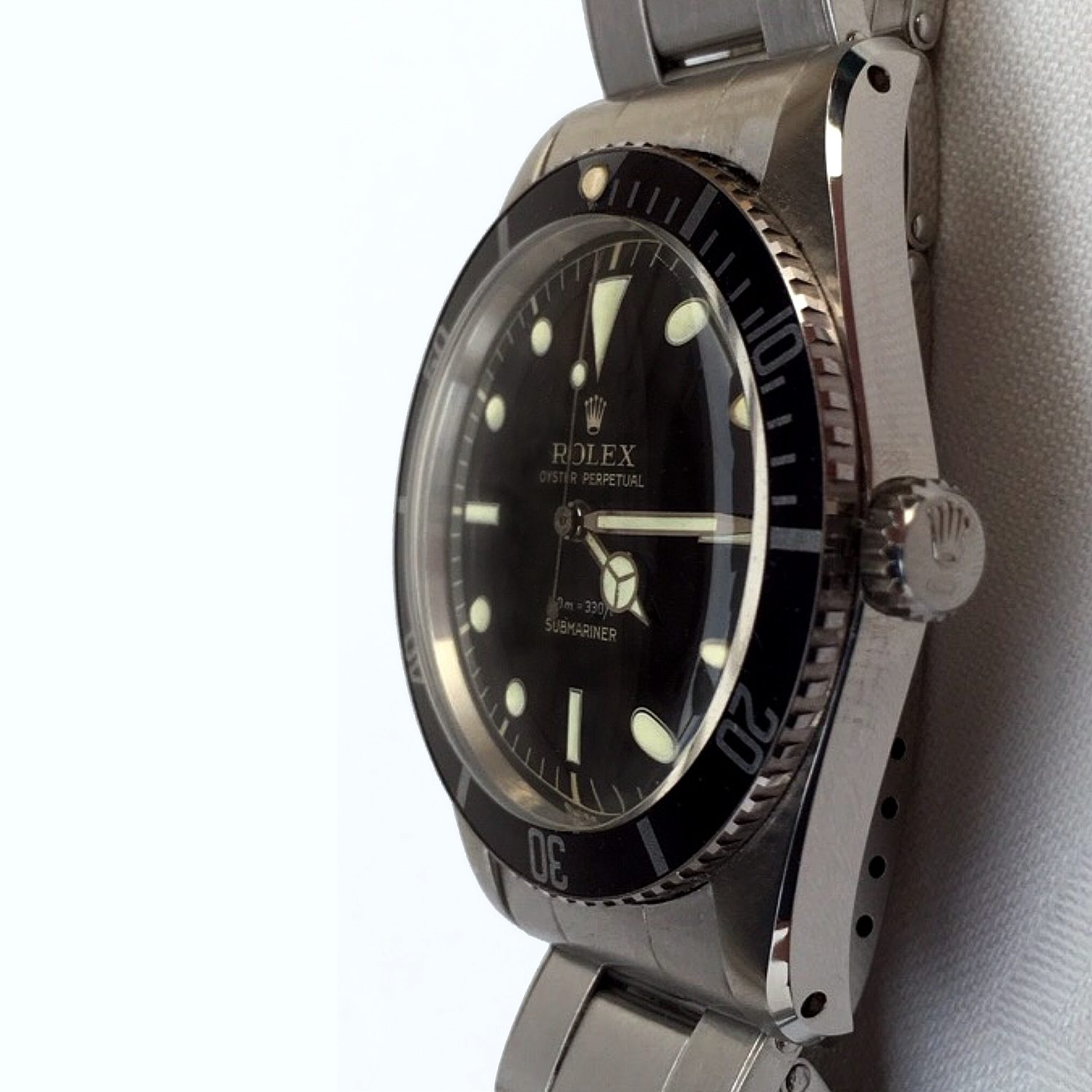 Then one of the very last, 1962, Rolex small crown Submariner Ref 5508 as SCOC (Superlative Chronometer Official Certified) 4 liner. The bezel insert is of a much later type and the luminous is a bit greenish, something we see more often around 1960-62.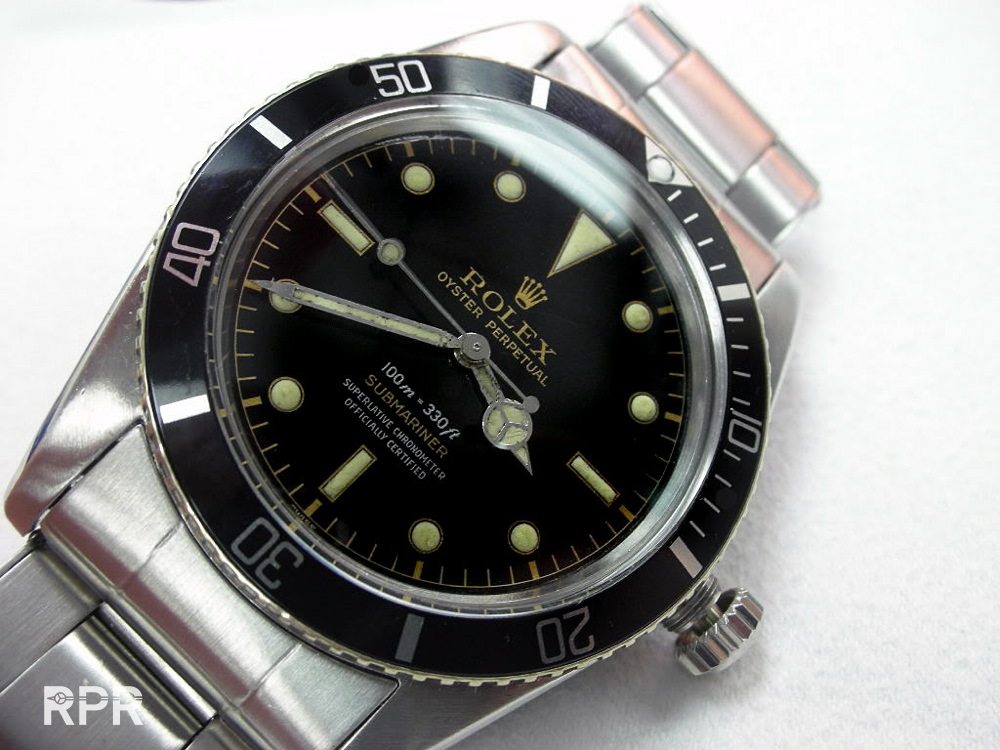 2 Line Rolex Submariner ref 6538 Big Crown from 1959, last year these icons got produced. Notice the different 'ref 5512' coronet from the her era of crown guards..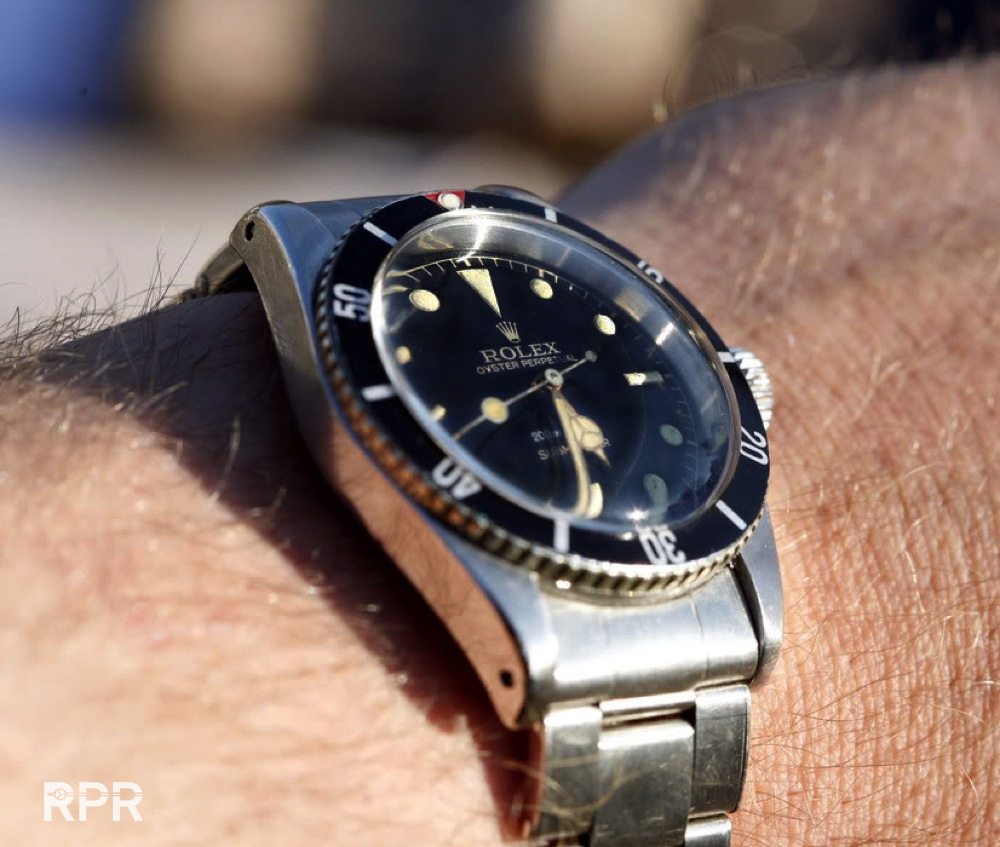 Last but not least, A Ref 6538 with "Underline" ( transitional from radium to tritium luminous around 1964) dial. We see that the print has become white instead of gold and the coronet is of a ref 5512 kind we see from 1959..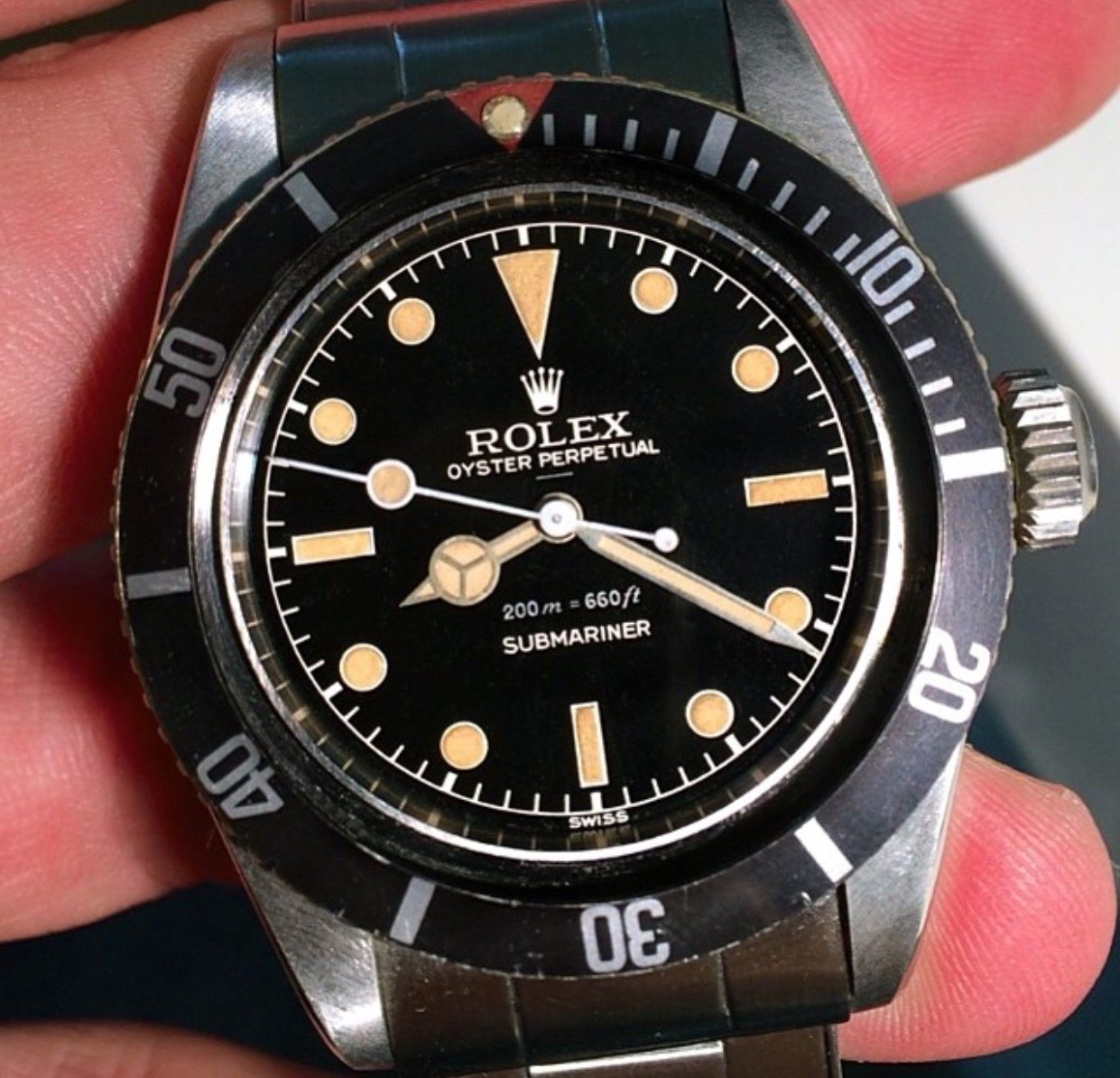 The underline ( which means that the dial is having tritium instead of radium luminous ) Big Crown & Ref 6234 Chrono…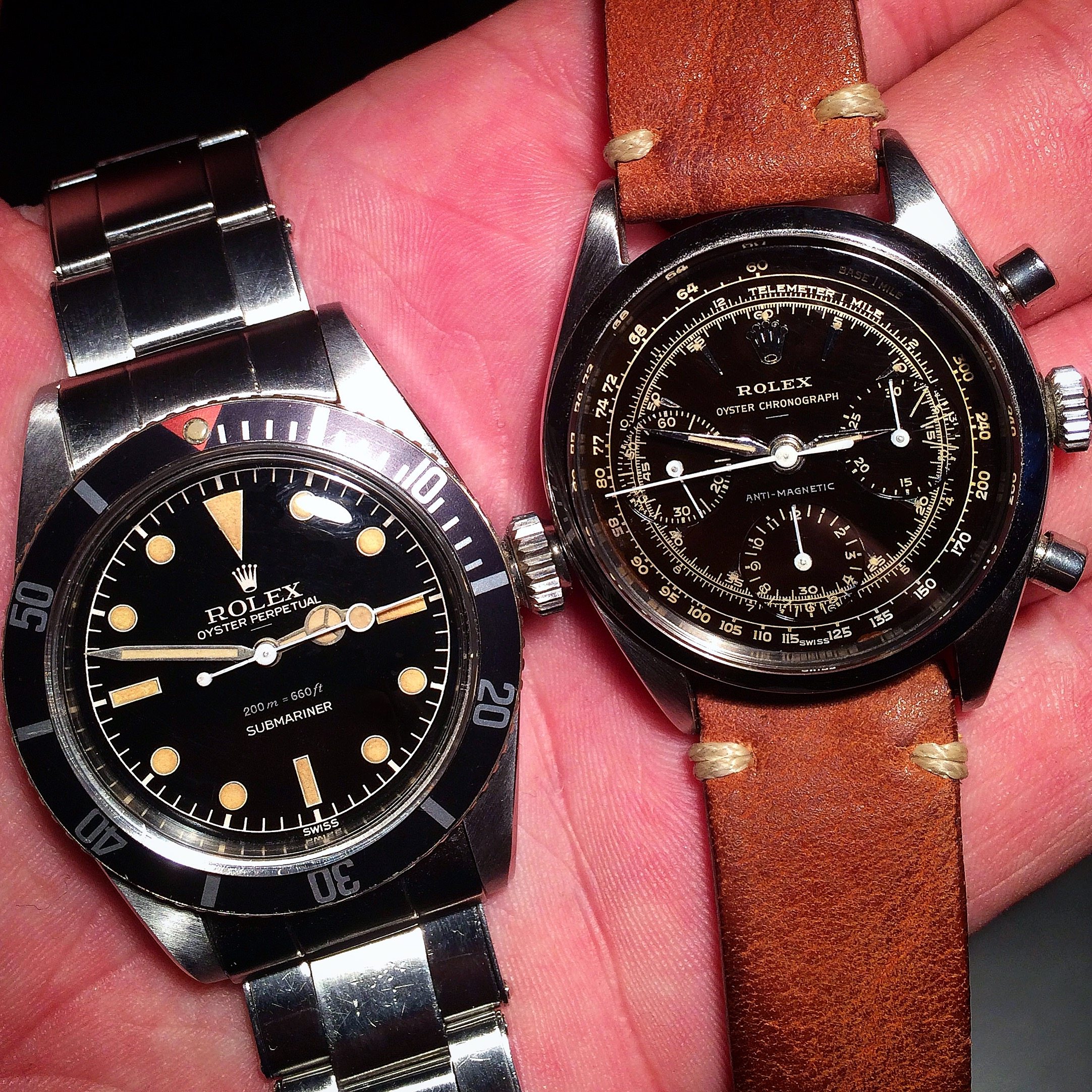 A group shot of some different Rolex & Tudor Big Crowns..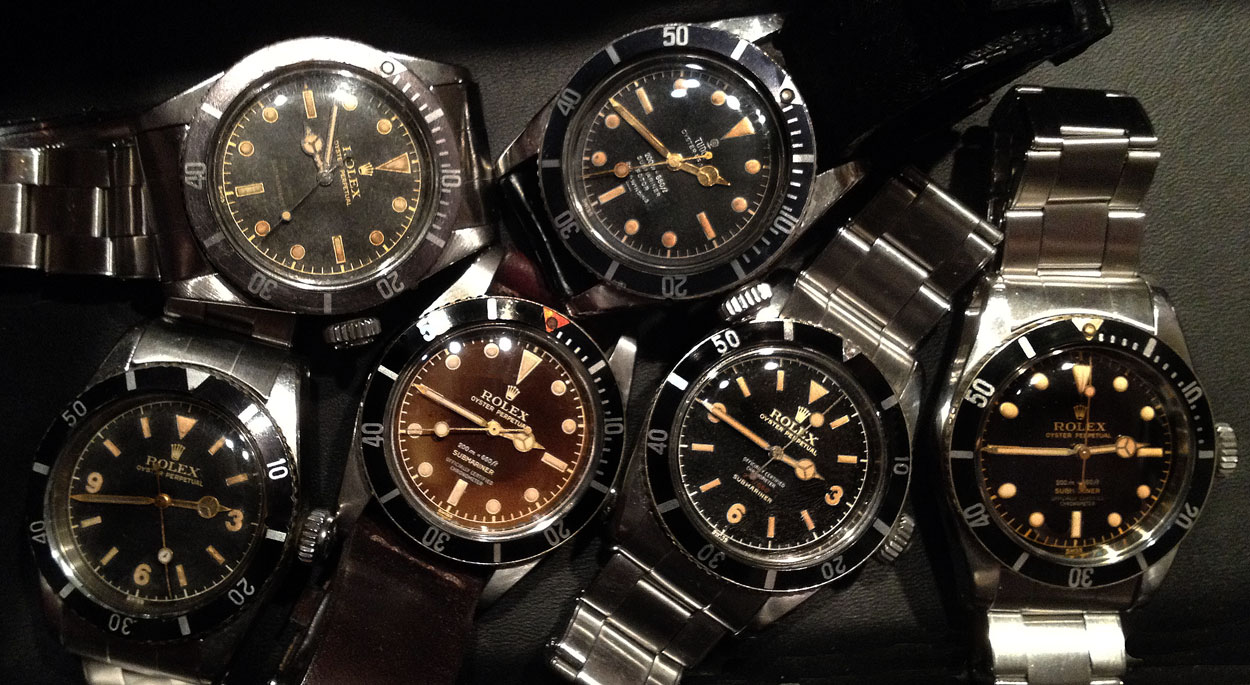 The 2 liner Ref 6538, the most "simple" Big Crown but then exactly like this James Bond has been wearing. Here in Dr No..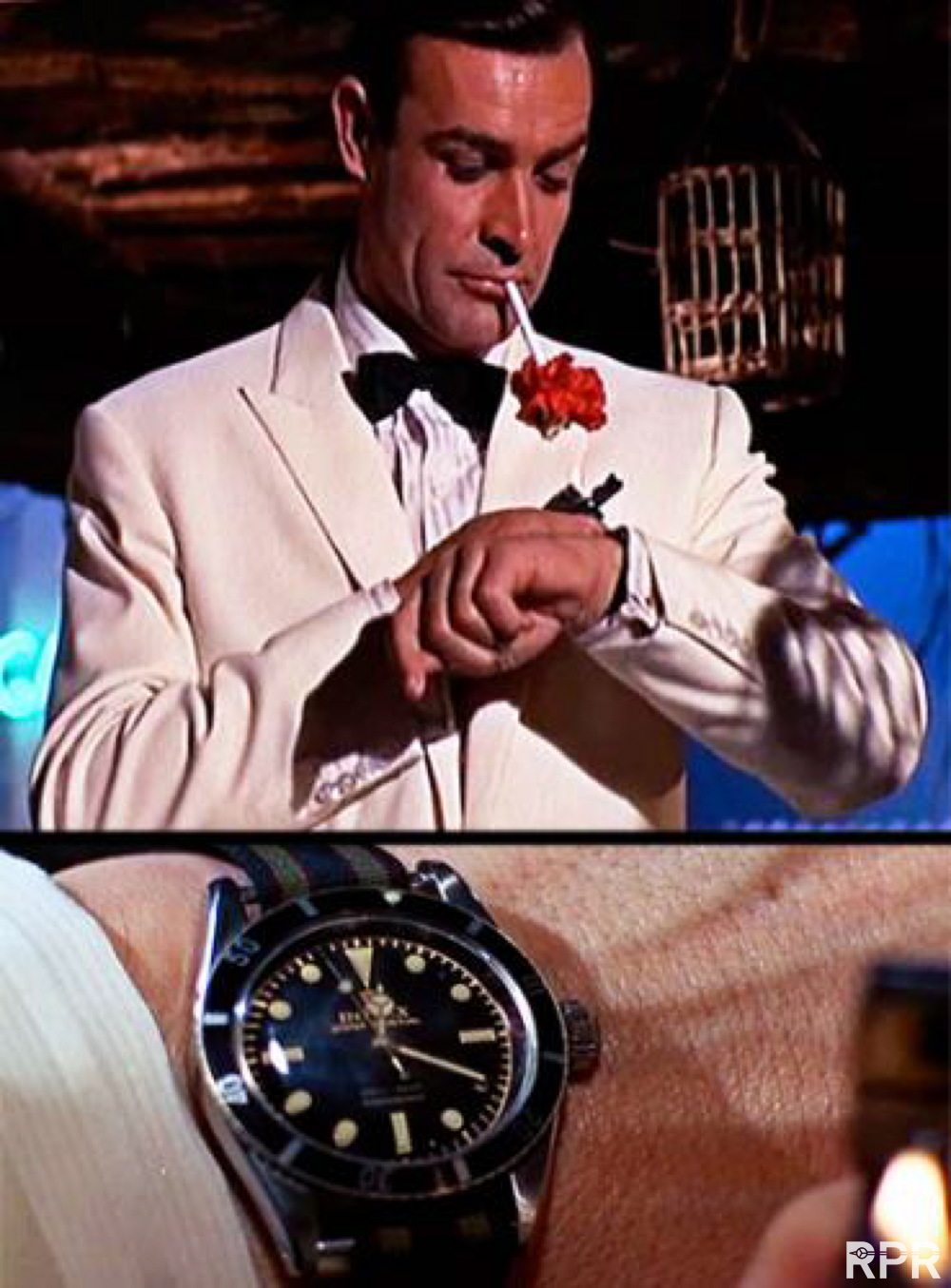 Mr Bond's Rolex Submariner Big Crown was a two liner Ref 6538 with non dash insert bezel as we see above, below a slightly later type Ref 6538 with red triangle…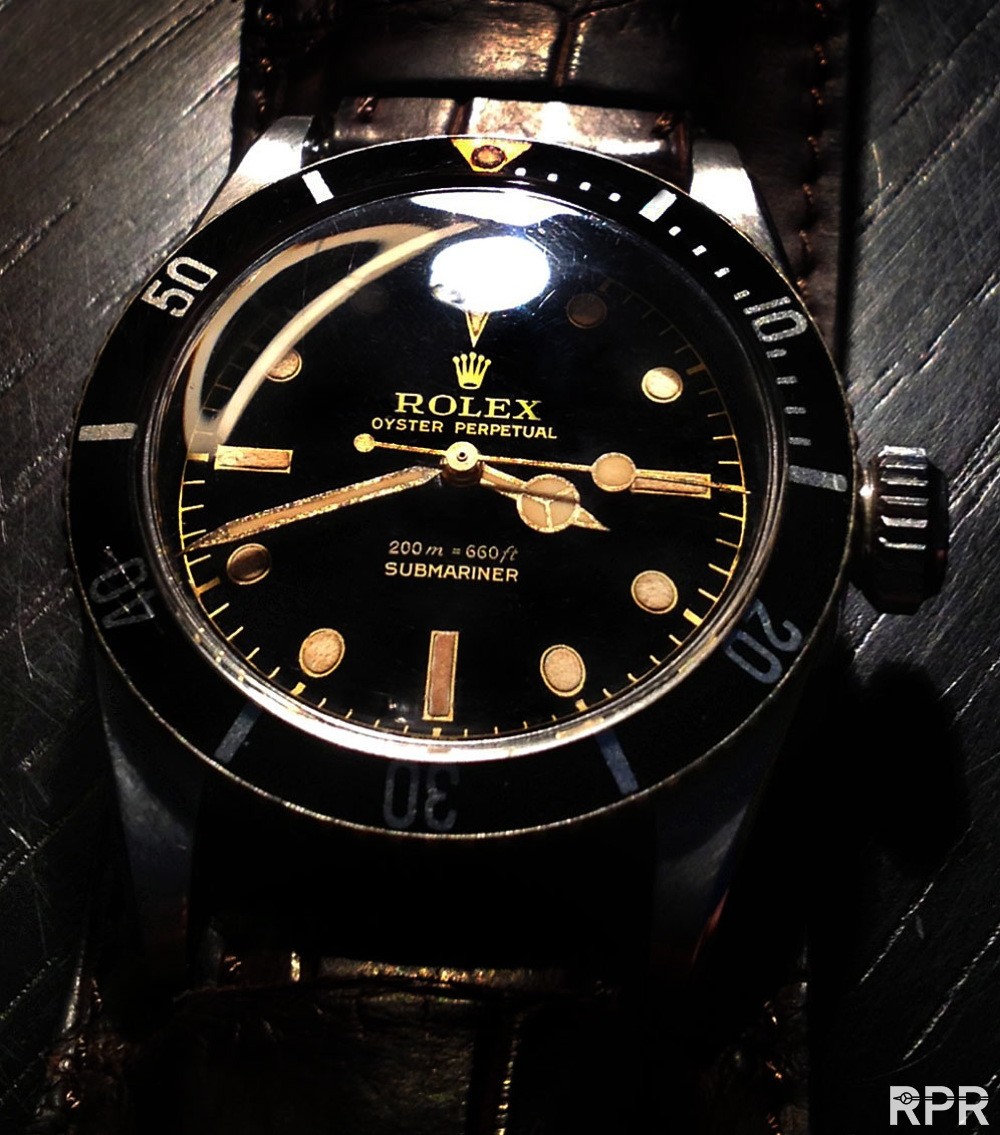 Legendary movie shots have been made while Sean Connery was wearing his Ref 6538 with 2 line text..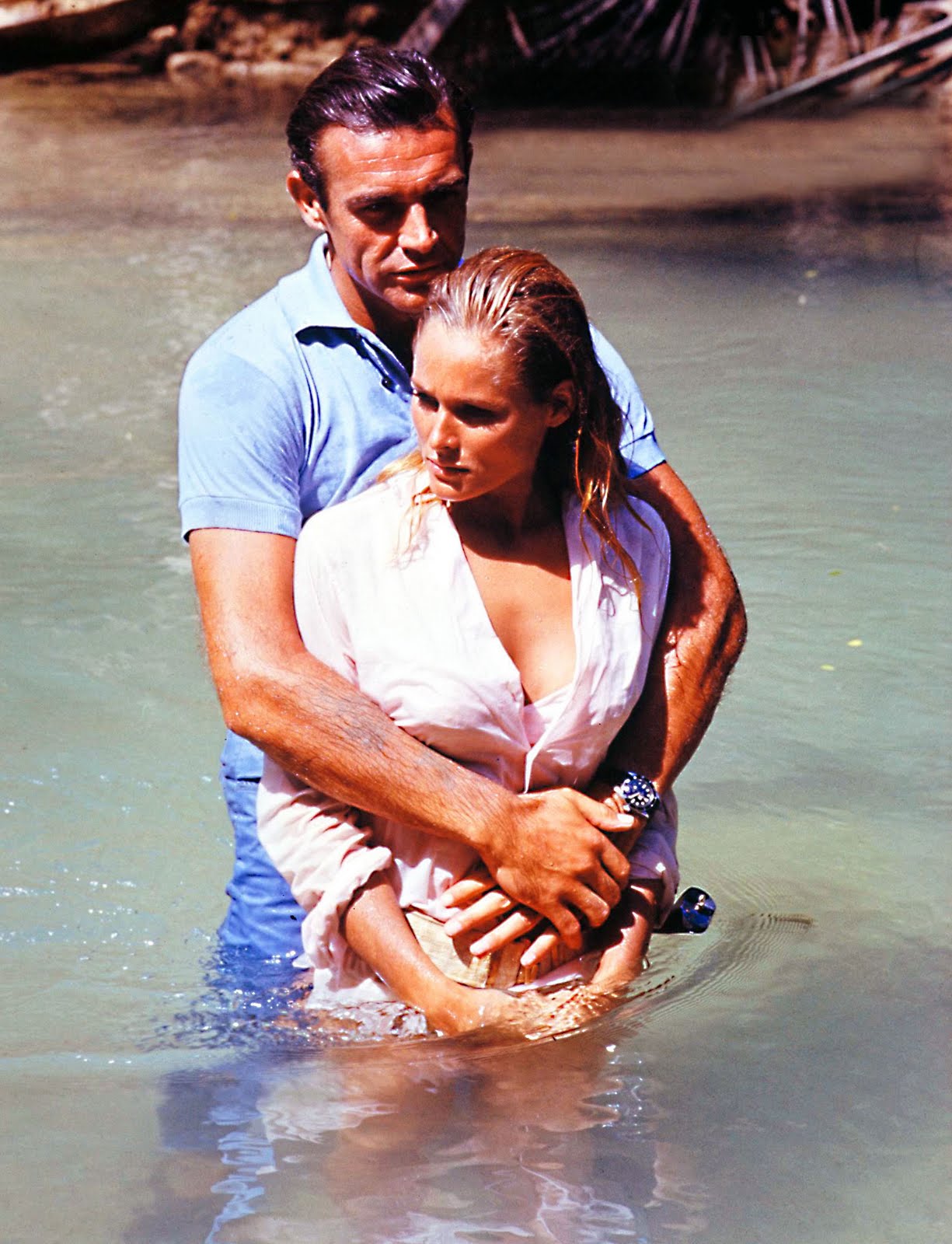 Then we see later "service" dials that are actually quite rare but as the collecting world has decided so far to own a Big Crown with original as delivered, I tend to call it, "Catalogue Style", these later service dials are not as valuable. See below an interesting Big Crown dial, it's having an open track and not a minute track, it's having the 3-6-9 but then next t0 the "Swiss" sign at 6 o'clock, we see "T < 25" added. An regular "swiss" only sign means the dial is having radium luminous, the addition of T<25 means the luminous is tritium. So this dial is from after 1964 when tritium & open tracks became the standard.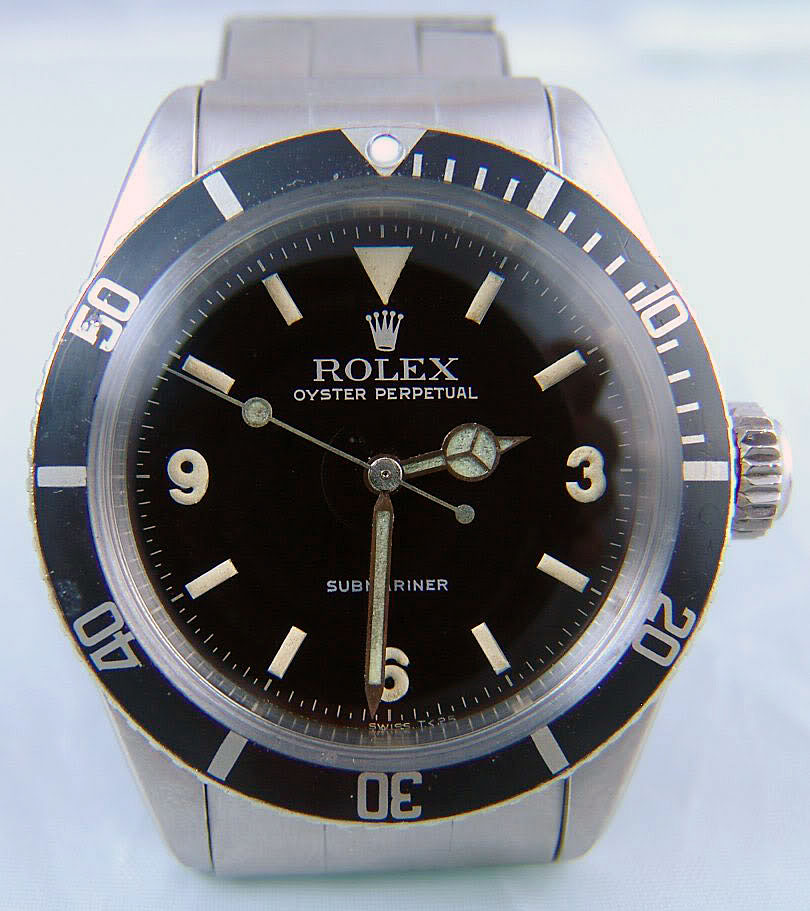 Here another examples of tritium luminous as we see the T is added after the SWISS sign..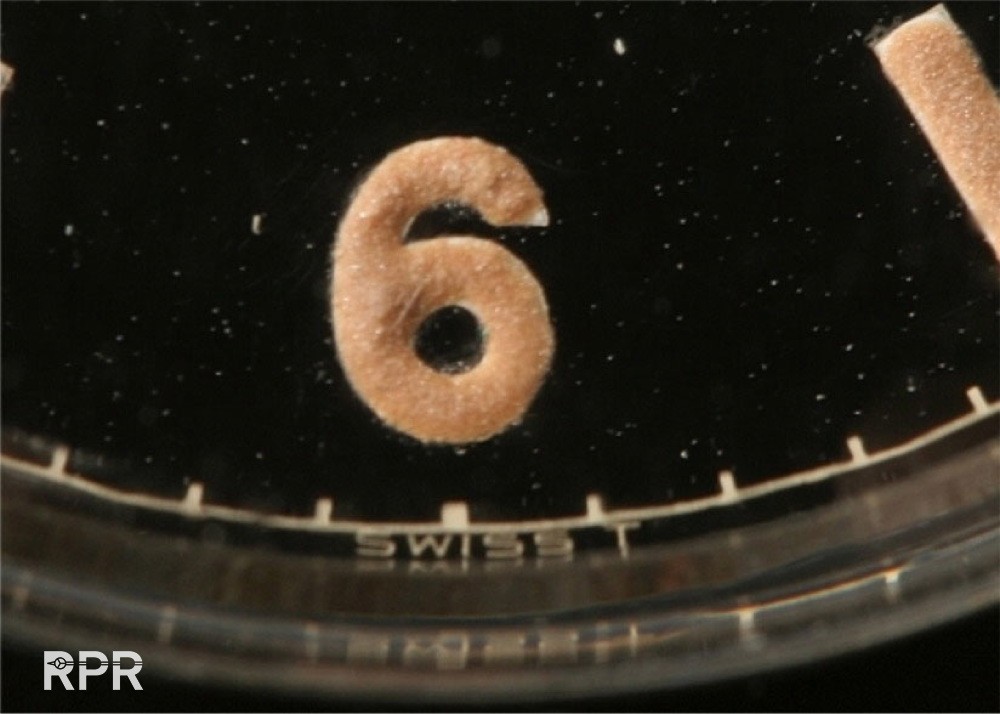 The evolution of Submariner crown guards… Small Crown, Big Crown, Square Crown, Pointed and Rounded crown guards..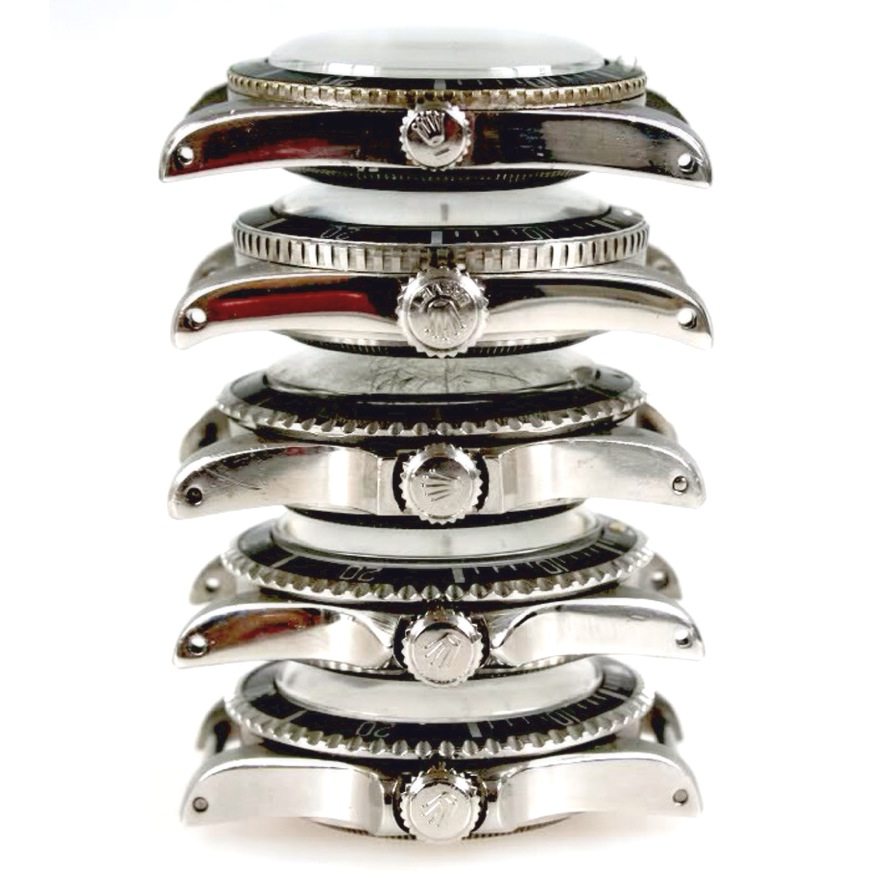 If you want to learn more about the important luminous Rolex has been used, see my evolution of Rolex Luminous Report here..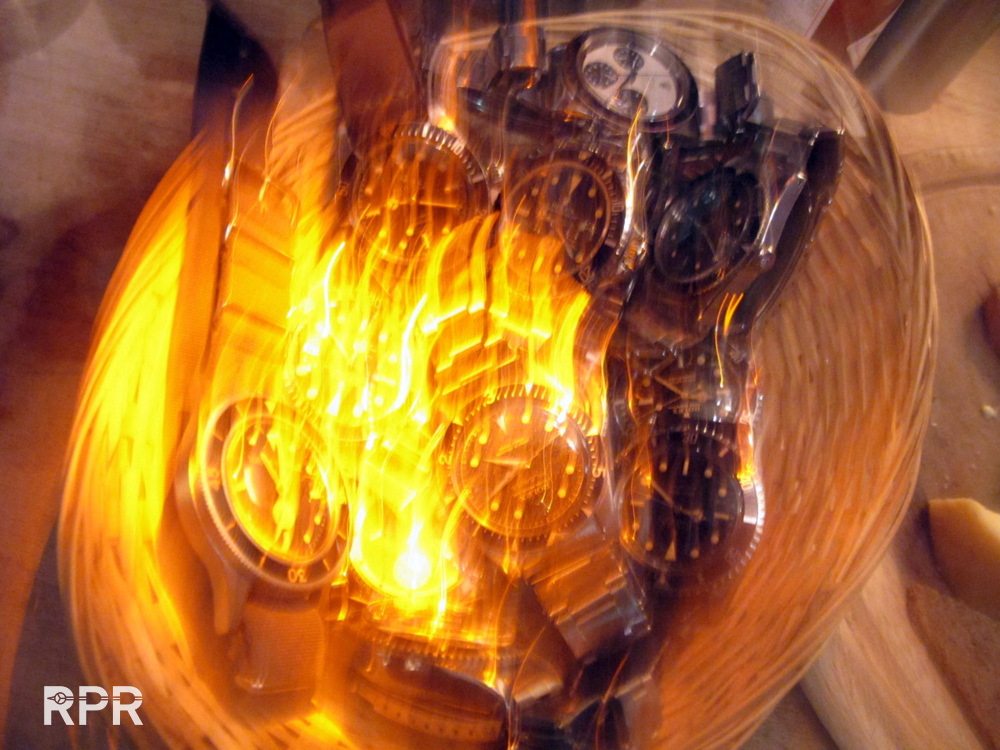 Generally before you buy your first vintage Rolex it's very recommended that you study my FREE Vintage Rolex Buyers Guide..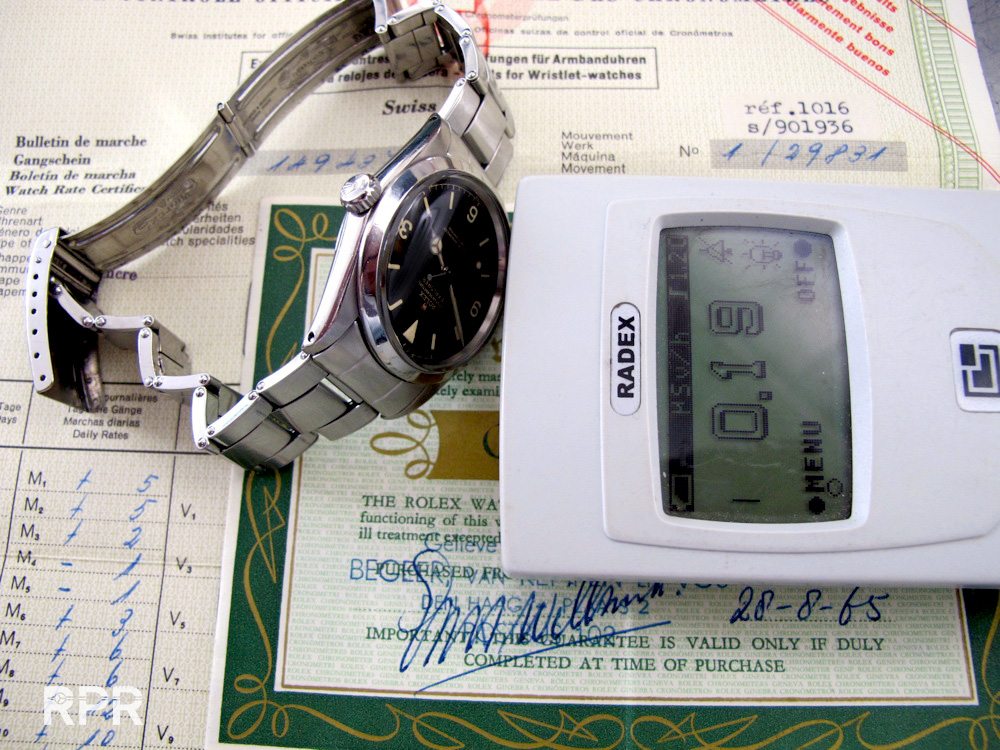 If you have any questions you can contact me directly by using the CONTACT button.
Many thanks for tuning in, cheers Philipp