The Rolex Submariner Collectors Story.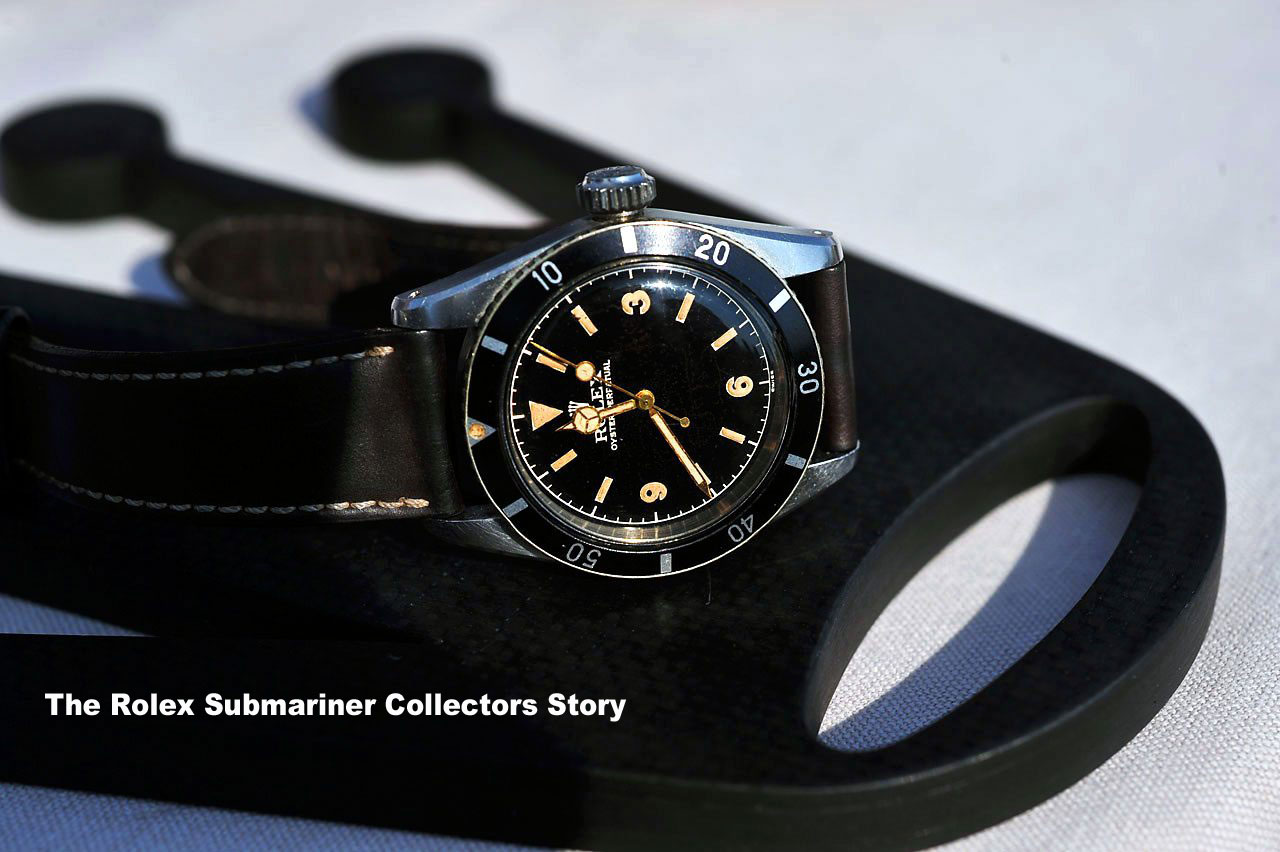 The history of the Rolex Submariner from 1954 to the present day has always been exciting to me. Not only the early 1950-ies when the director at Rolex, Rene P Jeanneret, (Why have we never got more information about this important director by Rolex?!) a gentleman and enthusiastic diver, was a major force in encouraging Rolex to manufacture a "sports" watch with a diving theme that also could be used as an elegant dress watch. Also in the 60-70-ies and early 80-ies the Submariner has always been the dive watch to have. After the huge succes of the conquest of Mt Everest May 1953 by Hillary & Tenzing & the deepest dives by the Piccard's, Rolex learned that a regular off the shelves Oyster could make it to the top of the world so why not use this important achievement to sell even more Rolex. Their motto has always been durability, from the "Top of the World to the Bottom of the Sea", Rolex proves dependable!
The Rolex Submariner is without doubt one of the most successful Rolex models in history. Not only because it more than aptly served its purpose as diver's watch, although I am pretty sure only a small number of Submariners has ever seen a spat of water. Its appearance in several James Bond movies certainly helped as well. If you omit functionality and marketing, the Submariner success is mainly due to its elegance as timeless dress watch. It's just one of those watches you keep looking at, regardless of wanting to know the time of day. The Submariner was launched in 1953 and officially presented at the Basel Fair in 1954.
Being the first watch ever to be 100 meters (330 feet) waterproof and equipped with a rotatable bezel for divers to read their time under water, it became an instant success. There is ongoing discussion on which Submariner reference came first, the 6200 or 6204. With a different 369 Explorer dial and different movement, the 6200 surely is the odd one compared to the 6204/6205. But, as you will find out more when dealing with Rolex history, conclusive evidence from Rolex HQ in Geneva is hard to find. It certainly adds to the myth of this legendary timepiece, which model came first is not of the utmost importance.
The 6204 was officially available for the public in 1954, but from a collector's point of view the 6200 is definitely more desirable. With a thicker case and a larger 8mm  crown so divers that wore thick gloves could easier handle it. This particular brevet crown crown gave birth to the watch nickname Big Crown. Only the Submariner models what were fitted with a Big Crown, are 6200, 6538, A/6538 and 5510, all very sought-after by collectors.
The innovative technology needed to produce the special Rolex Deep Sea from Piccard were then applied to the Submariner models. By adding a rotating bezel to a regular Rolex enabled divers to keep accurate track of the time elapsed underwater. By changing the regular dial from white to black and add luminous numerals and hands a new model was born, the utility Rolex, the Sports Rolex or as Rolex describes it: "In the early 1950s, Rolex developed professional watches that served as tools and whose functions went far beyond simply telling the time. These watches were intended for professional activities, such as deep-sea diving, aviation, mountain climbing and scientific exploration. The watches generated lasting enthusiasm and became known as the watches of achievers."
Many years I'm studying the subtle differences of the Rolex Submariner and still once a while I learn something totally new. There are a lot of exceptions and important details. For example sometimes the depth ratings where in red, it had a depth rate printed the meters first, then followed by feet first, some models had 369 explorer type dials which where used for Military orders. Then there were glossy dials with gilt, silver and white print and minute track, open track. We see the underline, the exclamation mark, matt dials, open track, double name, military, comex to name a view differences and mix it all with radium and tritium and you come up with hundreds different possibilities. To give you a quick idea how many differences versions have been made which are important to us collectors, here an overview:
Ref 6200
with silver submariner
without silver submariner
with submariner + OCC
with double name (Joyería Riviera)
small Rolex crown logo
small Rolex crown logo + Swiss T
Ref 6204, 6205
honeycomb dial in 1 colour
gilt in 1 color
split logo
double name (Serpico y Laino)
blackout
underline 

Ref 6536, 6536/1, 5508, 5510
2 lined in 1 colour gilt print
2 lined in 1 colour gilt print + OCC
submariner + red depth
2 lined in 2 color print
4 lined in 2 color print
double name (Serpico y Laino, Joyería Riviera, Tiffany)
Underline
369 small crown, red depth
369 big crown 5510 with Explorer Logo
369 big crown 5510 with 6200 logo
OCC
Ref 6538
2 lined in 1 colour gilt print
2 lined + OCC in 1 colour
submariner + red depth
2 lined in 2 colour print
4 lined in 2 colour print
double name (Serpico y Laino, Tiffany)
Single name Tiffany
Underline
369 + red depth
369 + Red Depth + OCC
Ref 5512/3
minutetrack, square crown, 2 lined
minutetrack with '59 tulip – fifth finger crown / 2 lined, 'cornini corti' pointed
minutetrack with tulip crown / 4 lined, pointed
minutetrack with '60-'62 crown / 2 lined, pointed
minutetrack with '60-'62 crown / 4 lined, pointed
minutetrack with '60-'62 crown / 2 lined, pointed, double name
opentrack 2 lines, white Swiss '62-'63
opentrack 2 lines, white Swiss underline '62-'63
opentrack 4 lines, white Swiss '62-'63
opentrack 2 lines, white Swiss underline '62-'63
opentrack 2 lines, white Swiss upperline'62-'63
opentrack 4 line, underline in between, white swiss
opentrack 2 lines, gold Swiss '63-'64
opentrack 4 lines, gold Swiss '63-'64
opentrack 4 lines, gold Swiss '63-'64 underline
opentrack 2 lines, gold Swiss '63-'64 underline
6 versions of the 369 Explorer dialed submariner
opentrack, 2 lines, Swiss T<25 etc etc etc.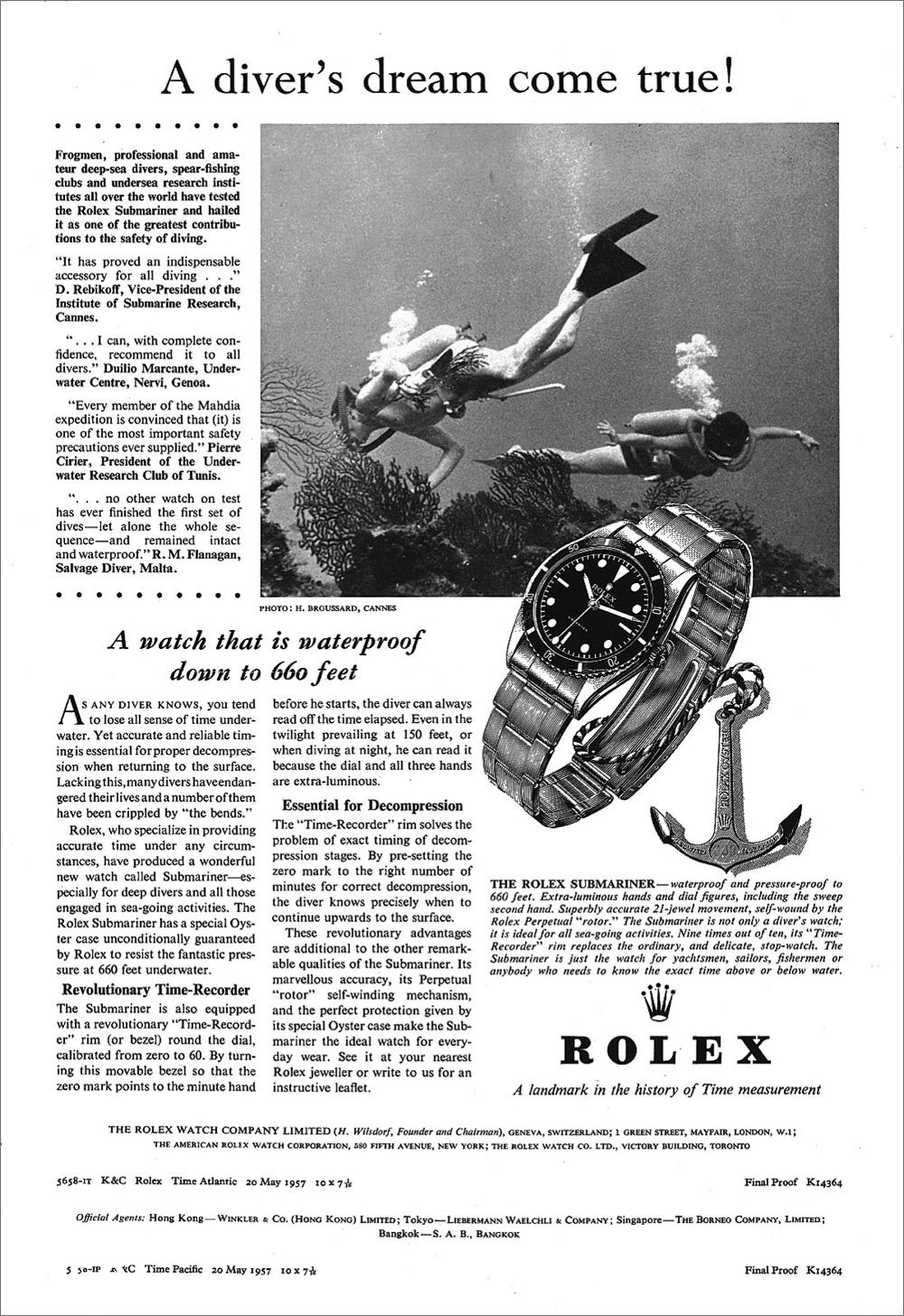 The early years till like 1965 where especially remarkable because there were so many different models in such a short period of time when we compared it to the later years. I believe the reason for this is that the Rolex was experimenting with the Submariner to achieve the perfect automatic waterproof divers watch, that withstands all circumstances. Hans Wilsdorf immediately understood  the potential and the submariner was the root of Rolex marketing! If you can dive with it to 100 meter below surface, then  you can sell it as extremely reliable above sea level.
The Submariner History by Reference:
1950-1960. Model reference: 6200, 6204, 6205, 6536, 6536/1, 6538, 5508, 5510.
–>See my RPR article about the small & big crown Submariners by following this link..
1960-1980. Model reference 5512, 5513, 1680 red, 1680 white.
From 1980+ Model reference 16800, 168000
–> See my RPR article about Comex & Military Submariners by following this link..
The Rolex Submariner introduction at the Basel Fair in 1954…
The general consensus seems to be that Rolex introduced the Submariner 6204 to the world at the 1954 Basel Spring Fair and therefore this must have been the first Submariner produced by Rolex. The Rolex R&D department must have been developing these watches many years before official introduction of 1954. But the first Submariner to be produced by Rolex was the big crown reference 6200. Logically the ref 6200 being first because 6200 is earlier number then 6204 & 6205.
The Rolex Submariner, introduced in the early 50's, laid down the tracks which most of their competitors would follow. From the rotating bezel that can be used for using the air time, the brevet water proof crown that sealed the case, to later flip lock clasp and extension link (to wear on a wetsuit) these where all Rolex innovations.
Rolex invented the business model for future generations of tool watches. He who is first to the market with a new product, wins and Rolex always wanted to win when it's about durability. It was no priority early 1950 that any design faults or it does not life up to the guarantees made because these could be dealt with the introduction of a new and improved product. Rolex was never satisfied and pushed itself to the frontiers. Many divers all over the world have been testing Submariners in extreme conditions. The marketing department was coordinating this together with a special team of watchmakers who wanted to see the impact of heavy use and how to improve it. Divers had to keep an log book for how long, how deep their several dives where. From all this research of actually heavy duty use, Rolex improved quickly.
Rolex Ref 6200 ( Production year: 1953 to 1954 )
Although officially launched in 1955 the ref. 6200 used the old style bubble back cal.A296/775 movement measuring 10 1/2 lignes and the old non dash bezel insert, a large size 8mm crown, which logically was the first Submariner model produced by Rolex. Rumors thats Hans Wilsdorf thought this particular thick cased Submariner was a bit to much for his retailers and the alternative references with 100 meter waterproof case ( 6204 & 6205) where introduced instead at Basel 1954.
It seems to have been an experimental model being produced in low quantities with a 369 gloss explorer style dial with not always the name "submariner' added on the dial. The radium hour mercedes hand is an extra long and the second hand had a big lollipop to make it clearly visible in the deep dark. For commercial reasons they opted to hold back the ref. 6200 in favour of the Submariner ref. 6204 which had a slimmer case and a smaller crown. Hans Wilsdorf concluded that the world was not yet ready for a 200 meter waterproof cased big crown Rolex Submariner.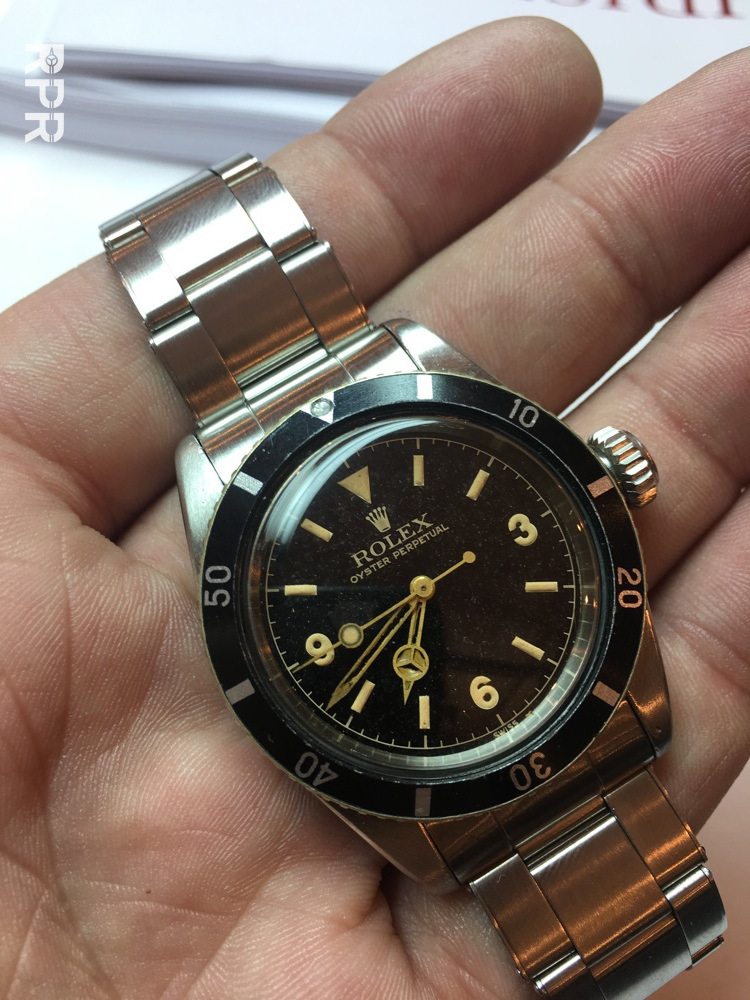 Rolex Ref. 6204 ( Production year: 1953 to 1955) small crown Submariner…
The 6204, here with rare honeycomb dial, split logo and pencil hands…
The Submariner ref. 6204 differed considerably to the ref. 6200. It had a thinner case, smaller crown, started with pencil hands. It still had an older caliber bubble back movement cal.A260 with measuring of 9 3/4 lignes ticking inside. A mix between old and new technology….
Check out this amazing dedicated article about the Rolex Submariner ref 6204 by Glenn Mariconda by following this link..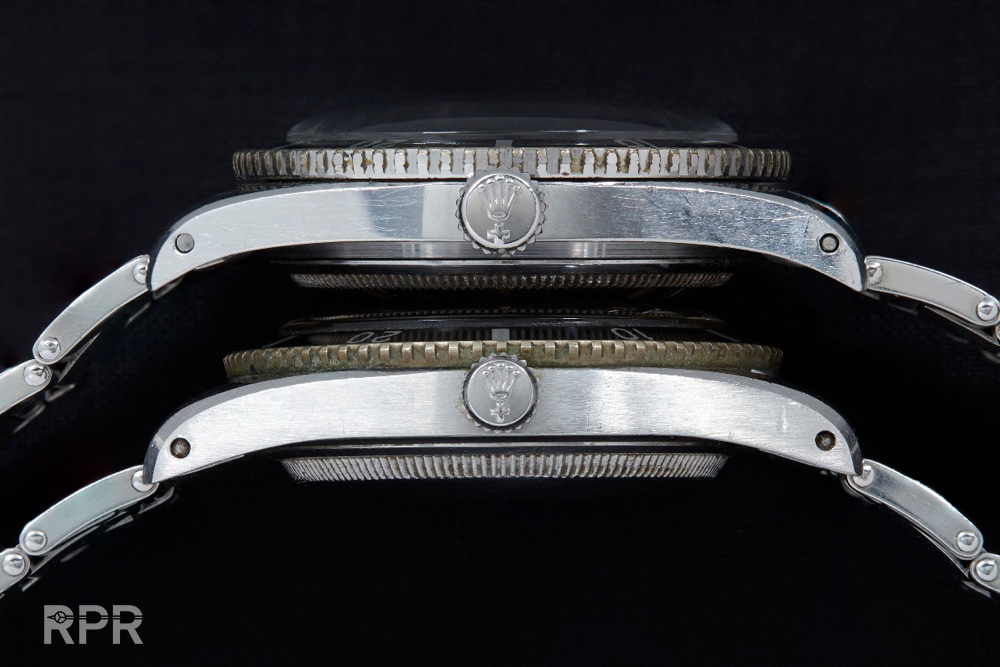 Ref. 6205 (Production year: 1953 to 1955)
This model was announced almost same time as the ref. 6204. The movement is identical with the ref. 6204. The only difference is that it's slightly bigger, had a different the dial and the crown. Waterproof efficiency was the same as the ref. 6204. These watches did not really meet the water efficiency required by Rolex and by 1955 were replaced by the ref. 6536 and the ref. 6538 non chronometer versions. Rolex were still at an experimental stage with these Subs and did not hesitate to upgrade them quickly.
Up you see an early example Ref 6205 with pencil hands and below a 6205 with little later long mercedes hour hand…
Note the white second hand with lollipop all at the end…
Ref. 6536 and 6538 (Production year 1955 to 1959)
Both these models had the same new revolutionary innovative Cal.1030 movement in which the rotor wound in both directions. The efficiency of the automatic winding was improved. There were ofcourse some differences in that the ref. 6536 with its slightly thinner case and much smaller crown that was waterproof to 100m and the ref. 6538 was waterproof to 200m. As Rolex always used all their parts we see that some 6538's have been used as 6536's. The case was more like a big crown, the case back had crossed out 6538 and re-engraved 6536 inside. Typical a Rolex, never forget to use older parts to stay efficient.
Ref. 6536-1 Chronometer (Production year 1957 to 1960)
These were the first officially chronometer rated Rolex Submariners. Around the end of 1958 the Submariners ref. 6538 and the ref. 6536 were replaced by the ref. 6536-1 and a new ref. 6538. The ref. 6536/1 also had a chronometer rated movement  Cal 1030, 25 jewels, adjusted to temperature and 5 positions.  The dial was a black gloss, gilt print, with depth in silver, and also note the case was not as thick as the Ref 6536 which it had replaced.
Ref. 6538 Non Chronometer Movement (Production year 1956 to 1959)
Surprisingly, the ref. 6538 kept the same model reference. The new ref. 6538 Submariner had a much heavier case, bezel markings for the first 15 minutes, and a red triangle at the 12 position. It could withstand depths till 200 meter. It had a larger 8 mm brevet crown, and because the name had not yet been registered, the words Brevette (Brevet is not a name but a french word meaning patent). The gloss dial still had gilt printing but now also was printed with the words "officially certified chronometer" under the word Submariner, and powered by a new 1030 Chronometer rated movement. This was the Rolex James Bond was wearing at Dr. No. that helped to make this model iconic!
legendary James Bond shots…
The Ref 6538 with 2 line, non chronometer tested movement and red triangle bezel inlay with dash index till 15 minutes…
Ref. 6538 Chronometer Movement (Production year 1956 to1959)
The main difference between a "Non-Chronometer" and a "Chronometer rated" movement is that the chronometer rated movements must undergo intensive testing to determine if they are within Chronometer tolerances. A Swiss made watch to be called a chronometer, it must meet certain very high standards set by the Swiss Official Chronometer Control. The requirements are taking 15 days and nights at five different positions under rapidly changing temperature conditions from -5º C to like 30º C. We see most Official Certified Chronometer Rolex Big crown ref 6538 been delivered to the U.S. as their it became standard in Rolex marketing but let me explain the "chronometer" status a bit better for you to understand:
Chronometer
A reliable watch meant accuracy at all times, including the famous chronometer functionality. When it comes to chronometers, Rolex arguably set the standard in the watch industry. Rolex put their own chronometer movements through a series of tough tests, but it wasn't until the certification by the Contrôle Officiel Suisse des Chronomètres, that an officially certified chronometer became an important marketing feature. The COSC is the official Swiss chronometer testing institute. This non-profit organisation is a joint-venture of the five watchmaking cantons of Switzerland (Bern, Geneva, Neuchâtel, Solothurn, Vaud) and the Federation of the Swiss Watch Industry (FHS).
All original Big Crown Ref 6538 – 4 line tropical  from 1957 below. Note the red triangle with NON dash to 15 minutes!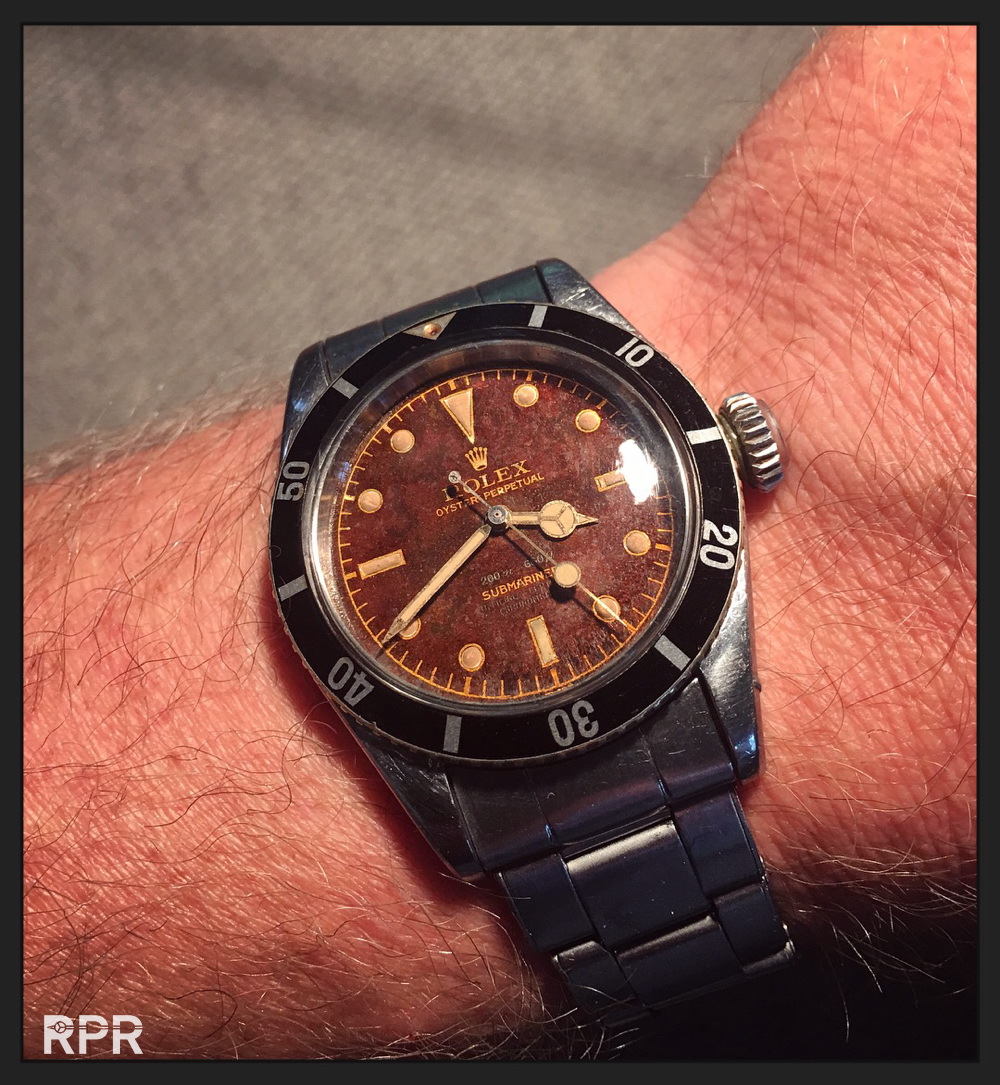 Before a watch is certified, it has to go through various tests to test its accuracy. In the earlier chronometer certificate this meant measuring in 5 different positions and different temperatures:
–  Dial facing up and crown at 15h00
–  Dial facing down
–  On the side with pushers
–  On the side without pushers
–  Warm/cold variation, below 5 degrees and above 30 degrees
–  Resistance to magnetism and other outside influences like gravityTiming was done with the aid of atomic clocks and the outcome of time differences for each test had to be within a given bandwidth of precision criteria. Each officially certified COSC chronometer is unique, and identified by a serial number engraved on its movement and a certification number given by the COSC
All original Big Crown Ref 6538 – 4 line tropical  from 1958 below. Note the red triangle with dash to 15 minutes!
The Ref 6538 4 line with chronometer tested movement, which is most probably only made for the US market.
Above in original all black and below in faded to a warm tropical brown…
Below an ultra rare version military version with 3-6-9, red depth and OCC which has been found from original owner in South America.
2 of the rarest Submariner come together in my hand. Both Ref 6538, the one of the left specially transformed to UK Military big crown version with fixed bars and special bezel, which we see become the standard once Rolex introduced the Ref 5512/3. This new type of special bezel which was easier to handle also made the watch look bigger, which slowly become fashionable.
Not all models were certified by the COSC. One of the reasons could be that the COSC models were specifically meant for the US market, where a Swiss chronometer certification would certainly benefit sales. The acquired COSC certification was mentioned in two lines on the dial as Officially Certified Chronometer. From approximately 1960 onward, this text was replaced with Superlative Chronometer Officially Certified.
Using COSC certification as marketing tool resulted in sometimes peculiar situations, with two almost identical watches and only one bearing the Superlative Chronometer Officially Certified text on the dial.
Above you see the 2 different chronometer small crown. The first says OCC ( Official Certified Chronometer) and the other says SCOC ( Superlative Chronometer Official Certified)
 Ref. 5508 ( Production year 1958 to 1962)
Around 1958, it all changed once again. Rolex was still not satisfied. Two final experimental shoulderless submariners were introduced:- ref. 5508 replacing the ref. 6536 and ref. 5510 replacing the ref. 6538. The new models were equiped with new 1500 series movements, Cal 1530 were used. The ref. 5508 was guaranteed waterproof to 100m/330ft and existed with and without the inscription of "Chronometer" on the dial. Production year was around 1958 to 1962.
Ref 5508 small crown in 2 line & 4 line. Note the 4 line reads now "Official Certified Superlative Chronometer" there where on earlier models the description was "Official Certified Chronometer"
Ref. 5510 ( Production year 1958)
The ref. 5510 is a strange interim model, has a large 8mm "Brevette" crown. Guaranteed waterproof 200m/660ft, and was only produced for 1 year in about in few hundred numbers. Regular Ref 551o do look like 2 line ref 6538's. from the outside you can hardly see the differences. The updated movement is one of the only differences. 
Rolex wouldn't be Rolex is they had made a special version from the Ref 5510 as shown below. The dial lay out is having the 3-6-9 index, the Rolex logo is more like we see with Explorers, the bars are fixed meaning the purpose of this Submariner was to be used for militaries. Rumored that this particular one was made for Australian Military in a handful of examples know to date.
Side view of different Rolex sport cases…
Ref 5512 ( Production from 1959)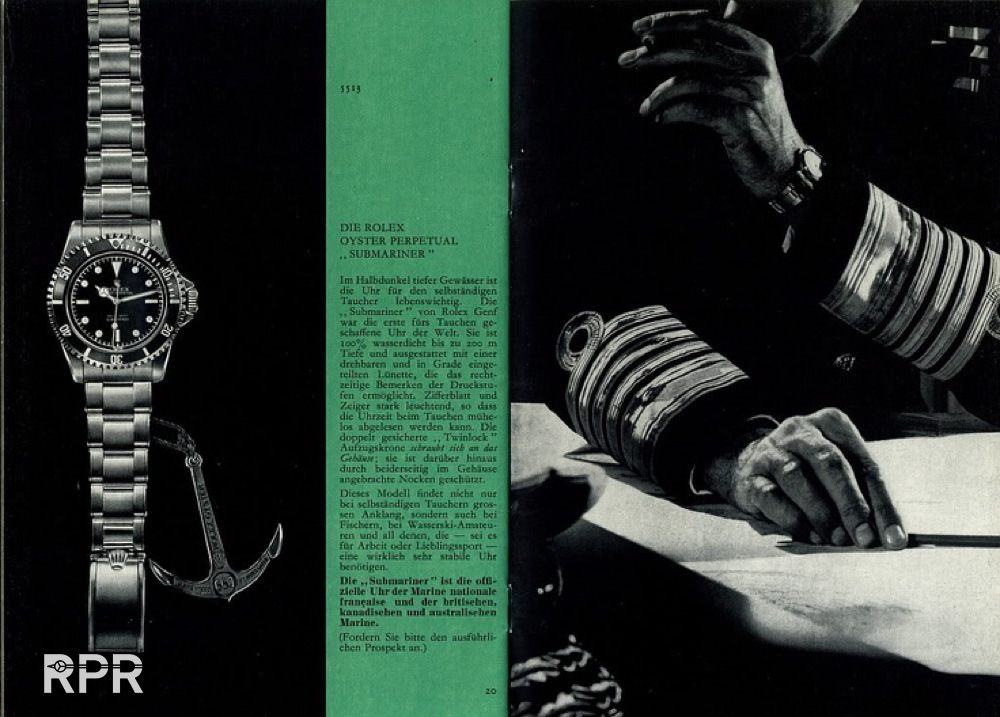 Tropical brown Ref 5512 with exclamation mark from 1962…
4 line chronometer rated Ref 5512…
The updated Ref 5512 Submariner from 1959 with crown guard to protect the crown even better against waterproofs show us 2 different versions namely the square crown & the pointed crown guards. Both where made around the same period in 1959 in small quantities experimenting with the correct way to add the protection around the crown. Find below a overview of the different crown guards being used by Rolex over the years. From Small Crown, to big crown, square crown, pointed crown guard and finally the rounded crown guard that became standard for many years to follow.
When you compare the square crown with the final rounded crown guards you see they actually are very close in design. Nevertheless Rolex ingenieurs thought that the pointed crown guards where the answer to all waterproof problems but from the feedback they got by experts using them, they changed the design to a much stronger rounded crown guard. Take for example the Submariner 1959 reference 5512, the Big Crown successor. This 5513 was not CSOC certified. A small difference back then, which made the 5513 the slightly cheaper Submariner version, but a huge difference in value nowadays as the 5512 is more sought after by collectors.
The 5512 was using a chronometer manufacture caliber produced by Rolex. Head over to an interesting review that has been written by Beaumont Miller II to see all the Ref 5512 versions and different dial lay out's by following this link…

Ref 5513 in all it's varieties….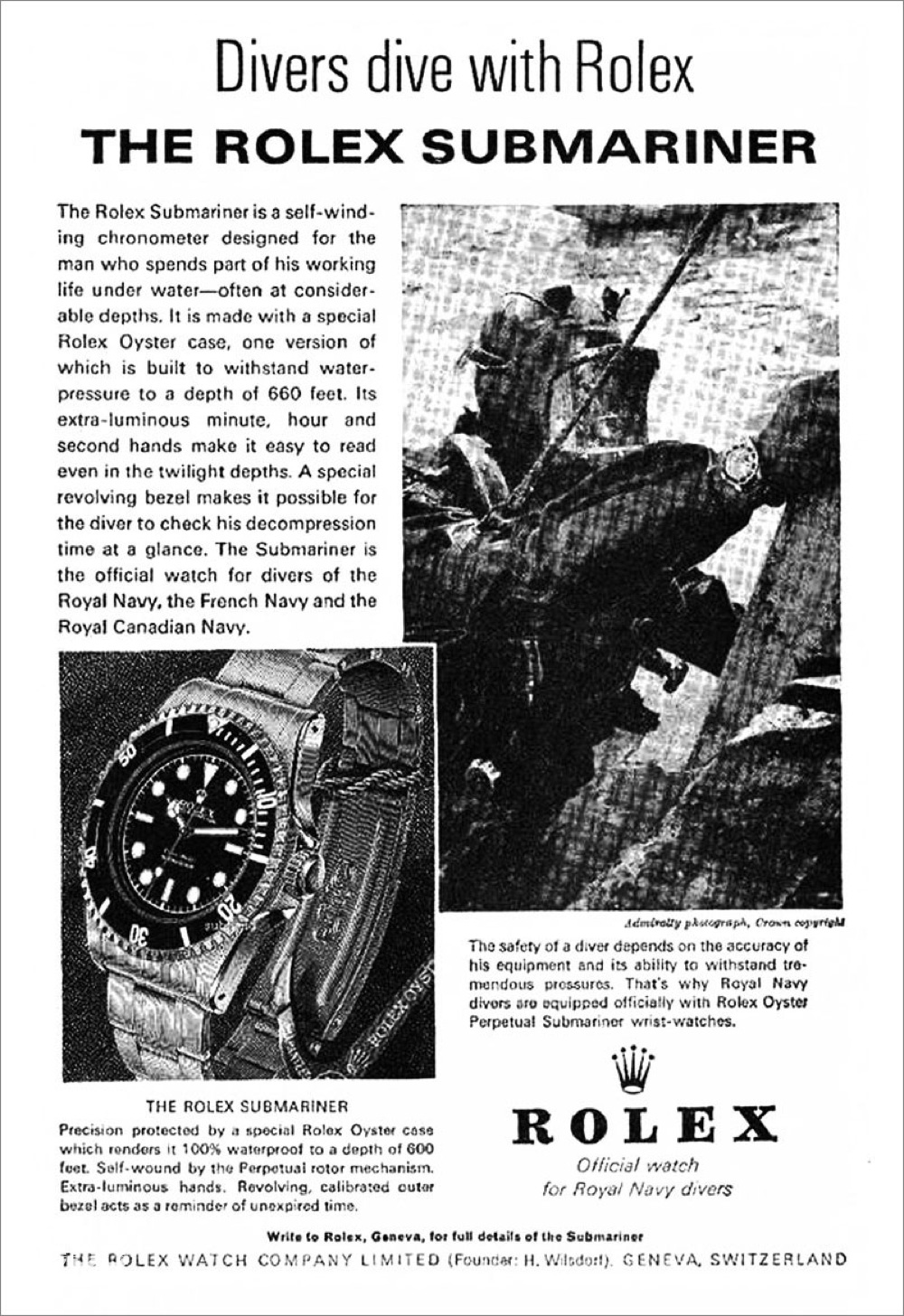 This model Submariner is to me one of the most exciting references due to the enormous amount of different versions that have been made overt the years. Not only from the huge amount of glossy versus matt dial versions you can make a book, it's also the subtle difference in print, lay out, 3/6/9, double name, underline to mane a few. Actually there are so many versions this below picture gives you a hint of option being used by Rolex.
Above 5512 and 5513 dials come from the Andrew Shear archive of sold stunners you find over here…
White Swiss printed on top of an already finished dial during transitional period when the lume change from aggressive radium to more safe tritium. As we have seen before, Rolex always wanted to use all their parts and therefor when the new rules came to switch luminous, Rolex used the left over dial and signed them with an underline to show their watchmakers that it was safe to repair them.
Check out an earlier review I made about the "Underline & Exclamation" marks signs used during the transitional period between the switch from radium to tritium luminous in 1964… Check the article by following this link….
4 underline in between the OCC & Underline Serpico & Laino Ref 5512's…
The 3/6/9 Submariner versions for this reference…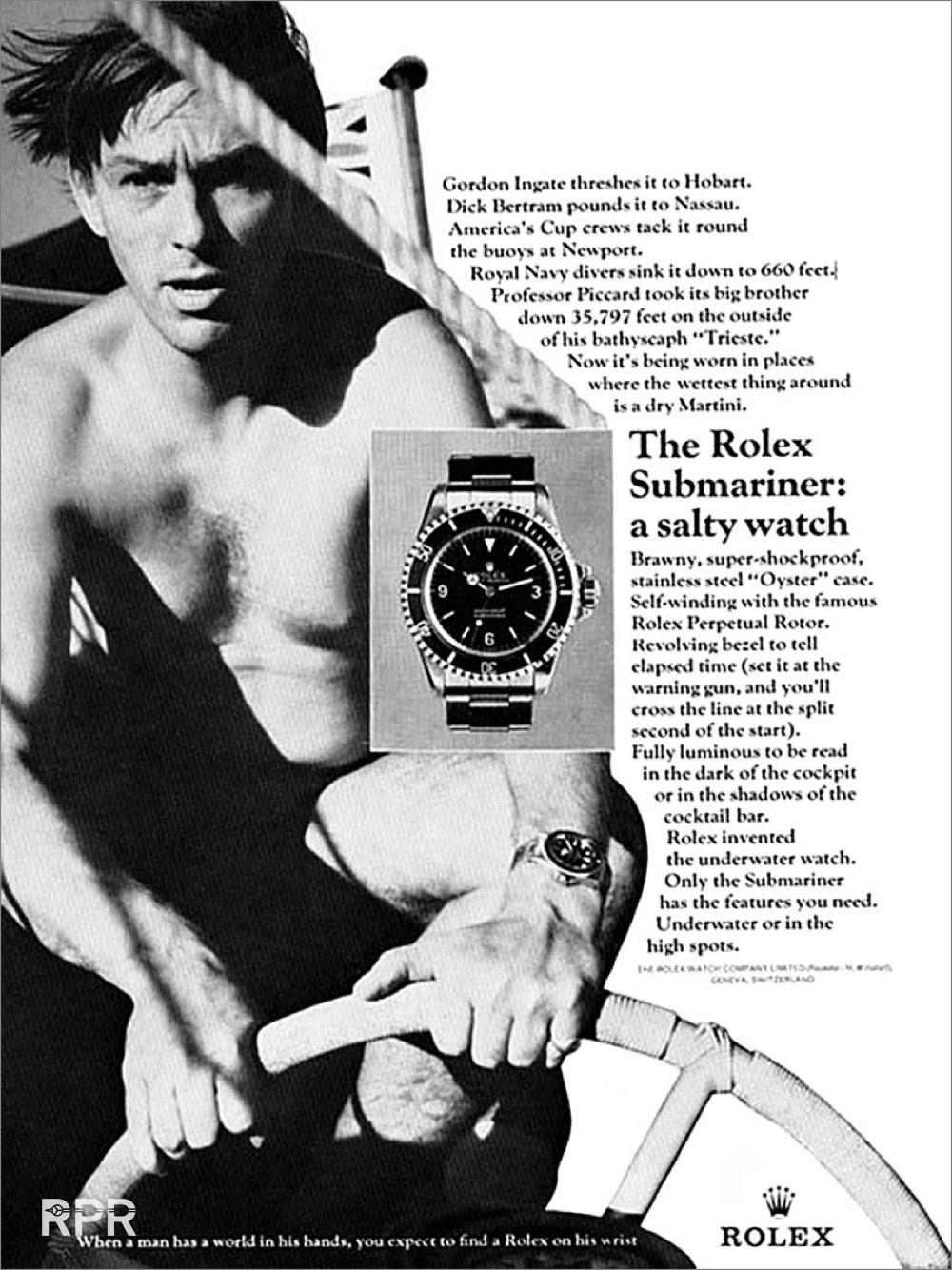 Final versions, glossy Swiss T<25 Submariner 3-6-9 explorer dial…
2 of the rarest Rolex Ref A/6538 Military & 5513 Explorer dialed Submariner…
Comex Submariners :
COMEX is the abbreviation of COMPAGNIE MARITIME D'EXPERTISE', a company founded in 1961 by engineer Henri Germain Delauze in Marseille France. He combined his technical background with the love for diving and made COMEX a true pioneer of commercial diving on the offshore oil market.
Rolex worked together with COMEX to develop the helium gas escape. This valve, situated at nine o'clock, was designed to prevent damage from a build-up of helium after full-saturation diving. The COMEX model was first issued in 1972 and looks like a regular 5513 Submariner, except for the unique helium escape valve. The references 5513 and 5514 (special Rolex COMEX reference) were used to test this valve, which became available to the public on the 1967 SeaDweller.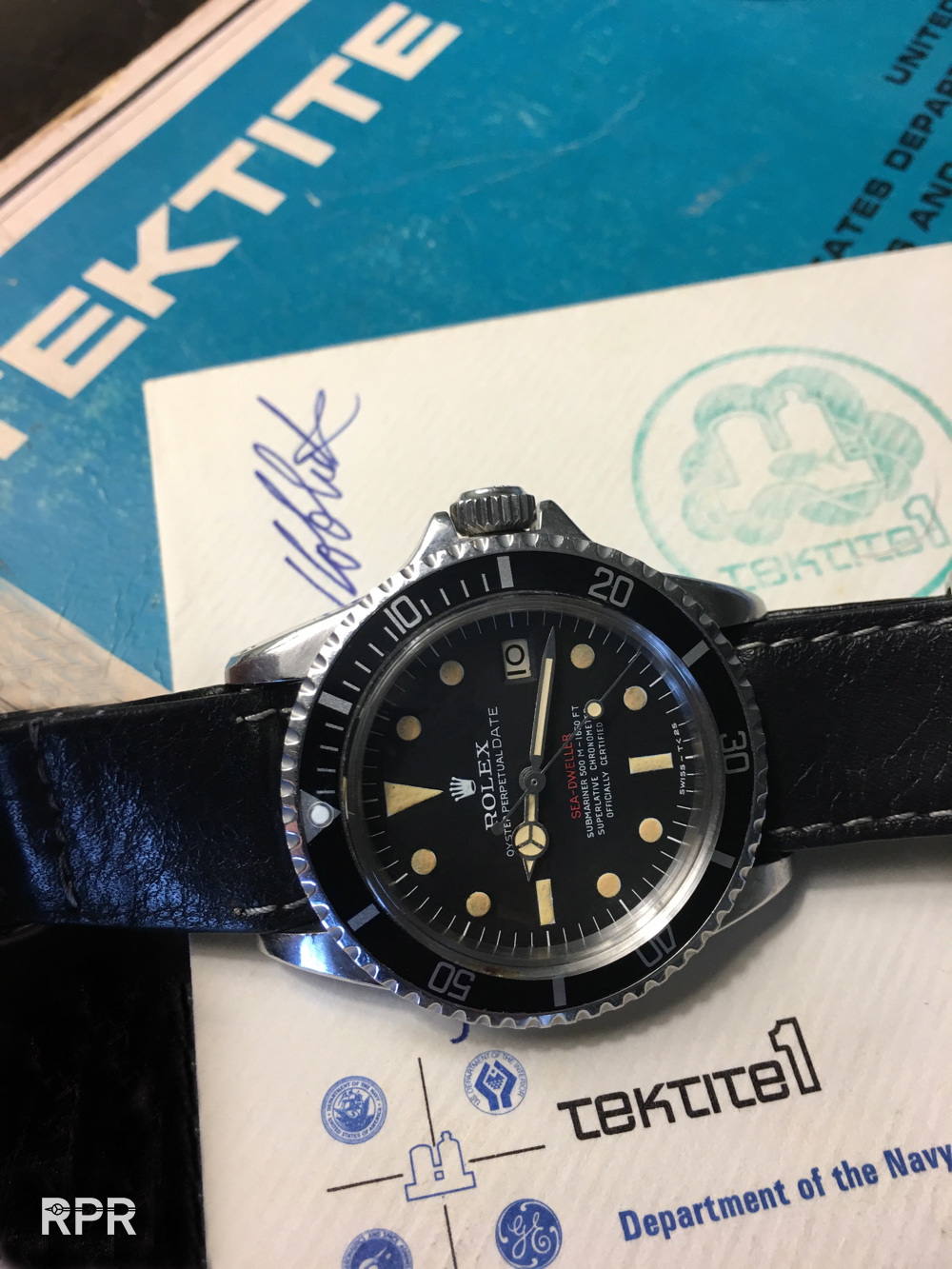 Another interesting read is the article I added online about the Single Red Seadweller of which you see above.
COMEX watches were only issued to diving personnel, no watch has ever been sold by a Rolex dealer. This makes these watches even more appealing, besides the extremely small number issued over the years. Here's an overview of all Submariner Comex.
  5513 non comex logo on the dial
  5513 comex logo
  5514 non logo
  5514 logo
  5514 big numbers
  1680
  16800 Matt
  16660 Gloss small logo
  168000 Small logo
  16610
  Mission and presentation watches
  Comex watches with service replacement dials.
1970-1973 Submariners Reference 5513 with helium valve
1972-1978 Submariners unique for Comex is the Ref: 5514 with valve. 
1978-1979 Submariner Ref: 1680, no valve
1982-1986 Submariner Sapphire Ref: 1680 no valve with matt or gloss dial. 
1988-1989 Submariner Sapphire Ref: 16800 no valve gloss dial.
1988-1989 Submariners Ref: 168000 no valve with gloss dial.
1986-1997 Submariners Ref:-16610 no valve.
Exotic Submariner ref 16800 Oman Police.
Military Submariners :
Model references are: Big Crowns A/6538, 5510 & 5513, double ref 5513/5517 and 5517.
Below you find a great Military overview written by Daniel Bourn. Follow the link to see his review here… 
1970 – MILITARY
Rolex tool watches have always been designed with a specific purpose in mind. Climbing, flying, diving, each model was fitted to endure extreme conditions. The Submariner had already proven indispensable gear for diving, but for the British Ministry of Defence Rolex went even further. Back in the early 1970s, the Military Submariner, nicknamed MilSub, was based on a regular Submariner Reference 5513 but with some significant differences. The first differentiator compared to a regular Submariner, is the large encircled T on the dial, a sign that the markers carried Tritium. The watch had larger, fixed lug bars to fit a NATO strap. Most MilSubs had so-called 'sword' hands and although they resemble the hands of an Omega Seamaster, they are a unique set of hands made slightly larger for better legibility purposes. Another unique feature is the bezel with sixty minute markers across the whole insert, compared with the fifteen minute markers on the regular 5513. Finally, the case back carries the Ministry of Defence issue number, always starting with 0552 or W10 the military broad arrow sign and a unit number.
Besides the Reference 5513, a special Reference 5517 was made for the Ministry of Defence (MoD) Special Forces in the second half of the 1970s. Despite common misunderstanding, the 5517 was not only issued to the Navy Special Boat Service, better known as SBS but supplied to both navy and army. Ref 5517 with W10 were issued to the SAS and 5517s starting with 0552 were supplied to naval services SBS and Clearance Divers. Across the board, the known 5517 W10s are better conserved than the 0552 issues, probably due to the line of work the watches were used for.
An estimated 1200 watches of this combined 5513/5517 Reference were issued, and only a few hundred are still in original condition. The rarest are the ref. 5517 based on ref. 5513 cases, so-called double-reference because of both 5513 and 5517 reference numbers. That makes this Military Submariner a highly sought-after collectible.
To make collecting MilSubs even more challenging, they were delivered in batches to the MoD and batches could have slightly different configurations, so only watch comparison within a batch makes sense. What is known from batch analysis, is that the 5513 can have either sword hands or Mercedes hands but the 5517 was only issued with sword hands. The Military Submariner certainly qualifies as holy grail for many collectors, but getting your hands on an original one will require both luck and extensive experience in determining authenticity or buy one from the trusted RPM dealers 
All over the world the passion for the vintage Rolex Submariner is alife. Actually it's one of the most sought after watch model you find. Besides the Daytona, Rolex is all about the Submariner. The many collectors I've met always adore the submariner and many I know have become addicted to collect as many as possible. Like Buddy Mike Wood 😉
Here a gold version of the Ref 1680 Submariner with date having the black 'nipple dial'…At first the rare "Meter first"
And the little later "Feet First" in minty hardly used condition with domed crystal…
Sexy Rolex, specially when the sun is out!
And a meter first Red Submariner with tropical brown and faded bezel insert…
The elusive white gold Submariner Ref 1680, that never made it to production…
Non minute track & meter first Ref 1680 Submariner…
Meter first brown Red Subvmariner Ref 1680 with tropical brown dial. A phenomenon we see happens with black sport dials around from en 67-till early 70. The black color reacted to the UV light and made the color change to a chocolate brown. Something we see for instance also with the Ref 1665 Seadweller MK2.
The 3 different "Meter First" versions..
Lets end this Submariner story with one of the simple time only beauty…
Vintage Sub versus Modern Sub. In my opinion Rolex "forgot" somehow to finish their modern case with some decent bevels.
Couldn't end this article beter with following Submariner Big Crown picture, which I still remember the duck tape I used to "glue" them temporary together while I was trying to make a picture 😉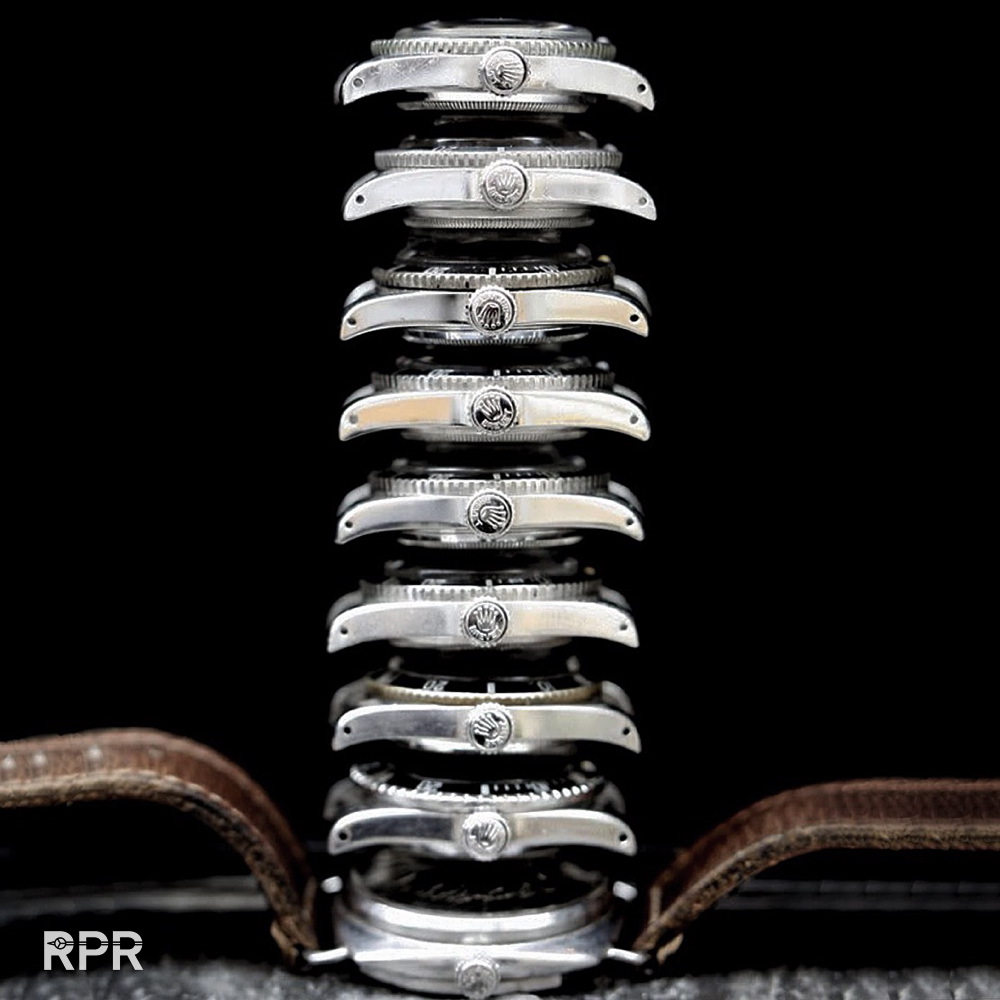 Iconic design. The best of 2 worlds come together during Pebble Beach classic car week …
I hope you have enjoyed my attempt to share the evolution of the Rolex Submariner and their many differences. Over the years to come I'll update this article with more information I come across. When have anything to add, use the contact button below to send me.
Take care,
Philipp Stahl