My Geneva Auction Rolex Report – November 2018 – Is Sam Hines the new Aurel Bacs?
This original owner Doctor's Pulsometer Ref 6239 Cosmograph with red Daytona sold for hammer Chf 680.000,= making it all in Chf 831.000,= the most expensive vintage Rolex from the weekend sold by Sotheby's!! Who had that excepted? The same auction house sold last season prior Sam Hines came to save it only for 2 million, now the total sales result was 12.2 million.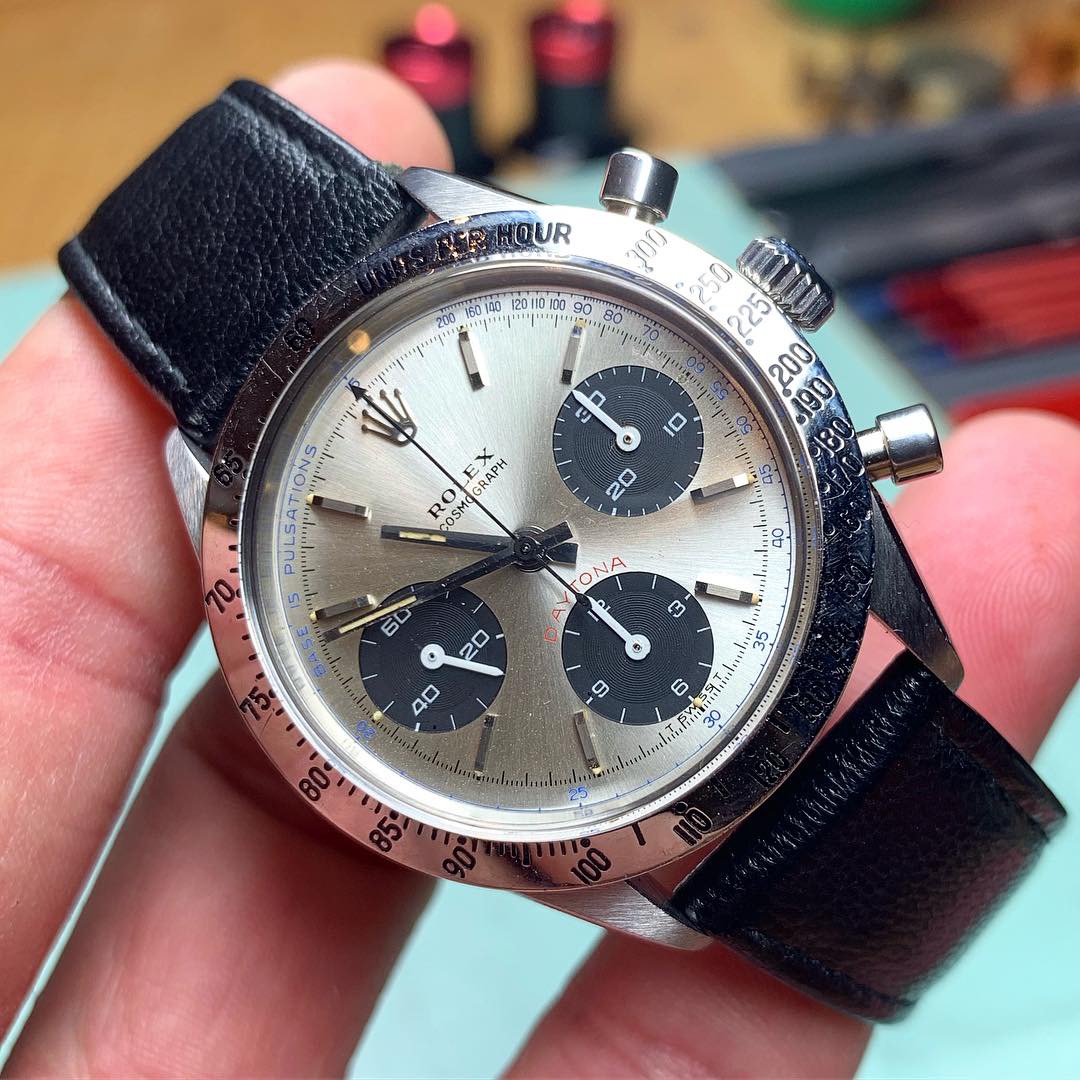 Also the most expensive watch this weekend during the November 2018 watch auctions in Geneva was by Sam Hines, Sotheby's with the exceptional Ref 2499 Pater Philippe sold and signed by Asprey made n early 4 million (Chf 3.915.000,= million). Also Christies has beaten Phillips with their excellent result of their fresh to the market 1st series Ref 2499 sold and signed by Serpico Y Laino for 3.25 million. Although the biggest sales were elsewhere this time, Phillips highest sale was just 1 million dollar for the PPC Ref 3974 they're still the market leader with their 22 million on sales, well done to the whole team👍
So whats happening people ask me?
My answer is simple, a watch auctioneer is as successful as the watches he has in his sale. The market always decides at the end of the day but yes it's indeed the first time in many successful years Mr Bacs was not the individual record sales weekend winner and that must hurt…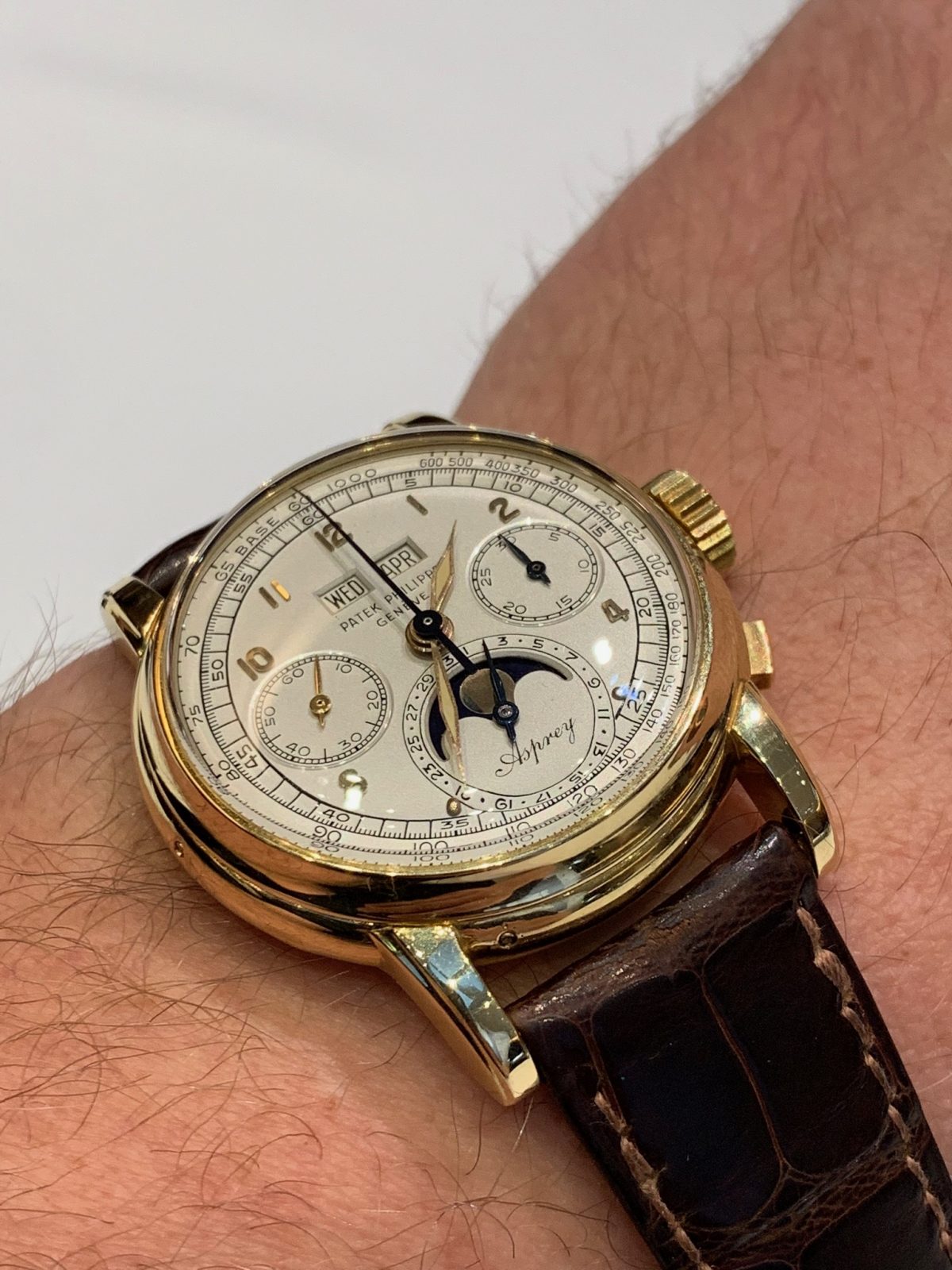 The unique PPC Asprey first serve Ref 2499 sold for Chf 3.915.000,= million
Lets be clear, it's all a matter of sourcing down great watches and giving the seller the confidence that all will be fine. The moment this stops the love is over and buyers / sellers move on to satisfy their needs. The world has become so small and easy to excess that no matter where or who the watch offers, collectors and dealers will find it and try to buy it or bid on it. If its online or by the phone, the days are over you need to join the auction floor to buy a great watch. The auctioneer interacts nowadays almost more with the camera that is live streaming to the worldwide bidders online then with the auction room. I happen to notice that the auctions preview and auctions sales are less visited by important collectors, maybe because the prices are so high now or because he has something better to do, most of them stay home as they already inspected the watches that they want and hardly come to join us in Geneva anymore ;(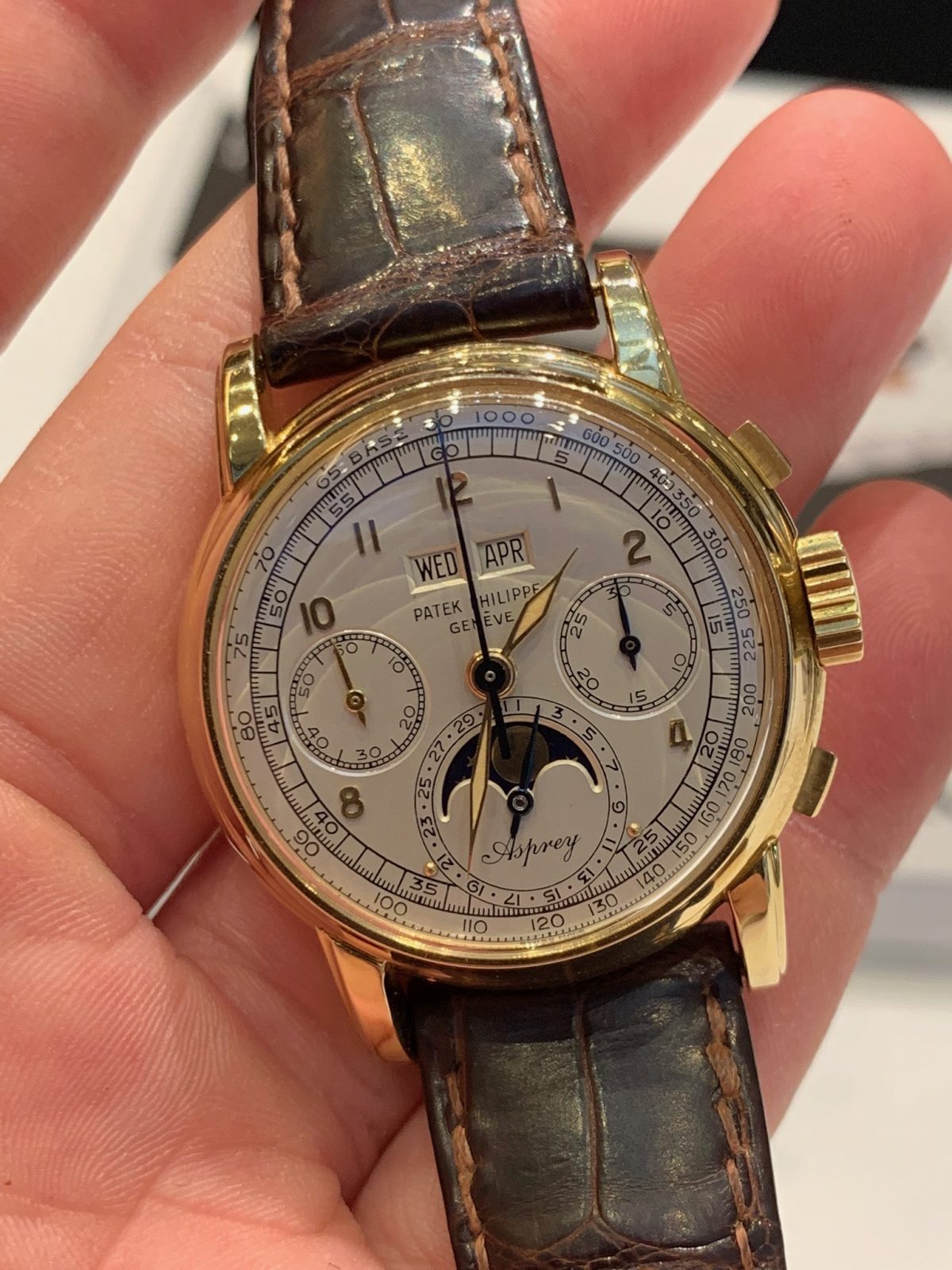 Some crispy vintage Rolex got sold successfully at Phillips Watches, the Steel 8171 sold for 175K, the really nice 6236 Killy brought 700K all in, the brown 6238 almost 500K and the 6265 Oyster Paul Newman 445K. Thats in total 1,82 million for these 4 vintage Rolex!! Needles to say that this handful doubled in value over the last couple of years!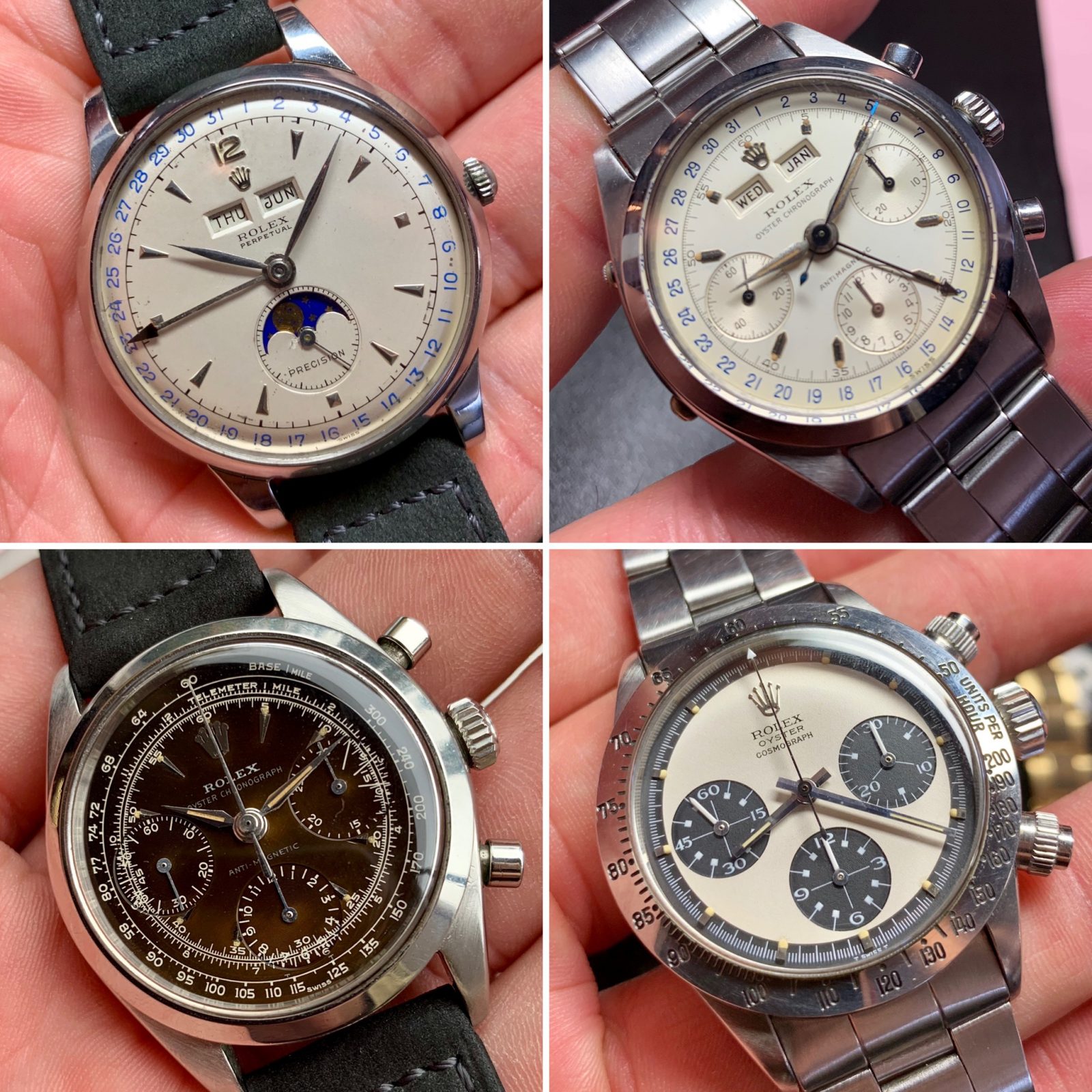 After I read buddies SJX Geneva Watch well written article about last weekend Geneva Watch Auctions I like to add: There's a difference between an original nice Newman and one that's put together with nice parts….In my opinion collectors today are now way more critical and only like to spend that much money they need to pull on this iconic Rolex when is still kind of as it was born, fresh. Matching patina is the keyword and this explains why some Newman's didn't sold for their steep estimates. You see if I would buy a Oyster Newman now for 4-500K and more I would like to have the original bezel and not a later service one. This original bezel tells me how the previous owner has worn his watch, if it has scratched or even dents, this would logically mean that you would see these on the case as well. If the case has been polished and rest cleaned it's become impossible to judge what is original and what has been changed (upgraded) with better parts and prepared for auction.
Therefor it's not unlogic when some don't sell last weekend. Specially when you consider that just around the corner some 20-25 more Newman's where on display from some of the best dealers. And with so many on offer only the best sell. At the end of the day collecting vintage Rolex is all about confidence. I get confidence when all parts are still original and match together patina wise, this so I know for sure nothing has been restored or swapped because what can be done today becomes very hard to tell if you don't know where to look. This brings us to an earlier RPReport, are restorations allowed and accepted, check it out by following this link…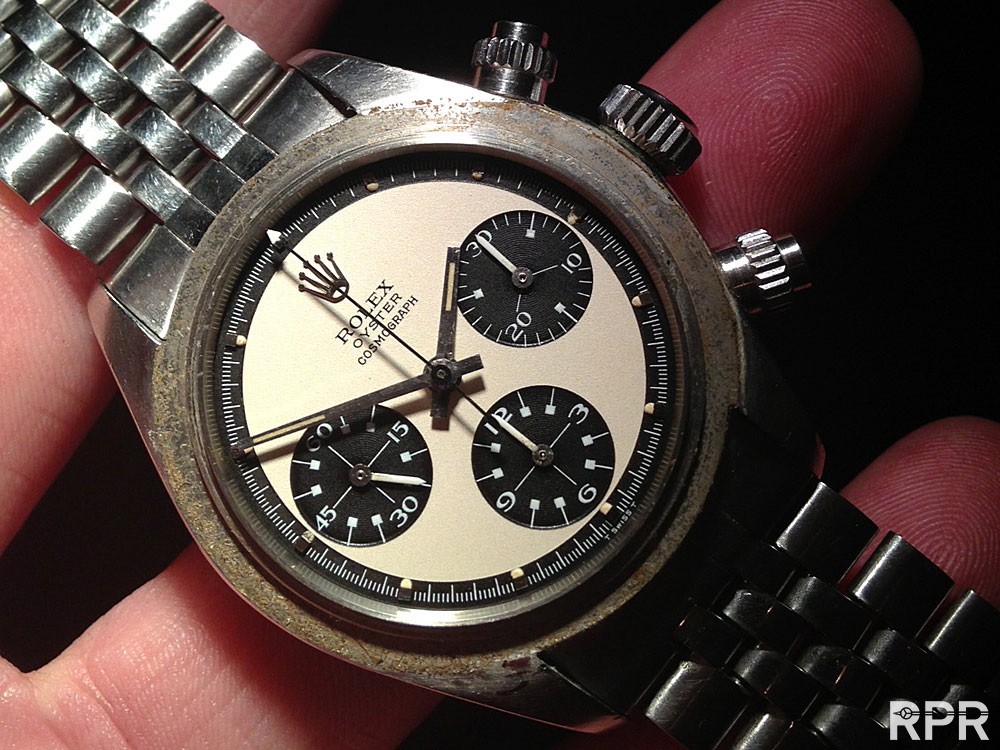 Lets put the big picture into perspective. It's really great Rolex posts their vintage history online on Instagram but when we look with our collectors loupe we see a lot is wrong and not original anymore on that 1955 – Launch of the GMT Master picture they uploaded. The radium luminous ( which was quite high in 1955) has been removed to this white substance on the dial and in the bezel. Also are the hands later en the bezel ring is also from later service type as the little notches tell you ( look at 14 and you see what I mean). The case has been polished so what exactly is Rolex showing us I wonder? If they would support us and show a real vintage GMT instead, prices would explode, like we see with Heuer, AP, VC, PPC…
With other words now it is us saying whats right or wrong and not Rolex, which is odd to say the least. Imagine Rolex opens a museum with all original watch collection, no restorations, just like NOS examples or very little worn, important pieces of their history from well known owners who where exploring the world with a Rolex on their wrist. I bet you prices will double!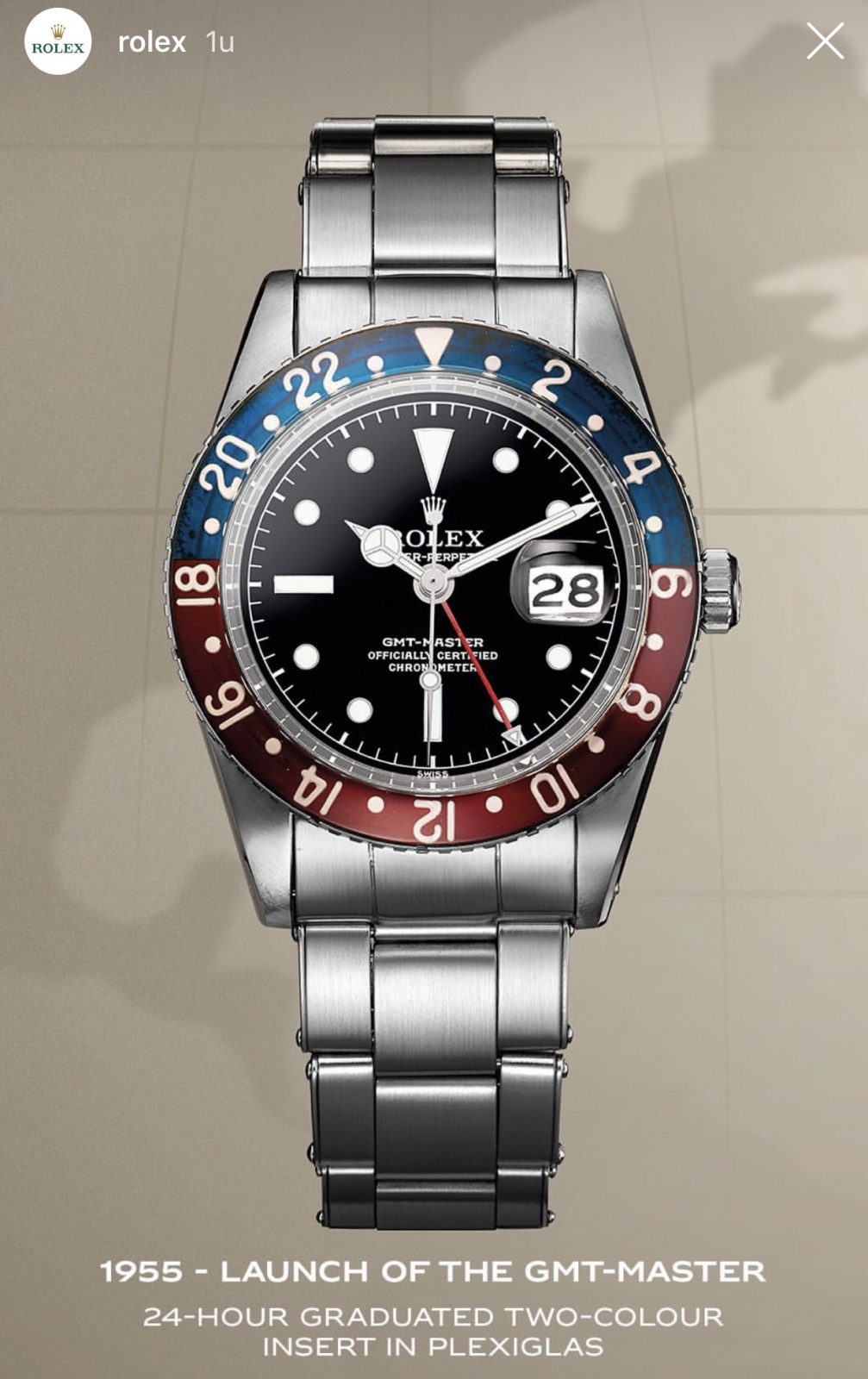 Collecting vintage watches has become an expensive hobby as some results show us. If you take a step back and look from a distance to the auction results, you will notice that many watches nowadays easily do 50 to 100K. I mean watches like Heuer, Longines, Omega, Eberhard etc easily cost you that much. I know i'm getting older and have been around for quite some while now but still if I see a Heuer sell for 50-60-80K my brain tells me these are really huge results. Back in the days like 20-30 years ago also everybody wanted to buy only Rolex and Patek Philippe watches. All other brands where hardly interesting ( except maybe AP, Vacheron, Jaeger and IWC) but the real business was always Rolex & PPC. To see that second group of watch brands  selling so high tells me that our market in general is well educated and confident and very healthy developing. The all over results this weekend where absolutely good. Maybe it was not so spectacular as other times but at the end the results speak for themselves.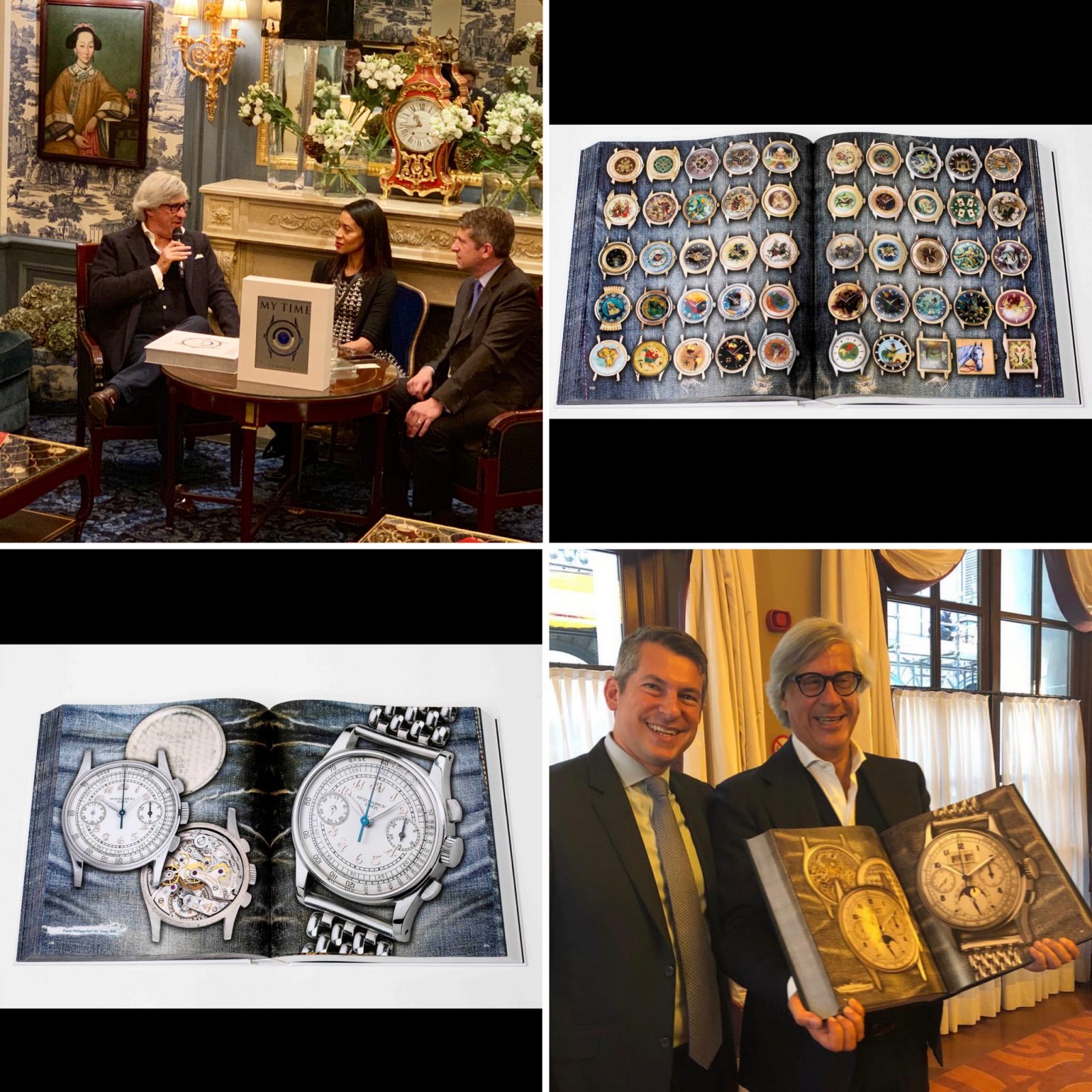 Outside the auction houses some interesting collectors initiative have been presented. The personal book "My Time" from top collector Sandro Frattini and the one book called "A Journey into the Deep" from Reza Rashidian, a Rolex divers / tool watch collector with yet another important collection. A lot of pure hardcore passion from guys investing in vintage watches many years ago. Bravo!!
The ultimate watch collector: Sandro Frantini. Super nice positive guy with the most incredible collection in the world. He has been buying since 50 years ( back then I was the only one so it was easy 😉 and collected more the 3000 icons. His collection is so big it takes him days to visit them at the several banks. Finally with his amazing book "My Time" he stepped out of the shadow of his master / close friend and watch dealer tycoon Davide Parmegiani.
Now the word is out and everybody is impressed to see a part of his collection, this will have an positive impact on collecting watches in general. If your wife thinks you're crazy, show here Sandro's book 😂. I mean 8 x different black dialed gold 6062's and 2 x steel 1518, Yachtmaster Prototype, Split second you name it. Not 1 or the best, no 10 or more 8171's. Just mind-blowing.,  the impossible collection. Then the fact Sandro never ever has worn his watches makes it even more special. The ultimate patina watch book you could have named it as well. Sandro wears a gimmick plastic watch he gives away in his vintage watch themed Hotels called L'Orologi .In credible man who has my utmost respect 🙏 order his masterwork by following this link… 
It's worth it, you will see important watches you have never seen before, like these 2 Rolex…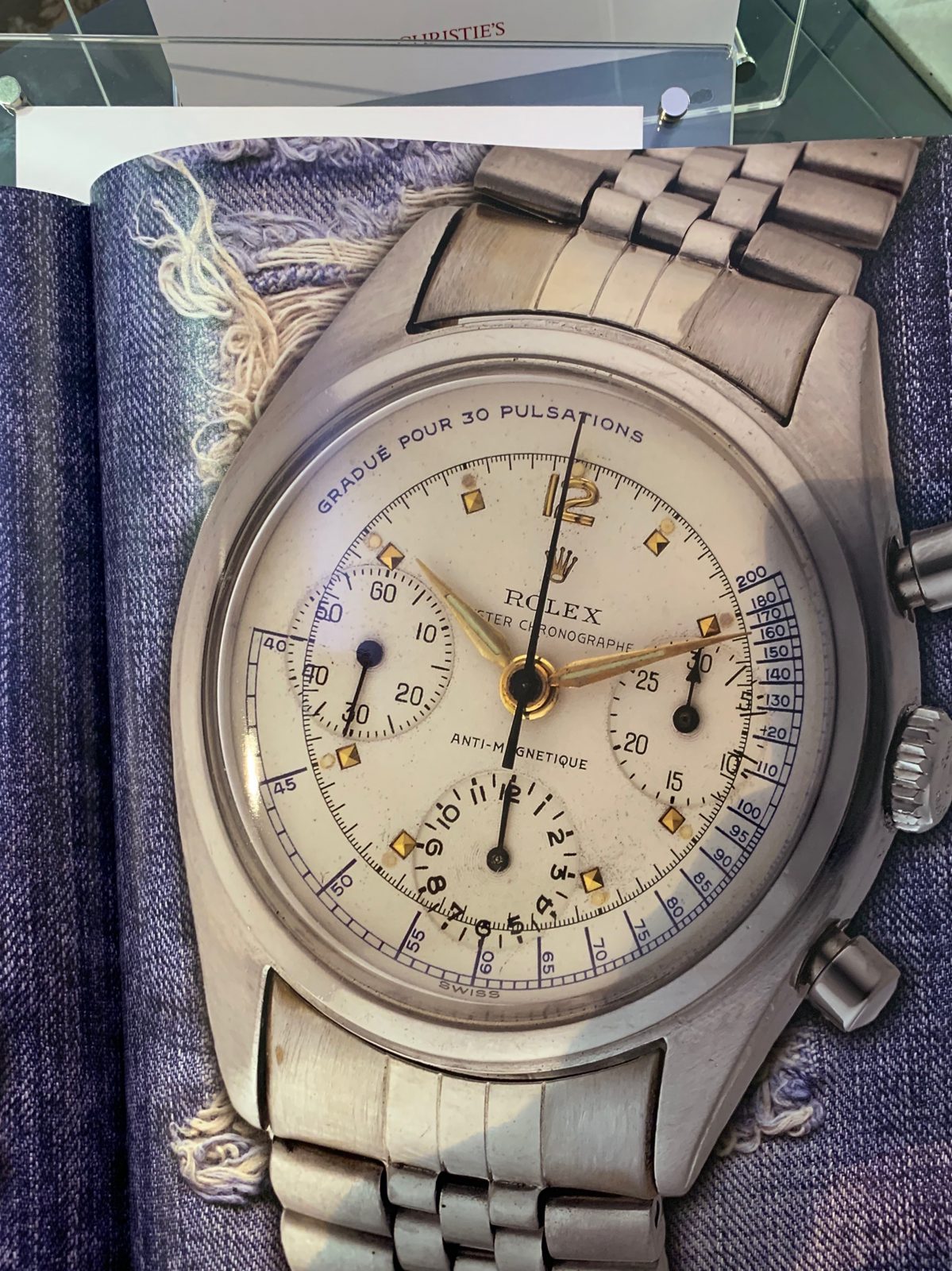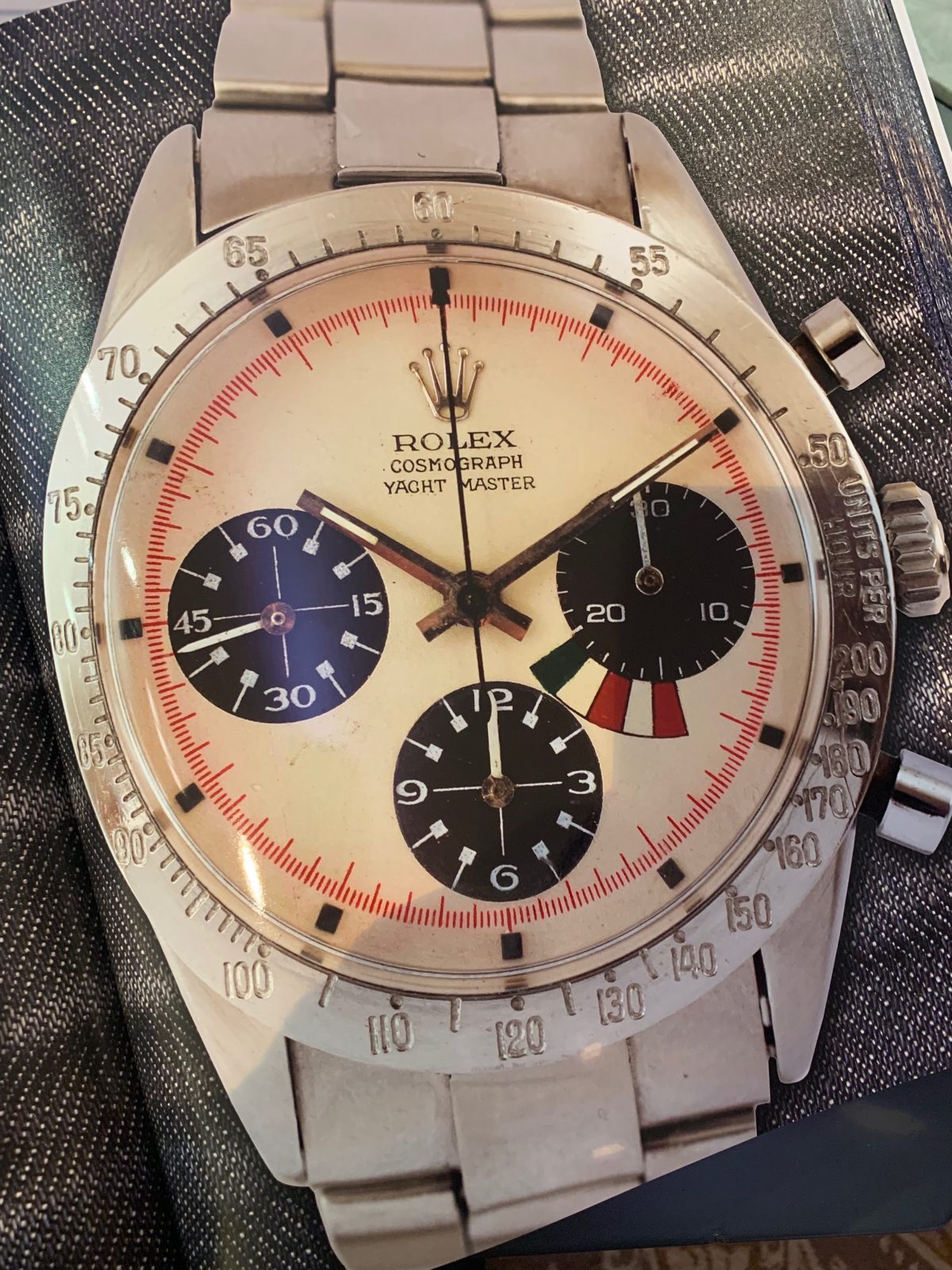 One of the many interesting pages in Sandro's book is this summery of Daytona's, see yourself…
A bit closer look of the oddities…
Davide Parmegiani sales booth at Des Bergues…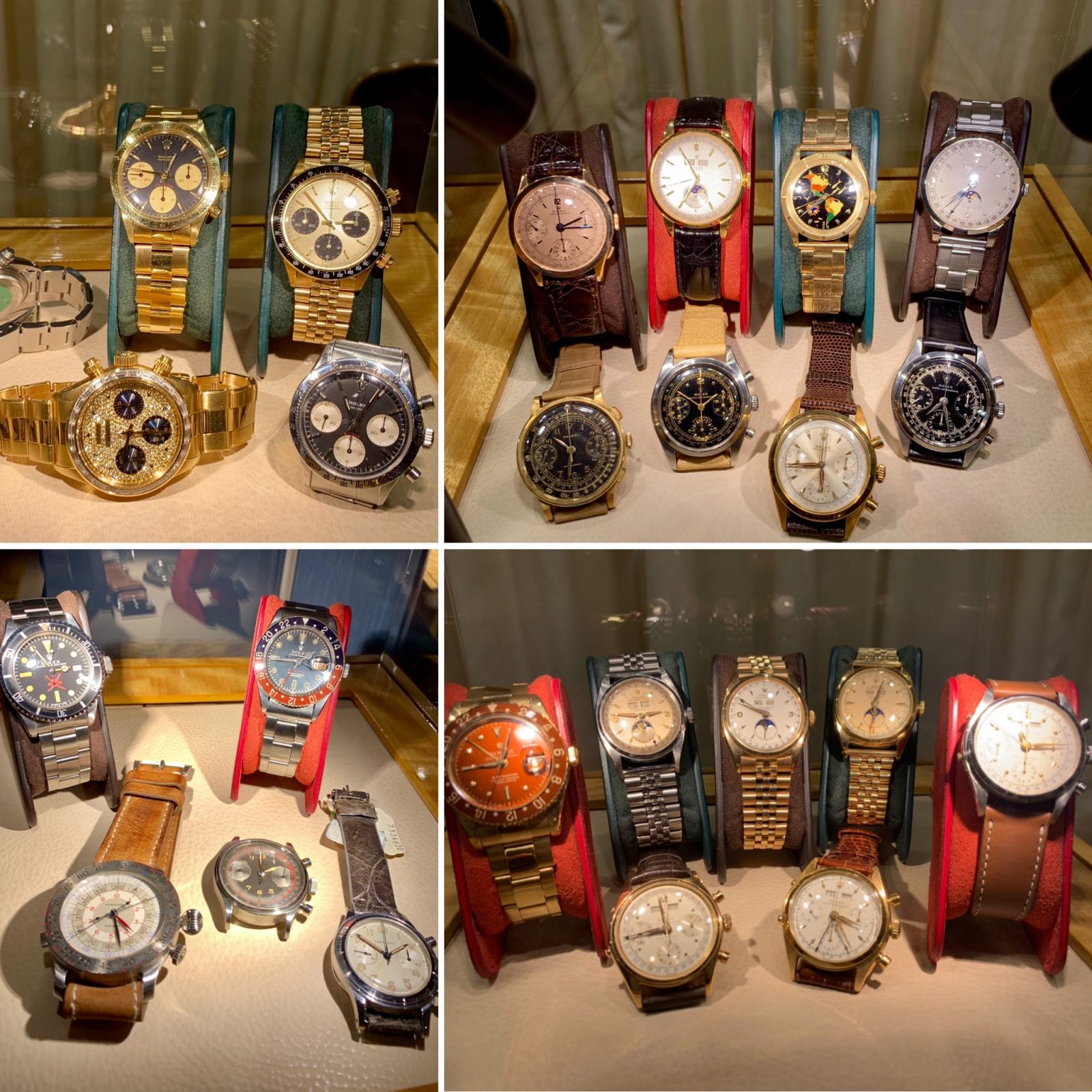 The new book by John Goldberger and Daniel Bourn: A Journey into the Deep at Phillips…
Buddies John Goldberger and Daniel Bourn just launched yet another great vintage Rolex book called A Journey into the Deep..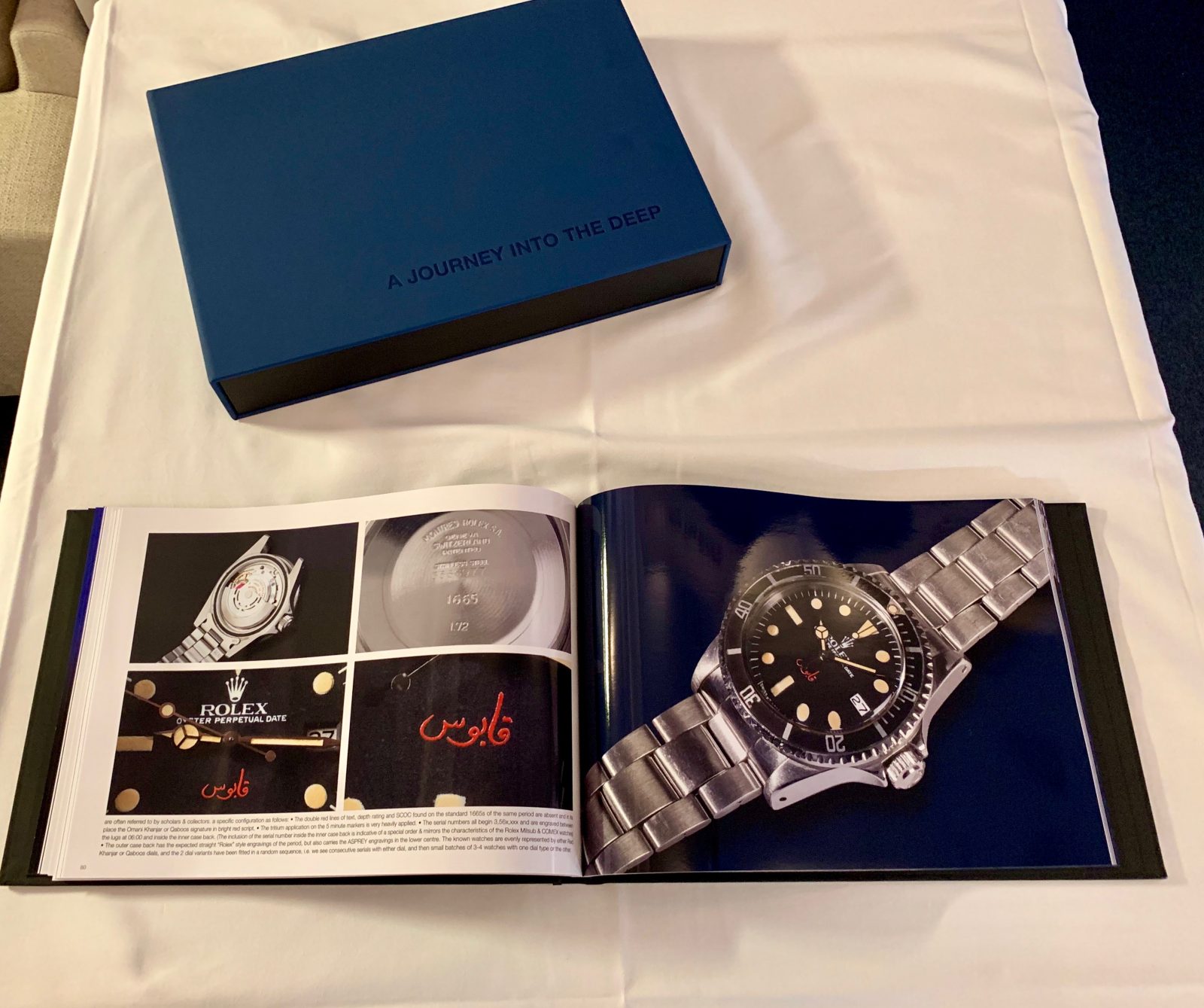 The holly grail, Deep Sea Special No 1. If you want to know more about the history read my RPReport about them over here..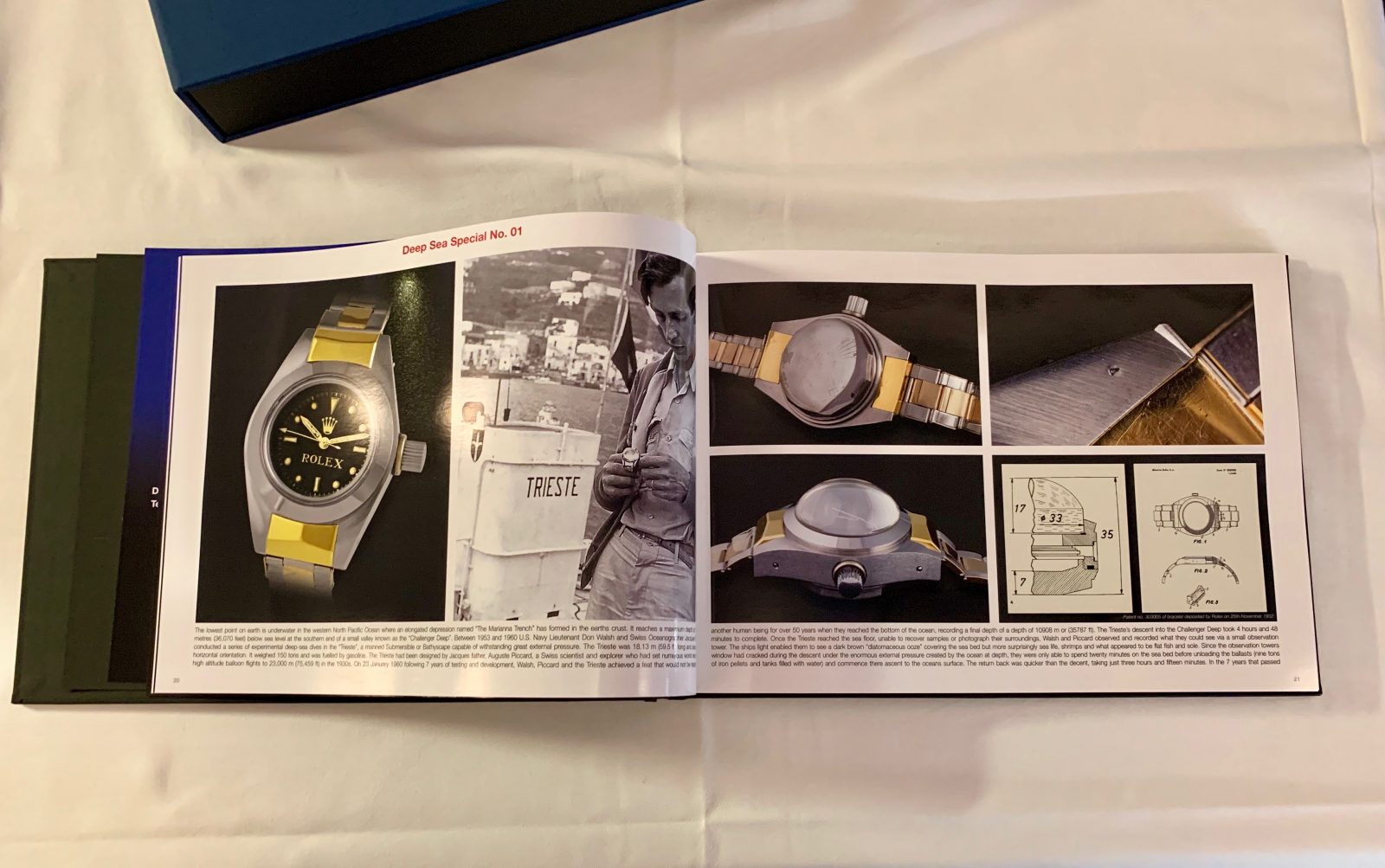 Order this wonderful and important vintage Rolex divers book by following this link here to the John Goldberger website…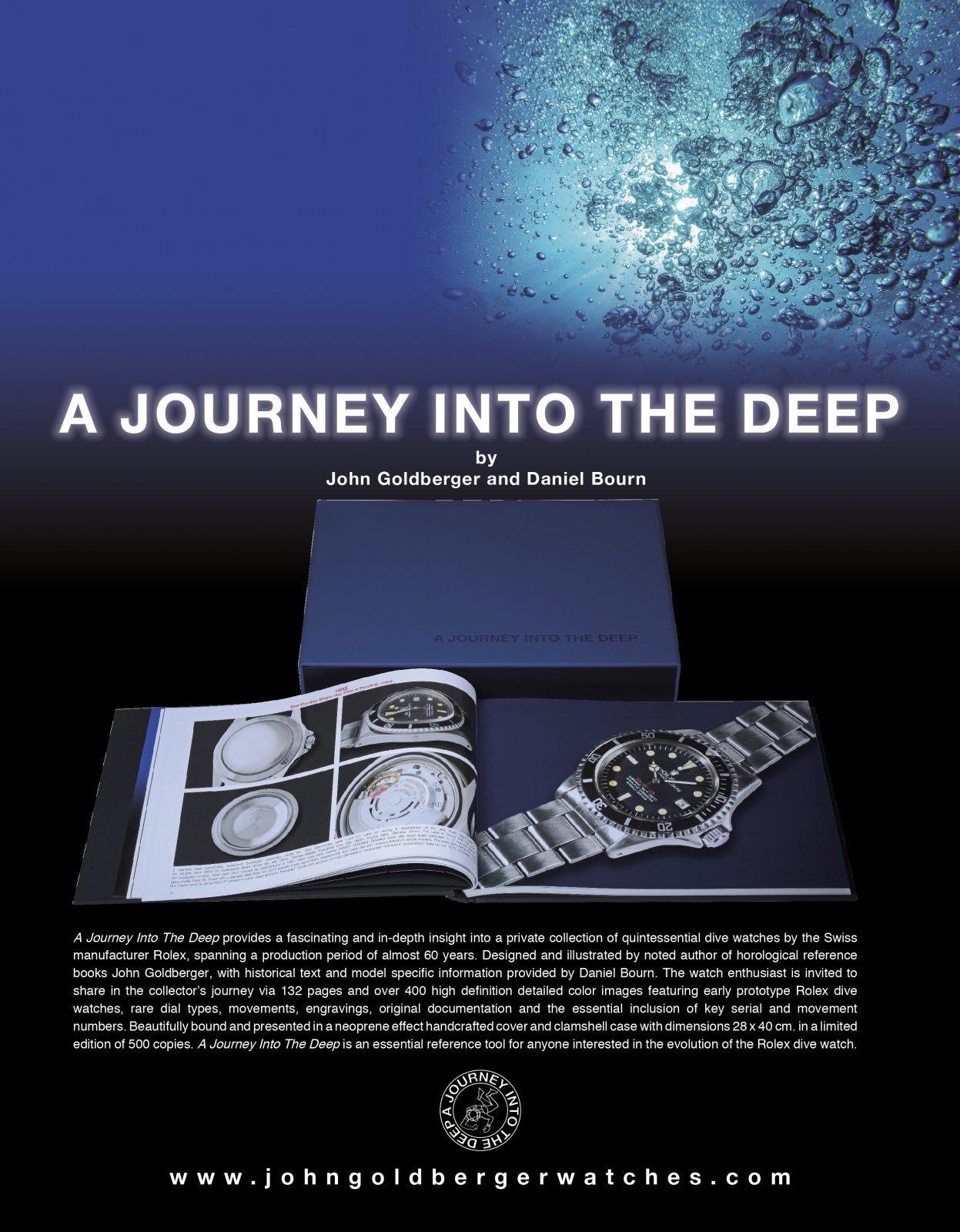 The single red hit 700K…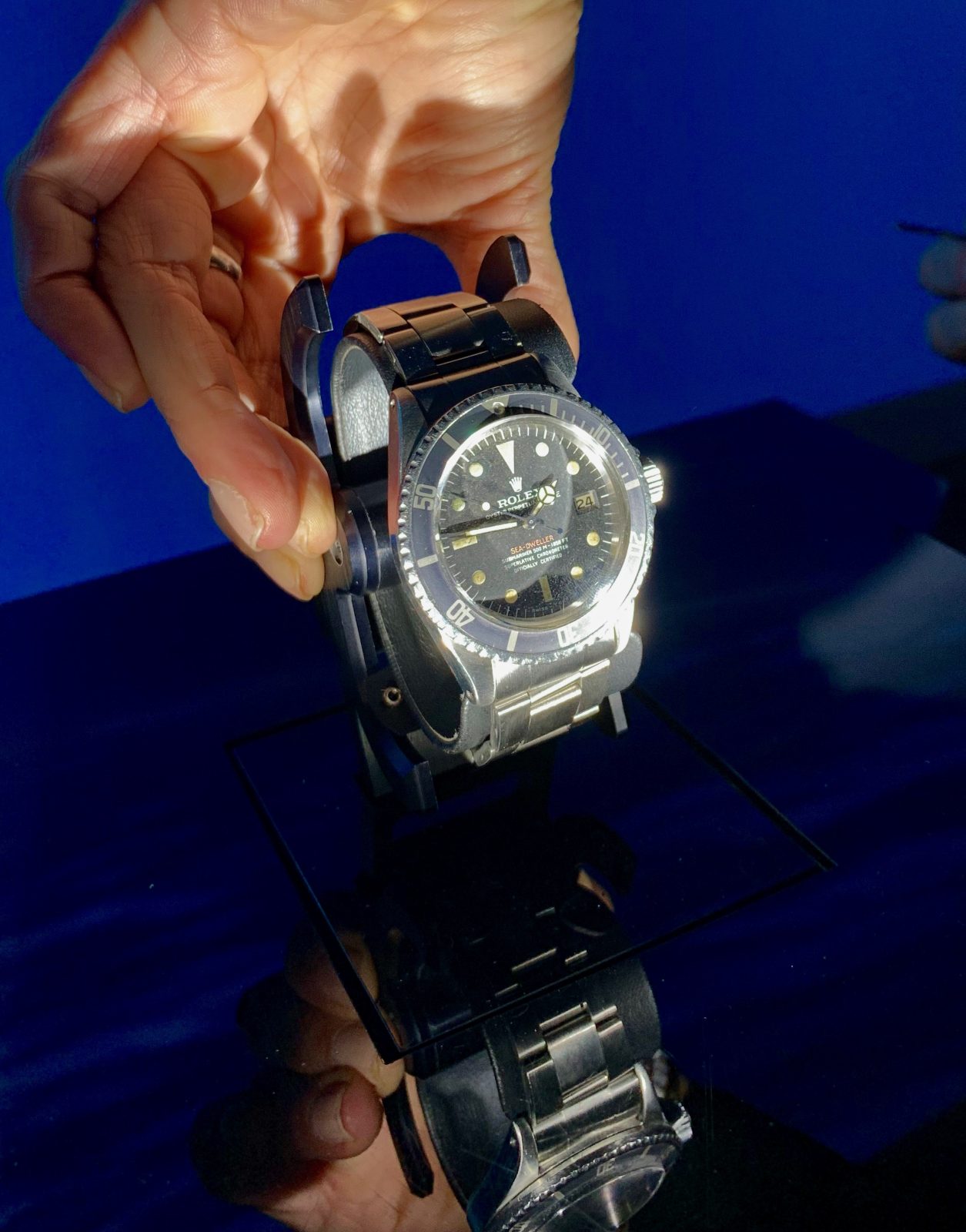 Another new focus : Life before Daytona. Pucci told me that after he finishes the Perpetual Daytona book next 2 months, the next book will be dedicated to the chronographs period before the Daytona….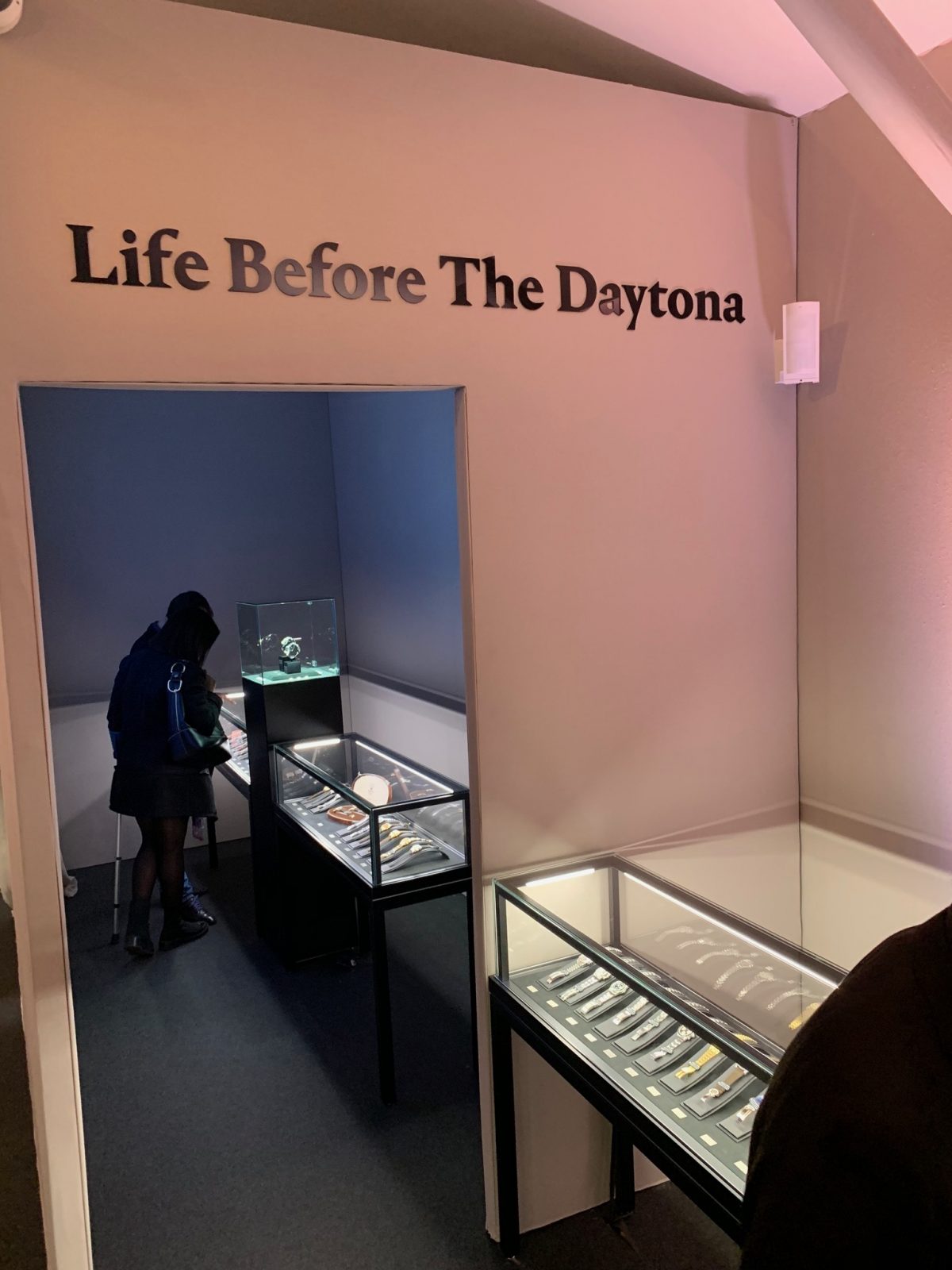 This little gem was my secret favorite of the auctions… Look how impressive, early and crisp it still is…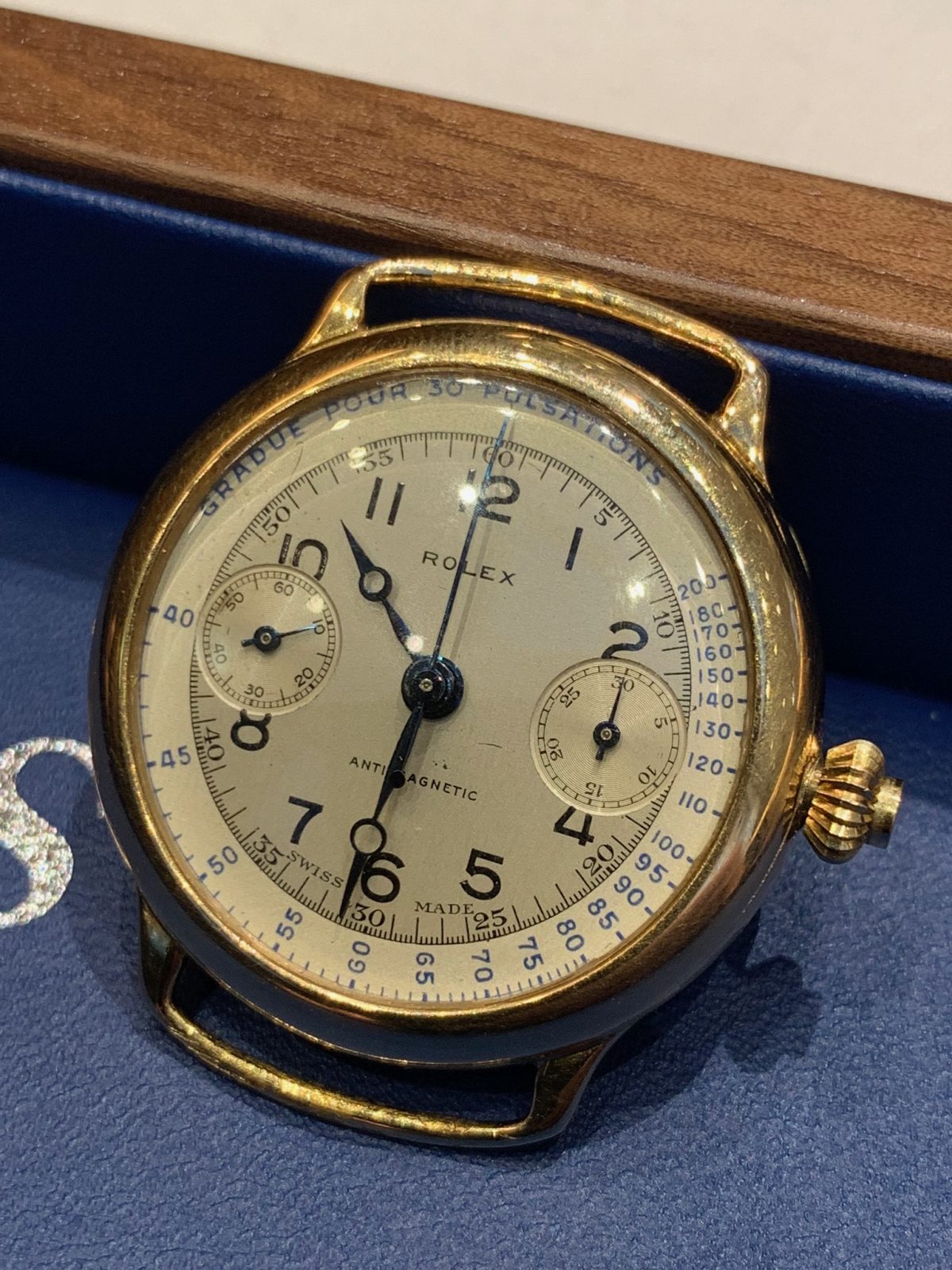 It sold for 40K hammer…
The first Geneva Watch Show has been held at Ritz Carlton. Within the exhibitors there where RPM dealers Alex Cianni, Only Vintage, Elvio Piva…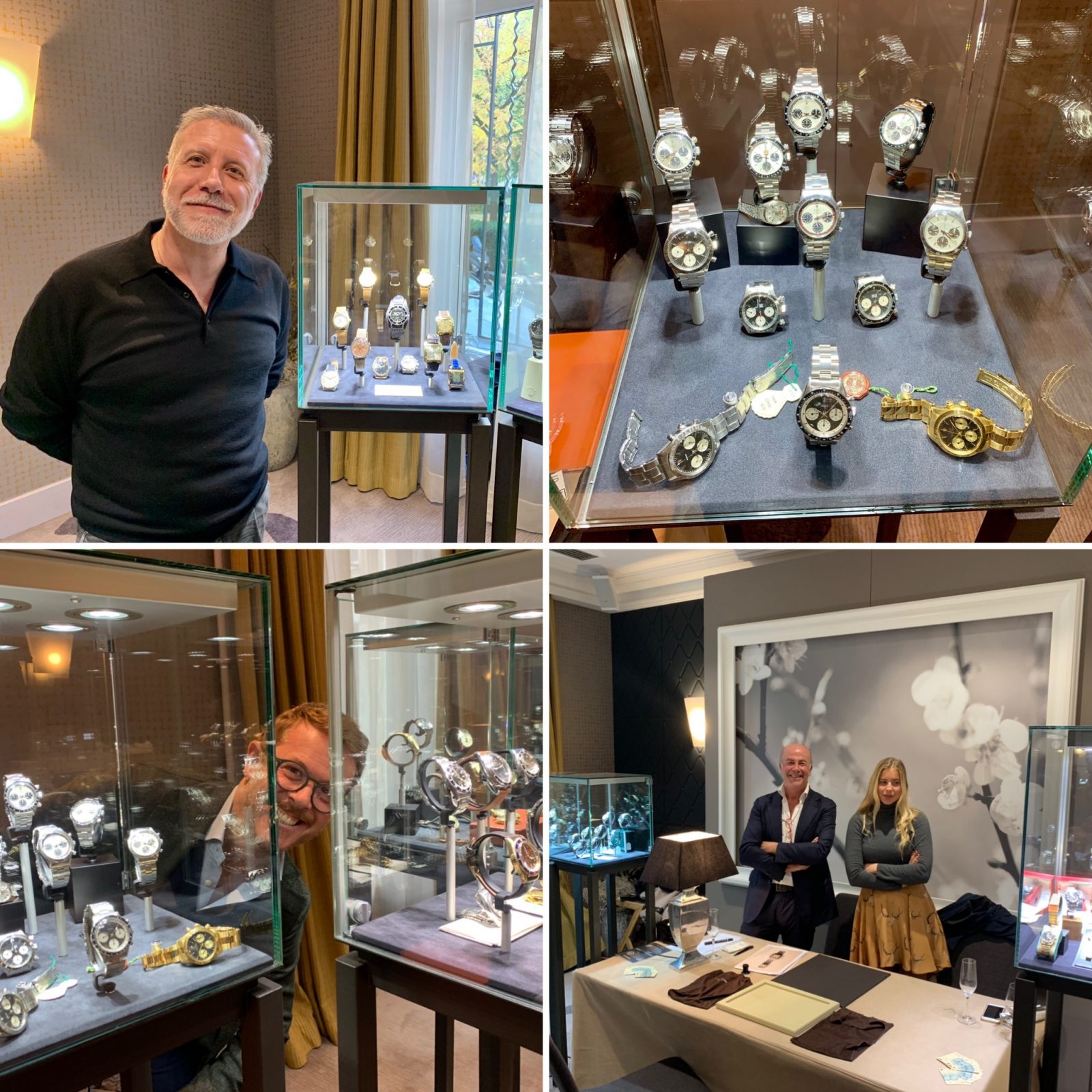 Check out the amazing amount of rare stunners GTG…
Corradino😜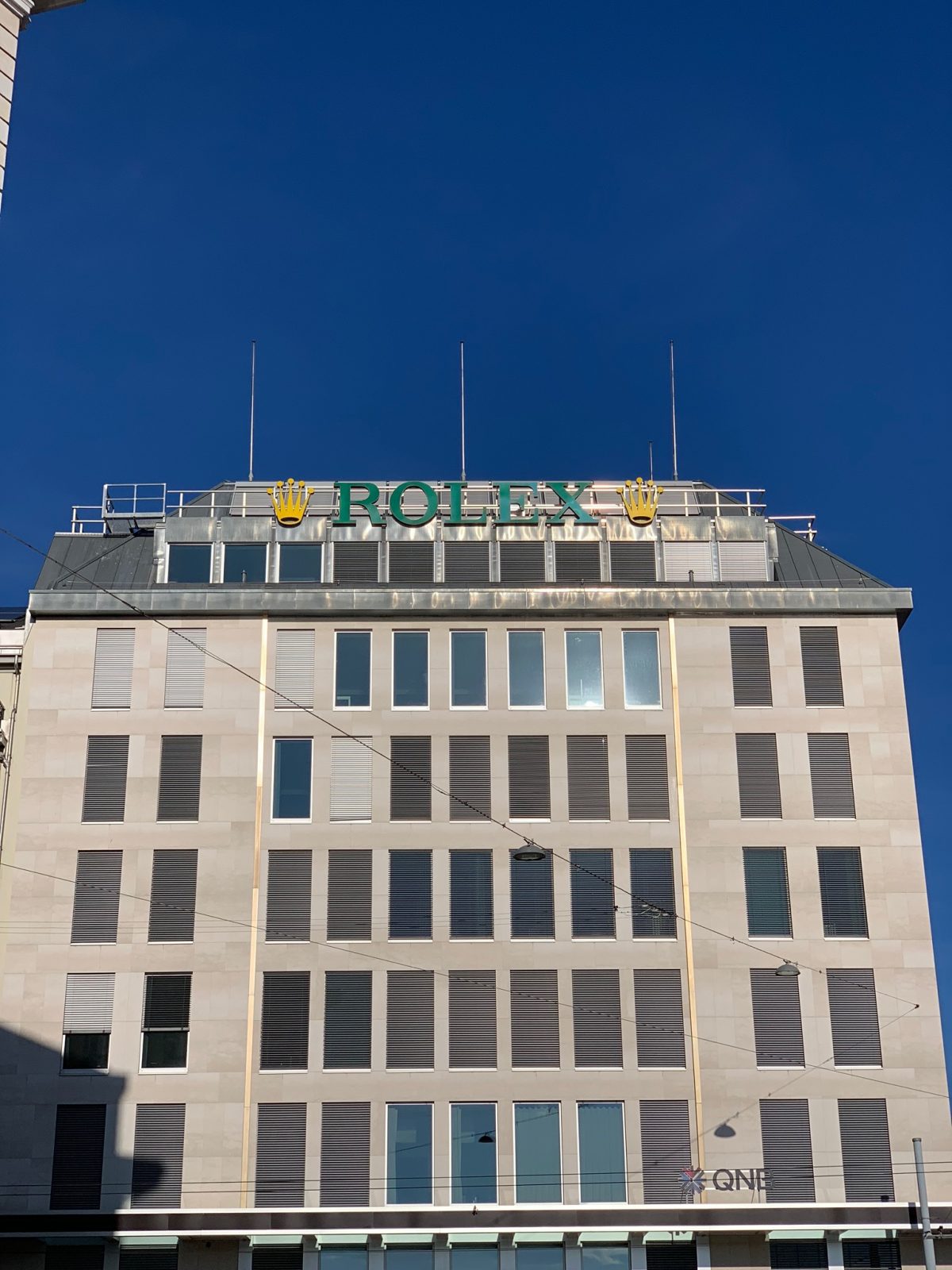 Christies 2499 Serpico Y Laino Mk1 sold for 3.25 million….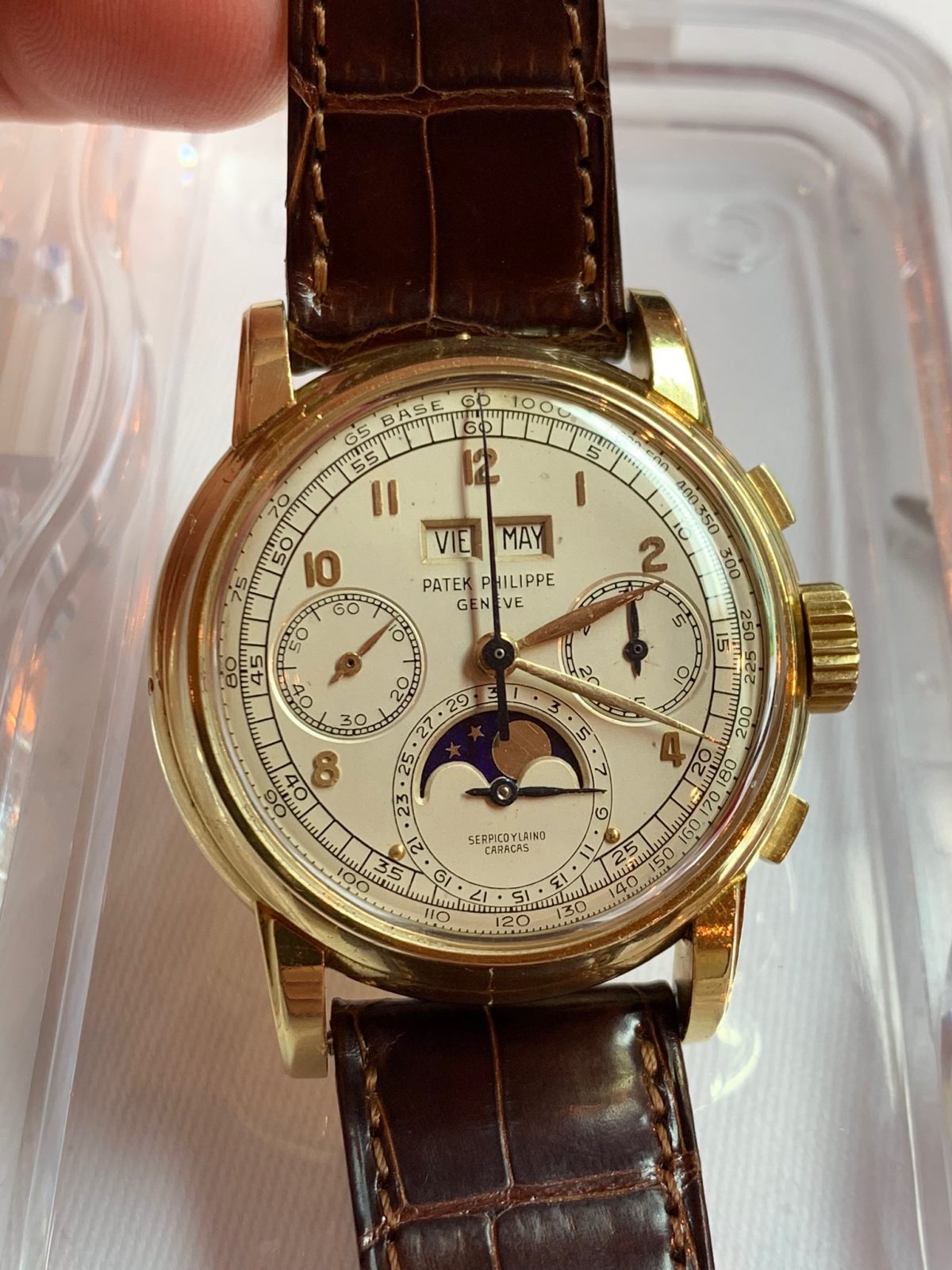 Unsold at Sothebys…
Unsold at Sothebys…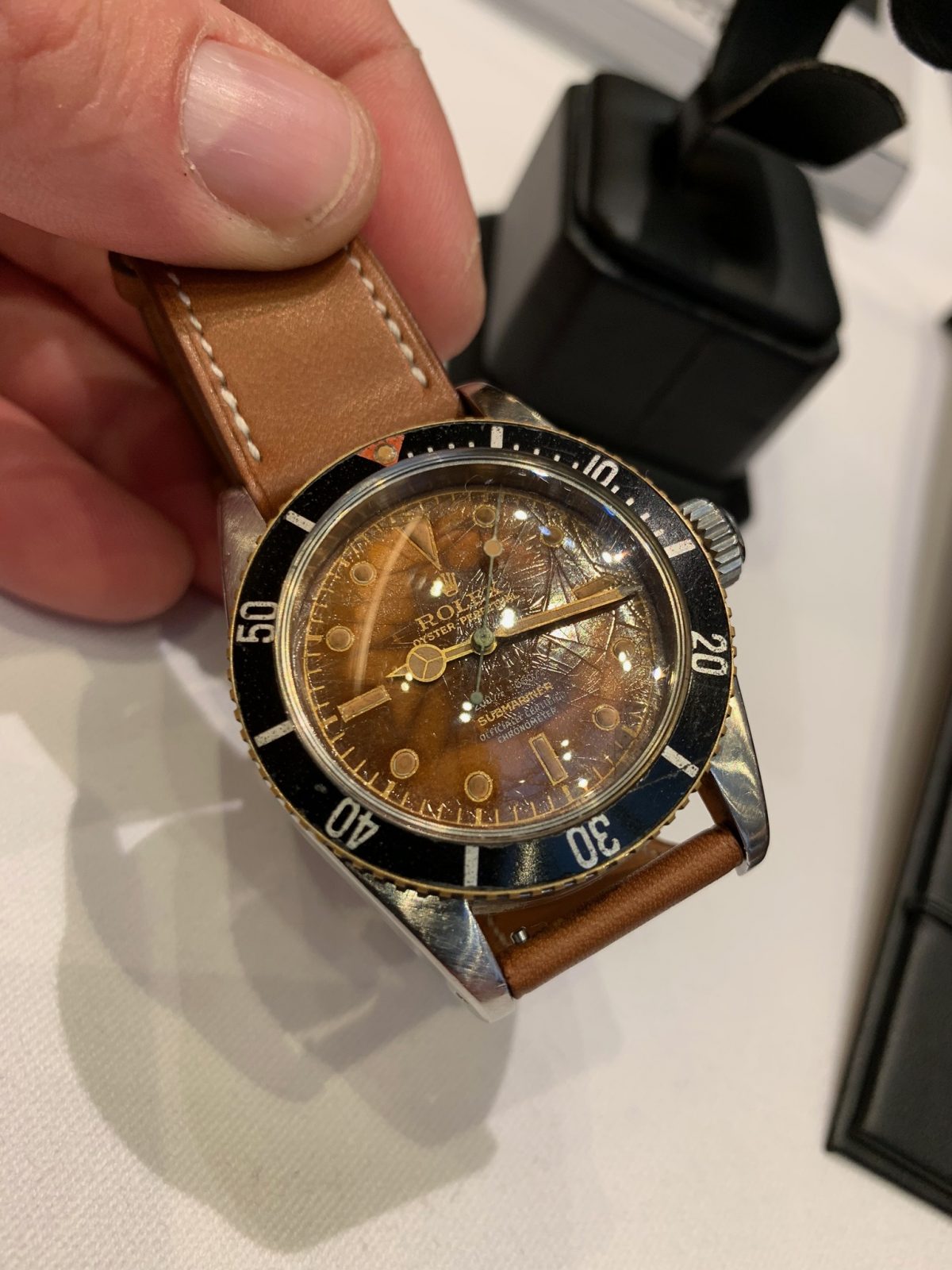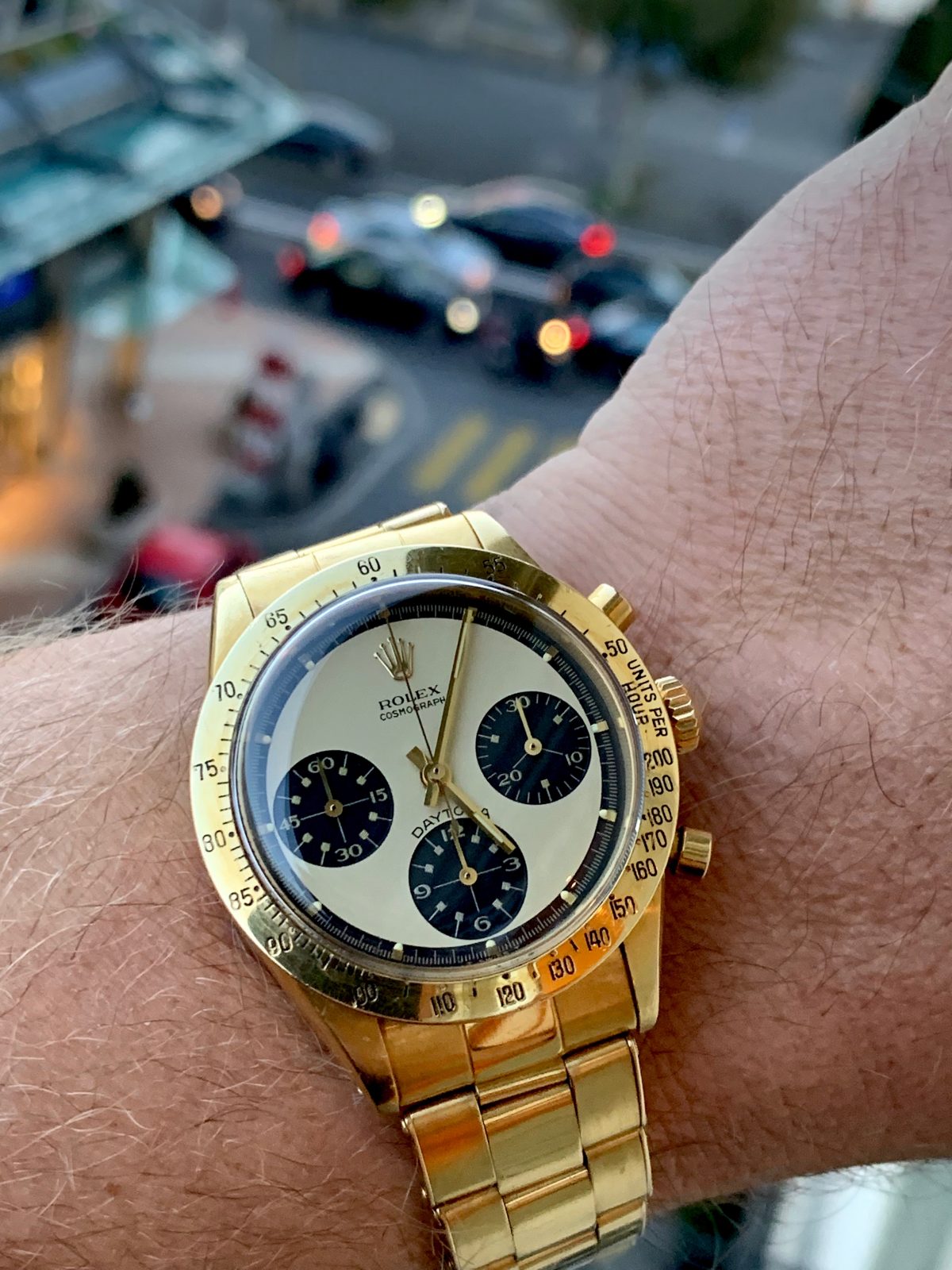 Davide Parmegiani's impressive displays on sale… Take your time to watch them all closely ;)-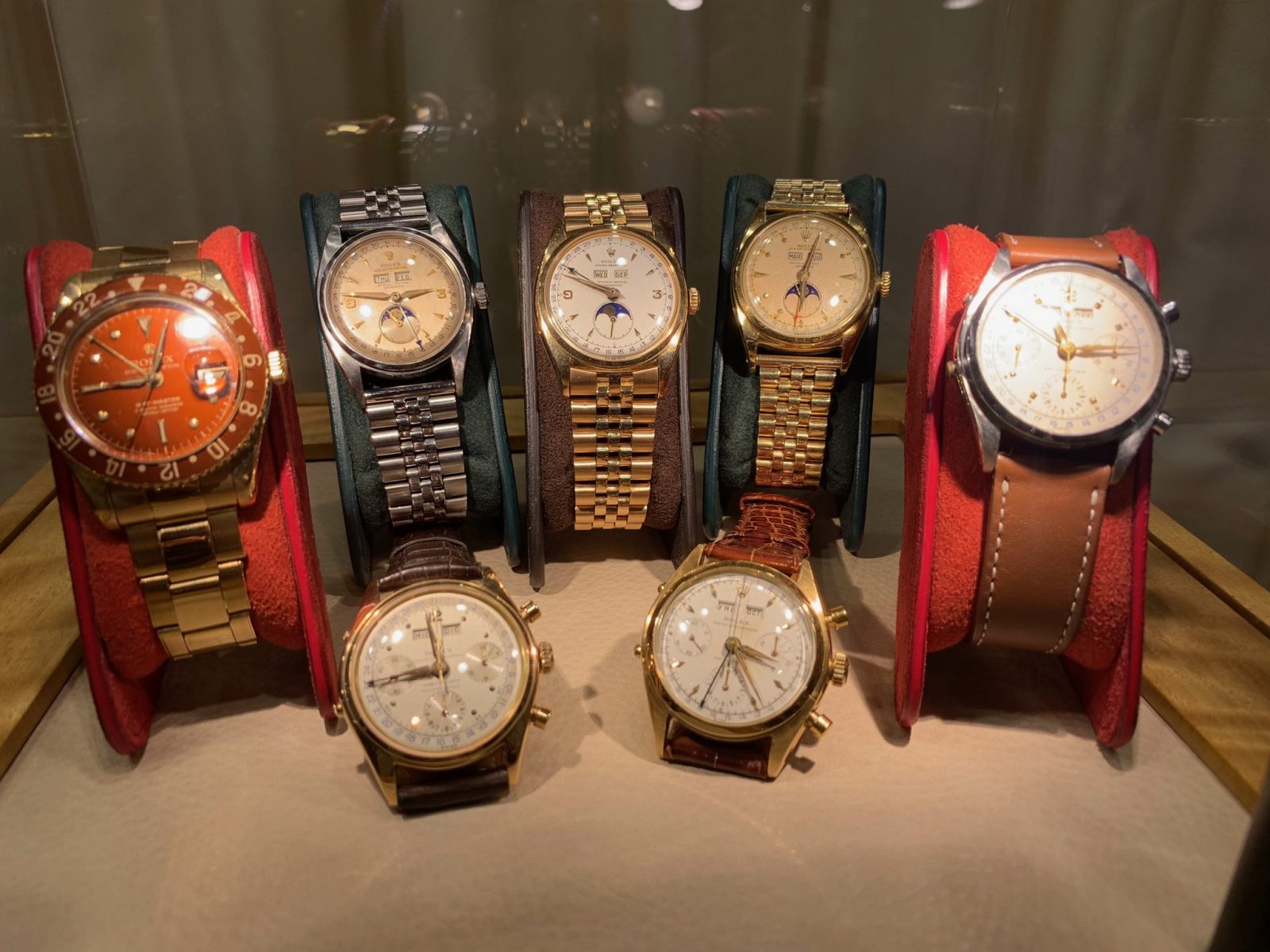 What a spread, this would normally take you years to get such stunners on 1 place…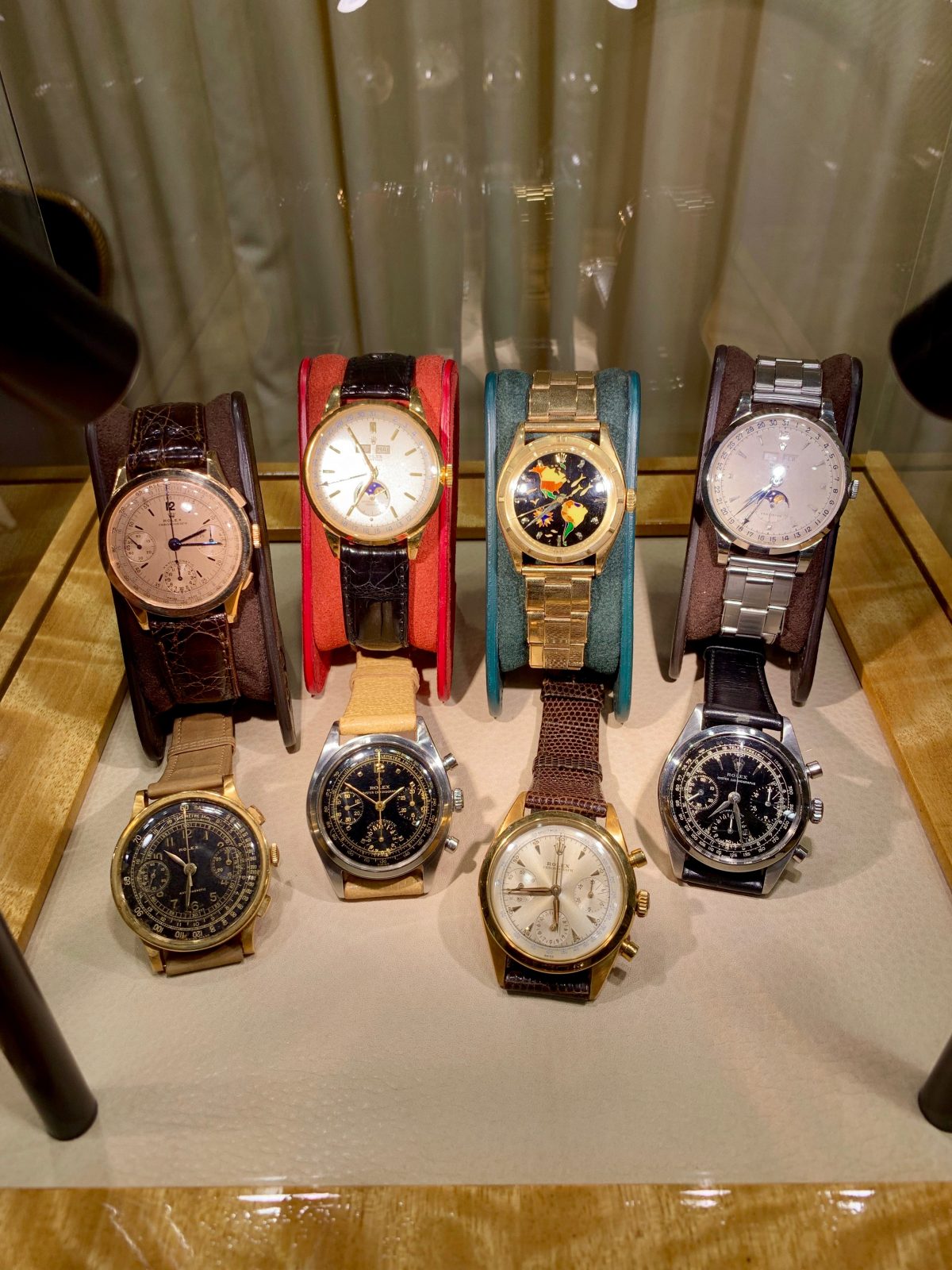 Cool Rolex Ref 6970 Diamond Daytona…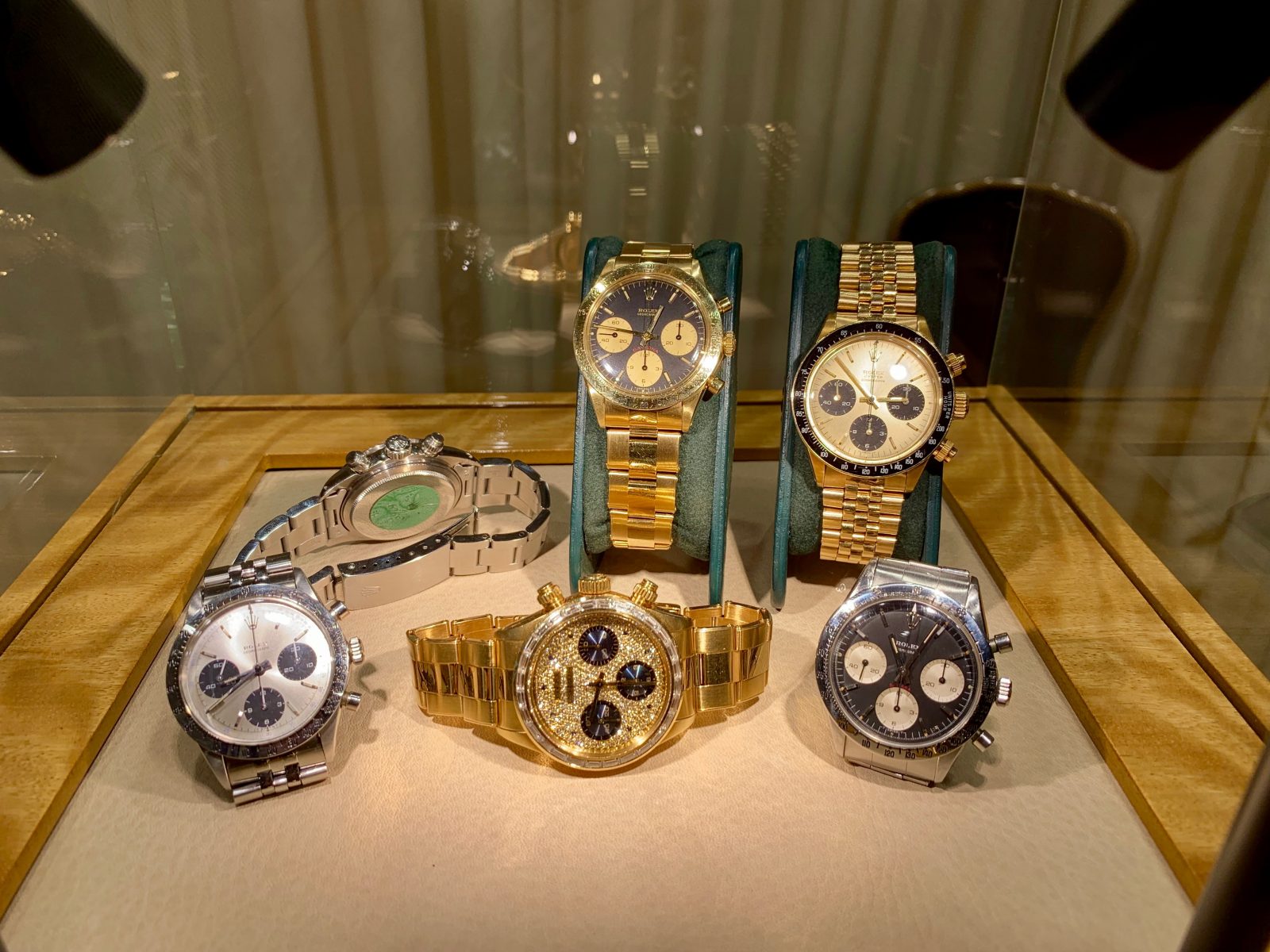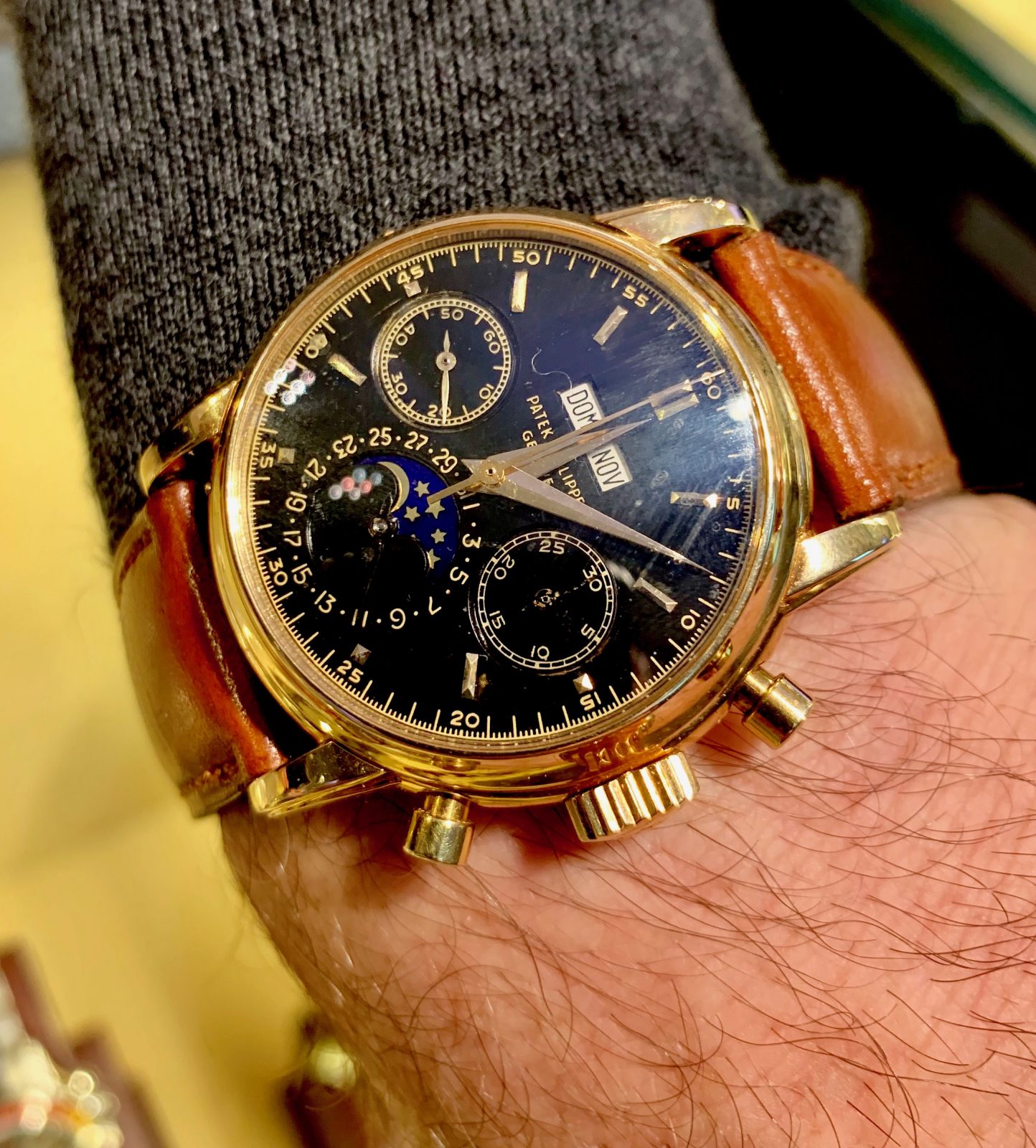 Cosimo…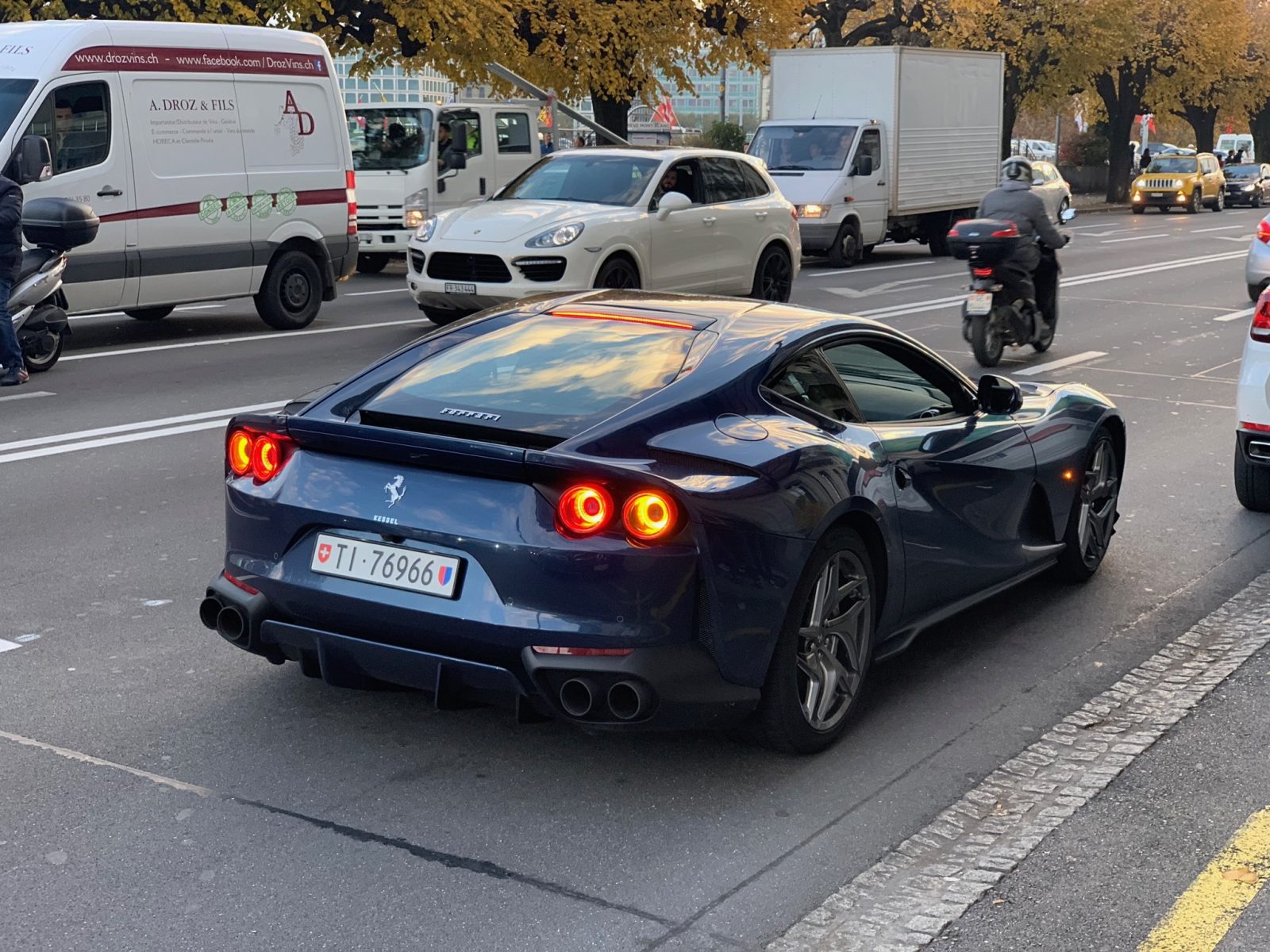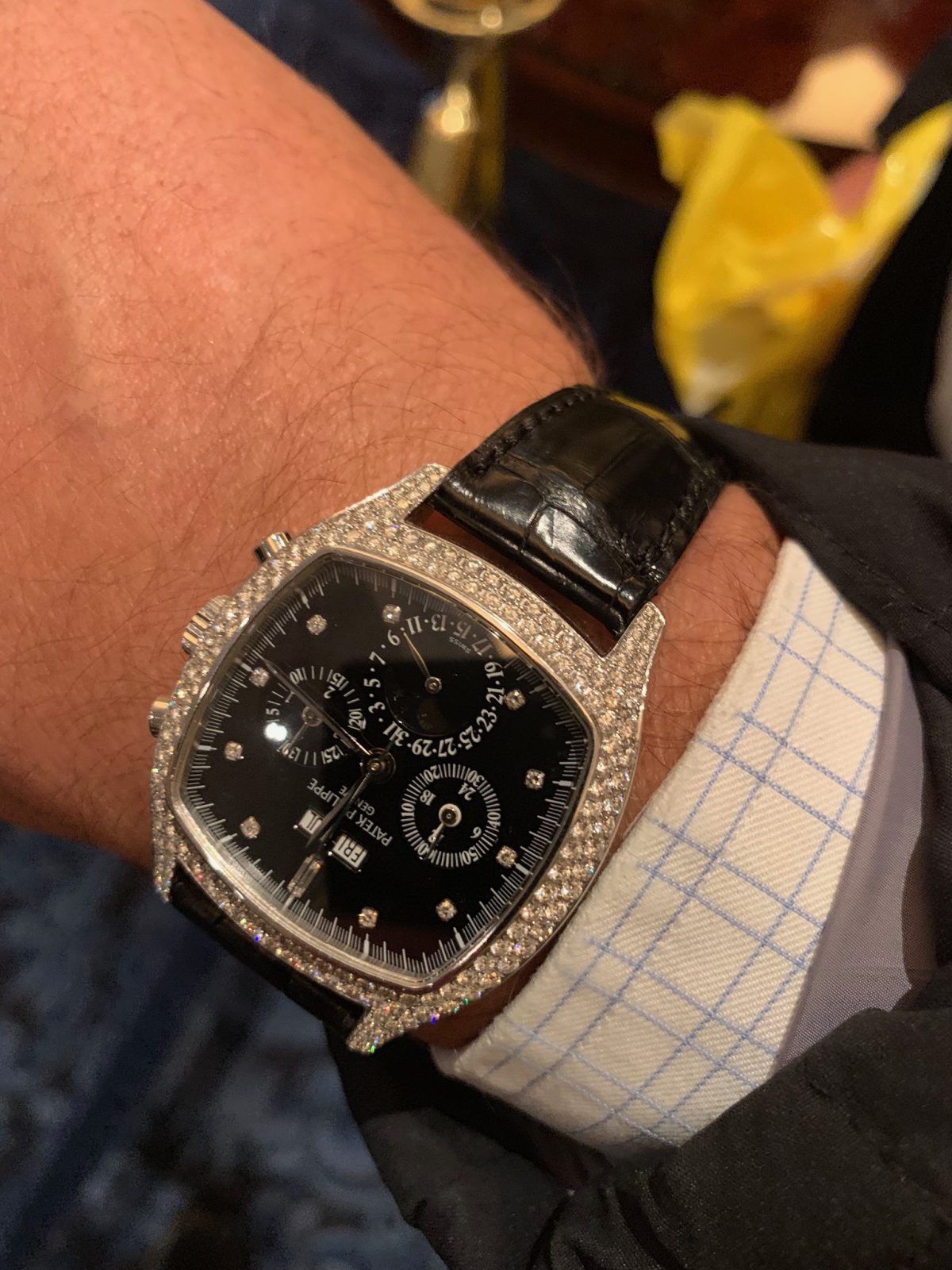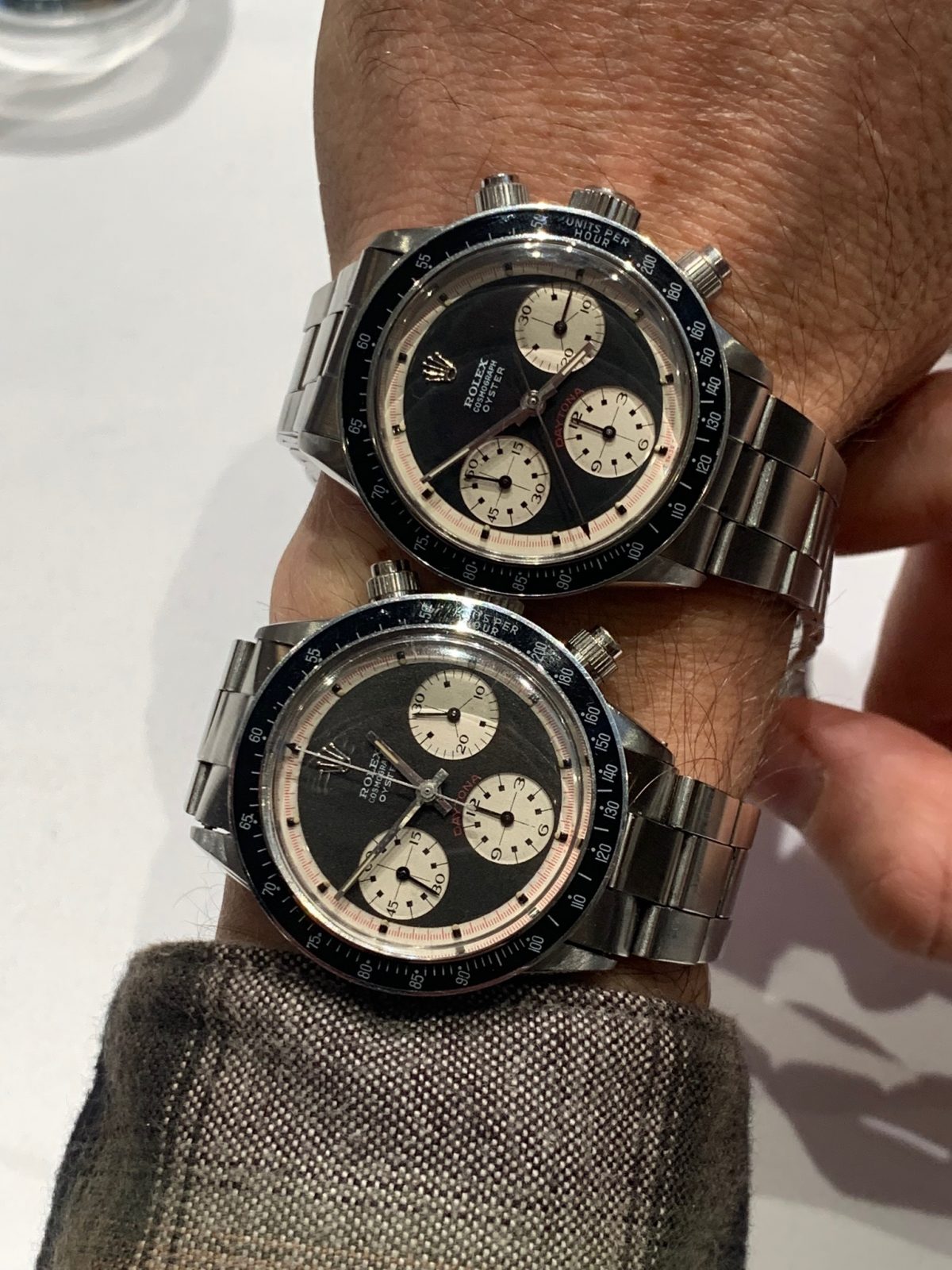 Heading back home, great seeing you all again!!…
Cheers🍺
Philipp
Contact me by using this link if you have any questions.